Maybe you already have a boho living room or boho bedroom and want to keep going with this style? Or maybe you're keen to makeover your dining room and are thinking about whether boho will suit you? What even is boho anyway?
With boho, you are deliberately creating a fusion of influences from all eras and cultures: it's all about mixing colours, patterns and textures, and mixing vintage with contemporary. It's about layering, clashing and contrasting, and boldly decorating with ornaments, keepsakes and trinkets that tell stories. And it has a focus on materiality, with tactile natural materials playing a big role. The ultimate aim is to create a relaxing, casual, informal space that's chockfull of visual interest.
What I love about boho is that it's so fluid and versatile—you can put any kind of twist on boho-chic that you like, whether that's mid-century, Scandi, Western or French provincial. As long as you stay true to the idea of embracing eclecticism and wild, but considered, mixing and layering, you can go as minimalist or maximalist as you like, and you'll still have a dining room that feels boho.
So what's this "jungalow" thing? Jungalow still celebrates colour, pattern and a casual, relaxed vibe, but it's extra earthy or beachy boho, and it's especially green, with an emphasis on bringing in the outdoors as much as possible. The term was originally coined by lifestyle blogger Justina Blakeney and has been ever increasing in popularity around the world.
So let's take a look at 35 boho dining rooms that embody the chaotic chic of modern boho interiors.
1. Choose natural materials
Since a boho dining room is all about layering textures, focus on incorporating plenty of natural materials of all kinds (wood, tactile textiles, décor made from natural fibres like rattan and jute). This brings both cosiness and easily achieves the earthy, warm colour palette that spells boho—just have a look at this beautiful boho dining room as an example.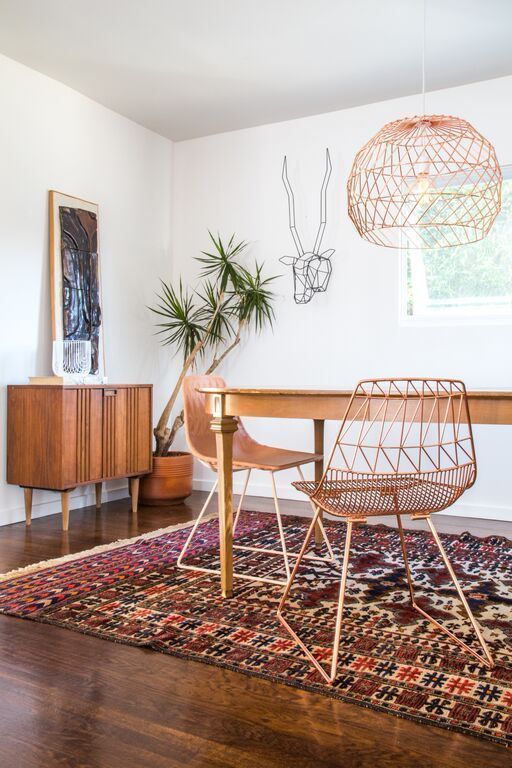 2. Clash patterns
Boho dining rooms are also signified by a bold mixing and matching of pattern. The easiest way to introduce pattern is with a huge colourful rug, whether something purloined from another culture or simply a contemporary rug featuring a bright and gutsy design.
Then simply add in other patterned soft furnishings—the idea is to go for a lack of uniformity, but retain a common element for cohesion. After all, boho interiors are casually contrived—they may look haphazardly thrown together, but they're definitely still curated.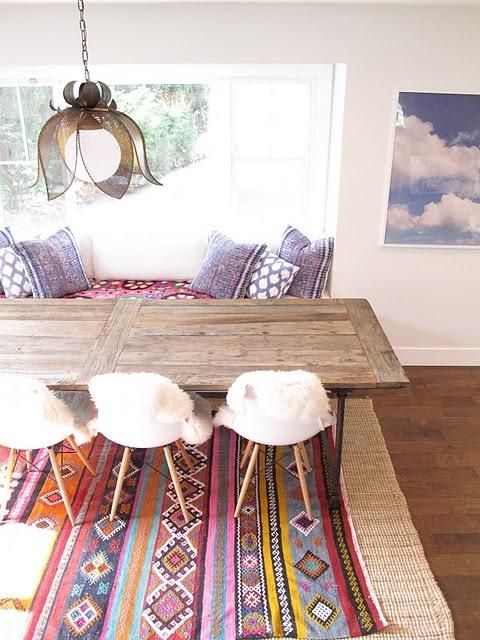 3. Go for vivid colours
Go boho with a palette of vibrant jewel-toned furniture and décor set against white walls for balance and to avoid completely overwhelming with colour. Your rug will often be the source of a kaleidoscope of rich, saturated colour, but consider also gorgeous, intensely-hued dining chairs—bonus points if they're velvet. And with multiple sources of lighting like this, get a qualified electrician to do the install.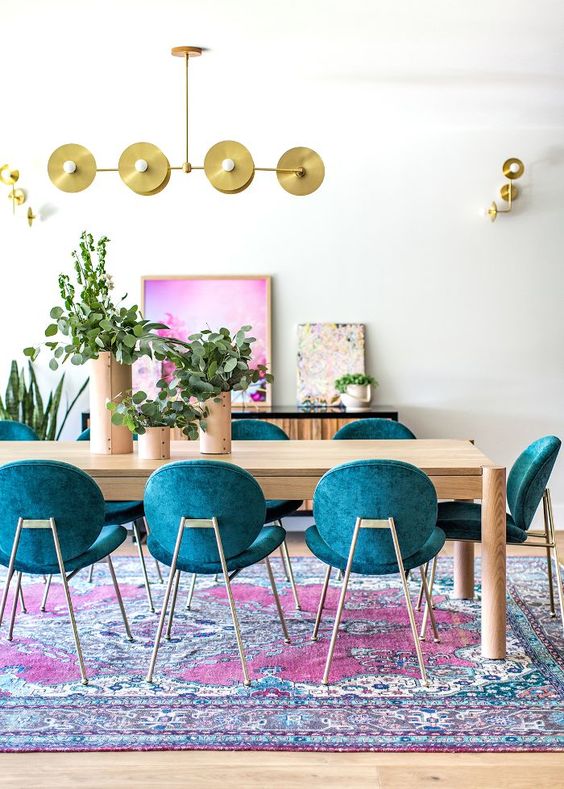 4. Have an eclectic mix of chairs
You can also create a visually interesting, layered look with a blend of materials and finishes and an easy way to do this is to mix and match your dining chairs. Mismatched dining chairs also give a boho space its signature informality.
Here, a mix of timber and white chairs, together with a simple bench, create a unique idiosyncratic look. But the chairs are still tied together by their mid-century modern flavour. Have parquetry floors like this? Have them looking their best with the help of a specialist in timber floor polishing.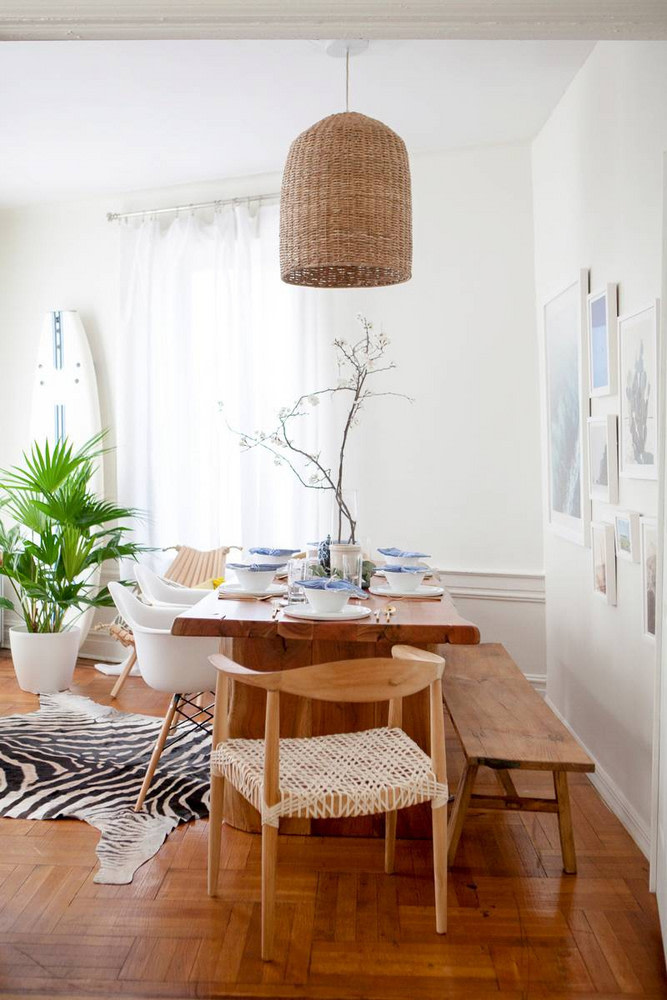 5. Add softness
When layering your textiles, try to incorporate a variety of textures including some very very soft ones, like lambskin or a faux fur throw. Adding furry softness to chairs makes the seats comfier and inviting, but also adds overall warmth and cosiness to the space. And again, you can easily refresh your timber floorboards with the help of an expert—find someone who can do your floor sanding.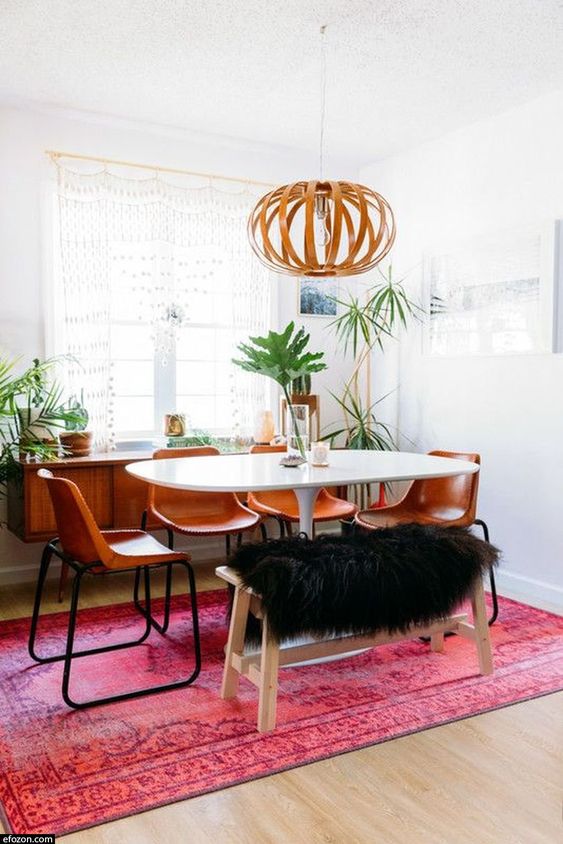 6. Look for rattan chairs
Chairs made out of any kind of natural material will speak to boho style. Rattan is the organic material of the moment and even better if you can find a vintage set of rattan or wicker chairs. Here, the chairs were thrifted and the seats recovered in black canvas to freshen them.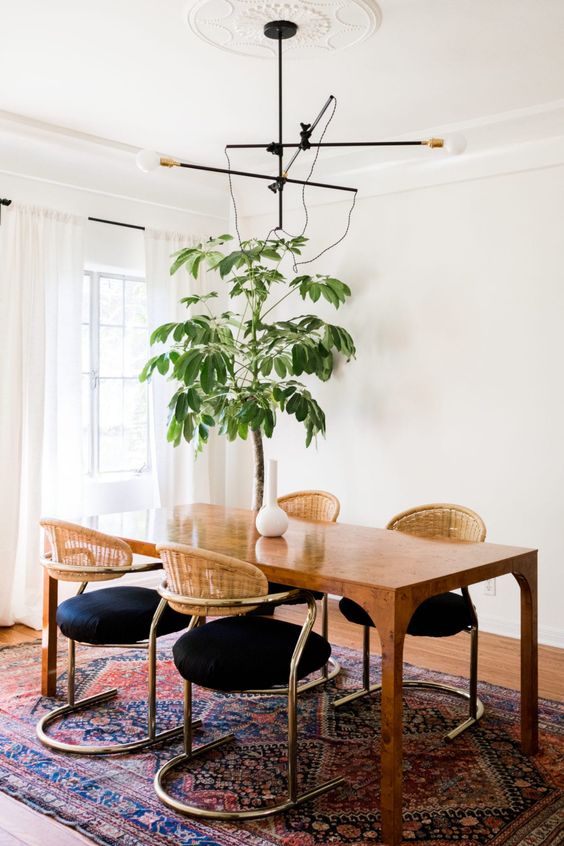 7. Have a statement end chair
Mixing and matching chairs is very much encouraged in boho interiors and a striking way to do it is with a statement end chair. The retro vibe of this boho dining room is amplified with an original 1960s (but surprisingly accessible) plastic Panton chair. A white one would also look cool dropped into an all-white, timber-heavy dining scene.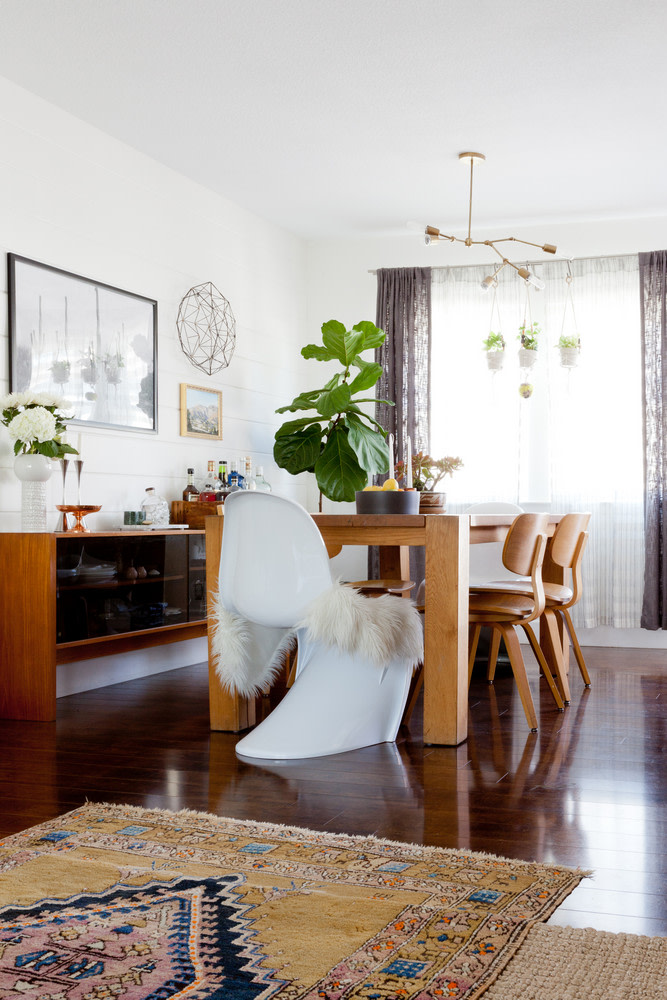 8. Elegant boho dining room
Boho can in fact be polished and sleek, just stick to the classic boho elements but interpret them in more sophisticated forms, as has been done in this elegant dining room. A neat set of rattan, mid-century flavoured chairs perch on a slightly subdued patterned rug, then just throw in a little art and a statement plant in the corner and you have a mature spin on boho.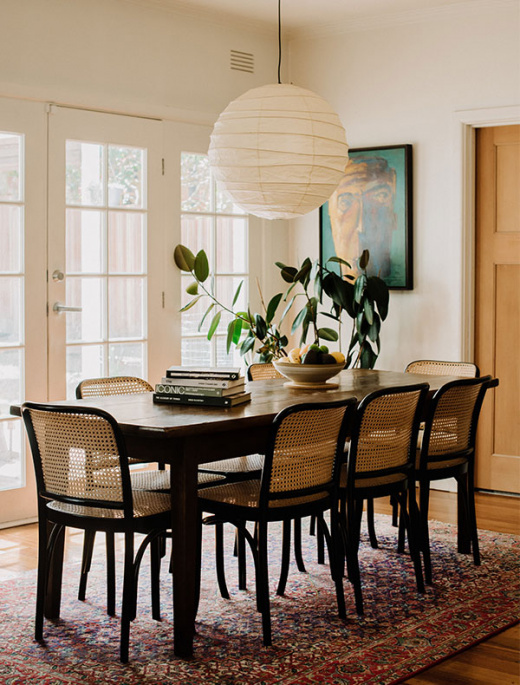 9. Have a patterned banquette
This Parisian eatery demonstrates the relaxed but refined ethos of boho dining rooms. The beautiful, soft, designer pendant lamp is almost bigger than the pedestal table here! I like the mix of worn, weathered floorboards, with the sharp, geo patterned upholstered banquette. And the banana leaf plant is a welcome burst of life in the corner—did I mention you must-have plants in your boho dining room? It's really kind of non-negotiable.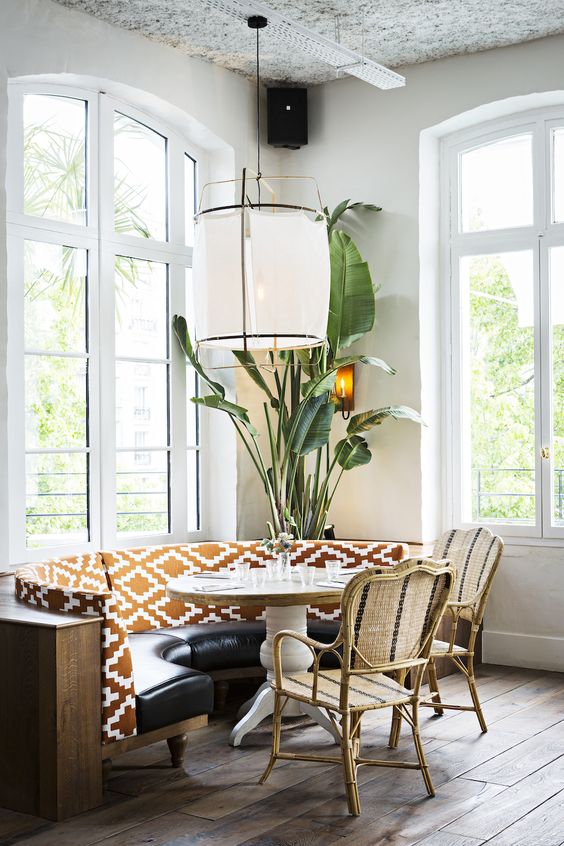 10. Make it mid-century flavoured
There's something about mid-century modern that just goes with boho, so it's a tried and true approach to take when styling your boho dining room. There's a shared focus on materiality so you'll find putting a mid-century spin on it will add plenty of warm woods and earthy woven materials, perfect for a boho look, while the midcentury elements add elegance.
Can't find the perfect vintage piece? You can always find an expert in cabinet design who can build you a buffet which will emulate mid-century design.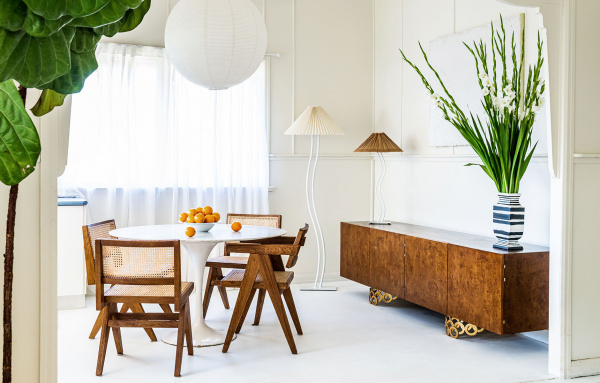 11. Hang a gallery wall
A boho dining room usually makes use of wall space to add interest with displays of art, curios or treasured keepsakes. If you're going for imagery then a gallery wall is always a good idea—and with boho, of course, you want to mix and match your frames. The composition of gallery walls can be tricky to get right so get some help with the hanging.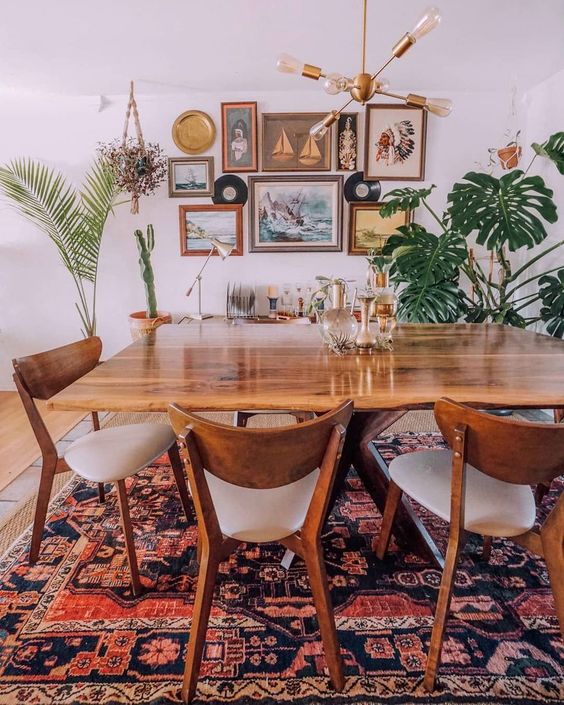 12. Add a leaf print light
Want to add greenery without worrying about your black thumb? Bring in plant life through botanical prints in your décor. This modern boho dining room shows off a drum pendant with a leaf print that adds a nice punch of cooling green into an otherwise mostly warm-toned palette.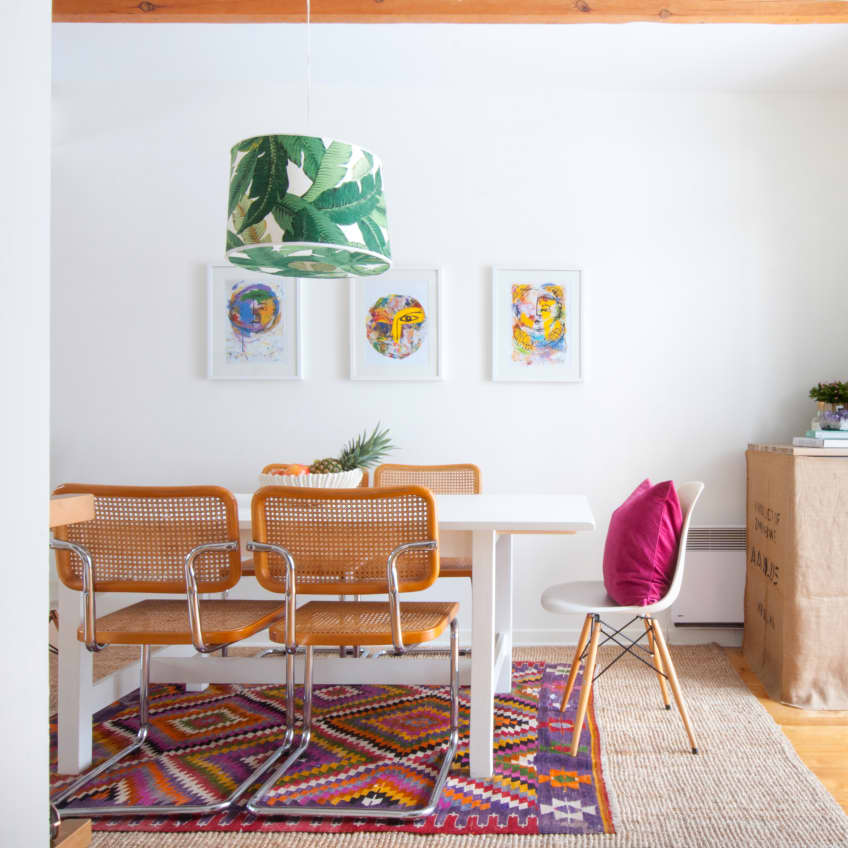 13. Add a vintage Moroccan lamp
Instantly add a boho vibe to a dining room with an exotic handmade lantern or pendant lamp, like this ornate silver one. Incorporating global accents like ornaments and décor from another culture as focal points enrich the space with an element of storytelling. As a bonus, lanterns and lamps like this often have intricate designs with holes that allow light to project patterns on your walls.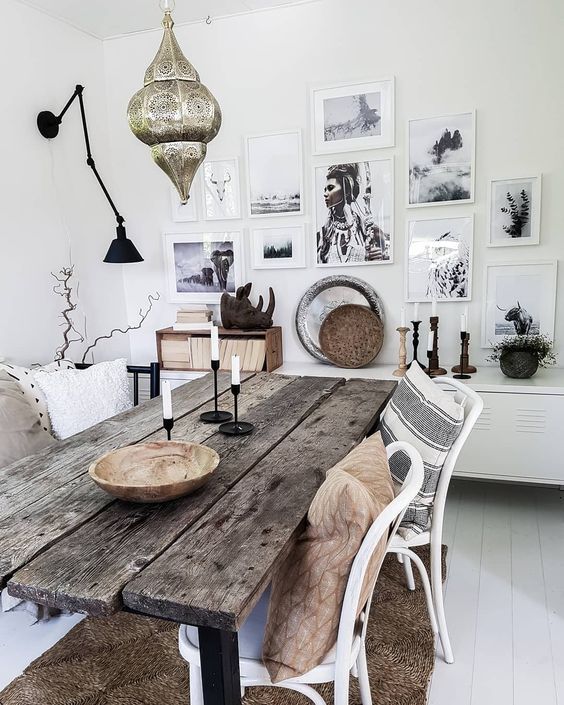 14. Make it wild and colourful
Start with a base of neutrals and natural materials, and then add vibrant colour and personality through your choices of décor. Motifs and designs from another culture are such a big part of boho interiors and the worldly influences can come from any far-flung culture—in the boho dining room below, a love of Mexican art and décor shines through.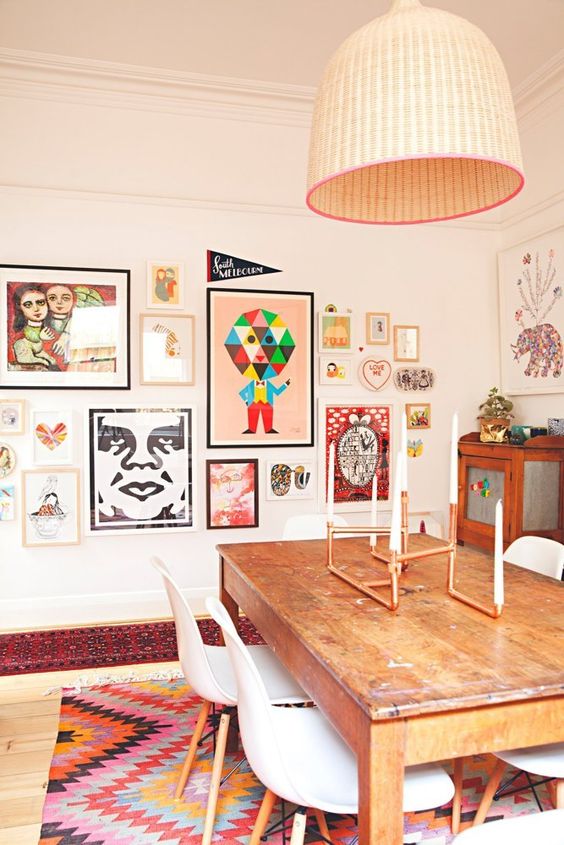 15. Add lots of plants
Greenery adds texture and life to any interior space and is especially important to create a boho vibe. You may just decide to go for one bold and lush statement plant, or you can go full jungalow and create a layered effect with many plants in a variety of containers and elevated planters, studded around your room at varying levels including hanging from the ceiling.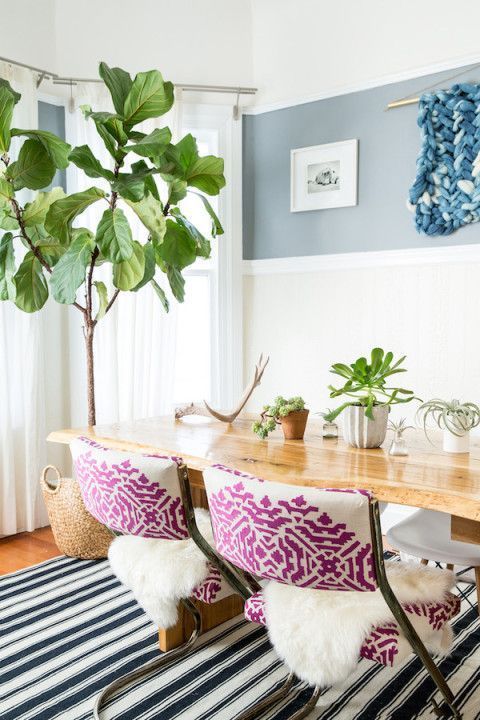 If you love greenery in your home, make sure you take a look at these bathroom plant ideas and bedroom plant ideas.
16. Really go wild with plants
Here's an example of a boho dining room that has taken the jungalow concept and really run with it. The increasingly popular "jungalow" decorating style is basically a super earthy boho with an emphasis on plentiful plant life. I like how the plants here pop against white walls, which keeps airiness in this very busy space.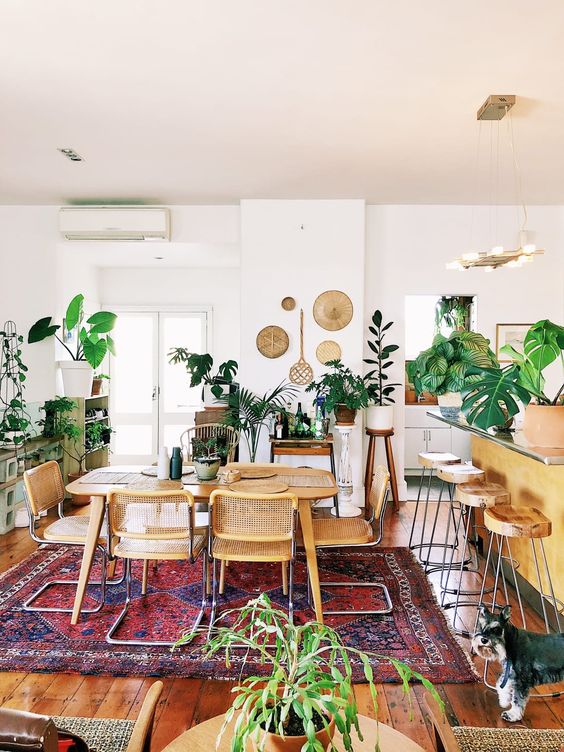 17. Add flowers and pretty table runners
If your dining room doesn't already have an abundance of plants, you might like to get the boho look by simply dressing up your dining table with a pretty table runner, a collection of vases and some freshly picked flowers. Choose a mix of your favourite fabrics and prints when picking out table decor–the aim is to create a busy surface brimming with details.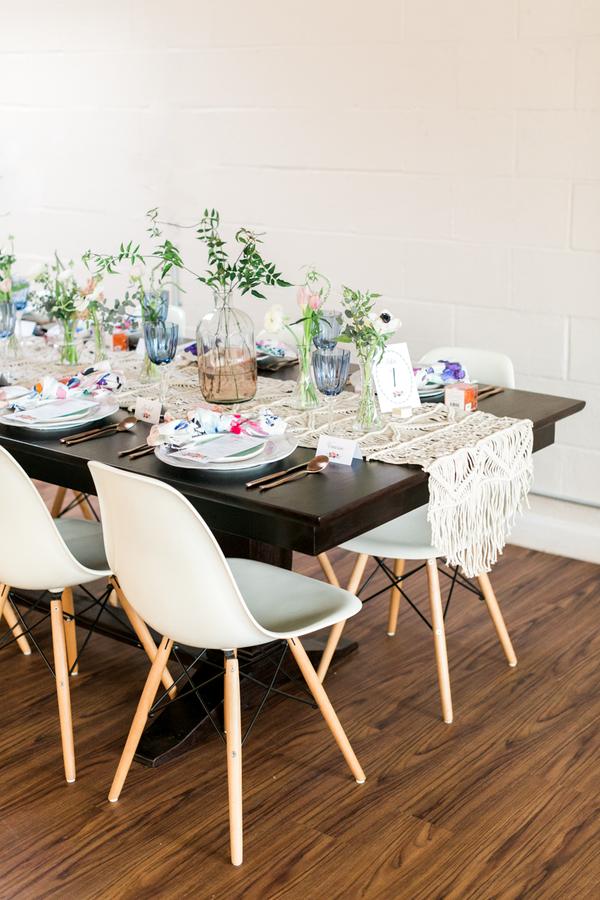 18. Add wall décor
This chic boho dining room combines mid-century touches in the furniture and lighting with the more hippie-boho aesthetic of basket wall art. The round forms in their natural fibres add texture and warmth to an already cosy space. How gorgeous are the magenta tones in this rug?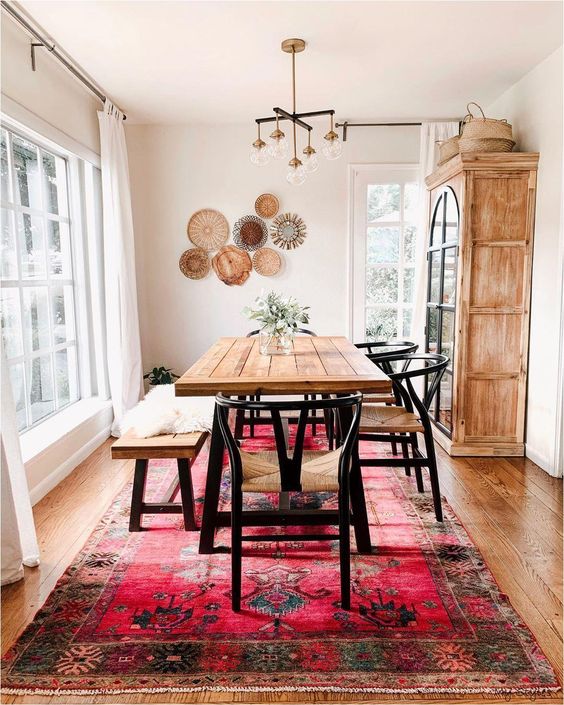 19. Go for Moroccan boho
With architecture like this, how can you not have a boho-chic dining room? This is in the Berlin home of a pair of artists who specialise in Eurasian art and culture, so their boho dining room is naturally full of multicultural influences. While you may not have an incredible arched door like this, you can certainly get the look with multiple rugs, loads of timber and natural textiles, and some eclectic wall art.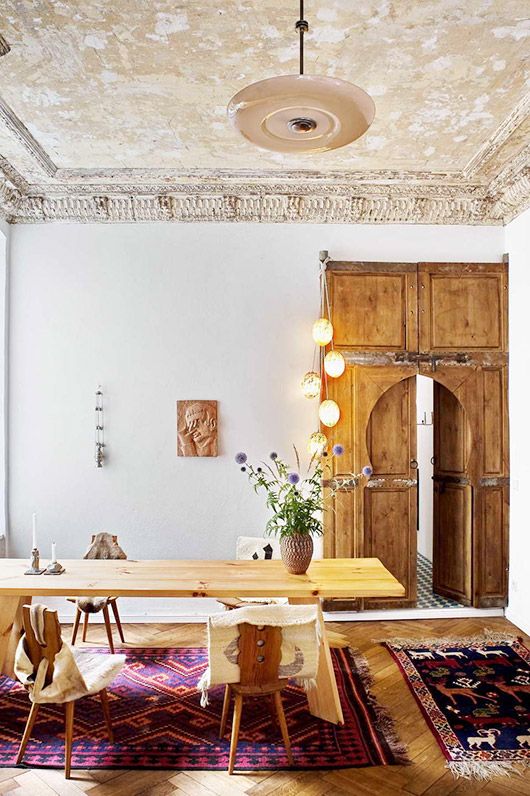 20. Make it Wild West flavoured
Another way to style a boho dining room is to give it a Western, Tex-Mex, ranch twist. Think vintage leather, rustic wood, tribal rugs, mirrors, carvings, cacti, candles and just generally a serious Sixties vibe. Add black accents and some shiny metallics and you have a pretty cool space.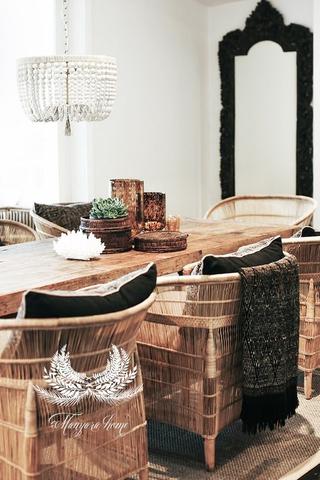 21. Or style it French
To get a French provincial boho look you'll want to add lots of weathered and pastel-painted wooden furniture—a big old farmhouse table is ideal. Add in a statement antique piece, then layer up the décor with delicate chandeliers, candelabra, a bowl of lemons and perhaps a metal bucket full of blooms. You can also add more boho signals with a large jute rug.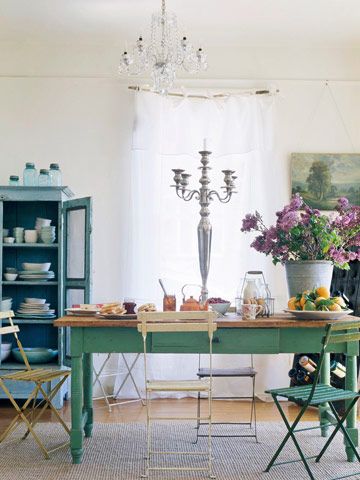 22. Layer with colour
This family-friendly boho dining room is unpretentious and simple, going for a happy, cheerful vibe. The palette of saturated brights layered throughout the space gives it energy, while the graphic décor elements add edginess. Chalkboards are always useful too, especially if you love to announce a menu.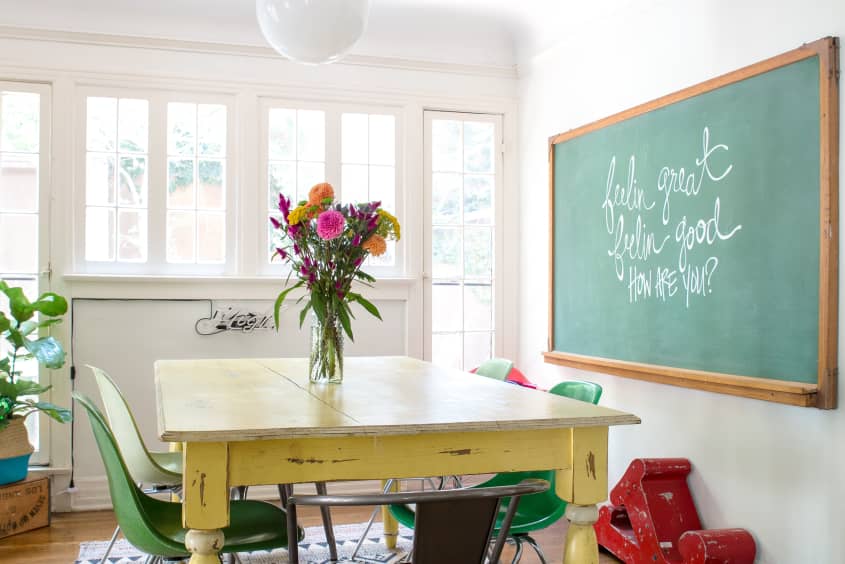 23. Have maximalist chairs
With boho interiors, you can really go as maximalist as you like—the more unconventional and artistic the elements, the better. So these chairs are right at home. They appear to be vintage frames, reupholstered in someone's favourite flamboyant floral print. The artwork complements the floral theme and the crystal chandelier is equally extra, but there's enough white in the rest of the room to balance out all the extravagance.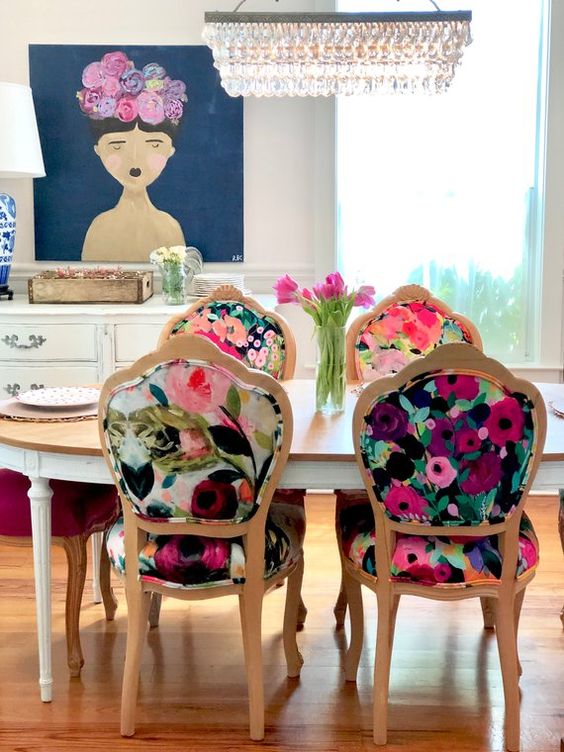 Find someone near you to take care of your upholstery repairs and you could have new looking chairs in your boho dining room.
24. Go darker for drama and cosiness
Even though you might think a boho dining room needs to be light, sunny and warm, a darker toned one can actually create a wonderful sense of intimacy and cosiness. In this room, darker furniture and soft furnishings are complemented by light grey paint, and the lighting has been carefully thought out to counter any dimness and to ensure even light distribution across the table.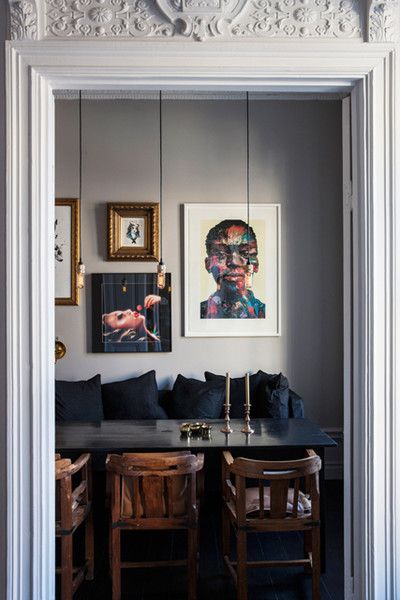 25. Add plenty of vintage charm
This dining room is an example of how you can (or even should) mix eras with abandon in boho interior design. The table is contemporary and industrial in style, the brass chandelier has Seventies overtones, and the chairs are true antiques; while the herringbone tile floor is another contemporary touch.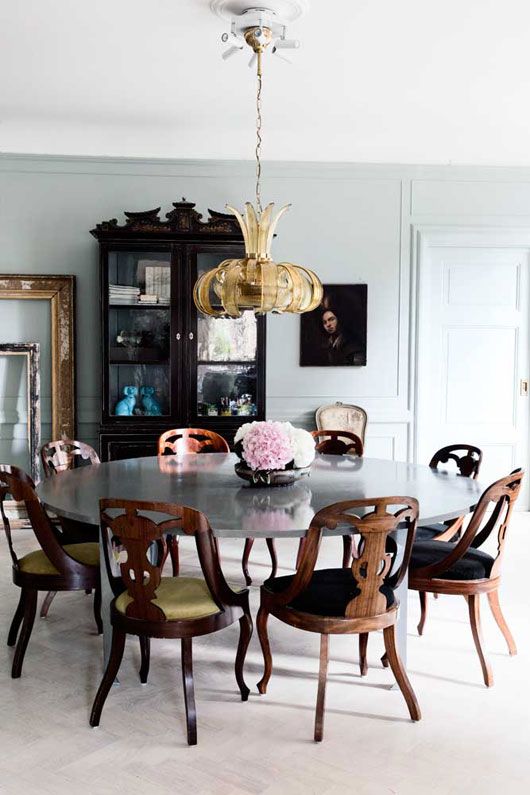 26. Seek out dramatic contrasts
Boho is such a versatile and variable style of decorating. At its heart is a celebration of difference which is why the mix and match approach works so well. Go for intentional differences and a big focus on contrast, like this black table paired with Ghost chairs, and the variously sized glass pendants and candlesticks.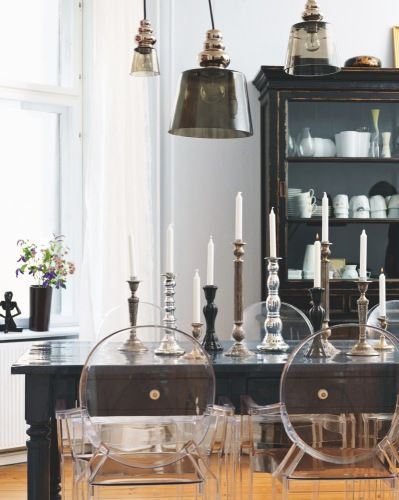 27. Be extra with your lighting
For example, this modern boho dining room shows off a cluster of rattan-dupe PET pendant lamps. These are absolutely perfect for boho styling due to both their worldliness, as they're woven in communities around the globe, and their sustainability, being made from recycled plastic bottles. Find a local electrician to handle your multiple pendant light installation.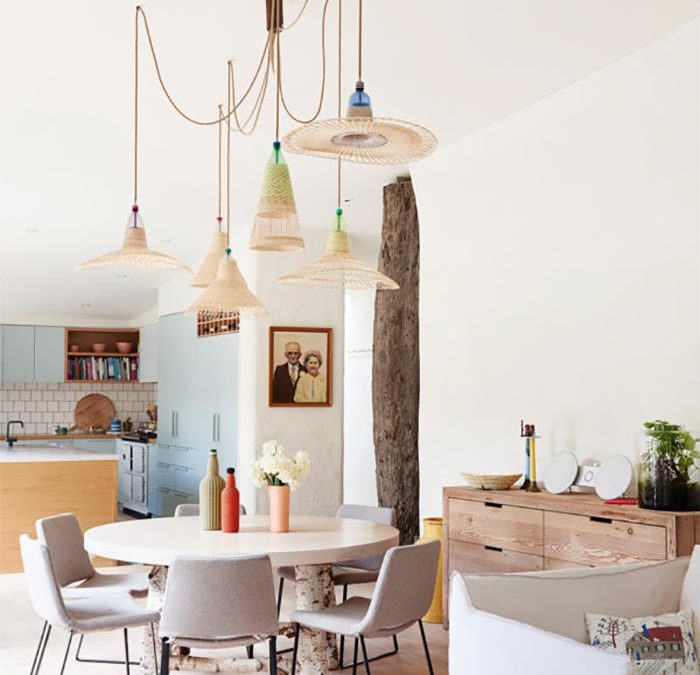 28. Have a macrame wallhanging
The coastal boho look, which some say is like the little sister of Hamptons interior style, is super easy to achieve. You'll be focusing on natural materials, a white and sunkissed neutral palette, and lots of texture. Here the texture comes from the woven chairs, pendant, jute rug and of course the macrame wall hanging.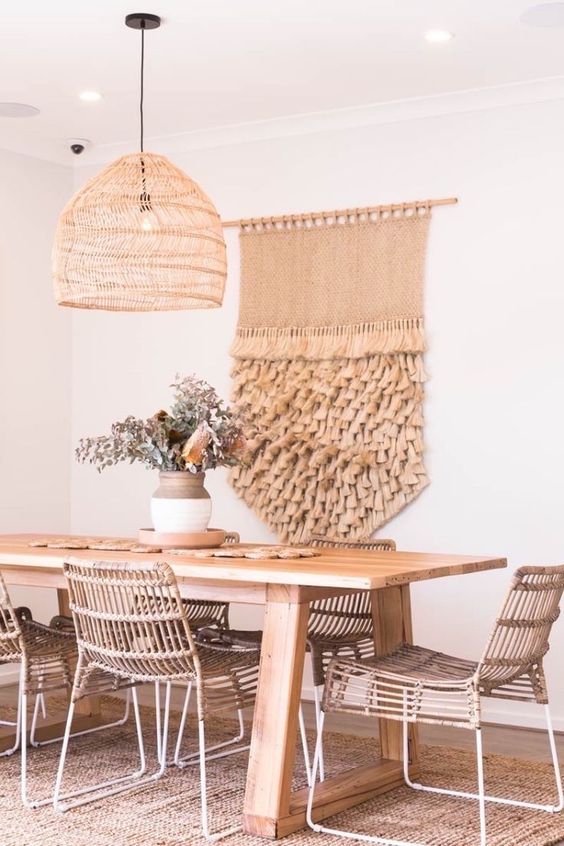 29. Go for coastal boho
Another coastal boho dining room here; the homeowner actually describes it as Mediterranean boho, probably due to its earthy colour palette and incorporation of sculptural vases, terracotta and ceramics. Either way, it's classically boho in the natural woven fibres, dried flower arrangement, and mix of old (vintage chairs) and new (contemporary artwork).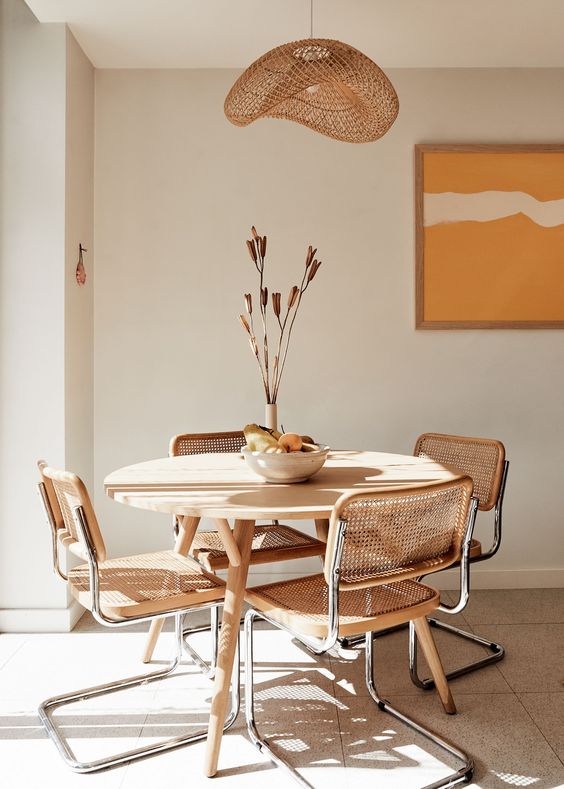 30. Seek woven décor
The reason décor and furniture utilising natural fibres and materials so suits boho decorating are they instantly convey earthiness and relaxation—big factors in creating a boho vibe. So look for décor made from timber, fibres like jute, rattan and wicker, and textiles made from cotton, wool and linen. Here's a lovely boho dining room that invigorates a neutral palette with beachy blues.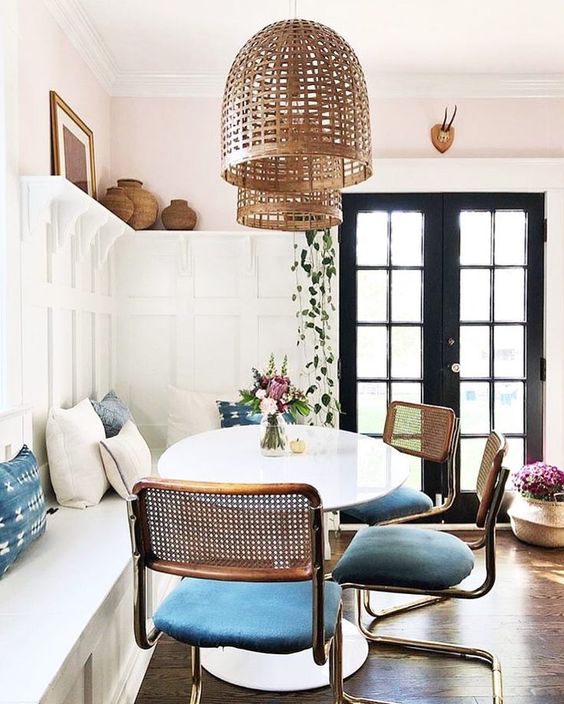 31. Add some black
If you're going for that relaxed beachy boho look, natural materials and lots of texture is going to pull it off with ease. But you can add a touch of modernity with black accents or perhaps a large piece of black furniture in the mix, like this matte black table.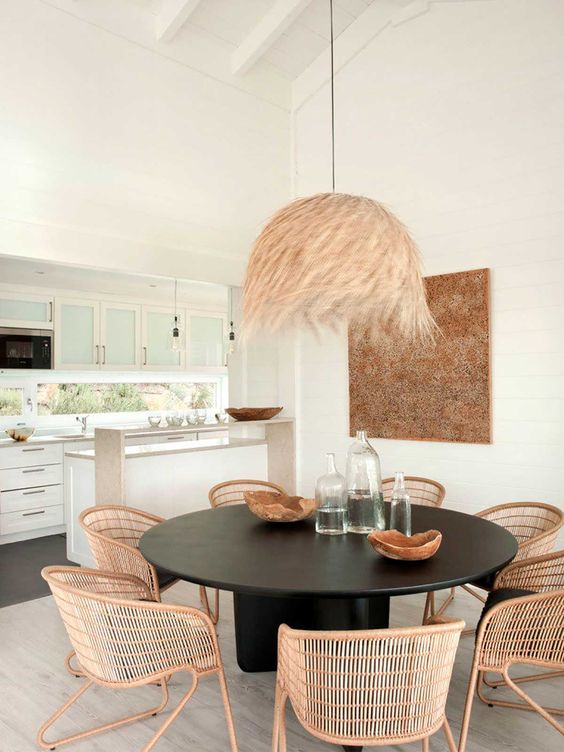 32. Look for dramatic shapes
Woven fibres bring softness to the space, but natural décor can also be statement-making. Pick an oversized woven pendant for a bit of drama, like the one in this otherwise neutral and black boho space. Love this shelving arrangement? Have someone build custom-shelving that fits your interior style.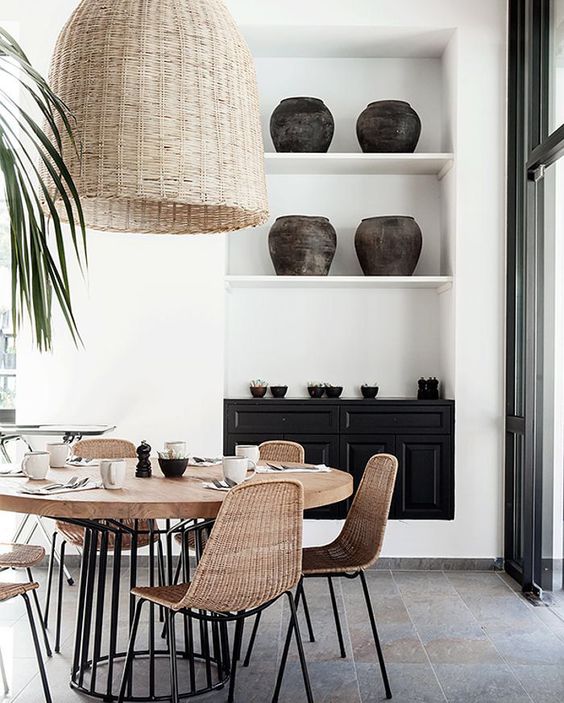 33. Go minimalist
Paring everything back to its most minimal can be another stunning way to twist the boho look.  A rug, a plant, a timber table, some mid-century style chairs: there's still enough layering of colour and pattern to signal boho but the space is deliberately simple and clutter-free. I love this sideboard made from mixed timbers—find a cabinet-maker to build one like this for you!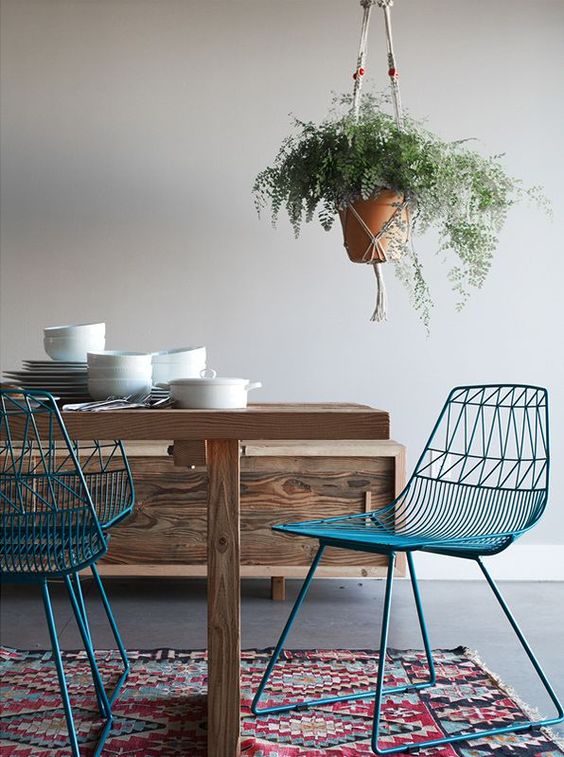 34. Add a bud vase centrepiece
Create a little gypsy boho flair by going for a simple butcher's block dining table, and covering it with an assortment of tiny gorgeous vases like these. I like the way this handy picture ledge has been constructed above the wall panelling, but you might want to explore more shelving options.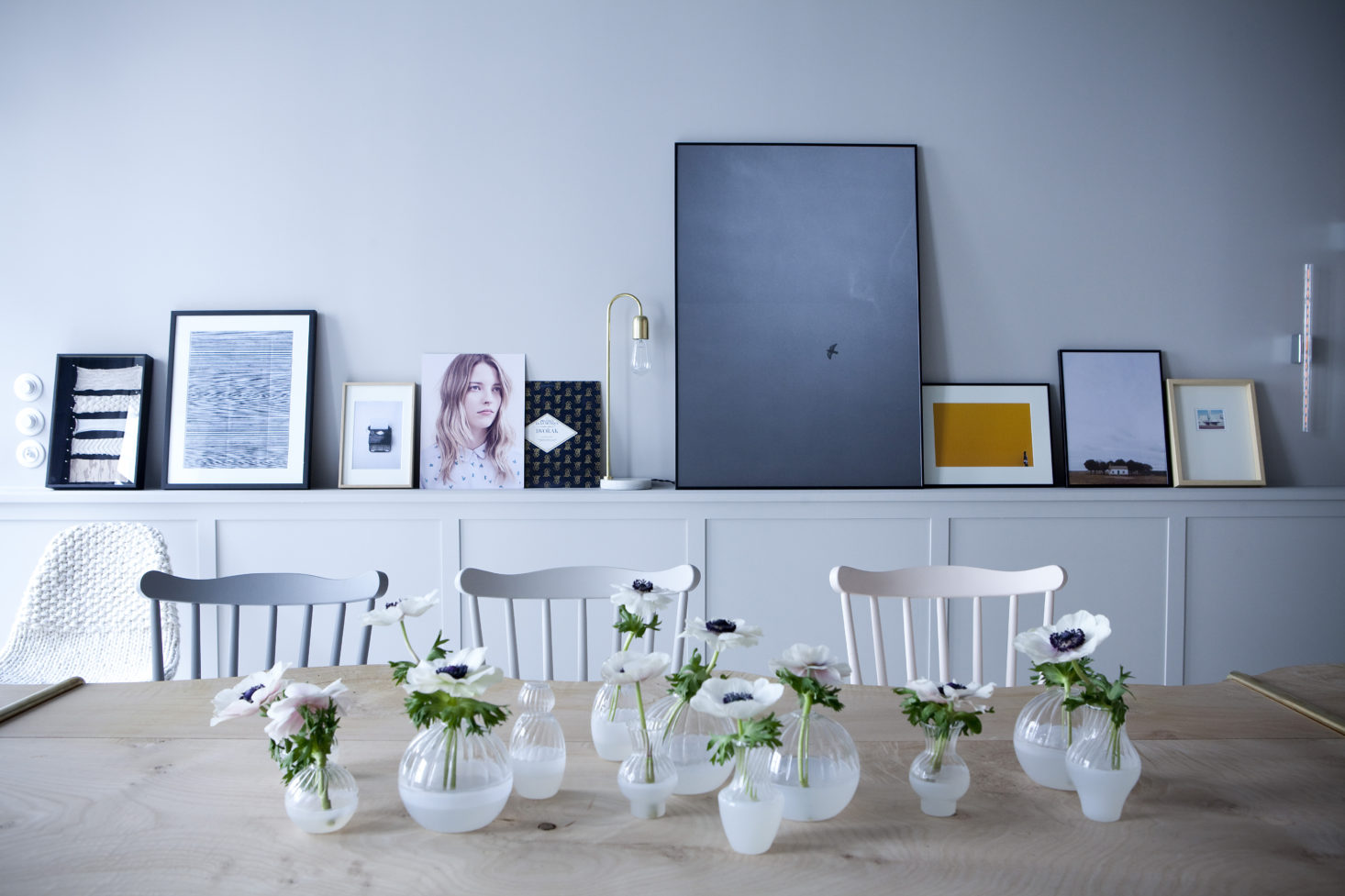 35. Style it Scandi
If you love both Scandi and boho styles, why not combine them? You simply mix the characterful, ad hoc, eclectic elements of boho with the polished, neutral, streamlined elements of Scandi. The result is a cool and casual boho chic dining room. Want to spruce up your floorboards or even give them a whitewash like this? Find a floorboard expert.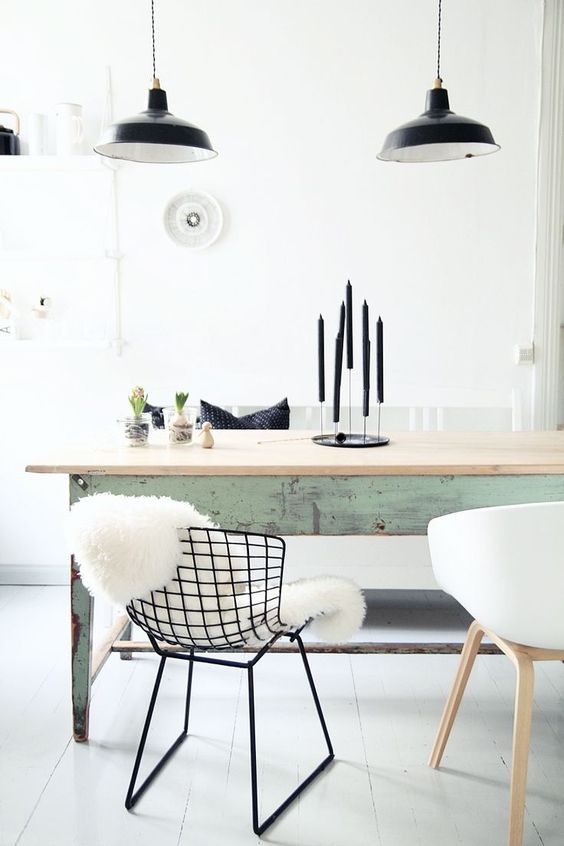 Well, I don't know about you, but now I really want to makeover my dining room into a boho space. What do you think of boho dining rooms? Let me know in the comments! Meanwhile, I'm off to window-shop vintage Moroccan rugs online…