There are almost two kinds of Hamptons looks nowadays. You're either chanelling JFK and Marilyn sipping martinis in a hotel in Montauk, USA. Or you're thinking Chris Hemsworth and Elsa munching on whole foods their home in Byron Bay, Australia. The first is the classic Hamptons look: luxurious, glamorous seaside dwellings. The second look is the updated, modernised, Aussie version of this enduring decorating style. Still chic and coastal but even more organic and very local. Let's take a look at how to design a Hamptons dining room…
The original and much-loved Hamptons style is often described as simplicity with grandeur. It was inspired by the elite seaside summer destination in upstate New York. And classic Hamptons is a formal look oozing class and sophistication. But it was always paradoxically informal thanks to its emphasis on comfort and relaxation.
It's still very popular but what has happened is Australians have taken the concept and made it our own. This means taking the sophisticated coastal look and imbuing it with unique Australian flavours and local materials.
Modern Hamptons still has a mid-century flavour, harking back to its Old Hollywood connections. But there's more inspiration from our own stunning coastal landscapes and native bush elements.
What's common to both is that if going for this look, you should:
Aim for grandeur but in a contemporary way
Start with clean, white expanses as a base
Keep a raw neutral palette with minimal accents
Choose classic, sophisticated, elegant furniture
Preference timber furniture
Emphasise materiality – create layers of texture with natural, organic, woven materials
Seek abundant natural light and have exquisite lighting, especially chandeliers
Below, our Hamptons dining room ideas will help you create a casual-luxe Hamptons style dining room which is both refined and relaxed. Here, my tips for achieving the beautiful modern Hamptons style for your dining room.
1. Make it feel alfresco
One of the characteristics of Hamptons styling is to create the sense of bringing nature in. It's about blurring the lines between indoor and outdoor al fresco living. Dining rooms often mimic patios, with generous infusions of natural light, white and neutral colour palettes. There's an abundant use of organic materials, too.
2. Add an elaborate chandelier
Extravagant, dramatic chandeliers are par for the course with Hamptons styling. So look for multi-tiered, oversized statement lights, especially crystal chandeliers. Aside from having generous light fixtures, a Hamptons dining room should also be as sunny and bright as possible. Keep walls white, leave window treatments sheer, and if it's an option, add skylights.
3. Add white…and more white
Your Hamptons dining room base should be white, preferably a white with cool undertones. Crisp and clean, white will go with any accent colour you choose and will naturally make the room feel spacious. (Find a local painter who will give your dining room a white refresh.)
4. Invest in designer furniture
The Hamptons ethos is "comfortable luxury", so seek out statement pieces from designers or small businesses. Look for clean lines with elegant detailing. Alternatively, you might like to look into custom-designed furniture for a bespoke take on Hamptons style.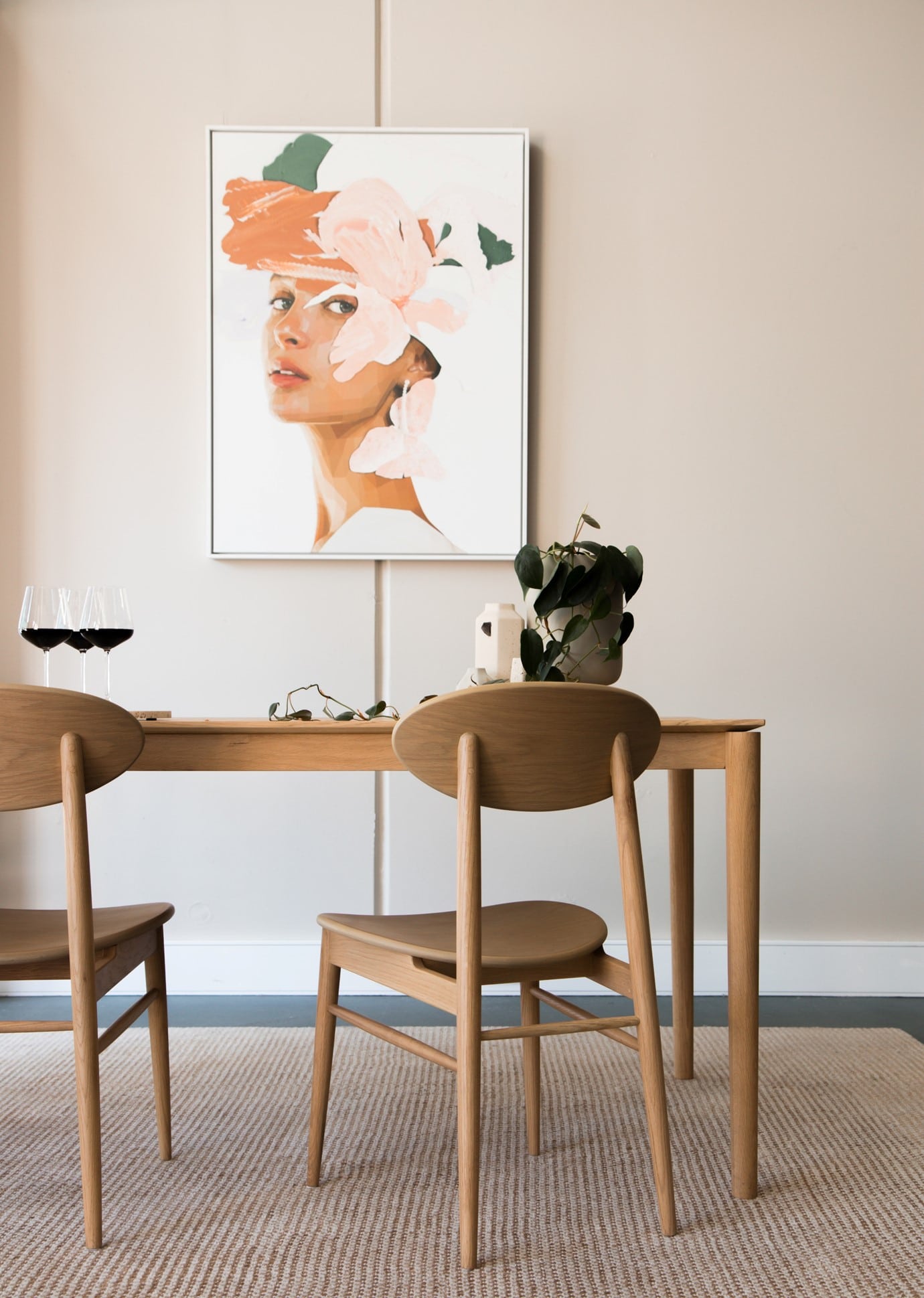 5. Choose organic shapes and materials
Infusing natural and organic materials in a neutral but interesting colour scheme will give you the signature modern Hamptons look.
6. Mix naturals with white
Chic coastal Hamptons homes are usually beachy with a white and organic colour palette. It's all about layering natural textures (timber, sisal, jute, linen, rattan) to create the signature breezy and fresh look.
7. Put an Australian spin on Hamptons
Australians have taken to Hamptons in a big way as it's so suited to the climate and lifestyle. But the aesthetic has been slightly reinterpreted the look to make use of native elements and local materials. The classic sophisticated silhouettes and refined furniture remain. But they're reimagined to reflect the Australian context.
Aim for a pared-back, relaxed modern beach house look, with refined, ideally artisanal furniture. Keep everything natural and organic. Be as sustainable as possible and make use of recycled materials. Go for relaxed luxe.
8. Keep it simple
Aim for a classic, minimalist look for your Hamptons dining room, with a definite lack of clutter. Then add interest by layering materials through the room, from a jute rug on the floor all the way up to woven pendant lights. Add in texture through some pattern in your soft furnishings or in the woven patterns of chair seats.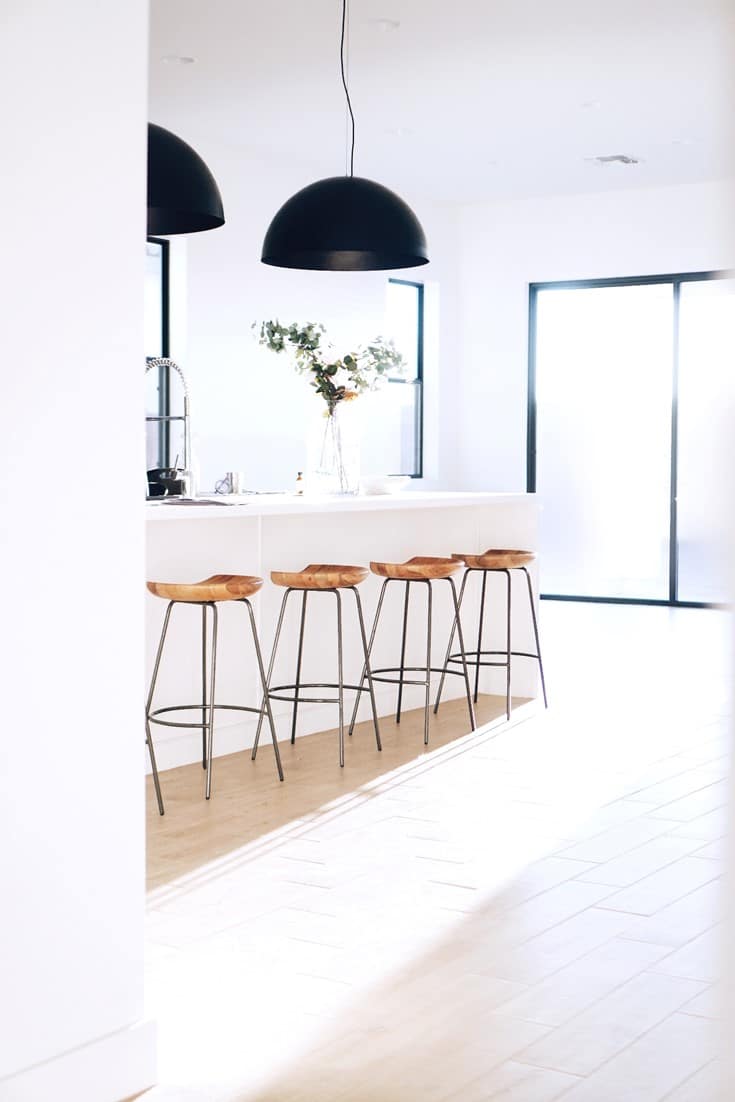 9. Look for pale timber furniture
Keep it sun-drenched and stylish with light-toned timbers. Using pale woods in your furniture and flooring is an easy way to achieve the look of artfully layering whites and neutrals.
Have a beautiful timber floor that needs some love? If yours needs a refresh, you can get some help with your floor sanding needs.
10. Choose delicate white chairs
White painted furniture is a must for your Hamptons dining room. Even if you don't have a white dining table, consider white chairs as these will instantly convey summery freshness. Even better—white timber chairs with woven rattan seats, to really get the Hamptons vibe.
11. Give your chairs white slipcovers
Hampton's dining rooms typically have white, black or natural chairs. Don't feel like replacing your existing dining chairs right now to fit a Hamptons vibe? Just cover them in linen or cotton slipcovers.
12. Upholster it
One of the classic elements of Hamptons styling is to make furniture extra comfy with plump upholstering. Especially button-back upholstery. Upholstering banquette cushions provides the perfect opportunity to add a dash of classic Hamptons blue. It's also a good way to introduce stripes or other gentle patterns.
13. Add just a touch of blue
Blue is the Hamptons accent colour but there's a lot of flexibility in which shade to go for. Classic Hamptons styling is firmly nautical with lots of navy and other deep shades. Meanwhile the updated modern coastal-Hamptons look tends towards lighter blues, or alternatively really unusual and unexpected shades of blue. But you don't need to add heaps of blue everywhere–just subtly add a daub of blue to the mix, such as with a painted dresser.
14. Pick a palette of neutrals and white
If you opt for white as your background canvas, go for a neutral colour scheme in your furniture. Incorporate plenty of natural materials. For example, all-white walls and whitewashed timber floorboards to create a stunning backdrop for a simple timber table.
15. Have Malawi chairs
Malawi chairs were favoured by the Hamptons elite due to their exotic appeal and holiday atmosphere. Handmade of wicker and rattan, they'll give you Hamptons vibes in spades, whether natural, whitewashed or coloured. And these days you can buy these sustainably and ethically from indigenous communities.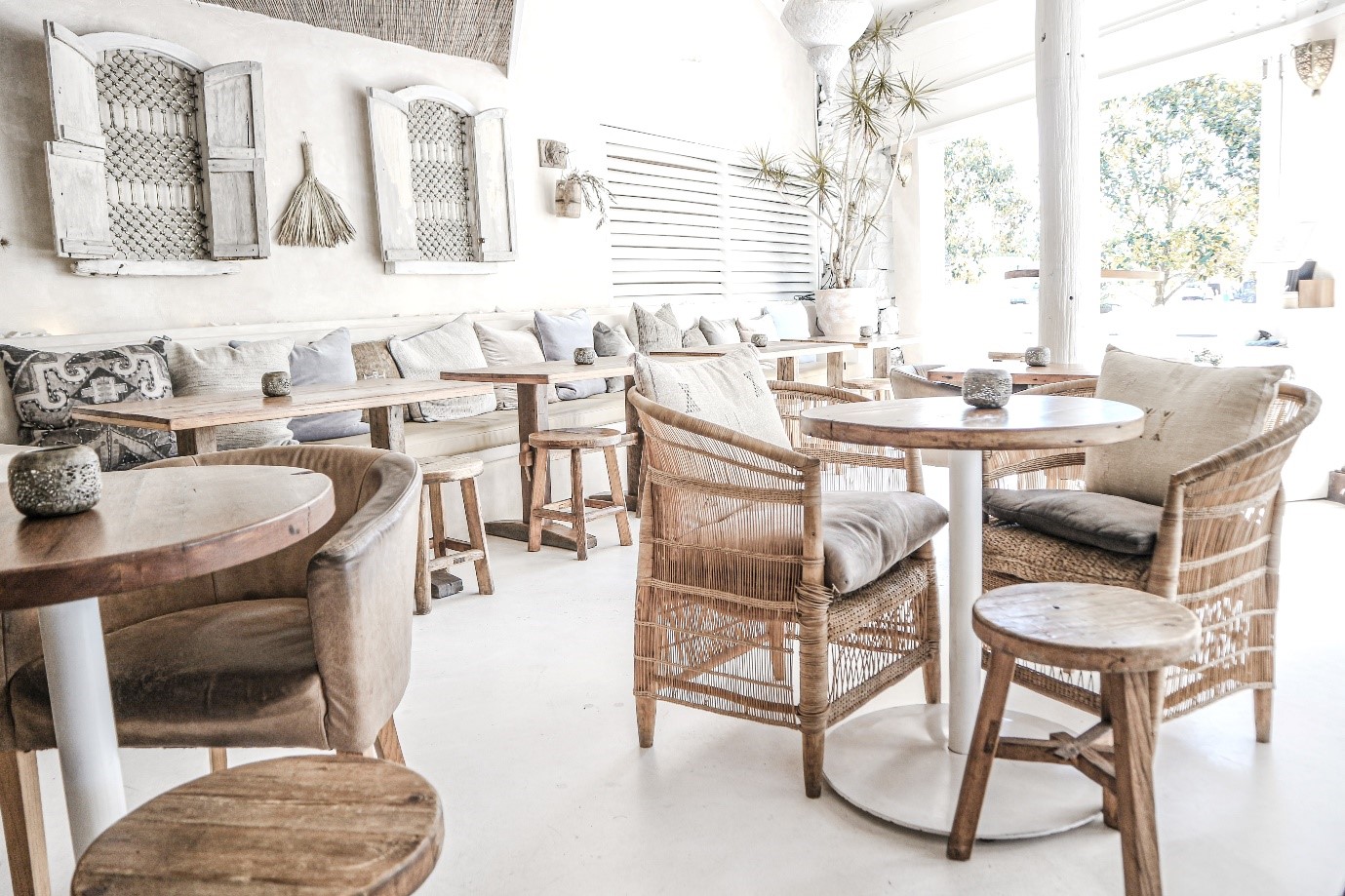 16. Polish your floorboards
Nothing says Hamptons luxe more than glossy, shiny wooden floorboards so have them polished. Combine with a blank canvas of a dining table, park in some mid-century timber and black chairs. Then all you need is an eye-catching chandelier, whether vintage or modern. A statement plant and a thought-provoking artwork would nicely complete the look.
17. Go for the romance factor
Hamptons has a focus on seaside sophistication and grandeur. So look especially for fine, delicate, detailed furniture. Romantic antiques and vintage pieces usually look the part. And mix timber tones with white—like a white round pedestal table with a darker timber top that complements the chairs.
18. Bring in faded denim blues
The Hamptons colour palette is really versatile. It pretty religiously starts with a white or very light neutral base. And there's always focus on natural materials. But you actually have quite a lot of leeway to work with when it comes to accent colours.
With original, classic Hamptons, you expect to see a lot of navy and regatta blues. But with more modern Hamptons looks, you'll see more blueish greys and more black accents. And then there's the beachy coastal Hamptons, which preferences pale blues and greens. But no matter which colour scheme you choose, keep windows, doors, ceilings and skirting boards white.
19. Have an elongated table
Given the moneyed nature of Hamptonites, there's nothing at all penny-pinching or economical about Hamptons styling. You'll often see extended, elongated narrow tables in Hamptons dining rooms. They speak to lazy long holiday lunches with assembled groups of family and friends. Go for a banquet-length dining table seating 10. Make sure there's excellent lighting in a large shared space, and keep the room uncluttered.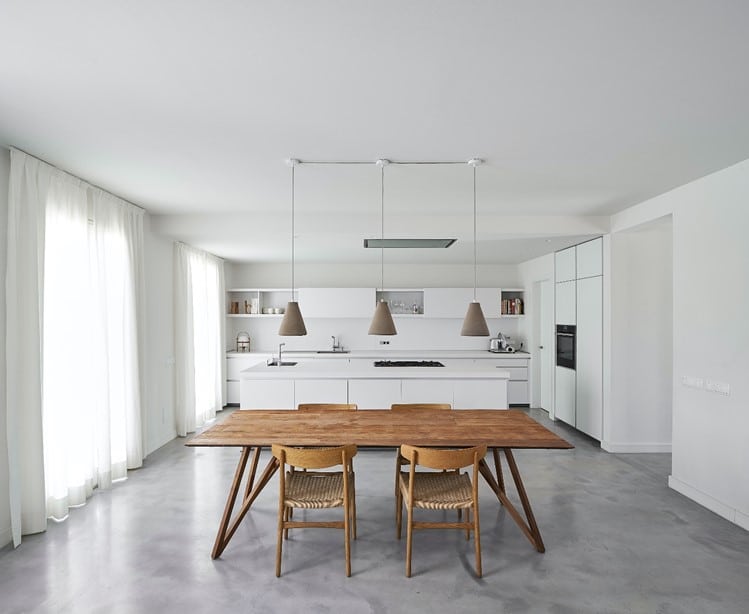 20. Go for sophisticated black chairs
There's something so very elegant about black chairs in a white and neutral Hamptons setting. Especially if they are bentwood chairs. These are the distinctive, rounded timber chairs created since the 1800s by steam-heating timber and moulding it). Vintage bentwood chairs would be ideal, but of course, you can settle for replicas.
22. Be generous and oversized
With the Hamptons being a playground for the wealthy, it's to be expected that Hamptons styling often emulates luxury resorts. So there's usually lots of oversized, spacious furniture. Pick one key piece—in the dining room, that's usually the table—and look for a statement-making, overly-large model; the bigger the better. Can't find the perfect oversized table? Just push two together.
23. Add a tiny bit of black
With so much white in a Hamptons space, adding a punctuating dash of black as an accent is a good idea. Adding something like a black metal candelabra or having black curtain rods will give the room definition.
24. Look for unique woven chairs
Stunning dining chairs made of natural timber and rattan are perfect for a Hamptons dining room. They offer both neutral texture as well as cool comfort. If you can find some in an unusual design, even better. Look for designs with elegance and grandeur as they're ideal for Hamptons styling. (You might also like to check out our blog on Hamptons kitchens.)
25. Style your breakfast nook Hamptons
Create a chilled out breakfast nook with an upholstered bench seat and white pedestal table. Keep walls white to increase the feeling of spaciousness. A woven lampshade an natural timber Venetians will make it feel extra coastal. And you can add scatter cushions in subtle patterns to add texture to the space.
26. Make it farmhouse
If you want to go for a Hamptons farmhouse vibe, weathered floorboards look the goods. They reflect that time-worn, well-loved, holiday shack aesthetic. They're at the other end of the scale to the polished floorboards of traditional Hamptons. Crisp white timber paintwork can freshen it up. Then just add Malawi armchairs, vintage industrial pendants and a lush plant.
27. Give a subtle Hamptons flavour
Layer texture over a white on white scheme with the textural elements of floorboards, shiplap walls, rustic exposed beams. Add angular, black enamel lights and contrast hard surfaces with tactile soft furnishings in Hampton's blues.
28. Try blue woven chairs
Wanting an easy way to bring in Hampton's flavour with a dose of dark blue? Consider blue coloured armchairs, ideally woven ones. Blue will work with any colour dining table but looks especially lovely paired with white joinery. Add to the feeling of seaside luxury with a dramatic woven pendant and bamboo Venetian blinds.
29. Add a natural rug
A natural woven rug will add lashings of coastal flavour to your Hamptons dining room. Rugs anchor a room and highlight the dining space rugs. And they're an inexpensive way to cover up less than Hamptons carpet or to add tonal interest over darker-toned timber floorboards.
30. Have a subtle Hamptons reference
It might be the trademark Hamptons white and neutral colour palette with black accents. Or it might be a relaxing bench seat with duck egg blue cushions. Or an airy lamp made of sailcloth or rattan. Another subtle Hamptons reference is artwork. Especially if it's something a bit abstract or ambiguous, which is ideal as a dinner party conversation starter.
31. Add 1950s touches
If you're after the classic, sophisticated aesthetic of this coastal style, include something mid-century. The 1950s are important to Hamptons because classic Hamptons has that Old Hollywood vibe of glamour and luxe, so it's a great vintage to include. Look for delicate-framed white chairs and heavy, solid timber tables.
32. Add pale sky blues
Aim to achieve the classic Hamptons backdrop with a relaxing palette of whites and accent blues, for an effortless summery feeling.
33. Go for luxe finishes
You can go for a modern Hamptons look with simple, streamlined furniture but with beautiful, luxe finishes.
34. Make it really light and airy
Have as much natural light as possible and keep window treatments sheer. A pared-back, light colour scheme will also help keep things feeling spacious. Mix white-washed woods or bleach oak floors to a pale colour (you can get help with that from an export in timber flooring).
35. Add abstract ocean prints
It's easy to bring in that touch of saturated Hamptons blue to balance all your fresh white and pale neutrals. Look for ocean-inspired artworks, photography or prints, the more abstract the better. These will give your dining room a refreshing spray of salt and sea. (You can have your dining room art prints hung for you if you want them perfectly aligned).
36. Mix white and rattan
When in doubt, turn to white + rattan as a failsafe combination that will always convey a Hamptons vibe. An all-white colour scheme just can't help feeling fresh and outdoorsy, so add plenty of white and allow the interest to come through in the details.
And there you have my top tips for creating a Hamptons aesthetic in your dining room, to go with your Hamptons bedroom and Hamptons bathroom. Like more design help? Don't forget you can find an experienced home decorator or interior designer near you.
Let me know in the comments: Which do you prefer, a more classic Old Hollywood Hamptons vibe? Or a modern Australian interpretation of Hamptons?