As much as the place where you cook is considered the heart of a home, so too is the place where you eat. Whether that's a space within your kitchen, or whether you have a separate, formal dining room, either way, the emphasis is on creating a comfortable and functional space where people will love to hang out. Not only do you want the space to act as a beautiful backdrop to show off your meals, but you also want a harmonious, atmospheric ambience that puts you and your guests in a flattering light and good mood. And that's why I've put these 51 dining room ideas together for when you're just not too sure which way you want to go.
The main elements for your dining room will be a hero dining table, an array of gorgeous chairs, sufficient storage for your needs, soft and inviting lighting, beautiful flooring, and ideally, some kind of intriguing statement décor, to start the dinner party conversation or just give your room personality.
Dining table ideas
With tables, there are so many variables: shapes, size, material, colour, style. Even within decorating styles, there's huge freedom of choice. It will boil down to what suits your needs best, and what appeals to you the most. Since your dining room table will be heavily used and should be built to last, it's worth investing in–look beyond retail chains to source handmade or even bespoke tables made by artisans.
Below, I've got some beautiful tables and dining room ideas to use for inspo. And don't forget, you can always get help with your table assembly or if you find something second hand, find someone who is expert in furniture restoration.
1. Rectangular
Rectangular shaped tables are known for their versatility and represent a classic, traditional silhouette. Going for a relaxed, coastal farmhouse look? Tip a bucket of white paint over your dining room interior, including your old wooden table and chairs, and you'll instantly have a fresh, clean, inviting dining space. Then, drop a pin on your dining space's location with a graphic, attention-seeking pendant light.
If you love the freshness of a white interior, you'll love these white bathroom and white bedroom ideas.
2. Square
Then there's the square table, which has that lovely democratic feeling to it, putting all guests on an equal footing. Square tables can be easy to work with—they can paradoxically save space in the room and manage to feel spacious for diners.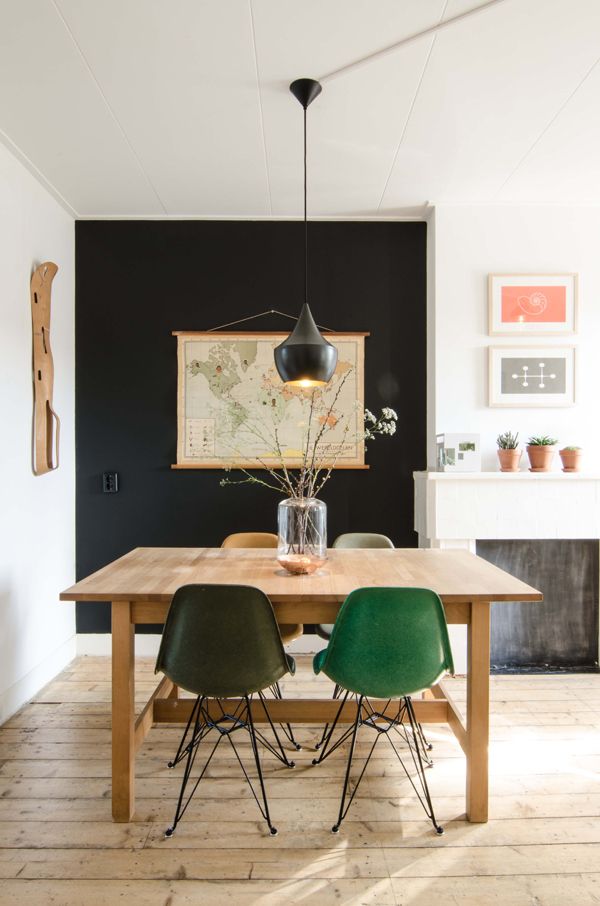 3. Oval
As humans, we respond well to rounded shapes and forms, and that's why the oval table gives us such good vibes. Opt for one with clean lines, an elegant form and perhaps an unusual leg design. When you have a beautiful but simple dining table, it really allows the food and guests to take centre stage.
4. Round
A round, four-person dining table has a particular intimacy about it. And like the oval-shaped table, it has an organic feel, while lacking corners makes it space-saving. Here, I love the mix of timber tabletop with a white base, and its softness means it melds well with the felted chairs.
5. Oversized
Tables that go on for days are ideal for bigger families or people who love to entertain. Long, conference-style dining tables allow plenty of room for all, but when you're going for an oversized table, keep the design understated with slim profile legs. Balance the size and shape with a single, circular pendant light for visual interest; and balance the heaviness of the black with some fresh green plants.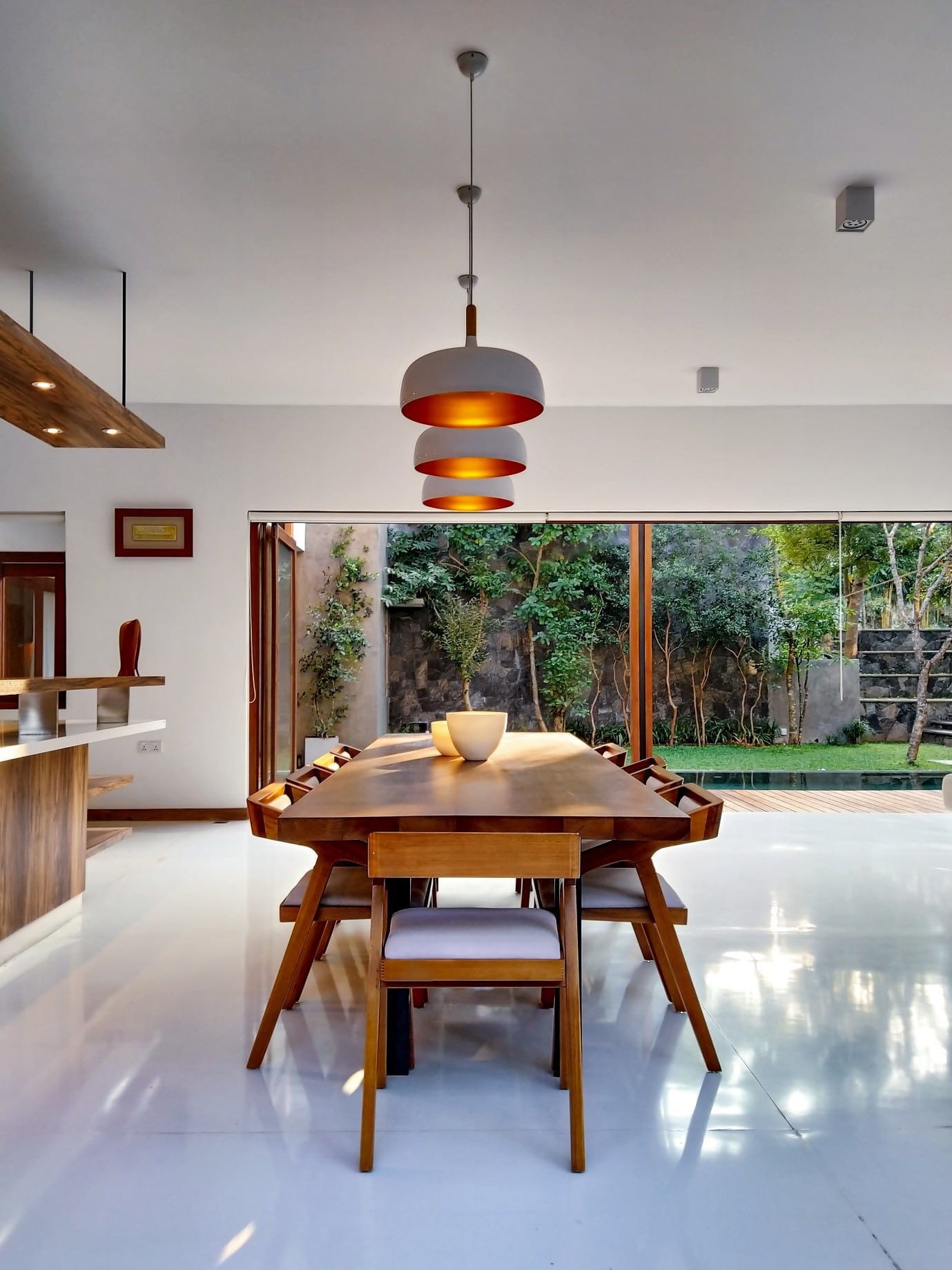 6. Marble-topped
If your taste tends more towards contemporary Parisian sophistication, add some glam with a marble-topped table. Carry on the luxe aesthetic with pastel velvet mid-century style chairs and intricate chevron flooring, and keep the rest of the space achromatic.
7. Two-tone
Take a style tip from boutique hotel designers by adding a perimeter of black to a simple vintage square table. Leaving the timber warm and natural in the middle adds warmth and marries beautifully with wooden chairs and a warm-toned pendant.
By the way, the last few dining room ideas (and plenty more below) have fireplaces, and if you would like to add one in your dining room or wondering how to style your existing one – take a look at these fireplace tile ideas.
8. Reclaimed wood
Love farmhouse? Then your best bet is to find a weathered old timber table secondhand or have one made from reclaimed wood,  or maybe with a live edge. Add a relaxed, boho style décor like a woven, bell-shaped light, a massive patterned rug, and a few verdant plants. Pair with exposed beams, which always signal farmhouse—you might be lucky enough to already have them or you could always find a contractor to instal them.
And it will go perfectly with your farmhouse kitchen and rustic living room.
9. Colourful
For a modern dining room refresh, some simple furniture painting in your favourite colour will refresh the space. Go for a quirky, eclectic vibe with vintage bentwood chairs, an animal hide rug, and a piece of typography on the wall for a pop of fun and colour.
Chairs
Again, these days we're really spoilt for choice when it comes to dining room chairs. There are beautiful designs in every style and it's easy to find replicas of all the most-loved classics, like the Danish tulip or wishbone chairs, or American style spindle back or bentwood chairs. With so many options, the common denominator is that the chairs should be comfortable above all—after all, a lot of time is to be spent sitting here.
10. Pink Midcentury style
One of those 'can't go wrong' combos is a Tulip-style round table surrounded by gorgeous mid-century petal-style chairs, for that vintage Palm Springs aesthetic. Set in a cooling white palette with sparse décor other than a statement chandelier.
11. Black banquette dining setting
The dining room interior of the award-winning Curatorial House by Arent & Pyke, is worth checking out if you love a banquette dining setting. It features a beautiful black and white colour scheme, including a comfortable padded black banquette with all the retro café feels. Also with a booth dining setting, that means less chair assembly that's needed!
12. Wicker or rattan
These are another never-fail choice for a contemporary dining room because organic materials like wicker and rattan have really captured people's imagination in a big way in recent years. The natural fibres are perfect for emphasising the indoor-outdoor connection.
13. Black dining room chairs
There's something very appealing about black dining chairs as a statement. They're just a great way to create contrast and visual interest in an otherwise neutral palette, really popping against natural fibre rugs, for example.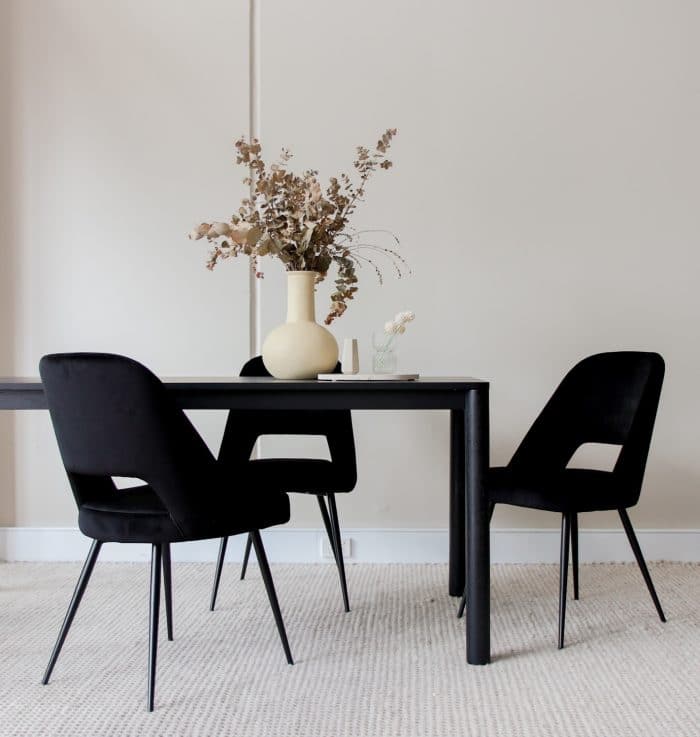 14. Vibrant dining room chairs
If you have a black table, however, you definitely won't want black chairs as well. Instead, pair with brightly coloured chairs like retro timber and orange velvet ones.
15. Barely there
The transparent Ghost chair has become a design classic ever since Philippe Starck first came up with the idea back in 2002, inspired by the shape of the historical Louis XVI armchair. Today there are all kinds of versions and replicas out there, with the transparent furniture being ideal for a dining room because it allows the focus to be on the attire and personal style of the diners, and because the unobtrusive profile keeps everything light and airy.
16. Mismatched colours
While these days, hardly anyone seems to buy a matchy-matchy dining table and chairs set, you also have leeway to mix and match your chairs themselves to create an even more eclectic and characterful aesthetic. Just ensure they have some common element for cohesion—whether that means different colours in the same style or different styles in the same colour. Here, slim-legged, mid-century flavoured chairs in a variety of colours add interest to this setting. Need new chairs? Perhaps you just need some new upholstery.
17. Mismatched patterns
Changing up the pattern of the same style of chairs is another way to reduce uniformity and create more texture. These sophisticated upholstered chairs belong together, but the pattern shift breaks up any potential monotony.
18. Vintage dining room chairs
If you want to create an eclectic, Parisian ambience, go for elaborate vintage chairs contrasted against a solid form table. Boldly break the rules by mixing two different kinds of vintage—for instance, antique French chairs juxtaposed with a plastic mid-century Saarinen Tulip table. The contrast of forms and materials makes it work.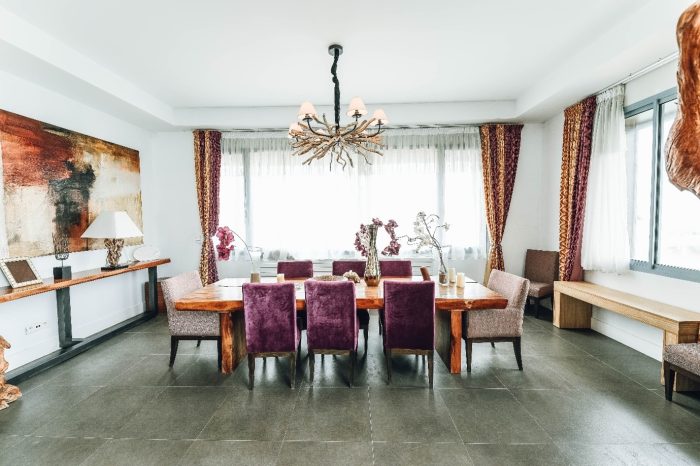 19. Rainbow brights
Infuse your dining room with kaleidoscopic colour for a boho look, with a crystal chandelier for added oomph. When using a lot of colour, keep the chair style simple with clean lines, to allow the focus to remain on the beautiful colours.
Dining room lighting ideas
Lighting plays such a vital role in dining room design, creating atmosphere and setting the mood. You'll often see pendants hanging quite low over dining tables, as this creates a cocooning, cosy vibe and puts the spotlight on the dining zone. No matter what kind of lighting you love, the aim is to bestow flattering light onto the faces of the diners and to portray the meals in their best light as well. Also, you can find an electrician near you for your lighting needs.
20. Multiple pendants over dining table
Woven pendants are always stunning, and multiple woven pendants just amplify the effect. Steal the look of this dining room, part of the Surfrider boutique hotel in Malibu, which features a serene, neutral palette with plenty of on-trend organic materials. What a beautiful Boho dining room!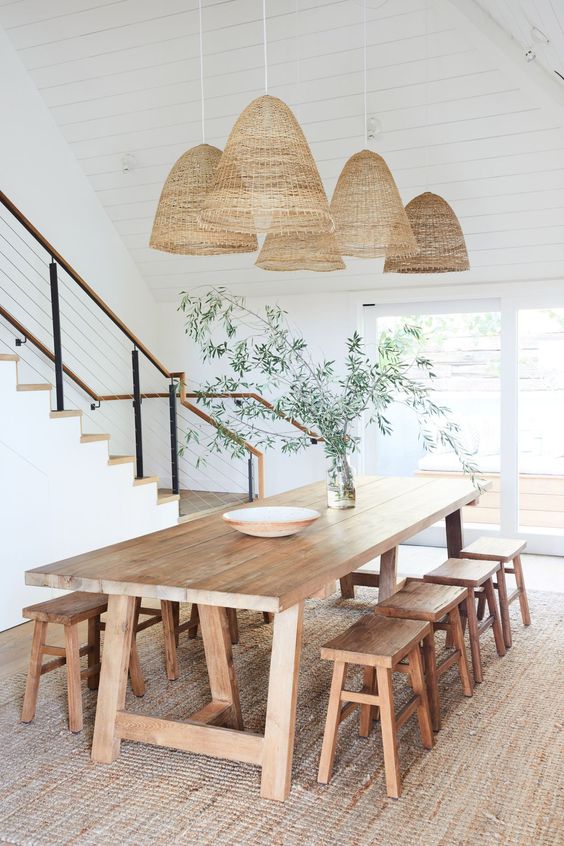 21. Linear suspension light
An increasingly popular style of light is the linear, parallel suspension light which runs the length of a dining table. It's unobtrusive, neat in appearance and automatically contemporary. Just make sure your light doesn't run the total length of the table—about four-fifths of the length is best.
22. Black pendants
A farmhouse style dining room always suits generously sized, industrial-look metal pendant lights. If you have a long rectangular table, your best bet is to have twin pendants above, to ensure even distribution of light.
23. Sculptural dining room lights
Instantly add drama and excitement to a plain dining room space by going for elaborate, architectural shapes in your overhead lighting. When you have a simple dining table and chairs, you can afford to be adventurous and avant-garde with your lighting instead. Consider perhaps a replica of the iconic Georges 'Blade' light, with its adjustable, petal-like cane panels.
24. Natural dining room light idea
A rustic dining room suits coarsely woven pendant lights. Add a macrame wall hanging for texture and character, and (authentic vintage or replica) mid-century wishbone chairs to bring sophistication to the simple setting.
25. Pale jute pendants
Jute is one of those neutral, natural materials that goes with so many interior styles and adds plenty of warmth to any setting. It's perfect for a tropical coastal dining room aesthetic, contrasted with abundant foliage and colour-popping green chairs.
26. Boho pendant
Nothing brings Boho vibes more than a large, fluid shaped woven pendant light, especially something feathery and multi-tiered design.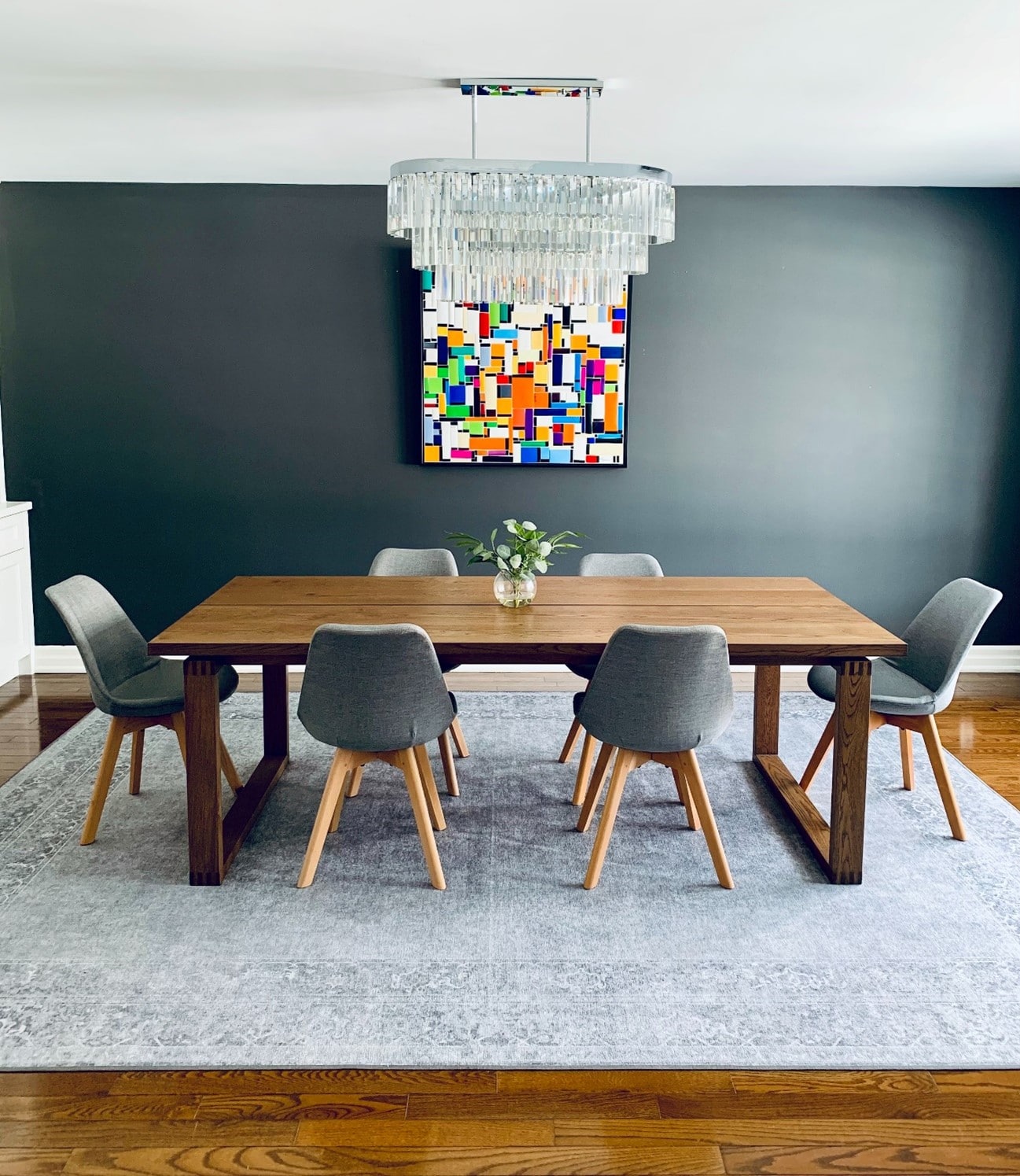 27. Clear glass lights
A cluster of organic-form, hand-blown glass pendants hanging at slightly different heights is a beautiful way to add drama to your dining room. Love ethereal glass pendants? Just make sure you choose a low wattage bulb to avoid blinding everyone at dinner.
Dining room flooring
If you have the budget to refresh your dining room flooring, now is your chance to create the dining room of your dreams from the ground up. Maybe you want to go for eclectic tiling with striking colours and patterns, or perhaps a poured concrete floor is the base for you. Already have floorboards? Have them sanded, polished or whitewashed to vastly improve your dining space.
28. Tiled flooring
Vintage-style tiling is the perfect foil for a stunning antique dining table surrounded by mid-century style chairs.
29. Pale floorboards
If you love an Australian coastal surf shack vibe, you can't go wrong with pale timber floorboards. The soft neutral colour perfectly goes with the beachy colour palette and stays true to the focus on texture and materiality that Australian coastal interiors tend to have. To freshen up your dining room floor and find a floorboard expert near you.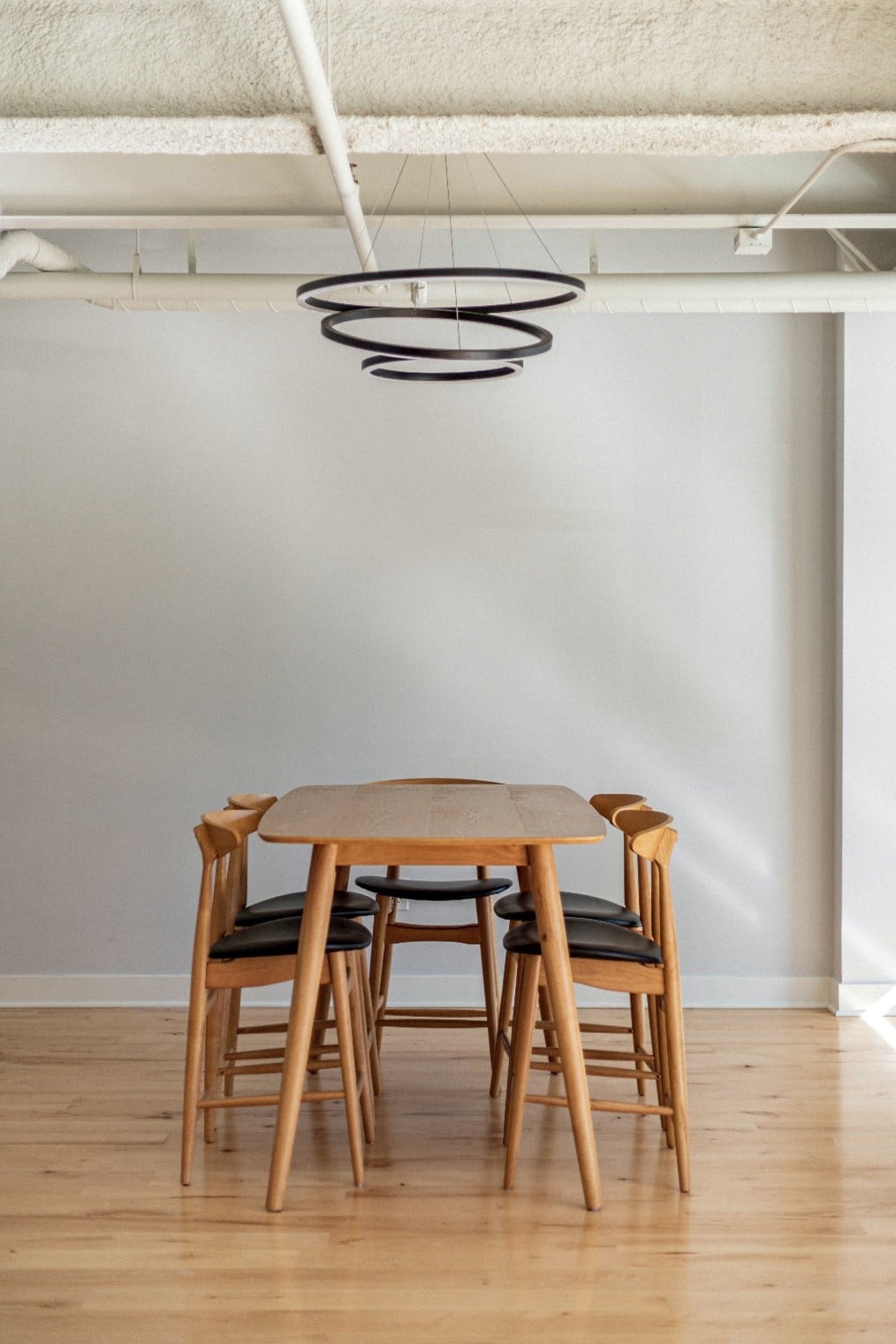 30. Retro tiled flooring
Eccentric, almost terrazzo-style tiling with a retro flavour adds heaps of character to a kitchen dining room setting. Tiles are so practical, being easy to clean and last forever while adding so much beauty to a space.
31. Whitewashed floorboards
For a white, Scandi style aesthetic for your dining room go for pale timber furniture and whitewashed floorboards. It's a relaxed look so well suited to the Australian coastal lifestyle; you can imagine coming in from a surf with sand on your feet, to grab a bite to eat.
32. Concrete flooring
Have a contemporary living room? Then poured concrete will work wonderfully for your dining space. Whether raw, polished or coloured, concrete feels sleek and modern and has that industrial feel to it too. You can find an expert in concrete flooring near you, or if you already have concrete floors, have someone spruce them up with a concrete floor polish.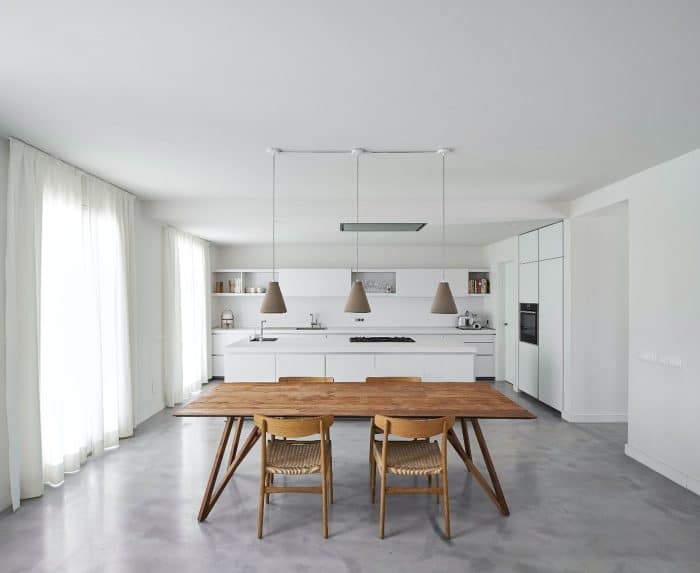 33. Dining room rugs
Whatever kind of flooring you have, adding a floor rug will enhance your dining room by making it more comfortable, more textured and by acting as an acoustic buffer to mellow out the sounds of dining. Create a space that's rich in contrast, with a hard black accent wall against a plush, soft grey rug. Formal black chairs with gold legs might add a little glam, while a multi-bulb Sputnik style chandelier brings a vintage touch.
34. Soft Scandi tones with rug
A Scandi style dining room with lots of timber furniture can be softened with a pale, neutral rug. Rugs define the dining area nicely and help prevent the nails-down-a-chalkboard sounds of chairs scraping on the floor.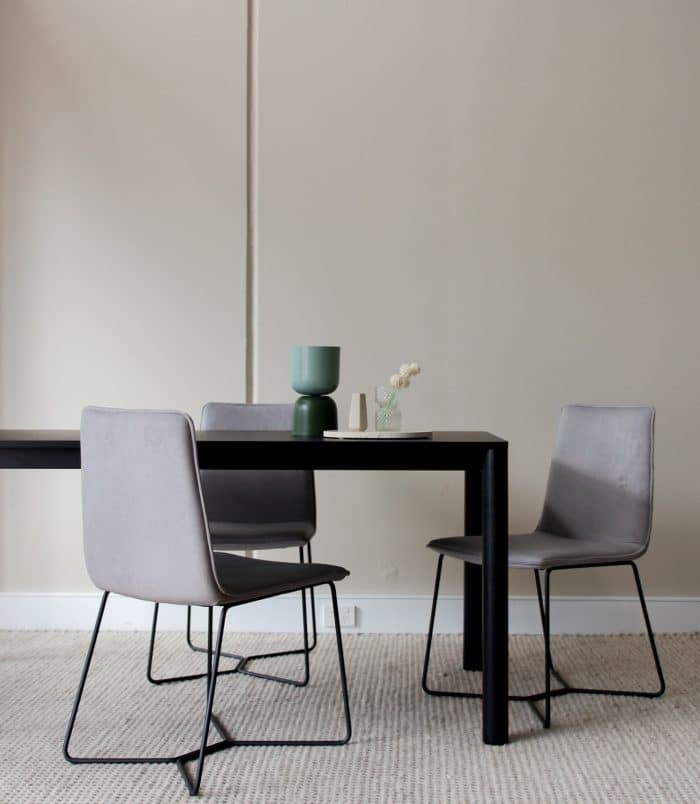 35. Persian rug
Major doses of colour and pattern can be had by adding a large vintage Persian or Moroccan rug under your table, for a strong Boho look. Just add teak and rattan chairs around a simple, farmhouse style worn timber table. And keep your rug always in top-notch condition with some rug cleaning.
Dining room wall ideas
Dress up a formal dining space or make an informal one cosier—whether it's with paint, panelling or paper, add some wow factor to your dining room.
36. Dark walls
An easy way to add an atmospheric, intense vibe to your dining room is to make it over to have dark, matt walls in a beautiful deep colour like slate grey. There's something luxe about darker walls, and you can enhance the effect with dramatic and glam, multi-bulb lighting fixtures. Want to get a professional to handle your dining room paintwork? Find a painter near you.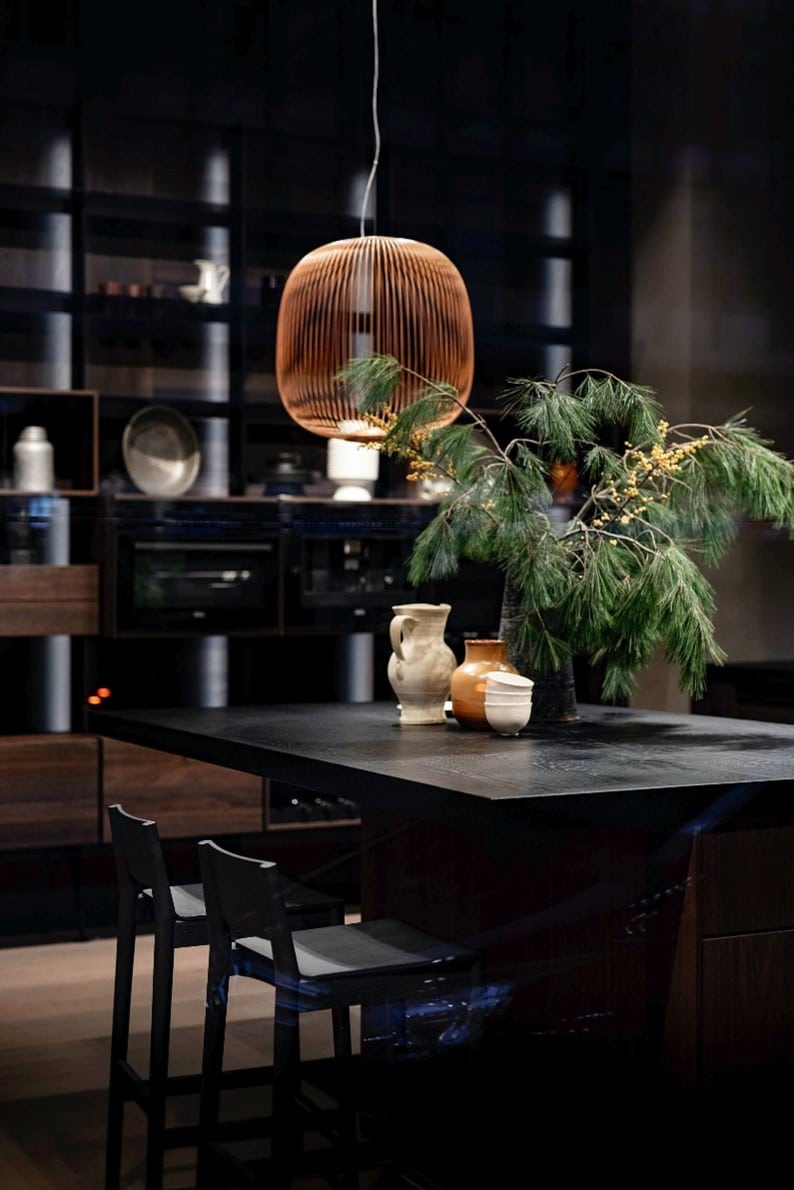 37. Dining room wallpaper
Another way to transform your dining room is to add wallpaper, whether on all four walls or just on an accent wall. Go for extra colour or pattern, or just make a statement with a print you adore.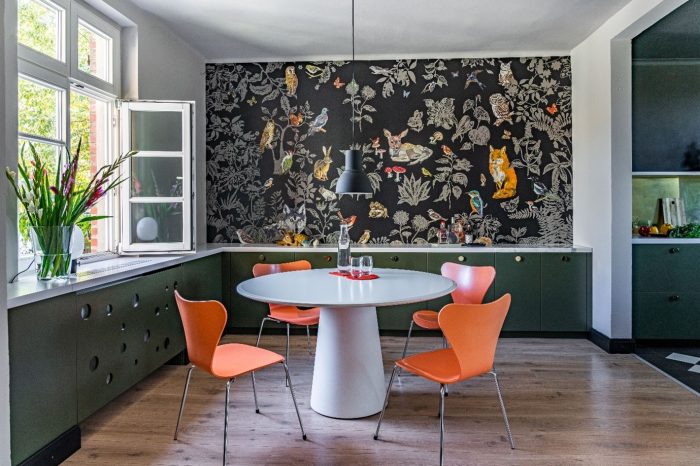 38. Millwork and panelling
A refined, traditional, formal dining room can be made to feel super luxurious by treating the walls to some kind of textural panelling, like geometric millwork which adds so much interest to a small, plain space.
39. Black cane chairs
Love cane chairs but don't want to go with a neutral or natural colour palette? Don't worry, cane chairs can also be found in graphic black and white versions that are ideal for a bold contemporary dining room.
40. Board and batten wall
You can also give your walls texture and visual interest with board and batten.
Storage/shelving
Maybe you need to use your walls space more purposefully, or you'd simply like more room to display treasured objects and collectibles. Take advantage of your dining room space for more functional furniture, like bookshelves or a buffet.
41. Timber cabinetry
Custom timber cabinetry is the way to go if you have the budget, as this will make the absolute most of your available space and cover your specific needs.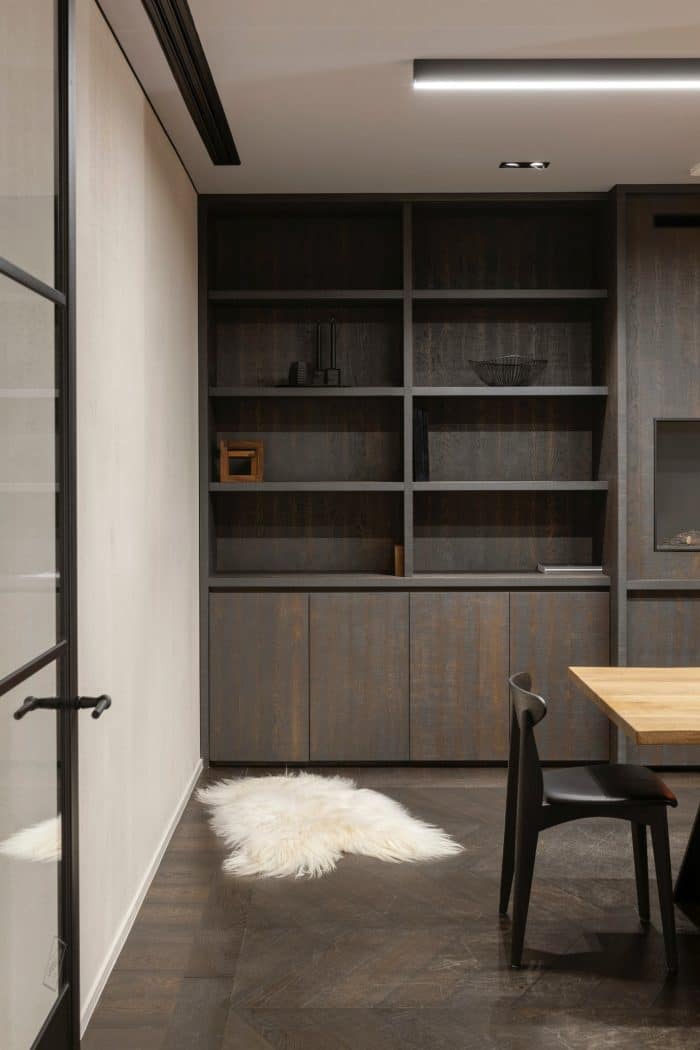 42. Colourful sideboard
If you're decorating on a tight budget, you might prefer to find secondhand furniture and customise it to make it your own. Go for a bright Boho farmhouse dining room with a happy melange of bright colour and pattern, like an old sideboard painted duck egg blue.
43. Surrounded by bookshelves
Colourful rows of books add pattern and shape to any living space, as well as telling something about the personality of the people who dwell there. If you love an eclectic, relaxed and unpretentious but soulful look, then surround your dining table with your beautiful book collection. White bookshelves are nice and unobtrusive against white walls, and allow the book covers to provide the colour.
44. Ceiling high shelving
Takes full advantage of your entire wall height with built-in shelving up from floor to ceiling. Keep the palette neutral and the rest of the décor uncluttered to balance the shelving.
45. Vintage armoire
Adding one stunning piece of antique furniture can really make a dining room, so be on the hunt for a gorgeous storage item like a vintage armoire with glass doors. Your dining room will instantly feel sophisticated and you'll have the perfect place to display any treasured heirlooms and trinkets, or simply house your day to day crockery.
Kitchen dining room/banquette
Don't have a separate dining room? Here are some space-efficient and stylish kitchen dining room ideas. With space at a premium and to keep things feeling as airy and as roomy as possible, it makes sense to choose furniture that is streamlined and simple.
46. Timber and white kitchen dining
Bench seating is a great space saver, and can easily turn a tiny nook into a dining space for numerous people. The trick is to keep things very simple, like simply having a beautiful timber setting in an all-white painted space. All you need to add is a pretty pendant light and a bit of greenery—then let the meals and people do the "decorating".
47. Curved banquette
A padded curved banquette is both chic and comfy. You can add little stools to tuck away under the table when not in use. A floating timber bench is a good idea as well, as it will keep things feeling airy.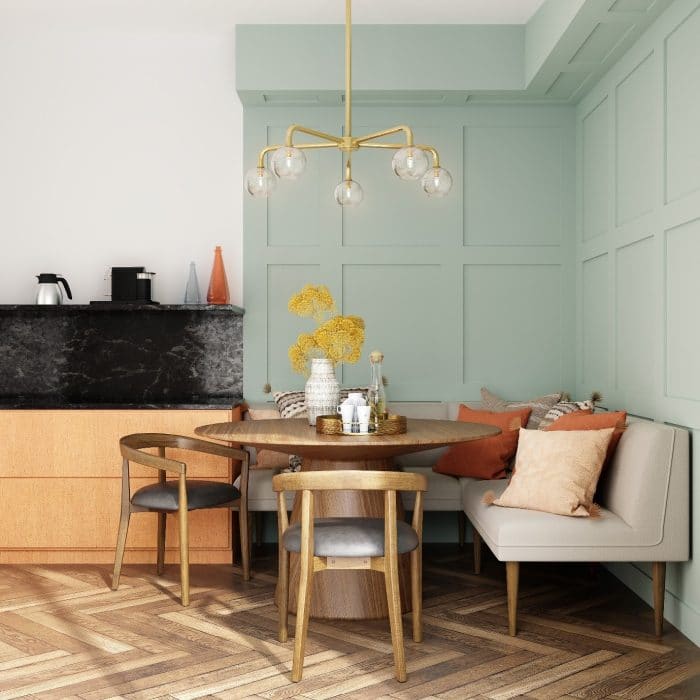 48. Retro cane and green velvet
Cane seating is very firmly on the contemporary radar but also gives strong retro vibes. Set up your kitchen dining room to have all the vintage café feels about it, and be the cosiest spot to unfurl your Saturday paper (or scroll through your insta feed) while eating your eggs.
49. Colourful banquette
Although simple lines and neutral coloured furniture will help make the most of a small kitchen dining room nook, you can still add drama and visual interest with your choice of soft furnishings and wall décor. Why not find your favourite fabric and have your banquette cushions covered?
50. Comfy and livable
A tiny round table fits nicely into any kitchen corner, and adding a rectangular wooden bench (with a few colourful cushions) will save still more space on one side. A couple of comfy chairs on the other side will make it look more like a dining space.
51. Tiny kitchen dining
Have a teeny tiny kitchen? You can still fit in a little dining table and chairs—especially if it's a design that folds away into the wall. It's all about being creative with your available space—and you can always pick the brains of an expert interior designer to help you devise the best solution.
And that's a wrap on 51 dining room ideas that hopefully have given you some direction for your dining room revamp. Let me know your thoughts in the comments—which of these dining room décor ideas take your fancy the most?