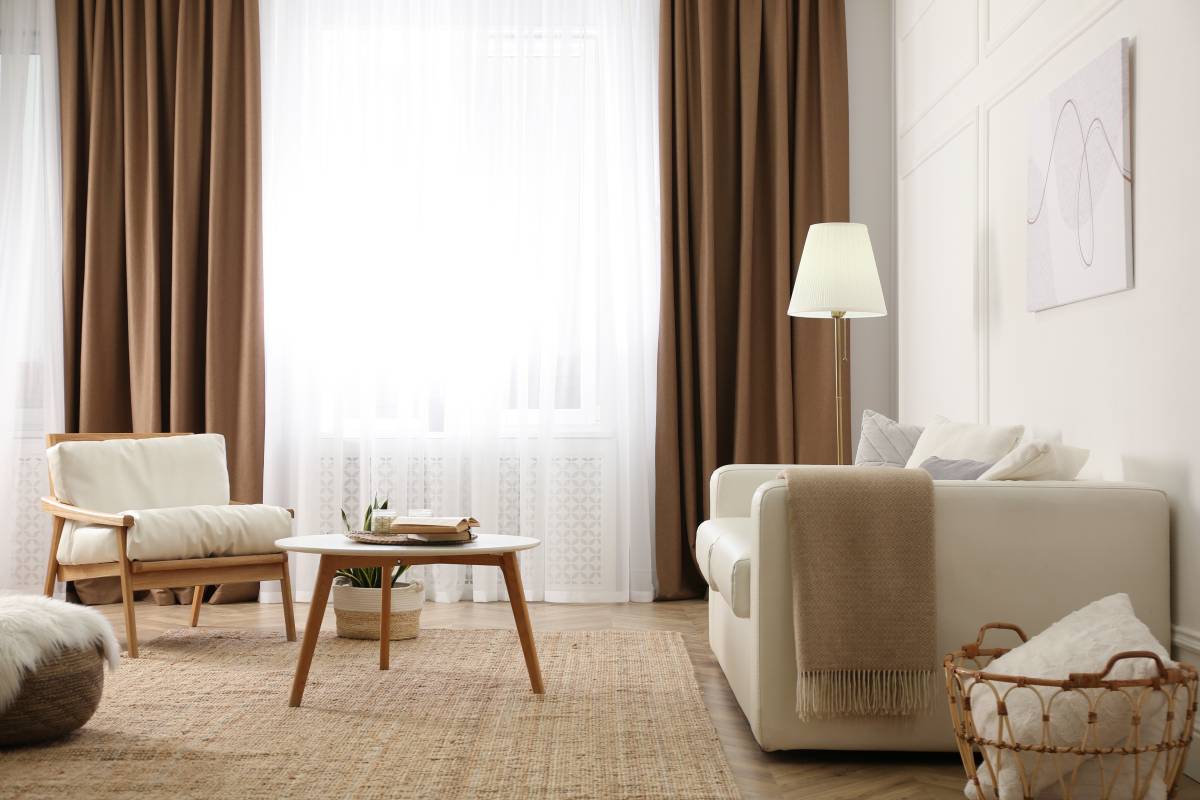 Drapes vs curtains: What's the difference?
Want to know more about Drapes & Curtains? Learn from local curtain fitters in our community!
Join Airtasker today!
Find curtains & blinds fitter, fast

Post a task with your price in mind, then get offers.

It's free and takes only a minute.

See how it works
Like many people, you may be asking if curtains and drapes are the same. This may come as a surprise, but curtains and drapes are two different types of window treatments. We can argue that they are similar in more ways than one. But what are their differences?
What are drapes?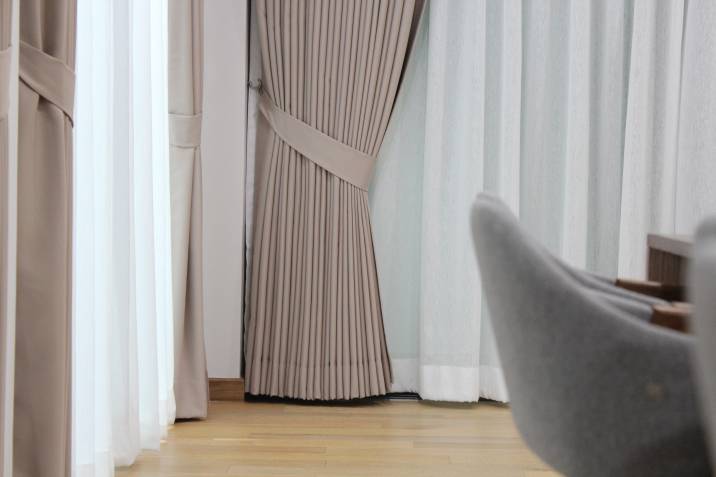 Drapes are made from heavy, thick fabric. They're used to completely block light, reduce external noise, and insulate a room. This is why drapes are lined with fabric such as silk, velvet, or damask.
Drapes come in various solid colours which grants a formal aesthetic. Different designs and patterns are also available, but you may have fewer options compared to shopping for new curtains.
Drapes are also usually floor-length. Having drapes that sprawl towards the floor creates a puddle effect which could add to the aesthetic that you're looking for. On the other hand, curtains are much shorter and drop just below the window sill or hang a foot or two above the floor. 
You can try to hang drapes yourself if you have the tools and a little bit of know-how. But, this could prove to be a challenge. Drapes are heavy, and you'll need a sturdy rod and holder that's properly mounted. You may need to hire a professional handyman to give you a hand.
What are curtains?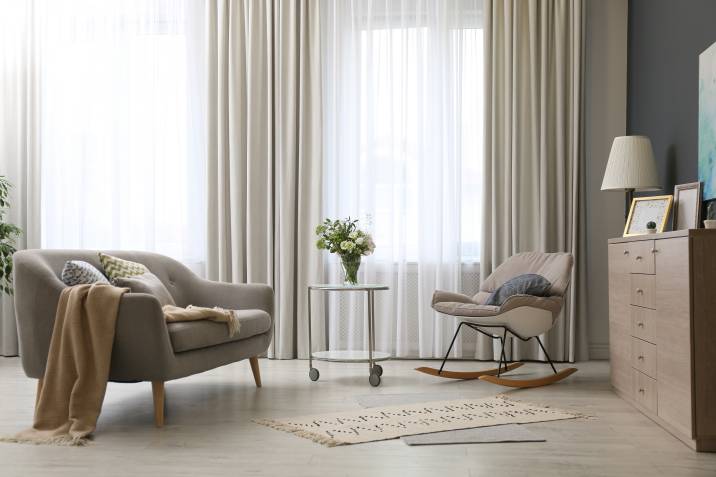 Curtains soften the light that enters a room, natural or otherwise. Curtains are usually paired with blinds, shades, and even drapes. These are also often made from lightweight materials and fabrics such as sheer, linen, and cotton.
Curtain panels are available in pairs and you can find a wide range of colours, designs, and patterns. Curtain length and width may vary. But fret not, these are flexible and can be used in various rooms.
Blackout curtains are used to block out light, similar to drapes. Though, unlike drapes, they are lighter, made from thinner fabric, often unlined, and do not block out as much light as the name suggests. 
You can easily install curtains yourself. However, if you feel you need help or don't have the proper tools at your disposal, it may be best to call a professional curtain fitter.
3 popular styles of curtains and drapes
Knowing the popular panel styles for curtains and drapes in the market can help you pick one over the other. Here are common panel styles for curtains and drapes.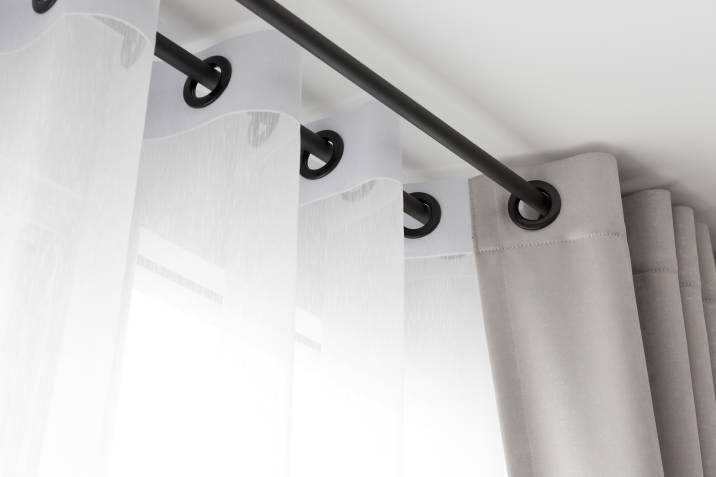 Panels with rings - these panels are hung from rings attached to the top fabric of the panels. These are also called grommets. 

Rod-pocket panels - these are hung by slipping the rod into a hollow, fabric channel at the top of the panel.

Tab-top panels - panels with loops of fabric sewn on the top team of the panel. To hang, the rods are slipped into the loops.
Which is better: drapes or curtains?
If you have a specific aesthetic in mind, you should be able to decide between curtains vs drapes. Below are some common use cases for each.


Why use Curtains?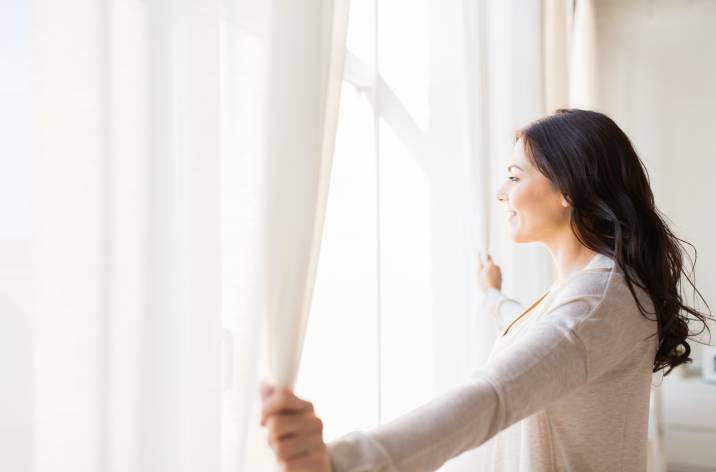 Use curtains in common areas of your home or where you want to have more natural light. 
Curtains are great for the windows in your living room, patio, and kitchen. They also allow a cool breeze to enter the room.
Pros:
Flexible and can be used in different rooms in a home or office.

Available in different colours, patterns, and designs.

Easier to install, replace, and take down.

Most curtains are machine washable.

Curtains are light and move with the breeze.

It lets in more light.
Cons:
Most curtains aren't ideal for bedrooms to block out light.

Most curtains can't be steam cleaned, unlike drapes.

Not ideal for colder climates or during the colder months of the year.

Sheer curtains have lesser privacy.
Why use Drapes?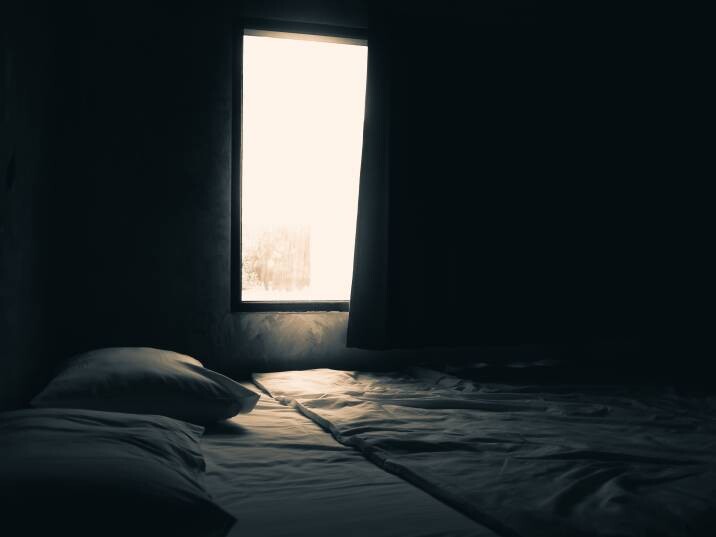 Drapes are great for bedrooms since they effectively block out light, reduce noise, and keep the room insulated. They're also more formal and are widely used by commercial venues or convention centres. But you can also make it work for your home. 
Pros:
Blocks out sunlight and reduces noise.

It keeps your room insulated.

Perfect for your home during winter.

Drapes offer added privacy. 

Drapes have formal, aesthetic appeal.
Cons:
Difficult to install.

Cleaning requires a trip to the dry cleaners.

Not ideal for summertime use in common areas.
Get help installing your curtains and drapes
Whichever you go for, both curtains and drapes are a sound choice for your home. Remember that it's really all up to you!
Between the two, curtains are by far easier to install, while you may need to put a bit more effort into installing drapes. If you need some help, you can always hire a window fitter on Airtasker to save you time and all that extra work. Post a task today!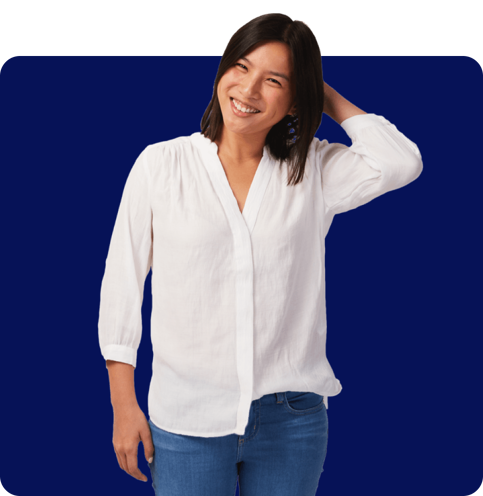 It's free and takes only a minute.