Home

/

Wheel Alignment Inspection and Repair Cost Guide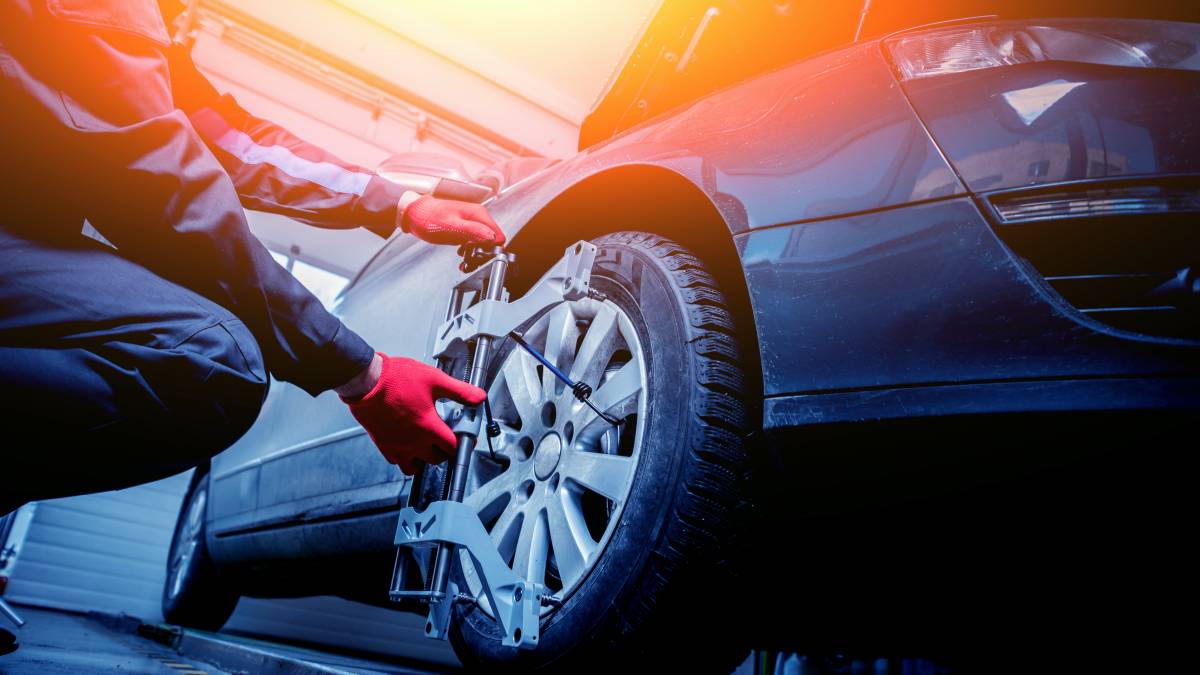 How much does wheel alignment cost?
Get a free quote now
Post to find a price. It's free and only takes a minute.
Price guide
$50 - $120
Find wheel alignment specialists, fast

Post a task with your price in mind, then get offers.

It's free and takes only a minute.

See how it works
The cost of a wheel alignment varies based on the size of the vehicle and the type of alignment (four-wheel or front end) required. As you might guess, four-wheel alignments are costlier. The average for a small car is around $50, while larger vehicles are roughly $120. However, most experts advise budgeting no less than $120 if additional items need repair or replacement.
Remember that mechanics can ask from $30 to $100+ per hour and may base the price on an estimated hourly rate, plus the costs of materials. On Airtasker, however, the average costs for suspension repair and replacement are between $44 and $93.
Cost of Wheel Alignment Inspection and Repair
If you are driving your vehicle and realise you need to keep the steering wheel pulled to one side to drive in a straight line, it is a sign that the "alignment" is off. This is the wheel alignment, and though a simple issue, it has to be done by an expert. In this wheel alignment cost guide, we'll learn more about the process, what it will cost, and choose the right provider for the work.
What is wheel alignment? 
Wheel or tyre alignment adjusts to a vehicle's suspension (the system that connects the wheels to the rest of the car). Though it sounds as if it is an adjustment to the wheels, it is not. It is an adjustment to the angles of the wheels, and the goal is to ensure they make proper contact with the road surface. The benefits of proper alignment include:
Ensuring the vehicle handles properly

Ensuring even wear on the wheels

Allowing all four wheels to perform properly (i.e. keeping the car in a controlled direction)

Eliminating any pulling or vibrating in the steering

Using less energy (fuel) to operate the vehicle
How do you know you need a wheel alignment?
Although you will require an expert's opinion to ensure that any problems with a vehicle are due specifically to alignment issues, the most common signs that it is time for a wheel alignment are:
The tread on one or more wheels is uneven or worn at odd angles

Your vehicle "pulls" tone one side or another rather than driving straight (a test is to lift the hands slightly from the wheel while traversing a straight road, and if the vehicle drifts instantly to one side or another, it is "pulling")

The steering wheel seems to vibrate when you are driving at speed

The steering wheel is off centre when you are driving a straight stretch of road (i.e. the centre, upright post is tilted to one side)

It has been more than six months or 10,000 km since you last had the alignment checked

You recently hit a pothole or curb, and the vehicle is handling differently
If one or more of these signs apply to your vehicle, an alignment is likely needed.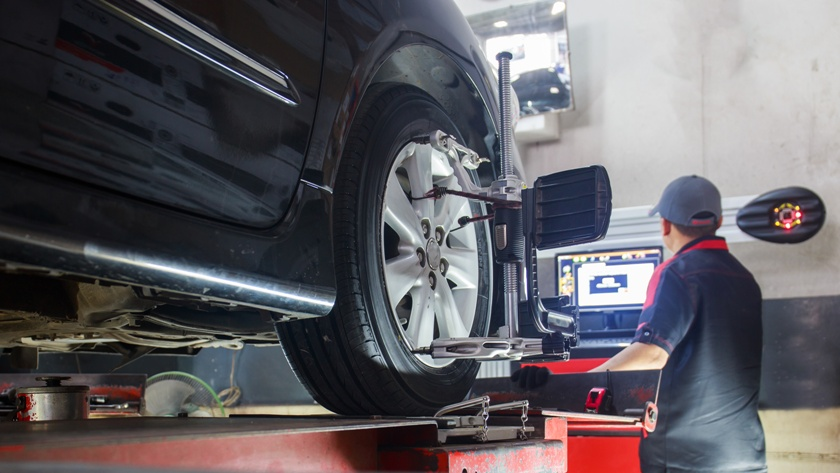 Do I need to hire an expert to do a wheel alignment? 
In a word: Yes. Whether you bring your vehicle to a garage or you work with a provider of mobile services, any wheel alignment requires the use of speciality equipment to be done properly. This is never a DIY job or one that can be done with the naked eye. It requires measurement with proper alignment devices, and so it has to be through a qualified professional with the right machinery.
What does a wheel alignment involve?
Wheel alignment can mean:
A front wheel alignment (also called a front-end alignment), OR

A four-wheel alignment (usually reserved for four-wheel drive vehicles)
It depends on the make and model of your vehicle as to just what sort of wheel alignment is done. However, there are usually three specific issues that your technician or mechanic adjusts or measures:
Camber – This is the angle (outward or inward) of a tyre when viewed directly from the front. Tilting too much in either direction (i.e. negative or positive camber) means that re-alignment is required. Ignore this, and you get worn out suspension, ball joints, and worn bearings, which are often reasons for the camber to be misaligned.

Toe – This is the angle (outward or inward) of a tyre when viewed directly from above. When tyres are "toe-in" or "toe-out", it means it is time for a re-alignment.

Caster – This is the angle of the "steering axis" that is determined by looking at the side of the wheel. It can be negative or positive, but either means that the wheel is misaligned. Caster is what gives balance to the steering and stability to the vehicle, particularly with cornering.
A mechanic looks at camber, toe and caster, and tyre wear and ensures everything is fully aligned. Typically, they should also look at steering and suspension components as part of a wheel alignment. If any are damaged or not working correctly, they must be replaced.
The "ride height" might also be part of a wheel alignment as suspension springs can sag and wear, altering the vehicle's ride height. This affects wheel alignment and can cause negative cath and make it impossible for a mechanic to get a vehicle to proper factory specifications.
Wheel alignment prices for different vehicles
| | |
| --- | --- |
| Type of Vehicle | Price guide |
| 2010 Ford Fiesta | $40-$88 |
| 2016 Toyota RAV | $40-$125 |
| 2012 Mazda 6 | $69-$125 |
What factors affect the cost of a wheel alignment? 
As noted, there are other issues that a mechanic will consider before they do an alignment. These include steering and suspension components, as well as the ride height and suspension springs. They may also inquire if you are interested in tyre balancing or other suspension repairs that can all bump up the project's cost labour in terms of labour and materials.
Tips for Creating a Wheel Alignment Task
Are you eager to find an Airtasker expert to do your wheel alignment? It is easy to write your listing, wait for providers to respond with offers, compare them, and make your choice. You shouldn't base such a decision on cost alone since customer feedback and time in business are also key factors. 
Here's a list of issues we recommend you include in any listing:
The time frame required (emergency, longer amount of time available, etc.) 

Budget (the amount you have for the project)

The make, model and age of the vehicle, along with notes about other issues you feel might affect the wheel alignment project

The materials and parts you will provide (and ask for a quote on them if you want to compare your options)

If you require a warranty on labour (and materials if you don't supply them)

Your location (keep in mind that most wheel alignments are done in a garage to have use of the alignment and balancing machines)
The more details you offer, the easier it is for a provider to give an accurate and competitive offer. Keep in mind that most will also use your listing as a guideline for when they arrive to do the work – so accuracy and honesty are key!
FAQs About Wheel Alignment


Why would a car go out of alignment?
Hitting holes in the pavement, wear and tear on suspension components, "curbing" the car, a minor "fender bender", worn-out springs…these are all issues that can cause a gradual or sudden misalignment in a vehicle. That is why you should get it checked every six months or 10,000km.
How often should you get an alignment? 
As just noted, you want to get the alignment checked every six months or 10,000 km. However, that does not mean it is going to need a wheel alignment on that same schedule. Mechanics agree that wheel alignment is usually required every:
Two to three years

When new tyres are installed

More often, if you have wider tyres or a sports car
Can you drive with bad alignment?
What happens to your car if it is out of alignment? There are a few things that happen. The first is that there is uneven pressure on the tyres and push or pull against one another. This causes uneven friction and more resistance to the road's surface. This leads to uneven wear on the tyres, poor fuel mileage, bad handling, and a lot of strain on the suspension and other components. 
Ignoring wheel alignment often translates to much costlier repairs or even to accidents with a poorly handling car.
So, yes, you can drive a car with bad alignment, but the real question is, "should you?" The answer to that is a distinct "no".
Is tyre balancing the same as tyre alignment?
No, it is a separate issue and can be part of a wheel alignment process. Wheel balancing is when the mechanic uses special techniques to correct for weight imbalances in your wheel combinations. There are two kinds of imbalances – dynamic or static.
Static imbalances cause vibrations, while dynamic ones cause movement in two directions (vertical and lateral). Correcting them means using costly labour, speciality gear, mounting tyres on proper rims, adjusting inflation, and balancing them. It is as essential as wheel alignment and should be done every five to six thousand miles.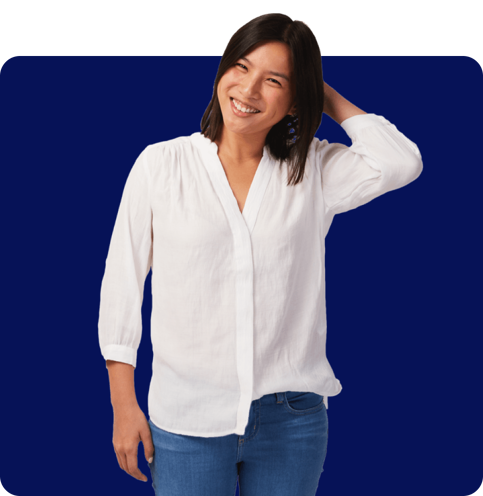 It's free and takes only a minute.