If you are planning for your big day, then you'll know how many decisions need to be made to bring all of the details to life. From the preparation and getting ready in the morning, to the ceremony, to the photos, the reception and everything in between. There is no denying your wedding day is equally as amazing as it is a huge day for everyone involved. So it is important to be organised with all of your decisions in advance, and this is a great place to start with lots of wedding ideas.
It is both a blessing and a curse that there are endless wedding ideas, styles and themes to choose from. But the important thing is that you create a day that perfectly represents the unique love you share with your partner, so definitely keep that in mind when deciding on all the details.
Without further ado, grab your favourite drink and take some inspiration from these 50+ wedding ideas.
Wedding ideas – the preparation
1. Custom logo embosser
Do you love adding that personal touch to everything you do? Well, a custom logo embosser will work wonders to the look of your wedding stationery. Not only does embossing look stunning on your envelopes, but your custom logo will also look gorgeous embossed on the napkins on your special day.
Embossing can be expensive, so another way to get something similar is to hire a graphic designer who can make everything personalised just the way you want and then take to a specialised printing service near you.
2. Custom wedding stationery
Another gorgeous way to personalise your wedding stationery is with a bespoke invitation design. Think gold foil detail on the envelopes and 'thank you' calligraphy cards.
3. DIY bouquets
Whether you are wanting to save some money, or you genuinely love doing things yourself, DIY bouquets are so much fun to do with your bridesmaids. If you have the time for it, you really could have so much fun creating your hand-arranged bouquets the night before or the morning of.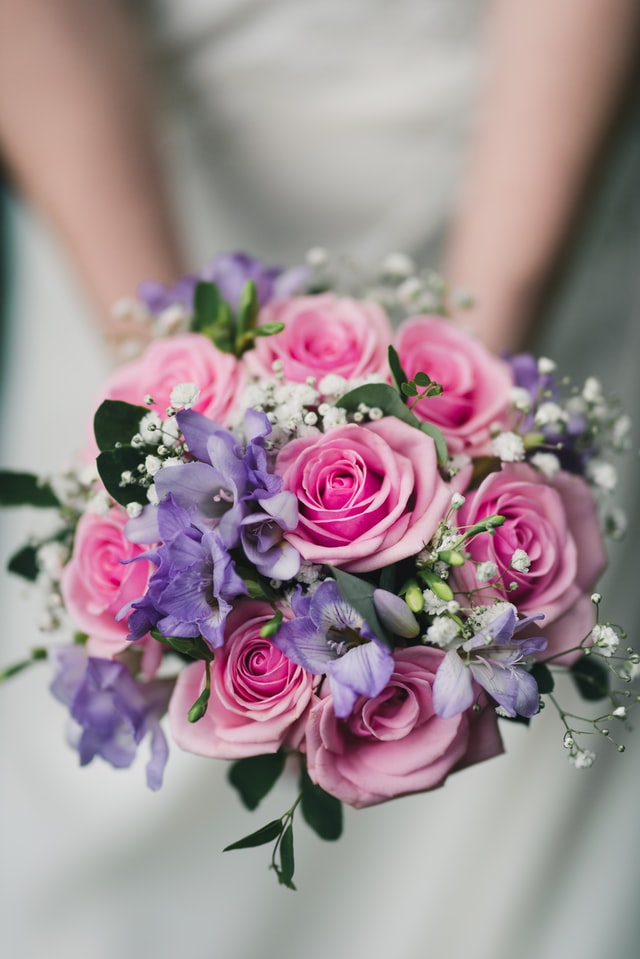 4. Dried blooms
Dried blooms are very on-trend right now. And the good news is that they will last a lifetime, so after they are done being displayed at your wedding, you could either gift them to special guests or take them home to display and admire for a lifetime. A lovely keepsake from the most special day of your life.
And let's not forget there are always plenty of wedding florists who can help create your bouquet or flower wall.
Wedding sign ideas
5. Acrylic welcome sign
You can't be there to physically greet each guest. So why not add a little sign to welcome your guests? This will also alleviate any confusion if your guests are unsure as to where to go for the ceremony. How about an acrylic welcome sign painted white then finished with gold calligraphy over the top?
6. Vintage gold frame
For a gorgeous look, consider a welcome sign housed in a vintage gold frame. You can even decorate the picture glass inside with gold and white chalk ink pens to add details and illustrations. Or create a beautiful welcome sign with the help of a signwriter.
7. Cute signs for the aisle
Little chalkboard signs with a cute saying are always good to give guests a giggle. I love the ones that say 'I'm just here for the cake' or 'it's too late now, here she comes!'.
8. Chalk ink calligraphy
If you've got a seating plan, then guests need to know what table to sit at. So adding table number signs to your tables is a fabulous idea. I love the idea of glass frames with chalk in calligraphy on them which you can then erase after the wedding and reuse the photo frames in your home.
9. Agate name table settings
If you love to be a little extra and don't want to just have paper name plaques for your tables, then something like agate name plaques is a lovely idea. I love the muted neutral colour scheme of agate slices and you can fancy them up with gold calligraphy on top. yu could even have little signs on the tables letting the guests know that they can take their agate slice home at the end of the night.
10. Neon signs
Want that 'wow' factor? Well, let neon signs do all the work! A neon sign really gives the bar area a personal touch. Find the right person to help with your wedding day signage.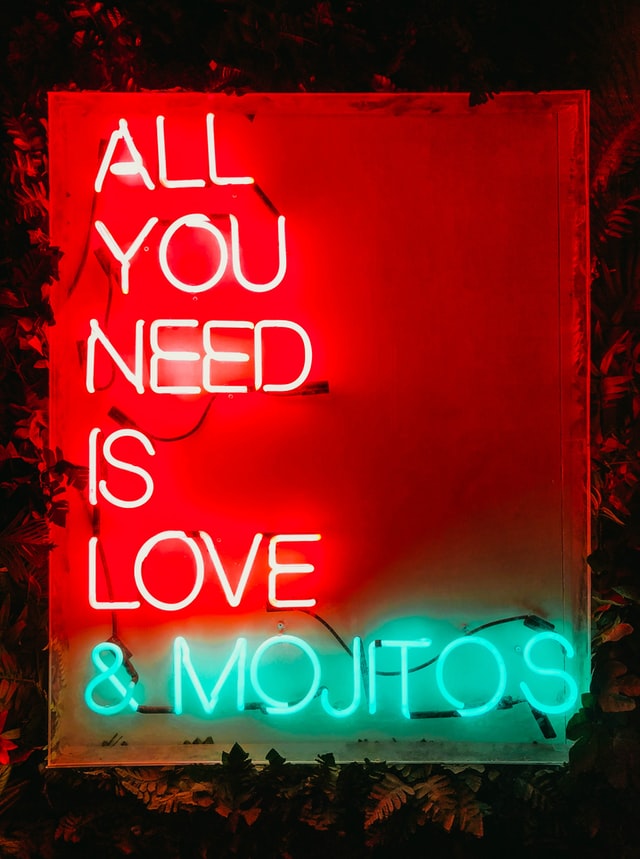 11. Hand-lettered signs
Ever wondered how to create your own hand-lettered signs? Well, this is how it's done: just design your layout on the computer, print and temporarily stick behind an acrylic or glass surface, then use a chalk ink pen over the top! It's so surprisingly easy and looks absolutely spectacular. Or, simple chalkboard signs can look effective too.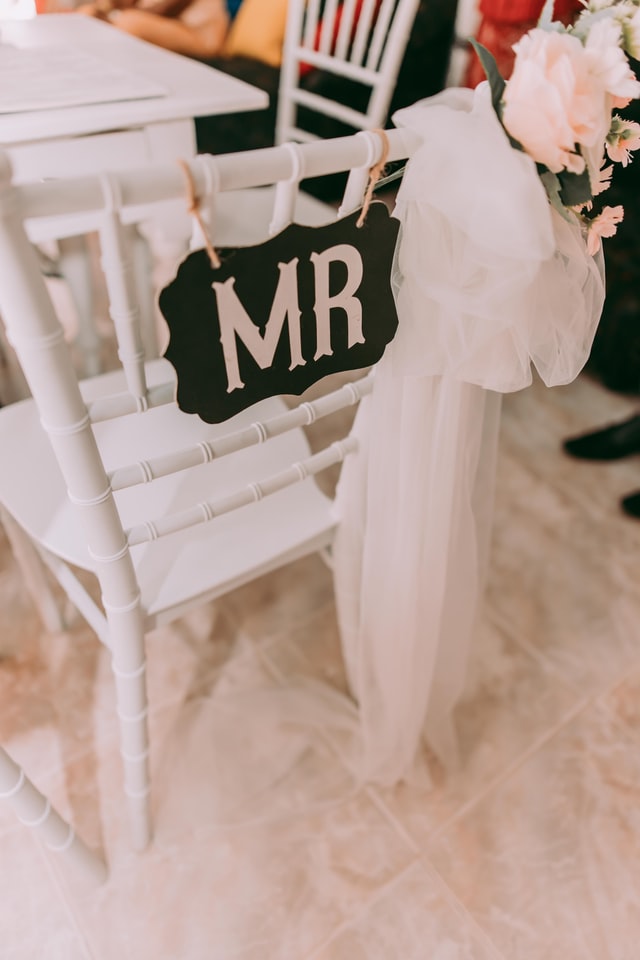 12. Chalkboard drink menu
Chalkboards are actually a great idea for any type of sign you need at your wedding. They're ideal for a drinks menu complete with the favourite cocktails of the bride and groom, as well as a list of additional drinks. I'll have the vodka, lime and ginger beer, please! That sounds delicious.
13. Directional sign
Don't have your guests guessing where they need to go and instead make it obvious with a directional sign. I love simple and literal language such as 'party there' and 'vows there'. If you want to DIY this, all you will need is some planks of wood, something to cut them with, a few nails and a chalk ink pen for the calligraphy. Otherwise, simply find a handyman near you to take care of all your DIY wedding ideas.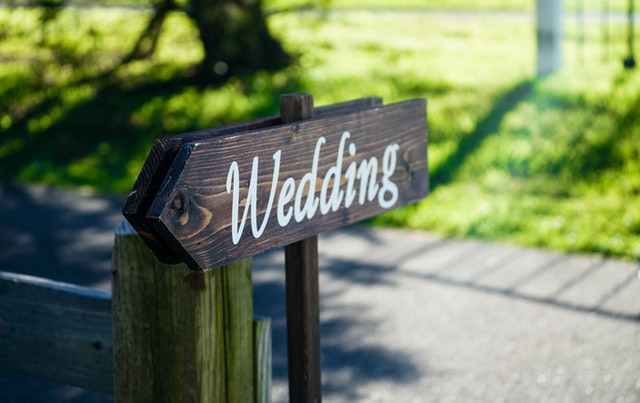 14. Laser etched signs
Laser-etched signs look lovely as a cake topper. You could find something like this online or even chat with someone who works with a laser cutter to see what they can do.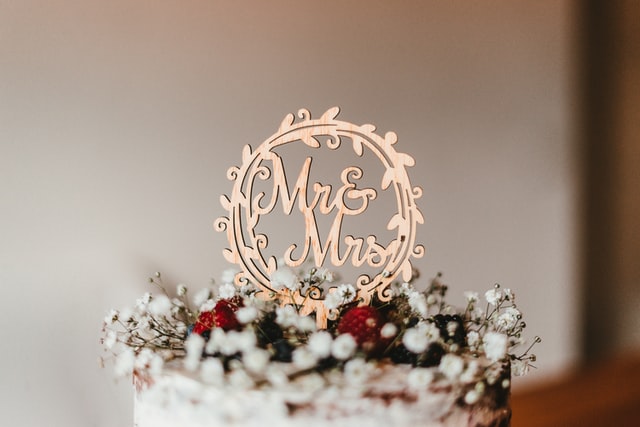 Wedding ceremony ideas
15. Chair details
If you want to add a little more detail to your ceremony, then chair details are a great idea. I love little ribbon tassels hanging off the back of ceremony chairs which would be pretty easy and quick to DIY. Just cut off bits of ribbon that are all the same size and tie them onto a piece of string. Easy and effective! This is the perfect job for your wedding event planner and then they can take care of event step up and cleaning afterwards too.
16. Clear marquee
Here is another great wedding idea for if you love the look and feel of an outdoor wedding but are a little worried about the weather ruining your big day. A clear marquee means that you get the feeling of being outdoors, yet are still protected by a roof. Plus having a roof means that you can drape fairy lights and attach feature light pendants inside. Just don't forget those important wedding dance lessons ahead of the big day!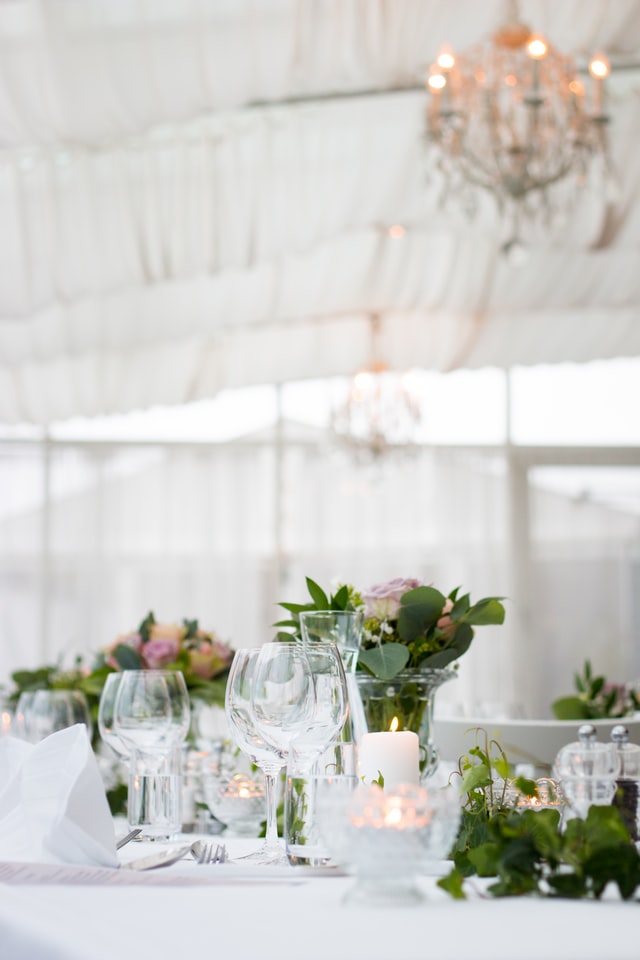 17. In the forest
If you're anything like me and much prefer nature rather than being in the four walls of a building, then check out this gorgeous ceremony idea. I love this setup amongst the trees in the forest. Plain white chair covers adorned with flowers look lovely and minimalist, but you might also opt for natural log benches and log stools to really blend in with the surroundings.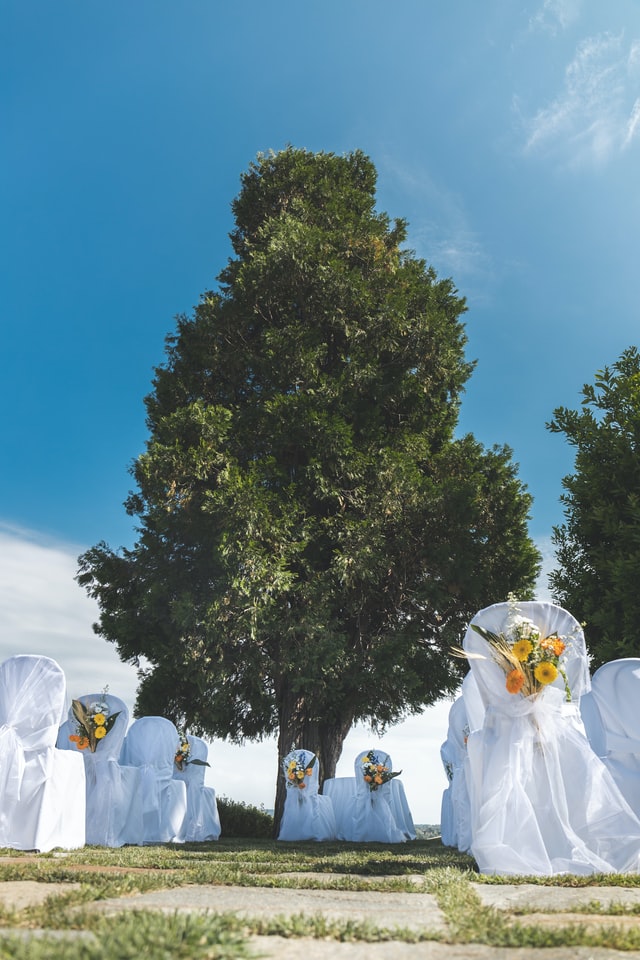 If you're looking for something to officiate the ceremony, find a wedding celebrant near you.
18. Colourful vintage jars
If you're a collector of vintage treasures, then I'm sure you'll love this wedding idea: colourful vintage jars hanging with little posies of flowers inside. Perhaps a trip to the closest charity shop will be all you need to grab a collection of colourful vintage jars.
19. Beach wedding ceremony
How gorgeous is this tropical beach wedding ceremony! I love the simple white arbour.
And the white temporary drapes are great for the bride's grand reveal as they can be closed just before she comes down the aisle. How cute is the floral heart?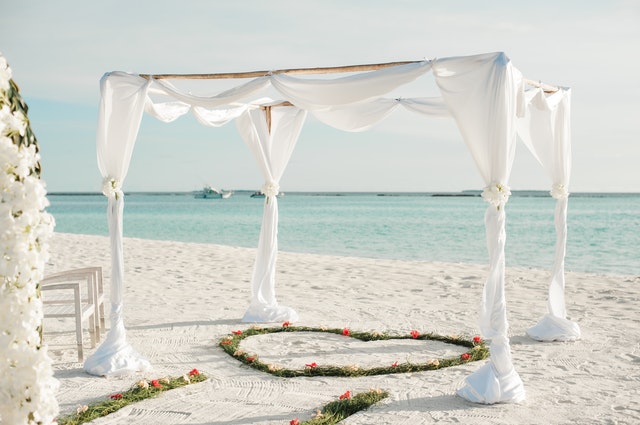 20. Farm style seating
How gorgeous and laid back are farm style weddings? I absolutely love haystack seating with the addition of the material on top to make things a little more comfortable. I'm sure this would be an amazing feature of your wedding that your guests will be talking about in years to come.
21. Petal confetti
Confetti looks so beautiful being thrown when the couple walks back down the aisle after the ceremony. I would highly recommend using something biodegradable like dried rose petals so that you don't have to worry about packing everything up at the end as the petals will just decompose back into the earth.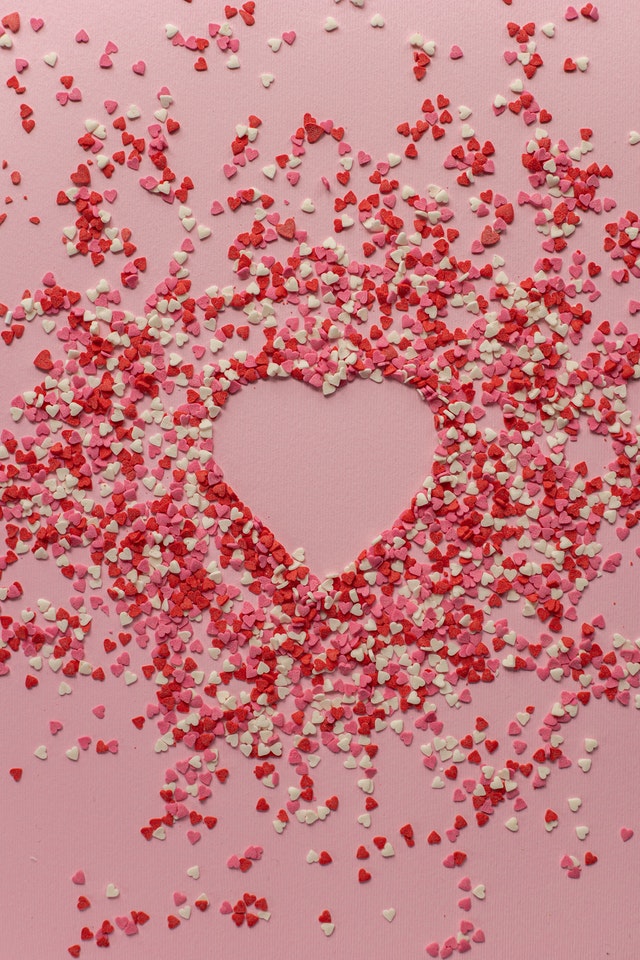 22. Dog of honour
This definitely takes on the meaning of man's best friend. I absolutely love the idea of having a dog of honour. How cute would it be to have the pitter-patter of paws walking down the aisle with a cute little bandana around his or her neck? How proud would they feel to be a part of mummy and daddy's special day!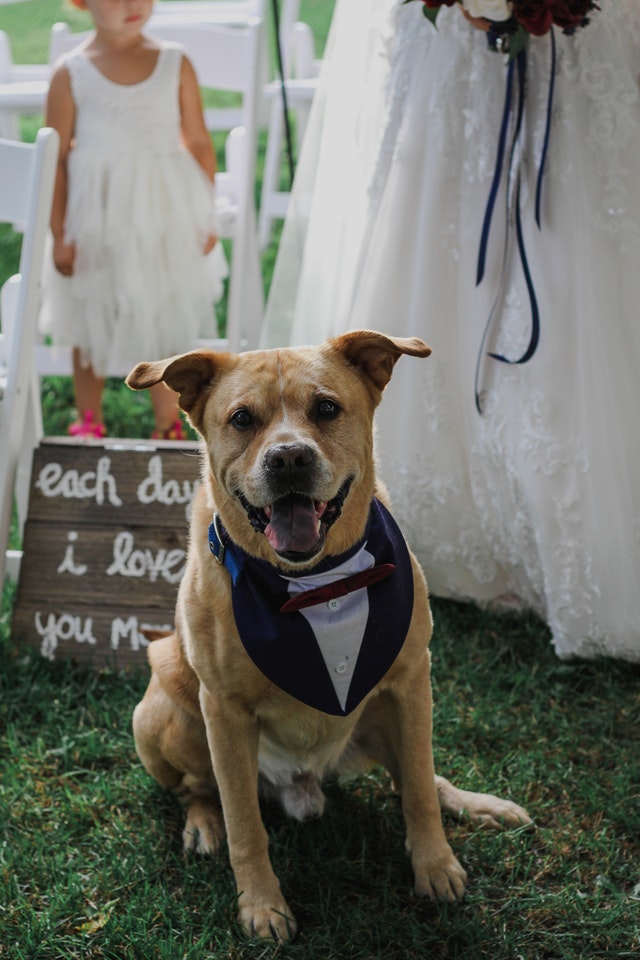 Wedding reception ideas
23. Balloon garland
If you aren't really much of a flower person, then perhaps a balloon garland would be more your style. I love romantic garlands in peachy, nude and gold tones but simple Mr & Mrs balloons can make a little garland as well.
Get your flowers and balloons delivered direct to the venue and then your event planner will take care of the rest.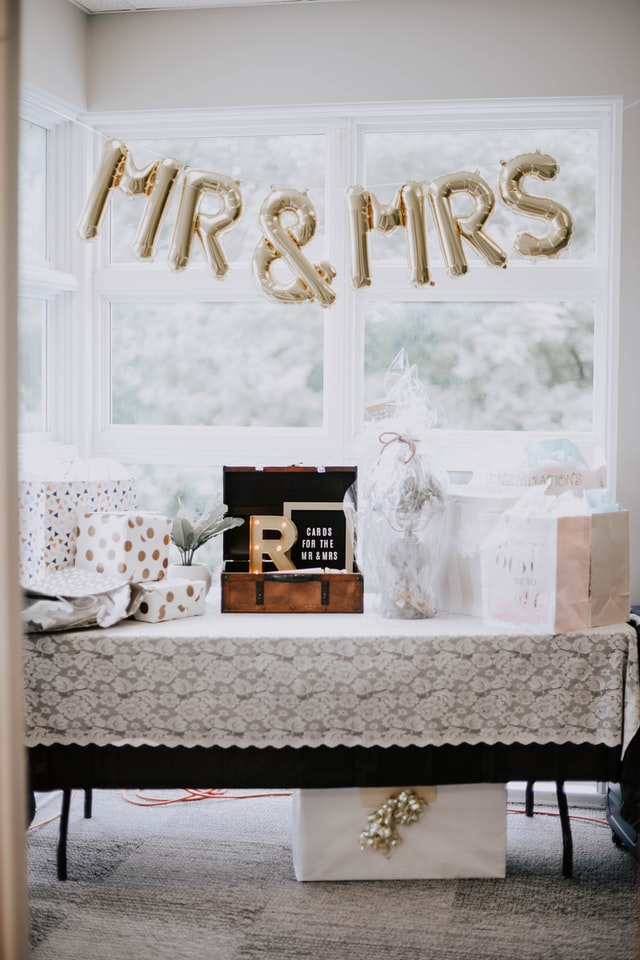 24. Wedding bar idea
If you are decorating all your tables, then why would you leave your bar blank? What about going for a very over the top flower and foliage arrangement that is the perfect border for a bar menu sign? All you have to do is lock in a bartender to keep the drinks pouring all night.
25. Let the sparks fly
Not only are sparklers fun for the send-off at the end of the night, but they also look so spectacular in your wedding photos and video. I love the idea of having long sparklers to help let those sparks fly when the night is coming to an end and it's time to say goodbye to the bride and groom.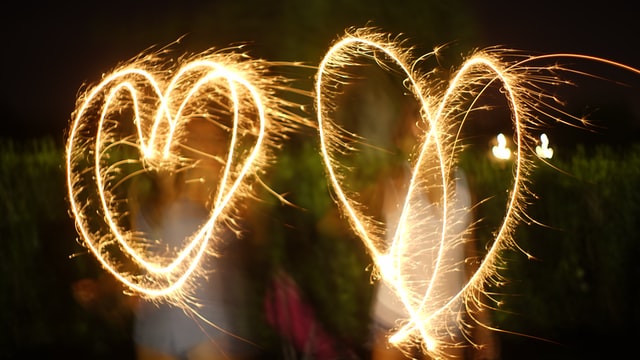 26. Photo booth
Every wedding needs a photo booth! They come in so many styles these days, from vintage style booths to photobooths inside Kombivans. Have a large sign above your photobooth so guests know it's there.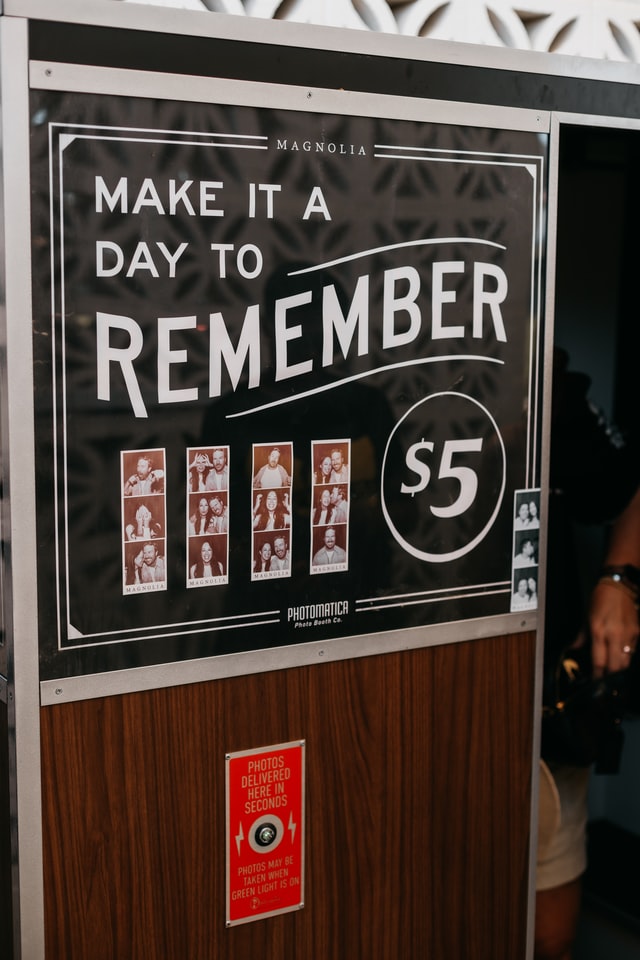 27. Wedding table setting
What's on the menu for tonight? Get your guests salivating at all the deliciousness that they are about to devour by letting them know what's on the menu. I love a wedding menu in calligraphic writing written in the same font as guest name tags.
28. Tall dinner candles
Table decoration can sometimes be something that is overlooked and left until last. Even though it is not necessarily the most important part of your day, having beautifully styled tables still adds to the wow factor of your day. I love how much class is added by having an assortment of tall dinner candles lined up along the table.
29. Bare teepee tent
Nothing says 'laid back wedding' more than a teepee does. I love the idea of a naked teepee without any covering on it so that you can sit under it and still admire the stars. This would also be the most perfect place to share your first dance with your love. Secluded and intimate, yet your guests can still witness your amazing dance moves.
30. Lantern installation
Create a gorgeous table lantern installation, with lanterns arranged to create an interesting silhouette with some higher and some lower than others. You could hire some lanterns for the day or even buy them and gift them to guests or take them home for yourself.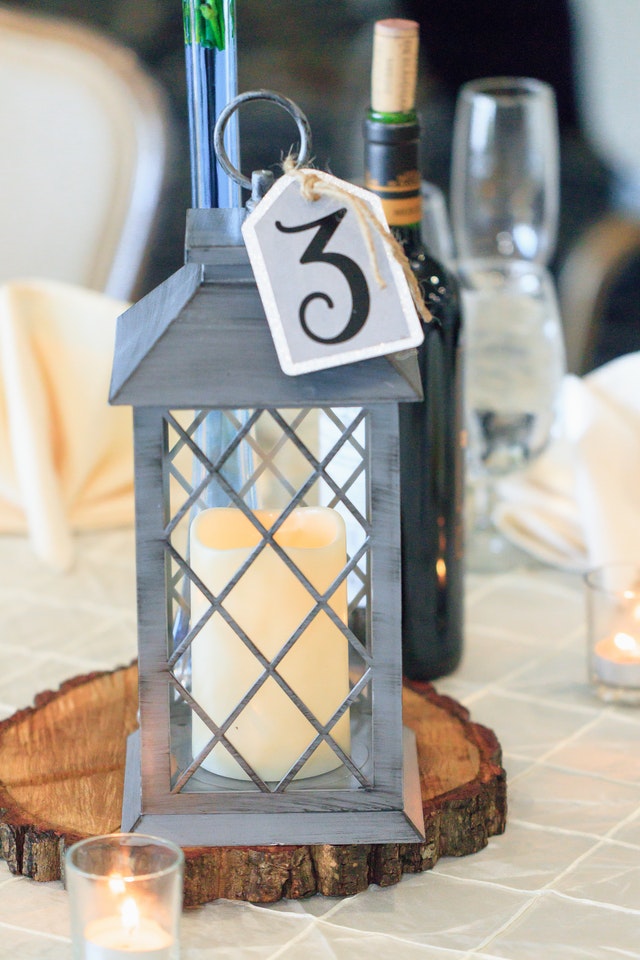 31. Feature pendants
Here's another beautiful wedding scene with lots of gorgeous rattan features overhead. Plus how extravagant are the extra-large pampas grass prongs used as decoration all around the room! This reception is very on-trend and styled to perfection.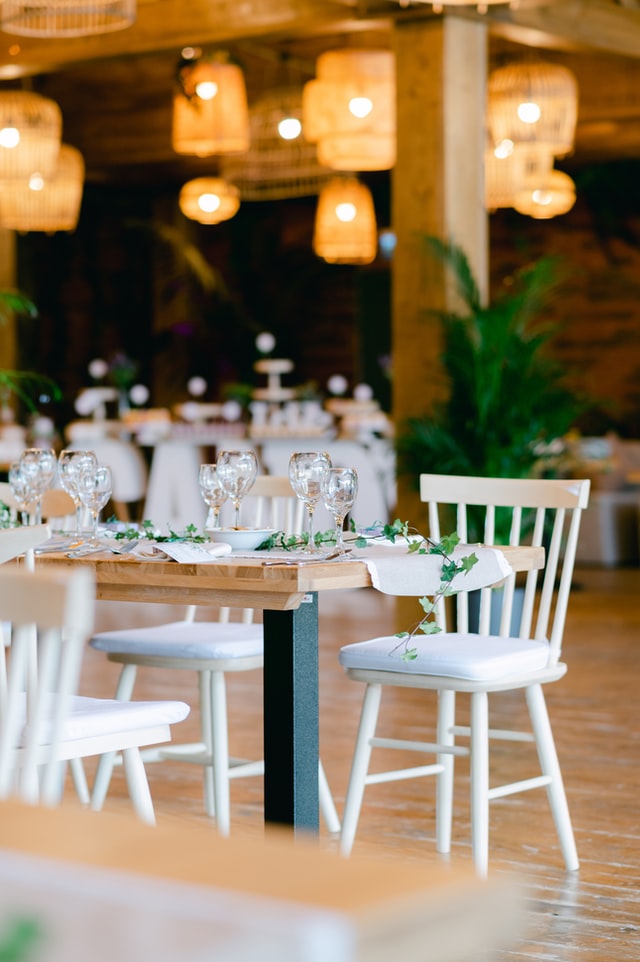 32. Outdoor furniture
If you want to create a little area for your guests to relax in between the ceremony and reception, then adding a little outdoor furniture set is a great idea. You could either hire something, borrow it from a friend or even treat yourself to a nice new outdoor furniture set to then take home after the big day. How instaworthy is this swing set in front of a flower wall?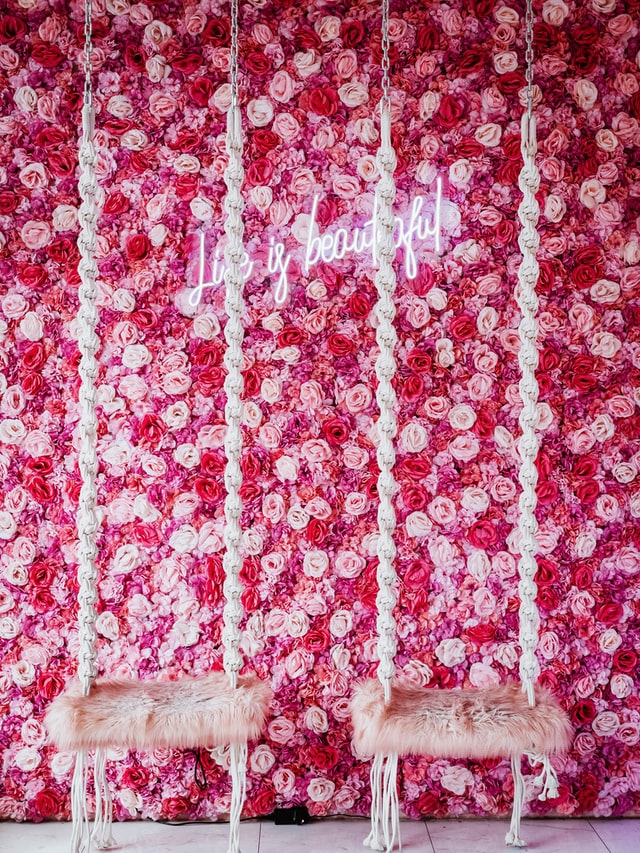 33. Bespoke cocktails
Is there a certain cocktail that you and your partner love and want to share with your guests? Perhaps you can't decide between a few of your favourites. Well, a bespoke cocktail bar is a great idea.
34. Grazing board
If there is a little bit of time between ceremony and reception where the bridal party is getting their photos done, then putting a grazing board out is a great idea. Guests can pick and choose what they want to eat and don't have to get too full for dinner. Plus a grazing board really does look very spectacular. It's the perfect option when it comes to cocktailor appetizer catering.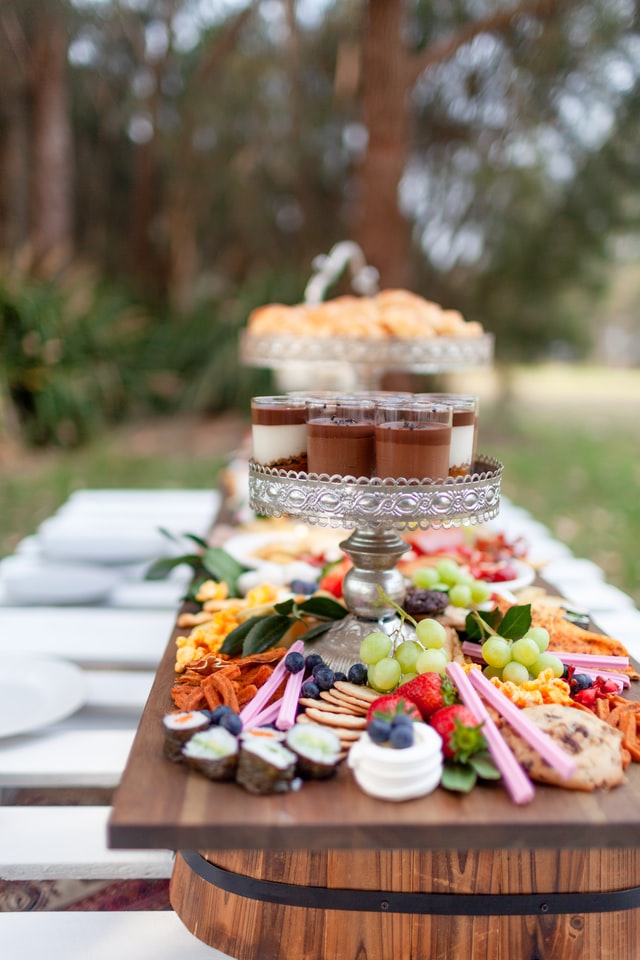 35. Guest book table
Having a guest book at your wedding is a great day as it is another element from your day that you can treasure for years to come. Set up a little table specifically for the guest book with a little sign and photos of the couple for decoration. Put this near your ceremony space so guests can write their special sentiments before and after the ceremony.
36. Polaroid photobooth
Love the retro look of Polaroids? Why not make a Polaroid style frame which would be quite easy to cut out of cardboard. Plus when guests take a photo in your Polaroid photo booth, they will forever remember the occasion as the Polaroid cut out has your name and the date on it.
37. Succulent wedding favours
If you want to add that extra touch and make sure your guests go home with more than just sore feet from dancing the night away, then party favours are a lovely idea. I love little succulent wedding favours that I'm sure all guests would love to take home and plant in their garden in remembrance of your special day. Consider a witty tag: "Our day would have succ-ed without you".
38. Giant Jenga
Games and activities are the best wedding ideas to keep guests entertained before the food starts. I absolutely love the idea of setting up an area for giant Jenga which I'm sure guests will enjoy playing again and again. I'm sure you'd be able to find a giant Jenga set online or it may even be quite easy to make with timber cut to the same shape and size.
39. Table décor
How simply stunning is this table décor. I love the look of the mix and match glass jars and receptacles which all work beautifully together on top of the wood slice. You could collect an assortment of glass jars from charity shops and have some for flower arrangements and others for tea light candles.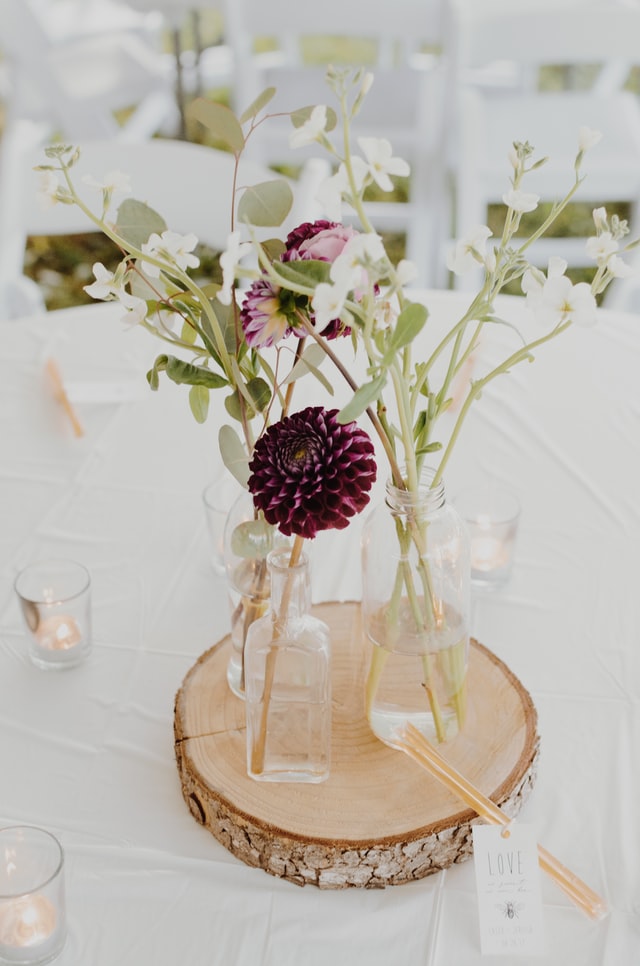 40. Candy bar
If you and your love are sweet tooths, then perhaps you can celebrate that side to you by adding a candy bar for your guests. I lve how bright and fun a candy bar looks with brightly coloured decorations and flower arrangements.
41. Noughts and crosses
Noughts and crosses is another awesome wedding lawn game that can be enjoyed in between events. I absolutely love the idea of having the first letter of the couple's names instead of the typical X's and O's. How clever.
42. Teepee entrance
If you are wanting teepees instead of a traditional marquee for your outdoor wedding, then creating a spectacular entrance is a great idea. Roll out a carpet or a vintage rug or two, and drape fairy lights overhead which makes for a very warm welcome.
43. Terrarium table decorations
So often we see flower arrangements for reception table decorations, but what about trying something a little different? A little terrarium in a geometric glass planter is so gorgeous and would go perfectly with a Boho, natural or modern wedding theme. How lovely.
44. Family tree
If you want to showcase all the wonderful people that made you who you are, perhaps you could attach photos to a tree and call it very literally a 'family tree'. All the old photos will bring back memories for people young and old. And perhaps this would be a good way of showing your new family some special people from your own family.
And let's not forget the important other entertainment options like a great wedding singer, DJ or band.
Wedding cake ideas
45. Multitiered cake
If you've got a lot of guests, then that means there are a lot of mouths to feed. So a multi level wedding cake is a great idea especially if you want all your guests to enjoy some wedding cake after dinner. The best thing about a tiered cake is you can have a different design and a different flavour for each level.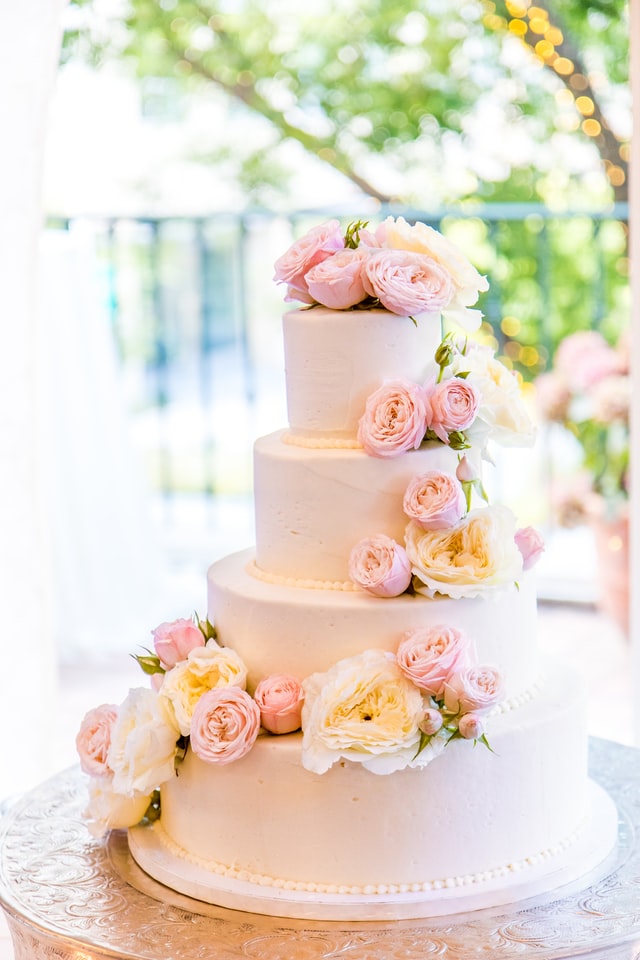 46. A place to cut the cake
If you love all the traditional aspects of a wedding day, then set aside a special moment during your reception where you cut the cake is a great idea. Create a special area by adding a golden border, special table and floral arrangement which is the perfect place to cut the cake.
47. Cheese cake
These days more couples are exploring their wedding cake ideas beyond the traditional options. A favourite of gourmands? A literal cheese cake, made of rounds of beautiful cheeses. It looks spectacular with the addition of figs, grapes and foliage!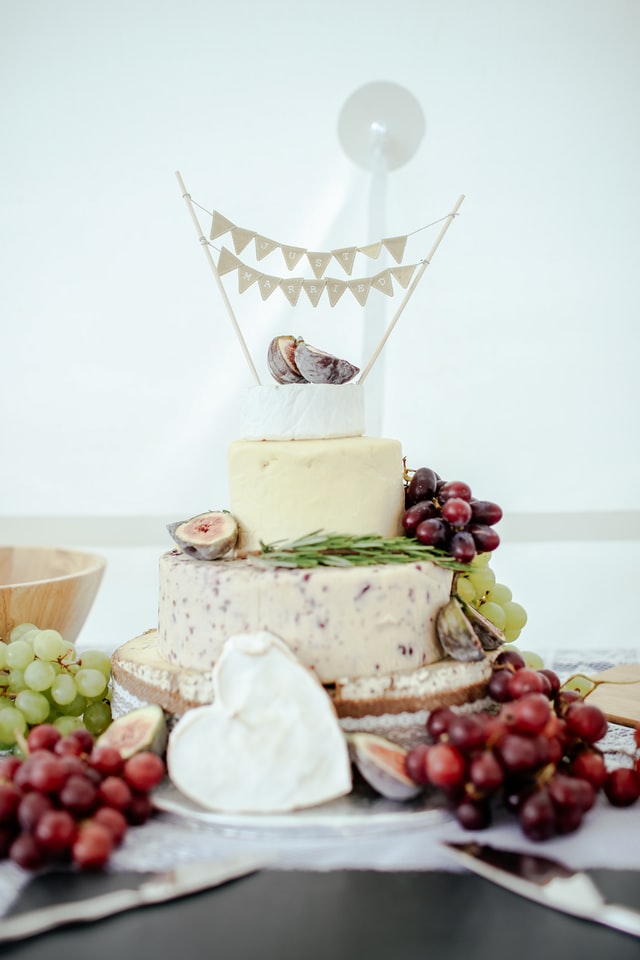 48. Doughnut cake
If you love doughnuts more than you enjoy cake, then why not have a doughnut cake at your wedding? It definitely will be easier to share around rather than cutting a slice of cake for each guest. Plus what a great idea to have a small cake on top so that you and your love can still enjoy the special moment of cutting a wedding cake.
Wedding ideas – dress colours
49. White and white
If you're not really sure what colour scheme to go with for your big day, then white on white is a great choice. Keep everything really simple with a gorgeous white dress, flowers, shoes, bridesmaid outfit and even white umbrellas if needed!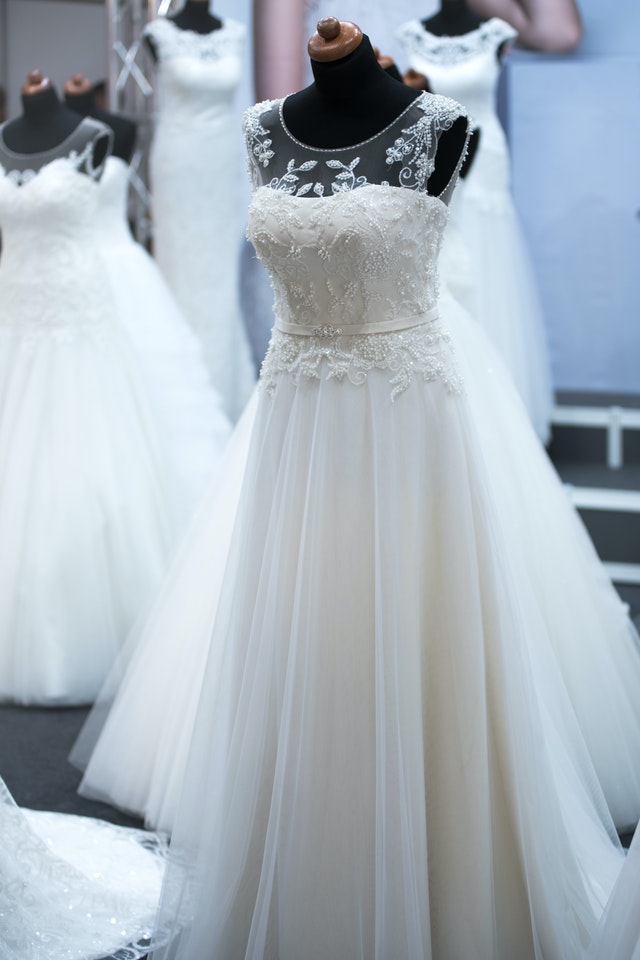 After the big day gets some help removing all the red wine, dirt and sweat from your special dress with wedding dress dry cleaning.
50. Pearl veil
Are you a girl who loves pearls? Or perhaps you just like something a little different, yet still classy? Well, the pearl veil is for you. I love the subtlety of little pearls gently placed across the veil which creates a beautiful look across the bride's face and skin. Speaking of skin, get the exact makeup look that you want by finding the right wedding makeup artist for you.
51. Matching bridal robes
Bridesmaids always look amazing in matching bridal robes! I love the idea of everyone getting ready in matching sets on the morning of the wedding. White for the bride and pink for the bridesmaids. Plus lace bridal robes will look beautiful in your pre-ceremony wedding photos.
52. Beach wedding shoes
If you're planning on having a beach wedding, then heels aren't really the most practical shoe on the sand. So if you're considering going barefoot, why not get some special beach wedding 'shoes'. Ideally, opt for anklets that almost look like little sandals with their bejewelled design.
53. Memory charms
If there are some special people that you wish could've been with you on the day but are no longer here, then honouring them with their own special photos in memory charms attached to your bouquet is such a beautiful idea. How special to walk down the aisle with your guardian angels close by.
54. Personalised coat hangers
And last up we have gorgeous personalised coat hangers. If you love the finer details, then I'm sure you'd love this idea. Also putting your bridesmaids' or groomsmens' names on the coat hangers means that there won't be any confusion on the big day.
So there we have 50+ wedding ideas to help you in some decision making for your big day. I absolutely love the more creative ideas such as lawn games and handwritten signs. And I already know I will be coming back to this post for future plans. What wedding ideas do you love the most? Let's talk all about weddings below!