First things first, congratulations on your engagement at this special time. Right now you're floating on cloud nine but also starting to realise that you have an engagement party and wedding to plan in a short space of time.
An engagement party will normally take place anywhere up to 3 months post proposal so it's understandable that a lot of your focus is on this. However be ready for an onslaught of questions about when and where your wedding is going to be. So it's best to get onto the wedding planning as soon as possible.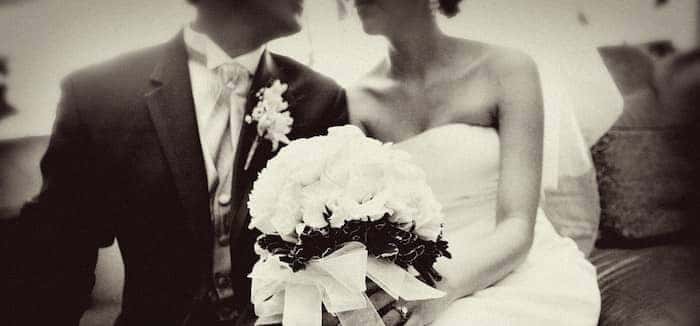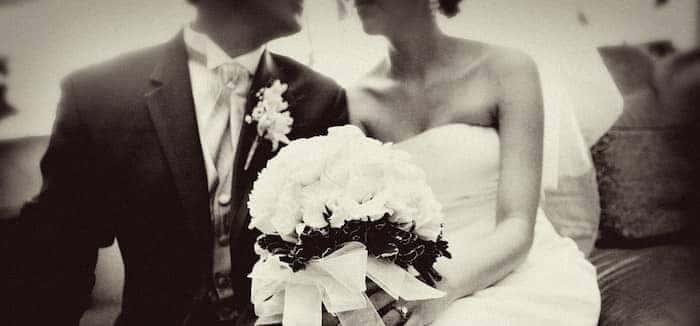 Source: Hawkesbury TV
Here is a wedding planning checklist to help you every step of the way:
1. 10-12 Months to go wedding planning checklist
• Pick a few dates that work, this way you can be more flexible with venue availability.
• Consider hiring a wedding planner to help manage every small detail.
• Work out a budget and if your parents are putting in money, see how much they are happy to put it and for what bit.
• Start visiting reception venues and looking at packages – book once you've picked one.
• Book the church/park/venue where you'd like the wedding ceremony to take place.
• Set up a Pinterest board and pin your favourite dress, bridesmaid and hair looks.
• Decide how big your wedding party will be and who you'd like them to be.
• Put together a rough guest list as this may influence which reception venue you choose.
2. 8-10 Months to go wedding planning checklist
• Pick a colour and/or theme as this will influence other decisions.
• Start wedding dress shopping – many places will need appointments booked in advance.
• Wedding photographer and videographer – view portfolios and book
• Book a florist for ceremony, bouquets and reception.
• Entertainment – DJs, reception band, ceremony quartets.
• Wedding cake supplier – you will need to taste test and look at past cakes.
• Start to plan honeymoon – where you want to go and if you want to go straight after the wedding or wait a bit.
3. 6-8 months to go wedding planning checklist
• Buy the wedding dress and veil.
• Send out save the dates to guests.
• Finalise entertainment and select your ceremony music.
• Buy, order or rent bridesmaid dresses.
• Book your honeymoon.
• Think about the gift registry, wedding presents and wishing well.
• Book the wedding cars to take you to and from the ceremony.
• Finalise wedding cake flavours and decoration.
• Finalise decorations with wedding reception venue e.g. photo-booths, candy bars, entrance boards, table arrangements.
4. 4-6 Months to go wedding planning checklist
• Finalise and order wedding invitations, RSVP cards and other stationary required such as thank you cards.
• Look for grooms and groomsmen suits. Consider buying versus hiring suits.
• Book hair and make up artists and also arrange your trial to co-inside with a trial fake tan.
• Have your trial photo shoot.
• Organise wedding accommodation for yourself, wedding party and others if required.
• Have a food tasting at the reception venue.
• Organise table place cards and the guest bonbonniere (aka wedding favours).
• Order wedding ring bands.
5. 2-4 months to go wedding planning checklist
• Have your final dress fittings so any alterations can be made – make sure you have your wedding shoes for this.
• Finalise guest list and send out invitations.
• Confirm hairdresser and make up for bridesmaids, flower girls and mothers.
• Look into dancing lessons for you and the groom.
• Finalise reception menu along with guest dietary requirement alternative meals.
• Put together ceremony booklets, ushers and what the readings are and who will read them.
• Finalise the gift registry so guests can purchase in advance.
• Attend your hens party and kitchen tea – make sure you relax and have a good time.
6. 1-2 months to go wedding planning checklist
• Start writing your vows and speeches, you will go through many drafts.
• Buy your wedding party and groom gifts as a token of thank you.
• Purchase guest book and any other small decorative pieces.
7. 3-4 weeks wedding planning checklist
• Confirm your honeymoon.
• Organise a dress rehearsal for the wedding party to go through a run through of the ceremony.
• Finalise order of the day and communicate to entertainment, photographers and your wedding party.
• Contact guests who haven't RSVP'd.
• Start setting out seating plan for reception.
• Buy bridesmaid accessories such as bags, jewellery and hair pieces.
• Collect wedding bands and check they fit at the jeweller.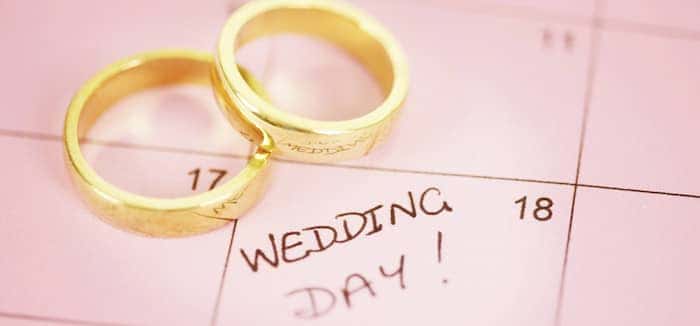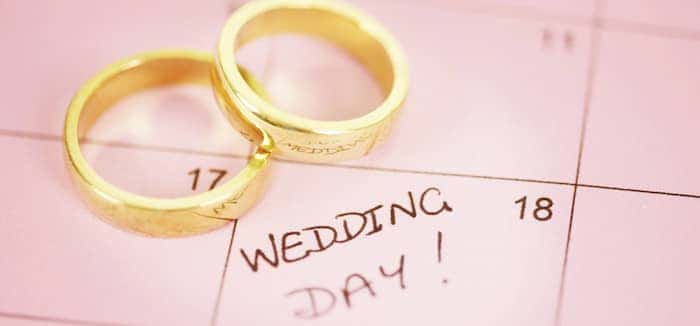 Source: Huffington Post
8. 1-2 weeks to go wedding planning checklist
• Send final floor plan and guest list to venue along with dietary requirements.
• Have all your beauty treatments e.g. facials and waxing.
• Pick up grooms suit.
• Confirm all vendors and suppliers.
• Have your final hair colour appointments.
9. Final week wedding planning checklist
• Deliver all wedding favours, place cards, decorations to the venue.
• Get a spray tan.
• Don't forget the manicure and pedicure the day before.
• Have a list ready for the day for your Maid of Honour to check off.
• Organise final vendor payments.
• Check on the flower delivery.
• Make sure all outfits are steamed and ready to go.
• Don't forget to get an early night before the big day.
We hope you have a great wedding day and if we've left anything off the checklist, let us know in the comments below.