If you are a foodie and love spending time in the kitchen, then you want to make sure your kitchen is styled to perfection and is an enjoyable place to be in. And if you are in the process of deciding what sort of style to make your kitchen, then you should totally consider a Boho kitchen! Here are just some things you may find in a Boho kitchen:
Exposed shelving – These are a great idea as you can easily access everything you need without ever having to open a cupboard.
Patterns and textures – Don't be afraid to mix and match patterns and textures when it comes to Boho styling, whether it's through the patterns in the tiling or even various textures like woven elements and foliage.
So what are you waiting for?! Check out these 25+ Boho kitchen ideas for inspiration!
1. Golden detailing
Generally speaking, a Boho kitchen colour scheme is usually warm, calm and oh-so-inviting. So go for gold detailing in your kitchen knobs, gold light fittings and match the gold tones beautifully with the warmth of timber and woven decor. Just gorgeous.
2. Pretty in pink
Check out this 'pretty in pink' kitchen! I love how feminine this kitchen is. A girly dream, indeed! The apricot pink wall colour looks so sweet against the white timber and pastel details in the room. Plus you can never go wrong with some indoor plants in your kitchen space.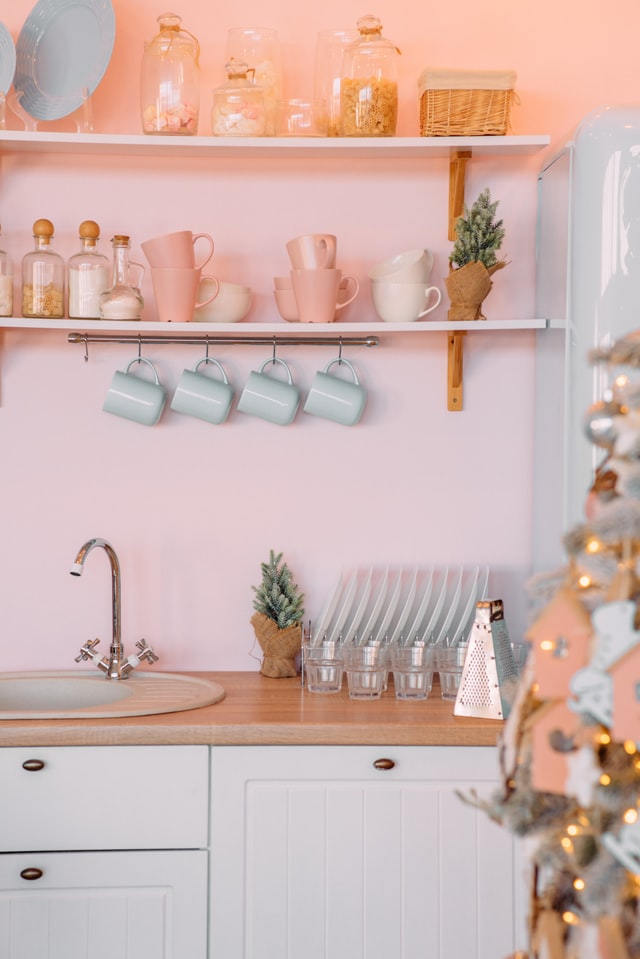 3. Light pendants
If you're ever trying to spruce up a space easily, why not change up your light pendants?! Adding the right pendant to your space can determine the feel for the whole room. Look for stunning woven or wooden pendants which can make any kitchen look more Boho. I love the rattan light pendant above the table which helps to make this room feel more Boho and laid back.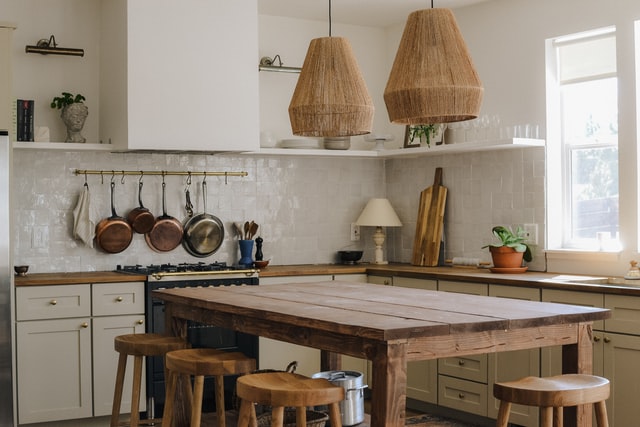 4. Minty
How sweet is this little Boho kitchen with all minty walls? Mint is a colour that works especially well with stainless steel and warm timbers. Just add some salvaged décor and a vintage style kettle and your Boho kitchen will be complete!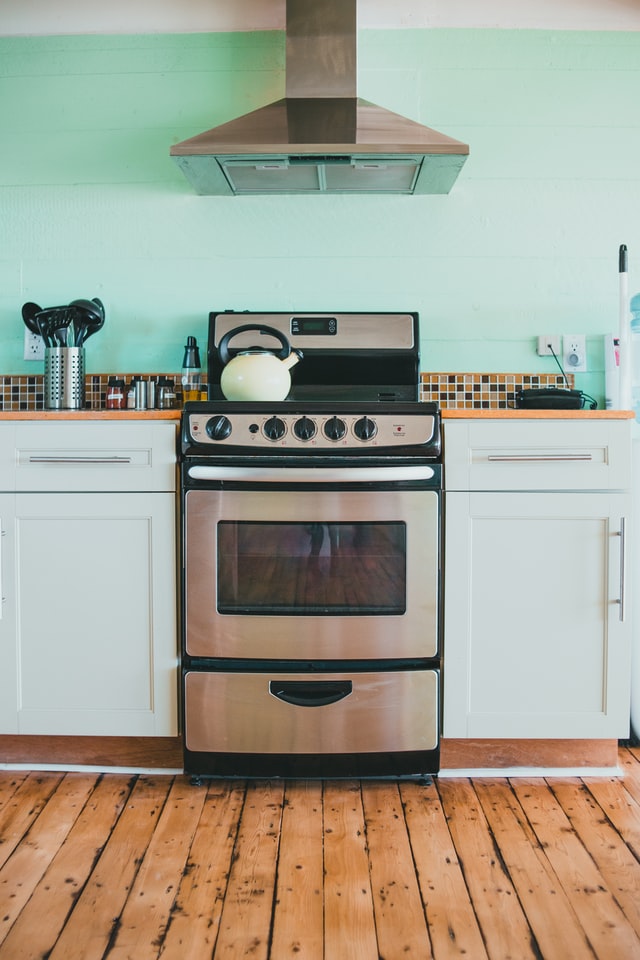 5. Wooden benchtop
If you're ever wondering what type of benchtop to go with, then go with wood! As wood is a natural finish, it will always be in fashion and will match with any styling you decide to go with over the years, but it's always a perfect fit for a Boho kitchen.
6. Island bench
Or, if you have room for it, you should totally consider adding a timber island bench to your kitchen. Island benches mean that you have more bench space and sometimes in a kitchen, more bench space is something most people desire. I love this wooden island bench which works so well to store regularly used utensils and other essentials down below.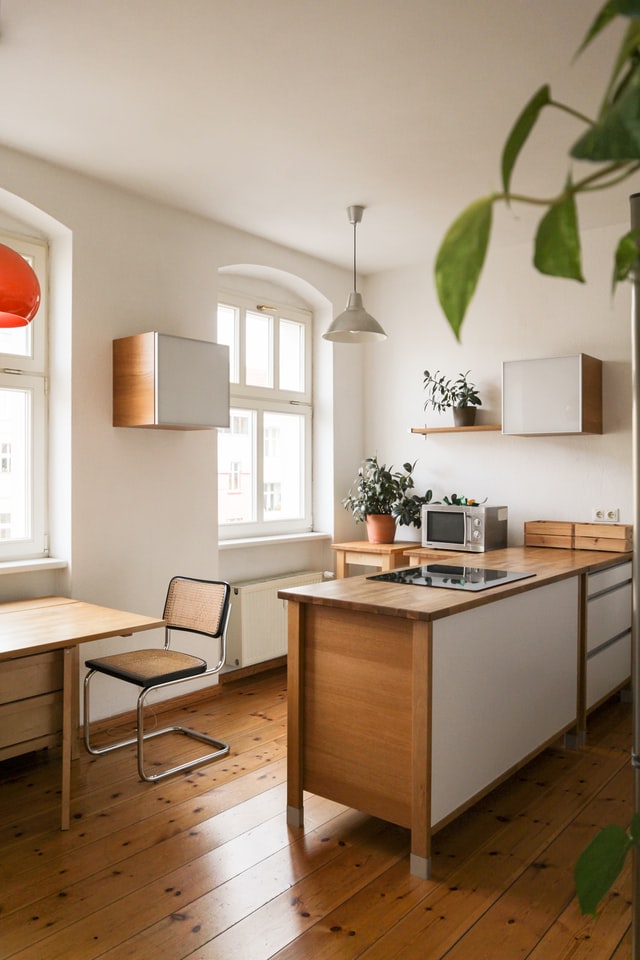 7. Wood and monochrome
Wood and monochrome makes a stunning Boho kitchen colour palette. Wooden furniture, wooden shelves, and even a stack of wooden chopping boards works so well. Then add monochromatic details through patterned mugs, bowls and tea towels.
8. Beautiful blues
How eclectic and unique is this kitchen space! The blue on the walls and cabinetry is such an interesting choice yet it just works so well in this kitchen. Plus adding plants hanging from hooks will go a long way towards spelling Boho.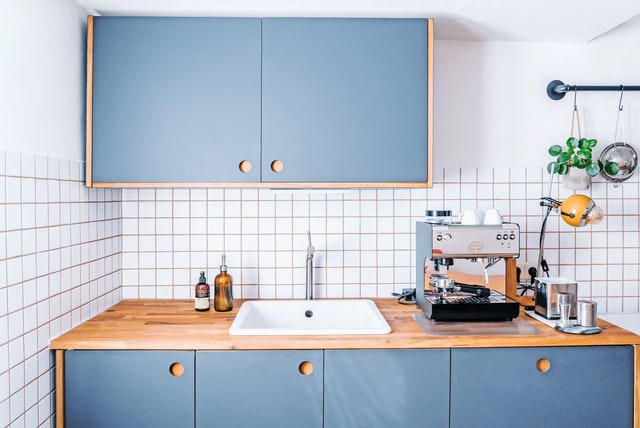 9. Herringbone splashback
Herringbone is one of my favourite tiling arrangements! It's so simple yet intricate. And the good news is that a herringbone tile design is classic and timeless so it will always stay in style. Herringbone splashback tiling is ideal for a Boho kitchen that celebrates pattern. And it's the perfect backdrop for wooden floating shelves and thoughtfully curated decor pieces.
10. Textured tiling
I just love textured tiling! Textured tiles are a great idea if you're wanting to use the same colour as they add some pattern to your walls without being too noticeable.
11. Geo splashback
Or you can add visual interest and ethnic patterns to your Boho kitchen with geometric patterned tiles. How sweet is this kitchen with its little but intricate geometric splashback tiles! See more kitchen splashback inspo!  I love the exposed shelves in this tiny Boho kitchen as well.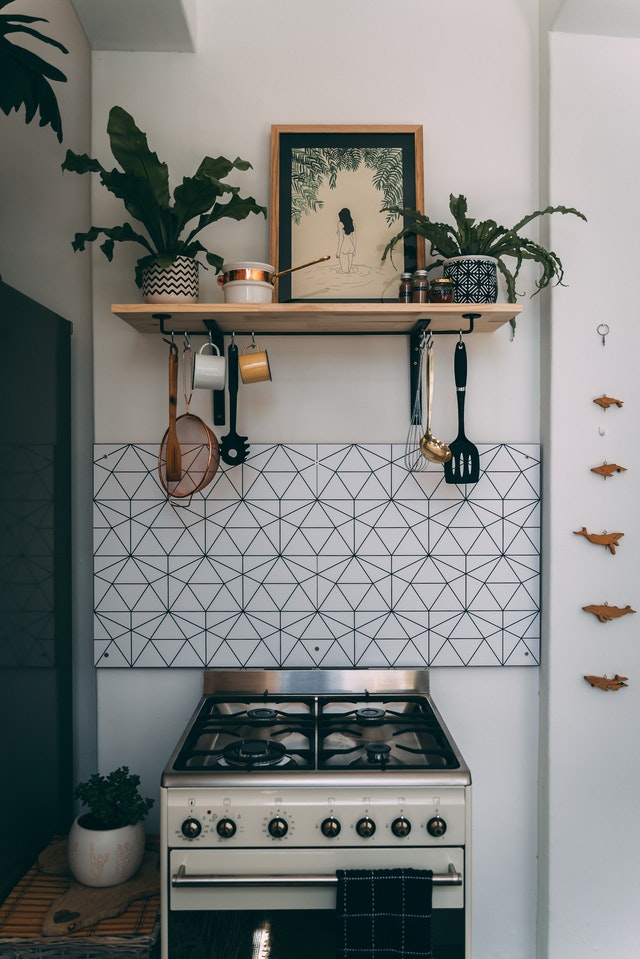 12. Farmhouse Boho kitchen
Oh, I just love this charming farmhouse Boho kitchen. How welcoming and lived in! The wooden cabinets are the perfect addition to the mostly white kitchen. And I love the floating shelves with beautiful decor items dotted around that make this space feel cosy.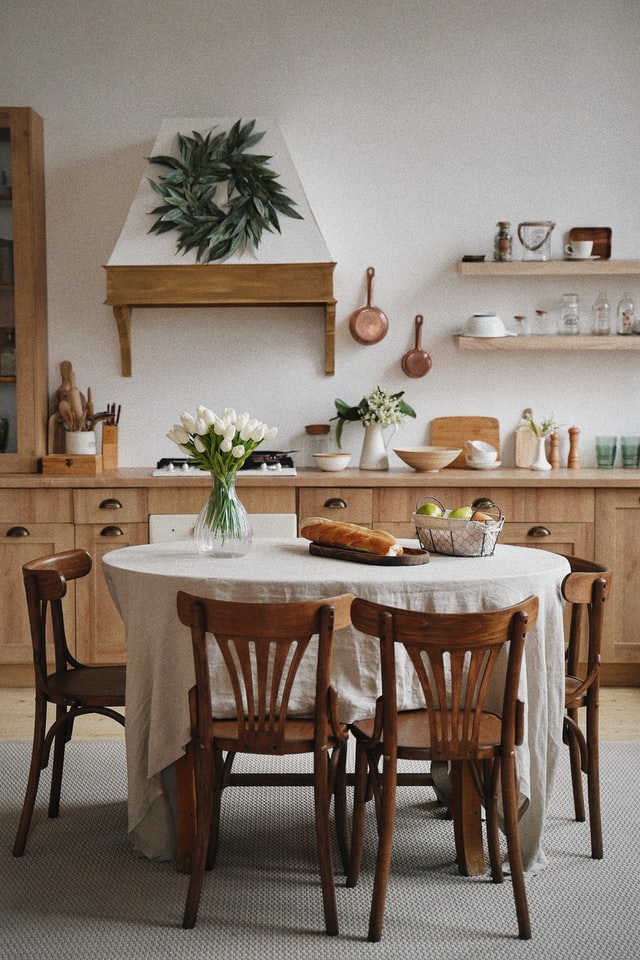 13. Navy, white and tan
If you love the vibe that monochromatic black and white gives off but don't want to necessarily go with black for your kitchen, why not try navy and white? Navy is a slightly softer and more subtle colour than black and looks stunning with white. Particularly if you add tan coloured elements, like in the lighting, furniture or décor.
14. Shadowbox shelves
If you're not quite yet ready to commit to permanent shelves or cupboards, then adding temporary shelves is a great idea while you get your head around the rest. I love wooden shadow box shelves that hold all the essentials in cute jars. If you or someone you know is handy on the tools, these are something that would be quite simple to make if you have some spare wood lying around.
15. White-on-white
How lovely is this white-on-white Boho kitchen? I love all the greenery dotted around. And the white cabinetry has such a beautiful and sleek look. Plus how handy are the floating shelves holding all your essential utensils?
And if you love everything white, check out these white bathrooms and white bedrooms.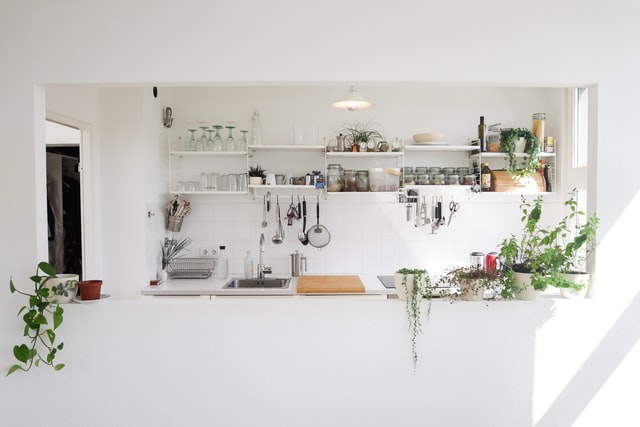 16. Organised clutter
If you have a lot of stuff, yet want to keep it that way, perhaps you can play with the trend of organised clutter. The exposed shelves in a Boho kitchen can look super organised and have everything you need on them from bowls, plates, saucepans and utensils to indoor plants and cooking books.
17. Exposed shelves
More often than not, people prefer to put all their clutter away, but in recent years floating shelves have risen in popularity, especially in a Boho style kitchen. As you can always see what is on your exposed shelves, you still want to keep the space pretty minimal and uncluttered. But exposed shelves do work really well to display your most used items like mugs and bowls.  Get help to make your shelf hanging is sturdy and supported enough.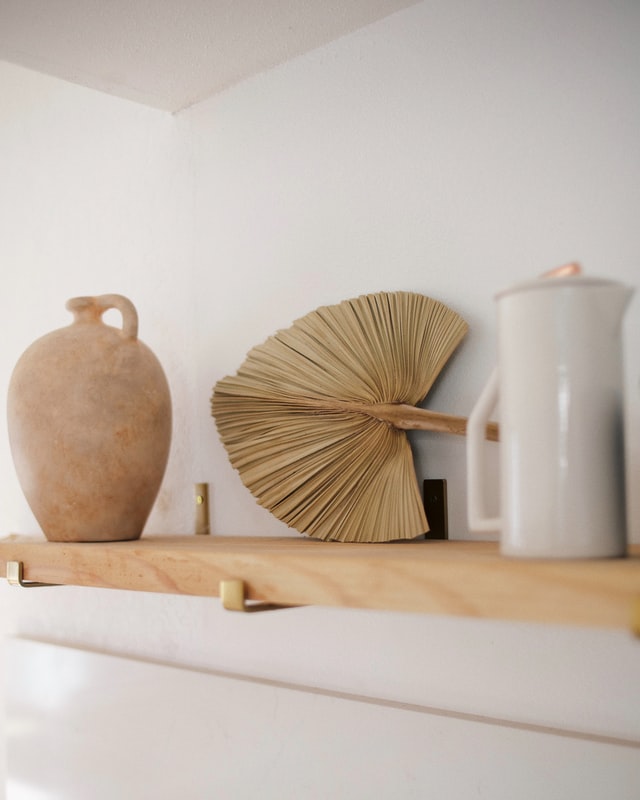 18. All within reach
Speaking of exposed shelves, here's some more! I love how everything you need is all within reach and easy to find. Something high contrast like white shelving against a white wall with black fixtures and accents looks so chic and creates a really trendy monochromatic look. Just add some woven finishes and indoor plants on the shelves to really enhance the Boho feel.
19. Gorgeous greenery
Check out this gorgeous greenery! Indoor plants really help to bring so much freshness into a space and have help purify the air in your home. Installing a shelf or rod overhead works so well for trailing greenery to grow down. And having other plants at different levels around the kitchen will also help to bring everything together. Or you could arrange them on the wall like this: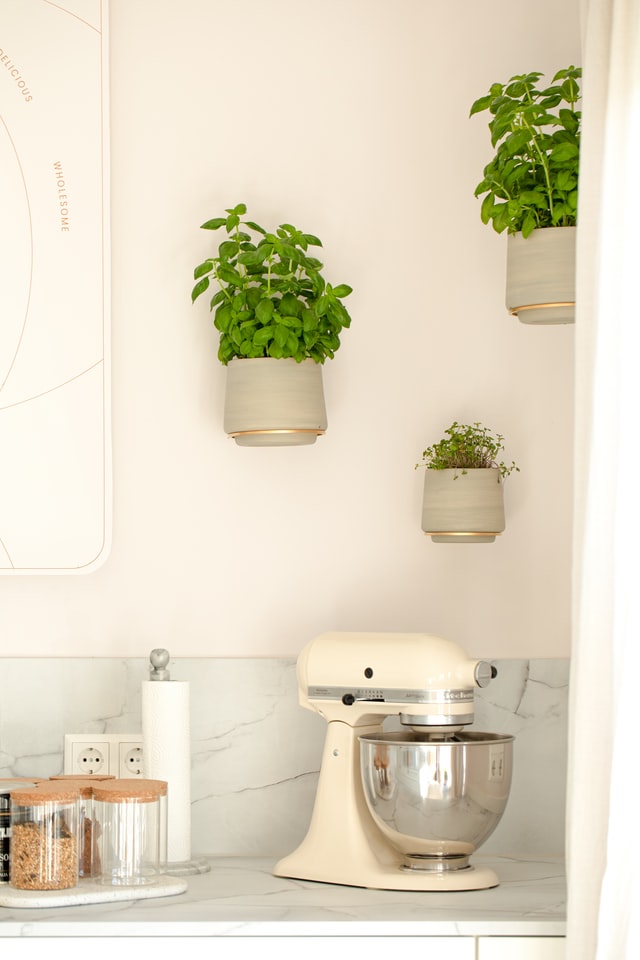 20. Grey cabinetry
Another awesome idea for the modern Boho kitchen is a grey colour scheme. Grey kitchen cabinetry plus black detailing in light fixtures, furniture, stove and taps really give a very modern feel. Then rustic elements like exposed beams, timber benchtops, even wooden boards bring a Boho feel.
21. Small but mighty
This Boho kitchen really is small but mighty. It still really packs a punch despite its small size. I love the yellow cabinetry paired with the white shiplap walls. And the addition of a rattan pendant light is such a sweet touch to this lovely, if tiny, kitchen.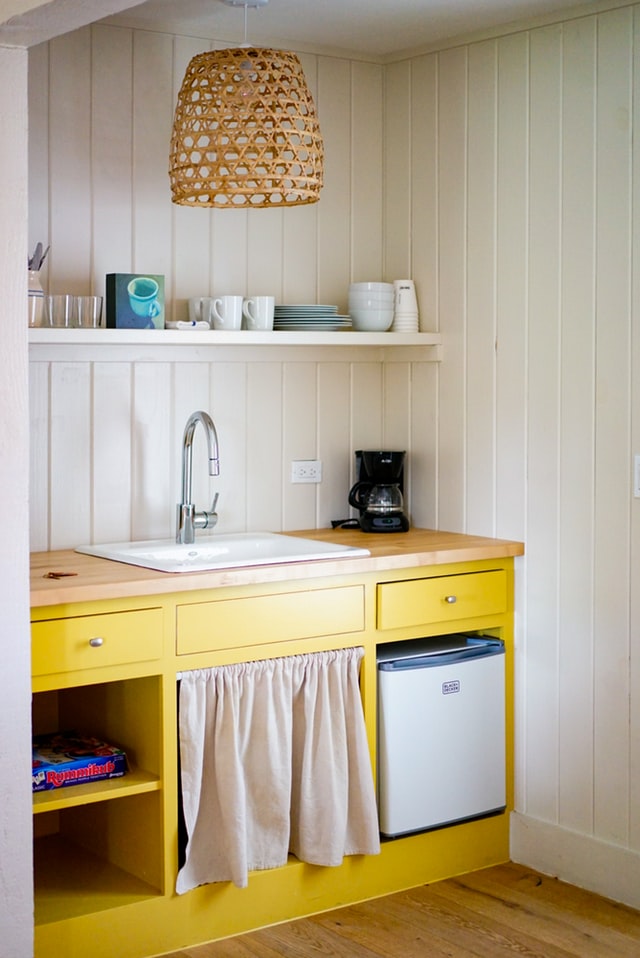 22. Basket details
If you prefer neutrals over colour blocking, then go for an organic, neutral colour palette. You can easily achieve this with woven baskets and natural toned light fittings.
23. Black detailing
How stunning is this classy Boho-inspired kitchen! I absolutely love the wooden detailing in the kitchen cabinetry and the whitewashed timber table. And how about that magnificent group of light pendants?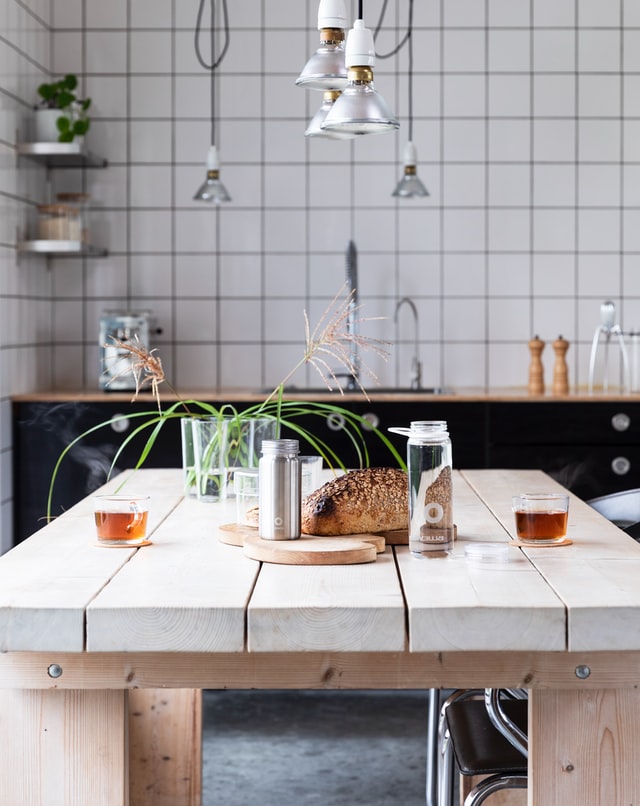 24. Moroccan tiling
Here is some more random tiling that just looks oh-so-chic and Boho. I absolutely love the blush and beige colour palette of this tiling which works perfectly in a Boho kitchen. Just add some indoor plants and pretty crockery and voila! Find more Moroccan styling with these Moroccan bedrooms.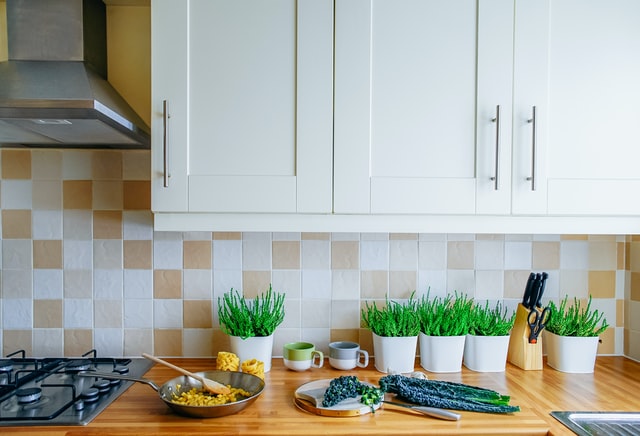 25. Blooms on the bench
If you ever want to add a pop of colour to any space, adding fresh blooms is a great way to go. Flowers always look so beautiful paired with Boho elements such as the indoor plants, exposed shelving and ceramic décor.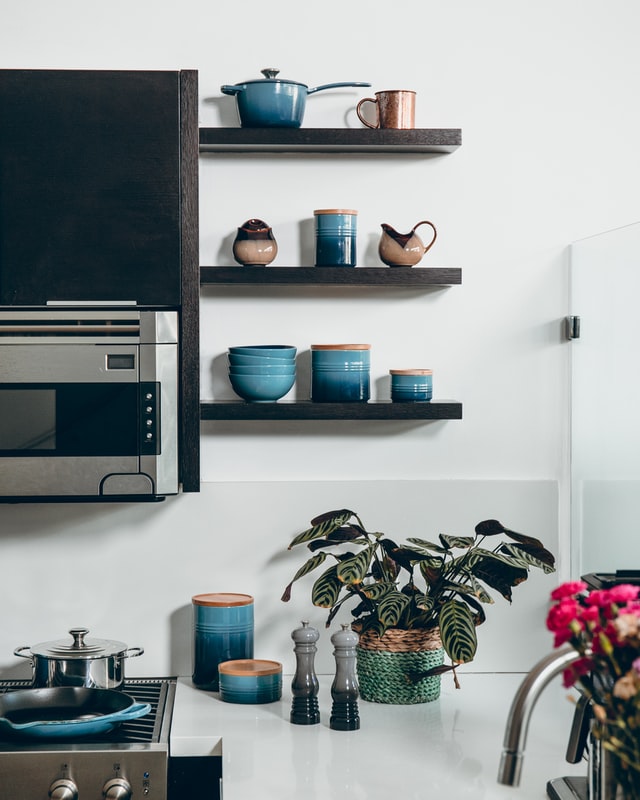 26. Baskets of goodies
Adding hooks to your wall means that you don't have to use up as much bench space, and it will help bring Boho vibes. And I love the idea of having a little woven basket filled with all your most-used cooking utensils. Everything is within reach and ready to go. Easy peasy!
27. Dried flowers
If you ever want to instantly create a Boho style space, add dried flowers! It's such an easy way to enhance your Boho kitchen styling.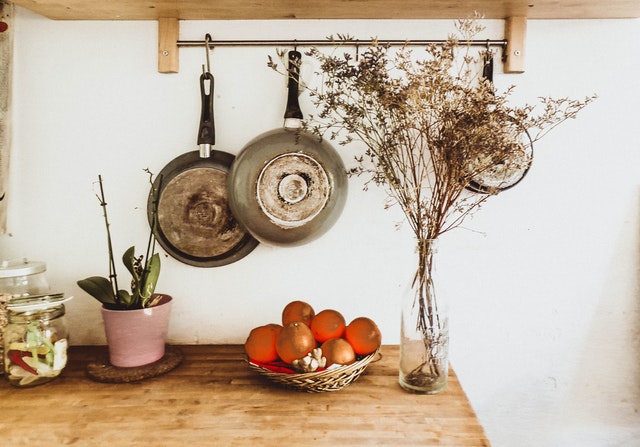 28. Green wall
Finally, why not think about adding a green wall to your kitchen! I love all the different colours and textures of different moss varieties which can be perfectly installed on any shape of backing. And adding other, small plants around your kitchen will help create a very cohesive look.
So there we have 25+ Boho kitchen ideas to inspire you in styling your own kitchen! I absolutely love the kitchens with the exposed shelves as well as the indoor plants. What were your favourite Boho kitchen ideas? Let me know in the comments below!