If you are a foodie and love spending time in the kitchen, then you want to make sure your kitchen is styled to perfection and is an enjoyable place to be in. And if you are in the process of deciding what sort of style to make your kitchen, then you should totally consider a boho kitchen! 
Here are just some things you may find in a boho kitchen:
Exposed shelving – these are a great idea as you can easily access everything you need without ever having to open a cupboard.
Patterns and textures –

Don't be afraid to mix and match patterns and textures when it comes to boho styling whether it's through the patterns in the tiling or even various textures like woven elements and foliage. 
So what are you waiting for?! Check out these 50+ boho kitchen ideas for inspiration! 
1. Moss wall
First up we have this awesome moss wall in this equally awesome kitchen space. I love all the different colours and textures of the different moss varieties which have been perfectly installed on a circular backing. And I love that there are other plants dotted around in this kitchen which creates a very cohesive look.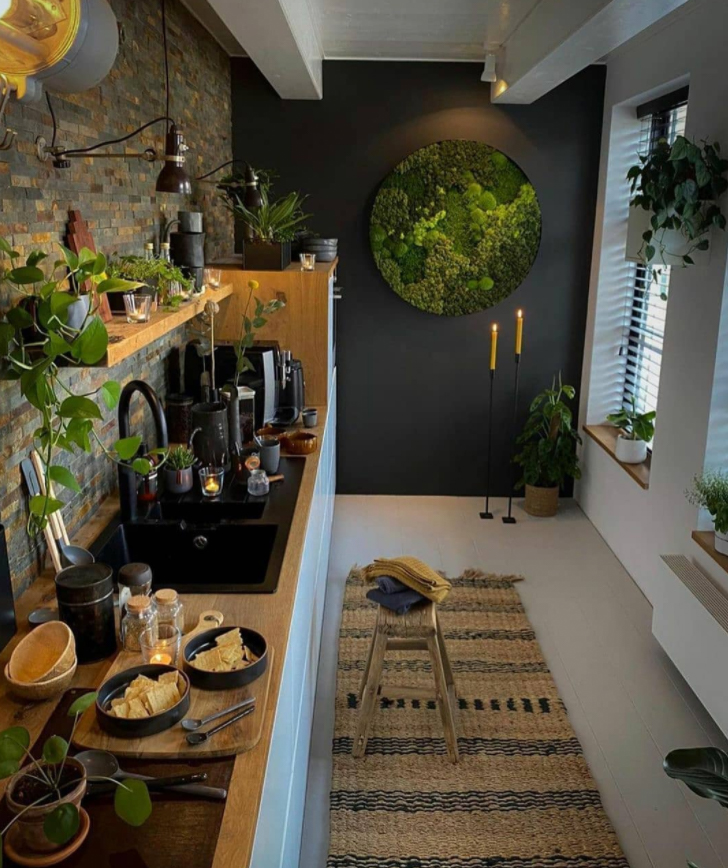 2. Beautiful blues
How eclectic and unique is this kitchen space! The blue on the walls and cabinetry is such an interesting choice yet it just works so well in this boho style kitchen. Plus how gorgeous are the various macrame plants hanging from the ceiling space?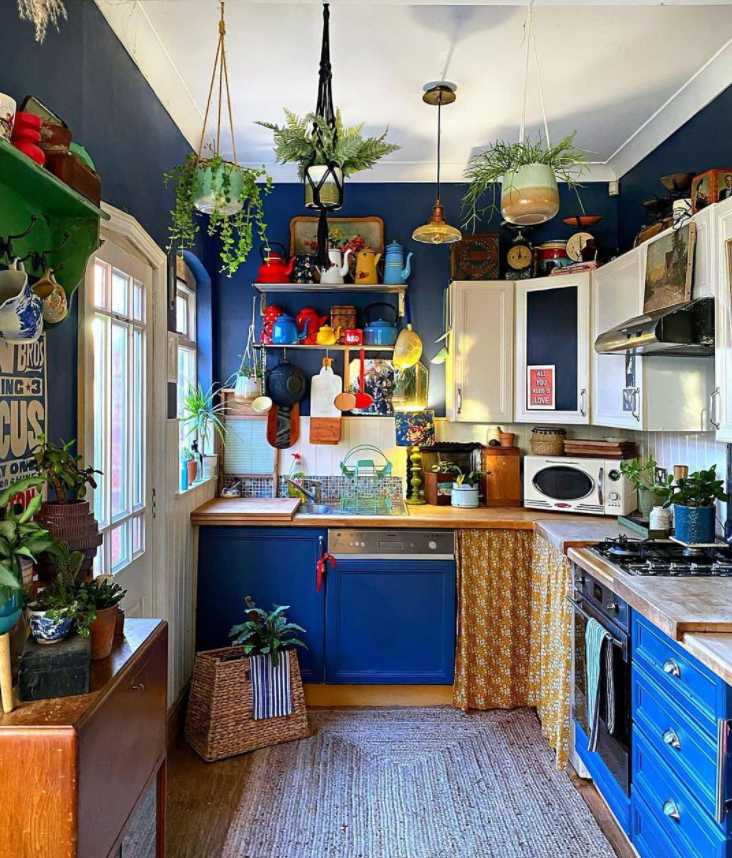 3. Small but mighty
This boho kitchen really is small but mighty. It still really packs a punch despite its small size. I love the wooden countertops and floating shelves paired with the white cabinetry. And the addition of the prints on the wall is such a sweet touch to this lovely and homely kitchen.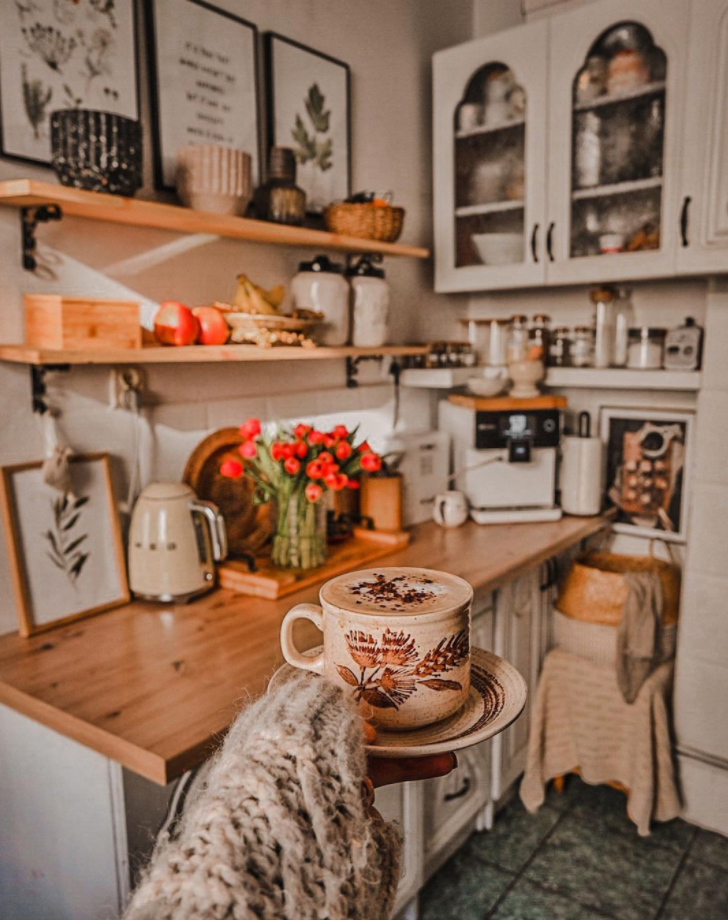 4. Pretty in pink
Check out this 'pretty in pink' kitchen! I love how feminine this kitchen is. A girly dream, indeed! The pink velvet chairs with the copper accents match beautifully with the pink curtains and other feminine details in the room. Plus you can never go wrong with some fresh blooms and indoor plants in your kitchen space.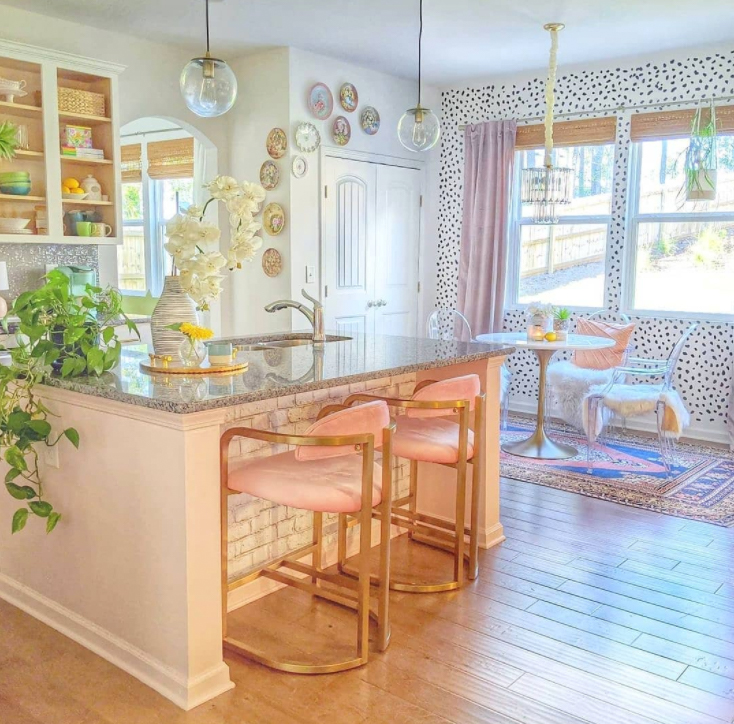 5. The modern bohemian kitchen
If you've ever wondered what a modern boho kitchen looks like, then look no further! This is the modern bohemian kitchen that dreams are made of. The boho elements can be seen through the feature rattan pendant, the gold fixtures and the greenery on the bench.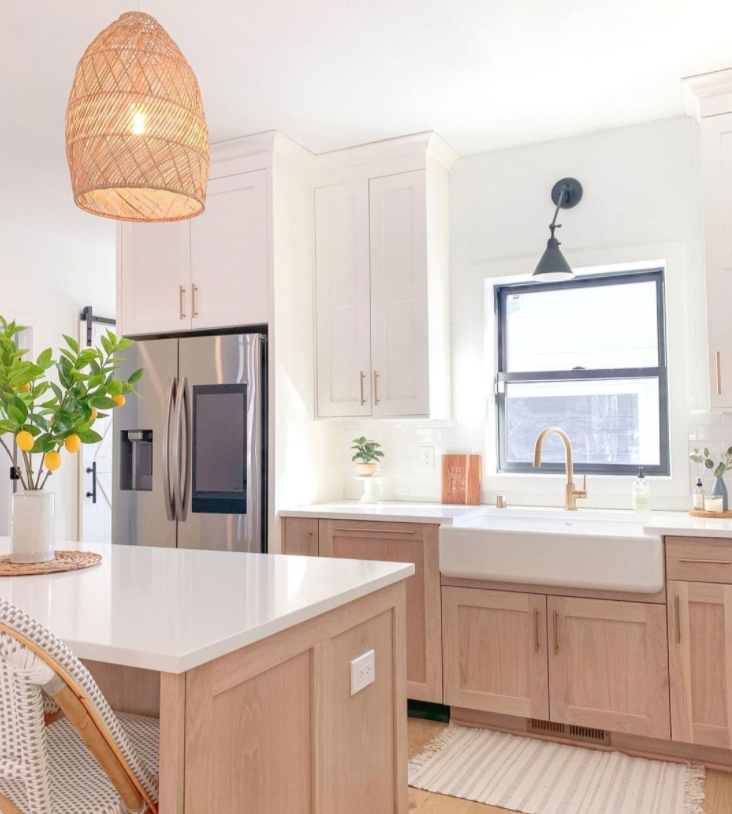 6. One wall kitchen
This one's for you if you don't have a lot of kitchen space to work with. Perhaps you only have a one-wall kitchen. But boy, it can really pack a punch! I love the white subway tiles that look so lovely as a splashback in the kitchen as well as the awesome spice rack attached to the wall! And the retro velvet couches in the living room area really help to give this space that boho look.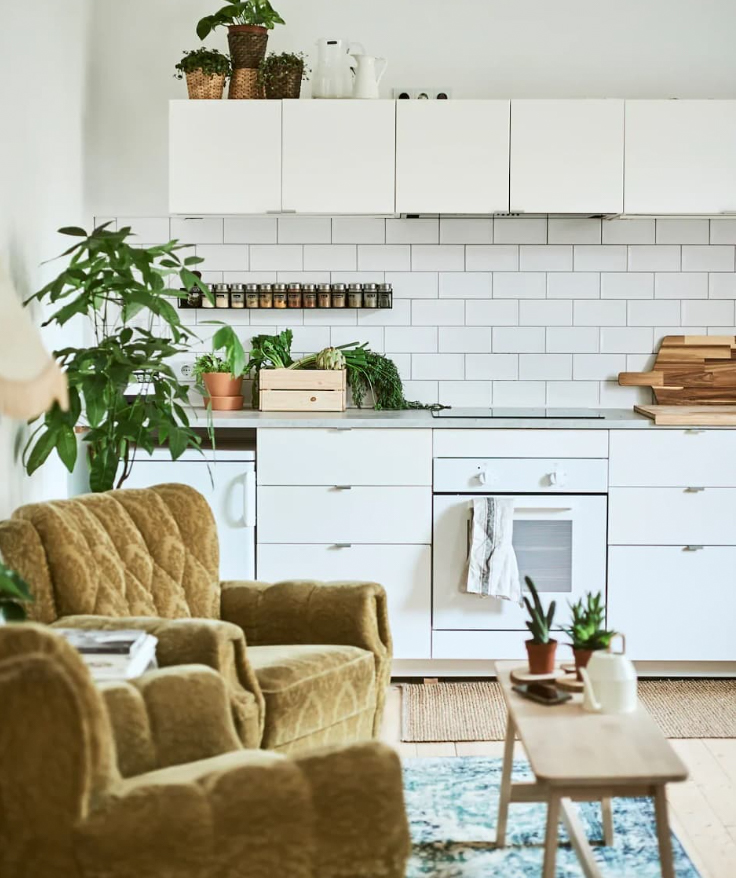 7. Good vibes only
Boho style really is all about the good vibes only. And what a great idea to have that reminder on the fridge at all times! I love the kitchen and laundry combination which ensures convenience, especially in a smaller space. Just add a vintage rug and some indoor plants to enhance the boho look.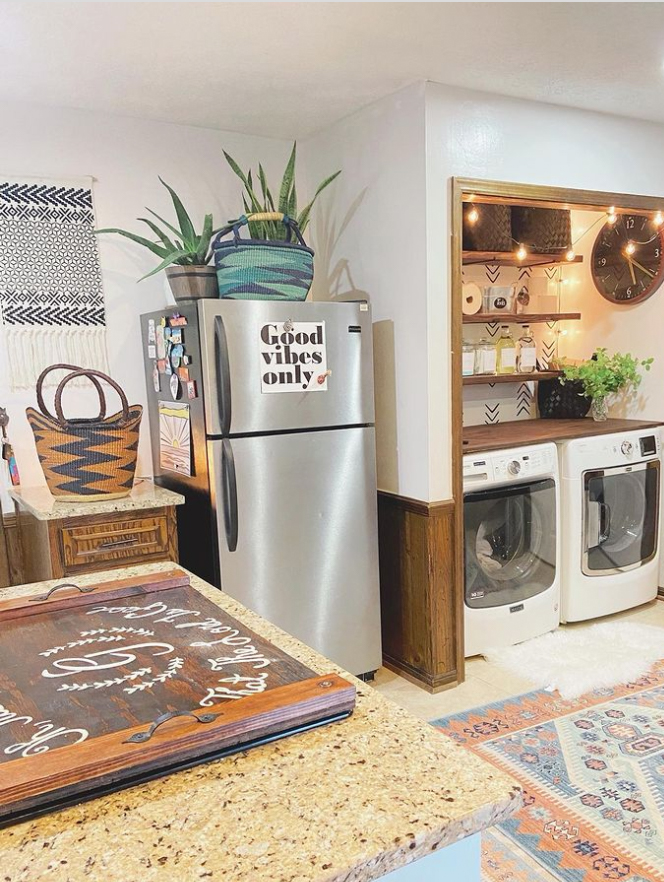 8. Basket of goodies
How sweet is this basket of goodies?! Adding hooks to your wall means that you don't have to use up as much bench space. And I love the idea of having a little woven basket filled with all your most-used cooking utensils. Everything within reach and ready to go. Easy peasy!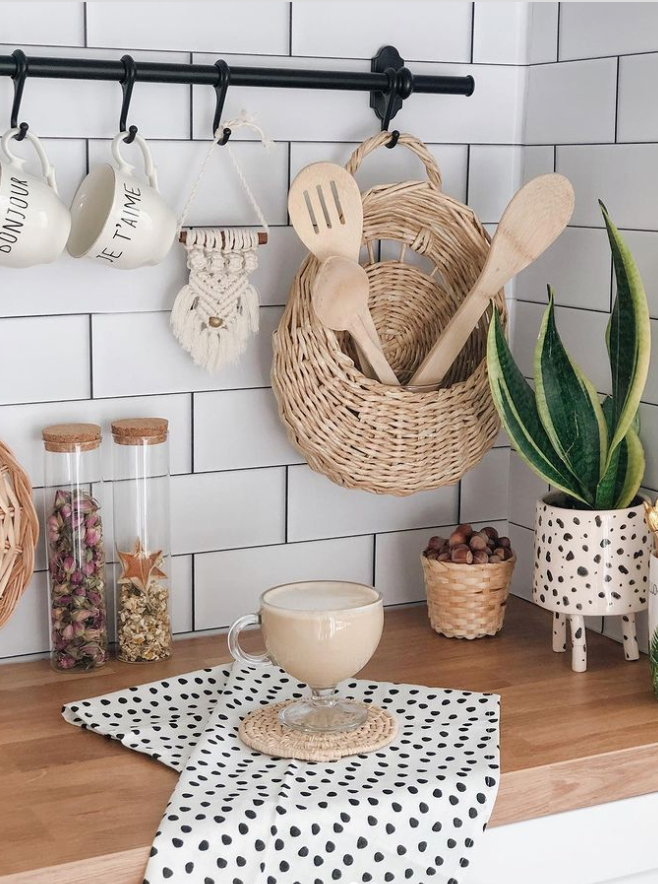 9. Just hanging out
Speaking of utilizing hooks in your kitchen, here's some more! This gorgeous wooden wall instalment holds various bags for added storage and your chopping board and a tea towel for convenience while you're in the kitchen. What a great idea!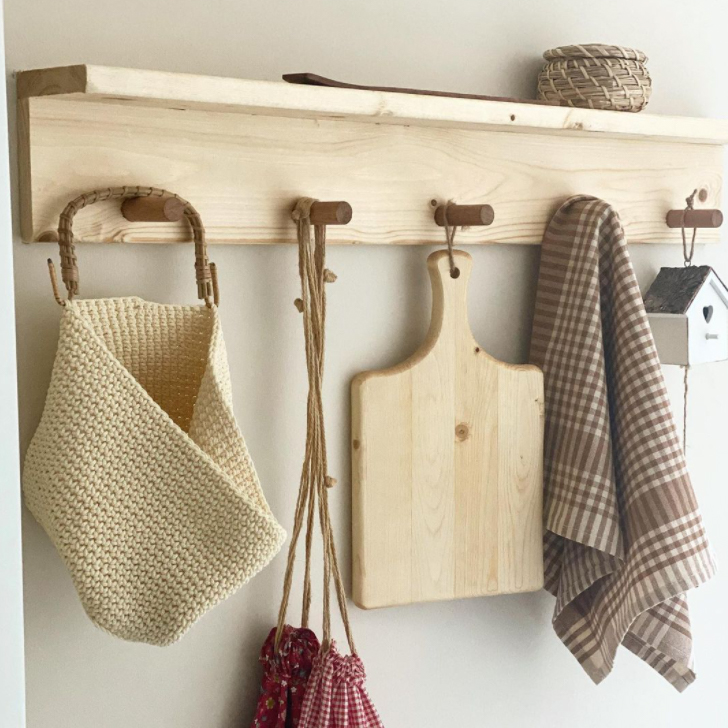 10. Blooms on the bench
If you ever want to add a pop of colour to any space, adding fresh blooms is a great way to go. I love these red tulips which look so beautiful paired with the boho elements such as the indoor plants, wooden benchtop and fairy lights. What lovely kitchen bench styling!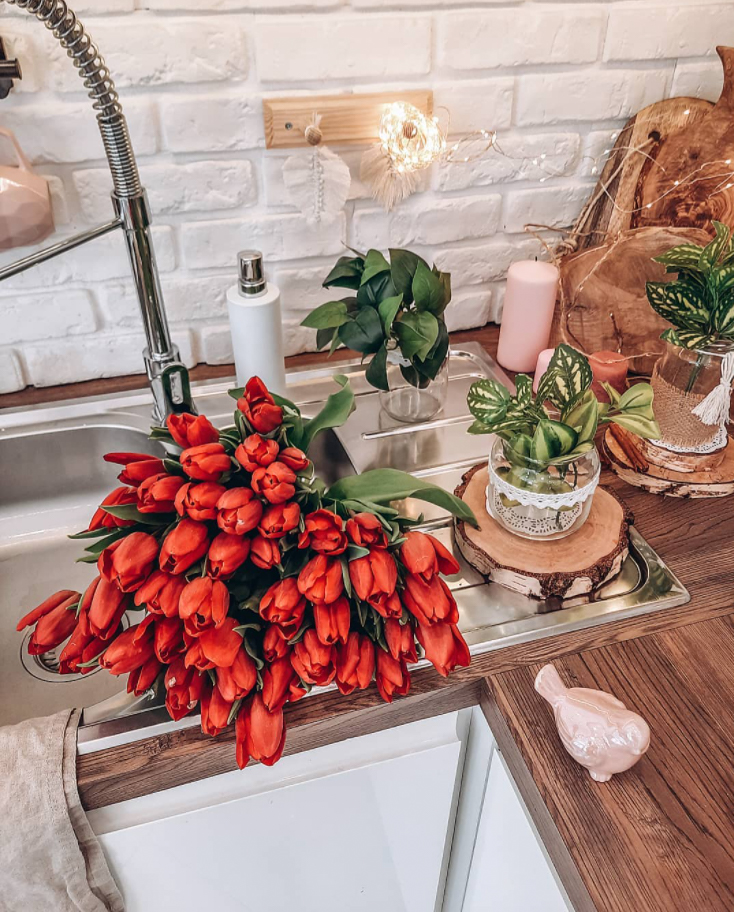 11. Hexagonal splashback
How sweet is this kitchen with the hexagonal splashback! I also love how the tiling from the splashback has been continued onto the front and sides of the cabinetry. And the addition of the brown and white Morrocan patterned rug works well as a clashing pattern to the hexagonal tiles which is something that is very in fashion at the moment. 
See more kitchen splashback inspo!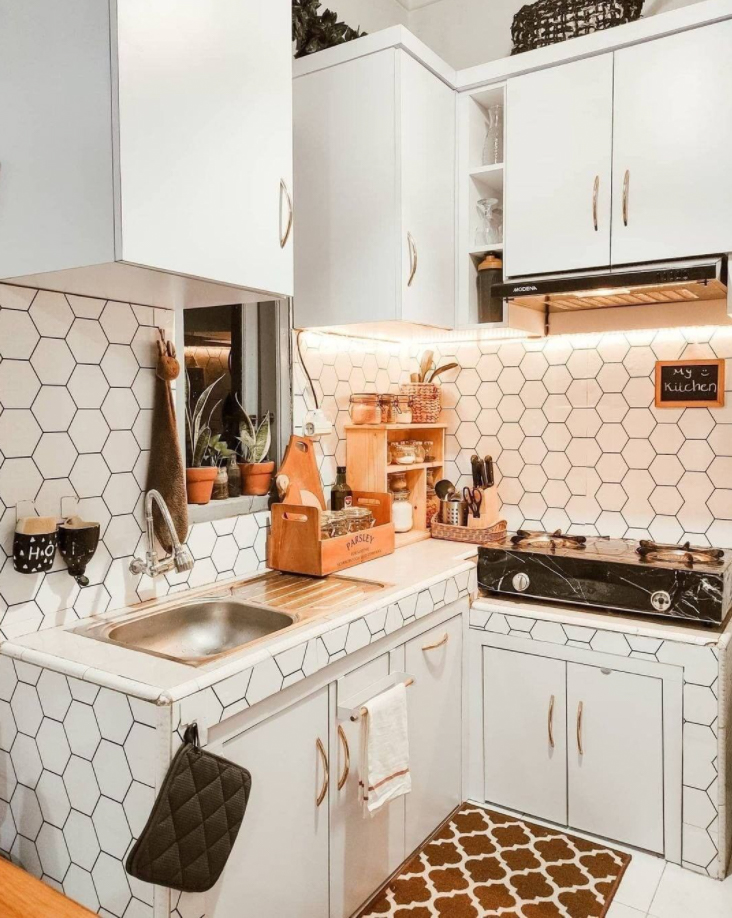 12. Simple decor, big impact
This kitchen is super simple in the decor department, yet it creates a big impact. I love the large window that is letting in so much beautiful natural light into the space. And the little plants dotted around the place are the perfect simple and impactful decor for this kitchen. And you can never go wrong with some festoon lights, especially when they are hanging off some branches! 
13. Exposed shelves
More often than not, people prefer to put all their clutter away, but in recent years floating shelves have risen in popularity, especially in a boho style kitchen. As you can always see what is on your exposed shelves, you still want to keep the space pretty minimal and uncluttered. But exposed shelves do work really well to display your most used items like mugs and bowls.  Get help to make your shelf hanging is sturdy and supported enough.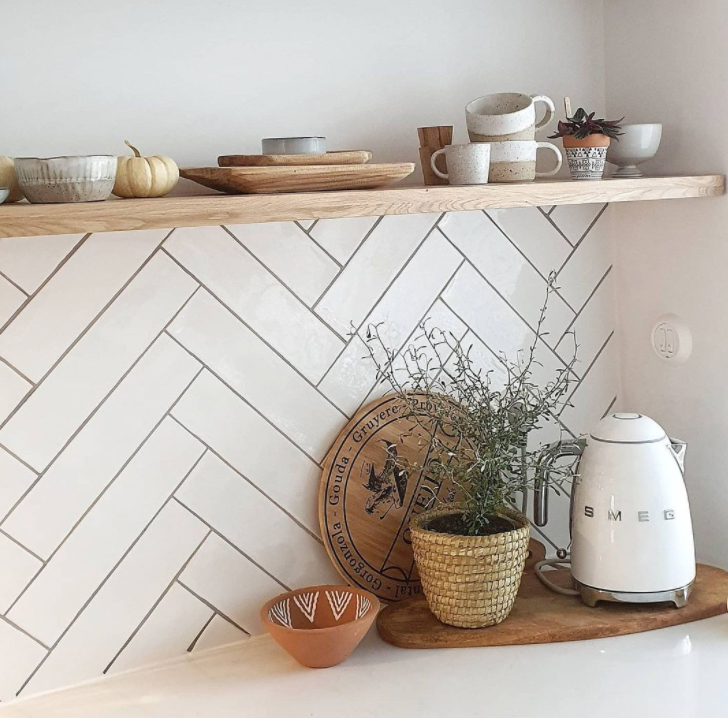 14. Eclectic boho kitchen
Now, this is what you call eclectic boho! I love all the bright and bold colours in this awesome kitchen space. There is so much colour blocking going on here and it's absolutely awesome. I love the red wall which is the perfect backdrop for the blue fridge, pink microwave, red toaster, yellow utensils jar and all the wonderfully quirky decorations.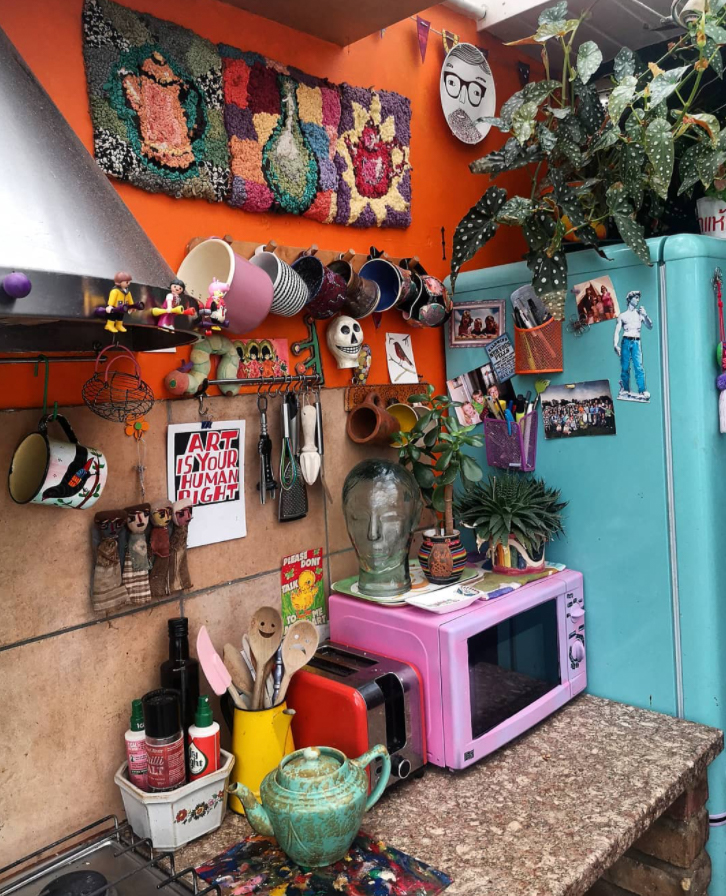 15. Basket details
Here's a more modern take on a boho kitchen. If you prefer neutrals over colour blocking, then this kitchen is the one for you! I love all the woven basket details in this space from the little baskets dotted around on stools, shelves and hanging on the walls to the basket plants and awesome rattan light pendant.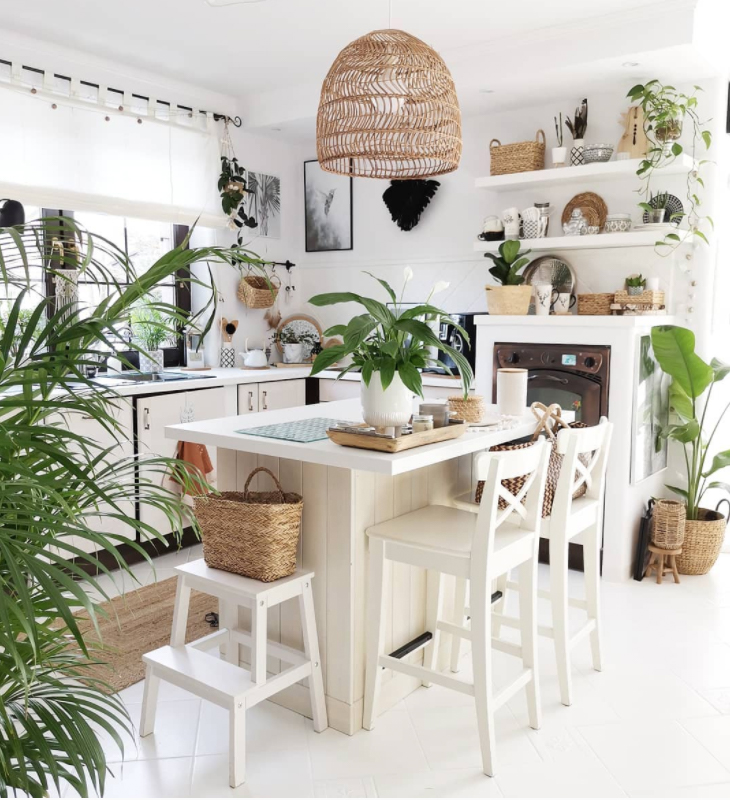 16. Farmhouse boho kitchen
Oh, I just love this charming farmhouse boho kitchen. How sweet! The wooden benchtops are the perfect addition to the mostly white kitchen. And I love all the sweet little details like the cream kitchen scales, mint coloured jar and hanging area for your most-used mugs. A kitchen that is equal parts convenient and cute… who would've thought?!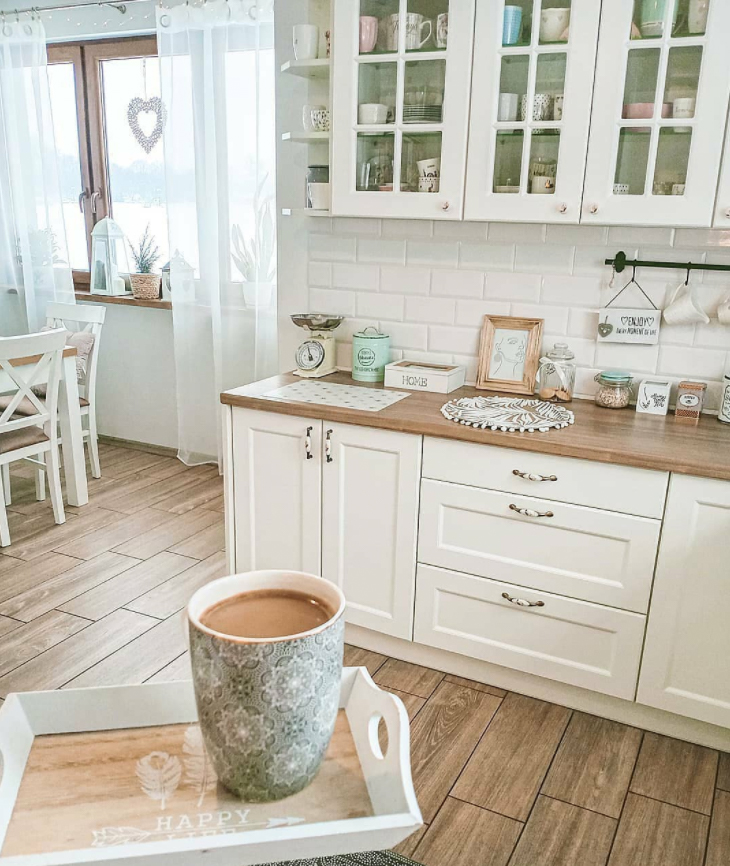 17. Black detailing
How stunning is this classy boho-inspired kitchen! I absolutely love the wooden detailing in the kitchen cabinetry as well as the awesome exposed beams that have the magnificent black light pendants hanging off of them. And the black detailing on the stools works so well with the light pendants to ensure this space feels cohesive.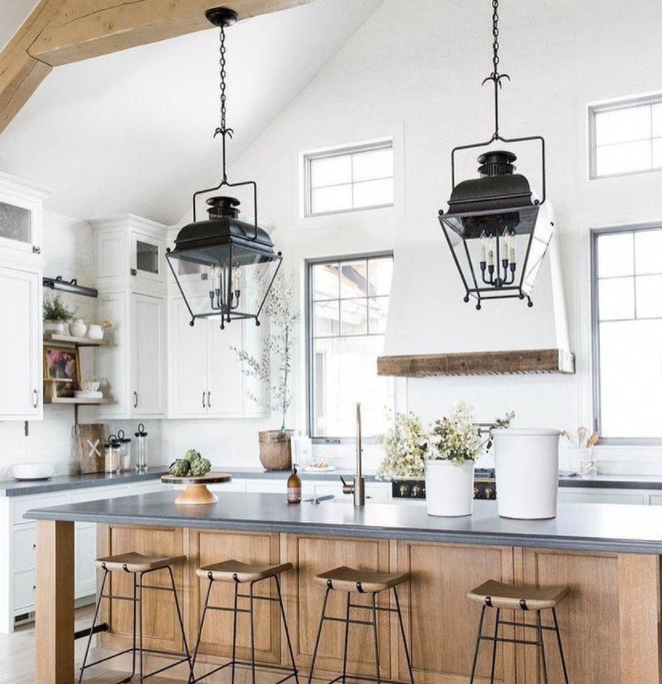 18. Kitchen dining
If you're ever designing the layout of a house, then a kitchen dining room combination is such a great idea. While the cooks of the house are preparing a delicious feast, the socialisers of the house can also be nearby to join in on all the fun. Plus there isn't far to go when you've got plates of scrumptious food to take to the table!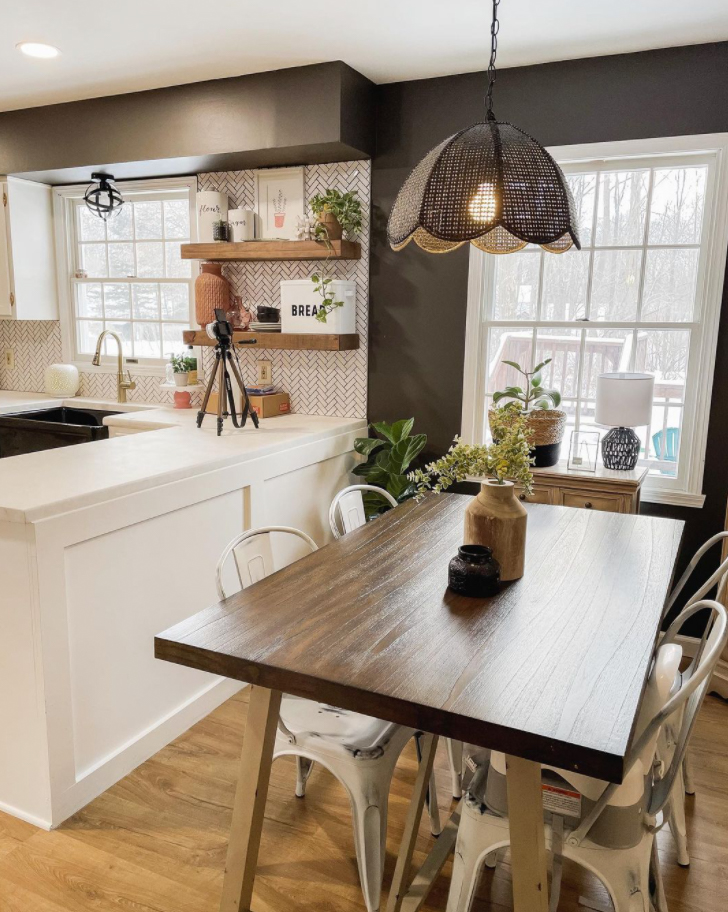 19. Grey cabinetry
Here's another awesome modern boho kitchen. The grey kitchen cabinetry as well as the black detailing in the light fixtures, stool, stove and taps really give a very modern feel whilst the exposed beams, wooden board and decor choices give a boho feel. Plus look at the cute little furry friend waiting patiently for his next meal!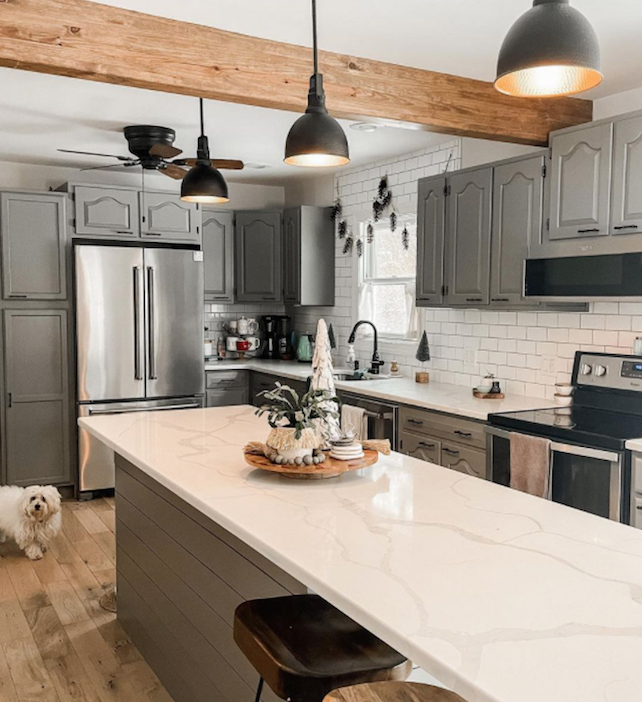 20. Herringbone splashback
Ah, here is one of my favourite tiling arrangements! Herringbone is simple, yet intricate. And the good news is that a herringbone tile design is classic and timeless so it will always stay in style. I love the herringbone splashback tiling in this kitchen area which is the perfect backdrop for the wooden floating shelves and thoughtful decor pieces.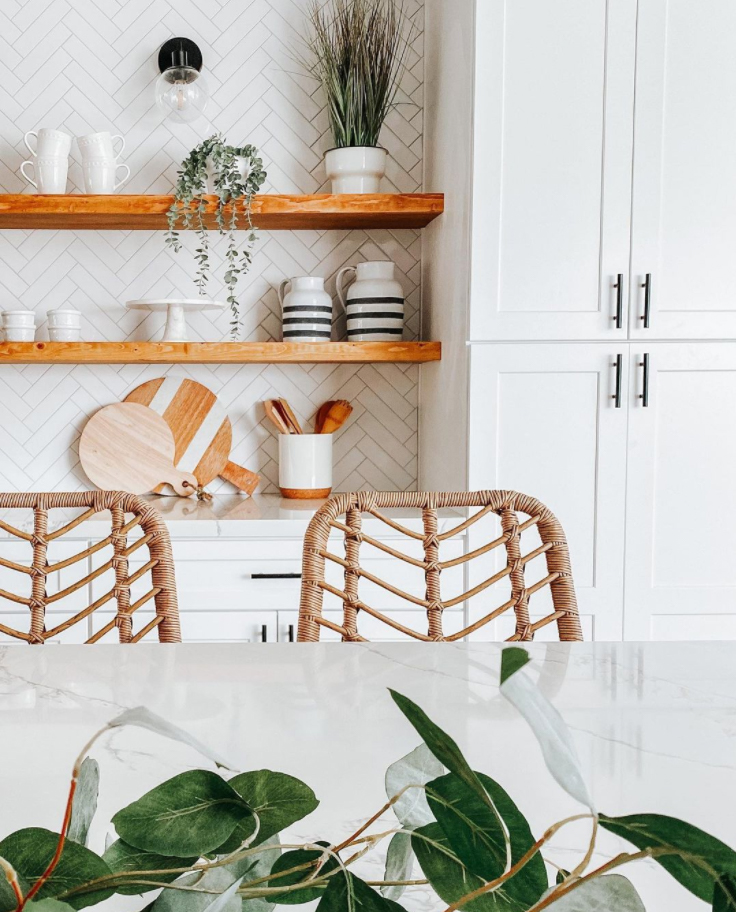 21. Macrame wall hanging
If you ever want to instantly create a boho style space, add macrame wall hanging. I repeat… "When in doubt… Add macrame!" I love the large macrame pieces in this boho kitchen dining room! And you can never go wrong with some neutral coloured dried blooms to enhance boho styling.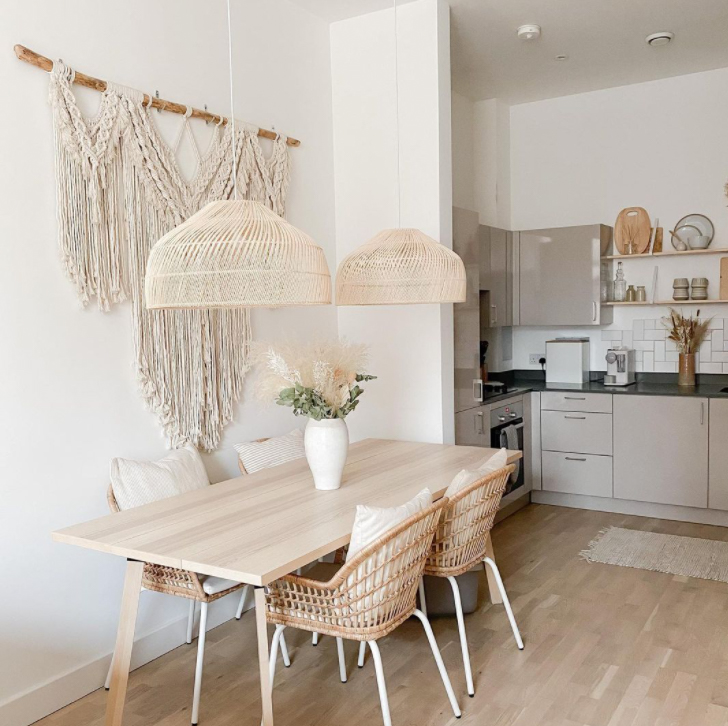 22. Organised clutter
If you have a lot of stuff, yet want to keep it that way. Perhaps you can play with the trend of organised clutter. The exposed shelves in this kitchen look super organised but I love that they also have everything you need on them from bowls, plates, saucepans and utensils to indoor plants and cooking books.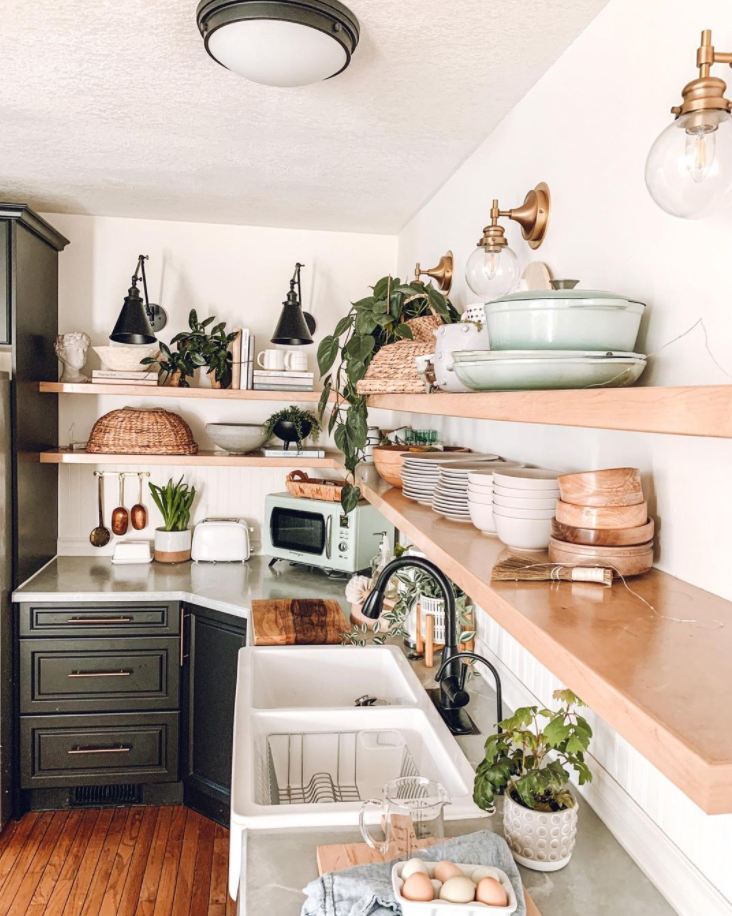 23. Fresh feast
How's this for a fresh feast! I can just imagine the delicious smells of fresh bread wafting from this kitchen. I love the idea of utilising the exposed shelf trend but also having cupboards around your kitchen for those items that you'd rather be put away. What a gorgeous kitchen to cook a delicious feast in!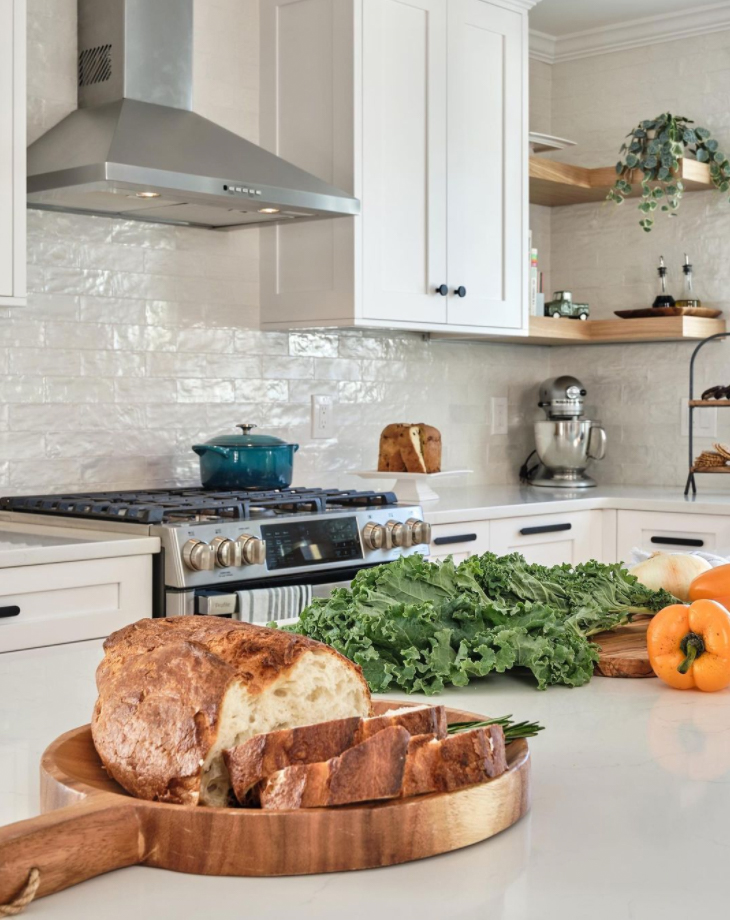 24. All within reach
Speaking of exposed shelves, here's some more! I love how everything you need is all within reach and easy to find. The white shelving against the white wall with the black fixtures looks so chic and creates a really trendy monochromatic look. Just add some woven finishes and indoor plants on the shelves to really enhance the boho feel.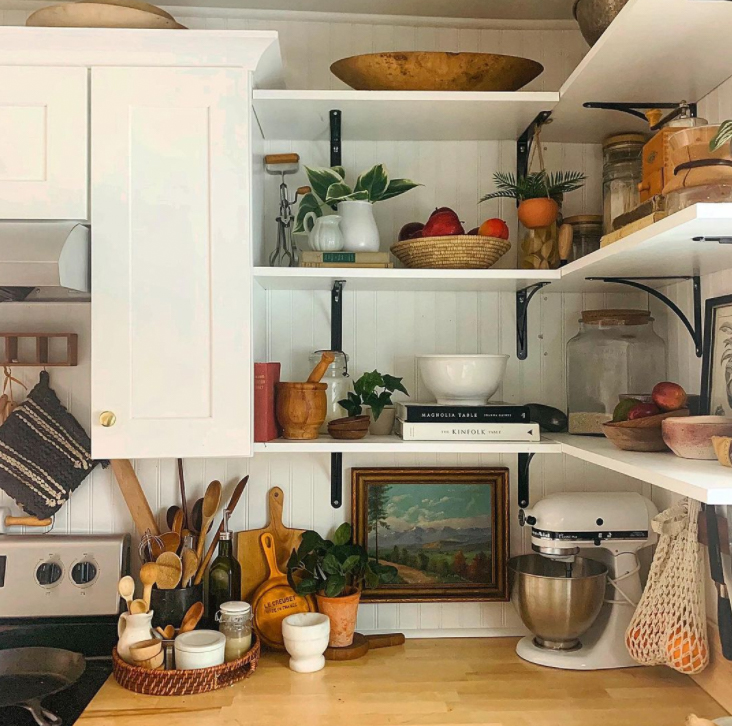 25. Feature pendants
How stunning are the feature pendants in this kitchen dining space! They really give an on-trend boho look to this room! And I love that the subtle wood colour matches perfectly with the benchtops in the kitchen as well as the dining table and chairs. White and wood really is such a dreamy combination in the home!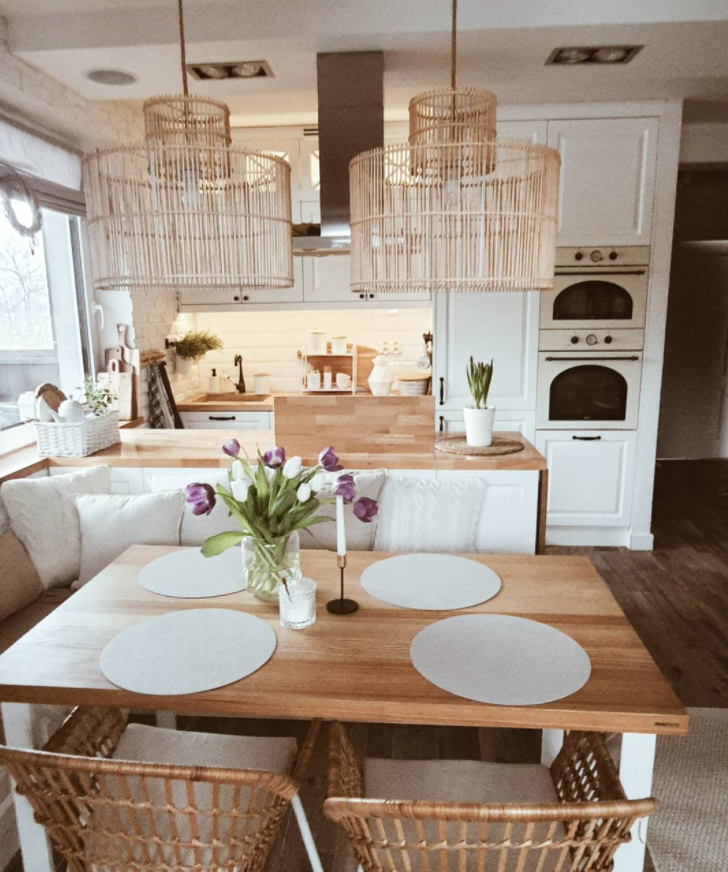 26. Mix and match tiling
If you love styling that is a little more out of the box and less obvious, then check out this. The mix and match tiling in this space is so stunning. This is also for those that are indecisive and you just can't make a decision on which tiling to go with… Why don't you just go with all the tiling options?! I love how fun and playful this mix and match tiled splashback is that works so well with a boho theme.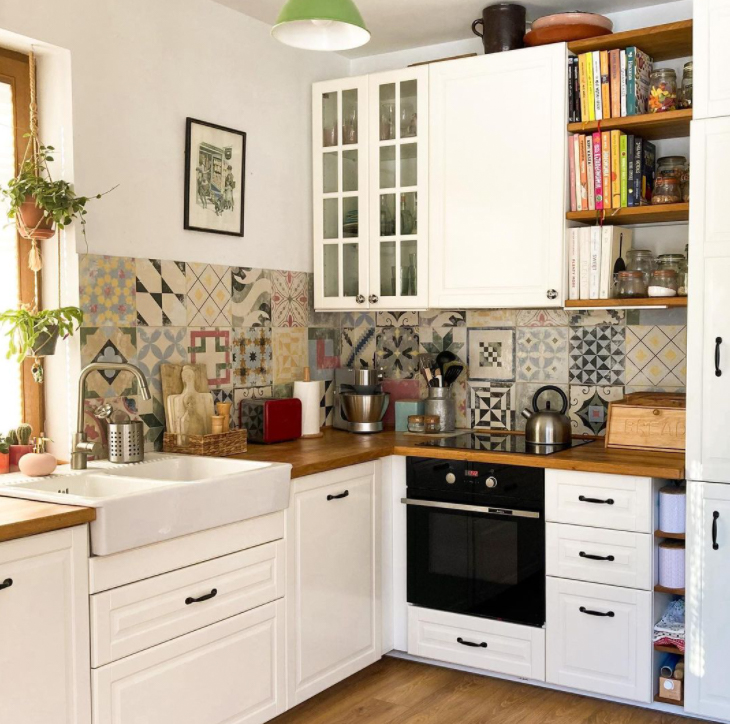 27. Log storage
How gorgeous is this! If you live in a home that has a fireplace, then you already know that having a space to store your firewood is very important. And I absolutely love this open-plan kitchen bench that has firewood at the ready at all times. And how great is it that you can also see into the top section with the glass fronts! What a beautiful boho kitchen. 
28. Navy, white and tan
If you love the vibe that monochromatic black and white gives off but don't want to necessarily go with that for your kitchen, why not try navy and white?! Navy is a slightly softer and more subtle colour than black and looks stunning with white. Plus how stunning is the addition of the tan colour in this space through the lighting pendant, chair and decor?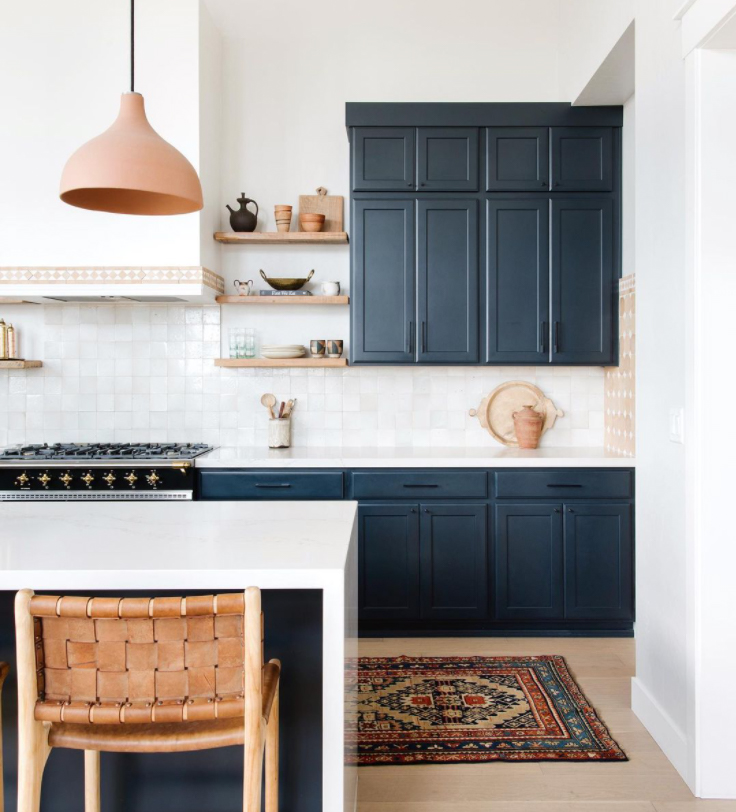 29. Cute quotes
These ones for you if you are one for cute quotes and special sentiments. These cute quotes work so well in this kitchen with the white frames, white background and black lettering. I'm sure that 'S and M' really enjoy making delicious meals in this beautiful boho kitchen.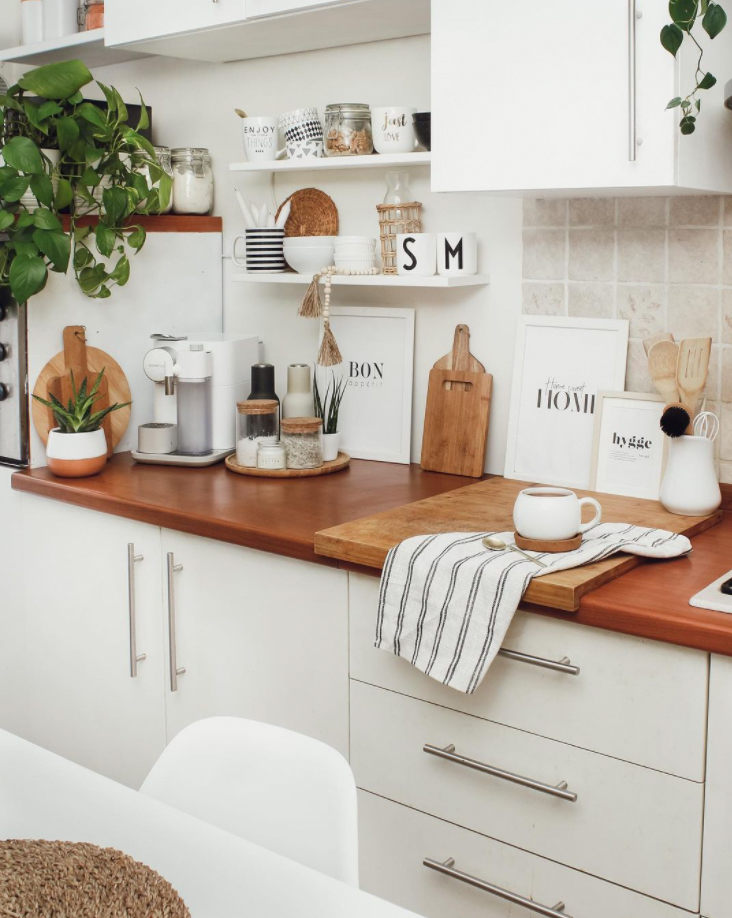 30. Pretty kitty
Here, pretty kitty! Here, pretty kitty! How lovely is this kitchen, dining and living area?! I absolutely love the open plan living with the addition of the wooden beams to help separate the spaces a little more. The red vintage rug, gold velvet couch, wooden cabinets and indoor plants really help to give a boho look to the space.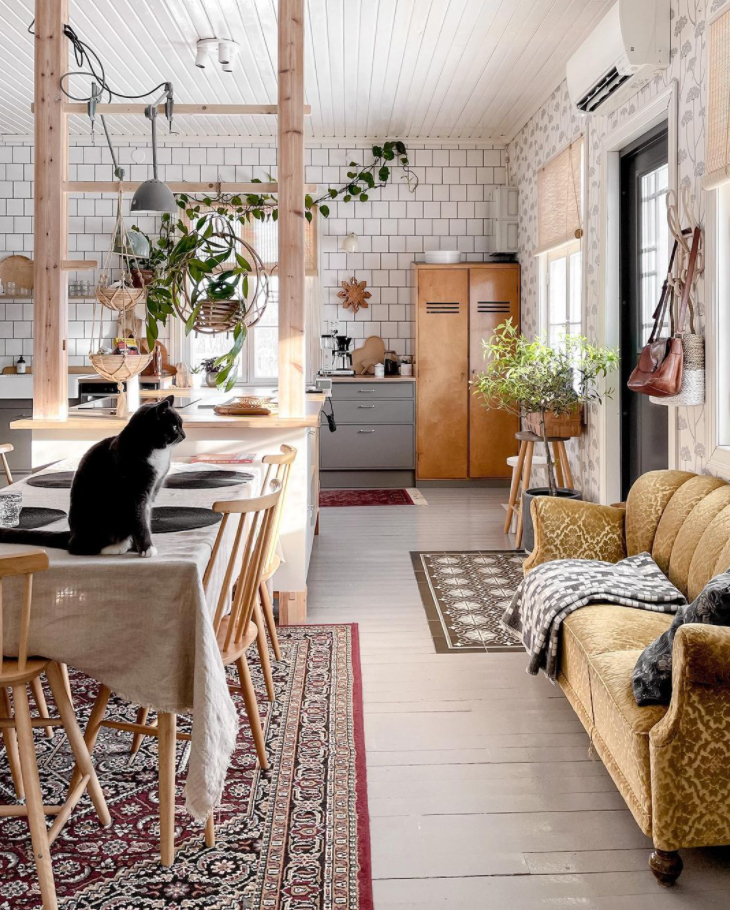 31. Textured tiling
Ah, I just love this textured tiling! Textured tiles are a great idea if you're wanting to use the same colour as they add some pattern to your walls without being too noticeable. I love the exposed shelves in this boho kitchen as well as the golden lighting fixtures and beautiful decor items dotted around that make this space feel welcoming and lived in.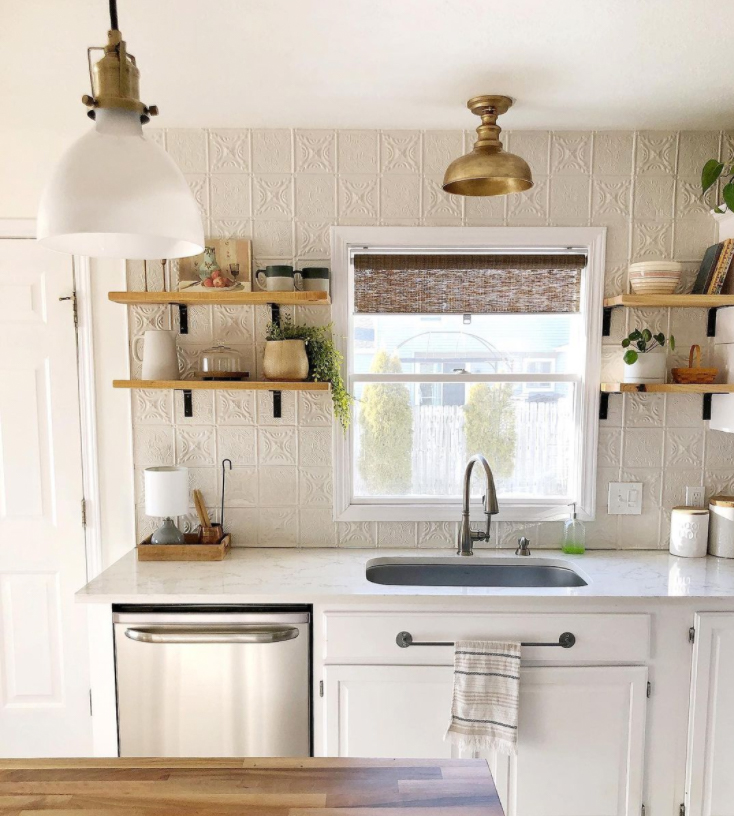 32. Minty details
How sweet is this little kitchen with all its minty details? From the little jars on the counter to the kettle. Plus adding a woven rug on the floor creates a soft place for kids to play nearby as you are cooking something delicious in the kitchen.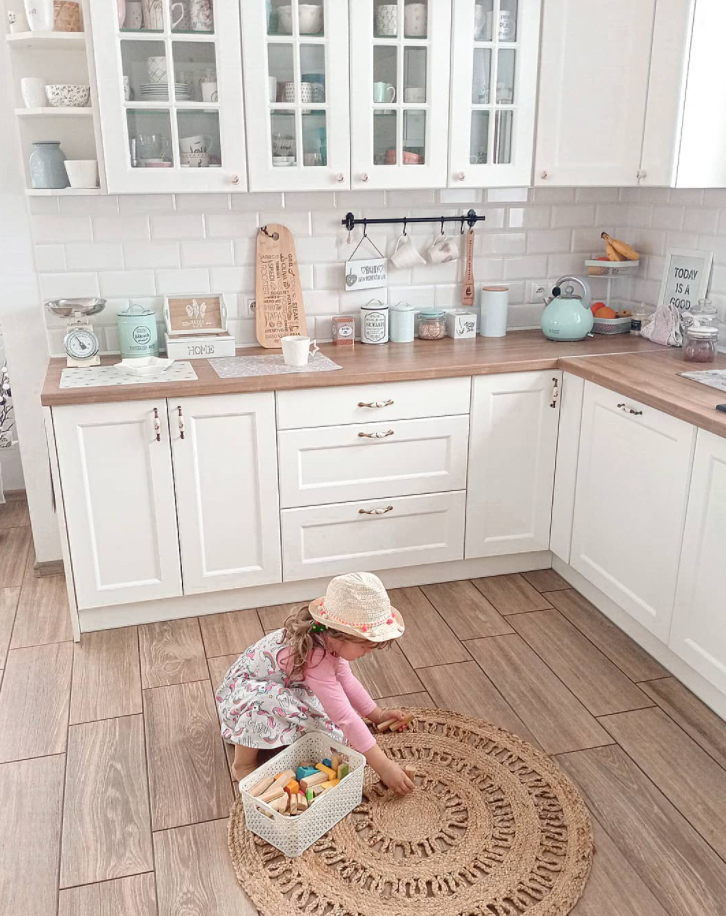 33. Wooden benchtop
If you're ever wondering what type of benchtop to go with, then go with wood! As wood is a natural finish, it will always be in fashion and will match with any styling you decide to go with over the years. I love the indoor plants which can be seen off in the distance closer to the windows as well as the large decorative stars hanging from the ceilings.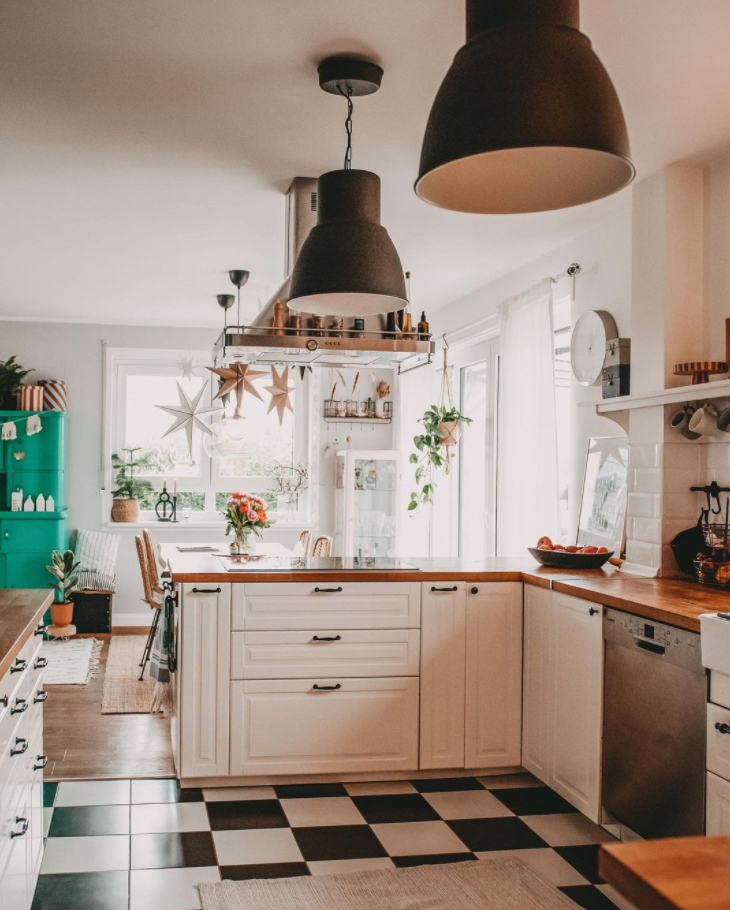 34. Island bench
If you have room for it, you should totally consider adding an island bench to your kitchen. Island benches mean that you have more bench space and sometimes in a kitchen, more bench space is something most people desire to have. I love this wooden island bench which works so well to store regularly used utensils and other essentials down below in the woven basket.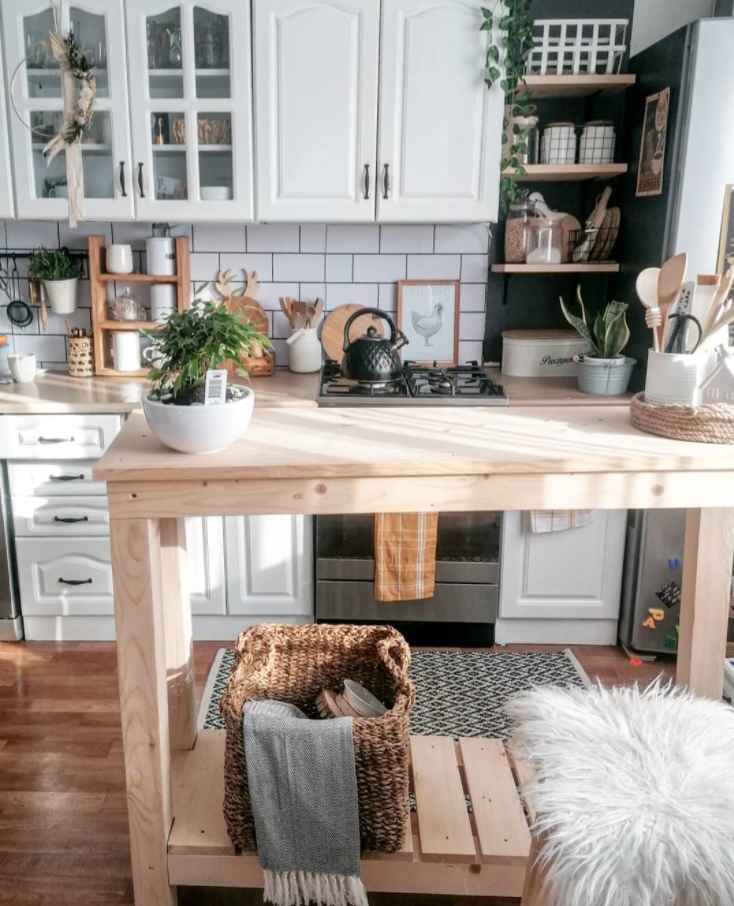 35. White on white
How lovely is this white-on-white kitchen. I love the oversized herringbone tiled finish on the side of the cabinetry which adds a lovely pattern to the space. And the white countertops are such a beautiful and sleek touch. Plus how awesome is the hanging area next to the bench with essentials like a chopping board and a tea towel hanging off!
If you love everything white, check out these white bathrooms and white bedrooms.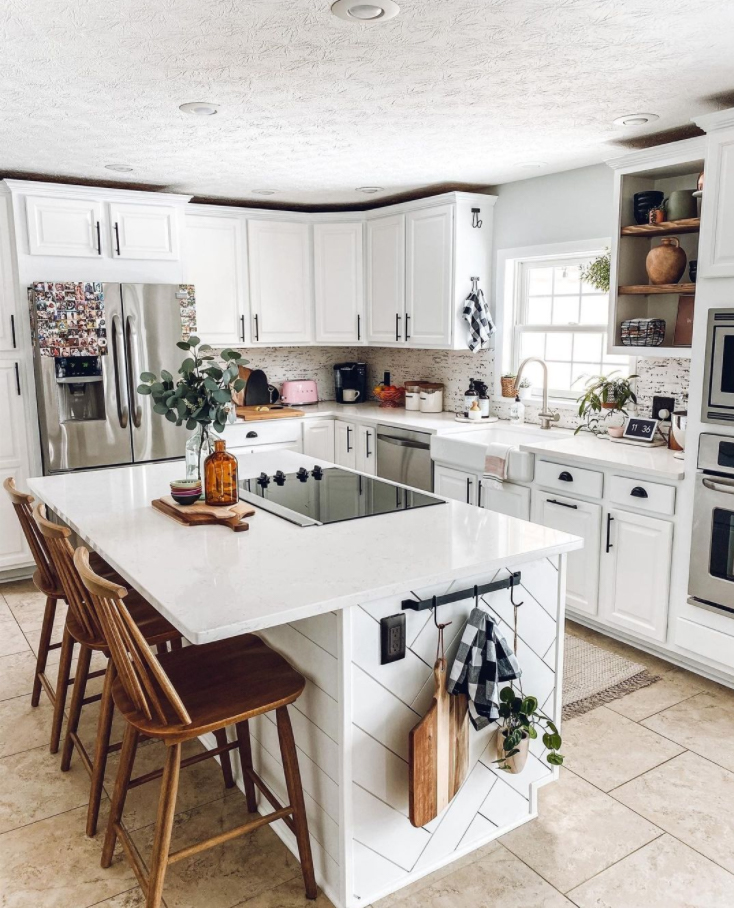 36. Golden detailing
Generally speaking, a boho kitchen colour scheme is usually warm, calm and oh so inviting. And that is everything this kitchen is and more. I absolutely love the gold detailing of the knobs in this kitchen which match beautifully with the warmth of the exposed wooden beams, wooden countertops and rattan pendant light feature. Just gorgeous.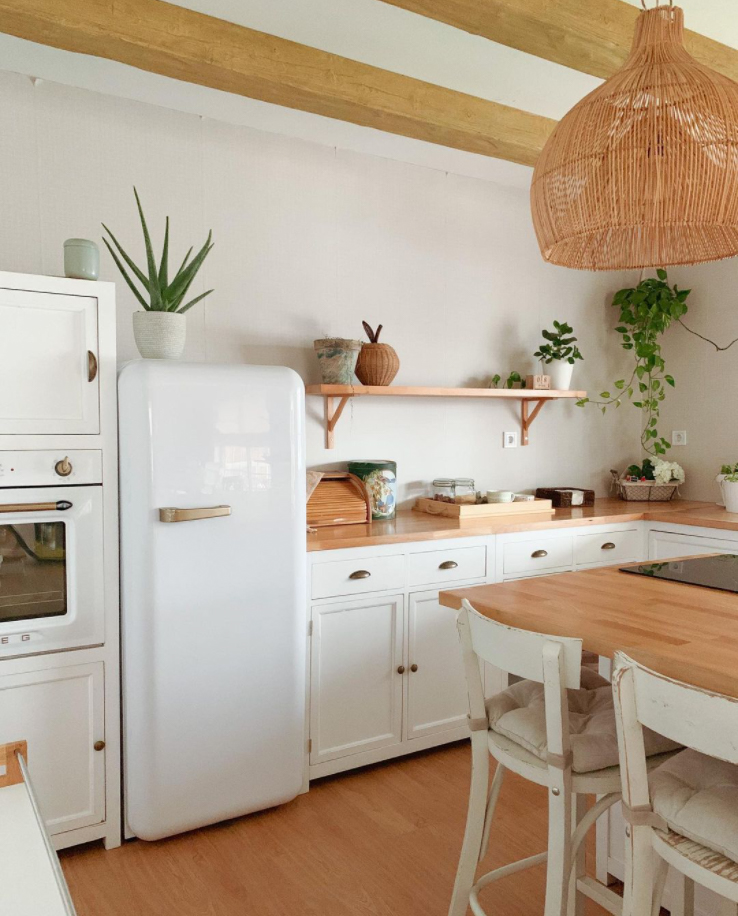 37. Shadowbox shelves
If you're not quite yet ready to commit to permanent shelves or cupboards, then adding temporary shelves is a great idea while you get your head around the rest. I love these wooden shadow box shelves that are holding all the essentials in jars. If you or someone you know is handy on the tools, these are something that would be quite simple to make if you have some spare wood lying around.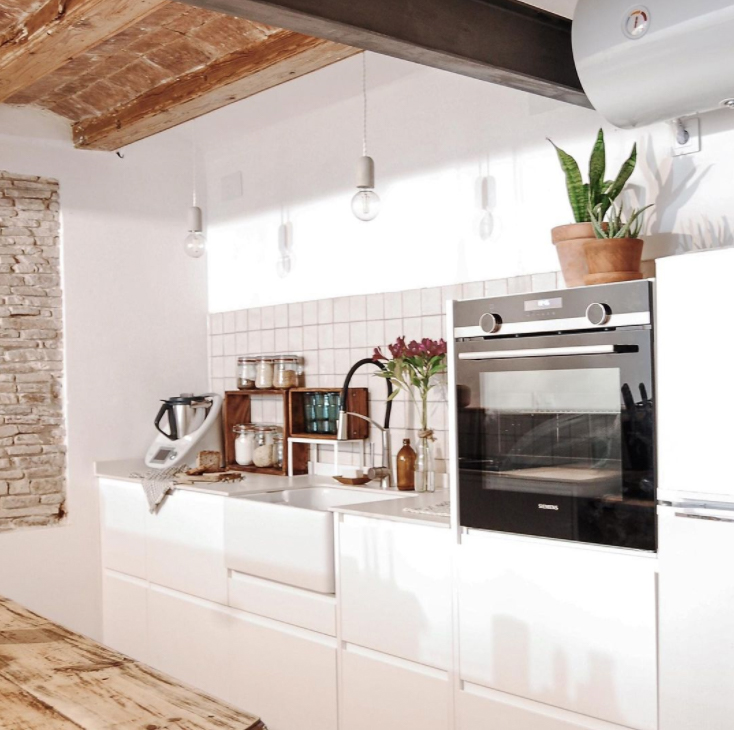 38. Rustic boho
How rustic is this beautiful boho kitchen! I love the mix and match style of the tiles with the simple rug on top which helps to soften the look of the area. And the white subway tiles look gorgeous across the wall next to the strip of green which brings a pop of colour.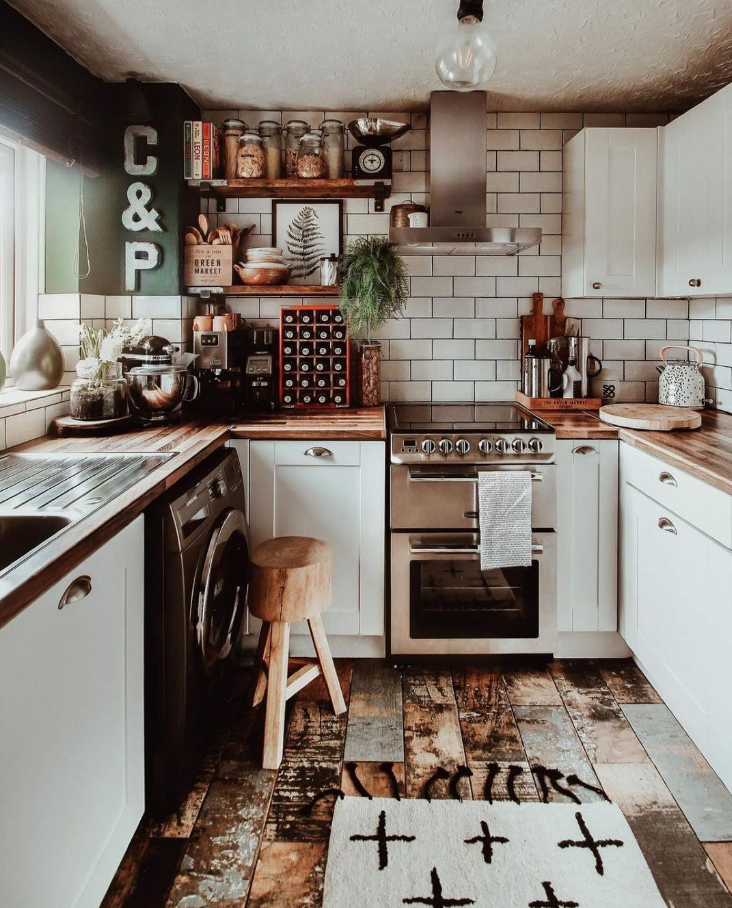 39. Light pendants
If you're ever trying to spruce up a space easily, why not change up your light pendants?! Adding the right pendant to your space can determine the feel for the whole room. I love the rattan light pendant above the table which helps to make this room feel more boho and laid back.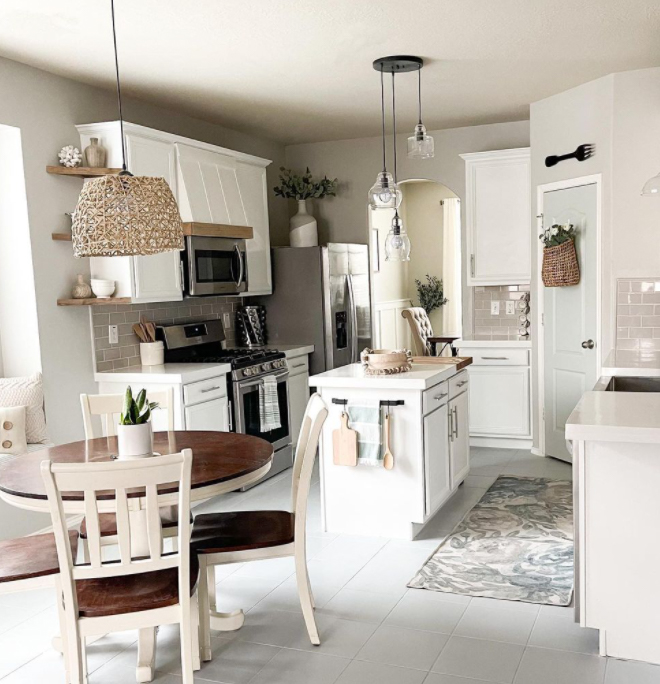 40. Plastic-free kitchen
I absolutely love it when I see people making more sustainable and ethical choices in their lives which is why I love this plastic-free kitchen. Say goodbye to plastics and other packaging and put your food in sealed jars. And opting for refillable glass soap bottles that can be topped up is also a great idea. Not only is it better for you and the environment, but it just looks so much prettier on your bench.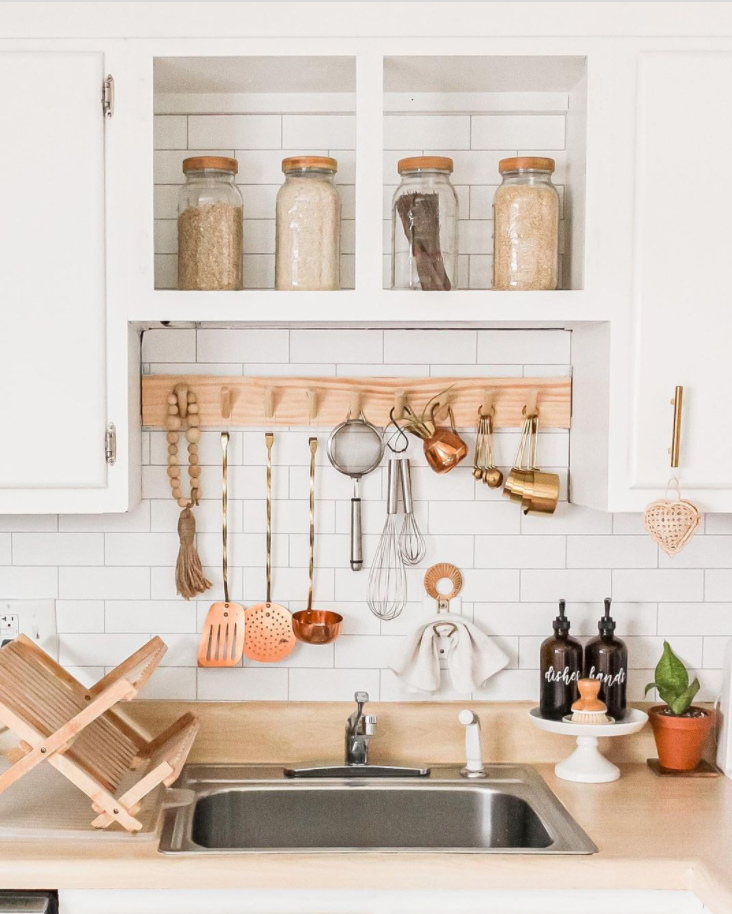 41. Gorgeous greenery
Check out this gorgeous greenery! Indoor plants really help to bring so much freshness into a space and have even been known to help purify the air in your home. I love the shelf that has been installed overhead and works so well for trailing greenery to grow down. And the other plants around the kitchen help to bring everything together.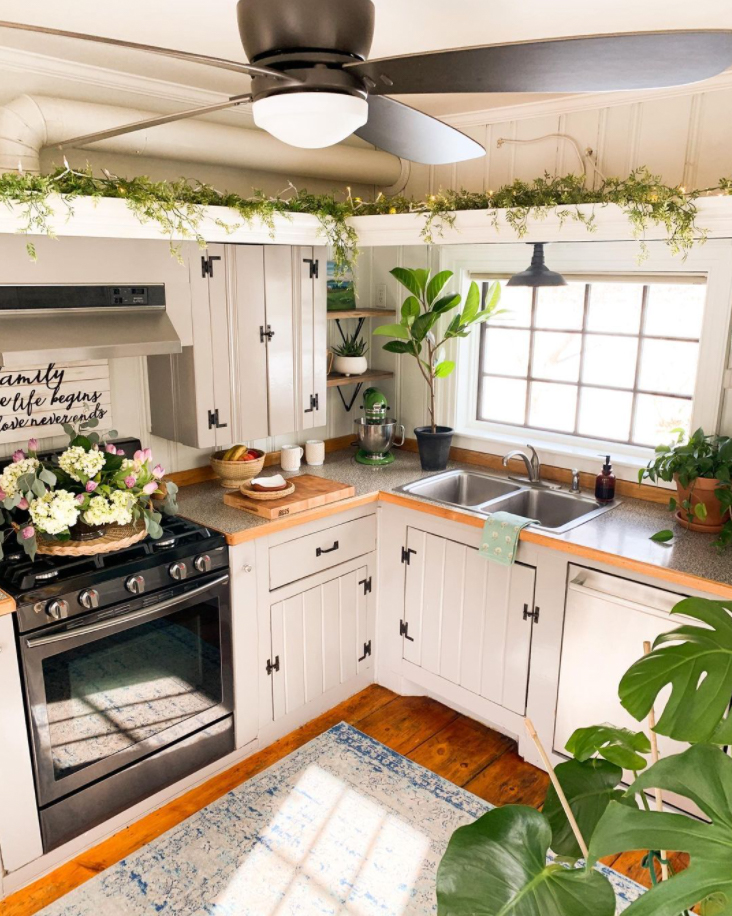 42. Wood and monochrome
How stunning is this wood and monochrome colour palette? I love the monochromatic details in the patterned mugs, bowls and tea towel as well as the white toaster. And the wooden shelves along with the wooden chopping boards and woven decor works so well.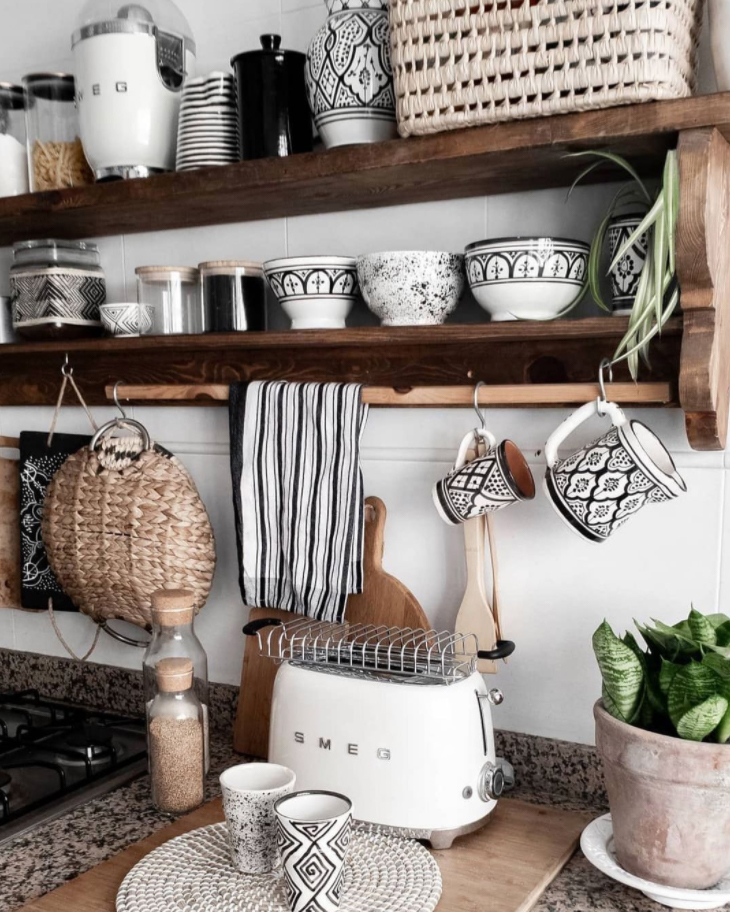 43. Woodgrain boho kitchen
Speaking of wood, here's some more! I love how you can see the intricate designs of the wood grain through the cabinetry which really gives a rustic look. And the wall-mounted shelves work great as storage and decoration for the walls.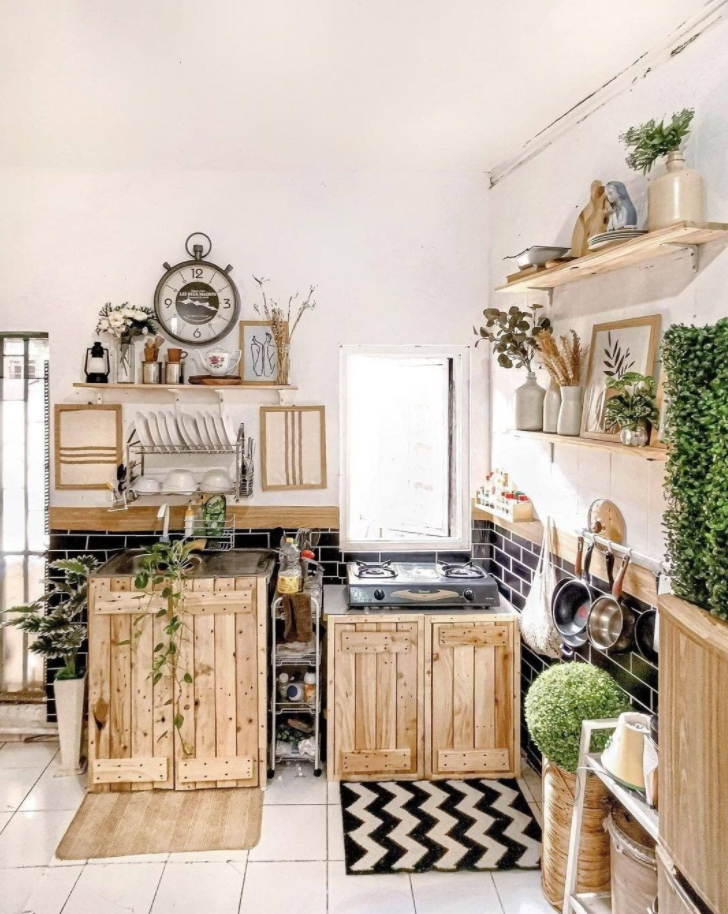 44. Random tiles
Here is another mix and match tiling scenario. I love the tiling in this kitchen has been kept in the grey, back and white colour scheme which matched the black benchtop and tap fixture as well as the white decor pieces are planters.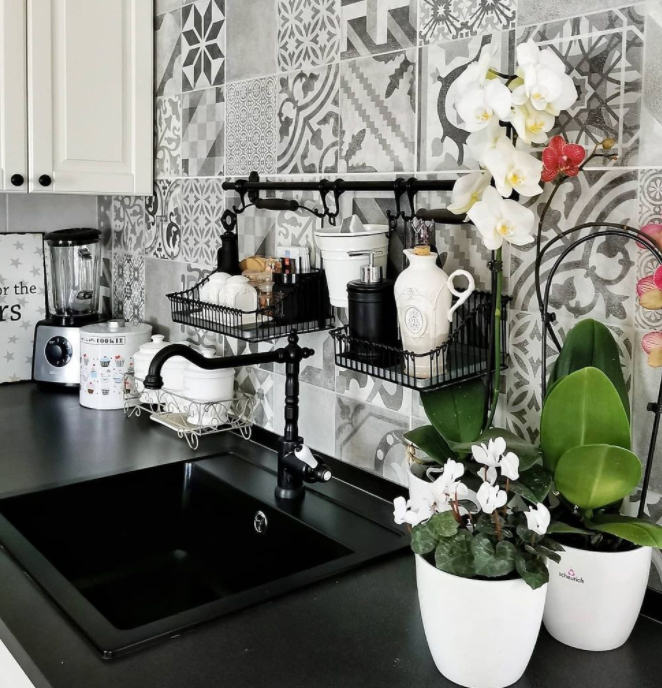 45. Gold fittings
How gorgeous are the gold fittings in this farmhouse kitchen that bring an extra level of sophistication to the space. And what a fabulous idea to have a working tap right next to the stovetop so that you don't have to worry about going from your sink to your stovetop with pans full of water.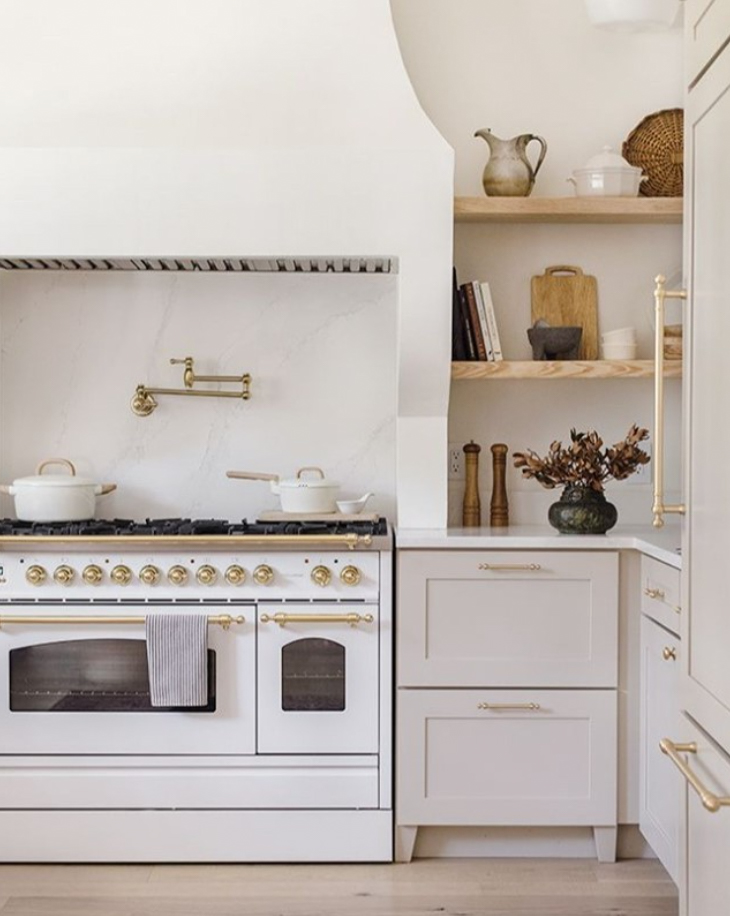 46. Moroccan tiling
Here is some more random tiling that just looks oh-so-chic and boho. I absolutely love the blush and beige colour palette of this tiling which works perfectly in a boho kitchen. Just add some indoor plants and a woven rug and voila. Find more Moroccan styling with these Moroccan bedrooms.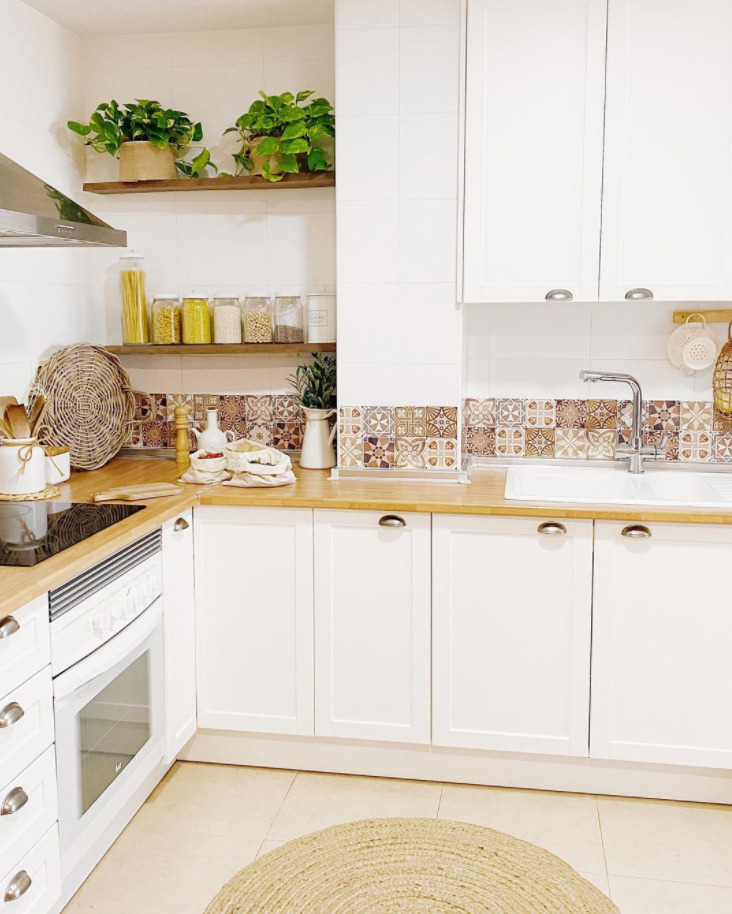 47. Spice rack
If you love cooking with spices as I do, then having a spice rack in your arsenal is definitely a good idea. I love the mini wooden floating shelves in this kitchen that work so well as a spice rack. And I also love how the spices have been all put into the same jars so that there is continuity, plus they look much more aesthetically pleasing.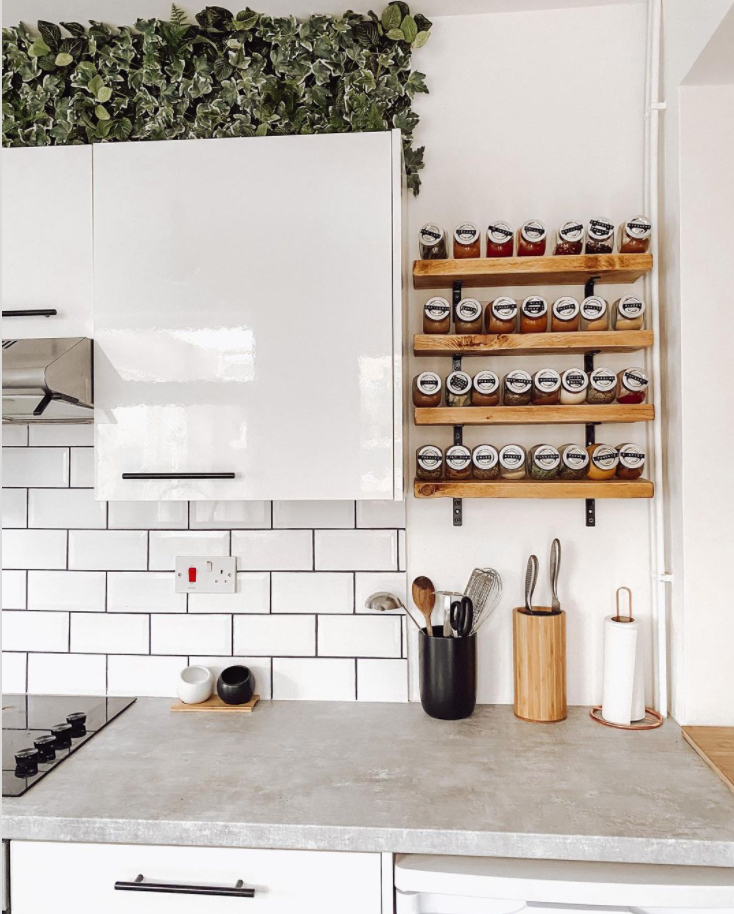 48. Hanging plants
Here's another kitchen with the addition of some beautiful trialling into plants. I love the idea of putting your indoor plants on the top shelf and letting them hang down as long as they want to. The leaves also act as a type of covering to very subtly hide and disguise things that are on the shelf.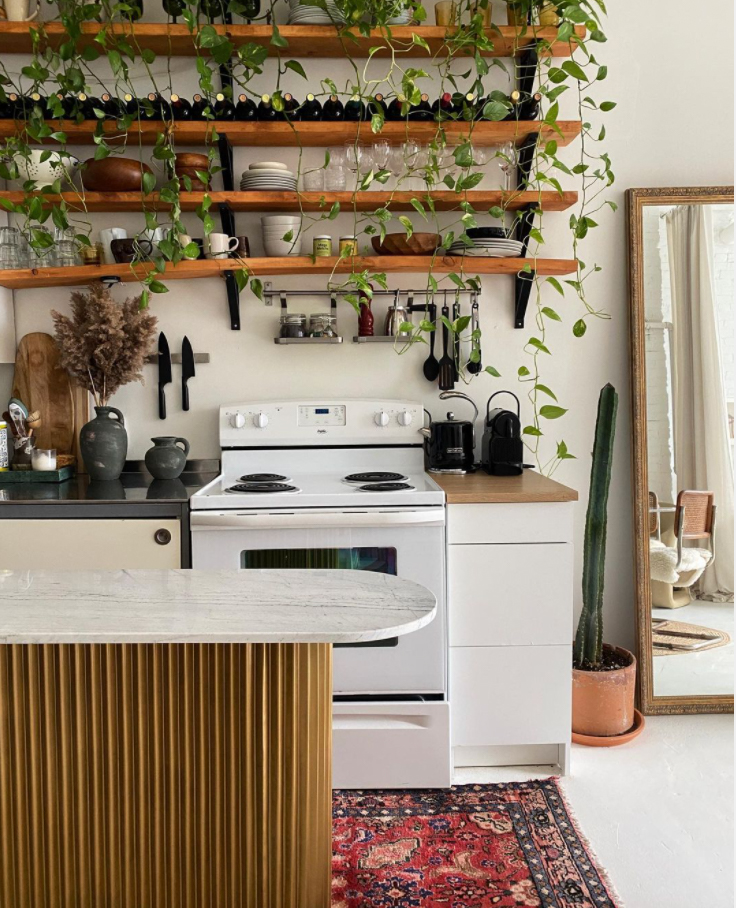 49. For the little ones
If you have little ones that are eager to help in the kitchen, then perhaps it's time to be on the lookout for a little stool to add to your kitchen. I love the idea of having kids help in some way during the cooking process as it is such an important skill to acquire.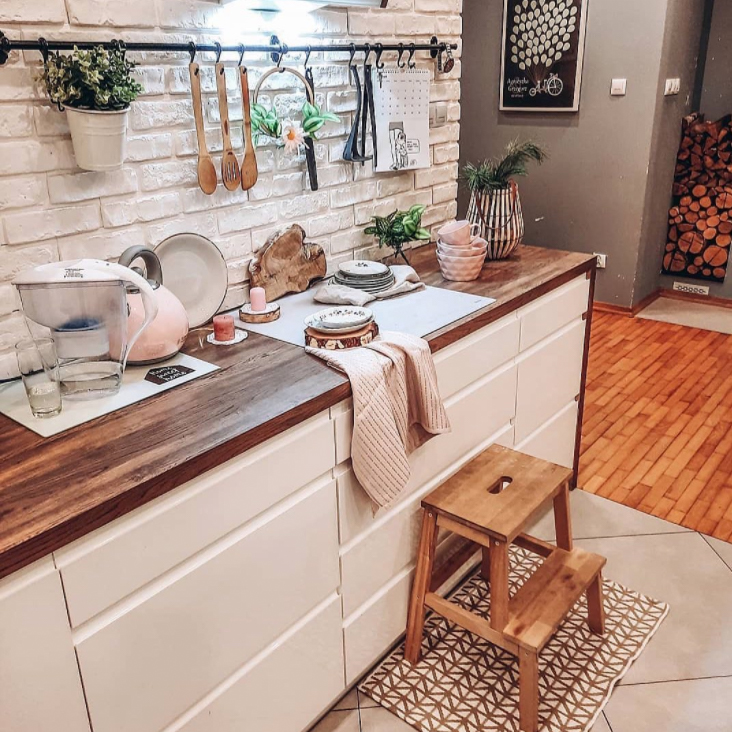 50. Blush and black
And the final boho kitchen is this stunning blush and black space. I love the combination of the blush wall-mounted cabinetry with the black cabinets on the bottom. Plus the addition of the greenery looks so lovely with the blush and black.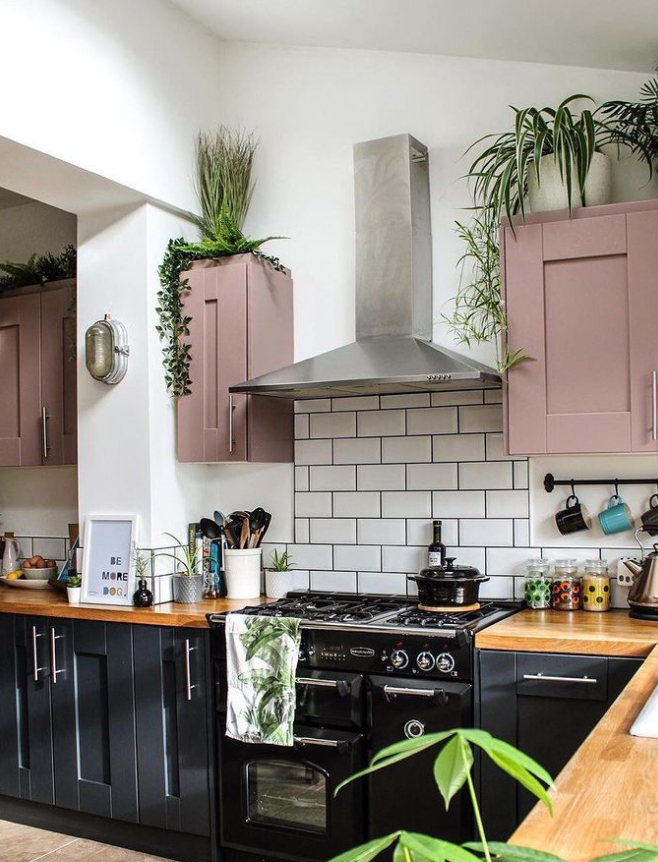 So there we have 50+ boho kitchen ideas to inspire you in styling your own kitchen! I absolutely love the kitchens with the exposed shelves as well as the indoor plants. What were your favourite boho kitchen ideas? Let me know in the comments below!