You spend a lot of time in your kitchen, whether it's cooking up a meal for your family or entertaining friends on the weekend. So when it comes to renovating your new kitchen, it's important that you choose a kitchen colour scheme that you really love and one that reflects your personality.
Traditionally, white, grey and blue have been the colours of choice. However, in recent years, black has emerged on the scene as an alternative for a dark moody look. On the other end of the spectrum, colours like red, orange and yellow have been used in many creative ways (as you'll see!), and can really make a space shine.
While the traditional cooler shades can make kitchens feel like a relaxing oasis, warmer colours are sure to make a statement and are believed to stimulate the appetite. So to find the right shade for you, here are my top 30 kitchen colour schemes.
Blue kitchen colour schemes
Blue is one of the most popular kitchen colours. It's classic, brings a sense of calm, which isn't too bold. And with so many different shades of blue (think turquoise, teal, cobalt, navy, sapphire, and light blue), there is no lack of styles you can create.
1. Vintage peacock blue
If modern is more your thing, then keep design streamlined with all-encompassing floor-to-ceiling cabinetry. It's perfect for finding a spot for all your décor and useful kitchen items. And this is the perfect shade of muted peacock blue for this imposing cabinetry. You can also add glamorous touches with metallic elements.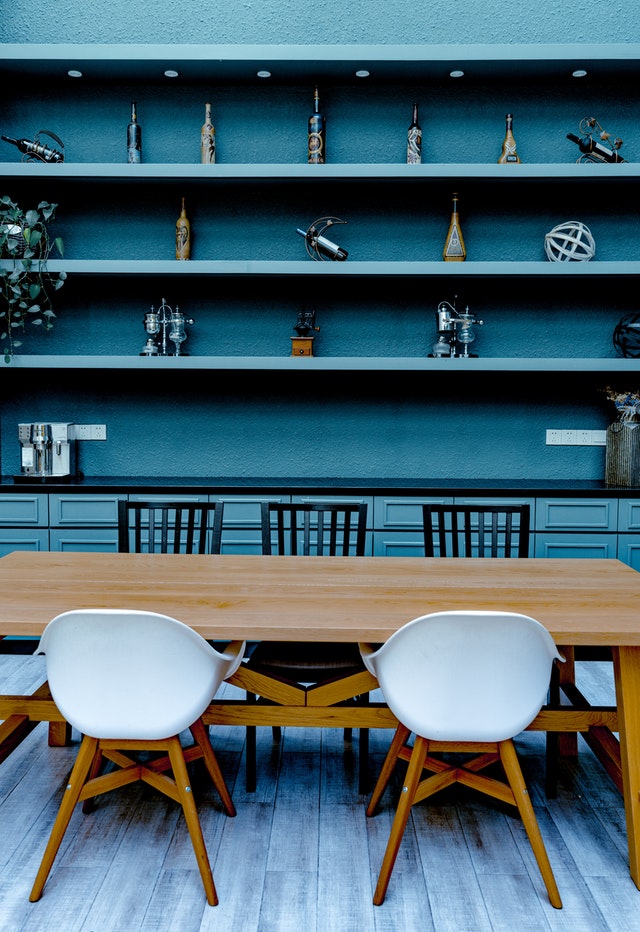 2. Navy
This colour is for the chic, modern homeowner. Mix navy with a crisp white wall of tiles and add gold fixtures. Then add items of wooden décor to add warmth and a rustic touch to the space.
3. Baby blue
If you want a style that's a little bit different, then why not go with the colour baby blue? This will be sure to add a pop of life to your kitchen. And it's a fun colour to use in your décor.
4. Aqua
Add a swathe of gorgeous colour with this shade of subtle aqua. I love how the blinds match! And the quirky cabinetry with its cutout niches. So much storage space in this kitchen!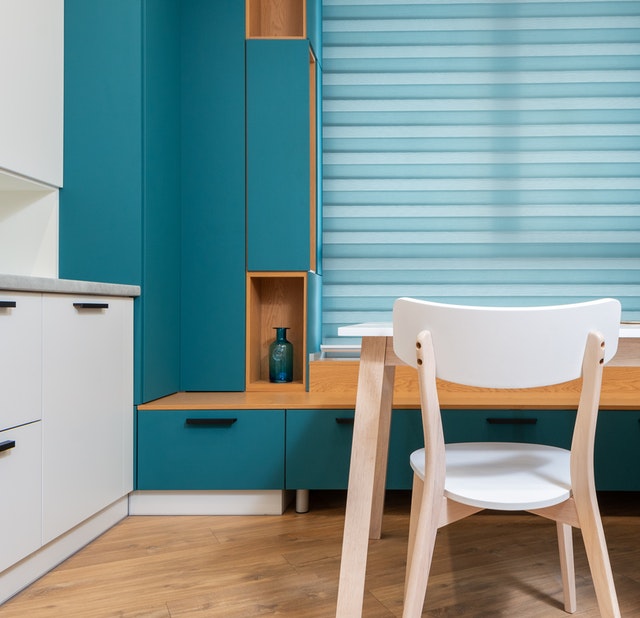 5. Blue and white
Blue plus white equals a laid-back coastal kitchen design. It's a look that isn't overly difficult to achieve, either. You can spruce up your current kitchen design with a lick of blue paint, all-white cabinets, blue patterned stools and natural light shades.
Green kitchen colour schemes
Green is becoming a more popular choice for kitchens, and it's easy to see why. The colour evokes feelings of growth, renewal and new life. Shades of green can be combined with brass hardware for a modern look, or they can be teamed with plenty of plants for a lush jungle oasis.
6. Olive green
Olive green is a very mature colour that makes for a serene and peaceful kitchen. Have olive green cabinets? Also paint the cabinet handles the same colour! You could also add matte black tapware for added contrast.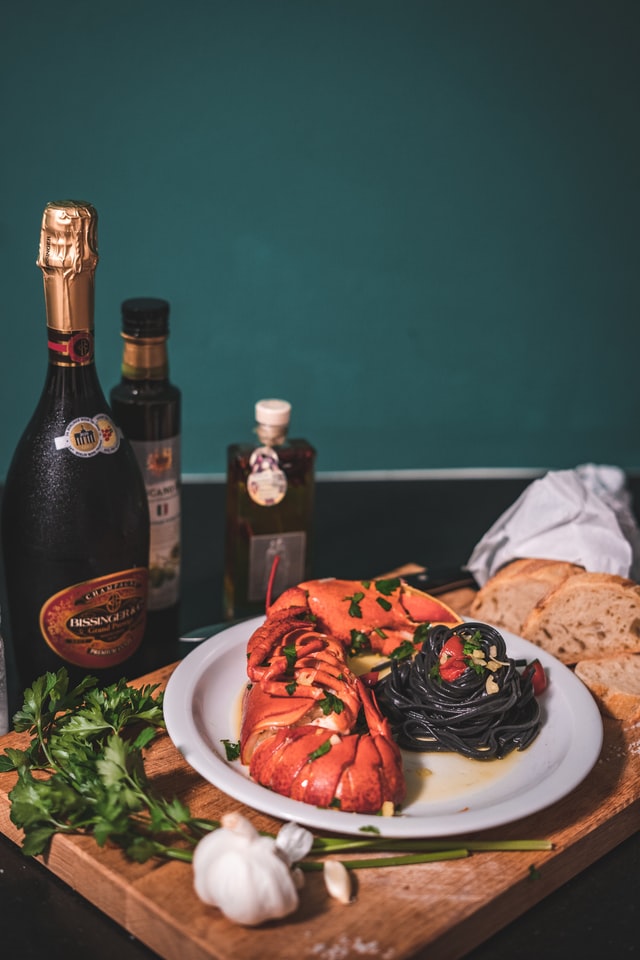 7. Dark green
Go for a more refined look with dark green kitchen cabinets like these. The slick, polished cabinets are simply beautiful, and they would look stunning in a large kitchen space. If you want to create interest, consider open shelving in your cabinet, like this design. The nooks filled with books not only add colour, but they also make the room cosier.
It is actually really easy to achieve this look with a bit of DIY cabinet painting.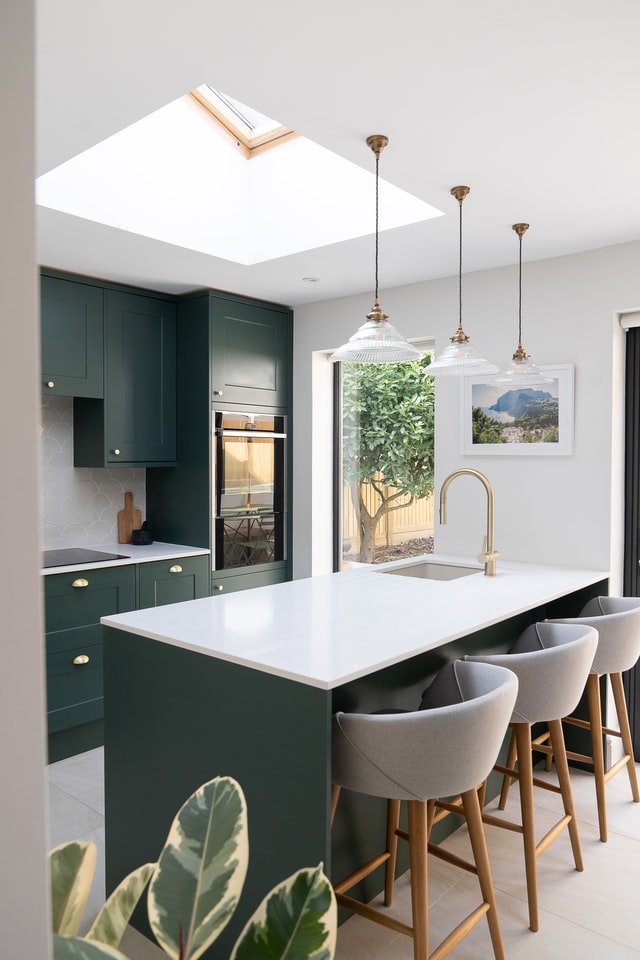 8. Light green
A soft sage green is a great option if you want to introduce a bit of colour to your space without going overboard. It works beautifully with gold cabinet handles in particular!
Yellow kitchen colour schemes
There's nothing like a splash of yellow to brighten your home. When you think 'yellow,' you might think of a tacky, loud colour. But I think you'll be pleased to know that yellow can look sophisticated and elegant if it's done right. Let's dive into a few different yellow kitchen colour schemes.
9. Canary yellow
If you love to make a statement with a standout colour, then this canary yellow shade might be for you. It's bright and bold and stands out against the white countertops and white upper cabinets. If you want to choose a colour like this, the key is to team it up with plenty of white and neutrals. This ensures your yellow is a beautiful addition, instead of a distracting visual.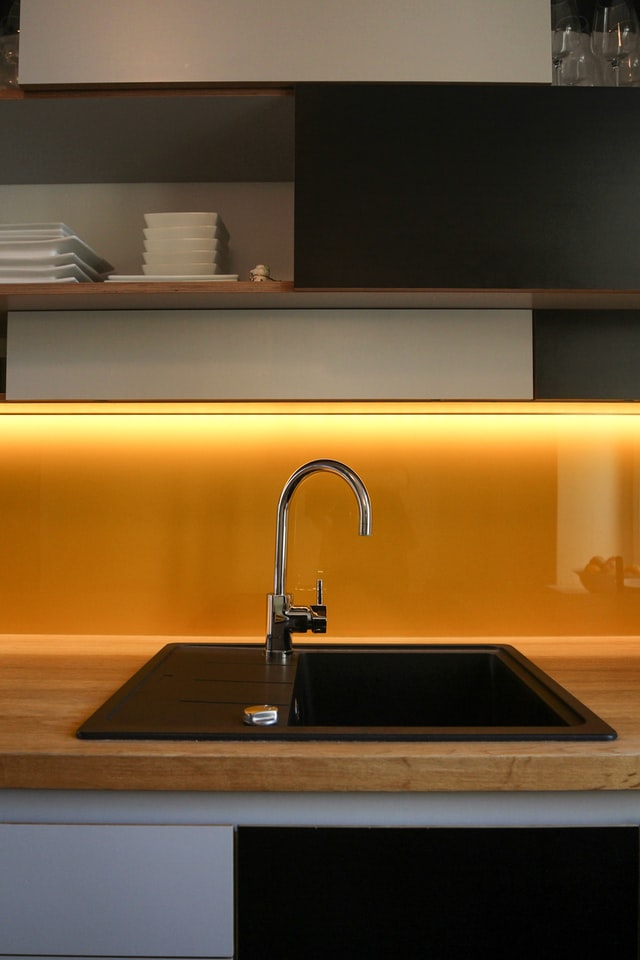 10. Sunny yellow
Sunny yellow and mid-grey, plus copious amounts of white, add up to a vibrant and happy kitchen space. I love the yellow feature wall with the white floating shelving which allows you to place all kinds of décor against the bold paint.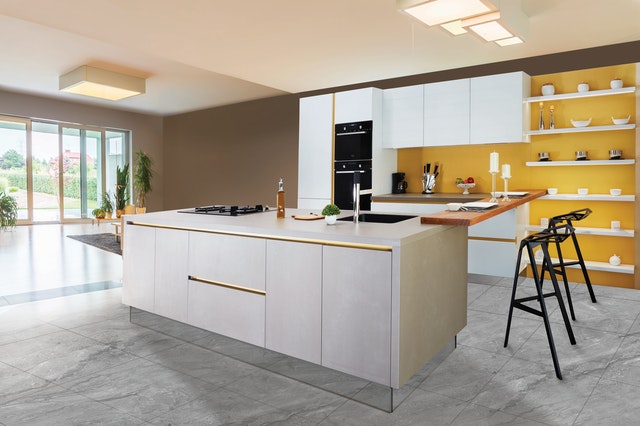 11. Traditional style
If you want to design a country kitchen, a soft pale yellow works perfectly. Opt for a yellow for your cabinets that's light and gentle. Contrast it with a lovely marble benchtop. Then, add a dark wooden island for warmth and to make the space even more rustic.
Brown kitchen colour schemes
A very popular look at the moment in kitchen design is "organic luxe", with a focus on beautiful natural materials and a natural colour scheme.
12. Timber baton island
Add brown tones to your white kitchen with a kitchen island that's covered in timber batons or other panelling. It brings nature into this otherwise cold space. I love the brown marble slab for the counter top as well.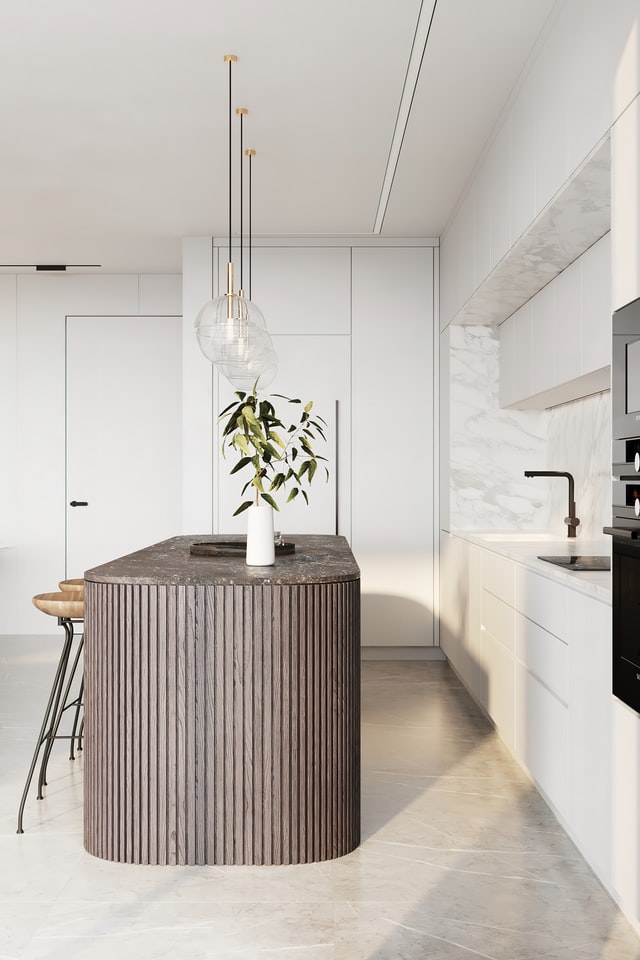 13. Dark brown cabinetry
Floor to ceiling custom cabinetry in a beautiful timber is the easiest way to bring in that organic luxe feel. Choose a timber with an obvious grain for more texture. And don't be afraid to mix in other, lighter woods in the furniture as well.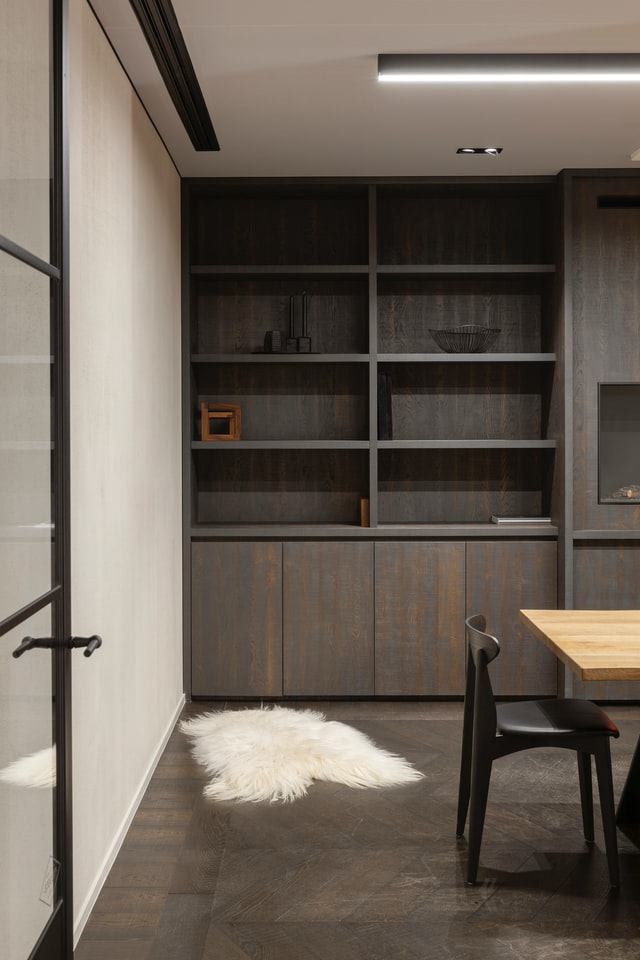 14. Add an animal print rug
Bring in nature tones with a comfy animal print rug Not only will your kitchen-dining room be cosier, but you'll have instant organic vibes. Match your kitchen table to a colour in the rug, for cohesion!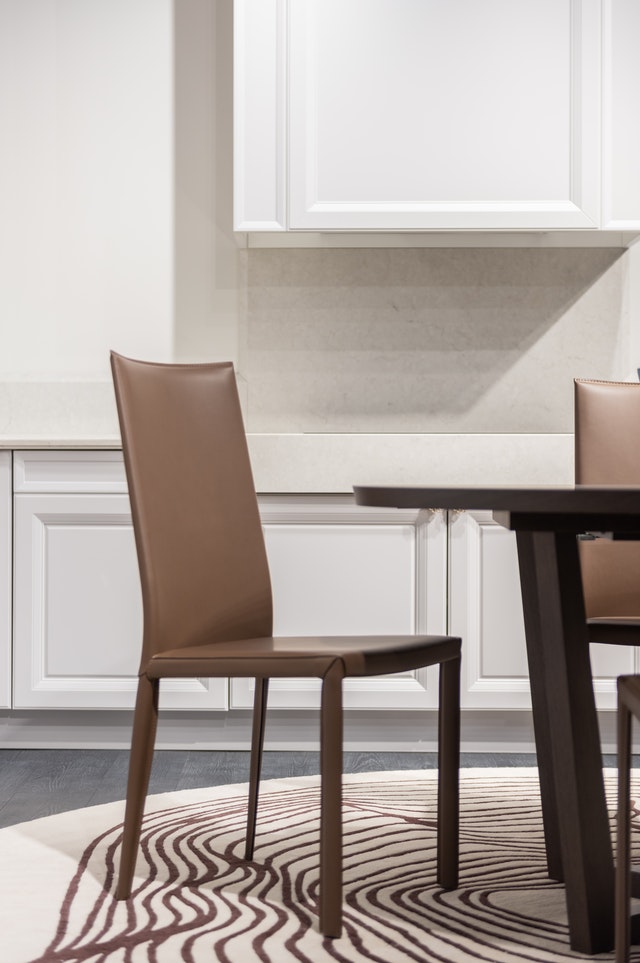 Orange kitchen colour schemes
It's not every day you see an orange kitchen. But if you're looking for something warm and summery, then this might be the choice for you. Orange can be used as a feature colour, or it can be combined with other cool colours to create a fun kitchen colour scheme.
15. Burnt ombre orange
Dark orange and black makes for a very elegant kitchen. I like the ombre effect of the orange used here, it's almost like a feature wall. And the grey parquetry flooring provides a lovely contrast.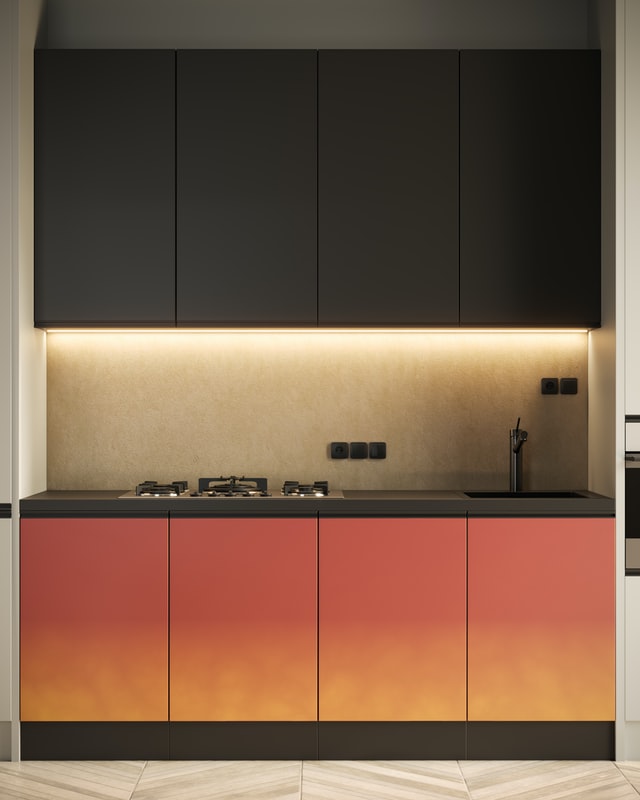 16. Orange accents
If you'd prefer to leave the orange to a minimum, then consider creating an all-white kitchen with orange accents. You can incorporate orange with vases, flowers, oranges, tea towels and window shades.
17. Orange tiled splashback
Alternatively, you can make a statement with a bright glossy orange splashback. Subway tiles are the perfect kind of tile to use because they're simple. But they pack a punch in orange!
Red kitchen colour schemes
This is another uncommon colour that will make a big statement, especially in a large kitchen. You can choose from the usual bright red, or tone things down a bit with a muted dark red.
18. Red and black
This is the perfect choice for someone who wants to add red without it being too overwhelming. Tomato red is a sophisticated colour, and it looks particularly striking with black accents.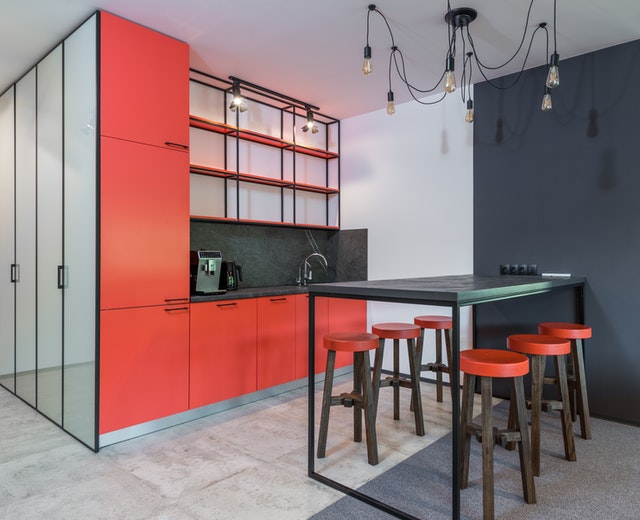 White kitchen colour schemes
Ah, the white kitchen. It's the most classic of all the colour schemes and the most popular too. A white kitchen can be designed in so many different ways. It can be modern, vintage, classic or country style.
19. Modern white kitchen
While white can be fancy, it can also be simple yet modern. And that's exactly what this kitchen design achieves.
White kitchens are popular for a reason so here are plenty more white kitchen ideas just for you.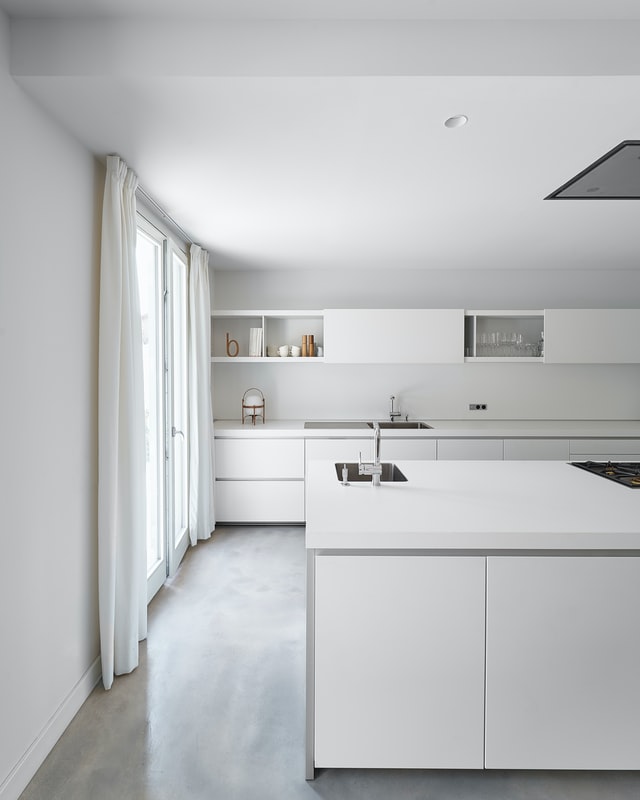 20. Bright, airy design
For a kitchen that looks like it belongs in a coastal retreat, go for natural timber floorboards and timber stools, combined with all-white cabinetry and a white marble island make it look clean and crisp. The hardest part will be keeping all of the white ultra-clean!
21. Fresh farmhouse style
Let your design be country inspired with a farmhouse kitchen like this one. The key to creating this style is to use heaps of natural materials and rustic touches, like the vintage metal utensils and woven jars.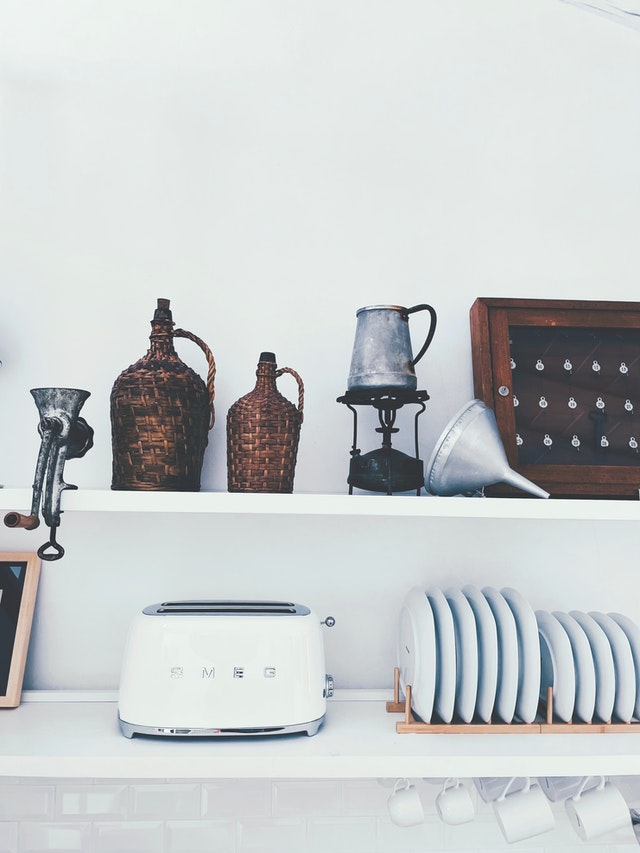 22. Glam it up
Take a traditional white kitchen and make it fancy with fabulous patterned tiles, like these ones. Another way to make your kitchen glam is to use high-end finishes like marble (or lookalike marble) and keep a bunch of flowers and a bowl of fruit on the bench at all times.
Grey kitchen colour schemes
A grey kitchen colour scheme is a classic choice that will never go out of style. And it can be done so many ways – from dark grey, to two-tone, to light grey and a mix of patterns.
23. Two-tone grey
Grey doesn't have to be boring. Add interest by incorporating dark and light grey cabinetry, as well as a mix of dark and light-grey patterned tiles on the floor. Mix in plenty of timbers as these will always warm up a grey kitchen.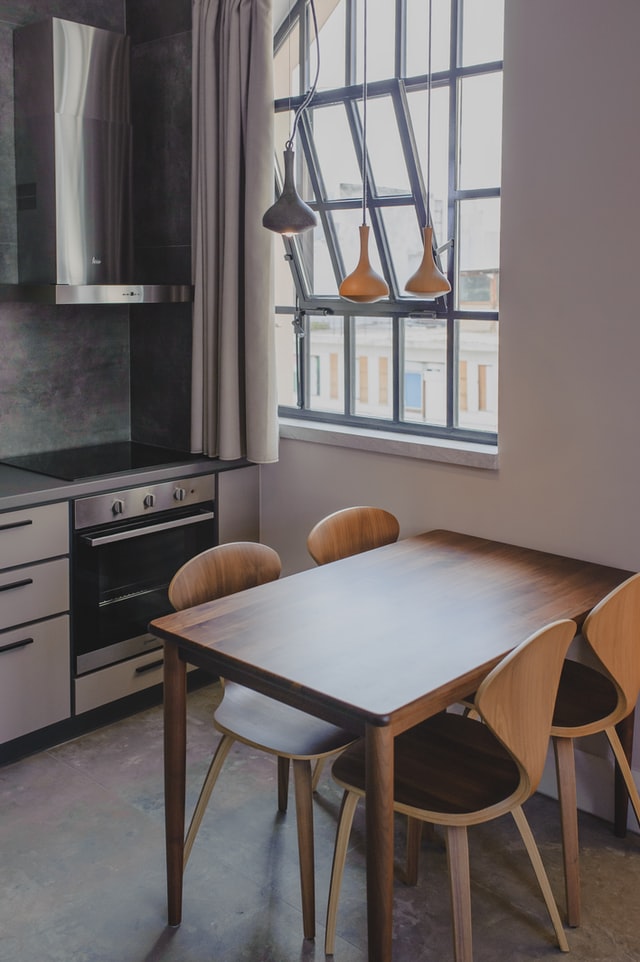 24. Modern grey and black
Team grey with black for an ultra-modern kitchen. I love how a black countertop matches in nicely with the black front of a microwave or oven. And then a white textured splashback can add beautiful detailing.
25. Light grey
If you want to use grey but don't want it to be too overbearing, then consider a shade like this one. The light grey is a lovely touch against the warmth of all the timbre elements. And it contrasts perfectly with the pop of green from the statement plant.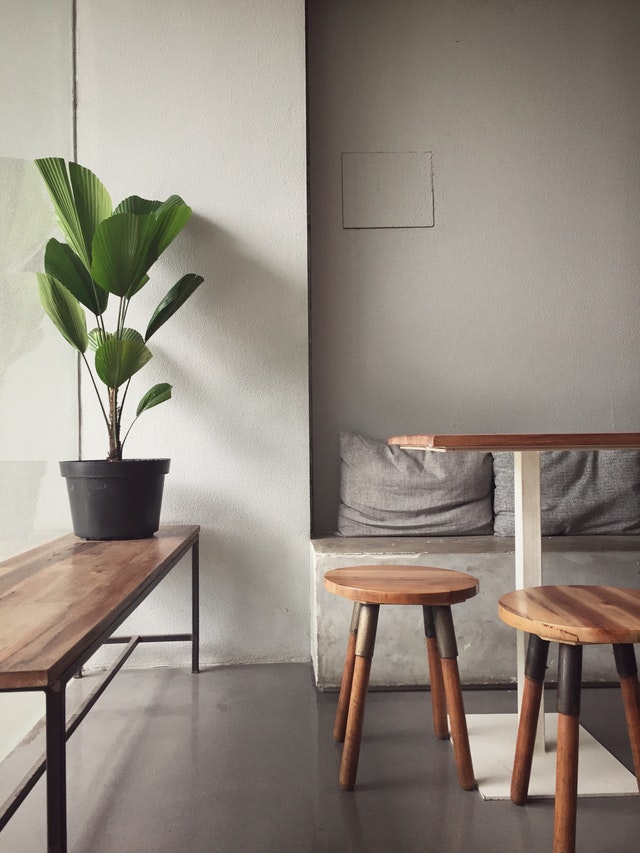 26. Deep grey
If you have a large kitchen, you can get away with using a lot of dark greys. However, the key to pulling this style off is to use white benchtops and to make sure you have plenty of light flowing into the space from windows and other rooms.
27. Grey and white marble
Marble is one way to make your kitchen look instantly glamorous. And a grand marble splashback sure creates this look. You can also keep the benchtop in marble too, so the splashback is simply an extension of the bench.
If you want to find some more beautiful splashbacks, take a look at these kitchen splashback ideas.
If grey is what you're after, take a look at these grey kitchen ideas for your cabinets and splashback.
Black kitchen colour schemes
While colourful kitchens are making a splash, nothing makes a chic statement like a black kitchen. From black cabinets to splashbacks to pops of black and white, there are so many ways to style black for a big impact.
28. All black
First on the list is this beautiful all-black design. What a sophisticated kitchen. I love the penny mosaic tile splashback which adds just a little sparkle to the space. And having a white countertop also prevents the kitchen appearing too dark.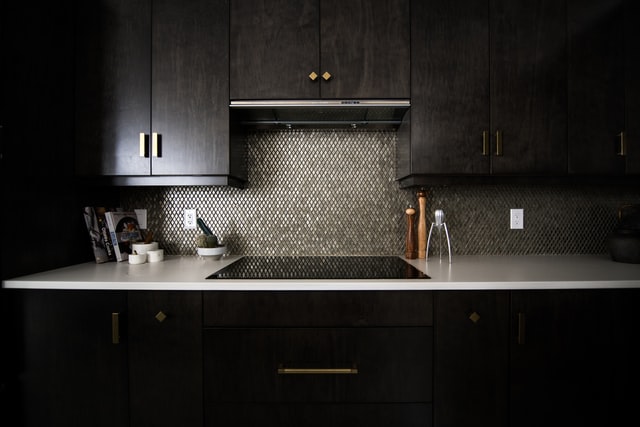 29. Black and brass
Add colour and interest to your black kitchen by using brass hardware. Brass stands out beautifully against dark cabinets, and also looks great with black wall lamps. Then add timber shelves to inject warmth and provide a spot to display your favourite mugs, bowls and décor.
30. Contrast
Black can be used very creatively to create contrast in your kitchen. Take this space, for example. It incorporates lots of blonde wood which is then beautifully contrasted with black zellige tile for the splashback. I love the simplicity and the emphasis on the beautiful materials here.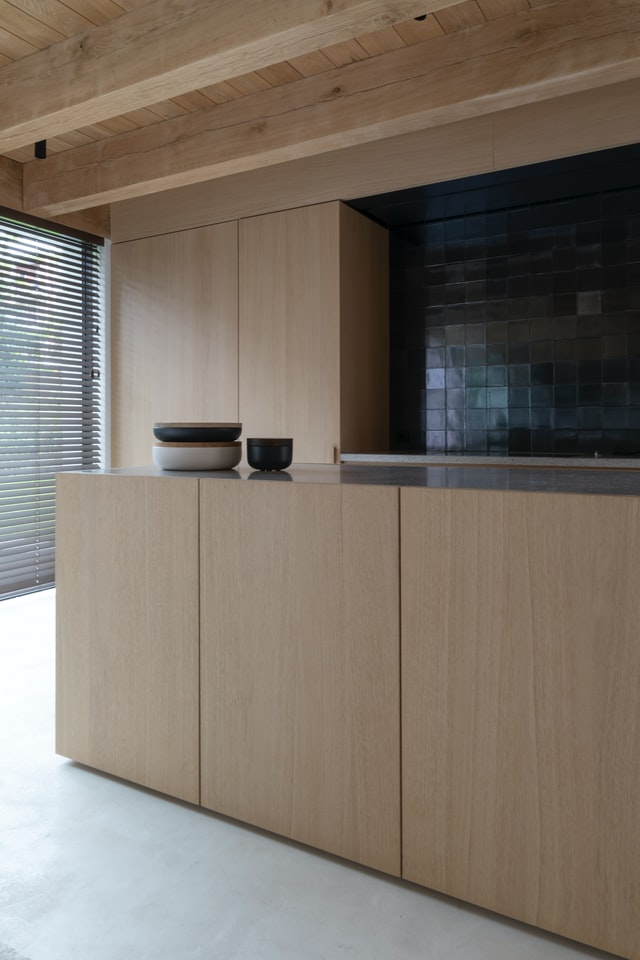 31. Black and white
If you're stuck for a kitchen colour scheme, you can't go past black and white. It's a timeless pairing that will look great for years to come.
Pastel kitchen colour schemes
If you're not afraid to try something different, then why not go for a pastel kitchen? And there are so many colours to choose from, including mint, pink, orange and lilac.
32. Pastel pink
Transform your kitchen by creating a painted feature wall, like this pastel pink one. Amplify the effect by also tiling up your kitchen counter or island in glossy pink tiles! The pink works beautifully with the touches of red and black in the vignette. And I love the addition of quirky decor pieces – there's the airplant, vintage print and exposed copper piping.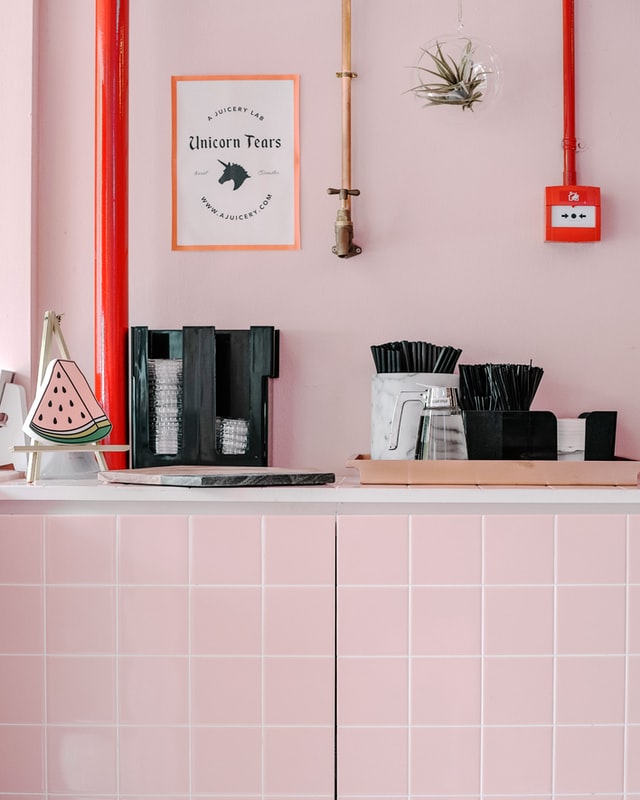 33. Mint
If any colour is really having its moment right now, it's mint. This shade is absolutely gorgeous, and it's a subtle colour addition to your kitchen. I love how this kitchen ties this shade together with worn timber and stainless steel.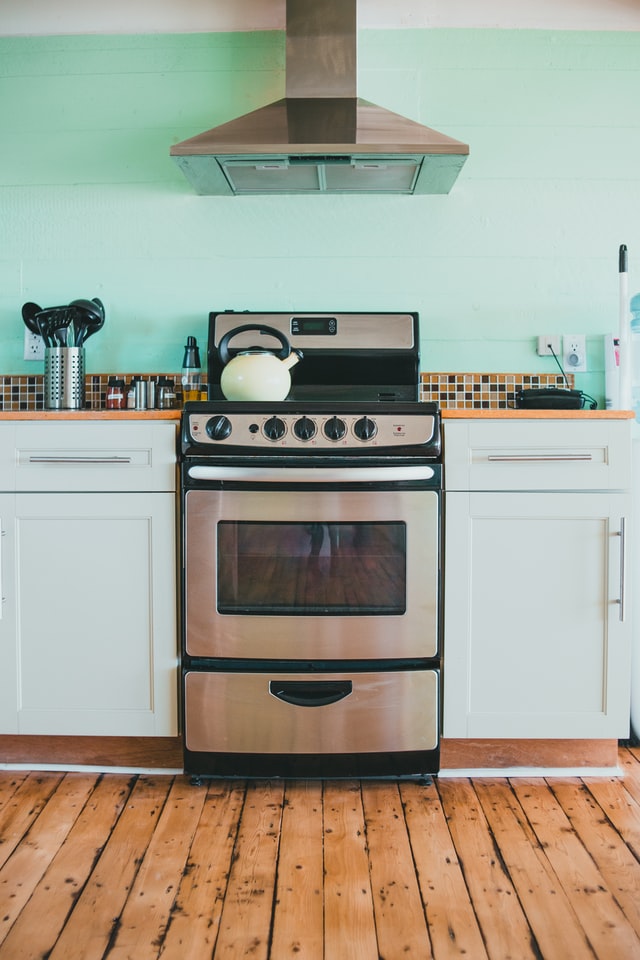 There you have it, 30+ kitchen colour schemes. And there are just so many to choose from! I'd love to hear which one was your favourite. Comment and tell me. And if you have any more colourful kitchen scheme ideas, comment and share them!