Home

/

Polished Concrete Floor Cost Guide
How much do polished concrete floors cost?
Get a free quote now
Post to find a price. It's free and only takes a minute.
Price guide
$25 - $100
Find concrete floor polishing experts, fast

Post a task with your price in mind, then get offers.

It's free and takes only a minute.

See how it works
Polished concrete floors are gaining popularity as flooring material for commercial, industrial, and residential buildings. This is a flexible and low-maintenance choice when people want to have the flooring installed for interior or outdoor concrete floors, old or new, with various gloss levels and aggregate exposure to choose from. 
While polished concrete flooring costs depend on many factors, it ranges from $50 to $100 per square metre (sq m) in Australia. However, the fee may be lower if you already have existing concrete flooring and only need a simple polish. This simple price guide can help you budget for your concrete polishing project.
Price list of polished concrete flooring
Here's the average price list and breakdown for a polished concrete cost per square metre:
| | |
| --- | --- |
| Item | Average cost per sq m |
| Existing flooring removal | $25–$50 |
| Concrete repairs | $100 |
| Screed/overlay | $48 |
Different types of polished concrete floors
Below are the three most common varieties, along with their corresponding polished concrete installation cost:
| | |
| --- | --- |
| Type of concrete polish | Average cost per sq m |
| Grind and seal | $50 |
| Honed concrete | $75 |
| Mechanical polish | $100 |
Grind and seal
A grind and seal method involves grinding the top layer and sealing it with a matte or gloss sealant. It can be used indoors and outdoors and is popular for garages, driveways, shops, restaurants, bars, homes and offices.
Honed concrete
This type of polish leaves a smooth and even matte finish after grinding. Honed concrete is commonly used around pools, pathways, driveways and outdoor entertainment areas in a home.
Mechanical polish
This process involves grinding, hardening, and then polishing. Mechanical polish typically has a high-end finish and is recommended indoors only.
☞ Related read: How much does vinyl flooring cost?
Factors affecting the cost of polished concrete floors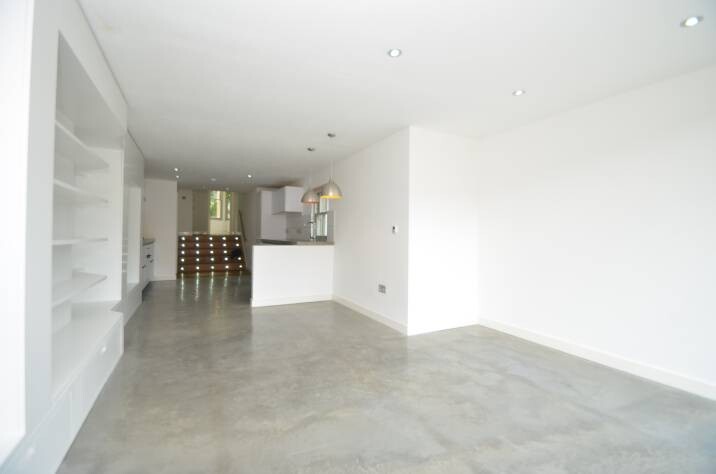 Location
The pricing depends on where you live. An average square metre of polished concrete in Melbourne costs $50. Queensland residents may expect to pay around $65 per square metre for the same polished concrete services.
Room size and accessibility
Larger rooms have higher material and labour costs. For instance, polished concrete garage floor costs can be higher than finishing a simple bedroom. But, even small rooms or spaces like bathrooms that don't require a lot of materials can be challenging due to access issues and complexity. 
Excavation depth
Providing a stable foundation when constructing a new concrete floor is critical to prevent subsidence and cracking. Building a foundation requires removing the existing base and excavating the underlying ground. 
Because the local geology, soil characteristics, and water table can vary, the excavation depth can only be established once the excavator reaches stable subsoil. The deeper you dig, the more soil you need to remove and concrete you must use. As a result, the depth of the excavation significantly impacts the average cost of polishing concrete floors.
Floor condition
How the concrete floor foundation is rebuilt depends on the type and state of the existing floor. If the foundation of some old concrete floors remains solid, you may only replace the concrete. A timber-suspended floor, in contrast, will need to be completely removed, followed by the installation of new floor foundations. 
Finish
You can dye your polished concrete flooring to match your interior. Polishes and sealants will lengthen the concrete's lifespan and make it easier to maintain a clean surface. All of these, however, raise the overall costs of polished concrete floors.
☞ You might also like: How much does terrazzo flooring cost?
Benefits of polished concrete floors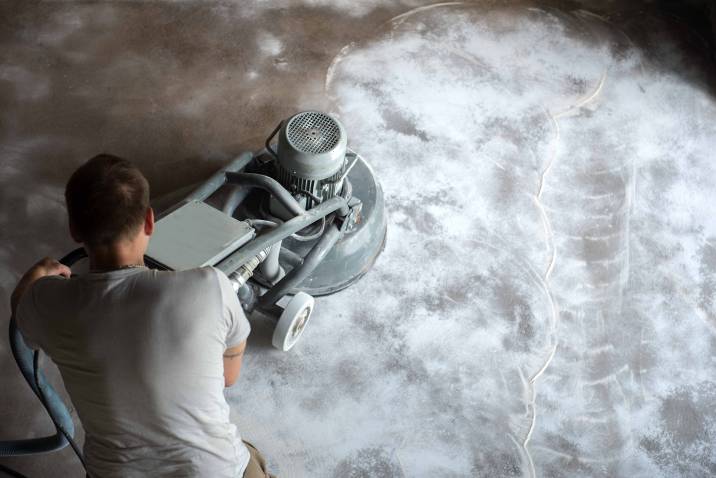 You might be wondering what you will gain by installing concrete floors. Here are a few benefits you might enjoy:
Requires little maintenance. Concrete floors that have been polished will maintain their quality for a very long period. These floors require routine sweeping or vacuuming, washing, and drying. Periodically, use a high-quality sealer to reseal the surface.

Your property will look stylish, contemporary, and modern. Polished concrete can be stained or dyed in different colours. You can paint a polished concrete floor with a light colour that will reflect light. This isn't only visually pleasing but can also cut your energy costs because it lets light travel across the space more efficiently; thus, less indoor lighting will be required.

Doesn't retain dirt. By selecting the right sealer, the floors will be waterproof, stain-resistant, and non-slip. 

More cost-effective. Polished concrete is less expensive than hardwood, marble, tile, and other floor coverings. Moreover, unlike most other flooring options, polished concrete doesn't become damaged by mould or moisture. This type of flooring is also perfect for underfloor heating.
Post a task for polished concrete flooring
There is no denying that a polished concrete floor of superior quality can enhance a home. So before you upgrade your flooring, get to work and look for a polished concrete flooring expert. 
Start creating a task to find a skilled contractor for the job. Mention your budget, location, preferred type and finish, and other important details when posting a task to receive a more accurate quote. Check out Tasker profiles, reviews, and ratings. To ensure a smooth polished concrete flooring installation project, make sure to cover everything!
Polished concrete flooring can increase the overall value of your property. Hiring a professional with the right equipment, experience, and skills is important to get the job done safely and efficiently!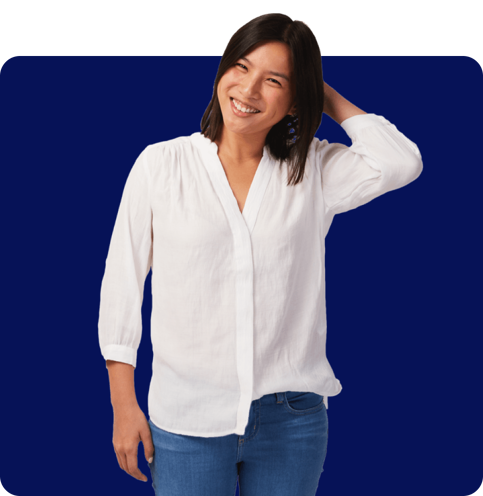 FAQs about polished concrete flooring
While it depends on the length of work, the average timeline is usually around three days. However, you must also take into account the curing process. So be prepared to add another 14 days to the total process. But note that curing will progress or regress depending on the current temperatures.
On average, polished concrete floors last about 20 years. The rule of thumb here is to make sure you take care of your things. Whether perishable items or furniture, you can prolong their life span if you manage them well. 
Between the cost of polished concrete floors versus tiles in Australia, the former is more expensive per square metre. But against hardwood, polished concrete flooring has material costs that are significantly lower than high-quality hardwood floors. 
All concrete floors will eventually crack, whether polished, coated, or left untreated. Concrete slab fractures as part of the initial curing process and will crack again over time. By sawing joints into the floor's surface, cracks can be partly controlled and filled and sealed to stop additional damage.
Even when wet, polished concrete provides great slip resistance. Water's interaction with the porous surface can even give shoes a little extra traction. However, water doesn't wipe away as quickly on polished concrete's porous surface, leaving a brief damp area. Spilt oils and chemicals can still cause slip risks and other safety concerns, as with many different types of flooring. 
Installing a more durable chemical-resistant floor coating may be your best option if you need flooring for commercial use or a manufacturing facility that works with oils or corrosive chemicals.
It's best to seal concrete every two to five years to keep it in good condition and avoid cracking, pitting, and further damage.
It's free and takes only a minute.