Need to mix it up in your laundry? Well, you've come to the right place! Laundry tiling could be the answer to all your laundry design problems. Laundry tiles can transform your place, whether you want to modernise or simply add that splash of colour. For a room that can build moisture and has a sink, a tiled splashback or floor is practical (easy cleaning!) and also stylish. Having a laundry room styled beautifully just makes washing clothes a lot more fun!
1. Vertical grey
Love the look of subway tiles but also prefer something that's a little more out of the box? Then vertical grey tiles may be for you! These tiles laid in a zigzag pattern add plenty of visual interest to this coastal style laundry.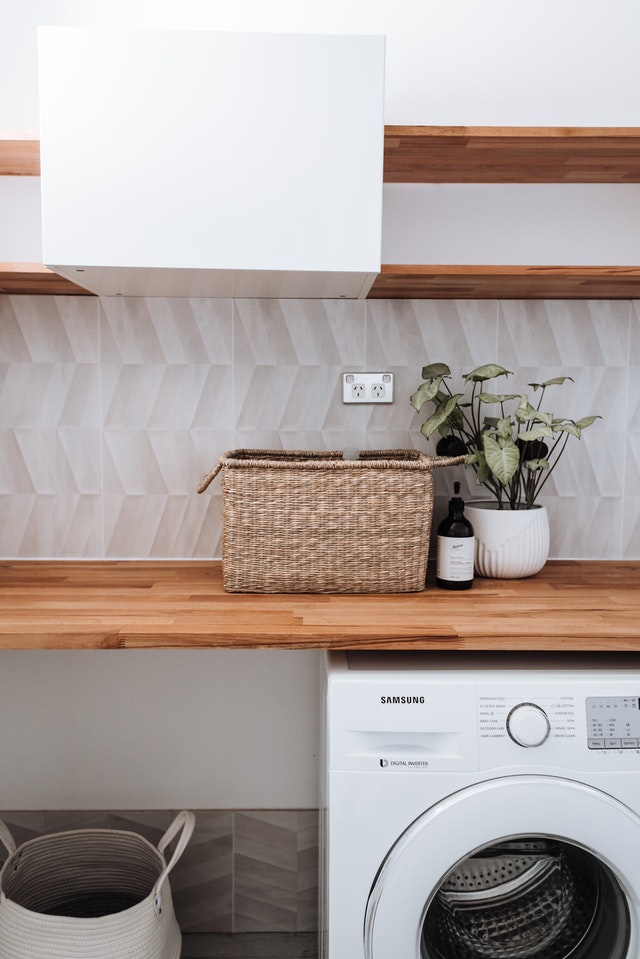 2. Bold pattern
Have a plain space you need to spruce up? Bold patterned tiles add some much-needed pattern and character into this simple laundry space. This laundry tiles splashback idea would be great for a laundry room of any size.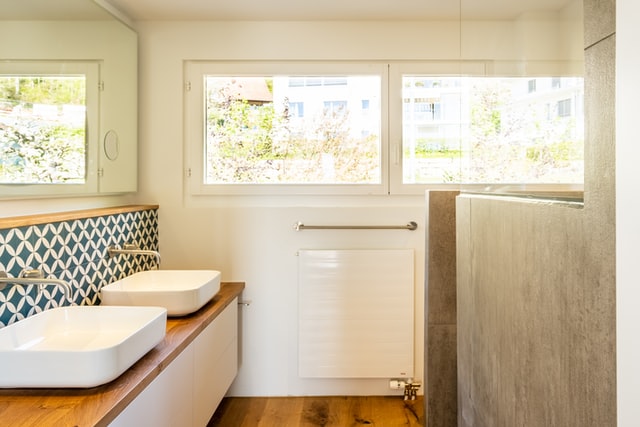 3. Hexagonal honeycomb
Ah, I just love hexagonal tiles! They remind me of the fresh honeycomb created by bees in their apiary. I love the colour of these tiles that are a slightly variegated grey colour which work so well to add a little something special in a neutral space.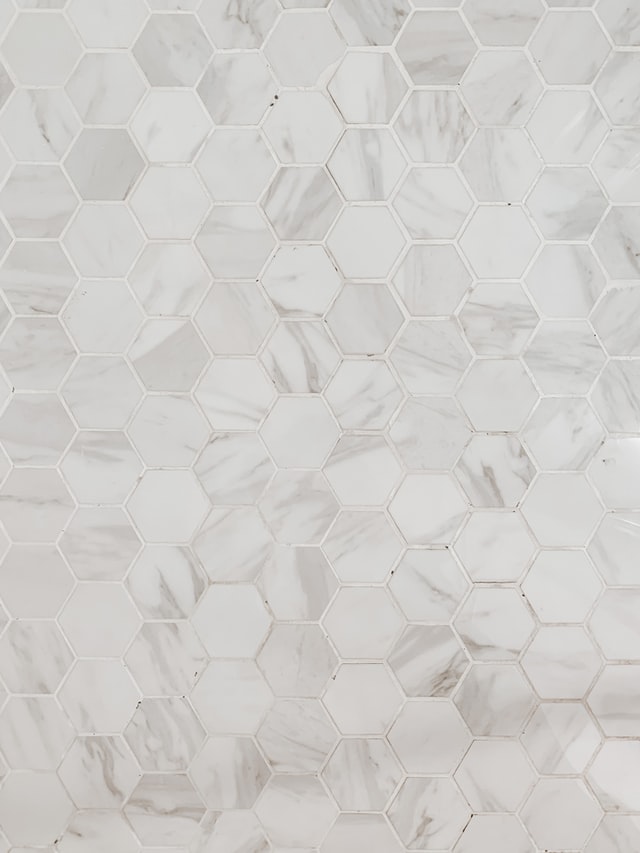 4. Dark stone
When you look for laundry design inspo, you normally come across a lot of light and airy spaces but there's no reason y0u can't design a laundry which features dark cabinetry and dark tiling. It's unexpected and striking.
5. Grey intricacies
Here's a stunning laundry featuring ight grey tones and plenty of fresh whites. The speckled marble tiling creates a lovely pattern over the work space. And there's something so satisfying about perfectly symmetrical square tiling, isn't there?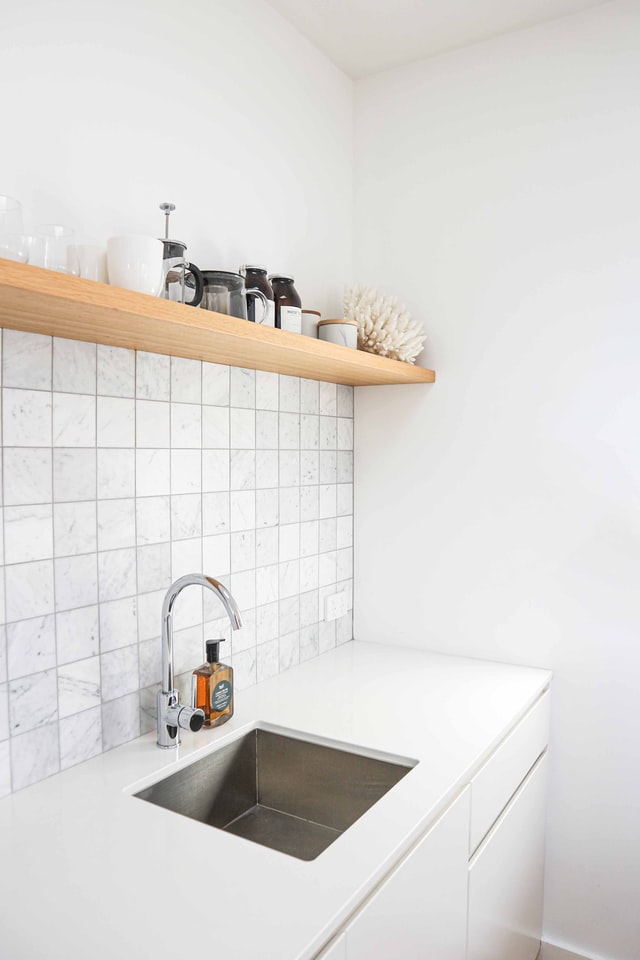 6. White and gold
How feminine and gorgeous is this laundry room? I love the rose gold finish of the faucet. It's so chic and would make clothes washing just that little bit more bearable. The white tiling as the feature wall is so gorgeous with marble countertop. So much femininity in this space!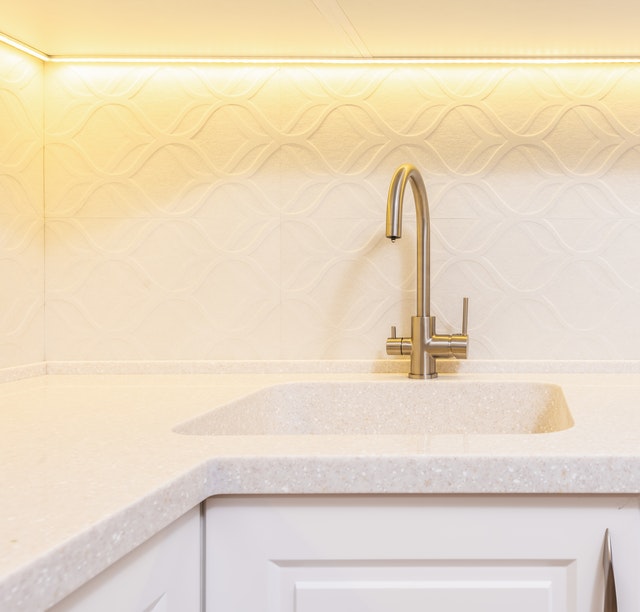 7. White splashback tiling
Splashback tiling is a great idea if you want to create some interest and character in your laundry space but aren't much of a risk-taker. The splashback tiling in this space creates some texture and also helps to define the main area where the washing machine, dryer and cabinetry starts and ends. Just add some cute little decor items around to make it more personal.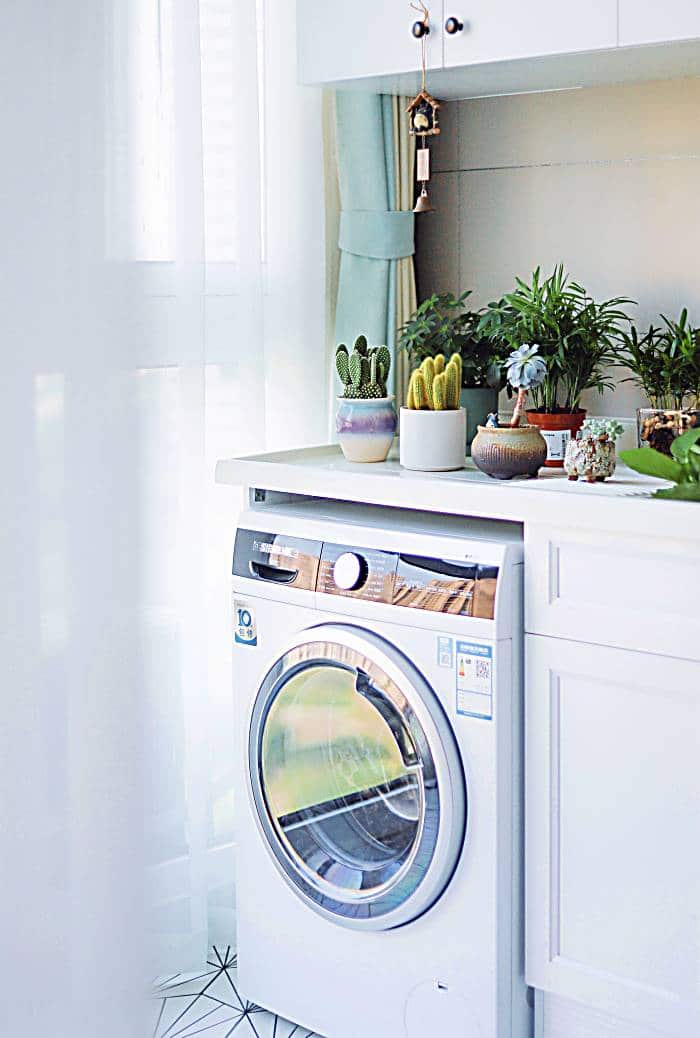 8. Neutral tones
I love neutral tones in a home. Choosing a neutral colour scheme means that they will most likely stay in fashion forever. I love the white square subway tiles on the wall with the black grout. Don't forget to bring in some lush greenery into your laundry!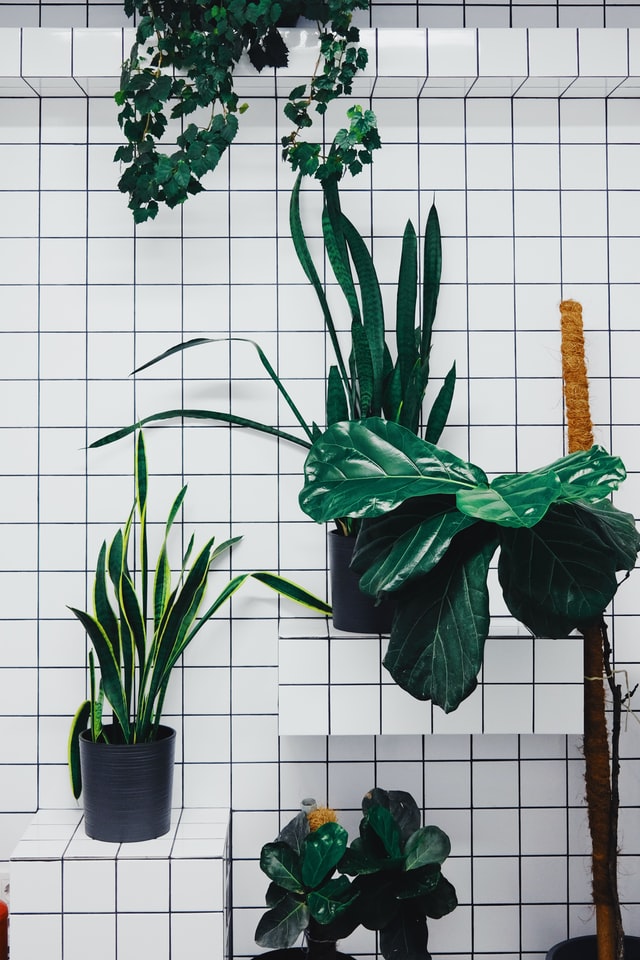 9. Small herringbone tiles
One of my favourite laundry tiles designs is herringbone. I love marble herringbone tile especially as it catches the light with its shiny surface. Using marble means that no tile will be the same and it will give a very natural and organic look.
10. Plain white tiling
Ah, I absolutely love the simplicity of this space with the white laundry tiles and the white grout. If you prefer, you can opt for plain white tiling that has a slight texture to it. This gives a more natural and organic look. I also love matte tiling is as it really makes a space feel understated, yet sophisticated. But you can go for high gloss if you prefer!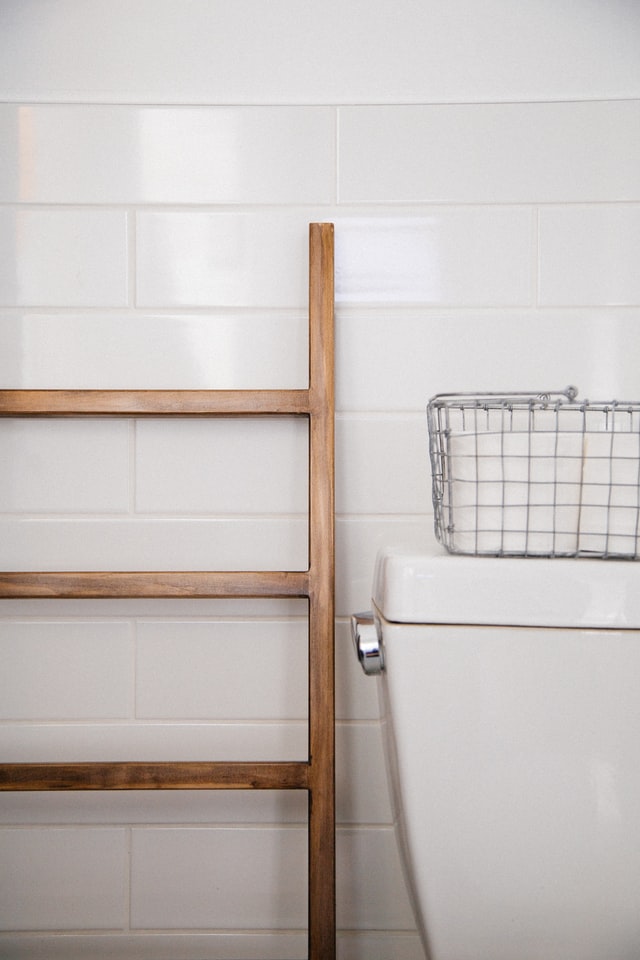 11. All in the pattern
For a laundry room that's oozing with character, it's all in the pattern! I love patterned tiles in the middle of cabinetry as this gives a bit more interest to a space. Still not visually interesting enough for you? Why not paint your laundry cabinets? Cabinet painting is a super-easy way to refresh a space.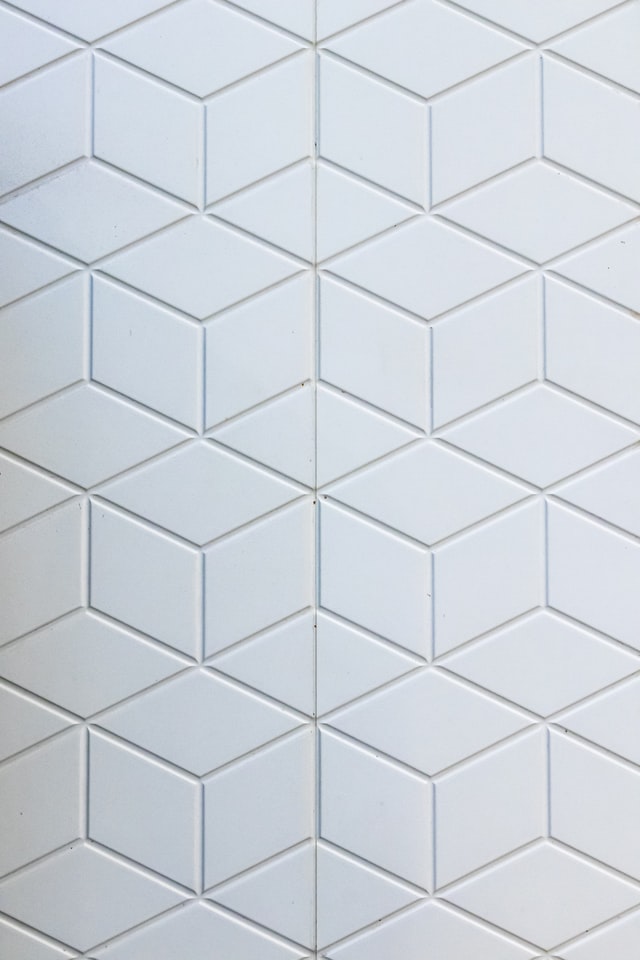 12. Blue herringbone laundry tile design
Bue herringbone tiles look absolutely stunning in a laundry room. And they're perfect for a Hamptons styled home. They create a very timeless look that will last for years. Just add some woven baskets around for some extra texture to warm up the space. To see more Hamptons looks, check out these Hamptons bathroom, bedroom, dining and kitchen ideas.
13. Horizontal and vertical lines
For a chic laundry room, consider laying your tiling alternatively so that the line detailing goes horizontal, then vertical and so on. You'd be surprised what an awesome effect it gives! You could also add black cabinetry and a black appliances to amp up the contemporary flavour.
14. Mermaid tiles
Mermaid tiles are another one of my favourite tile designs! A scalloped tile always reminds me of a gorgeous mermaid or fishtail (and if you love this type of tile, see plenty more examples of them in these bathroom tile ideas).
15. Penny round laundry tiles
This kind of laundry tiling always makes me want to go up to the wall and pop it with its 'bubble wrap like' look. Typically, the tiny white dotted tiles are slightly raised which creates such an awesome texture.
16. Long vertical tiles
White tiles have a lovely simplicity that adds just a subtle amount of texture to the wall, without detracting from other feature elements. Instead of laying your subway tiles horizontally as most people do, consider laying them vertically instead. And here's another hot tip; adding a vase of fresh flowers in your laundry will not only look pretty but the sweet smells will permeate through the room and distract from any icky laundry smells!
17. Laundry feature wall
Adding. a patterned tiled feature wall really lifts a space and makes it feel so much more purposeful and thought out. There are so many gorgeous encaustic cement patterned tile designs out there, the hardest part is choosing!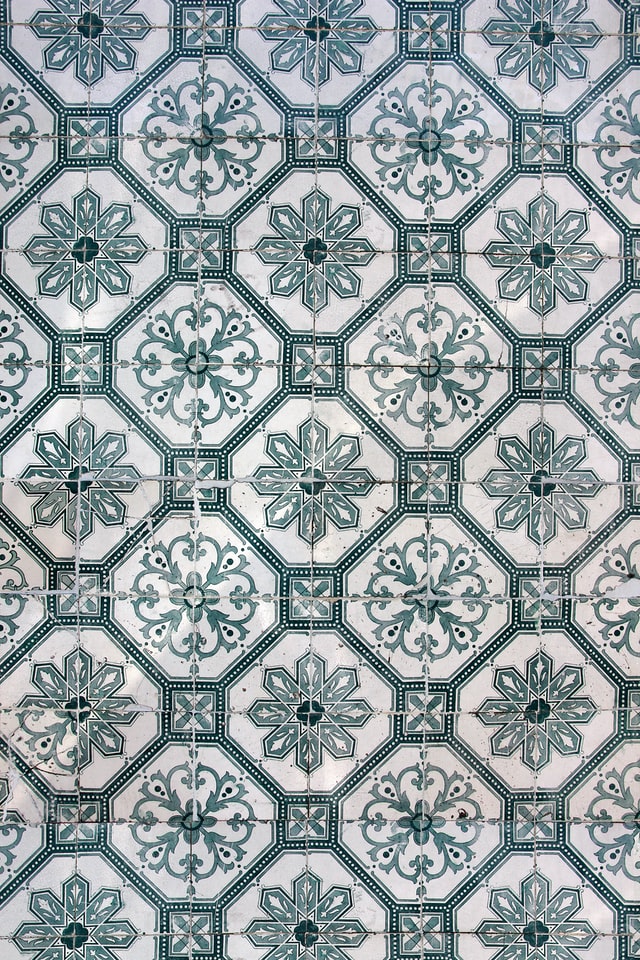 18. Tiles all around
You may think that putting tiles on your walls, floors and ceilings is a bit of an overkill, but I'm hoping this laundry will change your mind. I love the large format marble tiles on the walls and just about everywhere else.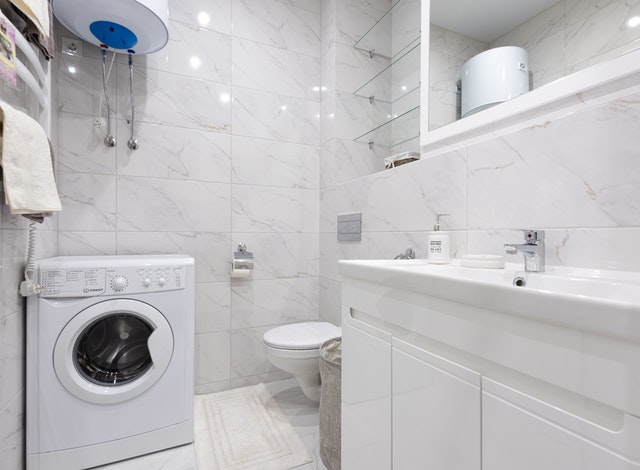 19. Modern tiling
If you want to create a space that's modern and timeless, then this laundry bathroom combination is for you. Simple large format grey stone tiles adorn the floor, while an understated white splash back improves the practicality of the space.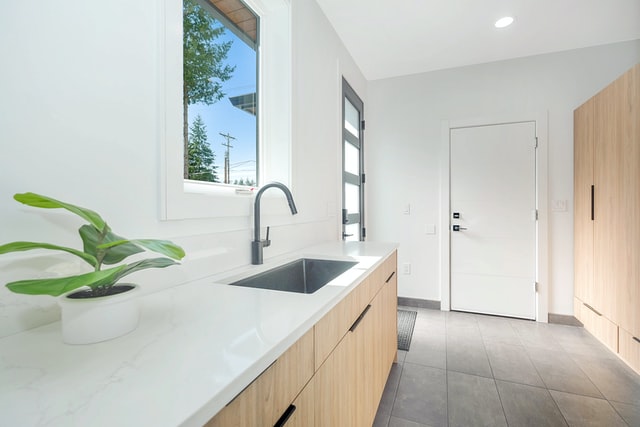 20. Navy colour palette
This is for those of you who want to add some colour into your space but just aren't sure what colour to go with. Navy is a great colour to go with as it can be easily paired with neutrals and other pops of colour.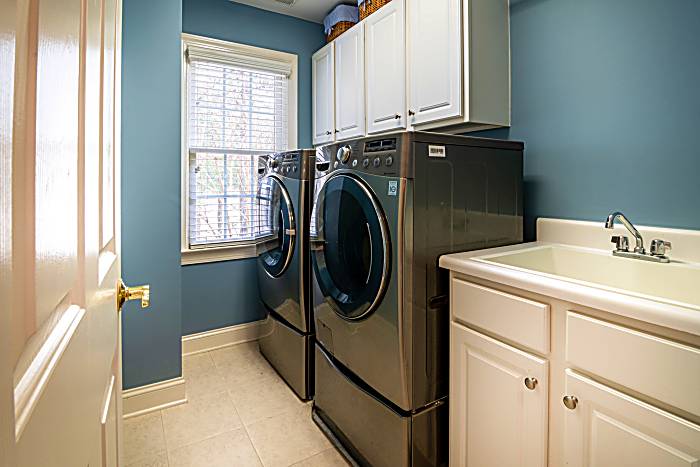 21. Textured black
If you already have black accents in your laundry room, then using black tiling will only enhance everything for the better! I especially love textured tiling for a splashback feature wall.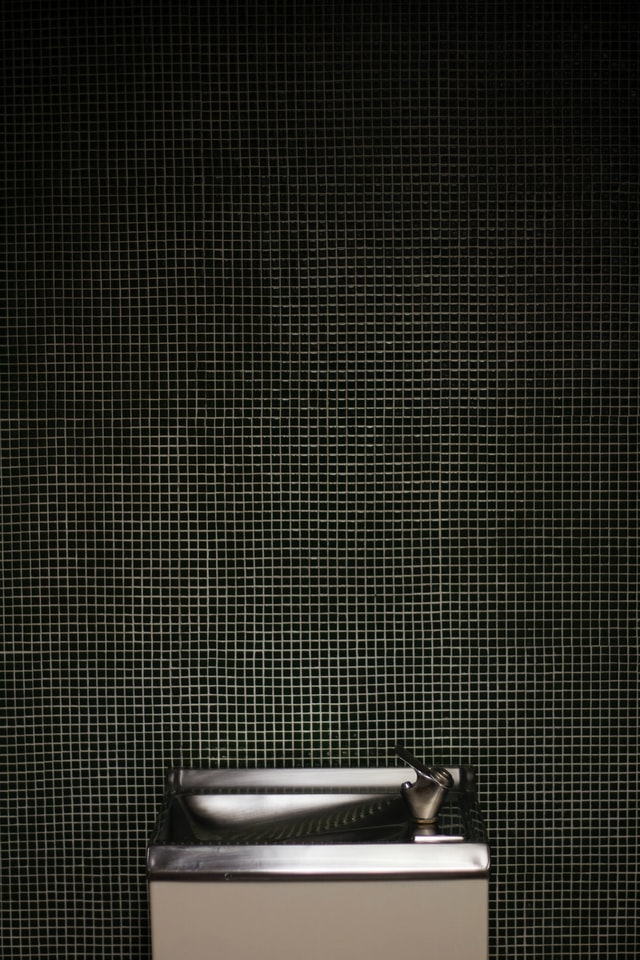 22. For your furry friends
Have pets? Then your laundry room will ideally have a special spot to wash your furry friends. Tiling will ensure cleaning up is super easy.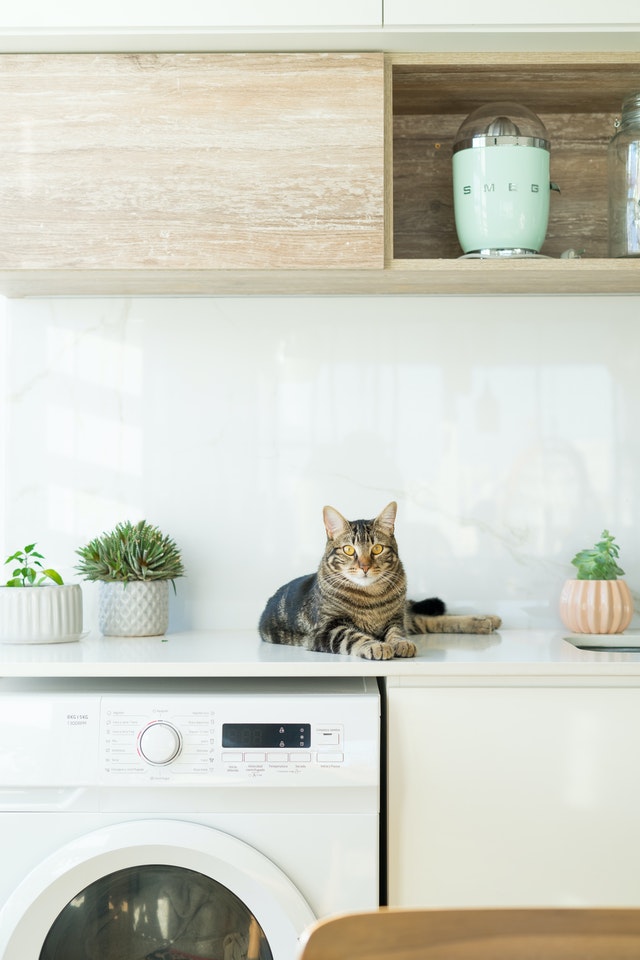 So there we have 20+ laundry tile ideas to turn your laundry from boring to one with character and pizzazz! I absolutely love the simple laundries that have utilised patterned tiles to create some interest as well as those with scalloped and hexagonal tiling. What were your favourites? Let me know below.