There is one area of the house that no one likes to clean, and it also happens to be the area that really needs to be spotless to ensure it does its job; the bathroom! Knowing how to clean bathroom areas correctly ensures you have a healthy space in which to clean yourself!
We know, it's annoying, but we can all agree that a sparkling clean bathroom is much more enjoyable than a dirty one. Sorting out the showers, bathtubs, toilets and spaces takes a little bit of time, but read on to see our bathroom cleaning checklist of sorts which can help! 
Make the task a little easier and learn how to clean both effectively and efficiently, ensuring you don't miss anything. Once you know what you are doing and get into the habit of regular cleaning, the task becomes a lot easier!
How to clean bathroom areas to look like new
1. Remove all of the items
An effective clean is certainly not a lazy clean. Make things easier for yourself by emptying the entire bathroom instead of as you go. Shampoos, soaps, toothbrushes, towels and rugs all have to go so you can clean all areas properly. Use this as the point to empty the bathroom trash bin as well.
2. Dusting and sweeping
Use a duster to give an overall clean to begin and focus on corners, light fixtures, vents, and other areas that often get neglected. When you have performed an initial dusting, sweep or vacuum the floors to get the dust balls, hair and other debris. These will only create a bigger mess later when they get wet.
3. Use an all-purpose cleaner on the shower and bathtub
Use an all-purpose cleaner (or dedicated shower cleaner if you prefer) on the shower and bathtub, ensuring you clean the shower track and inside of the door. Allow the cleaner to soak for a little while, and if it has been some time since your last clean, use a harsher acidic cleaner for stubborn grime build-up.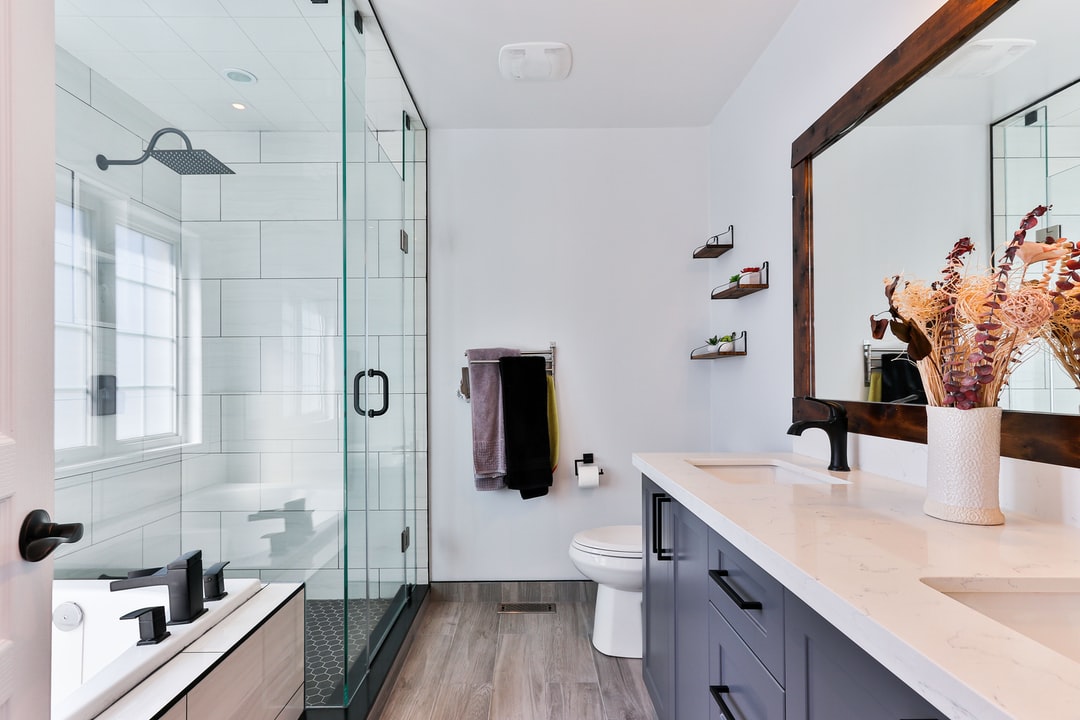 4. Clean other surfaces
If using an all-purpose cleaner, you can spray it on to a microfiber cloth and wipe down the other remaining surfaces which may include:
Towel racks

Shelving and baseboards

Doors

Blinds and windowsills
Always work in sections and start from the top of the room, left to right, all the way to the floor.
5. Clean the floor
Use a mix of warm water mixed with your all-purpose cleaner or a dedicated floor cleaner to wipe or mop your tiles or concrete. 
6. Go back to the shower and bathtub
The cleaner that you sprayed on your shower and bathtub earlier should have done its job by now. All that is required from you is a light scrub to get rid of the loose dirt and build-up. From here you can wipe the walls, floors and other surfaces one final time if any missed spots reveal themselves.
7. Put your bathroom back together
Pop all of the removed items back into their spots and give them a wipe if necessary. Dust can build up on shampoo bottles and the like very easily, so you don't want to bring that back into your now clean bathroom. If you have a shower door, wipe it with a little glass cleaner for a streak-free finish.
8. Clean the vanity
It's good to leave the sink until later in the process as you have likely been washing your microfibre cloth as you go. Spray the all-purpose cleaner on the faucets and surrounding countertops, let it sit, then wipe with a clean cloth. You may find some build-up in your soap dish/area which requires a scrub sponge to loosen. Wipe the mirror with glass cleaner to ensure no streaks.
9. Clean the toilet
The step everyone hates! Squeeze a toilet-specific cleaner under the lip of the bowl then scrub with a toilet brush. Spray the outside of the toilet, including the back parts that no one ever sees with the all-purpose cleaner. Wipe it all down with a clean cloth.
10. Set yourself up for future spot cleans
The above steps tell you how to clean bathroom areas efficiently and effectively, but life will be much easier for you if you keep it tidy between cleans as well. Set yourself up with a few ket things to help ensure this happens:
Keep a hand-held vacuum for a daily pick up of hair and other dirt in the bathroom

Ensure your drain has a hair catcher to avoid build-up (this can save you serious plumbing issues down the track as well)

Squeegee shower walls and glass after each shower

Wipe the vanity area regularly
Extra considerations and tips
Here are some extra cleaning points to consider to ensure you get the absolute best result possible from your clean.
Tile grout cleaning
With a tile-lined shower, the grout will benefit considerably from a good weekly scrub:
Mix a 3/4 cup of household chlorine bleach with water

Use rubber gloves and scrub the mixture on the grout with a stiff brush (avoiding the surrounding surfaces)

Let sit for a few minutes, scrub again and rinse
Keep in mind that over time, your grout will wear away and eventually need replacement.
Other bathroom cleaning tips:
Use a disinfectant bathroom cleaner on the bathroom sink and wipe faucet handles with a disinfectant spray or wipe, letting the solution sit on the surface for a little while to kill all of the germs
Let the toilet bowl cleaner sit for up to five minutes before scrubbing and use a stiff-bristled toilet brush

Remember that the toilet brushes need cleaning as well so spray them with a disinfectant after use

Be sure to open the bathroom windows and door while cleaning and turn on the fan if you have one, to avoid cleaning fumes and hurry the drying process

For a tougher scrub, look for a cleaning product which contains micro-scrubbers and foaming cleansers that dissolve
Finally, always remember to vacuum the dust that sits on and inside the grill of the bathroom fan. Give the detachable parts of the fan a clean with a soap and water solution, just ensure that you do not wet any of the internal parts. Soak the removable grill in sudsy water for a little while then rinse and dry.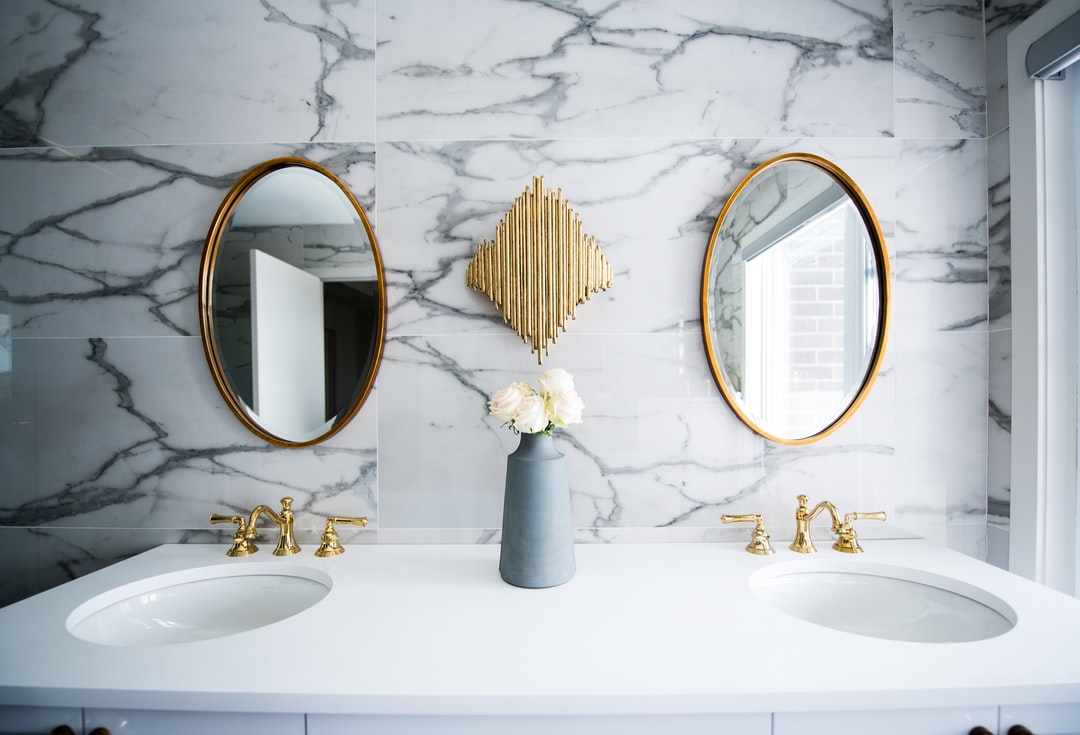 Frequently asked questions
Where do I start to clean the bathroom?
The best way to start an effective bathroom clean is by emptying the entire bathroom before you begin. Shampoos, soaps, toothbrushes, towels and rugs should go so you can clean all areas properly. Next, use a duster to give an overall clean and focus on corners, light fixtures, vents, and other areas that often get neglected. 
When you have performed an initial dusting, sweep or vacuum the floors to get the dust balls, hair and other debris, then you can move onto cleaning the individual sections of the bathroom. Always start at the top of the room and work your way down, moving left to right.
What household items can I use to clean my bathroom?
An easy and effective bathroom cleaner is a mixture of 1 ½ cups of baking soda with ½ cup of warm water and ½ cup of liquid soap. You can also create a mixture of 2 tablespoons of white distilled vinegar, or apple cider vinegar with water. These are natural ways to clean that avoid the use of harsh chemicals.
What is the easiest way to clean a bathroom wall?
If you have painted walls in your bathroom, vacuum them with a soft brush attachment then wipe them down with a dusting agent and electrostatic dusting wipe. If you have walls made of tile you can use the same cleaning solution you are using on the rest fo the bathroom with a clean, microfibre cloth. Always start at the top of the wall and clean downwards.
Your hard work will pay off with a shining clean bathroom!
Once you have used the steps above to create a system that works for your particular bathroom layout, you'll find each clean even easier. As mentioned, it's a great idea to perform spot cleans to minimise the intensity of your deeper cleans.
If time is not on your side, your deep cleaning jobs can be handled by a range of skilled taskers who specialise in things like tile grout cleaning, mould removal, mopping, shower cleaning and more. Save yourself the hassle while ensuring the job is done right!
If you are looking for some other ways to improve your bathroom, we have a selection of blogs that will provide some very helpful information. Read about bathroom tile ideas, various colour scheme options, and how to achieve the look of a modern or Hamptons-style bathroom. We also have a range of ideas for your shower or bath and a fun little piece that helps you design an outdoor shower for something different! Make the most of your bathroom by giving it a little spruce, and thoroughly enjoy the time you spend within it.