When you hear the words "shower bath" your mind might instantly turn to the old setup that used to grace bathrooms of the '70s. But fear not, shower baths have come a long way since then, and they've made a return to the renovation scene is creative ways.
Think opulent white round tubs with rainfall showerheads, luxe corner concrete baths with brass hardware and rectangular tubs with a view. These are the shower baths of the 21st century!
While shower baths are a great choice for a master bathroom, especially when used as a wet room, they're also a smart choice for a guest bathroom. You can have the best of both worlds and save space at the same time (that's a win in my opinion). Plus, shower baths are especially great for families with little kids, as they provide the option of bathing your little ones or allowing the older kids to shower "like a grown-up".
Colours
If you are working with a small space, using a limited colour palette is the best way to go. Combine neutrals with pops of colour to create a space that's both fun, relaxing and timeless.
Tiling
This is where you can really have some fun! Play around with your tile combinations to see what works best for your space. You can use tiles to create a special feature wall or you can simply use them to protect and waterproof your combined shower/bath space. Find the best bathroom waterproofing contractors near you.
Shower and tap faucets
This next tip may seem obvious, but it's surprising how many people fail to get this part right. Make sure your shower and tap fixtures are in the same style and same metallic finish. This will ensure continuity throughout your bathroom.
Ready to be inspired? Here are 20+ shower bath designs to help you kickstart your next bathroom renovation.
1. Sweet little nook
I love how this bathroom brings a relaxing, cosy feel to my soul. An easy to achieve look with its off-white tiles and champagne tapware. A great way to make your bathroom become a sweet little nook is to create a simple shower bath with little shelves holding candles and little flowers. Get creative with bathroom decor ideas.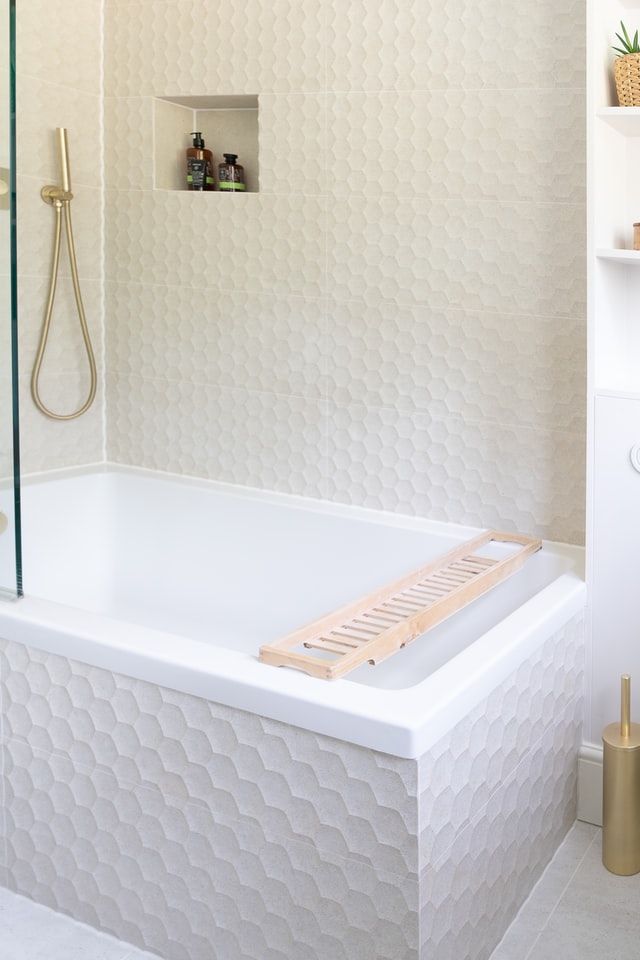 2. Floating shelves
With limited space it's important that everything is accessible in your shower bathroom. For instance have wooden floating shelves within arm's reach of the bath and filled with all of the essentials. If you're feeling peckish, why not bring in a cheese platter and a glass of wine to place on the wooden bath tray while having a soak? Or put some cute decor on a bath tray to add style.
3. Black fixtures
I love how these black fixtures pop in contrast with the lighter colours. Black looks fabulous with monochrome marble and this stunning blue vanity. Add simple touches to a bathroom like this one, and you've got yourself a clean and chic looking bathroom.
4. Framed bath screen
How gorgeous is this framed bath screen? It creates a place to breathe, think and a ponder. It complements a large spaced bathroom yet also opens up the space in a smaller area, creating the illusion that the space is larger than it is. Just add some greenery and décor!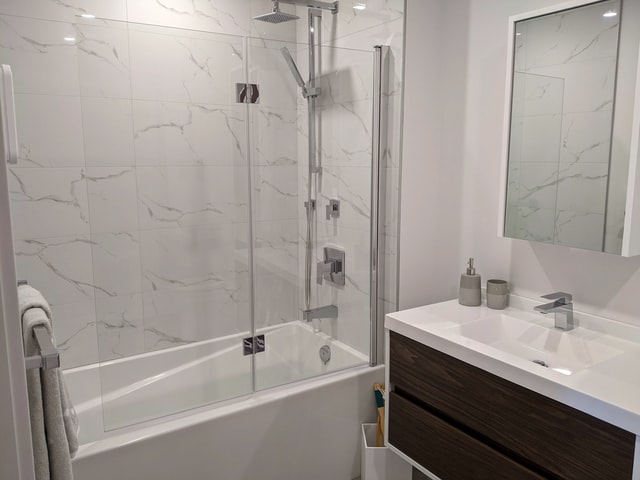 5. Grey concrete
This bathroom achieves a minimalistic look with its neutral colours and very limited decor. The grey concrete tiling behind the shower bath brings an exclusive look and a touch of boldness. Pair with chrome or black fixtures for an edgy modern look.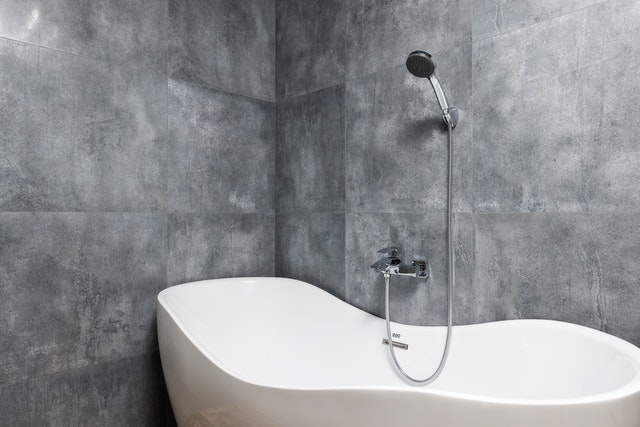 For similar designs, see these concrete bathrooms and also these industrial bathroom ideas.
6. White on white
This white bathroom with it's gorgeous white on white subway tiles is a classic New Yorker look! A simple white style is easy to decorate as it matches with everything. Add some greenery or some colourful towels to make the look work!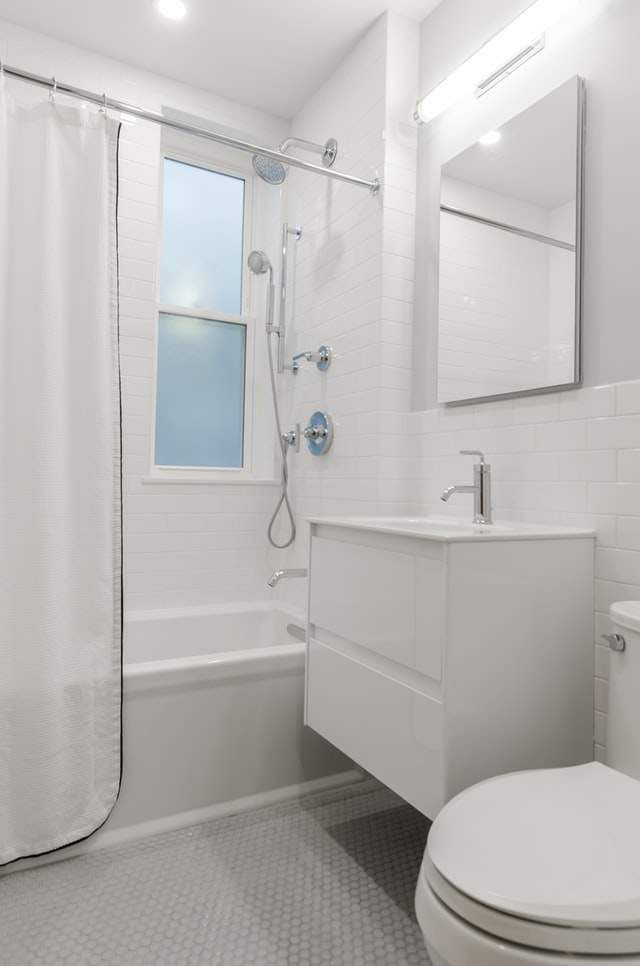 7. On-trend details
For a gorgeous trendy bathroom is that's oh-so-stunning, make sure your shower bath has plenty of space and opt for natural colouring paired with black faucets. Add a large jute rug to incorporate some lovely beach vibes and a big blanket towel over a hanger for added sophistication. Plus, the modern hanging lights are a great addition.
8. Coastal décor
This is the perfect design style for a coastal bathroom in a beach-side home. The blue and white herringbone tiling shouts a welcoming "a-hoy!". I recommend adding some boat-themed prints to accentuate the coastal look. Finish off the space with some seashells or starfish decorations and add some aqua or blue toned towels.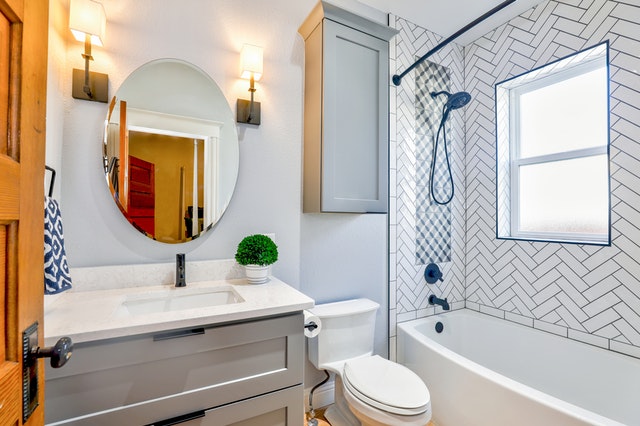 9. Black and gold
For a classic contemporary design, go for a blend of traditional black and white with some modern gold hardware. Then just add some wall sconce lighting, which look stunning at night against the tiles.
10. Dark and edgy
Talk about an edgy look! To achieve this look, go for dark tones such as light or dark grey and black to add boldness. Follow the example of a wooden wall or piece placed in your bathroom to break up the colours and bring that edgy vibe to life! This bathroom achieves dark and edgy as well as serenity.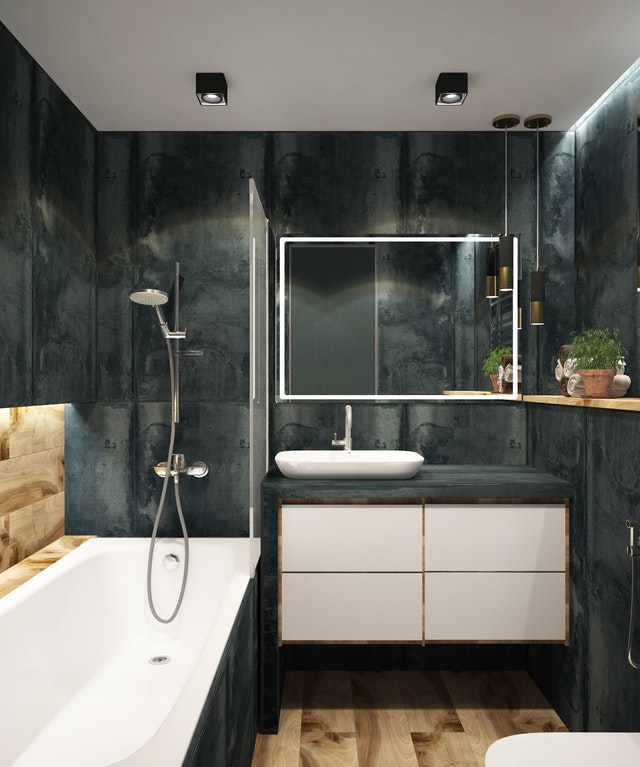 11. Wooden tub
For something different, go for a tub with a wood-look finish and rainfall showerhead faucet. A marbled floor would bring a chic look and add an extra level of class! Adding a tall in-door plant and some little furnishings on a charcoal coloured table will finish the look with glam!
12. White tub and vintage tapware
Make a statement with dazzling retro facets with the modern spin of a large freestanding white tub. I recommend styling with some scented vanilla candles for a sweet and fresh fragrance.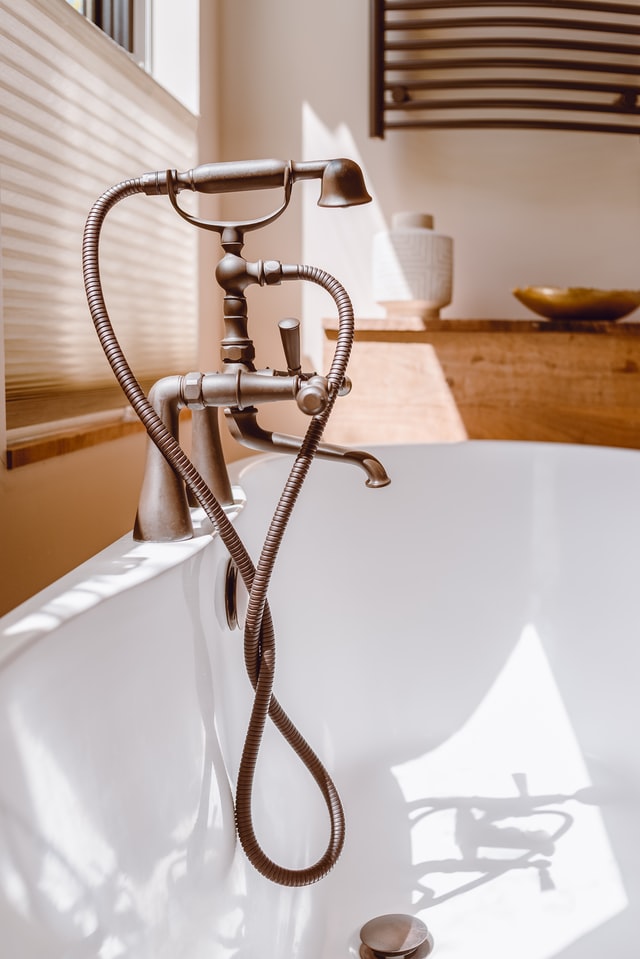 13. The perfect guest bathroom
If you are looking for a stunning bathroom for your guests, create a modern look with white walls and grey subway tile contrasted black and white flooring and a wooden vanity. Add a white basin to complement the subway tiles and white walls. For an added thoughtful touch, include a cute table or wooden shelf with some lush bathroom products – you're welcome!
14. Gold fixtures
These golden fixtures radiate style! With the white tiles and marble, they enhance the look by adding golden brilliance! It's a good idea to use light colours to accomplish a clean bathroom look, and adding fixtures with a bold colour to create good contrast which makes those staple pieces eye-catching! Use neutral colours surrounded with pieces of decor and you've got a bathroom that's absolutely brilliant.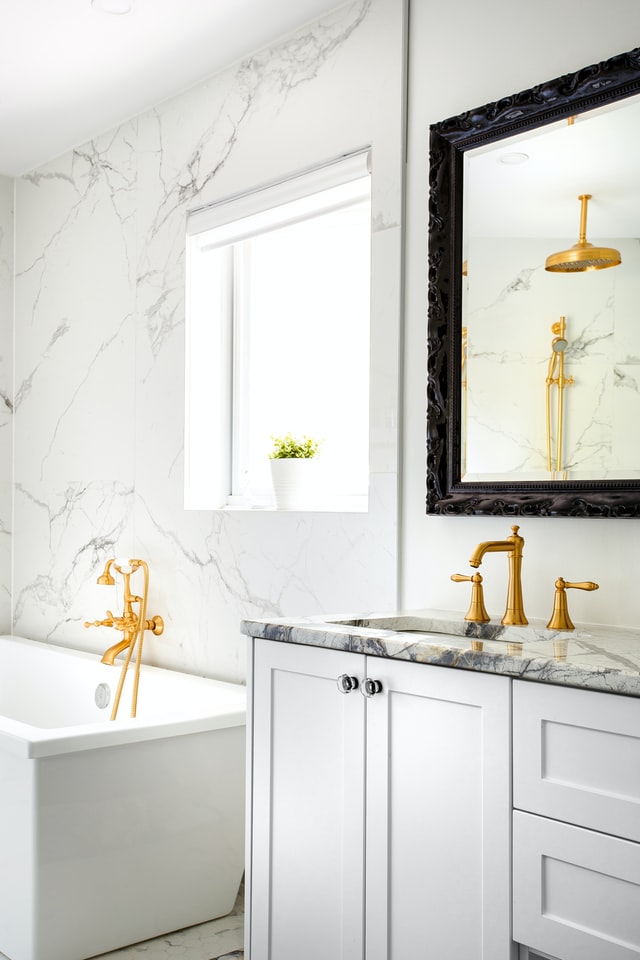 15. Simple details
Here's another white tile finish with a simple glass screen added to finish the shower bath look. This is a great look producing minimalism and simplicity that would be a great style to utilise in your next bathroom renovation.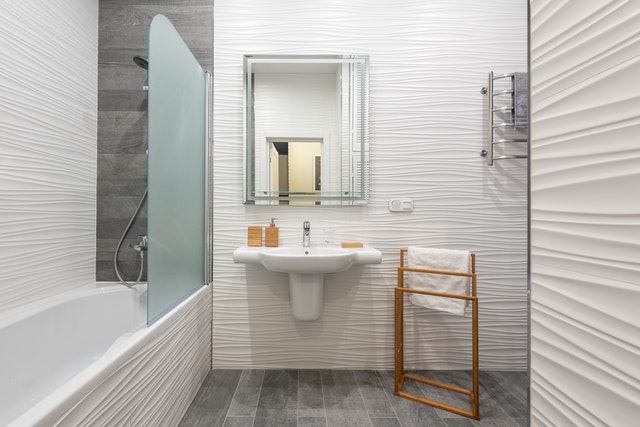 16. Ocean vibes
I love the ocean vibes of a blue bathroom. Tiny blue tiles give the illusion of water, and look amazing married with soft grey tones that really make an ocean blue pop! To complement this style, ensure you put some simple pieces surrounding the bath shower and water basin with neutral colours to really make that blue explode.
17. Navy accents
If you want a bathroom that looks like a modern artwork, this bathroom is certainly pleasing to the eye! The navy colour dwells in a place called relaxation when put together with the off- white shower bath tiles. To lighten the mood, add a lush plant to add to the serenity.
18. Add pop and pattern
A tub is a staple piece in your bathroom. And with the way it's designed, you can mix up the palette by switching out your shower curtain whenever you choose.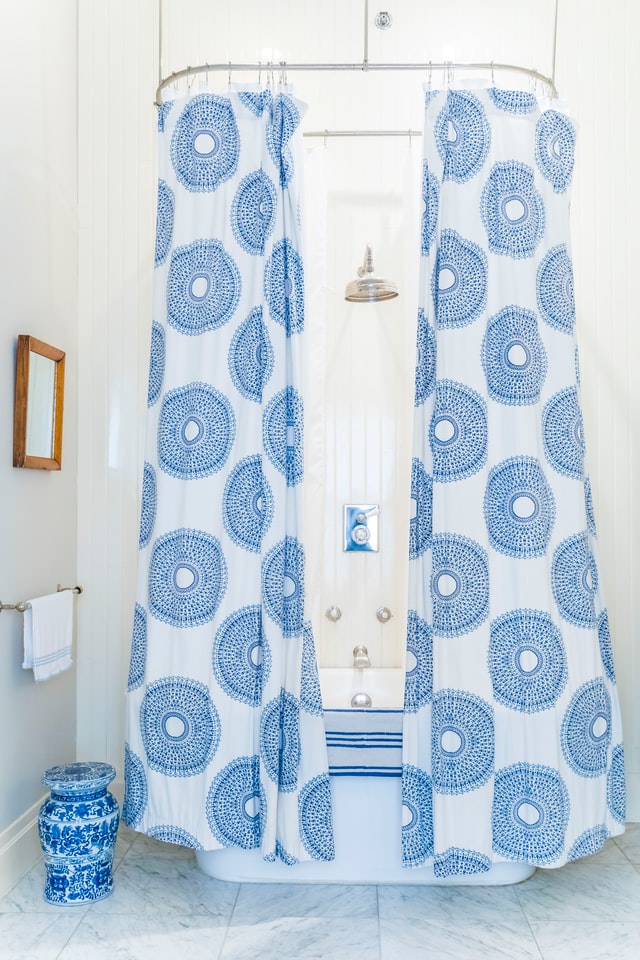 19. Tropical vibes
If you are desiring a tropical atmosphere try adding some palm tree wallpaper or some greenery! Having a window to let the sun stream in is a definite requirement in bringing your bathroom to its full potential. Add a little pot plant and surrounding simple features and you have yourself a tropical haven! For more ideas, check out these bathroom plants.
20. Vintage rug
If you want a chic bathroom, add a vintage rug with a cute pattern to lift the space. Especially if you have a lot of white tones, adding a pop of colour from a good old vintage rug creates a stylish and effortless look.
21. Shower bath room
I love how this bathroom looks like a trendy little day spa. The gorgeous plants add to the at-home day spa experience whilst the timber accents have a stunning effect on the overall finish.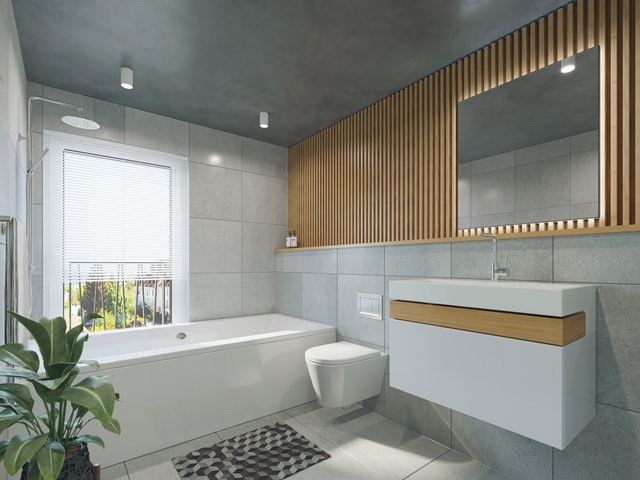 22. Monochromatic mood
Love marble? Then why not go for not one but two shades of the stone! This modern bathroom features plenty of clear glass as well, creating an overall spacious effect. A large mirror like this adds great dimension to the bathroom and creates the illusion of a larger space.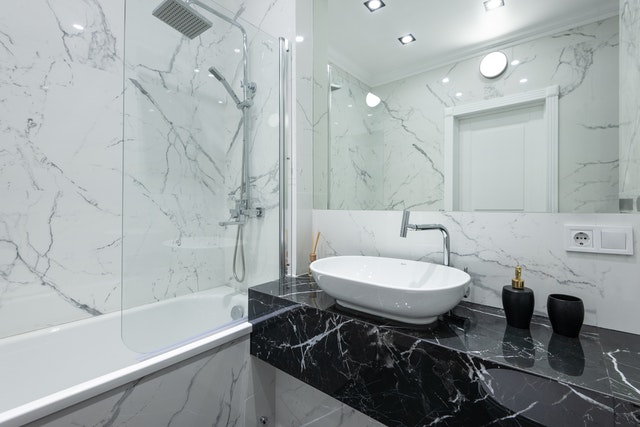 23. Grey subway tiles
I love how this grey look is softened by the white paint and floral wallpaper. The perfect bath shower with plenty of room for a quick shower or a soak in the little corner tub! Add some textiles in a bright colour of your choice to add a pop of colour.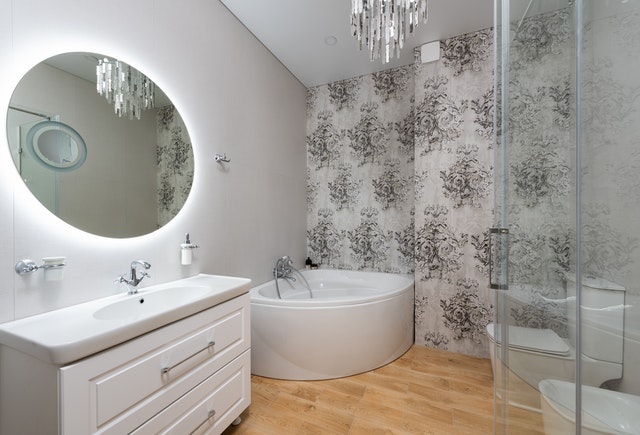 So, there we have it, 20+ shower bath ideas for your next bathroom renovation. Why not explore some more master bathroom ideas? While I hate playing favourites, I've got to say that I especially love the bathrooms with the subway tiles as well as the bathrooms that have marble accents (swoon).
Now, it's your turn. What were your favourite design elements? Would you add a quirky tile or keep things simple and white? Comment and tell me your thoughts!