The farmhouse style is all about bringing rustic warmth into your home. And who doesn't want that? Whether you live on a farm and want to bring the theme of the outside in, or if you just love the laid back feeling of the countryside and want to incorporate that into your dining room then you've come to the right place!
Just in case you were wondering, here are some characteristics of the farmhouse style.
Light and airy
Farmhouse style really feels like a breath of fresh air with its openness. So lots of windows letting in natural light will help to make your farmhouse kitchen feel light and airy.
Natural finishes
Natural finishes like wood are often found in farmhouse dining rooms especially through the dining tables and chairs.
Rustic and vintage decor
If you're wondering what to decorate your farmhouse dining room with, rustic and vintage style decor is a great way to go!
Here's 40+ farmhouse dining room ideas to give you inspiration on how to incorporate the beautiful, welcoming and comforting touches of farmhouse dining!
1. Wood and linen
Ah, wood and linen, what a beautiful combination! This beautiful farmhouse dining room is set ready for some Christmas festivities. I love the wooden table which is in the same finish as the wooden bench seat. And the upholstered linen chairs are the perfect addition for those who prefer a chair with a back. Add some green foliage around your table setting to give it that rustic farmhouse look!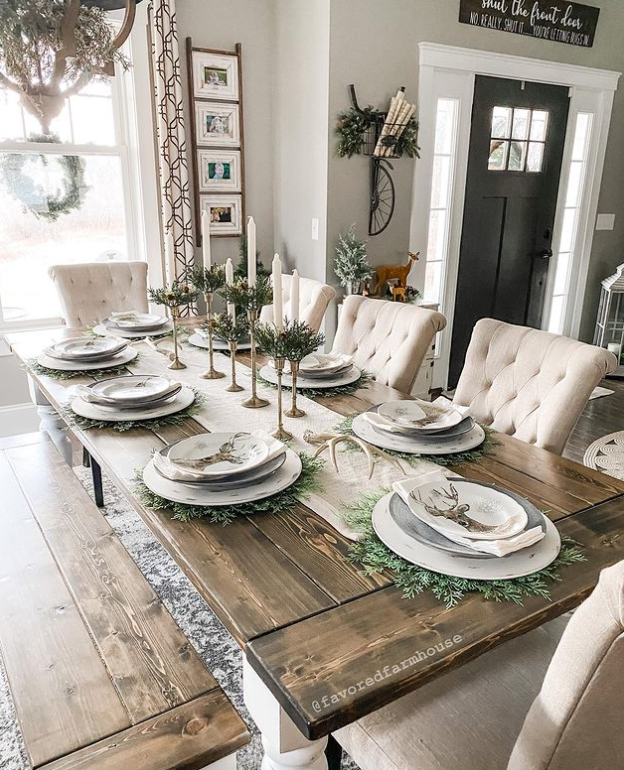 2. White on white
This white on white dining room looks so welcoming! And the good news is that this sort of style would be easy to achieve in most homes with its minimal approach,
The finish of the white dining table and chairs is slightly distressed which gives a rustic look. And you'll never forget the theme of your dining room with the beautiful sign with 'Farmhouse' written on it.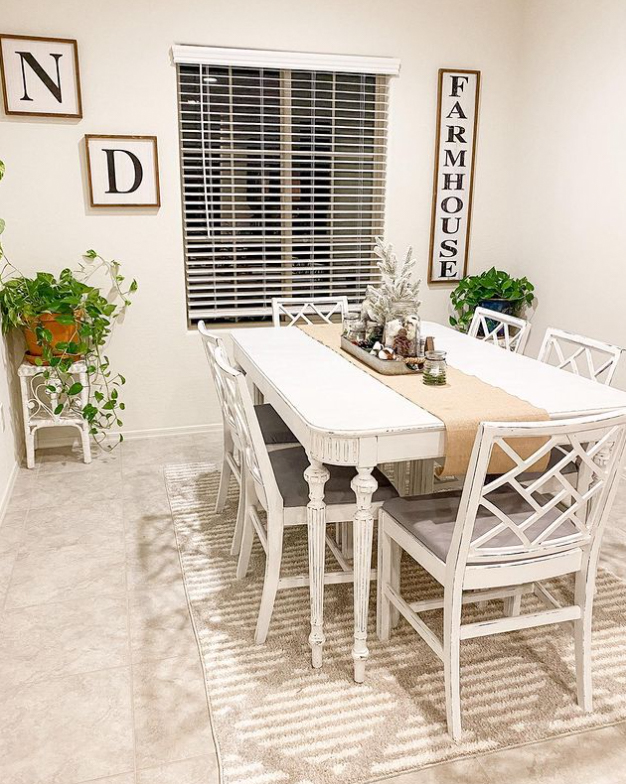 3. Family photos
A great way to turn a house into a home is to add your own personal touch and family photos are a great way to do just that! I love the idea of printing your photos black and white so that they will match with any colour scheme you choose to put in your home throughout the years.
And what better place than to put family photos than right beside the dining room. Simply get a handyman to help with your picture hanging to make sure they are all on straight.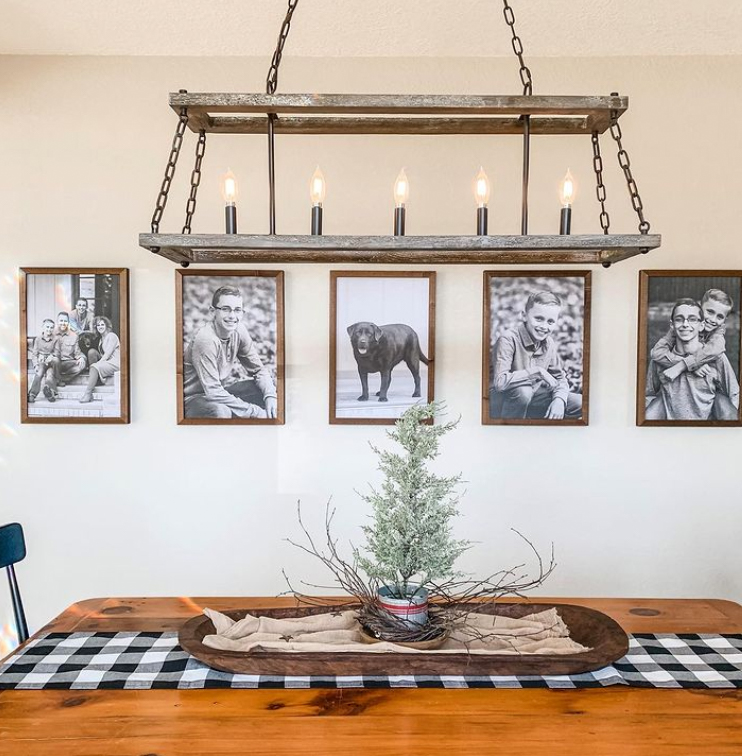 4. Little blue door
If you have a smaller space to work with, this sweet little dining room is the perfect example to show that a farmhouse look can be achieved in any sized space! The wooden table looks great paired with the white chairs and I love the addition of the bench seat on the wall.
Plus how gorgeous are those floral cushions which bring some colour into the room and match beautifully with that darling little blue door? This would go perfectly with a stunning farmhouse kitchen.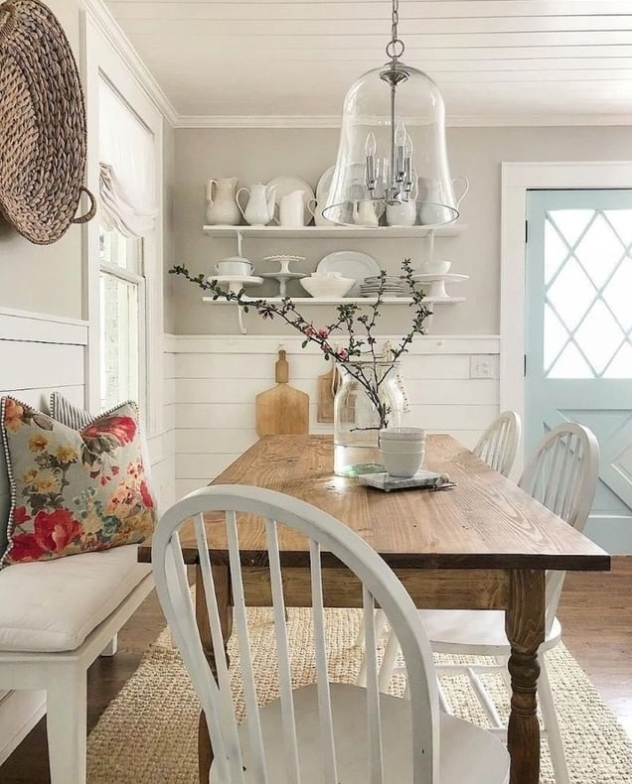 5. Dark wood and black
This one's for you if you prefer a bold look and also if you already have dark furniture to work with! I absolutely love the combination of the dark wood long table along with the black chairs.
Plus how stunning is the black chandelier above the table which matches perfectly with the colour palette. If you still want your area to seem bright and airy despite all the dark furniture, painting your walls white will definitely help!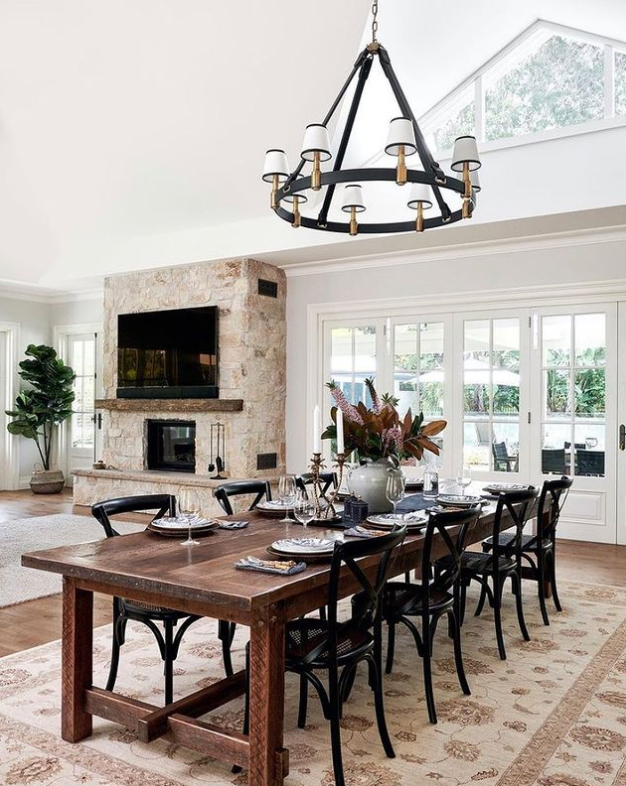 6. Christmassy touches
Here's another sweet set up ready for the holiday season! The dark wood table has been paired with upholstered white chairs and a gorgeous black chandelier to help light up the table at night! I also love the addition of the oversized clock at the end of the dining table which creates a great focal point for the room. Plus this space seriously looks like it was made for the red and green Christmassy touches!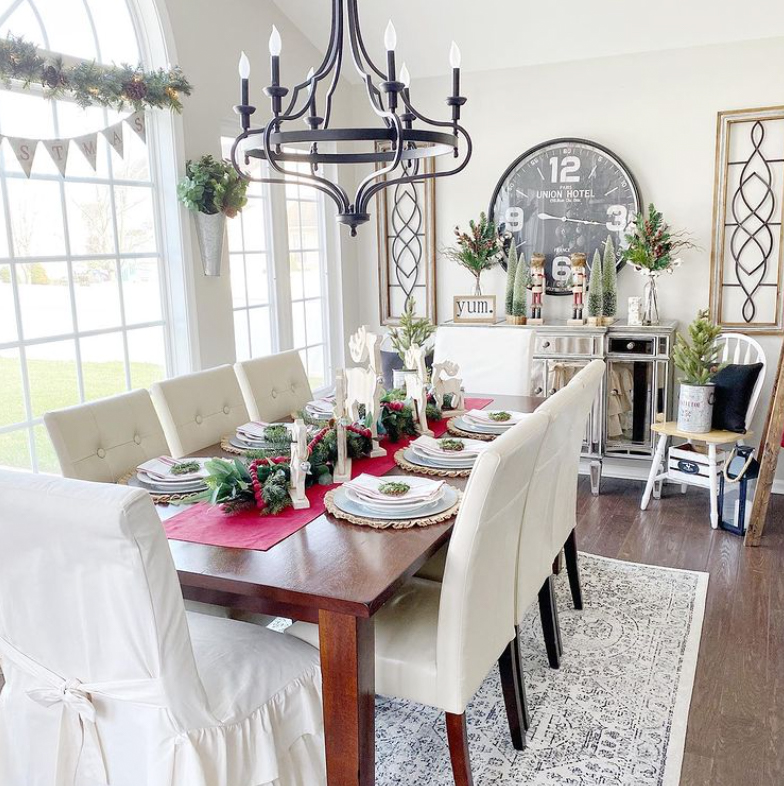 7. Wood on wood
If you're after a limited colour palette and you love wood finishes, then why not go for a wood on wood look? The wood dining table is almost exactly the same finish as the timber floorboards as is the finish of the chairs. And the greenery and woodblocks down the centre of the table really give a great farmhouse look.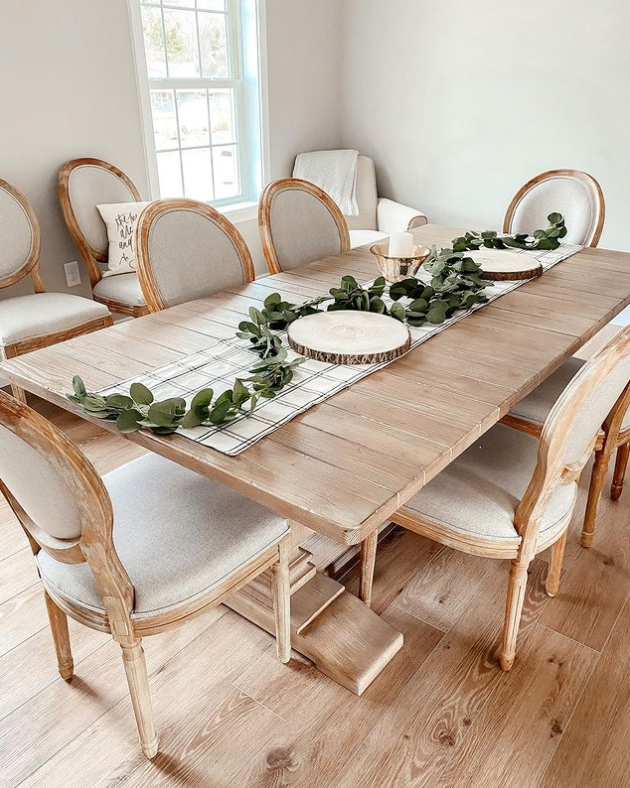 8. Round table
How sweet is this round table dining room! Round tables are a great idea in a dining room as you can easily see and converse with everyone around the table. Plus how gorgeous do the symmetrical trees look in the corners of this room? You could keep them up all year round to create that farmhouse look then during the holiday season, you could put fairy lights on them so that they look Christmassy.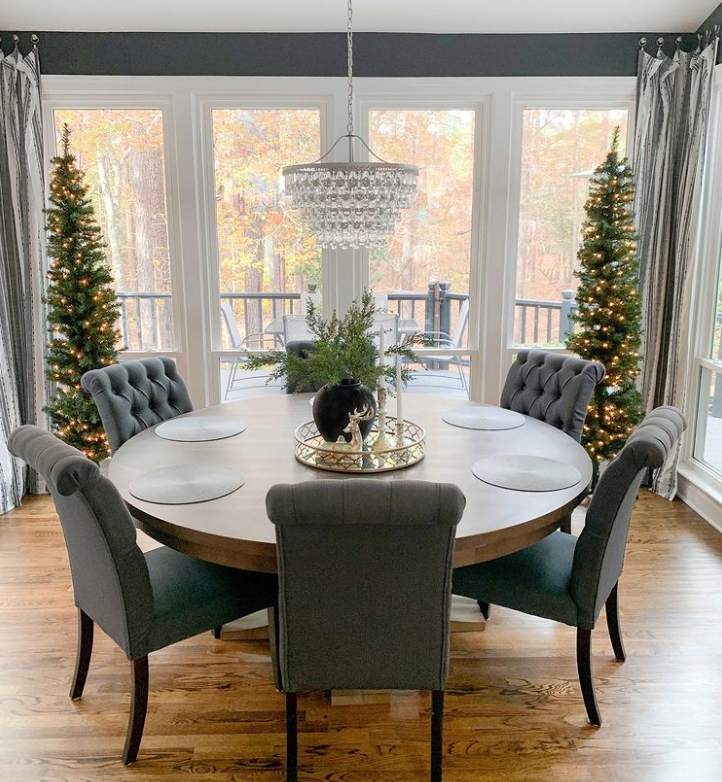 9. Gingham and subtle teal
Gingham is the perfect pattern to turn a regular dining room into a farmhouse style dining room! And I love the black and white gingham table runner on this dining table which looks so lovely with the little mini trees and pine cones dotted across it. Plus how gorgeous is the subtle teal cabinetry by the side of the table which is a great storage solution for all your extra dishes and cutlery?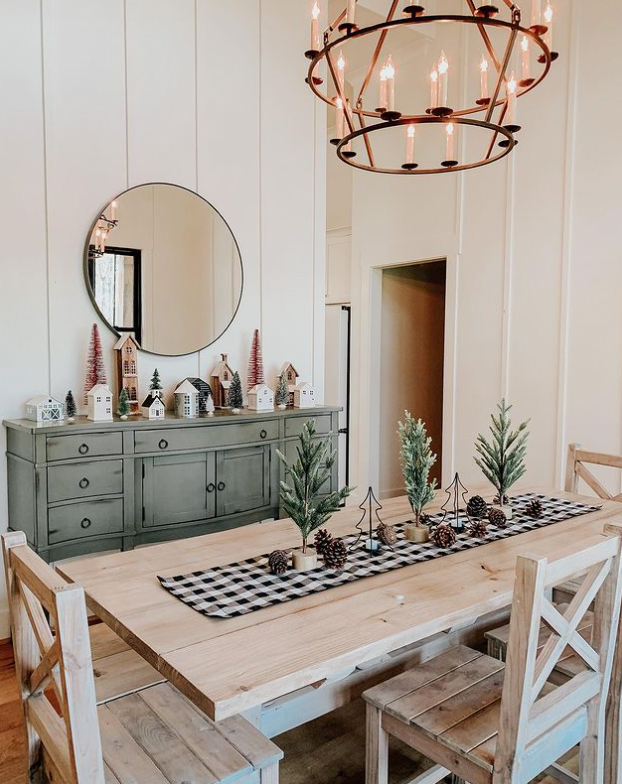 10. Display shelves
If you have the room for it, installing some built-in shelves is a great way to add some storage to your dining room as well as displaying your favourite decor pieces. I absolutely love the addition of the little wooden ducks sitting on top of the shelf which really helps to give that farmhouse look.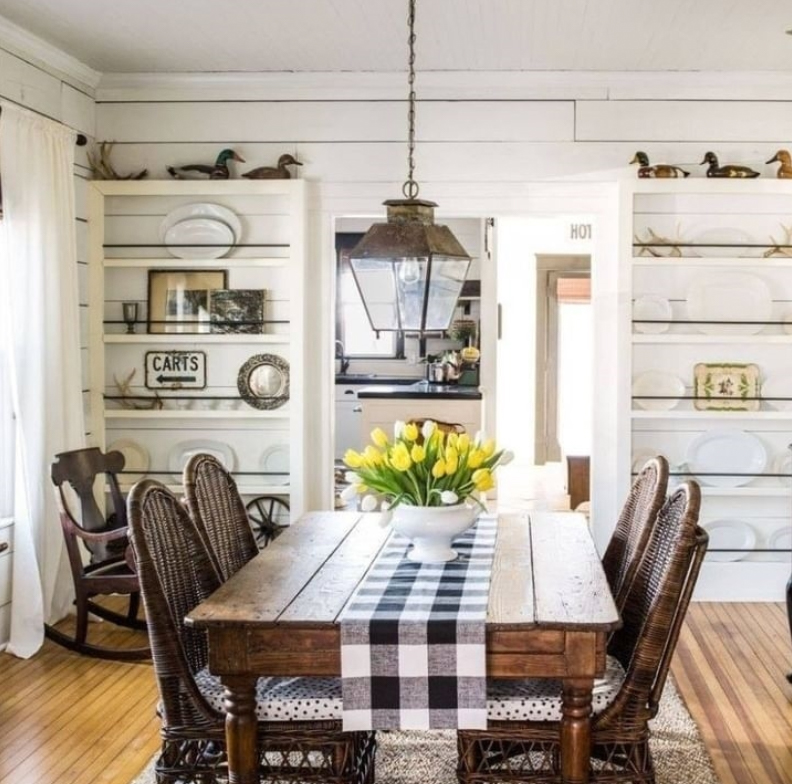 11. Autumn leaves
This one's for you if you enjoy decorating your dining table to suit the season. I love the autumn leaf placemats which are in alternating colours of red and orange. What a beautiful effect they give to the table! They seriously add so much character and colour to the space. Just add some tall taper candles and voila!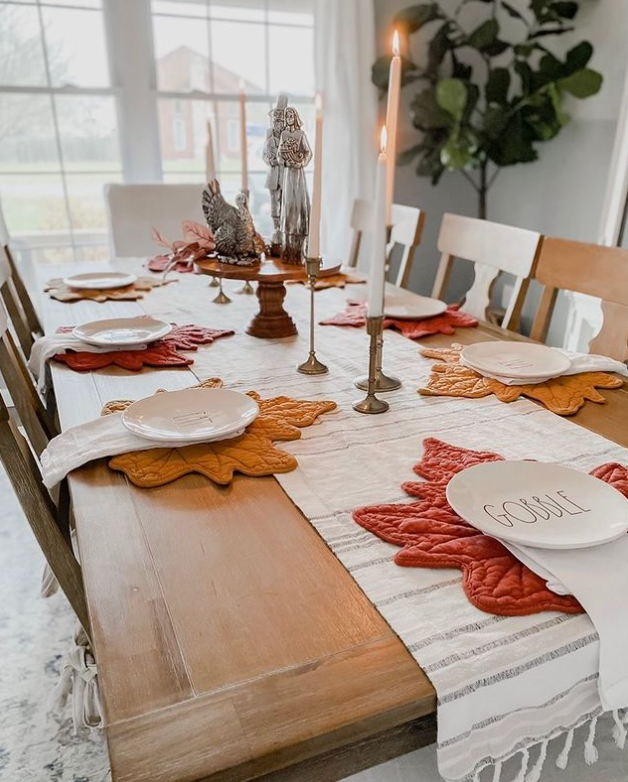 12. Macrame table runner
Macrame is very in fashion at the moment, so adding a macrame table runner to your dining table will immediately lift the space. Plus adding anything handmade definitely helps to achieve a rustic farmhouse style or if you want more of a Boho dining room – it works too!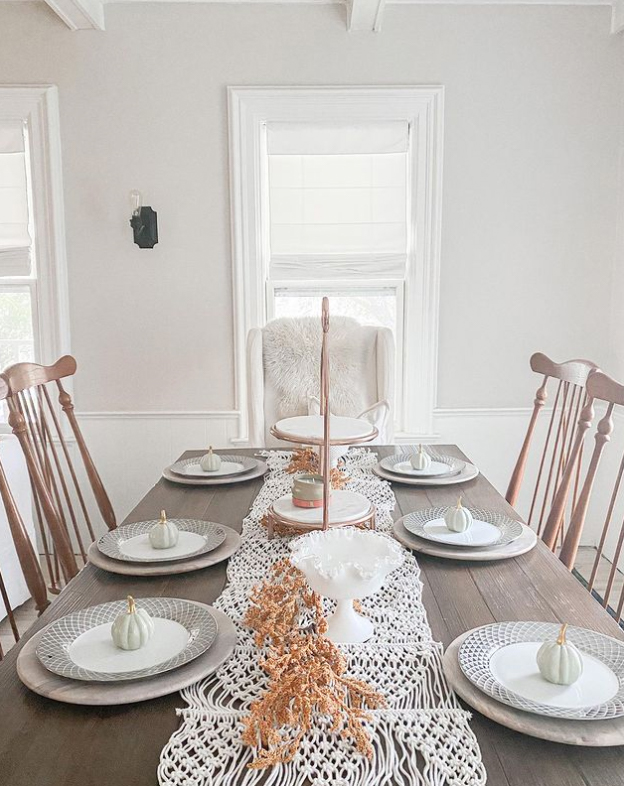 13. Open plan living
One thing that I have in mind for my dream house is definitely open plan living. Open plan living means that no matter where you are in a room, you can always see what's going on in the next space. For instance, if you are busy preparing a meal in the kitchen, you can still interact with whoever is in the living room or dining room. And I'm loving this modern farmhouse dining room that is open to the kitchen and living room, it's a great kitchen layout.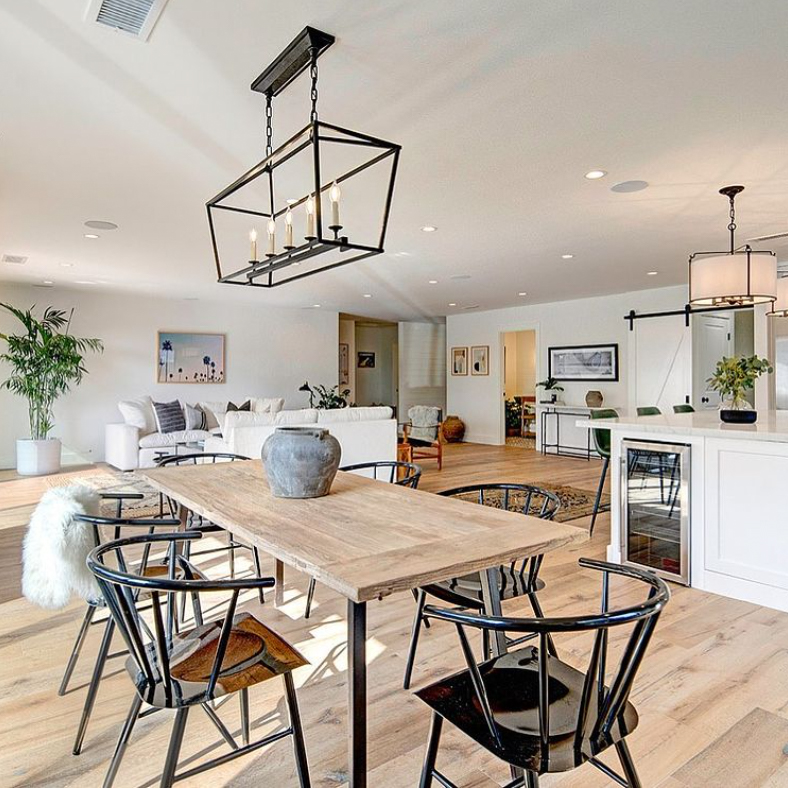 14. Seasonal decorations
Here's another sweet farmhouse dining room with seasonal decorations! I love the timber dining table along with the matching timber dining chairs with the cushioned seats for extra comfort. And the greenery placed down the centre of the table matches so well with the little green wreaths attached to the back of the counter chairs.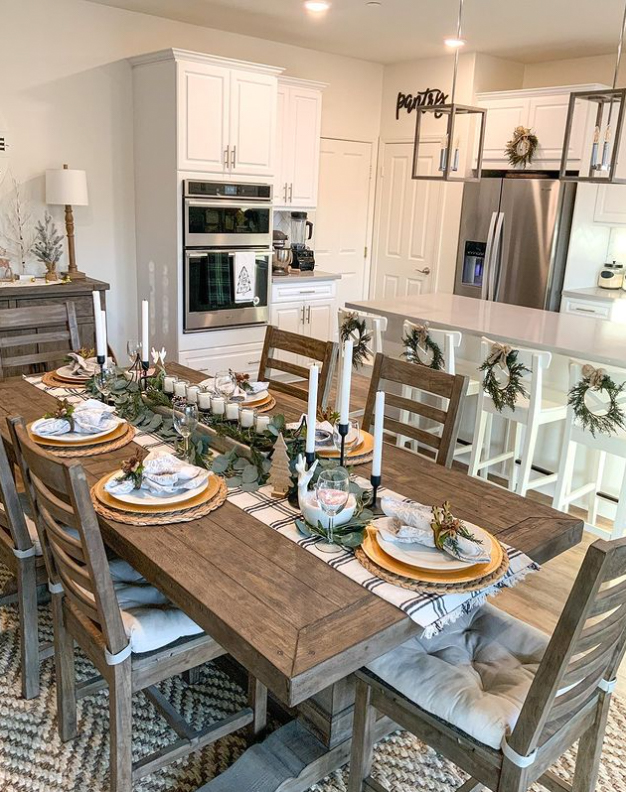 15. Pretty pumpkins
Speaking of seasonal decor, how beautiful is this display. Different sized pumpkins work great as a display down the centre of a table. I love the pastel colour scheme in which there are mostly white pumpkins used and the orange and green pumpkins have been made to look pastel. Plus how sweet are the little white pumpkin-shaped plates!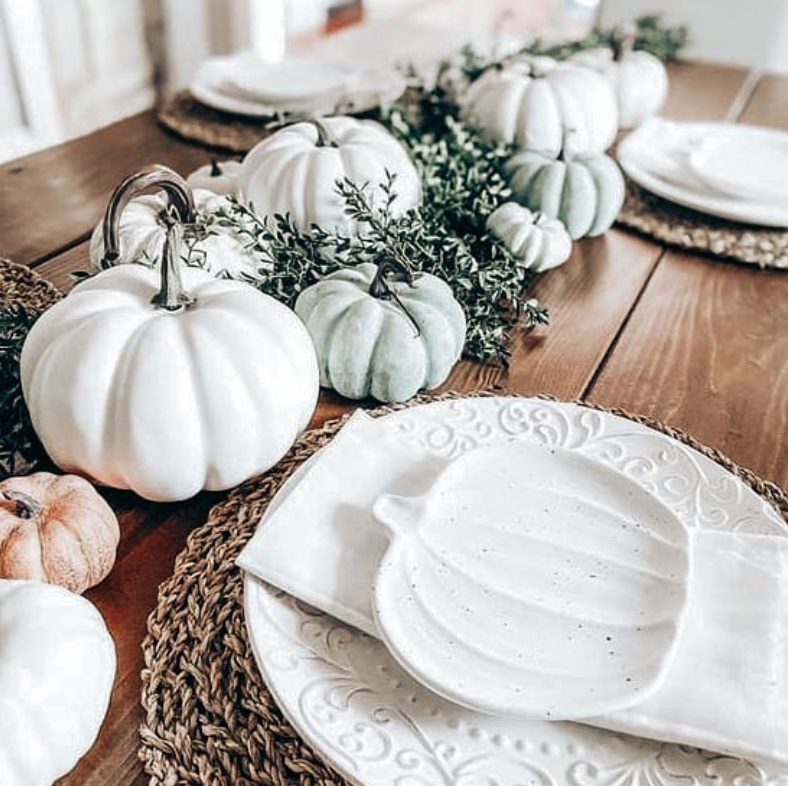 16. Vintage farmhouse
This dining room is giving me vintage farmhouse vibes. I love the antique style cabinetry which has been painted in a beautiful light blue colour. And the cream-coloured dining setting works well to give a beautiful soft look to the space. I can just imagine the many delicious meals that are shared around this table.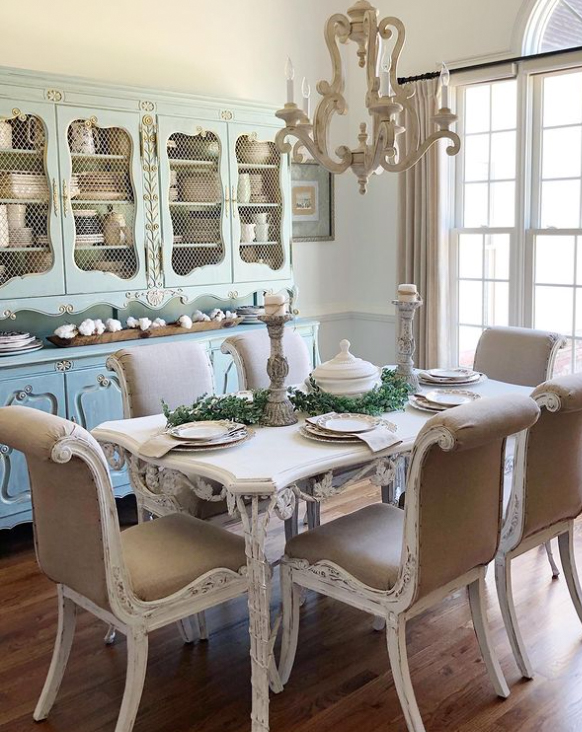 17. Straight from the oven
There's nothing quite like devouring something that is homemade and straight from the oven. I can just imagine the beautiful smells permeating from this dining room. And how lovely is the green garland running down the middle of the table which goes so well with the greenery that is placed up the staircase. What a sweet farmhouse dining room!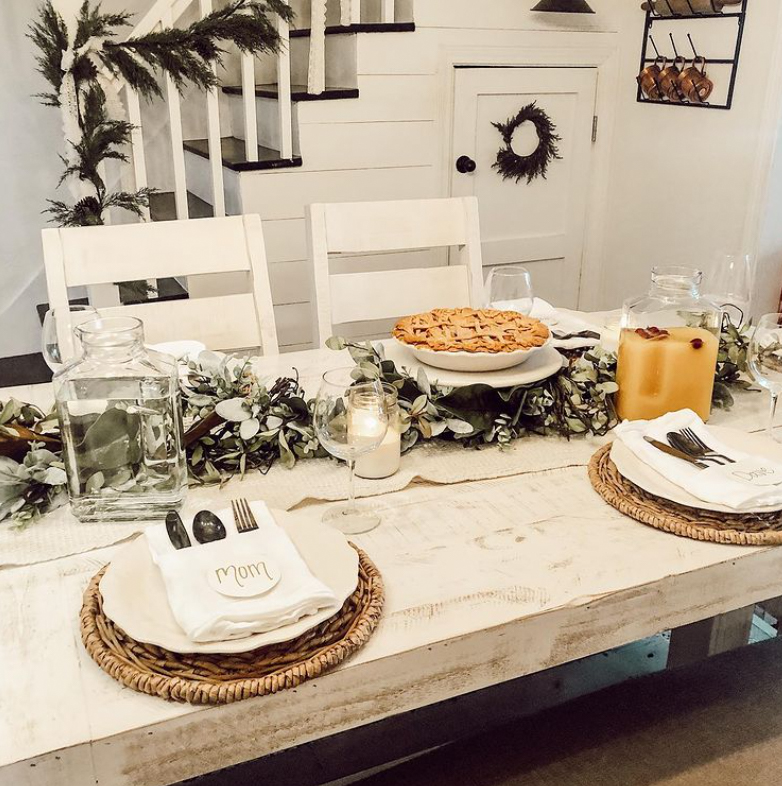 18. Mix up the seating
A farmhouse rustic style means that you can change up the seating and mix and match. This is perfect when you need a chair repair, or worse – beyond repair!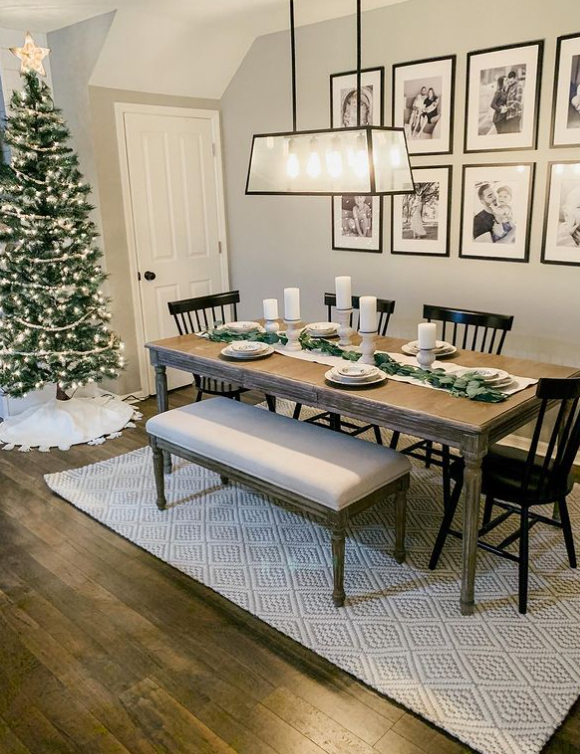 19. All around
How lovely is this round dining table setting? I love the timber finish of the table which works so well with the black chairs. And the red and green decor make this space feel so Christmassy and somewhere I would love to spend Christmas lunch!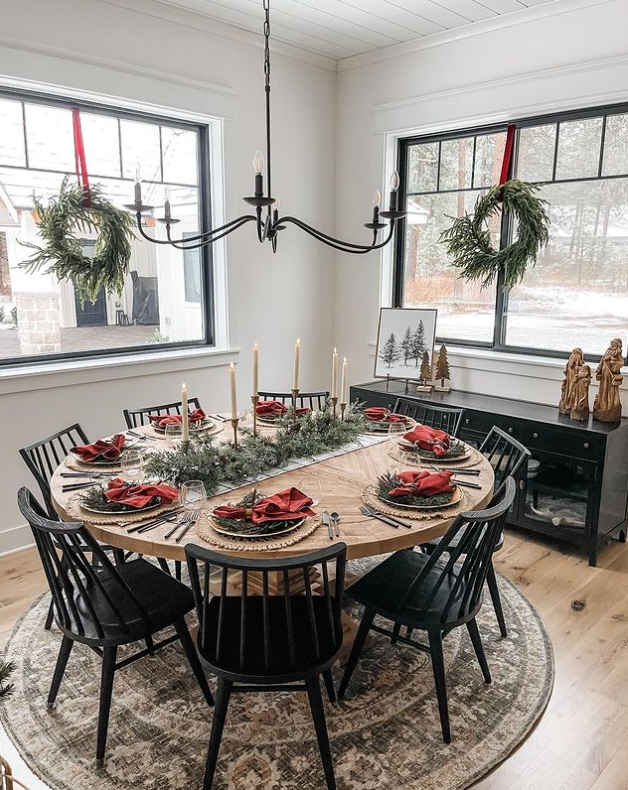 20. Cosy little nook
Check out this cosy little nook! If you have the space for it, a nook like this is such a good idea to put next to your kitchen for informal dining. Plus how sweet are the wrap-around windows that help to bring some natural light in? Make sure to put a cushioned surface to sit on as well as some cushions for comfort!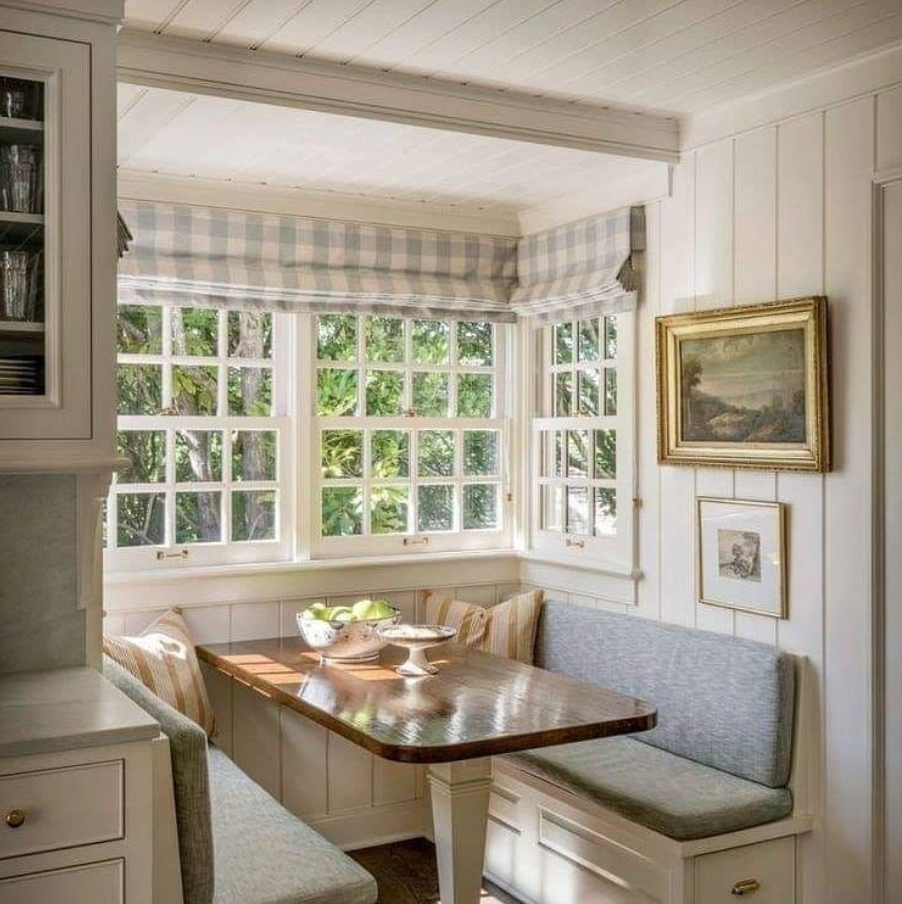 21. Little friendly cow
If you really want to give that farmhouse effect, then putting a cute little farmhouse animal on the wall like a little friendly cow will do the trick! I love the sweet little face on the wall that is the perfect little dining room companion! Plus the white washed finish of the dining table and chairs give such a beautiful rustic look.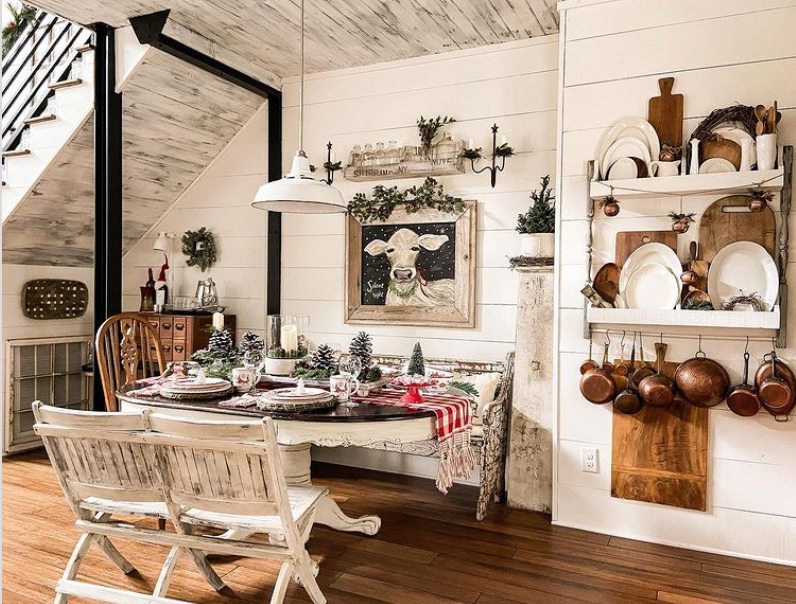 22. Gingham and charcoal grey
I love the addition of the black and white gingham chairs that help to add pattern and character to the area. Plus how lovely is the 'farmhouse' sign sitting pretty on top of the cabinetry which really helps to define the meaning of farmhouse.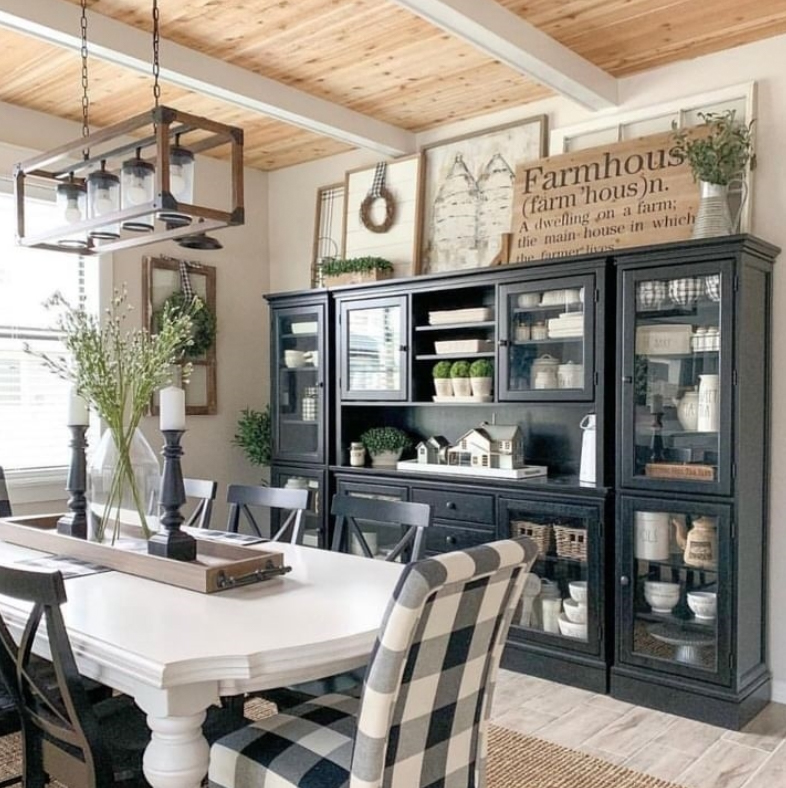 23. Blue bottles
How sweet is this farmhouse dining room! I love the collective of blue vintage glass bottles and jars on the shelf which are the perfect blue to match the bench seat. What a stunning combination of wood, white and blue. So simple, yet so effective.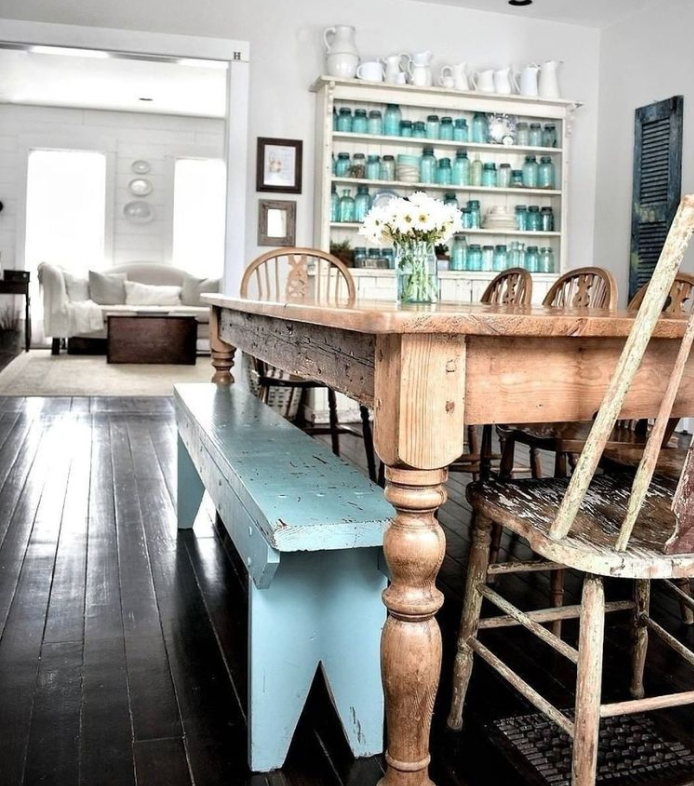 24. Window wall decor
If you're a lover of stained glass windows and want to create that look without having to install actual windows, then these faux window wall decor pieces are a great idea. Put two on the wall to create symmetry and you can even add a cute little wreath on top to give them that farmhouse touch!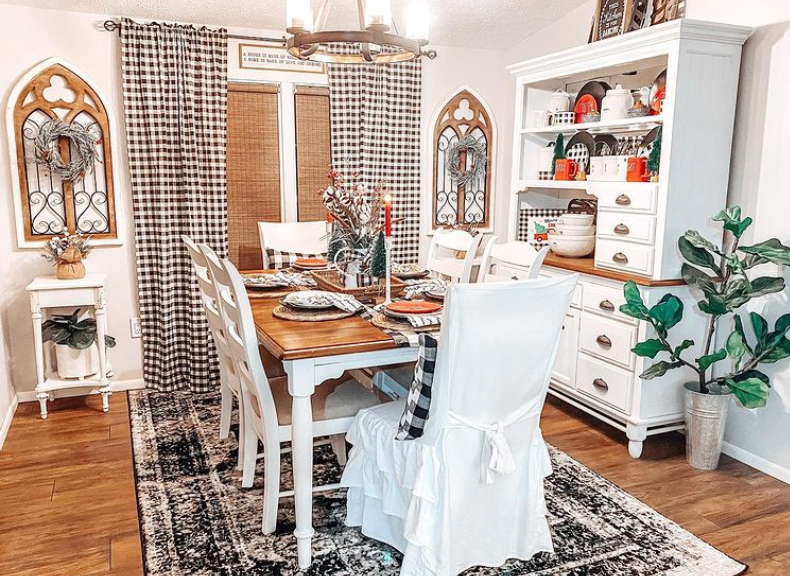 25. All eyes on me
Here's another lovely little friend on the wall watching you while you eat! If you own cows, you could even have someone illustrate one of your favourite cows and put her darling little face on the wall. Simple decor and furnishings are all you need when your artwork is this stunning and eye-catching.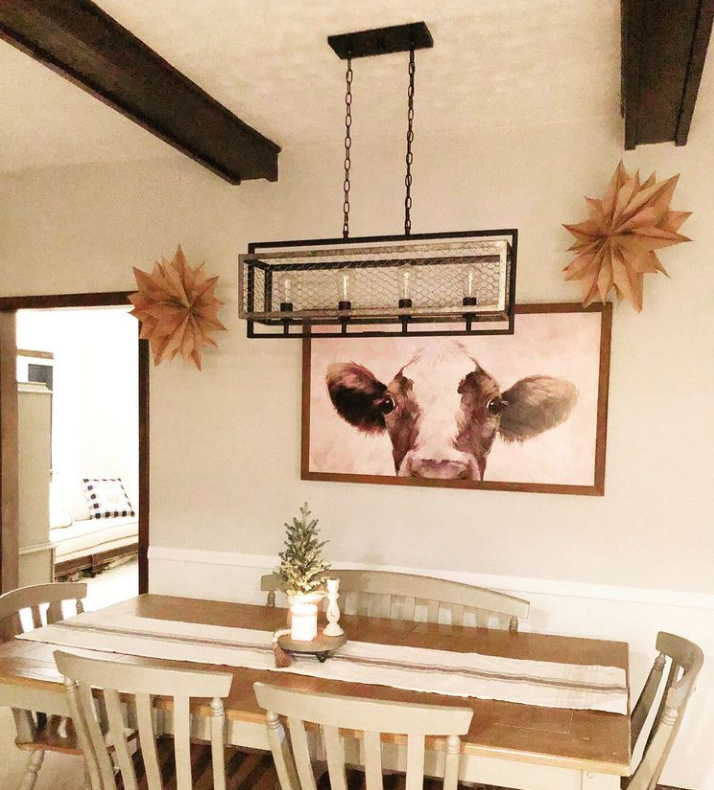 26. Moss and mustard
If you want to add some colour to your farmhouse dining room, then moss green and mustard are a beautiful combination! This dining room is a great modern take on a farmhouse with all the rustic finishes and beautiful bunch of wildflowers in the middle of the table as the centrepiece.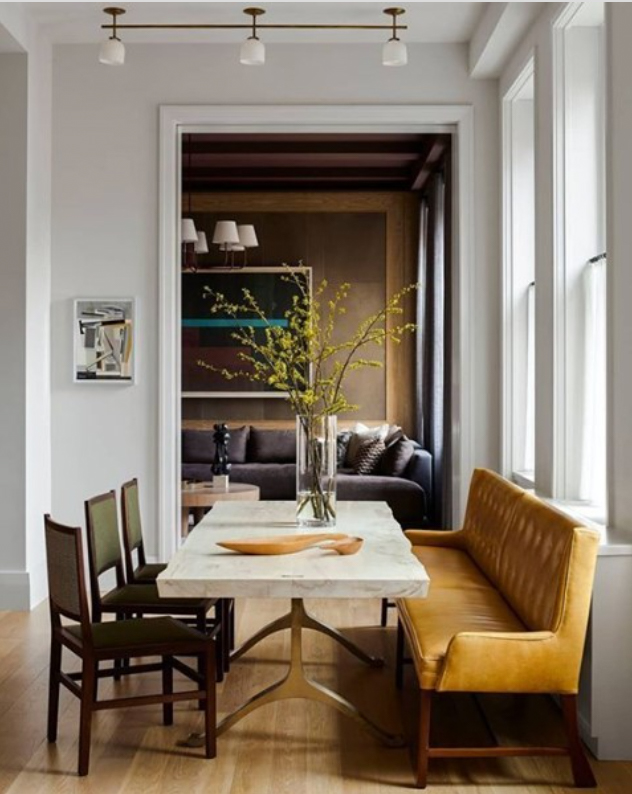 27. Bench seats
Bench seats are a great way of bringing the 'picnic vibes' inside and to create a more informal dining atmosphere. You will feel like you're sitting on a park bench to eat, but with all the homely touches. And there is another lovely 'farmhouse' sign sitting above the window plus a gorgeous oversized clock!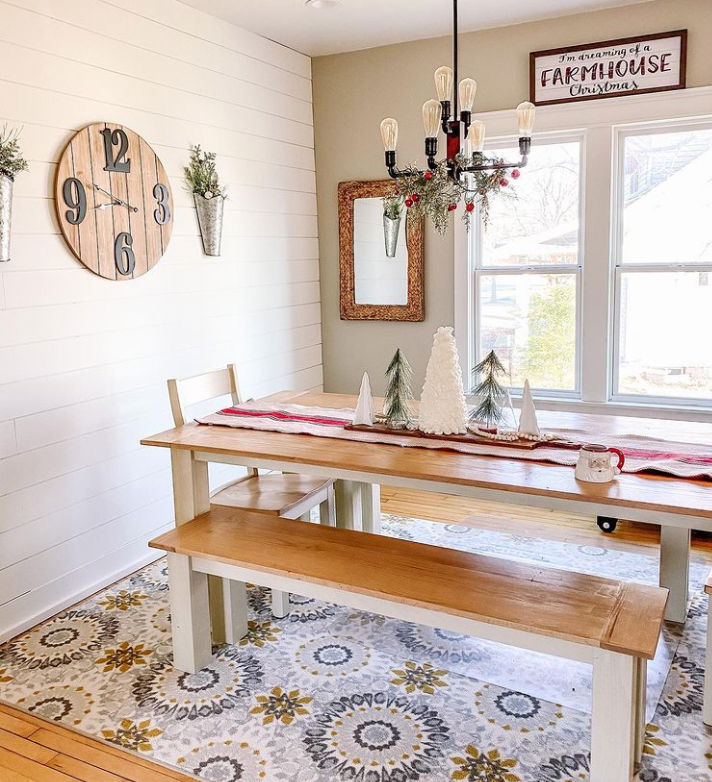 28. Modern farmhouse
Oh, I just absolutely love this modern farmhouse dining room. This is the type of dining room I would absolutely love in my dream house. I love the simplicity of the wooden table and chairs against the simple white wall and timber flooring. Plus how gorgeous is the rose gold lighting fixture above the table which matches so well with the candlesticks along the centre of the table? Absolutely stunning!
29. Family room
If you have a dining room next to your family room, that means when you have had too much to eat, you can just roll on over to the family room and get into your food coma in peace. Adding a lighting fixture above the dining table and a rug underneath the table to define the area is a great idea in open plan living.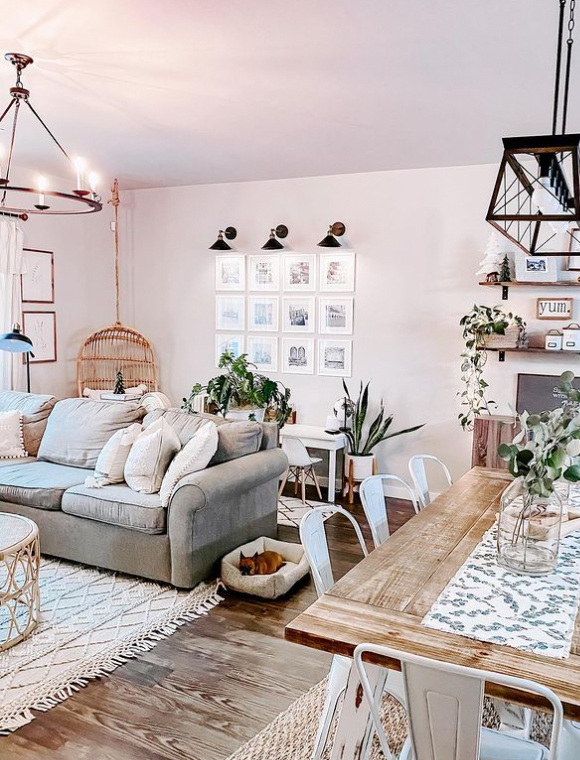 30. White and wood
Ah, one of my absolute favourite combinations; white and wood! I love the simple white walls with the exposed bricks on the wall which has been painted white. And the white and wood table with the bench seating looks stunning along with the regular chairs for those who prefer to sit on something with a bit more cushioning.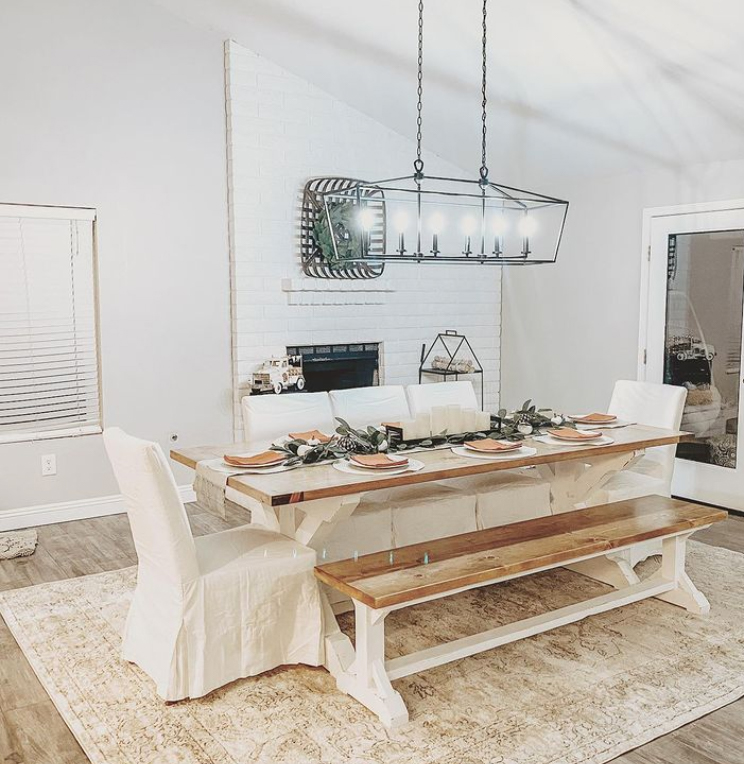 31. Dark wood
If you have dark wood in your home but still want to achieve a farmhouse look, then take some inspiration from this sweet dining room. I love the dark wood chairs, drawers and cabinets which look lovely with all the white crockery on top as well as the greenery to decorate.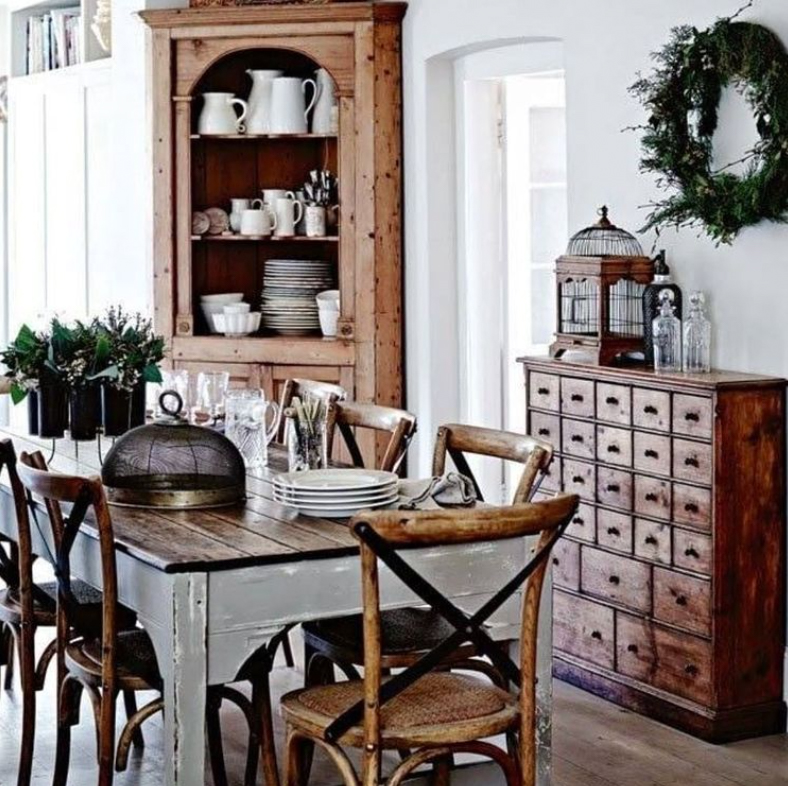 32. Woven finishes
Woven finishes are not only so on-trend at the moment, but they also look great in a farmhouse-style setting. And I absolutely love the woven dining chairs used in this farmhouse dining room. The woven finish matches so well with the woven finish of the roman blinds and the rustic lamps used to light up the table.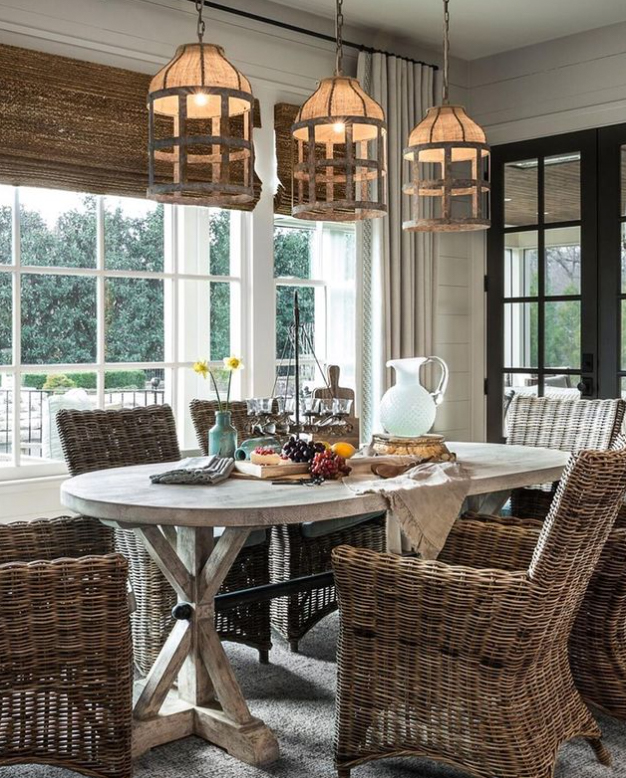 33. Alternating chairs
Alternating miss-matched chairs helps to give a rustic and farmhouse look to your space. I love the black chairs which match so well with the black chandelier as well as the white chairs which match with the white cabinetry. Just add some tall candles and greenery down the centre and voila!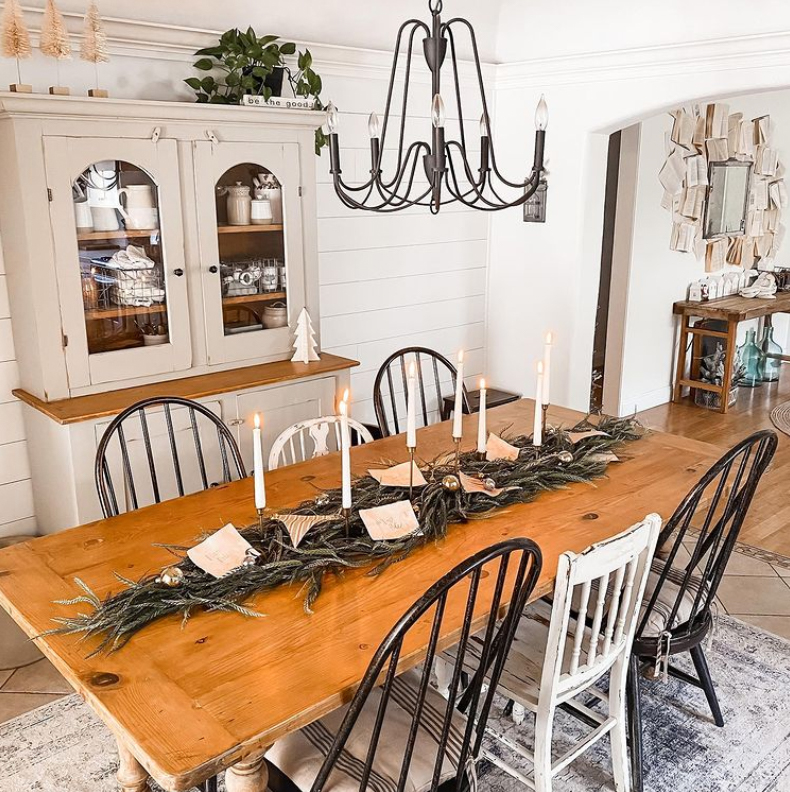 34. Grey and mint
How stunning is this colour combination of grey and mint! I love the soft grey tones throughout the space which match so well with the subtle mint coloured chairs and rug. I can just imagine this kitchen and dining area being an awesome farm to plate kitchen with all the most amazing produce conveniently growing outside and ready to put into any meal at a moment's notice.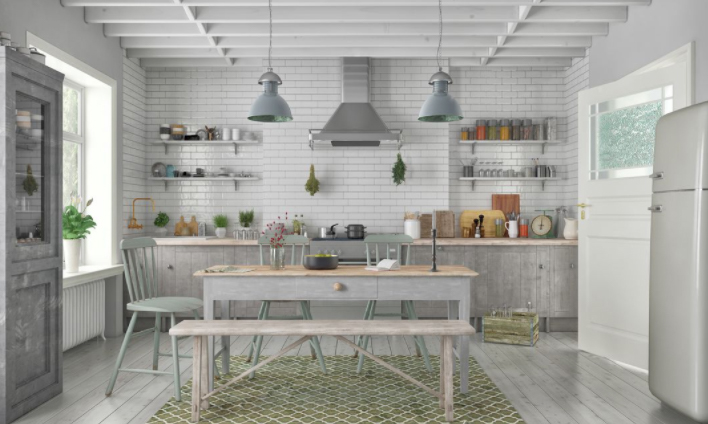 35. Serene space
Everything about this farmhouse dining room just gives me the most relaxing and calming feelings. I love the subtle blue tone in the rug which is a beautiful relaxing colour. And the wooden tones of the dining table and chairs are so soft. I would love to have a long lunch here or a dinner party here. What a serene space.
But with the light colour, you're definitely want to find a professional rug cleaner to get rid of all the stains after a dinner party.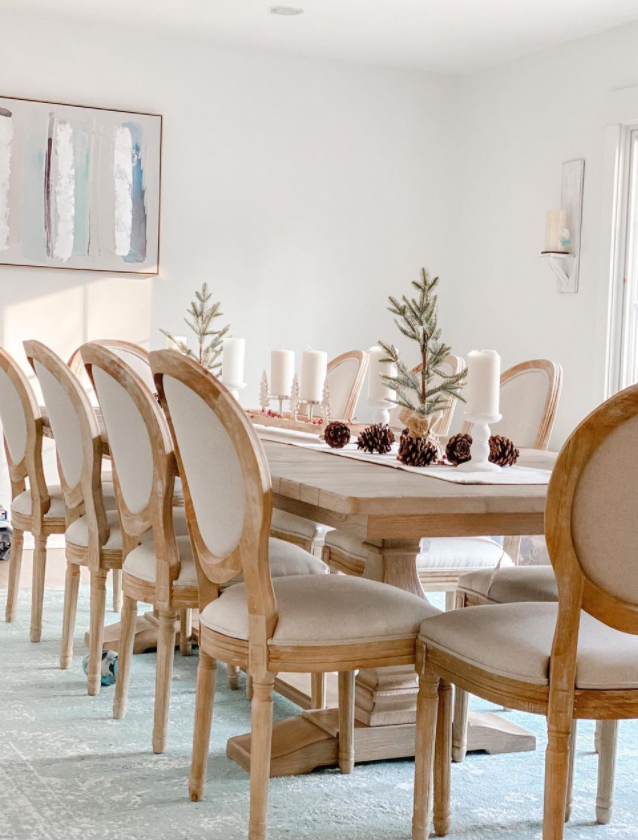 36. Scandi meets farmhouse
This room is the epitome of Scandi dining room meets farmhouse. I love the simplicity and Scandinavian style of the minimalist furnishings as well as the rustic finishes of the dining setting and decor pieces. What a cool space to relax in.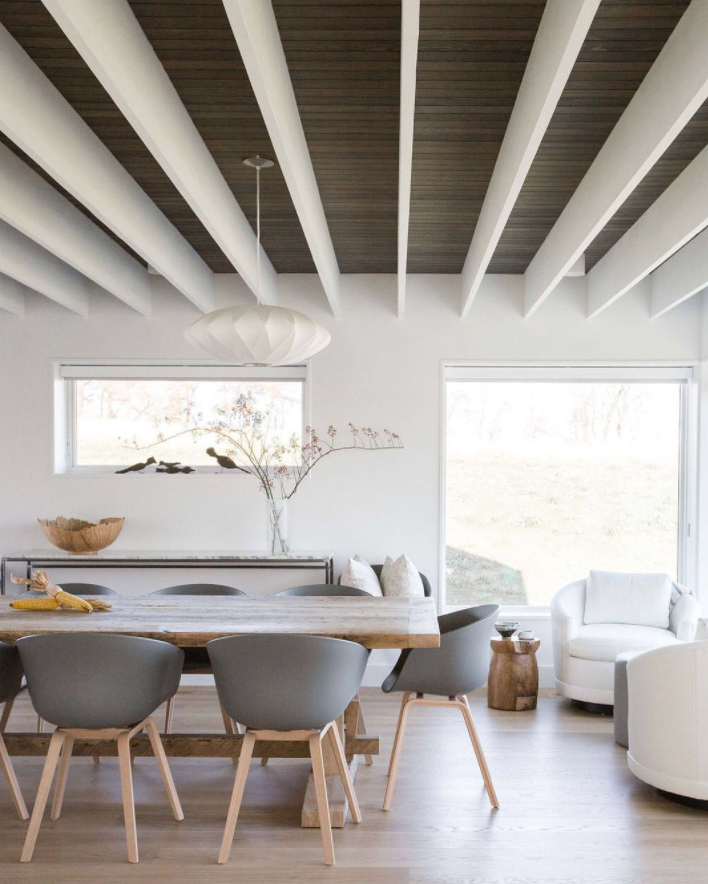 37. Brown tones and greenery
Oh, I just love the combination of the brown tones in this space through the dark wood cabinetry and vintage-style chairs with the woven detailing. Plus how stunning is the black dining table together with the black console table to display the beautiful green palm leaves that look like they have been freshly harvested from the garden.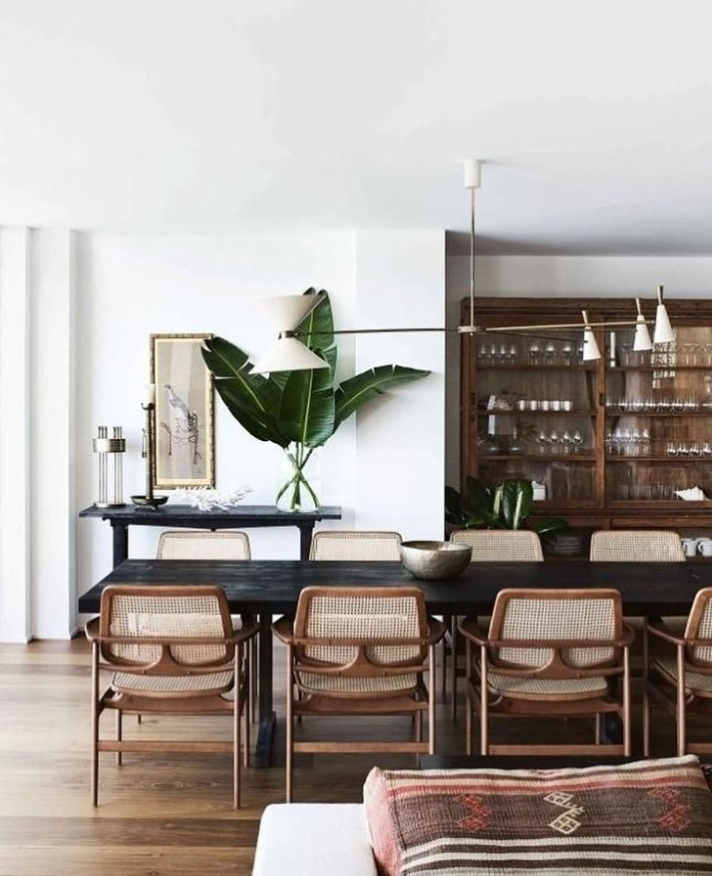 38. Feature wall
Painting a feature wall is a great way to inject some colour into your space. And if you're ever wondering what colour to go with to match the wooden and natural tones in your farmhouse dining room, then  go with blue. Blue is calming and matches so well with neutrals. I love how the rug in this room has hints of blue in it which really help to bring the space together. If you love an eye-catching wall, here are plenty more feature wall ideas.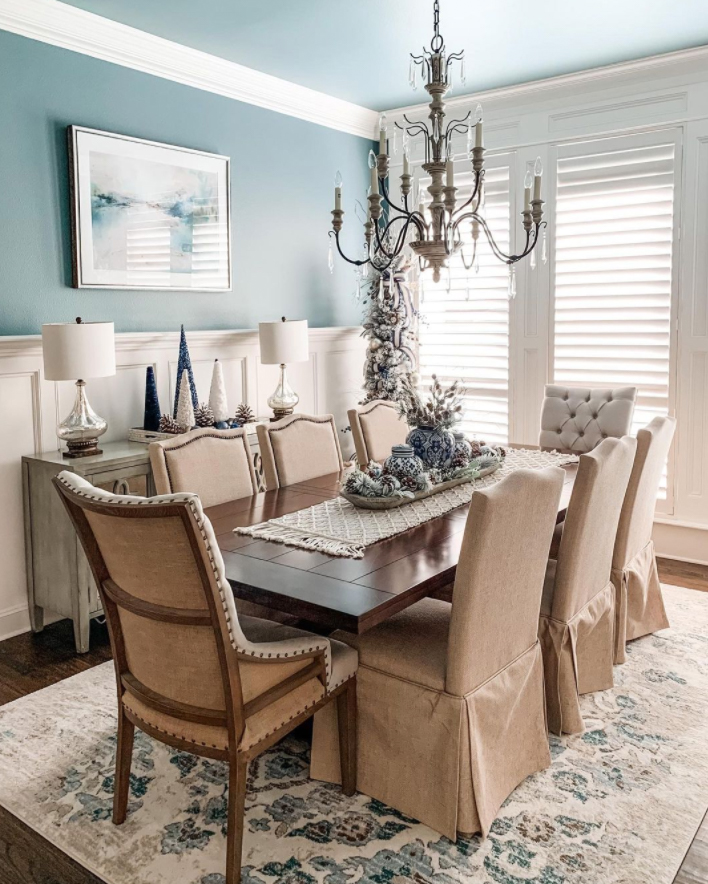 Source: Stager Roz
39. Large rug
If you have a large space and you need help defining where the dining room starts and ends, then putting a large rug on the floor is a great way to go. I love the large rug over the timber floorboard which has just the right amount of pattern and colour to help make this space seem more cosy and welcoming.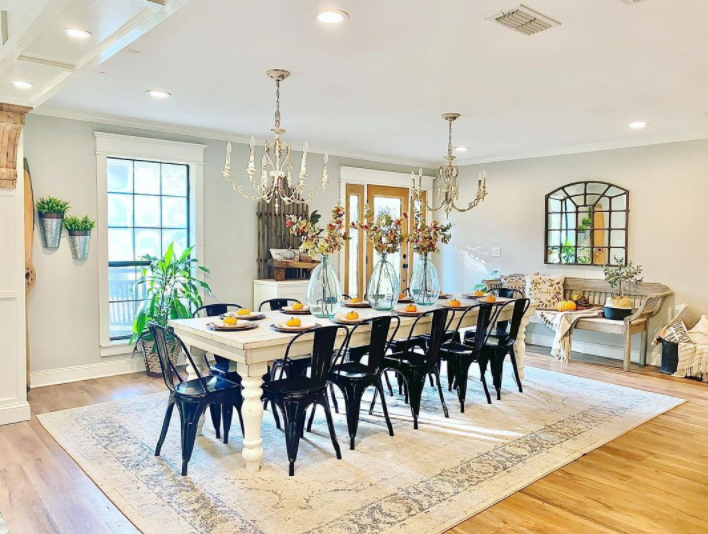 40. Black and gingham
And last on the list is another beautiful space that has incorporated one of the best patterns in achieving a farmhouse look: gingham! I love the black and white gingham chairs at either end of this farmhouse dining room that match so well with the black chairs and white dining table. What a gorgeous, homely and comfortable space to dine in.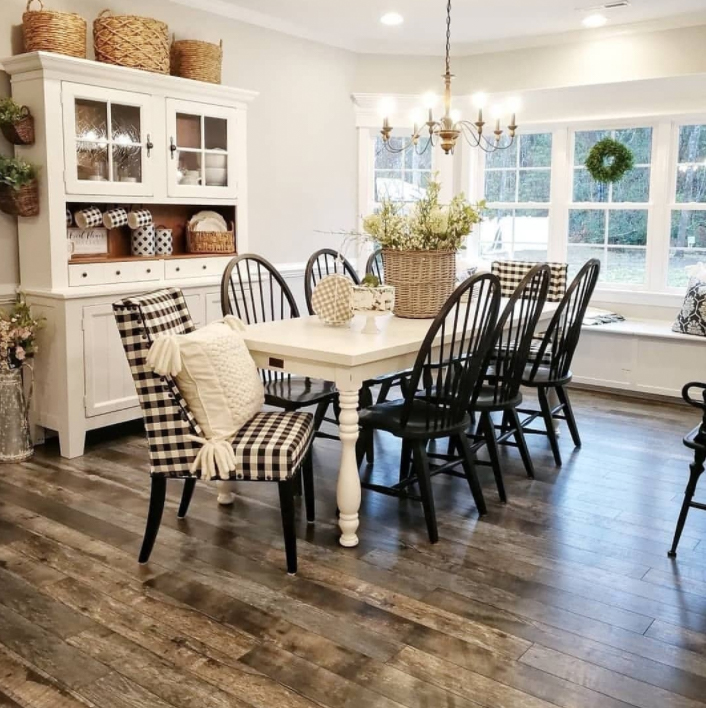 And there we are with 40+ farmhouse dining room ideas to give you inspiration in the wonderful world of farmhouse design. It's no secret that I love the rooms that incorporate gingham patterns as well as the dining rooms with rustic touches like whitewashed furniture and mismatched seating. What were your favourite farmhouse dining room ideas? Let's chat all about it in the comments below!