Both the workforce and workplace have undergone dramatic changes in the last two decades. Workers once flocked to larger towns and cities to earn a better living or advance their career goals in the traditional 9-to-5 economy.
Today, though, how and where people work is no longer defined by set hours or spaces.
What attracts so many people to the world of freelancing? To gather a feel for this growing workforce, we surveyed nearly 950 freelancers on the skills they utilise to earn a living, along with the barriers they face to survive in a different environment. Keep reading to see what we discovered.
Gigs continue to grow
Recent studies predict that by 2027, more than half of the U.S. workforce will be comprised of freelancers, assuming this growing trend continues. In fact, 47% of millennials say they currently perform freelance work in some capacity.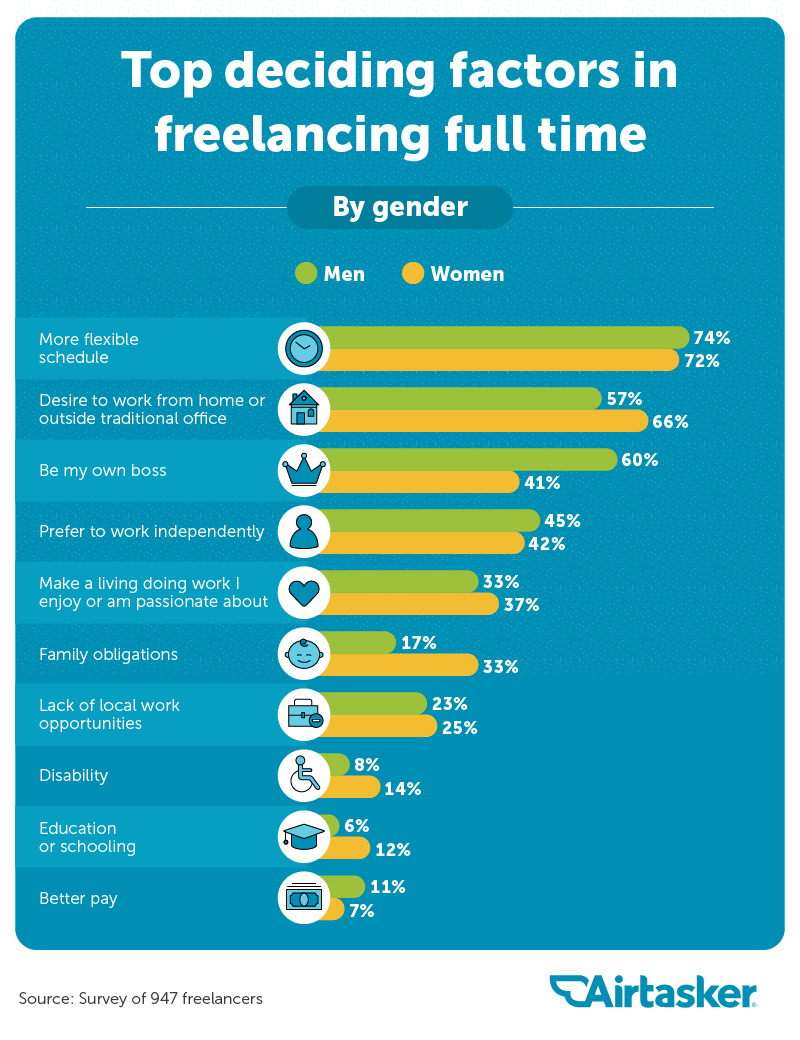 There are many advantages to freelancing. Both men and women in our survey agreed the most significant one was a flexible schedule. Some people perform best during the early morning hours, while others don't hit their stride until after 6 pm. As long as deadlines are met and quality work is submitted, freelancers are typically in complete control of their work hours.
Being your own boss and working from home (or outside a traditional office) were another 2 reasons workers found full-time freelancing attractive.
Parents can take their kids to school or make weekday doctor appointments without having to worry about making the boss angry if they return later than anticipated. And what's to keep a freelancer from making that Tuesday morning tennis clinic or yoga class if they are caught up or between projects?
For just under half of male and female freelancers – 45% and 42%, respectively – independently working was a bonus. One-third of female freelancers also cited family obligations as a factor, while one-third of men said freelancing allowed them to fulfil their professional passions.
While many reasons for freelancing were attractive to our respondents, only 11% of men and 7% of women said they chose to freelance full time to increase their earnings.
Is freelancing a choice or a necessity?
For some, freelancing is a choice. Many people prefer a flexible schedule and better fulfilling outside obligations while earning a living. Other times, freelancing is a necessity. After all, how many companies have roles for someone with expertise in 18th-century impressionist art?
Let's begin by looking at which skills freelancers most often use. Forty percent of freelancers surveyed mentioned business skills. This could include consulting, sales, marketing, or any number of areas that businesses need to compete successfully.
Writing was the 2nd most popular freelancing skill. Drafting long- or short-form articles, blog posts, white papers, or technical manuals not only entails crafting easy-to-read, grammatically correct documents, but also a certain amount of research is often required. With today's technology and easy access to the internet, professional writers can work from virtually any location.
Tutoring was another popular freelance skill. Helping students who typically attend daytime classes requires tutors to work late afternoon or evening hours, or even on the weekends.
Some freelance gigs, while good for earning extra income, are difficult to transition into a full-time job, however. Entertainment was a prime example since 64% of respondents found it difficult to achieve full-time status.
Building trades, landscaping, cosmetology, and cleaning services were also seen as gigs that would be difficult to turn full time. Issues such as consumer demand, an overabundance of providers, and other economic issues may even play a part.
Sure, speciality companies hire a lot of construction and landscaping professionals, but depending on the location, those jobs can be finite. Advertising home remodelling or landscaping services are ideal for more rural areas, or for smaller jobs where one or two people can perform the function quickly and at a lower cost. And almost half of cosmetologists – even though they often work in retail salons – are independent contractors who rent their spaces from business owners.
Preferred freelance skills
Do you think a freelance career is right for you? What skills do you have that other businesses can use?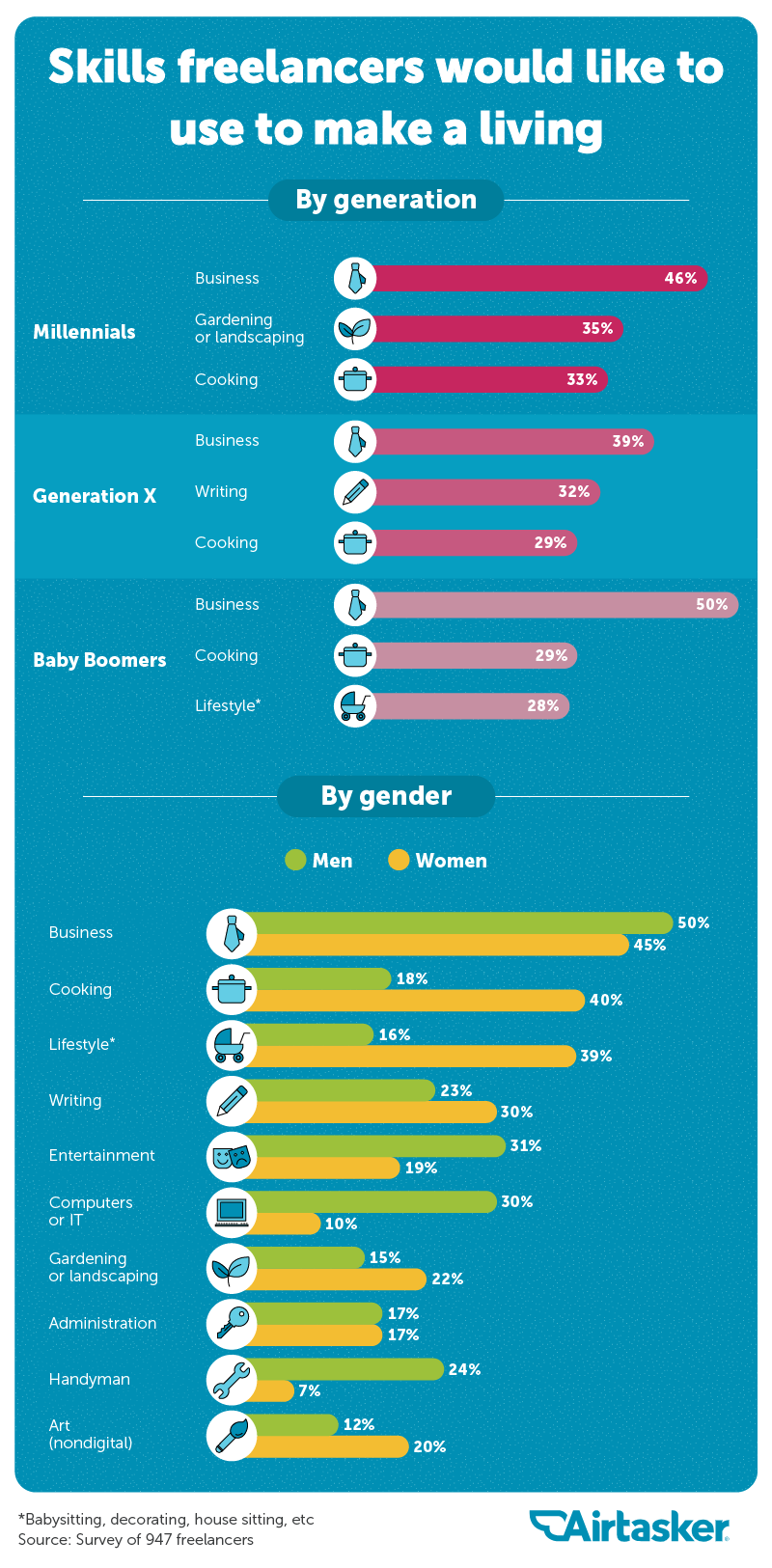 For almost half of our respondents, business skills topped the list for freelance success for all generations. It's a broad range, but if you have expertise in a specific area of business, then offering your consulting service may be your ticket.
Most everyone loves food, so it's no surprise that 33% of millennials and 29% each of Gen Xers and baby boomers would like to make a living cooking, baking, or operating a catering company as freelancers. Freelance chefs can often find jobs on cruise ships, travelling entertainment productions, or working for individuals and families.
Writing content or copywriting was also a skill 32% of Gen Xers would like to use to make a living. Think about it for a moment. How much does the average person read each day? Whether it's the latest John Grisham best-selling novel, "how-to" home remodelling articles, blogs, or news reports, someone with the skills and expertise had to put their fingers to a keyboard.
When broken down by gender, men and women had a strong desire to exercise their business acumen. Over twice as many women as men, though, aspired to operate a cooking business or work as a lifestyle influencer. Also, creative occupations such as writing and art were more favoured by women than men.
If given a choice to enjoy freelancing, men tended to favour computer and technology roles, along with entertainment and handyman tasks.
The reality of full-time freelancing
Sitting poolside with your laptop while chatting up clients who transfer 5-figure payments into your account each month sounds nice. For some freelancers, living the dream is, well … a dream come true. But before you hit pay dirt, a few obstacles could stand in your way.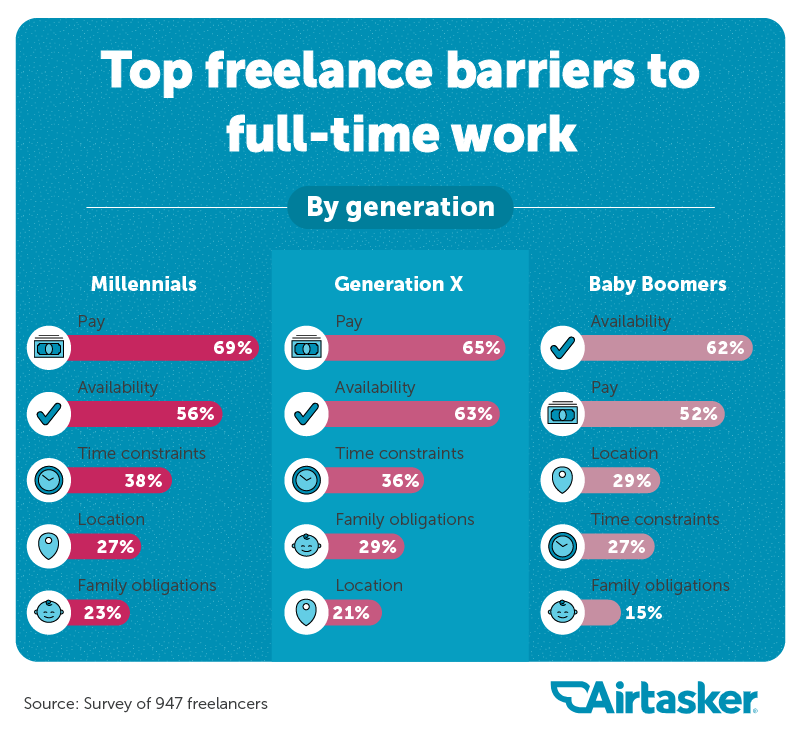 For almost 70% of millennials, money was the most substantial barrier to claiming full-time freelance status, followed by securing enough work.
Gen Xers also mentioned a lack of pay and availability of work as a deterrent to freelancing. However, an obstacle they ranked higher than other generations was family obligations.
The most significant barrier for baby boomers to transition into full-time freelancing was finding enough work, followed by pay. Many freelance opportunities today require intermediate to advanced computer skills. This could be one reason why those without ample training and skills find good-paying freelance work hard to find.
Baby boomers often have extensive knowledge they can put to use, such as personal care services, sales, and business.
What Australian freelance gigs pay
Another portion of our survey measured how freelance workers in Australia make money in the "gig economy."
If you have building and construction skills, you can earn an average of $207 per task in U.S. dollars in Australia, the most of any gig. Electrical work ($150), followed by design ($143) and handyman tasks ($142), occupied the 2nd, 3rd, and 4th spots, respectively.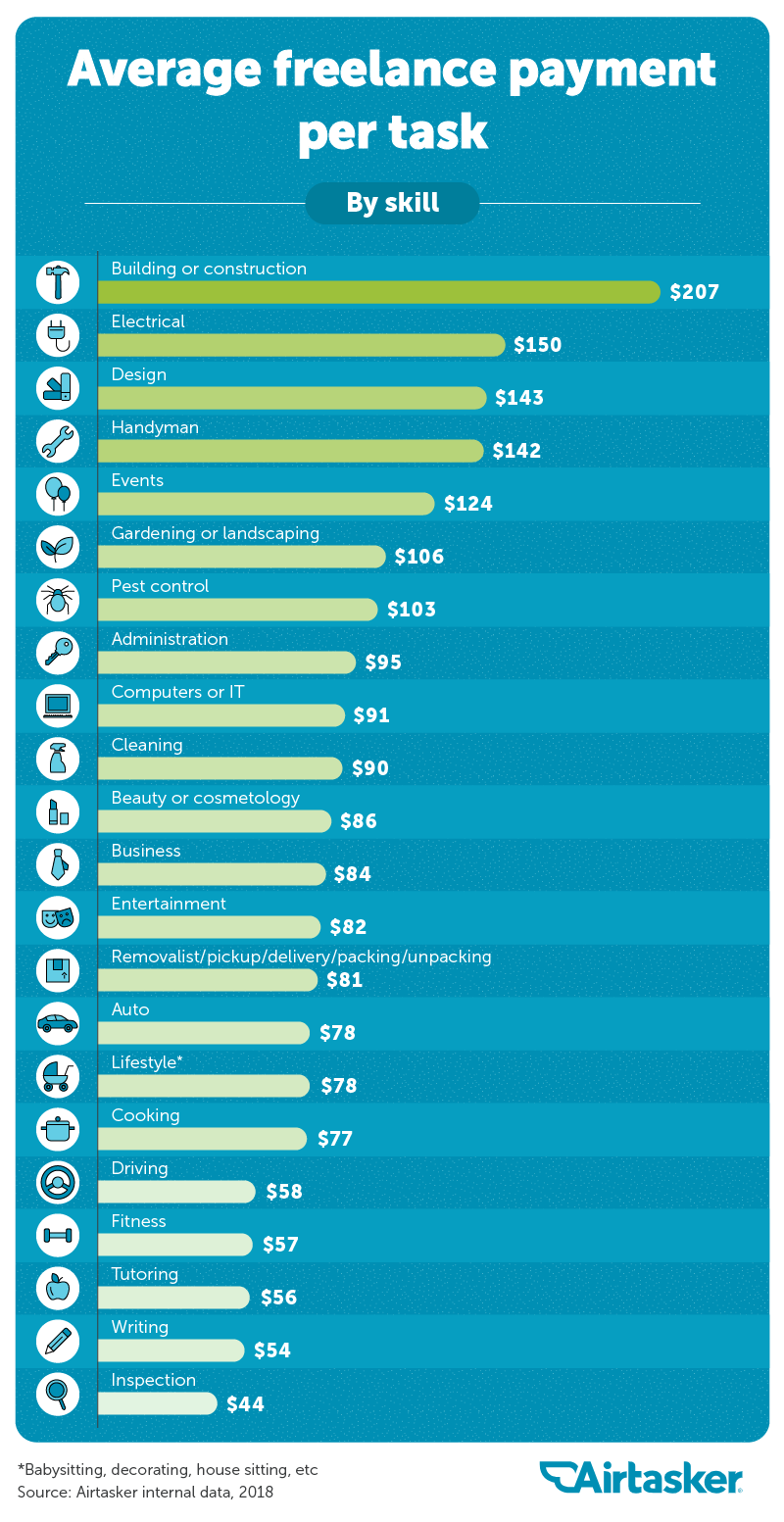 Working events – the 5th most popular Australian freelance gig – paid an average of $124 per task. Surprisingly, computers and IT, along with business projects, only averaged $91 and $84 for each job, respectively, far below what some U.S. programmers who command rates as high as $1,000 an hour can earn.
Drivers and fitness trainers, along with tutors, writers, and inspection providers, found themselves at the lower end of the pay scale in Australia.
Australian data broken down by task and month
To get a better feel for the demand and pay of the 5 most popular freelance tasks in Australia, we evaluated them by month. Keep in mind that the warm, summer months of June, July, and August are cooler in Australia's Southern Hemisphere, with December through February being warmer.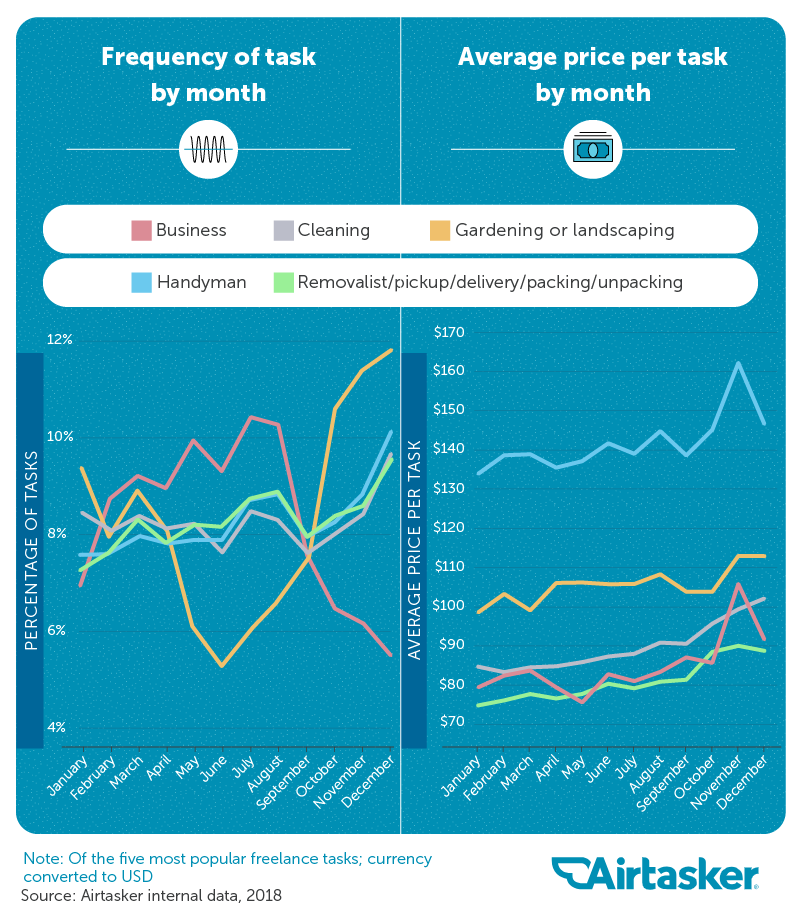 Freelancers who specialise in business, cleaning, gardening, handyman services, and removal/pickup all have their busy and slow times.
Except for business freelancers, whose work drastically decreased around August, all of the other categories saw upticks in the frequency of tasks during Australia's warmer months.
Gardeners began to see their business increase at the first signs of warmer weather, reaching their peak in the hot summer months when they also could command over $110 per task. However, in June, when the demand for gardening services was at a low point, their average pay per task slipped a few dollars.
Handyman freelancers saw the most significant pay spike between mid-September and November when their rate jumped from just under $140 to over $160.
Business consultants, who in May only commanded around $75 per task, reached their peak earnings in November with about $110.
Online task rates and popularity
Many tasks, such as writing, IT and computer-related projects, and other freelance jobs, are completed remotely or online, which is one reason many people are attracted to the "gig economy."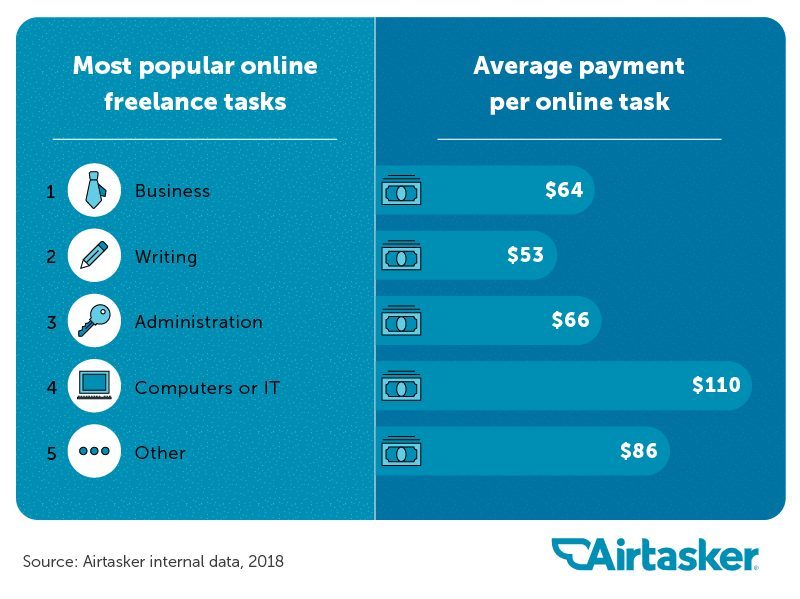 Of the 5 most popular freelance tasks in Australia that can be performed online, the most profitable was computers and IT, which averaged $110 per project and was No. 4 on the list. However, if you perform freelance services in Australia, you'll need an Australian Business Number (ABN), which recognizes you as a business and allows you to invoice clients.
Business services were No. 1, with an average per-job rate of $64. In fact, data entry is one of the top freelance opportunities in Australia, as is working with Excel spreadsheets.
Content and copywriting is an online freelance gig whose demand is gaining steam. Although it was the 2nd most popular freelance task, the average job rate was the lowest of the top 5 tasks at $53.
Administration tasks were also popular, with freelancers averaging about $66 per job. The "other" category ranked 2nd in pay at around $86 per job.
Gig dollars in Sydney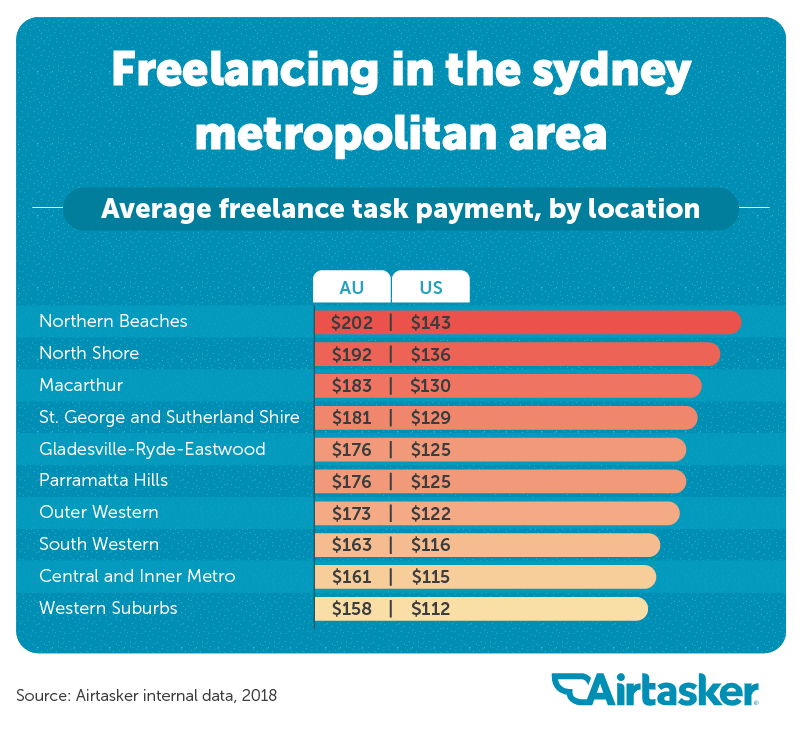 Freelancing in Australia has increased in recent years as more businesses outsource their work. Duties such as website development, social media management, and other technical roles are now being handled by a growing number of freelancers.
Looking at how much freelancers earn in Sydney, the area known as the Northern Beaches was where freelancers could earn an average of AU$202 per task – the equivalent of $143.
The North Shore and Macarthur areas paid freelancers an average of AU$192 and AU$183 per task, respectively – slightly more than St. George and Sutherland Shire and Parramatta-Hills.
Gigs in the Western Suburbs paid the least per task, averaging AU$158, or $112.
Freelancer freedom
Gig work has become a desirable way of life for many professionals, who cited a more flexible schedule and working outside of a traditional office as motivators for pursuing their freelance careers. While there are barriers to being successful in any field, freelancers thought the entertainment industry, building and construction, and gardening or landscaping were the most difficult to break into as full-time careers.
One thing is for sure: Life is full of opportunities. Whether you're looking to find help getting work done or looking for a side hustle, Airtasker.com can connect you to the right person.
Methodology and limitations
For the first graphics, we surveyed 947 freelancers about the skills they use to generate income, the skills they wish they could use to generate income, and the largest barriers to making their freelance gigs their full-time jobs. Fifty-one percent of our respondents were female, and 49% were male.
We used internal Airtasker data from 2018 for tasks completed in Australia. We used the average price per category, location, month, and whether the task was performed online or in person. The currency was converted to U.S. dollars on 28 February 2019.
The data for the survey portion of this project were self-reported by respondents. It's possible that issues can exist with self-reported data, such as selective memory, telescoping, attribution, and exaggeration. We encourage those interested in this topic to perform further research.
Sources
http://www.pewsocialtrends.org/2016/10/06/1-changes-in-the-american-workplace/
https://www.inc.com/niki-hall/4-lessons-mad-men-can-teach-us-about-the-workplace-of-the-future.html
https://www.forbes.com/sites/elainepofeldt/2017/10/17/are-we-ready-for-a-workforce-that-is-50-freelance/#f28ba733f82b
https://www.forbes.com/sites/abdullahimuhammed/2017/05/06/55-freelance-businesses-you-can-start-for-free-tomorrow-morning/#6668420e1bdd
https://www.nisbets.co.uk/how-to-be-freelance-chef
http://research.prudential.com/documents/rp/Gig_Economy_Whitepaper.pdf
https://www.smartcompany.com.au/people-human-resources/australia-most-popular-freelance-jobs-revealed-why-businesses-turning-outsourcing-gig-economy-gathers-steam/
https://freelancinghacks.com/highest-paying-freelance-jobs-earning-steady-income/
https://www.business.gov.au/registrations/register-for-an-australian-business-number-abn
Fair use statement
Would you like to share this insight on freelance work with your audience? As long as it is for noncommercial purposes, please be our guest; all we request is that you link back to this page so that future freelancers can read the complete article.