If you're looking for a timeless design for your new kitchen, then you simply can't go past a Shaker style kitchen. It was one of the most popular choices last year, and this trend is showing no signs of disappearing just yet. But what exactly are Shaker style cabinets?
Where did the Shaker style come from?
Shaker style furniture originated in the late 1700s and early 1800s. It was developed by a religious sect that had guiding principles which were centred on simplicity, utility and honesty. And Shaker style furniture emerged as a reflection of these beliefs.
What is Shaker style furniture?
If you could sum up Shaker style furniture in one word it would be 'unpretentious'. It's simple, repetitive and highly versatile. Shaker style furniture usually incorporates cabinets with recessed panel doors, light finishes and simple hardware.
Why create a Shaker style kitchen?
If you're after a charming design that's very functional and easy to live in, a Shaker style kitchen is for you. The best thing about a Shaker kitchen is that it's highly versatile. It can suit just about any home – from old, traditional suburban houses to country farmhouse retreats to slick modern city escapes.
Shaker furniture can easily be dressed up to go with a more fancy kitchen or dressed down for a laidback space. And it will work in with any other design style – whether you're wanting to create a Scandinavian-inspired space, an airy Hampton's home or a light and bright seaside oasis.
Key features of a Shaker style kitchen
Cabinets
This is the very first place to start when it comes to creating a Shaker style kitchen because it will make it instantly recognisable. Switch out your old cabinets for recessed doors and wooden knobs that are characteristic of Shaker style kitchens.
Wood
Traditionally, Shaker style kitchens have incorporated local timbers in the joinery. For a classic look think material like walnut, pine and maple. However, these kinds of timbers can be extremely expensive. If you're after a more budget-friendly option, consider a cheaper natural wood or even using a wood-look material like linoleum or vinyl panels.
Colours
While classic Shaker style incorporates more wood than colour, today's Shaker kitchens incorporate light or natural tones with white and grey being popular choices. However, darker colours like beige, black and navy blue can still be used to achieve the same kind of look.
Flooring
Keeping in the vein of simple, unstructured kitchens, wood is a natural flooring choice. But any kind of earthy flooring, including pavers or tiles, will work a treat!
Think outside the box
When it comes to designing your very own Shaker style kitchen, it's OK to think outside the box! While traditional Shaker kitchens are void of paint and colour, adding a splash of colour will make your space more contemporary. So feel free to mix things up a bit with different shades of neutrals as well as more bold choices like blue, green and other bright colours.
Another way to switch up this traditional style is to use modern hardware on handles and tapware. It's pretty amazing how a simple change to hardware can completely transform your kitchen style. And there are so many options to choose from, depending on what look you're wanting to create. Silver, gold and brass are always popular choices!
1. Make it blue
We're kicking off the list with something a little bit different – a blue Shaker style kitchen. While blue isn't a traditional Shaker colour, it looks great with the recessed panelled cabinets and brightens up this white space.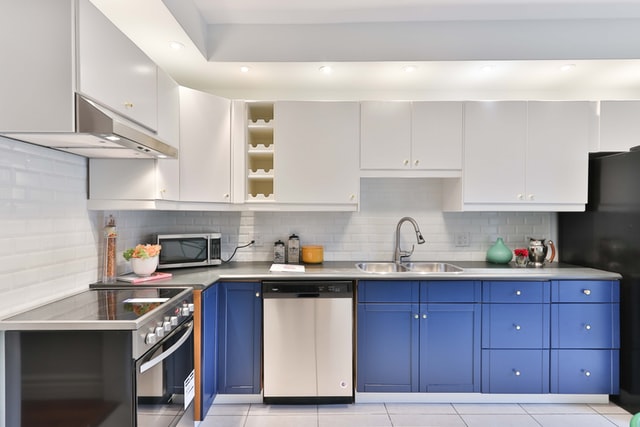 2. Simple grey kitchen
This Shaker style kitchen is modern and clean. Grey is a colour that has been oh-so-popular for the last few years, and it's easy to see why. It adds another dimension to your kitchen design. And the best thing about grey is that you can use it in multiple shades – from dark to light and everything in between.
If you love this and want more, here are some more grey kitchen ideas.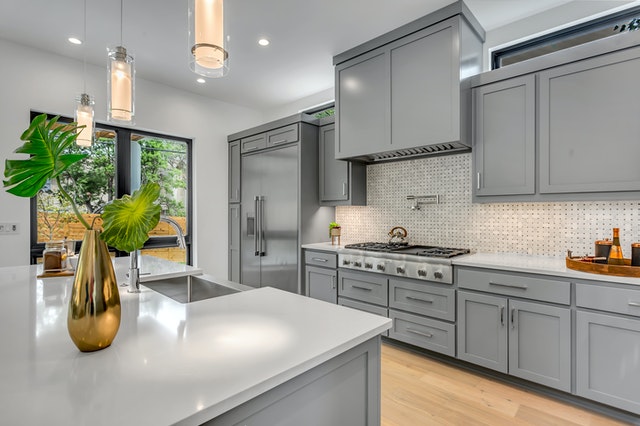 3. Farmhouse sink
The perfect sink for a Shaker style kitchen? The farmhouse sink. It adds a rustic, lived-in feel and it looks chic with sleek silver tapware.
4. Scandinavian style
While Shaker style kitchens originated in the US, they're known for incorporating Scandinavian elements. Take this kitchen, for example. It sticks to the simple light timber, white and grey shades commonly found in Scandinavian homes. But it also uses Shaker style cabinets with recessed doors.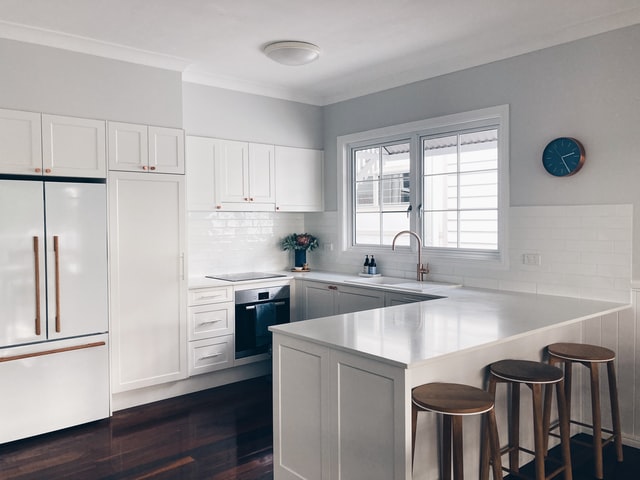 5. Navy blue Shaker kitchen cabinets
Navy is a favourite colour of mine! Navy blue is the perfect choice if you're wanting to add colour without going too bold. It always looks elegant and works beautifully with neutrals.
6. Chequered floors
While natural flooring is the preferred option for Shaker style kitchens, there's no reason why you can't have a bit of fun with your choice. I love chequerboard tiles – they're classic and they completely liven up a space.
7. Green and grey
This is a lovely contemporary Shaker style kitchen. I would have never considered these shades of pale grey and mid green together but they're a perfect match. And statement appliances really top off the space!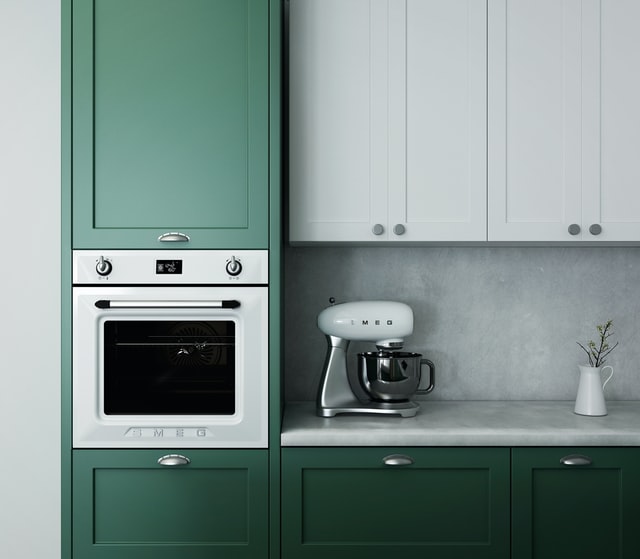 8. Make it rustic
Shaker kitchens are simple – they use minimal design elements and stick to natural materials. So for example if your kitchen has a beautiful exposed brick wall, keep it in! It will only add to the character of your space.
9. Modern farmhouse
This is not your average country kitchen. It's infused with modern glamour while retaining traditional elements with hints of wood and brass knobs. And I like how stainless steel has been incorporated for a contemporary finish in this farmhouse kitchen.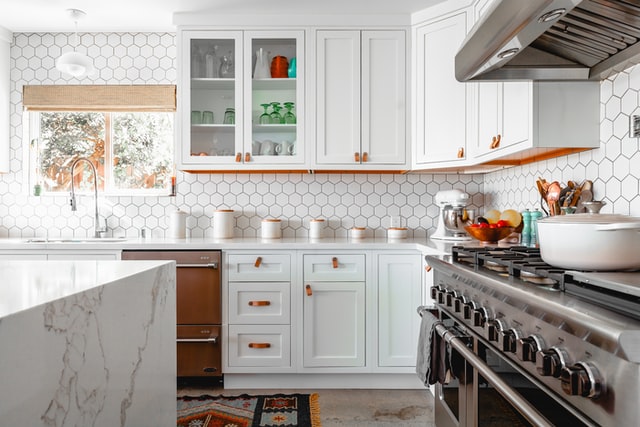 10. Add an island
Make the most of your large kitchen by installing a huge island using the same Shaker style cabinetry as the rest of your kitchen.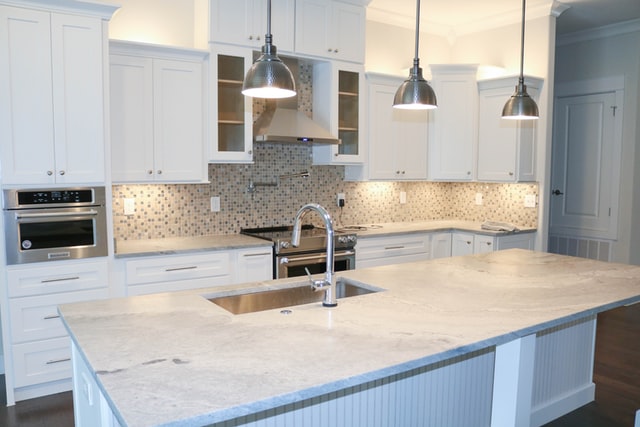 11. Patterned splashback
Have a bit of fun with your Shaker kitchen by installing a fabulous mosaic splashback. This is one very simple way to inject character to your space!
12. Dark timber
And at last, here it is – the timber-style cabinetry that is a hallmark of traditional Shaker style kitchens. I love how the dark-coloured timber has been combined with brass handles to create an ambient, chic look.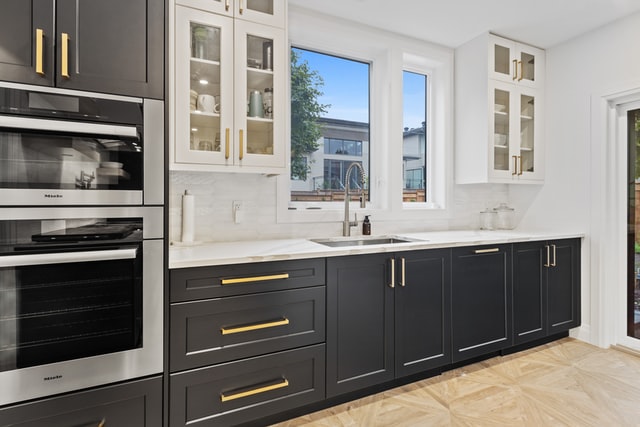 13. Timber flooring
True to traditional Shaker style, your Shaker kitchen might have beautiful polished timber floors. They're a great choice against dark  cabinetry in particular.
14. Decorative posts
If you want to incorporate an additional layer of detail in your Shaker style kitchen, consider dressing up your cabinets with decorative posts. This mimics the style of the rest of the cabinets and drawers but fancies them up for a more sophisticated look.
15. Ambient lighting
Take your kitchen to the next level with strategically placed lighting. Consider elegant pendant lights in twos or threes as well as down lights around your cabinetry.
Lighting design is always very important when you're preparing food and cooking. Here are some more kitchen lighting ideas so that you can pick the right lights for you.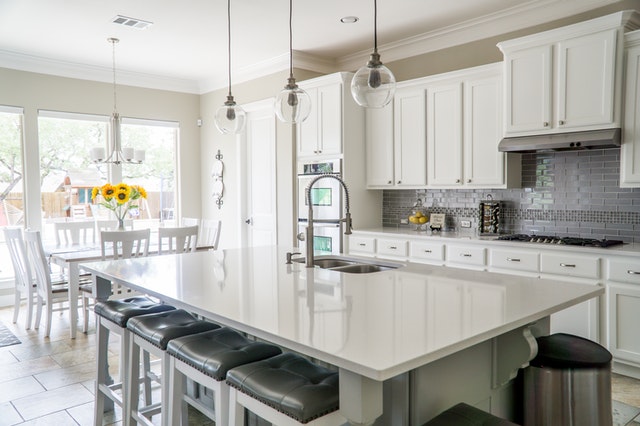 16. Black and marble
I love a good black kitchen, especially when it's glammed up with marble. A marble splashback or counter really adds a luxurious touch to a space. Then you might add timber stools around an island to add warmth and cosiness.
17. Modern black hardware
If you already have Shaker style cabinets but want to bring your kitchen into the 21st century, then you can't go past black hardware. It's always a winner and it'll go with everything!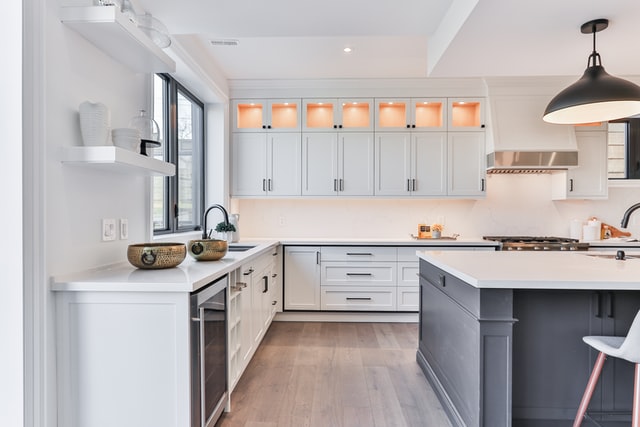 18. Light timber flooring
While most people tend to go for dark timber flooring, light timber is a beautiful option, especially with white cabinetry! But be warned, it will require a lot of attention to keep it from looking dirty.
19. Make it yours
When it comes to designing your kitchen, don't settle for what everyone else wants to do. Instead, think of ways that you can personalise your space. It's these little touches that make a kitchen stand out. Here, it's a vibrant mix of black, red and warm timber that creates a truly one-of-a-kind modern Shaker kitchen.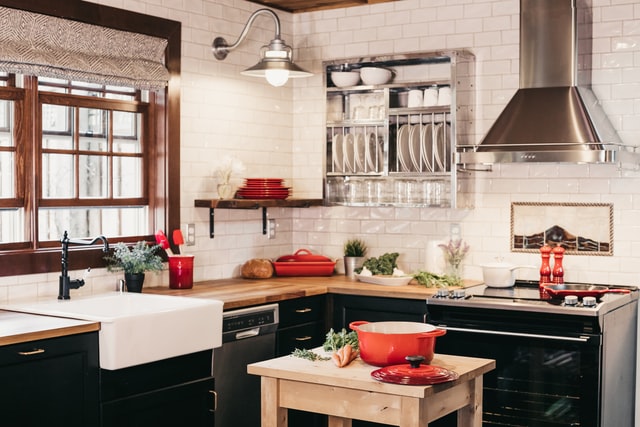 20. Creamy beige
If a light room is your kind of vibe but you don't want to go with an all-white kitchen, consider using a soft beige shade instead. It's works beautifully with a marble benchtop. Not to mention it looks great against warm timber floorboards.
21. Simple grey
Key features of a Shaker kitchen? Moulded cabinets, lots of wood, and fresh white counters. This very plain, neutral grey Shaker kitchen is just waiting to be filled with your own personal decorative touches!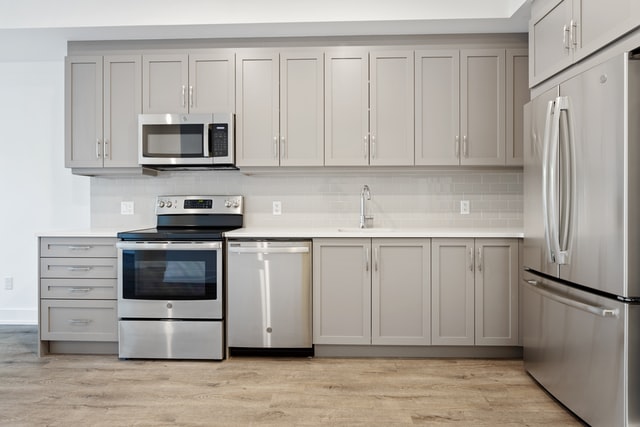 22. All white
If you want to keep things clean and simple, opt for a striking white design like this one. This is a really simple look to create because it only uses one colour. But you can add character to the space with timber floating shelves and some gorgeous, colourful statement cookware.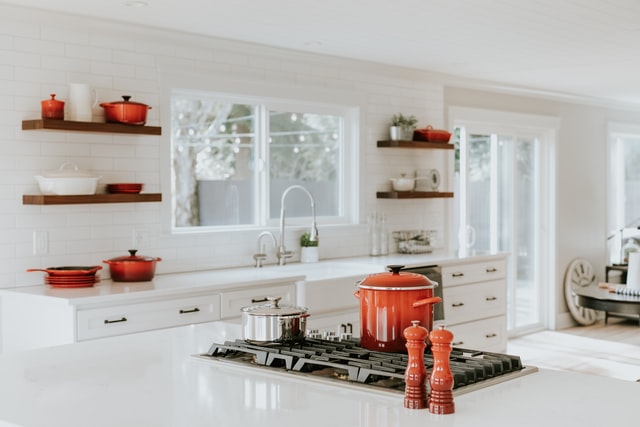 23. Sandstone flooring
As I mentioned, timber is the classic flooring choice for a Shaker style kitchen. But any natural-looking floor will do the trick. Take sandstone pavers, for example. They add a simple rustic touch to most modern kitchen designs.
24. Storage space
The biggest mistake people make when designing their kitchens is they fail to factor in enough storage space. So make sure you install storage in all different forms, including plenty of cupboards, drawers and smart solutions.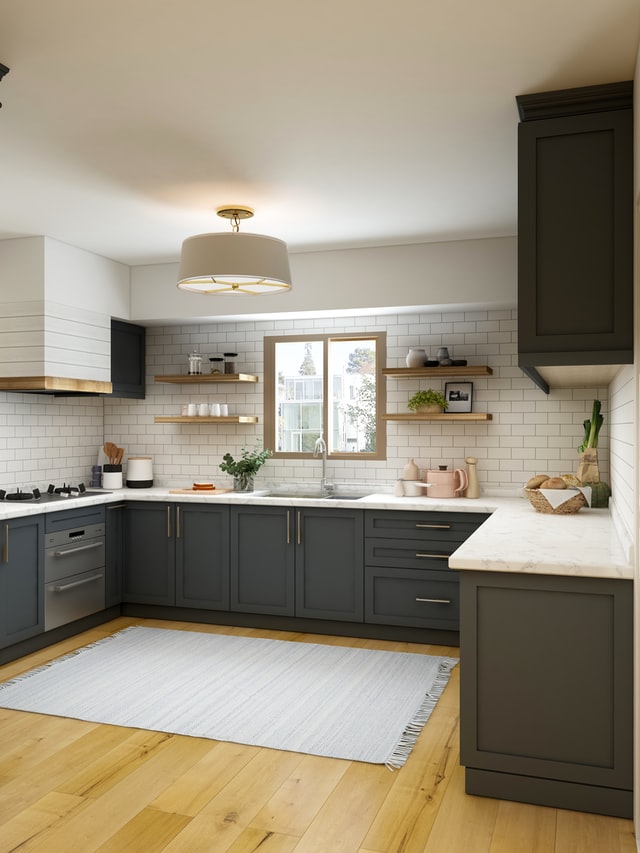 25. White and warm metals
If you'd prefer to skip the colour, consider going all out with a striking white kitchen like this one. Of course, you can keep every single element white. Or you can add detail with gold trims and handles, like in this kitchen. White and gold is always a classic and stylish combo!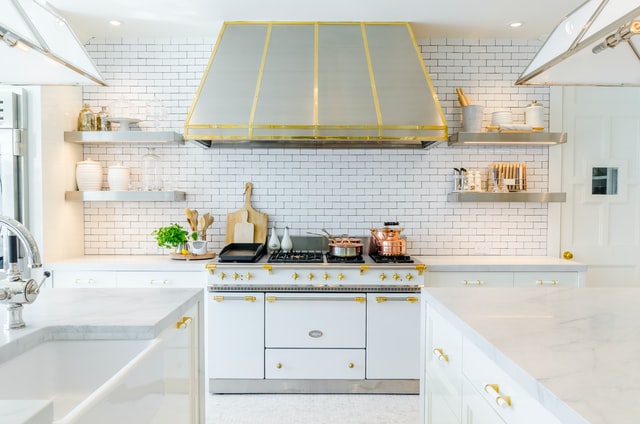 26. Clean and modern
And finally–my favourite modern Shaker style kitchen? Minimalist, uncomplicated wood and white. This is always a clean and beautiful look, and the perfect blank canvas for decorating. In fact, it doesn't take much to lift a plain white Shaker kitchen to new heights—all you need is a simple but dramatic bunch of native flowers sitting pretty on the kitchen bench!
That's the round-up of 25+ Shaker style kitchen ideas, from modern Shaker kitchens to farmhouse retreats to light and bright beachside escapes. I hope you're leaving with a renewed sense of appreciation for Shaker style kitchens. I love that they're so versatile and that you can incorporate this design into your home, no matter what existing styles you have!
If you have any more ideas for Shaker kitchens, I'd love to hear them. Comment below and share your thoughts.