If parties, BBQs and get-togethers by the pool are on your agenda in the warmer months, then putting in that extra effort with food, decorations and theming will make it one to remember. From tropical and flamingo themed, through to BBQs and fiestas, there are so many creative pool party ideas and I've put them all together.
With a bit of planning it means by the time the warmer months come around, you'll be able to host the best pool party complete with tropical prints, sun-kissed hues and boho-inspired furniture.
Sound like fun? Of course, it does – Let's go!
Topical pool party ideas
1. Tropical vibes
Take your party to the tropics with an infusion of colour!  Put together a balloon garland with red, orange, pink and white balloons. And you can weave green palm leaves through the structure to finish it off.
You can have it installed on a circle arbour – find a balloon decorator near you to explore all the wonderful ways to add an eye-catching balloon installation at your next pool party.
2. Cute drink holder
Here's another gorgeous touch – an adorable drink tray. I wonder what's in those glasses! It looks like a minty mojito – perfect for a hot summer's day.  This is something to keep in mind when dreaming up the designs for your next pool party.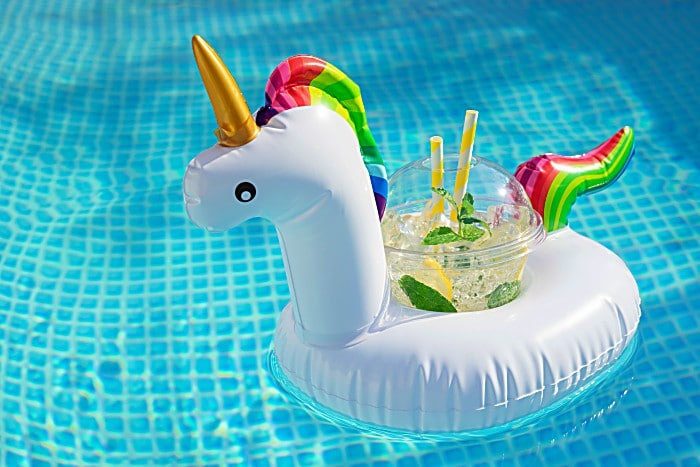 3. Flamingo theme pool party
Flamingos, flamingos and more flamingos. I'm beginning to see a trend – flamingos are a very popular choice for pool parties. Why not have them out in full force with six flamingos dotted around the table? Make the tropical coastal vibes always part of your backyard with these tropical garden designs.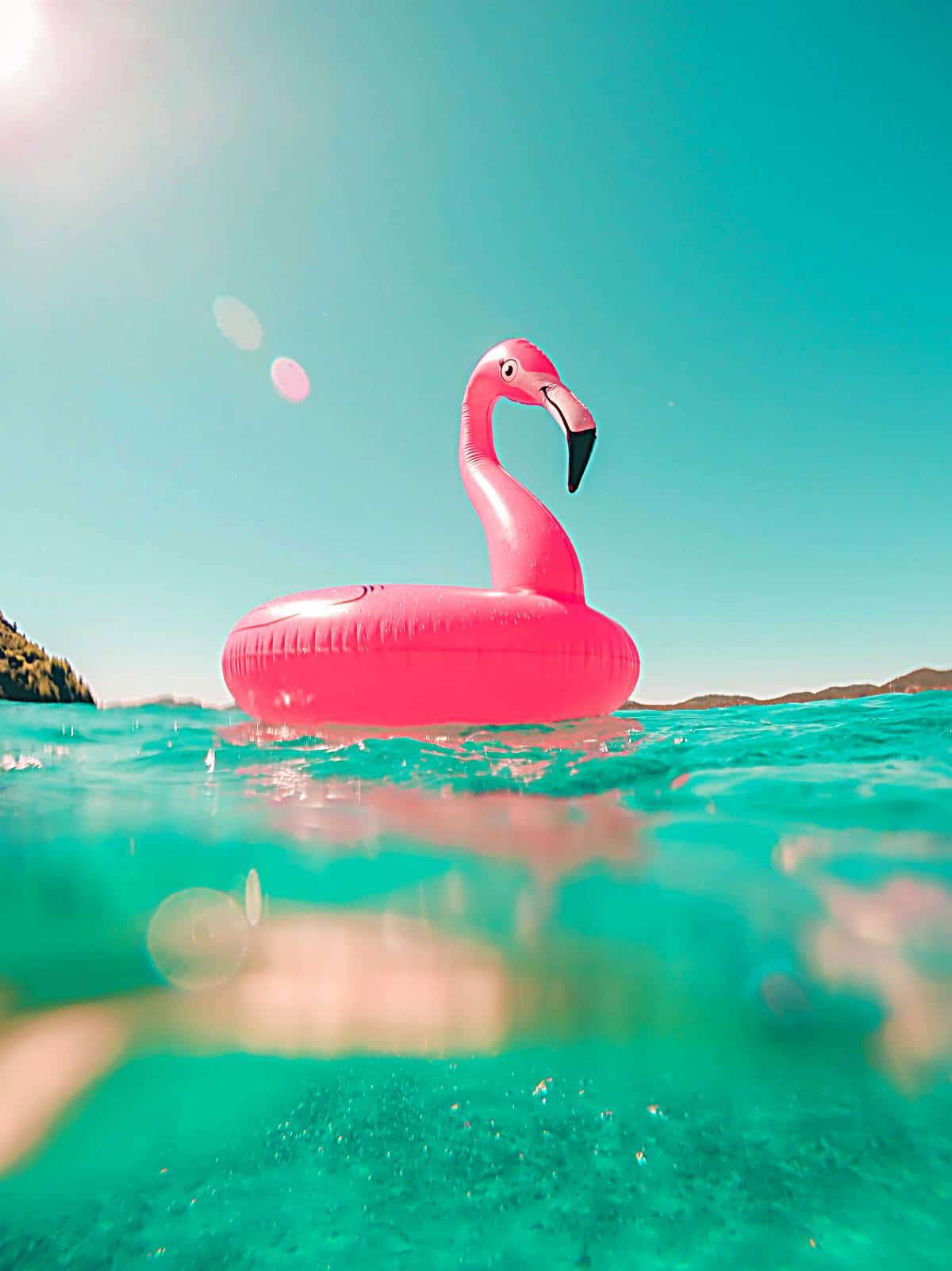 5. Cute cookies
What's a party without something sweet? These pretty little flamingo and pineapple biscuits are so much fun! I love how they are presented in a beautiful bamboo-rimmed dish. And take a look at the rest of the table setting with flowers and pops of pink – it's so much fun!
Don't spend your time going from supplier to supplier to pick up everything, after all, you're meant to enjoy it too – get someone to take care of the cookie delivery and even balloon delivery too.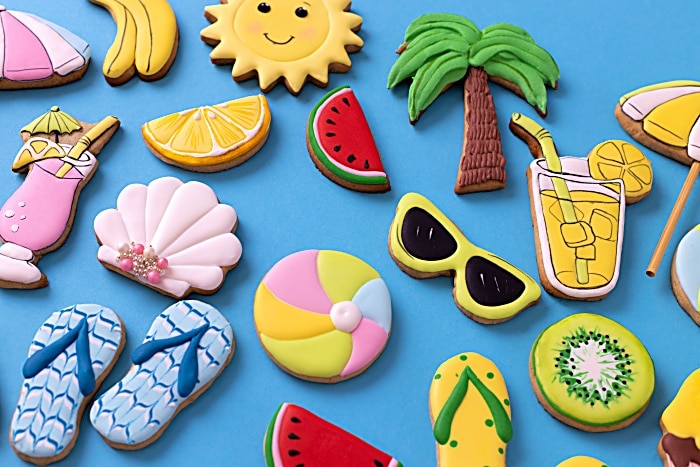 6. Fun inflatables
We see those cute citrus slice floats before but these ones are a bit more glam. There's a huge "ring" inflatable, which would be perfect for a poolside engagement party. This is such a creative fun-filled corner.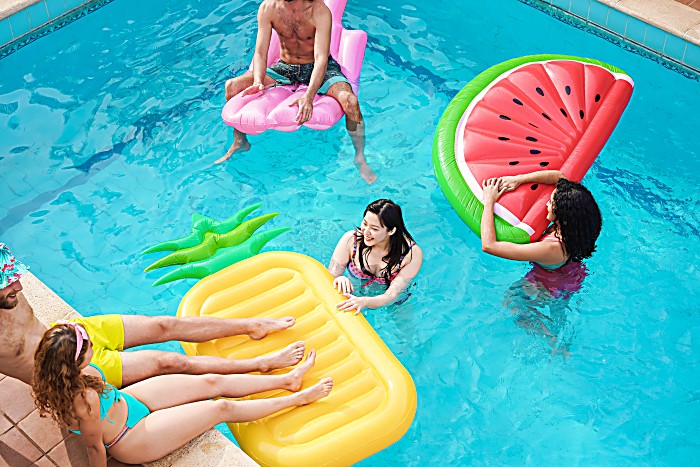 7. Flamingoes vs unicorns
How adorable is this setup? Flamingoes have the perfect pretty pink design for a girly birthday. And adding unicorns makes it even better because of the white contrast and rainbow details. Win-win!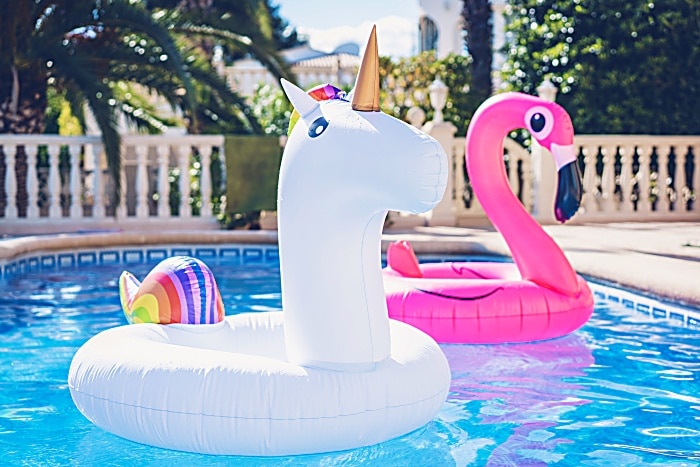 8. Aloha
The original tropical theme before flamingos became a 'thing'. This simple sign would make a fun addition to any pool party. It would be perfect for a kid's party. You could easily DIY something like this by finding some wooden arrows from your local hardware store, painting each one solid colour and then hand painting a name on each one in white.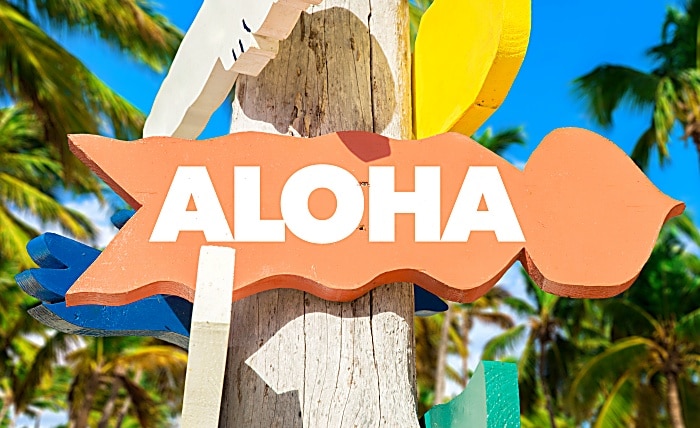 9. Pineapples and coconuts
Forget serving drinks in glasses (that's old news…). Have fun at your next summer pool party by putting your drinks inside pineapples and coconuts. These little drink holders are made out of plastic and have holes in them for straws. But if you wanted to get really creative, you could chop up some real pineapples and coconuts and go natural!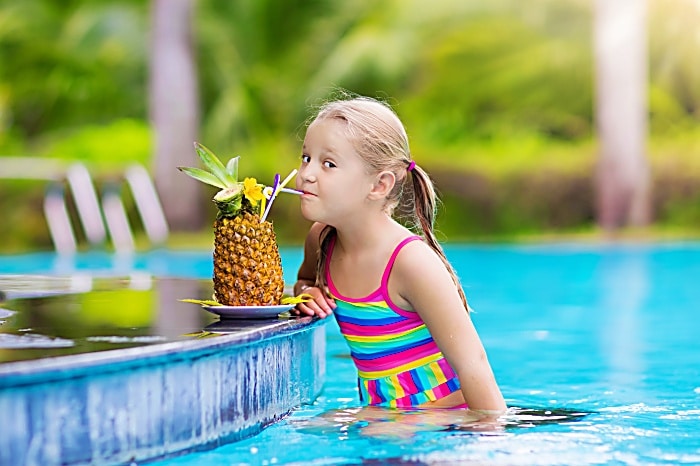 10. Fruit stand
Channel some Hawaiian vibes with an adorable little fruit stand! This is something that you could recreate yourself if you put your DIY hat on. You'll need a little timber table with shelving, straw to hang from the top and extra timber to make a cute sign.
Kids party pool ideas
11. Customised food
After all, if you're going to the effort of picking a theme, it's important to carry it the whole way through right? Try your hand at making cactus cupcakes, and of course the eye-popping cake.
12. Take a seat…
Place a large rattan rug outside and creating a picnic-like party with soft cushions to sit on and make it packed with warm summer colours like yellow, pink and orange. This would be perfect for a little girl's birthday!
13. Pools and popsicles
You can't have a pool party without something to cool you down. Some prefer drinks and others prefer iced popsicles. But if you've got the kids around, my guess is that they'll be pretty happy with any kind of ice block. Who remembers Zooper Doopers? They're a great affordable choice that'll keep the kids happy. Simply place them in a colourful bucket full of ice and serve.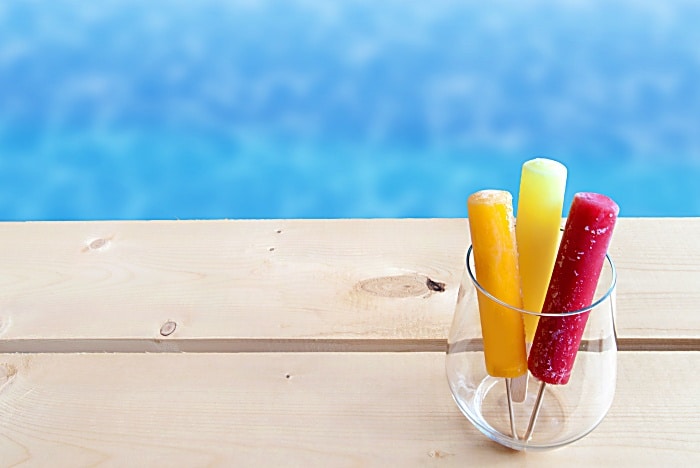 14. Mermaid themed
Here's another cute idea for a kid's pool party – mermaid drinks! You could create something like this by filling little jars with blue lemonade (use a bit of food dye if you need it!), tying string with a starfish print around the edges and inserting gold or silver straws.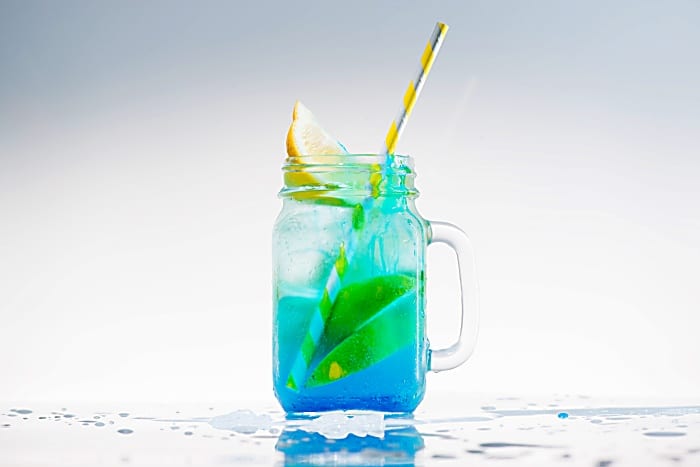 15. Unicorn pool party
We've seen flamingo and swan inflatables, but now it's time for the quirky unicorn! I think this inflatable is just too cute. And I love how the rainbow colour from the unicorn has been carried out throughout the space as a theme. They add so much extra colour and fun to the space!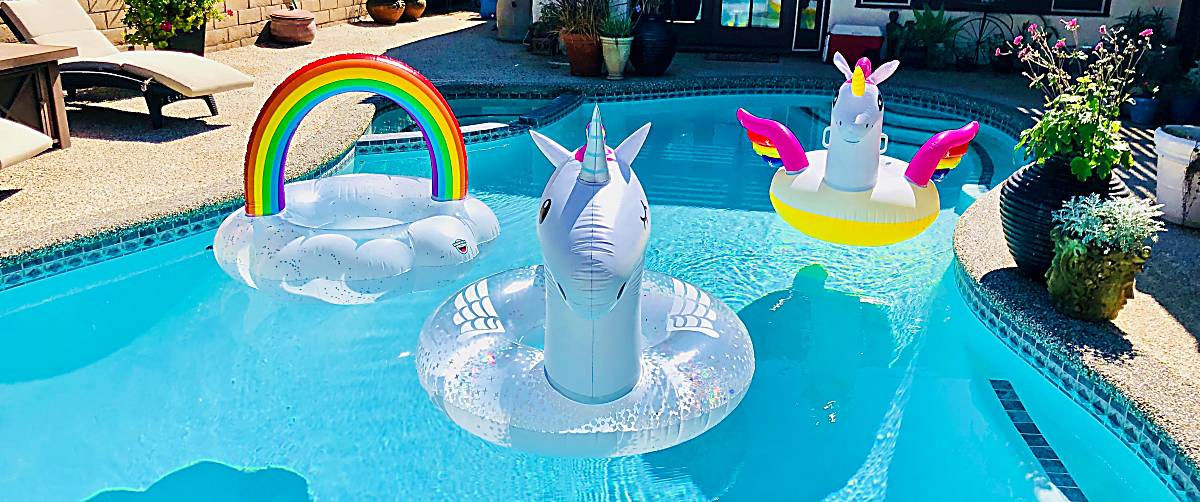 16. Fruity summer bar cart
Nothing screams summer more than an adorable little bar setup. I love the burst of summer colours – I wish I had a cute pink bar cart. Plus, the addition of crazy straws is super practical. You could have someone serving the drinks from behind the "bar" or you could let guests help themselves.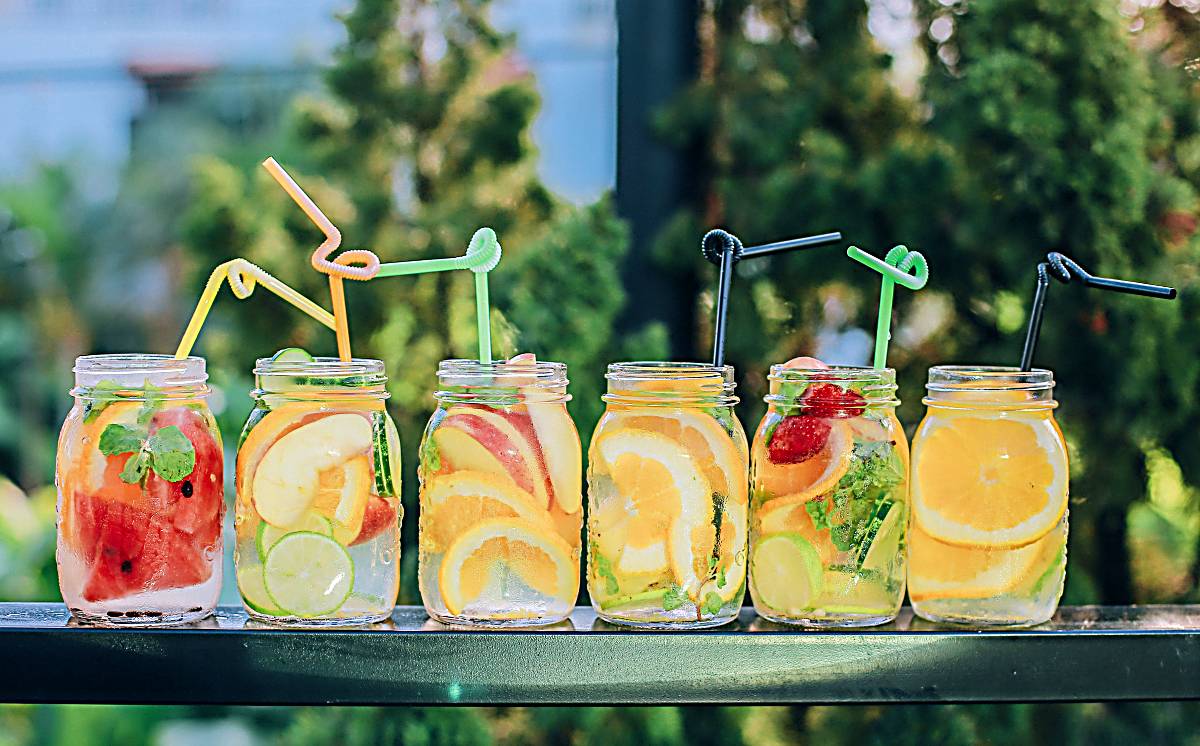 17. Sunglasses and headbands
Aloha! I love impractical eyewear – it's so much fun. If it's an all-girls party, why not take it a step further with vintage headbands and double bun pigtails? What a cute party setup! Plus, the combination of pink and green is what tropical dreams are made of.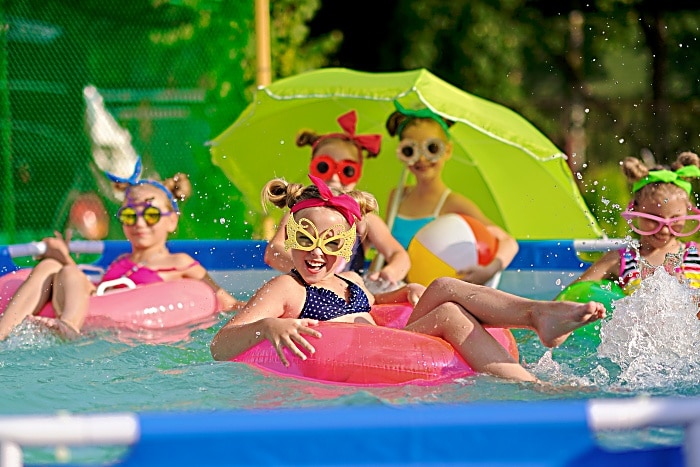 Cocktail pool party ideas
18. Cocktail station
If you're creating a more fancy poolside affair, then a drink station is a must. And this one is absolutely gorgeous. I love the sign that lets guests know what kind of drinks they can expect. And the mimosas do look superb! Plus the addition of the stunning soft pink flowers in the vase and along with the table really complete this setup.
If you've gone to the effort of putting together bespoke cocktails, it's worth either making a big patch for regular top-ups that wait staff can manage or maybe take it to that next level by hiring a professional cocktail maker or bartending.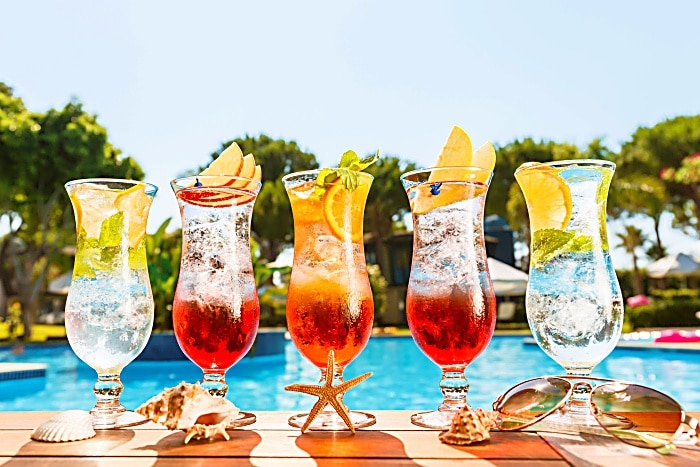 19. Elegant white balloons
This is a simple, effective and stunning decoration hack that'll wow guests at your next fancy party. And the differentiation of sizes creates a gorgeous look. A gorgeous set-up especially for an engagement pool party!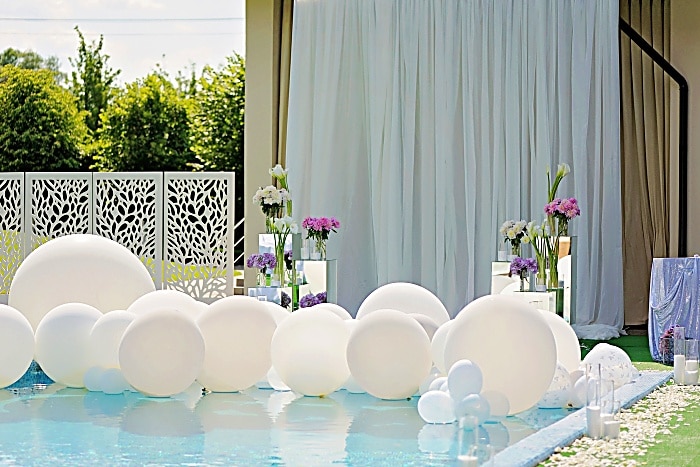 20. Chic entertaining
If you're wanting to host a more elegant upscale poolside event, try your hand at making some fancy martinis. Plus, infuse your drinks with edible flowers to make them all the more pretty. Your guests will certainly be wowed by the extra touch.
21. Cocktail bar
Set up a small table and add a pink "cocktail" sign and a bucket full of bright coloured straws. It'd look even better if the drinks have added pops of colour (think straws, cherries, and tiny umbrellas).
22. From the house to the pool
Now, this idea is an elegant setup that's probably more suited to an adults-only evening, as you wouldn't want the kids bumping into this bar cart. Place a bowl of fresh lemons and limes, drinks galore, and gorgeous martini glasses on a cart, ready for serving!
What about some other pool party ideas…
23. Beverly Hills-inspired
Take your next pool party to the fancy side with Beverly Hills inspired decor. The key to this theme is to use gold as the main accent colour. Try a sparkly gold floating pool ring, beach balls, and cute glassware with gold spots.
24. Mexican fiesta
If tacos and sangria are more your style, throw a Mexican fiesta-style pool party! You'll want lots of colours – so go all out with yellow, orange, blue, green, pink, and more. And you can even create a Mexican themed bar with margaritas, sangria and beer on tap.
25. Boho pool party
Boho is a popular interior design trend and also a regular on the wedding scene now, but you can turn any poolside gathering into a relaxing boho pool party with a low table, plenty of cushions and stringing up some festoon lights.
26. Palm Springs style
Whisk your guests away to the mountainous landscape of Palm Springs with eclectic prints, pops of pink, and plenty of inflatable pool toys. Just make sure you have an umbrella or two so you can get some shade.
27. Epic animal pool party
There is nothing more fabulous than a pool overflowing with colourful animals! The best thing about this is that it wouldn't be too hard to put together. Have an animal-themed pool party by adding swans, ducks, fish, whales, and more! The most difficult part would be blowing up all of the inflatables, so share the work with a group.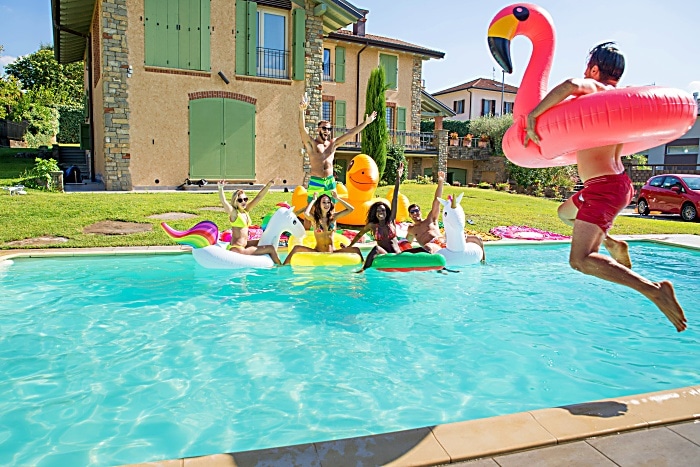 28. Retro pool party
Away from the modern neons, take a step back in time with pastels for a retro pool party look. Getting bespoke signage like this would have taken time and effort to put together, but the finished product is worth it.
29. Simple tables
This pool party setup is proof that table settings don't have to be complicated. Simply drape your tables in colourful waterproof cloths.
Extra special pool party ideas
30. Spell it out
There are so, so many options when it comes to balloons. So why not make a splash with a special birthday greeting or "love" spelt out on the water?
31. Swanning around
We've seen a few flamingos… but how about a swan swanning around? I love how you can add so much joy to your pool area by simply placing inflatables on the water. And there are so many different types you can find – from animals to fruit to classic lilos. Have a hunt around your local store to find some that you like the best.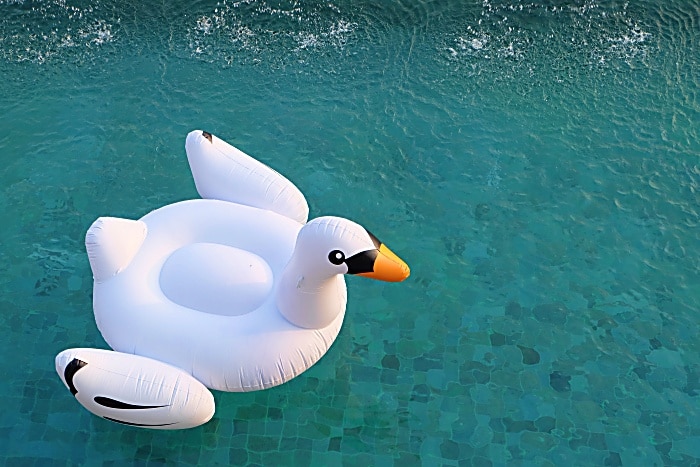 32. Photobooth
Who says photobooths only have to be for indoors? If you're hosting a pool party for your special event, you could hire a photobooth van rather than a party photographer. You could even create a photobooth yourself by hanging a sheet and adding the decorations of your choice. Just remember the props – they're the best part!
33. A warm welcome
Let your guests know they are in the right place with a creative welcome sign. When designing your sign, choose a theme and stick to it and actually get a professional sign writer to make look fabulous. I love how this one uses shades of green and pink to create a tropical vibe. You can place your beautiful sign on an easel at the entrance to your pool party.
34. Iced-cold slushies
Everyone loves a good slushie… and this one is as colourful as they come with sprinkles all over the top and neon straws. What a fun way to cool down and enjoy a sweet treat at the same time.
35. Fruit platter
There's just something so satisfying about munching on fresh fruit on a warm summer's day. And what better way to serve fruit to your guests than by filling a stand full of blackberries, raspberries, grapes, oranges, strawberries, and blueberries. They'll not only taste great but they'll look pretty too!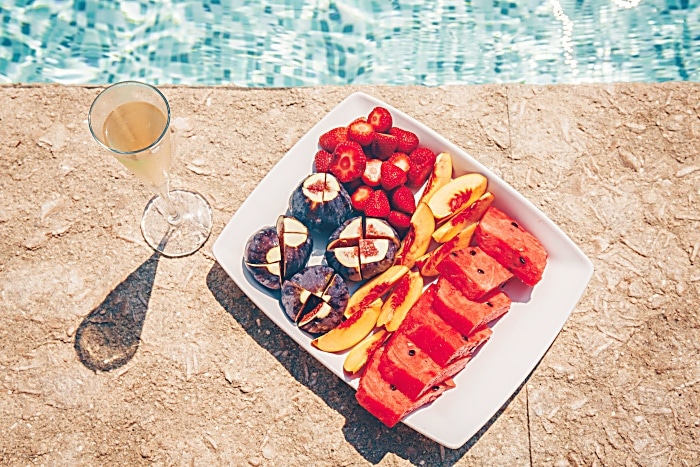 36. Towel station
If you're hosting a pool party, someone is bound to forget their towel. So to avoid the problem altogether, supply them! I love this cute towel station idea – it makes things so easy for everyone. Plus, it also means you get to choose towels that fit your colour scheme – it's a win-win!
There you have it, all of the incredible pool party ideas for your next soiree in the garden. My favourite was the colourful balloon-filled pool and I also loved the elegant martini glasses with flowers in them. What about you?
I'd love to hear which idea you're going to use for your next pool party. Comment and tell me. And if you've got any other tips, share them too!