Are you thinking of installing a kitchen island in your kitchen? Kitchen islands can be as functional as you like—it all depends on your needs. You might go for a simple kitchen island that's chiefly for food prep, with bar seating underneath so you can use it as a breakfast bar. Or you might want a fully-functional island with electricity, plumbing, a sink and even a hob. Either way the important thing is that your island is designed to be ergonomically correct so it's comfortable to use.
And while it's intended to be functional and sociable, it's typically also going to be a major focal point for the room. As such, your choice of materials and finishes is going to be quite a big deal. Your kitchen island can really be the hero of your kitchen space depending on your materials choice. Below, I've got a variety of ideas you might consider when it comes to designing your ideal kitchen island.
Curved
Curved and rounded kitchen islands are becoming more popular lately as people aim to bring more organic, natural elements and forms into their kitchens. Visually more gentle than linear designs, curved islands look highly contemporary. Their lack of sharp edges means they can also be safer for kids.
1. Curve it with tile
When it comes to curved kitchen island ideas, tile can be the perfect cladding choice as narrow tiles will make it easier to round the corners. This minimal, modern kitchen with its clean lines and muted natural tones looks like such an inviting, simple place to cook.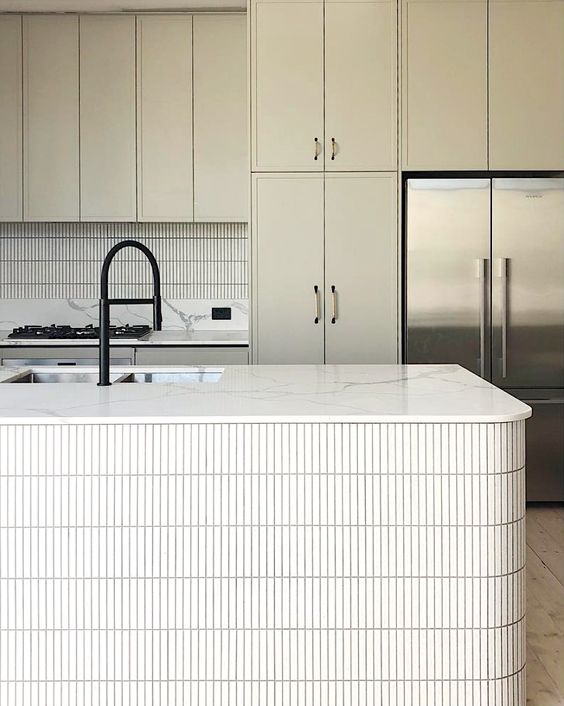 2. Curve it with timber
Another gorgeous option is to clad your curved kitchen island in timber battens, perfect if you love a timber-heavy kitchen. Bonus points if you go eco-friendly by choosing a sustainable timber (eg. recycled Messmate, a type of eucalyptus).
3. Add subtle curved elements
Even if you don't want your counter or the base itself to be curved, you could still incorporate curved elements in the island design, such as by having a curved cutaway underbench.
4. Create something sculptural
A material that's being creatively used in kitchen island design (eg. by Kennedy Nolan) is functional laminate. This material can be used to shape concave and convex forms to create a unique, sculptural piece.
5. Gather 'round
Kitchen islands don't have to be rectangular–increasing in popularity are round kitchen islands. These offer the benefit of 360 degree cabinetry as well as greater sociability as they allow more people to comfortably gather around. Plus, the smaller size is perfect for tiny kitchens. Below, a round island with grey terrazzo counter. This one actually features a stovetop and built-in oven.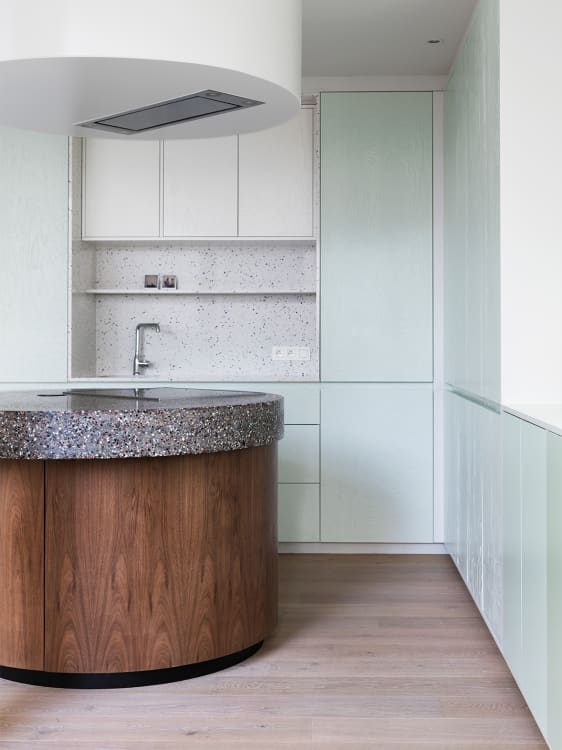 6. Go for contemporary concrete
Lots of people are loving concrete in their kitchens right now. Not only does concrete look very contemporary and industrial in flavour, but it's actually easy care and highly durable. The material's inherent coolness can be warmed up by the use of timber, brick and metallic finishes. Often cast on-site, a concrete kitchen island has a utilitarian, minimalist flavour and is perfect for a sophisticated modern kitchen.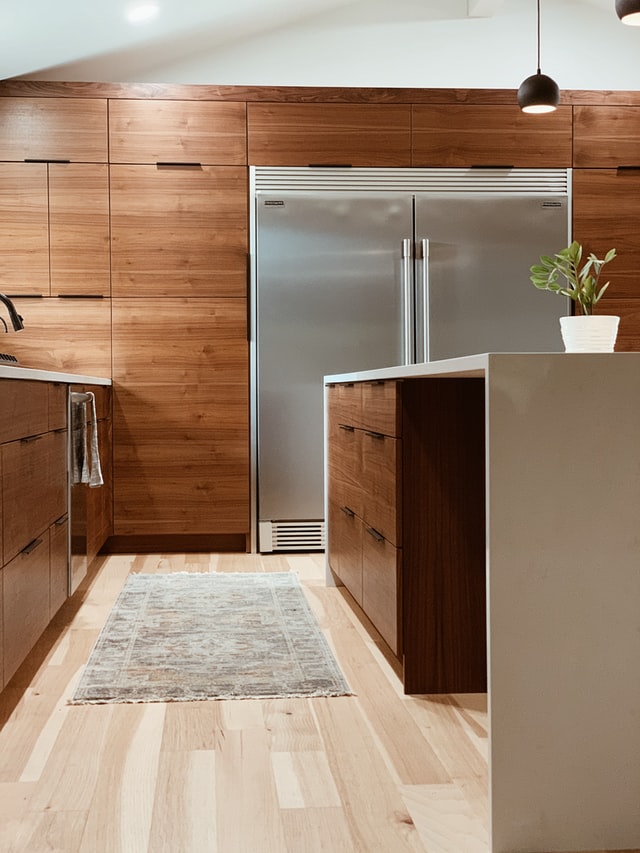 Tile
For those who love a bold kitchen, a tiled island is a lovely way to introduce colour and texture. If your kitchen island is central and imposing, consider making it a major feature with unique tiling. There's something so pleasing about the orderly, graphic pattern of tile, no matter whether you go for matte or gloss, textured or plain.
Tiles are so hard-working and come in hundreds of beautiful colours. Especially popular now are natural, earthy and ocean colours that reflect the gentle palette of the Australian coast and landscape. But then again, a mostly white kitchen can look amazing with a pearly, sky-blue zellige tiled island, for example.
7. Be bold with black tile
Tile can really be the hero in a minimalist kitchen. For a dramatic-looking kitchen island, consider handmade, textured tiles in black. You could temper the heaviness of the black by topping the island with a warm timber benchtop.
8. Turn up the heat with terracotta
Here's another gorgeous tiled kitchen island, this time covered in matte terracotta tiles. It's a big burst of warmth in this otherwise plain space and adds lots of rustic charm.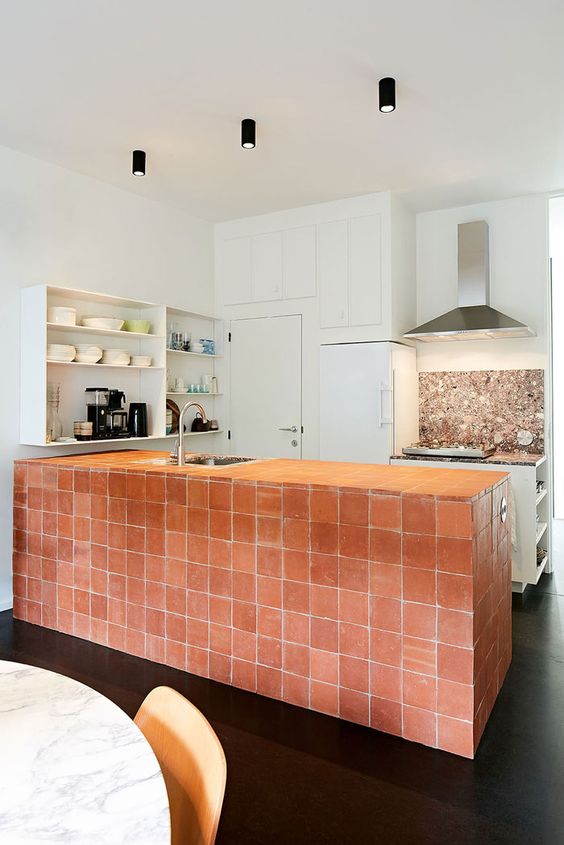 9. Go for pretty patterns
Using tile is an easy way to liven up your kitchen island. Your favourite patterned cement tile can be added to the island underbench, even if you aren't keen on a tiled counter. A monochrome print is usually a timeless choice that complements a variety of décor.
10. Add zing with zellige
These Moroccan tiles are handmade of the highest quality clay using traditional techniques and are much loved for their glossy, varied colours and the lovely texture they create. Light coming through the kitchen windows will ensure the tiles glisten and sparkle, which is what I love about zellige and other textured tile.
11. Add battens or panelling
Add texture and visual interest to your kitchen island with timber battens or VJ (vertical join) panelling. Battens are simply thin strips of wood laid next to each other vertically with gaps in between forming the pattern. On the other hand tongue-and-groove boards are wider planks that are slotted beside each other without a gap. Either option makes a lovely way to add a subtle, uniform pattern to your island.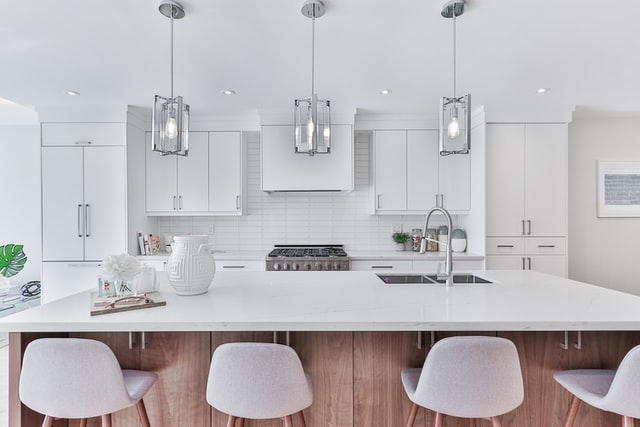 12. Or try reeded/fluted designs
For even bolder texture, you might also consider reeded or fluted designs which can be constructed from a range of different materials, including timber and marble. The ridges and grooves are another way to bring in texture and can lift a plain kitchen out of the ordinary.
Islands with storage
If you love a clean, spacious, functional kitchen (who doesn't?) then extra storage built into your kitchen island will never go unappreciated.
13. Open up some storage
Deep shelving on one side of your kitchen island both maximises storage and helps reduce visual clutter. If you have deep drawers or shelves, adding targeted lighting is a great idea. A well lit kitchen always makes life easier! And the soft glow of light from inside drawers or shelving adds ambience as well.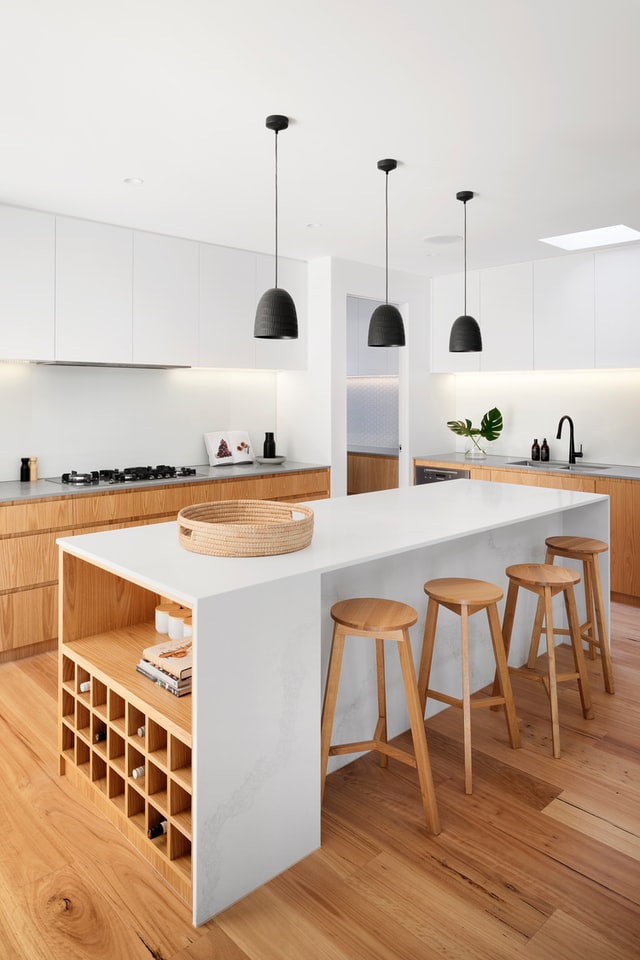 14. Neaten up with closed storage
Incorporating closed storage into your island is both functional and tidy. Below, a sleek, streamlined kitchen in a minimalist modern home, featuring an island with deep drawer storage. I love the simple colour palette here and the shiny, polished concrete floors.
See also: How much to install kitchen cabinets?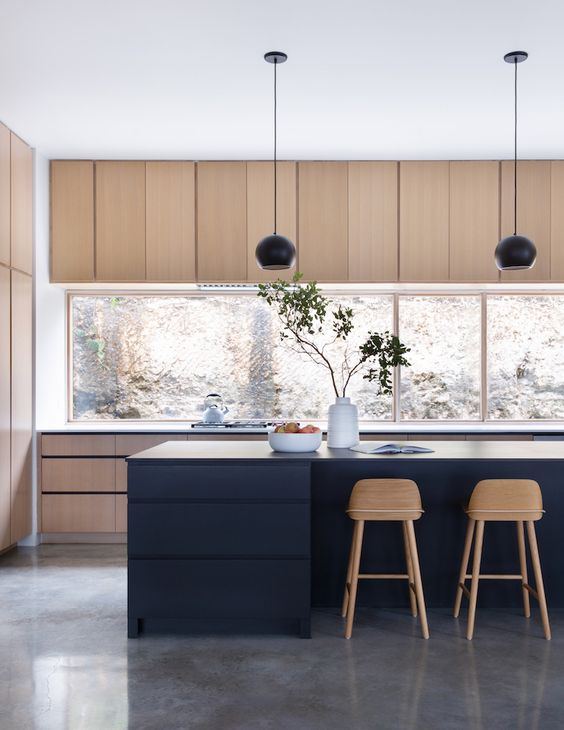 15. Keep it clean with glass doors
A great option for kitchen island storage is glass-fronted cabinetry. Glass cabinets are both attractive and functional—the glass keeps your kitchenware dust-free, while the transparency means you can use the space for curating kitchen décor.
16. Make it ultra slimline
Big, blocky kitchen islands can be very imposing and not everyone loves the bulky look. But some designers are creating minimalist versions that are super streamlined. A slimline kitchen island that's almost just a thin counter is perfect for a more compact space, keeping things feeling nice and airy.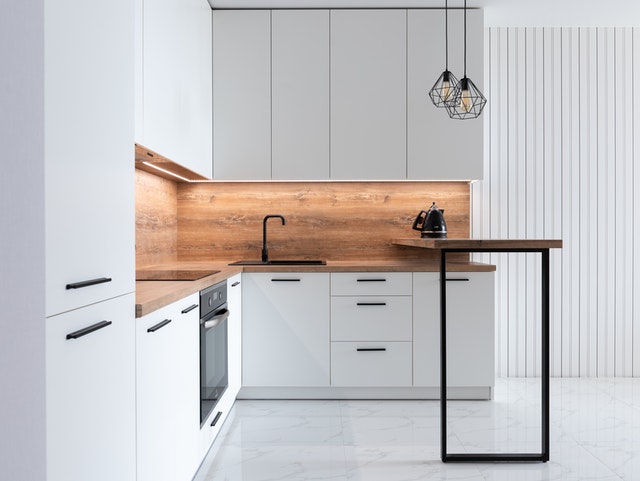 17. Wow with a monolithic island
A monolithic kitchen island is the ideal choice for those who really want to make a statement. These types of islands are carved from a single piece of material, usually marble but also anything from quartz to terrazzo. Slabs of gorgeous stone pair beautifully with timber cabinetry and black or white steel hardware and will deliver a clean, luxe, contemporary look.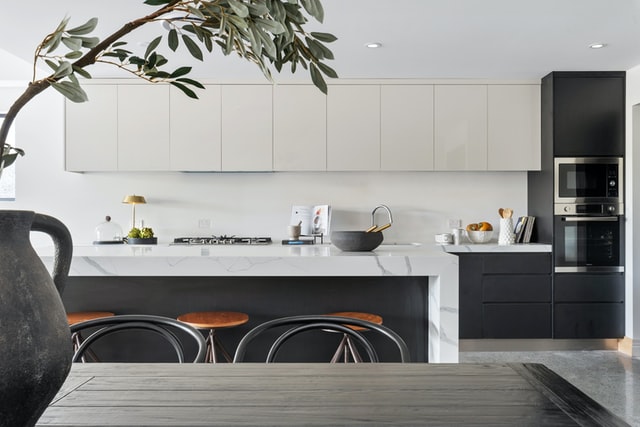 18. Go large
A massive central island appeals to lots of people. It might be a stunning marble slab, high gloss black or white quartz, or simply a beautiful piece of timber for the counter. With an oversized island, lighting is particularly important and often a trio of pendant lights or a long linear suspension light will ensure adequate light distribution.
(Why not discuss your kitchen island lighting ideas with an interior lighting designer? Or, you might just like to organise to have your lights installed.)
19. Keep it classic
A timeless, all-white kitchen island evokes a sense of luxurious simplicity. And white is the ideal colour to set off the everchanging life and colour that people and food bring to the table. Mix with classic white subway tile splashback and dramatic pendant lights. Timber or rattan stools will give a casual, coastal feel.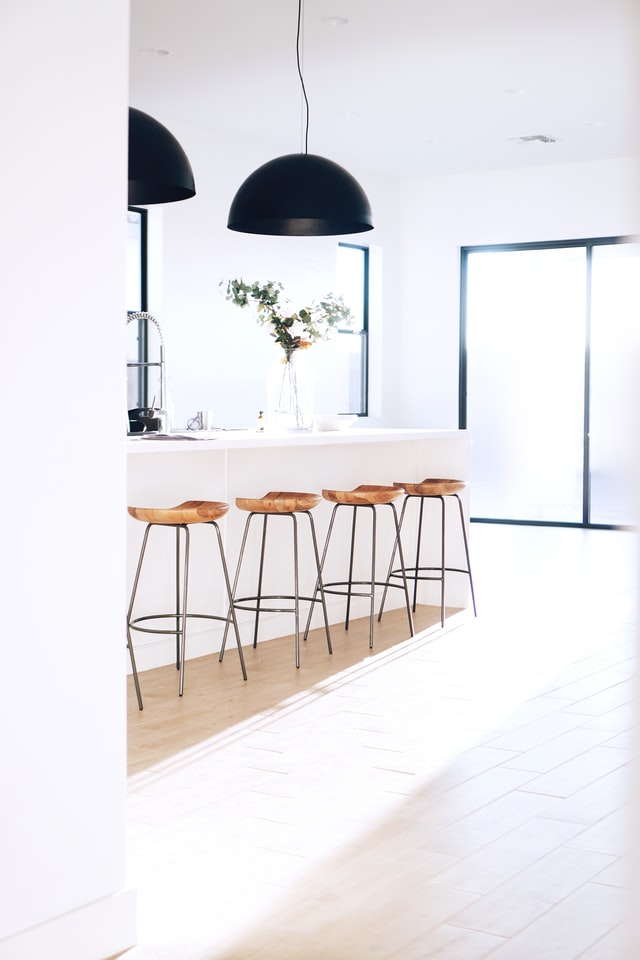 20. Make room with a waterfall
You just can't go wrong with a waterfall style, hollowed-out island, which always leaves enough room for people's legs underneath.
21. Have a split bench
Anything's possible when it comes to kitchen island designs. Bespoke islands can be made which suit your needs and tastes. Having a split bench means you can define zones better, such as having one end as a food prep section with underbench storage and the other as an eating section, where stools can be tucked away underneath.
22. Make it multifunctional
Your island can be as practical as you like. As well as having bench space for socialising and food prep, it might include a microwave drawer, a wine fridge, a hob and a sink.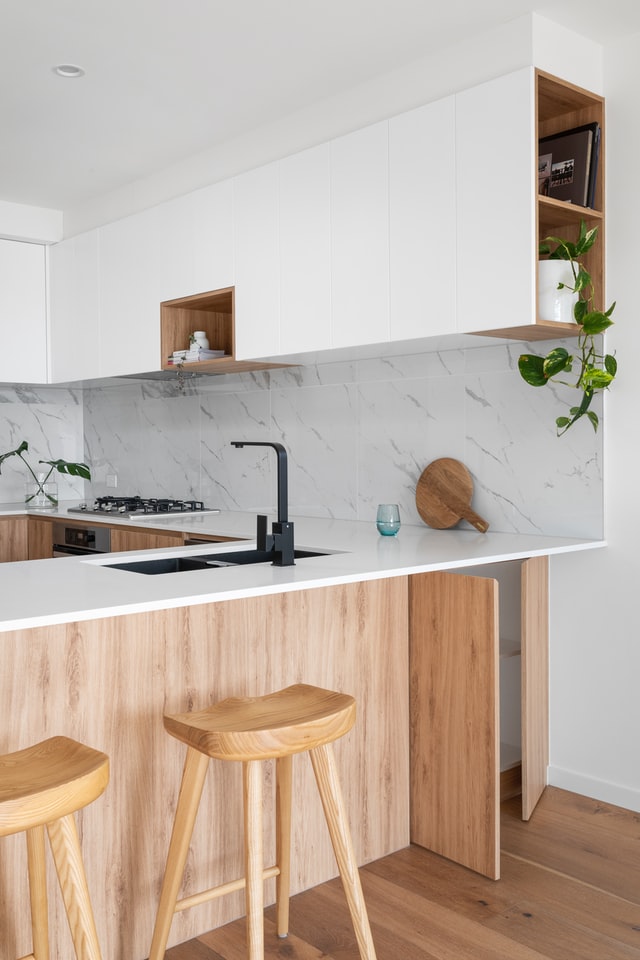 23. Go for a compact model
The size of your kitchen—or lack of it—doesn't have to be a barrier to fitting in a kitchen island. When it comes to small kitchen island ideas, there are plenty of petite options on the market. But it may be that you prefer to simply use a small portable kitchen cart as an 'island'.
24. Repurpose something vintage
Finally, kitchen islands don't have to be sleek, modern affairs. You could also simply upcycle an item of furniture to repurpose as a portable island. After all, just about anything, centrally located in a kitchen, can be classified as an 'island'. Whether it's a vintage op-shop find or an old farmhouse workbench, there's a lot of charm to be had in weathered, beaten, paint-chipped items of old furniture. (Find more inspo for your Boho kitchen here.)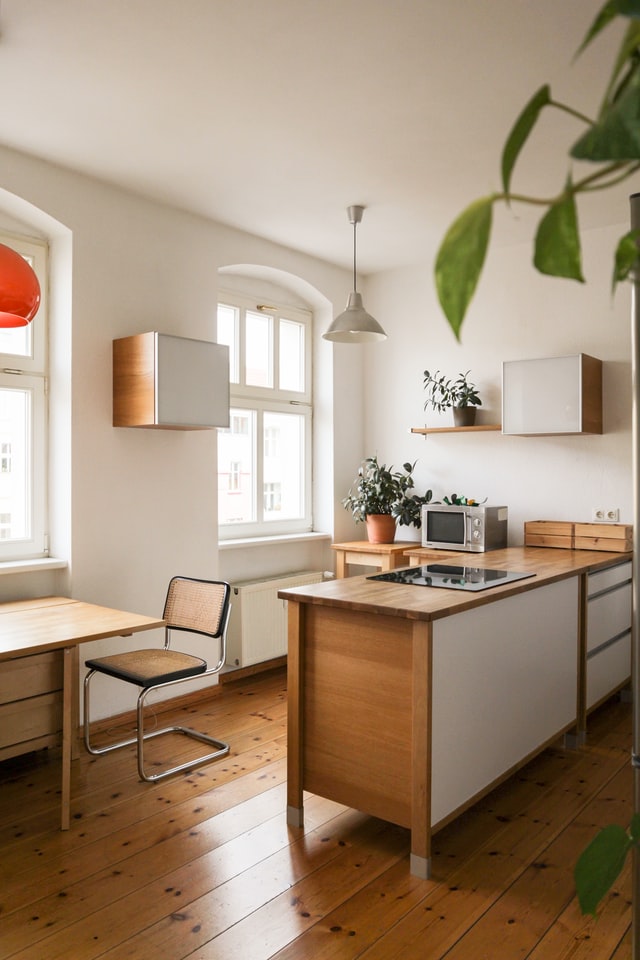 And that's a wrap on my selection of kitchen island ideas. There's certainly a wealth of choice out there! Let me know your ideal kitchen island in the comments.
Ready to talk to a kitchen designer about your kitchen island ideas? Or maybe you'd like to view some more inspo on kitchen layouts or general kitchen décor ideas first? You can also get some help with kitchen sink installation if your island is going to be plumbed. Find an expert here.
No desire for a generic white kitchen? Having your island and cabinetry painted a unique colour is another way to express your personality in your kitchen. Or if you are handy with DIY and want to give your kitchen cabinets a colour refresh yourself, take a look at our guide on how to paint your kitchen cabinets.