When bathrooms meet laundries they can really be a match made in heaven and live spaciously ever after…if done right!. When space is a hot commodity, you start to get savvy with how to use what you've got. If you're living in a smaller place, then combining your bathroom and laundry is a great space saver indeed! And if you've got a small space to work with, I know it can be pretty daunting trying to fit everything you need in.
When combining a bathroom and laundry there are so many different things you'll need in the space such as a toilet, shower, vanity, washing machine, dryer and storage. So how do you fit everything in, you ask?! Let's take a look at bathroom laundry ideas to steal!
1. Hidden away
A hidden laundry bathroom is super simple but super effective. Hiding the appliances away in cabinetry keeps things streamlined and helps your bathroom laundry feel much more like a standard bathroom.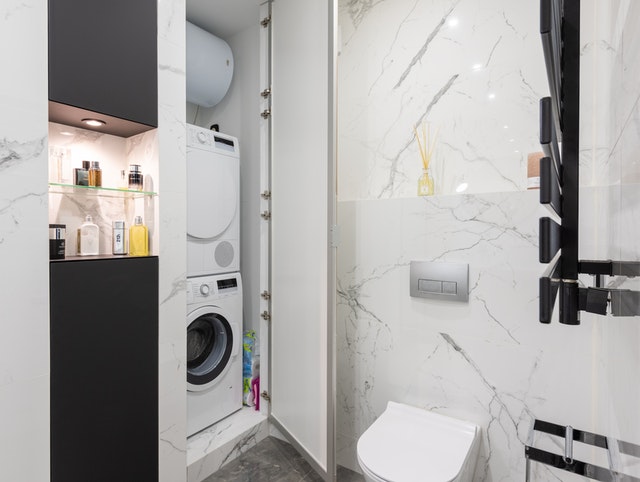 2. White, wood and tiles
A white sink area with white cupboards looks gorgeous paired next to the whitewashing machine. Add light wooden cupboards above the washing machine which also continues through to the sink area as a little extra decorative element to keep things looking seamless and continuous. Plus, tiled walls can look great as they are still keeping in the neutral colour scheme but also add a bit of texture to the room at the same time.
3. Lots of storage
If you have a multipurpose space such as a laundry room and bathroom, then lots of storage is definitely a welcomed feature! Having lots of storage in a bathroom laundry means that you have enough room to store your much-needed bathroom and laundry products as well as towels and any other necessities you need. The finish of the cupboard cabinetry can be the same as the cabinetry where the sink is, which really creates a great continuity.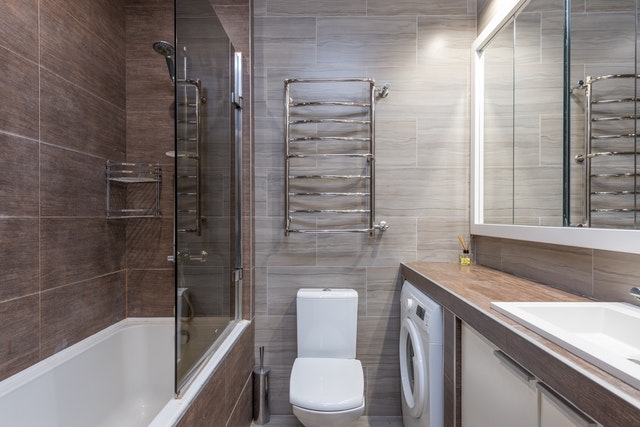 4. Narrow space
If you have a narrow bathroom laundry room, it helps to keep everything quite simple and straightforward when you haven't got much space to work with. That's why seamless cupboards with no handles work so well. You can keep your toilet and bathroom sink pretty simple as well with storage space behind the mirrored areas.
5. Convenient decor
In a small space, you definitely should utilise convenience over anything else. This small bathroom laundry is super simple with the straightforward white cabinetry with a wooden benchtop. The sink and toilet area can also be finished off with the same wood and white scheme for cohesiveness. Plus if you are a little shorter or have little kids that are always eager to help, then a stool will come in handy as well as a basket for added storage.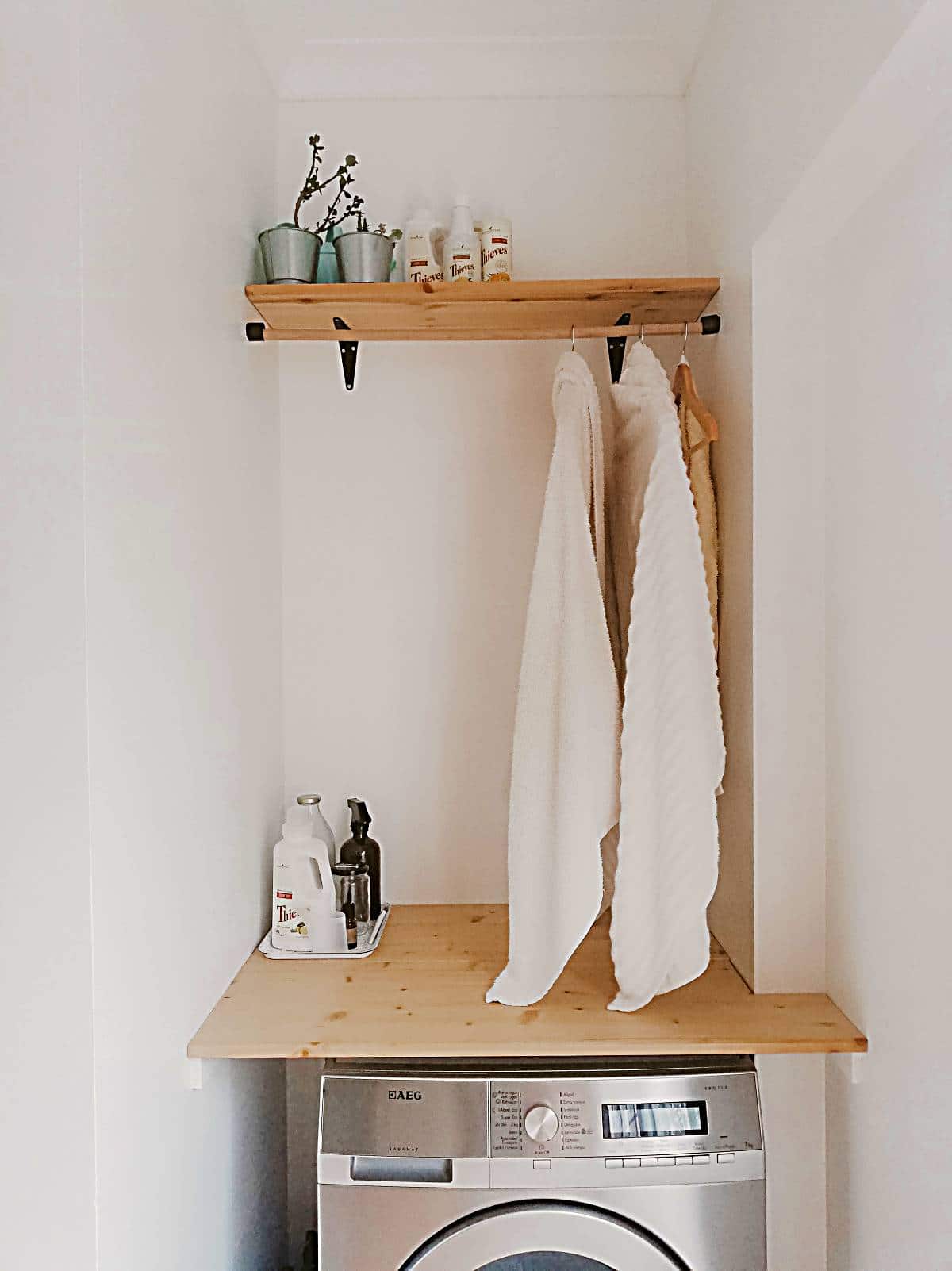 6. Modern finishes
If you're ever wondering what theme to go with for your decoration style, then modern is a great way to go! It's timeless, sleek and will stand the test of time. I love the very clear and clean shower screens in this modern bathroom laundry which helps the room to feel bigger and more open.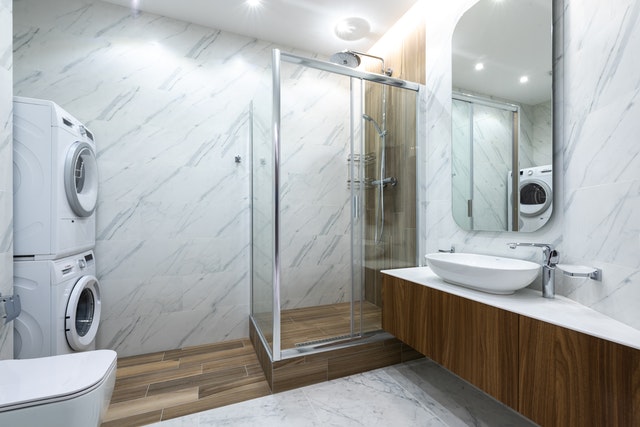 7. Bi-fold doors
If you have a smaller space where you want to fit a toilet, sink and washing machine in one area and out of sight, bi-fold doors are a great idea for concealing elements. Opting for black doors is a lovely contemporary look – they really pop against a classic white bathroom laundry! Just add some black features like baskets and a hand towel to tie the two in together.
8. Shower curtains
Bathroom laundries should be as much practical as they are aesthetically pleasing. Who wants an impractical space?! Not me! However,  there's a lot you can do to pretty up your bathroom laundry. For example, a simple floral shower curtain will add detail and interest to a simple white bathroom laundry as well as providing privacy.
Love this vanity mirror? Find help with your vanity mirror installation.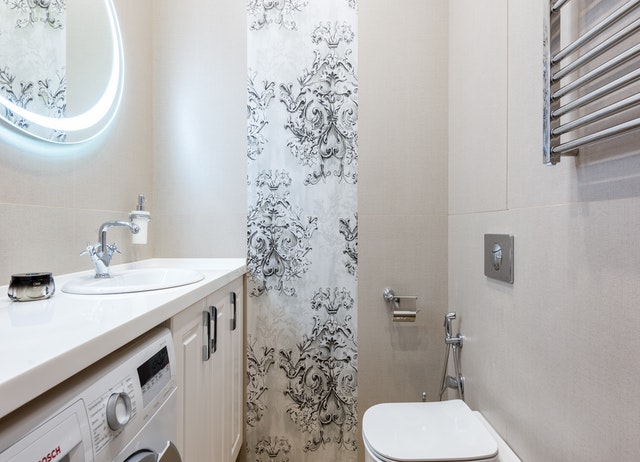 9. Small space? No worries!
If you've got a small space to work with but still want to combine your bathroom and laundry, I'm here to tell you that it is definitely achievable! It's all about the space saving elements, like an ironing board tucked into the wall.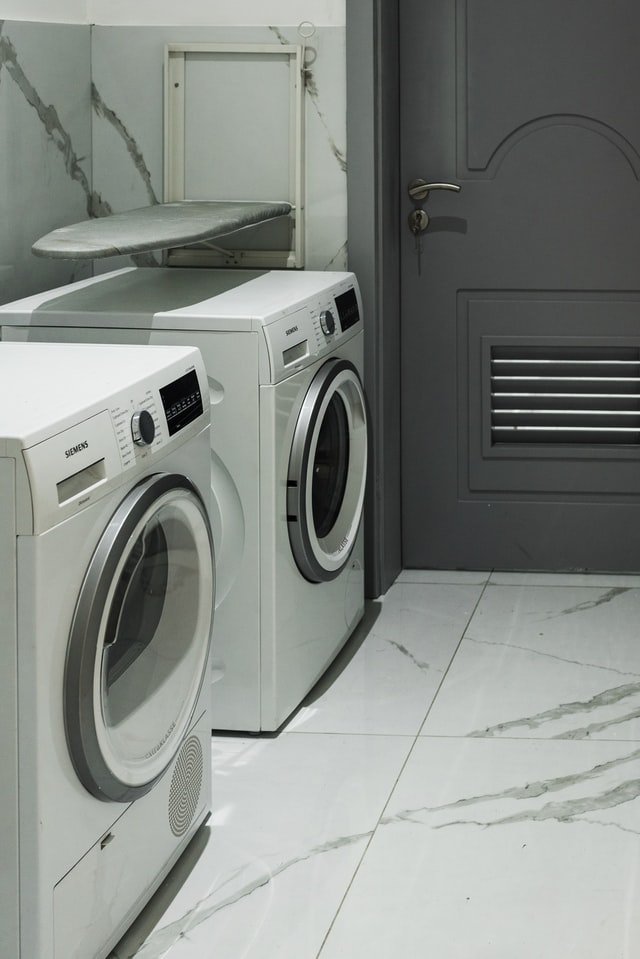 10. Sleek cabinetry
Sleek matte cabinetry looks stunning in a bathroom. Don't be afraid to explore darker bathroom fixtures, like these chocolate brown ones. A shiny white vanity top keeps things looking crisp and clean. I like the ledge above the mirror – perfect to display bathroom plants and other decor.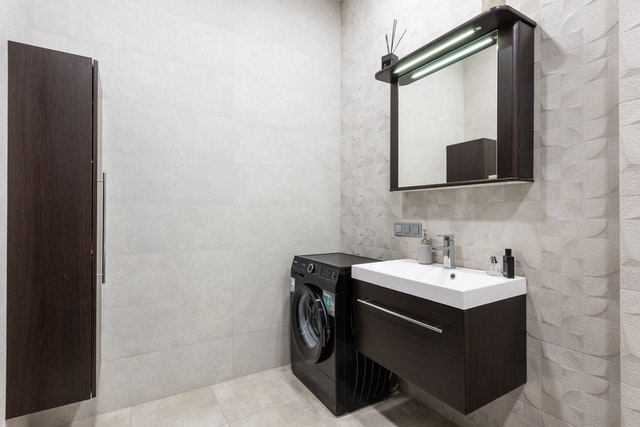 11. Separate spaces
Even if you've combined your bathroom and laundry space, there are still so many ways that you can execute your space so that the different areas look like separate spaces. Ideally, there is a wall between where the toilet and washer and dryer area. You can also elevate the toilet area slightly so that it appears to be an entirely different room.
12. Bold accents
Adding accents to your white spaces creates so much depth and dimension! And this bathroom laundry definitely proves just that. The yellow cabinets are the perfect choice for this space. I love the white panelled walls which go well with the sink along with the wooden accents through the cabinetry where the sink is – not to mention that on-trend basket-shaped light.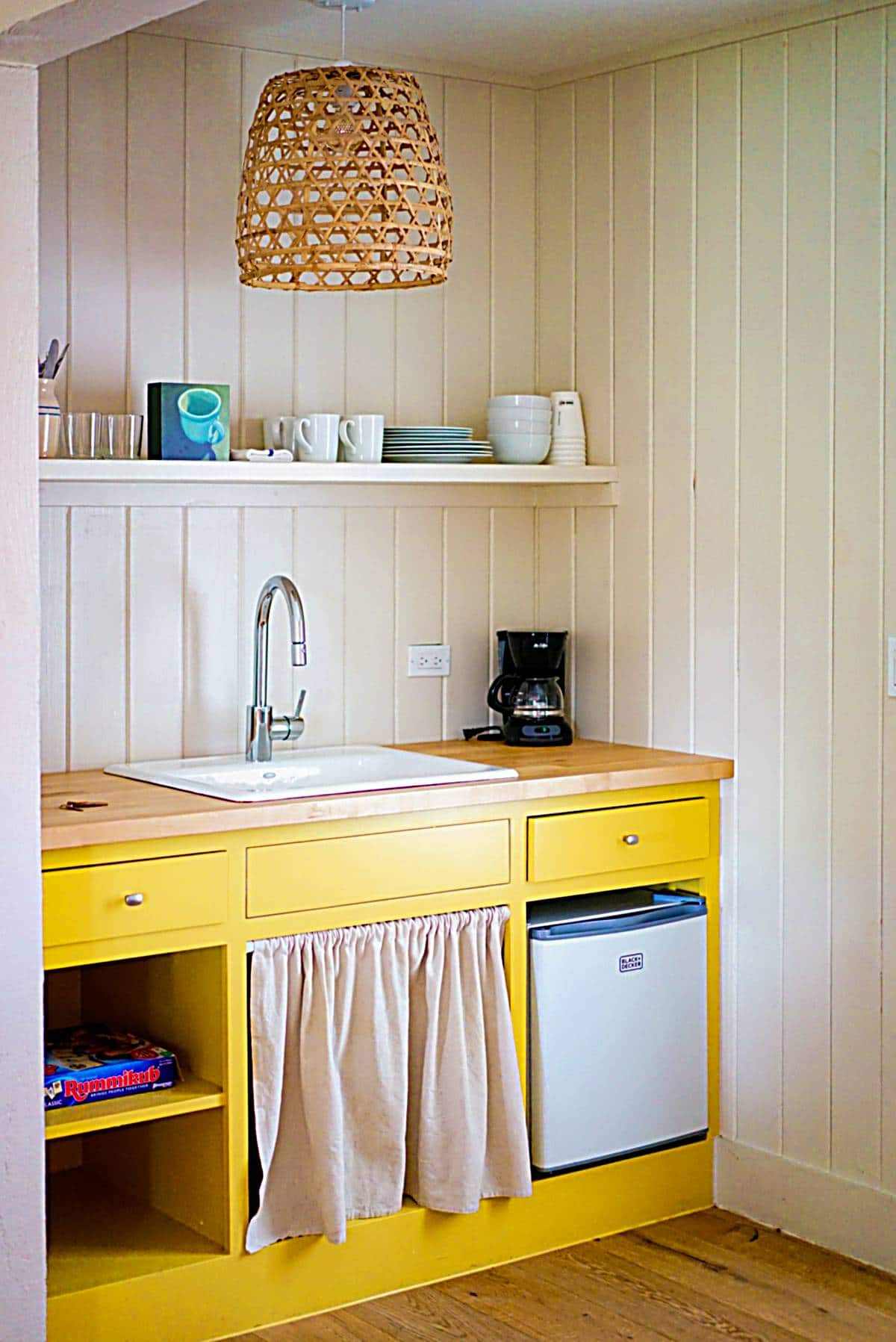 13. Monochrome space
If you want to create a modern bathroom laundry, then monochrome is definitely the way to go. (If you're not sure what monochrome means, it's essentially something that is black and white or varying tones of the two.)  For example, your mostly white sink and laundry area could be separated by an awesome black framed Crittall style partition.
14. Marble finishes
If you're not quite convinced about adding black detailing to your white bathroom laundries, then you totally don't have to! A white on white bathroom is so calming with its very limited colour palette of white with hints of grey through the marble stone. The use of marble really is such a great idea as no two spaces will ever look the same due to the unique veining in each piece.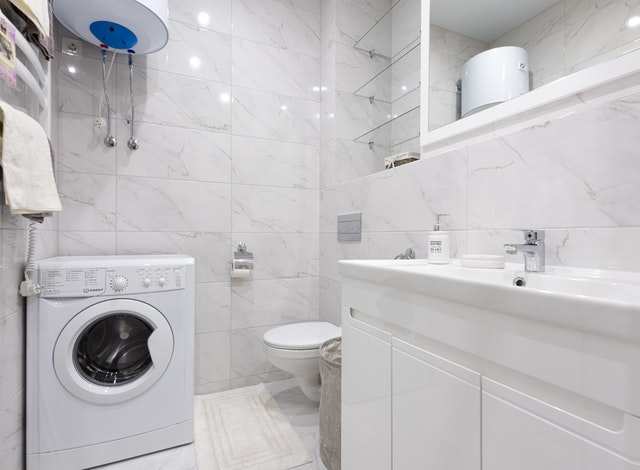 15. Simple space
This bathroom laundry tends to super simple but sometimes that's all you need! If you're just starting off, then maybe this is exactly what your bathroom laundry looks like and there is absolutely nothing wrong with that. This laundry bathroom literally has the most necessary things like a toilet, vanity and appliances. Easy, understated and uncomplicated.  And I love this steely blue paint. I would suggest adding a rug on the floor and perhaps a cute little print on the wall to spruce things up a bit!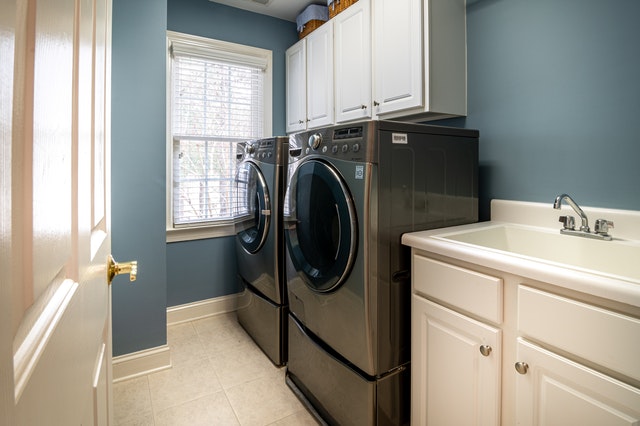 16. Floating shelves
It may seem like a little much at the time, but spending that little bit extra on custom shelves and getting a quality product rather than something that's going to fall apart in a few years is always a good idea if you can do it. And this just looks so luxurious and built to last for years to come. I love the contrast of the hanging white towels amongst the brown wood cabinetry. You can even put adorable, little plants to brighten up this small nook!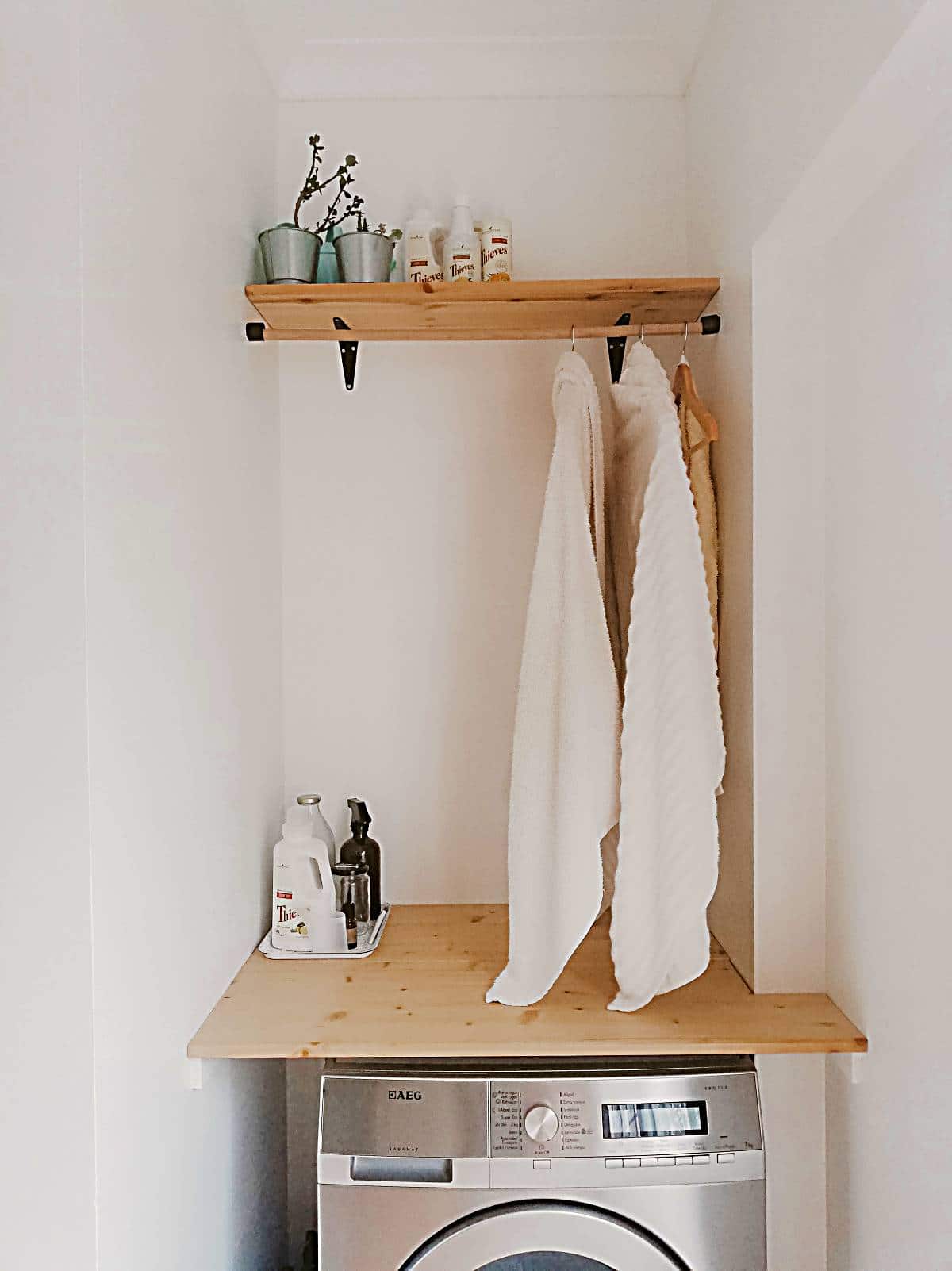 17. Indoor plants
There's nothing I love more in a home than indoor plants. Not only do bathroom indoor plants look incredible in a home, but they also have so many benefits too. Indoor plants are known to help purify the air which is something I'm sure we could all benefit from at the moment. I love hanging plants and then also a plant that has been perfectly placed on the table.
18. Marble tiling
So often we see marble in a big slab however when it is broken up into small tiled pieces it gives it such an awesome look! I love the texture that a marble tiling can give a bathroom laundry. Plus what an awesome idea to have doors on the area where your 'laundry' space is so that you can close it off when you just want a bathroom rather than a laundry bathroom as well.
19. Hexagonal flooring
How awesome is the tiling and flooring in this bathroom laundry!  What a beautiful aqua blue on the walls, and then there's the pretty monochrome floor tile which somehow doesn't compete. Gold-toned fittings give this a really deluxe feel.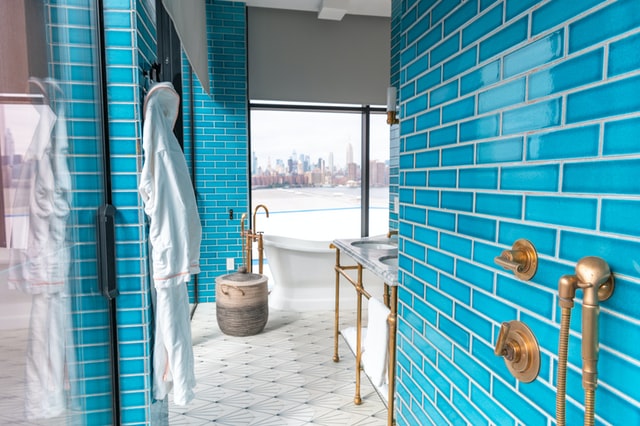 20. Storage on wheels
If you are always on the go and like to move things around for convenience, then why not add wheels to it! Wheeled storage can be parked into the cabinetry and sit completely flush with the rest of the instalment, saving space.
21. Custom cabinetry
I know it's probably cheaper to buy furniture and cabinets that are already made, but ordering custom cabinetry means that your space will look much more put together and thought out. I love custom cabinetry which has been perfectly measured out and built to fit an area perfectly. It means you always have a spot to display decor or store the items you need close by.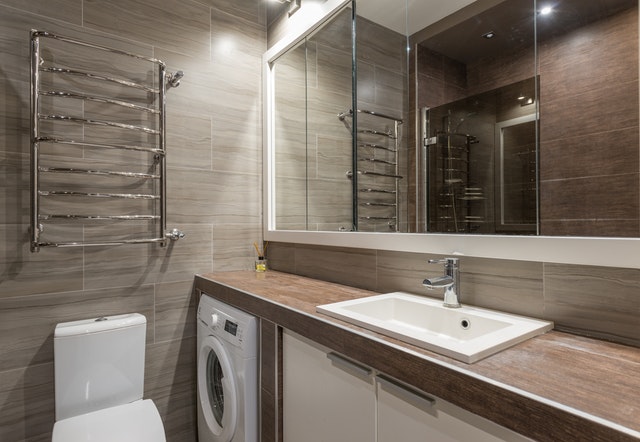 22. Nudes
Nude shades can bring out the warmth of your laundry room so much more than clinical whites. Plus they complement the warmth of wooden finishes in a bathroom laundry. Sandy, buff tones also work perfectly with the current trend towards an "organic luxe" look for your bathroom laundry.
23. White on white
Love an all-white aesthetic? Well here's a very white on white laundry bathroom! Pretty much everything is white in this room: from the cabinetry and benchtops to the toilet and washer and dryer. The only decor you really need is a potted plant and a puss!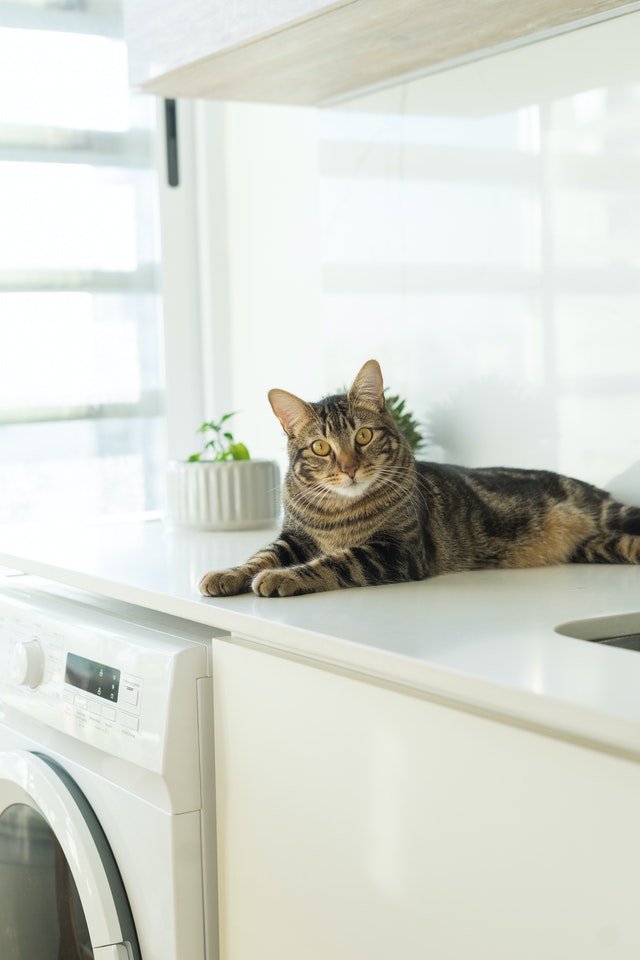 24. Geometric designs
If you've got a simple space to work with that has a limited colour palette, then using tiles with a geometric design is such a good way to go. I love geometric Aztec style tiling as it really helps to bring so much pattern and character to a space. Just add a thriving plant and a basket for added storage and you have yourself a beautifully on-trend bathroom laundry!
25. Bright and bold
If you are keen to move beyond the all-white aesthetic bathroom laundry, then consider gorgeous bathroom tiling for your splashback, walls or floors. Tile is such an awesome way to add beautiful colours and pattern to your space. Here, a muted sage green looks beautiful against the timber feature wall behind the toilet.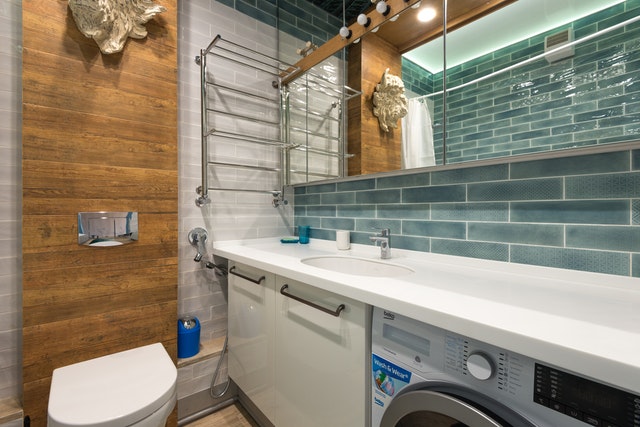 26. Sliding door
Sliding doors are a great way to hide things that you don't want other people to see (perhaps the area is untidy or just not that nice to look at like a washer and a dryer). I love how the washer and dryer can just be completely closed off and not easily seen thanks to sliding doors.
27. Mint
Mint is a great colour if you're looking for a neutral colour palette but want something with a bit of pizzazz. Soft pale mint looks lovely with a white sink area, appliances and flooring.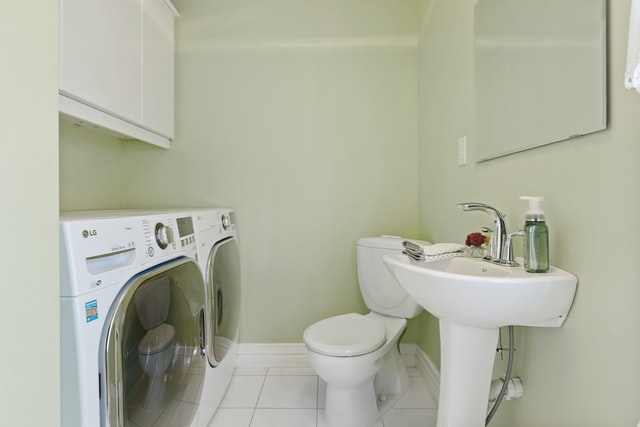 28. Light grey walls
If you're sick of seeing white everywhere, then you might consider a soft light grey for the walls instead. Light grey walls are a great alternative to white and give a very soft look without being too much. Then you can keep the skirtings and ceiling white to match the toilet, appliances and benchtop.
29. Accordion doors
Finally, an alternative to sliding doors is accordion doors. Accordion doors fold into themselves and slide across when you no longer want a certain area on show. This would be great if you are having guests over and want to hide the 'laundry' part of your bathroom laundry.
So there we have 25+ bathroom laundry ideas to help you in combining your two spaces! I absolutely love the bathroom laundries that have separated the rooms either with a wall, different tiling or even adding doors to close things away. What ideas will you be trying? Leave them in the comments below!