April Fool's Day is upon us once again. Pranksters around the world are taking this opportunity to prey on their unsuspecting friends, family and coworkers. If you haven't yet planned your hilarious onslaught, never fear: below is a collection of tricks, tried and tested, that are sure to liven up your office . Happy April Fools Day, everybody!
1. One Blind Mouse
This is simple office tomfoolery. Obstruct the laser sensor on the underside of your victims' mouse with sticky tape or a Post-it. Choke down laughter as they tap their mouse frantically and slowly lose their sanity.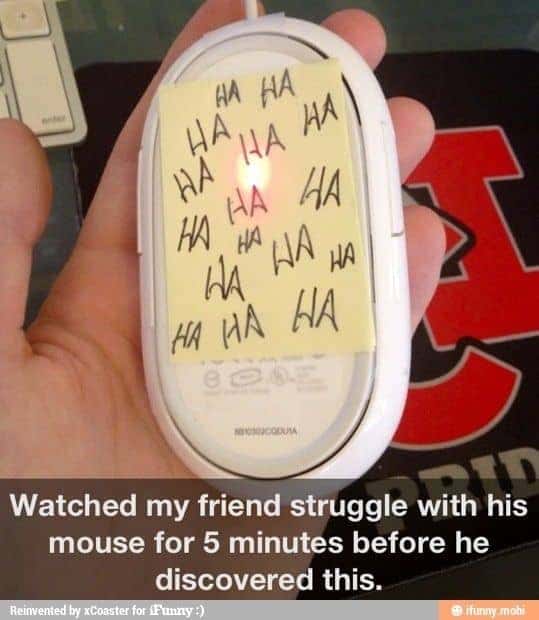 Source: Buzzfeed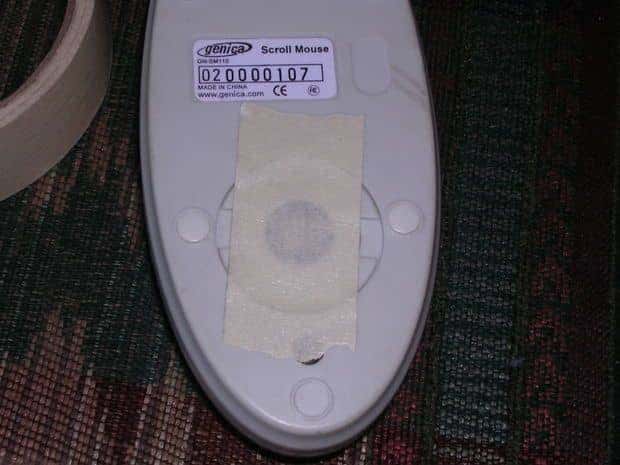 Source: Instructables
2. Crouching Airhorn, Hidden Airhorn
If the coffee didn't wake them up, this sure will. Fix an airhorn under their chair or behind the door and witness a mini-heart attack in action. The same applies for concealed whoopee cushions and disguised squeeky dog toys.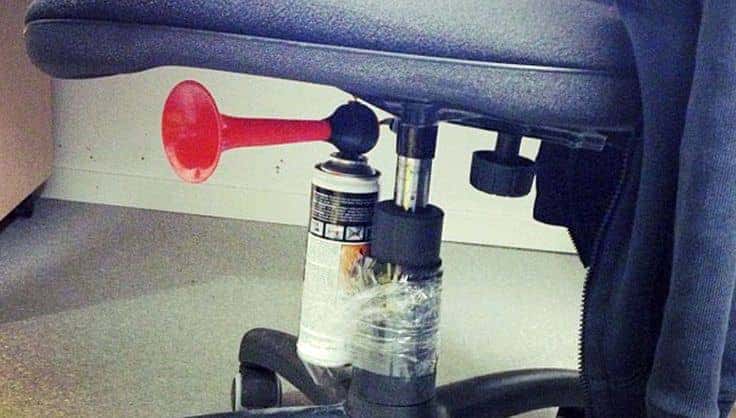 Source: Mashable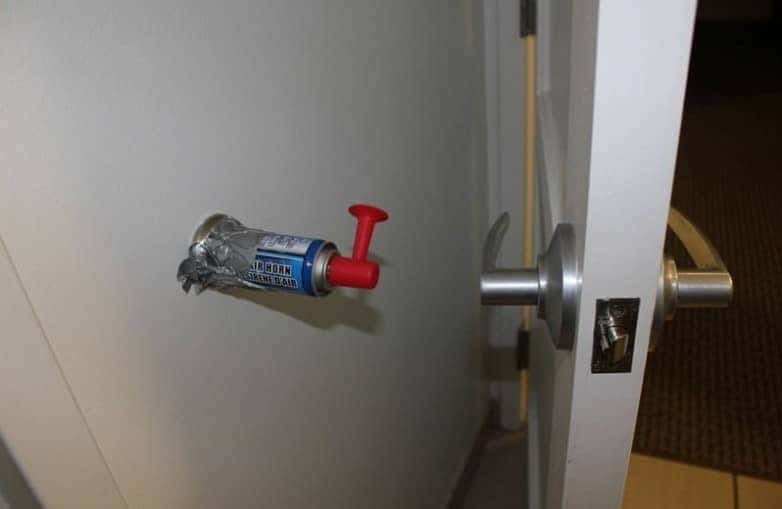 Source: Buzzfeed
3. The Self-Destruct Button
Perhaps the most diabolical of computer pranks. Create a new shortcut and type the following: shutdown -s -f -r -t 0 -c "message" where "message" is anything you want to the victim to see.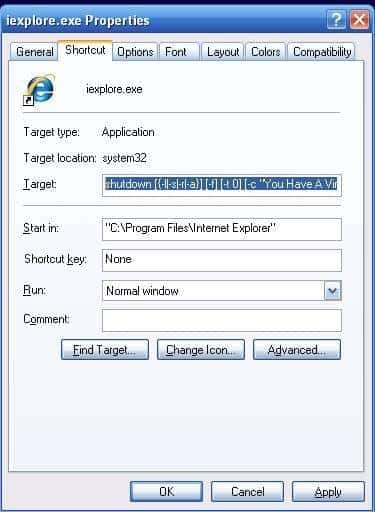 Save it, right-click it, choose Change Icon, click the Browse button, and point it to C:\Program Files\Internet Explorer and choose iexplorer.exe to get a more appropriate list of icon choices.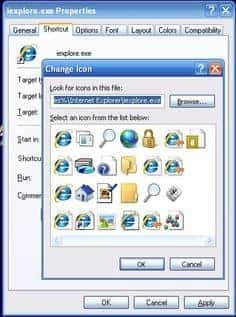 Choose the Internet Explore icon and delete their existing shortcut to Internet Explorer. Enjoy watching your victims slowly lose their marbles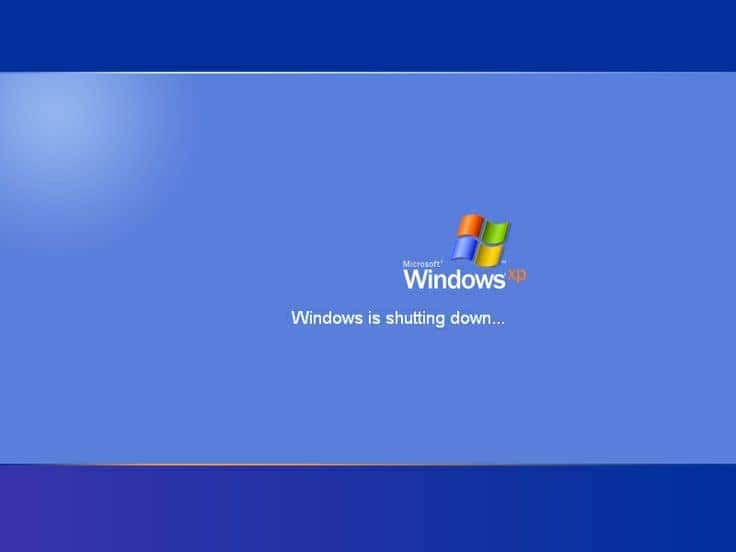 Source: Instructables
4. Going Postal
Post-its are a staple in any productive work environment. They can be used in a variety of decorative, organisational and informative capacities. Here are just a few instances of their proper application.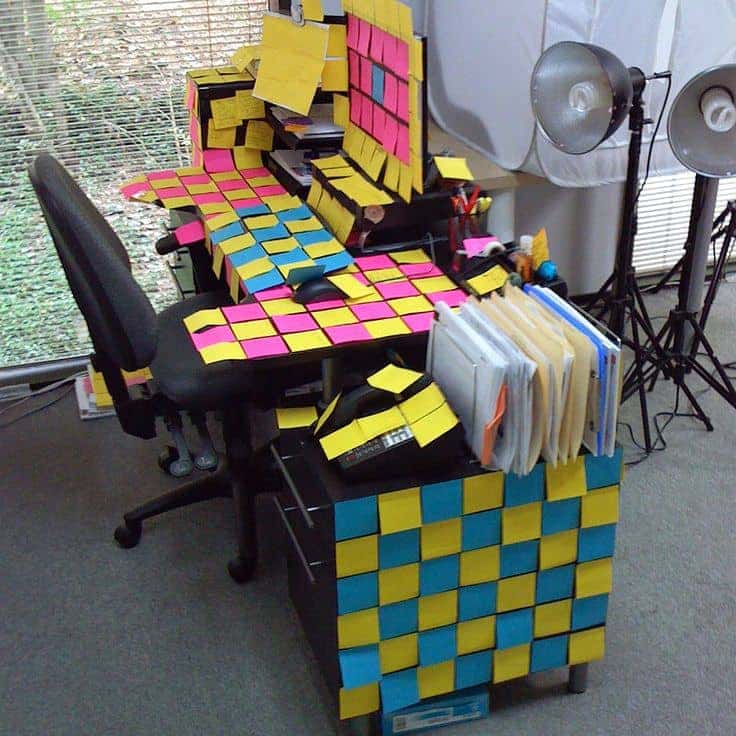 Source: Mashable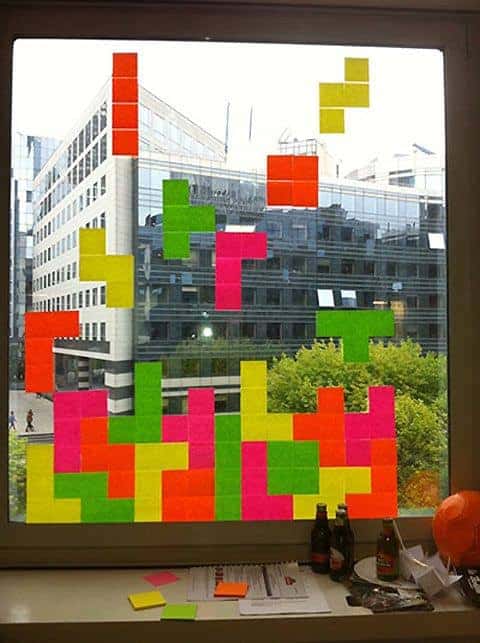 Source: Lost At E Minor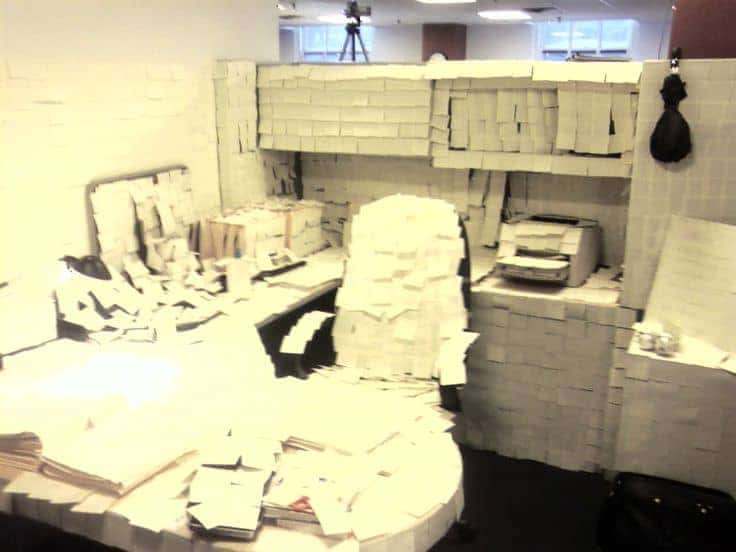 Source: Danspira
5. You're The Voice
We truly live in advanced times. So advanced, in fact, that we have the power to compel our peers to yell demands at inanimate objects. Attach a notice to your 'advanced' appliance notifying your victim that 'voice activation features are now installed and ready for use'. Listen to your coworker scream abuse at a toaster and think, "What a time to be alive."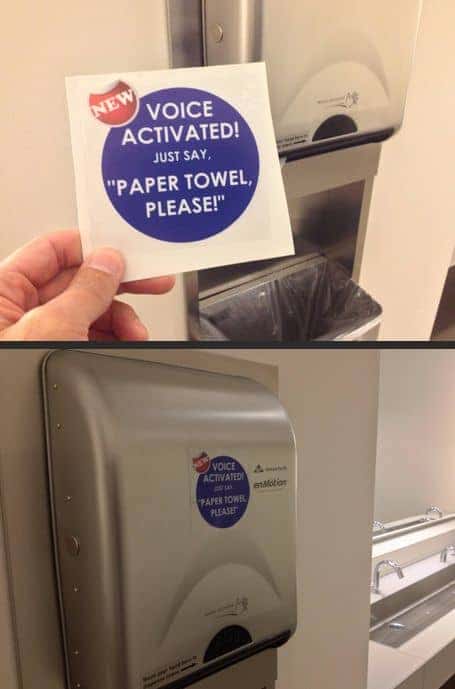 Source: Buzzfeed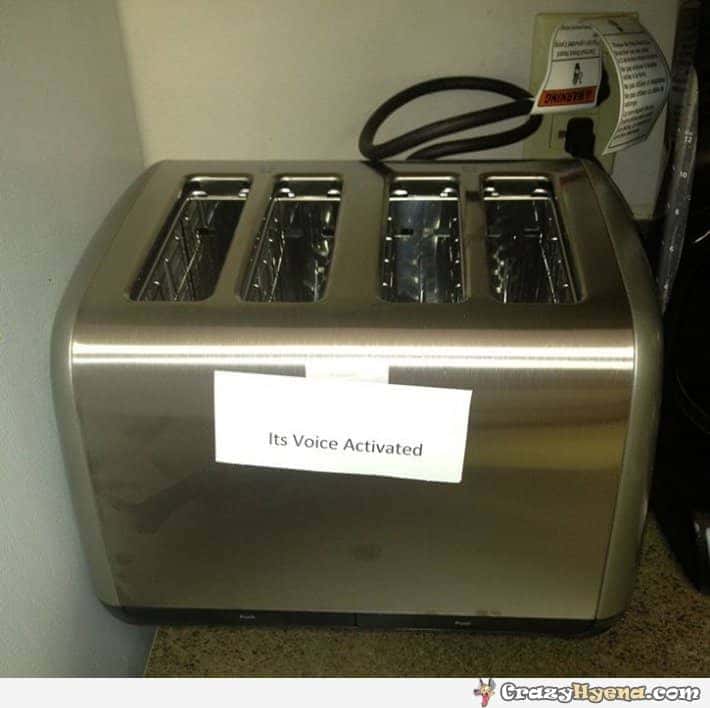 Source: Crazy Hyena
6. You Crack Me Up
In an age when people are glued to their screens, a slight crack on the surface can be enough to send someone to the brink of their sanity. A simple app or image download will ensure you get maximum freakout bang for a tiny prank buck.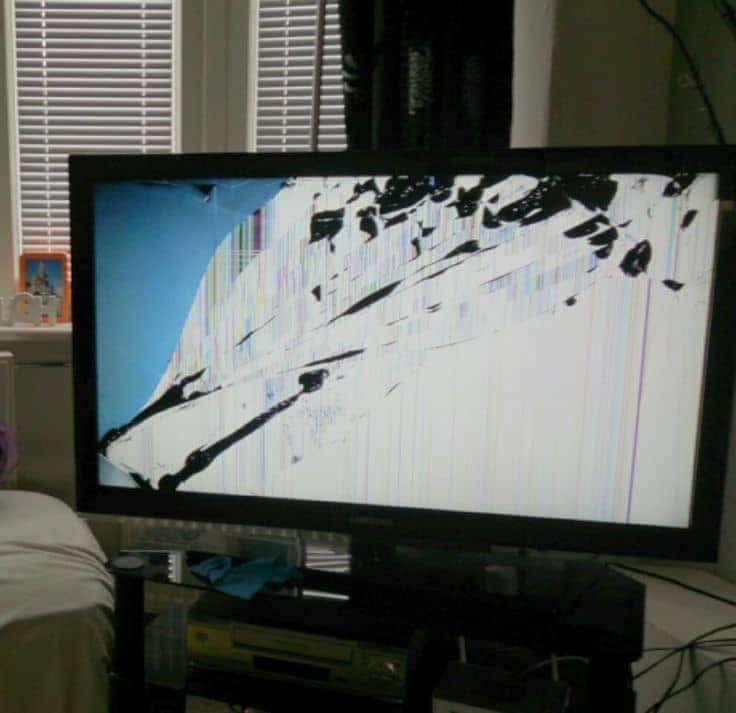 Source: Reddit
7. May The Force-Field Be With You
All is not what it seems with this invisible prank. Apply clingwrap to any surface or passage and watch as your victim's sense of reality is shattered.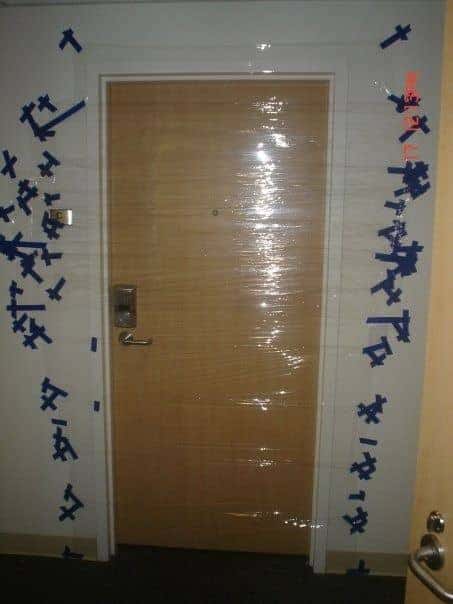 Source: Youtube
8. Hardcore Wrap
Get your coworkers in the festive spirit with the gift that keeps on giving. Transform their workspace into a hilarious inconvenience with an sticky tape, scissors, 7 or 8 of your closest confidants and an excessive amount of colourful wrapping material.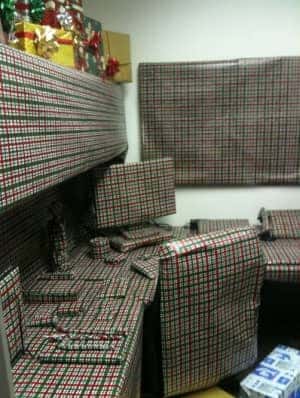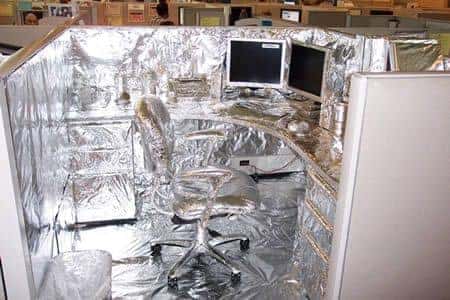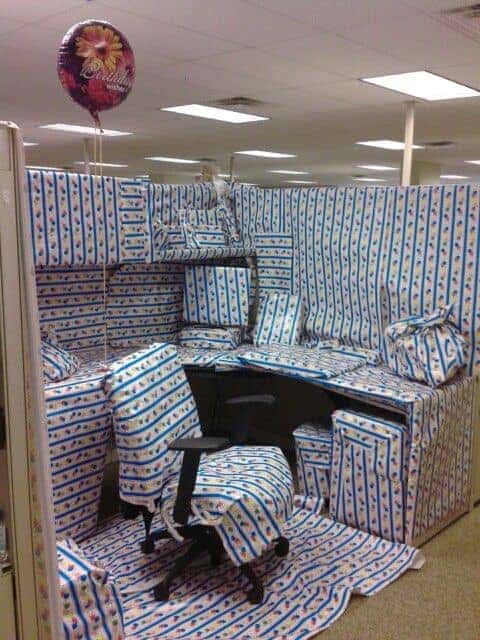 9. Snack Attack
There are a number of diabolical ways to disguise the disgusting as the delicious. Coffee grounds masquerading as moist brownie cupcakes, Onions in toffee apples' clothing, or even a spongecake made from an actual sponge. These makes me hangry just thinking about them.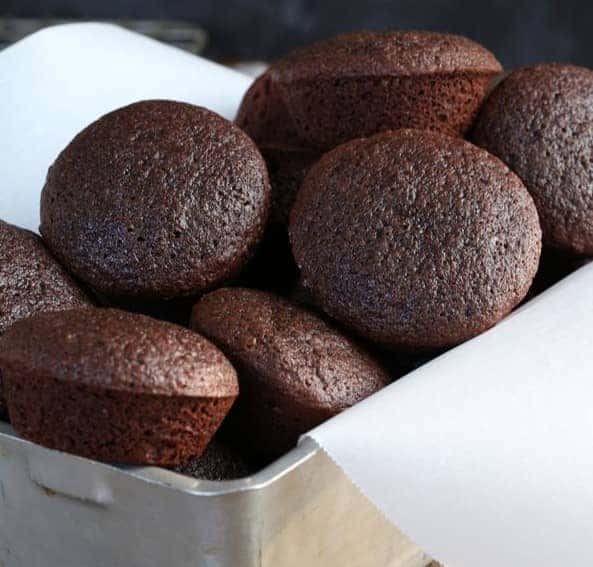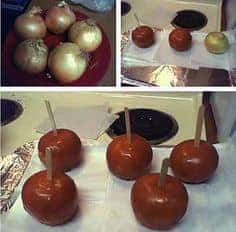 Source: The Meta Picture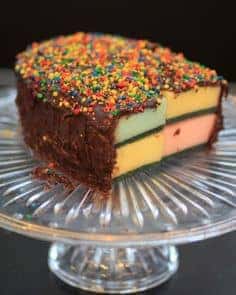 Source: Watch Out For The Woestmans
10. Dot The Eyes…
If all else fails, unexpected googly eyes will absolutely, positively, 100% get a rise out of anyone. Just look at these kooky little creatures – they're adorable!

Source: OSX Daily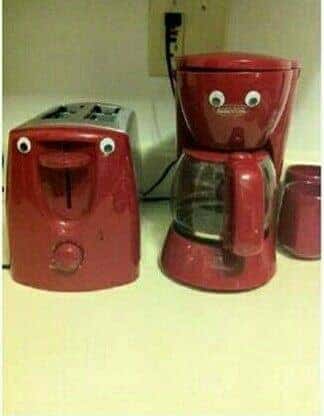 Source: Youtube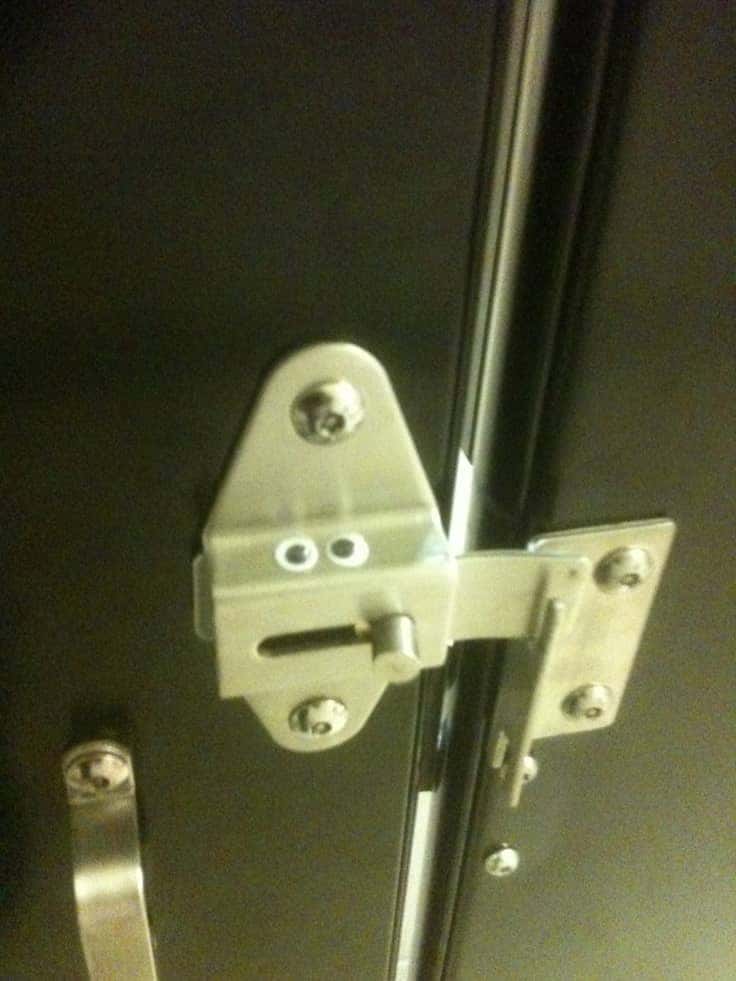 Source: Eyebombing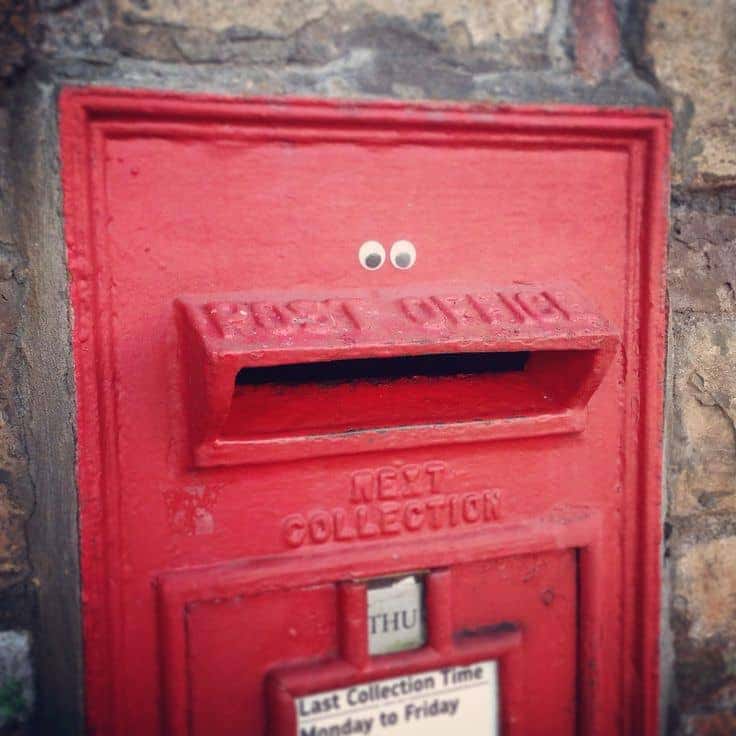 Source: Eyebombing
Need more inspiration? Check out some more April fools pranks for the home and office. If you have any tips for how to surprise, amuse or terrify your coworkers, leave them in the comment box below. Happy pranking!