Remodelling your home? Take the opportunity to make as much room as possible with a walk-in wardrobe. This closet space is an additional room for clothes, bags, eyewear, and accessories. 
So whether you want to reorganise and redesign an existing wardrobe or build something from scratch, I'm sure you'll be able to draw some inspiration from these 20+ walk-in wardrobe ideas.
1. Chic and seamless black 
Sleek black wardrobes are an excellent addition to a modern home. Depending on your home's interiors, you can choose materials like glass or wood to build the space. Ensure you have a good balance of hanger and storage or drawer space, depending on how much you use these.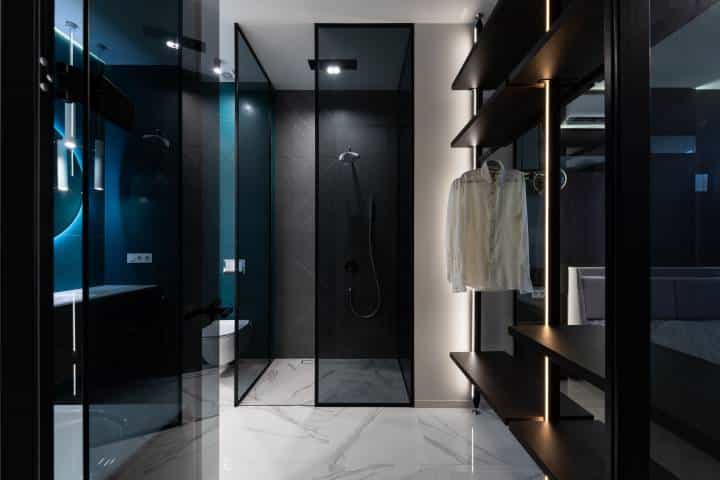 Find the perfect storage space and type of closet design with an interior designer near you.
2. Upside-down drawers
Looking to maintain something minimalist, like a capsule wardrobe? Keep it simple with as few drawers as possible and just enough hanger space for your essentials. Upside-down drawers are a unique approach to your standard wardrobe.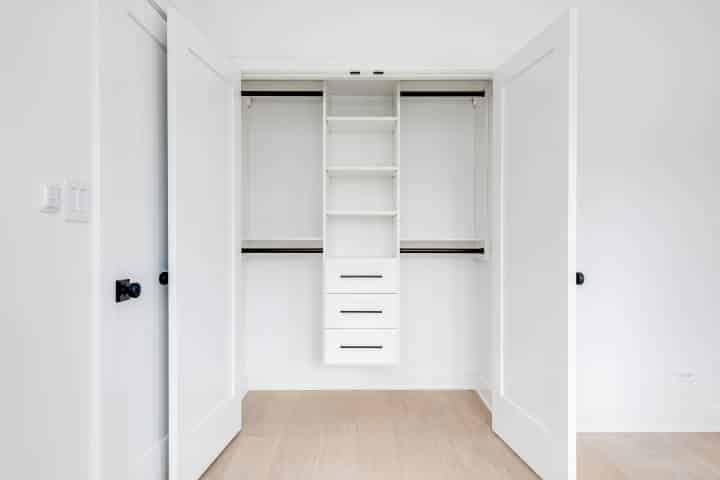 3. Pendant lighting
Ah, I love how understated and classic this wood and beige walk-in wardrobe is! I love the wooden drawers, cupboards and bench tops which look oh-so classy with the black handles attached! And the beige wall and slightly pink curtain help continue the space's soft, neutral colour scheme.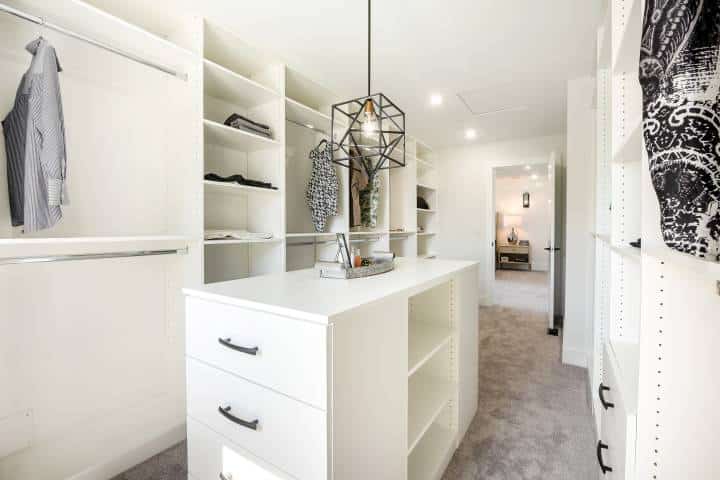 4. Glass display
If you're the type who enjoys seeing all their clothes at a glance, you'll love this. Instead of using your standard cabinet doors, you can opt for glass ones to keep your clothes and accessories safe while also getting an easy view of what you might have available to wear for the day.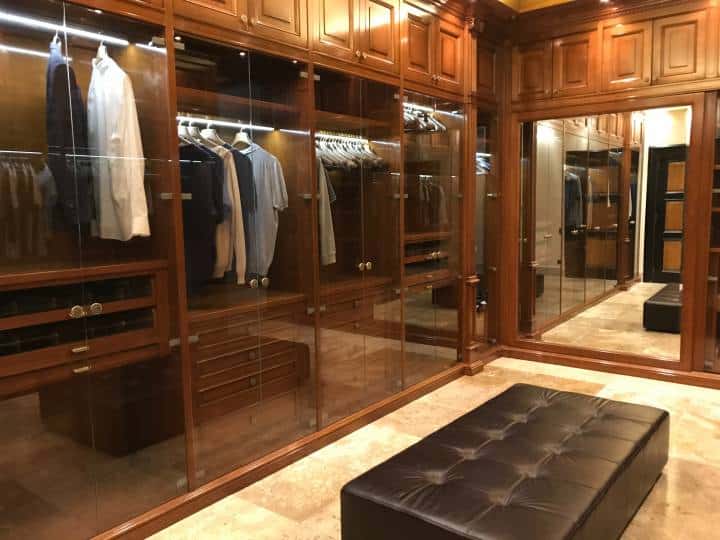 5. Ambient lighting
Lighting is crucial in creating the vibe of any room, but especially your walk-in wardrobe. Experiment with different types of lighting that complements your skin tone and silhouette the most. This is a space you'd like to look your best, after all.
Chat with your local light installing service before making the change.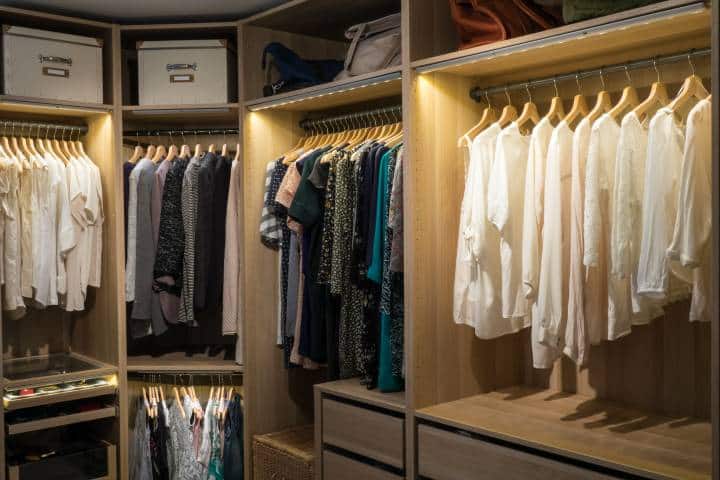 6. Maximised storage
If you've limited space or want to make the most of your walk-in wardrobe, sneak as much shelving space as you can into your build.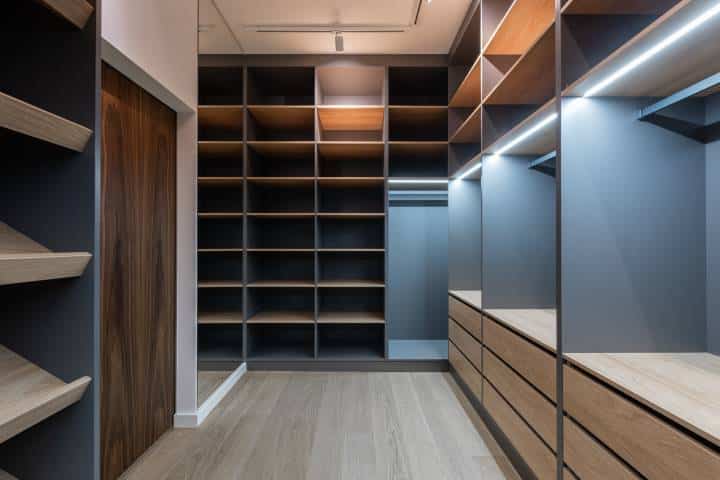 7. Easy install drawer space
The best thing about DIY drawer space is that they're easy to find in hardware stores. You can do them yourself to save on labour costs; however, if you'd like to still get it done quickly, you can always connect with professional wardrobe services near you.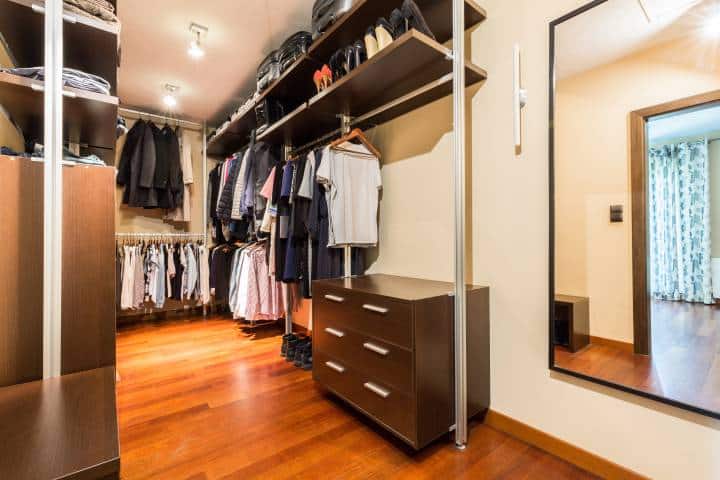 8. Curved shelving systems
Sometimes rooms are irregularly shaped. Don't miss the opportunity to maximise your space by installing shelves that adapt to the curves and corners of the house.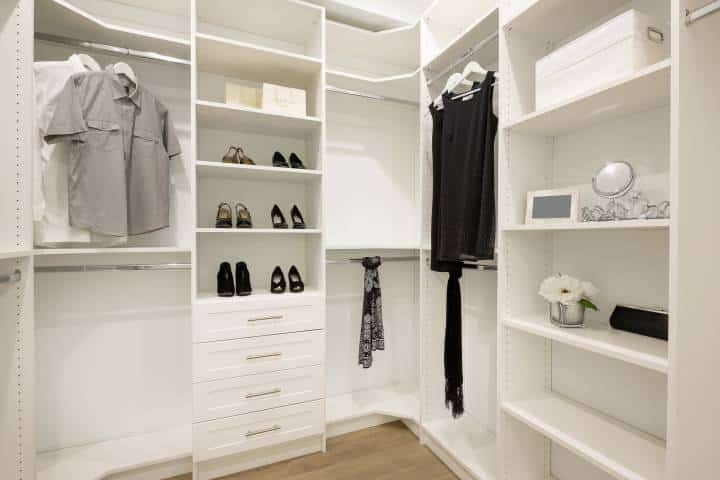 9. Camouflage wall panelling 
Going for minimalism? Why not camouflage your cabinets into the wall? Try using the same colour paint as the room's interiors. If you don't want it too bare, you can always bring some plants, framed photos, or art to decorate the space.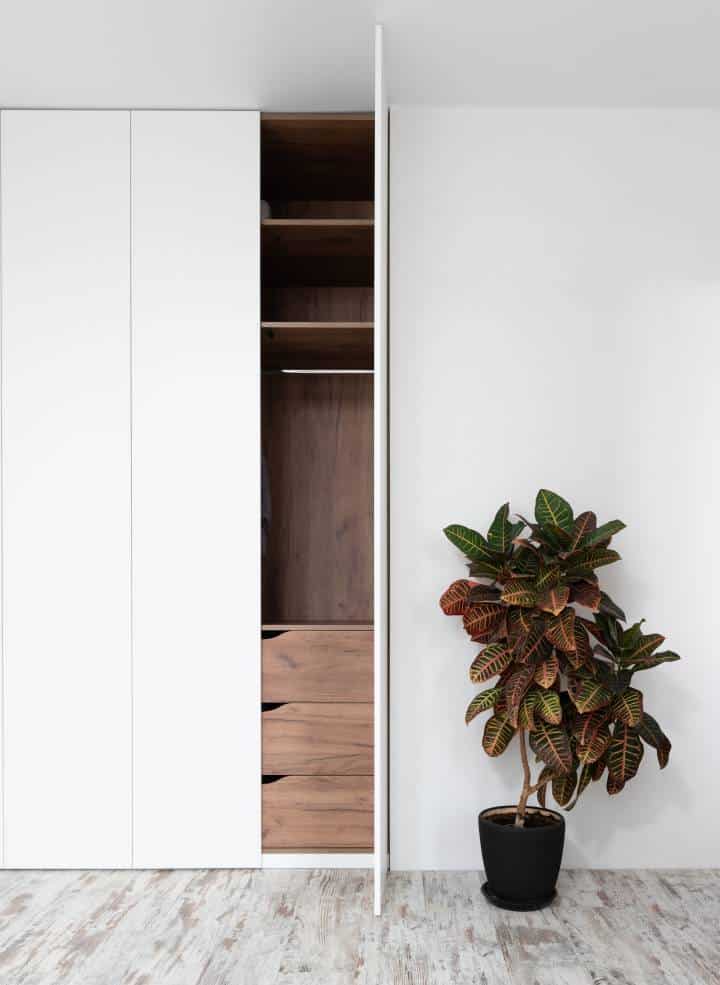 10. Mirror cabinetry
A walk-in wardrobe isn't complete without a floor-length mirror. Having them as your closet door panelling not only serves as a great way to hide any cabinets, but you'll also get a total 360 of your outfit for the day.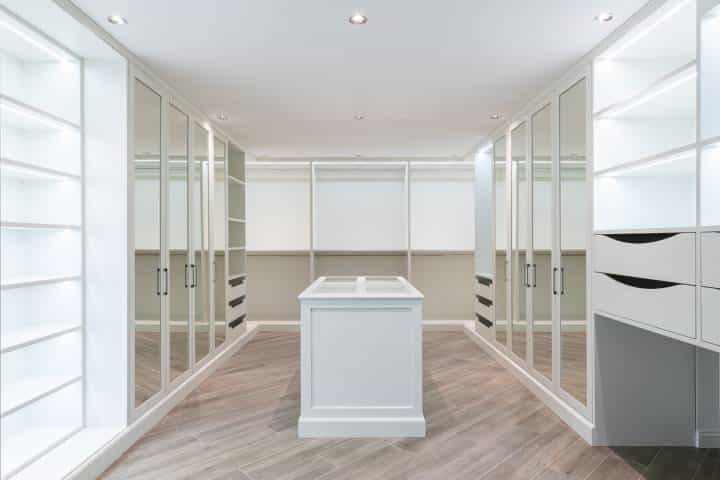 11. Wood on wood
You can never go wrong with wooden finishes. Opt for a deep brown tone for that more luxurious feel. Add contrasting-coloured storage boxes to play up the interiors.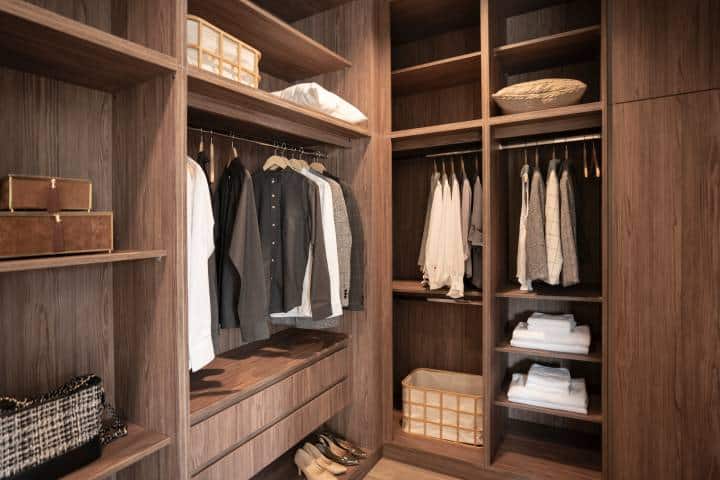 12. Shoe wall 
If you have a collection of shoes, then a shoe wall dedicated to storage might be just for you. This way, you'll be able to display them and find the shoes you need quickly. You can also organise it by shoe type, colour, or comfort.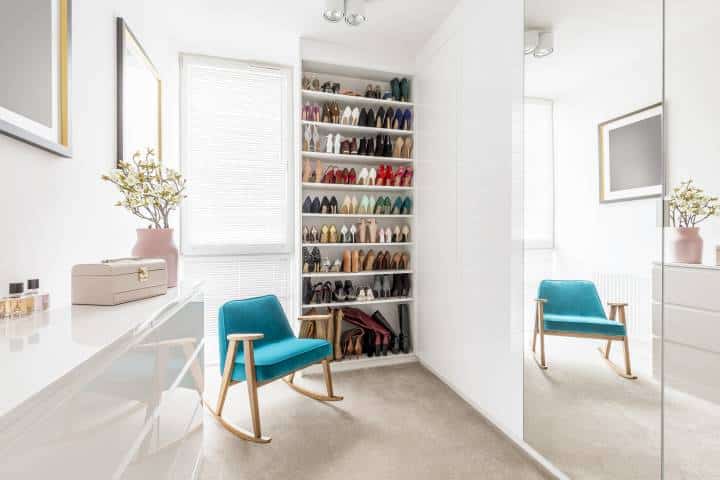 13. Elegant lighting
Another way to create elegance in your walk-in wardrobe is by adding a chandelier or pendant light in the middle of the room. Light reflected creates delicate silhouettes that make the space as soft or bright as you want, depending on your fixture style.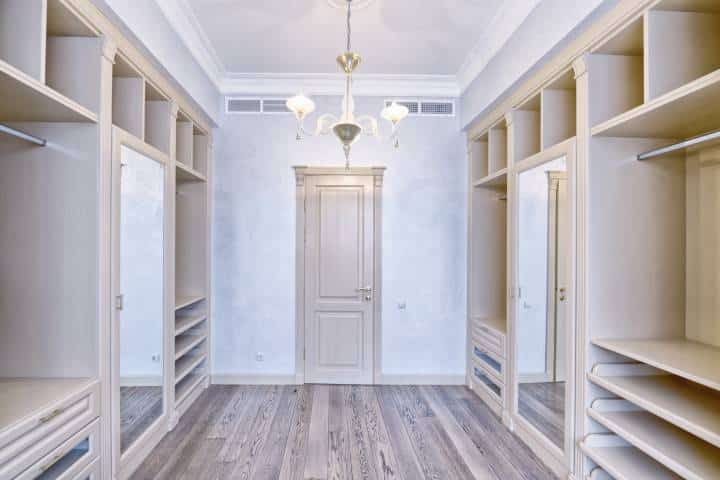 14. Floor-to-ceiling shelves
Utilise every inch of your walk-in wardrobe with floor-to-ceiling storage. With all the extra room, you'll be able to hang both long and short clothes, store extra clothes, display your shoes, and even do a little decor.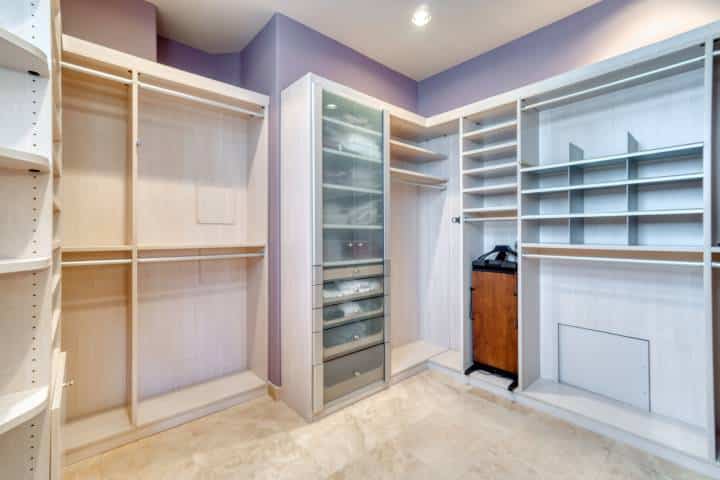 15. Decorative doorknobs 
If your interiors are monochromatic, don't miss your chance to throw in an accent colour. For elegance, go with gold handles. A more masculine look could call for black, while a more feminine look might call for an intricately designed handle.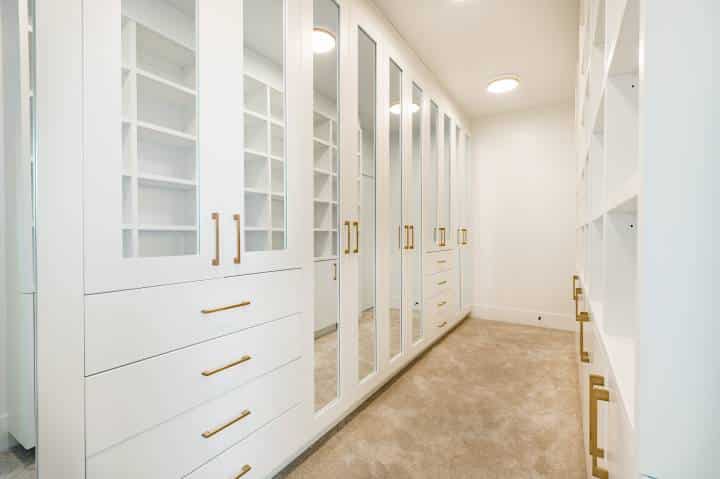 16. Centre ottoman
If you want your walk-in wardrobe to be a place where you can be comfortable, adding an ottoman will do wonders. Having somewhere to sit allows you to admire all your clothes and shoes and display items however you want.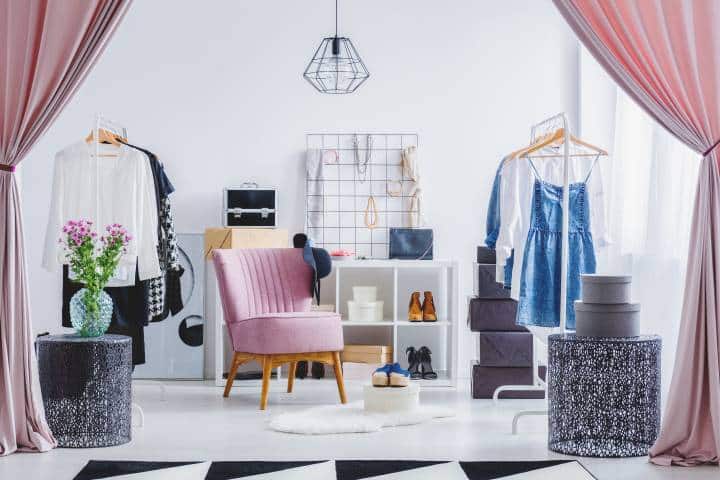 17. Aluminium racks
Aluminium racks lend an industrial look to the space. The thick straight lines evoke a more masculine feel. Play around with the rack colours to match your wall colour or material.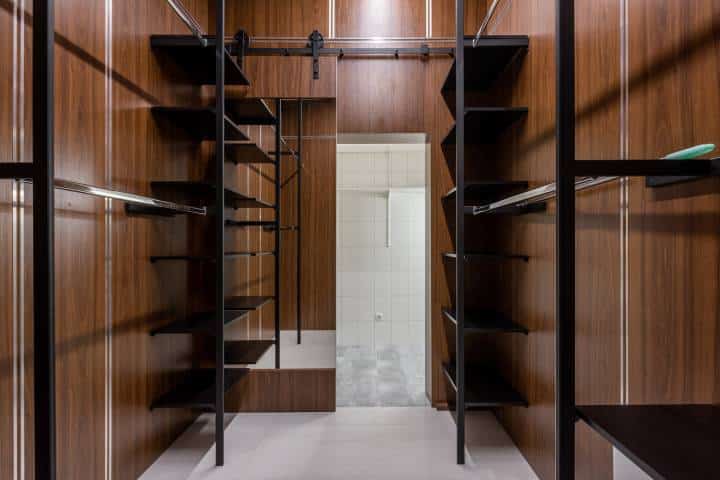 18. Vanity area
You can add a vanity to make the most of your walk-in wardrobe space. It gives you access to a mirror for checking your outfit before taking off, and you can also use the area to do makeup or any last-minute finishing touches with accessories before heading out.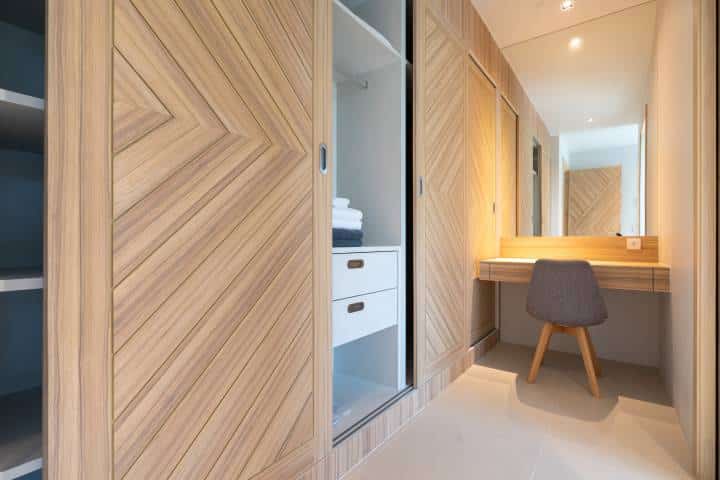 19. White and wood
How stunning is this white wooden walk-in? Using a clean colour like this makes the space feel larger and allows you to add little details for a visually exciting interior. You can bring in calming house plants, fun wall art, or even little figurines to decorate some of your shelving space.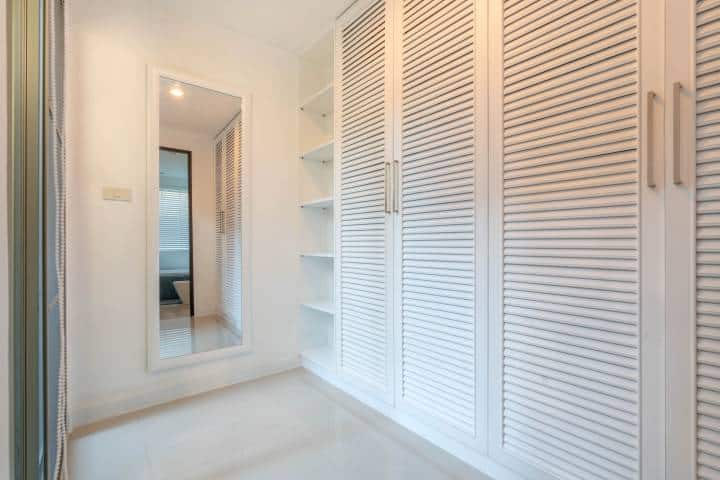 20. Matching storage boxes 
Keep your wardrobe looking neat with storage boxes that match your interiors. It's great for decluttering and tucking away smaller accessories, socks, and underwear. Neutral tones on your walls will help create a cleaner palette, but you can play it up with pops of brighter colours.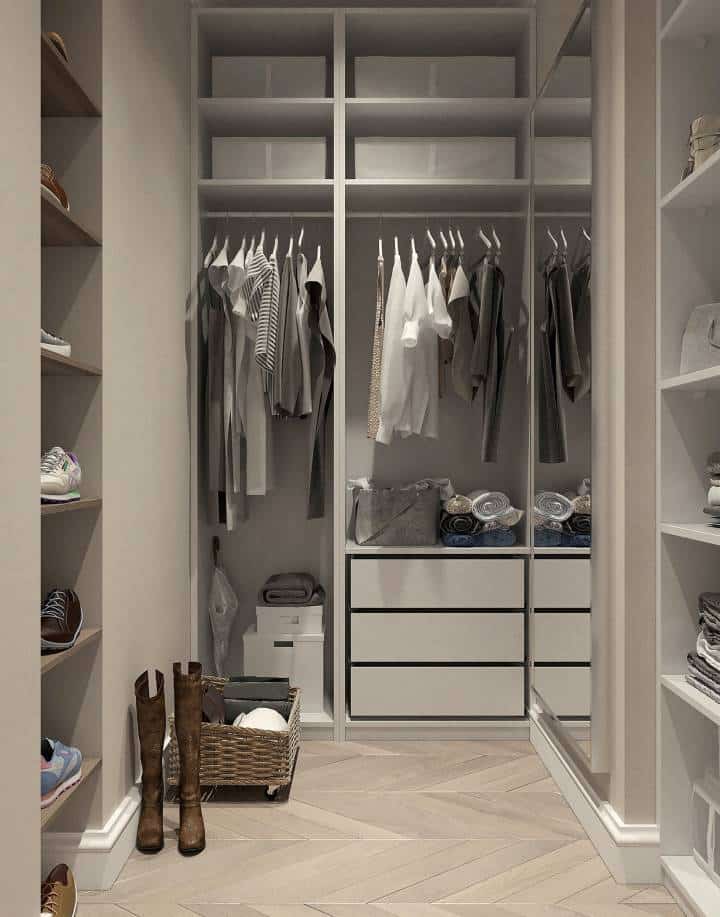 Consult with decluttering experts near you to organise your belongings more efficiently.
21. Soft neutrals
Going for a softer look for your wardrobe? White walls work well with any neutral colour as it helps brighten up the space. If you're not too keen on brown wood for your wardrobe, you can try light greys and add accent chairs or art pieces.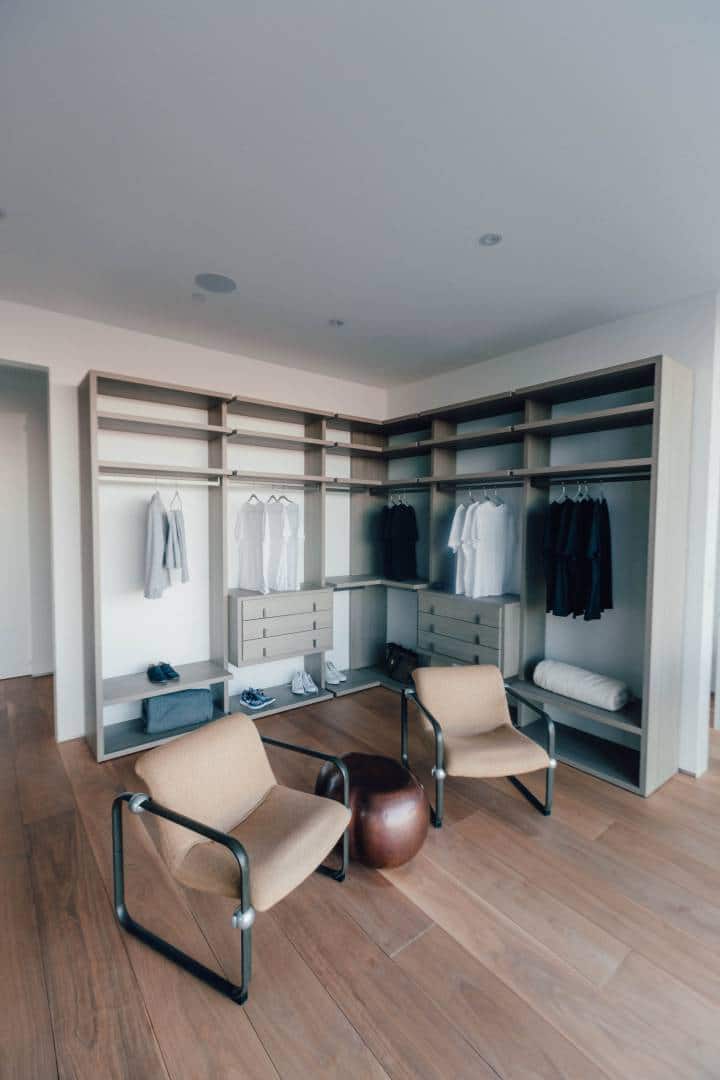 Hopefully, these walk-in wardrobe ideas inspire you for your home build or renovation of your existing wardrobe. If you're ready to build it out, find professional wardrobe assembly services near you to bring your ideas to life in no time.