Looking for front room ideas for how to style a front room or small living room?
With all the elements to consider, it can be challenging to know where to start. There are decisions about layout and furniture placement, paint colours, lighting and décor. And then you need to work out how to bring everything together harmoniously.
If you have a compact living room, these clever design tricks can help supersize your space. Take a look at these small front room ideas to get you started.
1. Take your measurements
Let's start with a simple step you can take to make sure you choose furniture and décor in the right proportions. Using a tape measure, note down your actual space size as well as the ideal measurements of furniture items. You might even like to sketch out a floorplan. You'll find this such a handy guide when shopping.
2. Plan your layout
Next, you'll want to work out the ideal setup for your front room furniture. Try to avoid working your front room design around the placement of your TV. Instead, choose a different focal point, like a beautiful artwork. Think about the traffic flow in your space, so you can arrange the furniture best. A good tip for a small front room: don't have your sofa facing a wall as this can feel stifling. Instead, always have the sofa facing out, whether to a window or an entryway.
3. Begin with a favourite item
If you're wondering where to start when it comes to front room ideas, designers suggest picking a favourite item and basing your colour scheme around this. It might be an exquisite Moroccan rug, or a vibrant artwork. Or it might be as simple as a cushion in stunning fabric. With this as a guide, pick four to six colours to work with. Half of these should be neutrals, while the other half will be your accent colours. Nifty!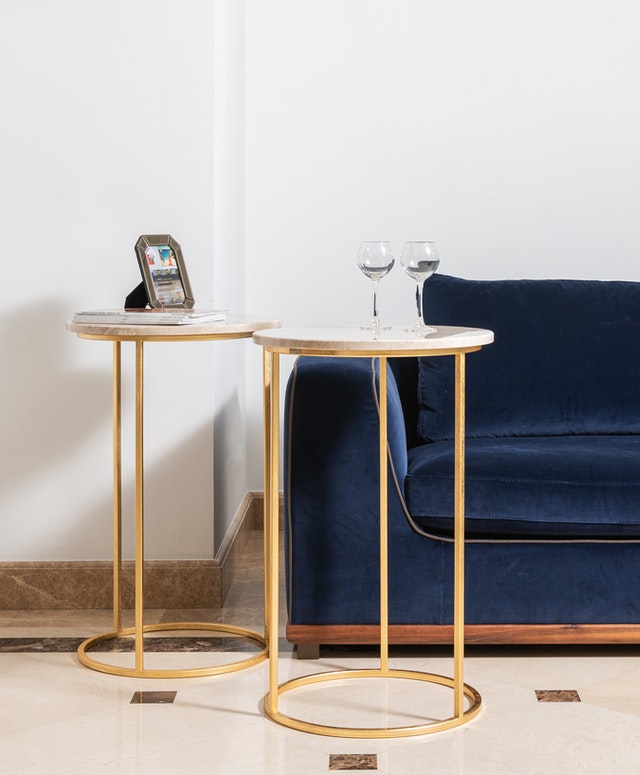 4. Work out your flooring
It should be practical as it will take a lot of wear. Carpets with light colours are best avoided. Instead, opt for low-pile, stain resistant darker shades. Natural flooring options like sisal might appeal especially if you add a lovely area rug. If adding carpet or natural flooring, consider adding a thick underlay to absorb noise. Timber floorboards are lovely of course, if you have them!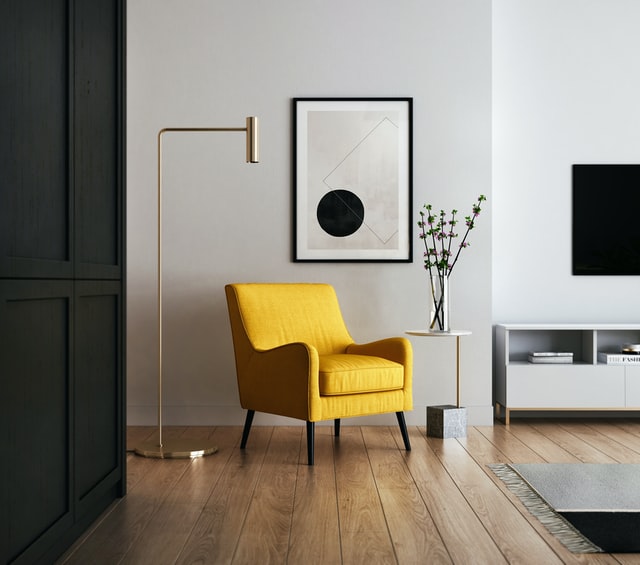 5. Find the perfect sofa
Apart from aesthetics like style, shape and colour, make sure you take into account things like the size and shape of your room, how many people will need seating, and of course where the sofa will go. When it comes to colours, there's always the safe option of neutrals, but you could also go for popping brightly coloured sofa – as long as you won't tire of it too fast! And as to shape and size, don't forget a low-backed sofa will take up less visual space. Also, consider your options as to purchasing a smaller sized sofa rather than a sprawling three seater. You might just want to add other, smaller seating options as well.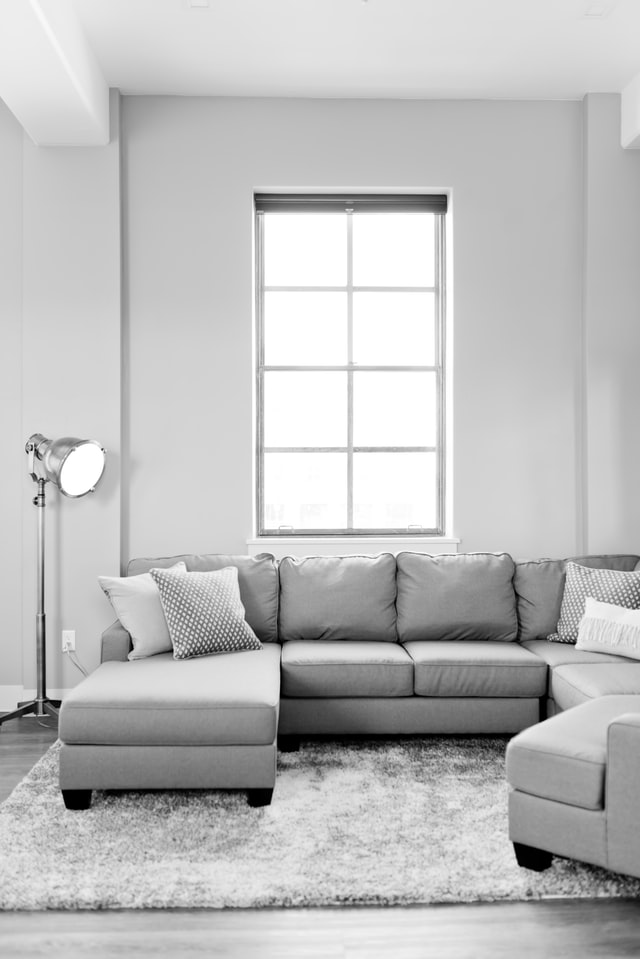 6. Choose simple furniture shapes
There are lots of little tricks you can employ to make a small front room feel bigger. For example, choosing furniture in simple shapes will reduce visual clutter. And certain styles, like Mid-century Modern, are great for small spaces as they tend to have thin legs and not be bulky. You might also like to try pieces of furniture with cutaway sides that reveal more floor space. And another tip is to go for acrylic, Plexiglass or Lucite side tables and coffee tables, as these also give the illusion of more space.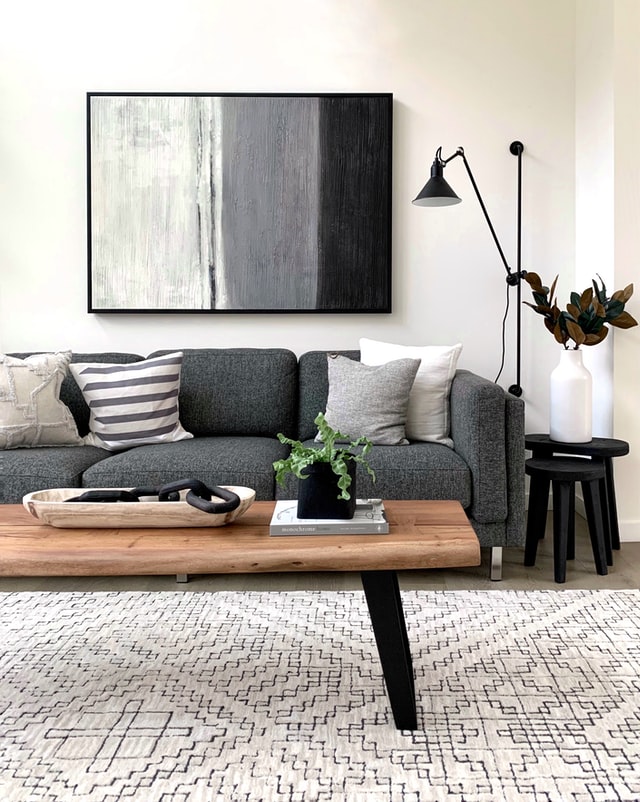 7. Choose your paint colour
It's a well-known design rule that lighter colours make a small room feel bigger. But you might prefer to go for darker tones to create a more intimate vibe. It's up to you! For large areas like walls, and bigger pieces of furniture, it's a good idea to opt for neutrals. You can then use your accent colours for your décor and smaller furniture.
When it comes to choosing a neutral shade, consider the fact that you might want to add warmth with soft pastel tones to make the room feel more welcoming. On the other hand if you have lots of bold, bright colours, you might like to go for a cooler wall colour to mellow it all down. Remember that neutrals with cool undertones will brighten a room and make a room feel larger as the walls appear to recede. By contrast, warm colours advance, meaning they make a space feel smaller and more cosy.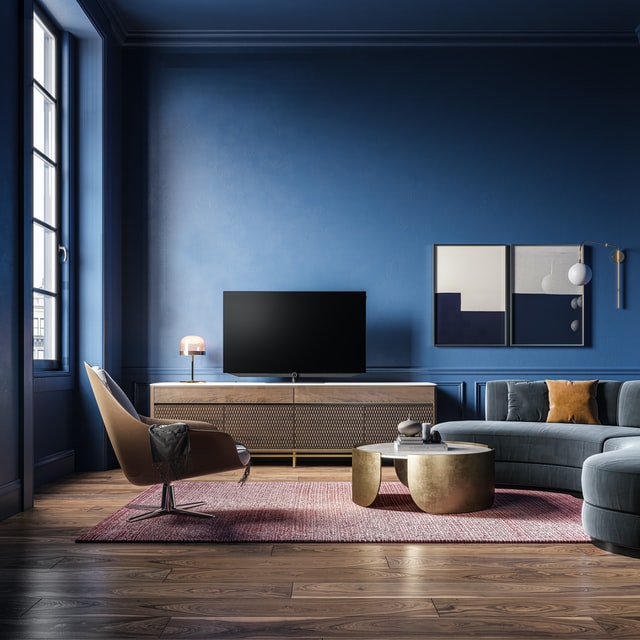 8. Paint skirting boards
To make your small front room feel bigger, paint your skirting boards the same colour as the wall. Rather than the traditional, popping white border, keeping the colour the same as the wall will give the illusion of a taller wall and elongate the walls.
9. Figure out lighting
Lighting is a major decision when it comes to planning your ideal front room. After all, we spend a lot of time in our living rooms in the evenings. The right lighting will make your space inviting and cosy, while the wrong lighting can give a clinical feel. Experts suggest including the three main types of lighting, being ambient, task and accent lighting. A mix of light sources placed around the room at varying levels is ideal.
So you might have task lighting in the form of a standing or table lamp over an armchair. There might be a dimmable central pendant as an ambient light source. And then accent lighting in table lights, picture lights, recessed lights or wall sconces. Lighting can also be used for effects. For instance, uplighters can make walls feel taller, while downlighters can make things feel cosier. Your choice of lightbulbs will also make a difference!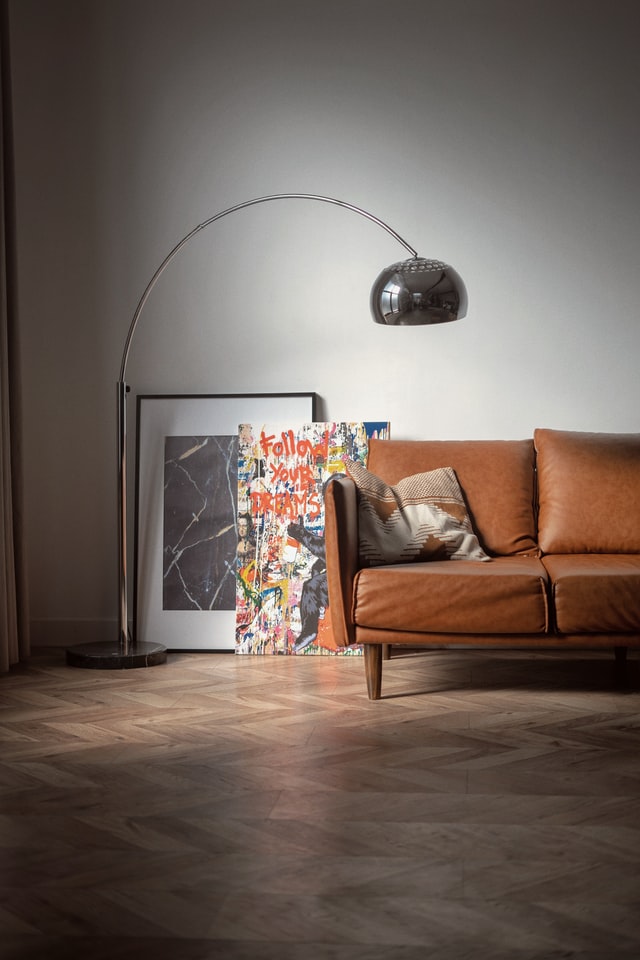 10. Decorate the walls
Bare walls will make your front room feel unfinished, so spend some time thinking about the best way to decorate your walls. It might be with artwork (in which case you might like to get some help with picture hanging from a professional). Or, you could try livening up the space with wallpaper.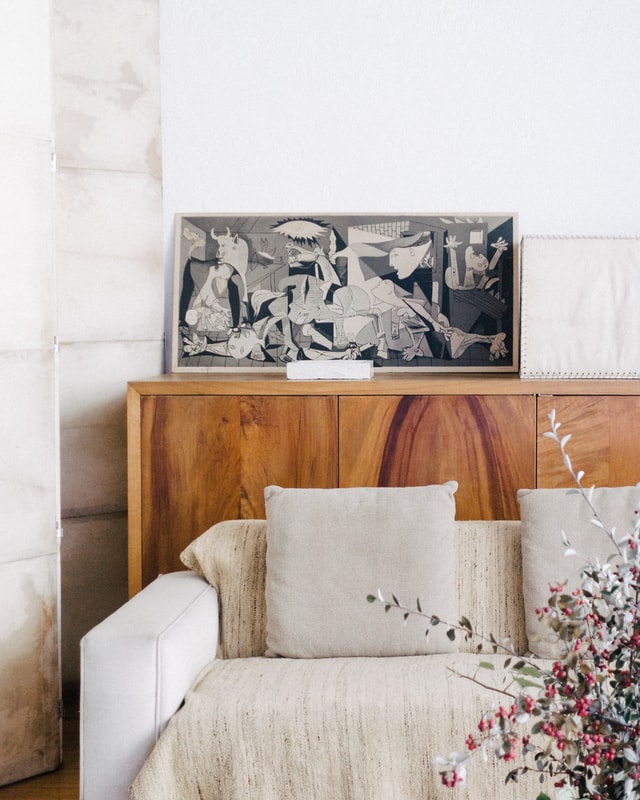 11. Choose your window treatments
When it comes to window dressings for a front room, the simpler, the better. But even with a simple style, you can still go for luxurious materials if aiming for a sophisticated look. If you choose curtains, keep them as sheer and airy as possible. Alternatively, opt for blinds or shutters. These add less visual bulk and will also make a room feel taller.
12. Add an area rug
A rug is perfect for tying all your elements together and is the perfect way to bring in beautiful colours and patterns. When choosing an area rug, consider the size carefully. You don't want one that's too small or it will just look odd. As a rule of thumb, it should be able to hold all your furniture on top of the rug, with around 10-20 inches of naked floor between the rug edge and room wall.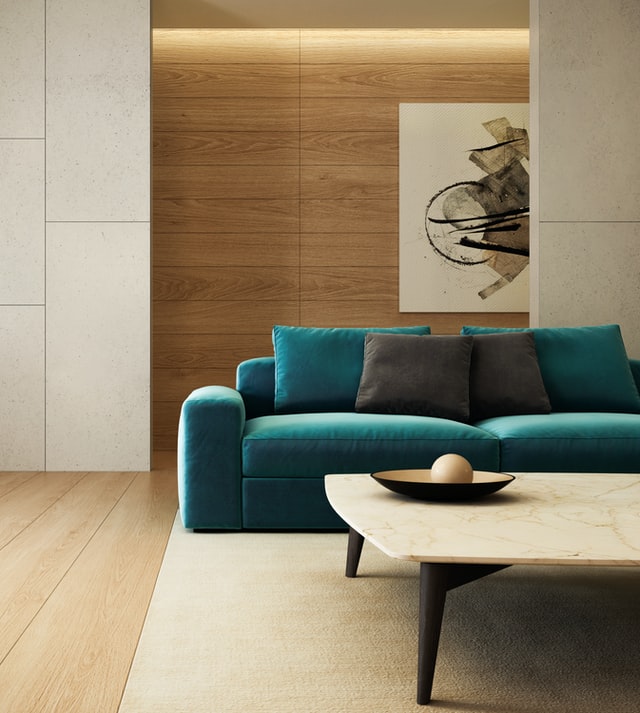 13. Try a feature wall
Even if you want to go for a light colour scheme, you might still like to add interest by having a feature wall in your favourite colour.  Designers say a feature wall's bold dose of colour can act as a 'visual hug' which draws you in. The ideal spot for a feature wall in a small front room? Behind the sofa.
14. Front room ideas – add mirrors
Mirrors are ideal for reflecting light and helping create the illusion of more space. You might go for beautifully framed mirrors to double up as wall art. Or, you might find furniture with reflective surfaces that can also help maximise the natural light in your front room.
15. Work out storage
Small spaces need to be kept super tidy or they descend into chaos quickly. This means that you need to have clever storage solutions that maximise the storage potential of your space. It means taking advantage of unused corners and available vertical wall space with well-chosen storage. Floating shelves are a great way to organise your storage in a small front room, especially if you have recess or alcove space to use. Or you might opt for bespoke, fitted cupboards and shelves that use up all the available space. A mix of open and closed storage is usually a great choice as you can both hide and display items.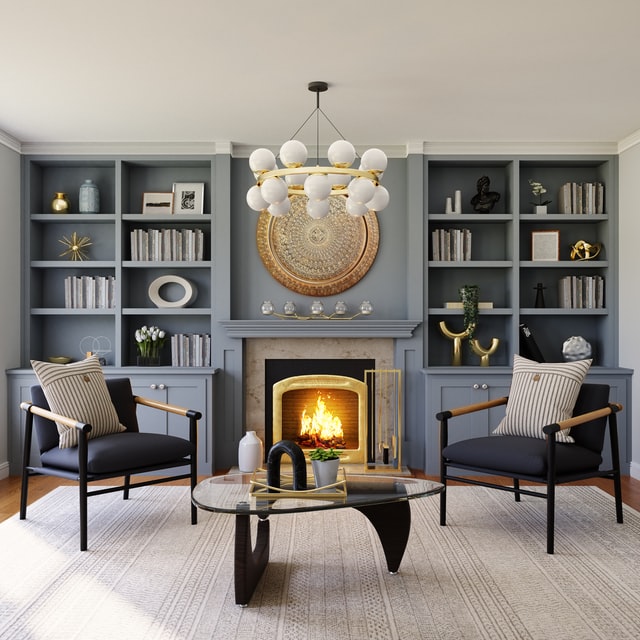 16. Go vertical
The trick to decorating a small front room is to make the most of the available wall space and keep the floor as uncluttered as possible. So you might hang your curtain rods as high as you can, have shelving that goes floor to ceiling, decorate with a gallery wall, use the above-doorway space for extra shelving, add decorative hooks and hang baskets. Whatever you can do to get things off the floor will really help your space appear larger.
17. Conceal or wall mount the telly
Wall-mounting your TV will save space compared to having a TV cabinet and gives a modern streamlined look. Another option to is conceal your TV in a cabinet so that it doesn't command so much attention. If you want to create a media centre, you might also add floating shelves above and below your wall-mounted telly, leaving the floorspace free.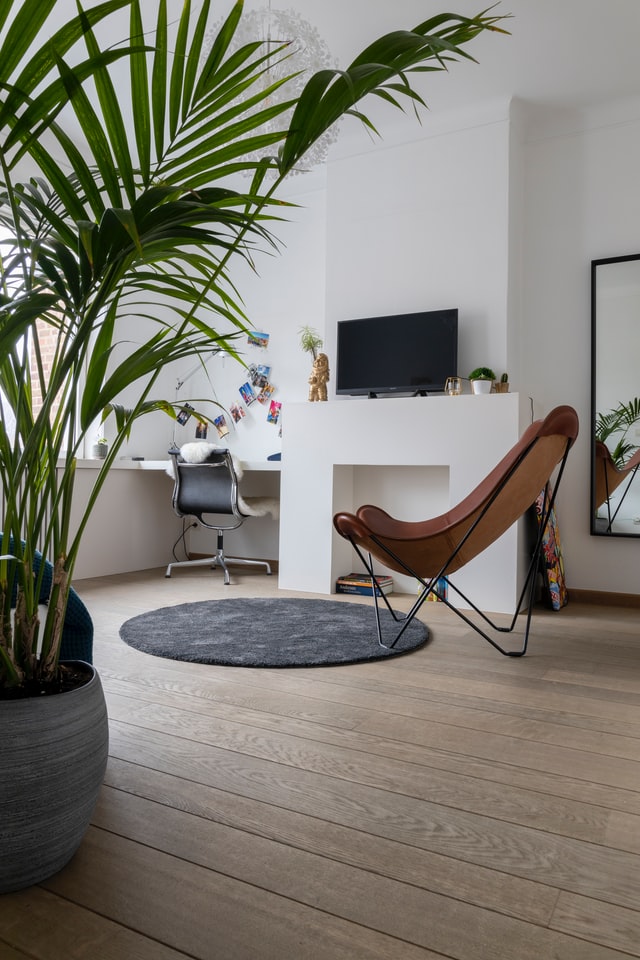 18. Use stools as seats
Paring back the amount of furniture you have in your small front room is desirable to avoid it feeling cramped. So you might go for a single sofa rather than two, and have a set of stools nearby that can be used for seating. If possible, choose 'stowaway' style stools, that can be tucked away under your coffee table. Floor cushions are another option for extra seating.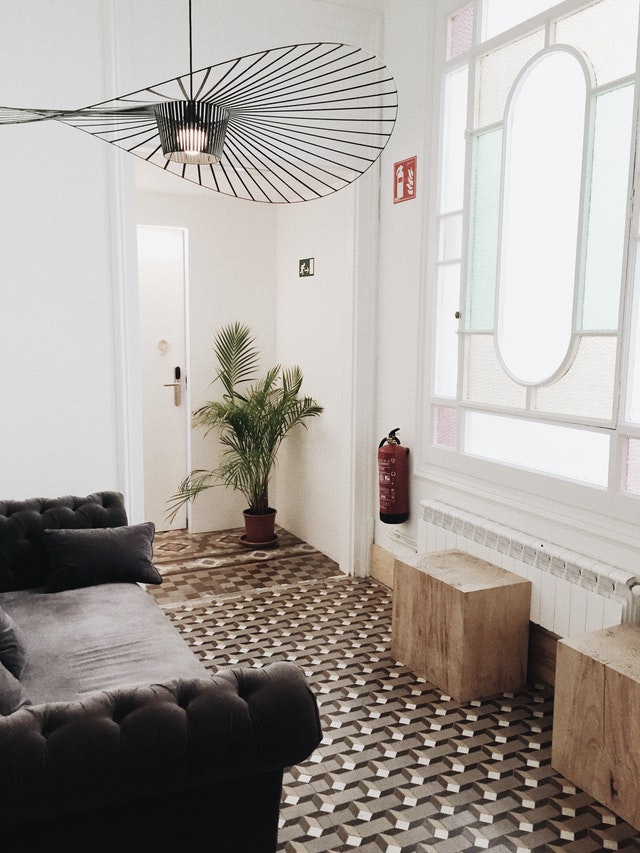 19. Avoid the corridor effect
When it comes to front room ideas for layouts, remember that having your front room furniture set up too parallel will create an unwanted corridor effect, especially if you have long sofas. One solution is to opt for an L-shaped sofa. This allows you to create a cosy corner and prevents a runway strip effect.
20. Bring in organic materials
There's always something so grounding and restful about earthy materials like natural fibre textiles, woods, and stone. They bring a sense of timeless comfort to your space, as well as adding beauty since many organic materials are so stunning.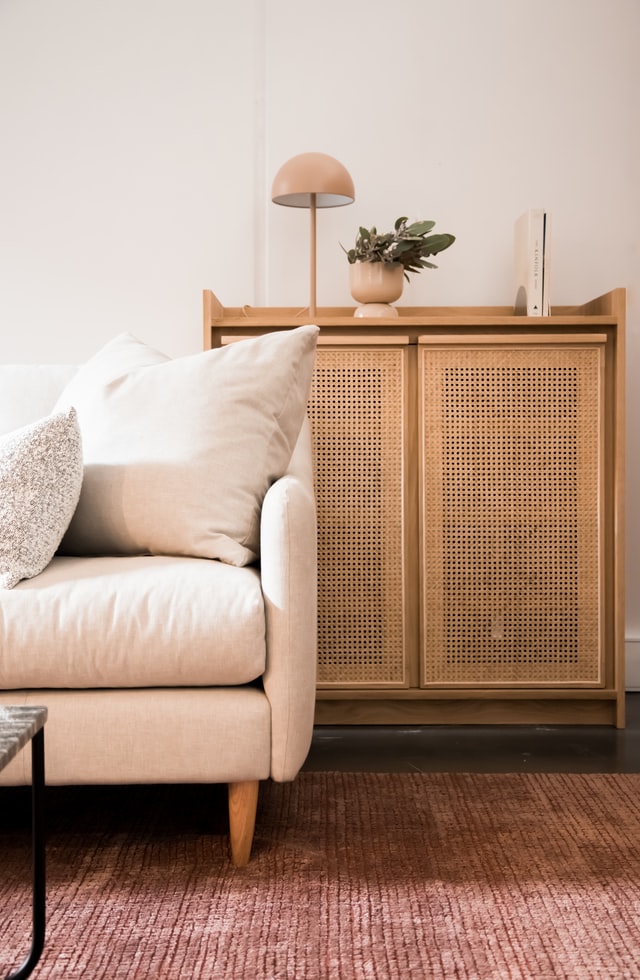 21. Add greenery
Decorating with a variety of potted plants is a super easy way to add colour and life to a room. It also brings a calming sense of nature into the space. So go botanical and add vibrancy to your front room. You might also like to enhance the garden-feel with floral and leaf motifs in your décor.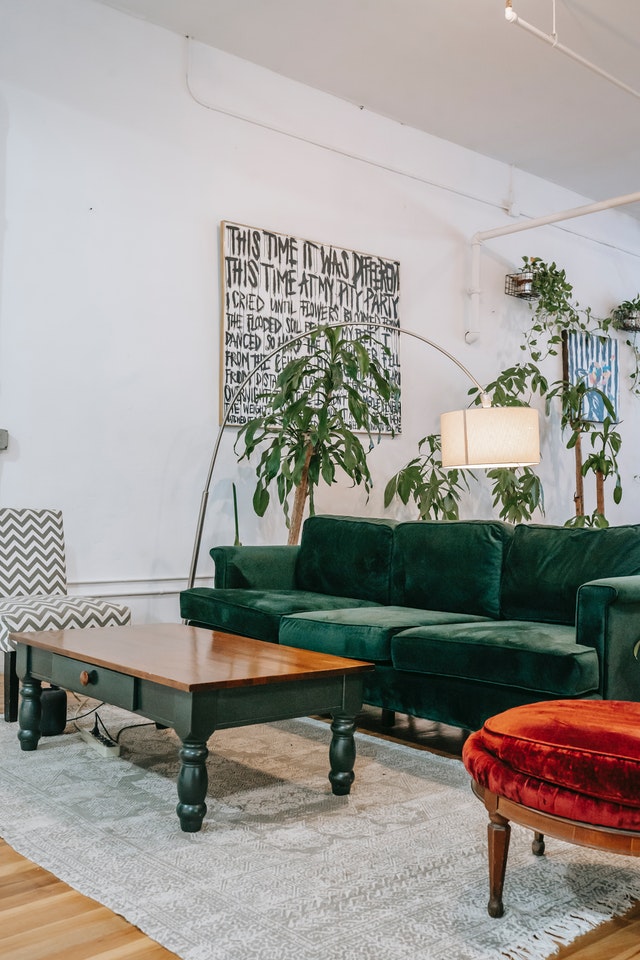 22. Invest in multi-functional furniture
For a small front living room, you can't go wrong with multi-functional furniture for saving space. It might be a coffee table with lots of handy drawers, lidded stools that can store items, or simply a sofa with under-seat storage compartments.
23. Have a statement or vintage piece
One amazing piece of furniture can act as a focal point and draw attention away from more mundane features or the fact that it's a small room. Perhaps it's an attention-seeking artwork, vintage lamp or other impressive décor. Or, you have your couch upholstered in gorgeous new fabric. Either way, pare back other elements and allow the statement piece to shine.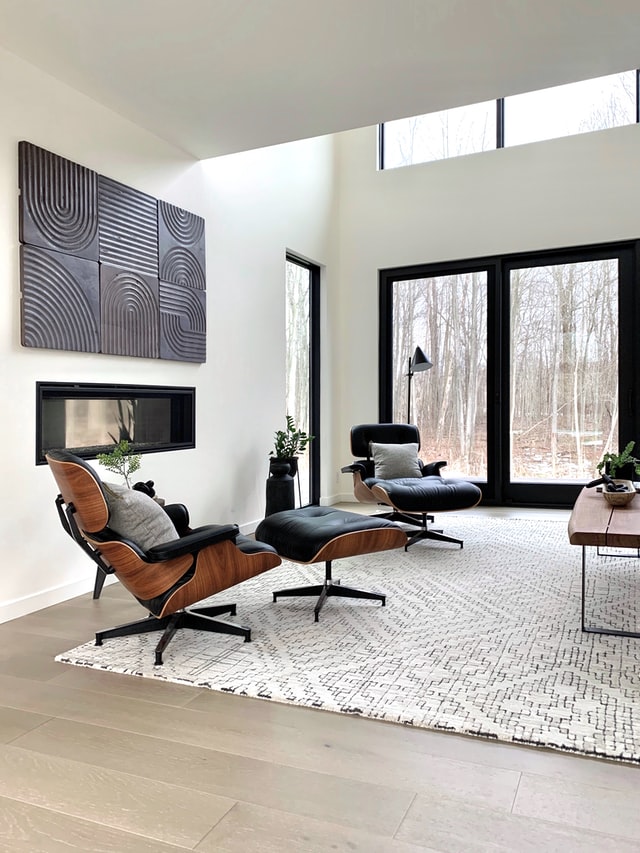 24. Add in textural pieces
Bringing in visual texture to your space is crucial for adding interest, avoiding bland flatness, and breathing in life. So make sure you layer your space with a mix of differently textured materials for that all-important depth and dimension.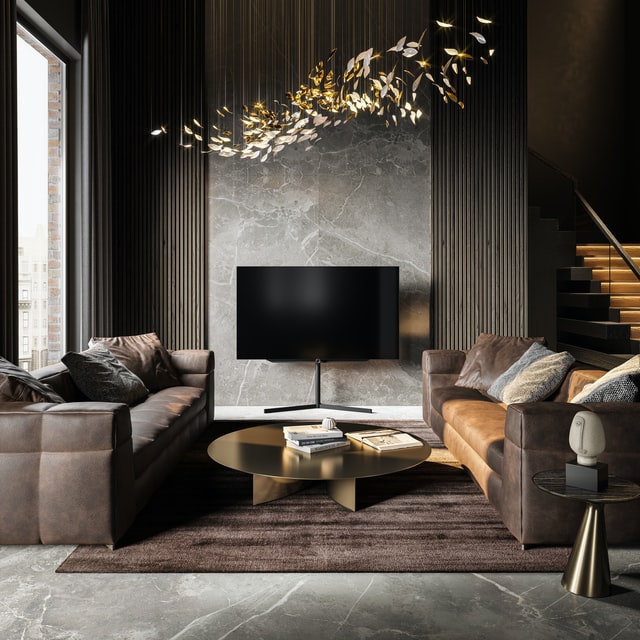 25. Go low
When you have a small front room, sticking to low and short furniture items will give the illusion that the ceilings are higher. For example, a coffee table with short legs or a low cabinet that suggests there is more wall above it.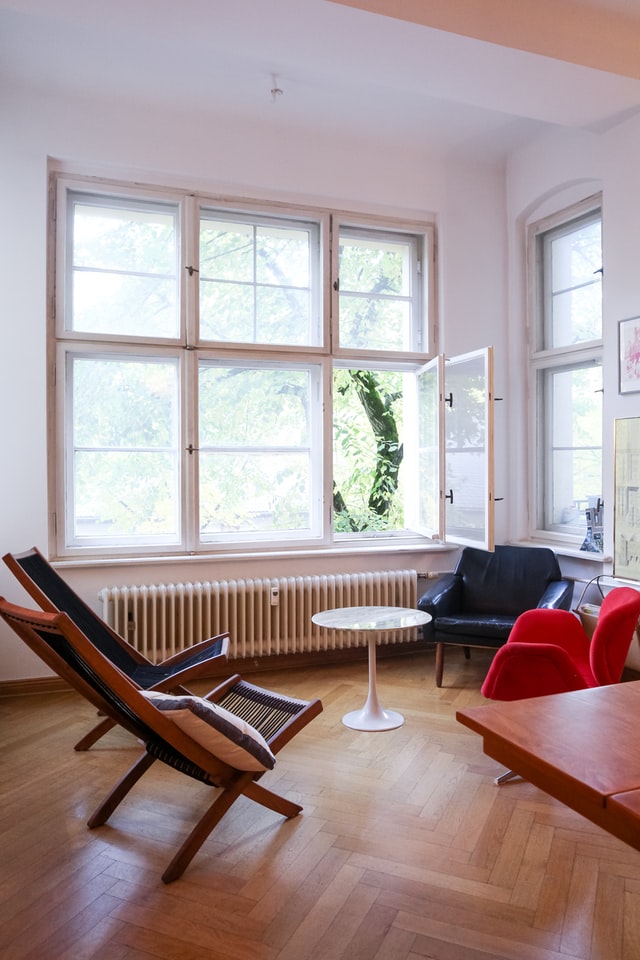 26. Mix and match front room ideas
You don't need to stick religiously to a particular style. These days, fusing different décor styles is more popular than ever as people seek to put their own spin on contemporary interior design. So there's no need to go all matchy-matchy, even when it comes to your sofas. Aim for a less contrived, more natural effect. And allow your own personality to come through in your styling!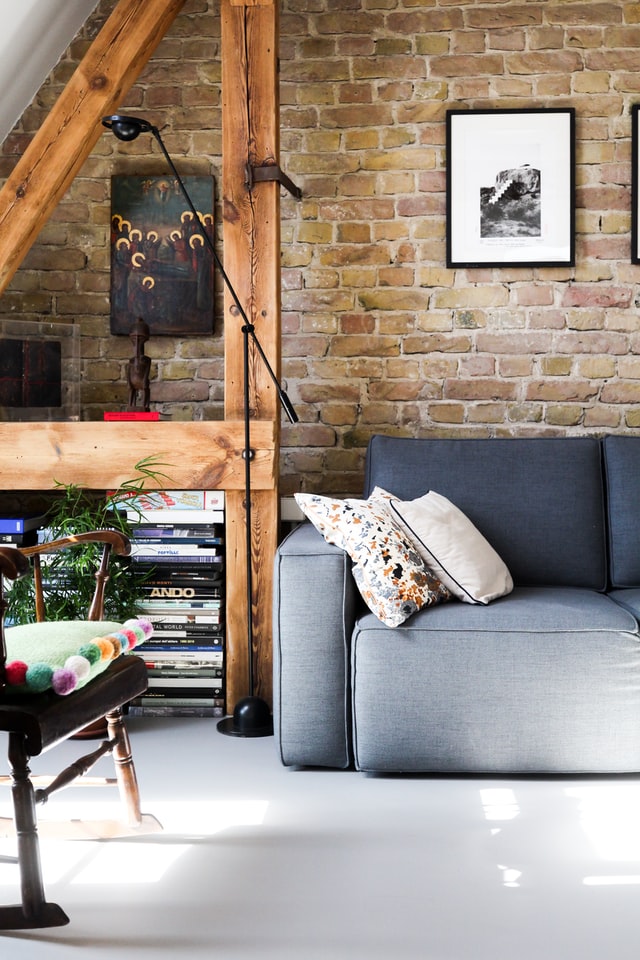 27. Display objects of interest
Even though front rooms are typically quite small, it doesn't mean you have to banish all trinkets and décor in order to keep things feeling spacious. So don't be afraid to put your beautiful things on display. The important thing is to create coherence by showing off much-loved items in neat shelving. Hanging décor on the walls is another way to free up floor space while adding character.
28. Make it cosy
Your front room should feel nice and streamlined, but you don't want it to be clinically neat. Injecting lots of cosy soft furnishings will ensure your front room is a comfy, inviting space. Whether it's fuzzy, tactile pillows, a fluffy rug, or soft textured throws, choosing especially snug accessories will go a long way to creating a stylish but very cosy little nest.
Tips for choosing your aesthetic
When it comes to choosing an aesthetic, you'll need to decide if you prefer a colourful, maximalist, or eclectic and exciting vibe. 
Going for a

bold front room

means adding colour pops and jewel tones, dramatic pieces of furniture, luxe materials like velvet, vintage or artisanal décor, and so on.

An 'organic luxe' look

focuses on natural tones and materials, simplicity and calmness. In that case, you'll be aiming for coastal or Scandi vibes, and seeking out tactile, cosy materials, simple basics and monochrome colour schemes.
Achieve your dream front room.
And there you have our favourite front room ideas for how to set up a small living room so that it's a space you absolutely love to relax in, day and night. Don't forget it's easy to find an interior decorator to suit your budget if you want some professional help with your front room ideas—start your search on Airtasker today!