I'll be honest with you. When I first heard the words brown living room I secretly thought "yuck". But boy, was I mistaken! Brown is actually the perfect colour for a living room. Whether as a base or in your accents, the colour brown injects warmth and cosiness to your space, and an authentic sense of connection with nature.  A relaxed, organic vibe is so easy to achieve too, since so many raw materials are naturally in brown tones, from timber to textiles to leather to stone. Here, I've gathered 29 beautiful brown living room ideas that have shown me that brown is actually a wonderfully rich colour to decorate with—and will create a timeless, sophisticated and elegant vibe for your living room.
1. The classic brown leather couch
A buttery soft tan leather sofa is the classic way to make brown the dominant colour of your living room. It will stand out against a light, coastal colour palette, such as very pale grey walls and whitewashed wooden floorboards. Again, mixing in organic materials like timber furniture and ceramic ornaments gives a very soothing effect. Modern black lightingand black and white artwork can add a little drama.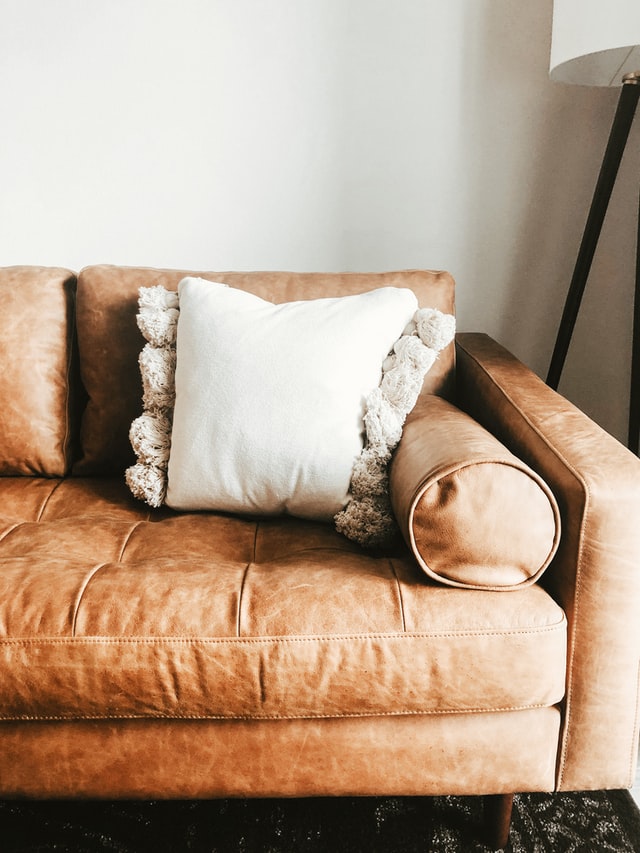 2. Warm timbers
The abundant use of timber creates an overall warm and cosy brown living room. Enhance the warmth with burnt orange accents over layers of brown tones such as stone flooring or a tan woven rug.
3. Rustic textures
Just like plentiful timber, natural materials like stone, brick and terracotta will infuse your living room with warm brown tones. For a Mediterranean-inspired brown living room, feature a tiled terracotta floor and load up on lovely textured decor. Adding a shimmer of metals or a pop of sunny yellow can keep all the brown from looking drab.
4. Brown velvet sofa
Dark timber floorboards combine beautifully with a chocolate brown sofa and look amazing in a white aesthetic apartment. A lovely alternative sofa material to leather is soft and snuggly velvet. To show yourself off to perfection, think about getting an expert in sofa cleaning to give it a refresh.
5. Latte colours
An easy way to create a base of brown for your living room is to line the walls with lovely pale timber custom shelving. Opt for an idiosyncratic arrangement of shelves in a latte-toned natural timber and fill it with ceramics and curios. Add a plush designer chair in the same tone to tie it all together.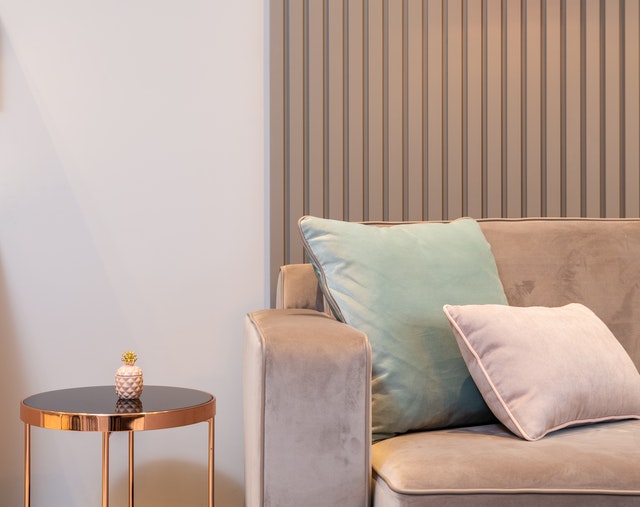 6. Wooden wall panelling
Wooden wall panelling has been repopularised after a long absence from interiors. It's a fantastic way to generate warmth and cosiness in your living room, and because brown goes with just about every other colour, it's easy to decorate around. It's also perfect for generating vintage vibes.
7. Mushroom tones
A brown living room doesn't have to be saturated in classic chocolate or tan tones—consider also more unusual brown tones such as a subtle mushroom hue. And if you have a lot of expanses of pale brown tones, then contrast the flatness with lots of lovely texture, whether a parquetry floor, a stone fireplace, a velvet ottoman or vintage Kilim rug, or maybe just a delicate metallic bar cart.
8. Mid-century Modern vibes
There's something about floor to ceiling wood panelling that screams MCM. You can enhance the flavours with a vintage sideboard, an earthy mix of textures in materials like pottery, wool and bronze, and perhaps a replica Saarinen Womb chair. Then add in some teal accents, as teal and browns go beautifully together. Will we ever tire of Mid-century Modern? I honestly don't think so. It's just too timeless, and always refined and elegant.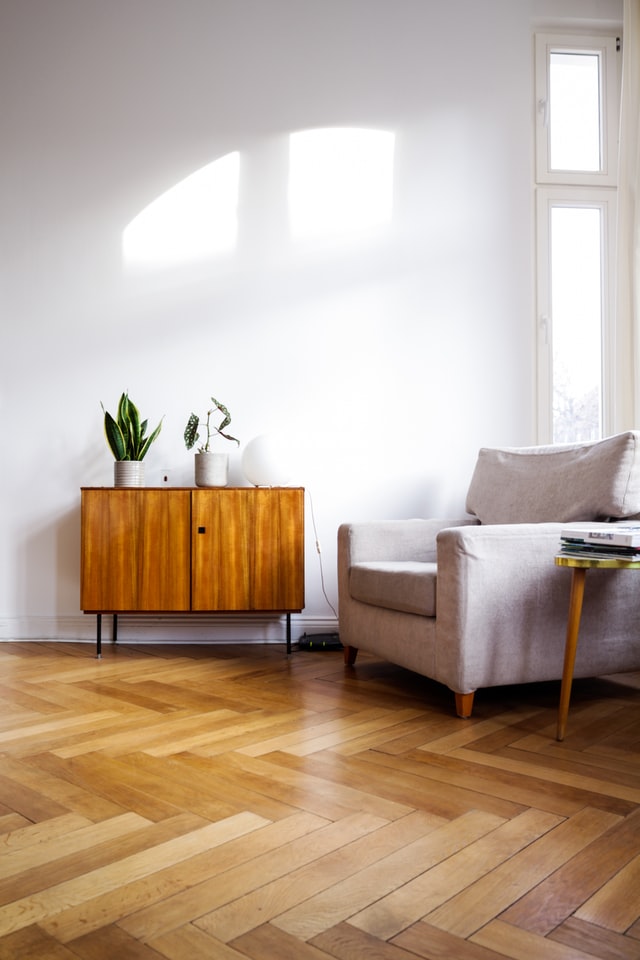 9. Brown and red living room
A red and brown living room is another option for designing a brown living room, with red tones amplifying the warmth of brown timber and a camel leather sofa. Perfect for a simple, contemporary living room. You can add impact with statement lights and a row of lush plants.
10. Brown velour sofa
Fabrics like velvet and velour bring instant Boho vibes, so they're popular brown sofa living room ideas if you are going for a Boho look. And they're so comfy! Add in warmth with pinkish tones such as rose gold light fittings or other decorative elements (you can find more rose gold styling ideas here.)
11. Pops of green
Interior designers often combine shades of brown and green because these colours are naturally harmonious. A green and brown living room is simple to achieve—opt for a brown sofa, brown timber furniture, warm metallics and then add in mossy greens in your soft furnishings or vases and other décor.  A large statement potplant brings it all together.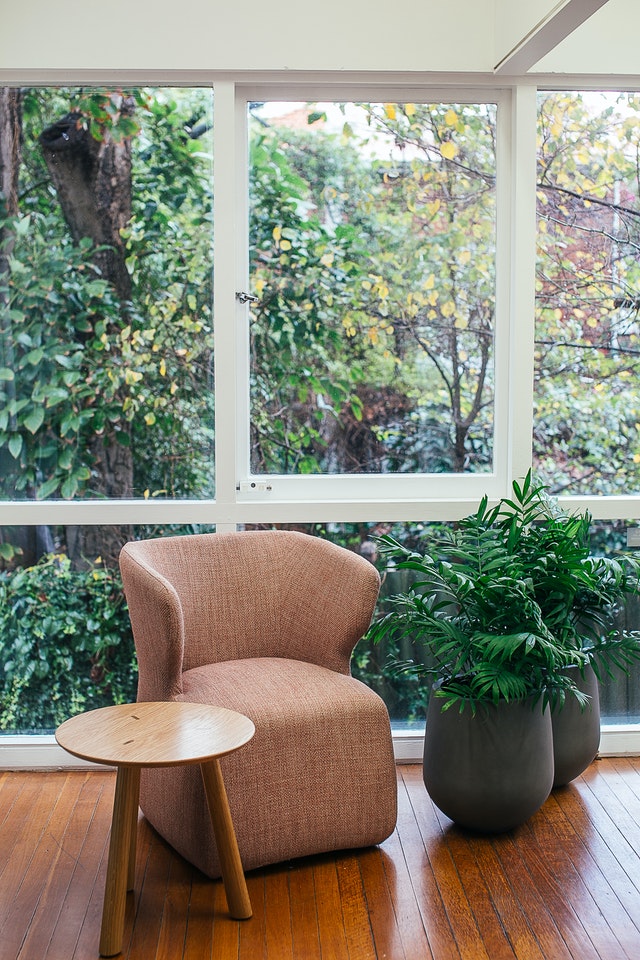 12. Brown and whites
If you want the focus to fall on your gorgeous brown leather sofa, keeping the walls white is a good idea. Keep décor minimal and add warmth with tactile elements like woven stools or a shaggy rug.
Keep your sofa always looking top-notch with regular leather cleaning or if you're needing some fixes, leather furniture repairs will give you more years out of it.
13. Brown blue and patterned
For a space with farmhouse vibes, consider pairing a tan leather sofa with a range of blue soft furnishings, and set it all against stark white shiplap walls. A gorgeous patterned blue rug can tie it all together. Go for an array of ginghams, floral and denim for that modern farmhouse look. (Why not also check out our article on farmhouse bedrooms? Or, if you love lots of white with blue accents, you might prefer a Hampton's style bedroom.)
14. Brown and gold
If you love a living room that is infused with glam, try mixing a classic camel leather sofa with a selection of golden elements, such as an antique mirror frame and standing lamp. Add in black furniture for some contemporary moodiness and decorate with lavish bunches of flowers—et voila! A sophisticated, romantic and luxurious looking living room.
15. Brown and green
Timber and cane are a classic combo for a relaxed, organic, Boho vibe for your living room. Adding green helps reflect the natural world around us and it just always goes with brown. Choose olive green décor, Balinese cane chairs, lots of houseplants, and why not repurpose something like a carved African drum stool to act as a side table?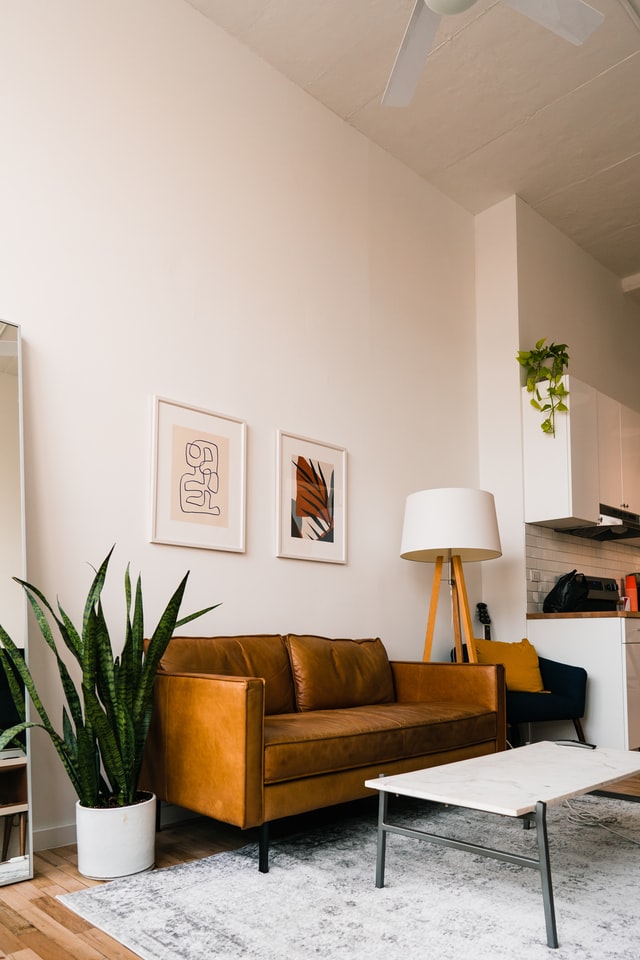 16. Timber beams
Another way to introduce rich brown is to have rustic wooden beams overhead. Bring the Scandi vibes by featuring lighter, golden brown tones in the furniture, combined with lovely creams, whites and greys. For more Scandi inspo, you might also like to take a look at our article on Scandinavian bedrooms.
17. Brown and blacks
For a moody and mysterious aesthetic, brown and black sepia tones make a lovely mix. For a sophisticated look, pair smoky brown paintwork with a black or dark brown sideboard, a camel leather sofa, modern artwork, glass vases and woven lampshades. Find a painter to transform your living room aesthetic!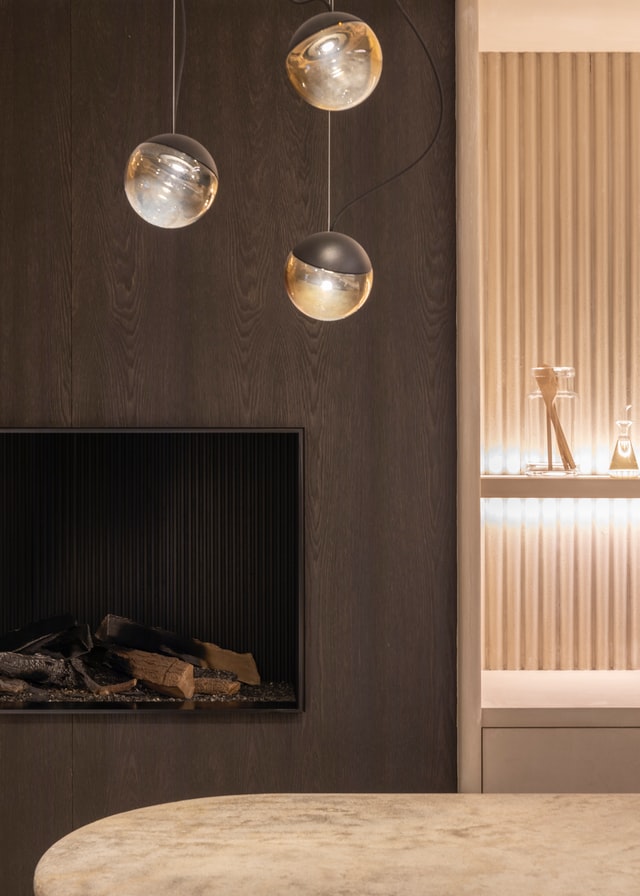 18. Warm up with brick
Create a rugged and rustic brown living room with warm chestnut tones thanks to a brick feature wall and dramatic overhead timber beams. Having a lot of wood and brick in a space can feel heavy, so opt for sheer curtains to flood the room with light. The perfect coloured sofa for a living room with lots of warm wood and brick? Consider a bright peacock blue.
19. Brown with deep reds or purples
A classic Boho flavoured living room featuring a brown leather sofa looks amazing with décor in jewel tones like reds and purples. An intricate Persian rug is ideal to bring in these colours. Add a vintage mirror, simple monochrome cushions and some greenery for that jungalow touch. And contrast it all with a crisp white wall.
20. Soft brown cane
Have a set of vintage cane armchairs or a cane sofa? Amp up the golden brown haze with gold-toned décor or a dash of daffodil yellow in the sofa cushions. Add timber shelving and ideally, have beautiful polished wooden floors!
If you love decorating with yellow, you might also like to check out our blog on yellow bedrooms for more inspo.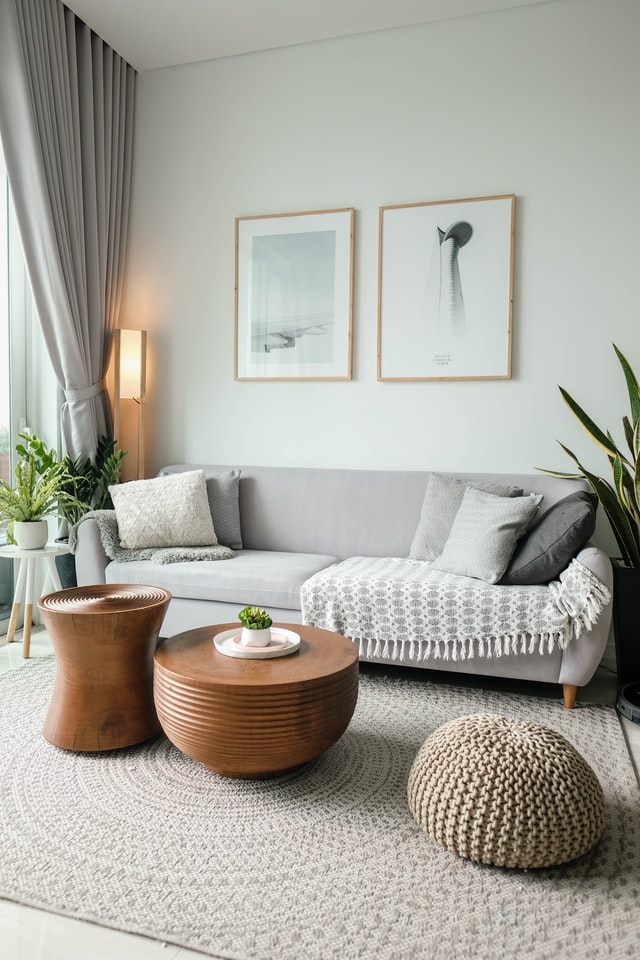 21. Terracotta colours
Another gorgeous option for warm brown tones is terracotta hues. A simple colour palette of soft grey, bright white and earthy browns is calming and brings Mediterranean vibes galore. Don't want to overload your living room space with heavy, solid slabs of brown? Consider just a slimline shelving system which will add just a light touch of brown to your walls.
22. Modern greyscale
If you're looking for brown and grey living room ideas for a contemporary living room, consider a greyscale colour scheme with a few brown accents for warmth, such as cognac-hued downlights. Dove grey and deep, dark brown tones are a match made in heaven!
Why not have an expert in downlight installation come and sort out your lighting plan for you?
23. Naturals
Go for natural tones like burnt umber, chocolate or coffee colours. You can achieve this with organic décor like rustic benches or stools and patterned sofa cushions.
24. Brown and blue
Bold cornflower blue looks gorgeous against deep brown timbers like walnut or mahogany. When going with rich, saturated colours, it's pleasing to add some understated black and white décor elements, too. If you want to change up your wall colour, you can find someone local to handle your painting needs.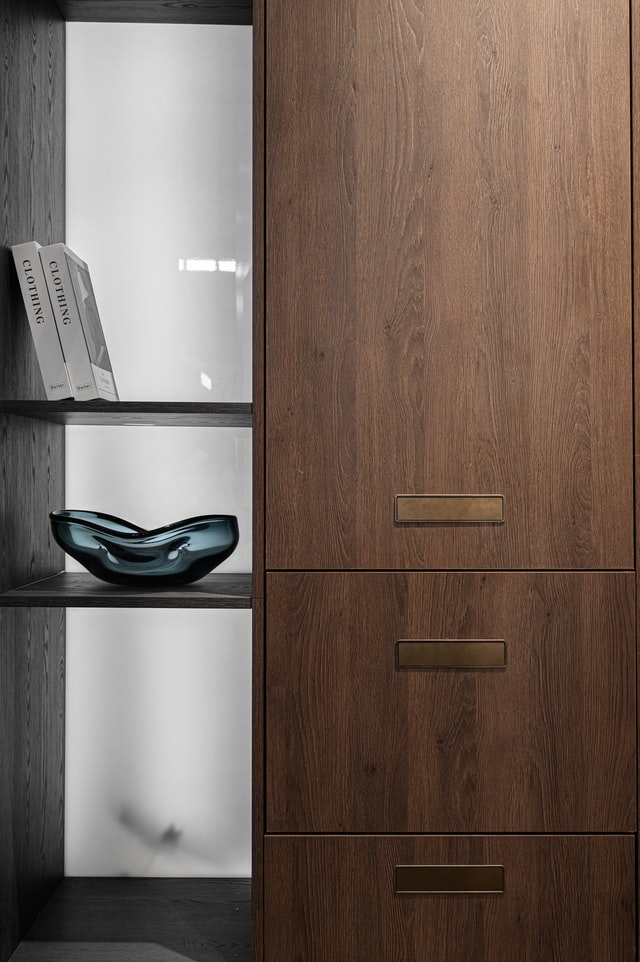 25. Tan and white
Another colour scheme that always seems to work is soft, light brown with lots of white. The soft brown provides the perfect warm backdrop for fresh whites. Want to liven up a simple living room space? Add a Moroccan rug for pattern and colour.
If you love all things Moroccan, make sure to also check out our blog on Moroccan bedrooms.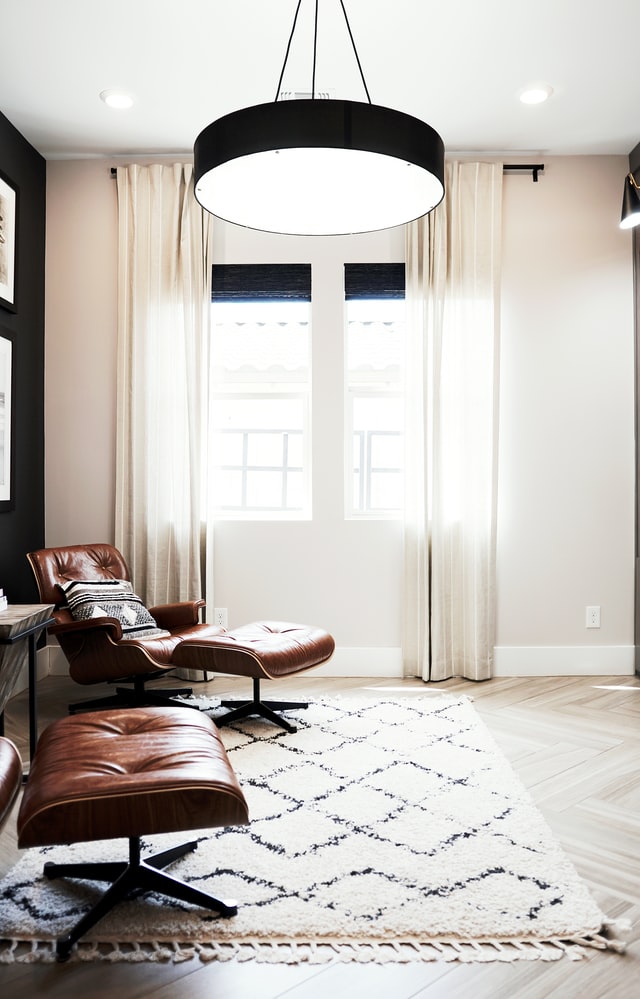 26. Blue and brown living room ideas
Rich chocolate brown tones mix well with deep navy, so a blue and brown living room is yet another tried and true colour combo. It can generate vintage vibes which you can enhance with vintage décor, like an unusual wine cabinet or an Art Deco side table.
Love Art Deco? Be inspired by our blog on Art Deco bedrooms.
27. Tonal wood panelling
A wood-panelled brown living room definitely has vintage vibes, but you can bring it firmly into the contemporary era by mixing up the timbers to create tonal variety. Adding punches of black will modernise the look as well. Another modern-day trick is to have one wall left crisp white, for contrast and to alleviate all the visual heaviness of the panelling.
28. Maximalist brown
If you love maximalism then go for floor-to-wall-to-ceiling shades of brown – more is more. Add a smattering of metallics and flashes of white and green for freshness. Don't forget to layer in the texture – ideally a mix of antiques, curios, and artworks.
29. Range of timbers
Using lots of different timbers is a great way to create a richly textured brown living room. And mixing timbers and metals creates a wonderfully layered space with plenty of visual interest.
So have I convinced you that a brown living room is genuinely something to lust after? Let me know your thoughts on brown living rooms in the comments! For me, the hunt is now on in earnest for a vintage brown leather sofa, not only because a brand new one is a little out of my price range, but because I'm impatient to achieve the lovely worn-in look!
Now, if you're buying a new piece of living room furniture that needs assembling, don't forget it's easy to find someone who can put together your sofa, sofa bed or daybed, and any new tables you have that need assembling. Absolutely no need to give yourself a headache doing it all yourself! And if you need an old sofa removed first, there's also a Tasker for that.