Considered installing a home bar during lockdowns? You're not alone. After all, staying home is the new going out as we go through this pandemic. Home bars have certainly had their moment in the sun in recent times. But their convenience and vibe means that there's lots to love about making your home bar permanent. Let's take a look at the latest in home bar ideas.
It might be an entire in-house home bar that emulates the real thing. Or perhaps you've decided to convert a butler's pantry to a convenient drinks mixing station. There are plenty of home bar ideas for setting up a bar at home. Even if you don't have a lot of space to spare, styling up a simple bar cabinet or bar cart will add some hedonistic flair to your home.
Make your home feel post-pandemic party ready. All you need is cabinets or shelving dedicated to holding spirits and liqueurs and showing off sparkling glassware and bar tools. Go for a complete wet bar with a sink or have a simple dry bar. When it comes to home bar ideas, you can go as fancy or as casual as you like–just make sure your bar is well stocked!
1. Colour in cognac tones
If you just want to set up a little dry bar in your living room, you can really do a lot to spruce up a plain set of shelves. The trick is to use a colour palette that references the translucent warm tones of spirits. Then add subtle back lighting and metallic pops to give it a fancier vibe. Don't want to tile in this area? Try a strip of faux tile hanging wallpaper instead.
2. Make it feel zesty
You can build a whole wet bar, with its sink and prep area for mixing drinks, and hide it all behind bi-folds in your kitchen. If you stick to white, you always play with the colour scheme with your glassware–citrus hues feel summery and inviting.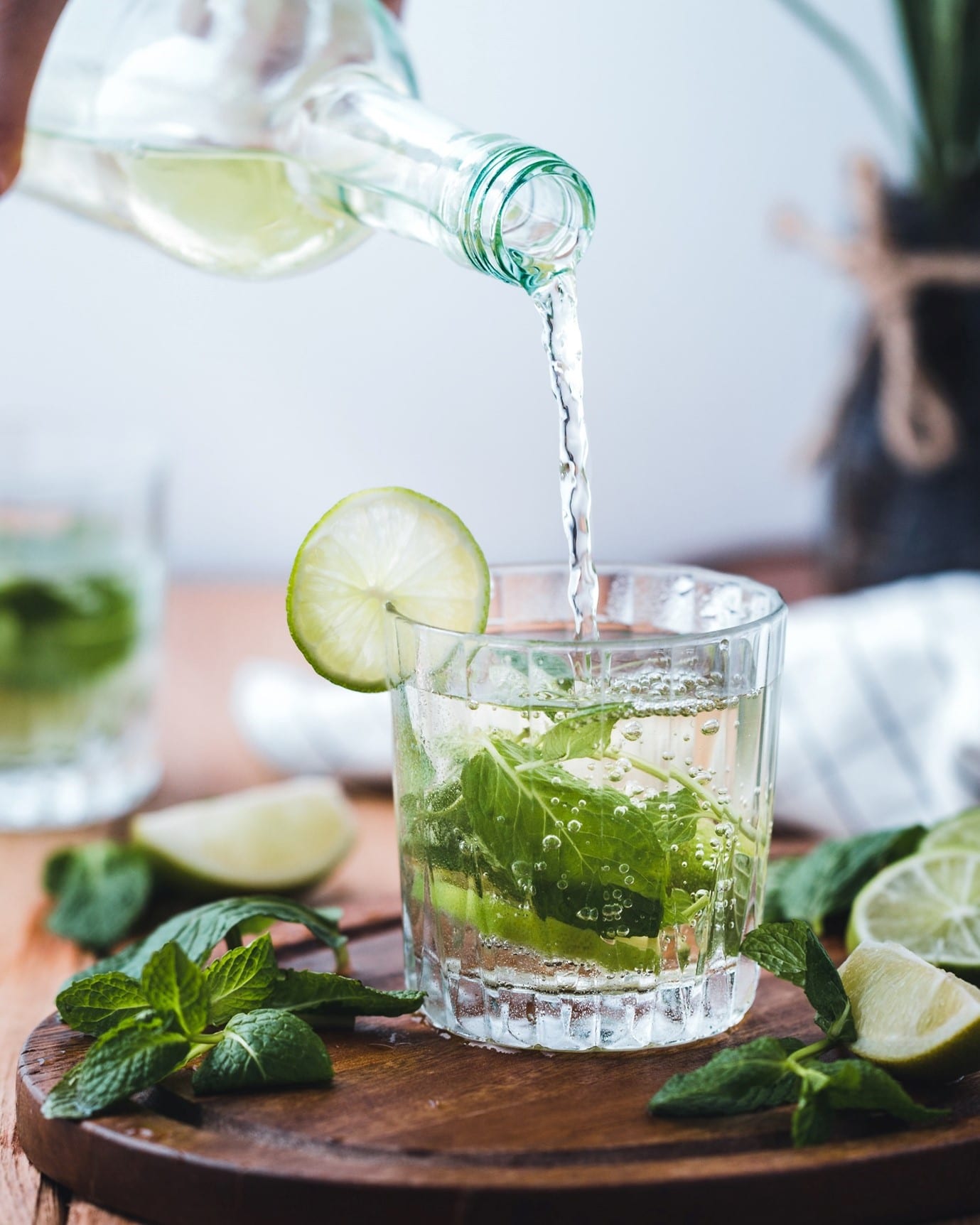 3. Show off with shelving
Your home bar can be as large or small as you like, even if it's just a display of bottles housed in wall-mounted shelving. Going vertical is a great way to use all your wall space—a very contemporary look is glass, pipe and birch plywood floating shelving.
4. Mount it on the wall
If you lack floorspace, another wall-mounted option is a drinks cabinet with glass doors. These will help prevent dust gathering on your glassware. Choose something with gorgeous craftsmanship and functionality. And look for adjustable shelves for a custom fit for your bottles. Here's a gorgeous home bar built right into the wall.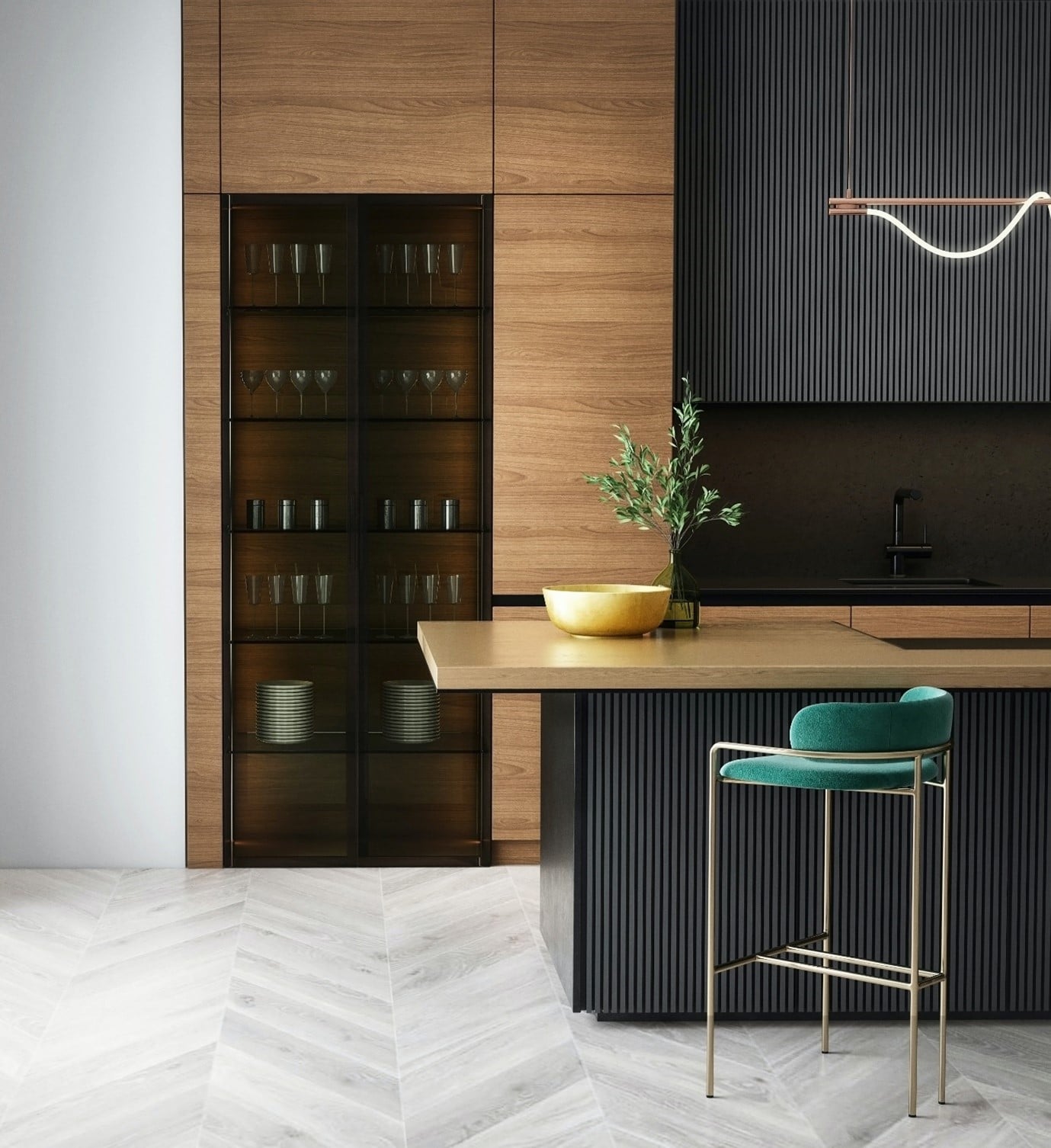 5. Bring the holiday feels
Lots of people love dark, moody colours for a home bar, but you can also choose to go for coastal brights to evoke a resort bar. I love the design of the bar at Australian restaurant Sisterhood in Hobart, which is inspired by the décor of Tulum, Mexico.
Light, fresh and summery, the bar has a gorgeous layering of natural fibres and soft pastel green. There's pale teal handmade tiles, rattan and bentwood furniture, tropical print wallpaper and hanging plants. If you love overhead storage, you could get someone to assemble a similar shelf.
6. Use your vertical space
Overhead shelving in a kitchen means your bar can serve double duty as a breakfast bar. And keeping all the goods up above is a nice way to separate the functions.
7. Make it cool
Love the look of a moody, eclectic little speakeasy? You might go for something like leopard wallpaper, a statement lamp and upholstered leather armchairs. It all comes together to create an intimate, cosy effect.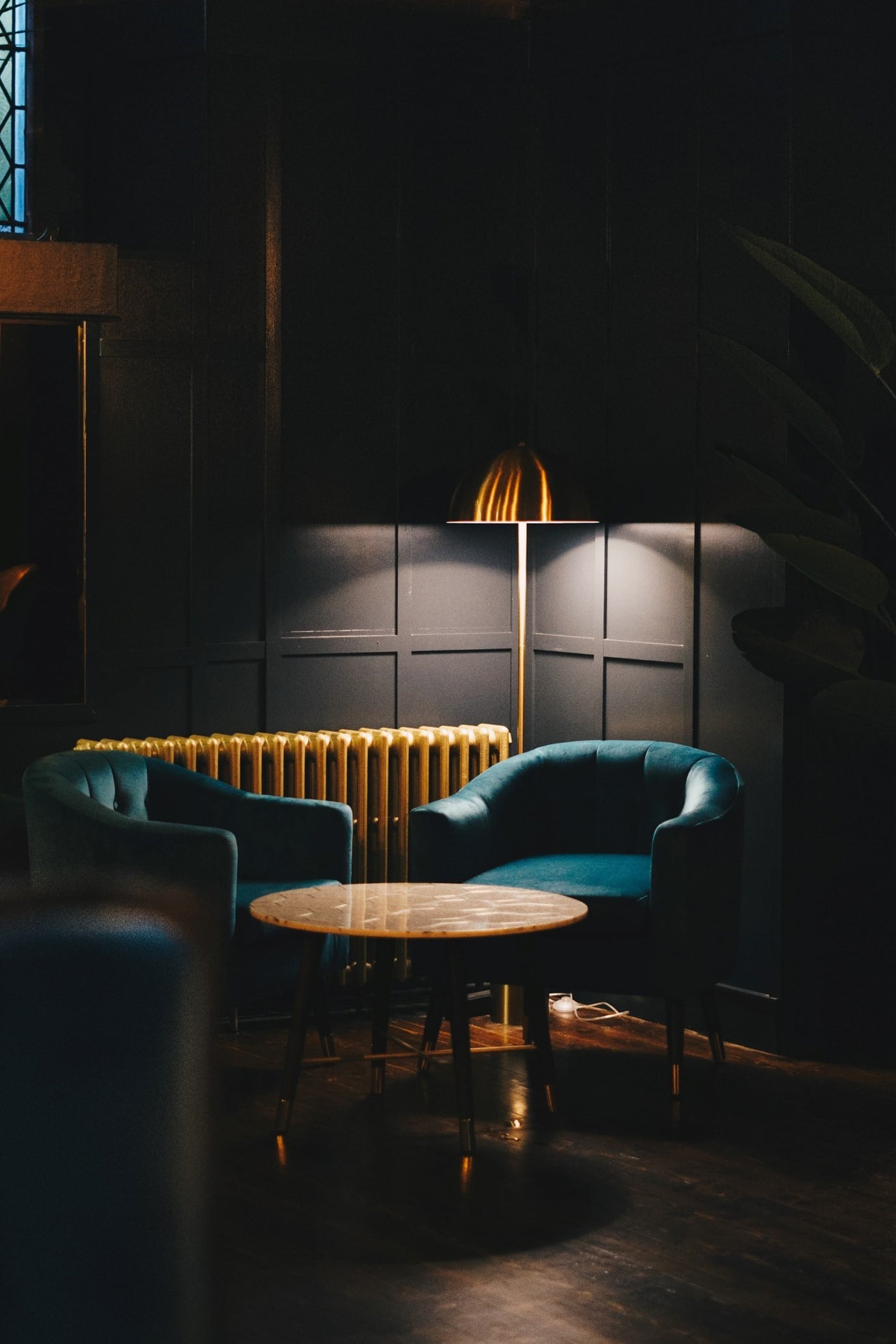 8. Use mirrors and metals
Lots of bar equipment is shiny metal—your shakers, jiggers, muddlers, spoons and strainers. And of course glassware is naturally reflective too. Amplify the glitz and glamour of all the metal and glass by adding mirror to the mix. This will visually double everything and make your bar look even more well-stocked than it is.
9. Set up a full bar
Have enough space for a full bar? You can set your home bar up to also house a coffee bar. A multipurpose home bar is always a great idea. Keeping the décor light and cheerful will help prevent it looking like it's exclusively for night-time entertaining.
10. Have magic lighting
With a home bar, you want to keep it somewhat aligned to your home's decorating style. However, paradoxically you also want to make it feel like you're not at home. The trick is to give it slightly over the top, higher end finishes that bring a sense of luxury, for example with your lighting. Installing a series of pendants gives a space that authentic bar flavour.
11. Turn your sunroom into a bar
Why not turn your sunroom or conservatory space into a home bar? It's actually the perfect place for a home bar, enabling you or your guests to relax and enjoy al fresco style drinks with a garden view. Since it's a separate space, you can be bold with your décor and styling—it's ideal for experimenting with tiles or wallpaper.
12. Have a wet bar
Committing a wall to a home bar? Spend the time figuring out what you need and where you want to put it, so that function is built into your design as much a style is. It might be you need a mix of display shelving for glassware, drawers and cabinets and floating shelves for barware. You might want to add wine storage and a mini fridge. An expansive counter is always ideal, and who doesn't want a sink with cool faucet? But you don't need a huge amount of room, you can set up a wet bar in a fairly limited wall space.
13. Steal from hospitality
To get an authentic flavour, I'm a big fan of borrowing from commercial bar design and seeing what you can incorporate on a smaller scale at home. For instance, there's a few things to steal from the Parisian La Riviera restaurant's bar. I love the streamlined, tiered overhead shelving holding potplants and barware. It also features a curved rattan bar counter and lots of relaxing, muted earthy tones.
14. Install a wine fridge
If you can't plumb your designated home bar space to add a sink and make a wet bar, you can still add luxe elements to your dry bar. A beer or wine fridge is de rigeur, whether it's built-in or as a standalone mini-fridge. Get a hand putting together your cabinet.
15. Fill a niche
The location of your home bar, if not in a dedicated room, should be in an easy to access, central and sociable spot, such as in a recessed niche in your living room. It won't take up any floor space and you can design it so it has a door to tuck everything neatly away when not in use.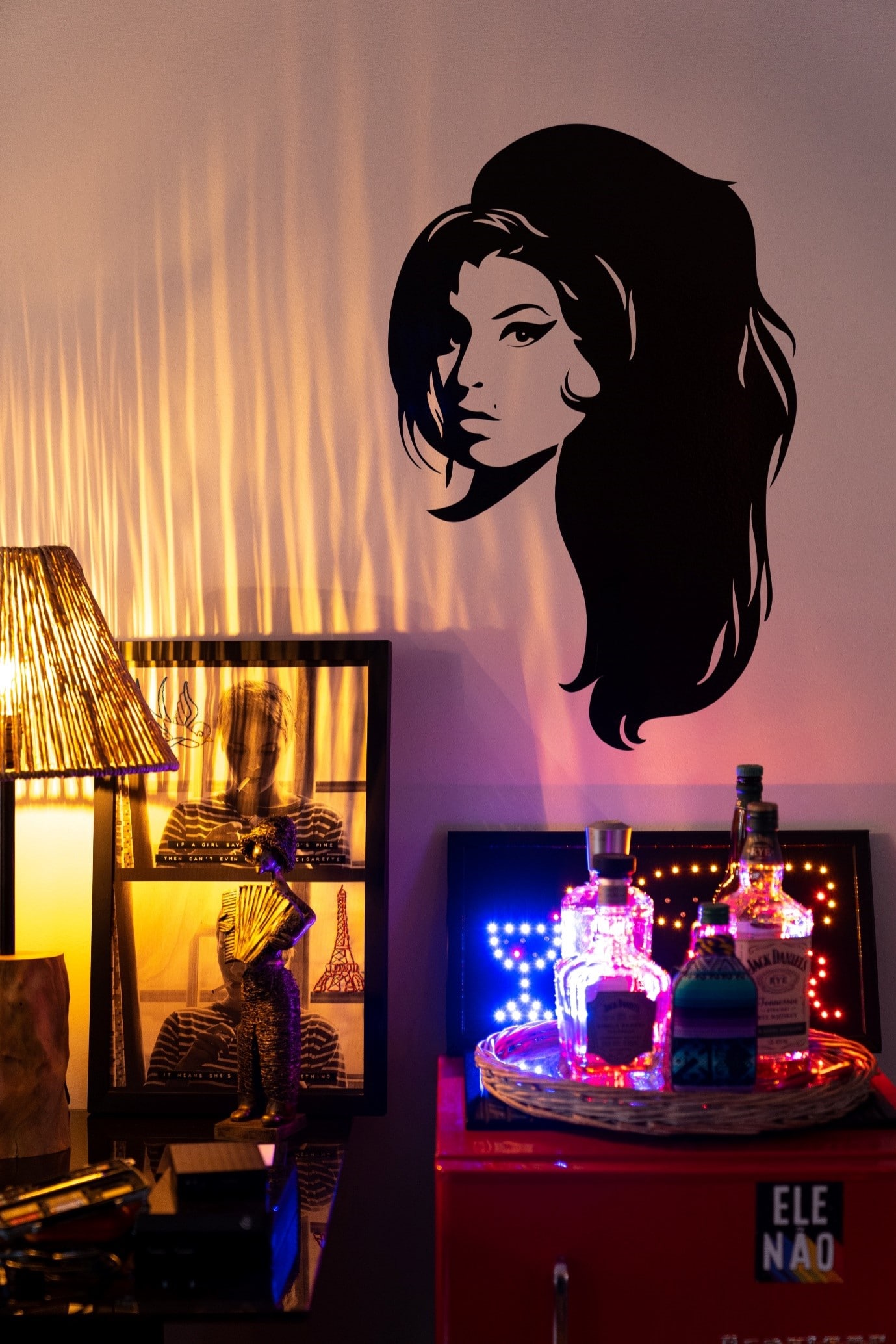 16. Travel to the tropics
It doesn't take much to recreate a tropical bar at home. Take cues from Cara and Poppy Delevingne's Los Angeles home. It's fitted out with all kinds of décor that suggests cooling down in a heatwave. Their custom bar features dramatic inlaid shelving, vintage rattan barstools, palm frond and banana leaf wallpaper. Then it's luxed up with smatterings of green velvet, gold finishes and emerald lacquer.
17. Go for high end finishes
If plumbing is possible in your chosen space, a wet bar can fit into the tiniest wall niche. The beauty of having a home bar in a small space means you can afford to splurge with glam finishes, like a section of marble or a beautiful faucet. Take style inspo from luxury hotel mini bars!
18. Go the mile with tile
Tile is perfect for home bars, as it's so easy to clean. And mosaic tile has such a hypnotic effect. If you have a busy tile pattern, have delicate, ephemeral bar stools to allow the tile design to dominate.
19. Home bar ideas – have a surprise bar
On the outside it's just a simple cupboard. But a hideaway drinks cabinet can have a dramatic reveal on the inside. Like a powder room, a home bar is a small enough space to turn into a 'jewel box' that's more intense and dramatic than the rest of your home. Whether it's with neon paint or gold leaf wallpaper, or interesting lighting, your home bar space should have personality. But—that personality can be tucked away with a hideaway home bar.
20. Make it tiny but stylish
A small home bar can still be a place to show off, not only your bottles and glassware but luxe finishes, like an interesting bit of tile work. Little details can really glam up your bar too, such as a statement copper cocktail mixer or champagne bucket.
21. Give an industrial feel
For a home bar with plenty of genuine bar vibes, install a bar island with under-counter lighting, industrial style lighting and whitewashed brick wall. Then add backlit open shelving to display the good stuff. Cool touch: a light-up sign personalising your bar with its own name.
22. Have fun with colour
The materials in your home bar should be highly durable, as they'll need to handle use. Bar countertops have to deal with things like lime juice or red wine spills. So your best bet is a hard stone surface (something like quartzite rather than marble or limestone).
When it comes to other surfaces, such as your under-counter area or walls, tiles are a way to introduce bold colour, whether you love a matte or gloss look.
23. Add velvet
Give your home bar the appropriate amount of glitz and glamour. Think opulent wallpaper, a gold trim counter or exaggerated lighting. Velvet bar stools or upholstered bench seating add to the sense of luxury and make it all the more alluring for your home-barflies.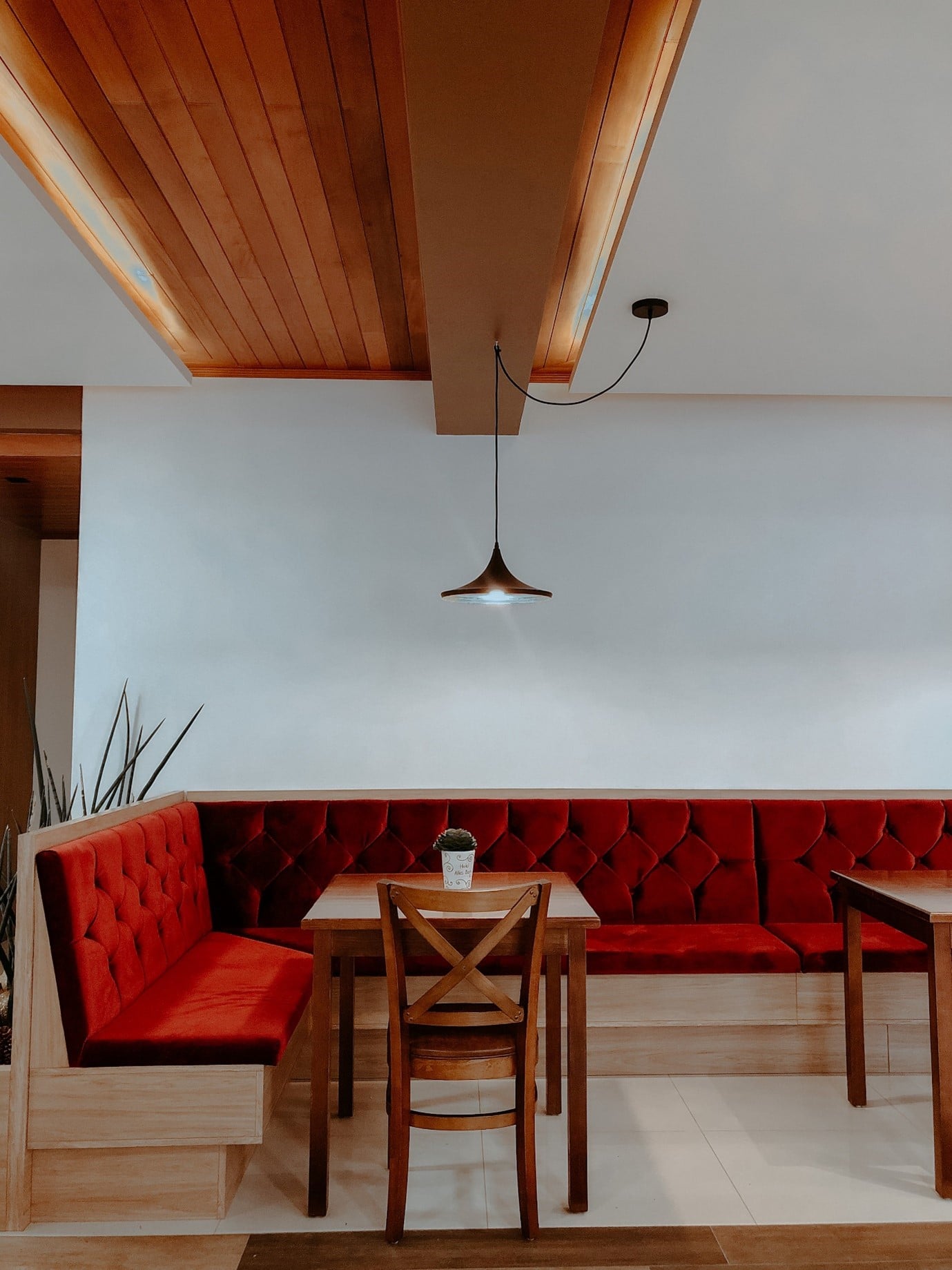 24. Light it up
Adding lighting to your shelving will give your home bar a commercial feel as well as making the space seem larger. And it works especially well with mirrored or tiled splashbacks. Even when you only have a dry bar, a splashback is practical for a space devoted to mixing up drinks, because things inevitably get messy.
25. Add edgy angles
A modern home can have a uniquely designed home bar with plenty of wine storage in a zigzag pattern for extra visual interest. Whether it's a wine vault or rack, adding wine storage is essential for the wine connoisseurs!
26. Use luxe finishes
An accent material can help you create a real drama moment in your cocktail bar. It may be tile, fabric, mirror, marble or something else that's textured. Covering your inset recessed panel in your shelving can make your home bar look ultra-glam.
27. Style it with plants
Love the casual coastal, Boho charm of a beachside bar? Emulate it in your own home bar using lots of timber, natural fibres and a palette of lush greens and sand tones. Add some gorgeous houseplants—and a bit of neon never goes astray in a home bar!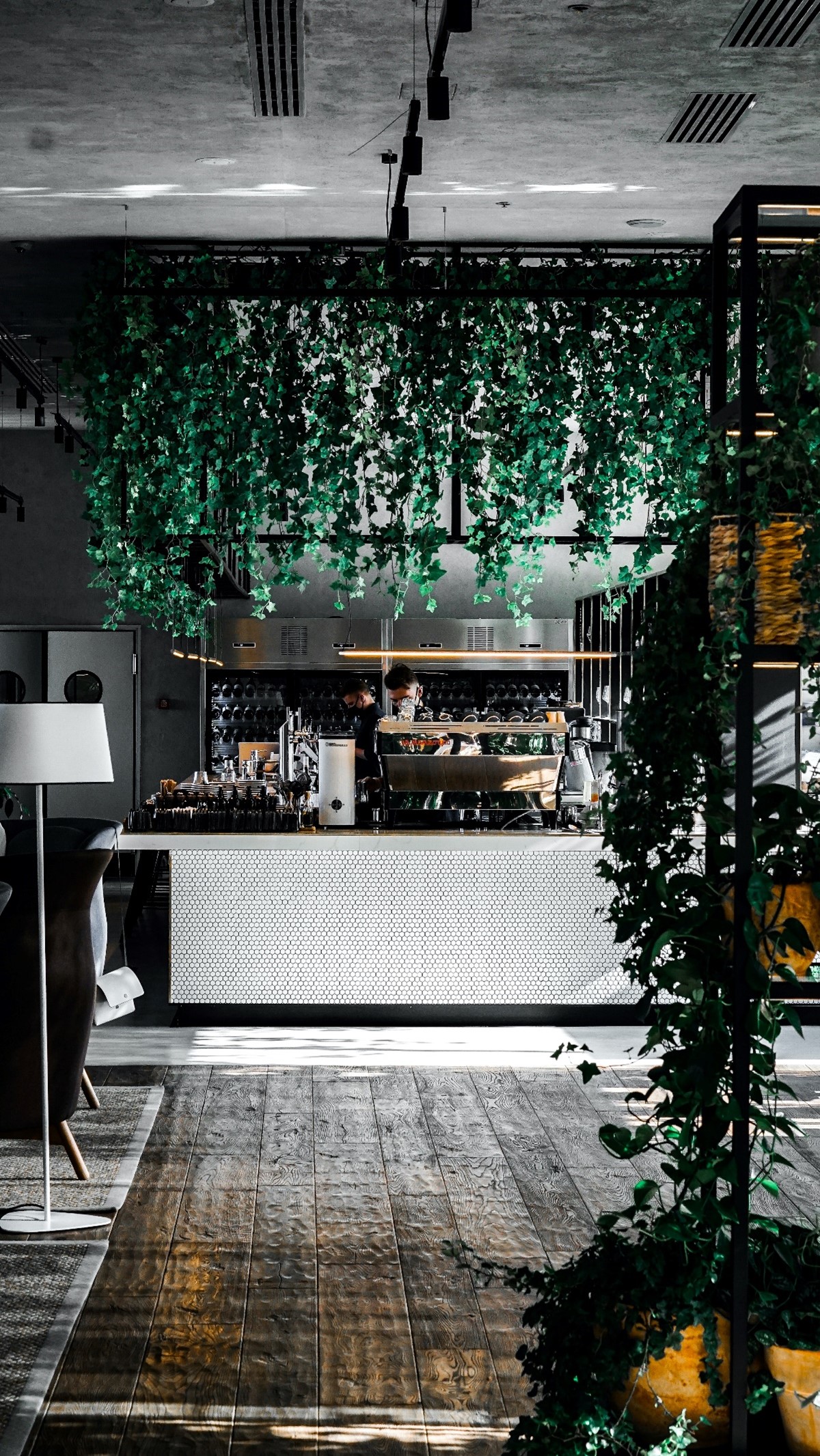 28. Have a tiny wet bar
Fit-out a home bar with just a tiny slice of your wall space, such as with a marble countertop on a simple timber sideboard and a basic black floating shelf. Just add statement downlights.
29. Go for an organic look
If you love the modern organic interior style, fill your home bar with natural elements as well as sophisticated and upmarket ones. Having plenty of organic curves and colours gives that sense of connection to nature. But contrast it with refined elegance in your furniture design. And whatever size of your home bar, adding dramatic lighting like a series of pendants can really lift it into something special.
30. Accent it with a mirror
If you prefer just a scaled-down version of a full home bar, a moveable bar cart is the way to go. Not only is it a cinch to style up because it's so small, a rolling cart can be a display for other décor or trinkets as well as your bottles and glassware. A nice living room spot for your bar cart is below an accent mirror to draw attention to it.
31. Dress it with flowers
Have fun styling up your bar cart to reflect your personality and home décor style. Adding fresh flowers to your bar cart always looks gorgeous too.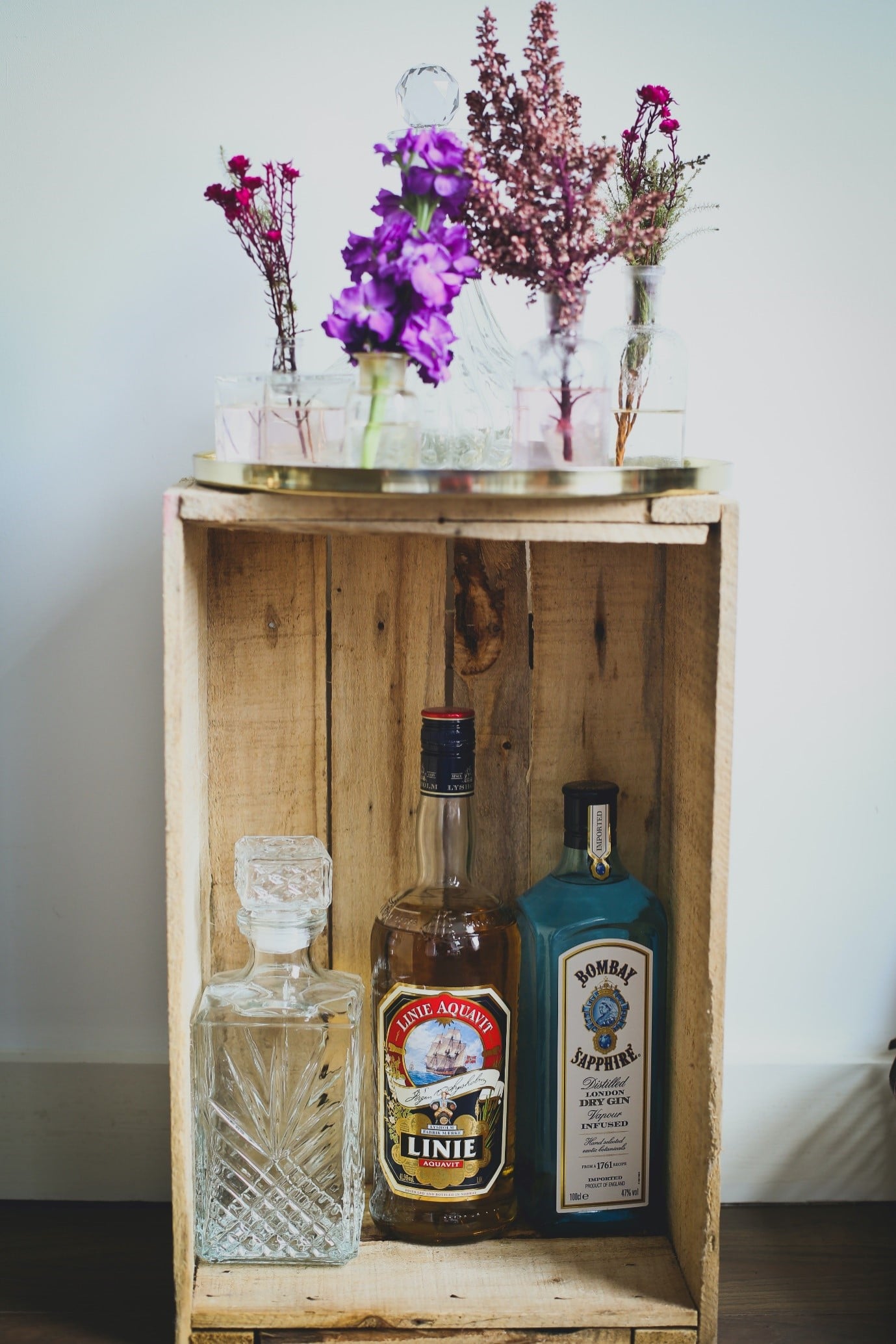 32. Go wild
It will always be relaxing to look at happy, verdant plants at home. So if you want a tranquil aesthetic for your drinks zone then go for a proliferation of plants. Pop them in terracotta and surround them withwith classic spirits and liqueurs, like Cointreau and vodka. Et voila! Rustic French and instaworthy.
33. Paint it pastel
Pastels are guaranteed to make you feel happy, and that's the whole vibe you want for happy hour, am I right? How about a mint bar cabinet bursting at the seams with bottles and topped with a vase and some artwork. The result is casually coastal Boho.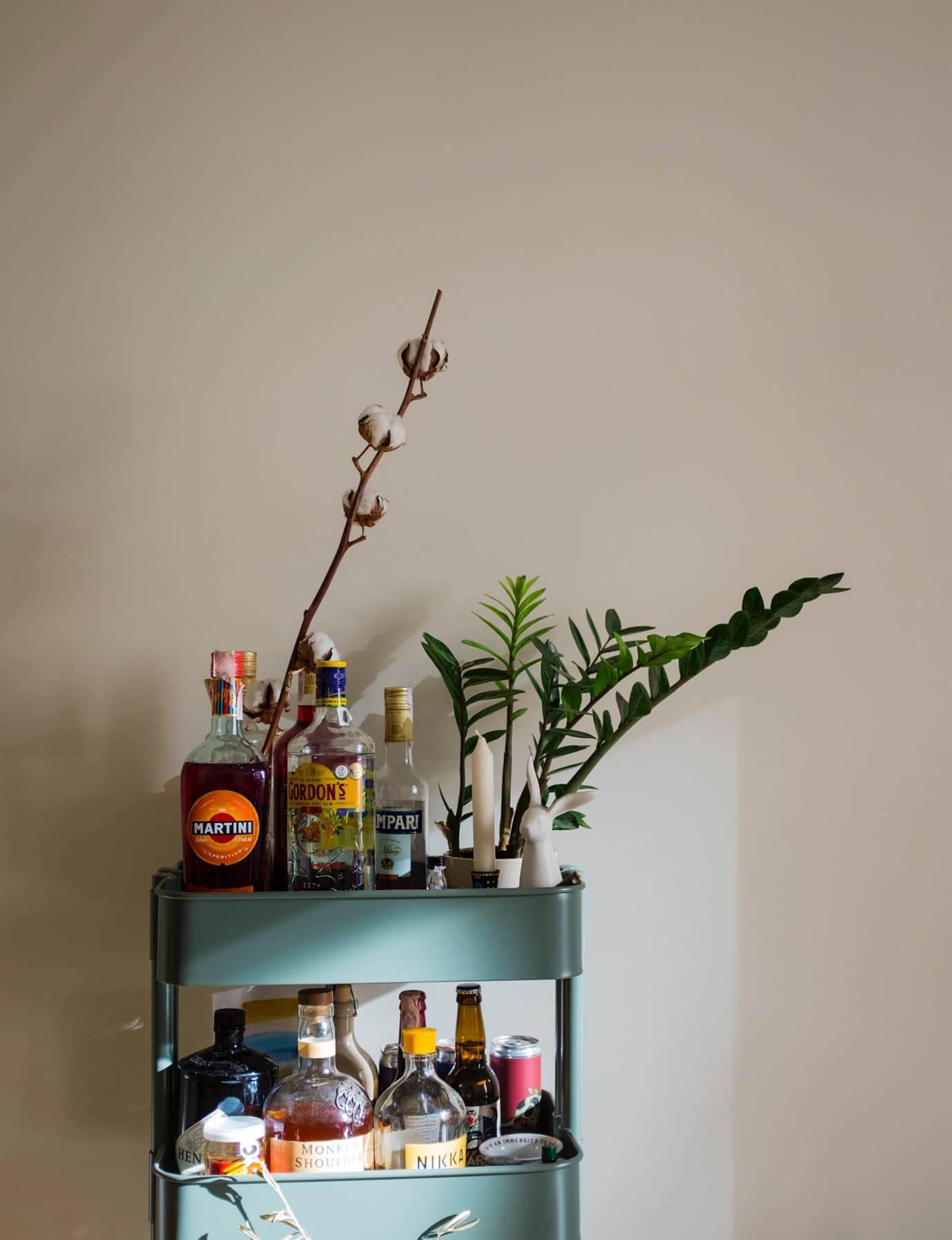 34. Keep it casual with cane
If you like a beachy luxe look, invest in a gorgeous bar cart in organic fibres rather than metals. It could simply be an inexpensive department store bar cart or you could scour the flea markets to find a lovely vintage cane or rattan one. Then just add a couple of small sculptural plants and make it modern with a neon sign.
35. Give it mid-century elegance
Another option for home bar ideas is to have a dedicated drinks cabinet. Preferably, go for something a little dramatic or retro to give it those Mad Men vibes. How about a statement mid-century Italian piece with walnut veneer and brass legs? Tip: pick cabinets that have handy adjustable glass shelving on the inside.
36. Go for a conversation piece
Make your bar cart a showstopper and talking point with a unique design. You can hire a carpenter to bring something bespoke to life.
When there's a bar, there can be a lot of little bits and pieces to do, so some help with general labour wouldn't go astray as well.
37. Make it temporary
Don't have much space? Go for a fold-up tray or perch your bottles on a side table when entertaining. The best side tables to transform into a serving station are those that have a touch of vintage class to them. But then again, if you prefer something organic and coastal, you might just load up a beautiful tree stump. When it comes to home bar ideas, the only real rule is to please yourself.
So that's a wrap on my cut of the best home bar ideas out there right now. Which is your favourite style of home bar? Drop a comment below!