Loft spaces can be difficult to decorate since they're "atypical volumes": usually oddly shaped, with slanted ceilings, sloped walls, awkward layouts, obstructions like beams, and hampered by a lack of light. As such, they're definitely challenging spaces to decorate. But that's where our loft storage ideas come in!
No matter what the purpose of your loft conversion will be—maybe it's going to be a new bedroom, spa bathroom or home office?–it's a given that you'll need to figure out storage solutions. Even if you prefer a really uncluttered, minimalist aesthetic, you still won't want to be traipsing upstairs with your necessary belongings all the time. Instead, it's smarter to work in clever concealed storage solutions.
The inherent design challenges of working with a loft conversion space can be overcome with clever design and planning to allow your new living space to be packed with practical storage. Start with a complete loft clearout to create a blank slate, so you can best assess what storage you will need for your newly repurposed loft space.
From easy DIY jobs to bespoke, made-to-measure custom cabinetry, our loft storage ideas span a range of budgets, and there's sure to be a dream loft storage solution in here for you… Let's get started.
1. Between Velux window storage
Many loft conversions feature large windows (often just generally given the proprietary name Velux) to flood the space with light, and the eave spaces between the windows are ideal for fitting out with shelving. Here's a lovely example of under eaves shelving in a minimalist apartment in Portugal, where the neutral palette keeps the loft living room feeling spacious.
2. Rows of drawers
Another popular choice for a loft conversion is to create a walk-in dressing room. Although, at first, it might seem tricky to figure out how to hang and store clothes in the angular, awkward spaces of a loft, you'd be surprised by how much people can actually fit into their loft dressing rooms. The key is to install a range of storage solutions of varying heights—often, rows of drawers are a neat addition to an under eave space.
3. Hinged loft storage compartments
Here's an example of a loft bedroom kitted out with plenty of closed storage for a streamlined look. For loft storage ideas, as well as a variety of sizes of drawers, how about these clever hinged, drop-down cabinet doors that can function as another practical surface space?
4. Bathroom loft storage ideas
If you're putting a bathroom in your loft, just like a bedroom, you'll want to make the best use of your storage options. Here's a great example of how to do that… The only thing I'm not sure about is the toilet installation under the slope because if you're a tall person, you might knock your head once or twice.
5. Loft dressing room storage
Another loft dressing room here, this time with more conventional storage elements. Here, there's an emphasis on quality materials, like beautiful timbers and marble flooring. That's the great thing about small lofts; you can afford to splurge a little on the materials since you won't be using huge amounts of them.
6. Dormer built-in storage
Building storage into a loft space can often mean simply lining a wall with cube shelving or similar. Here, a dormer loft living space featuring a DIY bookshelf surrounding the window, made by the homeowner. If you're handy, too, you could probably come up with something similar yourself, but it's also easy to find someone to put some custom shelving together for you.
7. Walk-in wardrobe storage
At the other end of the scale from DIY, you could also engage experts to create custom loft storage ideas for your loft space. The beauty of bespoke, of course, is that you can have your storage loft space fitted out exactly how you want.
For example, the fashion-conscious owner of this walk-in dressing room wanted a mix of storage options, including shelves, drawers and hanging space, as well as mirror doors and display shelving for her precious accessories.
8. Low bookcase on the landing
If your loft has a landing, lining the landing with low shelving like this is a practical way to make full use of every inch of space. In this home in Texas, simple timbers and a peaceful neutral palette contrast with a vintage style chandelier for a little visual drama.
9. Tiny loft wardrobe space
If your loft space contains any ugly, imposing wardrobes or other shelving, you probably want to pull it out and start fresh. Choosing simple, streamlined, and ideally, light-coloured storage options instead will keep your loft looking light and bright rather than dingy and dark.
10. Bookcase divider
Room dividers of all kinds can be used on a loft landing and used to store books or display collectables. Rather than something solid, choosing an open divider, like this one, will keep the light and air flowing through space. And, possibly stating the obvious here, but if it is adjacent to a staircase like this, make sure it's strongly affixed rather than something less permanent that could tip.
11. Eaves bedroom storage
Here's a loft storage idea that creates a partition in the space, tucking a bed away behind it for some privacy. This minimalist storage idea shows just how much storage you can fit into a tiny triangular space like under this loft slope. Presumably, the shelving also exists on the other side, providing ample storage opportunities for a small loft bedroom or perhaps loft guest bedroom.
12. Eaves shoe storage idea
Tiny loft space is perfect for converting into more wardrobe space, even if it's only a gap big enough to house shoes. But if you have a substantial shoe collection, the narrow sloped gaps in the eaves can be maximised with custom shelving to store it all. Even a basic row of cube storage would probably suffice, too—it just wouldn't give you that seamless edge. But hey, that's more wardrobe storage potential in itself, perhaps for belts?
13. Minimalist loft storage
This clean, contemporary, and pared-back dormer dressing room has three windows for gorgeous brightness and a pale, warm colour scheme, including blonde wood elements. I love that popping black light fitting.
14. All available space for loft storage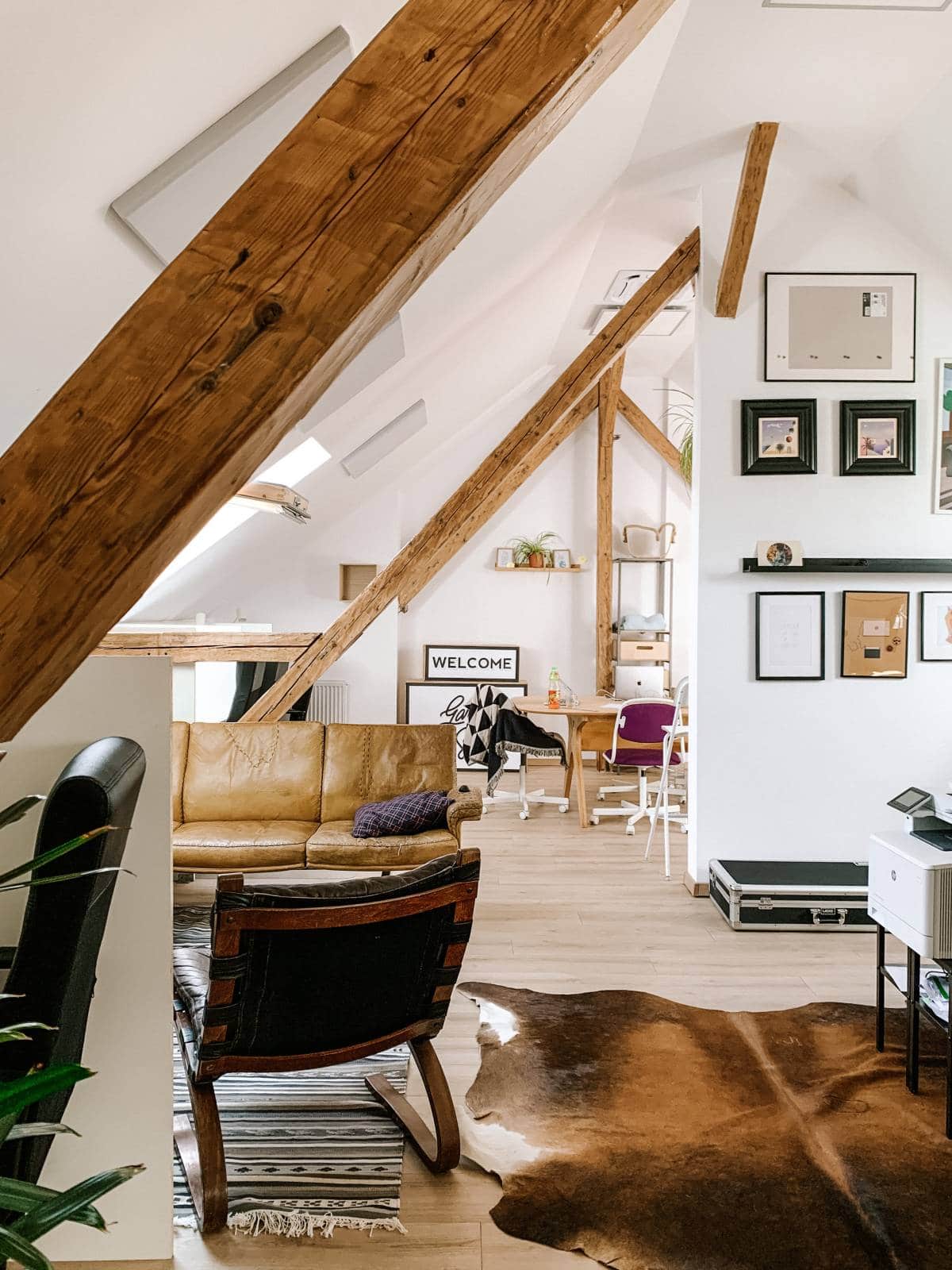 I love this loft home office or gaming room that also squeezes in a little napping nook. And it's got loads of storage. Something like this would make the perfect teenager's den.
15. Loft kids playroom storage
The littlies can often take advantage of a low-ceiling loft to use as a playroom. Adding shelving to a straight loft wall is a great idea for housing a book collection or toys, but it has to be securely attached to the wall for obvious safety reasons. The baskets are a neat way of storing toys, while the rug makes it extra cosy.
16. Loft walk-in wardrobe
A lovely, beachy master dressing room here, with more than enough wardrobe space for a couple. A series of shallow drawers provide ample storage and create useful counter space.
With loft conversions, it's all about the drawers too—shallow, deep, low, all kinds of drawers find their ultimate function in a loft space.  Make them in gorgeous timber and have them visibly stand out, or blend them harmoniously, for example, with sliding doors that match your loft colours.
17. Under Velux storage
A bank of cabinets sits under the Velux windows in this dormer loft conversion. It can be a challenge to work out the best layout and configuration with a small loft, but fitting your storage under the eaves is often a very functional design choice. And keeping everything white ensures the small space feels larger.
With clever storage like this, it means you can pack everything in its place after a loft clearance.
18. Unusual wardrobe storage
How about this for something different? In the loft of 'Ant House' in Japan, there are multiple cutaway sections, like these containing spartan plywood shelving. The architects wanted to play with ambiguous spaces and create ways for the owners to enjoy the sun and wind moving through the home's apertures.
19. Book nook shelving
Awkward spaces have always lent themselves perfectly to book nooks, and a section of your loft space may be ideal for this purpose too. Fitting in some custom bookcase shelving, a daybed and a selection of novels, and adding great downlights, will turn a space like this into your favourite nesting spot.
20. Vintage furniture
A vintage Australian barn conversion has retained its original charm with antique and reclaimed décor throughout. If you love the modern farmhouse look, you can kit out your loft conversion in upcycled, heritage pieces for storage purposes, too, rather than having more modern shelving and cabinets. Add in some industrial lighting and make a feature of any exposed beams.
21. Angled shelving
The slopes of loft walls themselves can hold specifically designed stepped shelves, like the Ikea ones in this loft home office. They're attached to the wall with brackets, and you could get someone to look after the IKEA assembly for you. Shelves for angled walls look modern, but I like how they're contrasted with a little farm-style white shiplap panelling here.
22. Loads of storage
This is a great example of some custom made furniture for a loft conversion, maybe for a living room or home office. There's certainly plenty of storage no matter what the purpose! Every last inch of spare space has been sectioned away around that window. For cabinets in lofts, it's often a good idea to opt for sliding doors instead of ones that swing outwards like this.
23. Kids loft bedroom storage
When you fit out a kids' loft space, whether a bedroom or a dedicated playroom, there'll be a major need for storage. Purpose-built children's storage systems like ones from Ikea are popular choices adjustable to children's heights and enabling plenty of design freedom. If your loft also has Velux windows, you'll need to consider all the safety challenges and precautions (here, it looks as if the kids could dangle out!).
24. Pull out wardrobes
A loft space intended to be used as a dressing room needs loads of natural light through loft windows or skylights. This long narrow loft space has been made functional with a series of windows and a row of pull out wardrobes built into the slope. An all-white aesthetic ensures it looks super clean.
25. Simple minimal timber
I love the serenity of this little loft space. I'm not sure what the complete loft conversion is for, perhaps it's a corner of a bedroom, but they've neatly fitted a long bank of cabinets into the slope gap there, which will keep things nicely decluttered no matter what.
26. Open clothing racks
If you don't want the expense or permanency of a built-in wardrobe or custom shelving, consider installing racks. You can suspend a rack in any corner or waste space under your slopes, and some varieties also have a base where you can store shoes and accessories.
27. Muted colours
Here's another example of loft storage painted in unique muted tones, departing from the more usual white or neutrals for a matte seafoam. Despite the darker hued closet, the Parisian apartment still has plenty of light from the Velux window and white paintwork. I like the mix of vintage and modern furniture in luxe materials as well.
28. Loft home office storage
How's the clever loft conversion of this 1900s loft into a modern home office? Such an unusual space, and yet it looks like it's made to tuck yourself away and nail that deadline. Keeping it all white lets you introduce colour however your mood takes you.
29. Barn doors
By looking at this fantastic loft storage idea, you can see that barn doors really look great no matter what size they are. If you want to continue your farmhouse trend in every room in your home, this is a great solution for you!
30. Grey loft shelving
Here's another darker-toned loft space. Lofts are often preferred in light, bright colour palettes to maximise illumination, but a darker décor scheme can work just as well. The key is to marry it with lighter coloured timbers and metallic accents to bounce the light around. How cosy and inviting does this loft nook look?
31. Tiny homework corner storage
Even the oddest shaped loft nook can be turned into something handy, like this double study corner. A range of muted earth tones keeps things feeling connected to the outdoors, while overhead and desk lighting ensure students have lots of bright light for focus.
32. Loft storage ideas with barn doors
A master bedroom loft conversion with a decent sized double closet here. Sliding barn doors give it a modern farmhouse flavour, amplified by those cheeky, fluffy cloud pendants. In this loft, the wardrobe is divided so that one section is used for hanging clothes and the other to contain drawers and display space.
33. Lined with wallpaper
Because of their size, loft spaces can often take advantage of their 'jewel box' nature—in design; jewel boxes are those spaces that are small but richly layered with visual interest. If you have an open closet in your tiny loft, go ahead and make it a burst of dynamism and drama. Below, a designer's closet featuring a strip of favourite wallpaper and brightly hued hangers.
34. White grey modern bedroom storage
This polished loft master bedroom takes advantage of the dormer window space to extend custom wardrobe space into the smallest corner. Greyscale always looks chic and gives the space more depth. I also like the multiple downlights adding some glamour to the closet space.
35. Track shelving
A loft can also comprise a mix of reclaimed and organic materials, including rammed earth walls. It's also configured around two existing trees, which creates these light-filled voids similar to loft spaces. Simple floating shelving on a metal track system adds a contrasting industrial touch.
36. Kitchen loft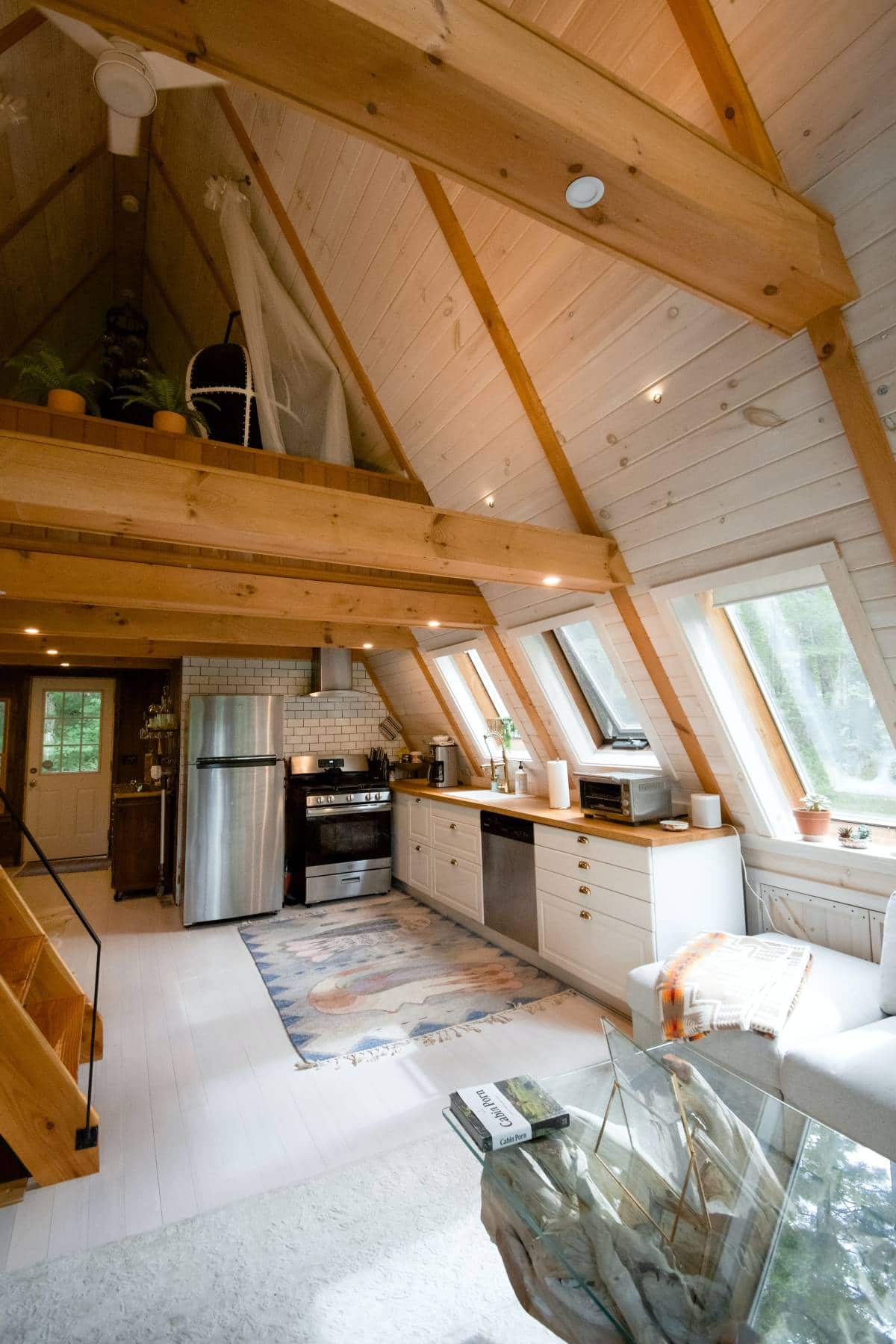 Finally, loft storage doesn't have to look all white and minimalist, even though, in many cases, that is a look that works perfectly to enlarge the limited space visually. You can decorate your loft in any style you like, like this rustic loft apartment with a kitchenette. See more kitchen extension ideas that will transform your home.
So that's a wrap on my 35+ loft storage ideas. With a loft conversion, it's all about thinking laterally. And using up floor-to-ceiling space as fully as you can. Then, as long as you choose simple, pleasing materials and colours, your loft can be a blissfully uncluttered and serene space, whatever you are going to use it for.
Let me know in the comments if any of my loft storage ideas were useful to you! I've got a few new ideas myself—now I need a loft.