It's usually a multifunctional space with a combination mud or boot room, sports equipment repository, warehouse, plant repotting centre, and of course a laundry function as well. So it's no surprise a utility room can sometimes tend to look a little overworked and underpaid. The utility room ideas here are set to change all of that though with these modern and stylish examples.
The main things you'll be thinking about are clever storage. Ideally, you'll have a mix of open and closed cabinets to accommodate the wide variety of items that you'll likely be storing. You'll also need to consider how much surface area you want, for tasks like ironing or clothes folding or maybe plant maintenance.
Whether you have a generously sized utility room or a modest utility cupboard located in the bathroom, I wanted to share some of my favourite chic utility room ideas with you. Let's get into it…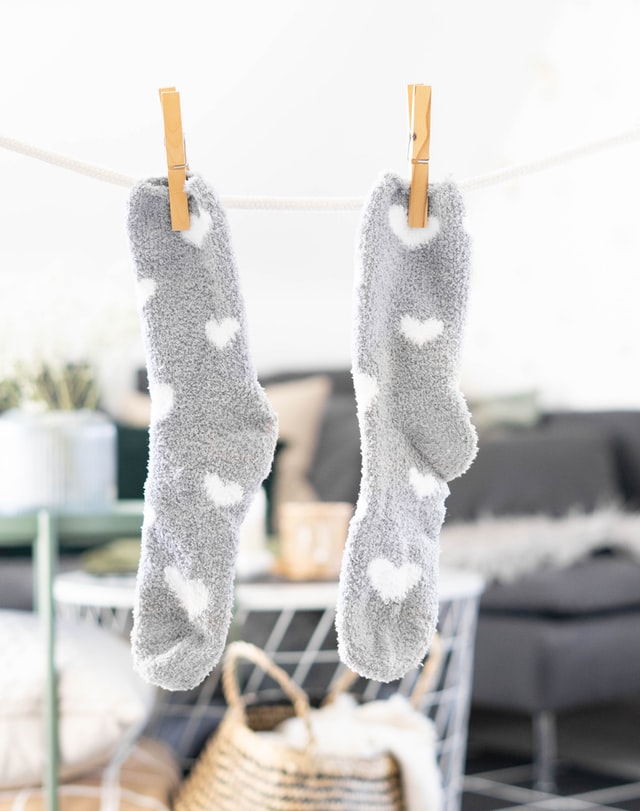 1. Build a beautiful boot room
A utility room isn't necessarily always a laundry room. Some people choose to set up their utility room mainlyas a boot room or mudroom, especially if the room connects to a back exit. Typical features of a mudroom include wooden or upholstered benches, oversized lockers for storage and coat hooks to take advantage of the wall space.
2. Make it as useful as you like
If you're lucky enough to have a large utility room to play with, you can make it fulfil as many useful functions as you please. Boot room, flower/mess room with sink, and laundry room in one, the utility room design should ensure every inch of space is put to good use. Ideally, there's so much storage you'll never know the meaning of "clutter" again.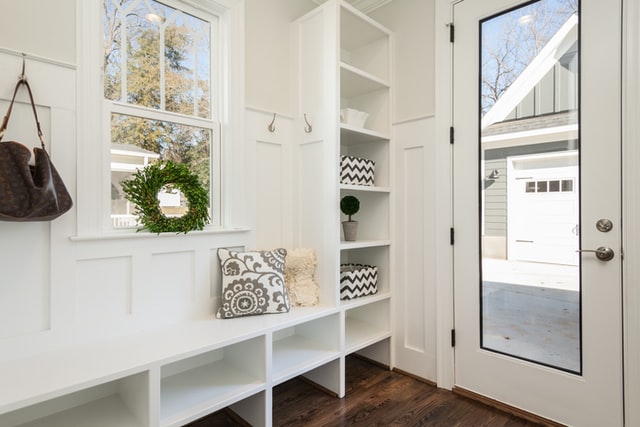 3. Add loads of storage
Clever utility room design allows you to pack a lot into your space. From a mudroom bench with overhead and underneath storage, to a bank of washers and dryers with countertop space and cabinets. Opposite, add loads of ceiling-to-floor storage and still more counter space. Perfect for organising everything into its own place. A ceiling clothes airer is also a useful addition to any laundry-focused utility room, keeping the floor uncluttered.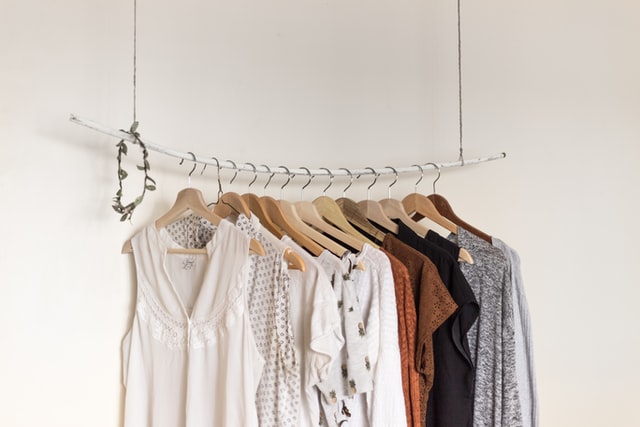 4. Conceal your appliances
Stacking your washer and dryer on top of each other is a popular solution when you only have a small utility room as it takes up less floor space. And to keep things even more streamlined and further reduce visual clutter, many people like to conceal their laundry appliances behind a space-saving sliding or folding door. Ideal for apartment living where space is at such a premium, tucking your laundry appliances behind cabinetry doors means you can put it all out of sight and out of mind once you've caught up on the washing (should that actually ever happen..!?).
5. Create a utility cupboard
If you don't have a completely separate utility room, or maybe only have an unused section of a bathroom to work with, you can still create a highly useful utility space. Simply create one in a closet space and tuck it away neatly behind folding louvre doors. Arranging your shelves so you have a designated permanent home for all your necessities will help keep things neat. And having plenty of white in the palette will visuallyenlarge the space too.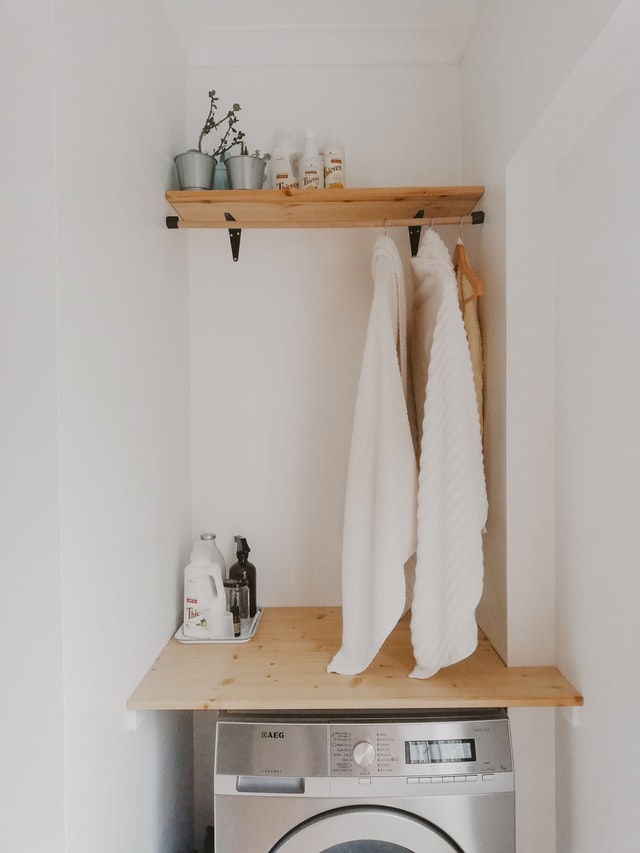 6. Use the whole space
Have a utility room that's really more of a corridor? When it comes to narrow utility room ideas, you really want to take advantage of the full height of the space with ceiling-high cabinets and shelving. Shaker peg rails are also another very useful and simple utility room storage idea. Add in a strip of stunning encaustic cement floor tile and a bold pendant light and you have a very stylish utility room indeed.
7. Have functional flooring
No matter whether you intend to use your utility room mainly as a laundry room, or as a boot room or maybeas a flower room for potting up plant babies—the flooring needs to be really durable. Stone, tile or polished concrete is ideal.
8. Decorate with wallpaper
Decorative features and finishes will transform your utility room from spartan and utilitarian to practical but pretty. A dash of colourful wallpaper adds personality and vibrancy to a plain space. So why not pick your favourite print—you can even paint your door frame in a complementary colour. To ensure your wallpaper is lined up and installed to last, find a professional near you to help with your wallpaper hanging.
9. Pretty it up
Create a serene laundry room that feels more like a haven to escape to than a place to do boring old chores. It may be through having a soft, calming, dreamy colour palette. Or, you might modernise Shaker cabinetry with modern black pulls. Or maybe add a stunning tile splashback or floor tile, tactile soft furnishings and a few decorative elements. And don't forget baskets—always handy for adding storage room, they also add warmth and texture to what is sometimes a clinical arrangement.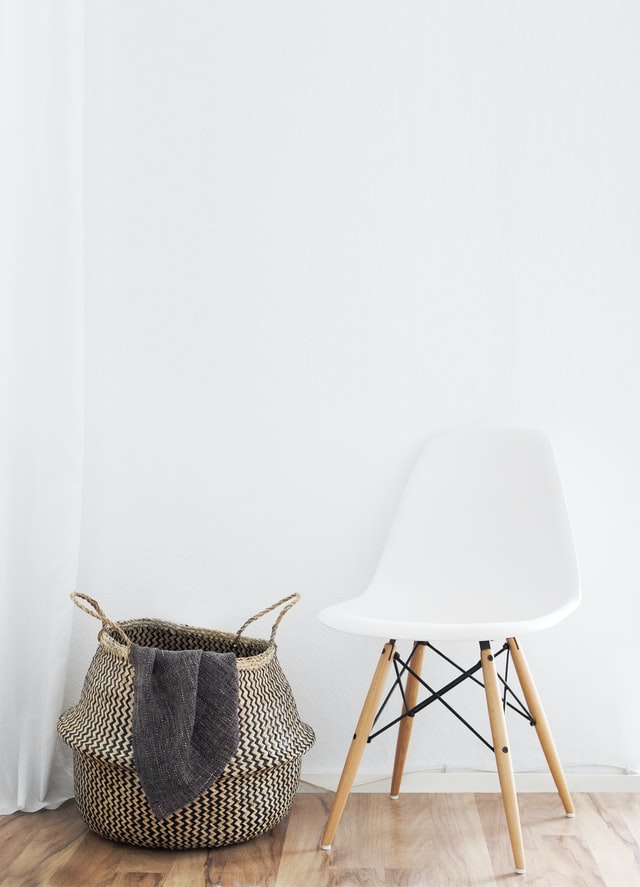 10. Give it farmhouse flavour
Steal the look of the boot room in the home of the McGee's, America's contemporary design darlings. It shows off their signature style: soft colour palette, shiplap walls, marble countertop, stainless steel tub with high arch faucet, industrial-style lamps… All come together to create a lovely modern farmhouse aesthetic. Add a canvas laundry hamper baskets on handy wheels—so practical. Want more farmhouse inspiration? Take a look at these farmhouse bathrooms, kitchens and bedrooms.
11. Design it for comfortable use
Don't like the stacked appliance look? Having the washer and dryer side by side does mean you lose floor space. But the upside is that they can be placed at an ergonomically correct height. Ergonomics is one of those things that we can sometimes completely forget to factor into our interior design, but it's so important. Especially when it comes to a task like doing laundry which can involve a lot of reaching and bending. Having your washer, dryer, shelving, countertops and ironing station set at the exact correct height is something to bear in mind when designing your utility laundry room. You can always get a professional to install your washer and dryer at just the right height for you.
12. Add peephole storage
Excellent storage is imperative for your utility room. No matter whether its function is chiefly as a boot room or it's more of a laundry room, inevitably it will contain other overflow household items as well as task-specific equipment. For utility room storage ideas, an expert in custom shelving can help you work out your ideal, space-saving storage solutions. One possibility is peephole storage where it's super easy to find exactly what you're looking for. Simple hooks increase your storage opportunities, even just to display some simple décor like a trailing plant and cute containers.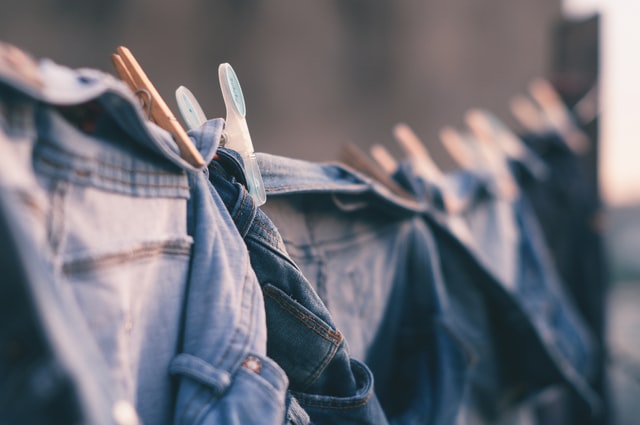 13. Brighten it up
When it comes to utility room design, lighting is important to create a bright, clean and inviting space. If your utility room is also a boot room, you'll want to have plenty of light to be able to keep it shiny and clean rather than dark and dirty looking. Multiple light sources are a good idea too if there are several different task zones in your utility room.
14. Make a statement with tile
Make statement floor tiling the star of your utility room. Utility rooms are usually small spaces so they're perfect for adding a little pattern and impact with beautiful tiling without breaking the bank.
15. Add a tiled splashback
Just want to add a subtle bit of colour or pattern? Then a splashback area of your utility room is ideal for incorporating a little beautiful statement tile. And when concealed behind a sliding door, it makes for a welcome visual surprise too.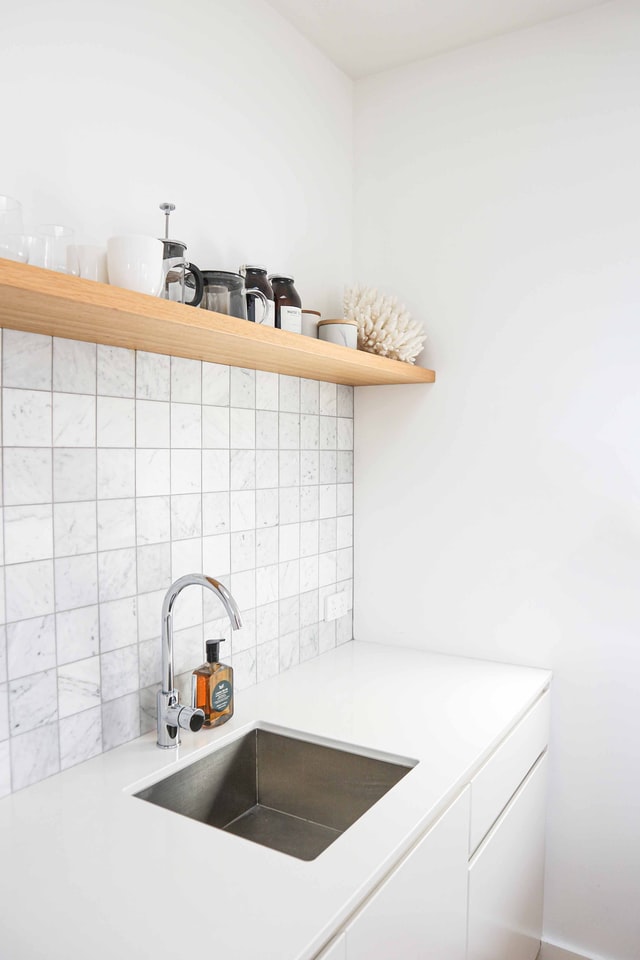 16. Make it minty fresh
Love the vintage-inspired farmhouse look? For a utility room with nostalgic vibes galore, opt for pastel-painted cabinets and workstation, retro metal stools and patterned floor tile. A soft mint is always a lovely choice for a utility room. Rows of baskets, glass jars and canvas hampers are both practical and look lovely and neat as well.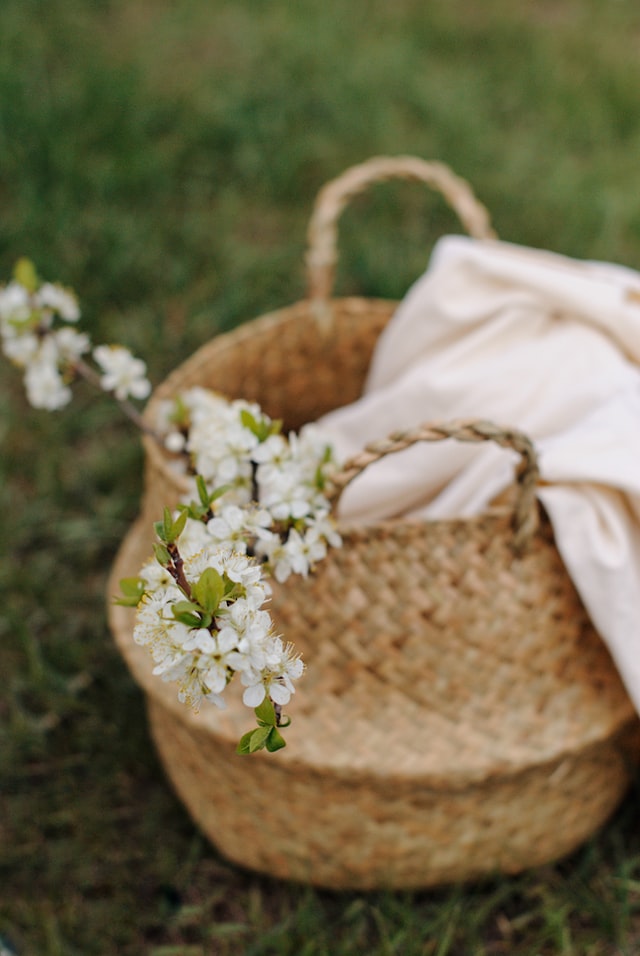 17. Consider concertina doors
When it comes to compact utility room ideas, one of the most popular is to enclose the space with bifold or concertina doors, which can ideally be opened from either side. Visible hinges can add a repetitive decorative metallic element which complements tapware and adds elegance to the space.
18. Install open shelving
If you're the kind of person who likes to be able to see all their supplies to make things super easy, then some kind of open shelving system will likely appeal the most. And if your utility room is basically a corridor, then ceiling to floor shelves will of course maximise your storage space. Give yourself the option of concealing some items though, by including some cupboards with doors or simply adding baskets.
19. Hide everything
On the other hand, if you have more of a utility passage than a room as such, you might like to keep it really streamlined, so it doesn't feel poky. In that case, cupboards with doors have their advantages. Other narrow utility room ideas include maximising storage with ceiling-high cabinets and shelves. And conceal your appliance stack along with anything that falls more into the "useful" than "beautiful" category.
20. Make it feel spacious
Sticking to a cool, bright white and light neutral palette will ensure your utility room feels fresh and spacious. Or try a pale pastel colour, like powder blue walls. It looks especially lovely against blonde parquetry floors. Setting out a solitary pair of boots can signal the room's intentions nicely. Even if the rest of your shoes should be neatly tidied away with purposeful storage.
21. Add a bench
If you have enough space, benches are always a great addition to a utility room. Having a bench and a ledge above with hooks is a practical utility room storage idea that takes full advantage of your entire wall space. And under the bench can also be used for extra storage. Open hutches under the bench are perfect for shoe storage to prevent mustiness. If you only have closed cabinets for your shoes and boots, it's a good idea to drill air holes in the front.
22.  Add a dash of contrasting black
If you have a bright white palette, give it a contemporary edge with black or deepest charcoal or navy accents, such as in the door colour. Or you might like the look of a black washing machine. And if you're going for a minimal, monochrome aesthetic, then balance a wall of useful storage on one side with a simple bench, basket and broom vignette on the other.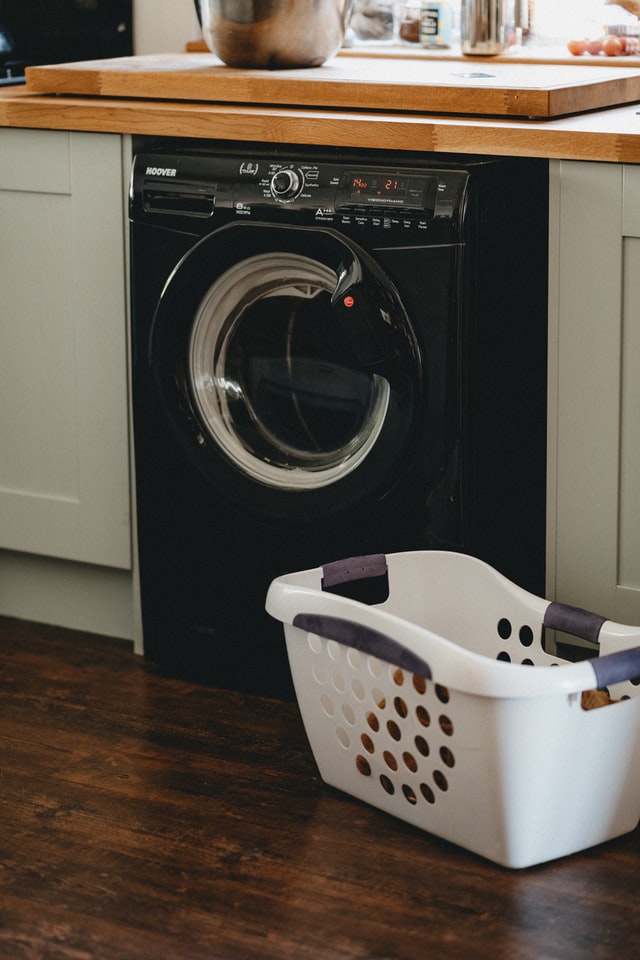 23. Double the fun with a Dutch door
If your utility room leads to your back door, you might like to consider installing a Dutch door. These look quaint and charming, especially when painted in a lovely pastel hue. Cute tiling can add a quirky touch as well. If you want some custom painting, get an expert to take care of the paint stripping to get it all prepped and ready. And then they can handle the painting as well – so you won't even have to lift a finger!
24. Make it cosy with a rug
Even if you only have a very narrow space, a soft vintage runner adds a pop of colour and pattern while adding a layer of comfort. Just add a wooden stool for added charm.
25. Add interest to the walls
Give your utility room charm and character by fancying up the walls. Consider wallpaper, wainscoting or a beautiful new paint job—sage green is a popular contemporary choice. Framed vintage pictures will add visual interest.
26. Go for white plus blonde wood
You can't go wrong with a coastal style utility room that is simple, organic and full of light. A mix of pale timber and lots of white will do the trick. Just ensure there's a decent amount of storage and plenty of counter area. To keep things extra streamlined, consider recessed pulls for drawers.
27. Go for a contemporary vibe
For a gorgeous utility room which is fresh, clean and modern, opt for a classic combination of timbers and marble. Keep things basic and functional but still chic by opting for a simple black and white colour scheme and streamlined design.
28. Make it a flower room
A utility room can really be anything you want it to be. If it's close to your back door and garden, you might be wanting to use the space to carry out plant care tasks as well as handle the household laundry needs. A large farmhouse sink will be a big advantage in that case. And if you keep your washer and dryer side by side rather than stack them, it will create more usable counter space.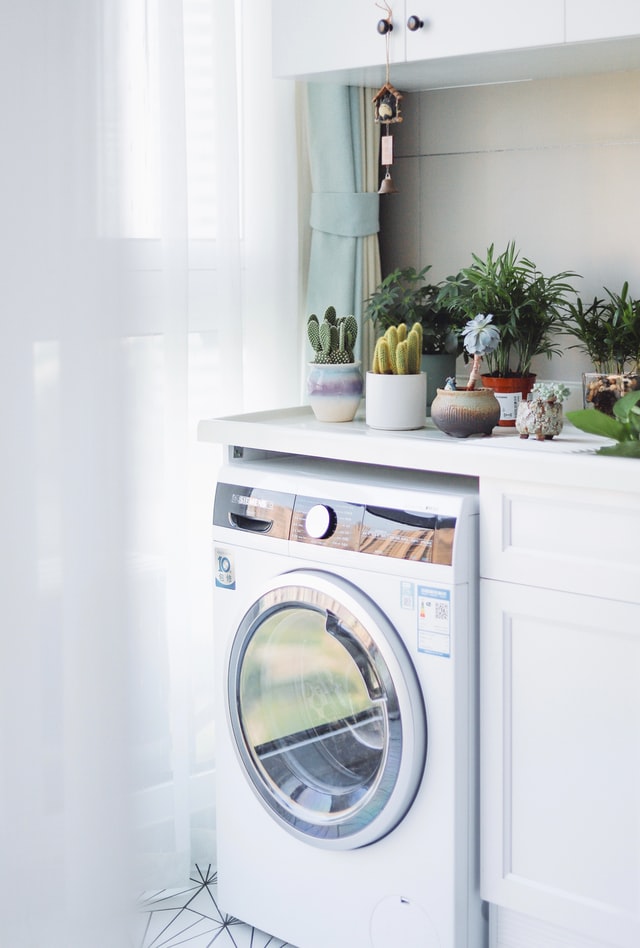 And that's a wrap on my selection of ideas that show how utility rooms (and even the most compact utility spaces) can do their job and look good doing it. Do you have a utility room and if so, what are its functions? Let me know in the comments!