As the weather starts to warm up, I'm sure you are becoming more and more inclined to spend some much needed time soaking up the sunshine outside. So why not do all you can to make your garden as welcoming as you can, not only for guests but also for yourself? Adding a bar to your garden is a great extension of your home and can almost add the feeling of another whole room to your home. See what I mean with these amazing garden bar ideas that I've collated for you.
Whether you are wanting to complete a full renovation with a complete kitchen area and outhouse, or prefer to keep things simple with a stand-alone feature, a garden bar will transform your outdoor area into a destination and give you a reason to entertain.
1. Bar on the terrace
This quirky Elm bar on the terrace is a fabulous way to create a space for relaxing in a limited area. Perhaps if you live in the inner city and don't have a garden, a terrace would be an ideal place to sit back and chill after a busy day. The flowering pot plants add that garden vibe and a vase of flowers on the bar table add that little bit extra. Simple wooden crate shelving is perfect for house drinks and glasses. Hanging wine glasses are a great space saver and a very hygienic way to store them in an outdoor setting.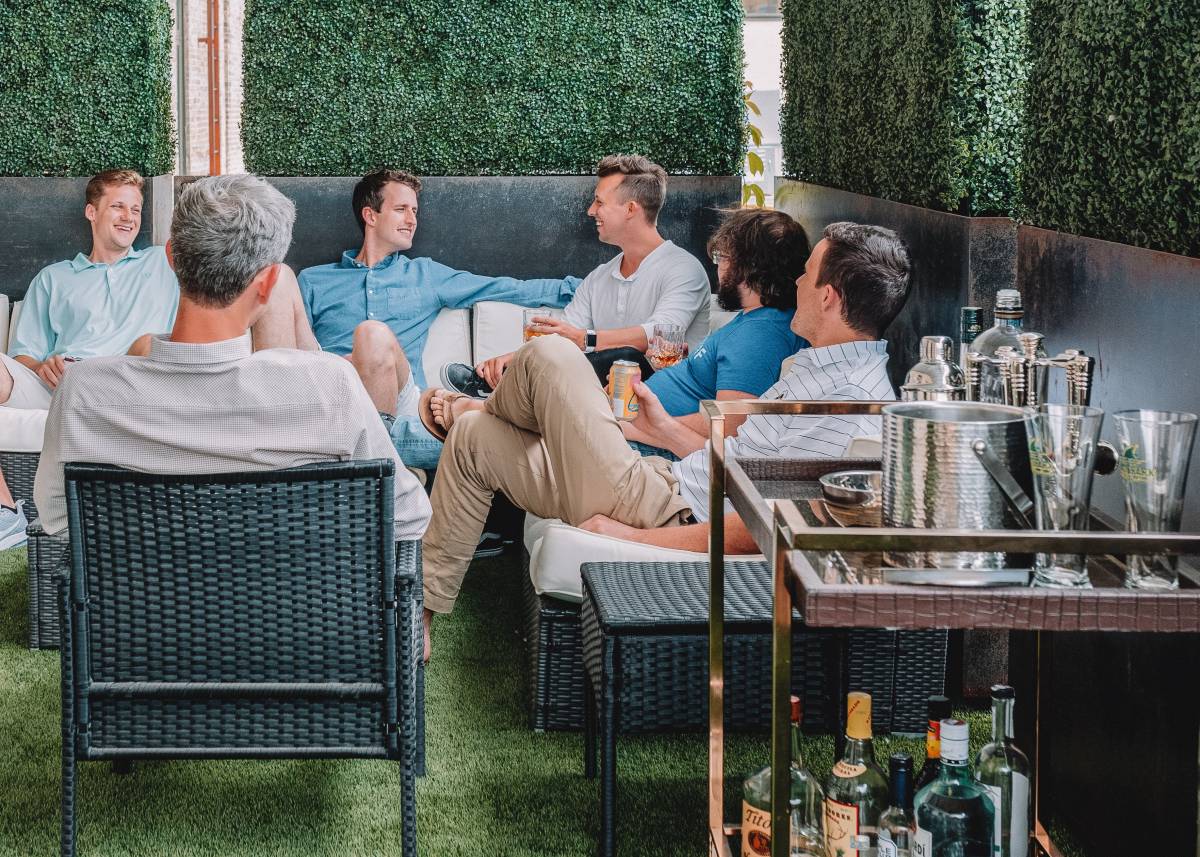 2. Girly garden bar
One prosecco, two prosecco, three prosecco… floor. What girl wouldn't love a prosecco or two in this cute girly garden bar? The pinewood on the floor, walls and ceiling give this space a country cabin in the garden feel. And the sturdy bar stools are just begging to be sat on to join in the party fun.
3. Mancave garden bar
When I think of a man cave in the back garden, I think of a workbench, a few tools and a small bar fridge filled with some nice cold beers. This man cave is taking it to a whole other level with sturdy fittings, a stunning bar bench and classy bar stools, not to mention the triple-sized bar fridge and the extensive choice of spirits. Looks like the boys may not come home for dinner.
4. Beach bar
To enjoy that seaside vibe in your back garden, you can easily create a beach bar reminiscent of those warm, tropical holidays you have had abroad. The fringed straw look umbrella over the bamboo bar, complete with a cactus in a pot will instantly transport you back to those balmy, holiday afternoons on the beach.
Plus the casual outdoor furniture is simple and relaxed. And this is the most low maintenance garden ever if gardening is something you don't want to spend too much of your free time doing.
5. Thatched roof
Cocktails, anyone? This cute little grass thatched-roofed hut squeezes in perfectly into the corner of this back garden. The cute pineapple and flamingo give this bar a tropical island look and the feeling of being marooned with the ship's steering wheel on display.
6. Wood and bamboo
I love the simplistic and neat look of this wood and bamboo bar. The classic wood and grey give this space a clean and modern feel, with the cushion and blanket adding warm and homely comfort to this stylish garden bar.
7. Barstools
To enjoy comfort on a bar stool can be hard to find so these bar stools with back support are such a fabulous idea. They also have a footrest which saves you from weary, dangling legs whilst enjoying a nice cold ale with your friends. The simple wooden slatted bar is perfect if you want to keep building costs down. Then you can splash out on your fancy top-shelf bar stools.
This garden bar idea is great as it's on gravel, which means no lawn maintenance too! See more garden gravel ideas that you can use in your garden.
8. Whiskey barrel
A whiskey barrel makes the perfect bar table in your outdoor eating area. Not only is a whiskey barrel sturdy, but it is also the perfect height to sit up to on a barstool to have a tipple. Imagine the history and stories your barrel could tell. It is just a barrel of fun, really.
9. Classy charcoal
A modern classy home deserves a modern classy bar. You can't go past charcoal colours for a truly classy look and this bar is simple and a gorgeous addition to this outdoor area. A drink is always more enjoyable in quality glassware. A responsible bartender offers water with drinks to keep his or her guests well hydrated.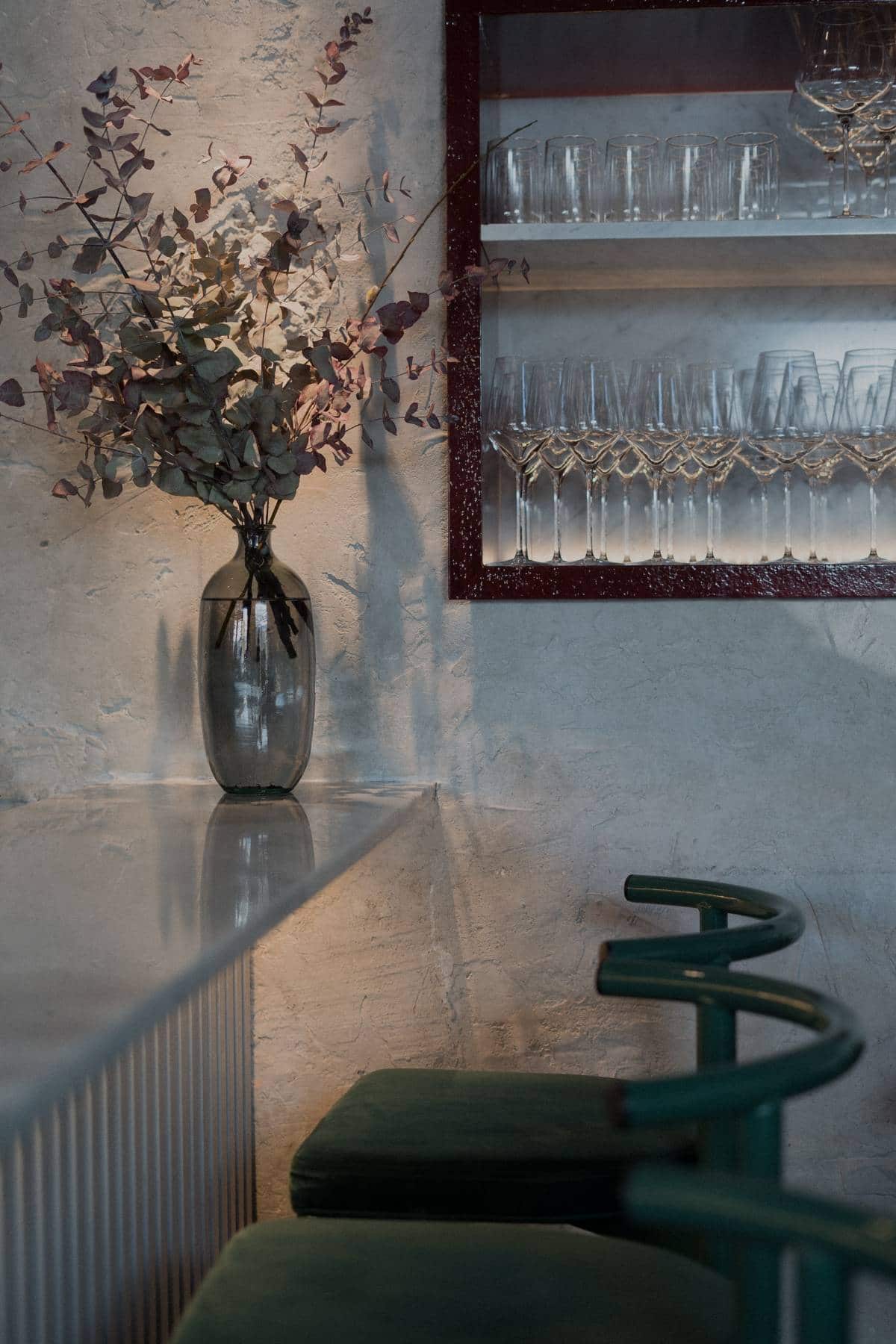 10. Moody lighting
Mood outdoor lighting creates a warm, welcoming and inviting mood to any outdoor garden bar and eating area. I would love to welcome friends over for an evening barbeque. They would feel so relaxed and at home as soon as they enter this calmly lit garden. The bar and bar stools look so comfortable, I would be happy to sit back and relax here all evening.
11. Keep calm, drink beer
Perhaps a man's favourite saying is "Keep calm, drink beer" and how calm would he feel in his own back garden with his very own bar stocked with his favourite beers. I love the fairy lights which remind me of stars twinkling in the night sky.
12. Pink bar
This very cute pink bar is perfect for someone who has no space for a garden bar. This little pop-up bar could fit into the tiniest outdoor area. Plus the fold-down door can be closed when not in use, making it even more compact in a tight space. The pink suggests a very feminine vibe. And I am thinking pink drinks are served here. I'll have a Pink Lady cocktail thanks, and make it a double!
13. Summer skies
A garden shed doesn't always have to be used as a garden shed. It could be your very own garden bar. When the sun shines in the summer sky, I'm sure all your friends and family would be happy to gather in a beautiful outdoor entertaining space like this. The wooden shed is perfect to house all your bar needs and the door keeps everything protected in bad weather. The paving makes the whole area very practical and easy to keep clean.
14. Geometric shape
I love this geometrically shaped garden bar that has been purposely built to fit perfectly into the corner of two fences. The light grey paintwork matches perfectly with the comfortable curved bar stools. I love the simple shelving that houses the glassware as well as the alcohol-themed prints decorating the walls. Having the roof extending over where people sit gives a little extra protection from the weather.
15. Tiki bar
The Tiki bar originates from tropical cultures, most commonly Polynesian. Bringing a bit of Polynesia to your garden with this cute little bar would inspire you to make some super tropical cocktails with some delicious coconut rum. A simple wooden structure added to an existing outdoor patio and adding a straw fringe would easily transport you back to a dreamy south pacific holiday.
16. Oversized bottle caps
How cool are these wall hangings of giant bottle tops that decorate this cute little garden shed bar? I love the top shelf bottles which give this a well-stocked bar feel. Imagine what mischief you could get up to with that variety of liquor on hand. Having the choice of bar stools and comfortable outdoor lounge seating nearby gives all a choice of seating, whilst still keeping everyone in the conversation.
17. Wine o'clock
This is definitely my favourite time of day. Wine o'clock suggests it's time to stop work, relax and chat about the day you've had. You could make any outdoor wall into a bar and I love the use of rustic wood and clean straight lines to create a neat and organized bar. 
Hanging wine glasses upside down on a purpose carved rack is not only hygienic but very practical and space-saving. Also having a rail on the shelf protects the wine bottles from falling off the wall… And if one green bottle should accidentally fall – that would be a disaster.
18. I am gin-vincible
I am strong… I am gin-vincible. Gin really is a very on-trend drink at the moment with so many boutique gin distilleries popping up everywhere. So why not create your own gin bar in your garden? I love the idea of adding a simple fence type bar attached to your existing garden shed. You could even use a couple of wooden crates to achieve this look.
19. Barbies bar
Here's another gorgeous girly bar painted pink. With a pink drink in hand, here's another great space saver idea, especially if you live in a flat with no garden.  Plus you can shut the swing door to hide your drinks away. And voila, your pink bar becomes a shelf for your pot plants when the bar is shut.
20. Champagne shack
Champagne means celebrating. And I think every single day should be celebrated and celebrated in style. I can imagine propping myself up onto the faux fur bar stool with friends and cheering when the first cork is popped. This is a beautiful space that has been carefully designed with an indoor-outdoor feel. It is open enough to feel like you are sitting in the garden, yet still protected with cladding for the walls and ceiling.
21. Personalised plaque
Champagne Charlie's is a fabulous name for a bar. Naming your bar with a custom made sign makes it all the more personal and totally unique to you. I love the dark grey structure and beams of this modern outdoor bar area. Having the green grass wall certainly gives a garden vibe. And the string of light bulbs gives such a great ambience when the sun goes down.
22. Birthday bar
Adding a happy birthday banner to a bar really says "let's get this party started". This is a great way to decorate for a birthday by adding balloons and photos of the birthday girl or boy. This simple wooden bar has been added to the back of the house making it a fun hub for your friends to gather around.
23. Eat, drink and be happy
This garden bar is a great design as it is simple yet practical and functional. I love that there is plenty of shelving along the back wall for bottles. The washed denim blue paintwork is casual and friendly. A bar with a roof makes whipping up fancy cocktails very comfortable for the bartender. Eat, drink and be happy… What a way to live!
24. Log storage
All the wood featured in this bar is giving off such a cosy vibe. Along with the brickwork and paving, a lot of thought has gone into making this area neat and functional. The very compact bar fridge is stocked with all the essential drinks and tucked in nicely between the log storage.
25. Bar shed
Tin and wood together are classic materials that can be used to build the best outback and rustic style shed. Having bar stool seating on either side of the bar bench makes for easy conversation. Adding bar paraphernalia creates humour and quirkiness to your space.
26. Bar tables
An event garden bar needs to be a quick set up and set down affair. And this setup oozes class. The bar itself is well organized with glasses at the ready and a large ice bucket big enough for multiple bottles. Tall square tables dotted around the garden give plenty of space for people to stand around whilst having somewhere to place their drinks.
27. Old whiskey staves
What a barrel of fun it would be to make your own bar out of whiskey staves. This bench looks so cool with the curve of the staves giving it a very textured and appealing look. And I wonder how many stories the old whisky barrels could tell. How proud must the craftsman be to have made such a stunning bar?
28. Fairy light courtyard
Fairy lights just make any outdoor area look lovely and welcoming. Although this is more of an outdoor barbeque area, the very inviting shed at the back would be a perfect spot to snuggle up on a chilly evening with a warming glass of red. Also, when the evening is a little more balmy than usual, some sausages grilling with a cold beer in hand sounds perfect too.
29. Backyard bar neon sign
This backyard bar looks like a compact classy cocktail bar you would expect to see in the foyer of a boutique hotel. If you like neat, clean and orderly design, then this bar is perfect for you. White always looks clean and classy, and I love the ice blue benchtop. The neon sign gives this bar some personality and fun.
30. Bright colour scheme
Bright and colourful. Walking into this garden bar, you would instantly feel like some fun was about to be had by all. From grabbing your favourite beverage at the brick bar to swaying on the swing, you couldn't leave without having a boogie under that fabulous disco ball.
31. Matching brickwork
The matching brickwork of this neat garden bar works so well with the finish of the house. The owners have thought about protecting from all sorts of weather with the addition of a huge glass window that can be shut when the bar is not in use. I love how the bar is nestled amongst the greenery, giving the illusion that it's growing out of the wall.
32. Under the pergola
I absolutely love the slate work in this very modern and classy outdoor bar area. The roof has been closed over the bar area for weather protection. No expense has been spared on the fittings. The three downlights over the bar give off a gorgeously warm rose gold glow which is a perfect match with the copper coloured high backed bar stools. I can see myself sitting up to this bar with a nice cold glass of French bubbles.
33. Gin and rum served here
How gorgeous is the wood used to build this garden bar? The quality, the colour and the simple design make it look modern and fresh. Gin and rum seem to feature in this bar.  And I love the gold bell that will be rung when the happy hour has begun. I always prefer to call it the happiest hour.
34. Sports bar
Well if you can't watch football while you are having a drink, what has the world come to? Under the bar is a great place for storage and those cushions will come in handy as the evening goes on. And I love the window boxes on the wall to display glassware and greenery. Don't forget to get a hand with your TV installation.
35. Matching bar and spa area
And last but not least is this cool, trendy, relaxed and funky garden bar. Who would ever want to leave home when you could kick back and relax in this fabulous outdoor entertaining area! Imagine sinking into that warm bubbling spa with your favourite drink in hand while soaking up the last warm rays of sunshine. Oh, the bliss!
So there we have 35+ garden bar ideas to assist you in planning out your new favourite addition to your garden. I especially love the garden bars that have been styled in a beachy way as you can bring the tropical island holiday right to your garden. What were your favourite styles? Let's grab a drink and chat all about it below! Cheers!