Gravel is a wonderful material to use in your garden. Whether you want to use it as a lawn substitute, a patio surface, on pathways and driveways, or as a functional, decorative mulch around plants or trees. In fact, gardeners love it because it repels weeds and helps with drainage, preventing runoff as it's permeable. Gravel garden ideas are increasingly popular because as a garden hardscaping material, gravel is low cost, doesn't need watering, is easy to install and is low-maintenance– only needing the odd raking to keep it looking neat. And if you prefer a low maintenance garden, you're certainly not alone.
As an ornamental design element, gravel is just so versatile. It can look classic or modern and it comes in a range of colours so you can find something that's perfect for your preferred aesthetic. And let's not forget its satisfying crunch underfoot when used in walkways!
There are some potential issues to bear in mind with gravel. It needs to be contained with an edging material to stop it straying—this is especially the case when used in areas with foot traffic. You also need to add base rock underneath it otherwise it will shift around too much. Once it's in, you'll need to touch it up about every four years—and if you change your mind about it, it can be hard to remove.  It can also make snow removal tricky.
Ready to rock a gravel garden? Let's take a look at 35 gravel garden ideas that show surprisingly chic this inexpensive material can be.
1. Create the perfect backdrop
Gravel acts as a wonderful base material for your garden, focusing attention on everything else. Surrounding elements like hedges or garden furniture stand out. And the gravel itself brings another layer of subtle texture into the picture. At the same time it adds an ethereal, ghostly quality to the space. Gravel gardens have a distinct Scandi flavour to them, but you'll find gravel fits many different decor styles—it's just so versatile.
2. 'Carpet' an outdoor room
For garden areas where you expect high foot traffic, such as around a firepit, gravel is the ideal flooring option. Not only is it decorative and aesthetically pleasing. But it is also a low maintenance ground cover, preventing weeds and improving drainage (as water drains back into the soil below it).
3. Borrow from the Japanese
Gravel is often to be found in Japanese gardens thanks to the abstract appeal of these little round balls. They just meld so well with other abstract elements like landscape rocks or cloud-pruned plants. And the loose, shifting nature of gravel means the pebbles can be easily rearranged. So they lend themselves perfectly to contemplative raking. A gravel garden really embraces simplicity but also loads up with texture.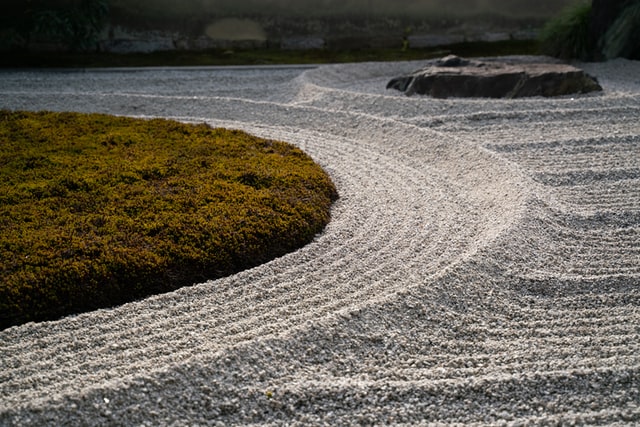 4. Channel le jardin rustique
Another decorative style that suits gravel perfectly is the distinctive French country aesthetic. This is characterised by a sense of laidback comfort and speaks of romantic afternoon soirees. Gravel is the perfect backdrop for this charming provincial style. Especially when paired with weathered timber furniture.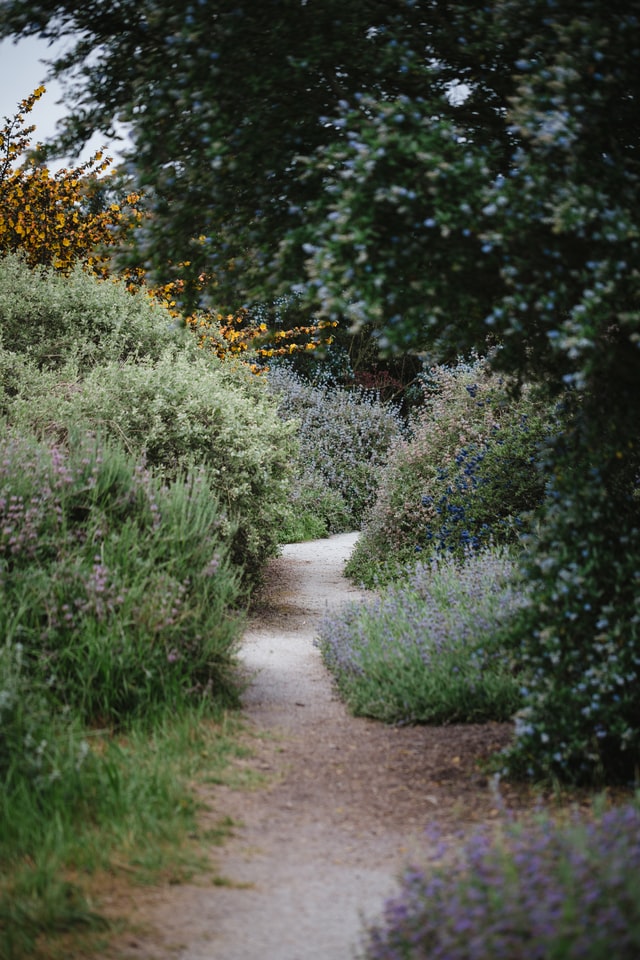 5. Or try Belgian minimalism
Gravel is the ideal hardscaping material for minimalist and industrial-chic garden designs. Grey gravel works particularly well with concrete. Concrete and gravel are a match made in heaven since when blended they offer continuity of colour but the contrast in texture.
6. Prep a spot for entertaining
A decorative sprinkle of pea gravel suits al fresco spots really well, providing guests with sensory pleasure. There's the loose, organic look, the cool feel underfoot, and the characteristic sound. However, gravel doesn't provide a solid base for your furniture, so you need to ensure you have a strong structural layer of rock underneath. For a relaxed dining setup over gravel, go for a vintage, foraged look. Think floral centrepieces and festoon lights to bring the party atmosphere.
7. Embrace curves
The natural look and feel of gravel means it's ideal for blending into a naturalistic, non-linear garden setting when you don't want a lawn. And you can echo its organic round forms by designing a garden layout full of serpentine curves. Or by growing boldly rounded flower shapes like hydrangeas.
8. Pave a path
Some kinds of gravel feel nicer on bare feet than others; generally the finer the gravel, the better it feels. Finer gravel is also more stable, making it the best choice for areas of high traffic like paths and driveways. But while gravel is generally great for walkways, the foot traffic can eventually scatter the gravel. One way to prevent this (other than by putting in hard edging) is to incorporate stepping stones to form a defined path.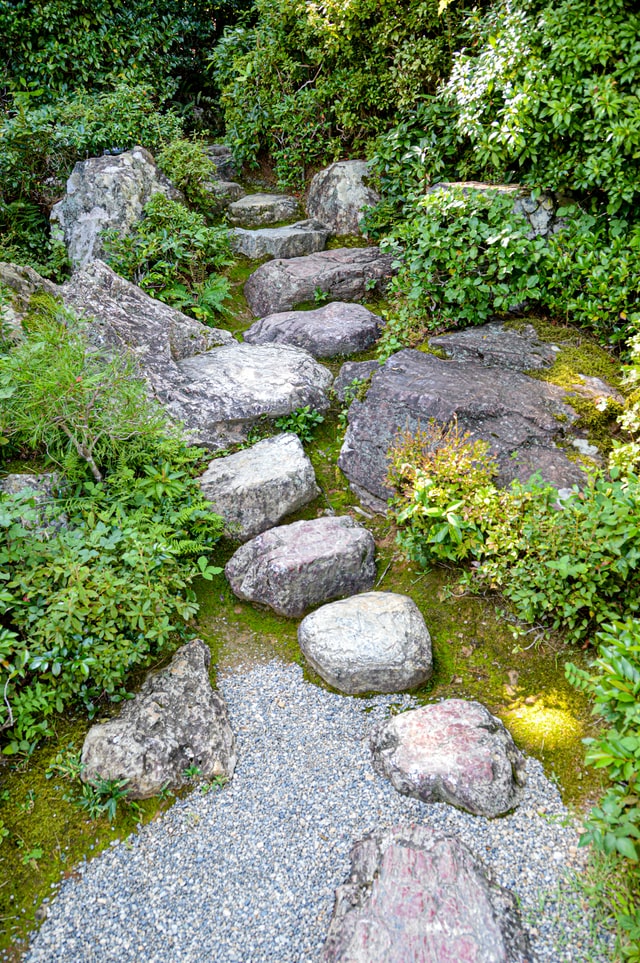 9. Warm everything up
The beauty of gravel is that you can get it in such a wide variety of colours, not just the silvery greys that spring to mind. Gravel colour simply depends on the colour of its parent rock material, and it can be quite uniform or in rainbow colours. Select whichever colour best complements your other hardscaping elements or your home exterior. Marled creams and reds and browns are especially nice for adding warmth to a setting, and they complement timber beautifully.
10. Make it Moroccan
Another perfect setting for warm, marled gravel is a courtyard garden designed to evoke summery Moroccan vibes. Again it's the ideal simple backdrop to a busy vignette. Perfect if your garden is full of raised timber planters or Boho styled bench seating, mirrors, carpets and pillows.
11. Fit a modern farmhouse aesthetic
With the popularity of modern farmhouse as an interior decorating style, more people are choosing gravel for their gardens. It can just strongly convey a complementary rustic, country look for the home's exterior spaces. Take inspo from the courtyards of mediaeval homes in the south of France. The look is comfortable and inviting, coupled with cottage garden flowers and natural, organic garden furniture.
12. Stimulate the senses
Another reason to love gravel is that it's such a sensory experience. It's not just the look of the pleasing repetitive round forms, but the crunchy sound when you walk on it, and the general sensation of walking on it, whether in boots or barefoot. But if you go for a gravel path, make sure you contain the edges with some sort of barrier to stop gravel from migrating into the grass.
13. Get a beach holiday vibe
A gravel garden is perfect if you want to create the summery feeling of a pebbly beach, like some of the rocky coastlines of Mediterranean holiday destinations. Steal the style of Ibizan courtyards with their marled, light-coloured gravel looking gorgeous against the white stucco walls and pops of black décor.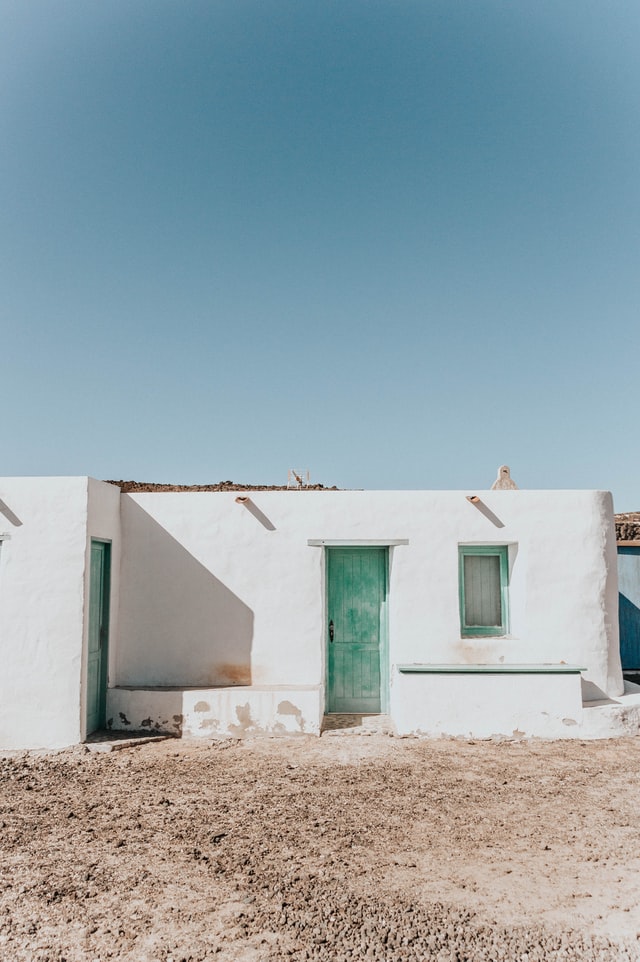 14. Signify social spaces
You can define unplanted areas in your garden that are intended for play or reflection by using gravel to show where the 'garden rooms' are. When using gravel in a social space or access area, ensure you have a properly compacted, supportive base layer of rock to assist stability.
15. Pretty up a patio
When it comes to gravel patio ideas, bear in mind that gravel can be less than a stable surface on which to place garden furniture. Having a strong structural foundation base layer under gravel helps. But some people prefer to add a more stable hardscaping material directly where the alfresco seating is to go. Large flagstones can be used for both a path of stepping stones and to ensure the patio furniture stays level at all times.
16. Echo roundness in your landscaping
Pea gravel is the tiny, spherical pebble gravel that is frequently used for gravel gardens. That's due to its pleasing uniformity and smoothness. If you go for this type of gravel, it's often attractive to visually repeat the organic round forms in your garden design. For instance, opt for curved seating around the firepit rather than linear forms.
17. Finish steps
Giving your garden steps a little decorative flourish with a smattering of pea gravel is one of the less common gravel garden ideas I came across. It could work, as long as you make sure it is contained in a way that doesn't make the steps slippery! Want to avoid having to drag a hose around the steps? Plant drought-tolerant (and beautifully fragrant) species like lavender and rosemary.
18. Make a Zen corner
Does your garden have a Zen corner? You know, that spot just for one where you can go to do your inner work, focus on your intentions and reconnect with yourself…or maybe just enjoy a cup of tea in peace! The elegant look of pea gravel can give your corner a touch of Grandmillennial grandeur.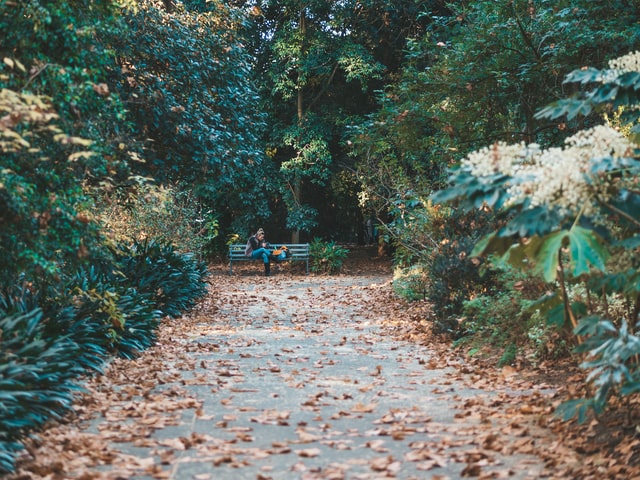 19. Add instant texture
All kinds of gravel provide your garden with a good dose of texture. But multi-coloured kinds, like naturally-marled Breedon gravel, give you a double dose. Apart from visually adding texture, gravel also benefits your garden by preventing weeds and erosion and improving drainage. Basically, the water gets drained away from your plants, so their roots have better access to oxygen. It's often used as mulch for this reason too.
20. Warm up your space
If you love to dine outdoors, one of the most popular gravel garden ideas is to use the stones as flooring beneath your al fresco dining spot. Add a rustic timber table, some contemporary chairs and a few oversized container plants. And you have a relaxed seating area where people will love to linger. Once again, choosing gravel in sunset tones will add to the balmy vibes.
21. Unify all your elements
Have a lot going on in your back garden, with different areas for different uses? You can bring it all together by using gravel as the material for the flooring across all the zones.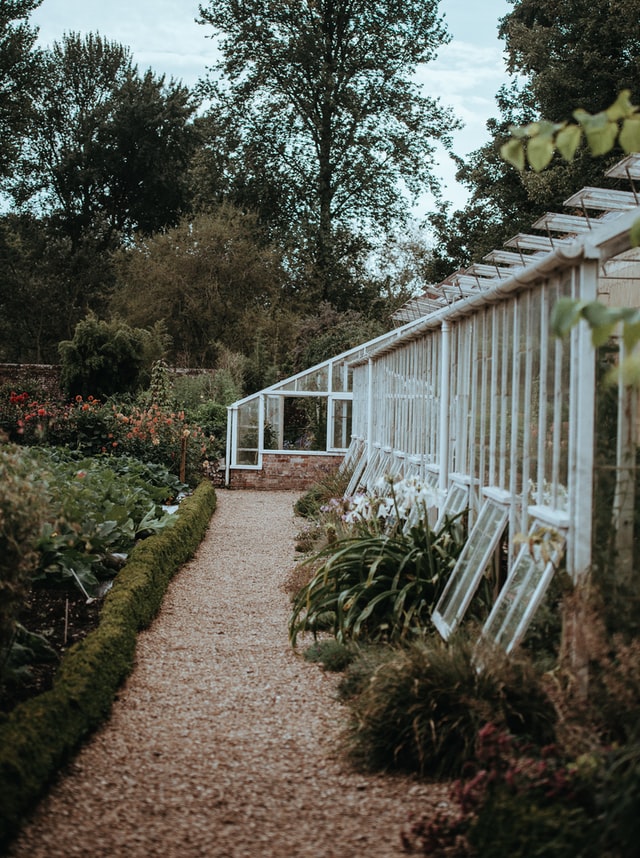 22. Keep it strong
Whether you're contemplating gravel driveway ideas or a gravel footpath in your garden, it's vital that you install a solid structural base layer of compacted crushed rock first. This will avoid the sinking-into-quicksand effect.
23. Give it a decent border
Containing your gravel with some type of hard edging is necessary for many gravel garden situations. But when you do so, ensure your edging is high enough so that the gravel doesn't spill over. Some types of edging materials, like pavers, will sink down over time as well, so your best bet is to create a tallish border.
24. Make it modern
Gravel has a versatile aesthetic, working very well with many different architectural and décor styles. You'll find gravel garden ideas for everything from English cottage or Mediterranean gardens to Scandi style minimalism. It also works well for a contemporary garden or a neat small courtyard.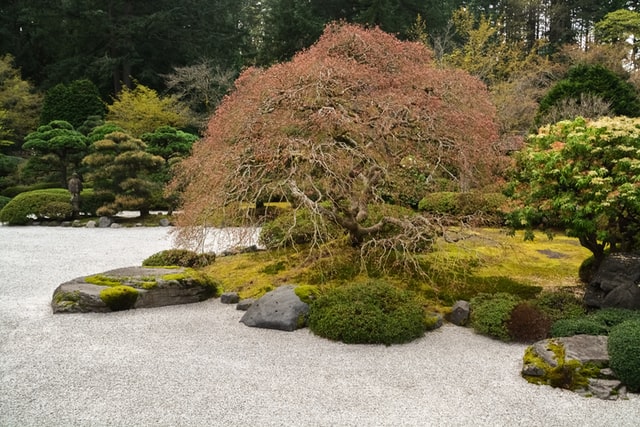 25. Keep things weed-free
Make your life easier by using gravel around seating areas in your garden, where it will repel weeds and stay neat. You can also use landscape fabric underneath your gravel, to increase its effectiveness at stopping weeds from popping up.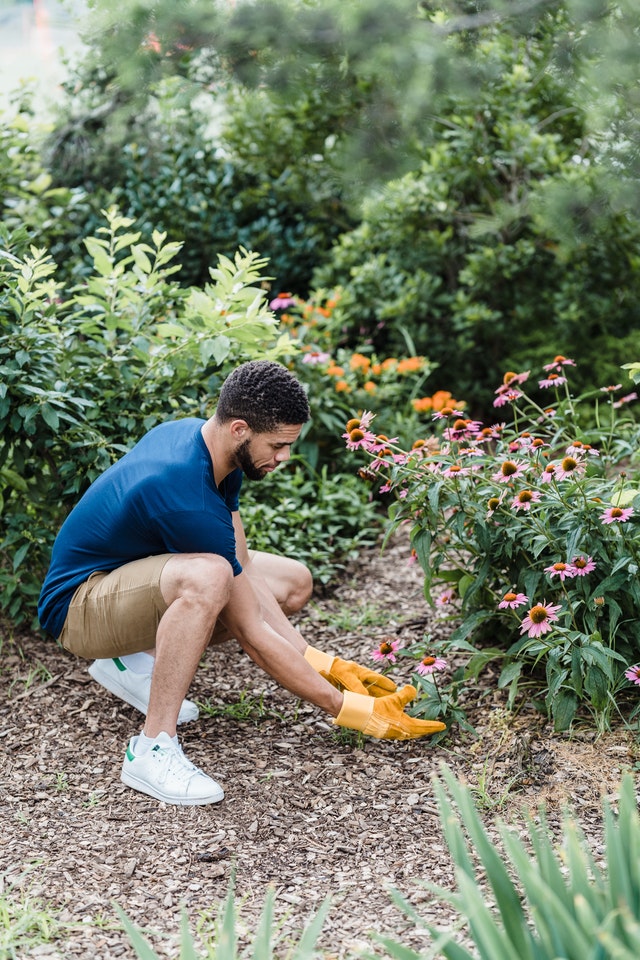 26. Make it Mediterranean
Gravel is a classic look for a Mediterranean garden. So if this look is for you, opt for pale gravel, and add in signature Mediterranean flavour with plants like olive and citrus trees and fragrant species like rosemary and lavender. Dot in plenty of terracotta containers and Grecian-style urns, and go for comfy outdoor furniture. Here in the UK, you'll probably also want to warm things up with a firepit!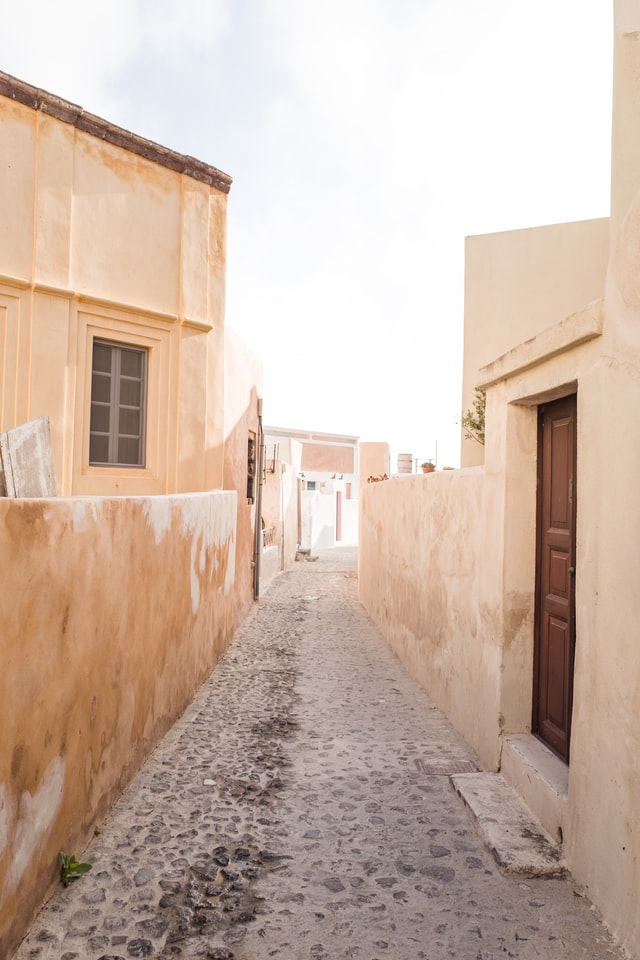 27. Highlight your feature plants
Gravel is perfect for focusing attention on other elements of your garden, such as feature plants or a delicate little pond feature. It provides a simple, uncluttered backdrop that doesn't compete with other greenery as the lawn does. And also has the benefit of being maintenance-free, which allows you to spend more time on your favourite plants instead!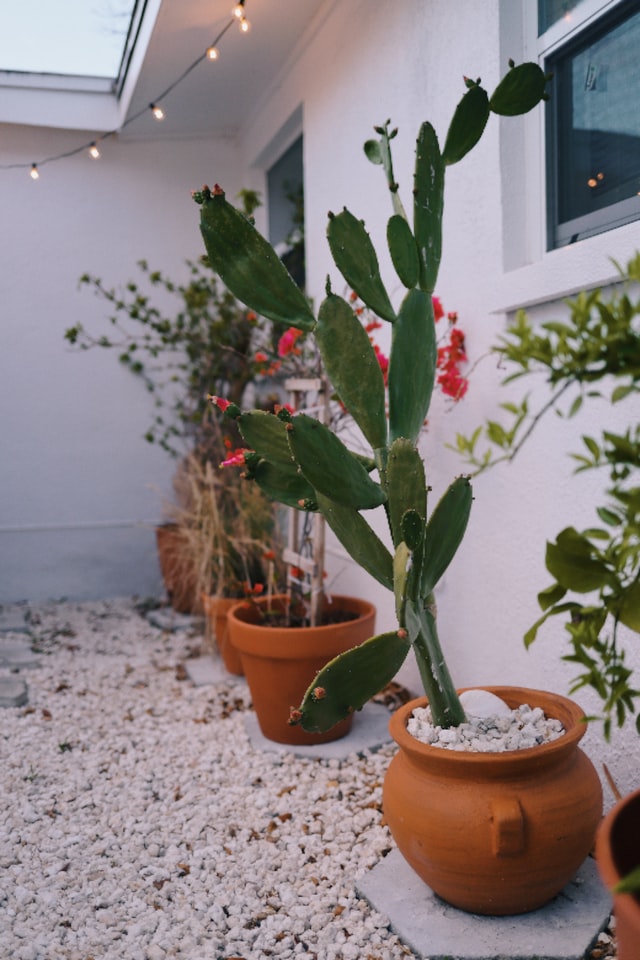 28. Create a weed barrier
Lots of keen gardeners prefer to use gravel on walkways through their gardens. This keeps garden beds well separated and well-drained and limits weed growth. The border around garden beds, together with the gravel paths, also helps contain the planting.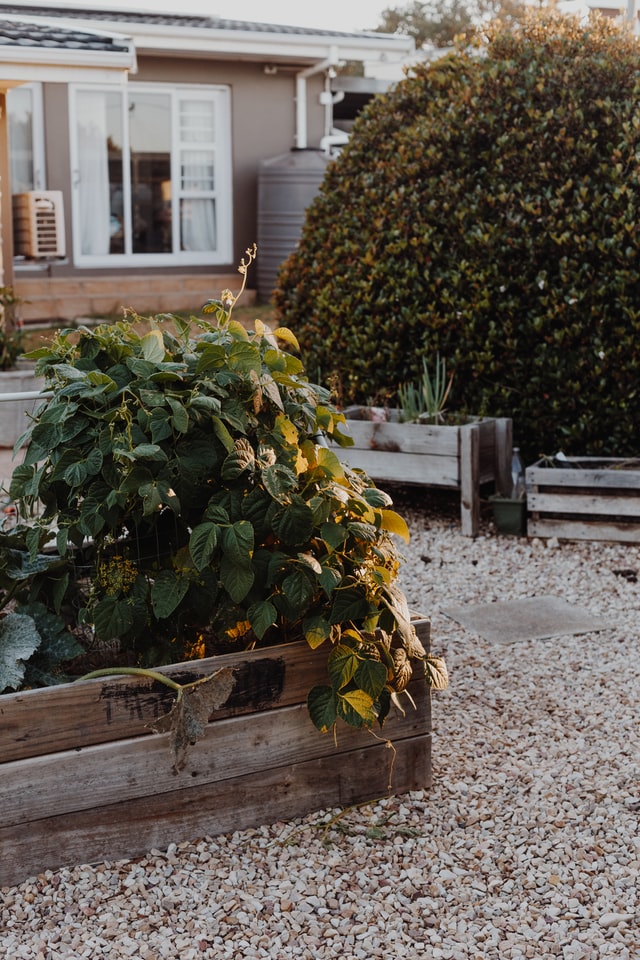 29. Delineate zones
When you have a multipurpose garden, gravel can help define the various zones. For example, a gravelled patio corner with a firepit section can be clearly separated from a paved alfresco dining area. Similarly, if you have a veggie patch or an area with raised beds in your garden, gravel can help define those spaces as being distinct from your lawned areas.
30. Make a dry garden
A major bonus about gravel gardens is that they are environmentally friendly since they don't need to be watered. Maybe you want to go for a true "dry garden" that needs zero water added, or perhaps you simplywant a low-water needs garden. Either way you can blend your gravel hardscaping with drought-tolerant, sun-loving plants that thrive in dry conditions.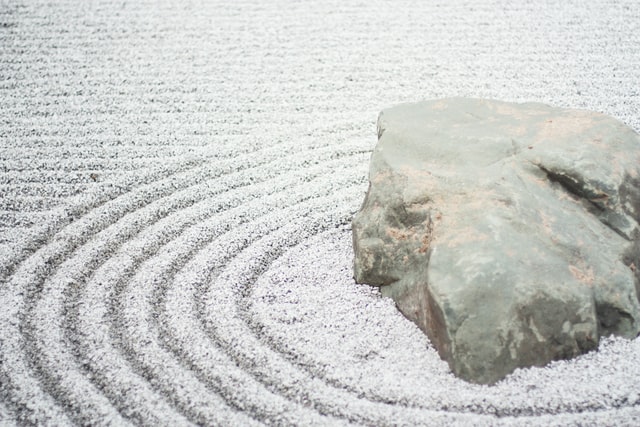 31. Blend into a monochrome setting
If you love a modern, monochrome aesthetic, gravel will provide a chic speckled black-and-white base for your outdoor area. Add massive concrete pots with lavender for a soft, fragrant daub of colour. White metal chairs with a reindeer-fur style throw and a vintage jug can complete your stylish Nordic-inspired vignette.
32. Add a touch of formality
It's a little ironic that a material that is at the lower end of the cost scale can actually give a luxe appearance. But that's versatile gravel for you! For an elegant, upmarket, French-flavoured courtyard, add a jasmine-covered archway that leads to a gravel-lined 'garden room' beyond.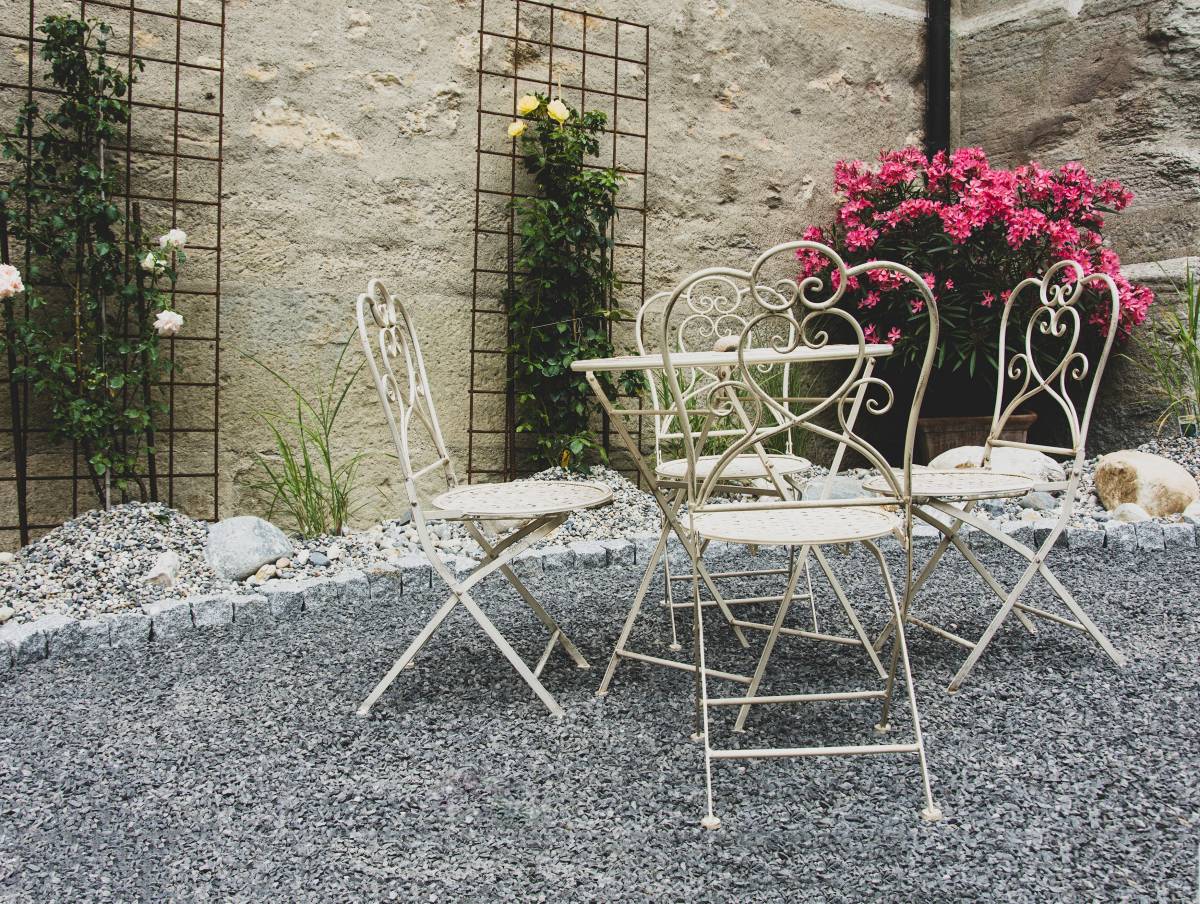 33. Edge it well
If you intend to use gravel for a pathway or if it will border a lawn, it's particularly important to think about the need to contain it well. Gravel can sometimes stray thanks to foot traffic, so a hard edging material (brick, concrete, Corten steel, or timber) is necessary. Luckily, this can also have a nice aesthetic effect, giving your walkway a neat definition.
34. Go Japandi
If you love the simplicity and serenity of a Japanese-style garden, gravel is a go-to hardscaping material. Especially when you combine it with larger landscape rocks, to create what landscapers call an "ocean garden". Large boulders can be used to symbolise coastlines and islands, and the gravel can be raked to appear like waves.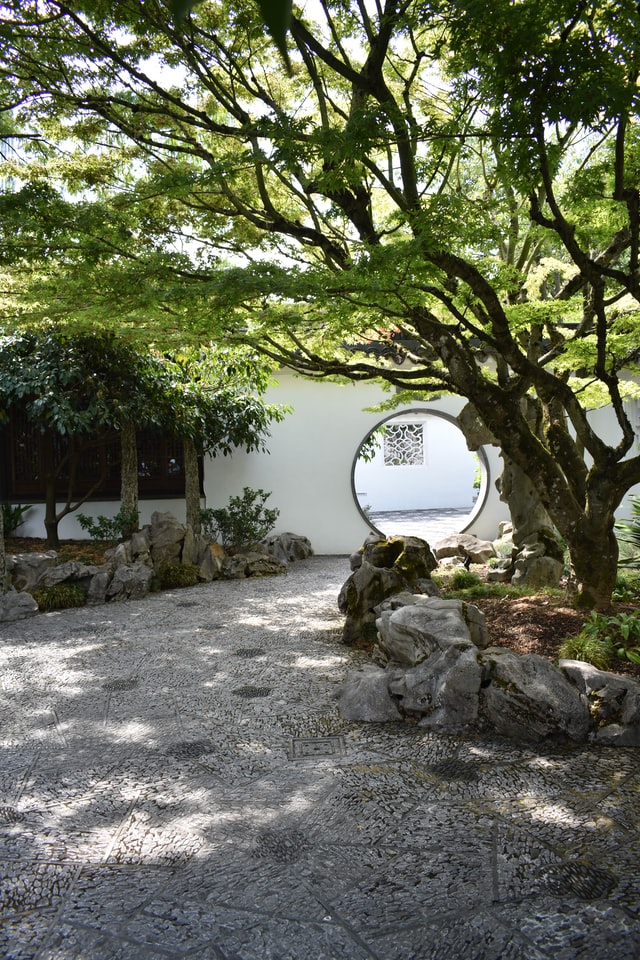 35. Add sparkle to your alfresco area
Why is gravel such a perfect flooring material for your al fresco dining area? Maybe it's the confetti-like appearance of multi-coloured gravel that is part of its appeal? Or maybe it's how the soft and rounded forms contrast so well with the sharp lines and angles of contemporary homes? Let me know your thoughts on gravel gardens in the comments below.
Ready to give your garden a makeover? Find a top-rated garden centre in your neck of the woods. We've compiled lists of the best garden centres in London, Manchester, Brighton, Leeds and Edinburgh.
Like to explore top-rated gardening services? You can find anyone from expert garden designers to people who can just help prep your space by giving it a tidy-up or if need be, a complete garden clean. There's also those who specialise in laying down turf for any areas you wish to keep green. When it's time for laying a base for your gravel garden, you can also get help with soil or sand delivery.