If you enjoy the look of a garden but aren't much of a green thumb, then you've come to the right place. The good news is that there are so many different ways you can create a low-maintenance garden so that you can enjoy the outdoors with minimum effort. Here are just a few low maintenance garden ideas to get you started.
Low water plants: There are many low water plants that don't require much maintenance at all and are super easy to care for, especially if you lead a busy life.
Artificial plants: If you really don't have even the tiniest hint of green on your thumb, then perhaps artificial plants will make you feel much more excited and less stressed about keeping your garden alive.
Hardscaping alternatives: There are many hardscaping alternatives such as outdoor dining and living areas that are the perfect idea in a garden area that you want to use for entertaining rather than a place just for plants.
Check out these 35+ low maintenance garden ideas to get you feeling inspired.
1. Outdoor dining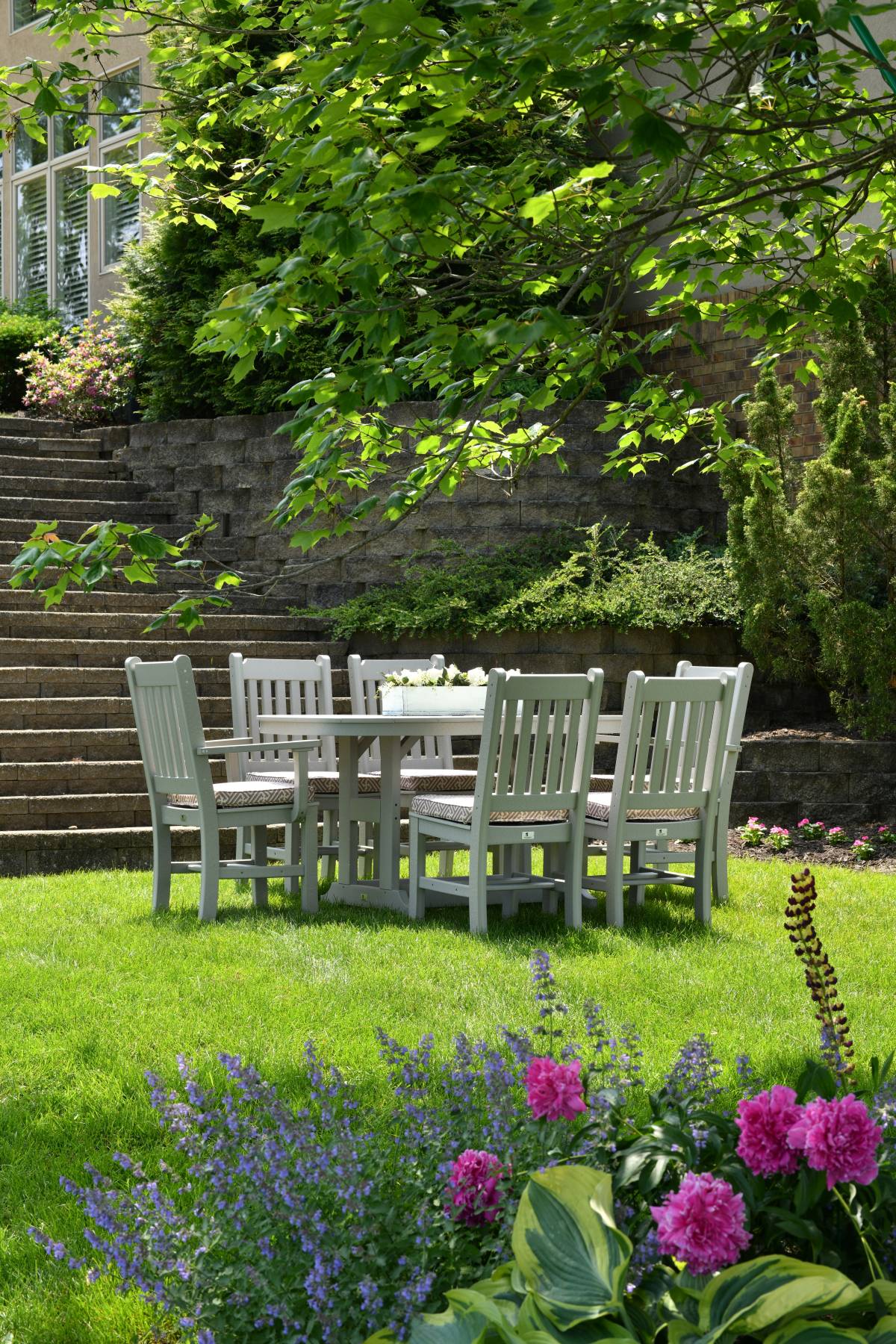 Firstly we have this gorgeous outdoor dining area. What a perfect place to enjoy a long lunch or dinner under the stars. Even though this courtyard is small, the area has been utilised so well. What a great use of space.
2. Time outside
If you are someone who loves spending time outside but prefers to relax rather than tending to a garden, then this low maintenance garden is for you. The garden is very simple with one tree and a couple of garden beds with low ground cover plants. And I absolutely love the deck and gazebo area with the outdoor lounge.
3. Simple garden bed
How lovely is this simple garden bed? I love the additions of the red and orange ground cover plants that add another dimension to the garden as well as creating a lovely colour palette. Garden beds work really well by planting a main tree in the middle as a centrepiece then adding some ground cover plants around.
4. Artificial greenery
Artificial plants and grass really are the epitome of a garden that is super low maintenance. Artificial grass works so well in a courtyard type garden that would usually be a difficult place to mow. And the little artificial plants in the planter look so vibrant against the white planter. I would recommend using a hose to clean off your artificial greenery to keep them looking their best.
5. Wall panelling
A great way of adding some interest to your low maintenance garden is by adding some wall panelling to your fence. The only requirement for outdoor wall panelling is that it is weather proof and can withstand the elements. I love the addition of the small plants dotted along the side of the fence as well as in the white planter which add interest to the garden without being too much.
6. Low water plants
Another great plant idea for a low maintenance garden is using plants that don't require too much water. Have a look at the convenient tags on the plants at your local garden centre and they will tell you the optimum conditions for that particular plant. Usually, any desert plants like succulents will work well in an area that may get forgotten. And the good news is that if you do forget about that certain area, it won't matter too much.
7. Faux topiary trees
Here's another artificial low maintenance garden idea. If you love the look of topiary trees but don't want to have to go through the hassle of trimming them to shape every week, then perhaps faux topiary trees would be a good idea. I love how these trees have been placed in little pots so that you can easily move them around to any area in your garden.
8. Lots of lawn
Check out all this beautiful lawn! If you are not much of a gardener and only want the bare minimum to worry about, then perhaps rolling out the grass is the best way to go. Grass is low maintenance as it only requires a mow every now and then and water if it gets too dry. Pretty straightforward! Plus you'll never have to worry that the look of grass will go out of fashion in terms of landscaping design, due to its simplicity.
9. Inner city living
How beautiful is this inner-city garden entrance! I love the decision to add bright yellow flowers to an entrance as it really creates such a happy and warm welcome. Having your plants in pots means that they can be moved around and you can even easily replace any plants by moving them or planting new additions.
10. Outdoor entertaining
If you really aren't a gardener and need the most low maintenance garden possible, then why not replace your garden space with an entertainment space? Chat to a landscaper that specialises in decking and hardscaping to create a space that is perfect for you. I can imagine there are lots of lovely garden parties held in this space.
11. Simple potted plants
If you don't really have much of a garden at all but want some greenery in your backyard, then check out this deck garden area! Adding a couple of simple potted plants in your area will help to soften the space, making it feel more homely and welcoming.
12. Ground cover
Simple ground cover plants are a great way of creating some interest in your garden, whilst still ensuring it is low maintenance. And I love the white pebbles in the garden bed which make the area look so modern paired with the grey tiling.
13. Watch where you step
How great is this modern low maintenance garden. I love the long slabs that are a great modern idea for a step alternative. If you don't want to worry about mowing in between the gaps, then perhaps adding artificial grass in your garden is something you should consider. Artificial grass is super low maintenance and you won't have to worry about your step area ever looking untidy.
14. Desert oasis
I love how different cactus varieties have been chosen for this garden that are all different shapes, sizes and shades of green. What a stunning low maintenance garden filled with so much texture and character.
15. Individual planters
If you're not too confident about planting your plants in the ground and want the option of being able to change up your garden at a moment's notice, then check out this idea! I love how all the plants are in individual planters, however, they are all finished off in the same white sandstone which really creates continuity in the garden. This garden is simple and no fuss.
16. Dream space
This garden really is such a dream space. I'm sure your guests would be so impressed by your very inviting and welcoming outdoor space. I love how the dark timber on the side of the spa goes perfectly with the dark timber used for the outdoor area. And the plants used are very simple, yet help to bring some greenery and softness to this modern space. If you want to achieve a similar look, painting the timber or staining it may be the way to go.
17. Sandstone rocks
If you're wondering how to border your gardens but still want to keep a natural look in your low maintenance garden, then have a look at this lovely landscaping. I love the idea of using sandstone rocks around the border of your gardens as it really helps to neatly finish off the edges. Plus due to sandstone being a natural material, it will still look great in years to come.
18. Simple, sleek and stylish
This side garden area is simple, sleek and stylish. The simple stepping stones create a lovely garden path through your outdoor space. And I love the hedge style trees which are lining the fence as well as the ground cover ferns which add some interest to the overall look of the garden.
If you'd like to know how much does fence repair cost, visit our updated fence repair price guide.
19. Outdoor shower and spa space
Wow, how luxurious is this outdoor space! If you want your garden to be as low maintenance as possible, then why don't you just create an outdoor area to relax in rather than worrying about plants. I love the design of this outdoor shower and spa space. The timber looks great against the brick wall which features a mounted television. I would love to have a spa out here then watch a movie or two under the stars.
20. Apartment plants
If you live in an apartment, then you'll know the struggles of having your very own garden to enjoy. Perhaps your balcony doesn't get much light, so you will have to look for some low light plants for your low maintenance garden. Having your plants in pots means that you can move them around and control how much light they are getting.
21. Green wall
Here's another gorgeous outdoor area that is perfect for entertaining. I love the festoon lights draped across the area as well as the little hanging lanterns either side of the gazebo. Plus how lovely is the green wall on the right side of the setting which adds lots of character and charm to the area. You can create a green wall with real climbing greenery or if you are after a low maintenance option, artificial plants work really well too.
22. Pebble garden
If you don't want to have to worry about a lawn, then adding a pebble base to your garden is a great idea. I love the way the brick in this landscaping creates a lovely border around the edges whilst the pebbles create texture. Plus how sweet is the cute little dog friend hanging out in the garden! I'm sure he loves calling this space his home.
23. Outdoor furniture
This is for you if you're wondering whether to get some outdoor furniture to add to your garden or not. Well, I'm here to tell you that it's certainly a great idea. Adding outdoor furniture to your garden space means that you are almost adding a whole new room to your house, except the only difference is that it's outside! I love the grey outdoor furniture in this garden which goes so well with the very simple and low maintenance plants dotted around the space.
24. Dramatic lighting
A great way to instantly lift a low maintenance garden is by adding lighting. Outdoor lighting can really lift a space, taking it from boring to warm and inviting with so much ease. I love the warm-up lights that are illuminating the tree and fence beautifully, which gives a cool dramatic effect. Also the warm light on the wall is an awesome feature in this space.
25. Cute courtyard
How cute is this courtyard! If you live in a place that doesn't really have much garden space to work with but you still want some low maintenance plants around, then adding some plants in pots is a great idea. Also, you can never go wrong with chairs and a table which makes for the perfect place to relax when you're out in your garden.
26. Indoor-outdoor
Who doesn't love an indoor outdoor living space? Not me! I love how large the doors are in this home that opens up nice and wide to the outdoors revealing the outdoor living space. The garden area is very simple and low maintenance with a simple lawn and a little bit of landscaping for the patio area.
If you love this look, see these 50 conservatory ideas which will help create the inside-outside look.
27. First impressions
When it comes to your home, first impressions definitely count. So it's important to make sure that your front entrance is always looking its best. I love this very simple and low maintenance entrance garden with the garden beds either side and low ground cover plants lining the path. Plus the little trees at the front of the house also create a welcoming feel.
28. Above the arches
Here's a different idea for a low maintenance garden! I love the long trailing leaves coming from above the arches of this property. The green leaves really look gorgeous against the white walls and help to soften the very angular architecture. Plus the potted tree down below helps to ensure continuity and seamlessness throughout the space.
29. Cacti courtyard
Using cactus' in your garden is very on trend at the moment and can turn any boring courtyard into something with character. Plus the good news is that cactus doesn't need much water at all.
30. Retaining walls
Retaining walls are a great way of really elevating a boring garden. I love the retaining walls in this garden that has a collection of low maintenance plants planted up and across it. Garden designers would certainly be able to help design something for you that works with the shape of your garden and your needs.
31. By the pool
Wow, I can just imagine how beautiful the coastal abode is that is paired with equally as beautiful low maintenance cactus garden by the pool. I would feel like I am on holiday every time I go swimming in my pool. I love the different colours, shapes and heights of the cactus which creates lots of interest and character.
32. Stylish succulents
Speaking of cactus, succulents are also a great low water plant that work well in low maintenance gardens. I love the agave plants that give a spiky, dramatic texture to this garden as well as the ground cover cactus with the beautiful red flowers for a pop of colour.
33. Palm perfection
Here is another gorgeous modern home that features trailing leaves coming from up above the first level of the home. And you can never go wrong with some palm trees and a hammock in between to create a coastal and relaxed atmosphere.
34. Garden borders
If you're wanting to add some more interest to your garden, then adding garden borders is a great idea. I love the contrast of the black fence next to the white pebbles as well as the luscious green grass and ground cover greenery dotted across. Plus the addition of the potted plants really helps to add to the overall look.
35. Ivory paving
What a beautiful backyard to finish off with! I love how inviting and warm this backyard looks with the warm uplighting shining onto the trees, bunting across the area, lovely little tipi for the kids to play in and a gorgeous lounge area for the parents to relax on. And I love all the ivory coloured paving that helps to make the space feel seamless.
So there we have it, 35+ low maintenance garden ideas. I love the gardens with lots of green grass as well as the gardens that have plenty of cacti and low water plants, which would be so easy to take care of! What were your favourite low maintenance garden ideas? Let me know in the comments below.