There's nothing better than soaking up the city from your balcony on one of the warmer nights of the year.
Whether your balcony is open or closed, small or large, you can style it and/or make it functional.
Here's some apartment balcony inspiration to get you started:
Beautiful apartment balcony gardens
Having some greenery on your balcony is good for the soul and looks beautiful. You can get creative by designing an apartment balcony garden that suits you.
Having vertical gardens, planters that hang on balcony railings, potted plants and mini urban vegetable gardens are some great ways to bring nature into your apartment.
Airtasker can connect you with fantastic interior design or
handyman services
to help you design your apartment balcony with effortless style. Also, if you'd like to know how much does it cost to clean an apartment, visit our updated
apartment cleaning cost guide
.

Source: Pinterest
Create some privacy
If you can see straight into your neighbour's flat, they can probably see right into yours too. The addition of a privacy screen can give you a little extra seclusion, especially in built up areas.
You can purchase privacy screens, or create your own stylish aesthetic by planting bamboo, building up a vertical garden or training crawling jasmine around the edge of your balcony railings.
Leave a little space so you don't completely block out the sunshine, or have your screen mobile.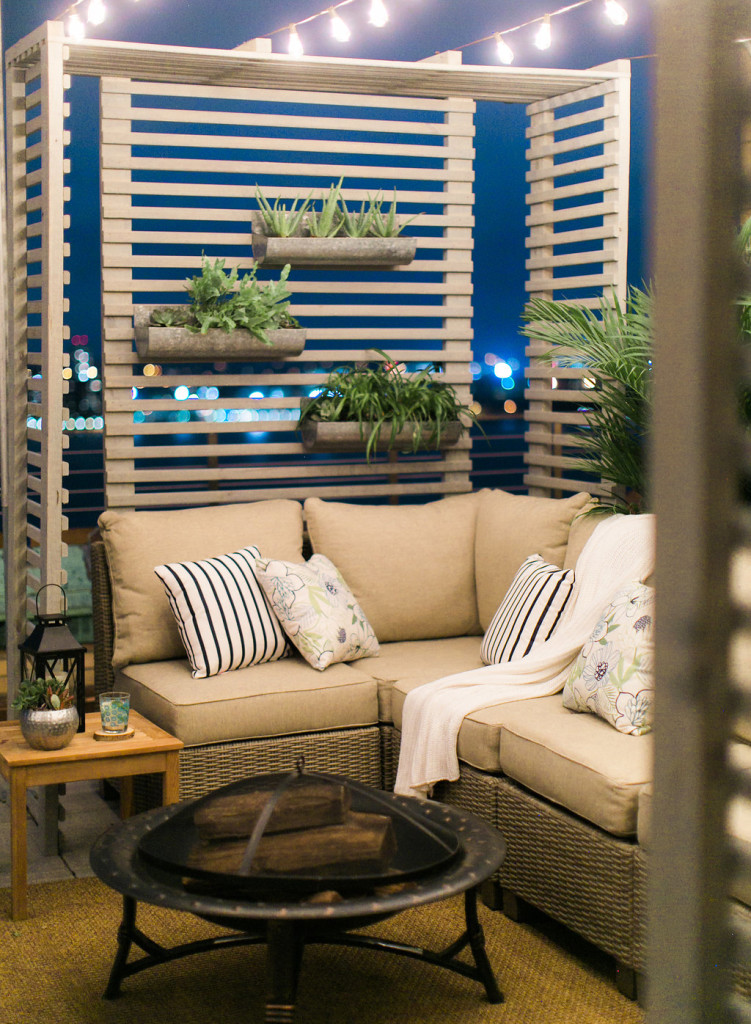 Source: City Farmhouse
Designated 'chill zone'
We love the idea of positioning a comfortable little day bed on your balcony so you can relax and unwind in your own dreamy balcony enclave.  There are some beautifully made weatherproof day beds and outdoor sofa options around.
Style your 'chill zone' with the addition of a little side table or drink holder, some scatter cushions and a soft throw. It'll be the perfect place to enjoy a good book, or admire the sunset with a glass of wine.

Source: Sea of Shoes
Laze in a hammock
Who can beat a hammock? If it's not possible to be strung between two coconut palms on a tropical island, then why not on your balcony?
If you really wanted the whole resort style, you could have a little wading pool on your balcony too for hotter days.

Source: NORD no.27
Create an entertainer's nook
All you need to create the ultimate entertainer's nook is a drinks cart, along with a little mountable bench or table for nibbles, and some fun lighting.
Invite your guests to take a seat on your carefully chosen outdoor chairs, or scatter some cushions around so they can lean back against the wall. If you've got the space, a small BBQ will fit right in too!

Source: BLOGLOVIN'
Bring the garden to the balcony
Have you got a cement slab balcony on the second floor?  You could liven it up by creating a 'patio' with some temporary wooden flooring, or by laying down some faux grass.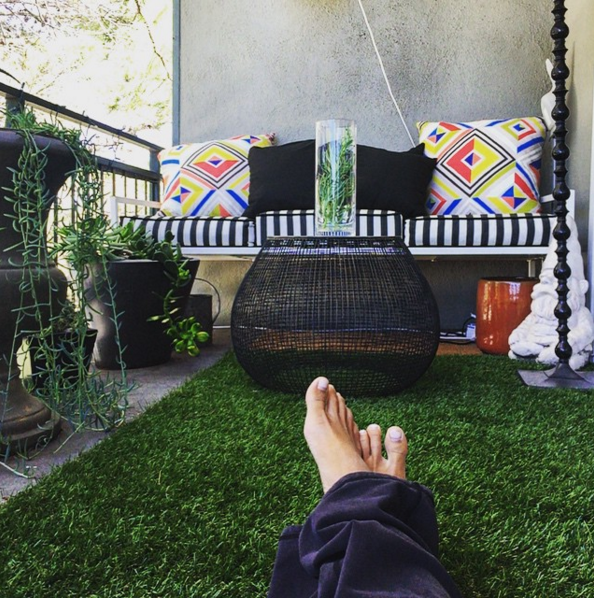 Image credit: nellygoing via Buzzfeed
We hope you've enjoyed these ideas, and would love to hear more suggestions for apartment balconies in the comments section below.
For help with interior design or handyman services in London, get instant offers from a number of expert Airtaskers today.