Whether you're building a house or looking to renovate, I'm sure doors are one of those things that are toward the top of your list of 'to do's but who knew there were so many types of doors but we've put all of the best sliding door ideas here to help make the right design for your home and interior styling.
To name a few sliding door ideas, there are farmhouse-inspired barn doors, modern glass stacking doors or traditional bi-fold doors. So what makes sliding doors so great, they allow for the much needed open plan living and creating seamless indoor, outdoor living.
Sliding doors can come in many shapes, sizes and styles so check out these 35+ sliding door ideas to inspire you.
Bi-fold sliding door ideas
1. Glass and black aluminium
How's this modern living room for the first of our sliding door ideas! I love the simplicity and minimalist feel of this place with the simple black framed glass sliding doors that just work so well in this space. And you really can't go wrong matching your equally as a modern couch to your equally as modern sliding doors.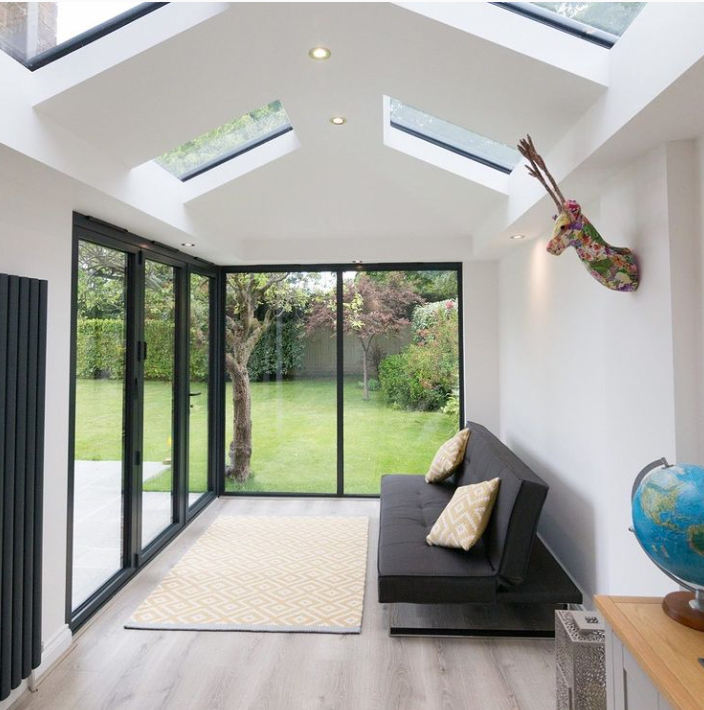 2. Narrow bi-fold doors
This is a lovely terrace renovation that has added bi-fold doors, which work with the continuous bench that runs from the kitchen all the way to the back decking area. This is a beautiful minimalistic design for inner-city living.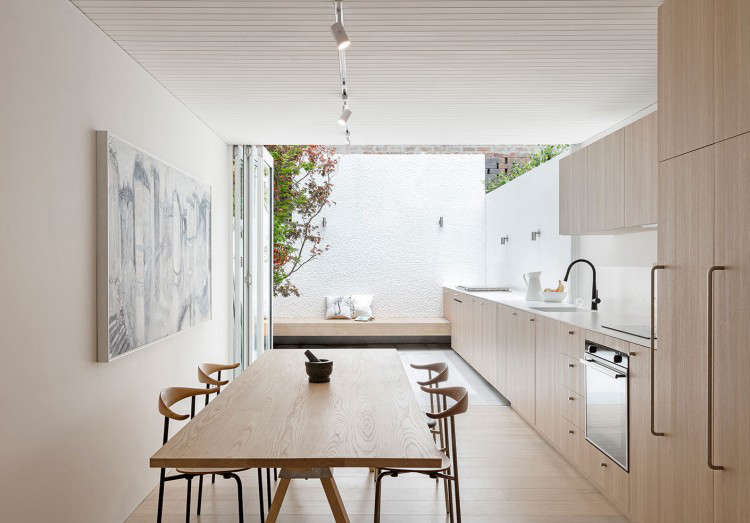 3. Light and airy
How light and airy is this gorgeous dining room! I'm all about a light and airy space and the good news is that they can be quite easily achieved with lots of windows! And I love the floor to ceiling windows and sliding doors in this dining room that help to make everything feel so open.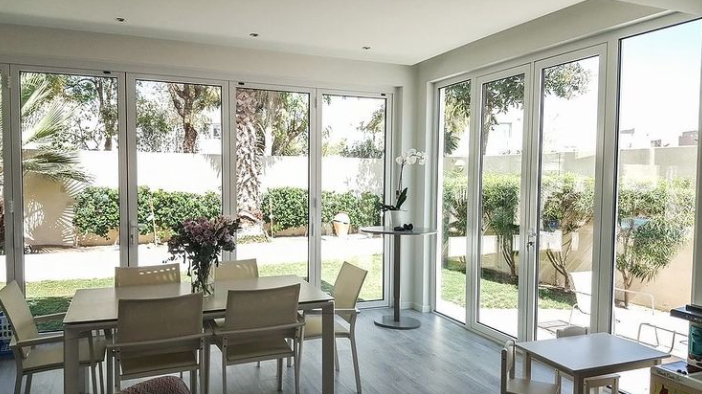 4. Open to the outdoors
I've said it before and I'll say it again: I just absolutely love indoor-outdoor living! The accordion doors completely fold back which makes the formal dining room so open that it opens right out to the more casual outside dining. If you had a few families over, you could have the parents inside and put the kids outside but still, be able to easily see them!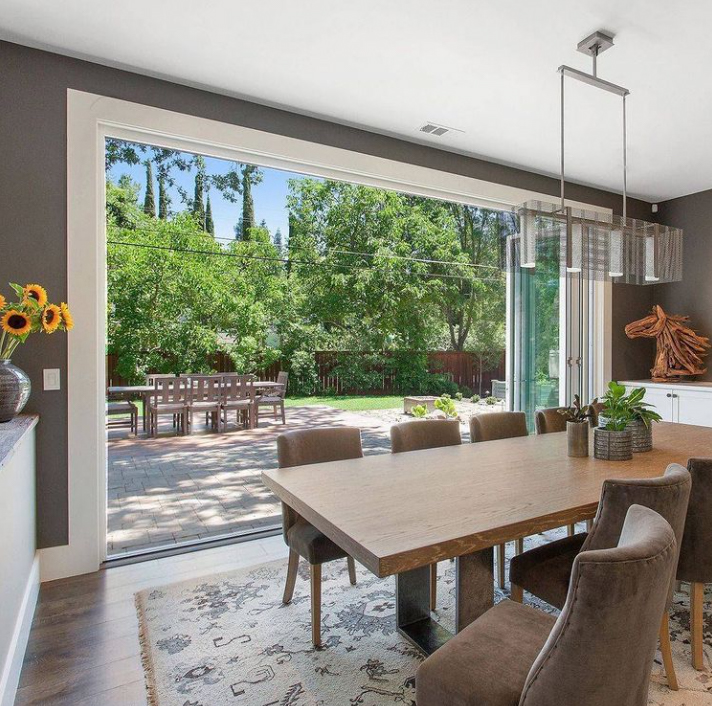 5. Siding glass
Check out this accordion-style sliding glass door. When this door is closed, the glass would sit flush and look so seamless. And when it is slightly ajar (like in the photo) the door lets in the beautiful fresh air between the gaps in the door. This is definitely an installation that is best left to professional glaziers.
Having a glass door next to where the pool area is always a great idea as you can see what's happening in the pool at all times. And what a gorgeous water view indeed!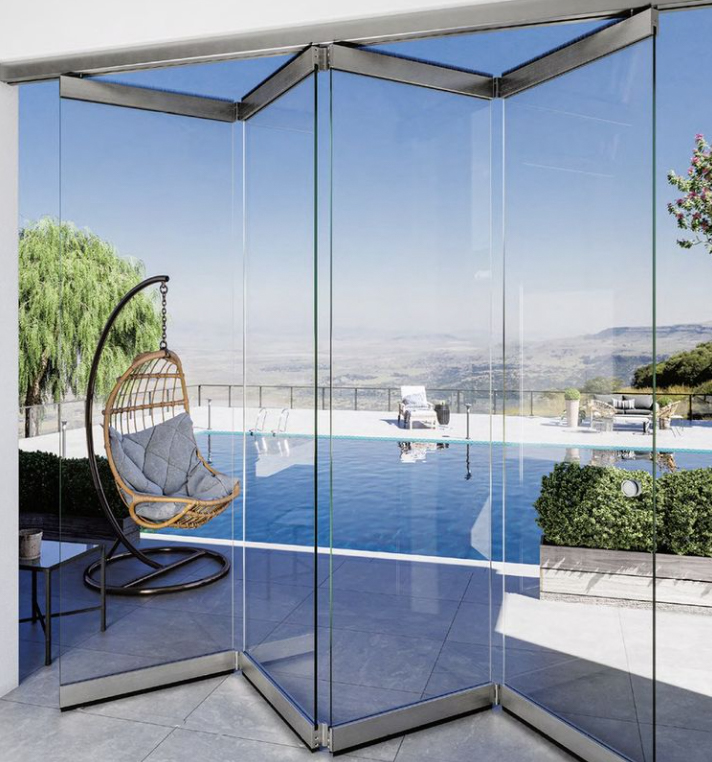 6. Bi-folding doors
Speaking of gorgeous water views, here's an absolutely spectacular one. I love the glass doors with the timber borders that are perfect to push completely open, leave halfway or have closed. It's really up to you. I would never want to stop staring out of these gorgeous bi-folding doors at that magnificent view.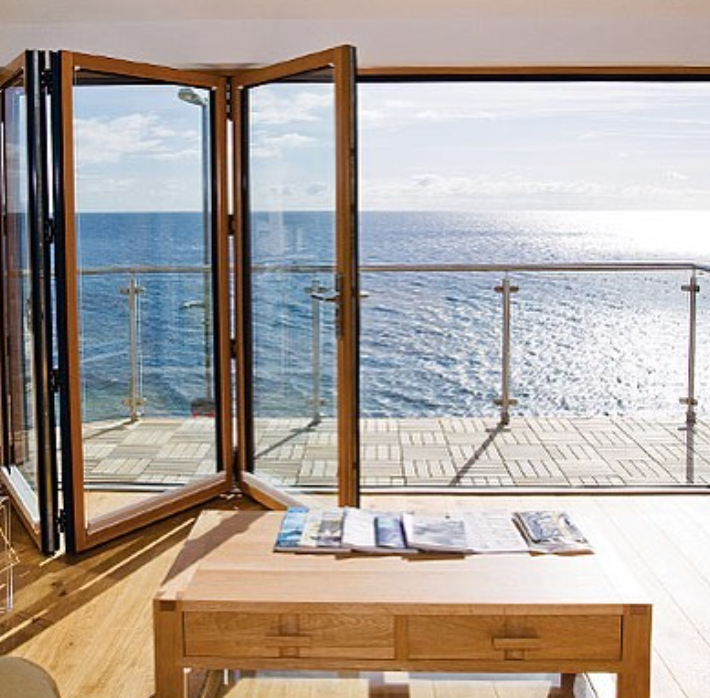 Stacker sliding door ideas
7. Villa vibes
This home is giving me serious villa vibes! I love the glass sliding doors with the black borders which perfectly match the black borders around the rest of the windows in the home. I would love to spend an afternoon relaxing on the beautiful pink couch with the sliding doors open to watch what's going on in the pool. Speaking of pools, check out these pool ideas.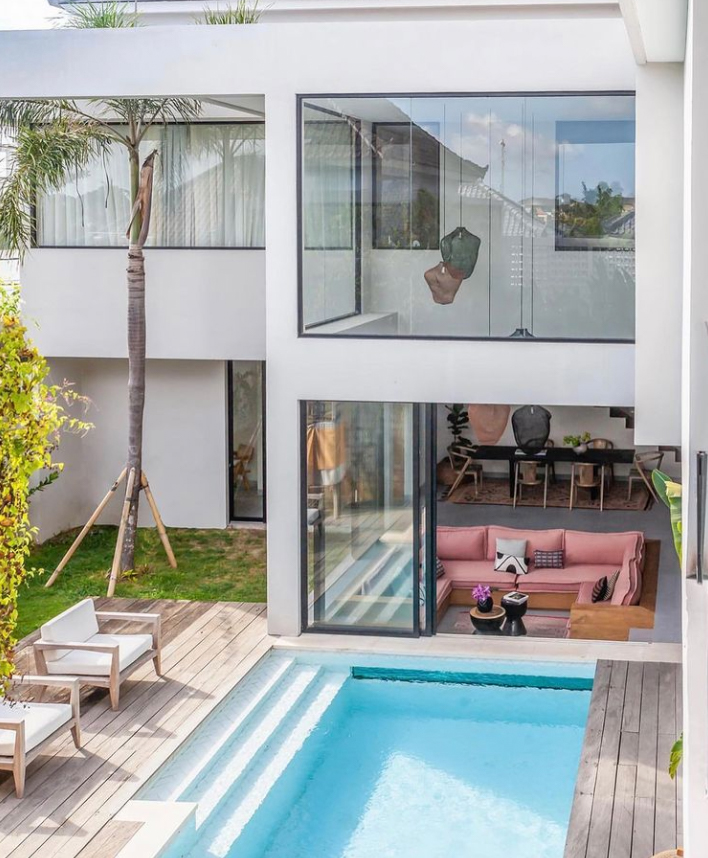 8. Indoor-outdoor sliding doors
Who else absolutely loves indoor-outdoor living? Because I do! Indoor-outdoor living is the perfect combination of comfort with the luxuries of furnishings but with lots of fresh air! I love the large sliding doors in this space that look fantastic completely open to bring in lots of fresh air to the dining room.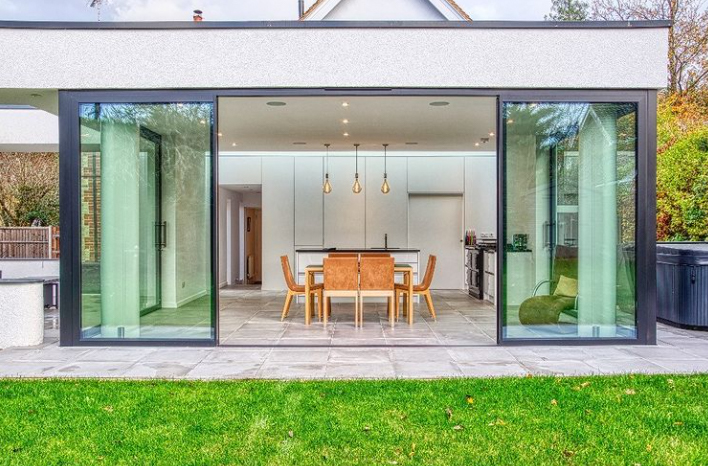 9. Triple track sliding doors
Another great modern sliding door idea is triple track sliding doors! Triple track means that there are three tracks, so as there are three panels, the panels can all move freely and you can position the panels however it would suit you. I love how large the glass is which really provides a great view of the backyard.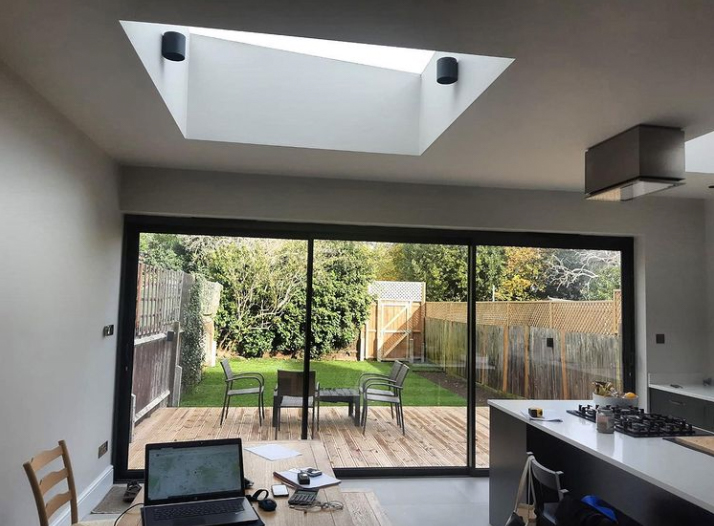 10. Corner stacker doors
This is such a great idea to make a room look massive by adding stacker doors that open at the corner. It makes the outdoor patio area seem like one big room.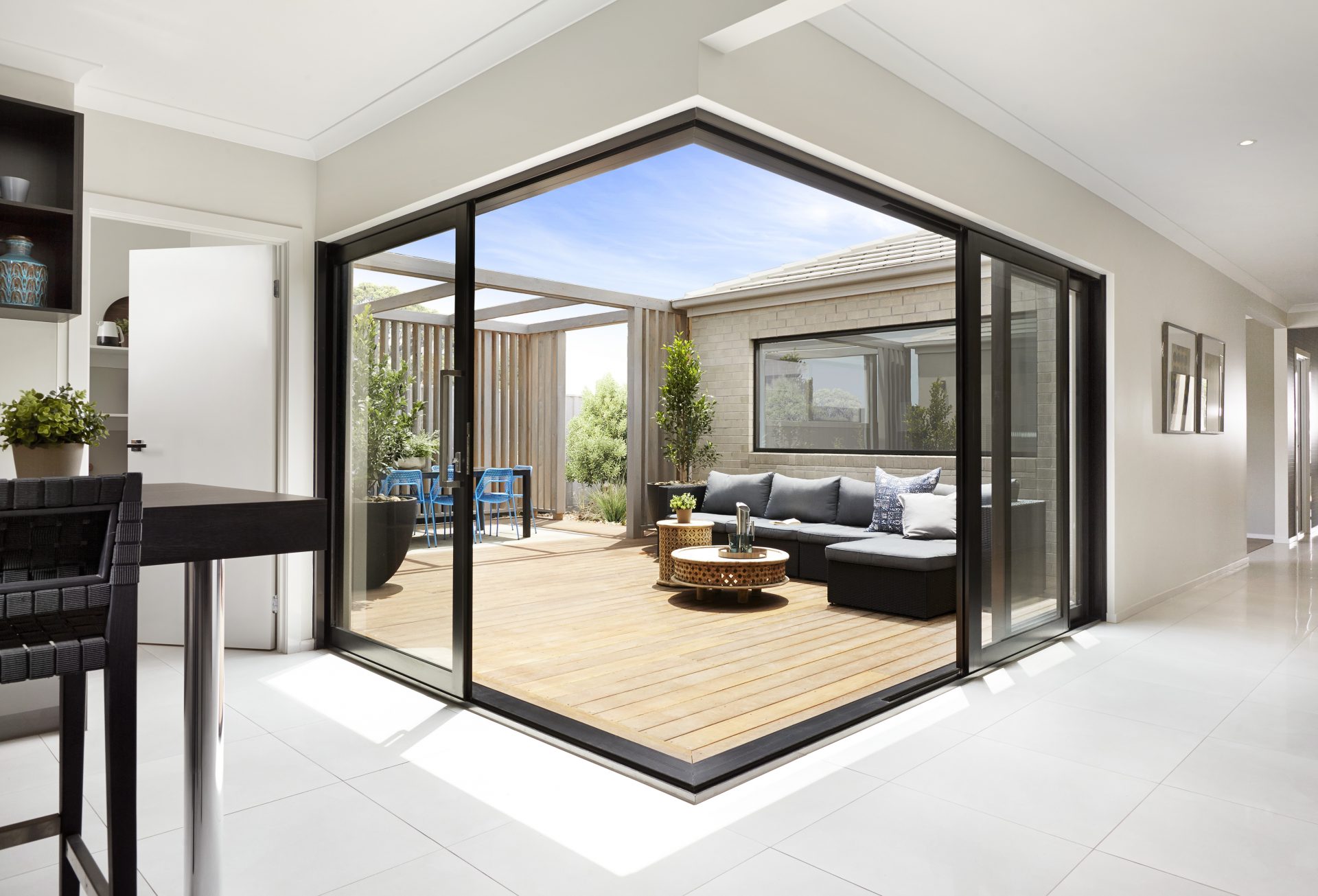 11. Tropical view
How sweet is this space with the monochromatic styling inside and the gorgeous tropical garden view outside! The sliding doors to the outside are super large glass panels which really gives an indoor-outdoor feel even when the doors aren't open.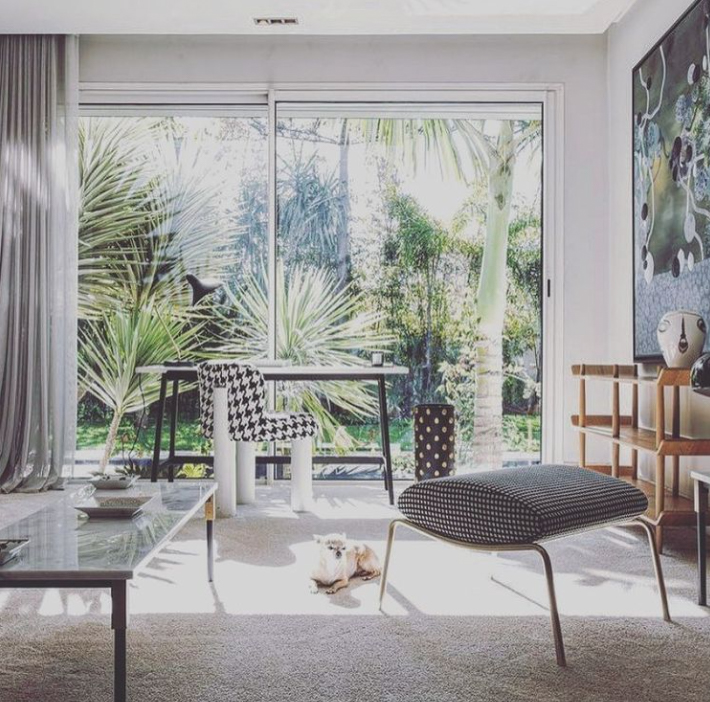 Internal sliding door ideas
12. Sliding slats
Check out these awesome sliding slats. These timber slats double as a wall and a sliding door to a very magnificent master bathroom. These would be great in a master bathroom next to the master bedroom as they give not quite enough privacy for a guest bathroom. What a cool installation to make your house stand out with the help of a carpenter.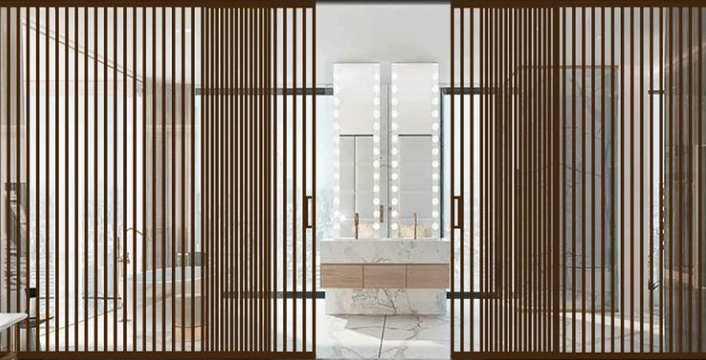 13. Modern design
Here's another example of separating the ensuite and bedroom, but with a more contemporary modern vibe. I love the black horizontal slats which create some privacy without being completely shut off from room to room. Plus the modern black slats just go perfectly with the styling of the rest of the space!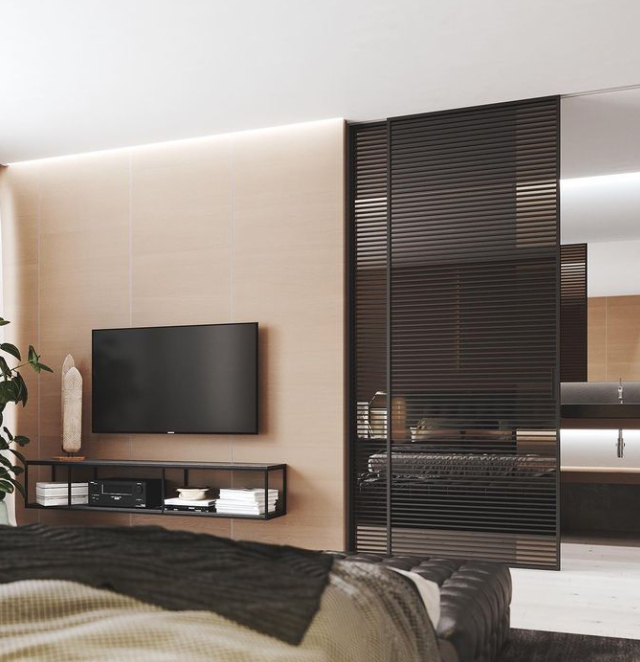 14. Thin framed stacker doors
Having frameless or thinly framed windows and doors is a trend that encourages as much of a view and light inside the home as possible. It really brings together that inside-outside modern living.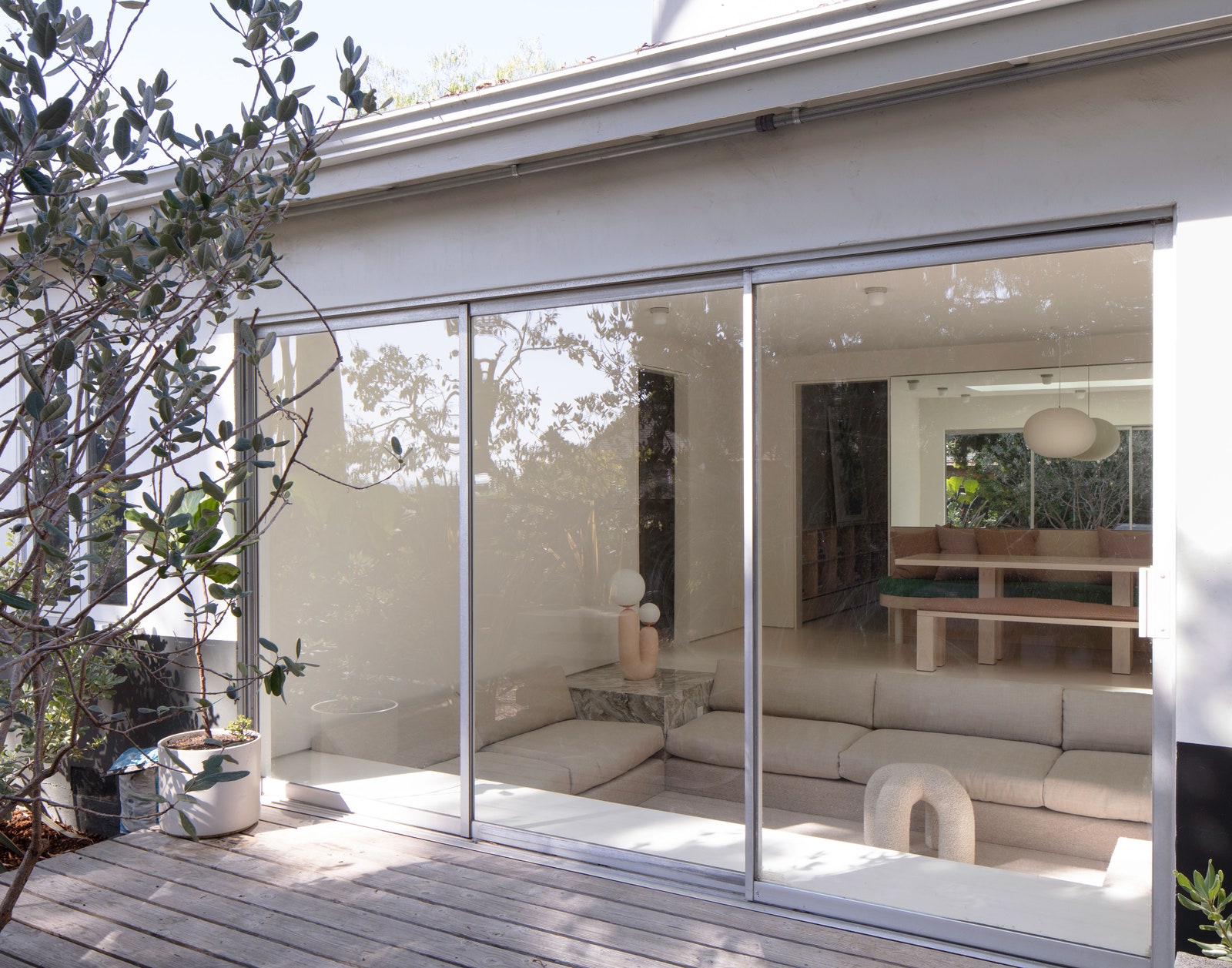 Sliding barn door ideas
15. Dreamy bathroom
I absolutely love the look of the wooden barn door which is the same wood that has been used for the mirror frame. The door stands out beautifully against the stunning white bathroom.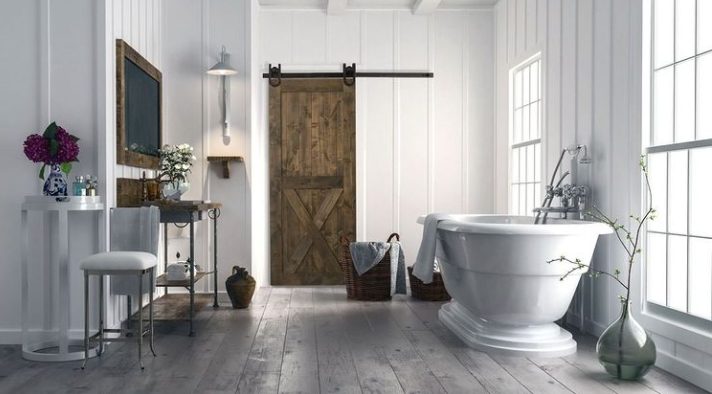 16. Contemporary arty door
If you like something a little out-of-the-box and eye-catching, you've met your perfect match when it comes to DIY barn doors. The white bedroom walls allow for the art, bedspread and barn door to really pop!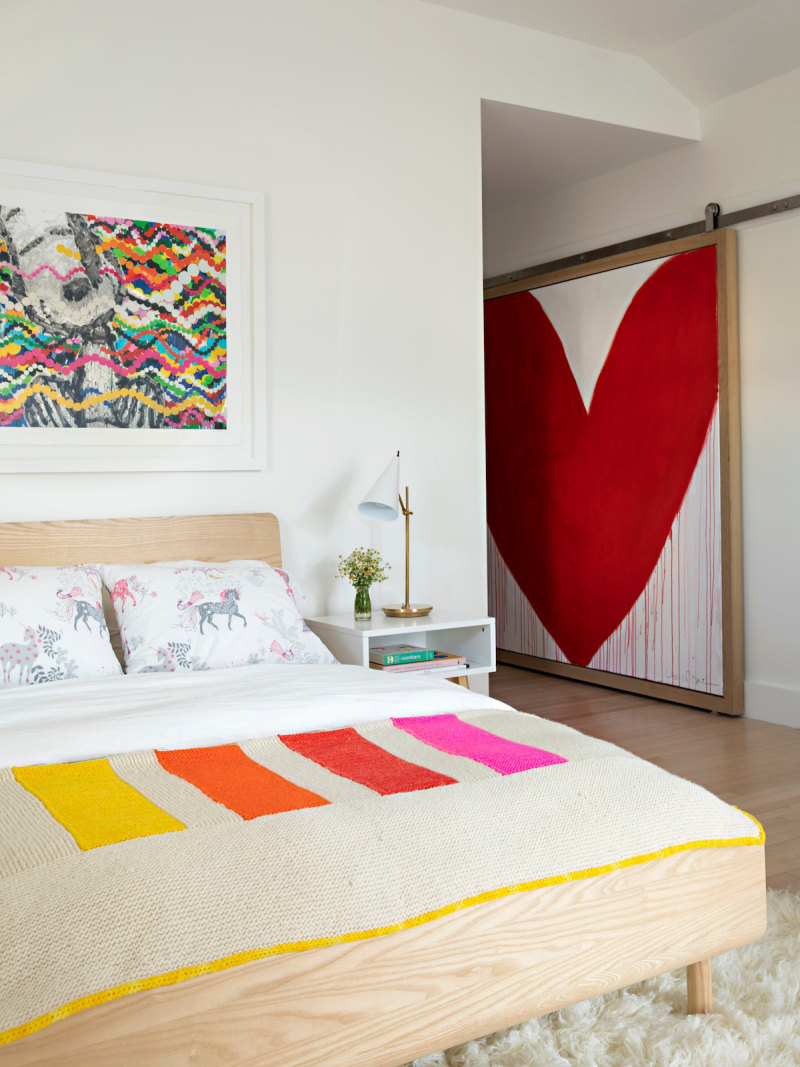 17. White barn doors
If you're after a more traditional farmhouse design in your home, these panelled sliding barn doors work so well as an entrance to the study and craft area. These doors would be great for a kids room as you could close off the doors to stop noise however you would still be able to see what's happening due to the glass windows in the doors.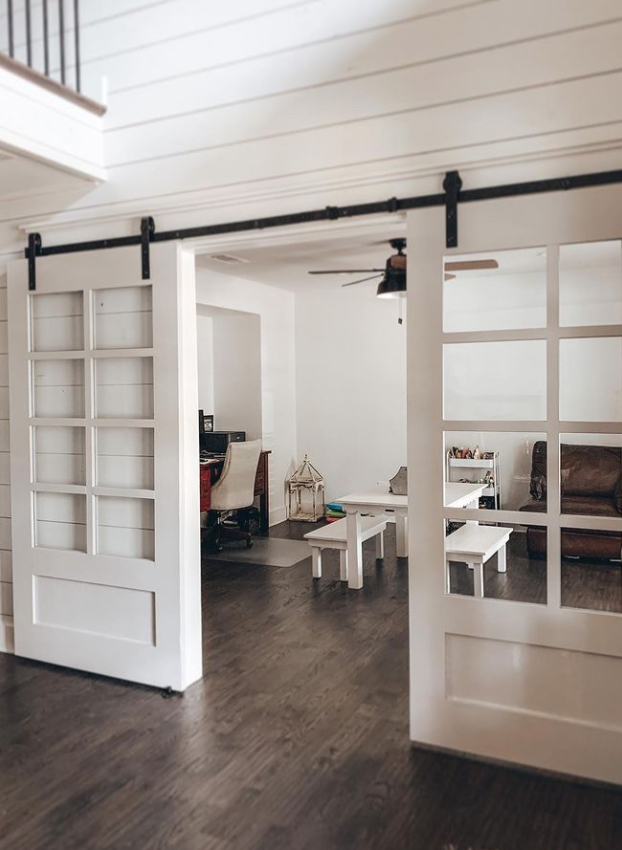 18. Rain glass barn door
The finish on the glass is called 'rain glass' and is meant to look like rain pouring down onto the glass – and what a cool effect it gives! I love how it gives a clear glass look but also provides so much privacy as you can't actually see through it.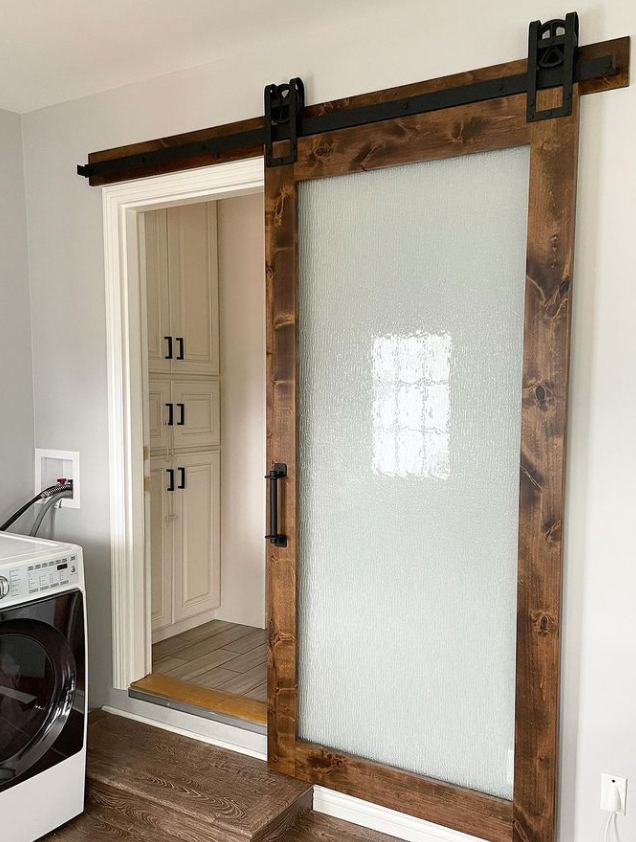 19. Custom wood design
I absolutely love the custom wood design which creates an awesome pattern and is a great feature of the room. Open or closed, this door looks magnificent and I'm sure is the topic of many conversations when guests come over!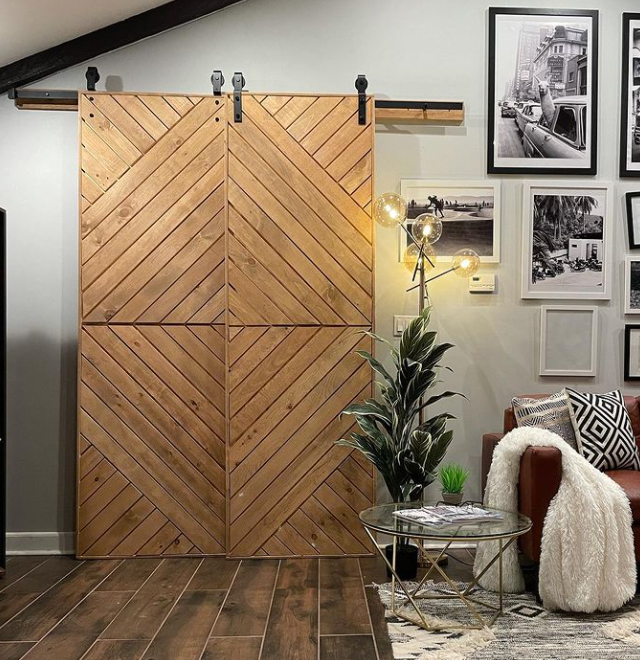 20. Creative design
Would you believe that the owner of this barn door actually put it together himself, but if you aren't quite as handy on the tools, then perhaps you could call on a professional? I love how different colours of timber have been used which makes the star shape stand out even more.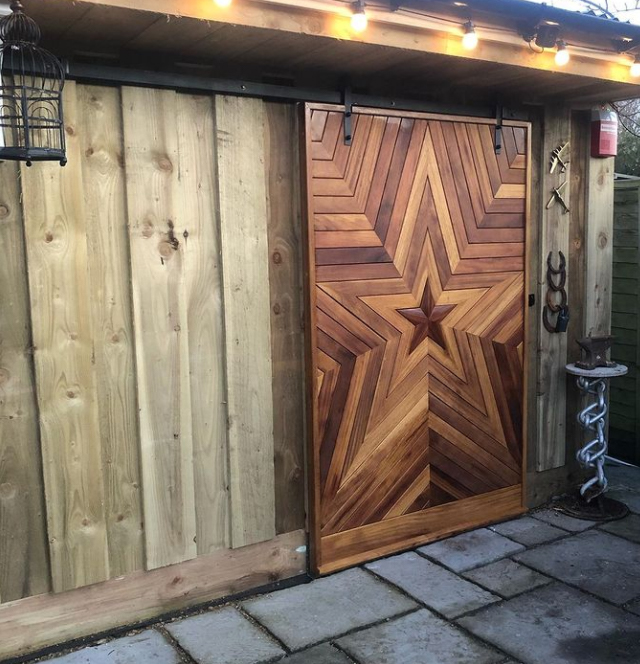 21. White panelled doors
How stunning are these white panelled doors! The different panelled designs help to create a beautiful texture on the sliding doors. And I love the gold fixtures they are attached to as well as the golden handles which make them look even more luxe.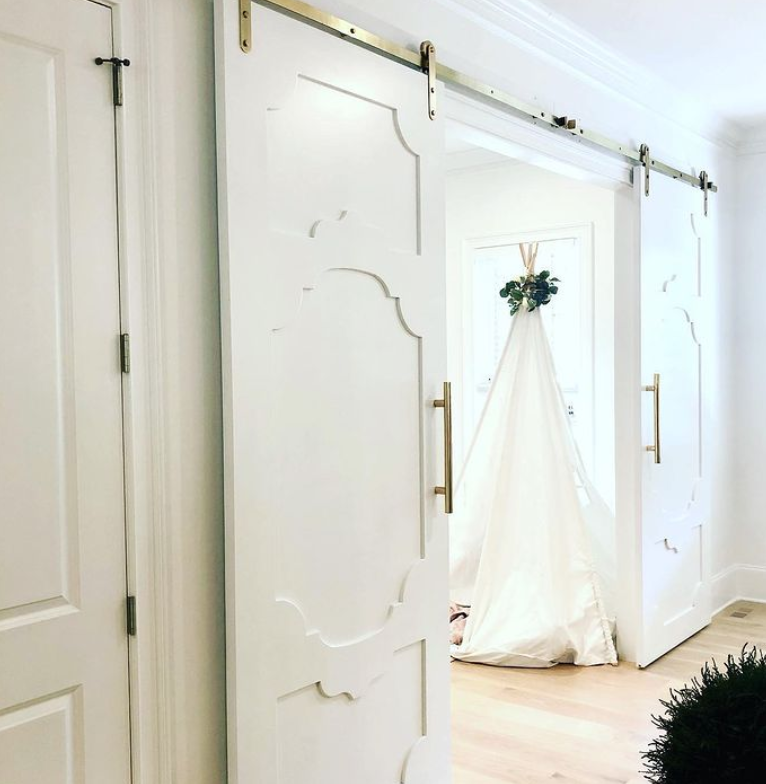 22. Antiqued glass fronts
Would you rather put sliding doors inside your home? Well check out these! Sliding doors are a great idea indoors as they don't take up any room at all and never get in the way. I love the antiqued glass fronts on these sliding doors with the slight tint which gives a great effect.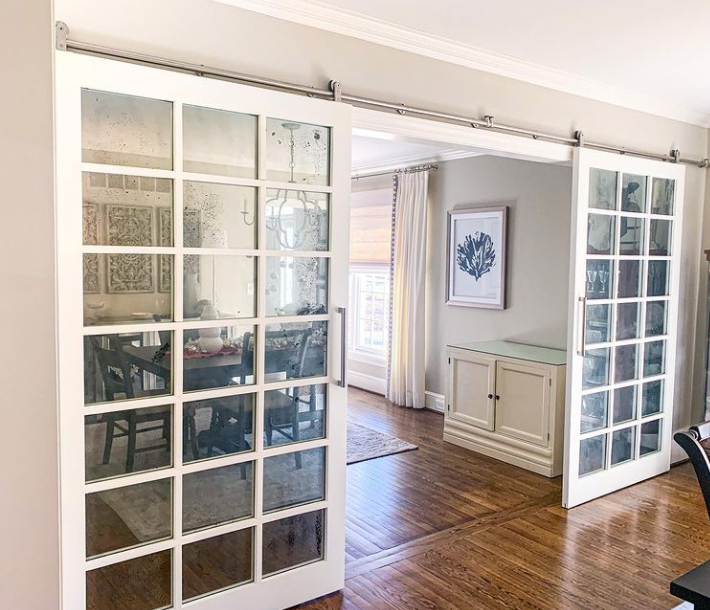 23. Ensuite entrance
Here's another great sliding door inside the home that isn't taking up space. Just imagining a regular door in this room makes me think that it would definitely get in the way of this space, so the sliding door just makes sense. The white door works so seamlessly with the rest of the room.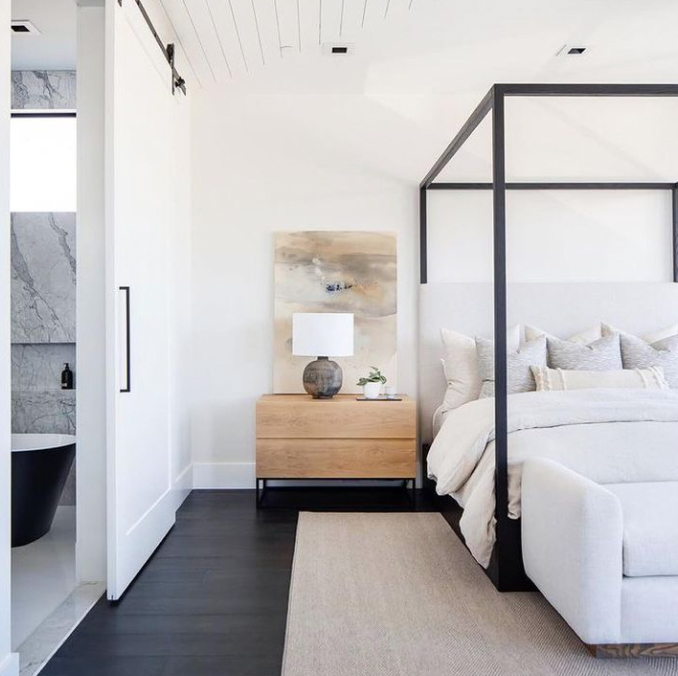 24. Traditional style barn door
We've seen lots of variations of barn and sliding doors, but check out this very traditional style barn door! This style is the quintessential barn door that looks like it has come straight from a farm. Well in a bit better condition than that. I love that the room is quite modern but the addition of the barn door has helped to give it a more farmhouse look.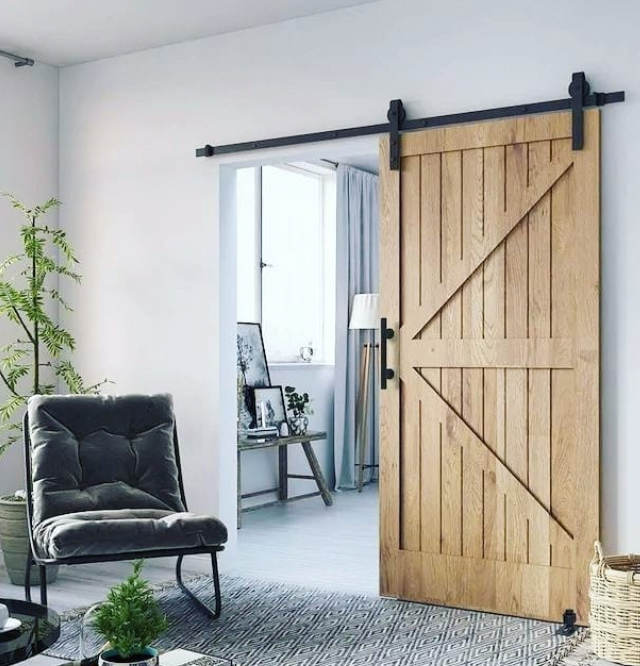 25. Farmhouse dining
Speaking of farmhouse style, look at this gorgeous farmhouse dining room! I love all the different colours and decor choices in this space that just go so well together. The white sliding barn door looks fabulous in this space and even more gorgeous against that timber panelled wall. How stunning!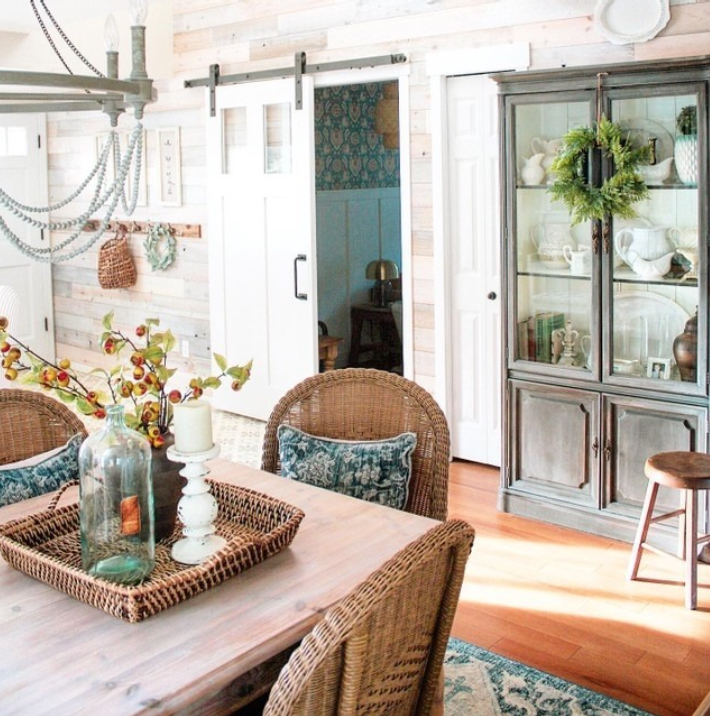 26. Puck green and black metal
If you have played any hockey in your time, you'll know that infamous puck green colour and the colour of the paint on this barn door is called. You guessed it… puck green! The combination of the green with the black metal works well in this neutral space and gives a great pop of colour to the room.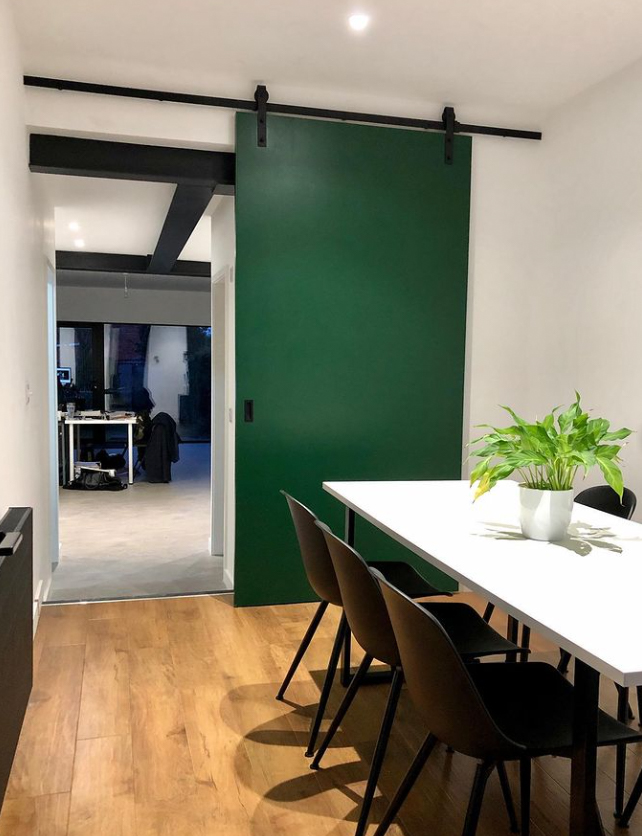 27. Divine wallpaper
How divine is this wallpaper! I absolutely love the quirkiness and playfulness of the palmed leaves, different types of birds and slippery snakes on the wall paired with the traditional barn door. Plus the addition of the foliage in the green coloured vases really help to merge the wall with the rest of the room.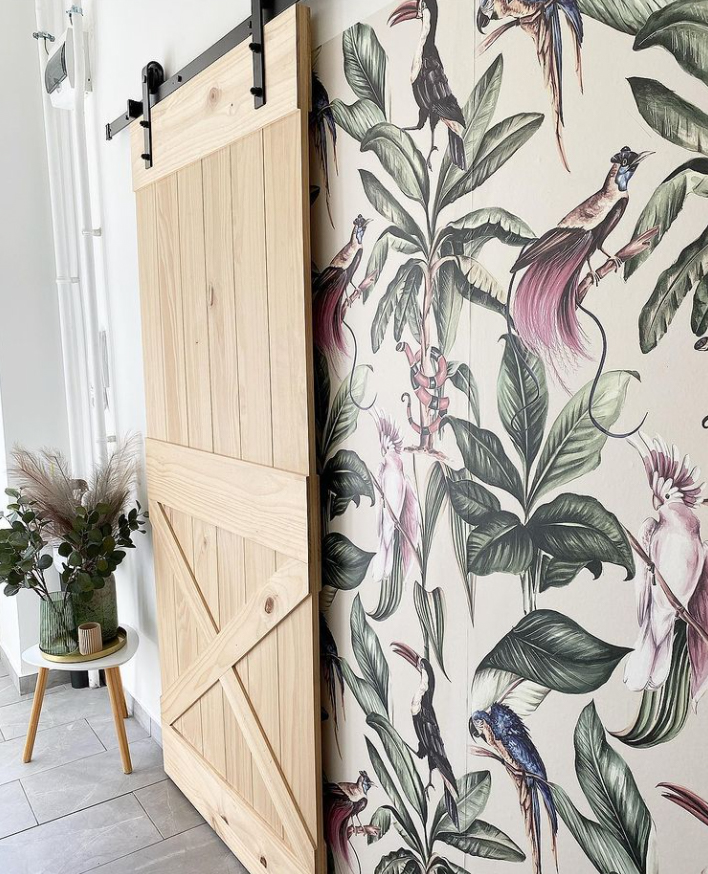 28. Raw wood
How incredible is this slab of raw wood used as a barn door! It literally looks like it has been freshly cut off a very large tree. I love how the imperfections of the wood have still been kept which just adds to the character of the wood. What an awesome alternative for a traditional barn door.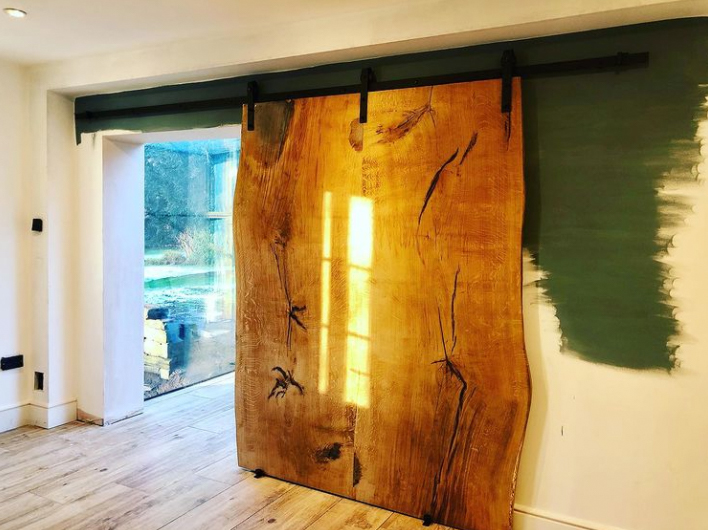 29. Vertical panels
Here's another great barn door design. The traditional panel just looks so elegant and I love that different coloured woods have been alternated to create even more texture and pattern. Plus I think Mr. Whiskers absolutely loves strolling around this very well designed and styled home.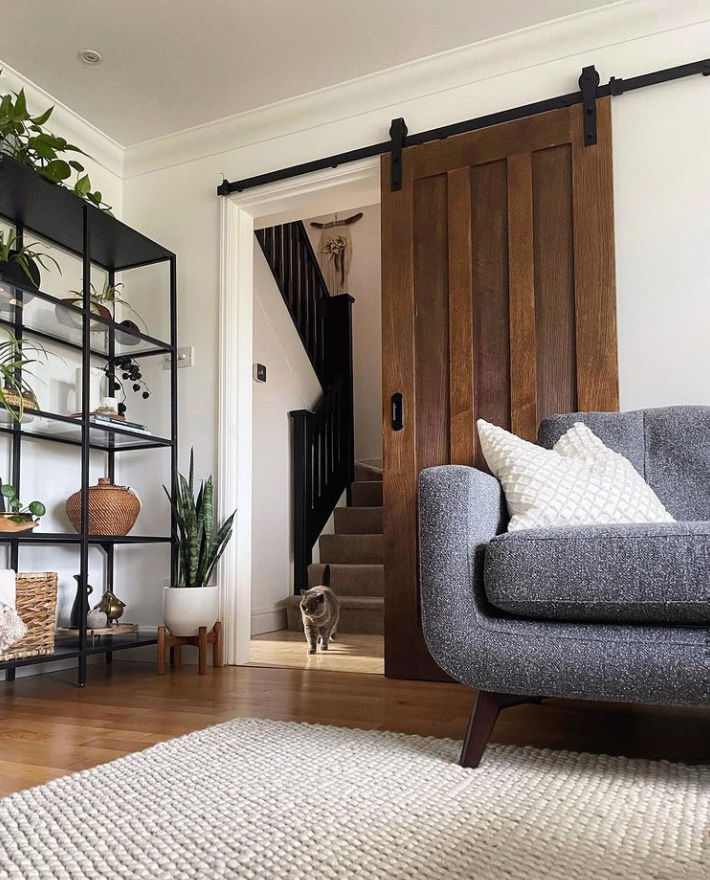 30. Cedar cupboard
If you're sick of looking at a boring old cupboard and want to automatically lift your space, then check out this stunning cupboard made of cedar. The design is so seamless with the black fixtures and black handles to match. I'm sure getting ready in the morning would be much more enjoyable with lovely sliding doors like these.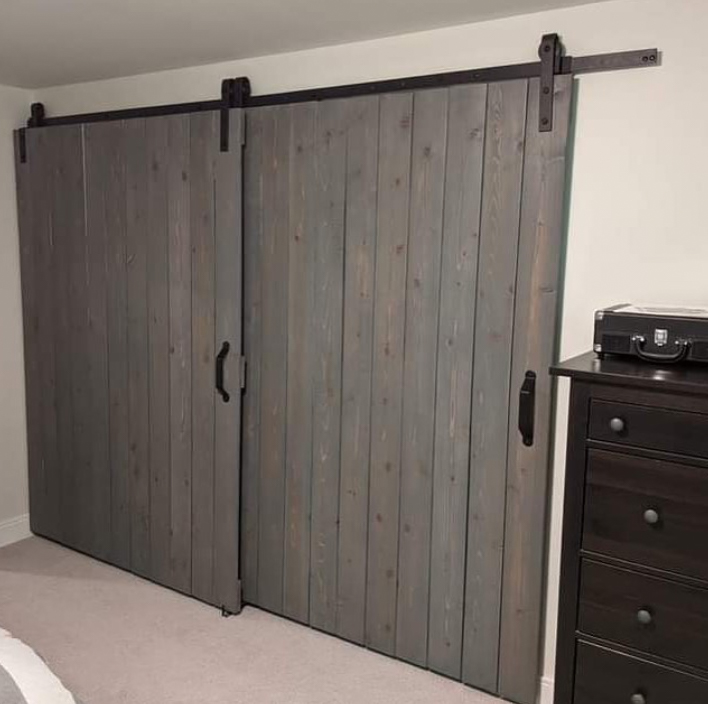 31. Vintage barn doors
These look like they came from a French chateau and added into a modern Parisian home. The restoration to the doors by sanding and leaving them as is, allows for a raw rustic door to become the instant feature.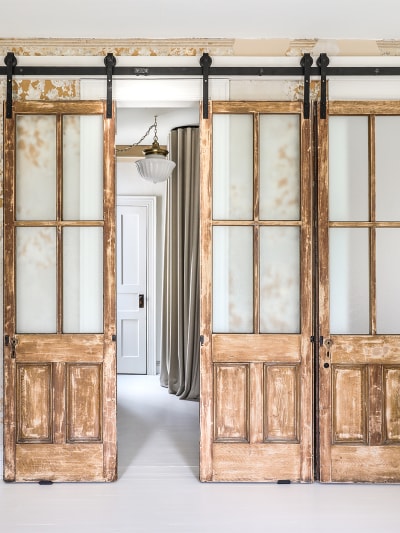 Pocket sliding door ideas
32. Timber pocket door
Another great sliding door idea for inside the house is a pocket door. They are great because (as the name suggests) the door literally disappears into the wall like a pocket. I love the pocket door in this bathroom which has been made with the same timber as a lot of the other finishes in the bathroom.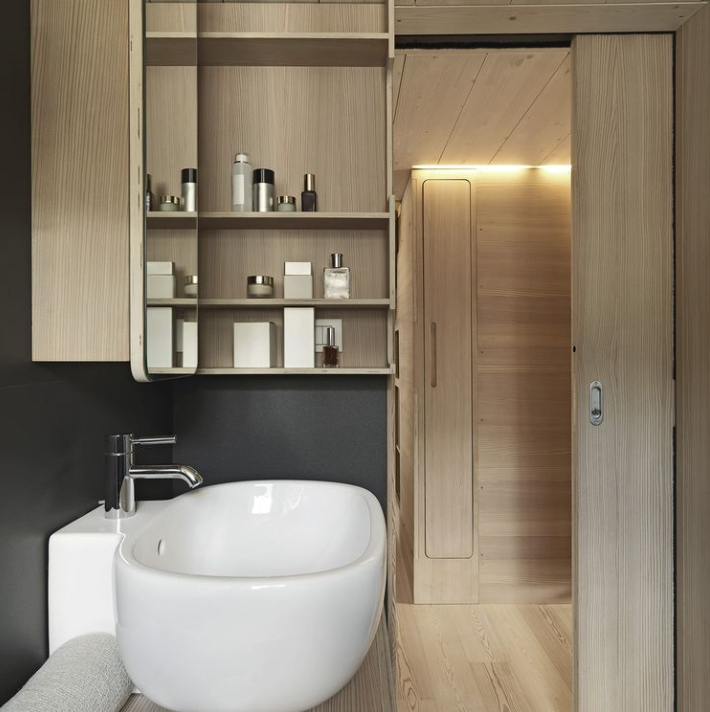 33. Colourful pocket sliding door
But if you want something that pops, then a coloured door is something that should cross your mind. And why stop at one when you can have two!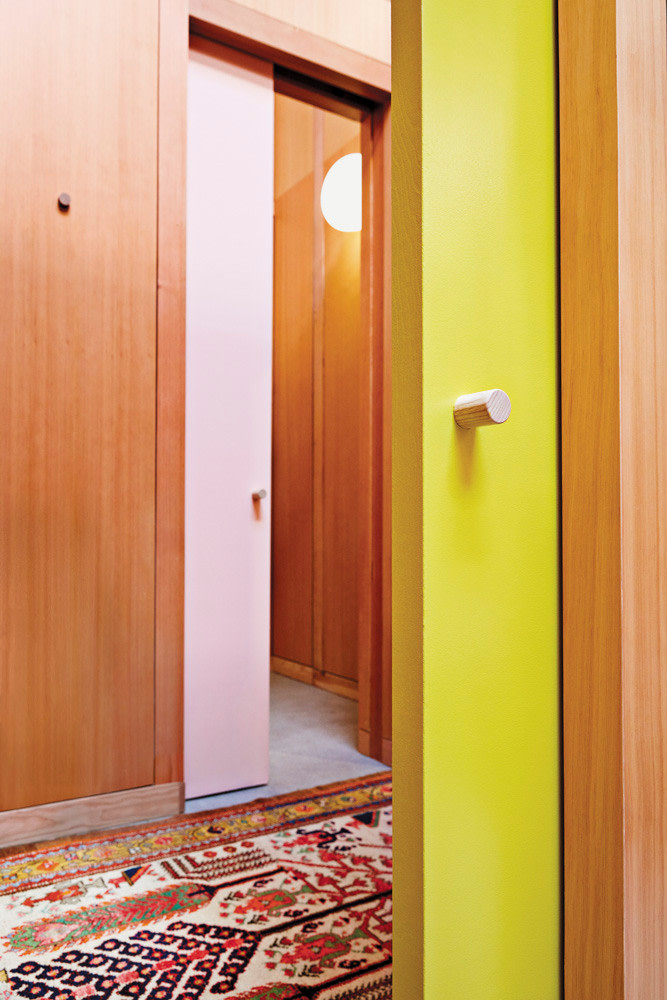 34. Tiny pocket door for pantry
Sliding pocket doors can come in all shapes and sizes, which you can see below with this tiny butler's pantry. When it's a mess, it must be nice to be able to just shut the door and hide it all.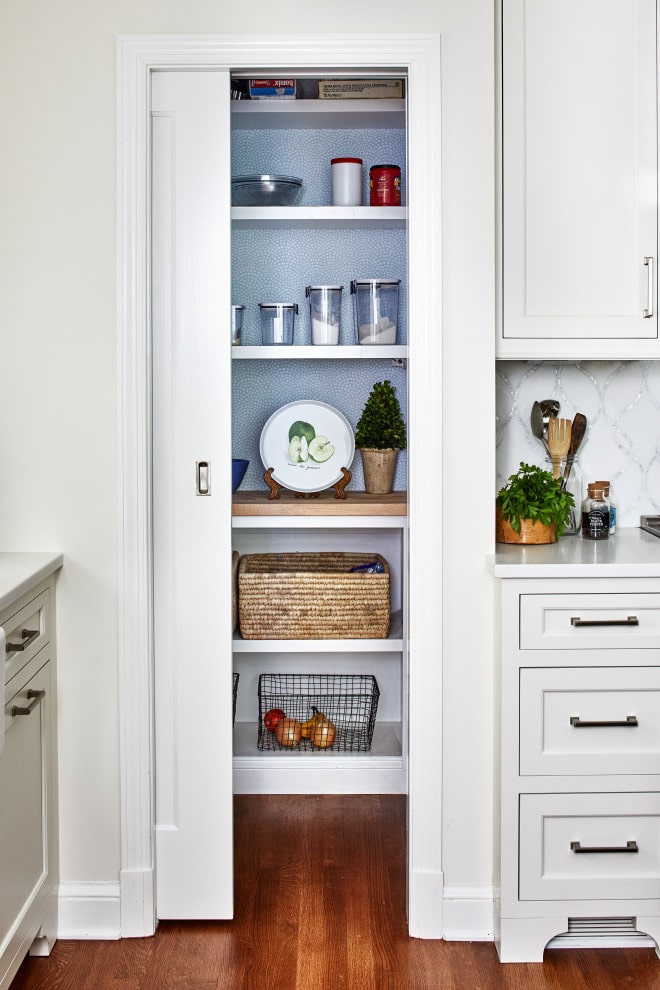 35. Double pocket door
This is a more traditional pocket door addition to separate a dining room and lounge room. With modern open plan living taking over the interior design world, it's nice to see a restored home that pays homage to it's heritage.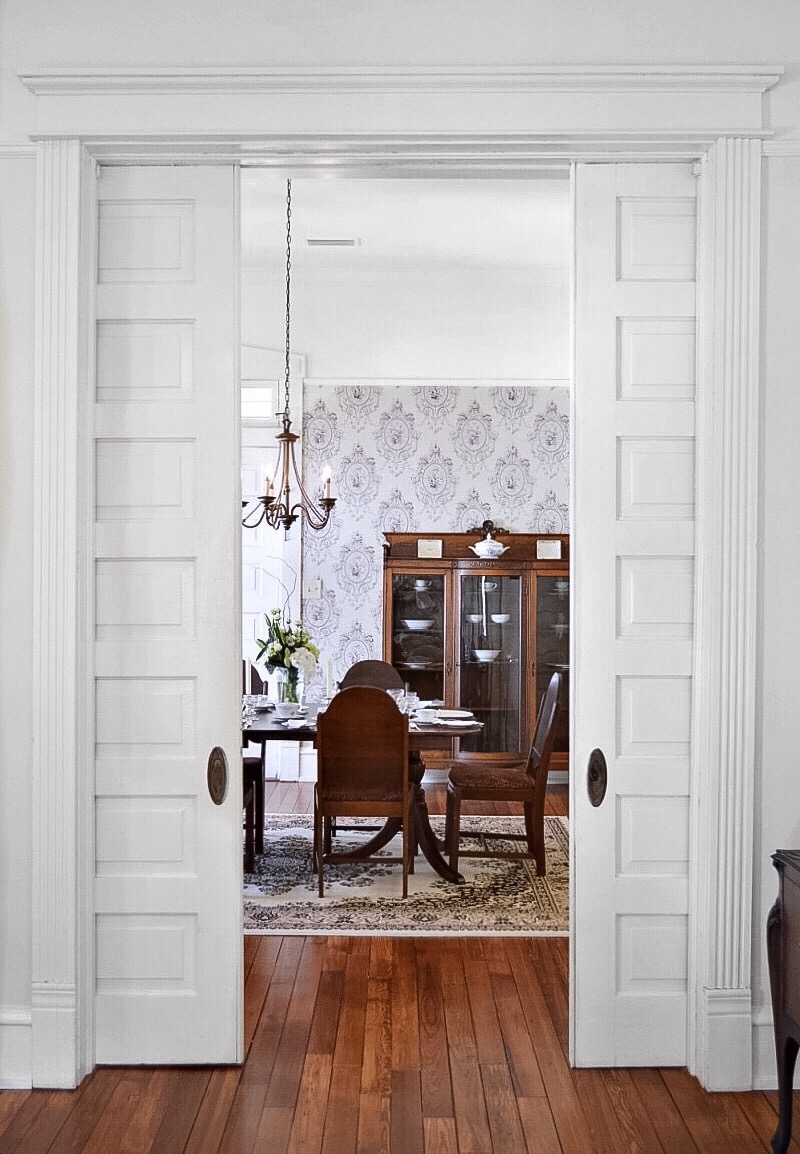 So that concludes our 35+ sliding door ideas to help you in building your dream house or getting ideas for your next reno! I absolutely love all the different barn doors that are available as well as the modern room dividers. What were your favourite sliding doors? Let me know in the comments below!