Beautiful doors, whether interior or exterior, are an important element of your décor. Ideally, interior doors should complement their surrounding architecture and help create a sense of harmony between all the other interior elements. Front doors should suit the style of your home too, but they are more about big, impactful first impressions and of course security needs. Similarly, service doors (such as from the backyard to the garage) also need to be more secure than interior doors do. But no matter what kind of door we're talking about, it should be high quality and durable, lasting many years of daily use.
If you're looking for internal door ideas, below I've got a selection of both hinged and sliding doors. When it comes to slide door ideas, these can be doors that are integrated into the wall (pocket doors) or those on a rail system (including barn doors). Double French doors are another gorgeous option being used increasingly indoors, but they also make wonderful welcoming front doors.
So whether you're looking for bedroom and bathroom door ideas, laundry room door ideas, garage and basement door ideas, front door ideas or perhaps something different like secret or hidden door ideas, have a scroll through these 50 door ideas for inspo. Oh, and what about doors for those four-legged family members? Don't worry, I've even got a couple of homemade dog door ideas in the mix.
Internal door ideas – arched styles
I'll start with a series of beautiful arched doors. Doors with curves and arches convey a feminine or vintage vibe and the organic roundness is very satisfying to the eye. Let's take a look at some examples.
1. French pocket doors
First up I have this stunning white arched double pocket door which is elegant and formal and frames the living room aspect perfectly. Pocket doors are ideal for when you don't have the wall space to accommodate a swinging or hinged door. They come in so many styles—here in a French door style with glazing above and solid lower panels.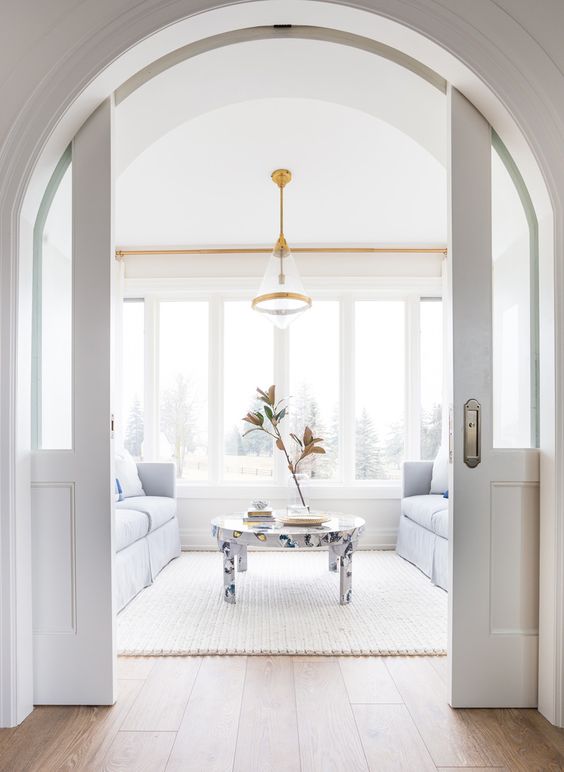 2. Recycled timber internal door
If the rustic or coastal look is for you, then timber doors will bring all the organic flavour you need. Loving these old wooden arched doors which give so much character to this space. Rough and raw timber doors like this also look beautiful contrasted with a decorative element that is more sophisticated, like this crystal chandelier.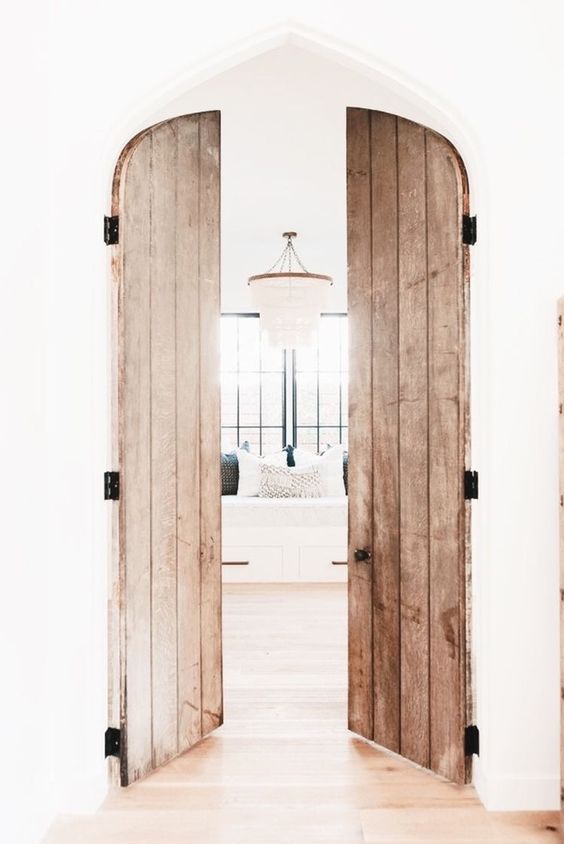 3. Black steel
Interior doors can make a strong visual statement—just look at the series of black steel framed arches in this home. Stunning, especially when juxtaposed with the natural timber built-ins there. Glazed interior doors like this also have other practical advantages, like reducing noise transmission and controlling temperature.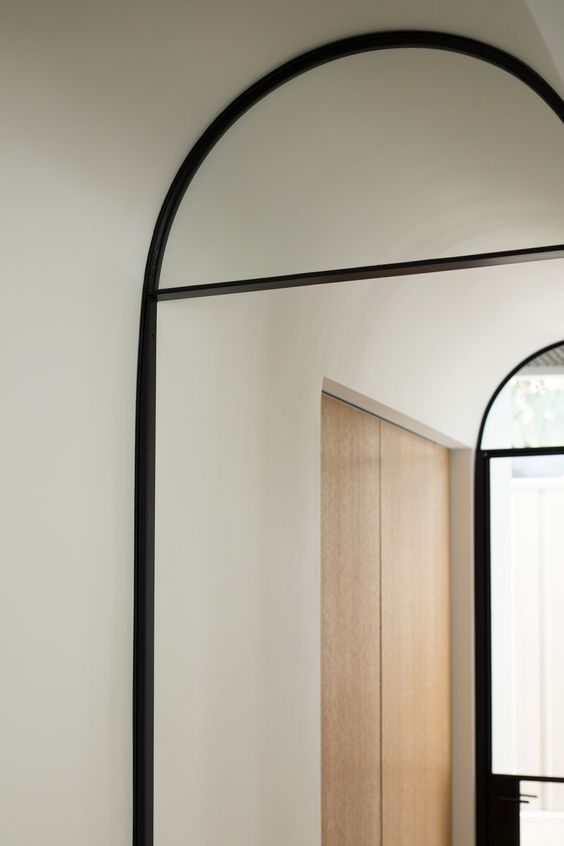 4. Latticed doors
Now, these arched double doors are truly gorgeous with their lattice panels, don't you think? The reclaimed doors were added to this contemporary all-white Boho beach house, fitted into arches that the homeowners had constructed. Love that Chinese elm bench as a further organic touch too.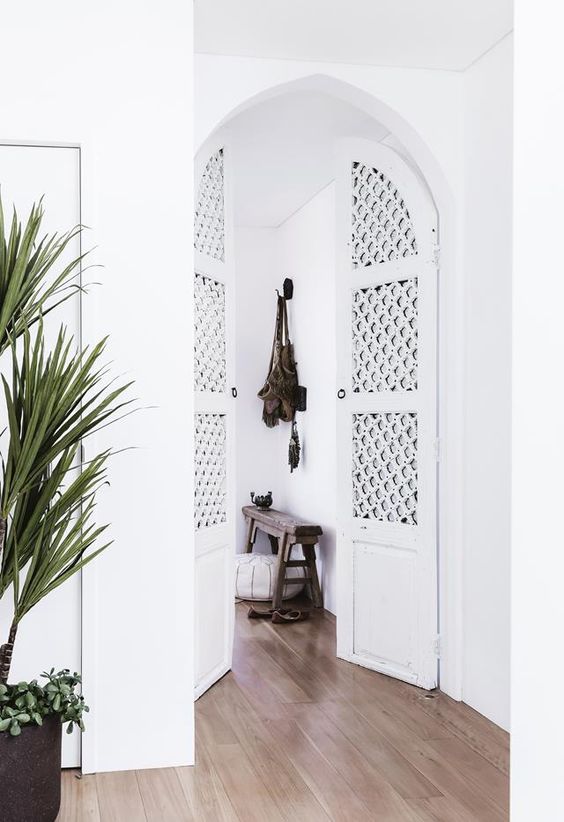 If you love this boho home, check out these boho living room ideas and also these boho bedroom ideas.
5. White on white
Another set of arched double doors but this time in a contemporary style with unusual white metal frames, updating an Edwardian home in Melbourne and creating a stylish blend of old-style and modern elements. Beautiful neutral colour palette with white walls and pale timber floors, too.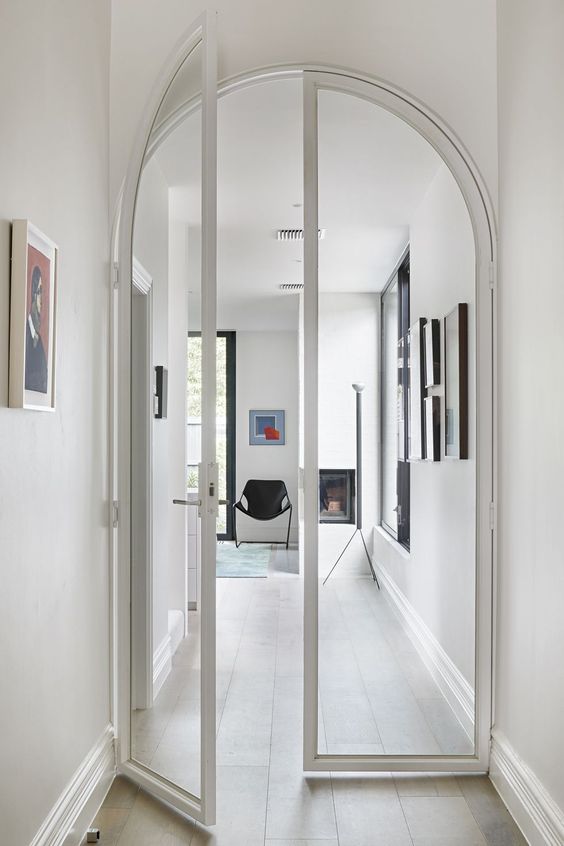 Internal doors – linear styles
Now I'll show you some examples of gorgeous doors that have a linear design. Doors with straight lines tend to give a more masculine look (though not necessarily of course as you'll see with some of the romantic designs below). They also often appear more contemporary than vintage (again, not always!).
6. White rectangular pocket doors
These classic looking white French doors are in the pocket door style which saves you space since the doors don't swing outwards. This is a look that really suits the modern coastal or farmhouse aesthetic. I love the industrial brass pendant light and gorgeous timber flooring. Just add a woven basket full of flowers or foliage to really drive home the organic flavour of the space.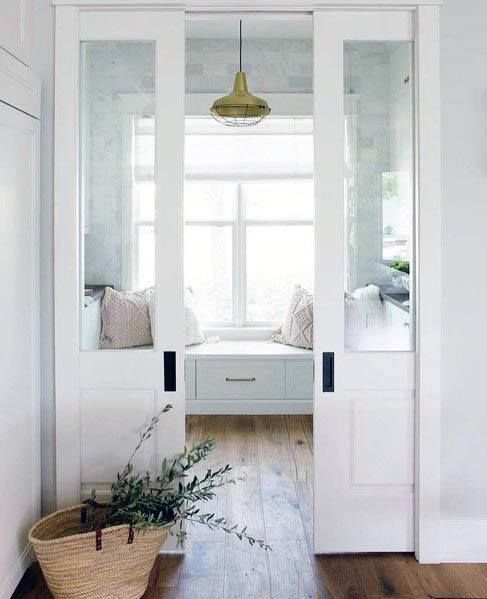 7. Internal swing door
Here's an example of a contemporary interior swing door for those who like a stark and minimal décor. Swing doors are often liked because they won't hit the walls or furniture when they open, and further, there's no need to install a door frame as the doorway opening itself remains untouched.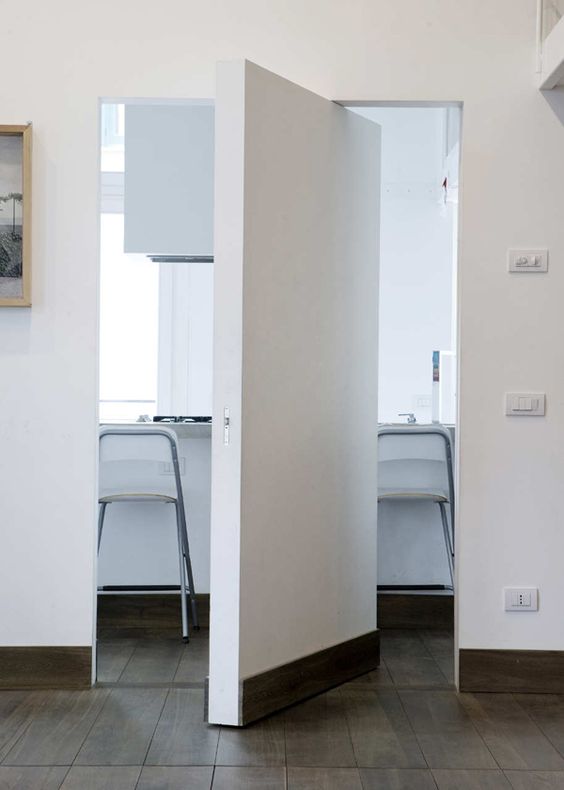 8. Pink pocket doors
Going back to a vintage-inspired look, these pastel-pink painted pocket doors add sophistication and charm to this chic Parisian apartment. For help with having your sliding or pocket doors installed, you can find a local expert in door installation.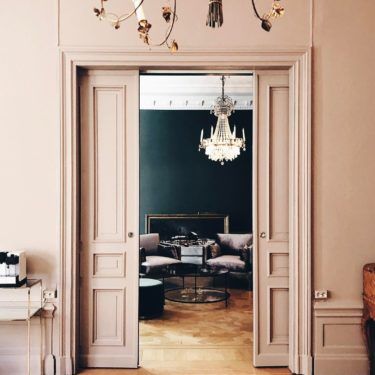 9. White minimal French doors
How gorgeous is this space? So airy and bright, thanks to the French doors opening up the space between the adjoining rooms. French doors are not only aesthetically pleasing but they enable views between spaces and the flow of light gives the illusion of more space. They come in any finish or colour but I think fresh white is such an attractive look. What do you think?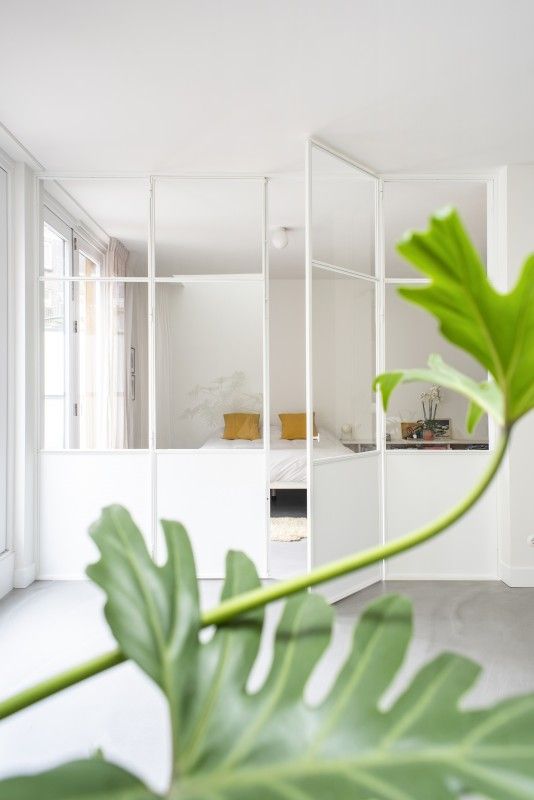 10. Reclaimed doors
If your style tends towards a modern farmhouse, you can't go wrong with a set of reclaimed timber doors, like these stunning ones with their intricate panels. Rustic and full of character, reclaimed doors can be found if you're lucky by scouring salvage yards, or you can source them from dedicated vintage door suppliers.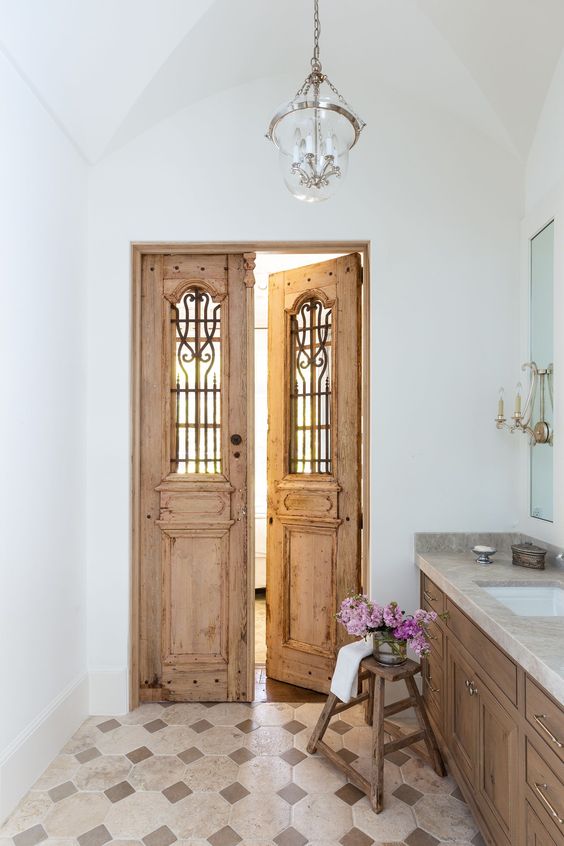 11. Reclaimed for kitchen cabinets
I like the idea of adding smaller reclaimed timber doors to your home, such as for your kitchen cabinets. These add a sense of history and lots of charm while allowing you to blend vintage and contemporary elements in your kitchen to create a rich layered effect. Get some help in installing doors or windows to your home.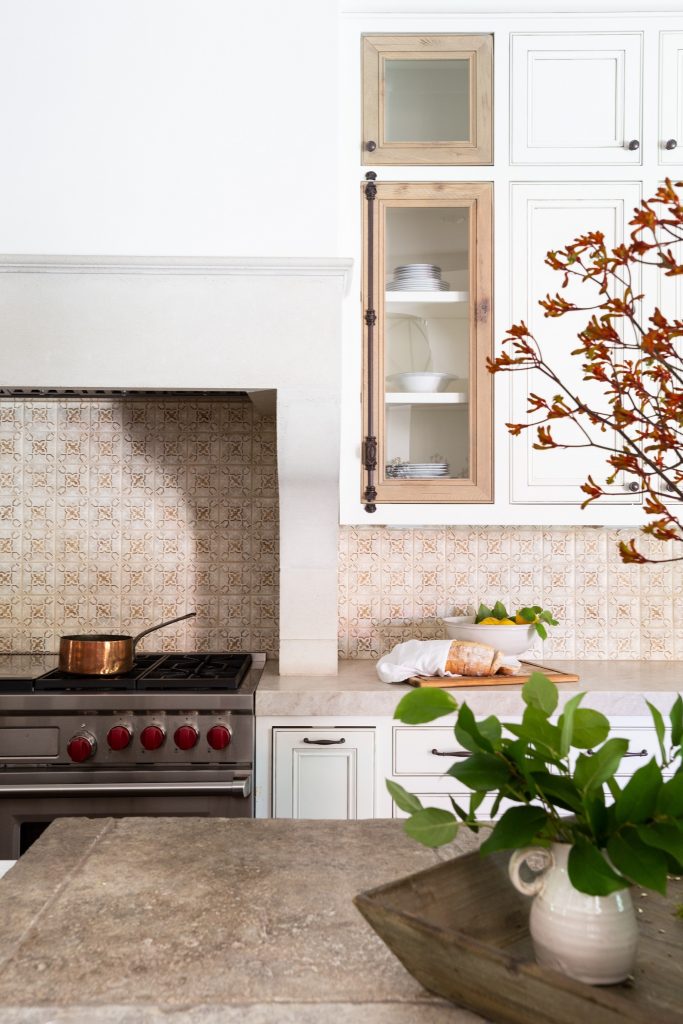 12. Turquoise vintage pocket
To add character to a modern farmhouse laundry room, why not add a vintage pocket door—this one is in such a pretty pale turquoise blue. I'm loving the blue and white quatrefoil encaustic cement tiles here too!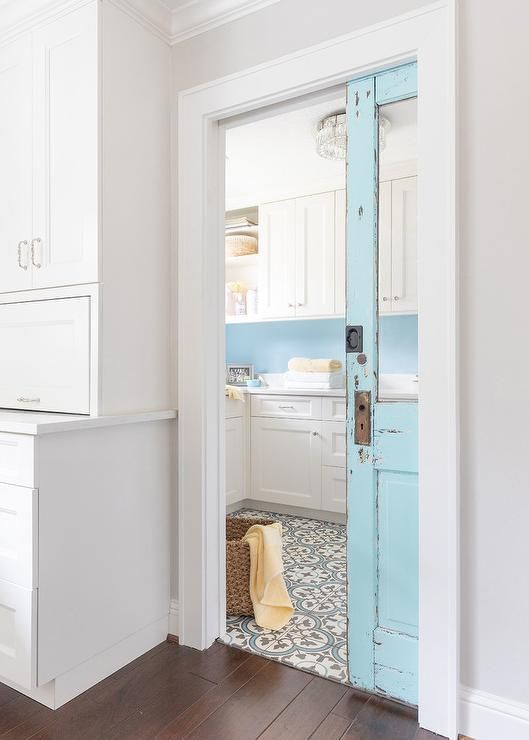 13. Black steel frame door
Industrial-flavoured black steel framed interior doors are really popular lately so I'm going to show you a few that look the goods. First I've got this Crittall glass partition with hinged doors, which shows off the sophisticated clean lines that this style of door boasts. The more modern aesthetic is to have less divided lites (those being the individual panes), like this.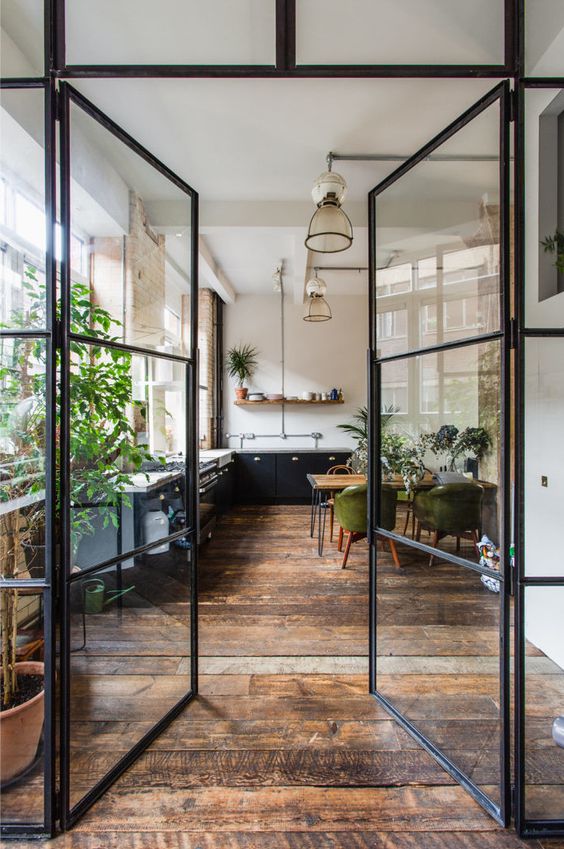 14.            Raw steel room dividers
Here's another example of a raw steel door with less divided lites, but with the addition of solid panels at the base. This accordion-style room divider door is in a hair salon in Amsterdam, which wanted to avoid a clinical 'dental practice' look and did so artfully with a mix of pure 'honest' materials like this unfinished metal, lots of glass, wood and copper.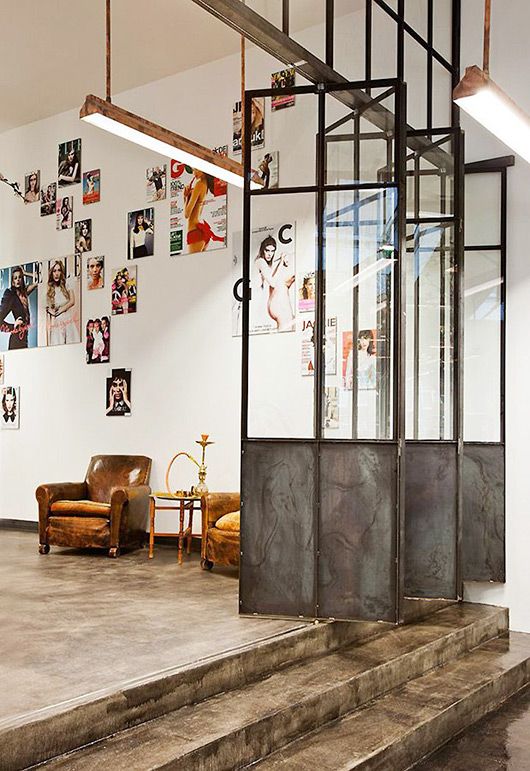 15. Grand internal doors
This Parisian apartment shows off a dramatic hallway with its series of black steel framed partitions and doors. These chunkier metal frames and trims are probably less common than the slimmer profile frames but are a good way to add a powerful black accent to your space. How about those pendants too?!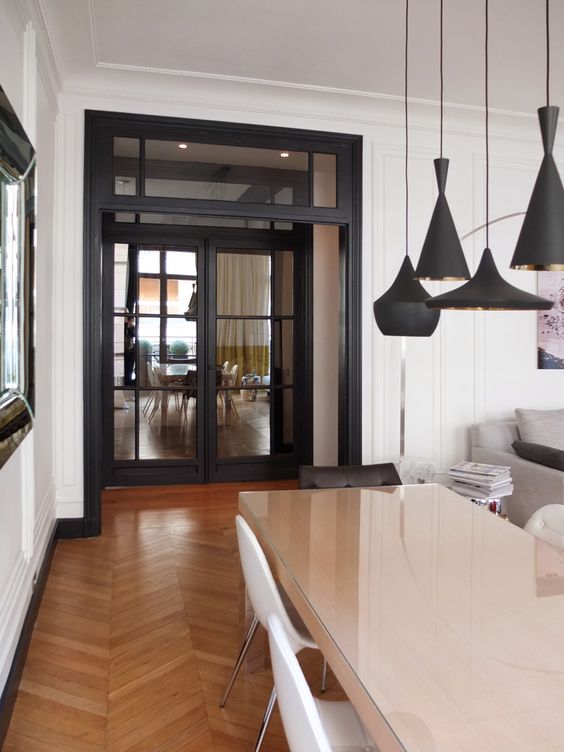 16. Black metal and glass
Lashings of New York loft-style in this home with its black raw steel partition and hinged French double doors. Once again this is a stylish way to define or separate an area, that suits many different décor styles. Speak to an expert in glass doors who can customise a look like this for you.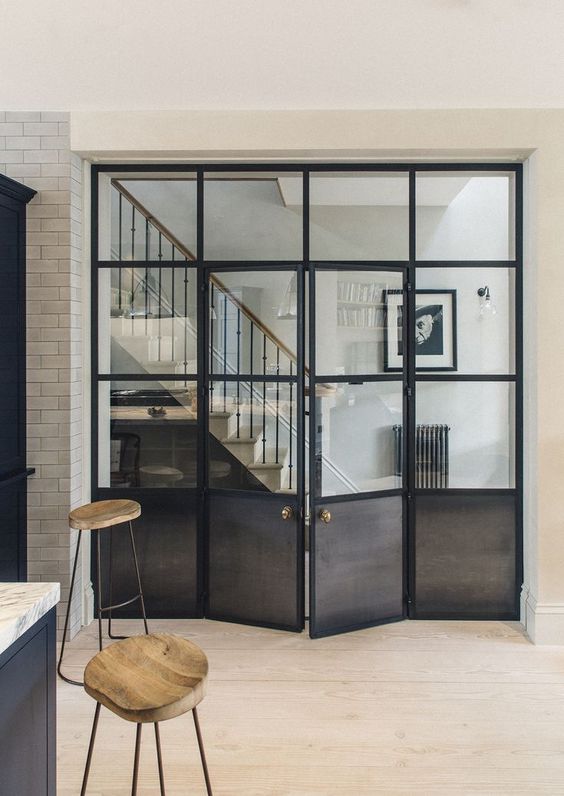 17. Black steel hinged doors
Another gorgeous space, this kitchen feels much larger than it is thanks to the glass partition with hinged double doors. This eclectic space has a mix of vintage furniture and fittings contrasted with the edgy modern black steel and glass. Stylish and sleek, these kinds of doors enable you to close off a space while still giving that open feeling.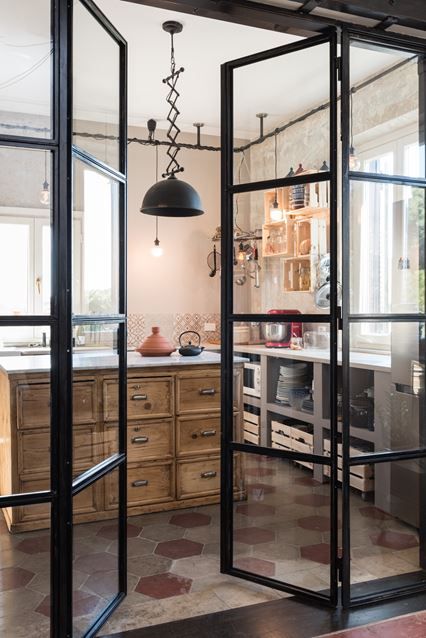 18. Simple single steel door
A simple single steel frame door here, once again with less divided lites. I like the Mondrian-inspired geometry of this look! You can see how a contemporary black steel door can fit into so many décor styles, even a breezy coastal one like this.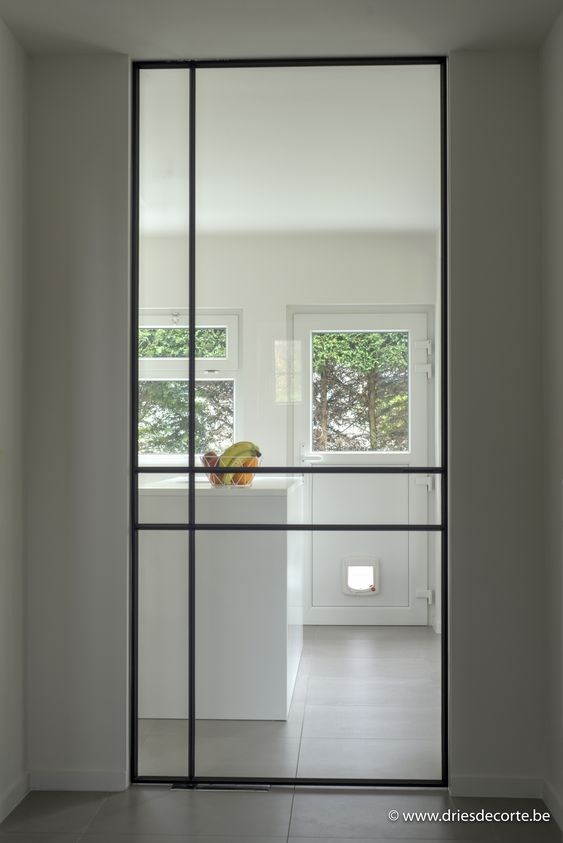 19. Simple timber internal door
For a lovely warm touch of organic timber in your décor, how about a beautiful panelled raw wood door like this? I love the matching timber door trim. When it comes to door trim ideas, people actually often choose to combine a more ornate door moulding with a simple door, or a plain and simple casing if it's the door that is to be the more dramatic element. But in this case, I love that the door trim is as minimal as the door itself.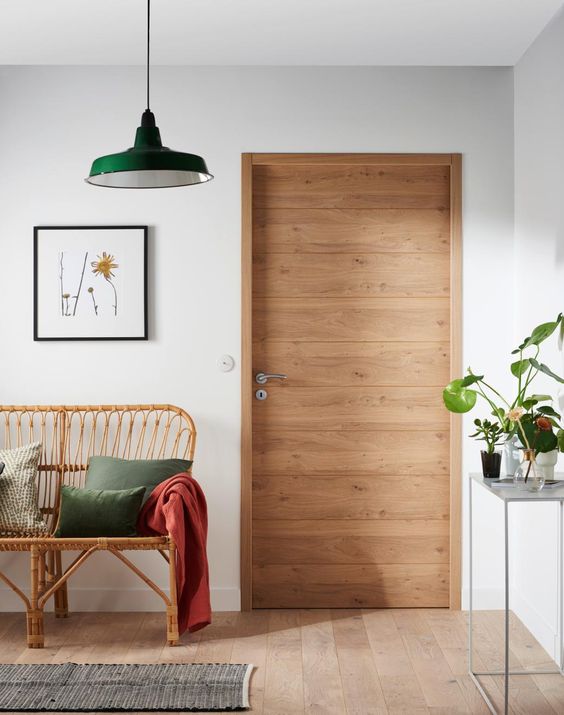 Barn door ideas
20. White sliding barn door
Barn doors are popular for homes with a rustic modern farmhouse aesthetic, but they're also great for adding an urban industrial vibe to contemporary style homes. A simple, chic and minimal barn door can look truly sophisticated—just look at this lovely and fresh laundry room. These days you'll find a barn door for your farmhouse bedroom, farmhouse kitchen or even a farmhouse bathroom.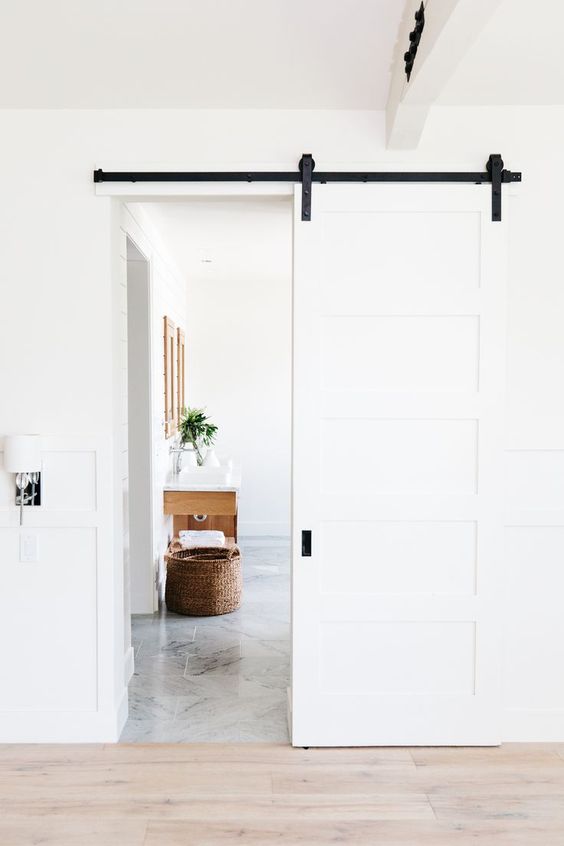 21. Timber and glass barn doors
You can create a sliding 'barn door' using any kind of door, made of any material and with any finish. Here, reclaimed vintage French doors have been hung on a track system–these timber and glass panel doors definitely have a modern farmhouse feel. However, it's less common to have glass-paned doors to a bedroom, since more privacy is usually desirable.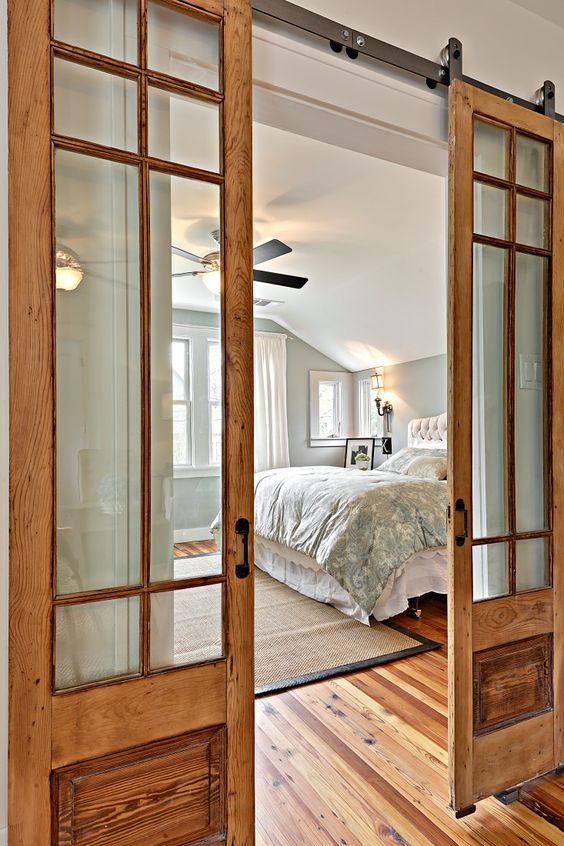 22. Large white barn doors
Barn doors are great for large doorways where you don't have sufficient space for big doors to swing open into a space. You can also make things more streamlined by using single-track bypass hardware which enables two doors to slide on the same track, as opposed to traditional double-track bypass barn door systems.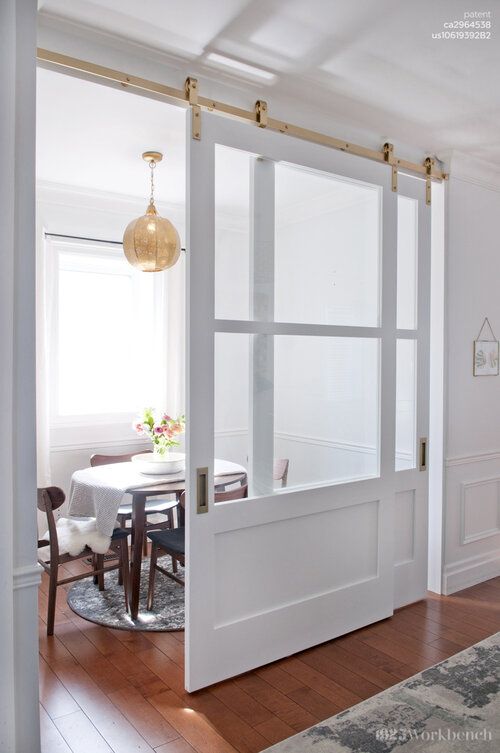 23. Barn door with pattern
Lots of people love the barn door for its modern farmhouse vibes, as popularised by Americans Chip and Joanna Gaines and their US reno show "Fixer Upper". Below, a chic black barn door with a diagonal board design that the homeowner modelled on the Gaines' barn door style—this one's a clever DIY but there are plenty of readymade barn doors on the market in any style you can imagine.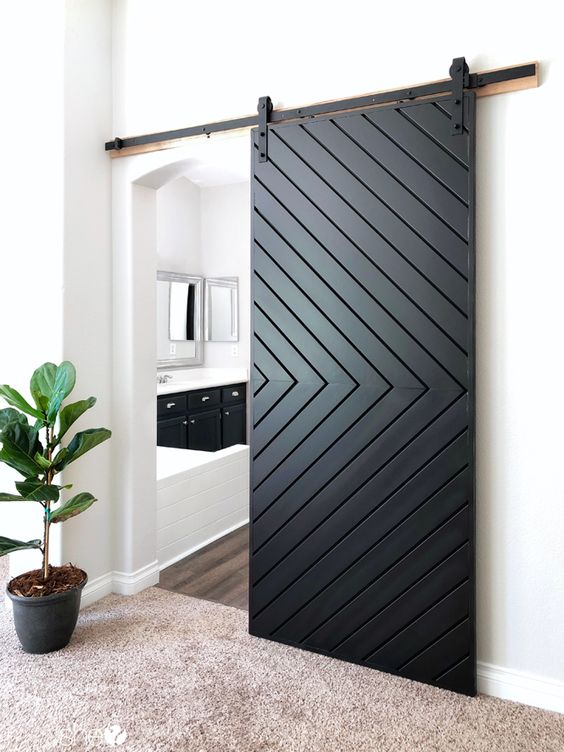 24. Glam barn doors
Barn style doors don't have to be rustic—check out this chic contemporary living space that has a distinctly elegant feel to it, thanks mainly to those long brass pulls on the sliding doors, and the combination of generous white + lots of glass. Need someone to hang your sliding doors? Find a local tasker who can help.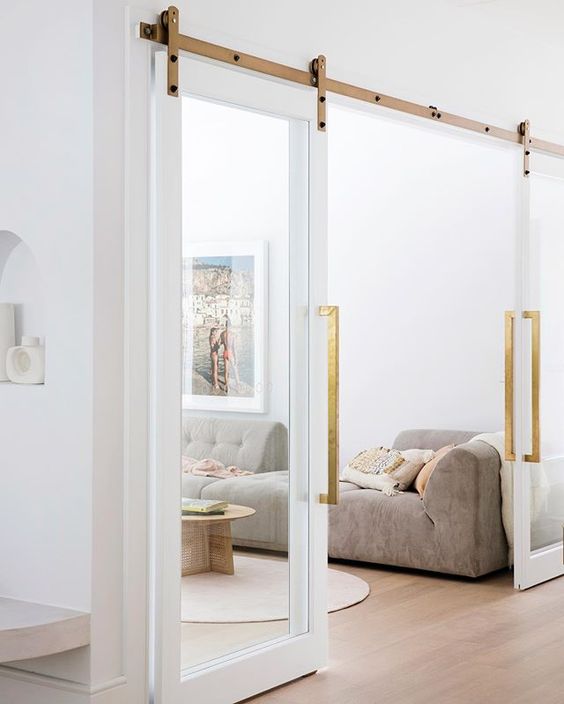 Frosted obscure glass door ideas
25. Frosted glass
Ah, frosted glass. There's just something so pleasing about it. There are lots of different types of frosted glass, with the term referring generally to any glass that is semi-opaque or has translucent properties. Wonderful for interior doors to create privacy while still allowing the natural light to flow through. Here, a corridor glows with daylight thanks to a glass roof on the other side of the frosted interior glass walls and doors.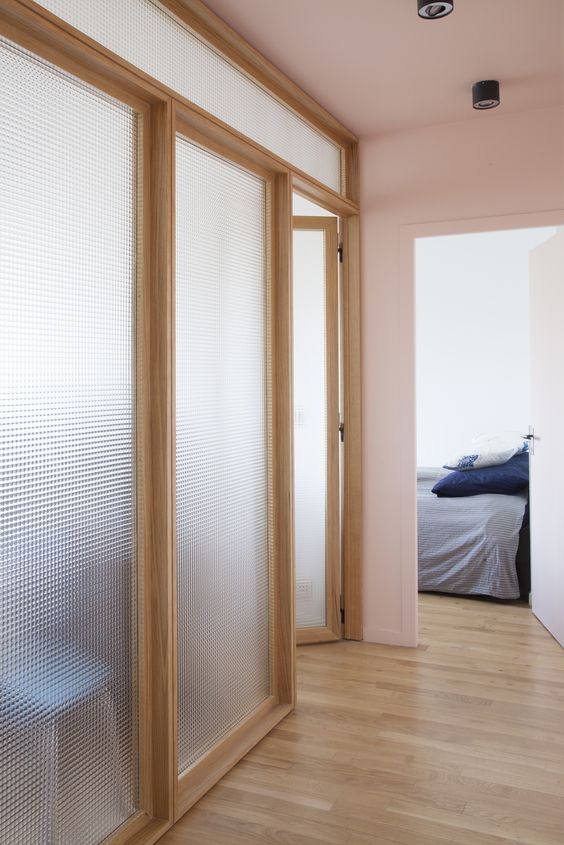 26. Arched and reeded doors
Reeded glass, aka fluted or ribbed glass, is another kind of decorative frosted glass treatment that provides a layer of privacy, as well as plenty of visual interest.  There's loads of texture, interesting and subtle shifts of light, and an inherent mystique. I love this arched double door with its black steel frame and reeded glass panes.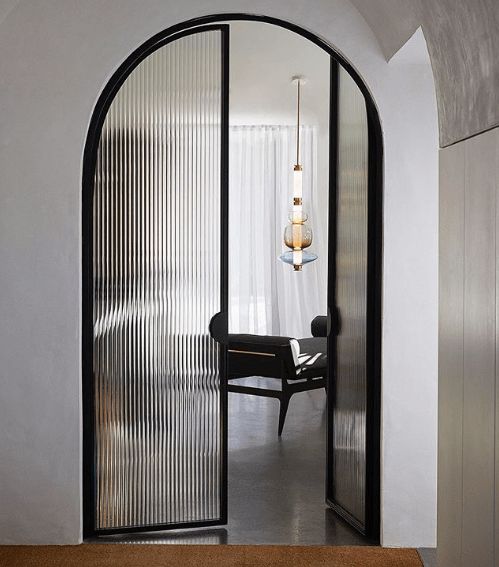 27. Wired glass French doors
Wired glass is a particular kind of frosted glass that has a metal mesh grid integrated. Once again it provides more privacy than plain glass, while also adding an interesting graphic touch and lots of pleasing texture. This kind of glass was originally chiefly used as exterior safety glass (as if it breaks, the mesh holds the glass pieces together) but is increasingly popular in interiors.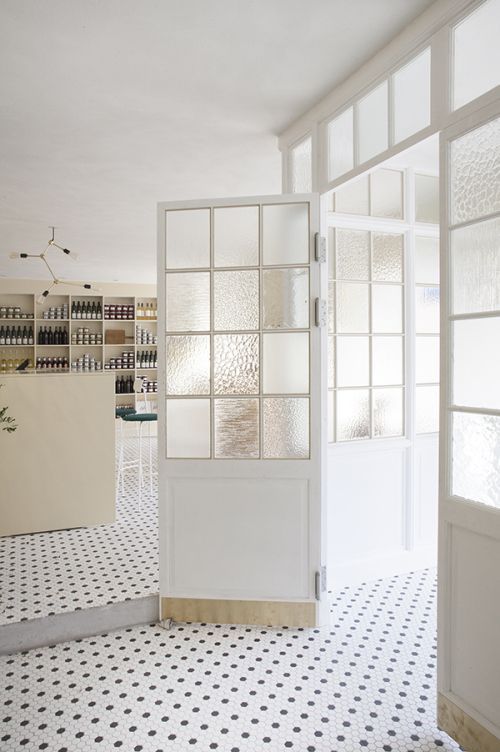 28. Midcentury flavour
Here I've got another example of a frosted glass partition that shows how beautiful the effect is—just giving a faint blurry silhouette of the next room. This space has a mid-century flavour (that chair and lamp) and the patterned glass has a similarly retro feel which fits perfectly into the aesthetic.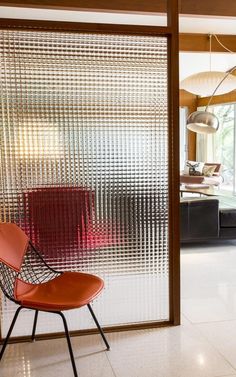 29. Black frosted glass doors
Another popular kind of decorative frosted glass is stippolyte glass, which has this tiny dimpled look as you can see in the double doors to this bathroom. Offering a high level of privacy (also called 'obscuration' in the trade), this kind of glass has a wonderful pattern that suits many different styles, from contemporary to period.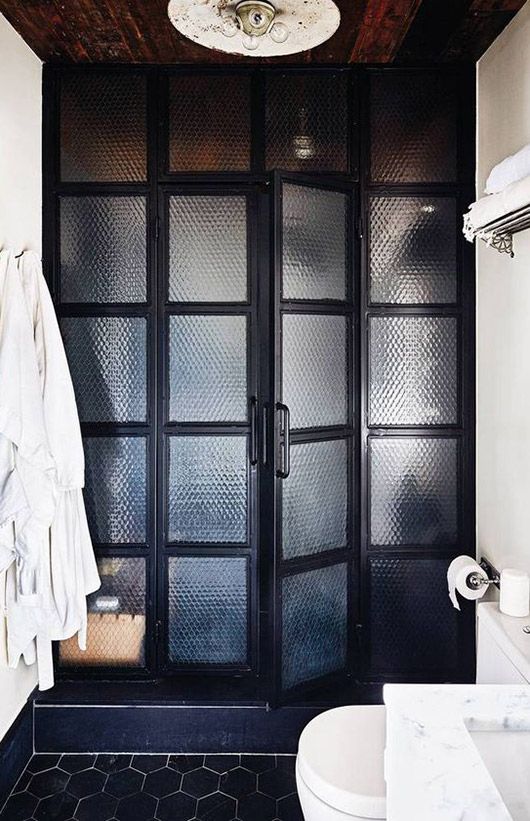 Out-of-the-box door ideas
30. Mirrored French door
Another decorative door option that increases privacy is to have mirrored panes (or 'lites' as they are technically called). Adding a mirror to your door also amplifies the light and makes a space appear larger than it is. How about this truly authentic French door—from Normandy—dating back to the 19th century? Such a statement piece. This mint-coloured door is made from iron and has had its original leadlight glass panes replaced by a mirror.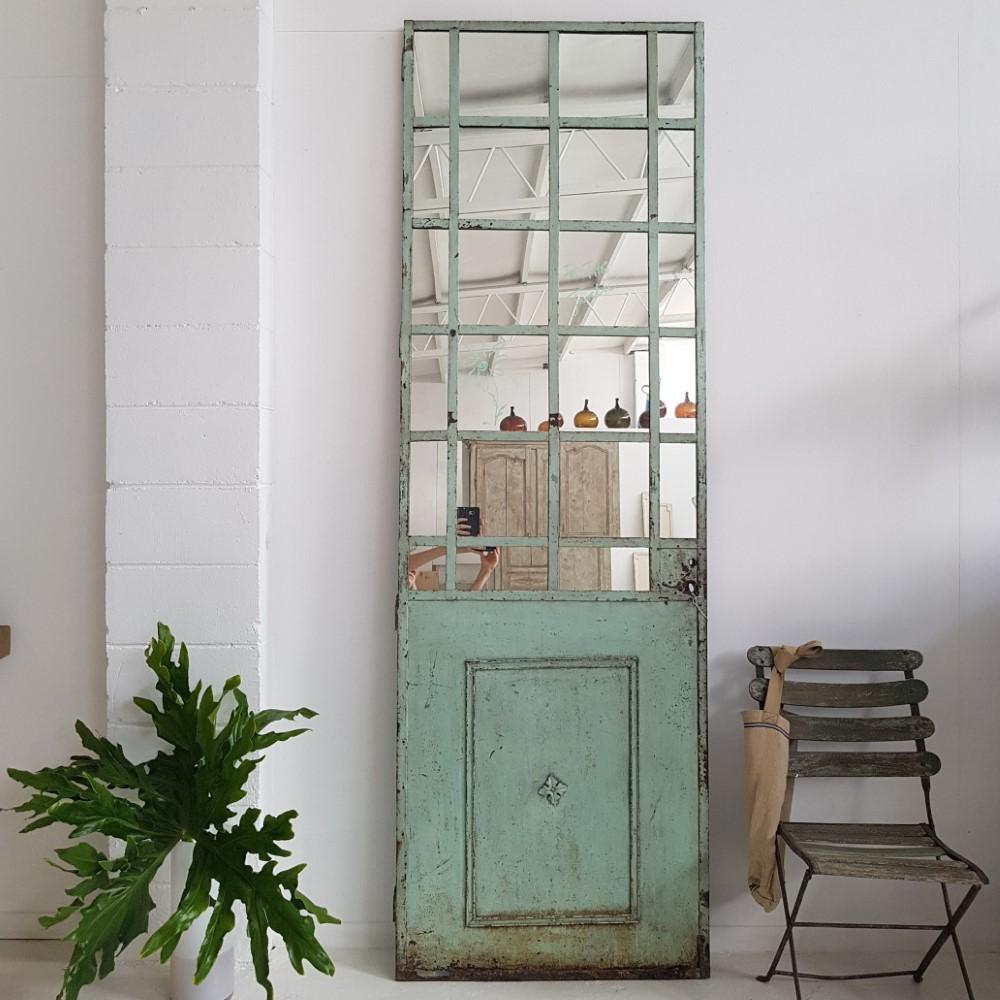 31. Lettering on door
Frosted glass doors are perfect for hiding unattractive mess like piles of laundry clutter while still maximising the light flow through your home. This laundry door has been embellished with a stencil from Etsy to give it a little more flavour and personality.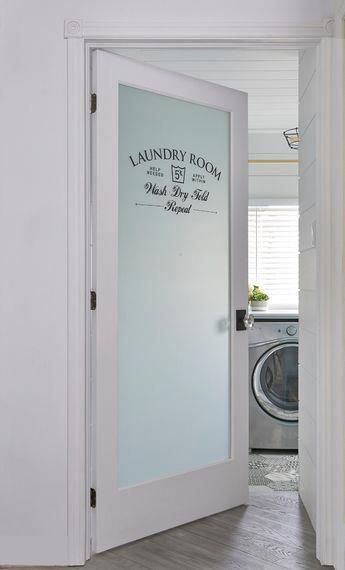 32. Old door ideas
A new door doesn't have to be an expensive outlay. You could also grab an old door from a salvage yard and upcycle it. Here, an old door was given a new life with black chalk paint and adhesive lettering. And if you love the look of frosted glass, you can get it on the cheap too with a frosted glass spray—these add a semi-transparent coating that emulates the look of frosted glass. Have an old door that needs its paint stripped? You can get a paint stripping expert to handle that for you.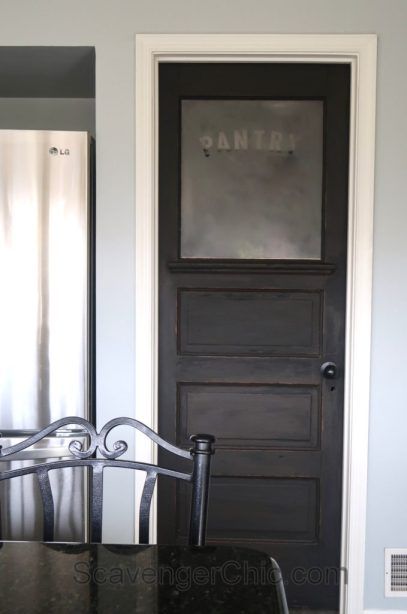 Door trim ideas
33. Fancy trim door
Framing your door properly is really important not only to conceal the seams and transitions between your doorjamb and the wall but also to enhance the visual beauty of your doorway. The material around your door is called the door trim (also known as door casing) and you might also hear it called molding when it's more elaborate and decorative in nature. Here's an example of a doorway molding that's rather ornate, adding plenty of visual interest to this space.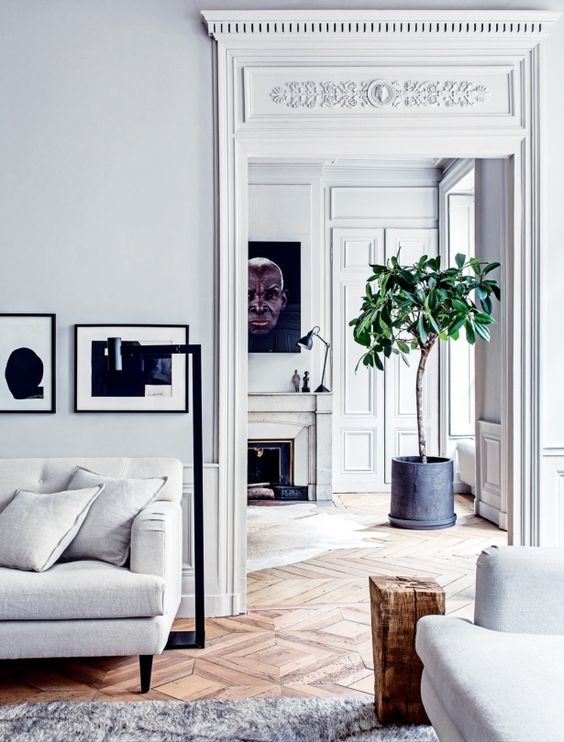 34. Painted doorway trim
When it comes to door trim ideas, you can use the trim to really define your doorway space, as has been done here by using a darker tone of coral for the trim. (Love a colourful home like this? You can find a local house painter to spruce up your home with a brand new colour palette.)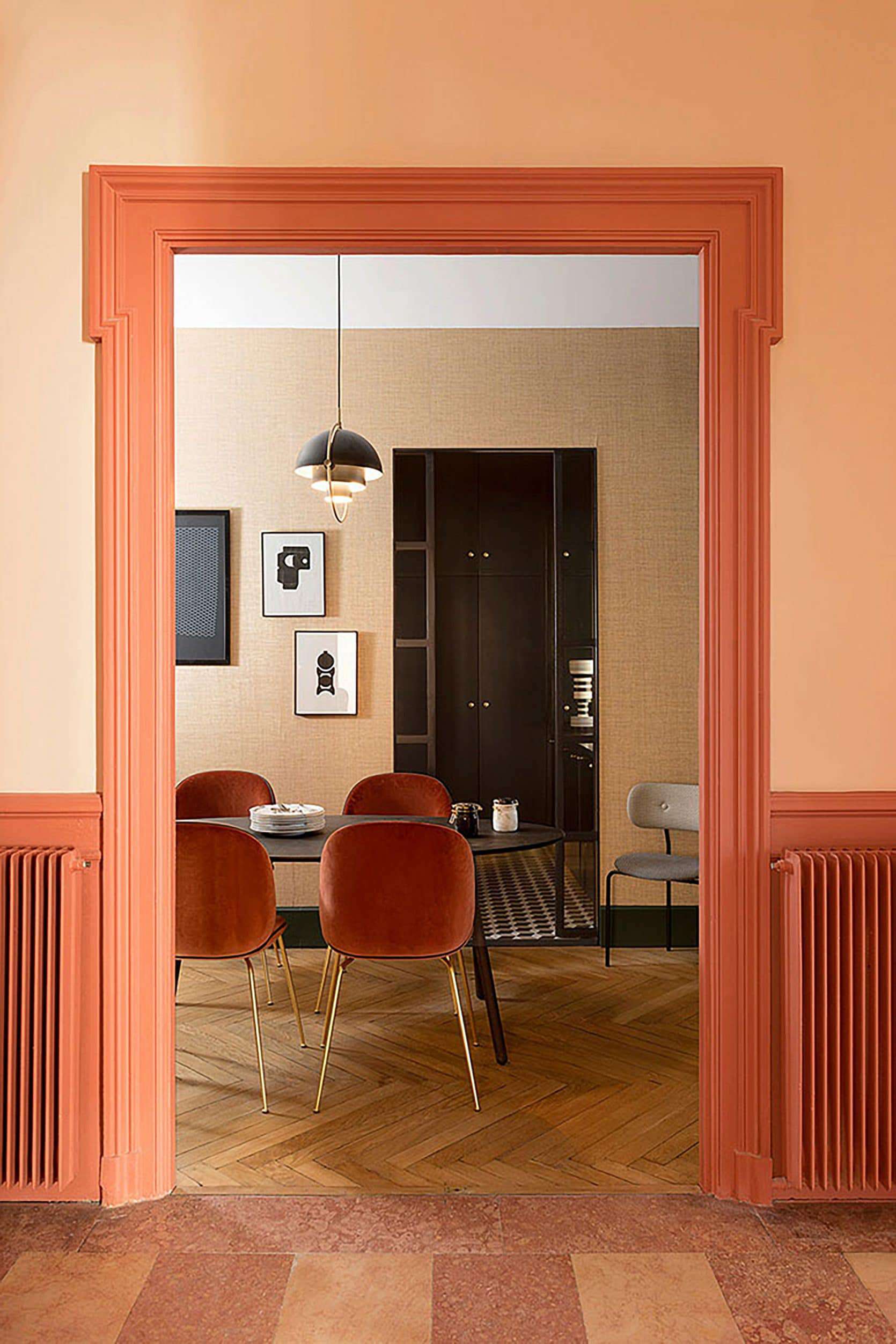 35. Matching door, trim and wall
Here's another vibrant home with a gorgeous saturated colour scheme in mauve and violet tones. This time the trim is painted the same as the door, but there's also a strip of lighter colour painted above the baseboard and around the door casing which adds edginess and gives the space a modern vibe.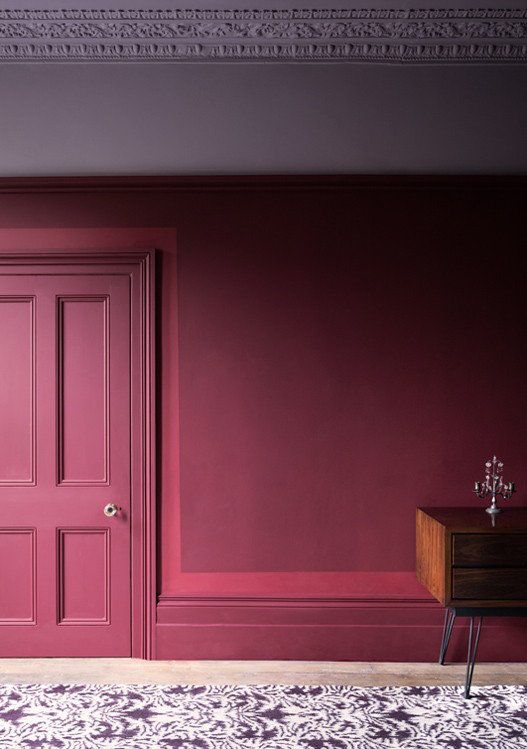 Secret door ideas
36. Hidden doors
Hidden or secret doors are intended to hide a door in plain sight by seamlessly blending it into the home's surrounding architecture.  Below, two flush-mounted doors escape into the white and natural timber panelling, leaving just their ghostly outlines. Perfect for a really streamlined and minimal look.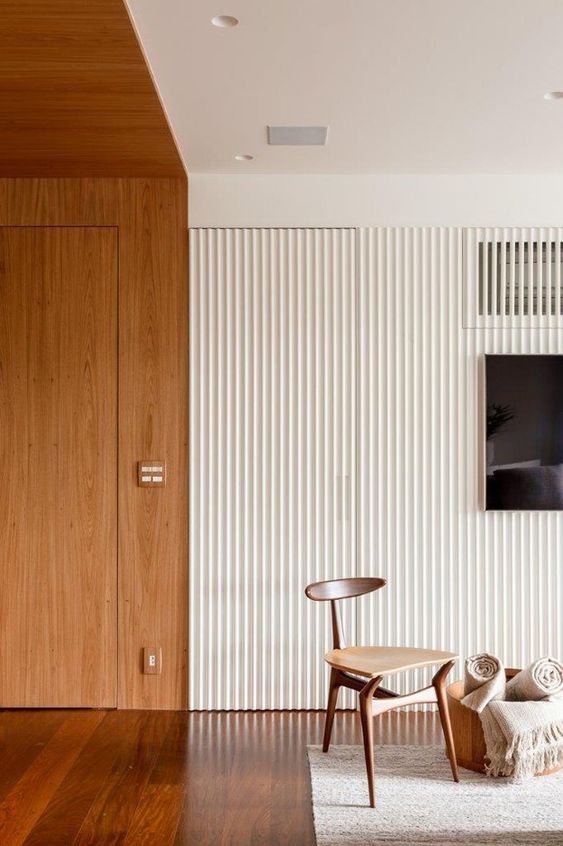 37. Hidden door shiplap
Here's another example of a hidden door concealed by white shiplap panelling, creating a continuous looking wall. This one is simply a standard door covered with panels. Doing a door DIY? Read our handy guide on how to hang a door.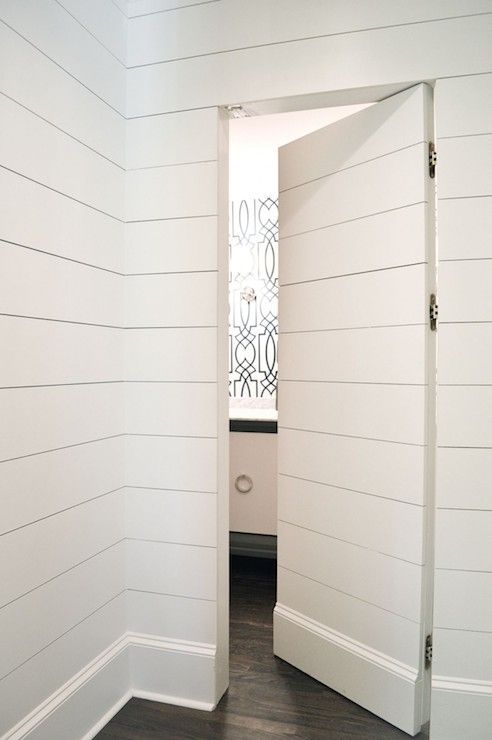 38. Old-fashioned hidden door
Secret doors can add a little intrigue and mystery to your home, concealing a private space or, in this case, hiding a bar like some kind of contemporary speakeasy. Concealed behind a bookcase, this one is very much the stuff of childhood imagination, though I wonder how heavy that door would be to open?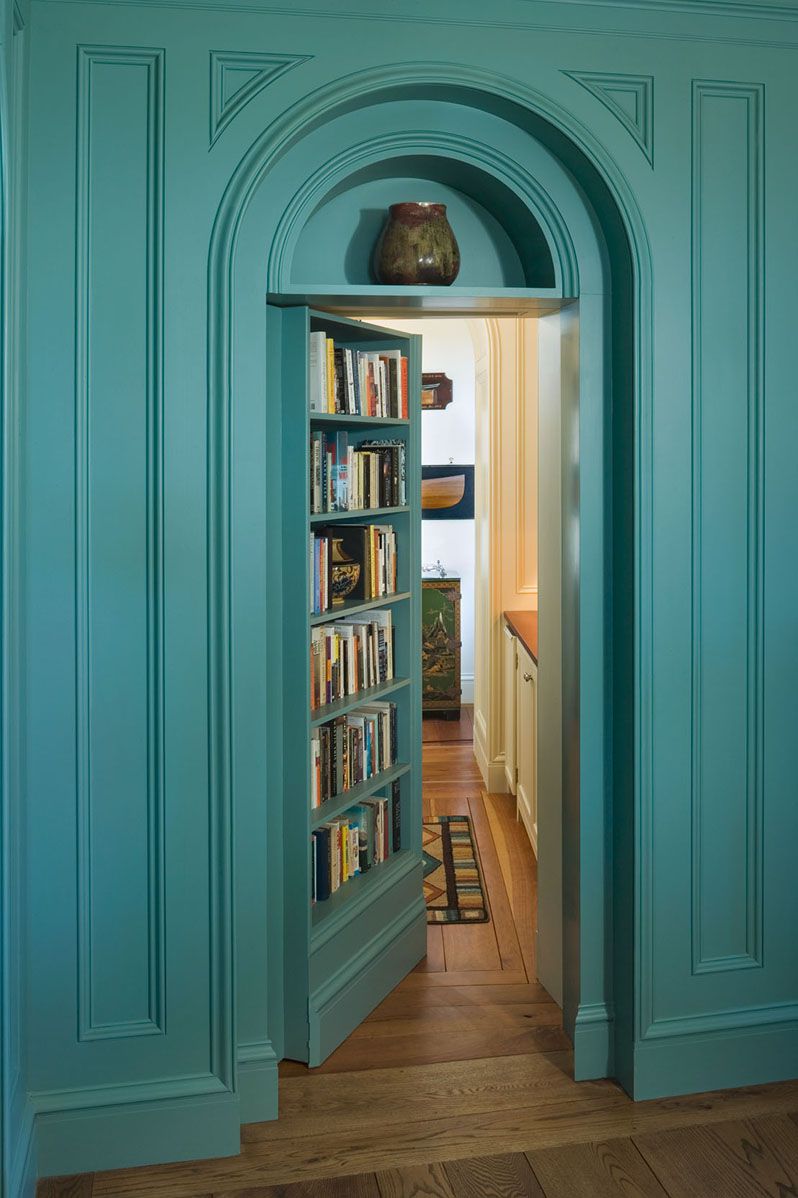 39. Temporary door ideas
Not all internal doors have to be solid—you might like to install a fabric 'door' of some kind instead, such as a macrame curtain. You can find heaps of tutorials for these online and they're actually not all that tricky to make! A macrame curtain lets the light through while adding texture, and brings plenty of beachy Boho vibes.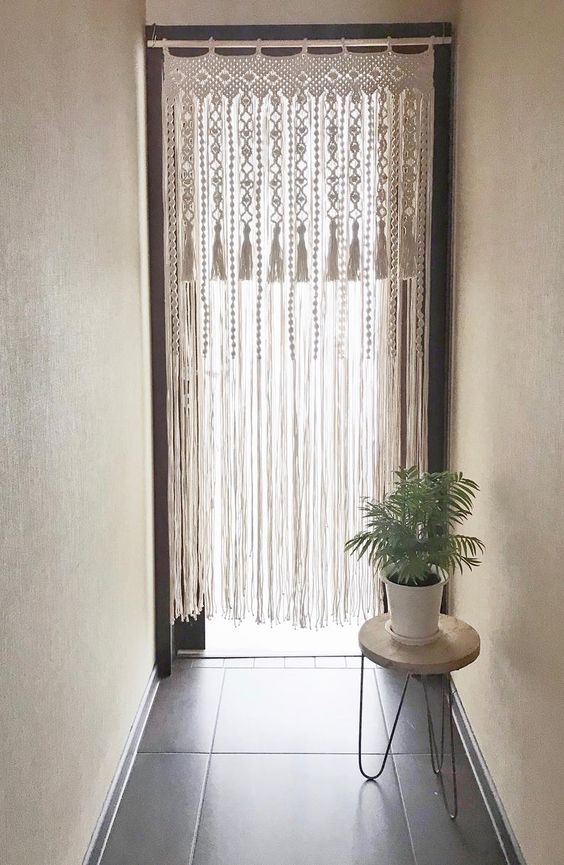 External back doors
Below I've got a range of exterior back doors and service doors, from simple and minimal to ones that are a little bit fancy.
40. Simple glass and wood door
First up, here's a classic timber framed glass door leading from a mudroom to the backyard. This door is perfect for a cool coastal aesthetic, with the natural timber emphasising the connection between the interior and the tree-filled garden. I love how it frames the garden aspect like a painting.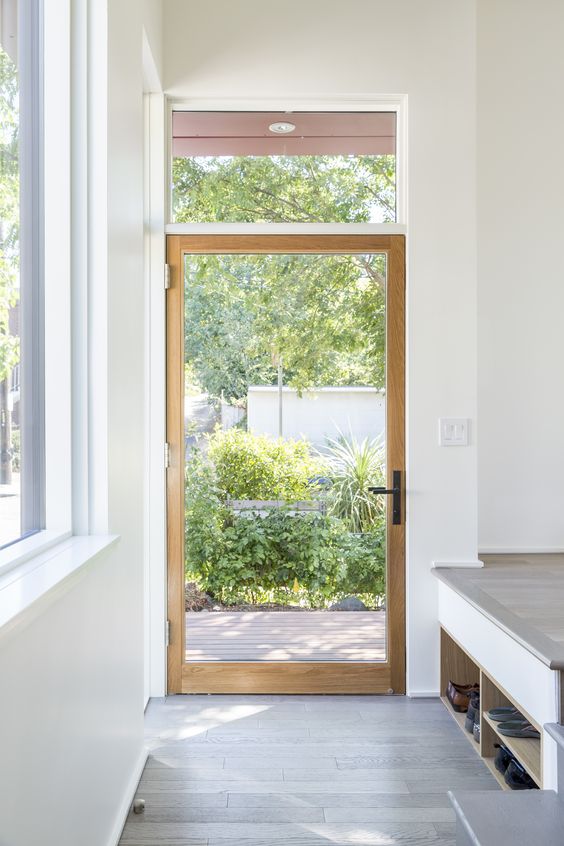 41. Black and glass door
Next, we have another minimalist timber service door in a fresh and bright white laundry room, this time given a contemporary update with a black steel insert featuring multiple small 'lites' (those being the little window panes in a glazed door). This style of door is a chic option for a modern home.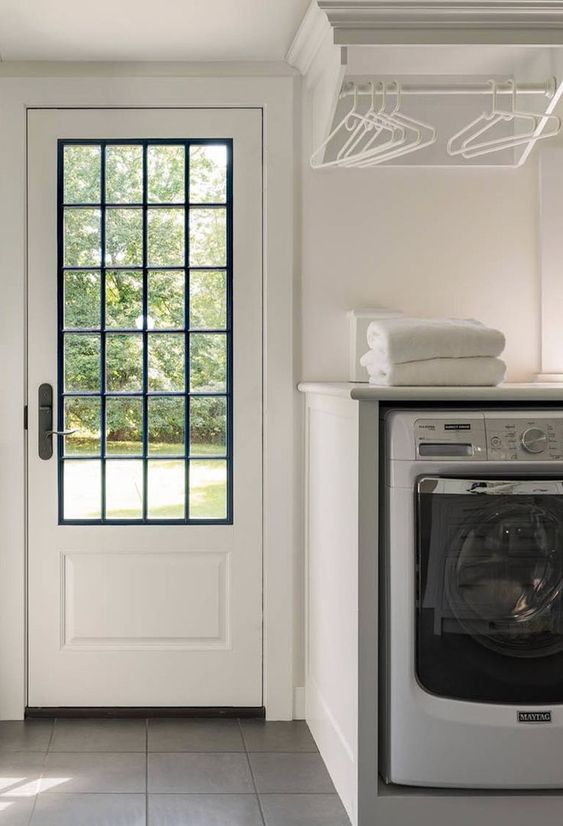 42. External French doors
French doors are much loved for the way they can enhance the indoor-outdoor connection, how they flood a space with light, and because of their natural sophistication. Here, double French doors lead from the kitchen to the garden in this modern, coastal farmhouse kitchen setting.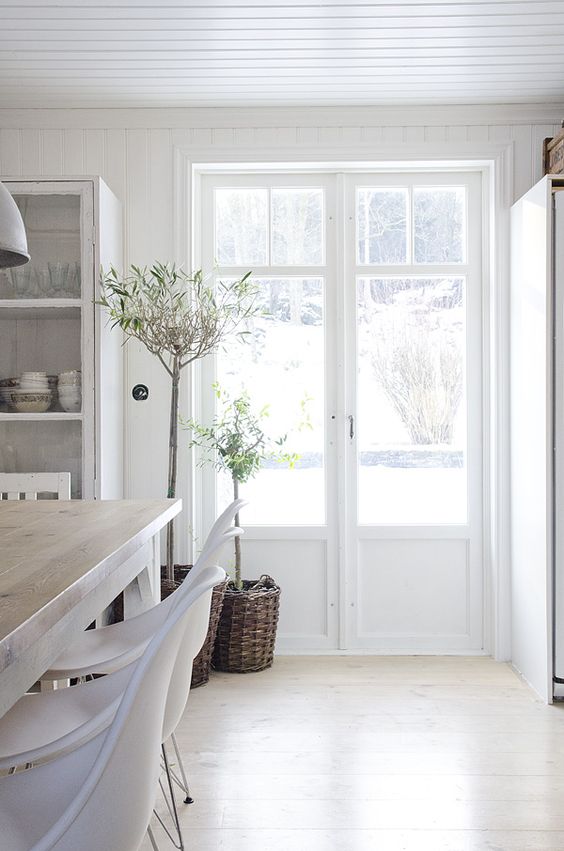 43. Black frame door
This modern home again features a simple framed glass door, this time with a modern black frame that contrasts nicely with all the crisp whites of this laundry. These doors are perfect if privacy is not an issue and allow you to enjoy your garden view when working in the laundry!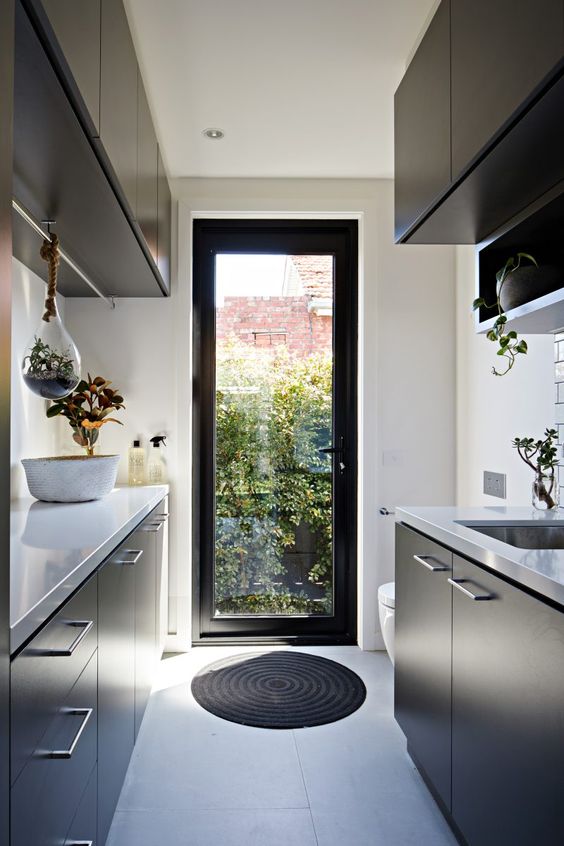 44. Arched glazed
These narrow French doors look to be reclaimed vintage ones, and their lovely design adds a lot of charm to this cute kitchen. I like all the pattern created by the door design and the chequerboard flooring, which add a lot of interest to the otherwise plain white space.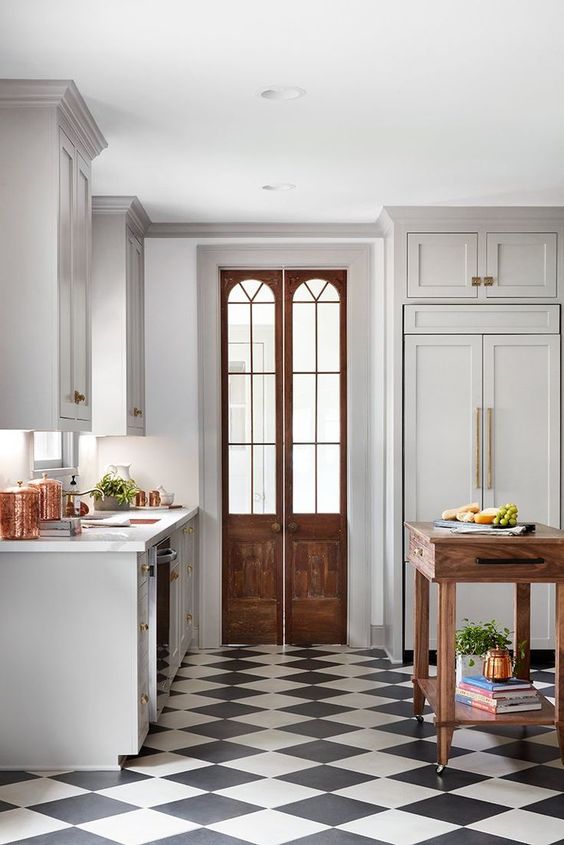 45. Modernist red door
Lastly, this service door leading from the home to the garage packs a powerful punch of colour with a glossy fire engine red door that complements the black and grey interior colour scheme.
Speaking of gloss, the finish of your doors is something to consider, since high gloss ones will highlight imperfections, but offer the benefit of being easy to wipe down. By contrast, flat finishes are harder to clean. You could go for something down the middle, like a semi-gloss or eggshell finish, which have a lovely sheen but are still easy to clean.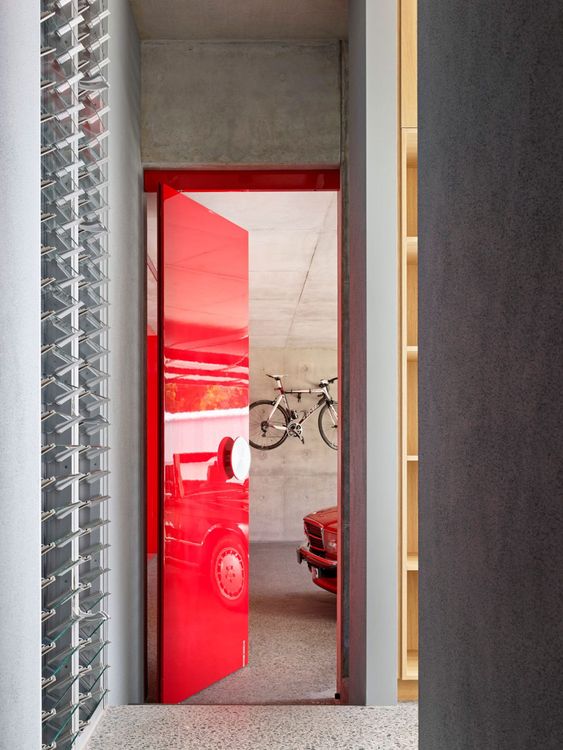 External front doors
Now let's take a look at a small sample of beautiful front doors but you might also like to look at our collection of front door ideas.
46. Timber slatted front door
The entrance doors to the award-winning Napier apartments in Melbourne are just stunning, featuring a unique grilled timber design that really complements the rest of the buildings' detailed timber joinery and overall aesthetic preferencing natural materials. Such a gorgeous minimalist and earthy look.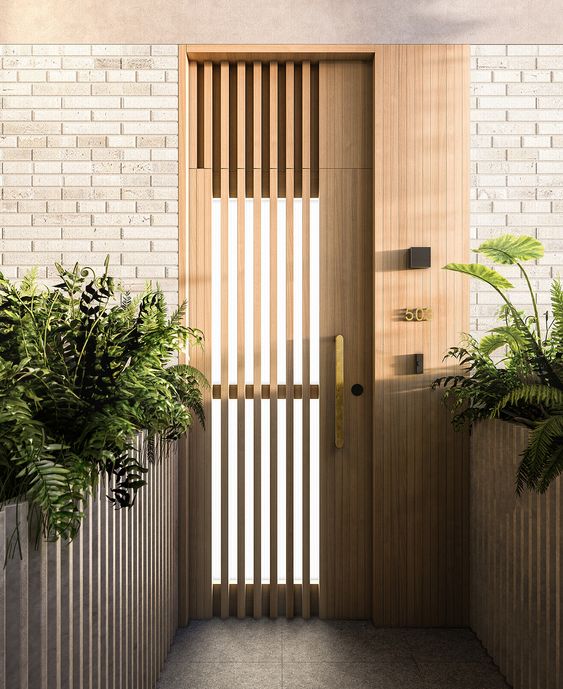 47. Glazed front door
How beautiful is this entranceway with its stunning French door complete with glazed side panels? Dreamy! This home is a renovated 18th-century farmhouse in Denmark, which was previously described as dark and gloomy before the owners gave it a complete Scandi style overhaul in a perfectly monochromatic palette.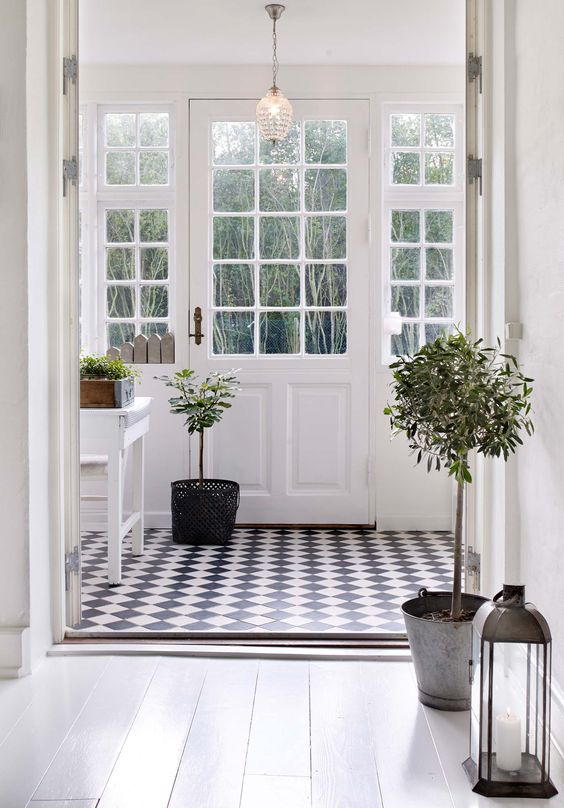 48. Antique church doors
My last example of a unique front door is this rare pair of reclaimed French church doors made of panelled oak. I love the ornate hand-forged iron hinges which lend so much character. If you love a statement door with a real sense of story and history, sourcing vintage doors like this will really set your home apart from the rest! Can I get an amen?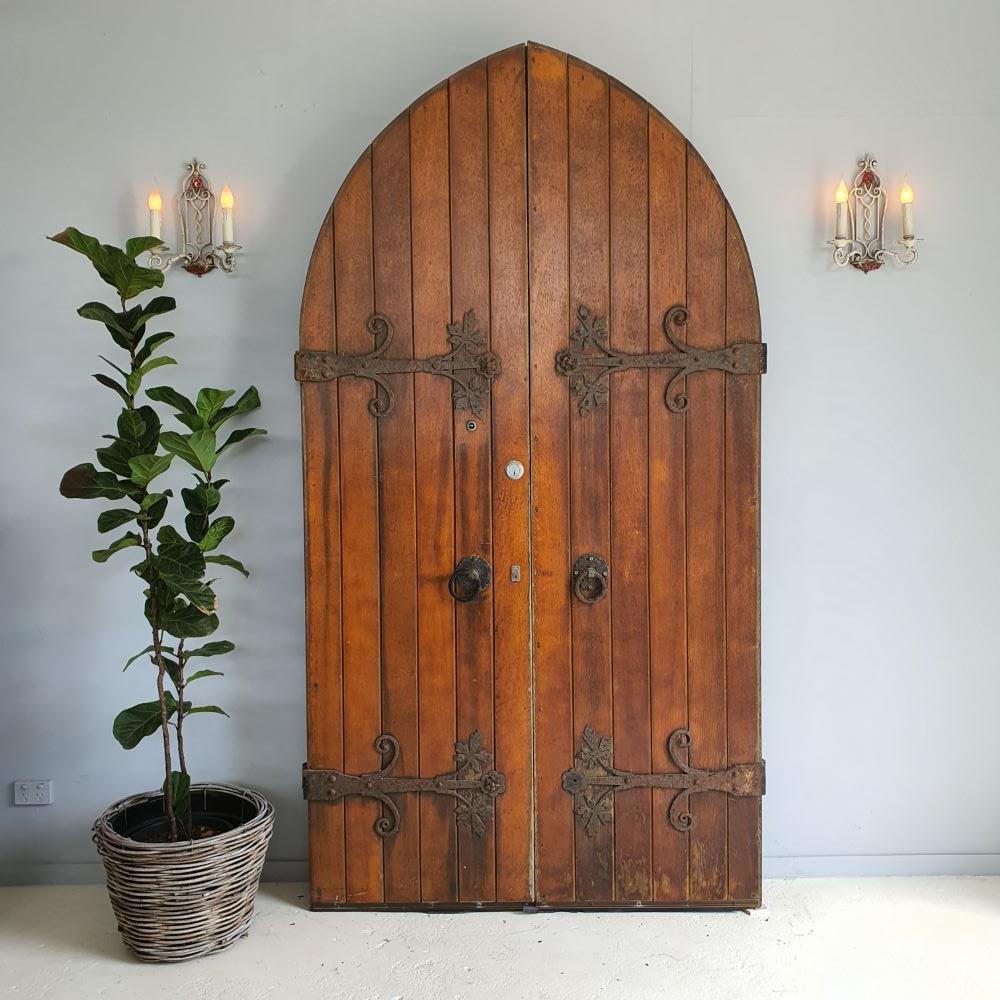 Pet door ideas
49. Handmade dog door ideas
Finally, if you have a pet you'll know the value of a good dog or cat door, but sometimes they can be quite utilitarian (even ugly!) in appearance. Make yours look charming instead by adding a miniature real door and trim—look at this cute pooch-sized door complete with mini knob and lock. Naww! Not too keen on DIY? Find yourself a local expert who will install a pet door for you.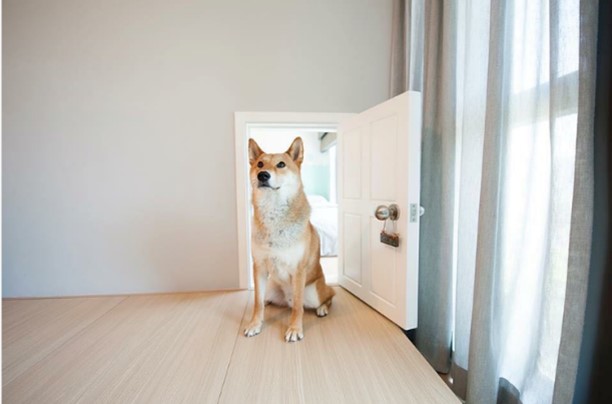 50. Farmhouse style pet doors
And one last one for the furbabies: a farmhouse styled back door with latch and chain style pet door. These ones, compared to the 'flap" style pet doors, make it easier to control your pet's access because you can fully close the pet door.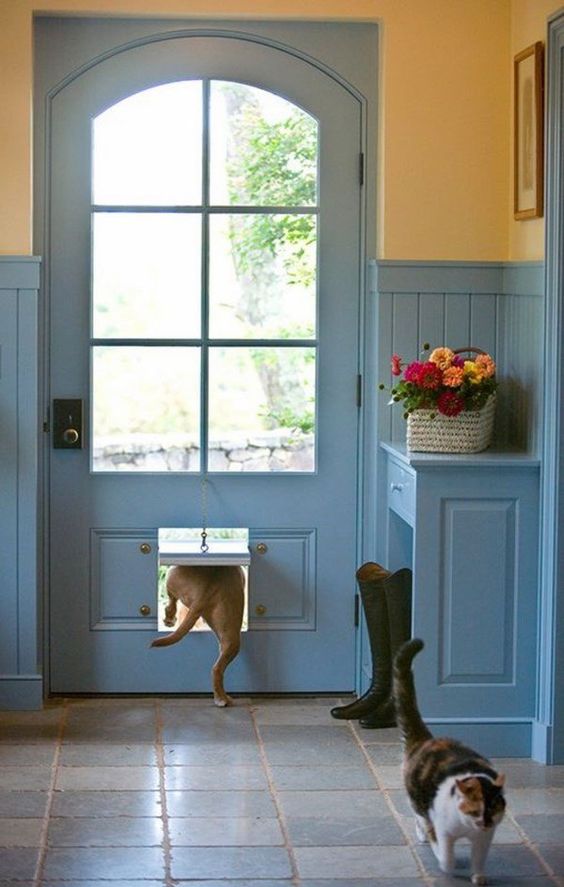 So there you have 50 beautiful door ideas, from service doors to secret doors and plenty in between. Are you inspired to change a door or two in your home? Let me know your favourite interior and exterior door styles in the comments.