Your front door can be a real standout design element, whether it is a colour pop invigorating a plain façade or a striking statement piece whose design or material gives an inkling as to your chosen interior style. When it comes to front door ideas, most people tend to choose a door that resonates with their home's existing style. For example, having a traditional door on a period home, but you might also decide to go for something unexpected –like adding a contemporary door instead.
With your front door, you're not only thinking of aesthetic preferences but also security, so you'll be looking at its design and structure too—solid core doors being the stronger door option over hollow core models. But don't rule out fully glazed doors, as experts believe glazing can actually be a deterrent to someone breaking in, due to the noise involved. Some people may still prefer to add a strong steel mesh security screen door but luckily these days there are many designs to choose from. Making sure your lock system is modern is also imperative (eg. with deadbolts and digital locks). And it's a good idea to install something like a Ring camera too.
Here, I've found 45 front door ideas that feature everything from doors painted gorgeous unusual colours to ones with stunning architectural details. Let's take a look.
1. Arched steel and glass
Arches are always classic but seem to be having a bit of a renaissance in interiors lately, and doors are the perfect way to introduce the rounded form into your home. This elegant glazed and steel framed door echoes the arches further down the hallway, with the geometric black steel adding a modern feel. If you don't have an arched doorway, you can still incorporate arches in the door design as you'll see further down.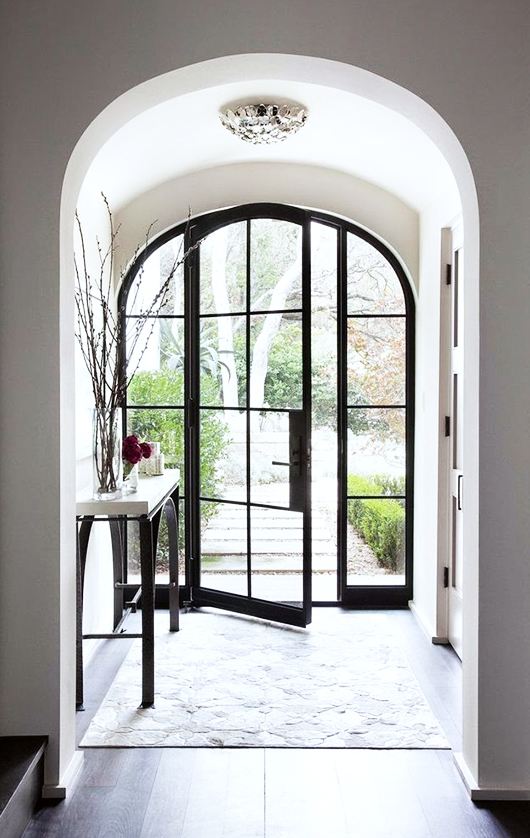 2. Black front door ideas
If you love something contemporary then these timber front doors should appeal! This one is at Eaglemont Residence, designed by Kennedy Nolan. A timber door seems to really suit a home that's been built to complement a beautiful natural setting as this one has. And I love those oversized round handles.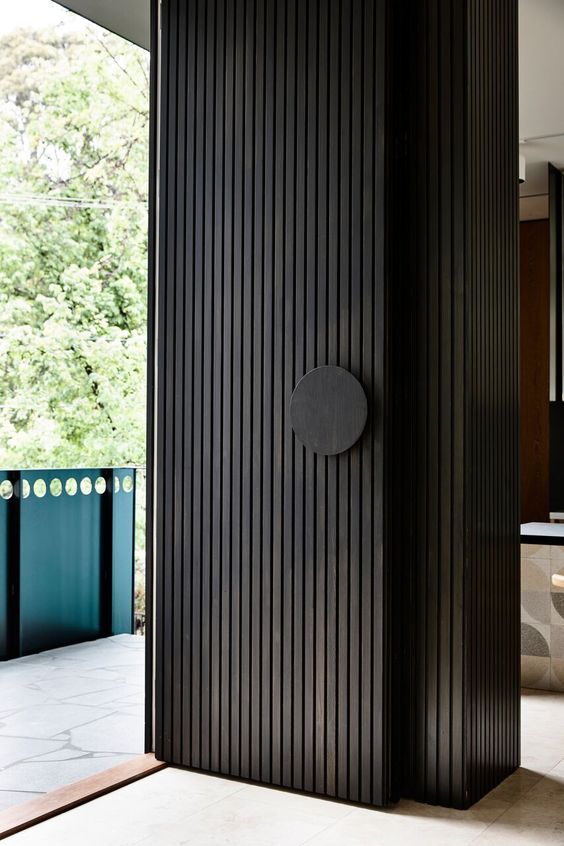 3. Delicate and romantic
Another updated classic look here, with beautiful pastel leadlight detailing in the side panels and above a traditional white timber door. The timber flooring looks so lovely with the abundant white here. And adding to the air of sophistication is a gorgeous crystal chandelier.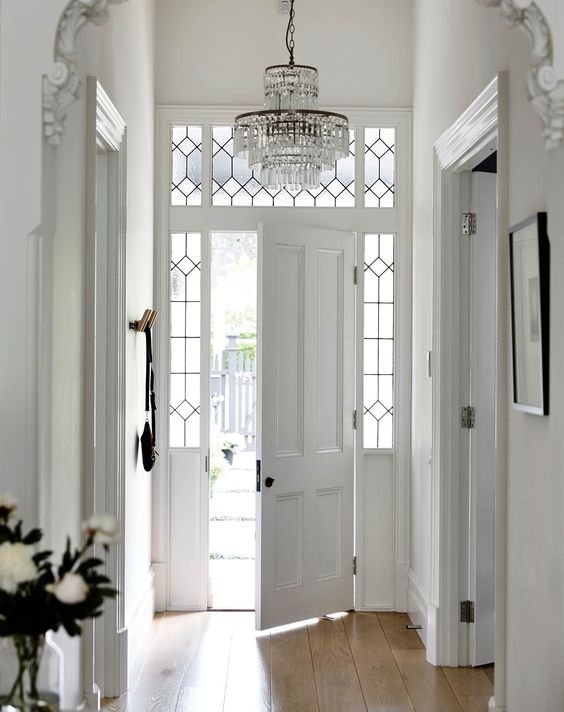 4. Grey front door
If a minimal look is for you, grey is a lovely soft neutral which will still pop nicely against the white house exterior. I like how the colour is extended onto the porch here, while the oversized black pendant lamp provides a good accent that tonally balances all the white and grey tones.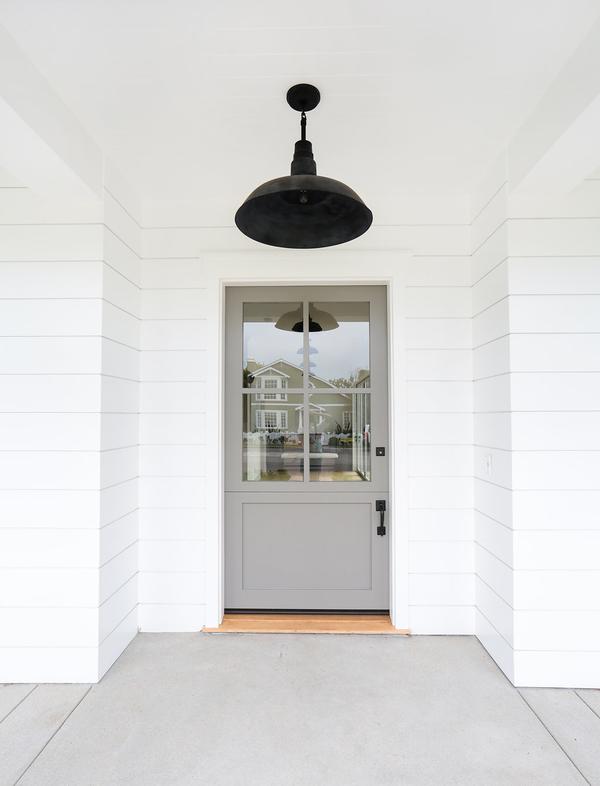 5. Coastal front door
The modern organic coastal aesthetic lends itself perfectly to a soft pale timber door, like this rosewood one with its custom brass doorknob. The light timber contrasts beautifully with the grey tile on the landing and complements the timber veranda to the left. Just add a statement potplant and you have a serene and tranquil front door setting.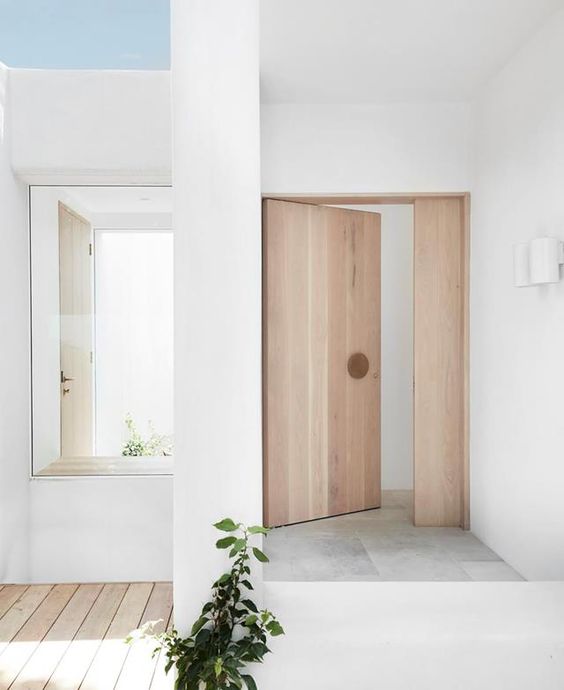 6. Vintage timber doors
Restored vintage wooden doors add so much character to a home. Here they're not only a beautiful feature to admire from the exterior but they also add plenty of charm to the interior of this white and timber hallway.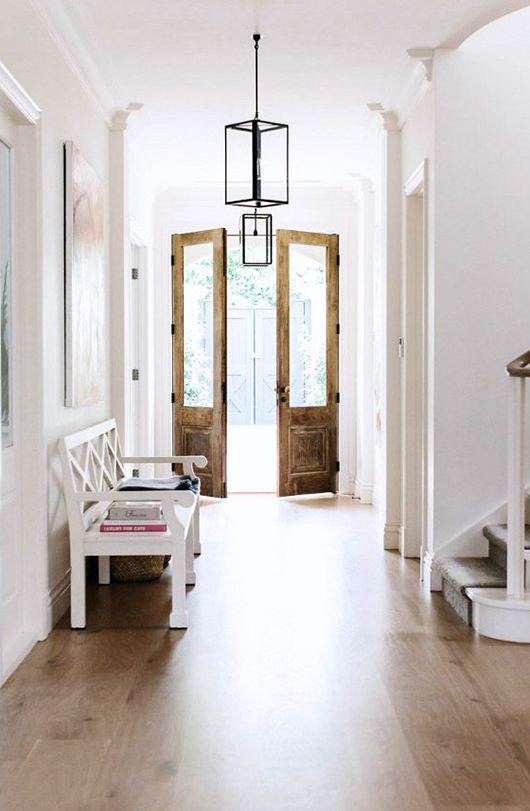 7. Black and white
A pivoting steel door is a great idea for those who want to feel super secure. A slim-profile, streamlined black doorframe with glazed panels like this one gives a strong contemporary feel. I like how the width appears slightly oversized for extra convenience.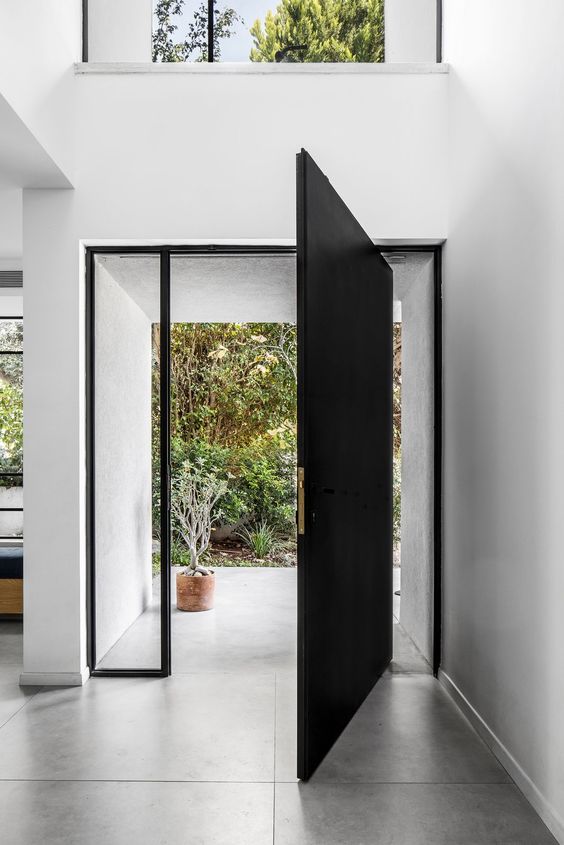 8. Minty front door
Planning on a painted front door? For front door colour ideas, apart from the usual bold hues that people often choose for a striking front door—like postbox red, electric blue and sunflower yellow—you might like to consider a softer pastel like this sweet mint. A softer shade will be less 'in your face' while still allowing you to make a style statement with a saturated colour.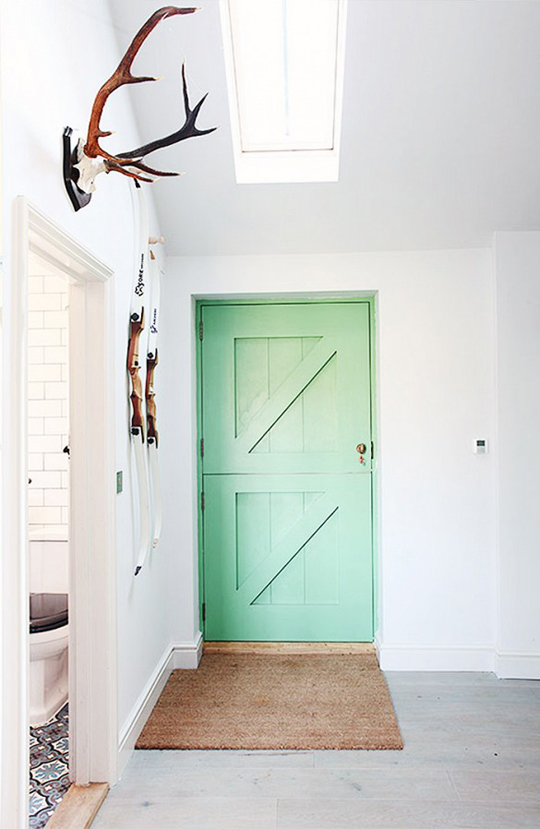 9. Sky blue Dutch door
Here's another muted pastel coloured front door—light blues are a really popular front door paint choice and they especially suit a farmhouse, Hamptons or coastal look. Also gaining in popularity: the Dutch door.
These are usually enjoyed for their practicality, so easy to keep kids and pets safely indoors while letting in the breeze. And they also bring that olde worlde charm to your home's façade.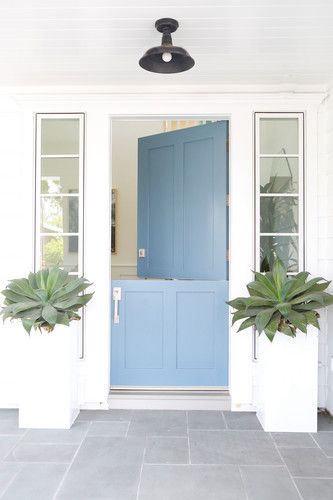 10. Solid black front door
A sleek, matte black double door makes a stylish entrance for a modern home, especially when paired with streamlined contemporary lights and charcoal planters like this. I like how a tiny striped rug ties this monochrome look together.
11. Timber and minimalist
This home at Balwyn North has a strong natural materials palette in warm, muted tones, with the timber front door fitting signalling the interior style. A contrasting black door handle adds a tiny accent, but the look is otherwise starkly minimal.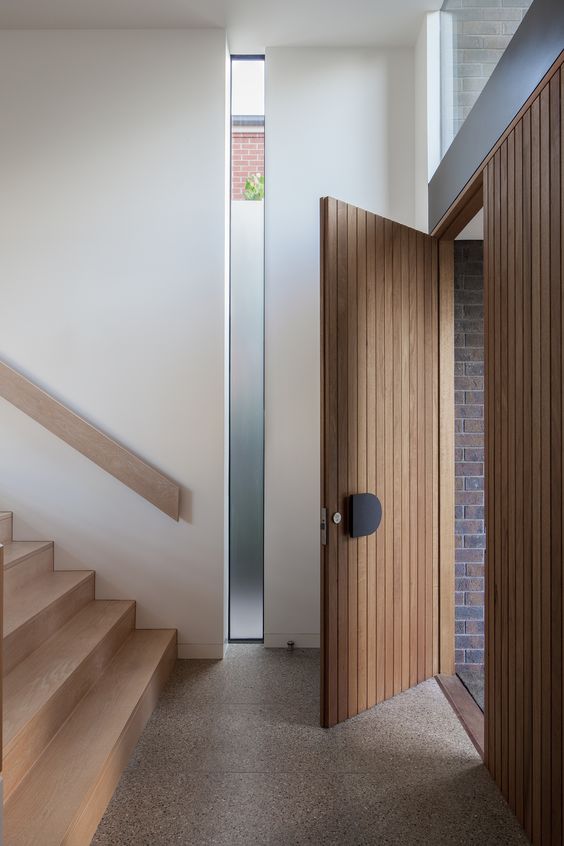 12. Heritage with glossy black door
Another stunning period home with lots of original features including the door and its stained glass surrounds. Lovingly restored and painted a high gloss black, the front door gives a modern edge to the quaint setting. How beautiful are the decorative glass panels?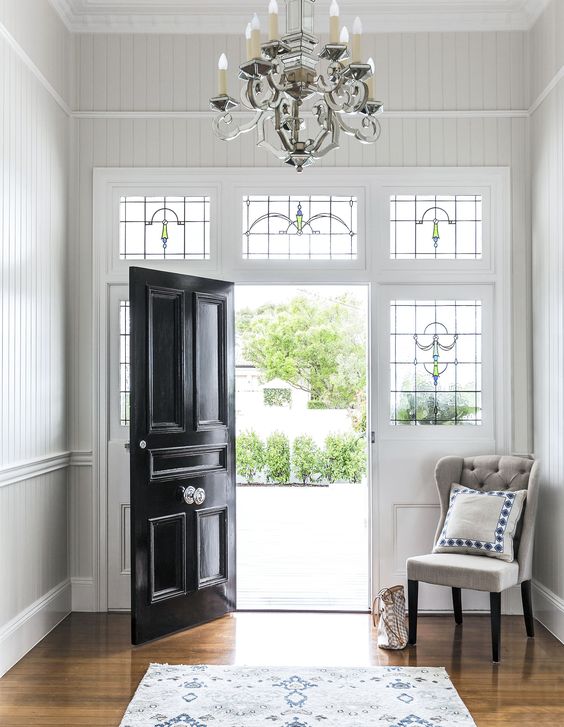 13. Custom stained glass
For a truly unique front entrance, if you have the budget, consider having custom leadlight decorative panels made. As you are involved in the design process you could ensure the design has special significance to your family. Bespoke stained glass door panels are another opportunity to showcase your personality and create something absolutely unique.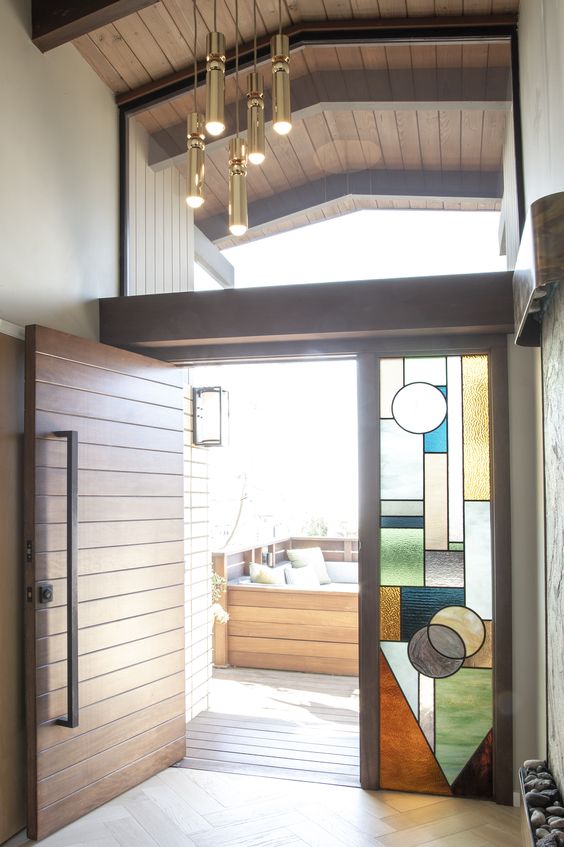 14. Black timber contrasting handle
Here we have another bold contemporary home with a gorgeous dark exterior palette that opens up into a warm timber rich vignette. The contrasting warm timber door handle is perfect for linking up the outside and inside. How beautiful is the slate veranda paving here too?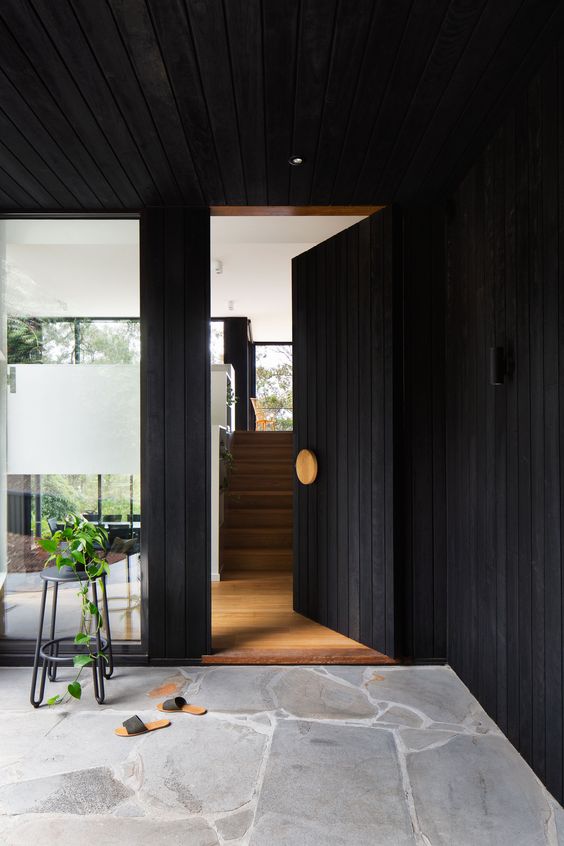 15. Rustic pattern steel door
For a contemporary but timeless front entrance, geometric patterned steel and glass doors like these X pattern double doors make a bold impression. Doors with lots of glazing are also ideal for letting large amounts of light infuse your hallway. I like how the homeowner has paired the striking, graphic front door with a zebra rug – lots of lovely pattern in this space.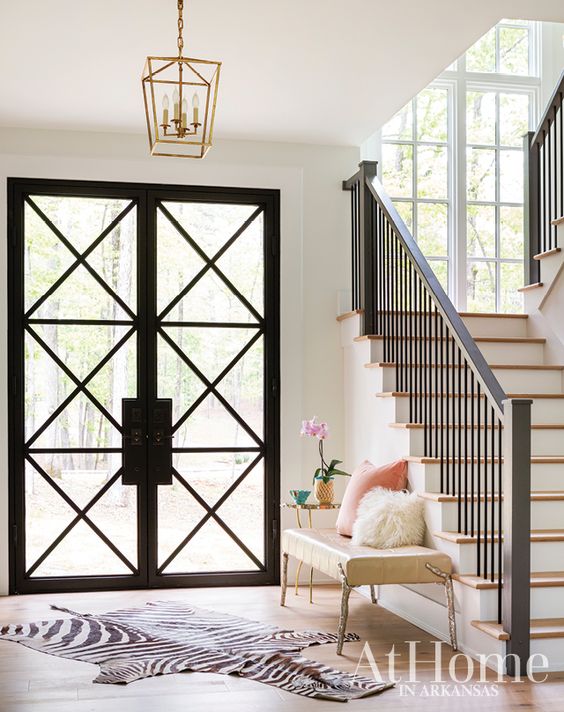 16. Soft colours
Here's another gorgeous timber door in a light and bright coastal setting, this time displaying seasonal decorations—I think next time I'm going to steal this subtle and minimal front door Christmas décor idea: a simple sprig of foliage hung on the door and some prettily decorated gift boxes in the window.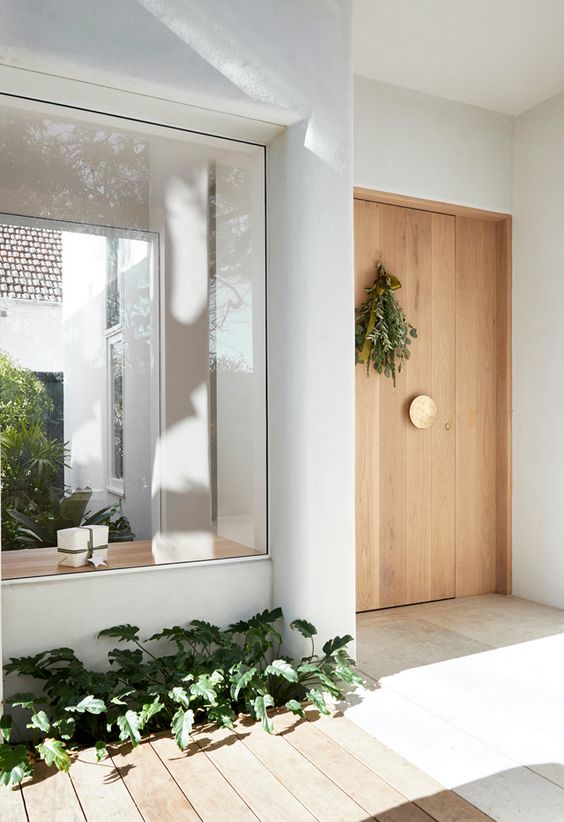 17. Nostalgic
Feeling the 'grandmillennial' vibe lately? Satisfy that yearning for nostalgic flavoured décor that recalls simpler times with a timber Dutch door painted in a pastel sorbet colour like this soft pink. I'm loving the porch tiles and simple organic décor here. And go ahead and throw in a floral cushion to really drive home the sweet vintage feels.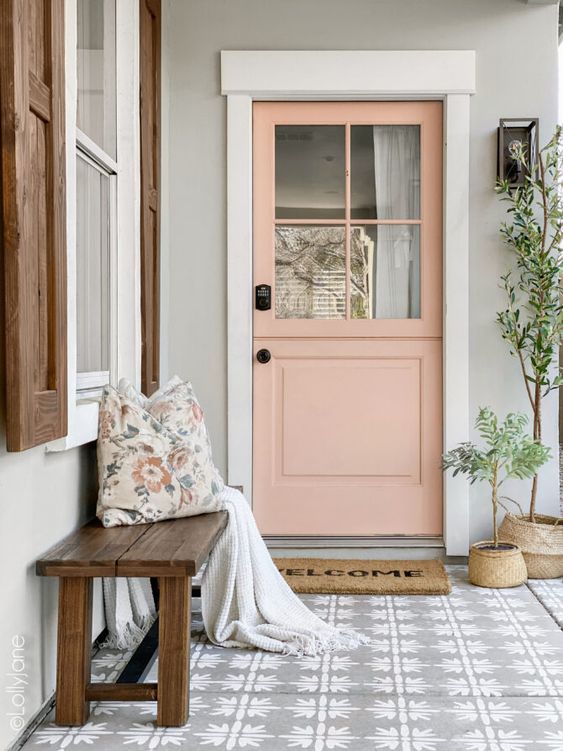 This makes for a lovely front entrance and if you want to see more stunning examples, here are more fabulous front porch ideas.
18. Timber love
This Brighton home is another minimalist contemporary design that really embraces nature and therefore incorporates a lot of wood to connect the outdoors with the indoors. The imposing timber double doors have a beautiful grain that adds a lot of texture and contrasts with the smooth natural stone tile.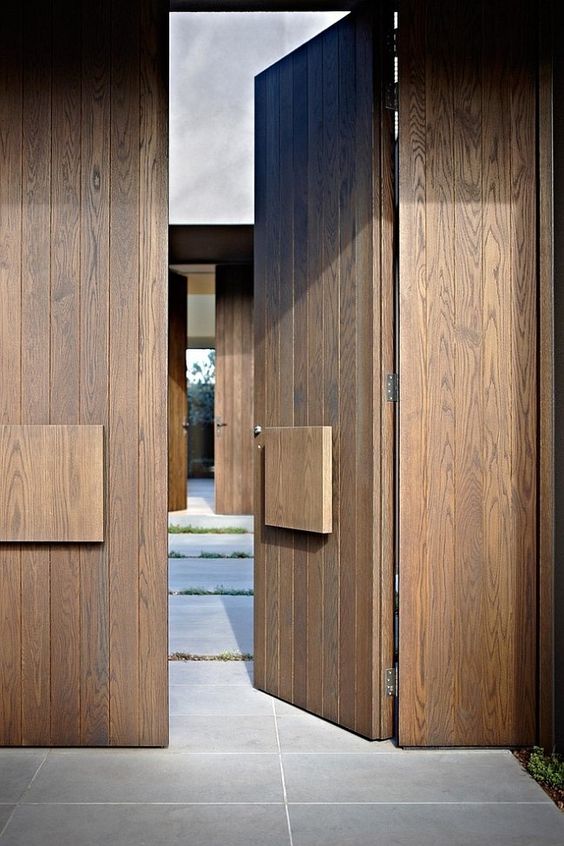 19. Beachy front door
This is a much-loved design by interiors duo Kyal and Kara, with its soft coastal palette and mid-century modern flavoured linear front door. But I'm mostly including it here because of its unique branch door handle—at least I think it's a handle, it could also simply be for decoration. What do you think?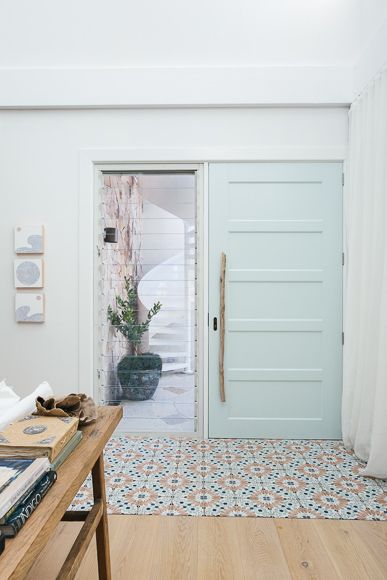 20. Brick arched front door
Major Spanish revival feels here with this double arched entry design. Given the worn brick look, you could be forgiven for thinking this was a heritage building, but in fact, it was a new build. Painting the brick white contributes to the sizzling Mediterranean flavour, while copper and brass accents in the knocker, handle and light fittings also give the home a vintage vibe.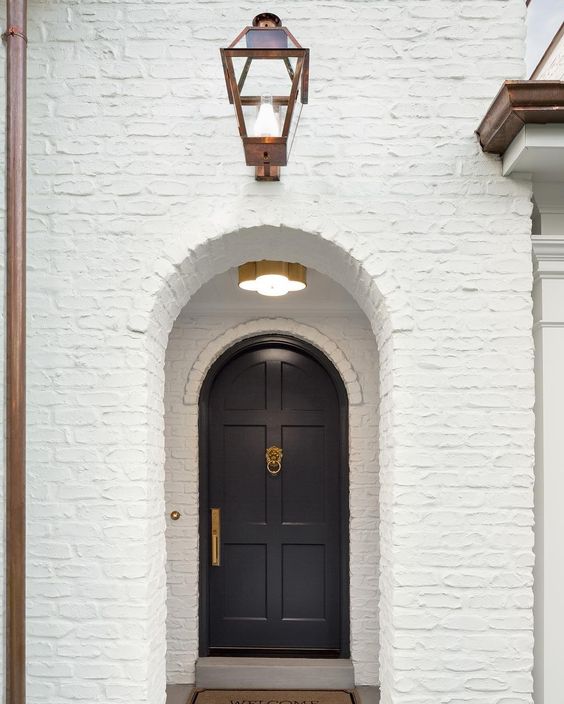 21. White timber front door
Simple, minimalist timber doors really suit contemporary homes, especially those which emphasise natural coastal materials like faded and whitewashed timbers. This Scandi style white wood door again features a Stacked round door handle.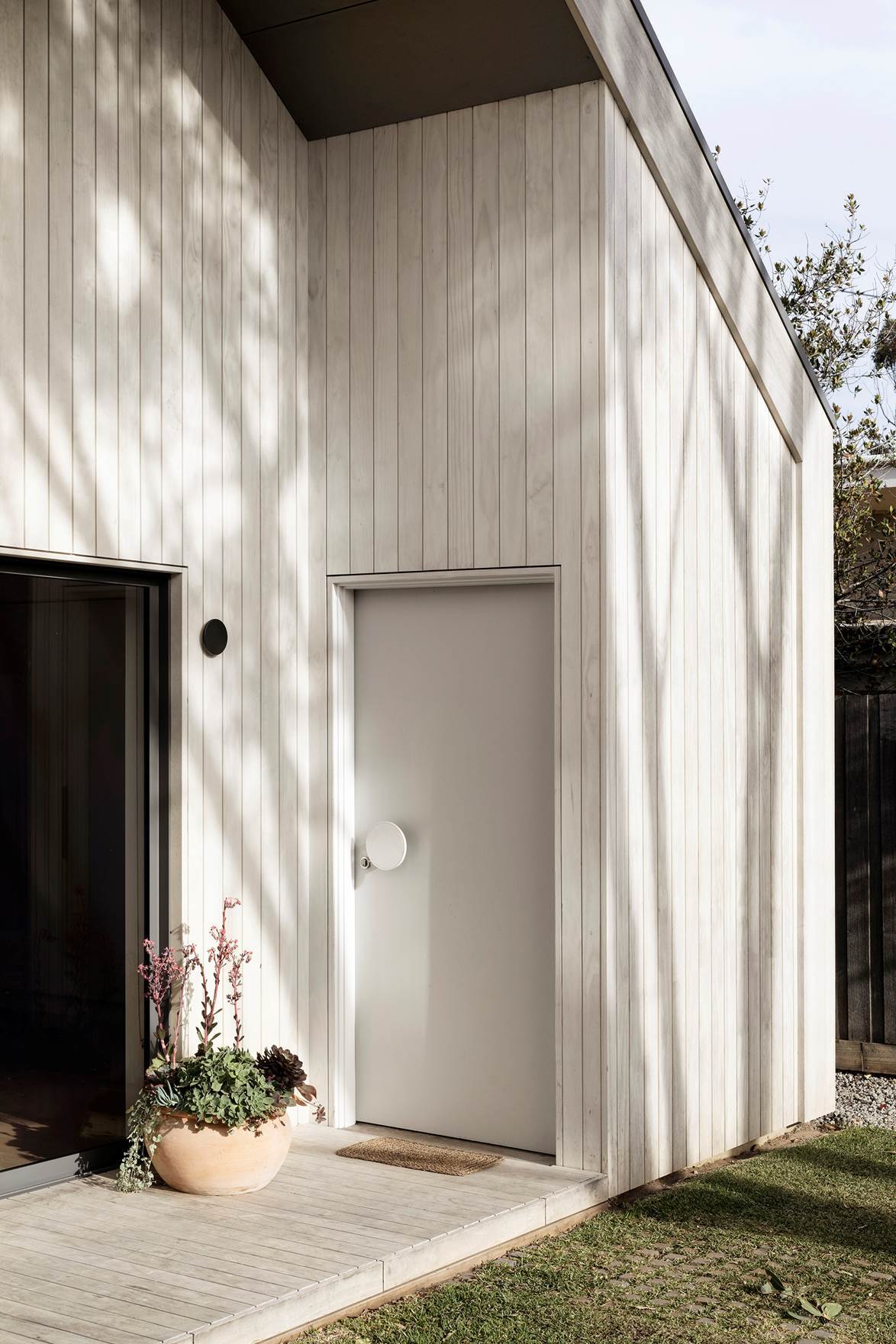 22. Double yellow doors
For a classic Palm Springs aesthetic, you really have to have brightly pained doors, even better double doors in an oversized sculptural frame like this. Yellow is much-loved as a front door colour because of its happy vibes, and here it also speaks of desert heat.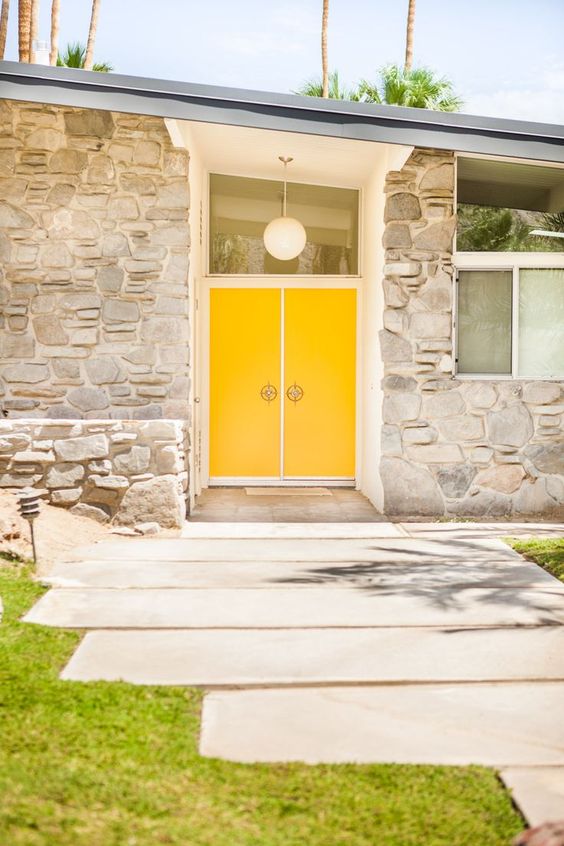 23. Simple and minimal
Understated elegance here, with a deceptively simple front entrance full of pleasing detail. There are the parallel lines in the door's design which complement the white shiplap, the little black accent, the barely-there plant in a barely-there container.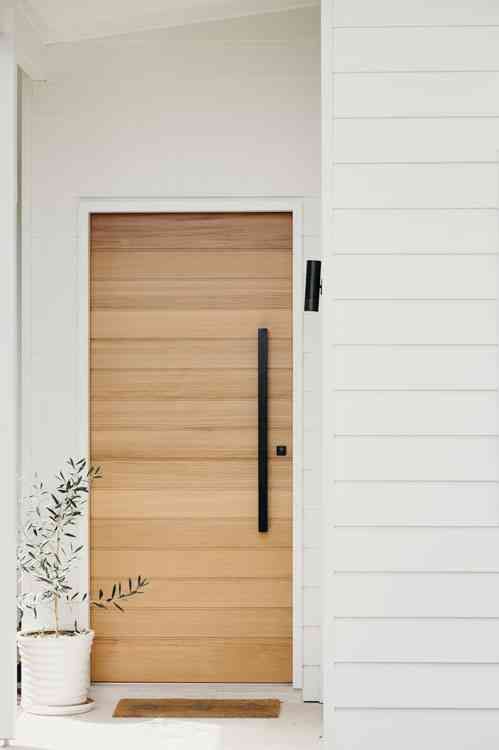 24. Sage green front door
This modern farmhouse entrance looks straight out of a storybook. I love the large pewter vats of lavender, the 3D glass and metal star pendant, the quaint timber box for calling cards (I think that's what it is), and the plaited welcome mat.  As for front door colour ideas, sage is a classic nature-inspired favourite. But who would have thought a broom could work as décor?!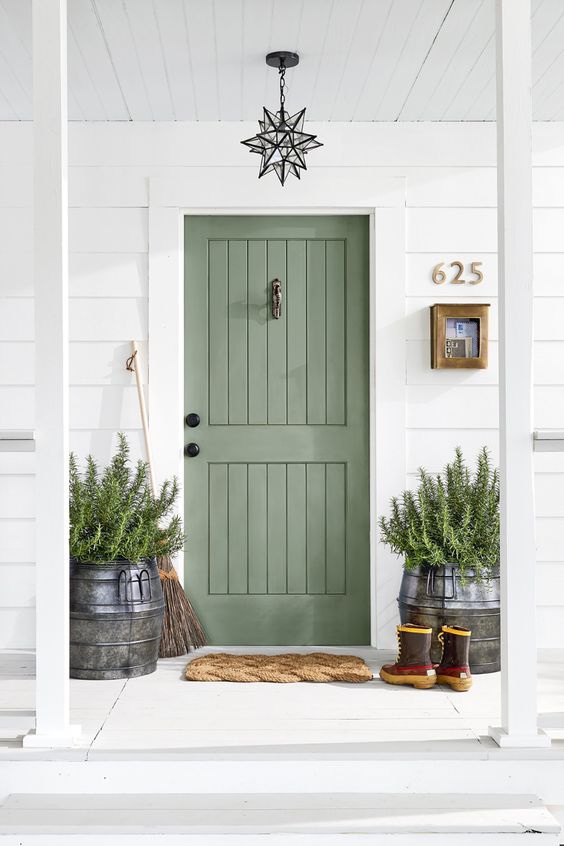 25. Spell out house number
Your house number is another chance to express yourself–why not spell out the number in a script as these homeowners have done? This stained wooden Dutch door is giving plenty of fresh farmhouse vibes and I love how Dutch doors enable you to show off your living room.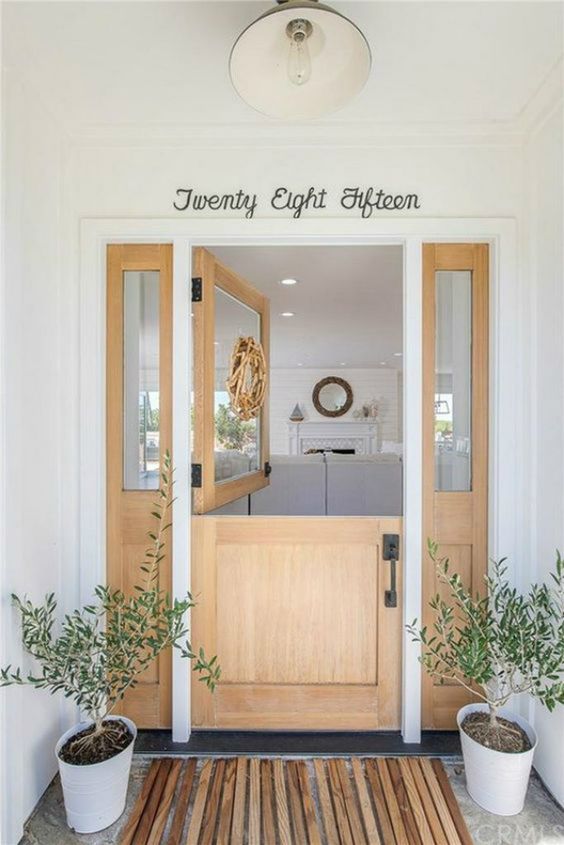 26. Striking black and white
If you love a monochrome look, keep it from looking flat by playing with the texture. This matte black double door looks velvety soft, in contrast to the home's white stucco exterior. Repeating rectangle forms in the door panels, handles, wall sconces and floorboards also add pleasing visual harmony here.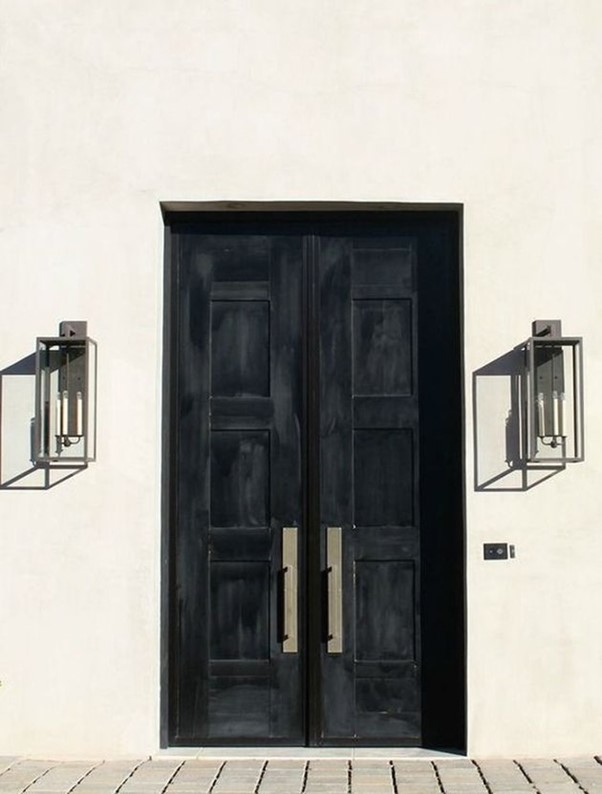 27. Pivoting steel door
Another pivoting door made of steel, this time a rusted Corten steel entrance—the door is part of a whole section of steel curving around the façade of this Spanish home. Perfect if you love an industrial look and it also looks as safe as a bank vault!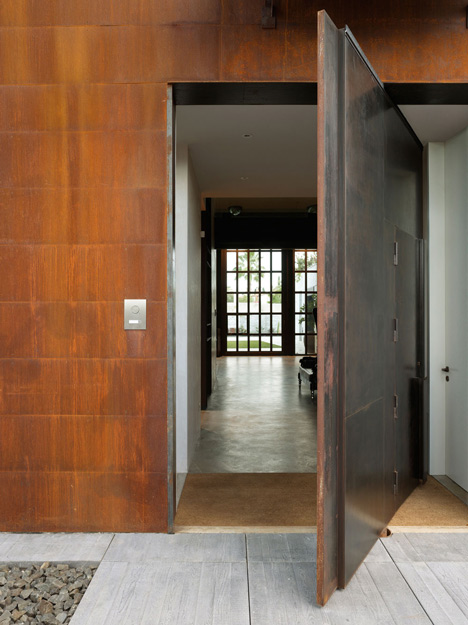 28. Surf shack front door
This home's front entrance is all about contrasting those tactile materials—timber, steel, glass, concrete, gravel. I love the native plants softening up this setting—for more inspo see also our front garden ideas.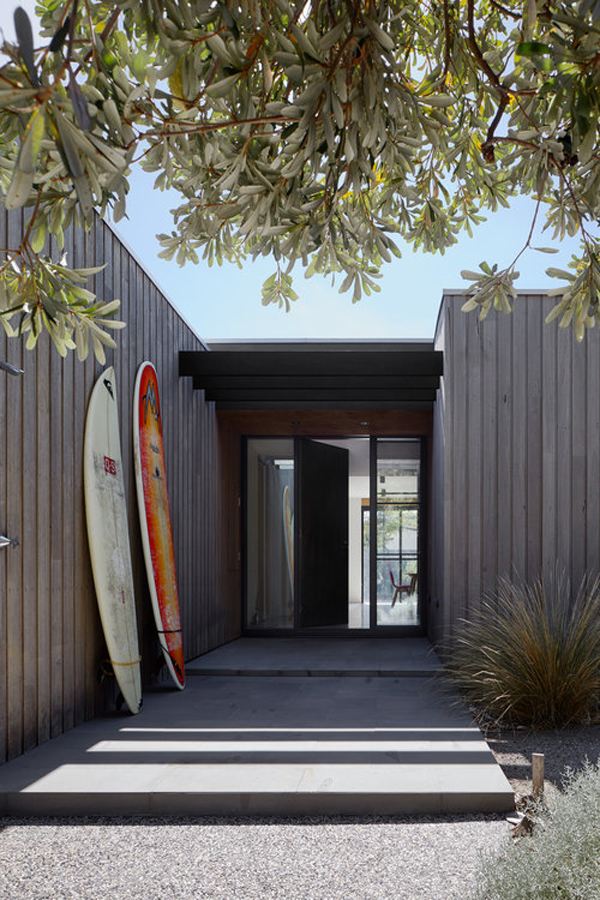 29. Cottage charm with Dutch door
Love a bold coloured front door? Yellow is definitely a standout door colour that has its ardent fans. Here it looks lovely on a Dutch door against soft sky blue cladding and brilliant magenta bougainvillea. Dutch doors are gaining in popularity for front doors thanks to their versatility—they basically become a hybrid door/window—and their inherent nostalgic charm.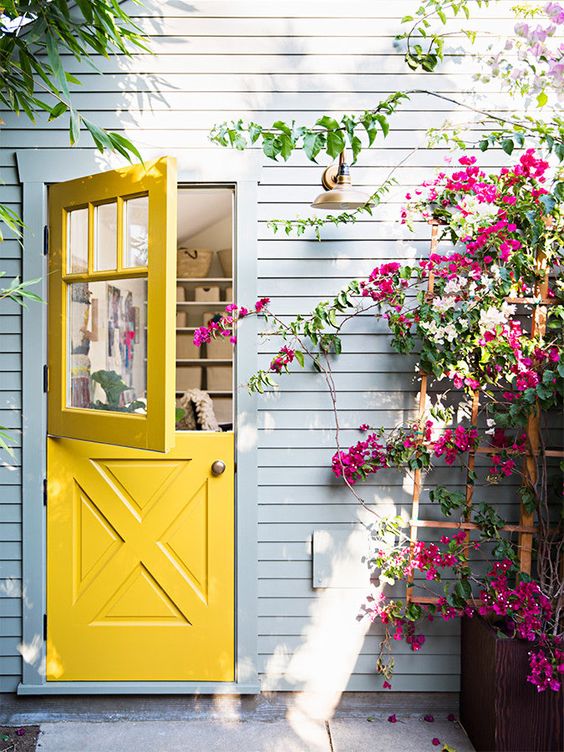 30. Carved arched timber
How about this stunning carved wooden door?! It's striking and unique and is sure to make a statement both inside and outside your home. An all-white interior allows the focus to remain firmly on the sculptural door, but I like how the rug adds further pattern to echo the carved design.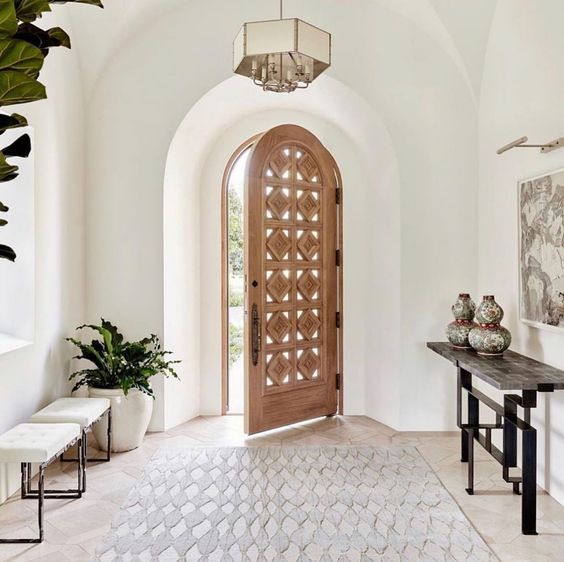 31. Scandi grey
For simple sophistication, a graphic contemporary door like this looks the goods. A matte pewter shade with silver hardware, it complements the stone pavers perfectly while adding interest to the cream façade. If you've inherited a front door colour that you're not super fond of, you can always get someone to strip the paint and start over with a new colour!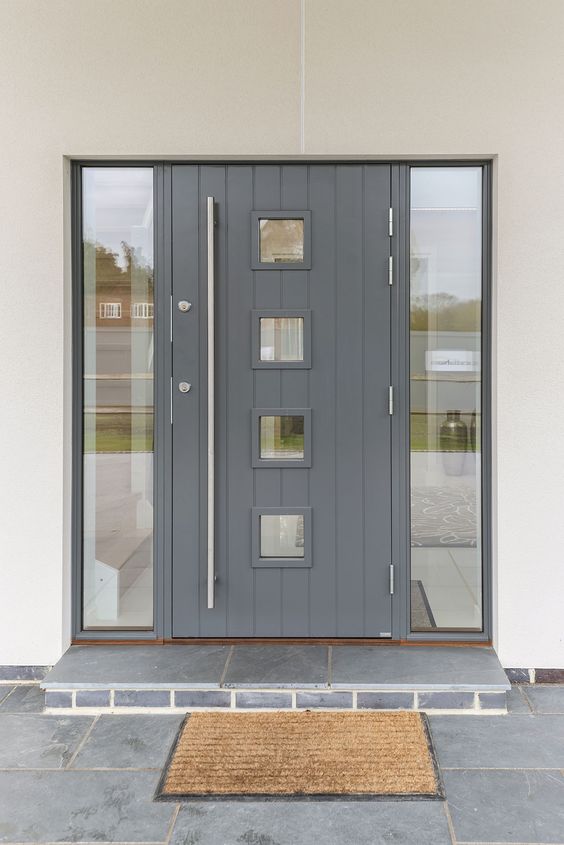 32. Pink, grey and white
From baby pink to magenta, pink is a perennial favourite for coloured front doors. If you're not afraid of going girly with candy colours, turn your doorway into a confection for the eyes like this lolly pink one. Adding grey as an accent always matures the palette, and brings continuity if you also have a grey hallway.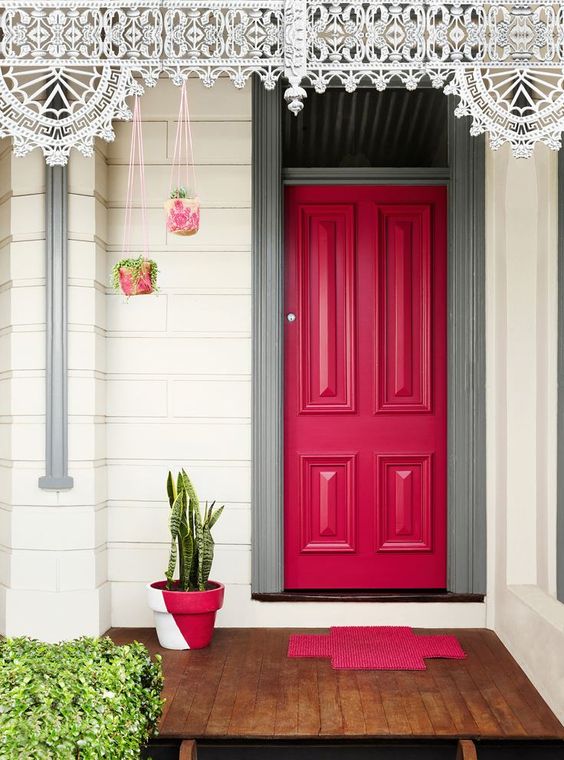 33. Pale wood door
A Hamptons style beach house deserves a gorgeous but simple wooden door—pale timber looks lovely with all the sandy whites and natural stone. I like the addition of the black steel awning to balance the light palette.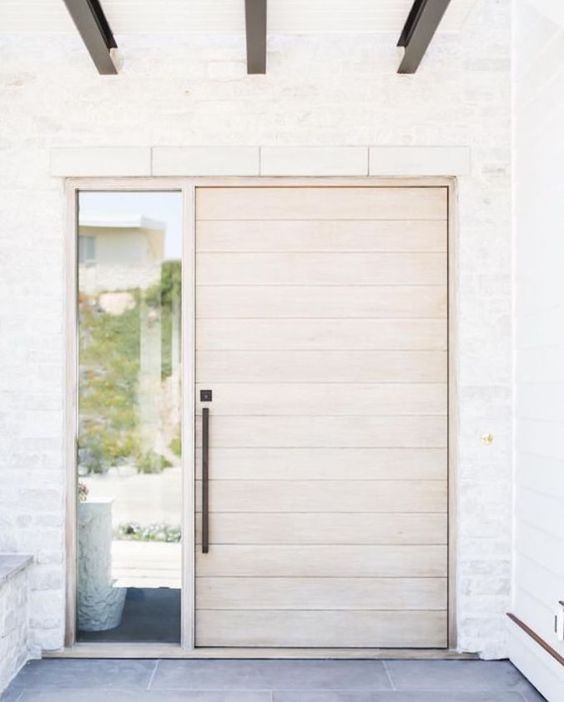 34. Shou sugi ban door
A simple door is transformed into a statement design element by the choice of materials—this surf shack dwelling door is made of shou sugi ban (charred wood) which contrasts strongly against all the pale timbers and organic materials in this entrance.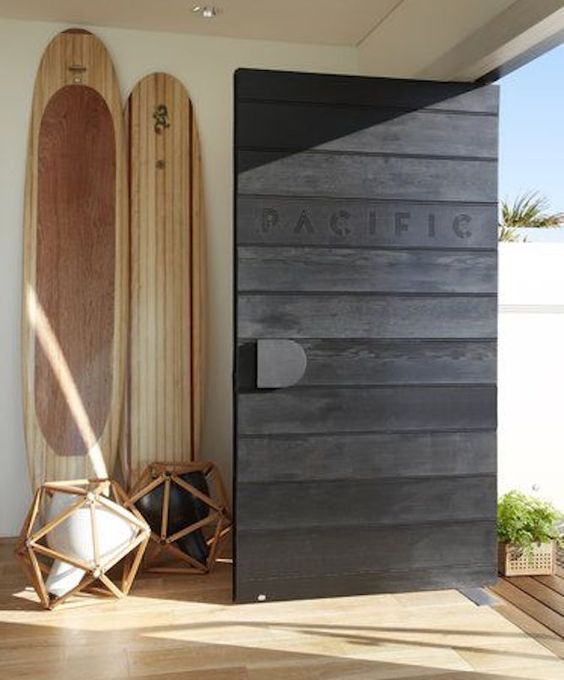 35. Aqua front door
A blinding white exterior gets a little definition with a burst of aqua blue paint on the front door, with the metal fixtures adding elegance. When it comes to front door awning ideas, I like this eye-catching design which allows some sun rays into form patterns on the wall.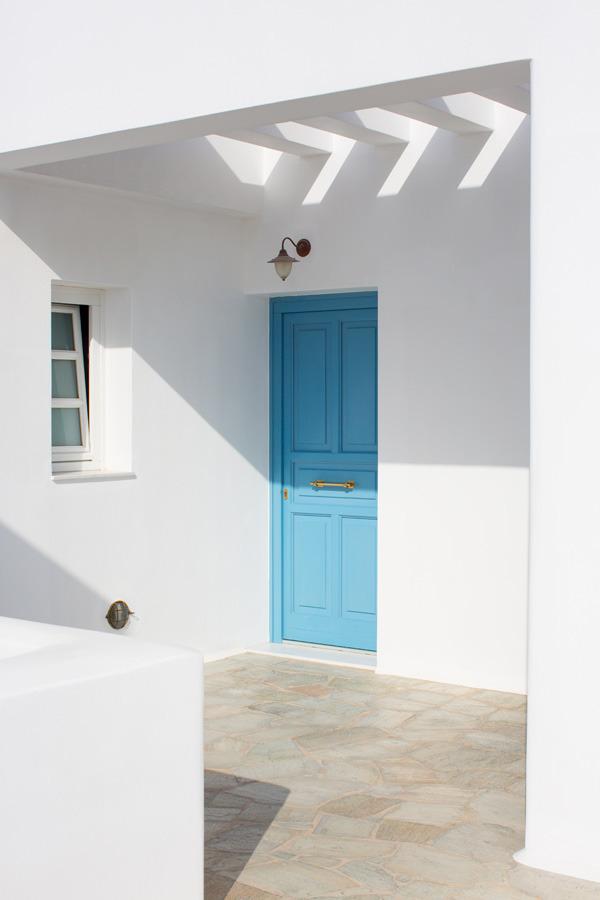 36. Grey and silver
Once again, a lovely modern, coastal farmhouse doorway with a breezy Dutch door flanked by window panels. The home's welcoming front entrance feels down-to-earth and unpretentious and the vintage-style flower-market containers deliver that sense of farmhouse practicality in spades.
37. Teal front door
Having your front door painted your favourite colour is an easy way to add cheer to your life. Against an all-white interior, a painted door acts as a mini-feature wall and natural focal point.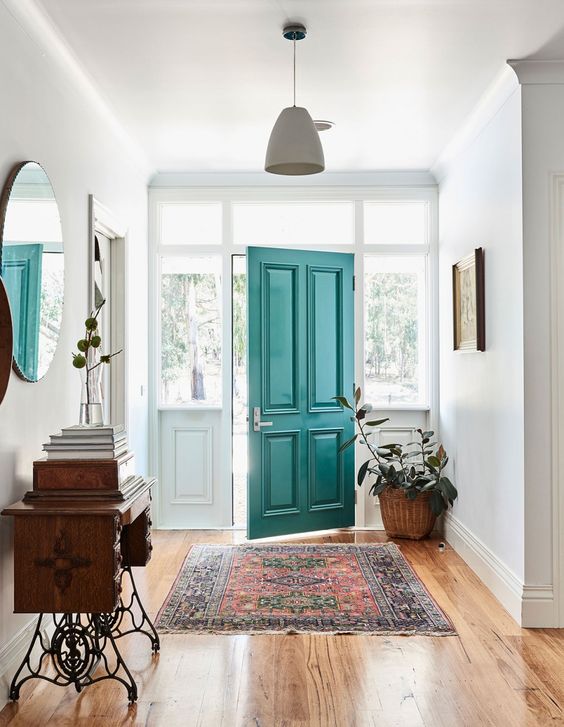 38. Yellow doors grey walls
You can tell a creative couple lives here, can't you? Signpost your artistic side with a vibrant front door even–or especially–if it has a traditional, historic silhouette. Yellow is a proven knockout front door colour, and grey and yellow is also a time-honoured pleasing colour combination. I also love the mix of gloss and matte finishes here. And bonus points if your door design has arches (this one has three…I have such arch envy!).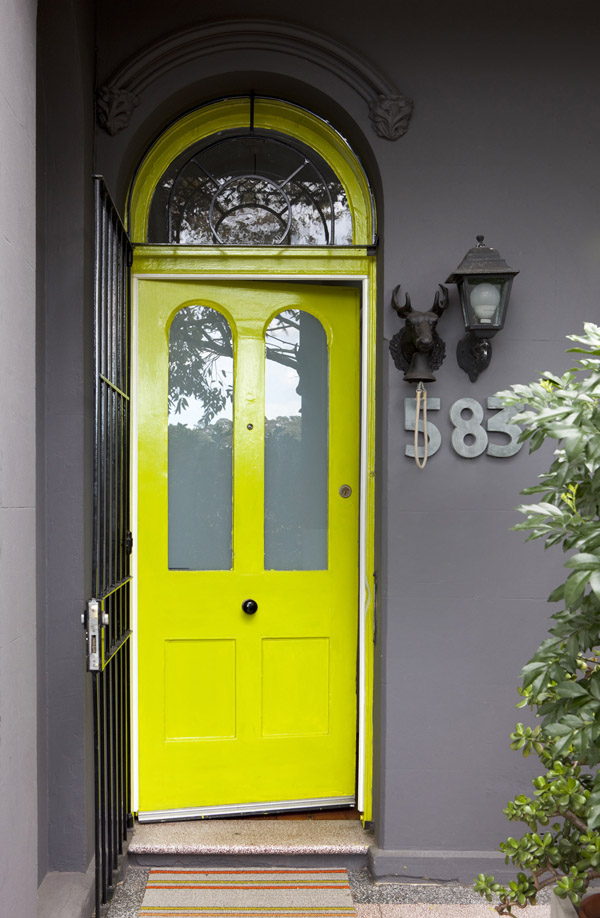 39. White door with painted walls
Reverse the coloured door concept–keep your door white and paint your home exterior an appealing shade instead. Here's a cute arched door with a decorative transom window that also lets more light in. How timeless and inviting does a simple clean white door with metallic fixtures look?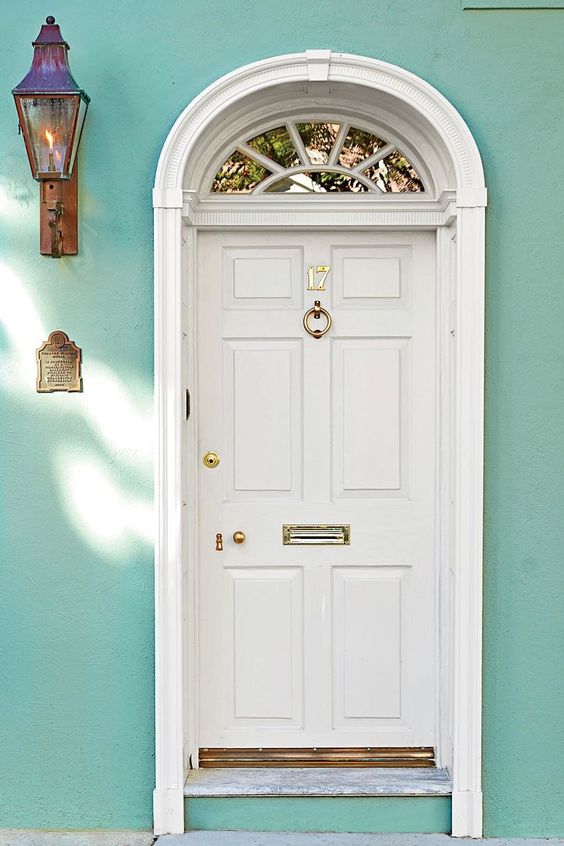 40. Victorian with black door
Mixing black and white always makes for a striking façade—just whitewash your ornate Victorian terrace and add in a punchy black door for oodles of street appeal. This one features stained glass panels and an extra security door that doesn't detract from the door's aesthetic.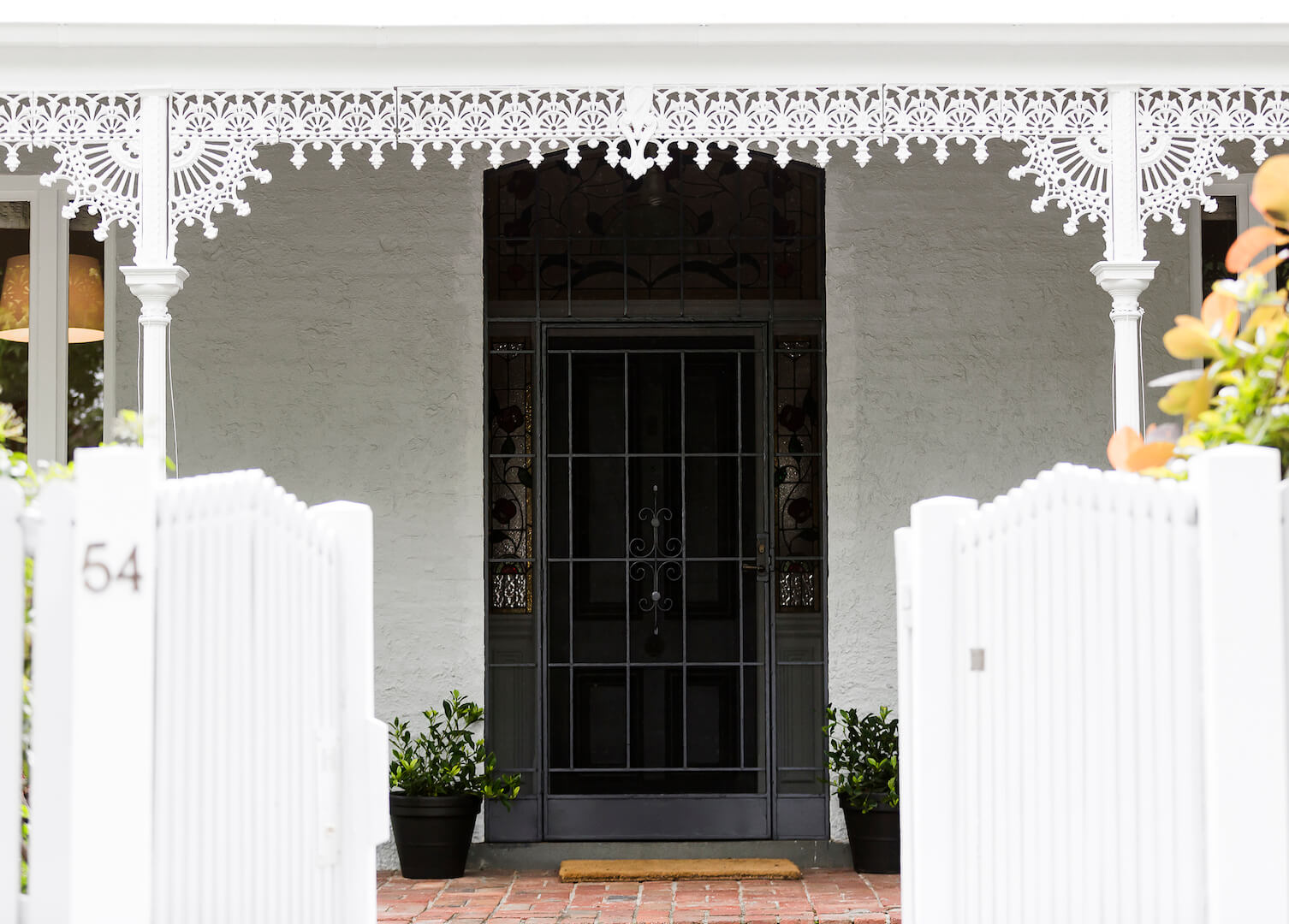 41. Peachy front door
This lovingly restored 1870s cottage in Melbourne was previously described as dark and damp but now radiates with calm, warm neutral tones. The peach coloured front door fits into the colour palette perfectly and makes a gorgeous foil for the dark green potted plants as well.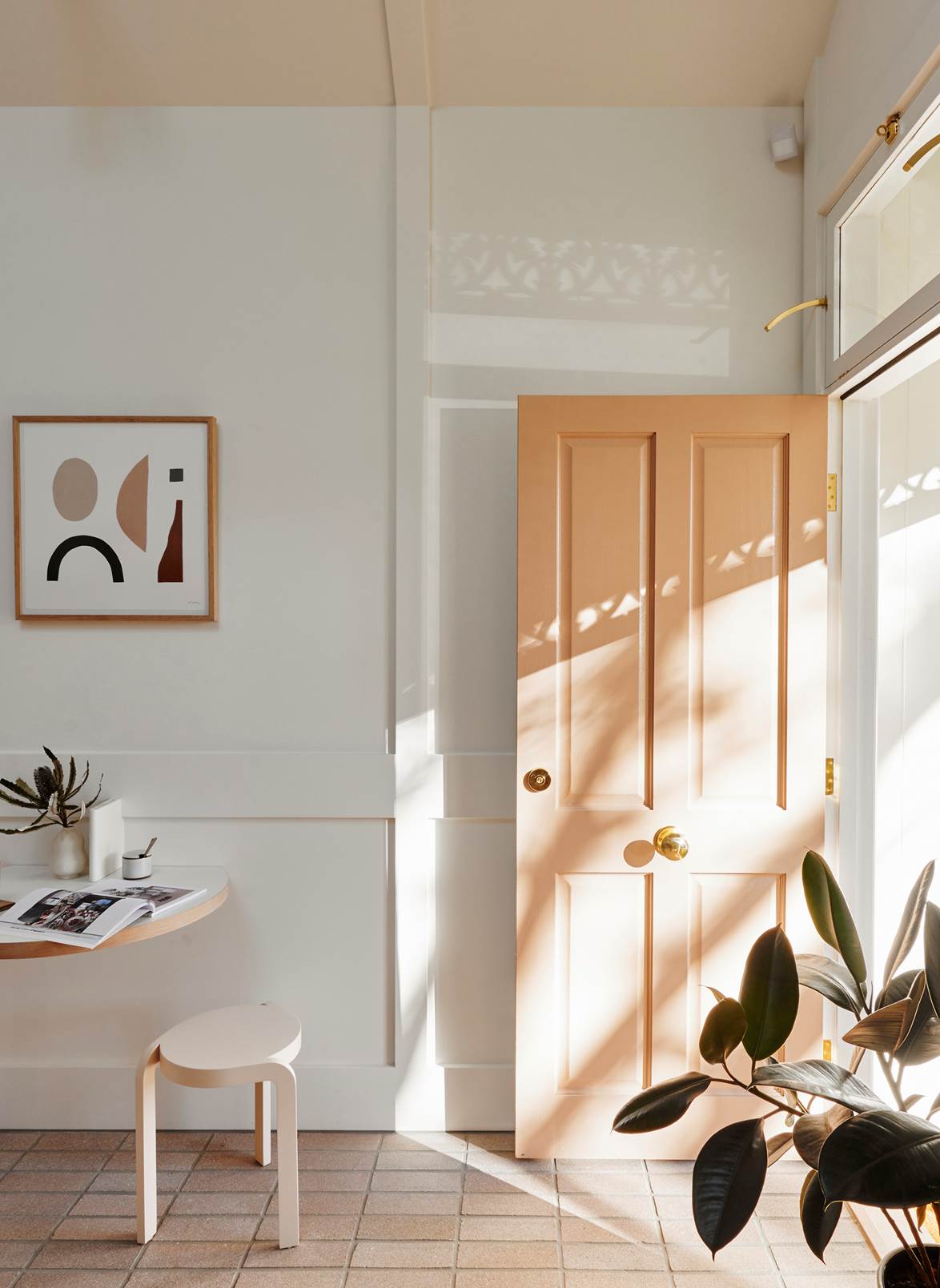 42. Two-tone Dutch doors
A wide Dutch door has all the traditional character to suit this modern farmhouse featuring early 19th century inspired architectural elements and millwork. I like how Dutch doors let you have fun with your colour palette—just paint each side a different colour and you can bring in the other colour in different ways depending on how you latch the door.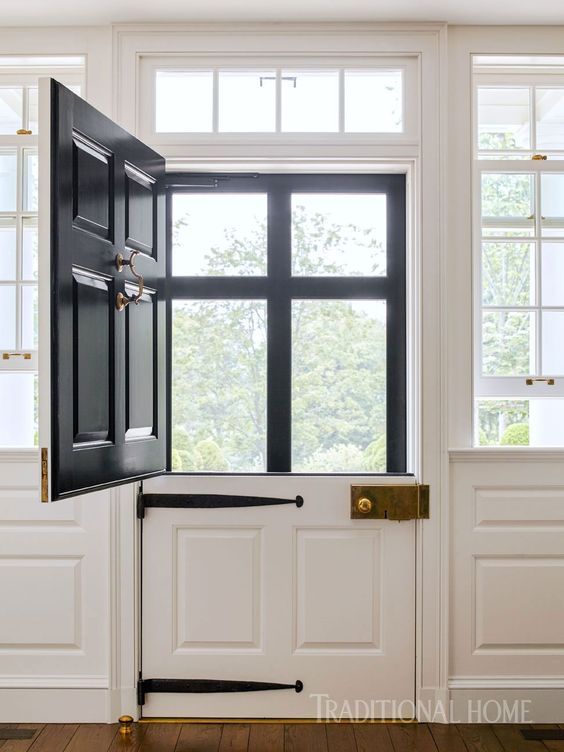 43. Decorative pink front door
Well look at this gorgeous detailed pink door – I don't think I've ever seen anything quite like it.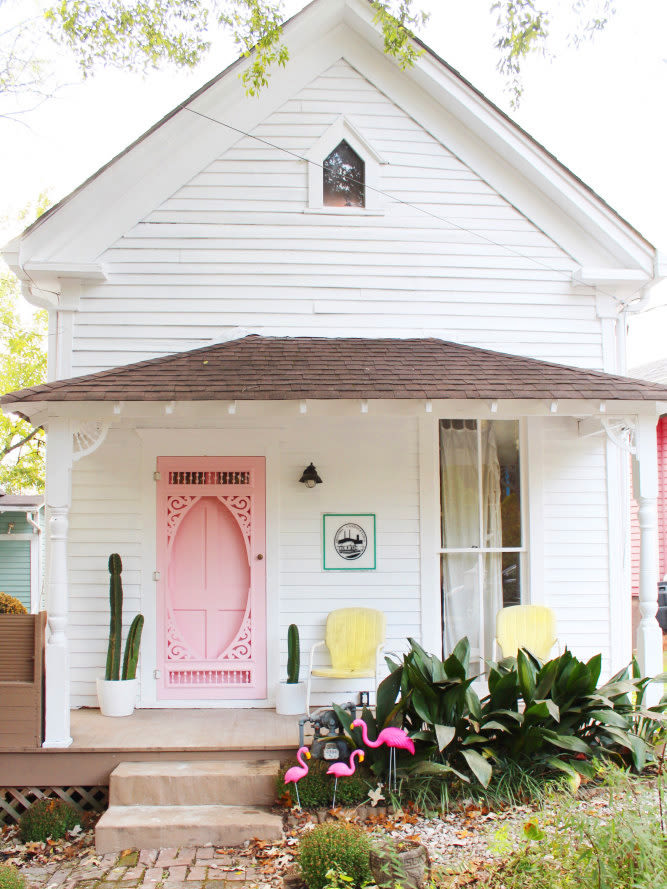 44. Bright white
Another beautiful period home here dating back to the 1890s. And a very classic glazed and panelled white door streaming light into the hallway, and contrasting with the sleek Black Japan floors. Although it feels traditional, it's also brought into the modern era by the fiddle leaf figs and statement lights.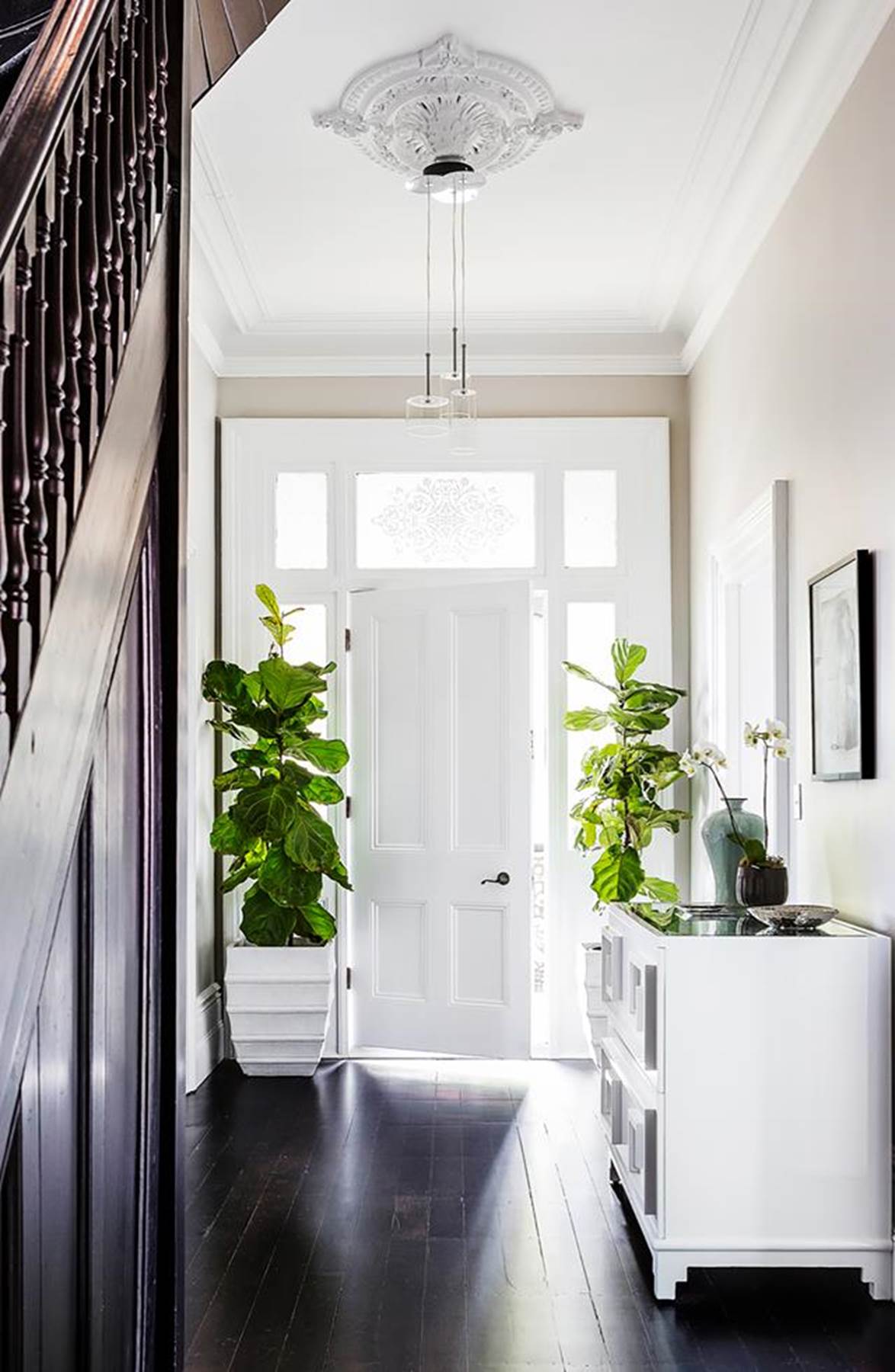 45. Parisian front door ideas
Finally, if you're looking for beautiful front door colour ideas, make sure you check out #parisdoors on Pinterest and Instagram for inspo. Parisian front doors are renowned around the world for their unique style, and the colours are typically stunning. I love this metallic teal against the soft grey building façade!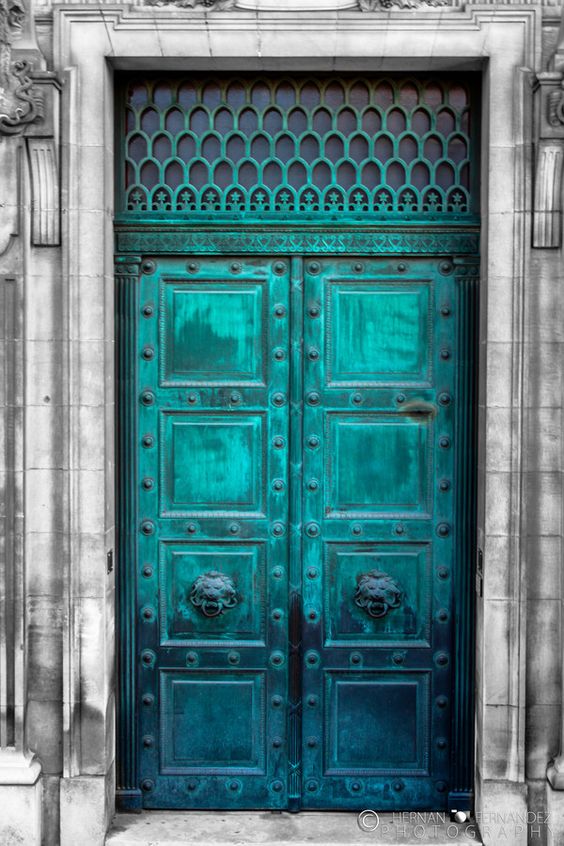 So that's a wrap on my pick of gorgeous front door ideas for how to make a huge style statement with your home's entry—which is your favourite front door? Let me know in the comments! And don't forget you can find someone locally to expertly hang your doors or handle any door repairs you need.