Who can resist a fireplace? They're both functional, keeping you toasty, and aesthetic, acting as a focal point in your living space.  Whether renovating or building new, many homeowners today are opting to include a brand new fireplace or renovate an existing one. And there are just so many stylish options. We've rounded up our favourite fireplace ideas for your inspo—with 50 living spaces featuring everything from classic, traditional wood-burning fireplaces, to contemporary, eco-friendly, bio-ethanol fireboxes.
Your choice of a fireplace will depend on your budget, the level of maintenance you are prepared to put in, your aesthetic preferences and your decision regarding the most suitable fuel source. Scroll down to the end of this post for a quick rundown of the different types of fireplaces you can choose from, or you can search for a tradie who specialises in fireplace installation. But in the meantime, let's take a look at 50+ fireplace design ideas that are smokin' hot!
1. Black, white and timber fireplace
Belgian architect Nicholas Schuybroek is responsible for this stunning Parisian apartment. Sophisticated but simple, the living room features a minimalist black fireplace combined with natural materials and tones against a crisp white backdrop. You really can't go wrong with this subtly elegant "organic modern" look, blending tactile natural materials into a black and white setting.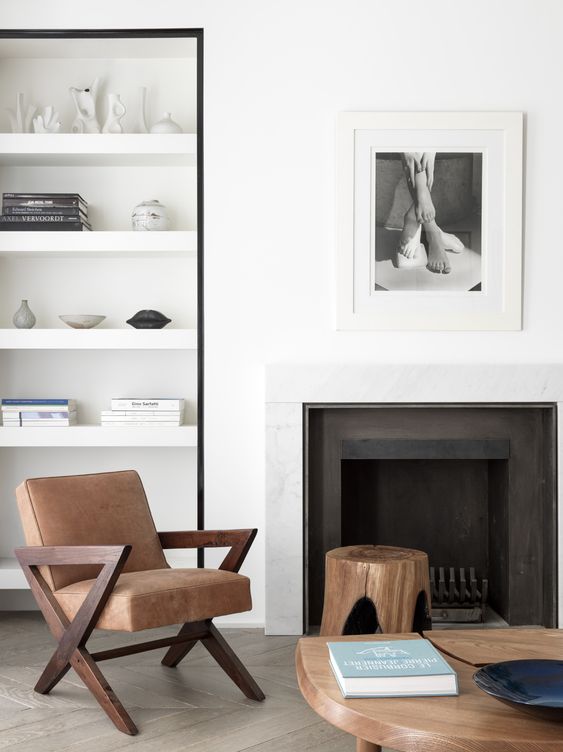 2. Tiled fireplace
This fireplace really exemplifies the current trend towards oversized, sculptural surrounds using so-called honest or authentic materials like steel, concrete and stone. Here, black zellige tile creates a powerful centrepiece for this modern rustic living room, contrasting beautifully with the light colour palette and tactile soft furnishings.
If you love tiles like the ones below but want some more inspiration, then take a look at these fireplace tile ideas.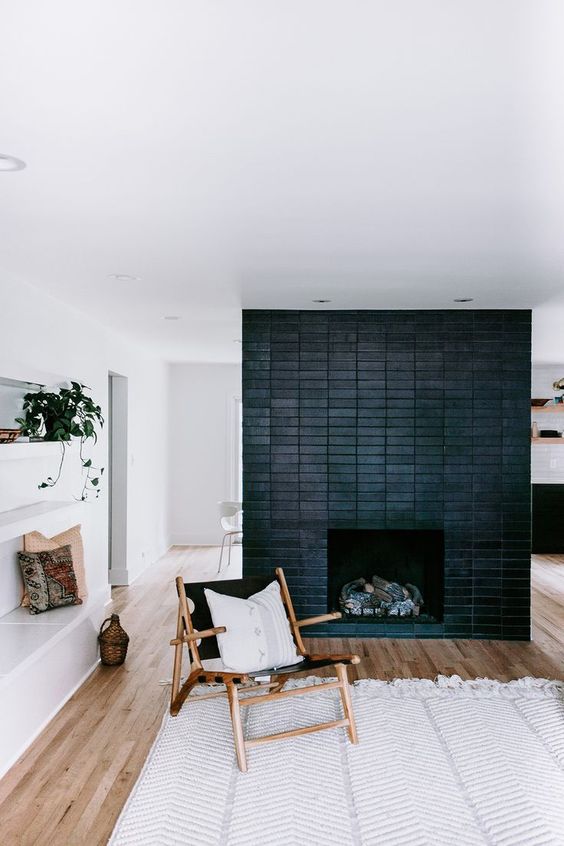 3. Modern black with woodstack
One of the things people love about wood-fuelled fireplaces is the fact that a woodstack can become a very pleasing design feature in itself. What's interesting is that this home actually has a gas fireplace, but the owners have chosen to install a woodstack purely as a design feature and to generate cosy vibes. It also complements the American oak and blackbutt timber used throughout this home.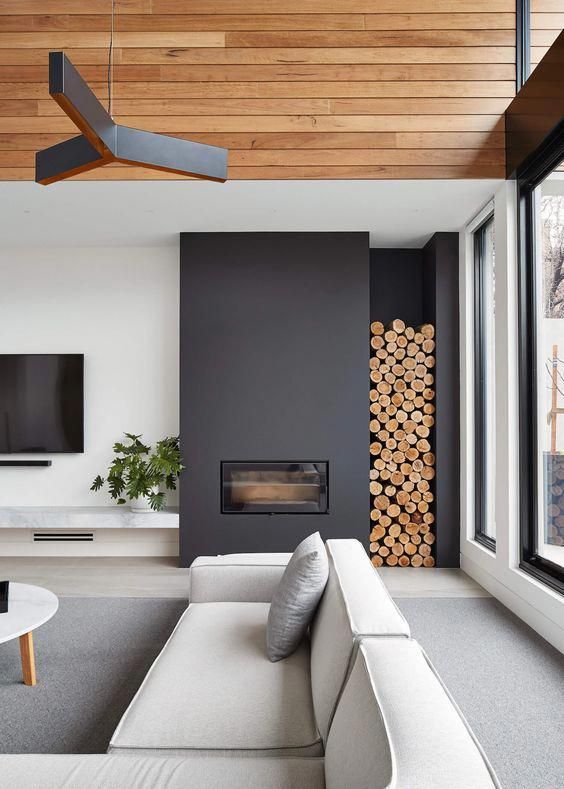 4. White modern farmhouse
For a look with more subtle contrasts, a fireplace with a white surround and a smaller black firebox blends harmoniously into a whitewashed palette. The less imposing look of a fireplace like this allows the fireplace décor to take centre stage—in this case, an abstract artwork in complementary tones, and a set of floating shelves containing ceramic vases and artefacts.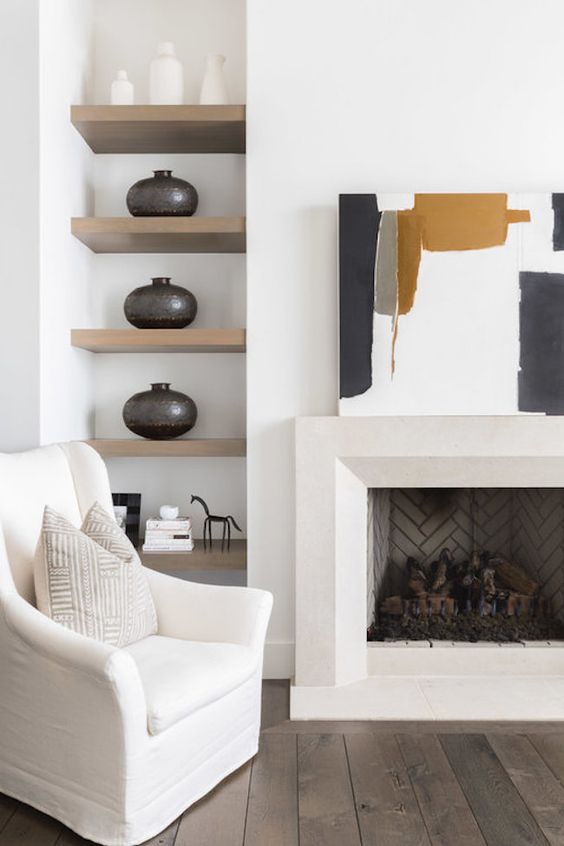 Farmhouse design is fast becoming one of the in-demand trends and if you love this rustic look to, here are my favourite farmhouse bathroom ideas, farmhouse kitchen ideas and farmhouse bedroom ideas.
5. Black wooden panelling
Thin black wooden slats and concrete make up the fireplace design in this contemporary living room, and when not in use it simply becomes the dramatic backdrop to a container full of plants. To make the most of your fireplace when it's empty, consider having it professionally cleaned. Side note, how gorgeous is the glass light fitting here? It's actually handmade by the homeowners.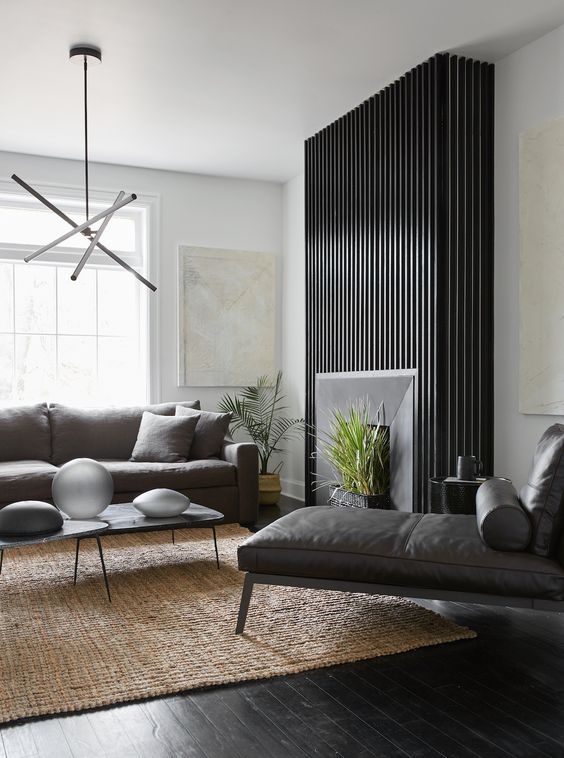 6. White marble
For a striking fireplace surround with plenty of wow factor, choosing a natural stone like marble looks both modern and timeless. I like how this custom fireplace surround extends the length of the wall, making the absolute most of the beautiful stone. The minimalist glass and timber floating shelves above the fireplace make a unique statement as well.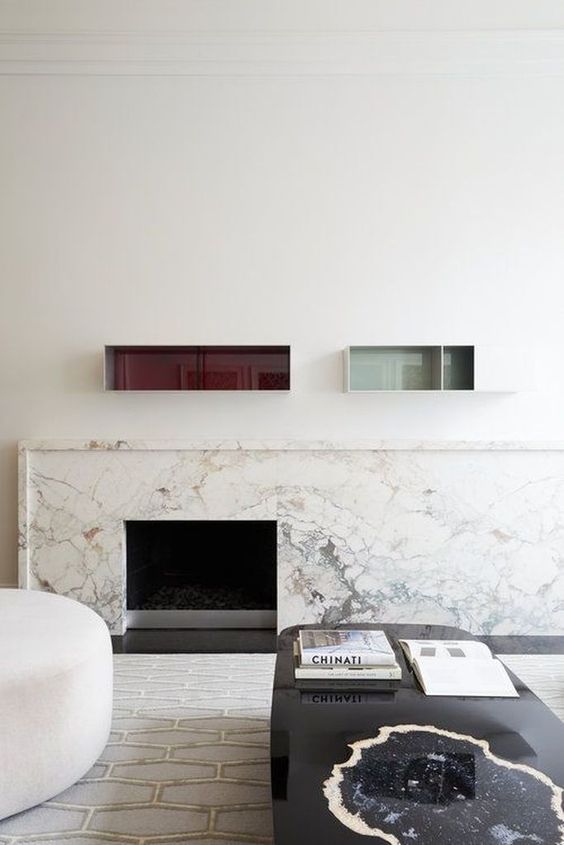 7. Woodstack integrated fireplace design
Here's another fireplace setting with an adjacent niche for storing logs, this time though it's clearly used for the wood-burning freestanding stove. The firebox is set against a black slate backplate and elevated on a raised concrete hearth which is able to also hold pieces of fireplace decor. Overall it's a nicely practical, minimalist and modern design.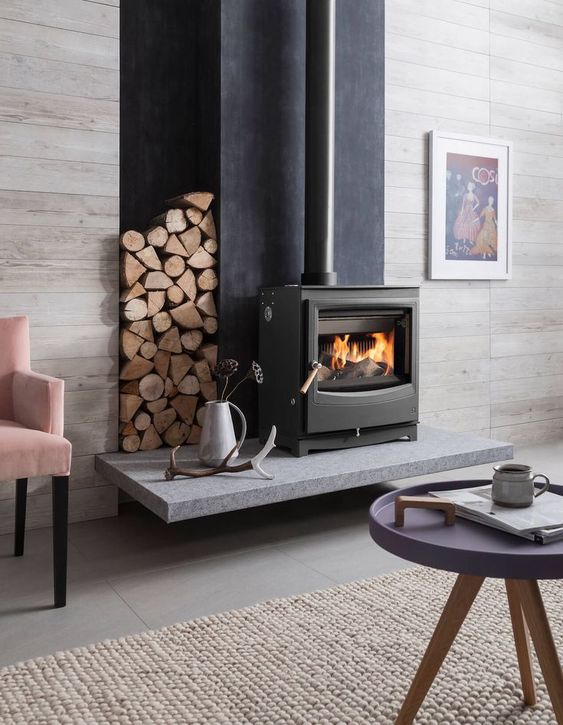 8. Red fireplace
Fireplaces don't need to be boring—you can find them in all colours, like this soft red. This size is great for smaller spaces, and you can even store your wood underneath. Slow combustion heaters (meaning they burn at low levels for around 10 hours) like this are very efficient, too.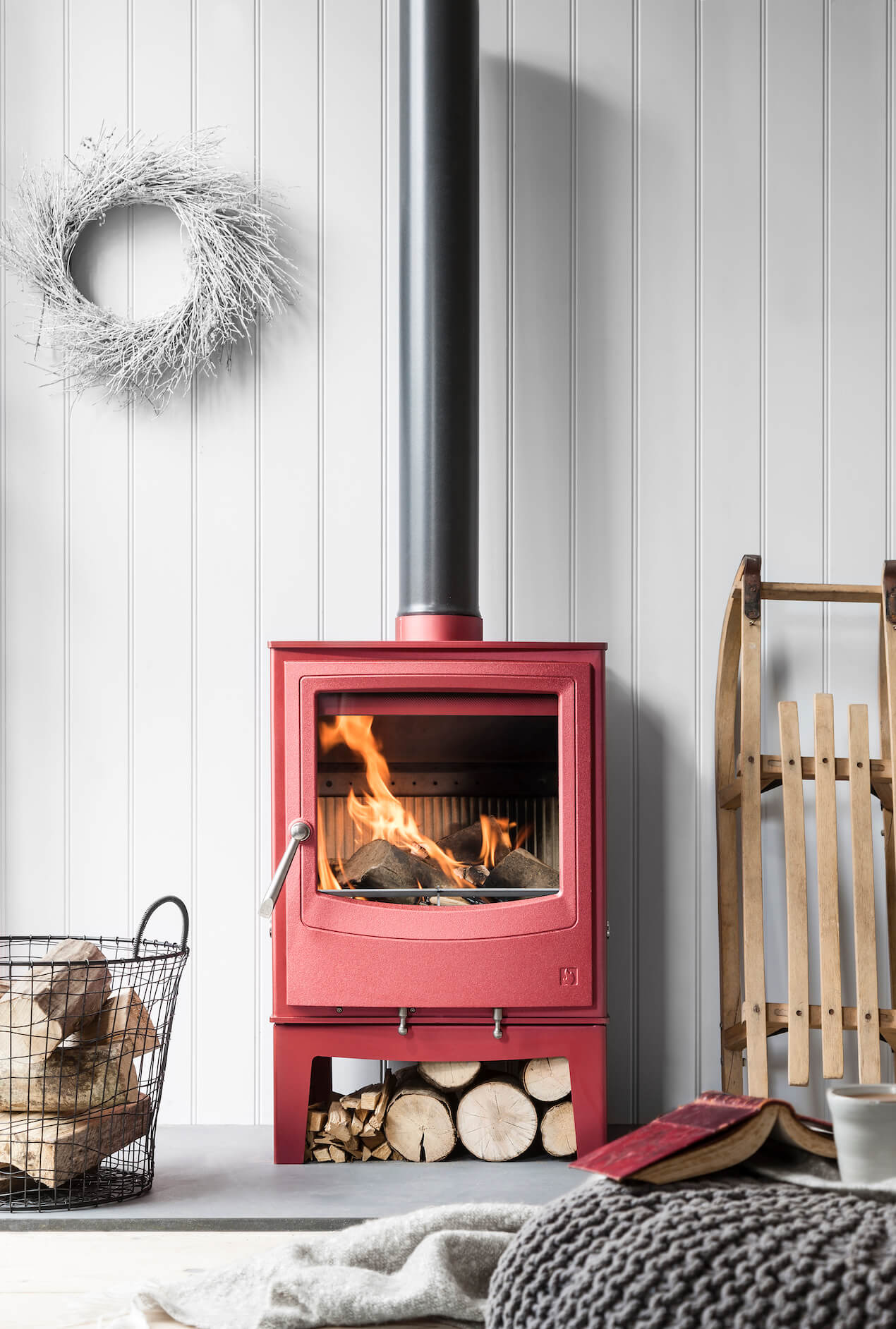 9. Marble glam
A classic fireplace silhouette here, for those who love a traditional look. And constructed of marble it adds sophistication and class to this glammed up living room. An ornate mirror and cut flowers add to the elegance of the space. The mantelpiece would also be perfect for a display of candelabra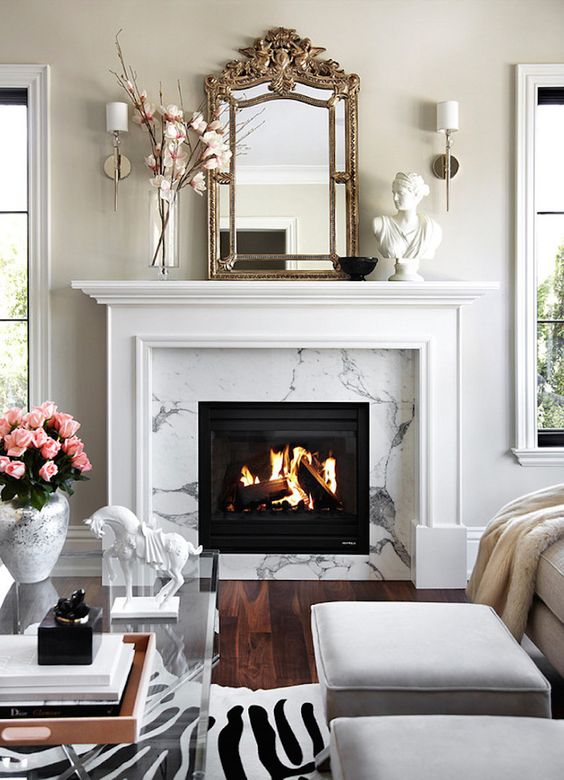 10. Black with pale timber mantel
Fireplace designs can be endlessly customised with a variety of materials for the fascia (the front piece around the firebox), surround and/or mantel. Here, a simple piece of pale timber serves as a mantel which contrasts well with the black timber surround. Above it is a great place to hang artwork but consider getting some help hanging your pictures so that they are perfectly positioned.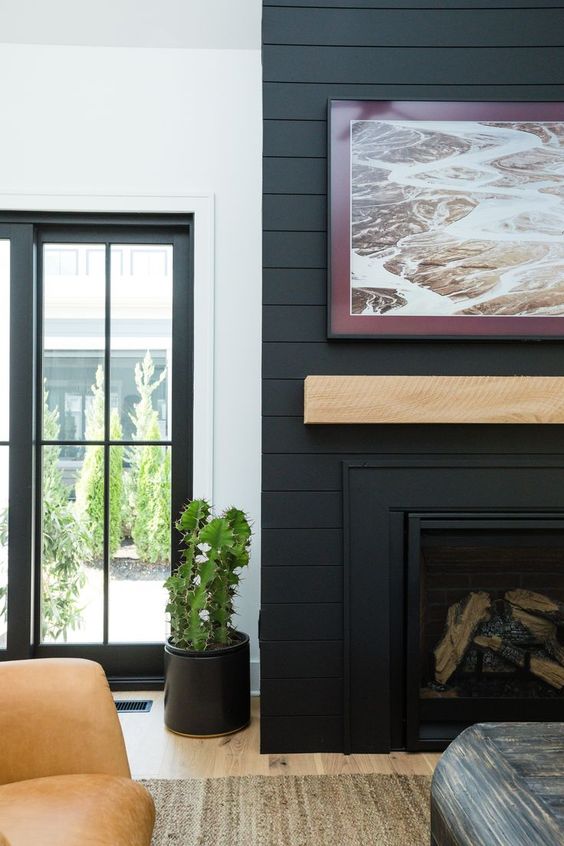 11. Grey marble fireplace idea
Timeless marble fits beautifully into the modern aesthetic here at the award-winning Rose House. The beauty of the natural stone is left almost unadorned with just a few simple black and white pieces of décor, and the red armchair really pops against the monochromatic backdrop.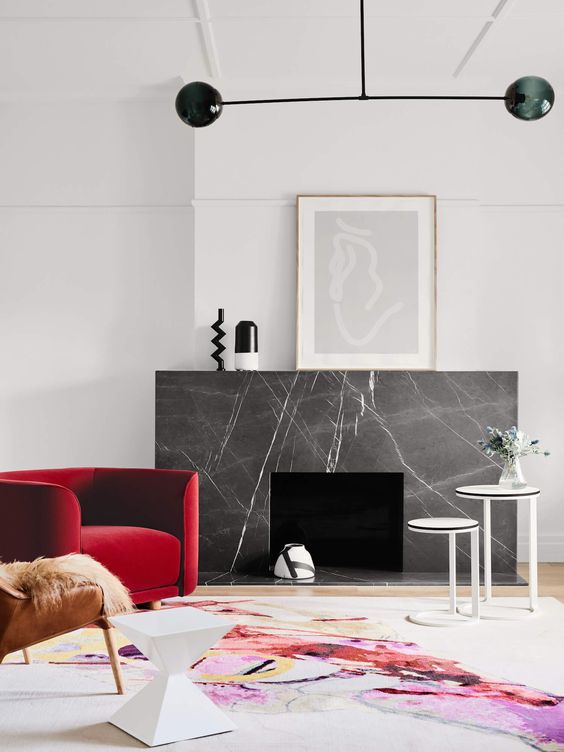 12. White millwork
The fireplace is usually the focal point of a living space and you can attract even more attention to the area with detailed wall panelling that draws the eye inwards. A bold artwork above the fireplace will also serve to further highlight the feature wall area.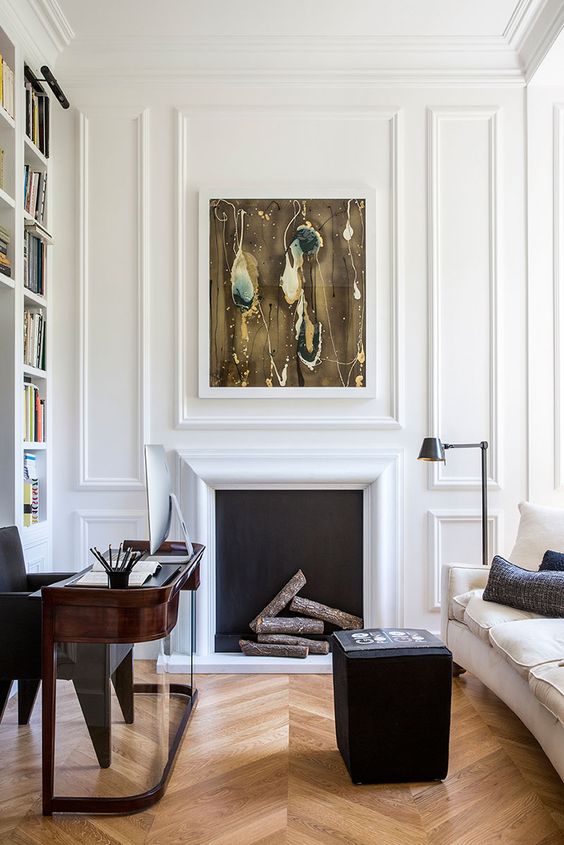 13. Scandi style
Its modern rural vibes galore with this wood-burning Dutch farmhouse fireplace. The home's existing fireplace was uplifted with paint and new décor (the stylised antler artwork and the twin white ceramic vases are instant Nordic references too).
14. Minimalist modern
This centralised fireplace feature wall is perfectly minimal, for those who love a streamlined modern look. The space is full of visually pleasing forms and shapes, thanks also to the wood stack niche. Downlights are a similarly minimalist element that enhances rather than compete with the light of the fire.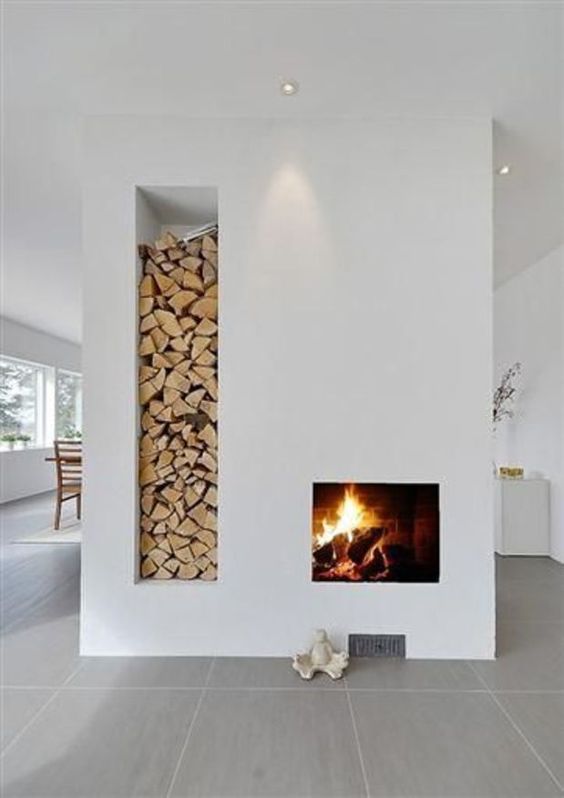 15. White-painted stone fireplace
Stone is a traditional fireplace material and will bring instant nostalgic vibes to any setting. For a rustic or farmhouse aesthetic, giving a masonry fireplace a whitewash ensures it feels extra clean and inviting. If you love the rustic look, we have plenty more rustic living room ideas.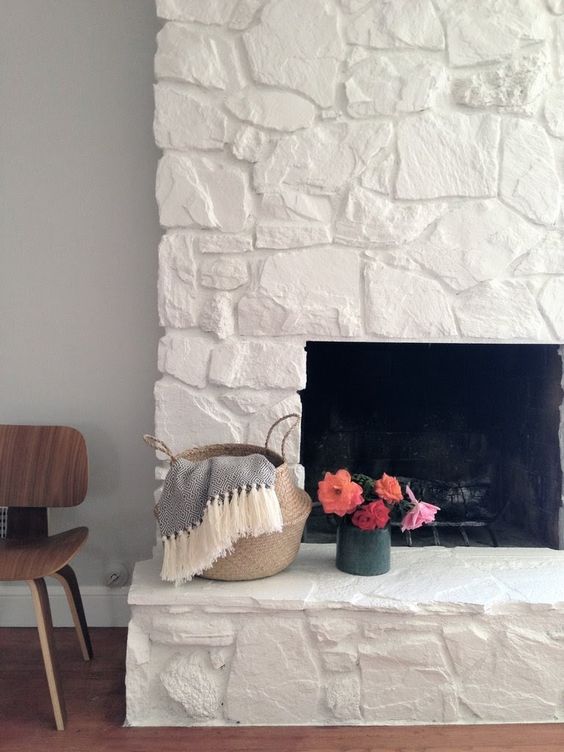 16. Surrounded by books
A home library nestles around a simple black fireplace in this whitewashed apartment. Black metal stairs complement the steel of the firebox while once again intricate white millwork adds elegance and further texture to the space. Check our blog too for more living room idea inspo.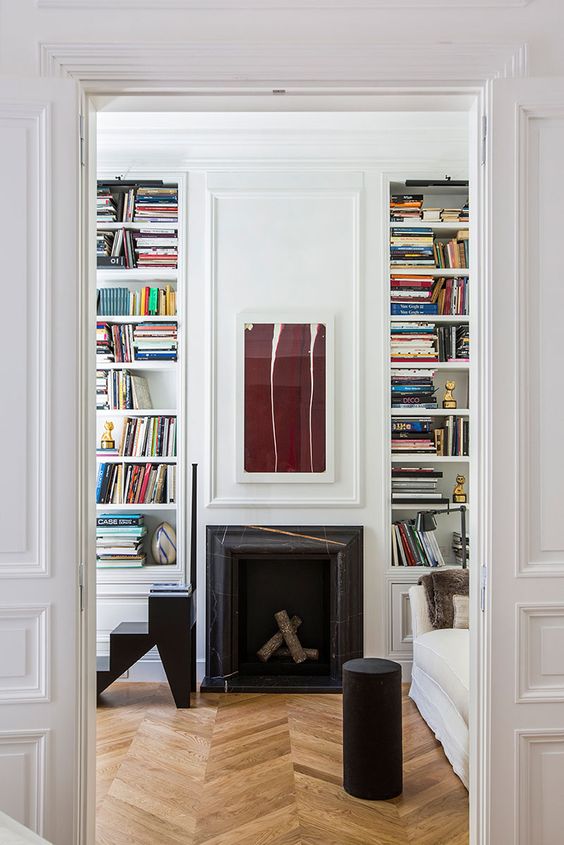 17. Pale blue paint
There's something about this ethereal sky blue that lends a serene and relaxed atmosphere to this living space. Having a solid plain wall colour extending across the fireplace like this creates a clean blank canvas for your fireplace décor.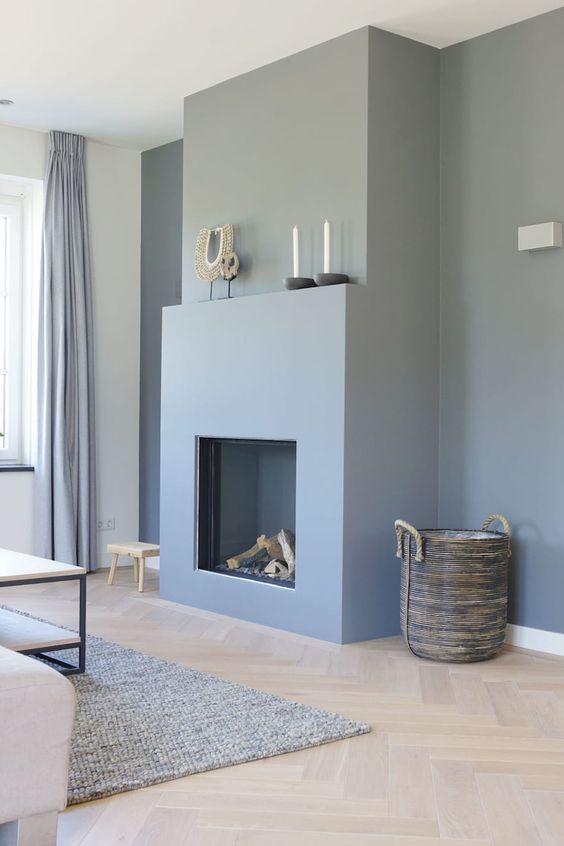 18. Blonde wood and terrazzo
Sometimes a masonry fireplace can seem a little cold, so choosing a wooden fireplace surround can be a good option to generate a sense of warmth even when the fire isn't on. Here, a black fireplace contrasts beautifully with a light palette of white paint and pale timber, and the slab of terrazzo adds lovely texture.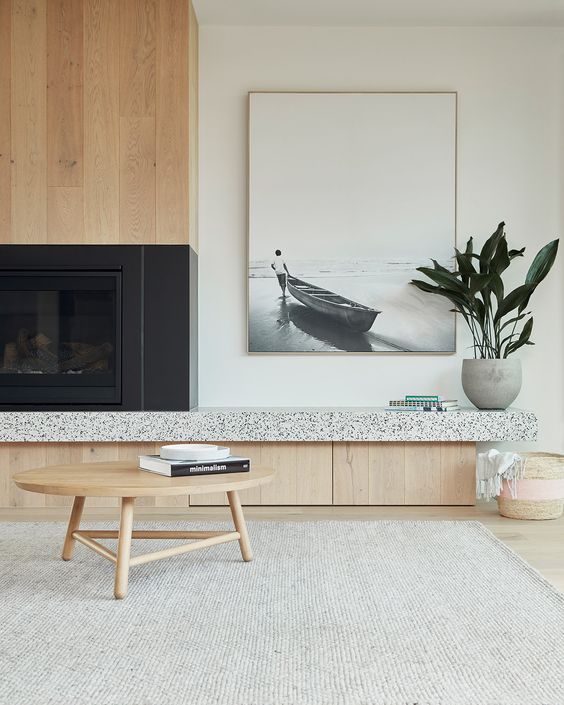 19. Simple Scandi
A simple fireplace design can be very elegant, as you can see in this Australian home with Scandi and coastal flavours. When the fireplace itself is very minimal and unadorned, enhance the space around it by creating visual interest with shelving full of lush plants, woven baskets and ceramic ornaments.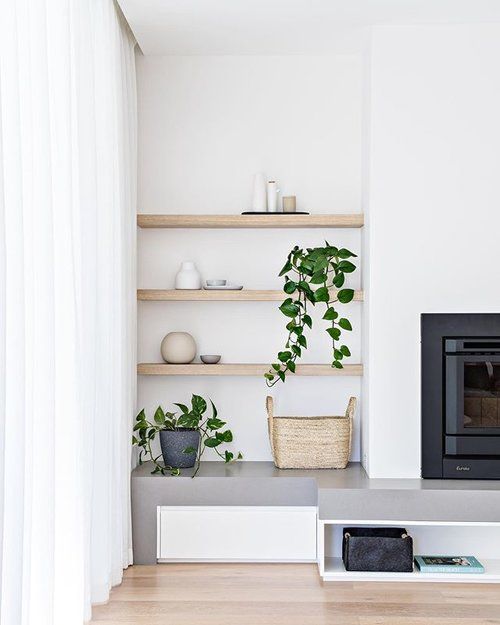 20. With concrete flooring
The freestanding stove creates a focal point in this open plan, spacious, industrial-chic living area. I love the mix of materials in this space, from the natural organic elements like the timber shelving and woven basket to the concrete flooring, nicely juxtaposed with a fluffy rug.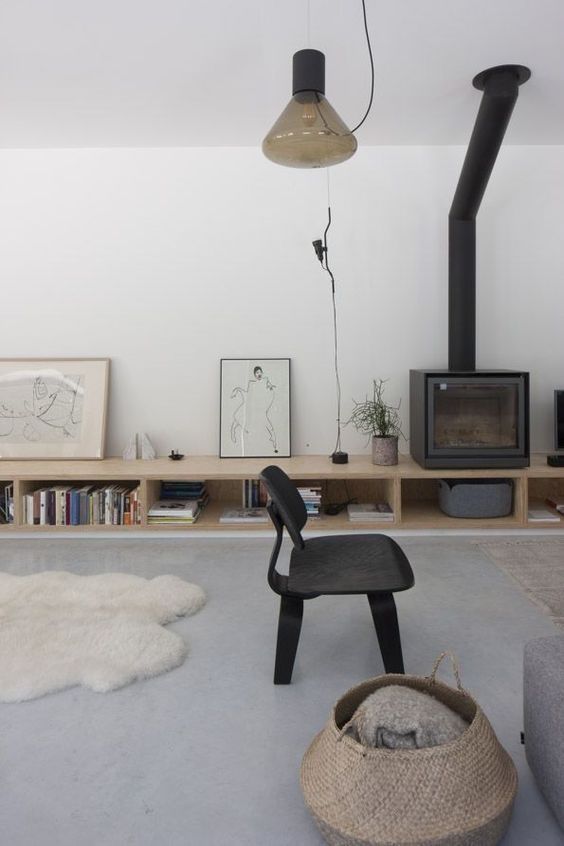 21. Ceramic bricks
Have you heard of the Finnish modernist architect Alvar Aalto? The fireplace in this home was apparently inspired by Aalto's chimney designs and consists of a mix of ceramic and concrete construction blocks. Beautiful texture and the colour palette of burnt orange and soft grey is unique and gorgeous.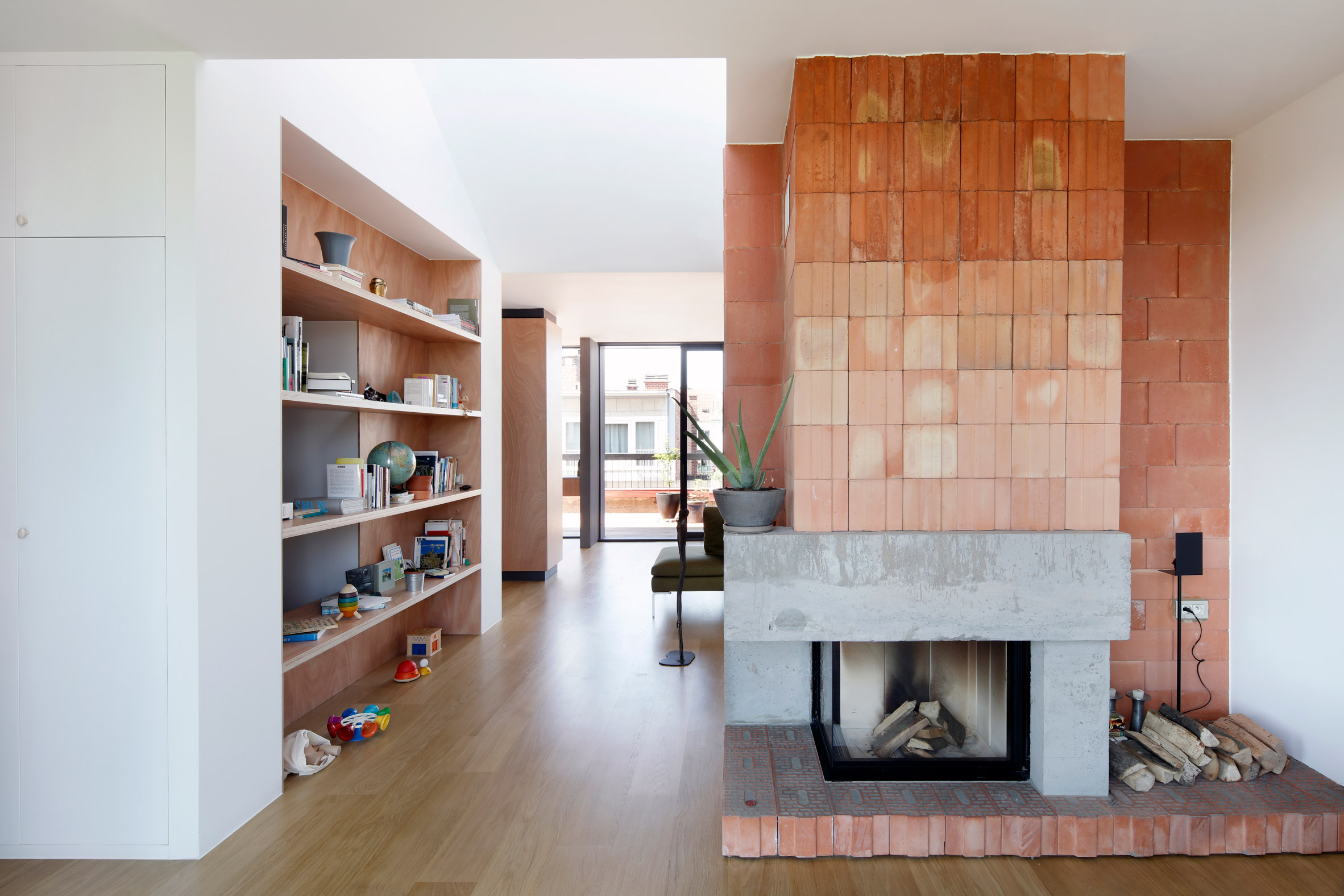 22. Modern black against heritage white
Although interior designers suggest sticking to the style of your home when choosing a fireplace design, well, rules are meant to be broken! So even if you have a period building, you aren't limited to a traditional fireplace surround native to the home's period.
Here, a heritage building has been fitted with a contemporary, matte black steel fireplace with an unusual curved mantel. And what about that carved pattern on the ceiling?!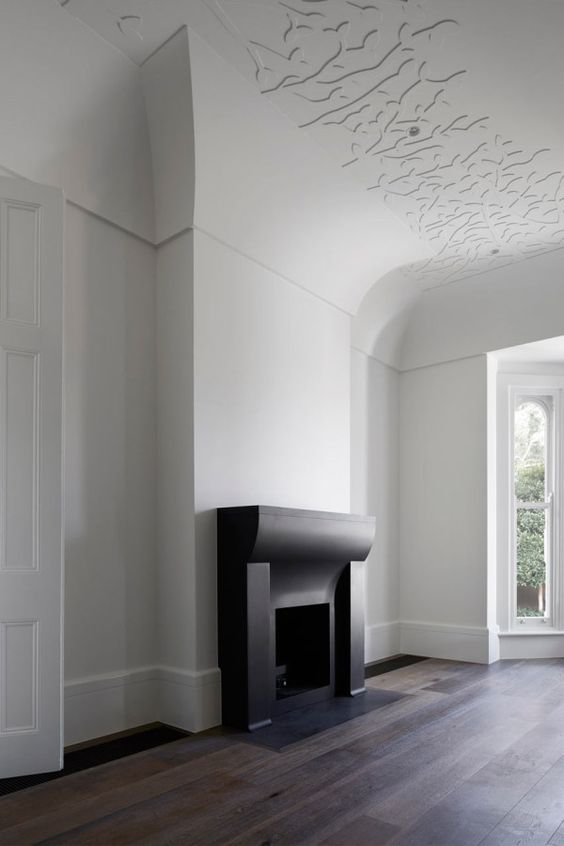 23. Mantel and mirror
A fireplace mantel presents plenty of opportunities for playing with fireplace décor and a popular styling element is a mirror. I like the simplicity of this round mirror above the intricately carved fireplace surround. Get some help hanging your fireplace mirror to ensure it's perfectly placed.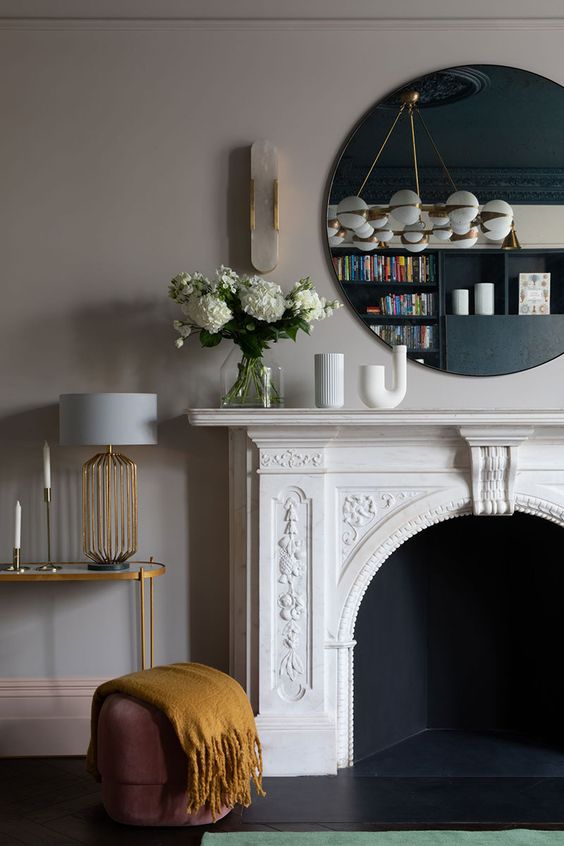 24. Japanese minimalist
For a truly dramatic centrepiece to your living room, consider a striking statement fireplace, like this one by Japanese architect Uno Tomoaki. A raw steel, wood-burning stove, it has a wonderful strong industrial, factory-like flavour. It looks amazing against this charcoal painted wall.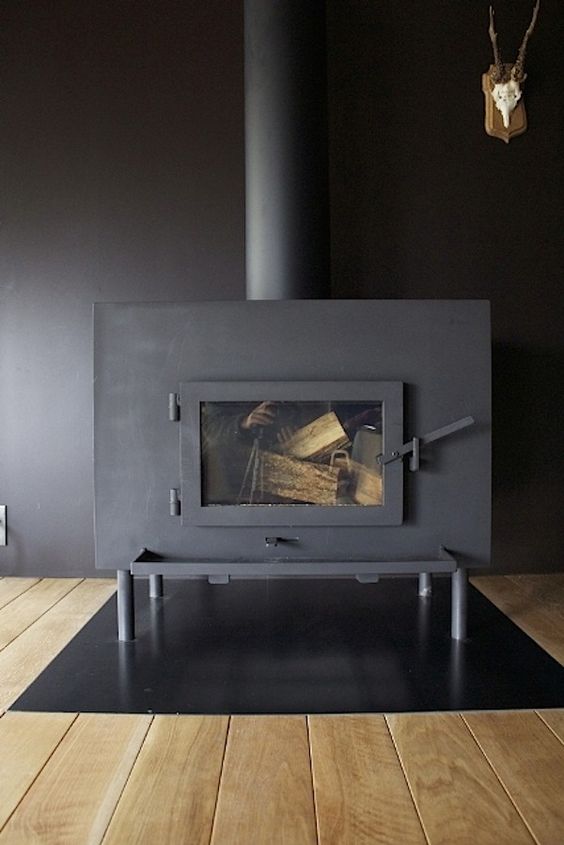 25. Corrugated iron feature
This rustic chic living room looks stunning with its oversized, rusty corrugated iron fireplace surround, cleverly concealing any flue or chimney. The metal chairs complement the feature, while the animal hide rug adds softness and texture. I like that the fireplace is central, with the TV less obtrusively placed off-centre.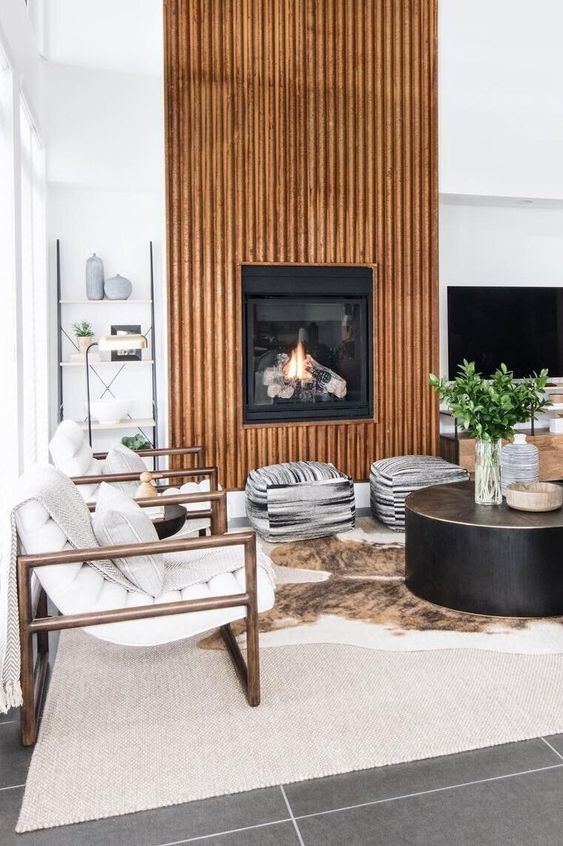 26. Classic grey brick
If you prefer a more classic look, a traditional brick fireplace may be for you. This one looks lovely painted in a pale grey. And if your fireplace doesn't have a mantel you can always create a faux one like this, to increase your fireplace décor options.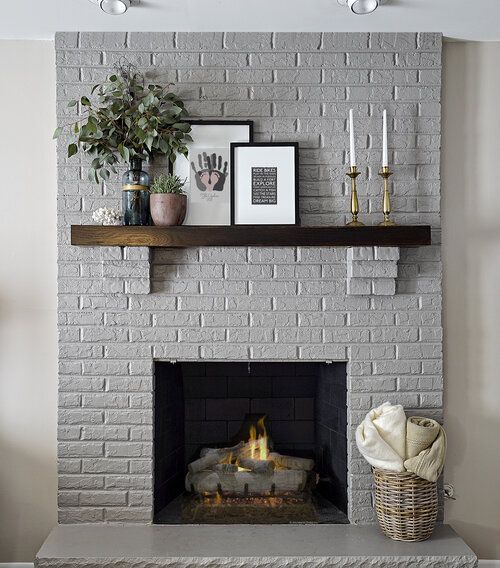 27. Concrete and timber
Another grey fireplace here, but this time modernised by being oversized and constructed in concrete. Styled by Studio McGee, there's an emphasis on forms and shapes in this neutral space that works really beautifully. I also like the mix of symmetrical and asymmetrical elements. If you love this, check out these modern living room ideas.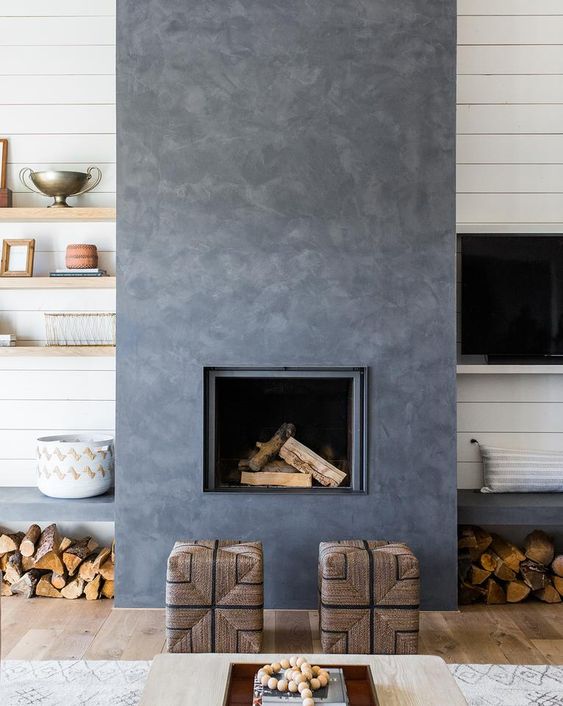 28. Midcentury timber
This Melbourne home features a statement freestanding fireplace blended into stunning mid-century style cabinetry. Placement of your fireplace can be tricky if it will be near a television, but this home shows how you can always install cabinets with sliding doors to conceal the electronics when not in use.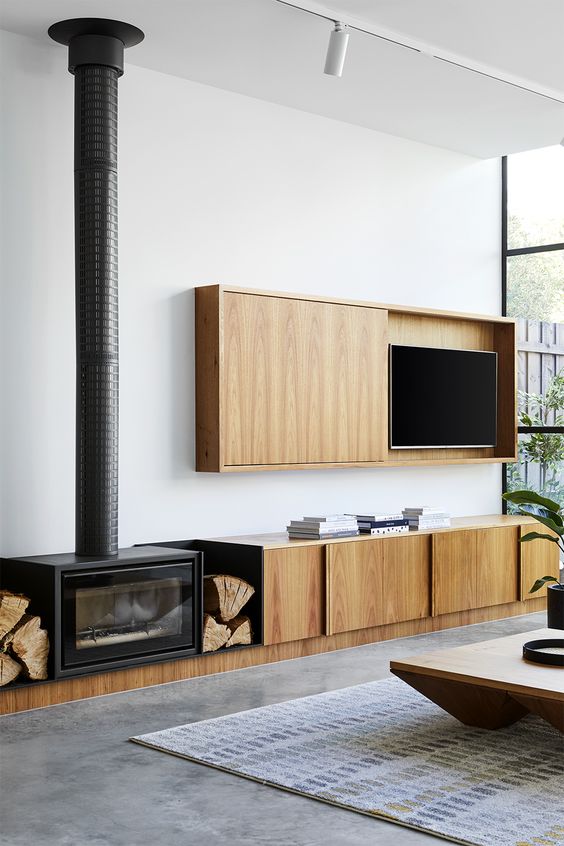 29. Coastal
This fresh and clean, bright and breezy living room incorporates an environmentally friendly bio-ethanol fireplace, which the owner also chose to avoid the practical hassles of dealing with wood. I love the bespoke white cabinetry, with the timber contrasting beautifully with the grey-veined marble cladding around the fireplace.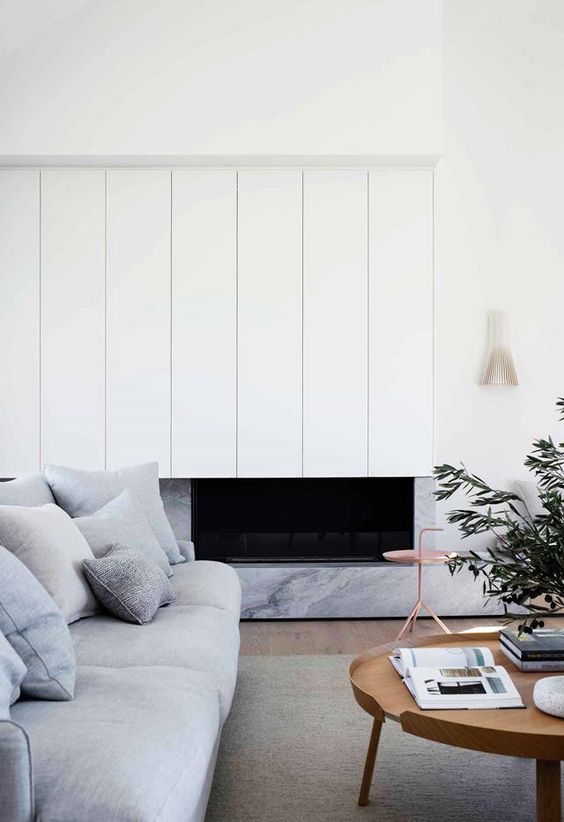 30. Yellow painted
Love an avant-garde interior? Then this living space should appeal! Rustic, industrial flavours in a neutral palette that is fused with a pop of yellow paint to define the fireplace surround. Yellow is certainly an unusual colour choice for a fireplace surround but if bold colour floats your boat, go with it!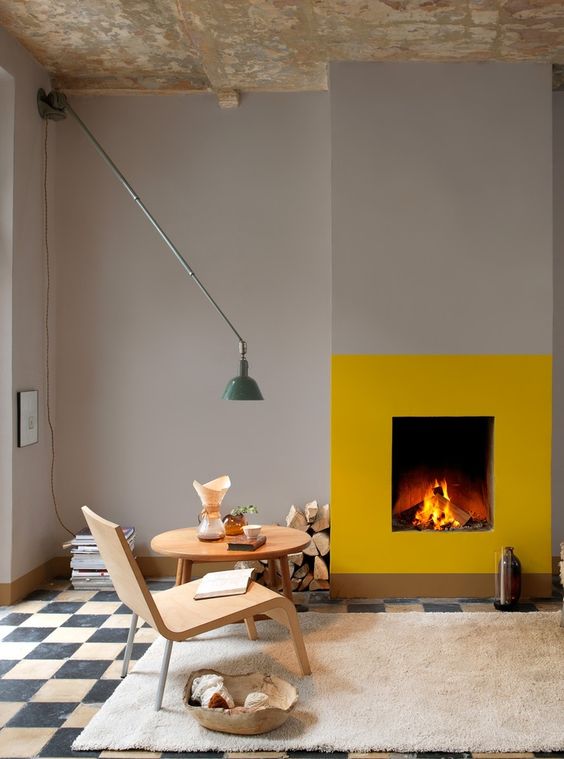 31. Cubes
A simple black box fireplace, surrounded by smaller timber boxes to store wood, continues the theme of angular lines and cube shapes used throughout this Brazilian home. I like the neat minimalism of this space, and the layering of different coloured timbers.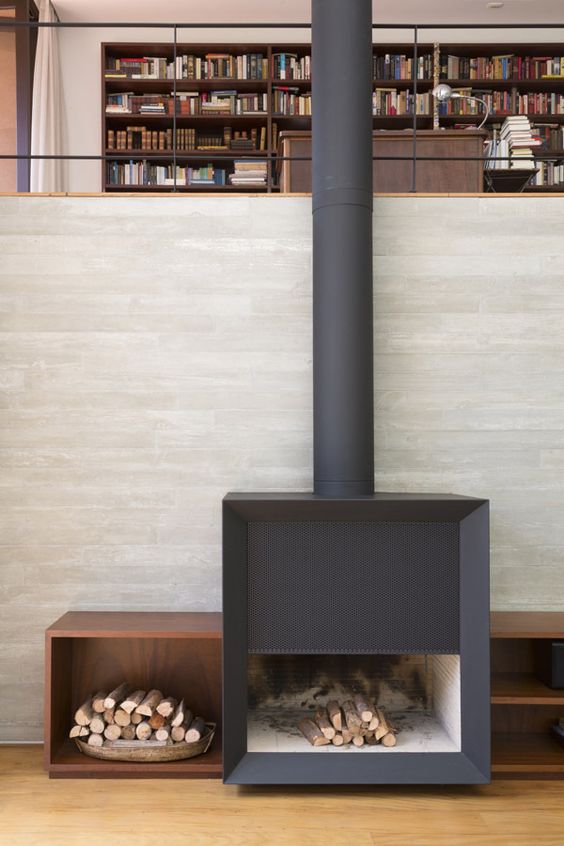 32. White retro style
A snowy forest setting in Lithuania contains this minimalist achromatic home, which features a retro-styled white wood-burning freestanding fireplace. The white firebox blends beautifully into this whitewashed interior, with the black making a nice accent that complements the dining room furniture and pendant light. This look would suit a coastal aesthetic, too.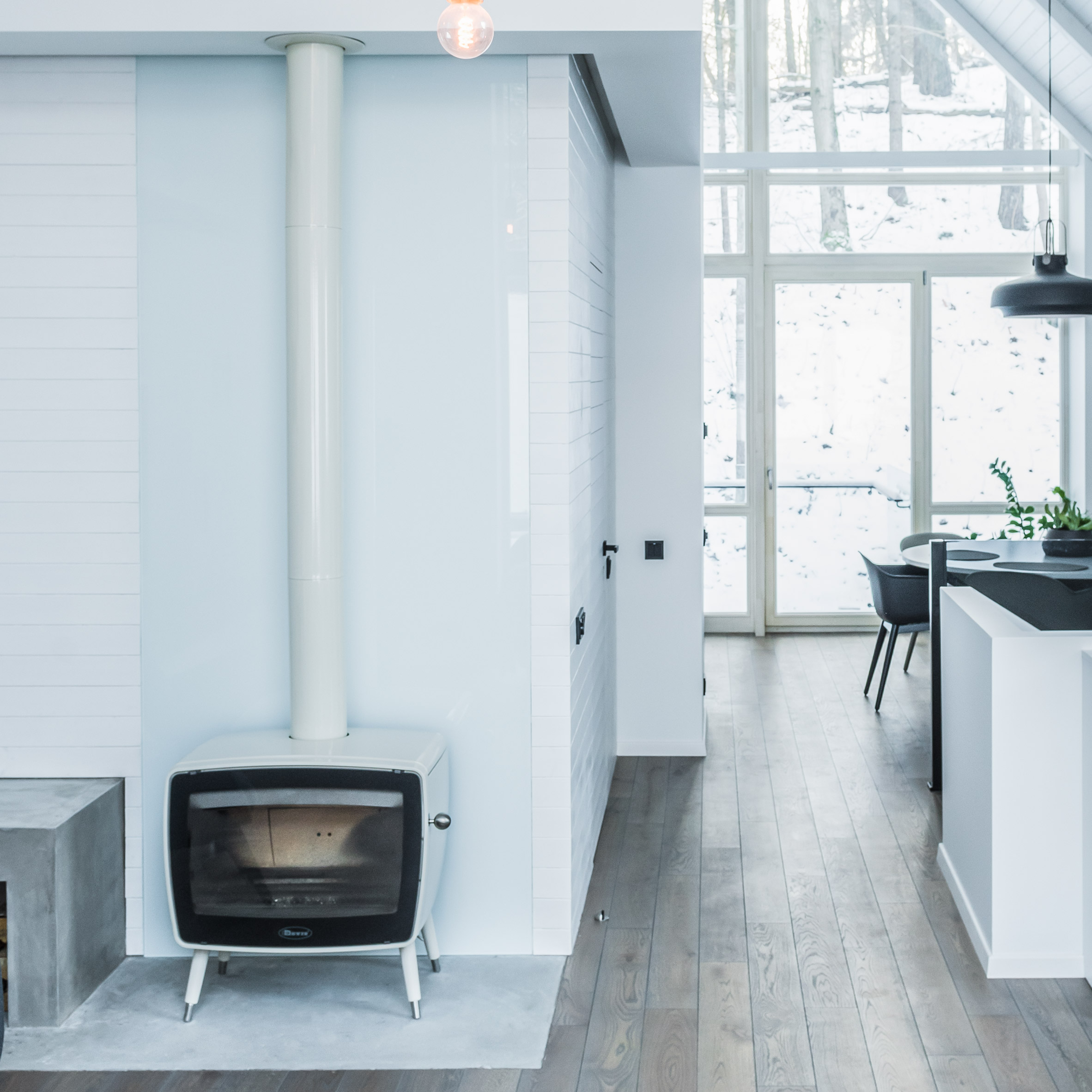 33. Metallic and dramatic
I just love this modern, industrial-chic fireplace by San Franciscan designer Nicole Hollis. What a unique look, combining oversized brass panels finished in silver nitrate, black metal surround and black tile fireplace interior. Dramatic, moody and bold, this one's not for the faint-hearted!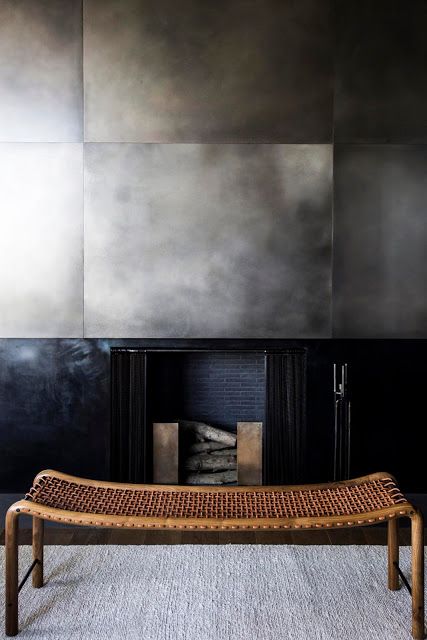 34. Simple white
If you don't want your fireplace to be the major focal point of the room, white is a great choice for the surround. It visually recedes into the wall, oddly enough even when paired with a darker wall paint colour like this mid-grey.
This rustic living room balances monochrome tones beautifully, with charcoal grey metal pendant and chairs staying tonal with the black ceiling beams. A rustic, characterful farmhouse table is the hero here.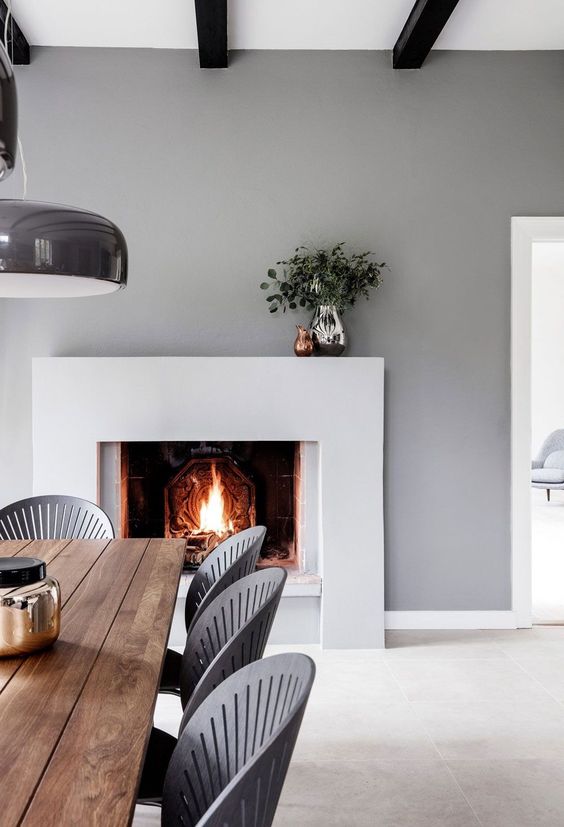 35. Black into all white
This modern family home has a focus on comfort, with the light-flooded living space feeling really streamlined and spacious. To keep things simple and uncluttered, a zero clearance fireplace has been installed which is built in completely flush to the wall.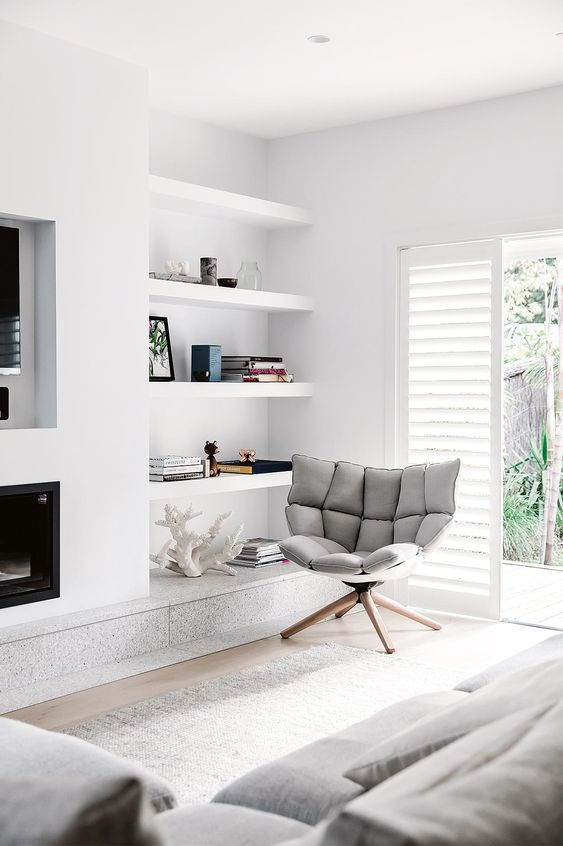 36. Statement fireplace
There's something faintly reminiscent of a steam train engine about this statement wood-burning fireplace, incorporated into this Victorian home by award-winning Australian architect John Wardle. All of the walls of the home have been finished in warm-toned timber—including the ceiling and floors—which contrasts perfectly with the matt black steel furnace.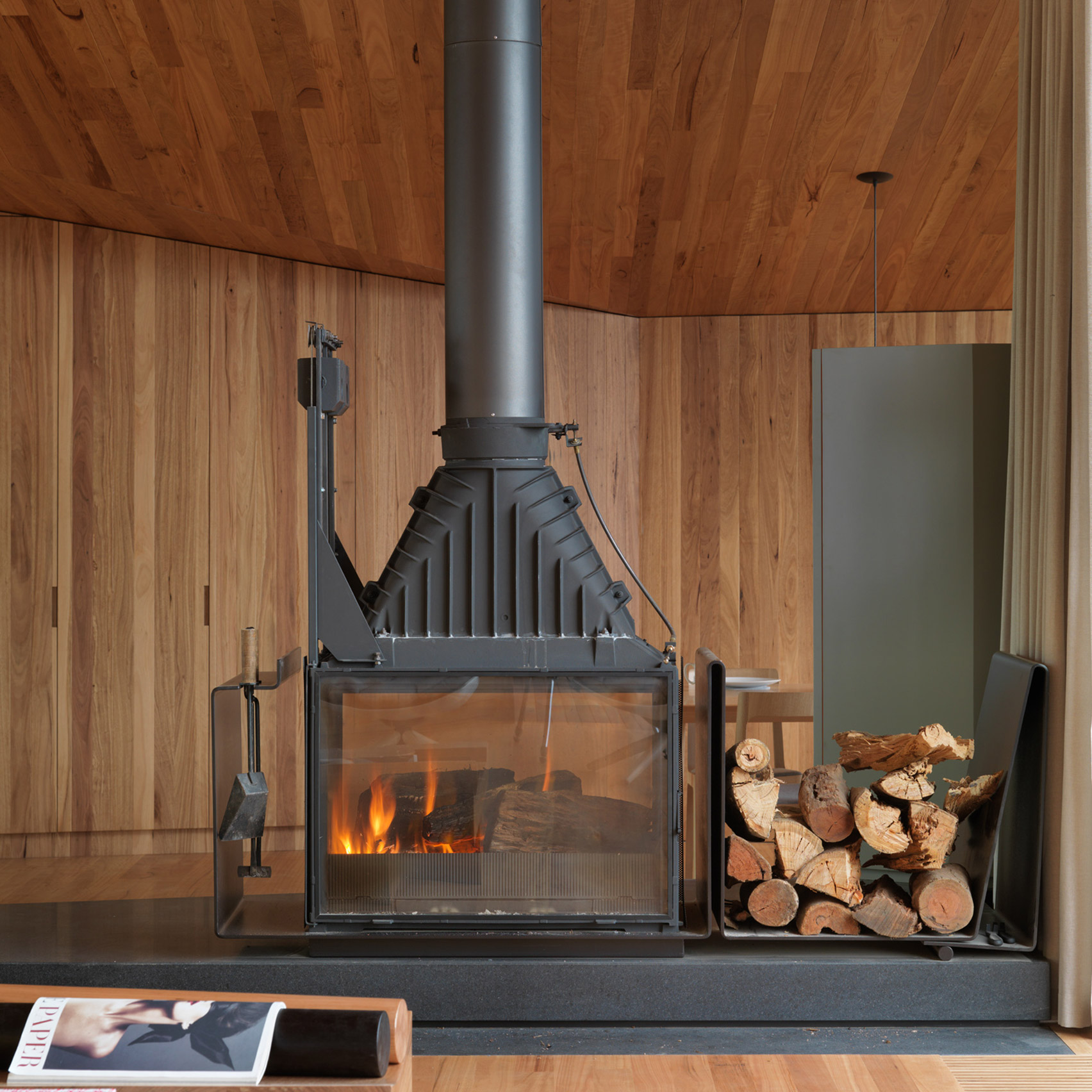 37. Globular fireplace
Here's another unusual fireplace with a wow factor, in a Portuguese home's master bedroom. Globular, galactic style fireplaces like this, suspended from the ceiling, take up no floor or wall space and have a retro, mid-century aesthetic. You can sometimes find vintage globular fireplaces out there, or you could have a replica custom made.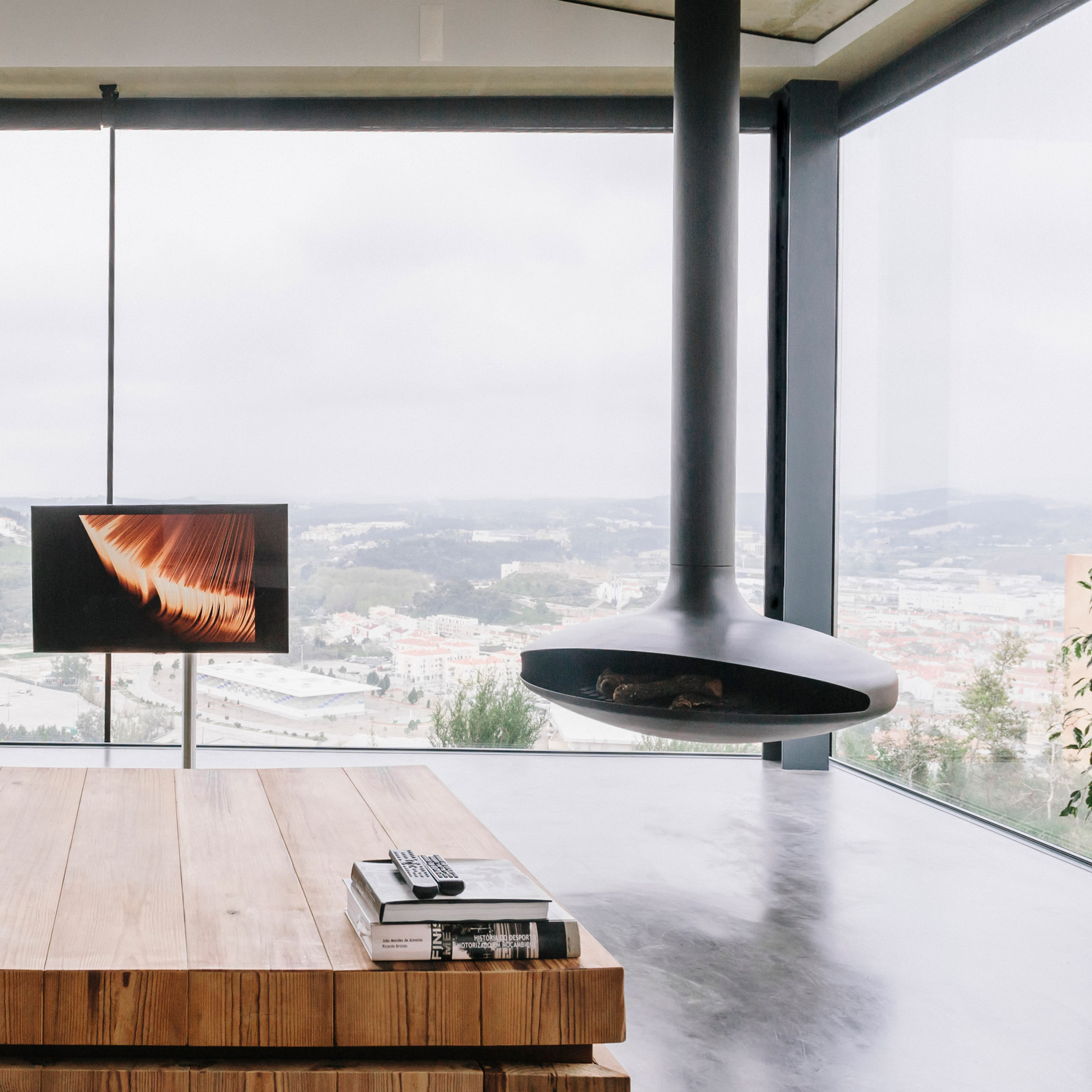 38. Black fireplace
There's something very satisfying about a stack of logs, and it makes a great rustic design feature, adding plenty of natural texture and pattern. If you choose a wood-burning fireplace, think about how you will incorporate your wood stack in a visually appealing way. This Italian home shows how it can be kept streamlined and neat, alongside floating shelving with similarly symmetrical and repetitive elements.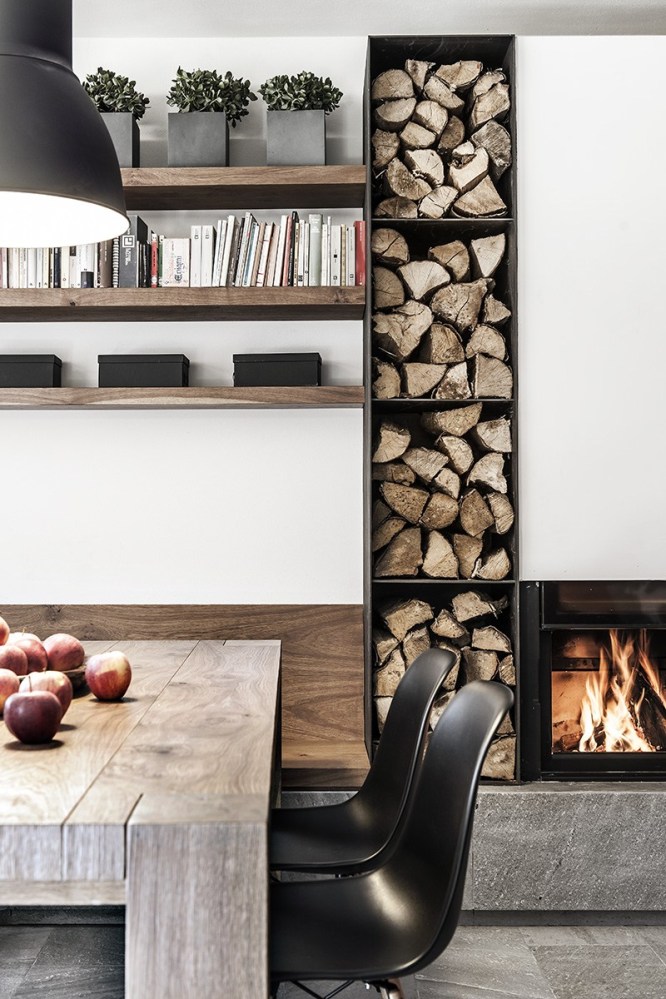 39. Eclectic
I love this home in Amsterdam, which has been converted from an old schoolhouse, so the rooms are really large! The family who lives here have a really stylish and idiosyncratic aesthetic. And here's another way you can store your wood, in a metal mesh trolley with wheels to make the job of transporting logs so much easier.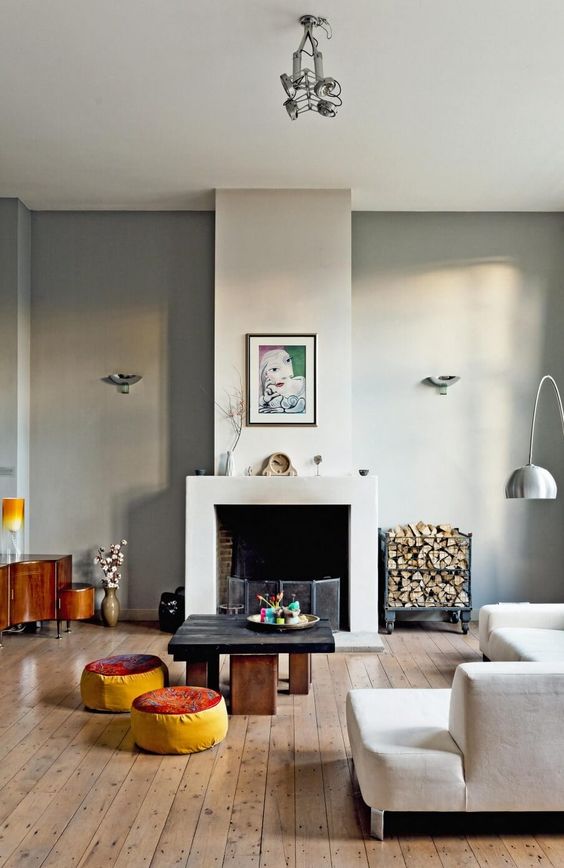 40. Rendered concrete walls
I love the rendered concrete look of this fireplace, with its dreamy, cloud-like effect. Nordic influences abound in the soft neutral colour scheme and natural materials, and there's so much texture even in this very simple space.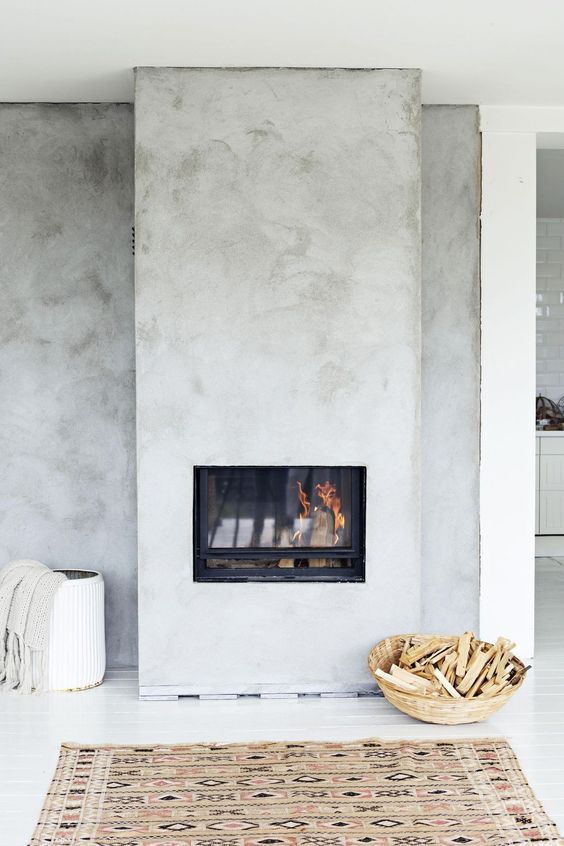 41. Concrete black and timber
Wow, talk about an amazing comfort zone in this surf coast home, thanks to the central fireplace. Such high ceilings and that mix of wood and concrete. Both the above-mantel and on the ends of the hearth (technically, that piece that runs along the bottom under the black firebox, but people often talk about "open hearth stoves" as just being open wood-burning fireplaces).
42. White brick fireplace
Nothing says mountain home more than a masonry fireplace, especially one with stylised antler fireplace decor. I like this large whitewashed brick one, modernised with a poured concrete hearth piece that's big enough to host a children's toy zone. I love the contrast with the big windows here too.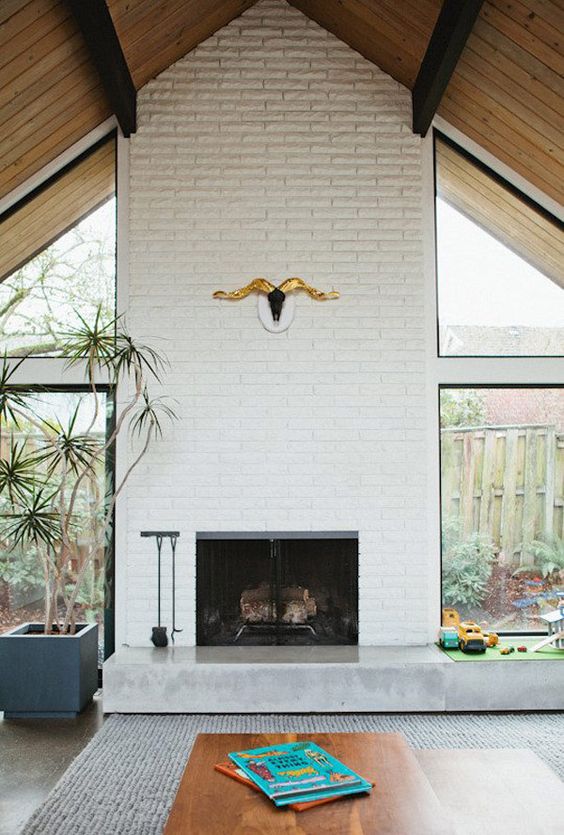 43. Ethnic décor
Usually being the focal point of the room, a fireplace, when it has a mantel, is the perfect place to display statement art or artefacts. Here, monochromatic decorative items from Bali look striking against the black fireplace surround backdrop.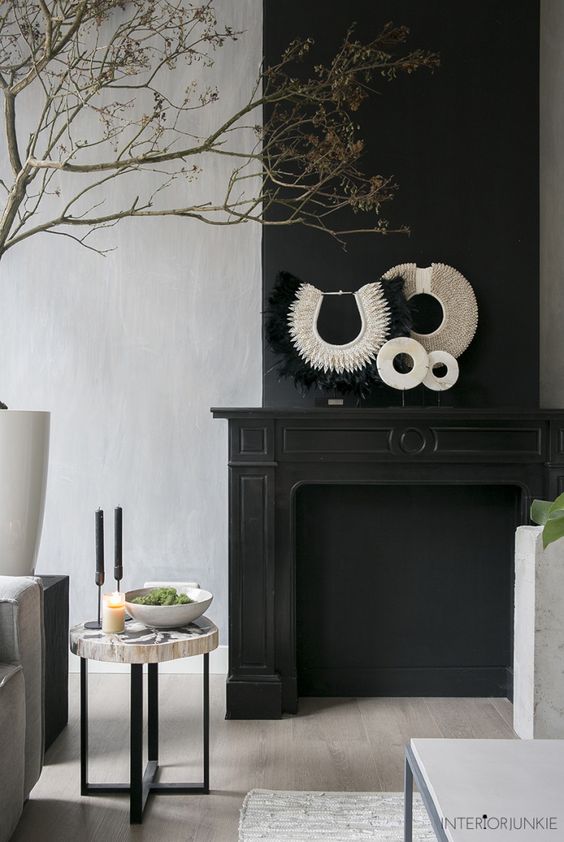 44. Matte black panels
Described as industrial-chic and featuring a black and white colour scheme, this home's fireplace is one of the darker contemporary elements and complements the home's steel doors and windows. Despite having a very streamlined look to it, it offers a useful sized mantelpiece for fireplace décor.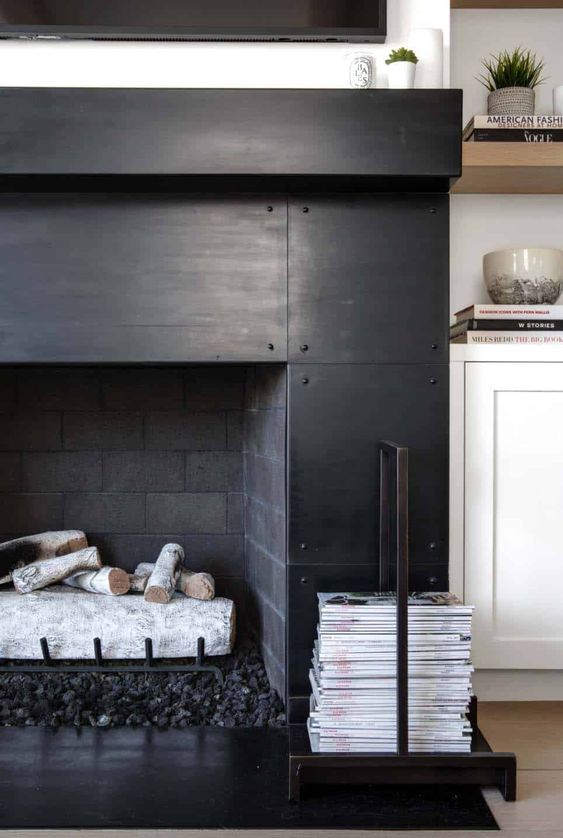 45. White tile and marble
Here's a space that's not afraid to mix materials, with the combo of white subway tile fireplace surround and white marble extended hearth underneath. Add in timber floors, leather chairs, a patterned rug and a shiny metal table and you have a modern living space that's infused with rustic and mid-century flavour.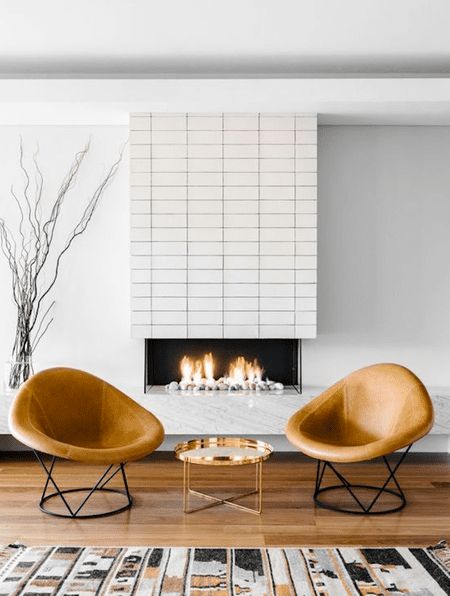 46. Metal texture
A very plain and simple contemporary firebox gets a touch of added drama with this woven metal feature surround covering the chimney. The vertical niche for wooden logs echoes the beautiful timber of the statement armchair, while a practical black steel extended hearth here holds a small stack of books.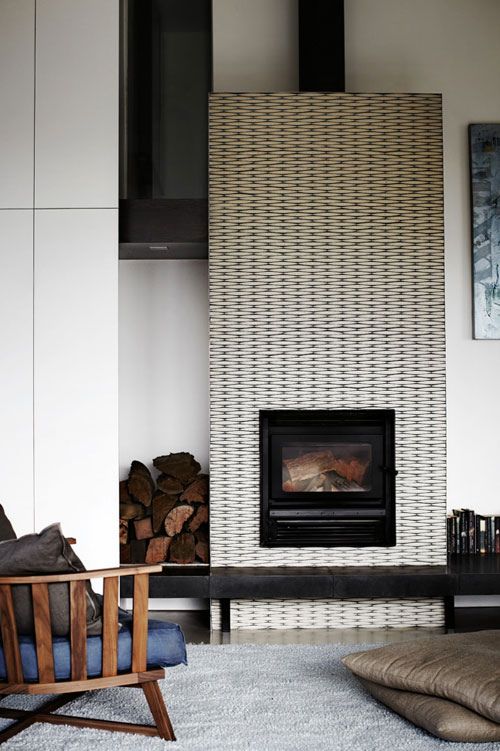 47. Beautiful basalt
A fireplace is naturally the ideal way to feature the amazing colours and textures of stonework in a living room. This Victorian farmhouse's basalt fireplace was rebuilt around a contemporary firebox with stone from the outside ground and nearby localities.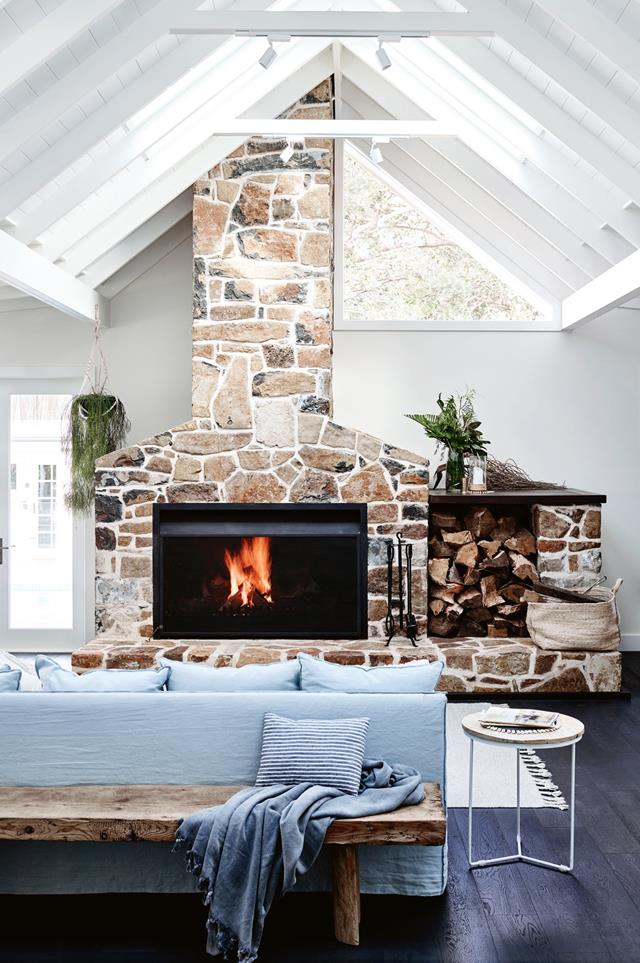 48. Ultra minimalist
It might be because I recently declared an all our war on the clutter that I find this space very soothing in its expanses of emptiness. The trio of pendant lights gives the plain space some interest though. If you're going for a minimalist aesthetic, pare back your fireplace too, to a contemporary zero-clearance model like this.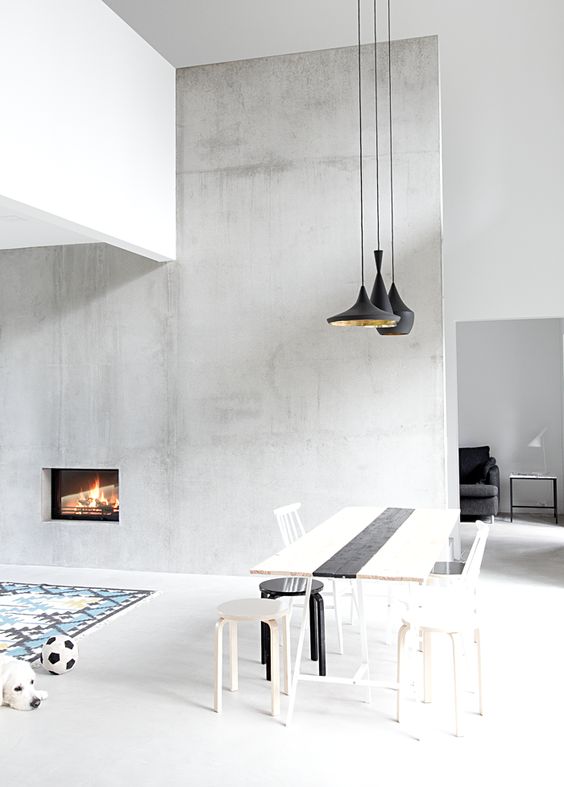 49. Marble wall
A gorgeous swathe of white and grey veined marble makes the perfect backdrop for a simple black firebox, and I love how this expanse of natural stone is contrasted with simple built-in timber shelving. The addition of river rocks in the fireplace is a nice complementary touch as well.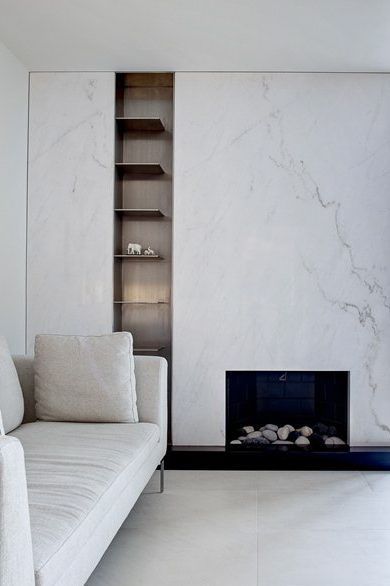 50. Pale grey and black
A heritage-listed Californian style bungalow in Melbourne is laidback and cool with a gas fireplace surrounded by oak panels painted in French grey. The recycled teak armchair adds a mid-century touch, while the fireplace décor is understated with a print and some vases and cosiness are enhanced by the Moroccan wool rug and ottoman.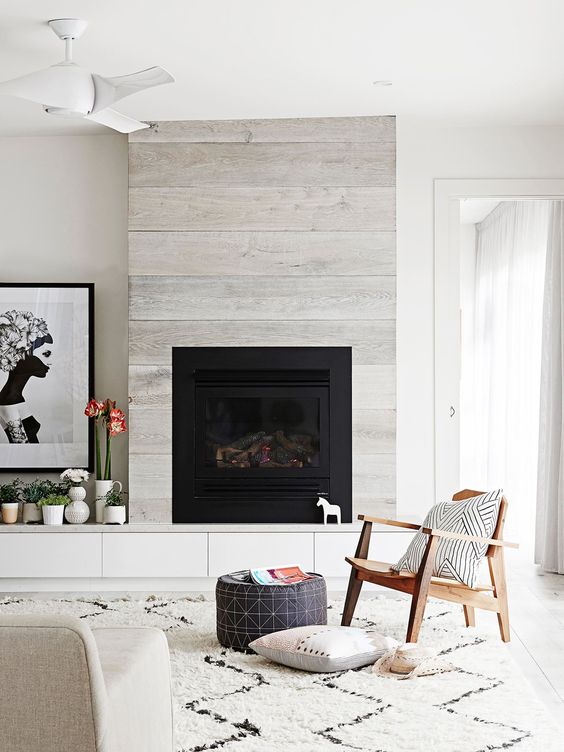 What a lot of snuggly, cosy and stylish living spaces!  I really love the modern, organic, minimalist fireplace ideas, but a traditional brick or stone fireplace has a great deal of charm too. Which fireplace is your favourite? Let me know in the comments! And if you are looking for outdoor fireplace inspo, make sure you also check out our blog on fire pit ideas.
Choosing the right fireplace
Many people love the romance of a traditional wood-burning hearth, whether an open one or a closed, updraft stove (potbelly). But these days you can get a faux 'dancing flames' effect even with non-wood burning fireplaces. So it really depends on whether your want to burn wood, gas or ethanol.
Wood is just so pleasing to burn (all that mesmerising flickering, snapping and crackling), and also has the advantages of being renewable, able to be grown or cut yourself, and the ashes can even be put to use in the garden. But the downsides of wood are that it's bulky, needs safe storage, needs to be seasoned, is messy, and requires vertical flues or chimneys that need to be regularly cleaned. Choosing a slow combustion heater (an airtight firebox that slows down the rate of fuel combustion) rather than an open hearth is the most efficient option for wood fuel fireplaces. And even if you have an existing open hearth, you can always go with a fireplace insert to improve its heating functionality.
Gas heaters are a great option for burning cleaner fuel but still getting that ambient flickering flames appearance. They can burn natural gas or liquefied petroleum gas, and can be flued or unflued, but either way will require a well-ventilated room.  Open gas models are more decorative and emit less radiant heat, but closed gas (or balanced flue) models with glass fronts are very efficient and also help maintain air quality. Unlike wood-fuelled fireplaces, flued gas models have the advantage of being able to be flued horizontally, meaning they can be used even in apartments. The disadvantages of gas heaters though are that they need more maintenance and can be dangerous if they malfunction.
Another clean-burning option is ethanol. Bio-ethanol is derived from living plants meaning it's a renewable resource, and they need neither chimneys, flues or vents. However, you still need good room ventilation due to the production of water vapour and carbon dioxide. Many people prefer ethanol as a fuel because it creates no smoke or ash, the units can be self-installed, and they require only low maintenance. You can also convert an existing gas or wood fireplace to an ethanol one with an insert.
In all cases, the fuel is flammable, so ensure you have a fire extinguisher nearby and that you have fire alarms installed.