Your garage is usually at the front of your home, so it's very much a part of your home's street appeal. But the garage doors are sometimes overlooked when it comes to that little reno that make such a big difference to a home. Why not transform your garage aesthetic with a brand new door, or give your existing one an update with a new coat of paint? Our garage door ideas will help you decide!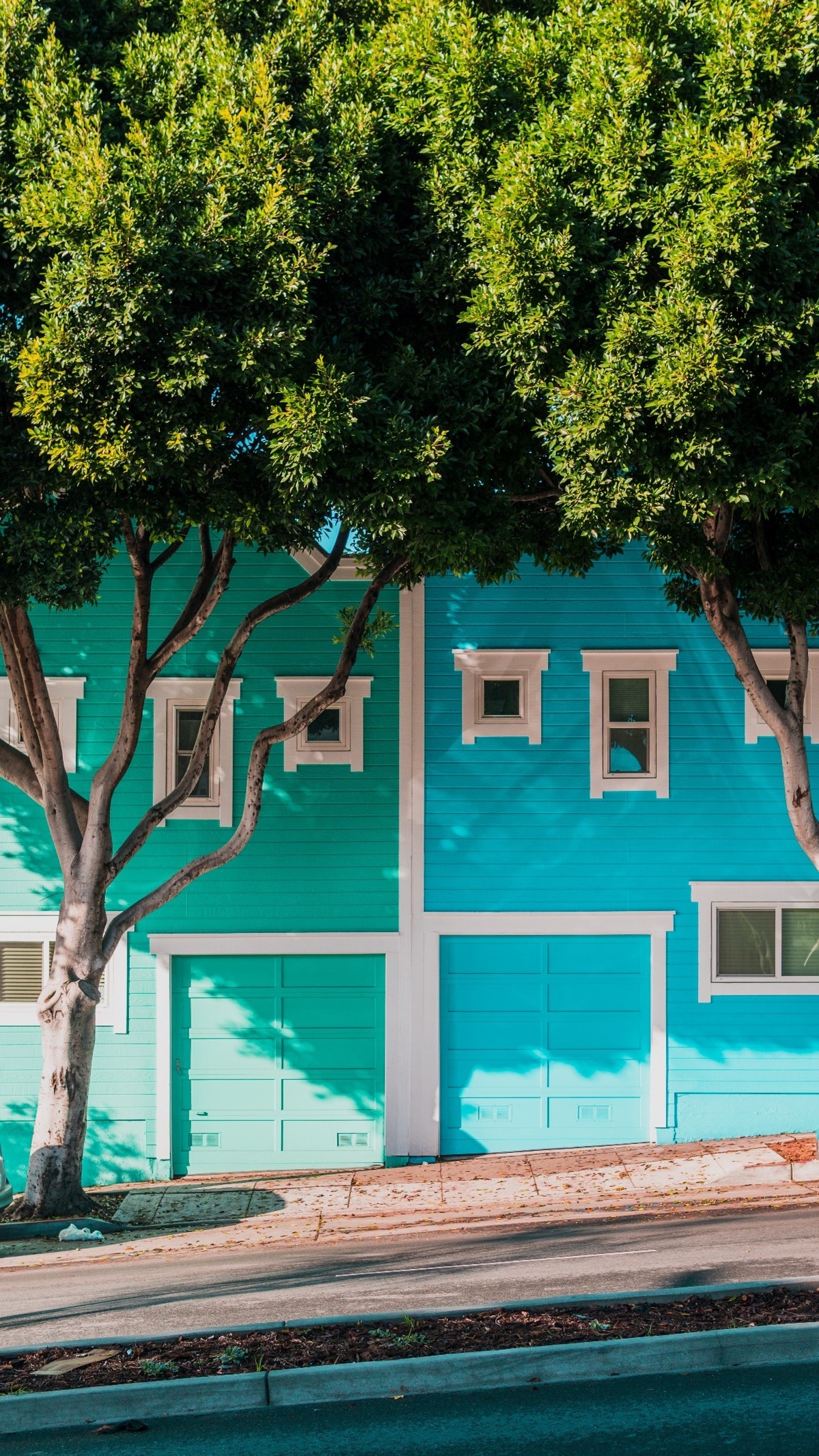 How to choose a garage door
Settling on a garage door style and colour usually means aiming at complementing your home's architecture and exterior's colours. But certain styles are especially popular lately. For example, farmhouse barn-style garage doors, or modern timber flush-mount garage door designs. The way the garage door opens is another thing to consider. For your particular space, you might prefer a sectional door, roller door, tilt door, or side-hinged or side-sliding doors.
Then there's the decision to make on materials. Do you go with steel, timber, aluminium, acrylic, fibreglass, or something else? Each material has its pros and cons, and of course, some materials simply have more personal appeal. You'll also need to decide how you want to operate your garage door—manually or automatic with a motor? And finally, consider the safety features you'll want. These may be things like safety infra-red beams, wireless entry keypads, emergency key release, and so on. Most modern doors come with standard safety features—another reason why a new door is a great choice!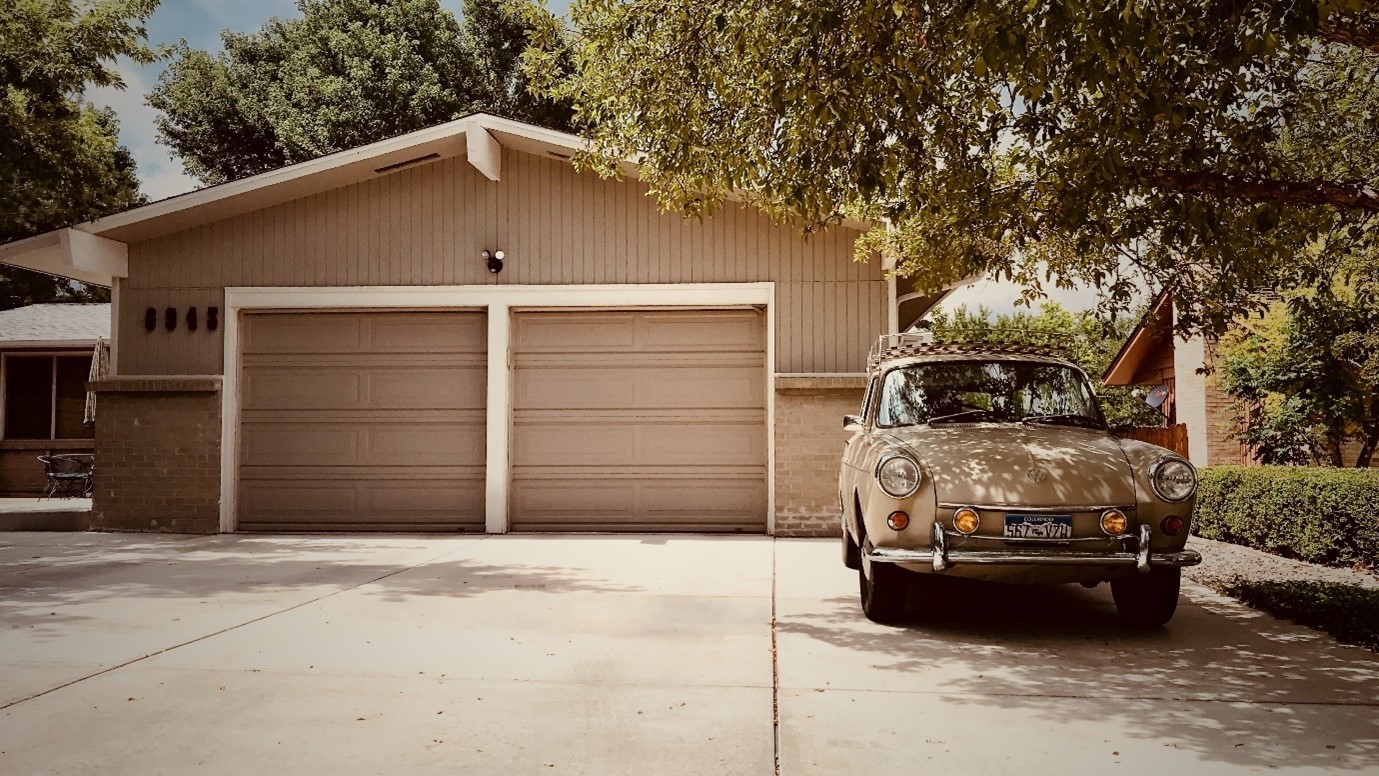 Make a statement and increase your home's value with a high-quality new door – let's dive into # gorgeous garage door ideas.
Black garage door ideas
1. Shades of black
A black garage door brings sophistication and chic. And while black can be a stark garage door colour, blending it with charcoal and white accents really softens it up. If you have a white façade, a glossy jet black roller door will look stunning.
2. Black barn garage door
There's lots of love for the modern farmhouse look right now and so barn-style garage doors are very popular. Usually handcrafted from timber, these doors have a lot of detail. For example, they often feature the X or crossbuck design. Or they boast elegant wrought iron hardware which adds texture and visual interest. It's all about generating a sense of nostalgia and replicating the timeless look of those horse-and-buggy days.
3. Black and flush-mounted
For a contemporary look with clean lines and simplicity, flush mount garage doors are a great idea. Integrated cladding materials give the exterior of your home and garage a continuous look. The garage door appears as if it's part of the building's wall.
You can have the flush mount doors clad with a variety of exterior materials, like woods, metals or acrylic. Flush mount doors are often painted in the same colour as the home exterior, to increase the sense of seamlessness.
4. Tilt garage door idea
Hinged tilt or traditional up-and-over doors are best if your driveway space isn't limited. They also don't take up as much headspace in the garage as roller doors do. You can find a tilt door in many different materials and budget ranges, with a variety of technological features. And they look stylish seamlessly integrated with the door frame.
5. Black with panels
Adding panels to a set of barn-style farmhouse garage doors will modernise the look. It just makes it a little bit more refined and minimalist. Simple panels and windows rather than a crossbuck design mean the garage door style will work with many different home décor styles. For example, it very much suits a Hampton's look.
6. Black sectional door
Sectional garage doors are a favourite look for a modern family home—they don't look quite as industrial as roller doors tend to. They also have some other advantages over roller doors, mainly the ability to be fully customised and to improve insulation. Made of panels, sometimes with windows installed in top sections, they rise vertically with no loss of driveway space.
7. Black Craftsman
Craftsman or carriage garage doors are an American style of door that have become very popular. They are a signature part of the modern farmhouse style. With their vintage look, they're designed to look like historical horse-and-carriage houses. They tend to be made of wood, although modern technology means you can also get the wood-look with durable layers of steel and insulation instead.
8. Black on black
Black on black is a contemporary look that suits not only modern homes like some of the ones above but also period homes. It does tend to look more Gothic on a historical home though. Black garage doors can either be an accent if contrasting against other exterior shades or can blend harmoniously into the home façade.
White garage door ideas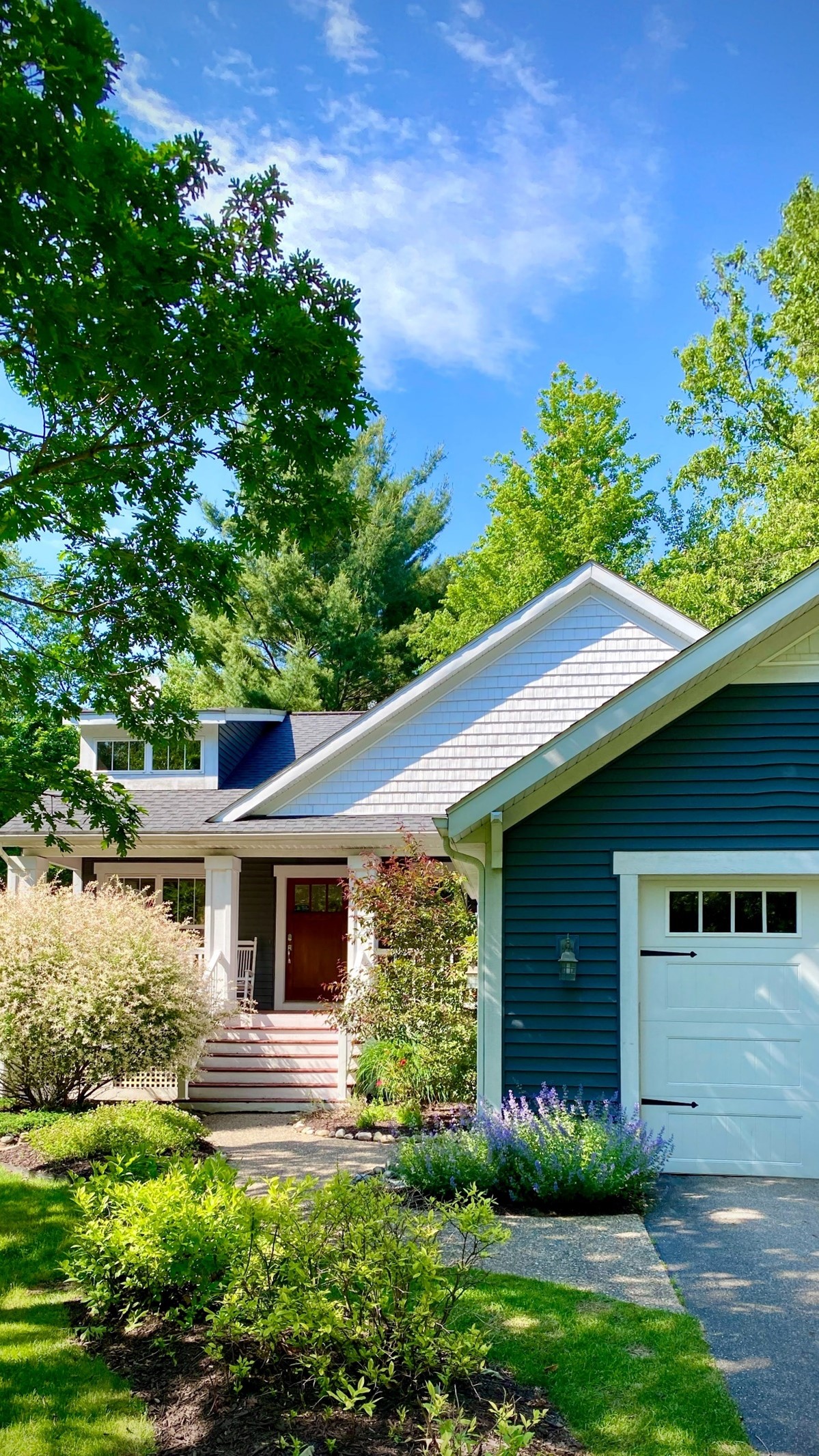 9. White farmhouse
If you love the modern farmhouse aesthetic, then barn-style Craftsman or carriage garage doors are just perfect for you. Consider a stunning farmhouse garage with board-and-batten siding. Distinctive crossbuck doors will also add that heirloom flavour. Industrial-style black gooseneck sconces really suit the farmhouse look and add a dash of contrast against the white façade.
10. White and glass
Aluminium sectional garage doors with semi-opaque glass are another way to style a modern farmhouse garage. They look so clean and inviting against a classic farmhouse look. Think white shiplap exterior and again, gooseneck sconces for exterior lighting.
11. White roller door
A white steel roller door is the ideal choice for a modern industrial-chic home. Roller doors open vertically and don't take up much room inside the garage. Which is great if you use your garage as a multi-function space, not just to house your car. (Find someone to install new roller doors for your garage.)
12. When in doubt, white…
Love Craftsman/carriage style garage doors thanks to their country-inspired charm? When it comes to farmhouse garage door paint colours, a crisp white really is your go-to—it simply goes with everything.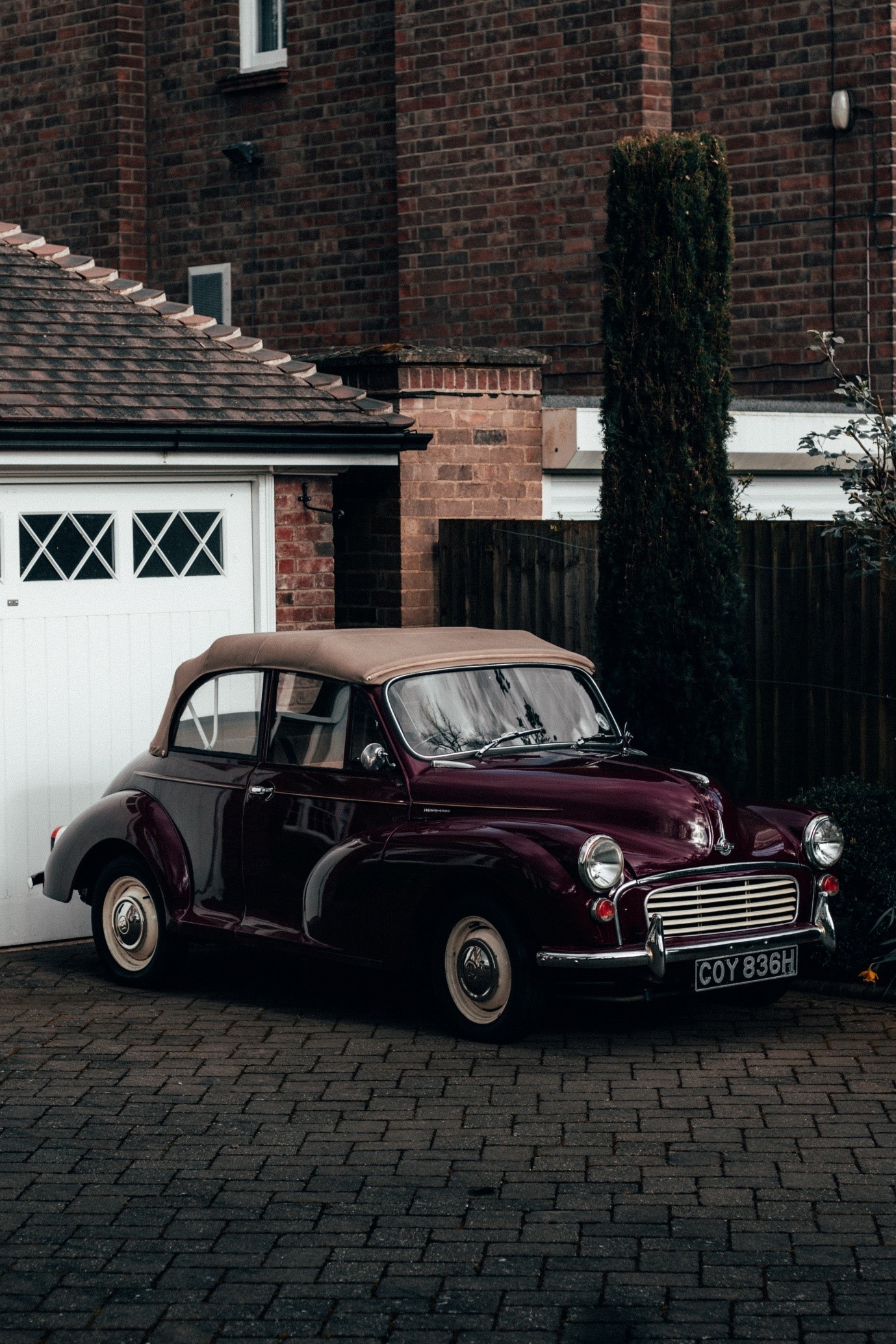 Grey garage door ideas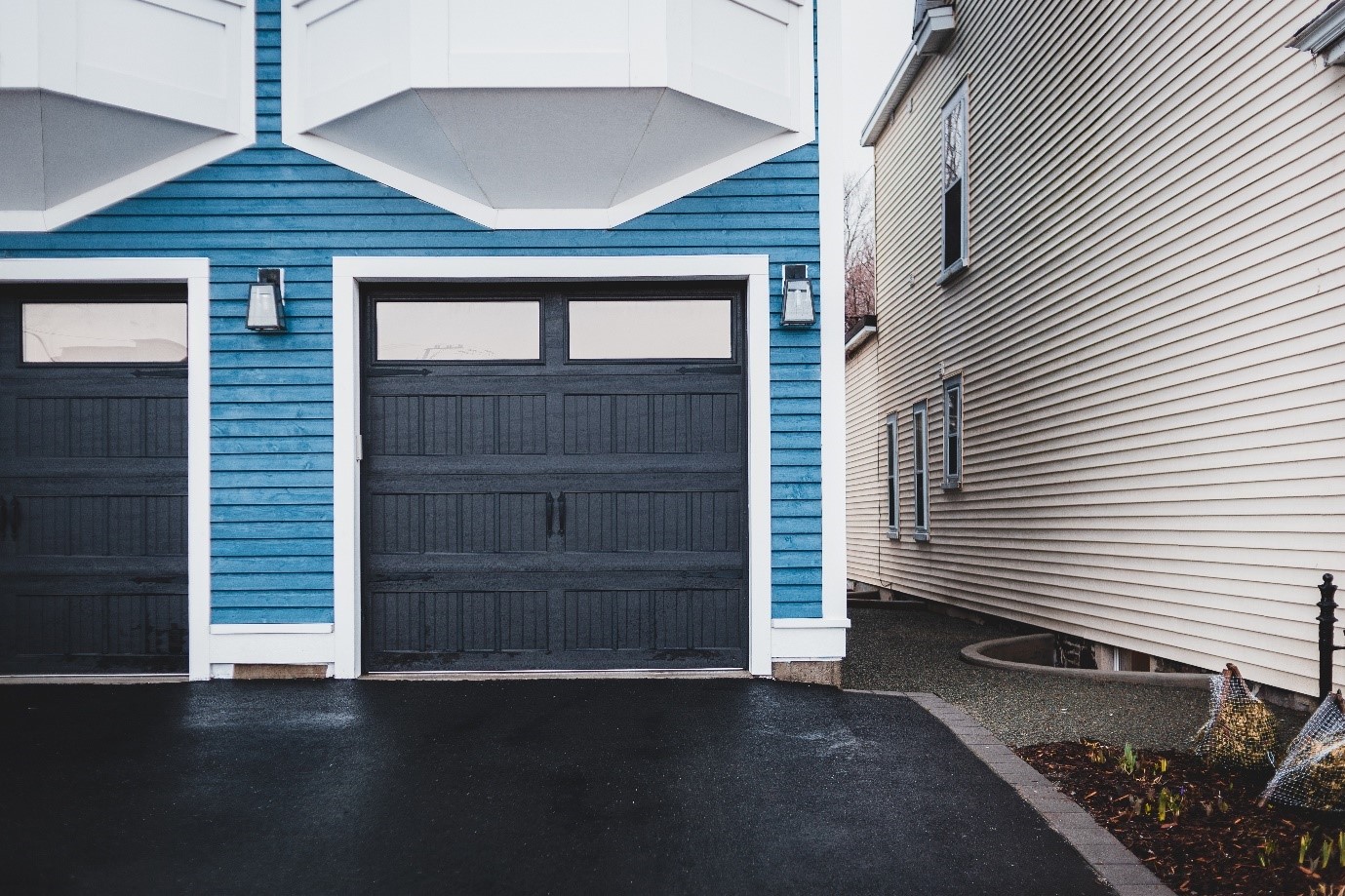 13. Barn grey pitched garage
Grey is a gorgeous alternative neutral to white. When black is too stark, and maybe white shows the dirt too much, a mid-grey is a stunning and sophisticated garage door paint idea.
14. Mid grey garage doors
A soft mid-grey is a lovely neutral garage door paint idea that works well on many styles of homes. Grey complements so many brick and other exterior material colours. Especially with a white trim which makes it look especially neat against the house façade.
15. Dark grey
Dark grey wooden doors have an inherent character and ambience. Timber is often still the first choice for garage doors, particularly when it comes to farmhouse barn style doors. If choosing a soft matte timber look, a metallic statement light fixture like a brass sconce adds both style and functionality.
16. Pale grey garage door
Choosing a garage door colour can be a lengthy process! How to decide between beachy whites, modern blacks, sophisticated greys or maybe going for a bold colour pop? If neutrals don't excite you, paint your timber door your favourite hue. Or, if going for a steel garage door, you'll find there's a great wealth of colours available these days. But if you don't want to tire of your colour choice too quickly, it may still be best to go for something more muted, like a soft grey.
17. Grey and taupe
Wanting to refresh your garage door paint colour but want to go for something a little more unusual? Try a neutral like a pale taupe, especially mixed with greys. It especially complements a pale stone driveway.
Coloured garage door ideas
18. Candy coloured garage door
Love a bold pop of colour? You'll need to consider things like the colours of your home exterior and style, your surrounding landscape and your personal tastes. You'll be wanting to create a sense of cohesive consistency. You can do this by painting the trims the same as your garage door, or some people like to paint their windowsills, roof or front door the same colour. One thing is for sure, a coloured garage door is definitely eye-catching. How about a lolly pink!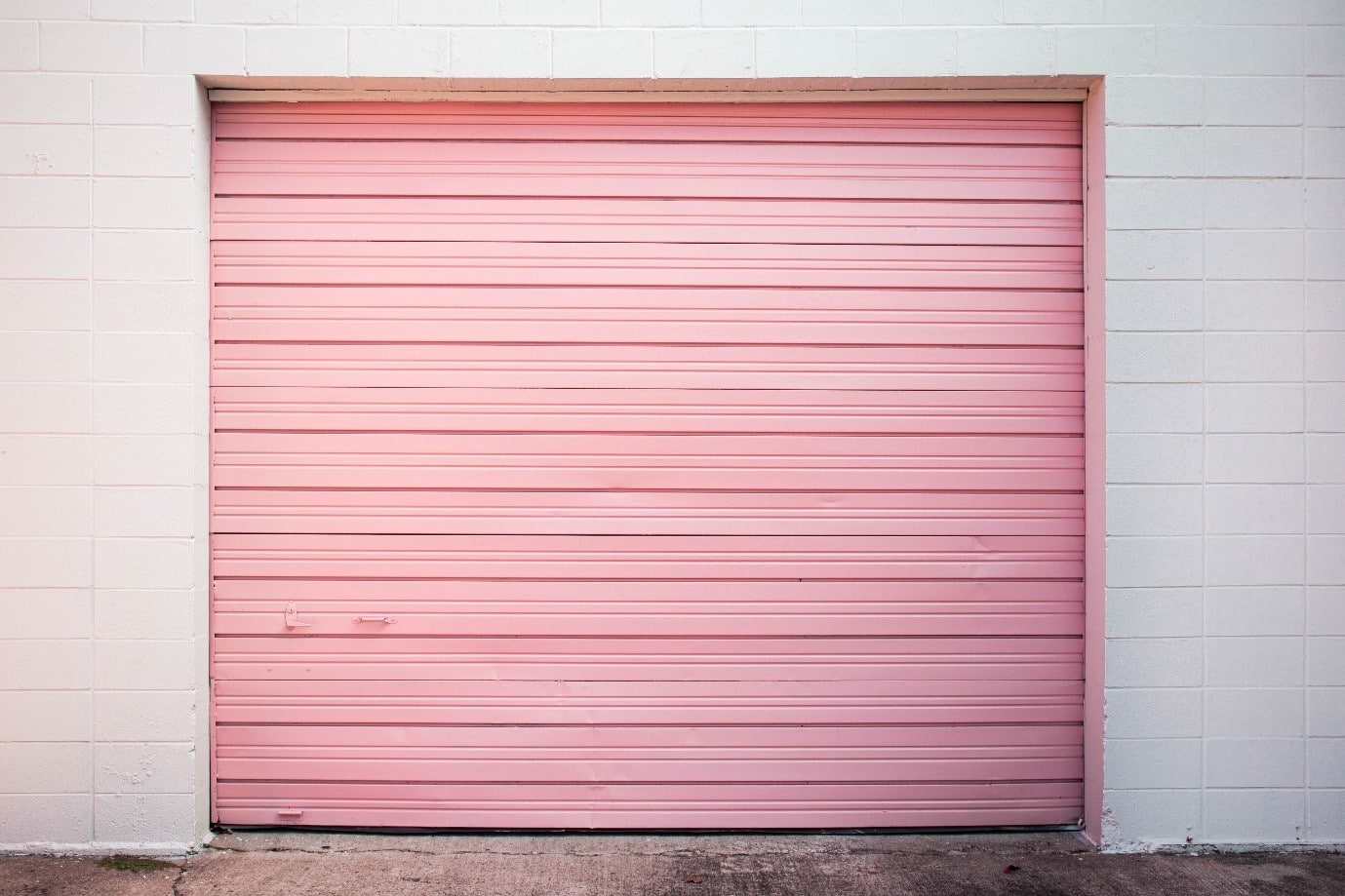 19. Cottage blue
If you love a burst of colour but don't want to veer into anything too exotic, a pretty soft pale blue might be a good choice. Soft blue shades give lots of country vibes (fresh air, blue sky) so they really suit a farmhouse aesthetic, if you are going for barn style garage doors.
Natural timber garage door ideas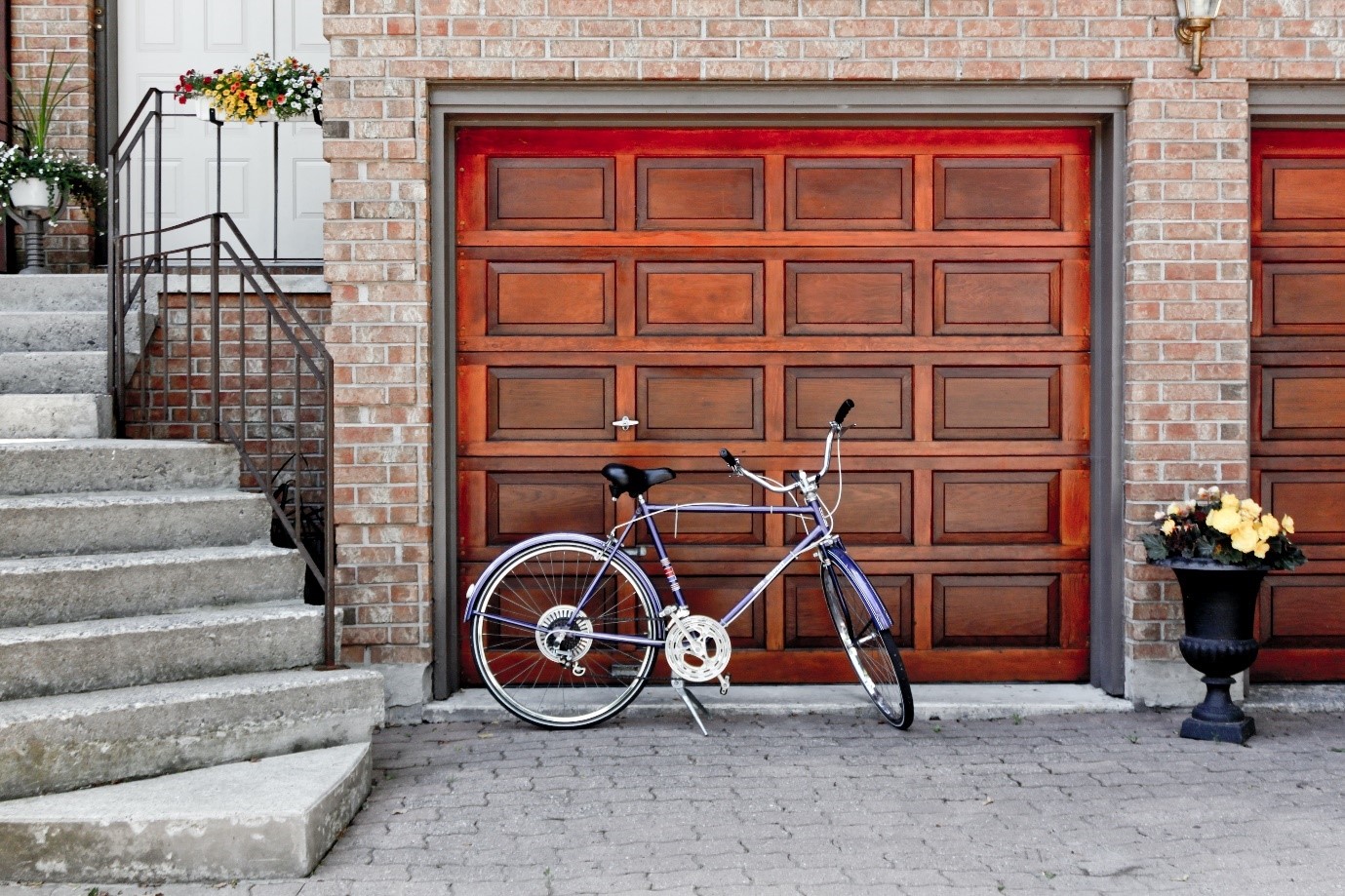 20. Timber herringbone
Choose a barn style natural timber door with a lovely herringbone design. It will add texture and provide a contrast to your plain house walls. Timber doors are great for a rustic but modern look. But keep in mind they can be more expensive, need more garage repairs and maintenance. And they can require replacing more often than other garage doors. You might therefore consider a wood-look door instead.
21. Timber arched garage doors
Love arches? Arched wooden garage doors have a beautiful timeless elegance. They're quite unusual so make a real style statement.
22. Timber texture
Ridged wood is a lovely textured look for a timber garage door. Check out the garage doors on houses by interiors team Kyal and Kara. Their style is typically modern coastal. And their garage doors are a classic example of the signature mix of clean lines, luxe organic materials and light colour palette. A textured timber garage door is the perfect look for a modern house design.
23. Timber sliding
Another option for a nice and streamlined look is to have side-sliding garage doors. This is particularly lovely if they are made from wood that matches the timber used in the home's exterior. Sliding doors are practical too. You don't lose ceiling space as you do with a roller or sectional doors, and you can also just open them minimally for pedestrian access.
24. Pale timber
For a coastal farmhouse aesthetic, opt for stunning blonde woods. A double carriage-door style with the traditional middle handles of the style looks perfect.
25. Automated bifold
Bifold and other side-hinged garage doors have the advantage of saving the space inside your garage. Which is excellent if you have garage storage installed right near your entrance. The door 'leaves' usually also offer a handy pedestrian access option. Modern versions of these doors can be automated with a motorised opening mechanism. You can also get them made with steel reinforcement for added security.
26. Streamlined timber
A timber garage door can add so much pleasing texture to a home's exterior. Popular now is the flush-mounted look, where it appears as if everything is on the same plane.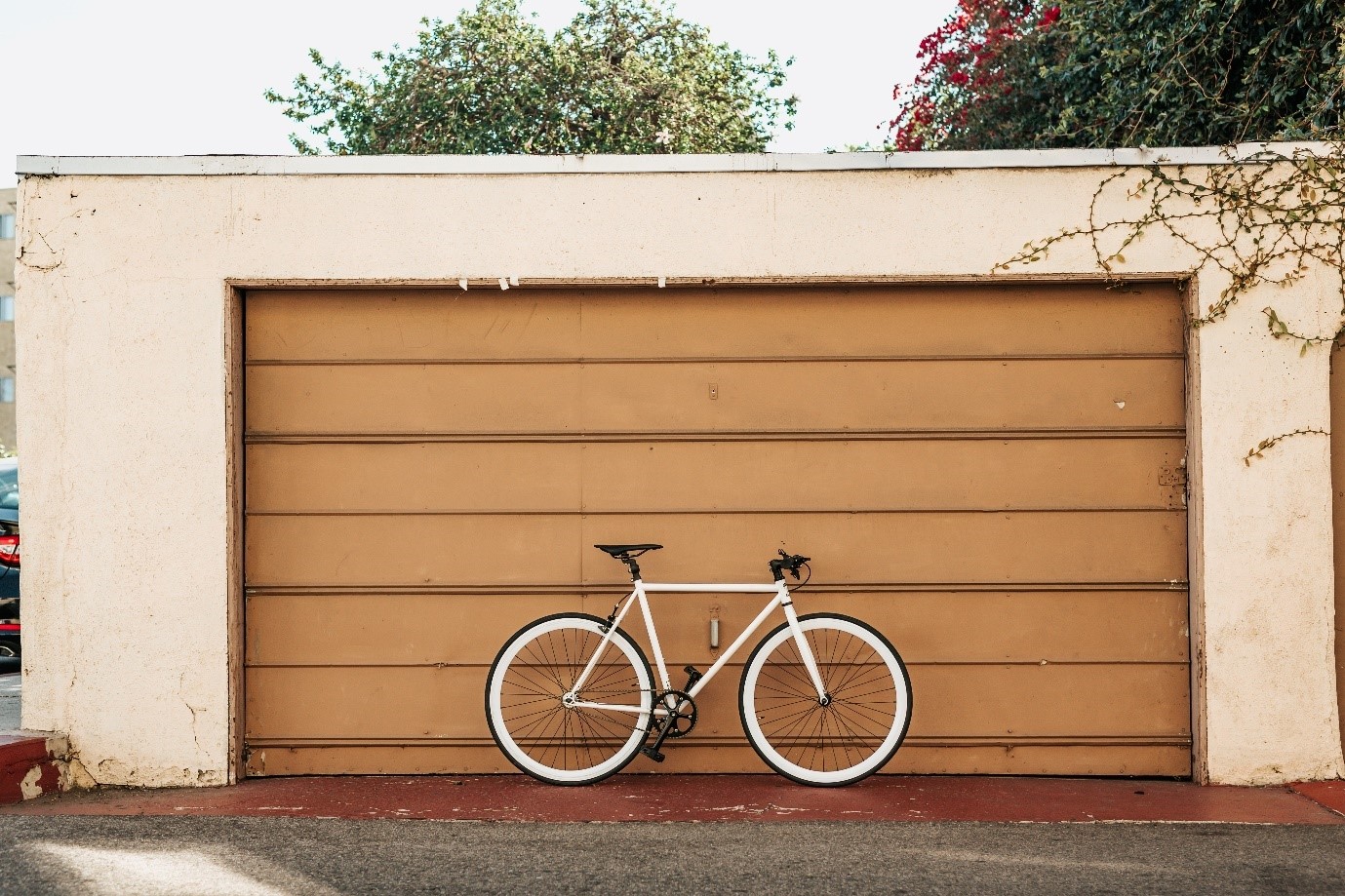 27. Black roller door in timber garage
A standard metal roller door can work with many garage construction materials including warm timber. They don't necessarily have to generate that industrial vibe that they can tend to. Roller doors do take up a little headspace where the door rolls up, but it's not a great deal.
Glass garage door ideas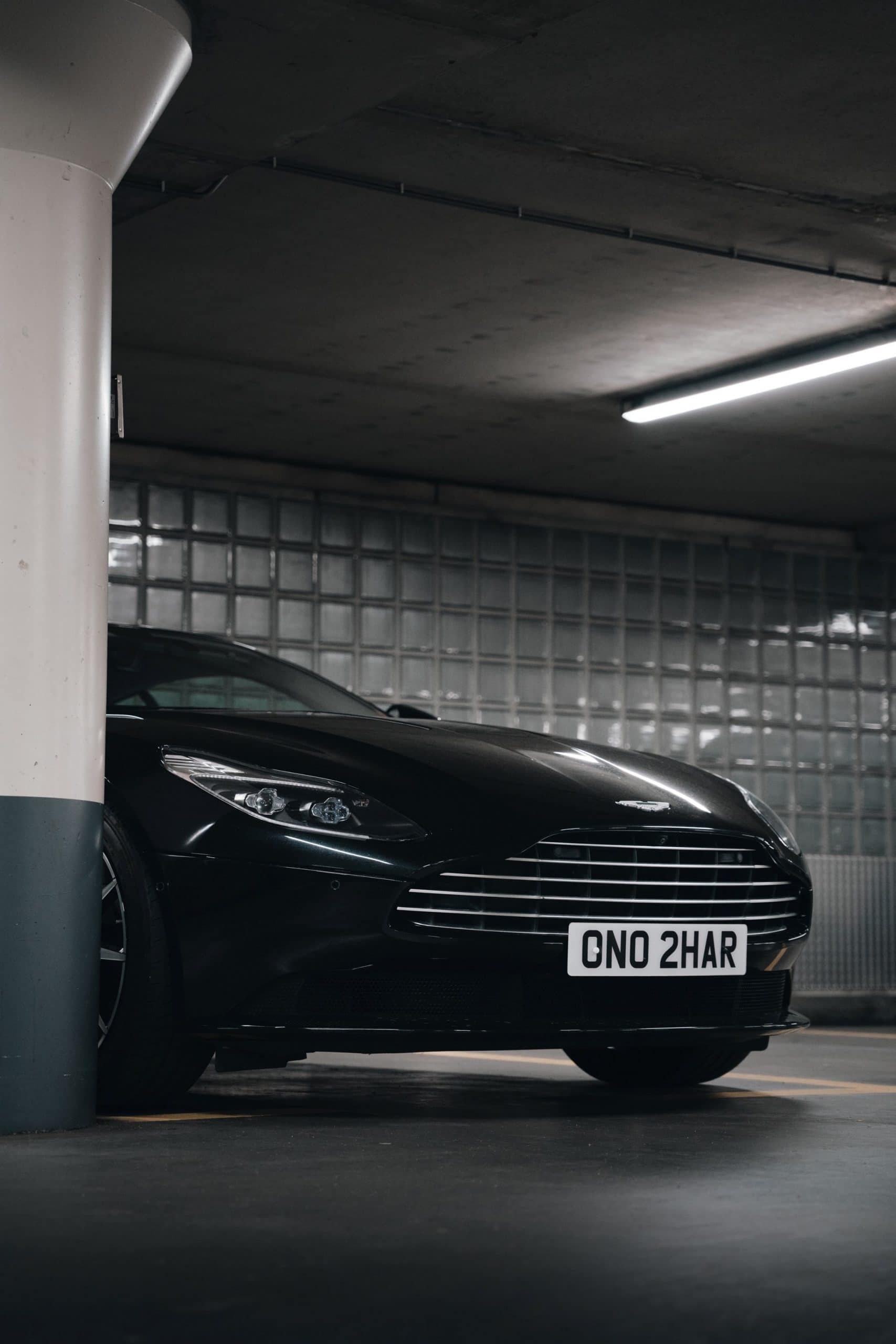 28. Smoked glass garage door
There's something sexy about a glass garage door. Visually stunning, they definitely add an air of luxury to a contemporary home (it helps if you have a classic car to store in there). Glass garage doors also a great way to bring in natural light to open up the space, great if it's used for multiple purposes.
Tempered glass garage doors not only look chic but they are also strong. However, they are also quite heavy and aren't cheap (with options like frameless, tinted or mirrored costing more).
29. Sectional with glass panels
Sectional doors (also known as panel lift doors) have multiple panels hinged together that opens on an overhead track system. They have the advantage of being fully customisable. So not only are they made to fit the exact space you have, but they can be made of a variety of materials to match your home exterior. A sectional door with sections made of glass adds interest and practicality to a plain expanse, too.
30. Fibreglass garage door
For a bold contemporary look, black fibreglass garage doors add lots of shine and reflected movement to the façade. Fibreglass is a less commonly used garage door material as it has some disadvantages. These are mainly poor light and insulation and high fade from weather. However, it's also highly resistant to salt-water corrosion so can be a great choice for a coastal home.
So there you have 30 garage door ideas to beautify your home's exterior. Let me know which is your favourite style in the comments!