Who doesn't love a verandah? It's a cool, chilled-out space in the summertime that becomes an intimate, cosy outdoor spot in winter. And a verandah extends your personal living space, essentially creating an outdoor room that is sheltered from the elements. Aside from increasing the functionality of your home's perimeter space, a verandah really transforms the look of your home and increases the value of your property. When it comes to verandah ideas, they can really be as simple or as complex as you want. You could go for a basic, covered deck or a fully insulated, screened structure with louvre window screens or adjustable roof. Your verandah might wrap around your whole home or just expand along one length. Or you might plan an expansive back verandah that's just perfect for entertaining.
It all depends on your favoured aesthetic style and what the purpose of your verandah will be (relaxing? dining? entertaining?). And of course, how much space – and money – you have to work with! But there are also plenty of inexpensive little tweaks you can make to style up a plain verandah space.
Here, I've gathered 40 ideas for how to beautifully style an outdoor space that has that designer's touch. Let's take a look at some gorgeous verandah ideas!
1. The natural look
For charm and character, you can't go wrong with simple weathered timber and decorative items made from organic materials. Try a wooden table with cane seating and a stunning rattan lampshade. This would be perfect for when you walk out from one of these Bohemian living rooms.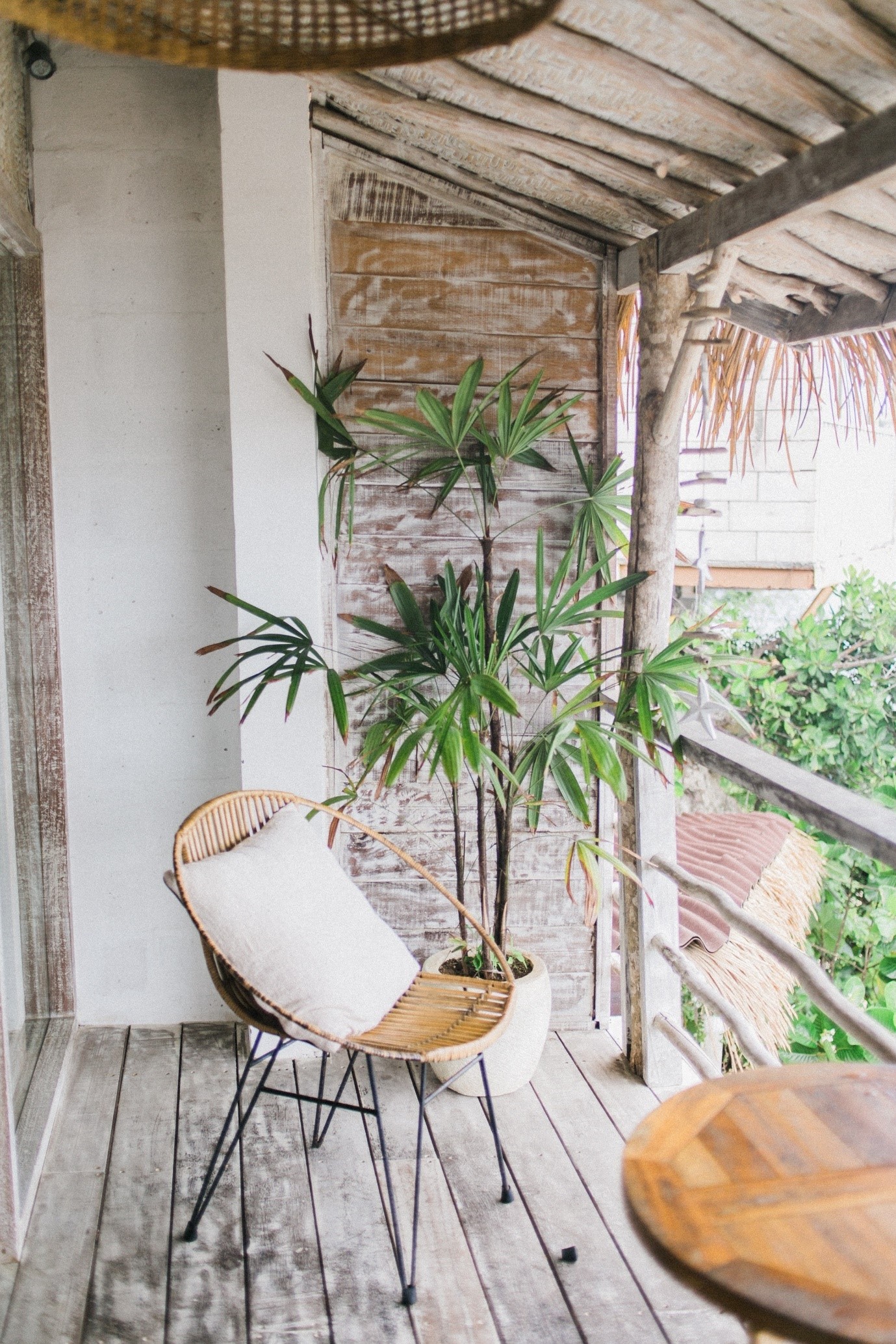 2. All wood spells warmth
You could also go for a solid timber look, especially if you have an enclosed verandah. A simple, minimalist design can feel so snug and cosy thanks to all the wood. Just add sleek downlights to increase the ambience at night time.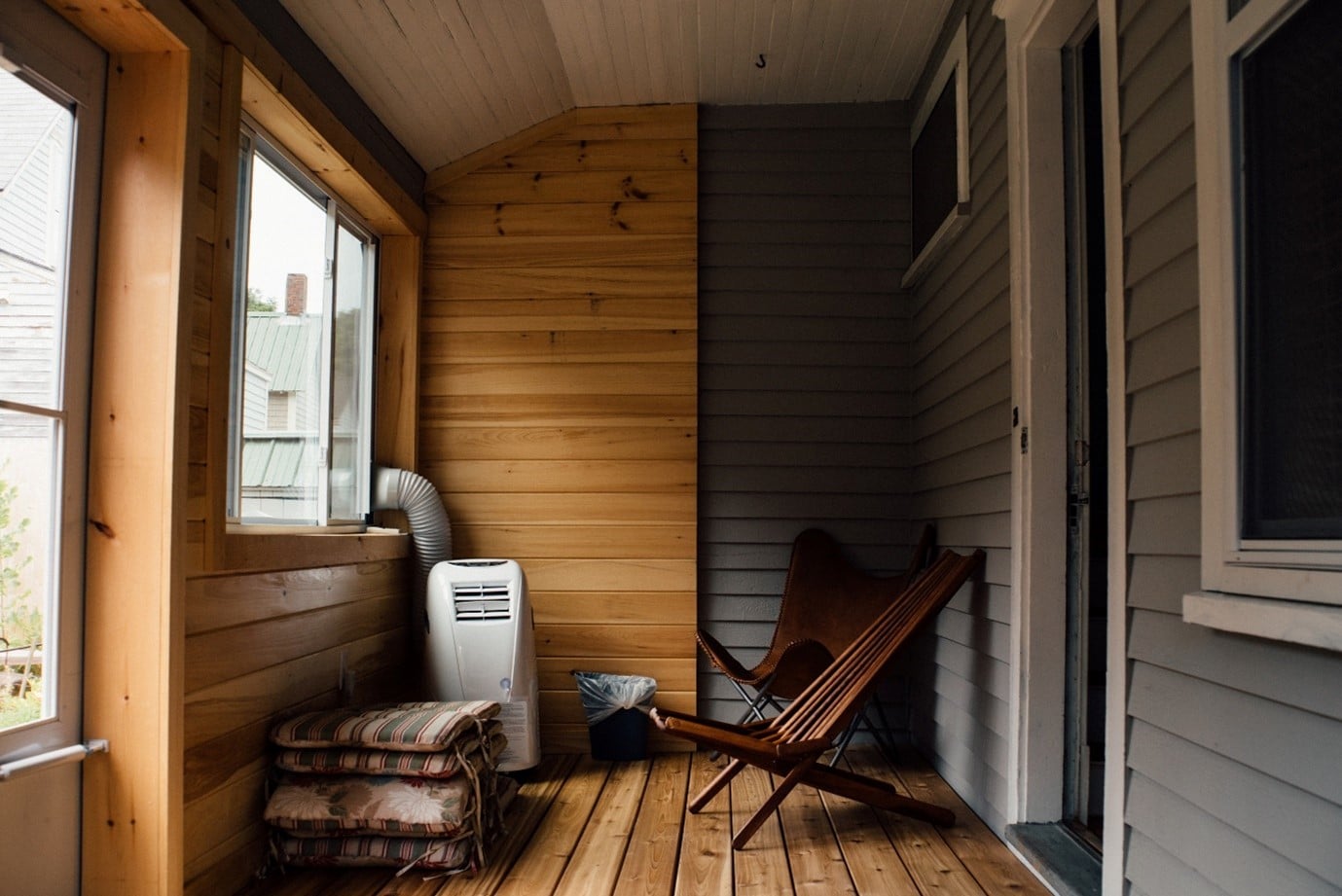 3. Surf shack vibes
A natural, weathered style of verandah with a simple rustic bench always brings those beachy vibes. Add subtle pops of colour to faded paintwork through soft furnishings, container plants and hanging lanterns.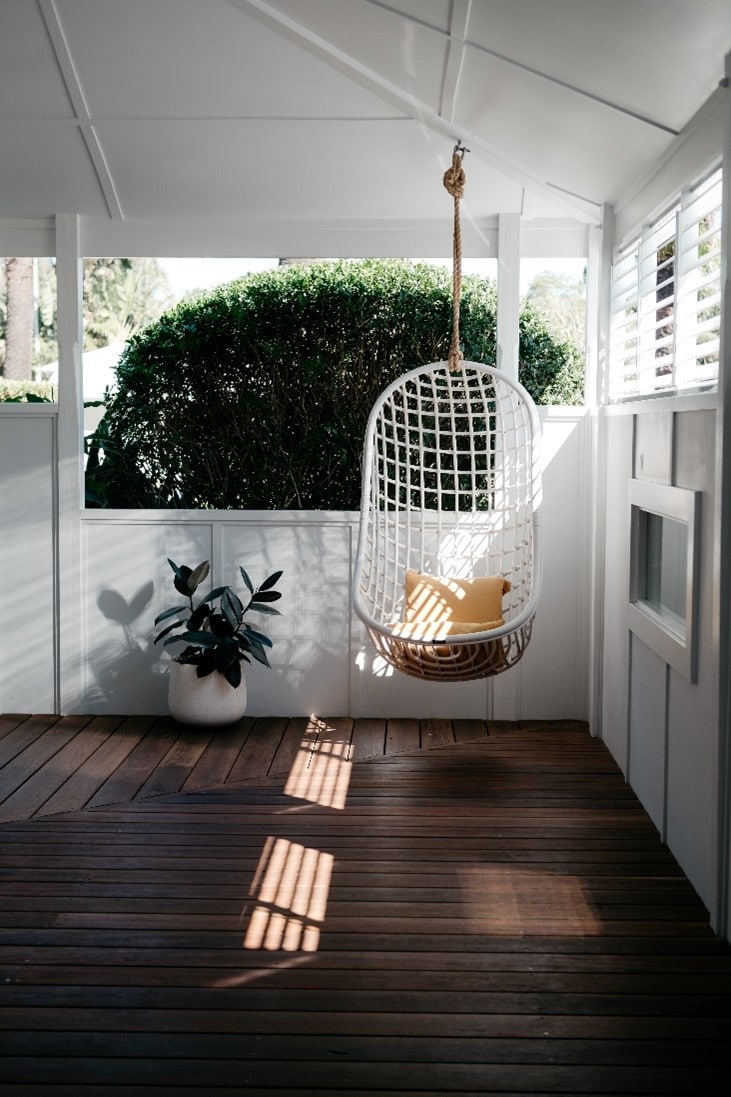 4. Modern farmhouse character
For a modern farmhouse verandah with rustic-Scandi charm, opt for whitewashed walls and ceiling, pale, natural timber decking and railings and industrial light fixtures. Add white timber rocking chairs and a large black floor rug for a contemporary flavour.
If you love the modern farmhouse look, then you'll love these farmhouse bathroom ideas and farmhouse kitchen ideas too!
5. Shoot the breeze
Breezeblocks…they're a little bit hipster and have become somewhat coveted again. These hollowed-out cement blocks (aka ventilation blocks) were typically used to decorate coastal homes. And nowadays they come in an even greater variety of styles. They're often used as privacy screens too. As an architectural element, they add visual interest to the plainest little verandah area. And they allow in a pleasant amount of sun and wind through.
6. Updated vintage feels
Love a minimalist verandah with a classic, laid-back and relaxed vibe evoking childhood surfing and fishing trips? Go for vertical painted boards, timber battens, corrugated zincalume cladding. These materials all have the retro flavours to take us back to basics with simple, raw beauty.
7. Hang loose
How to style up a tiny verandah? It's easy, just add a cane hanging chair, a Moroccan-style floor pouff, a rug, some vintage lanterns and a cute potplant. And you have an instant outdoor nook with a Boho twist. A darker ceiling colour will add to the sense of cosiness.
8. All timber verandah ideas
A mix of neutrals and white give a soft sunbleached look to a verandah, for a laid-back surf shack space. Get the best result with a decking expert or, if you're just revamping, with some deck sanding and staining.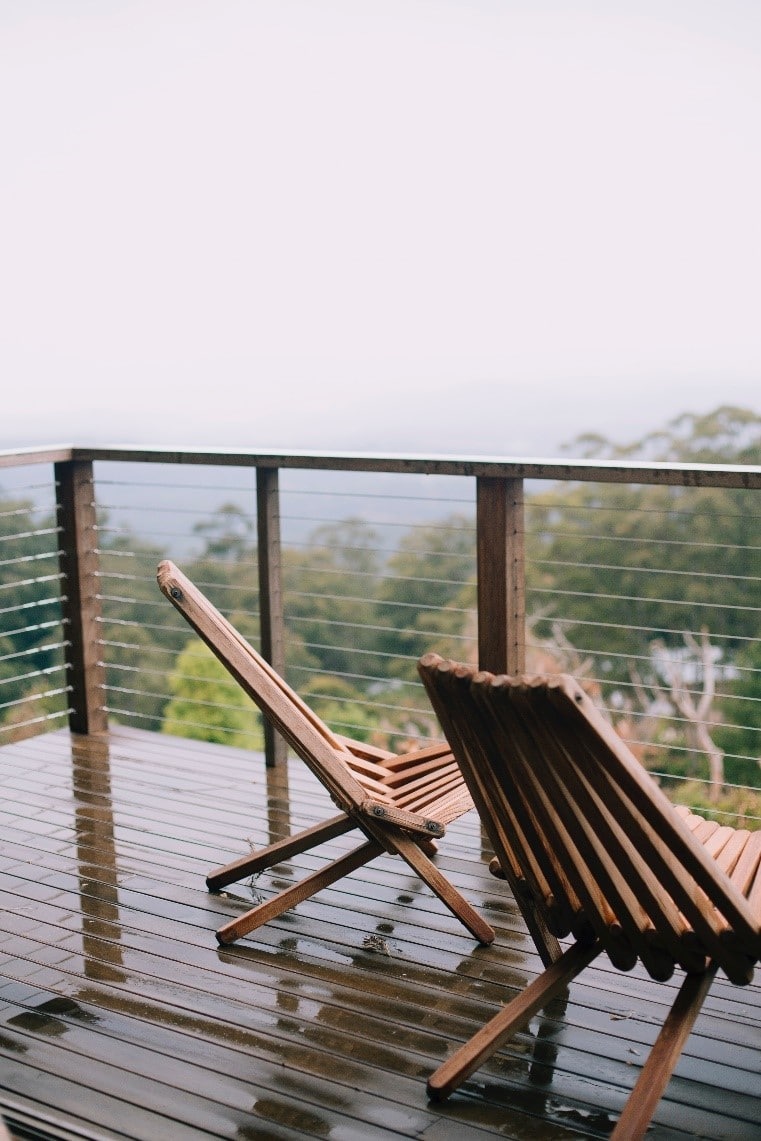 9. Whitewash it
For a traditional look, choose an interplay of timbers and whitewashed bricks to create a lived-in, country style charm. Whitewashing bricks is a great way to lighten and brighten a space and give boring old red bricks a modern makeover.
10. Dramatic roof
Get luxe Balinese resort vibes by opting for a bamboo verandah roof. For extra tropical verandah flavours, consider investing in some beautifully carved wooden outdoor furniture.
11. Stars of the screen
A screened verandah is another option that's perfect for sheltering your outdoor space and increasing its usability in hotter and cooler months. Screened verandahs are also sometimes known as screened pavilions (if they're more standalone). And thanks to enclosed verandahs being totally under cover, your choices for furniture multiply beyond only outdoor pieces.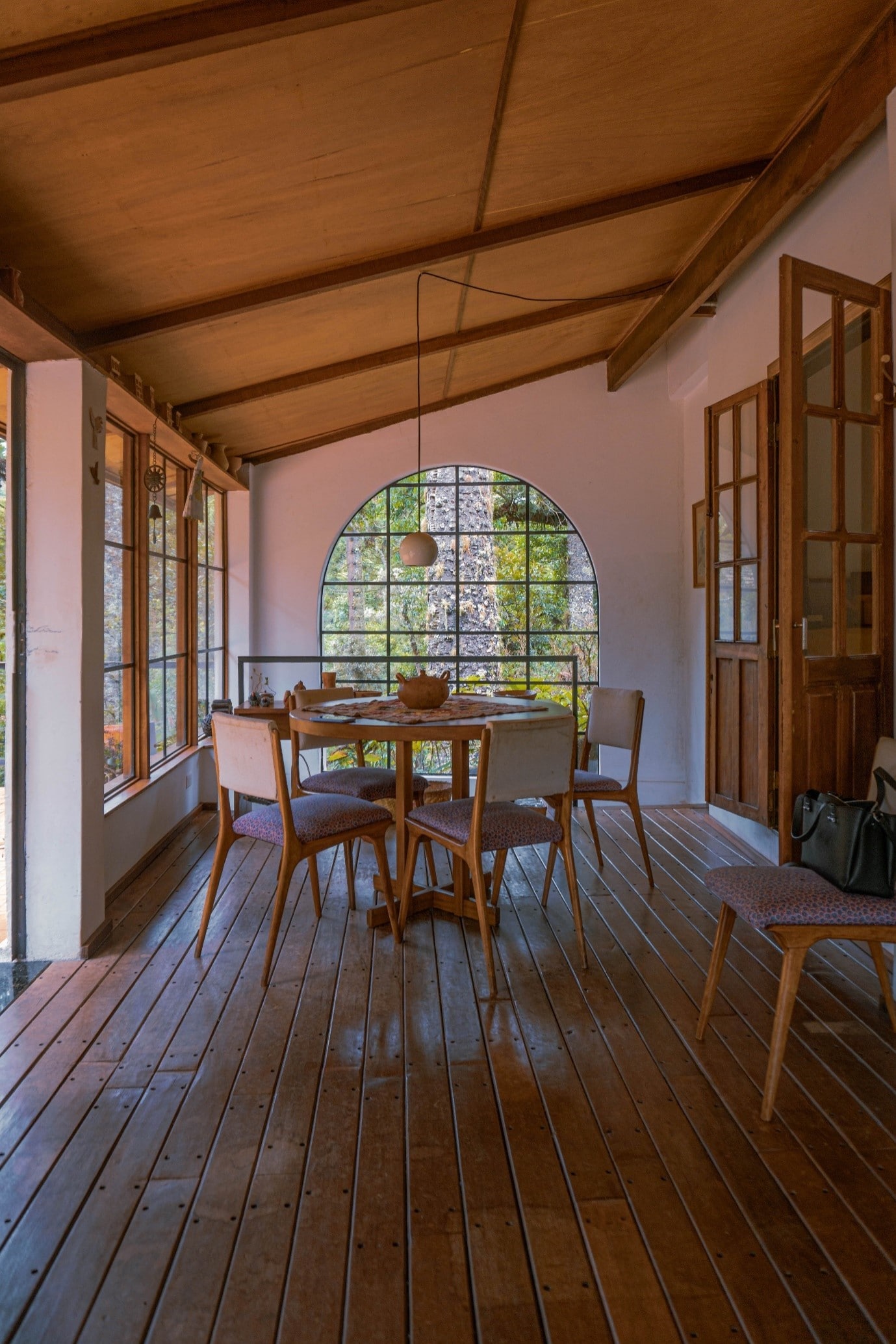 12. Cheeky cookout
Have a small back verandah? Turn it into a chic little alfresco spot. Nestle a couple of bar stools against a window servery and have a mini outdoor kitchen running along one wall to really maximise the space.
Let's face it, you love entertaining, an outdoor kitchen is probably already on your wishlist! But you may not have realised how you can actually fit one into tiny outdoor space too.
13. Brushworks
Along with your traditional verandah screening options, a rustic brush fencing screen adds a touch of the tropics to any sundrenched outdoor setting. Creating mesmerising filtered light and privacy, but providing only mild protection from the elements, a brush fence is mainly for aesthetic purposes.
14. Hampton's + heritage
Who doesn't love a classic Queenslander with its typical expansive wraparound verandah? If you're lucky enough to have one, update it with timeless Hampton's style. Drench the verandah in white and enjoys colour pops thanks to a Hampton's-blue floor rug and matching graphic container plant. Pair an old wooden table with vintage or replica chairs, to create an outdoor space that you'll use all year round.
Hamptons is one of the most popular trends due to its neutrality, and here's how to bring it into other rooms in your home – Hamptons bathroom designs, Hamptons style kitchens and Hamptons style dining rooms.
15. White hot
For a modern style of verandah, go with an all white aesthetic, with a mix of high gloss as well as matte elements. Just add some supremely comfy sun loungers and a few graphic potted plants. And you have a chic minimalist verandah that's strongly contemporary and will create an endless summer on your porch.
16. Minimalist monochrome
A simple aesthetic can be very pleasing—like a basic, natural looking setting with just a bench, a statement plant or two and not much else besides!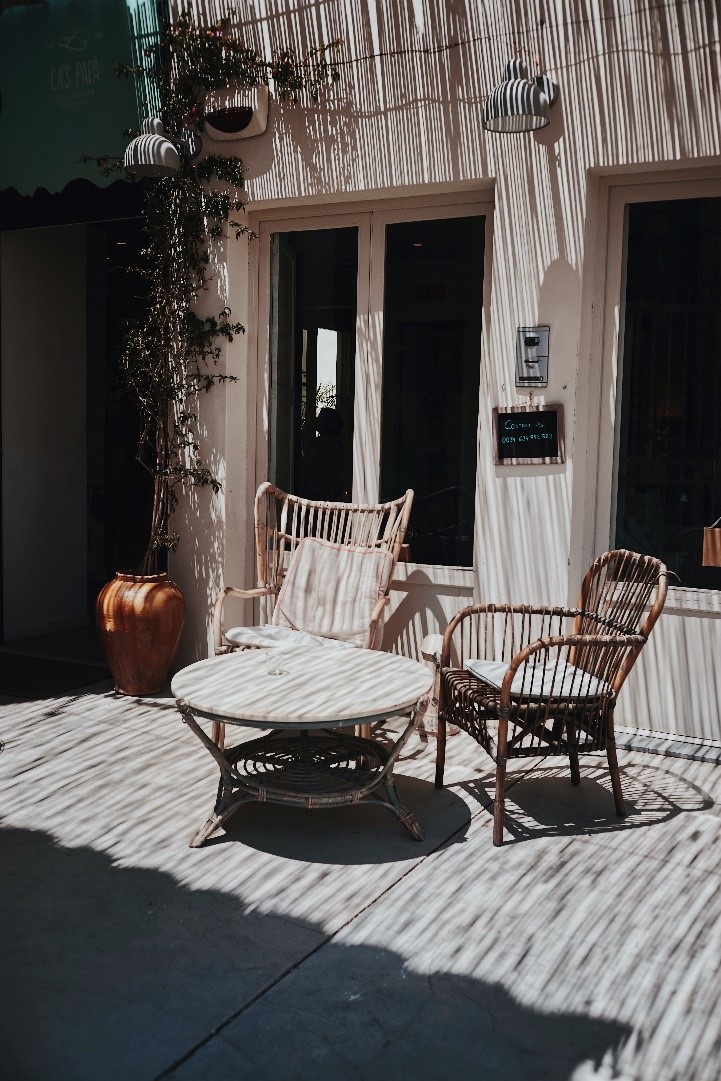 17. Choose the right enclosure
If you're keen on an enclosed verandah because your space gets hot or you'd like extra privacy and/or security. But if you'd like more flexibility than a fixed screen, think about the many options for screens that open or fold.
For example, you could get full coverage pop-out panels, tilt-up slatted panels, bifold slatted panels, or pop-out slatted panels. These are all ideal for letting in the breeze while keeping you cosily esconced in your private nook.
18. Coastal verandah
Steal the style of the much-instagrammed The Atlantic guesthouse at Byron Bay. The heritage building is distinctive for its wraparound white timber verandah, striped awnings and beachy style soft furnishings. It's a beautiful monochrome verandah with lashings of white, navy blue and black accents. The result is a Hampton's slash Australian luxe beach shack look.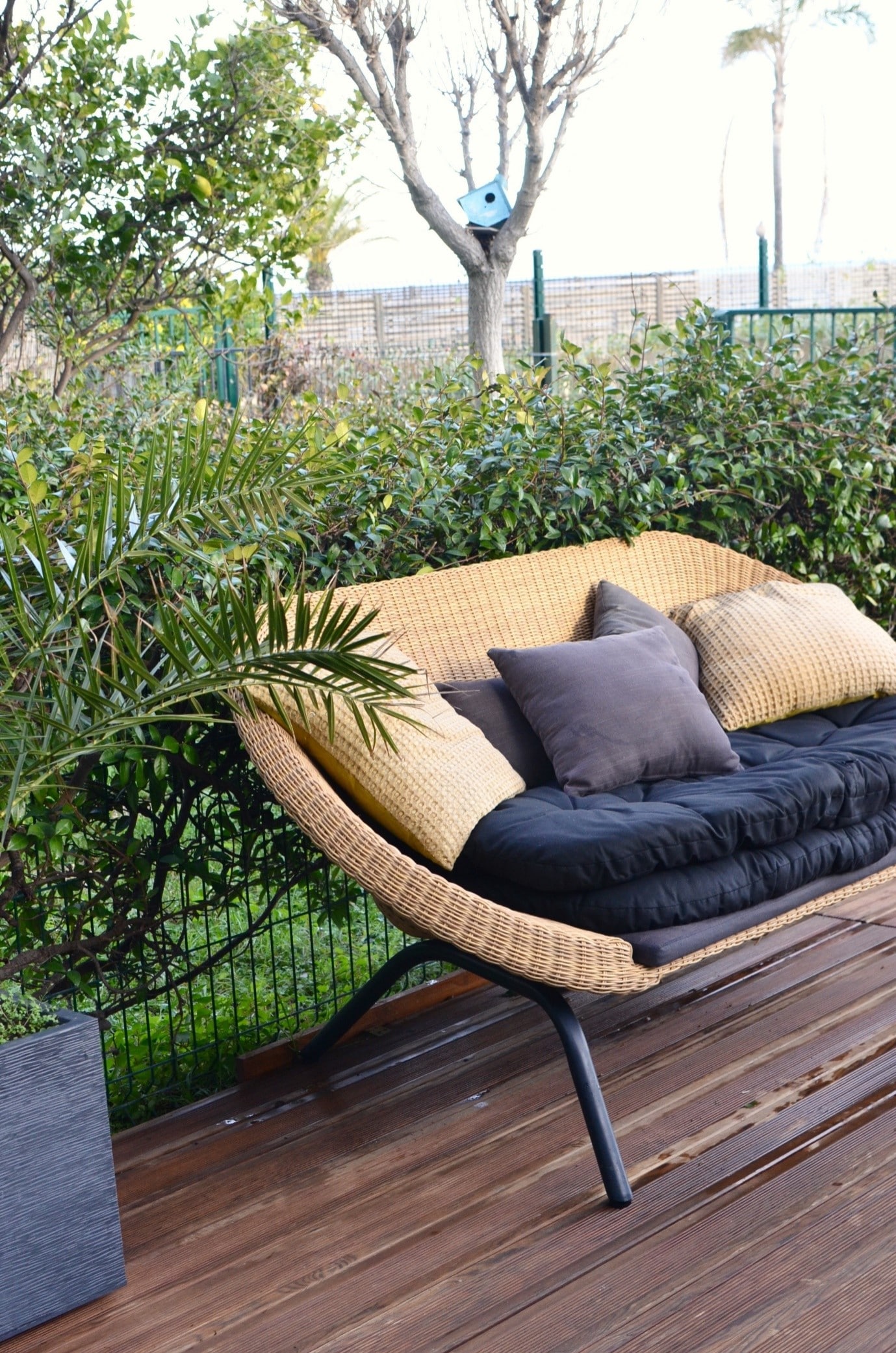 19. Classical white
Create a luminous porch that dazzles the eye with the use of white. Whitewash it all and go for an all-white table setting, which will further act as a blank canvas for the colour pops from everyday items. And add a touch of contrast with a black vintage lantern and wall sconces.
20. Back to black
Make your back verandah feel cosy and inviting with dark, charcoal walls, warm wooden bench seats and a sprinkling of comfy cushions.
21. Monochrome medley
A popular way to increase the drama of your front verandah is to paint or stain both it and the door black. So that a black door doesn't look so imposing, it looks best framed by glass panels either side to lighten it up. A black stained verandah floor and steps contrast beautifully with white railings!
If you're planning on the verandah at the front of your home, you might be looking to revamp the whole works. Here's our top picks when it comes to front porch ideas or even work on the garden too with these front garden ideas.
22. Scandi verandah
For a rustic minimalist look, an abundant use of timber is a neverfail option. But aside from raw, natural timbers, consider making it striking by staining it black. Black looks stunning against plants and natural neutrals and really makes them pop. Go for Scandi style cane chairs and a little table or footstool, adding a soft woollen throw for those chilly mornings.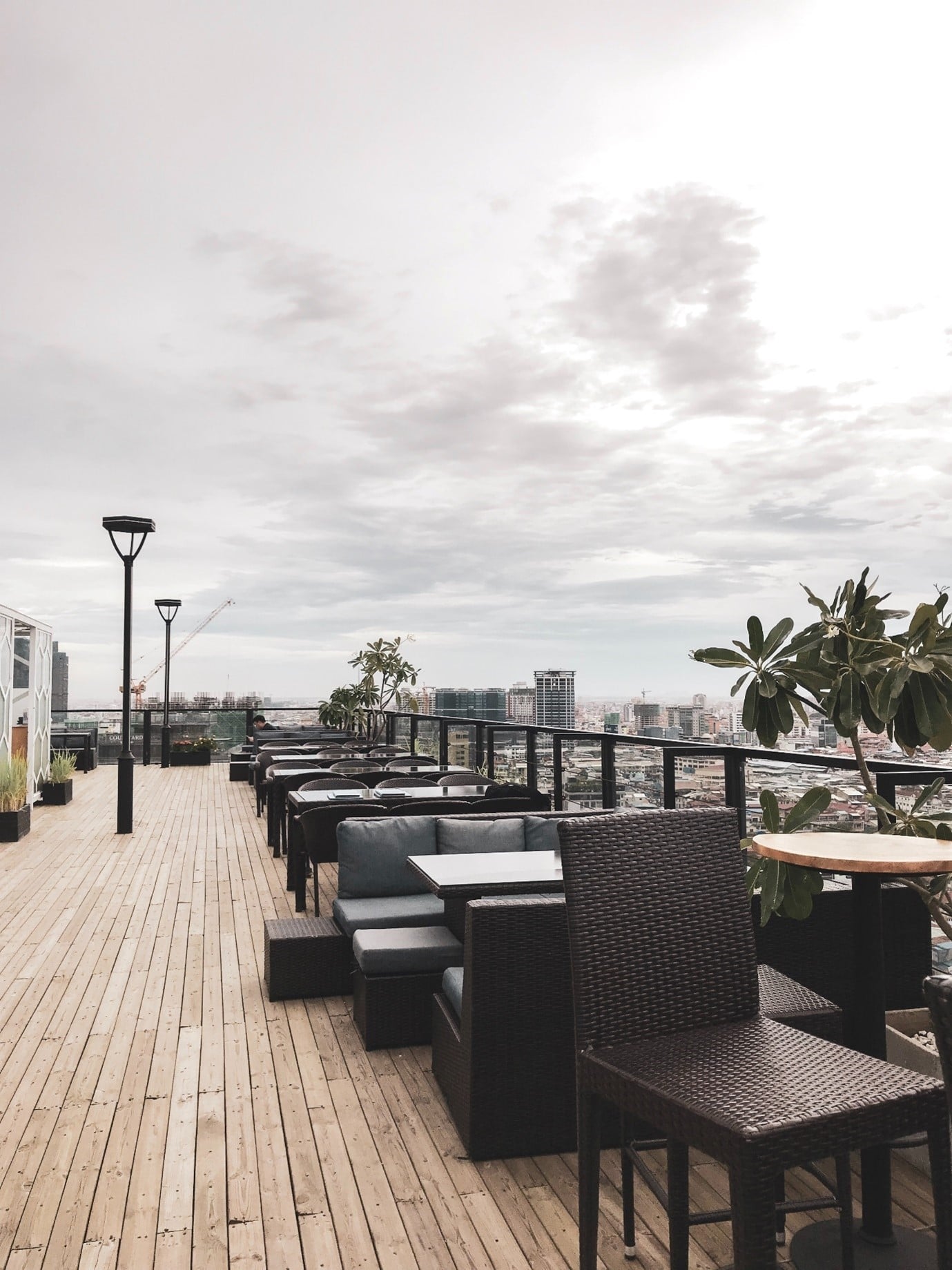 23. Sultry overhead
Black roofs are pretty sought after in verandah design at the moment, instantly conveying a modern aesthetic. The use of black for the roof and poles can be balanced out by softer, paler coloured timbers in the flooring and furniture.
24. Enclosed verandah potting shed
Have an enclosed back verandah/sunroom? You might like to turn it into a nifty little indoor potting shed if you're a keen gardener. There's usually plenty of sunlight and if you add just minimal décor, you'll have the space to enjoy some quiet time potting up your new babies. Add framed botanical artworks to convey the theme, and terracotta décor for warmth.
25. Simple stunner
It's actually amazing what you can do to increase the liveabillity of your outdoor space, even with just a narrow strip of a verandah. If you just have a tiny verandah, keep it simple. Give it a cool look with concrete flooring, black painted timber and maybe even add a pale timber pergola structure.
26. Black with a wood stack
For a beautifully cosy, rustic verandah, stick to nature tones and add plenty of texture with a wood stack, a sheepskin draped over a chair and something like a sisal rug or floor cushions. Go for an overall feeling of softness and warmth, highlighted against hard, cold surfaces. Consider Japanese aesthetics, which are similar to Scandi ones, in featuring clean lines, an appreciation of raw, natural materials, soft neutral colour palettes and a focus on tactile materials.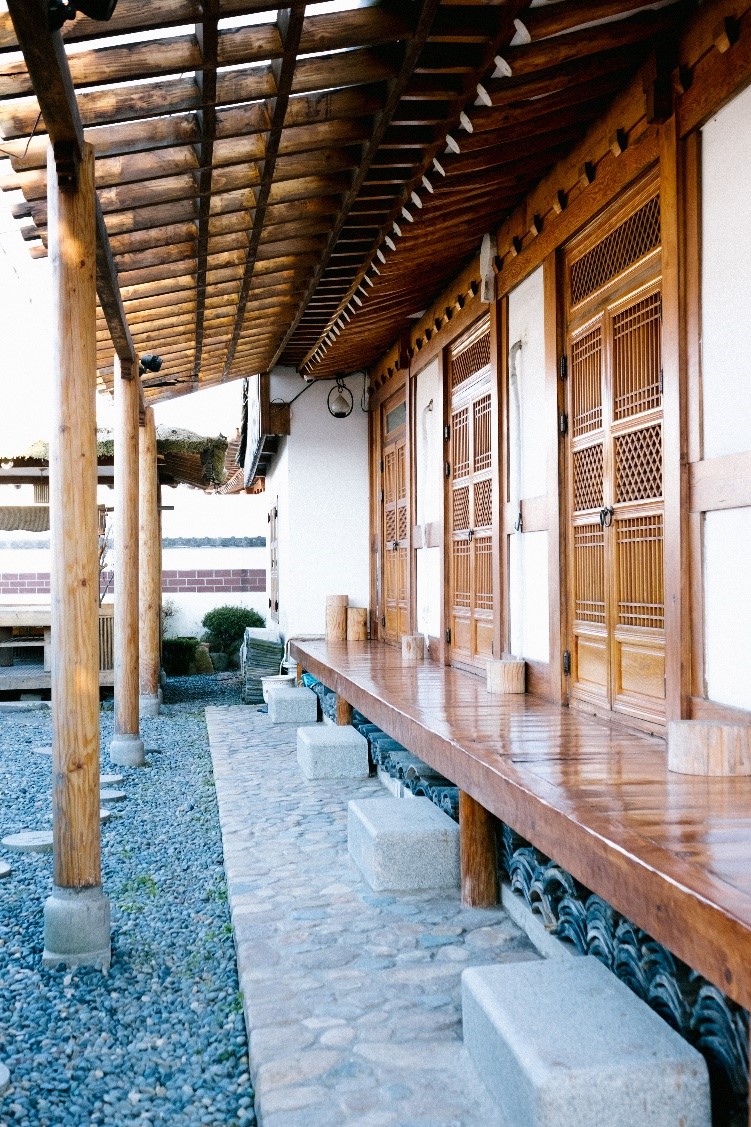 27. Black + naturals
This is an aesthetic that just works so well for contemporary verandahs: black walls, roof and railings mixed with neutral colours and natural materials. Even if your verandah is quite busy with décor, it can all come together thanks to muted tones and the repetition of elements.
28. Mix organics
If you love a timber verandah, consider adding sophisticated leather chairs. Leather is another honest, raw material that goes perfectly with wood. Or, go for elegant black designer armchairs, with metal frames bringing a touch of industrial style. Keep it all simple with subtle downlights, or explore your other verandah lighting options with a local who specialises in landscape lighting.
29. Scandi-Australian
Go for the clean, casual luxe style that some call "Scandi-Australian". Casual, comfy and pared back, there's an emphasis on craftsmanship and gorgeous natural materials. Increase the comfort by having a ceiling fan installed to ensure your enjoyment of the outdoor space on days when there's no cross breeze.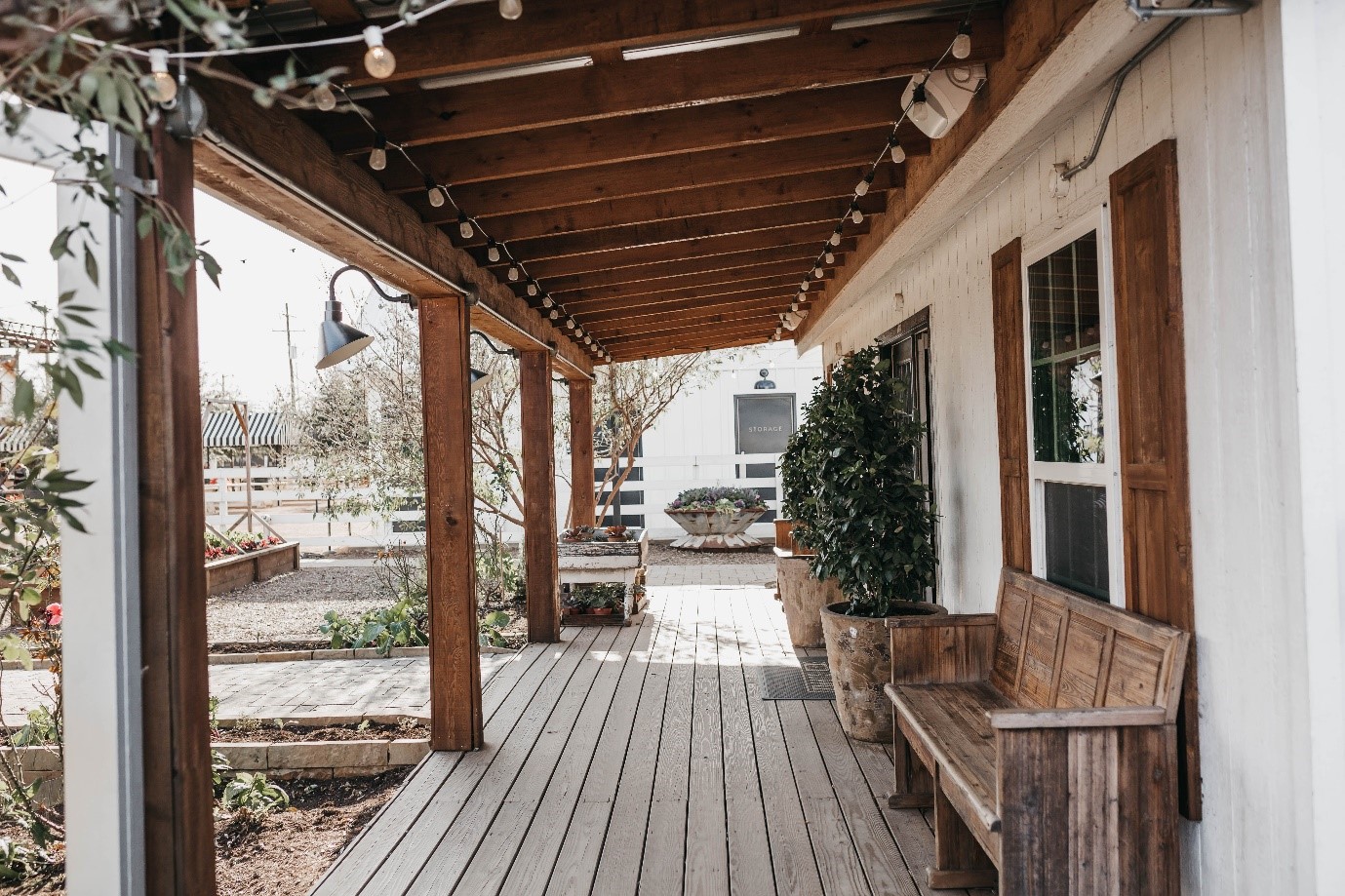 30. Rustic with church pew
I recently saw a bunch of vintage timber church pews come up for sale on our local buy-swap-sell site, and I'm kicking myself for not grabbing one! They're such a practical and quirky addition to any outdoor space. Pews offer many metres of seating space and are typically made from beautiful hardwoods.
Style up with scatter cushions and vintage farmhouse décor, and you'll instantly have a verandah full of personality. Depending on their condition, you could leave them au naturel or whitewash them.
31. Verandah seating ideas
When selecting outdoor furniture for your verandah, go for styles that instantly evoke the laziness and ambience of summertime. Like hammocks, hanging egg chairs or swinging loveseats. Floor cushions or pouffs are also great for increasing seating options and they always have a chilled out, Boho feel about them. And if you're going for a modern luxe vibe, consider a sunken lounge on your verandah like this: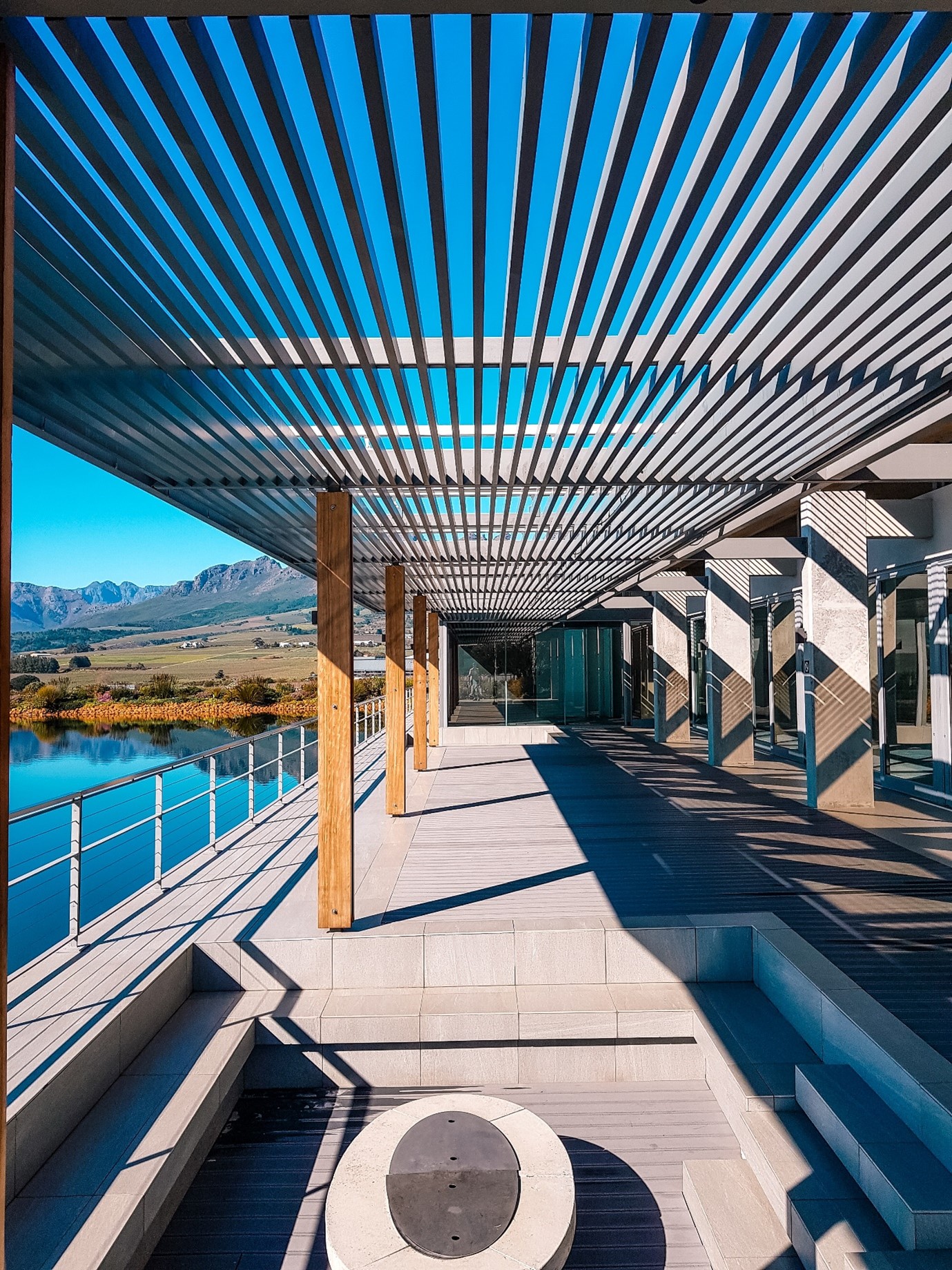 32. Line it with containers
Let your verandah space became a potted garden, for example how about adding dwarf lemon trees planted in French pottery? A tiled or paved verandah is a great idea if you will have lots of potplants. Find heaps more paving ideas here.
33. Natural and leafy
Verandahs in the plantation style look awesome. They typically feature a darker timber floor juxtaposed with white walls and roof. And there's the signature use of natural fibre décor for texture and visual interest. Let climbing vines intertwine themselves in the timber, to seamless meld the garden with the porch. For help with planting ideas, find a local expert garden designer to help.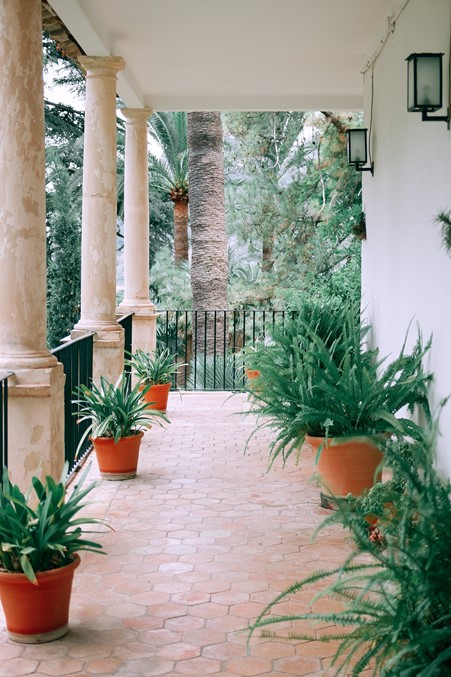 34. Style it with textiles
Amp up the cosiness of your verandah space by introducing plenty of natural materials such as bamboo, wicker, sisal and rattan. Together with plants and soft textiles, the effect is warm, down to earth and inviting.
35. Chockfull of plants
For an eclectic, Bohemian home, saturate it with plants, up the walls, on the ceilings, on the floors and of course, all over the verandah as well.
As well as being a lovely natural styling touch, a jungle on your porch helps perfectly nestle your home in its landscape.
36. Symmetrical standards
Make a front entrance grander by placing two potted standards on either side of the steps to the verandah.
37. Dreamy watercolours
Now let's switch it up and move on from all the laidback natural-looking verandahs and take a look at some colourful options for verandahs. Pastels always bring country charm. Consider duck egg blue or vivid sunshine yellow walls with a white ceiling, window frames and flooring, with some bold colour pops in the rug, cushions and plants.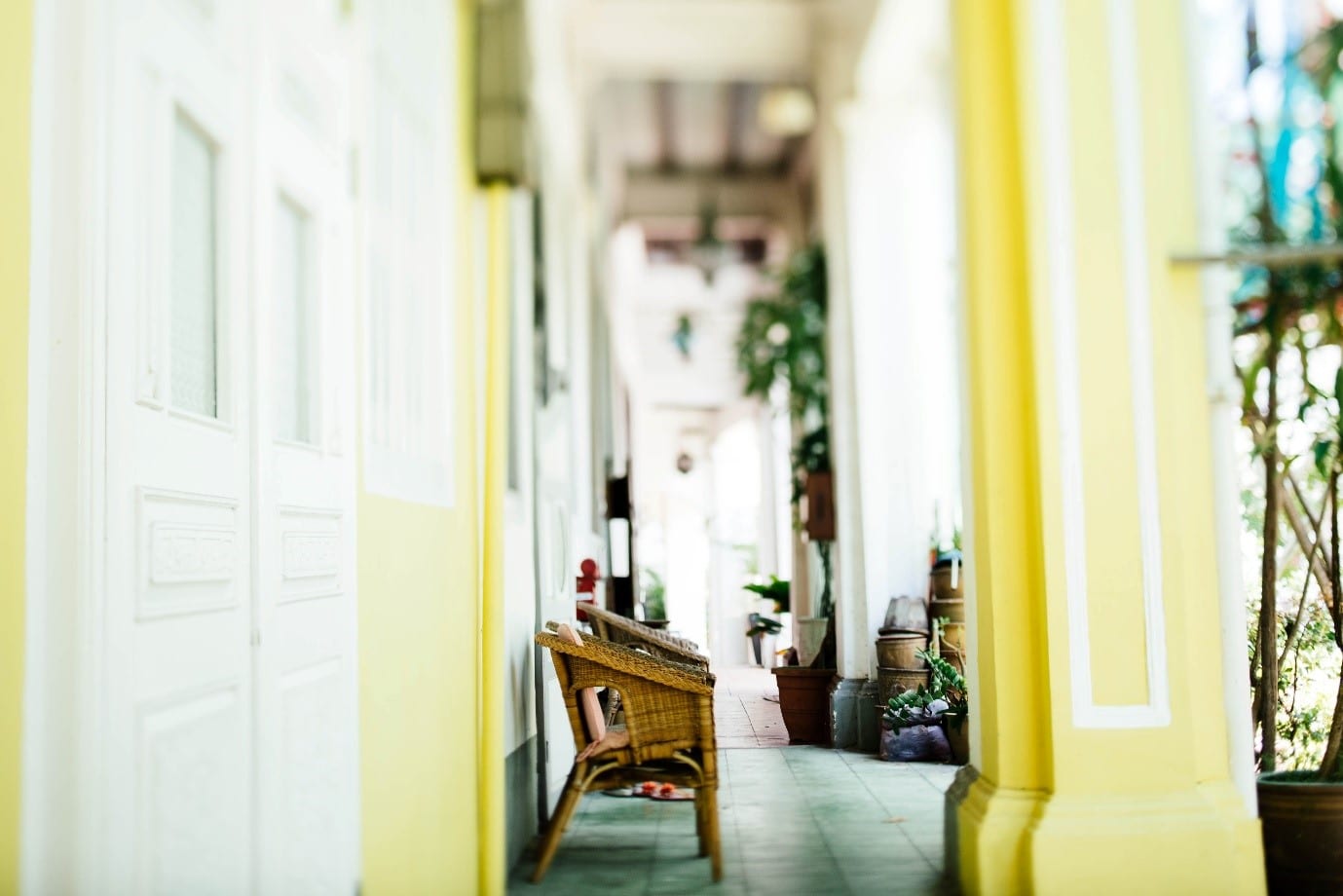 38. Mint green verandah
Another gorgeous refreshing summery colour to use on a verandah is mint. It goes beautifully with white wicker furniture and a white painted ceiling and the mint can be amplified by a bold teal rug. This kind of look has all the Caribbean feels about it. Sunny yellow couch cushions could add even more sunshine to this space.
Whether it's inside or out, putting paint on the roof is never a fun task, luckily there are plenty of professionals to help with ceiling painting.
39. Contemporary but classic
For a verandah with strong Australian country flavours, go for the traditional vibes of a dove grey exterior with pinkish-toned roof tiles, and mix with contemporary touches like a black door and Adirondack chairs. Add charm with a wisteria planting out front, that can creep its way up the awning over time.
40. Front door colour pops
If you've gone for a darker exterior for your house, painting your door a wild colour packs a powerful punch of contrast. It really makes a bold design statement.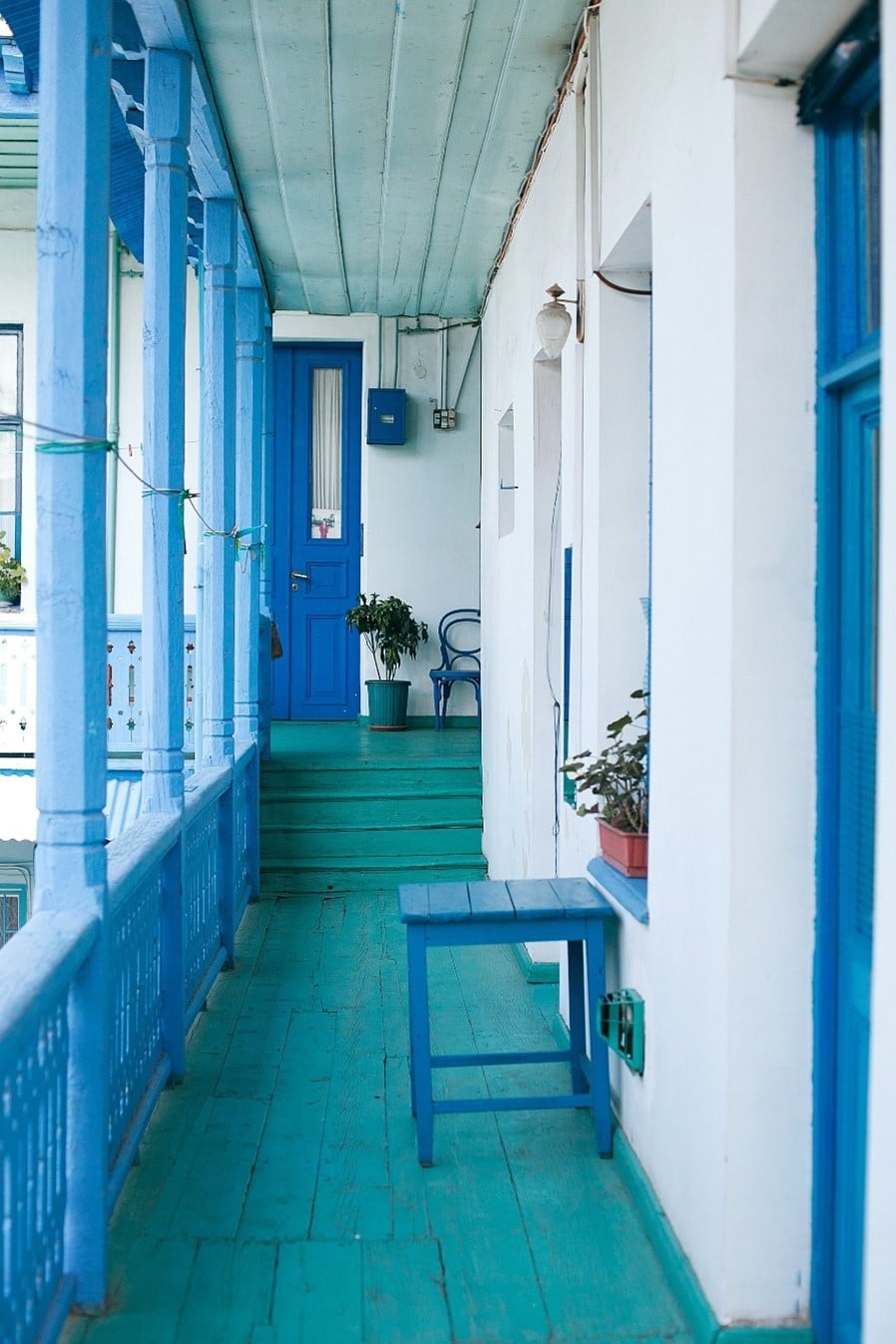 And there you have my selection of 40 verandah ideas that have all the perfect al fresco feels about them. And they will definitely increase the useability of the perimeter outdoor space of your home, not to mention improve the curb appeal. I love a natural, minimalist verandah, but I also have a real soft spot for pastel-painted ones– they just seem so cheerful and summery. Which is your favourite? Drop me a comment below!
Building a verandah from scratch obviously isn't going to be something you want to DIY so enlist the help of an expert in verandah installation or a tradesman who specialises in awnings. Or, if you just want to make some simple adjustments to your verandah space, you might call on the skills of an all-rounder tradesman to help out.