Samhain has nothing to do with the type of scares you're used to. It's not the '' Demon Voice Recorded In My Basement'' or ''Real Scary Ghost Caught on Tape'' or even ''Miley Cyrus's Wrecking Ball''. This is Samhain, and it's some real ancient spooky stuff.
So what is Samhain?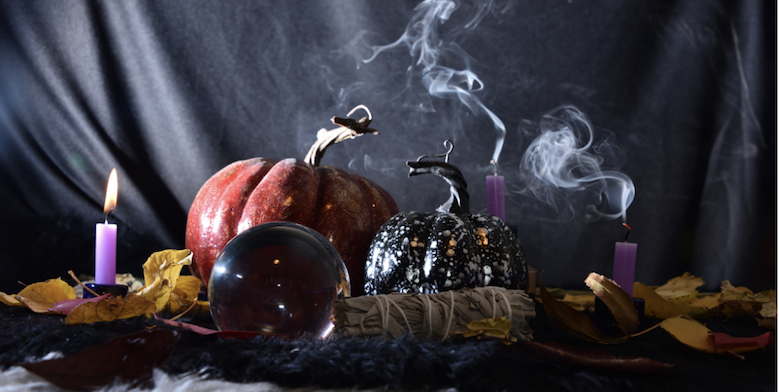 Samhain pronounced,  Sow-en, is the beginning of winter and the Pagan New Year. It's known as the festival of death. To explain, it's the time that death surrounds us in nature, leaving the land barren and leaves falling from trees. It's also the harvest of death when farmers would slaughter cattle and preserve the meat to last through winter months.
In Wicca, the God of light descends into the Underworld on Samhain opening the doorway to the spiritual world. Samhain stands as a time to remember loved ones we have lost and give thanks to our ancestors. Sure, it's a time for ends, but it's also a time for new beginnings.
It falls on Halloween night, the spookiest of all, and is considered the end of the Celtic year. On Samhain night, we stand at the space between seasons, and in the heightened magic that connects the realms of the living, and the dead.
Halloween is an ancient programme based on the ancient pagan Celtic druid satanic ritual – aka, Samhain. It was practised by occultists and witches. They would carve scary faces in pumpkins, wear freaky costumes and masks to scare away ''ghost spirits'' that are thought to have been departed from their graves, making it 'the festival of the dead''.
Ok we don't know how true that last one was but, pretty scary, right?
With that being said, let's find out how to make our home super spooktacular first with Samhain festive decoration!
Samhain Festive Decoration Ideas
Welcome to the Dark Side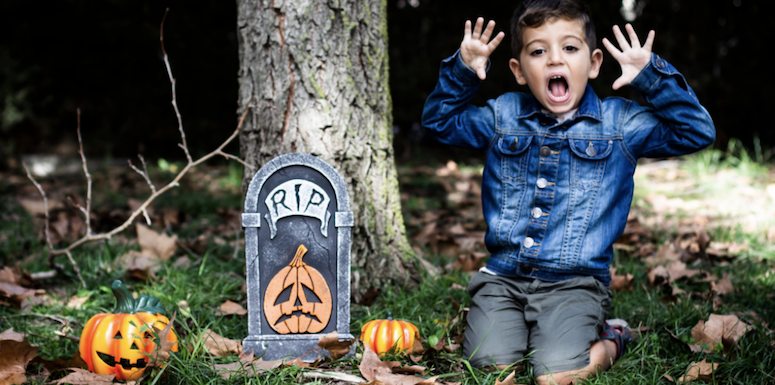 So it's the time of year when (according to Samhainains), the world is dying. As morbid as it is, why not take advantage of it and get in touch with your darker side through some festive decoration?
With the pandemic, many of us are inside more often, it's the perfect opportunity to get into the festive spirit and freak out your family. Wallpaper decals are a great way to decorate your home with minimal damage or effort for wallpaper installation and removal.
To get into the Samhain spookiness hang scythes, skulls, and grave rubbings on the walls, along with some other symbols of death.
Baskets & Bowls In Abundance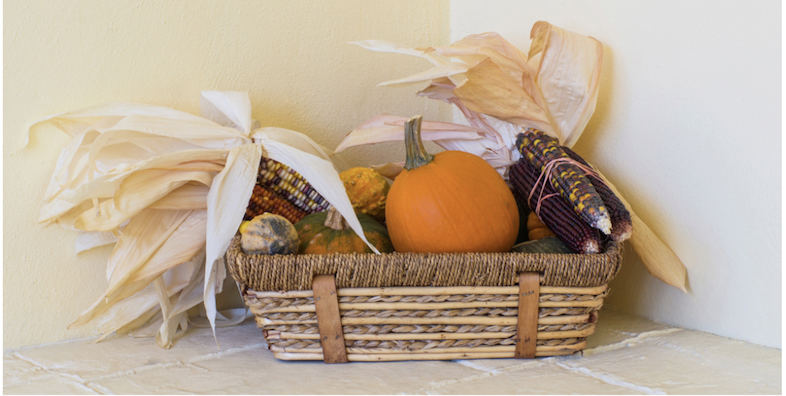 It's shopping time! Get out there and grab some baskets and bowls. Head home and fill the baskets with harvest foods, from the grocery store, such as apples, corn, gourds, and miniature pumpkins. Once the healthy stuff is taken care of it's time for the sweets! Fill the bowls with any type of sweets you can imagine. A good DIY idea is to invest in a florists wire, and hang them on the walls of your home.
Even when Samhain is finished, you can still use the harvest food decorations to come up with some amazing recipe ideas!
Paint That Pumpkin!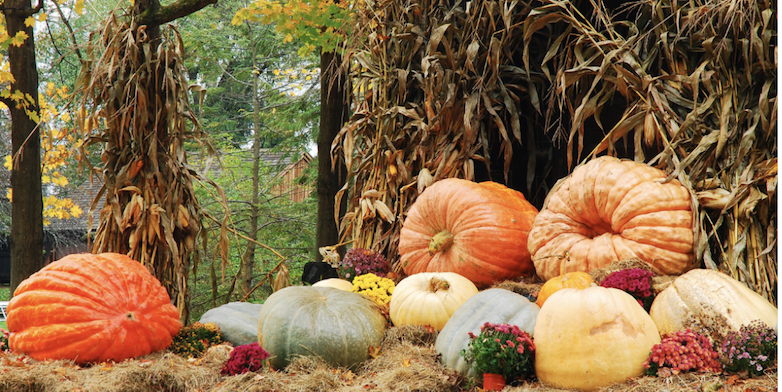 Pumpkins are wonderful things. From recipe ideas, spiced beverages, and jack-o'-lanterns, festive decoration, everyone knows that autumn and pumpkins are practically synonymous. You might not know, though, that this is the perfect time to let your crafting skills shine, and completely transform your pumpkin into that bright orange seasonal staple.
If you have very young children, you can allow them to paint rather than carve. They will probably get more enjoyment out of the painting and painted pumpkins usually last longer than carved ones. Once done, you can place them at the door to spookily greet visitors.
Outdoor Decor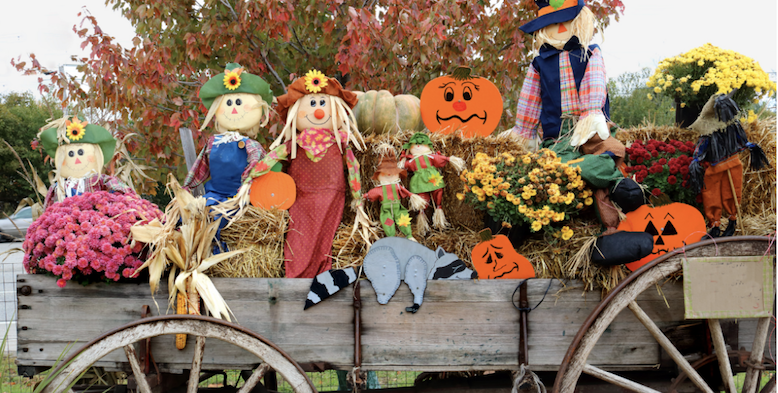 When Samhain comes, the slightest wisp of your imagination is able to transform otherwise ordinary creepy crawlies into terrible, hair-raising monsters. Therein lies the thrill of trick or treating. Now don't get me wrong, candy is still definitely important, but what lasts in your memory of Halloween is not the sweets so much as the setting in which they were offered.
Due to the pandemic, you might not see trick-or-treaters knocking this year. However, there are still plenty of reasons to show off your creativity. Black wreaths, mounted broomsticks, wheelbarrows, and straw men are a great way to show the street your spooky side. While the pandemic might have changed how we'll all celebrate, it shouldn't stop you from enjoying the holiday.
Honour the Ancestors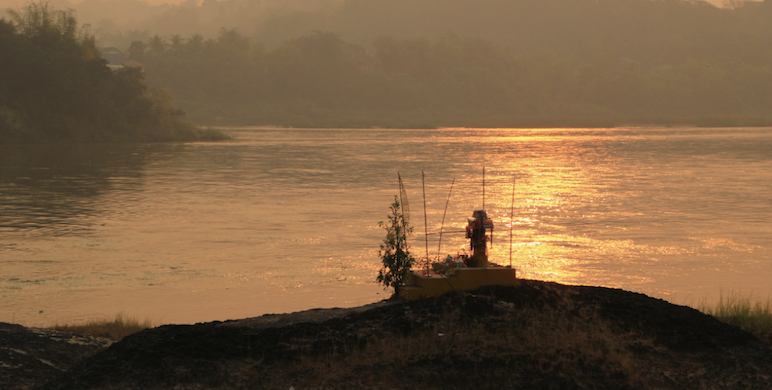 When Samhain comes, you can make a small shrine in order to honour your ancestors, or turn it into a festive decoration for an entire ancestor altar. If you're aware of your family history, you can turn your family tree into an altar cloth. You can even hang photos of your deceased family members in a place of prominence. In some traditions, the photos used are adorned with a black cloth as a symbol of honour.
Festive Celtic Recipe Ideas
Since Samhain is such an ancient practice, there aren't that many "traditional" recipes that are still in use, but there are still so many options to keep the holiday spirit. Samhain recipe ideas can focus on autumn produce that will soon become scarcer. These dishes can be shared with family, friends, and even your community.
Now, let's check out some delicious festive Celtic recipe ideas because as it turns out, the witch CAN be bribed with chocolate.
Colcannon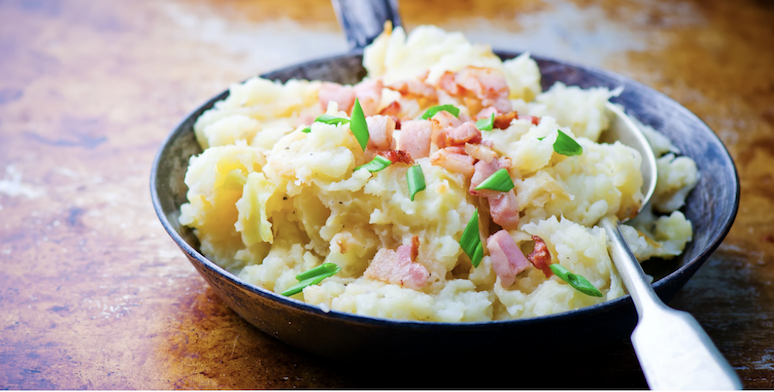 A traditional Irish dish – Colcannon. This was most likely eaten during Samhain celebrations, due to potatoes being in season. Colcannon is super easy to make and doesn't require much effort. It's made with a base of creamy mashed potatoes, and cooked greens which are typically cabbage, however, you're also able to use spinach or kale. Add some onions and voila! You're presented with the delicious Colcannon recipe idea.
This recipe idea is truly perfect for a cold evening around the bonfire.
Ingredients
4 russet potatoes (2 to 2 1/2 pounds), peeled and cut into large chunks
Salt
5 to 6 Tbsp unsalted butter (with more butter for serving)
3 lightly packed cups of chopped kale, cabbage, chard, or other leafy green
3 green onions (including the green onion greens), minced (about 1/2 cup)
1 cup milk or cream
Instructions
Boil the potatoes: Put the potatoes in a medium pot and cover with cold water by at least an inch. Add 2 tablespoons of salt, and bring to a boil.
Boil until the potatoes are fork-tender, 15 to 20 minutes. Drain in a colander.
Cook the greens and the green onions with butter: Return the pot to the stove and set over medium-high heat. Melt the butter in the pot and once it's hot, add the greens.
Cook the greens for 3-4 minutes, or until they are wilted and have given off some of their water.
Add the green onions and cook 1 minute more.
Mash the potatoes with milk or cream and greens: Pour in the milk or cream, mix well, and add the potatoes. Reduce the heat to medium.
Use a fork or potato masher and mash the potatoes, mixing them up with the greens.
Add salt to taste and serve hot, with a knob of butter in the centre.
Barmbrack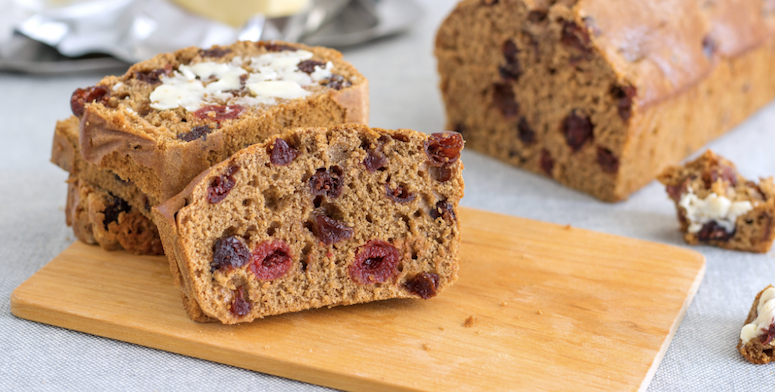 Another baked good associated with Samhain is Barmbrack. This recipe idea has pure Celtic roots.
Traditionally, the yeast bread is sweet and studded with dried fruits. It can be baked with trinkets inside to act as a form of fortune-telling. Every item has its own meaning and can include things like rings for marriage, a coin for wealth, a piece of cloth for hard times, and much more. You're able to easily mix and match the trinkets in order to include personal meaning or predictions for yourself.
Ingredients
3/4 cups (8.75oz/248g) raisins
3/4 cups (8.75oz/248g) sultanas
Zest of lemon, large
Zest of orange, large
1/3 cups (8oz/227g) dark brown sugar
2 cups (16floz/500ml) black breakfast tea, hot and strong
3 cups (15oz/426g) all-purpose flour
2 teaspoons baking powder
1 teaspoon mixed spice or pumpkin pie spice (see notes)
2 eggs, beaten
Instructions
Preheat the oven to 325°F (170°C) then butter and line 1 deep 9 Inch Cake Pan. Set aside.
In a medium bowl, combine the raisins, sultanas, zests, and sugar.
Pour the hot tea over and stir to combine. Cover with cling wrap and allow to stand overnight at room temperature.
In a large bowl, whisk together the flour, baking powder, and spice.
Stir in the fruit mixture followed by the eggs, alternating between the two.
Mix until no dry streaks remain and the batter is well incorporated.
At this point add in your charm wrapped in parchment paper. (see note in post above). Pour the batter into prepared pan.
Bake for about 80-90 minutes, or until the cake is golden and springs back when pressed. Let the cake cool in the pan on a wire rack for 20 minutes, then turn it out onto the rack to cool completely.
Slice and serve with butter. Store the Barm Brack at room temperature in an airtight container for up to 4 days.
Witches Brew Mulled Wine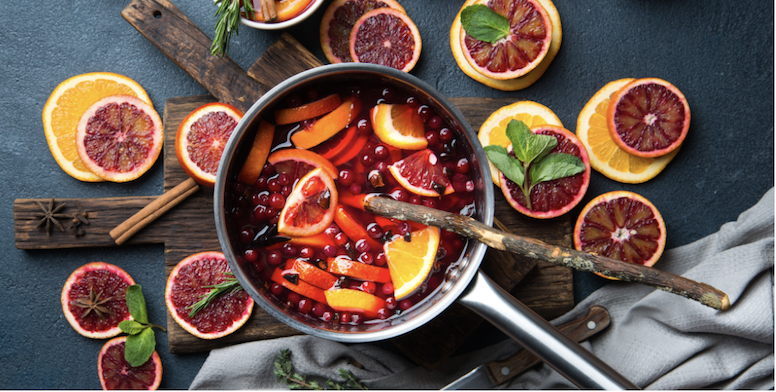 Despite Samhain commonly being a holiday that's associated with spookiness and death, it's still a time to enjoy socializing over a glass of mulled wine. It's a centuries-old drink, meaning the Samhainians enjoyed this delicious drink, and now it's our turn.
Ingredients
100 g butter
100 g golden caster sugar
2 egg yolks (free-range)
250 g plain flour
1 pinch saffron (or turmeric for the colour)
1 tsp allspice
½ tsp mixed spice
2 tbs milk
50 g raisins
Instructions
Cut up the butter into small chunks to allow it to soften. Turn the oven on at 180°C / 360°F / GM 4.
Using an electric mixer, cream the butter and sugar together in a medium-sized mixing bowl until light and fluffy.
Whisk in the egg yolks.
Add the flour and spices, adding enough milk to form a dough that holds together.
Stir in the raisins.
Turn the dough out onto a floured surface and roll out to about 1cm thick.
Bake at 180°C / 360°F / GM 4 for about 25 mins until golden and firm.
And Last but Certainly Not Least… Ghost Poop!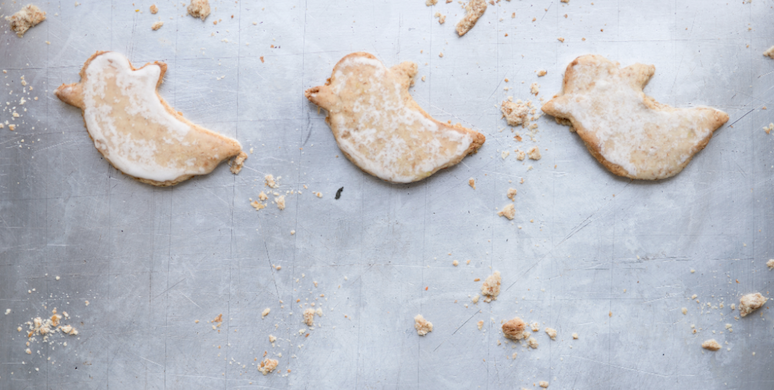 Look, we know this doesn't sound appetizing, but it really is a delicious dessert! If you're wondering what to do with all that extra Halloween candy after Samhain, you'll love the idea of putting a bowl of ghost poop on the table. This makes a great (and super-sweet) addition to your Samhain dessert menu.
Ingredients
1/4 cup of shredded coconut
16-oz. tub frozen dessert topping, thawed
1/4 cup candy corn, chopped
12 – 14 oz. chocolate syrup
1 cup mini marshmallows
1/4 cup of chopped walnuts (optional)
1/4 cup chocolate chips
Directions
Put the thawed dessert topping in a large bowl, and gradually add the chocolate syrup. Mix while adding, so that the topping turns your preferred shade of brown. Use a little more or a little less syrup, depending on how dark and chocolatey you want your Ghost Poop.
Once your whipped topping is the right revolting colour, add the marshmallows, nuts (if you're using them), coconut, chocolate chips and candy corn. Cover the bowl and refrigerate overnight, so your Ghost Poop can firm up. Serve in a big decorative bowl with a large spoon.