While pool fencing is a must-have to ensure the safety of your family, this doesn't mean it has to be an eyesore. In fact, fencing off your pool area can be a great feature, adding to the overall aesthetic of your backyard.
There are so many different finishes and materials that work well for pool fencing – let's take a look at them.
Aluminium

Aluminium is sturdy, no fuss and an easy option. It is classic and timeless in look and will be very low maintenance. Just install, then you probably won't have to worry about it again.
Glass
One of my favourite pool fence finishes is glass. I love that you can see straight through to the pool to watch the kids and all the fun happening in the pool. And when you are in the pool yourself, you don't feel disconnected from the rest of the house.
Timber
Timber is a natural material and can give so much character to any area with the natural veining of the wood running through it. Timber will bring warmth and comfort into your pool area without much effort at all!
There are many different pool fences on the market today, it's just a matter of doing some research, having a look at this blog and deciding on what's going to suit your family best. So what are you waiting for? Check out these 35 pool fencing ideas!
1. Retaining wall
A retaining wall as a pool fence is perfect for a plunge pool in a corner rather than a perimeter fence. This way you can still get plenty of green landscaping to give you a feeling of being on permanent holidays.
2. Fence Variations
If you don't want to have to commit to just one look, then why not incorporate a few different fence variations around your pool? The left side fence is clear glass with grey aluminium, the back fence looks like grey concrete slabs, the right side is black aluminium and the front side (closest to the camera) is a little hedge.
3. Courtyard Fencing
Even if you have a narrow pool area, fencing is still necessary. So check out this courtyard fencing! The fence has been kept in the same white tones as the house which helps it to blend into the rest of the surroundings. And it has also been built so that the beams of the house run through the fence rather than having a separation of the two.
4. Clear View
One of my favourite types of pool fencing is a clear fence! This is the best way to go if you want your fence to seem the least obtrusive as possible. Although one downside to a clear glass fence is that it arguably the most high maintenance fencing you can choose as you will have to regularly clean it to ensure that the glass can be seen through.
5. Mixed Materials
Here is another way that mixed materials have been used for a pool fence. One side is black aluminium simple fencing and the other is clear glass. This would work really well if you were on a property that had a view. You could utilise the practicality of a black aluminium fence on one side and leave the glass side for where you want to be able to see the view through.
6. Simple Aluminium
Aluminium is simple and no fuss. It gives such a classic look and will stay in fashion forever. Aluminium is also very sturdy and built to last. So if you need something that will be low maintenance and will stand the test of time and weather, aluminium is the way to go.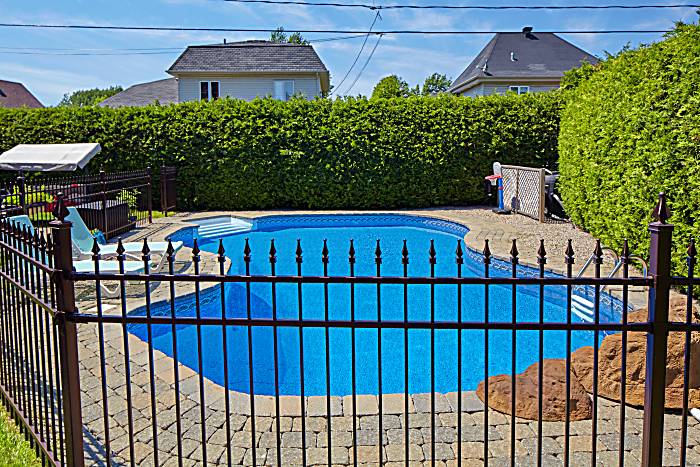 7. White Vinyl Fence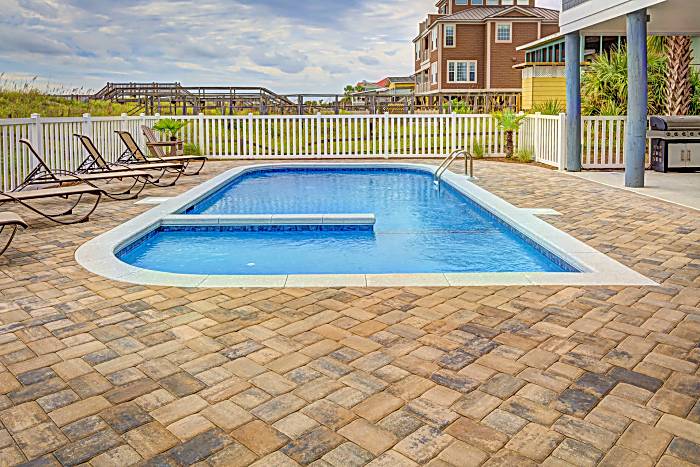 How sweet is this white vinyl fence! It really reminds me of a white picket fence which seems to be the quintessential fencing that everyone dreams of. A white fence really gives a cottage look and looks great on this big property with the trees in the background.
8. Child Proof Fence
If you have young kids, then it is really so important that your fence is childproof so that no one goes wandering in unnoticed. This fence has screens so that it is still easy to watch the kids if they are in the pool.
9. Flat Top Aluminium
Here's an aluminium pool fence that has been kept nice and neat with the flat top aluminium. Instead of having turrets atop each foundational instalment, flattening off the tops will give a minimal and trendy look to your fence. This means you won't have to worry about the look of the turrets and rest easy knowing that your pool fence will look great in years to come.
10. Timber Posts and Glass
If you're wanting to be able to see the pool from the house but also want privacy, then try this! Glass screens have been installed to face the property so that you can see straight into the pool from the house and a timber post fence sits around the sides and back of the pool to give the area some privacy. Genius!
11. Coastal Vibes
This property is giving me all the beautiful coastal vibes. I can almost smell and hear the sea! When the property itself makes a statement you wouldn't want to have a pool fence that distracts from that. A long glass pool fence will ensure safety for the kids as well as not ruining the overall look of your property.
12. Gazebo Addition
This place seriously looks fit for the whole family! Parents can relax under the vines growing upon the gazebo while they watch the kids having a splash in the pool! The pool fence itself has been installed with the gazebo in mind which works really well. And there seems to be a corresponding fence in the distance so that no neighbouring children can enter without invitation.
13. Deck Fence
This area almost looks like another angle of number 12! The pool looks so large and inviting. Great for laps and races with the kids in the pool! Fencing has been utilised here in the deck area and through the wrap-around fencing of the property boundaries.
Need your fence fixed? Make sure your pool is always safe by getting on top of any pool gate repairs that are needed.
14. Arched Tops
If you're after something a little more creative and unique, then this is for you! You don't often see arched tops, but if they are accompanied with the right outdoor elements, they look really great! If you have a very angular pool, arched tops will also help to round off the area to stop it from looking so sharp.
15. Elegant Aluminium
This is for you if you're wanting the practicality of aluminium but are after something with a little more pizazz than just your standard fence. The bottom portion of the fence is pretty standard but the top features smaller squares which really gives a great effect. And I love that the gated area is slightly arched so that guests will always be able to find your gate so easily.
16. On-Trend Timber
As timber is a natural element, it will always stay in fashion. This timber fence utilises beams so that it is slightly lifted off the ground and you can still see the white decking easily. I also love that the timber slats have been kept slightly apart and also installed at an angle. This means that from some angles the pool will have a lot of privacy and from others, you will still be able to catch a glimpse of everyone having fun in the pool.
17. Simple and Effective
This pool fence is all things simple and effective. The main part of it is black aluminium rods that ensure the sturdiness of the fence. And the middle portions are made up of metal wires. In doing this, the pool fence can be easily seen through, especially if you have a beautiful valley view like this property!
18. Hedge Pool Fencing
Bring the finesse of a countryside estate pool to a smaller inner-city terrace with stunning evergreen hedge pool fencing. Pick the right varietal and ensure you've planted them with the correct spacing, find an expert to help with hedge planting and hedge trimming maintenance.
19. Timeless Aluminium
Aluminium will always be timeless and classic. This fence works so well as a stand-alone fence for the pool area as it is sturdy and long-lasting which is important for an area that is used a lot. Black matches really well with the grey roofs on the property and is a great contrast against the white tiling and green trees.
20. Modern Pool Fencing
This is another one of my favourite fencing concepts! I love how the planks are separated and are standing alone. This not only provides the practicality of a fence, but it also looks almost like an art piece running through the middle of the property. Without having the tops of the fence, it almost gives the illusion that you could squeeze between the gaps but on closer inspection, you'd probably have to be the size of an ant!
21. Brushwood pool fencing
It's not all that common but anther pool fence option for the boundary side is to have a brushwood fence.
22. Blending In
If your property packs a punch as this one does, then you really don't want anything taking away from that so a glass fence will work really well. It's almost as if the fence isn't even there. I love how you can see the plants on the other side. And being able to see through really ensures that the connection between the house and pool area are preserved.
23. Black Framing
This pool fence is made up of black-framed panels. This is great as you can clearly see there is a fence there, however you can still see through to the pool. Great for watching the kids as well as peering out onto that magnificent view!
24. Wrap Around Fencing
Here is another property that has a magnificent view of the mountains! The fencing that has been used here is black aluminium fencing. But I love that it really fades into the background with the use of trees, shrubs and bushes between the pool and the fence. Putting plants inside your pool fence boundaries will really help to camouflage the fence and make it look as if it is part of the natural surroundings.
25. Seamless Metal
Seamless and timeless. This pool fence looks so good with the other elements in the pool area. The stand along metal bars ensure there is a separation between the pool and everywhere else. The colour of the metal works so well with the back fence as well as the greenery and timber on this property.
26. Hedged Fence
This is for you if you have to get a fence but don't want it to spoil your natural surroundings. The fence could be a complete hedge or you could even install a fence and have the hedge grow around it. It's really up to you! I absolutely love how European this looks! Straight outta somewhere in France in Italy!
27. Pointed Hardwood Posts
Hardwood is another material that will match with almost any property. And I love that clear screens have been installed so that you can easily see straight through to the pool. The pointed posts really give character to the simple fencing.
28. Modular Walls
If you live in suburbia where there isn't much privacy and your neighbours live right next to your property, then you'll want to incorporate fencing that is ultra-private. Modular walls are definitely the way to go to ensure more privacy for your property and you could even match the finish of the walls to your rendered house!
29. Warmth with Timber
How warm and inviting does this pool area look?! I love the timber slats that are all different coloured wood which gives a very natural and organic appeal. The trees help to soften the area whilst the infinity-edge brings movement with the water trickling down.
30. Wire Panels
Wire panels are a great idea if you live in a place that has lots of wildlife. Wire like this will ensure that no unwanted critters or animals can come into your pool area. The fence is sturdy, yet you can still see through it which works so well.
31. Half and Half
One side to look through and the other for practicality. Doing a half and half fence will make cleaning easy as you will only have to tend to the glass side and not have to worry too much about the maintenance of the aluminium side. How convenient!
32. White Picket Pool Fence
Just like number 7, this fence reminds me of a beautiful white picket fence but in pool fence form! I love that white has been used here which matches the details of the pink and white building. This property looks straight out of a movie based in somewhere like the glamorous Beverly Hills!
33. Artificial Garden Panels
Now here is a great pool fence idea! If you don't have the patience or time to wait for a hedge to grow, why not source some artificial garden panels which will give the same effect?! Plus, if you're not really a gardener you won't have to worry about trimming or watering this low maintenance instalment.
34. Frameless Glass
Here is another great way that a glass pool screen has been used. Frameless glass really works so well, especially for properties that have a view like this! Being able to look through to the pool gives the illusion that the pool almost connects to the ocean! How stunning.
35. Timber Texture
And last but not least we have this textured timber fence that has so much character! As timber is a natural material, preserving the imperfections and uniqueness of the wood will create so much texture and turn any boring wood fence into something of beauty!
So, there we have it! 35 pool fencing ideas to help you get started with your fencing installation! I love the clear glass pool fences that allow for an unobstructed view of the surroundings as well as the stand-alone panels that look so trendy and like a work of art. What were your favourites? Let me know in the comments below
And let's not forget to keep is swimmable all year round and get an extra helping hand with pool cleaning!