What do you think of when you hear the word "pastel"? Sugary sweetness, sorbet and gelato, baby nurseries, cake frosting, maybe even kawaii cuteness? Well, think again because pastels have grown up and these days, pastel bedrooms can be seriously sophisticated.
The modern pastel aesthetic hinges on unexpected pairings and experimentation with unusual colours and materials in order to find more contemporary ways to add these soothing and soft shades to your living spaces.
You can find a pastel version of any colour that you like – there's an infinite number of pastels, for every colour of the spectrum. Pastels, also known as tints, are colours that are created when white is added to a base colour, creating a lighter more muted and powdery, paler and softer version of that base. And they come in infinite tones, too, depending on how much white you add – if you add a little white to violet you get mauve, or if you add a lot of white to red you get fairy floss.
Whether you're thinking of giving your bedroom a complete makeover or just refreshing your textiles – it's easy to add these irresistible shades to your bedroom. Scroll through our pick of 35 chic pastel bedrooms and turn your bedroom into a pastel paradise.
1. Lilac, navy, burnt umber
If you want to rock a modern pastel aesthetic, try to choose a unique palette. Venture beyond the traditional baby blues, icy mints and sweet pinks to find more unusual, unique tones that are fresh and surprising. Marry your pastels with organic materials for texture, warmth and Boho bedroom vibes!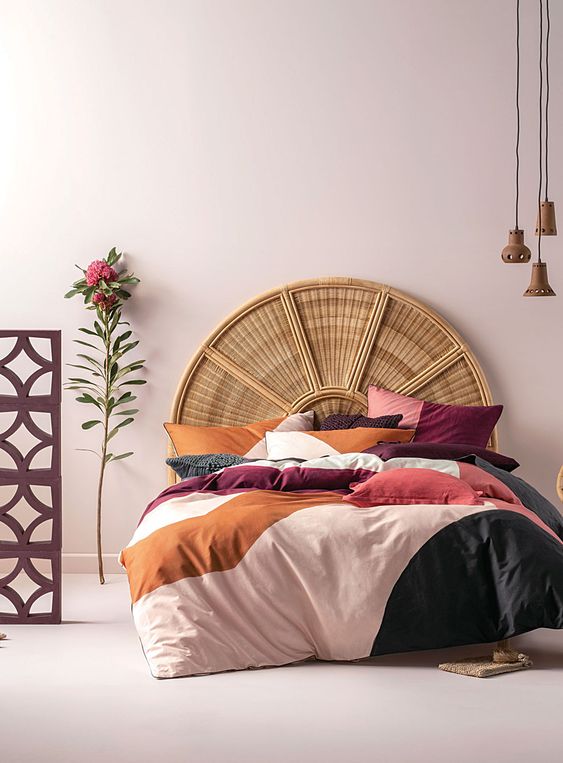 2. Peach, purple and pink
An array of beautiful, barely-there, dusty tones will lift your space out of the ordinary as well as add a calming, dreamy vibe—ideal for your bedroom. On the walls below, the prettiest peach I ever did see, contrasting with the accents of heathered lolly pink, sapphire, mustard and violet. I also love the peach bedding, spiky aloe vera tree and omg, those tassels.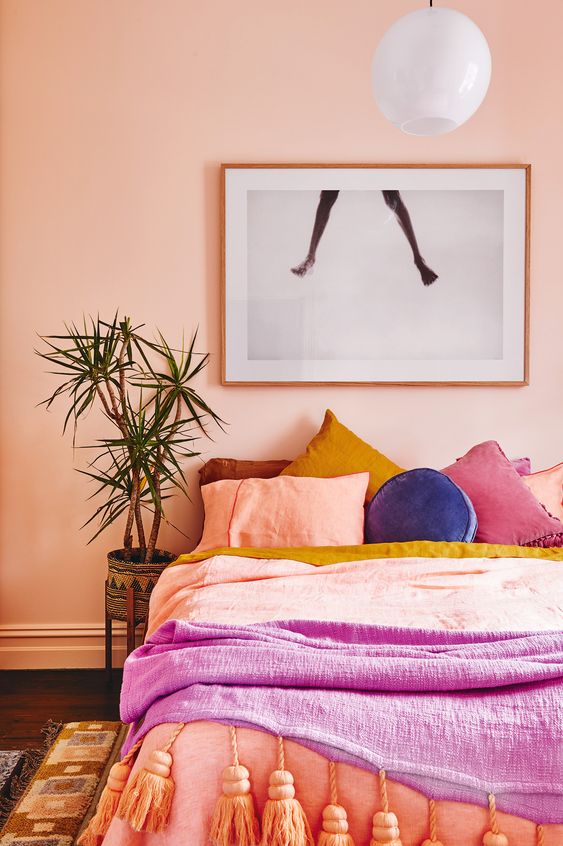 3. Pale sand and teal
Here's a great example of a pastel bedroom that's anything but saccharine sweet. It's a pared-down neutral palette featuring subtle tints, in muted sand and blush tones. It's just enough to add depth and warmth. And how good do the deep teal green cushion and the potplant's olive foliage look with these tones?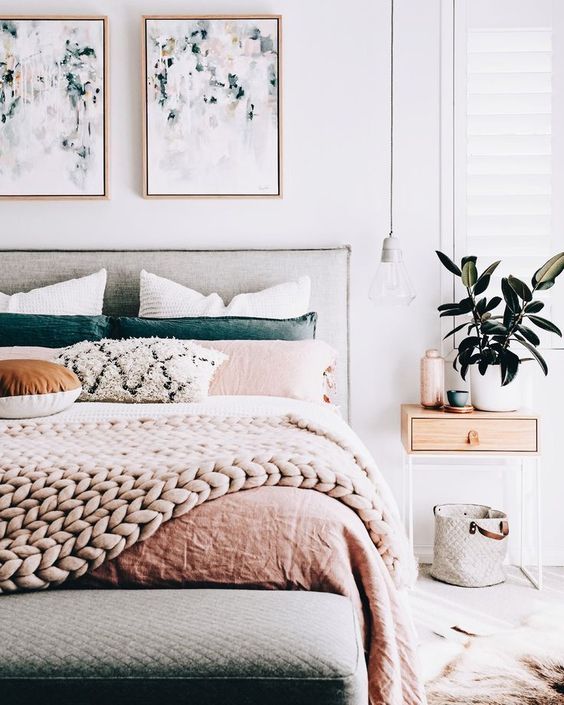 The pictures above the bed are perfect too! For something similar for your bedroom, get an expert to take care of hanging up the artwork.
4. Warm pastel greys
Together with a clean, streamlined look, grey always givens off those sophisticated contemporary vibes. And grey and pastel Is always a good combo since they share a mix of white, grey also being a tint. Below, a warm grey half wall is balanced by powder pink and bright white.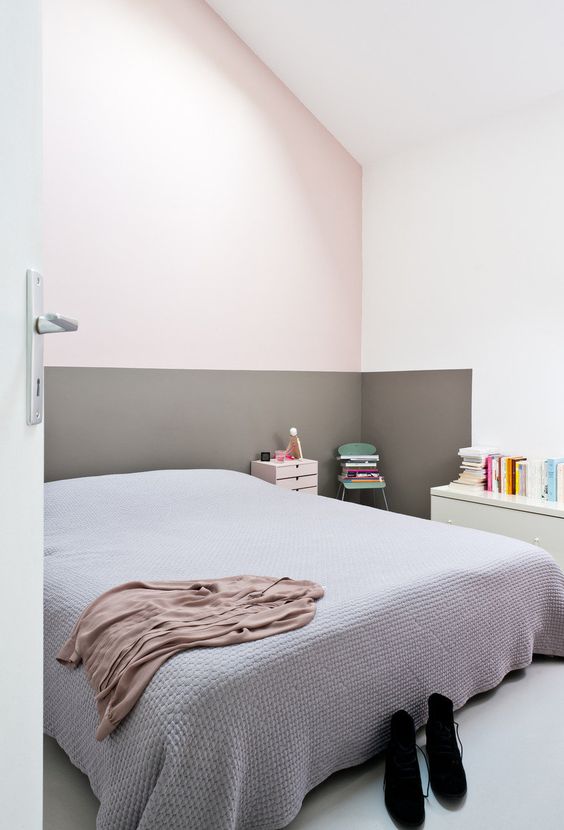 5. Apricot and grey
If you have a neutral colour scheme in your bedroom, add just a few touches of pastels as accents for a calm monochrome vibe—you could even paint the floorboards a soft pastel tone. I love this pale apricot bedding combined with a muted grey. There's lots of texture here, too, with the rattan bed, rug and patterned throws. A cascading plant is just the right finishing touch.
Want to know what plant will survive in your room, make sure you look at these bedroom plant ideas.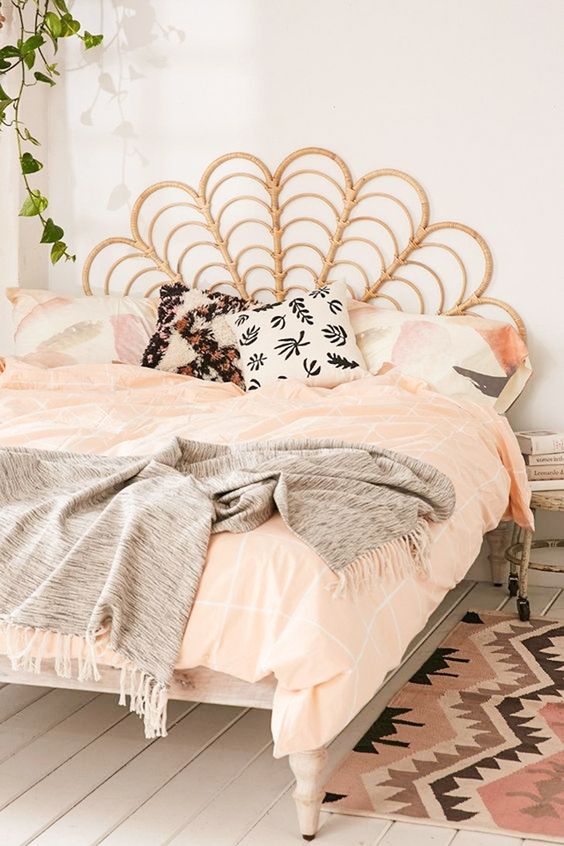 6. Add some pastel to the walls
Painting a massive pastel circle as a 'headboard' is a simple DIY way to bring in some tranquil tones, without needing to completely saturate the space. Or you could try a chic ombre feature wall or pretty textured pastel wallpaper. And if you love powder blue bedroom or ballerina pink, that's fine, just make it look grown-up in other ways (or you may stray too much into little girls' bedroom vibes).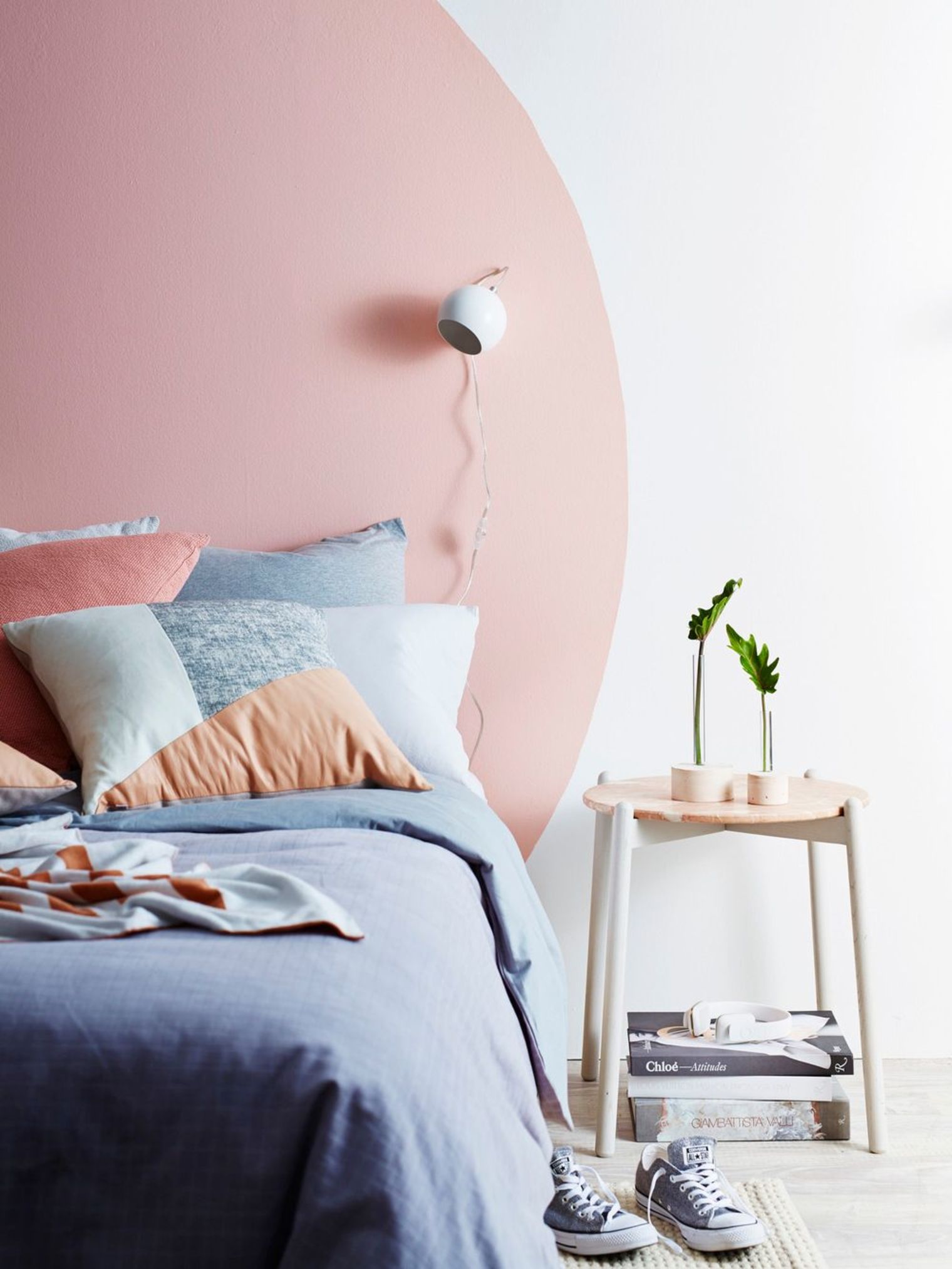 7. Hit saturation point
Fill your bedroom with pastel by painting the walls and switching to pastel matching pastel bedding to make a powerful monochrome statement. Below, sage and white mix with natural materials and rejuvenating plantlife.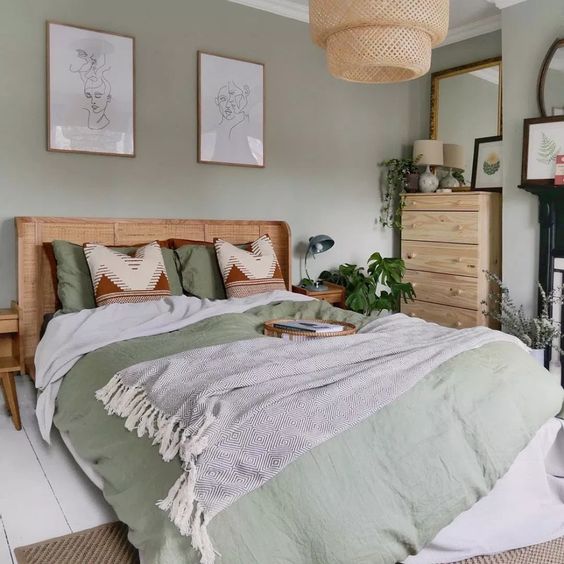 8. Or just add a subtle touch
Or just add a subtle touch of pastel in your accents. This minimalist, Scandi style bedroom incorporates a somewhat unusual dirty pastel rose with chartreuse and denim blue in an otherwise bright white space. There's plenty of texture despite the crisp clean lines and simple furniture, making this room feel mature and modern. I love that one-of-a-kind pale wooden lamp/table combo!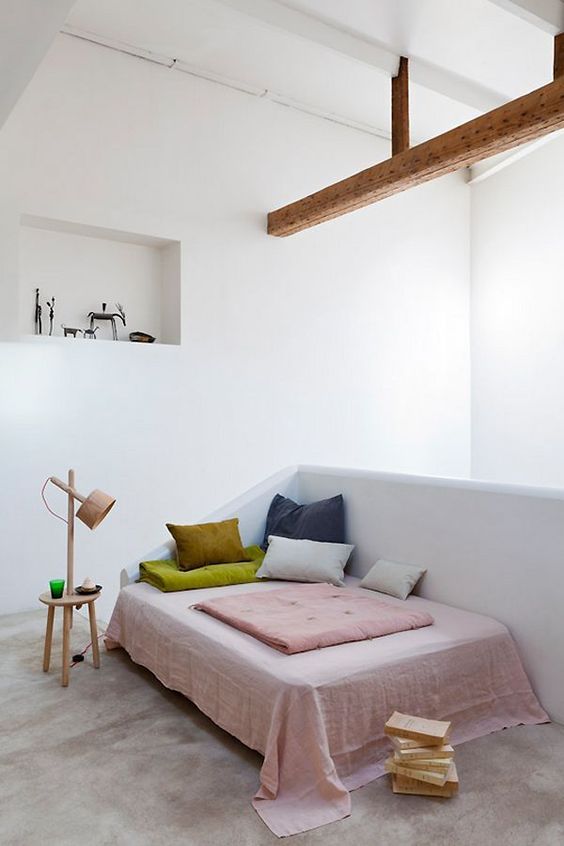 9. Lighter wood and pastels
Pale or white timbers work beautifully with a white and pastel bedroom aesthetic, intensifying the brightness. Below, a cosy apricot and white colour scheme with pale timber furniture and white walls. There are lots of textural accents here: the fluffy throw, the woven lampshade, the lush bedroom plants. Pastel tones in the artwork help unify the space.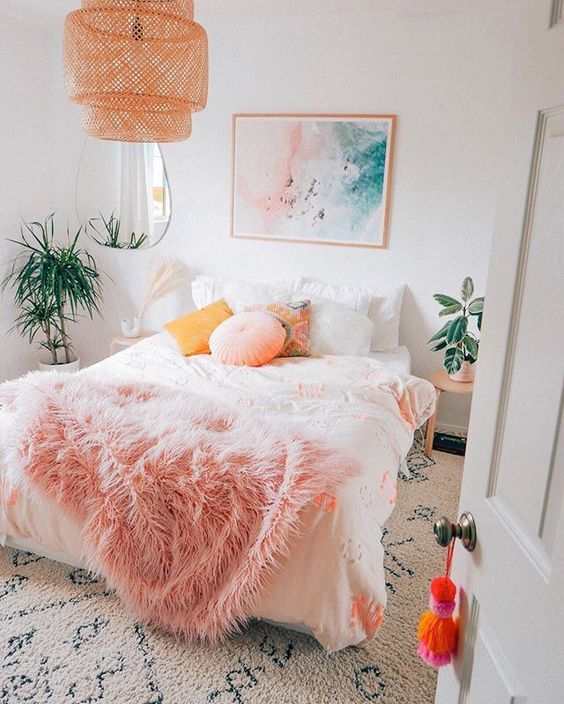 10. Pastel blue with mustard
A pastel blue velvet bed is the hero piece here, offset with blush and mustard accents. Velvet beds are still on-trend—and maybe they are simply a classic. What do you think? Are they a passing fad? Or do they possess both comfort and enduring style? Let me know in the comments below.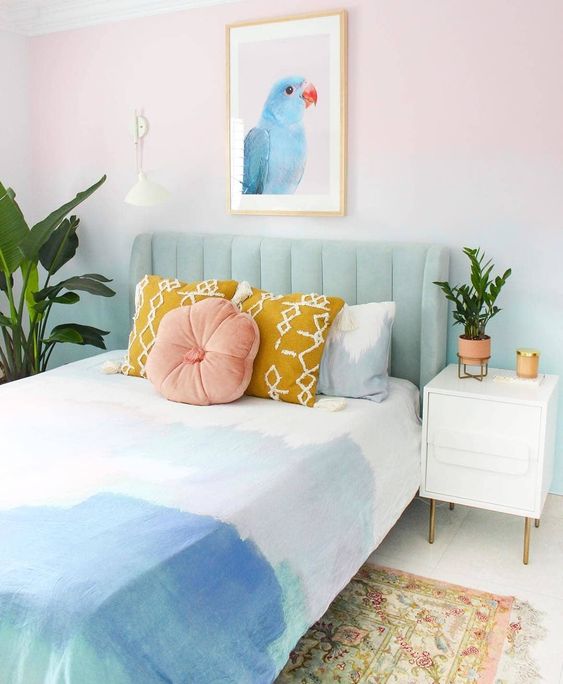 11. Pastel blue tones
Here's a very simple, understated bedroom in a relaxed Scandi farmhouse style with a mix of pale blues and whites.  I love the barely-there, white vintage light fittings, the Italian linen bedding and the wool rug and carpet, all of which fit perfectly with the white timber panelling.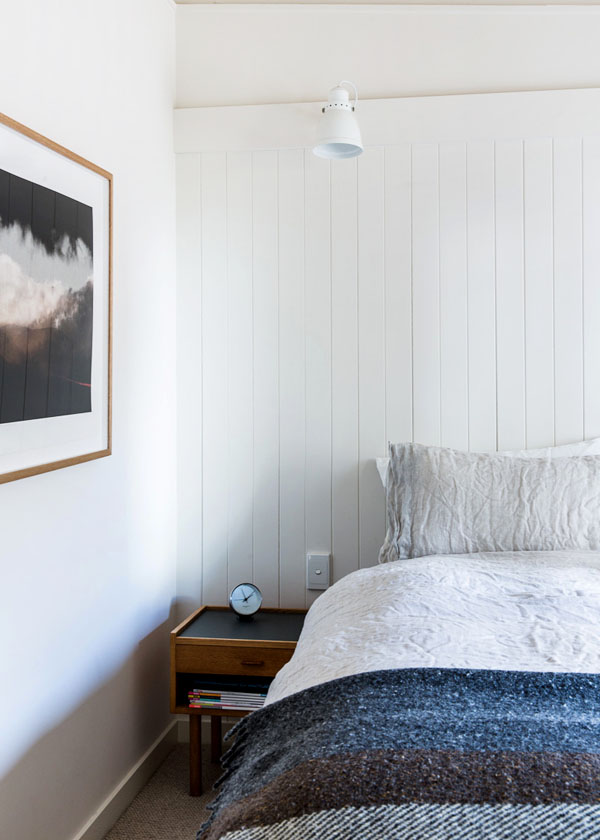 12. Blush rose and teal
Whether your ideal bedroom style is minimalist and modern or eclectic and Boho, you can find a pastel shade that works perfectly. Here another blush Boho beauty that embraces the 3/4 painted wall trend. Having that extra block of white at the top of the pastel wall makes it brighter and makes the ceilings look higher.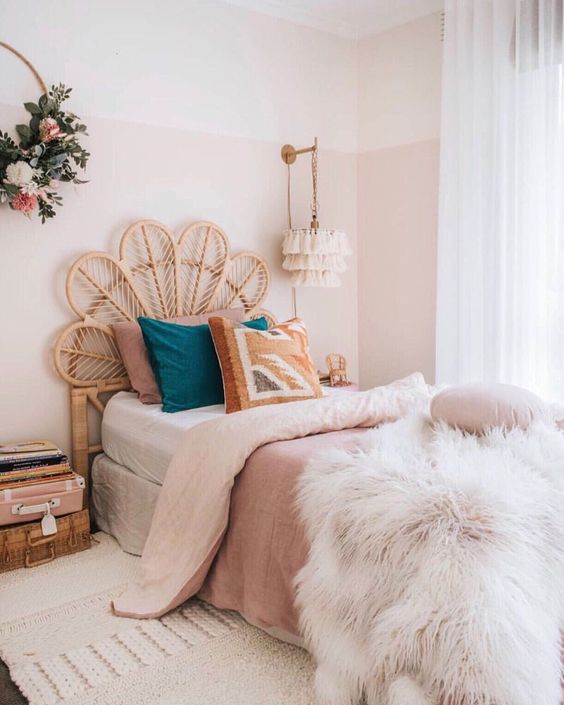 13. Pastel plaids
Pastels and plaids work really well together, creating a fresh, clean, farmhouse vibe. You'll often see plaid bedding in blues and greens, but pastel purple tones also look the goods. Then, mix your purple-toned bedding with pale lemon sheets, purple and yellow are opposites on the colour charts so they make the perfect complementary colour pair.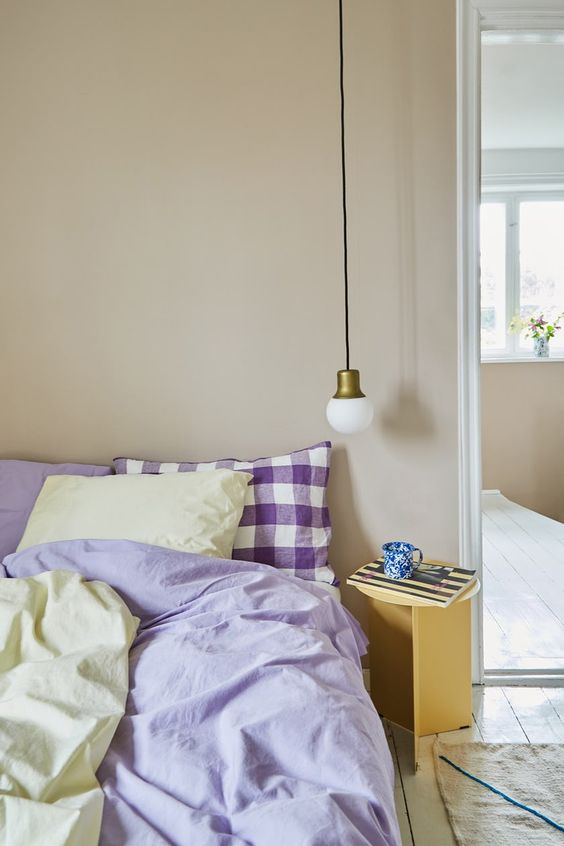 14. Apricot pastel bedroom
A monochromatic scheme gives a harmonious, calming vibe. Below, a soothing pink colour scheme mixing dusty roses, apricots and oatmeal with the result being a calming pink sanctuary. Like most of the pastel bedrooms I have seen lately, this one features floorboards and a rug for warmth. But you can always add rugs if you have carpets too.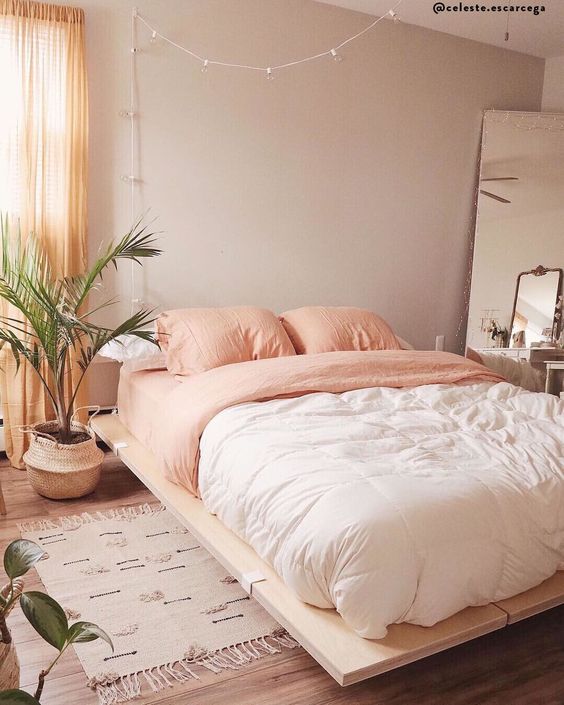 15. Pastels and darks
If you favour a dark and dramatic bedroom, incorporating some pretty pastels will provide contrast as well as brighten it up and prevent it feeling too gloomy. Below an inviting pastel pink bed is a striking contrast to the charcoal wall while a matching pink table and a black chair are complemented by a simple pendant light.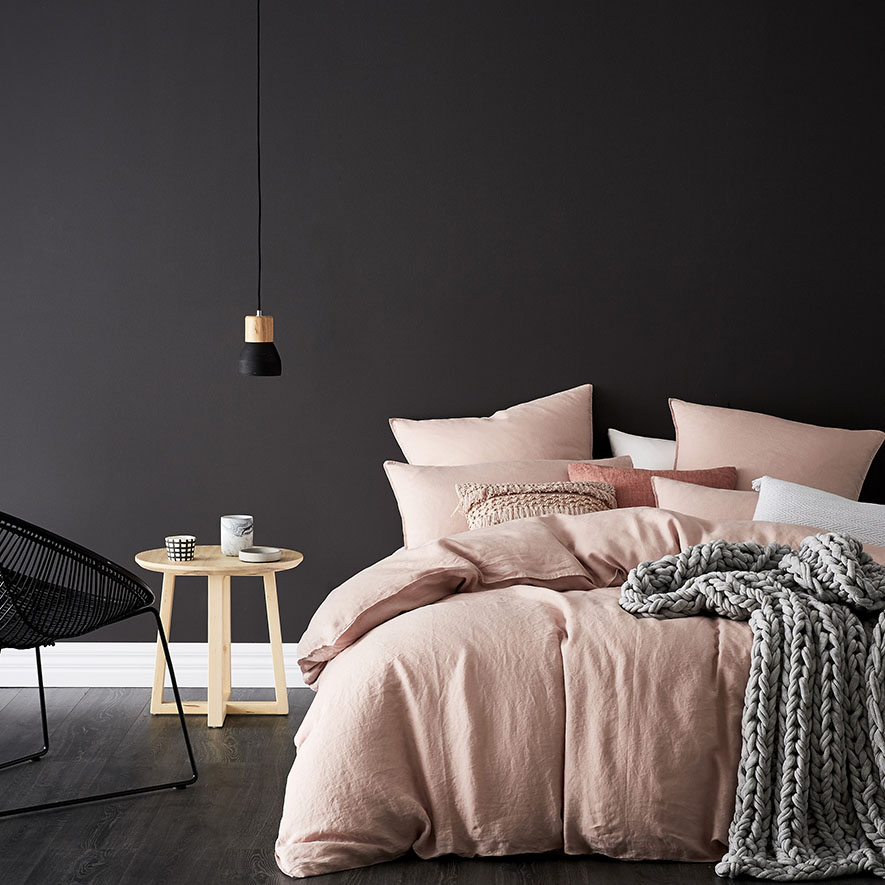 16. Peachy beachy Boho
This tangerine dream is full of soft, faded oranges that are tied in together nicely by the artworks (one leaning, one hung) in similar tones. I love the whisper-pink paint and the cane peacock bedhead which brings instant Boho vibes, especially when paired with the Moroccan style rug.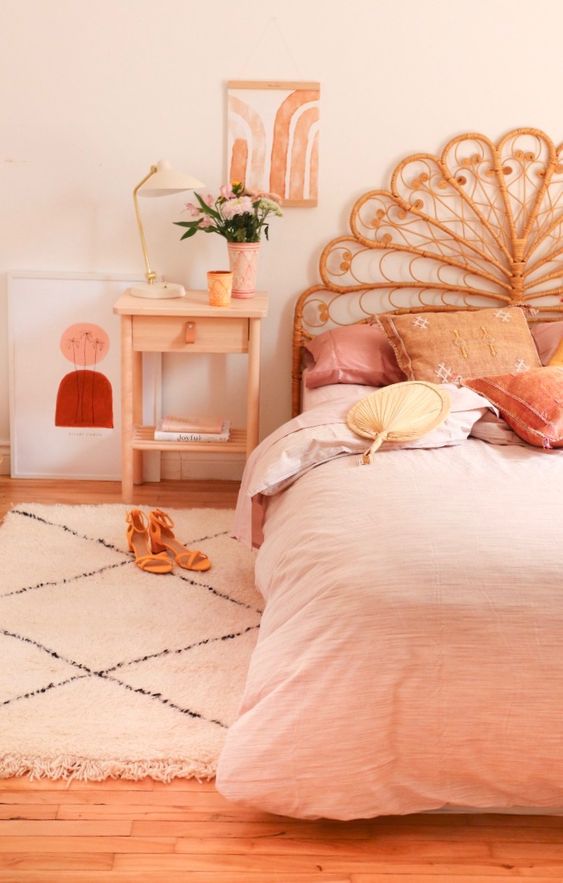 17. Warm-up greys
Love a neutral colour scheme? Add a hint of tint to your greyscales to warm them up, like in the serene minimalist bedroom below where the walls are painted smoky grey with subtle purple undertones. The light oak wood bedhead and golden industrial style pendant also add warmth to balance the concrete bedside table.
How stunning are these sheer curtains under the bulkhead to ensure a floating effect. If you want more inspo, here are our top bedroom curtain ideas or if you already know what you want get a professional to take care of the blind installation for you.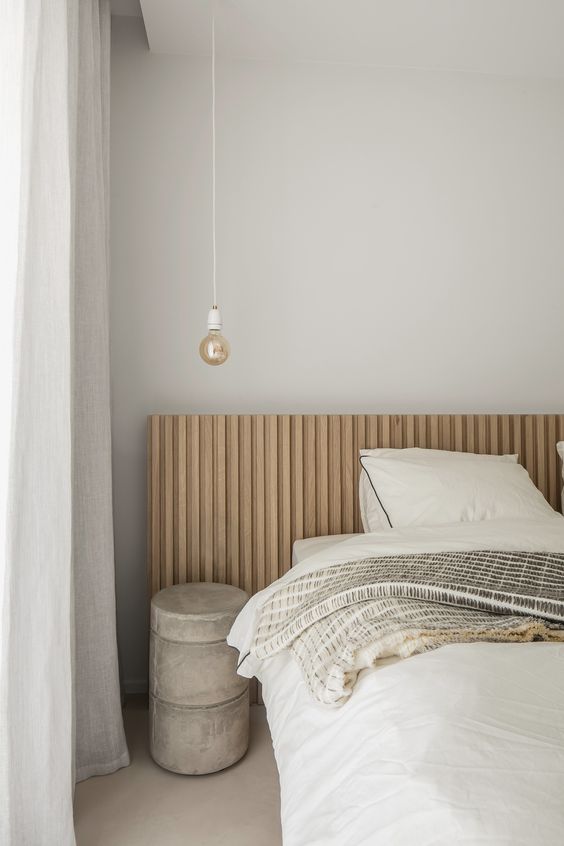 18. Mauve and grey
To add interest to this contemporary bedroom, two shades of muted pastels were used—a dusty rose for the half-wall and cloud grey for the faux bedhead. Dark grey and black accents add maturity and contrast, while the texture is added through the gorgeous lampshade and patterned throw.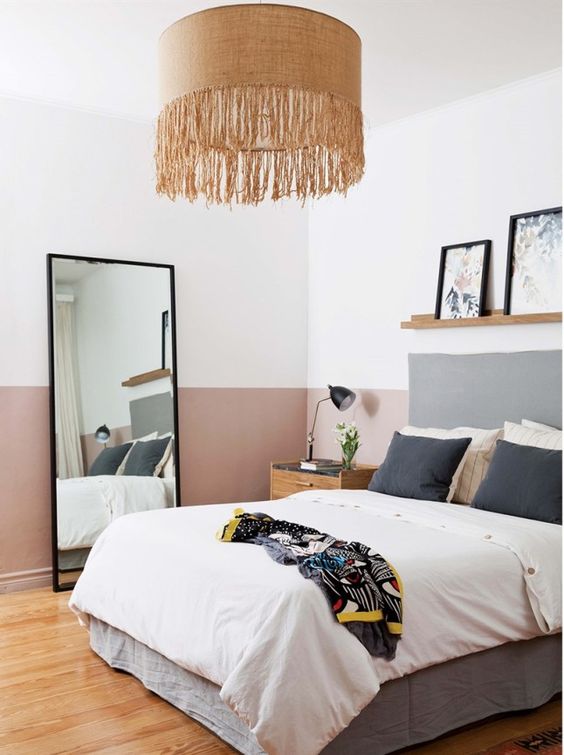 19. Pastel pink half wall
Another half wall paint job here, this time in soft pale pink which complements the copper bedframe and makes a pretty backdrop for the thriving potplant. A half wall is a great way to introduce colour while maintaining plenty of white through a space to keeps things fresh and bright. I love the quirky sumo scatter cushion here!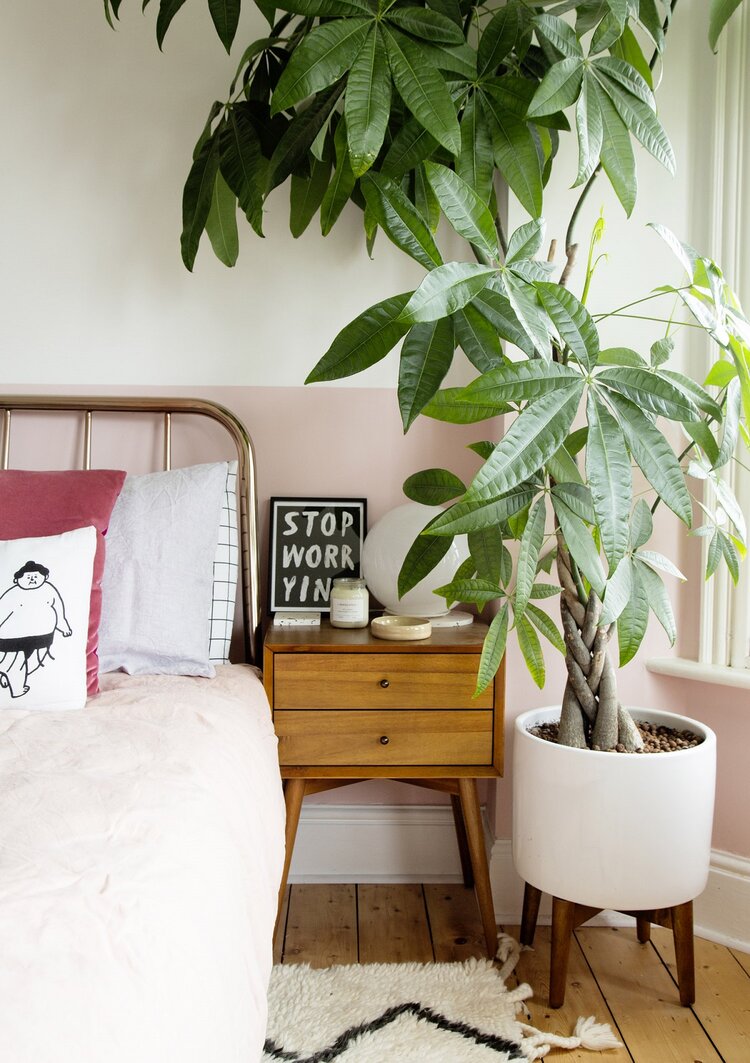 20. Mint condition
Add a hint of pastel prettiness to your all-white bedroom with just some pastel accents in your soft furnishings or decor, like this mint pendant light fitting. Dabbling in a new colour scheme is so much more affordable and low commitment if you just switch up a few light fittings and add candy coloured bedding.
21. Lilac and earthy tones
The texture is a key element when styling a bedroom with a lot of pastel in it. Add lots of organic, woven décor (rattan, wicker, cane, jute) and textiles made of wool and cotton. Plants are always a nice textural touch, too.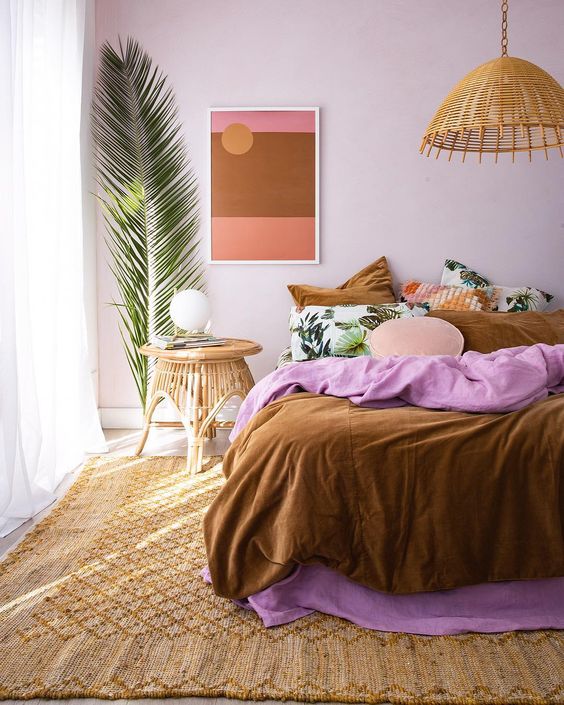 22. Pastel blue, white and black accents
To modernise a pale pastel scheme, add some black accents in the décor. Black pendant lighting works perfectly against an all-white and pale blue aesthetic here. Black adds a little sophistication and chic. And having black beams here balances the whitewashed floorboards nicely.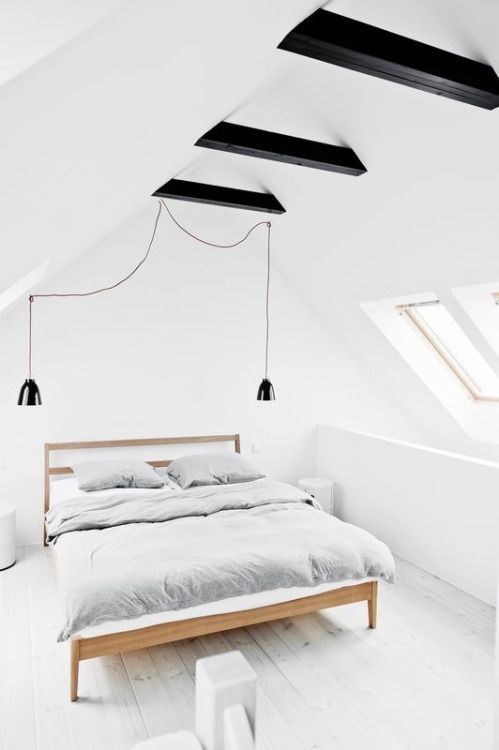 23. Go for a retro vibe
A mix of pastel pink and orange can have strong retro vibes, especially if you add a patterned wallpaper to the mix. All the pink and orange is balanced nicely by the doses of pastel sky blue and white. Removable wallpaper gives you that added flexibility so it's worth considering as a way to quickly and affordably bring candy colours to your space. Get more bedroom wallpaper ideas or find an expert in wallpaper installation.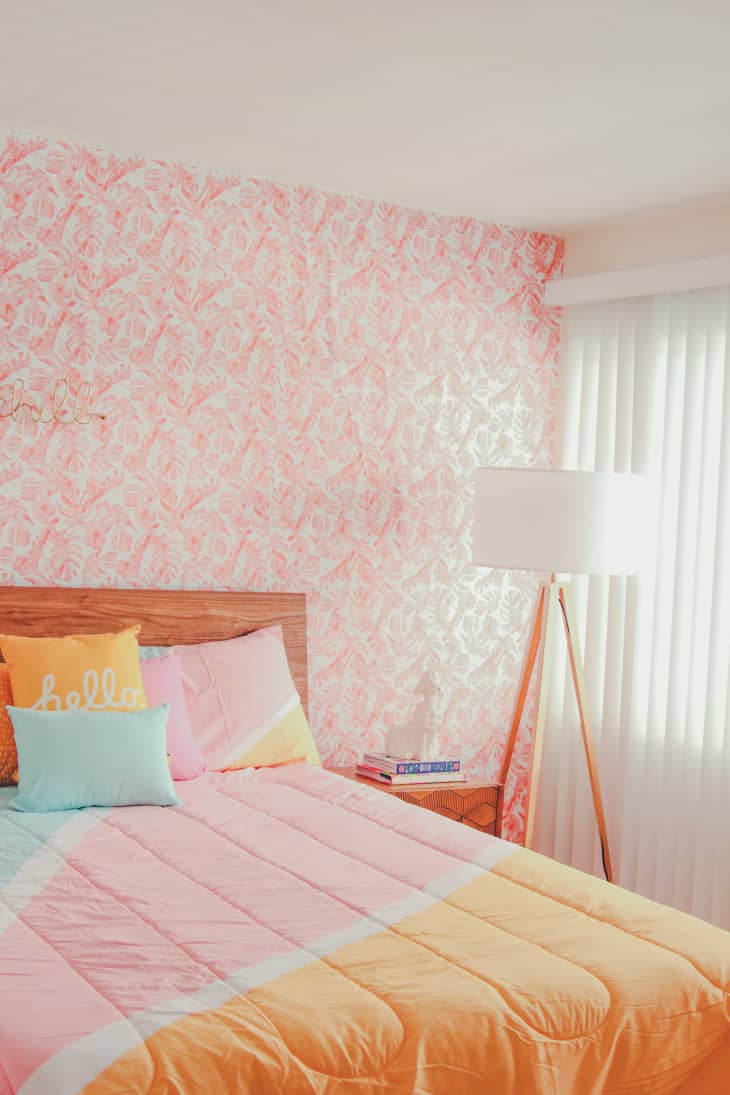 24. Have a tonal half wall
Half walls are a simple and easy way to play with colour in your bedroom—here, two shades of muted pastel blue merge to create a unified space. I love all the layered texture in this room; there's the bunting, the potted greenery, the practical and interesting salvaged timber ledges and numerous other vintage elements to create a unique eclectic look.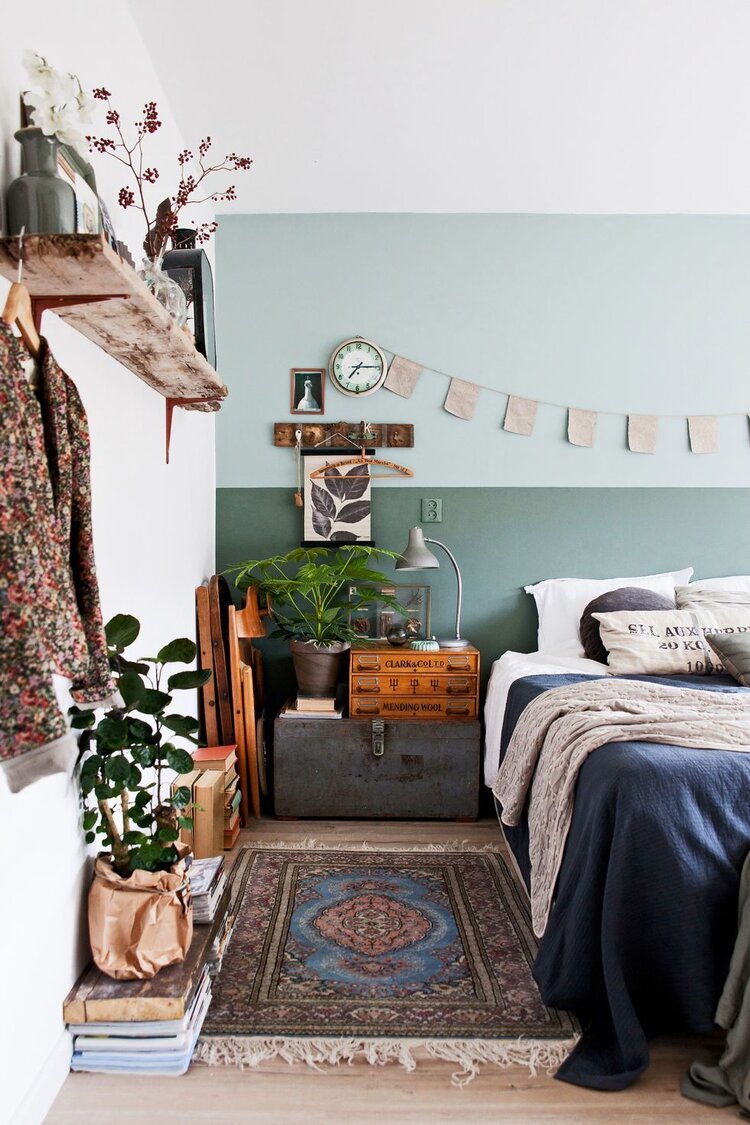 25. Have a variety of intensities of tint
When decorating with pastels, you can achieve a harmonious monochromatic look by varying the intensity of the tones of your chosen colour. So you might have some very pale pastels punctuated with a range of darker tones of the same colour, giving you a saturated, layered effect. Below, a light, airy, pastel blue toned bedroom, balanced by warmth in the timbers and jute rug.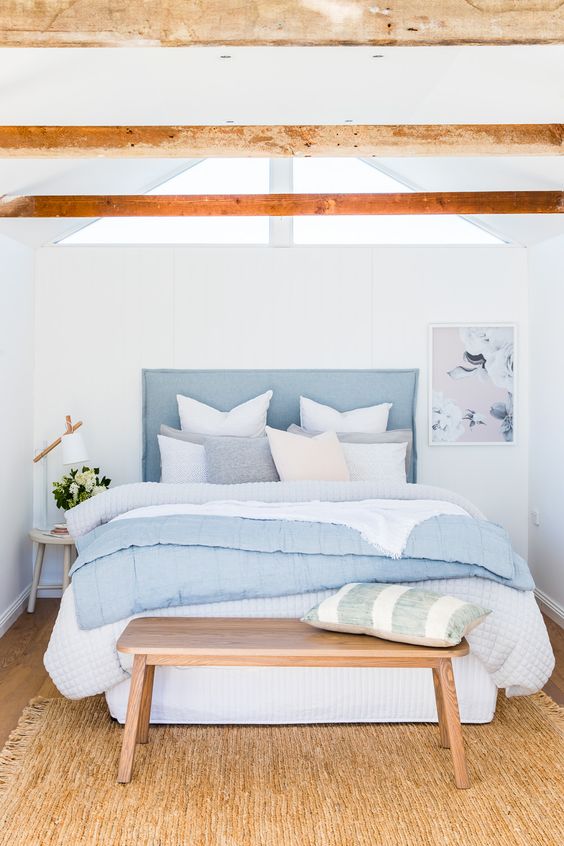 26. Pastel lilac and grey
Crumpled linen in two tones of pastel purple here, offset by crisp white walls and white timber furniture, for a chic contemporary look that's light and airy. White pompom bunting and a little photo gallery wall add a little interest to the plain wall and can easily be changed if you tire of the look.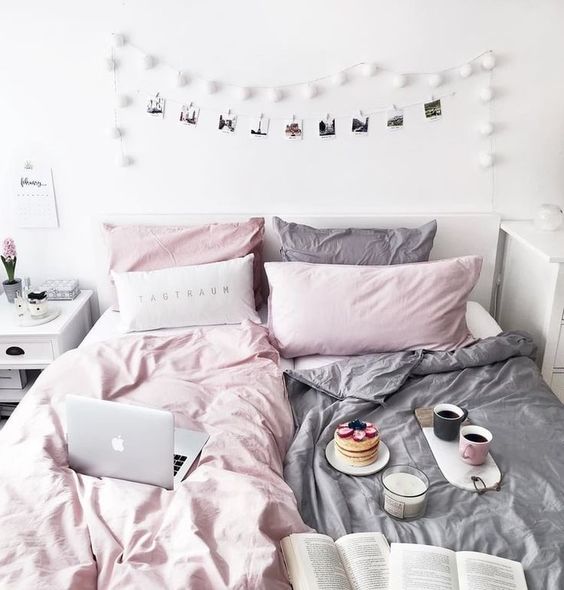 27. Mature pastel lemon
Yellow can be a tricky colour to pull off in interiors—because it's so vivid, it's normally better to use as an accent colour than all over your walls. But if you tone down the dial from intense bright yellow to a more sophisticated, muted lemon yellow, it can work to add a dose of happy-positivity to your bedroom space. Below, a saturated pastel yellow is balanced by soft natural neutrals.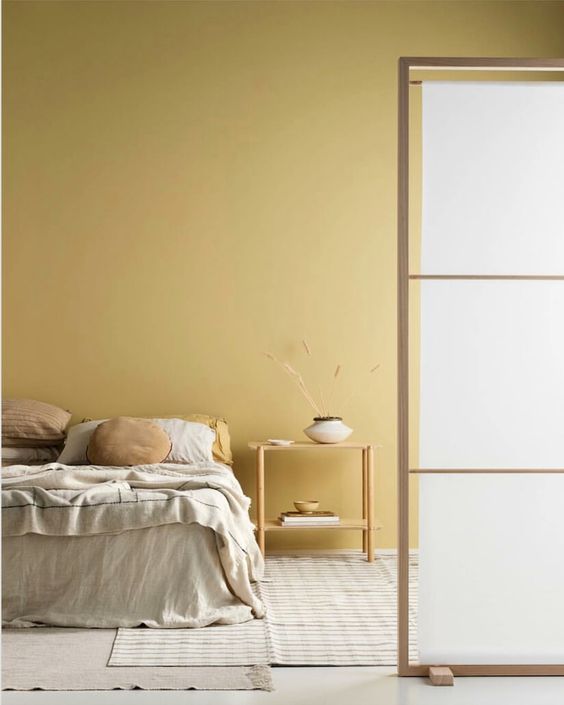 28. Earthy pastels
Pastels don't always need to be whitewashed rainbow brights. Case in point: this pastel bedroom decked out in warm, faded ochres. Nature tones give a cosy and warm feeling, especially with the wicker lampshades and baskets and white wood finishes. A bedhead ledge is always useful too—find more bedroom styling ideas.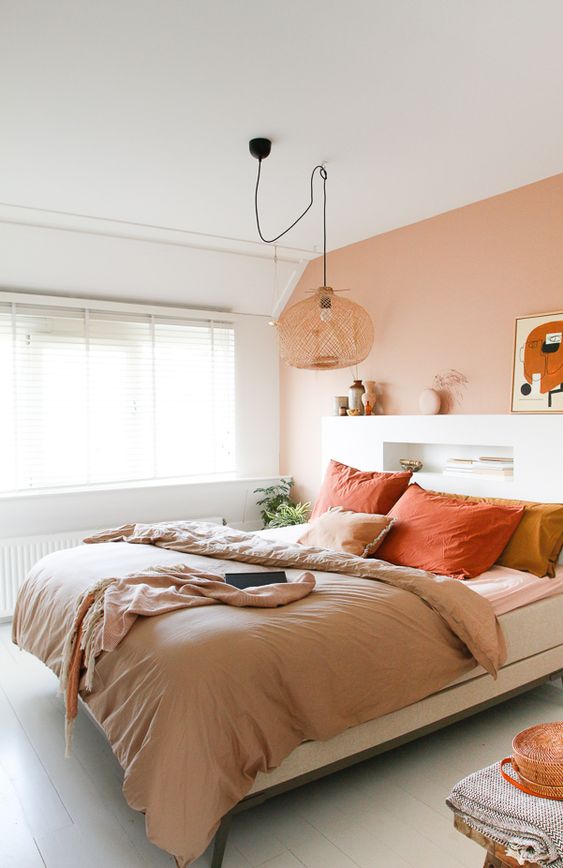 29. Art Deco pastel bedroom
Vintage vibes galore in this baby pink, angel blue and fog grey-hued Art Deco bedroom. Despite the powder-soft colour scheme, the room has plenty of maturity and dynamism thanks to the array of sculptural forms—the spherical cushions, Cubist flavoured bedside, lozenge-shaped lamp base and the abstract artwork. The dash of lipstick red in the artwork is the cherry on top here, I think.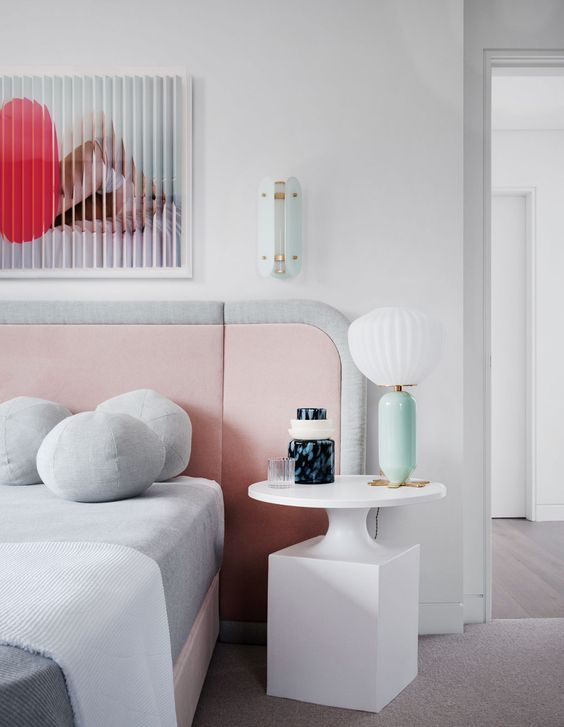 30. Mix pastels and brights
Accent your pastels with vivid, saturated hues like aqua, sunny yellow and hot pink. A few bright colours liven up a pastel palette, adding interest and pops of contrast. I love the pale pink and orange colour combo in the bedding.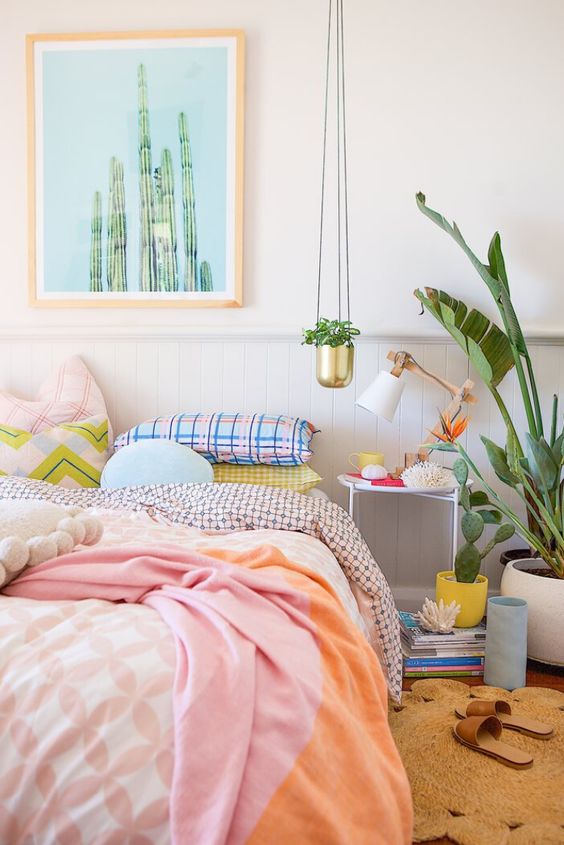 31. Ombre orange
When choosing a paint colour for your bedroom wall, consider the way the light might change the way the colour appears. Wherever your paint is near bright sunlight, like in the bedroom below, it will shimmer pale—so you may end up with a pastel shade whether you wanted one or not! If you don't want this to happen, pick blackout curtains. Otherwise, embrace the natural ombre effect!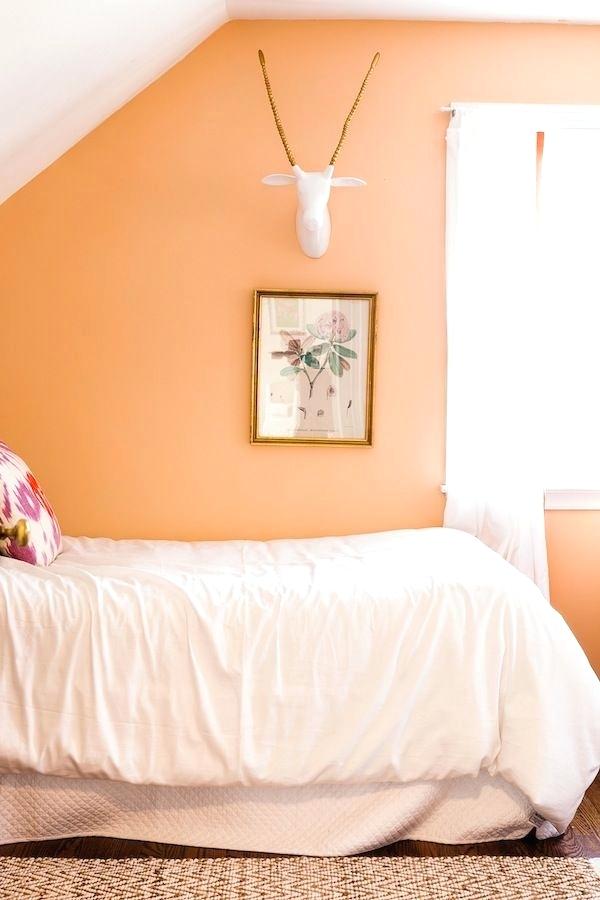 32. Pastel bedroom wall art
Bring kaleidoscopic pastel tones in with your bedroom wall art. Geometric prints work especially well, adding a graphic edge to the soft colour scheme. Pick prints that have unusual details to complement the childish simplicity of pastels. Keep bedroom furniture unobtrusive, sleek and stylish. See more feature wall ideas.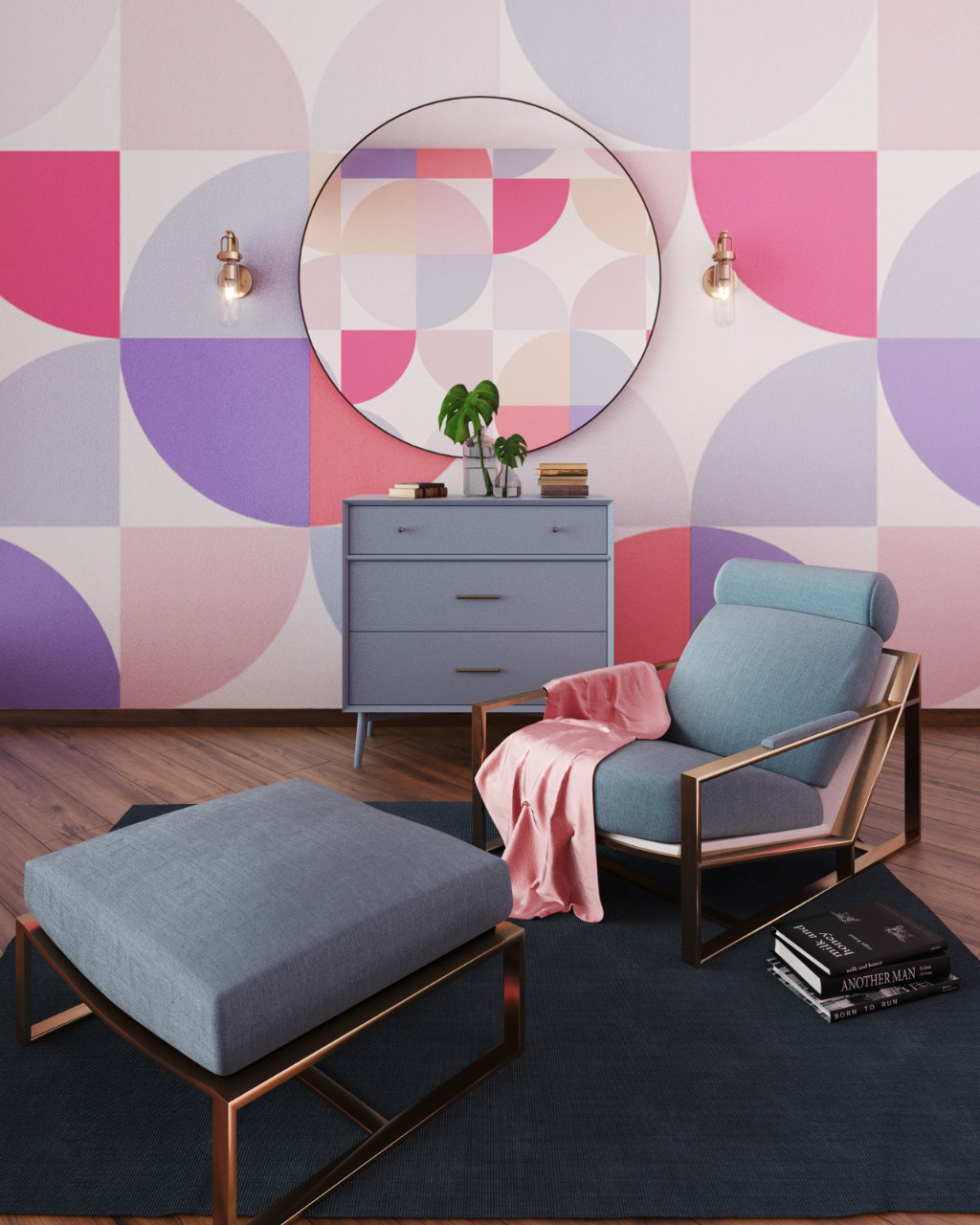 33. Pastel bedroom in purple tones
This bedroom makes you think of the Greek Islands with an abundance of white and unusual architectural features. Blending perfectly with the pale sandy tones in pastel lilac, in the woollen rug and the large scatter cushion. A few blue glass amphora vases in a corner add to the Mediterranean flavour. All up a very tranquil and atmospheric space.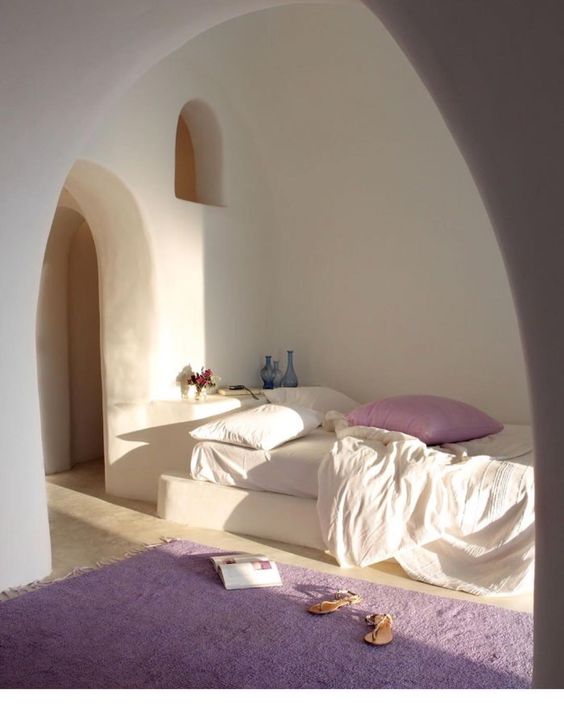 34. Pastel and pops of white
Crisp white touches are a classic accompaniment to pastels, beautifully freshening them up. Below, a vivid pink, orange and purple pastel colour palette, punctuated with the white bedside lamps and a little white in the bedding to invigorate the colour scheme. A handmade headboard made of plywood provides plenty of shelving see also our article on bedroom storage for more ideas.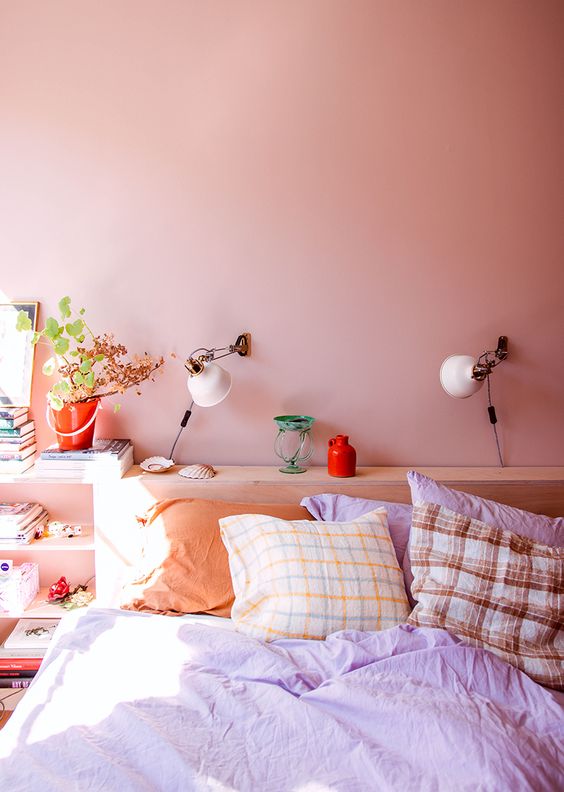 35. Pastel and neon
And I'll finish up with this cheeky one. Proof pastel can be sexy in a bedroom: This modern bedroom has a playful dose of pastel in the unusual ombre wall, while the neon light adds a little wow factor. Find a painter who can help you get this look.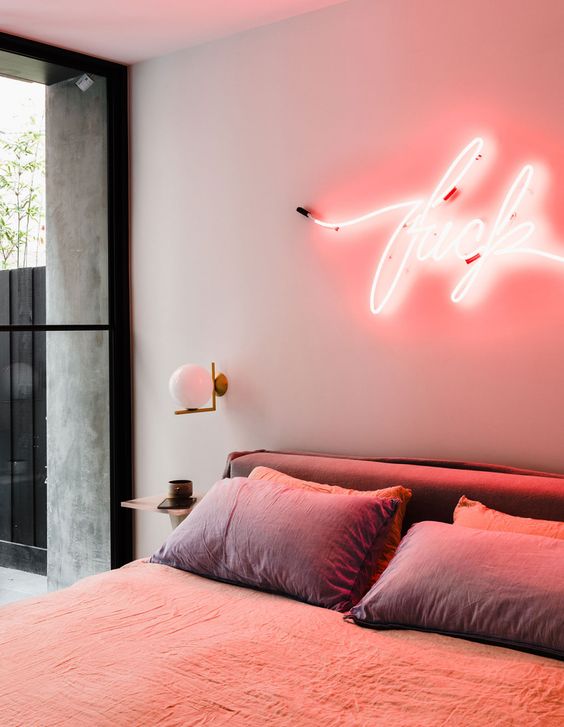 What do you think of the pastel decorating trend—do you love the idea of adding pastels to your bedroom? If you love pastels but are uncertain about the best colour scheme to choose, you might consider consulting with a qualified home decorator. Or get stuck straight into your pastel bedroom reno with an experienced painter, an expert in floorboards, or someone to handle assembling all your bedroom furniture (whether it's your bed, dresser, built-ins or wardrobes).