Most people put a lot of importance into styling their house to perfection, but laundry rooms are sometimes overlooked and last on the list for styling. So if you're reading this, it's your sign to stop putting your laundry last and get it looking as beautiful as the rest of your house! Because it is just as important as any other room, especially if you are doing a load of washing most days!
Modern design is all about purposeful, classic design choices that will stand the test of time. Some ways that you can utilise the contemporary design trend are:
Tiling
Tiling can lift any space from boring to one with lots of character.
Limited colour palettes
Modern design is based on neutrals, but a limited colour palette works well if you want to add some colour.
Well-made finishes
Spending a little extra means you won't have to replace your finishes like cabinetry and appliances for a long time. Well made finishes are always a good choice!
Check out these 25 modern laundry ideas for inspiration!
1. Greige
This super elegant greige laundry room gives so much modern feel! I love the greige colour on everything, from the wall tiles, cabinetry, baskets, and hand towel. And I love having a single plant beside the white washing machine as it gives the elegant palette a vivid green colour.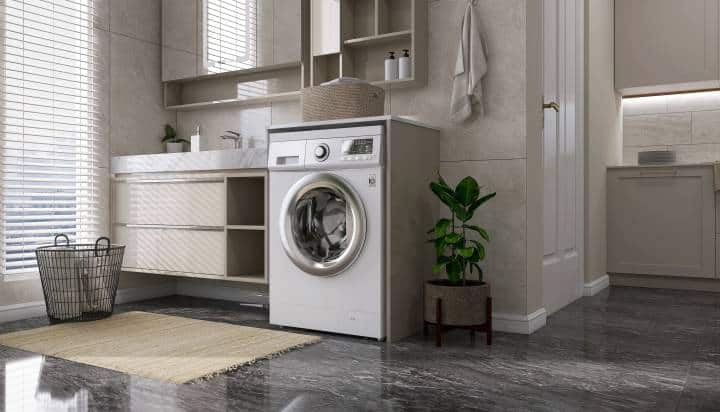 2. Grey door and cabinets
How stunning is this modern grey laundry space! I love the seamless cabinetry with the grey finish, silver fixtures and black handles. A very subtle grey tiling has been used to supplement the grey palette. Adding a warm light in your laundry room will help balance everything!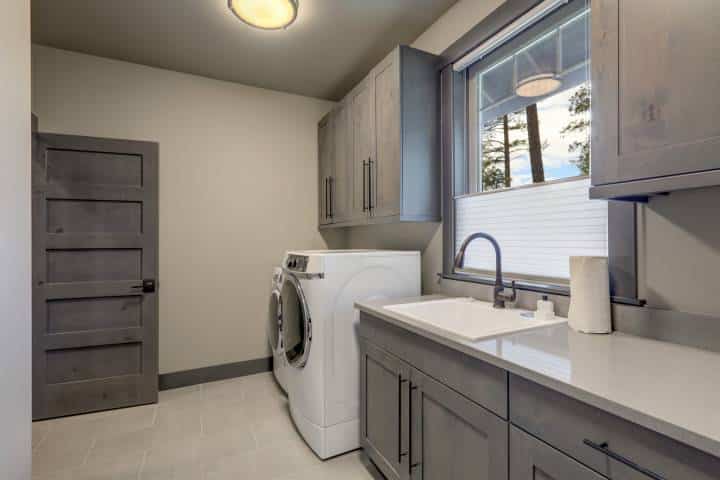 3. Off white
Sometimes pure white can be a little stark, so utilizing off white is a great idea! Off white gives you that 'white look' but just a little softer and easier on the eye. I love the creamy white cabinetry in this space and the shelves! So much room for storage and even decor!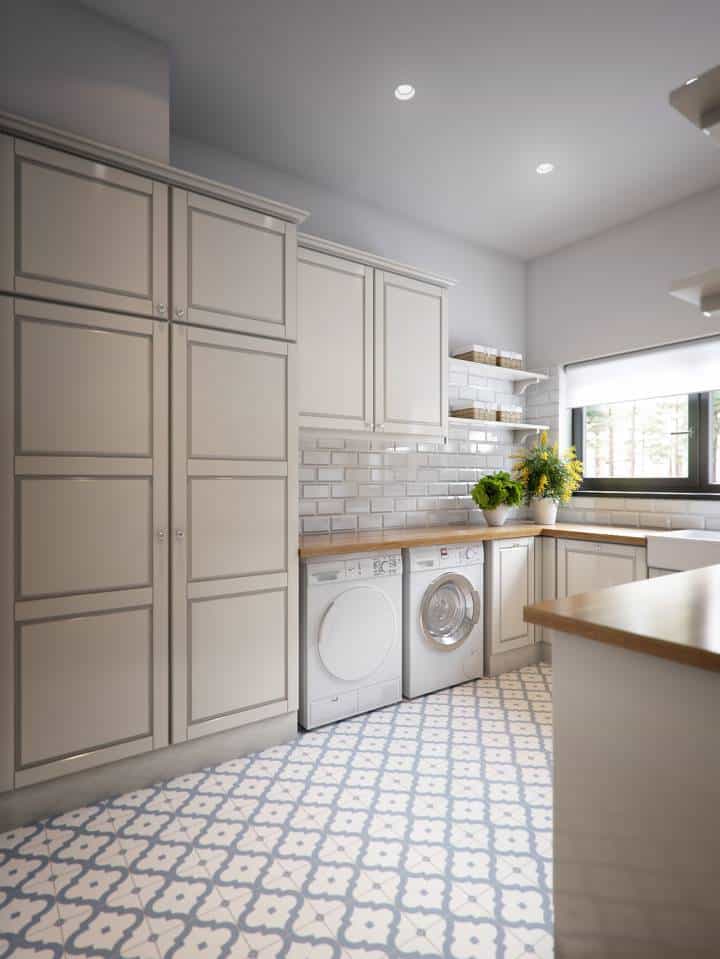 4. Light wood and greenery
If you love a simple look but want to keep things looking contemporary, check out this space! White, green and light wood colour palette! The greenery adds life and so much warmth into this space.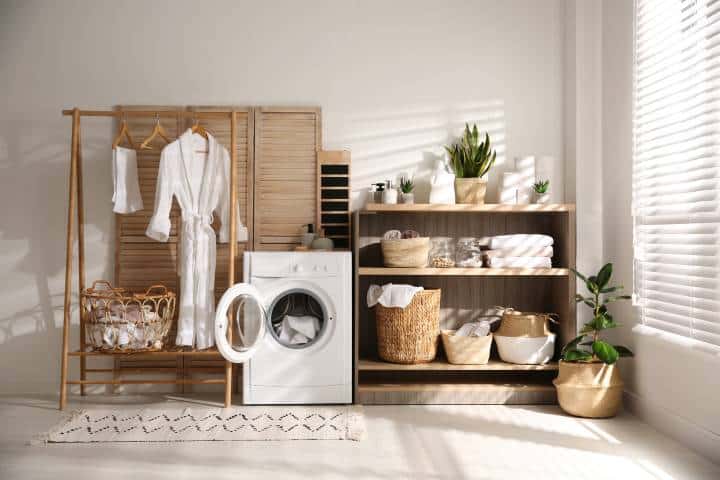 5. Seamless cabinetry
Modern design is all about seamlessness, so I love the cabinetry in this laundry room! The marble splashback provides another unique characteristic. Plus, if you have a darker coloured machine, it works so well as it contrasts the light wood finish and white marble and tiling!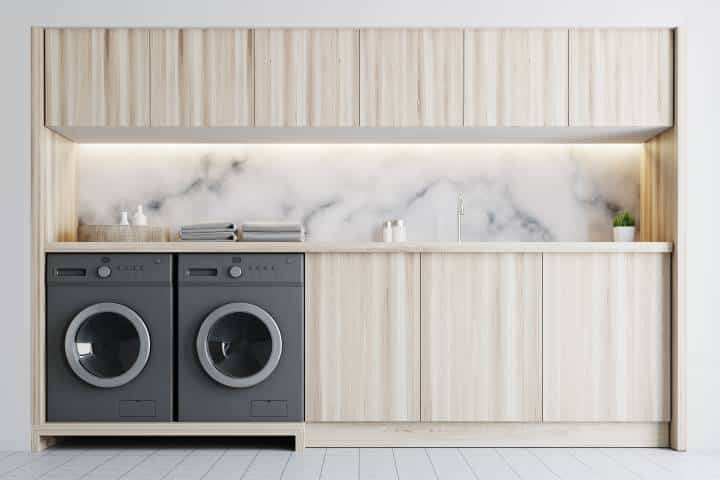 6. Teal green
If you want a modern colour to spice up your life, teal green is always a good choice! It's excellent between colours: not too bright and bold like some colours, but also a little more exciting than a neutral. I love the cabinetry in this laundry which has heaps of different options to store your essentials. The large window and blinds allow for natural lighting whenever needed!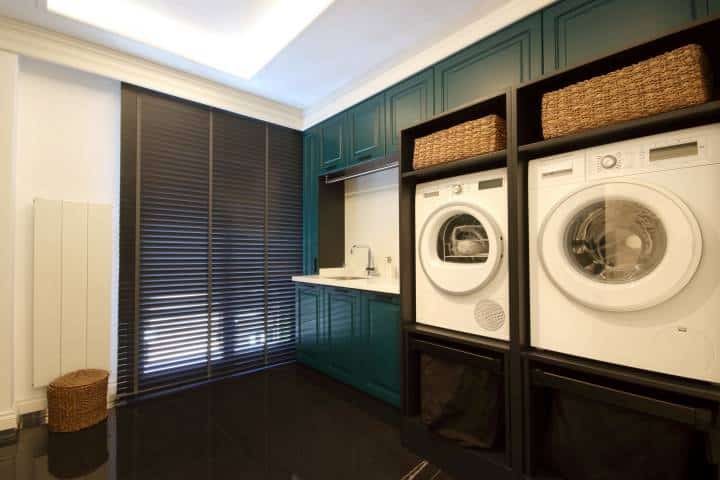 7. Black laundry basket
How cool is this? The black basket starkly contrasts the light grey cabinetry with a wood grain-like finish. The glass door with wooden frame brings another element of uniqueness to the space!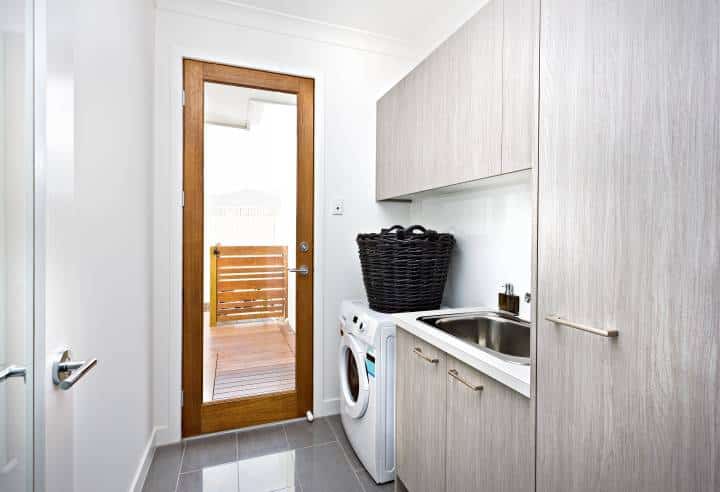 8. Wonderful white
Check out this modern laundry room! How wonderful is an all-white laundry room! I love the chosen decors as it provides style to the room. And the addition of the cabinets that double as bench for when you want to rest for a while! Add a few pillows to make it cosier!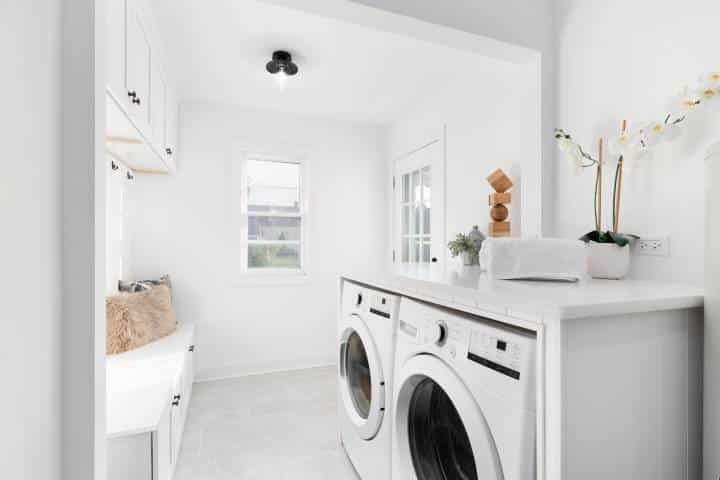 9. Guest bathroom
If your laundry area is also your guest bathroom (or has an entrance), you need your laundry to look neat at all times. The tilings and furnishings are white, so it looks clean and tidy. This is easily achievable, so make sure to maintain its look!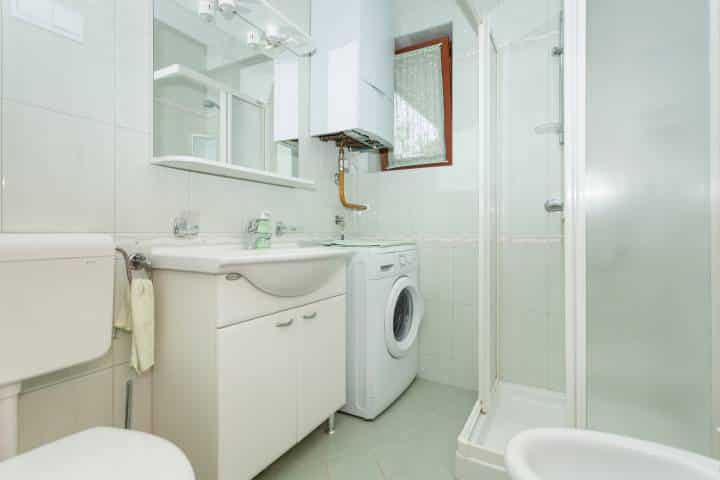 10. Herringbone flooring
Another great way to lift a space is to add tiling! I love the flooring in this laundry room  made out of a stunning sandstone herringbone. Because of the natural intricacies of the stone, the difference in the simple white cabinets and wall paint bring out such a simple yet stunning look! Adding a herringbone style is a no brainer!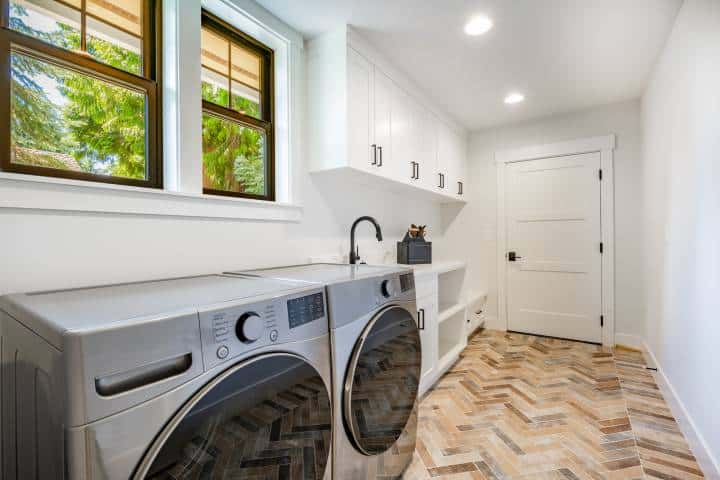 11. Concrete and wood grains
A laundry room that incorporates industrial the industrial colour palette and finishings! I love the cabinets' wooden look as they contrast the concrete-finish wall. The clothesline adds more utility to the space! You can add some greenery for a pop of green colour!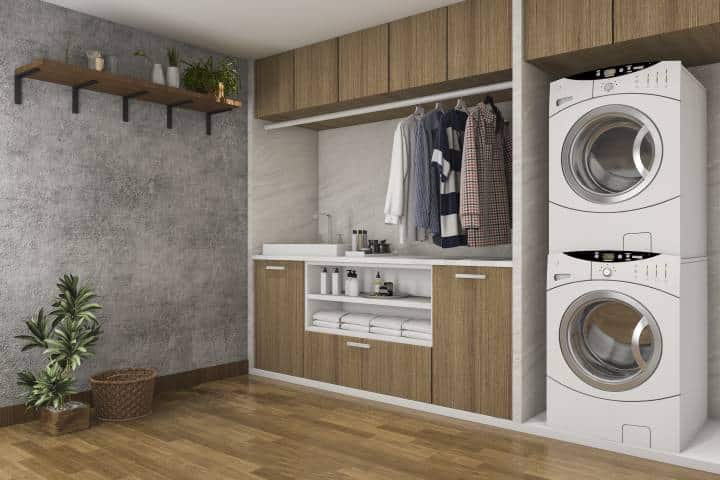 12. Pop of colour
How fun is this yellow under sink cabinet! This creative choice to have a bright yellow against a concrete-finish wall acts as a showcase in your laundry area. I love that the rest of the laundry room is very modern, just easy access for your laundry essentials, which means that all eyes are on that fabulous yellow paint!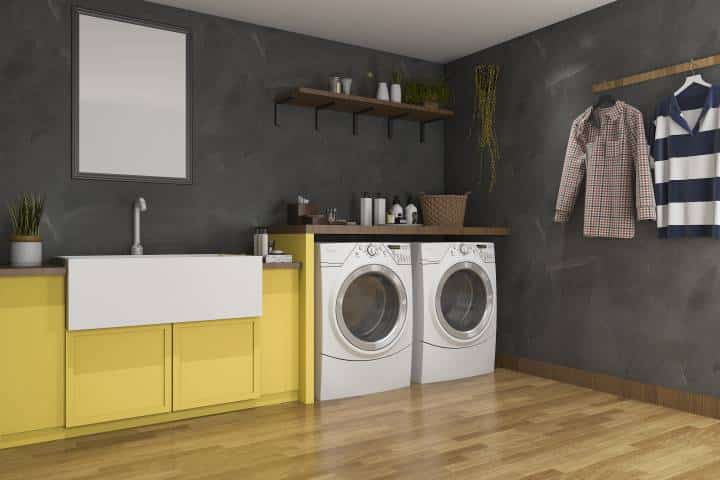 13. Compact cabinetry
If you've got a smaller space to work with, then close cabinetry is the way to go. Although the space is smaller than the mentioned spaces, it looks neat and has enough storage area for your laundry and cleaning essentials! 
14. Thoughtful decor
How sweet is this little laundry space! I love the light wooden cabinet on top of the appliance. What very thoughtful decor, along with some greenery and terracotta pots! It is nicely paired with the white tile splashback, cabinetry and walls. The bathroom mirror cabinet adds freshness to the space, providing the illusion of an extra space near the ceiling.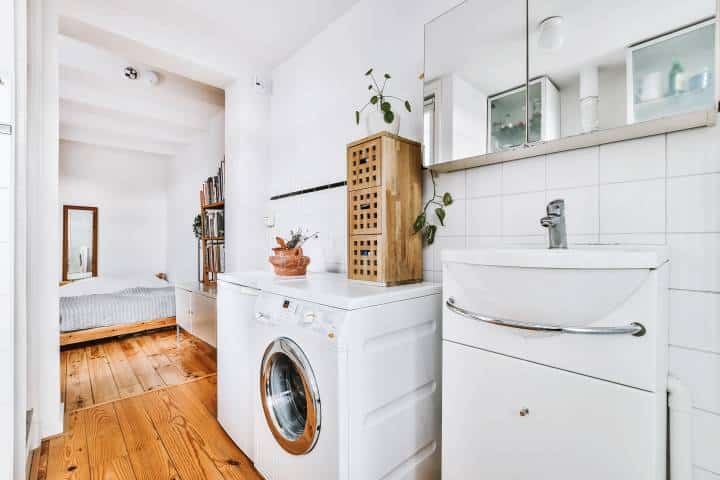 15. Storage for pet essentials
If you have pets and their stuff takes up much space, this laundry room inspiration is perfect! How awesome is having this extra storage space? I love the mesh grid doors so your pet dog can see or smell their stuff easily, may it be an extra bed or an organised pantry of treats. What a great touch! Plus, the extra basket spaces provide more options for keeping your laundry!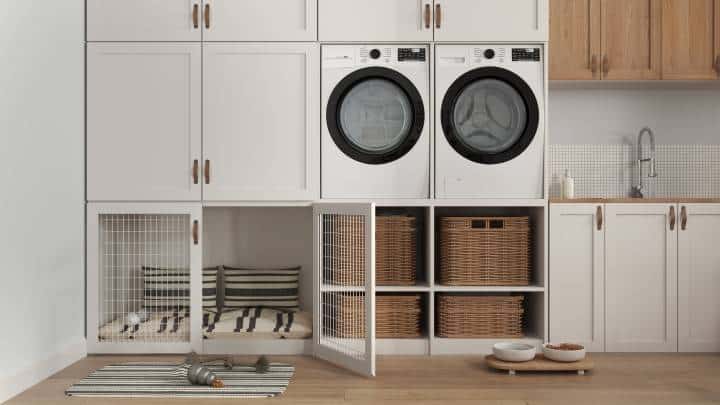 16. Minimal modern
This laundry space has minimal decor but looks so modern and neat. The creamy white cabinetry and wall paint provides a classy look. I love the stainless steel faucet that complements the stainless steel washing machine. The lights underneath the cabinets provide utility and elegant detail.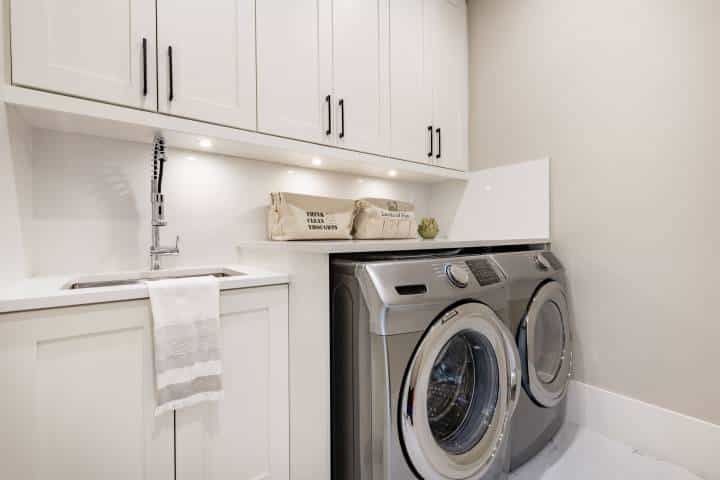 17. Timber
Want flooring that's modern and cosy all in one? Well, the timber in this space will not only look chic, but it will undoubtedly stand the test of time. I love how much warmth the it brings to this simple laundry room and how well it goes with the white appliances and storage cabinets. I would feel so at home in this laundry.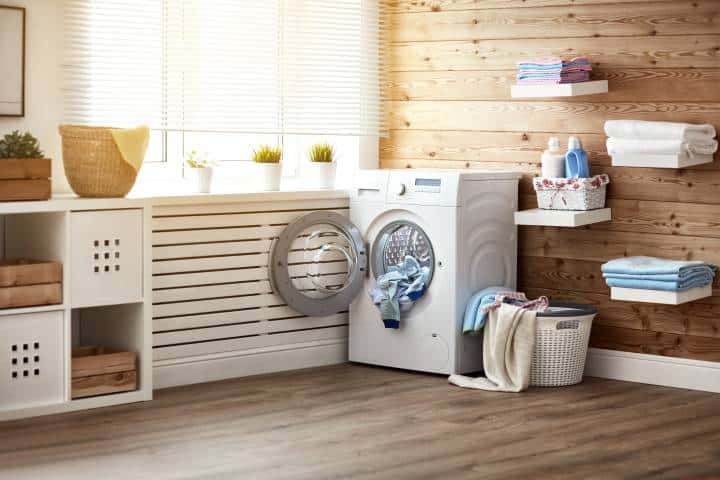 18. Narrow space
If you have a narrow space to work with, you should take some inspiration from this laundry room! I love how the appliances are placed vertically, and the storage spaces have easy access. An indoor clothingline will add more utility to the laundry room. It's conveniently designed even in a narrow space!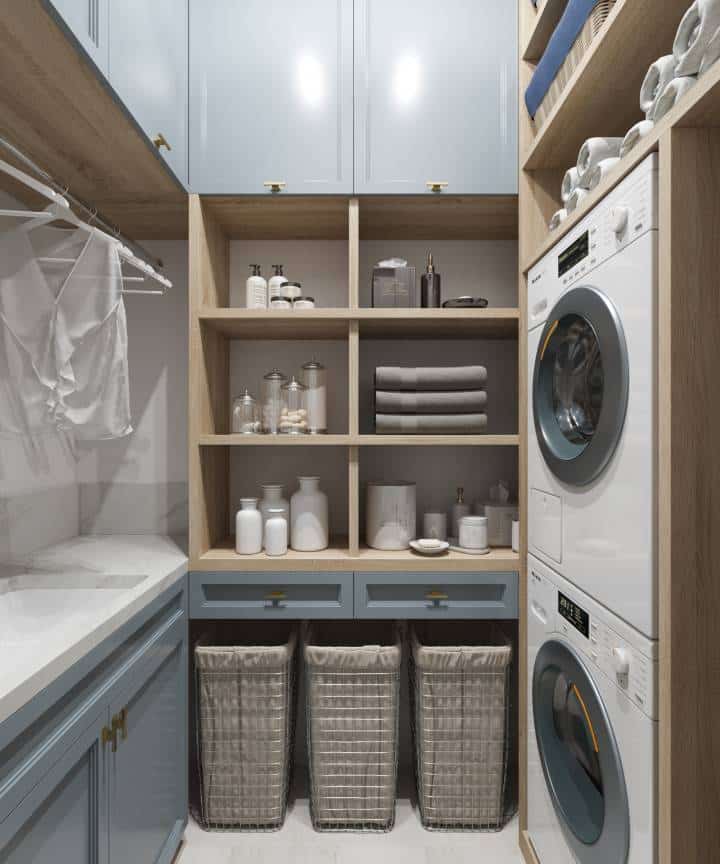 19. Natural lighting
The large glass doors allow natural lighting to enter the space, giving you a bright and beautiful day to accompany a laundry day. The vertical machines also save space. Gotta love having a well-lit room! 
20. Grey cabinet, white bricks
How cool is the colour palette in this room! The white brick wall greatly contrasts the grey (with some blue tones) cabinetry. The pull-out organiser and accessible storage spaces allow for convenience when doing laundry!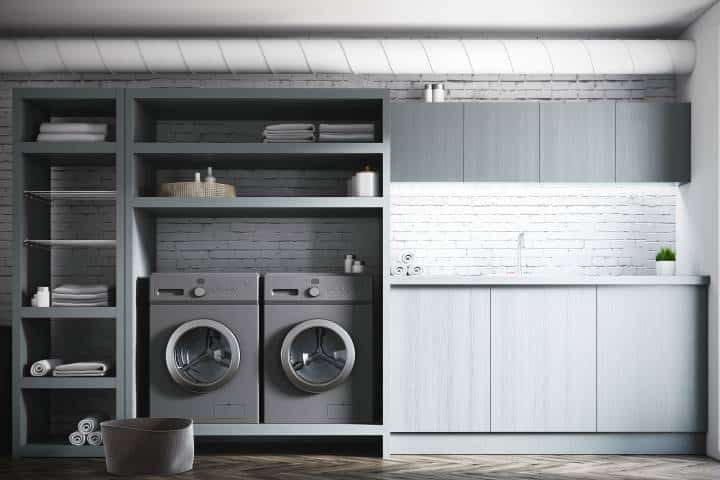 21. Marble stone
Here's a gorgeous marble tiling that's undoubtedly creating a big impact! I love the dark grey marble stone surrounding the laundry room, from flooring to the wall! What a simple yet luxurious looking laundry room!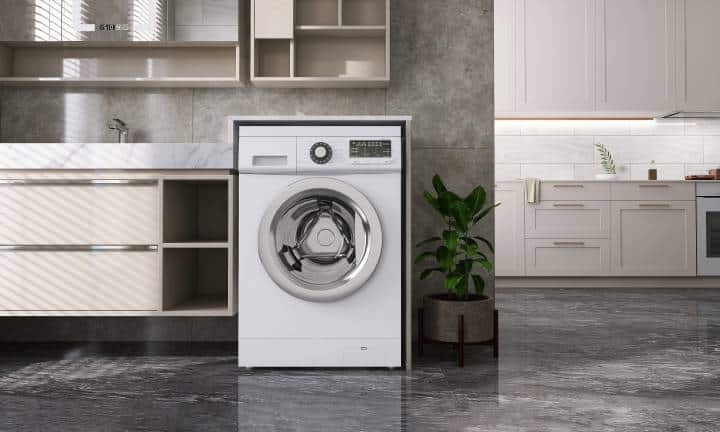 22. Matte black
Don't you find matte black so sleek? Even add a marble finish wall, and it looks extra classy! This laundry room's high ceiling allows for more storage space as some cabinets are built tall. The tabletop allows easy access for the most used laundry essentials. Plus, the roller blinds go so well with this room's theme!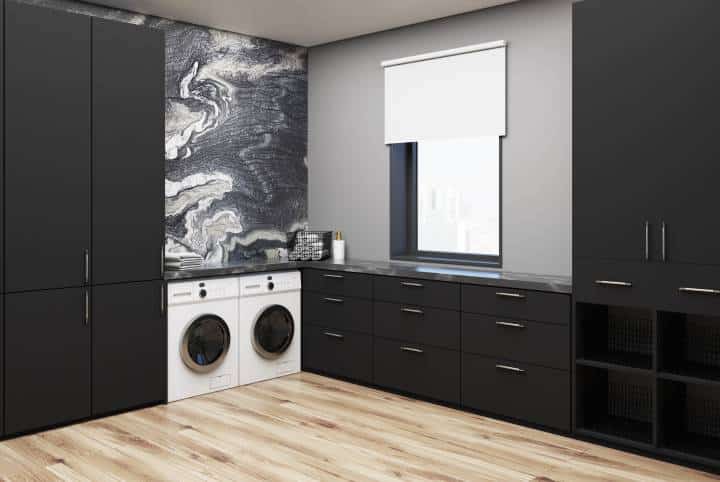 23. Outside of the box
The designers of this laundry room were thinking outside of the box when they installed an extra shower area! The tiling in the shower area provides a cool layer, making it another fantastic feature of the room! How clever! And I love the spaces for storing your laundry and bath essentials! The partition adds a luxurious look to the space.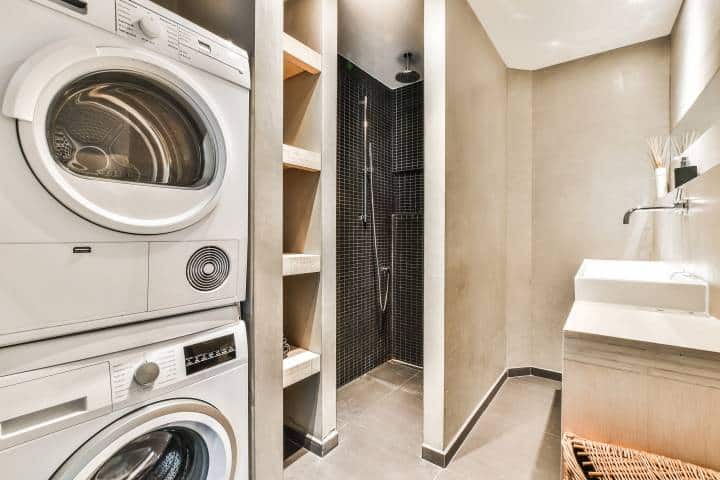 24. Easy chore day
This laundry area is perfect if you want all your cleaning and organisation essentials in one space. The white and light wood colour palette doesn't fail to give a homey vibe. The white tiles on the wall bring out another layer to this space! Have your mop, bucket, wiper and other tools nearby so it will be an easy chore day!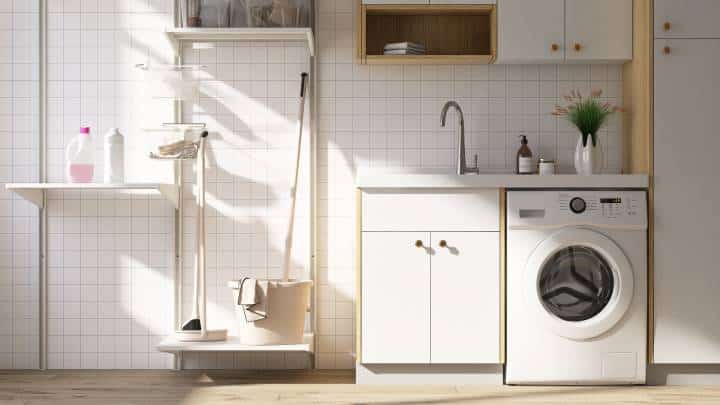 25. Wall panelling
If you don't want to leave your wall bare but don't want to tile the area, then wall panelling is a great way to go! You have a beautiful feature wall that works well with a floating shelf and hanging storage. It adds a little more texture and dimension. Plus, the design of the shelf brings a unique feel to the room. If it's not enough, add woven baskets and plants to make the room extra chic!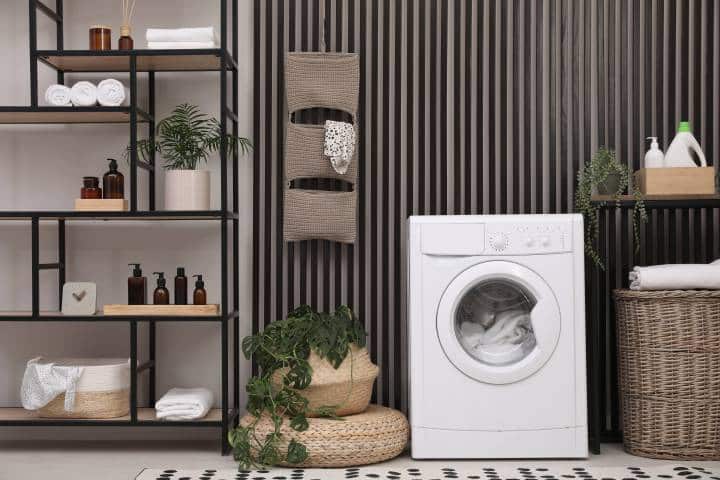 So there, we have 25 modern laundry ideas to help transform your old dull laundry into something modern and will stand the test of time. I love all the spaces with the primarily neutral colour schemes, however, with some added accent like a tiled feature wall or colourful cabinets. What modern laundry ideas will you be utilising in your laundry? Let's chat in the comments below!