There's nothing like fresh flooring to give your kitchen the major update it needs. And there's no shortage of options that you can choose from – natural stone flooring to ceramic tiles (in all shapes, sizes and colours), and concrete to timber and so much more. But there's more than just looks when it comes to kitchen flooring. Long term durability and flooring costs are the most important factors when it comes to picking an option for your home.
So, here's a quick glance guide about each material and it's durability and rough budget (low, medium, high):
Natural stone kitchen flooring

Natural stone includes; slate, marble, limestone, granite, sandstone
Highly durable but is porous so will need regular sealing maintenance
Moderate cost depending on your choice

Timber kitchen flooring

Relatively durable but will need any liquids cleaned up right away and will scratch or dent. Luckily you can sand back and remove impurities.
Expensive option

Laminate kitchen flooring

Not ideal where spills can happen as they can cause it to bulge
Cost-effective option

Vinyl kitchen flooring

Very resilient and easy to clean but can scratch easily
Cost-effective option

Polished concrete kitchen flooring

Extremely hard-wearing
Prices range but if you want good quality, it will cost more

Terrazzo kitchen flooring

Incredibly hard-wearing and suitable in almost any room
Traditional terrazzo is expensive but terrazzo tiles will be about half the price and still look great
Ensure that you've opted for a non-slip surface
Now that we've had a quick glance at the important stuff, let's move onto the amazing kitchen flooring ideas that you can consider for your next reno.
Natural stone kitchen flooring
If you're looking for flooring that'll last the test of time, then you can't go past natural stone flooring. It's as hard as a rock because it actually is rock. This makes it a durable, long-lasting option for your kitchen.
Natural stone flooring can include materials like limestone, sandstone, marble, granite and slate, to name a few. And it's a very luxurious finish!
The only drawback to natural tiles is that they are porous and will be affected by water and liquid spills. But, if you keep your tiles regularly maintained with sealer, you can prevent these issues and enjoy quality tiles for a long time to come.
1. Aged flagstone tiles
If you're wanting to create a rustic, French-inspired kitchen, then worn-in tiles like these will do the trick. Combine them with clean white cabinetry and a timber benchtop, and you've got a lovely country kitchen oasis that you simply won't want to leave!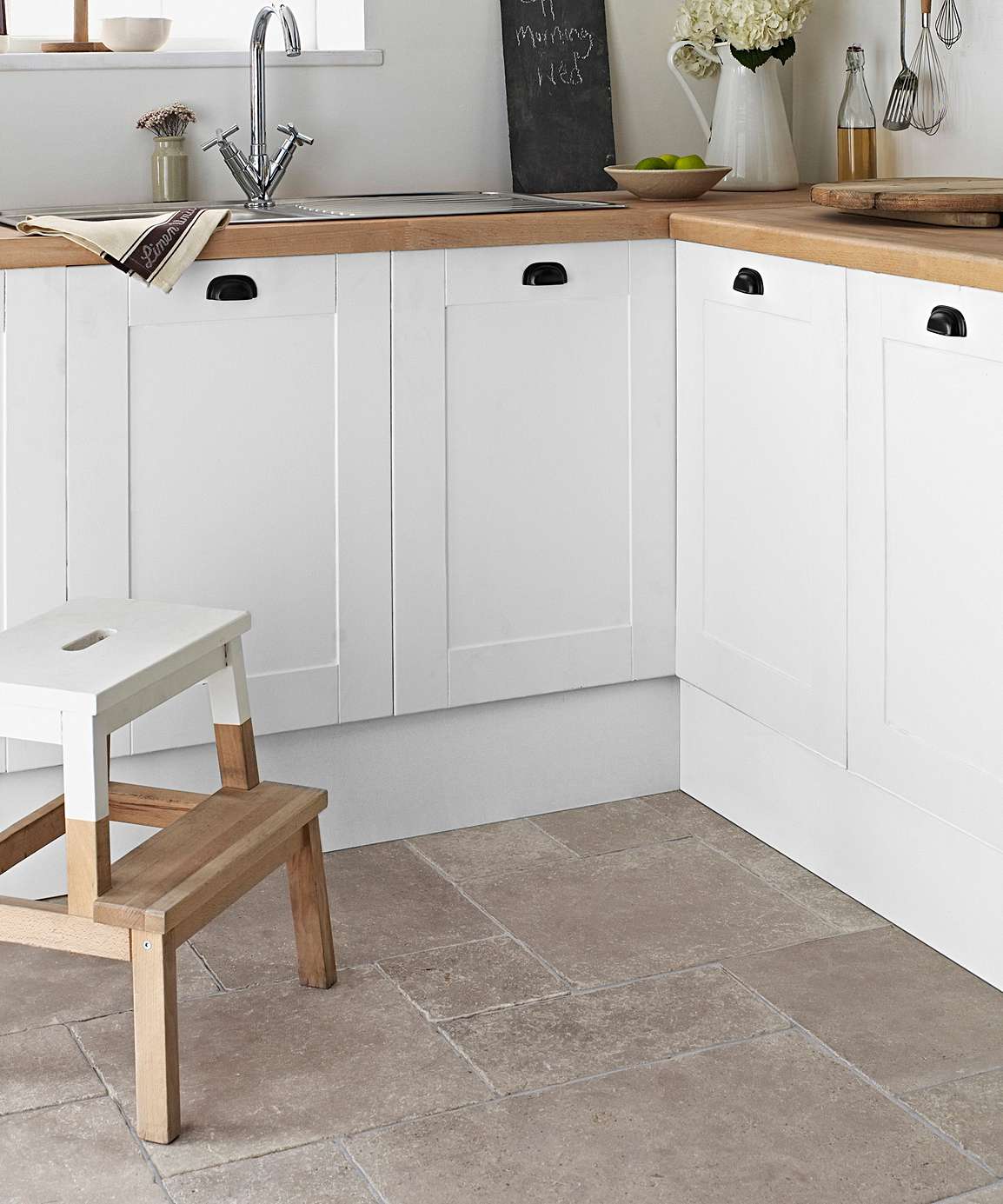 If you love the rustic feel in your kitchen, then you'll want to take a look at these 35 homely country kitchen designs and ideas.
2. Hexagon polished marble
This design is proof that two different materials can coincide. While warm wooden floorboards are something you often find in a home, hexagonal tiles aren't… especially fancy marble ones like these. But they add an interesting touch to this simple kitchen, and I like them!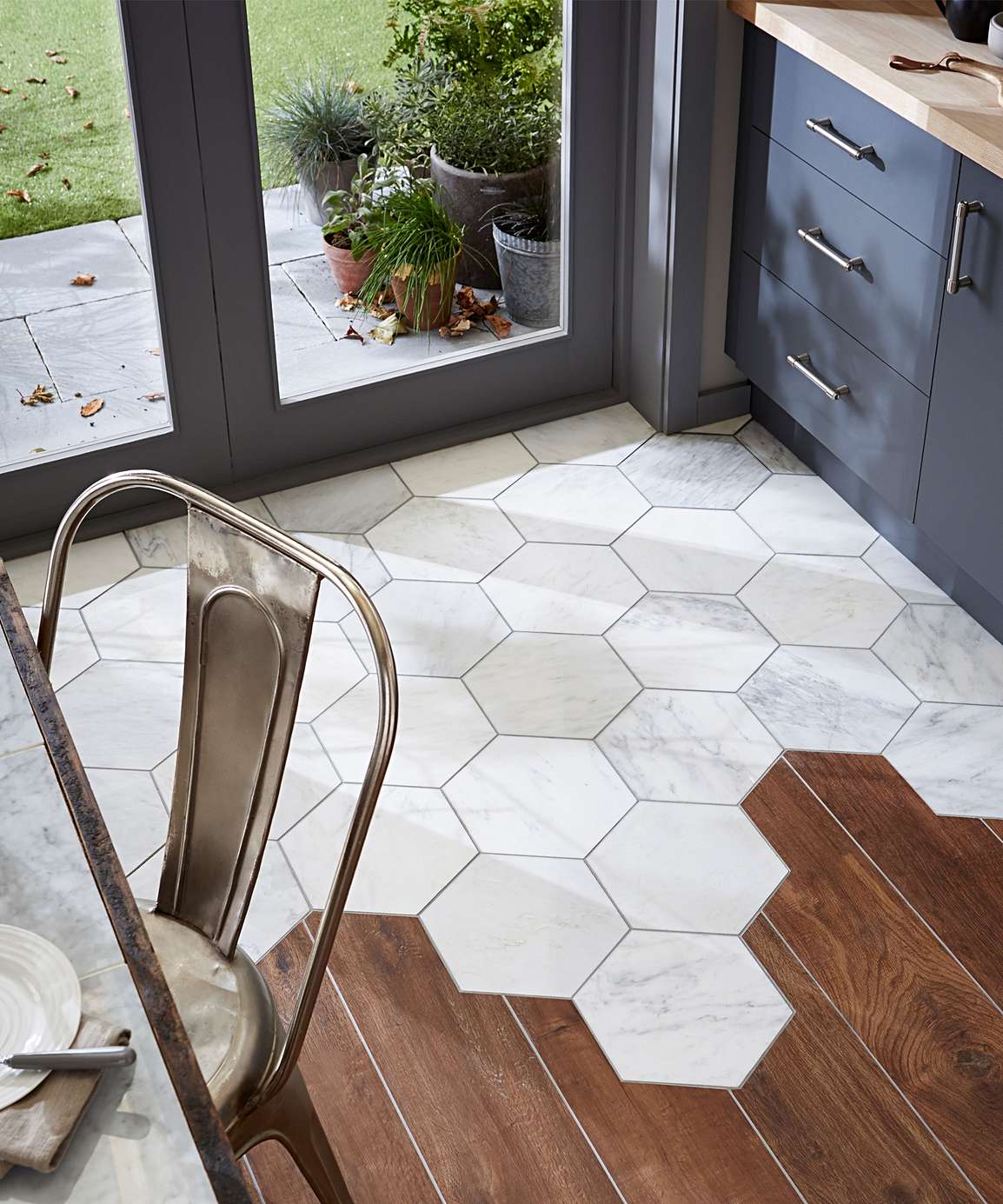 3. Bordeaux French limestone
If this tile doesn't whisk you away to France, I don't know what will. The natural limestone is reminiscent of a country abode, and it'll add a 'homely' touch to any modern kitchen. And place a nice bottle of red on top of the countertop, and you've got the perfect kitchen for entertaining!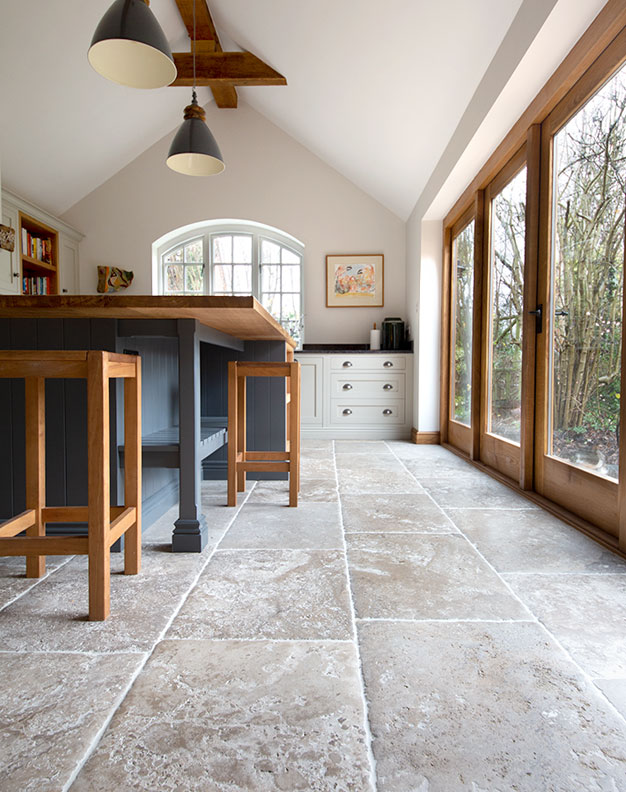 4. Warm tiles
You can't go wrong with a glossy, warm natural tile. This kitchen design is particularly cool on top – it has white cabinets, a white benchtop, and grey accents throughout. But the slightly warm shaded tiles add a lovely touch!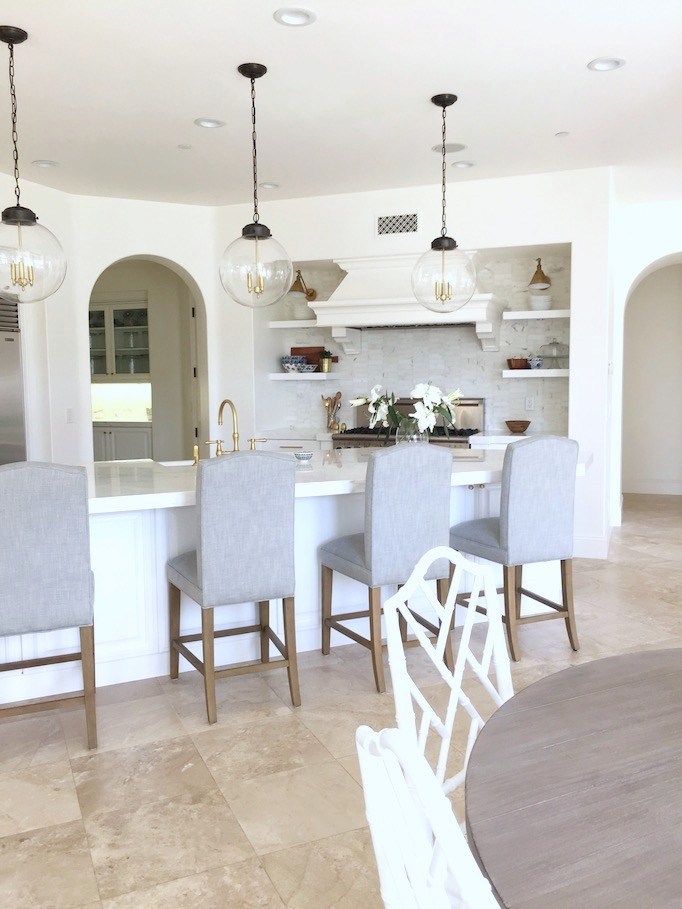 5. Terracotta
Terracotta itself – as both a colour and material – has had a resurgence over the last year or so. And while I kinda like it, I'm also a little bit sceptical of it. While they add so much character to a gorgeous European home, can they really work in a modern kitchen? Well, if you take a look at this one, I think you'll find the answer is yes! And I think the blue mosaic splashback actually compliments the tiles nicely.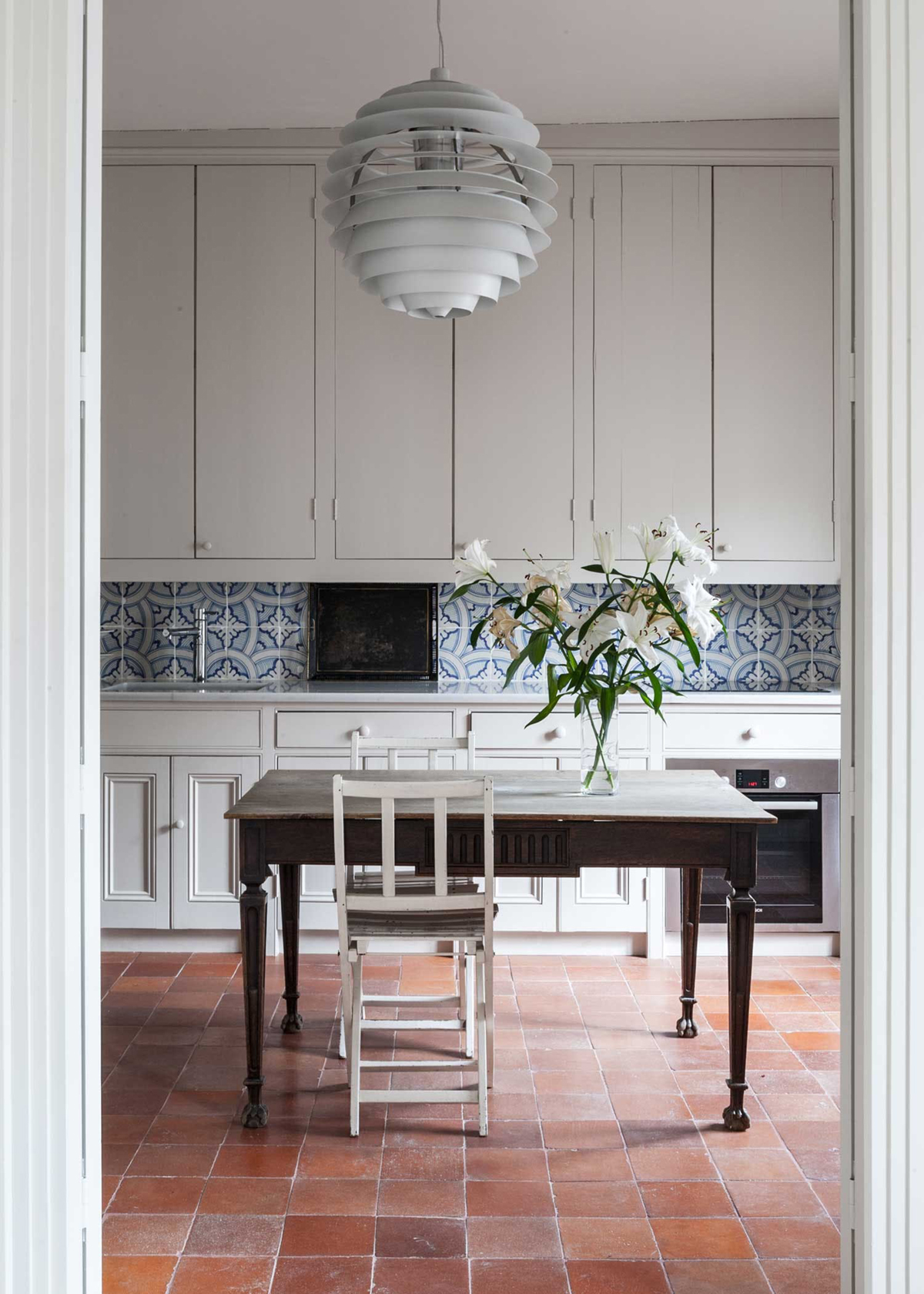 To keep up with the latest, I've put my top 50 modern kitchen designs which explore mid-century and modern country adaptations – just to name a few.
Ceramic tile kitchen flooring
Ceramic tiles are a beautiful material made from natural clay that's shaped, glazed and fired under heat. Compared to natural stone, ceramic tiles are an extremely durable flooring that are unaffected by water and stains. And porcelain, in particular, is very resistant to heat and cracks and is a great choice if you're after something that will last the test of time.
You can also find ceramic tiles in a huge variety of natural patterns and colours, as well as shapes and sizes, including mosaics – meaning there are so many options to suit every taste and style.
The drawbacks? Ceramic tiles can be cold underfoot. This is a great option if you live in a warmer climate. But if you experience the cool weather most of the year, you may prefer another option or to remedy the cold with a radiant heating system underneath the tiles. The other drawback can be that the tiles can be too hard, but this can be easily fixed with a cosy rug!
6. Natural tones
While natural stone may be your first thought when you think 'natural tiles,' it's well worth considering natural-looking ceramic tiles too. They are much more durable than natural stone, and they are very versatile because they set the foundation for the rest of your colour scheme. Layer your natural-looking tiles with darker colours like black or grey, or opt for a colourful kitchen scheme – the choice is yours!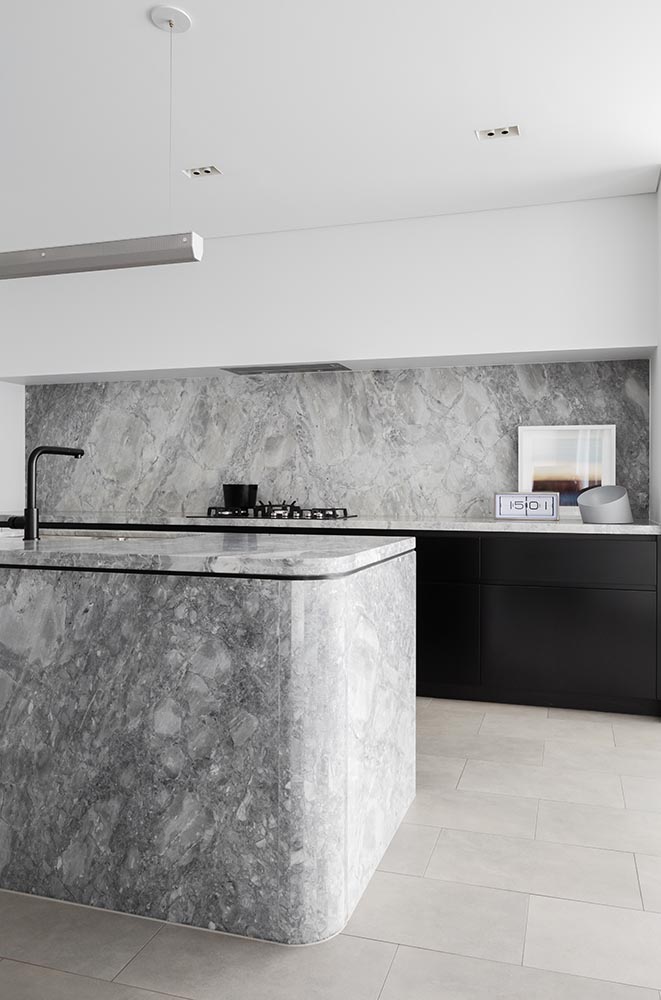 7. Grey ceramics
If you're looking for something that will look good for years to come, then you can't go past grey. When it comes to picking the right shade steer clear of light grey if you want an appearance of seeming cleaner. But if you must, grey teamed with duck egg blue cabinetry, are a winning match!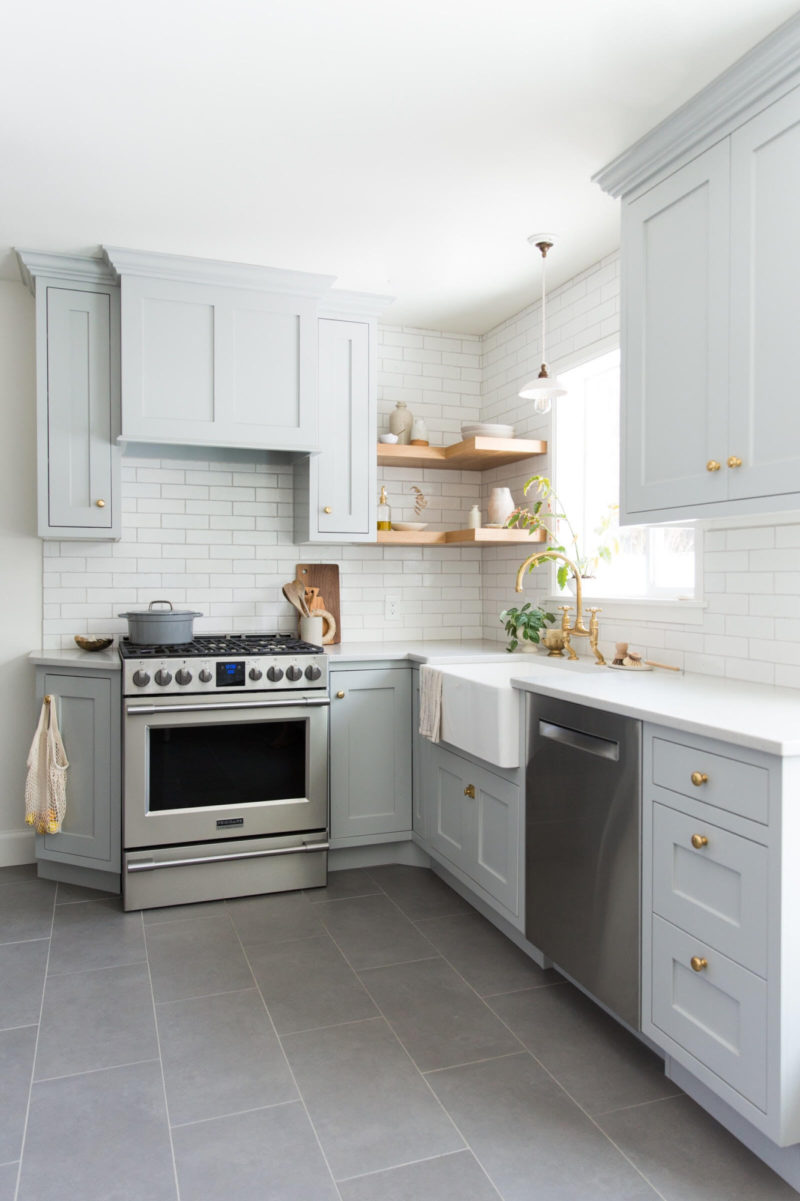 8. Large square-cut tiles
These large slab tiles are an excellent choice for a neutral-themed kitchen. The larger tiles mean the floor is a lot less busy than it would be with small tiles surrounded by more grout. The tiles in this kitchen also have a slight speckle through them, which adds interest and ties them into darker elements in the design.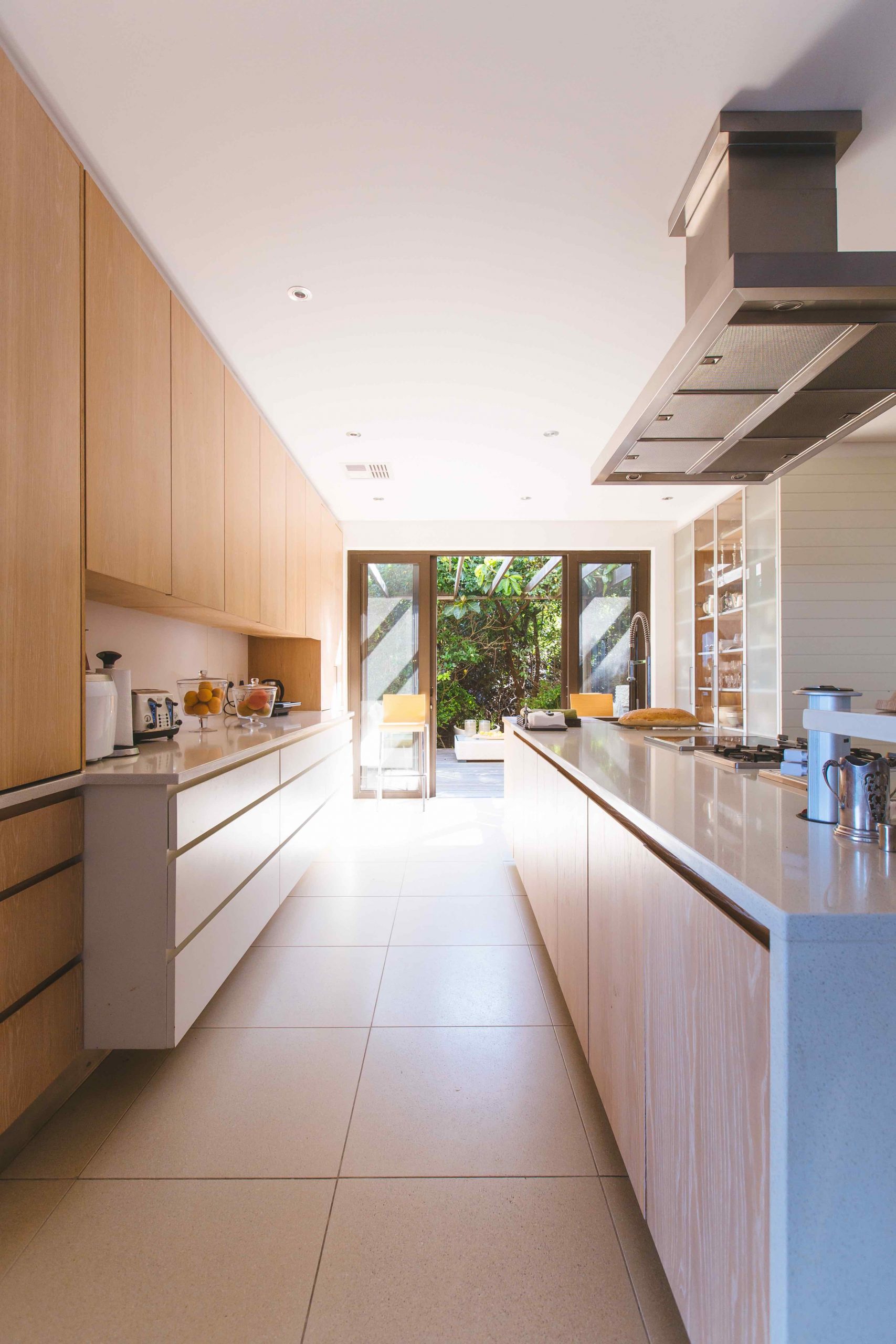 9. Patterned
On the other hand, you could go all out with a busy pattern like these gorgeous mosaic tiles. This is one way to take your simple white kitchen from stripped back to fabulous. Choose tiles that use neutral colours or that match in with the colours in the rest of your kitchen.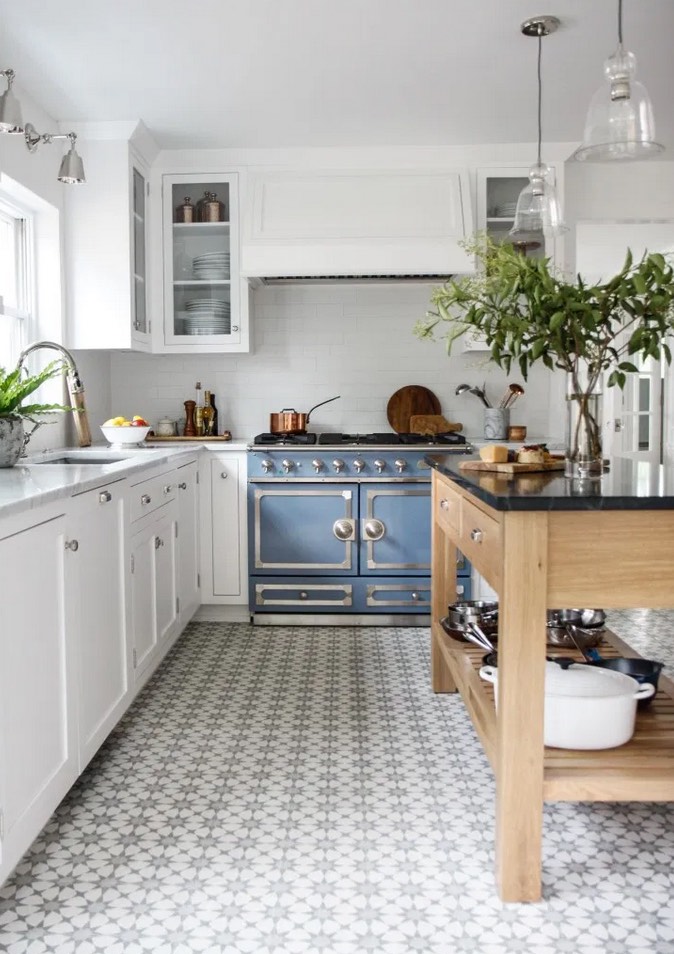 10. Pretty pink tiles
These little pink-and-white half-moon tiles are a gorgeous addition to this little kitchen. This just proves that you can have a lot of fun with patterns and colours, even in a small space.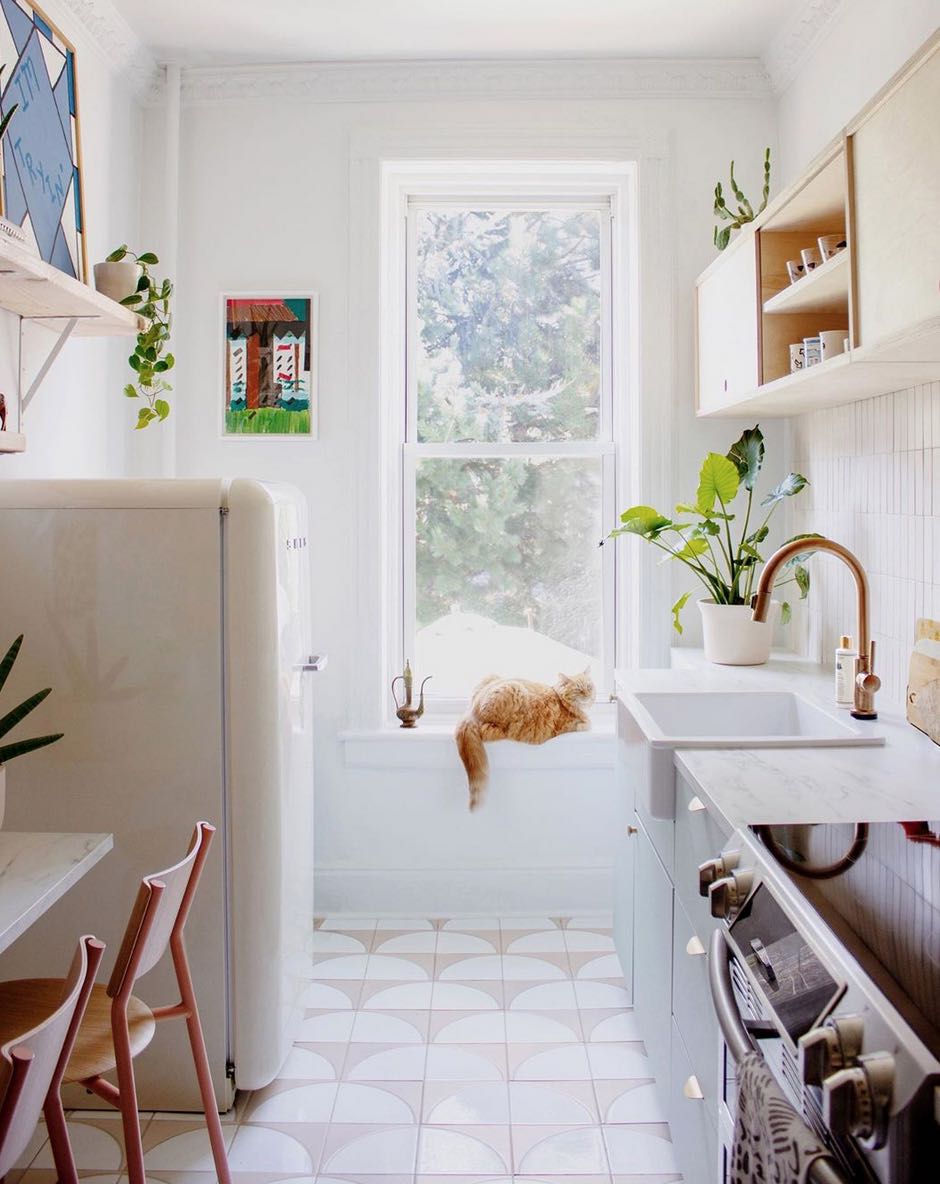 Concrete kitchen flooring
Once upon a time, concrete was something that people would try to cover up in their homes. However, over the last few years, it has truly become a style of its own. And thank goodness for that, because it's a very inexpensive and long-lasting option.
If you already have a concrete slab in place in your kitchen, all you have to do is polish, stain and treat it to transform it into the attractive flooring you desire. If there isn't a slab in place, concrete can be poured over your existing material. Then you can pair it with brass or other modern finishes for a contemporary kitchen.
It's important to be aware that concrete flooring can be very cold in the winter months. So, if you live in a cool climate, you might want to skip this one or lay down plenty of comfy rugs.
11. Terrazzo concrete
This kitchen design proves that concrete doesn't have to be plain and simple. It can, in fact, contain lots of detail. I love how this concrete flooring has speckles all through it. And the Moroccan rug is a nice touch!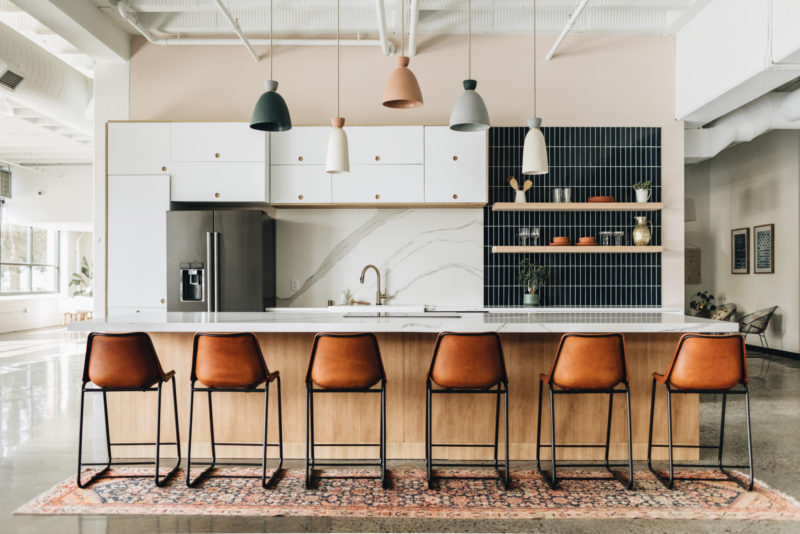 12. Polished concrete tiles
If you prefer to break things up, create some defined lines with large concrete tiles like these. They look great in a contemporary white kitchen like this one.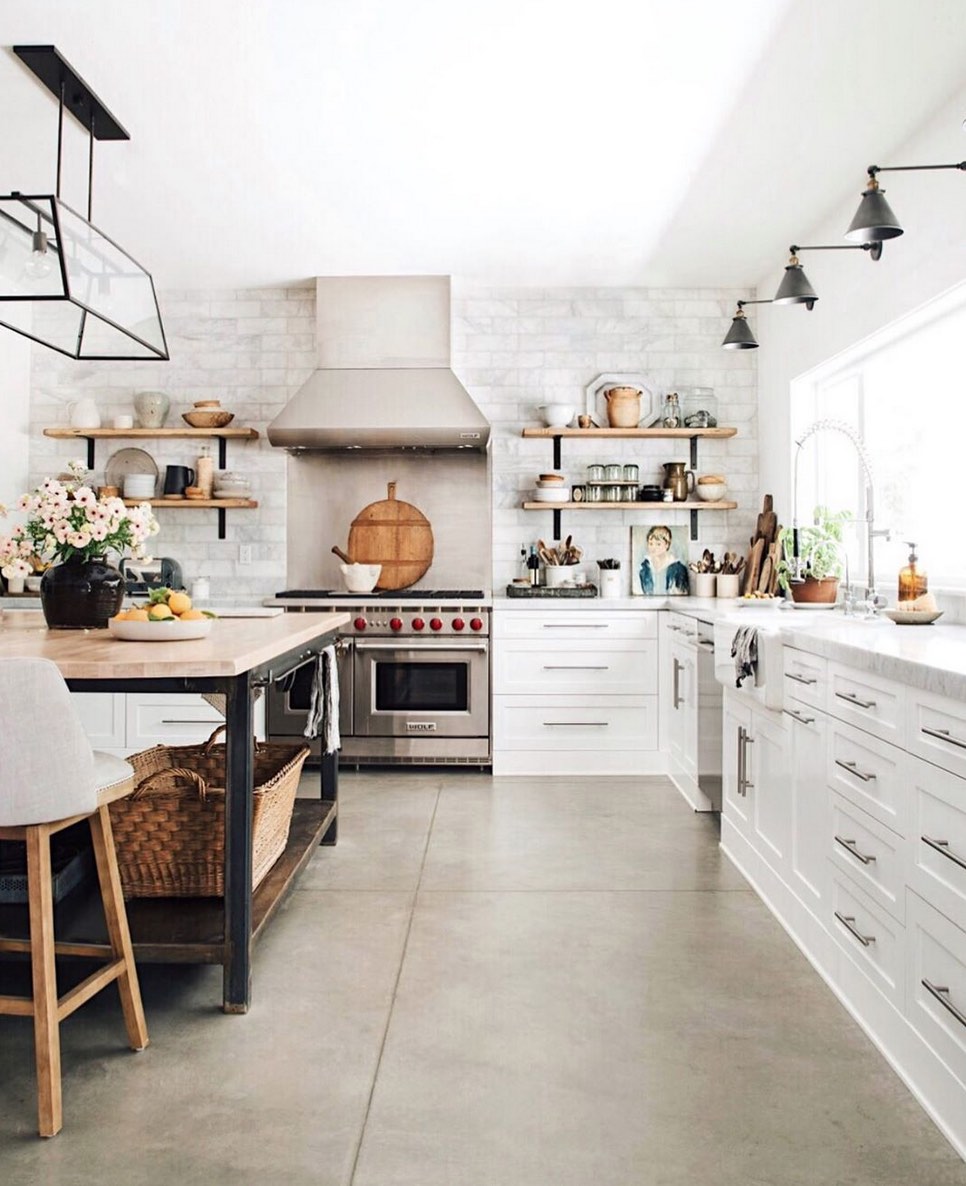 13. Scandinavian style
If you're a minimalist at heart, then concrete might just be the choice for you. Team it with minimalist Scandinavian style furnishing for a perfect finished look.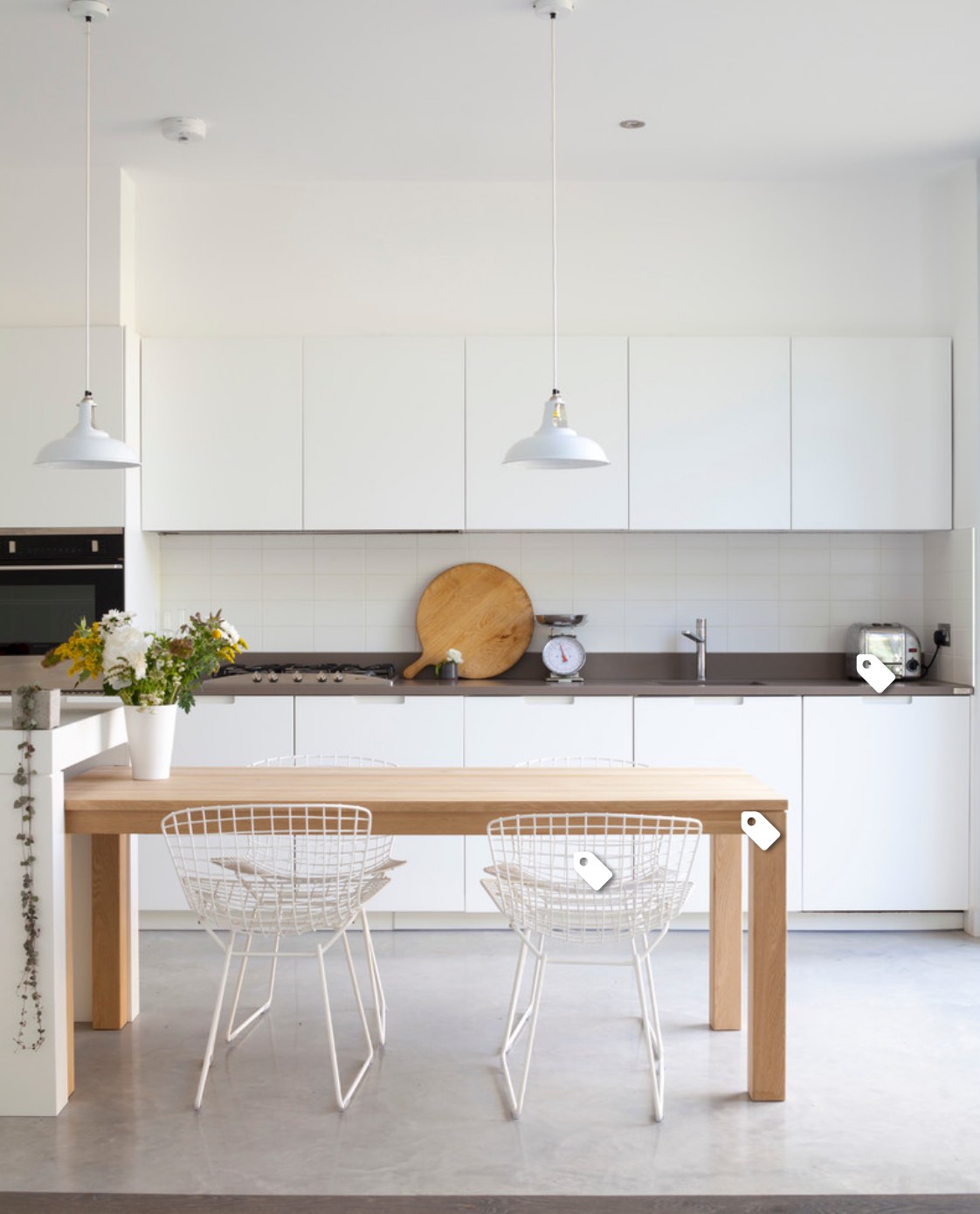 Scandi inspired interior design is favoured for a reason, it's light and rejuvenates your energy. If you love a lighter style kitchen, here are 45 white kitchen ideas that you'll fall in love with.
14. Light and dark
This concrete flooring has plenty of detail. It incorporates little pebbles to create texture and add some dark features to this light kitchen, and I love it!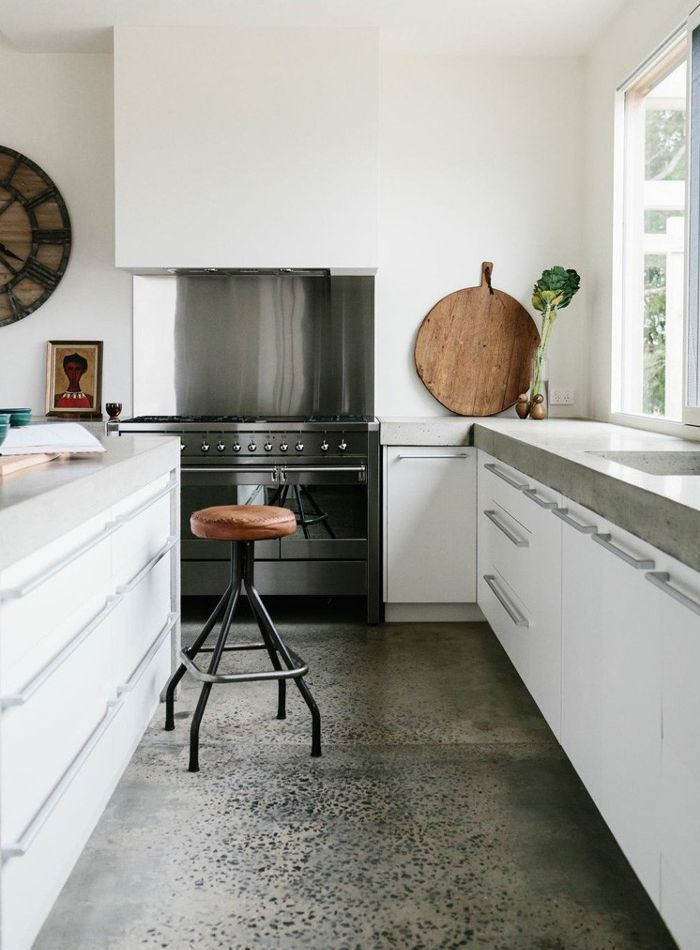 15. Dark concrete
Did you know you can paint your concrete flooring too? You don't just have to settle for how it comes. I like how this flooring matches the dark grey countertops.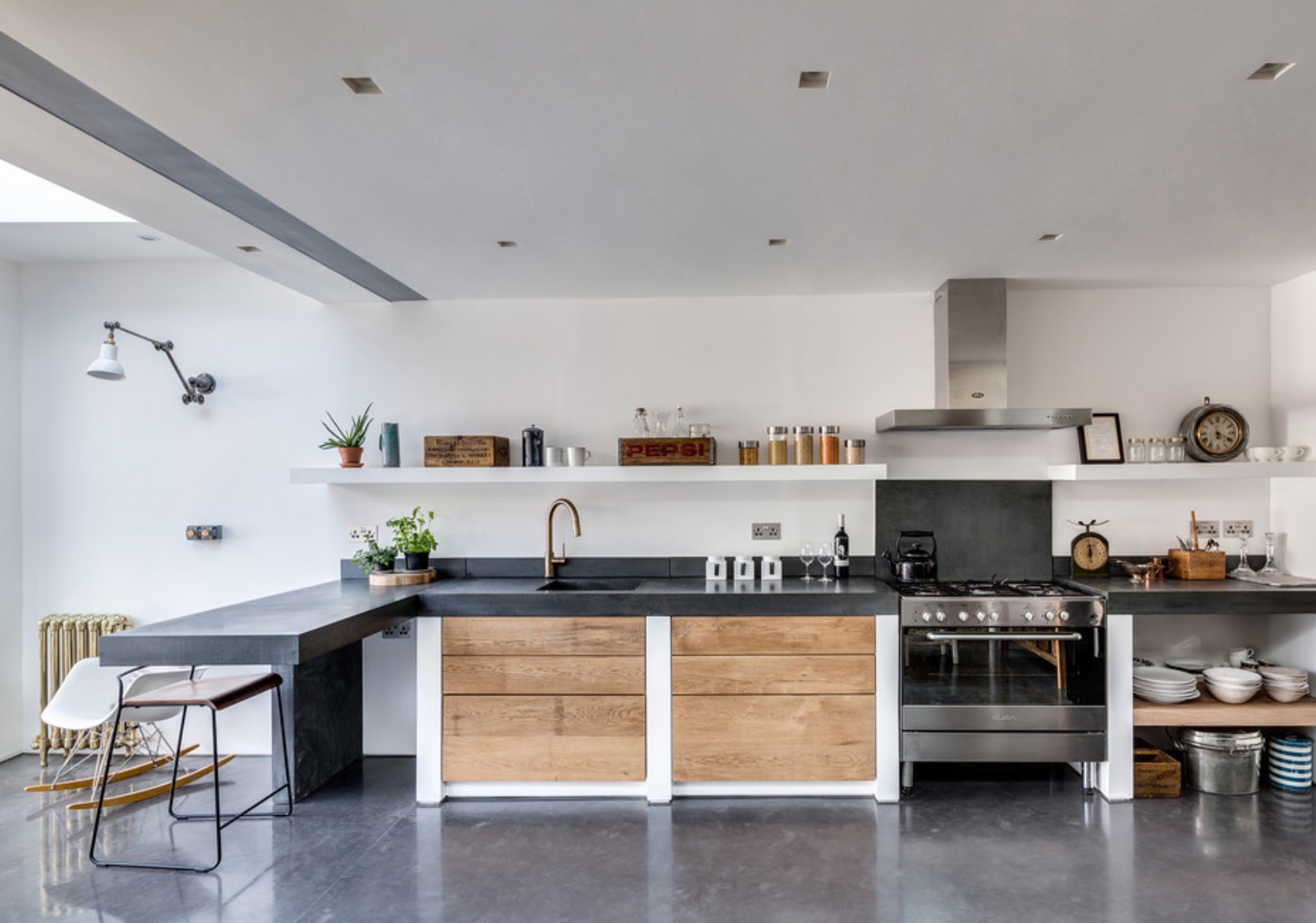 Timber kitchen flooring
Now, onto my absolute favourite – timber! By nature, hardwood is a very durable option in nearly every area of the home. But, it can have its limitations when it comes to the kitchen. This is because hardwood is susceptible to moisture – and there's plenty of moisture in the kitchen. But thanks to modern sealers that have emerged on the market in recent years, hardwood is becoming a more viable option for kitchens.
Still, it's important to be aware of the drawbacks of hardwood, so you can make an informed decision. Naturally, you're going to see changes in the wood over time as spills and splatters occur. However, this can also be a benefit. A well-worn hardwood floor can give your home character. And, if you don't like it, you always have the option of sanding and refinishing it to make it look new again.
16. Dark timber
This colour is a mix of light and dark wood, and I like it. I think a medium-tone wood floor looks good in a kitchen that uses plenty of lighter colours, like white or natural light timber, for the cabinets and benches.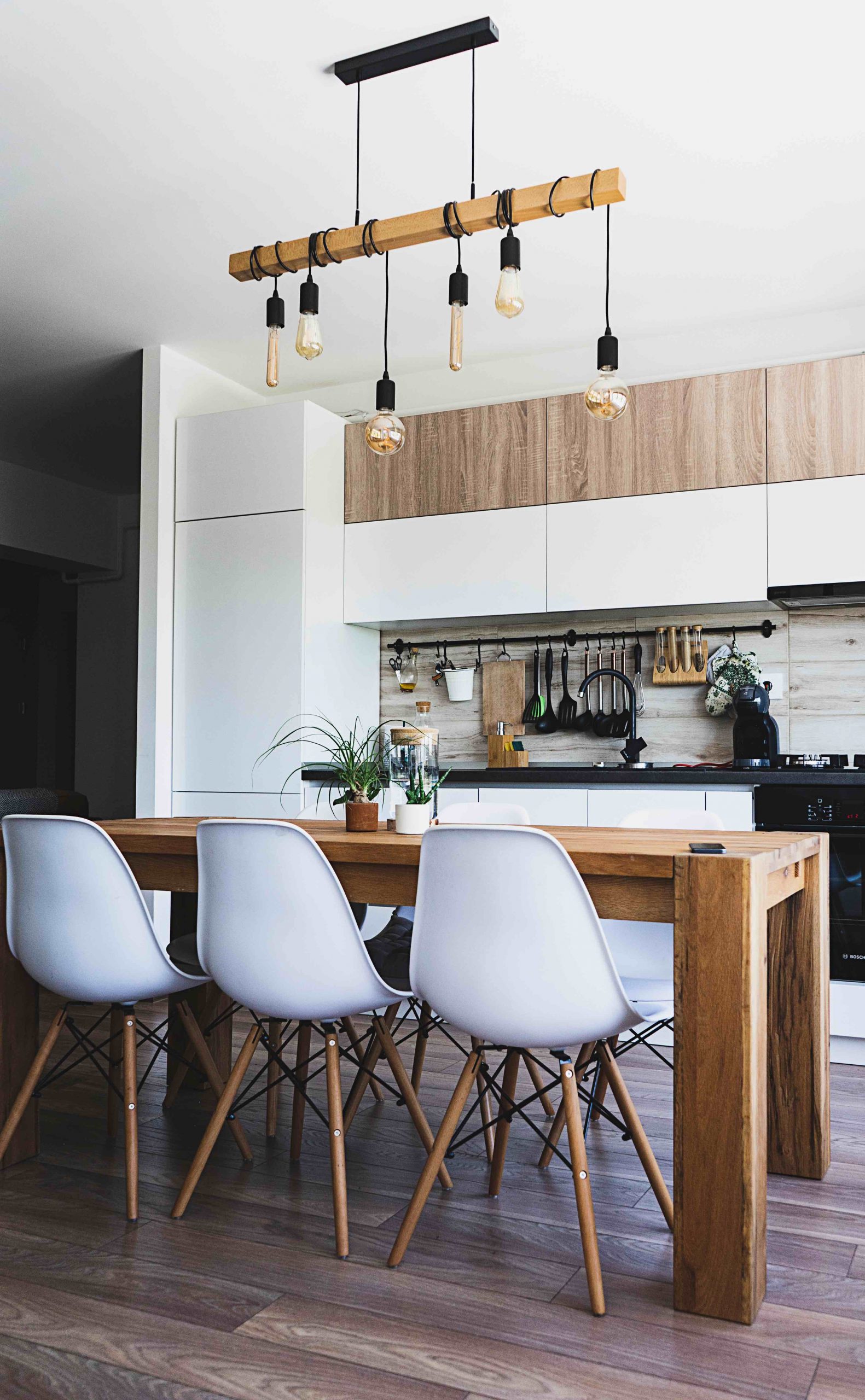 17. Light pine timber
This beach-inspired timber is a great look for a coastal home. And the timber stools match perfectly with the flooring, making it a great choice.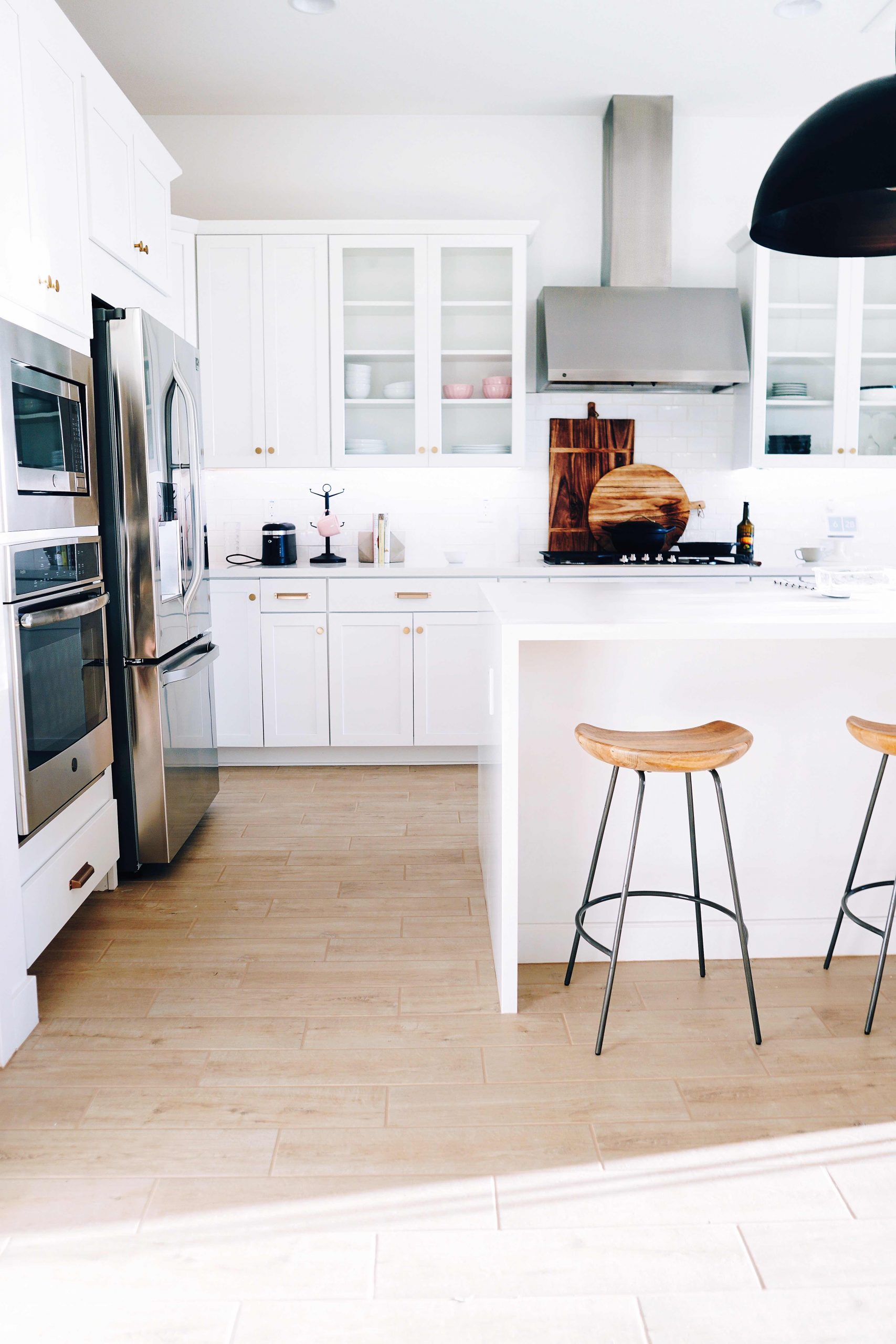 18. Parquetry floors
Also known as a herringbone pattern, it will transform your kitchen into a French-inspired space with gorgeous dark parquetry floors. You can simply do no wrong with this style of timber flooring!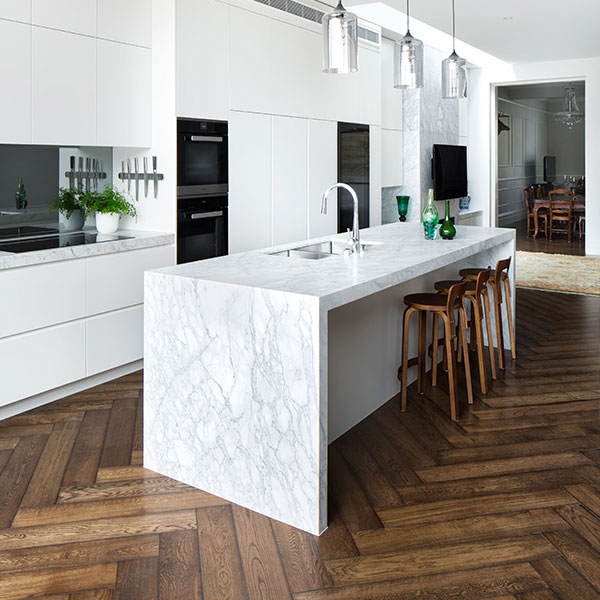 19. Sandy oak
This is another coastal classic that will look good with any colour cabinetry. But I particularly like the contrast between the dark cabinets and the light timber floor.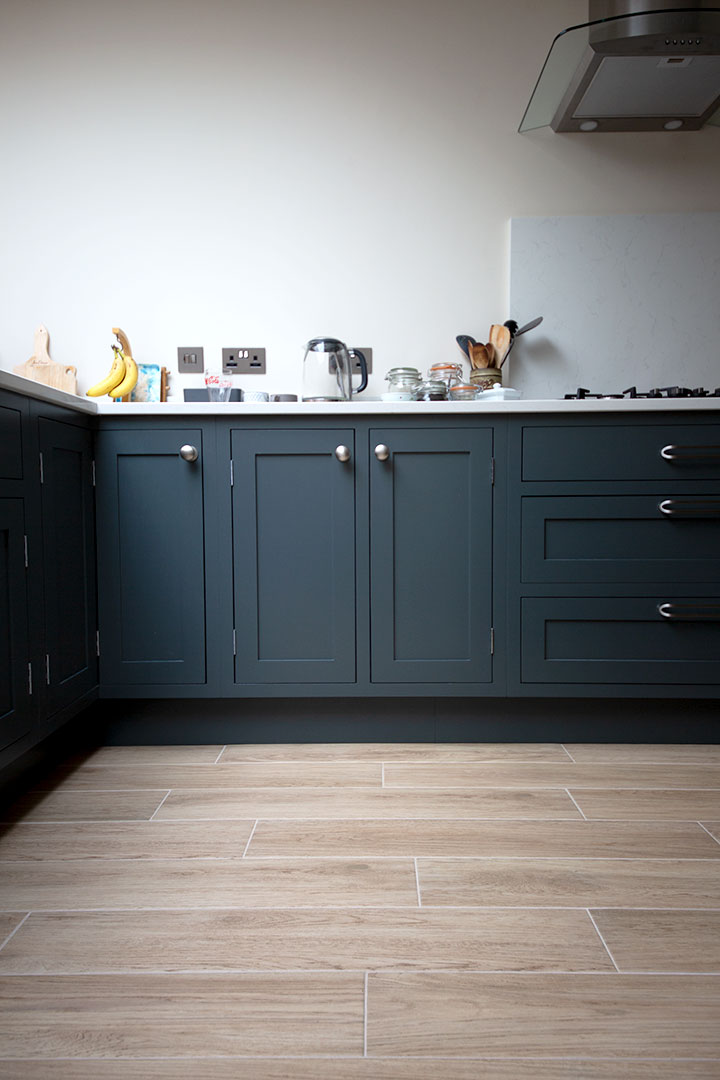 20. Chocolate brown
If you have a large, all-white kitchen, then chocolate brown hardwood is a sure winner. This rich colour will make your cabinets and kitchen island pop.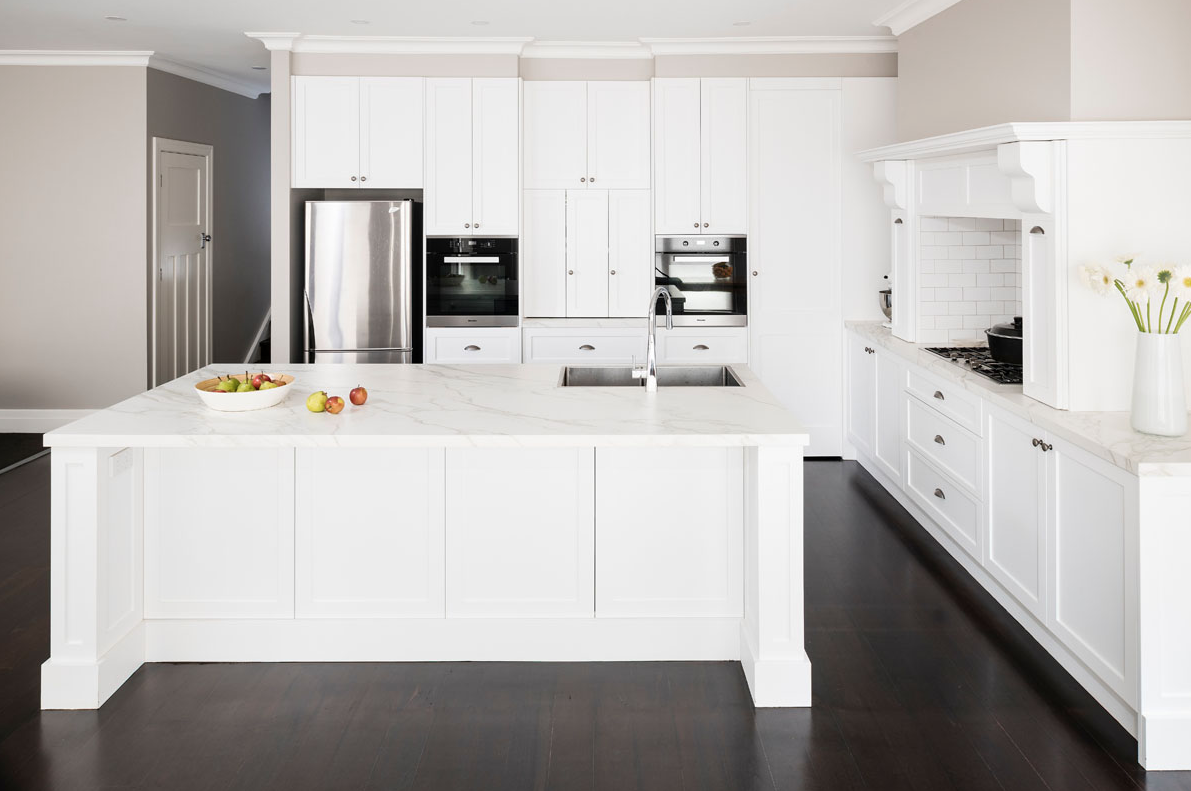 Bamboo kitchen flooring
Bamboo is a very popular choice for kitchen flooring, because the manufacturing process makes it resistant to water damage, meaning it's much more durable than hardwood.
And if you're environmentally conscious, you're going to love bamboo because it's made from a renewable resource. Unlike wood, which takes 60 years to mature, bamboo rapidly matures in just six!
You can also find it in so many different styles – from traditional to contemporary. Bamboo flooring naturally appears blonde, however, it can be stained to mimic traditional wood styles like tigerwood, or stained to be translucent.
While bamboo is sustainable, it can be a bit more expensive than hardwood. And, in the event you want to change the style, it can be difficult to refinish.
21. Natural bamboo
Light bamboo flooring is the most popular choice because it comes in its natural form. It's also less expensive than other options because it doesn't require extra staining or finishing.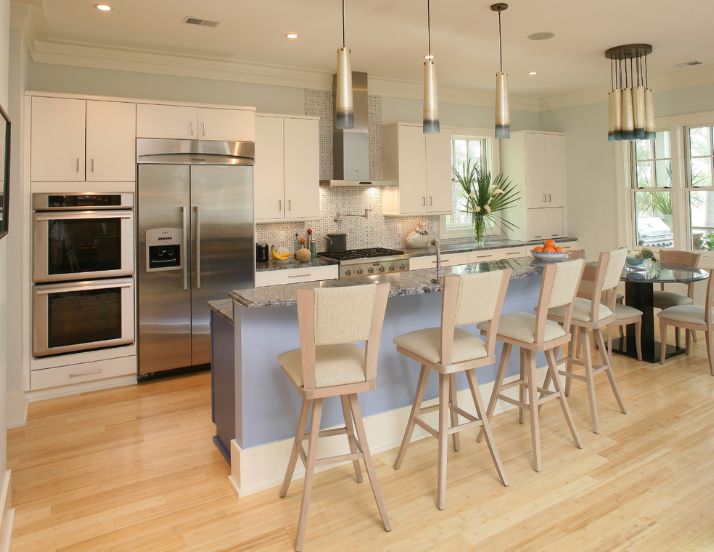 22. Stained bamboo
Make your kitchen a bit more exotic with stained bamboo that mimics tigerwood. This looks great teamed up with other natural shades.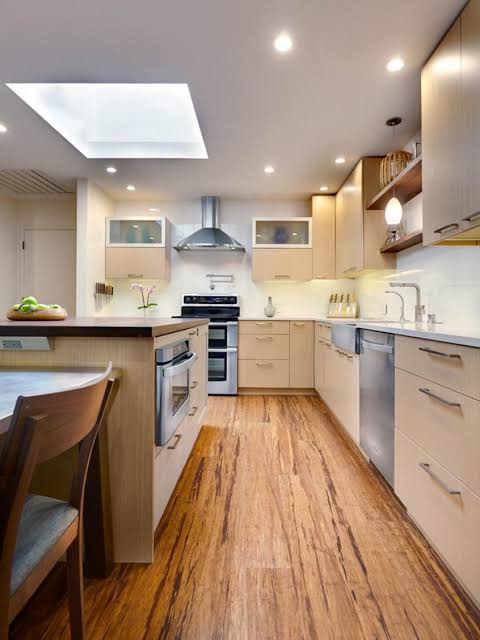 23. One tone
Keep things simple with mono-toned bamboo flooring like this. I like how the large kitchen drawers have been created in a similar colour for a consistent look.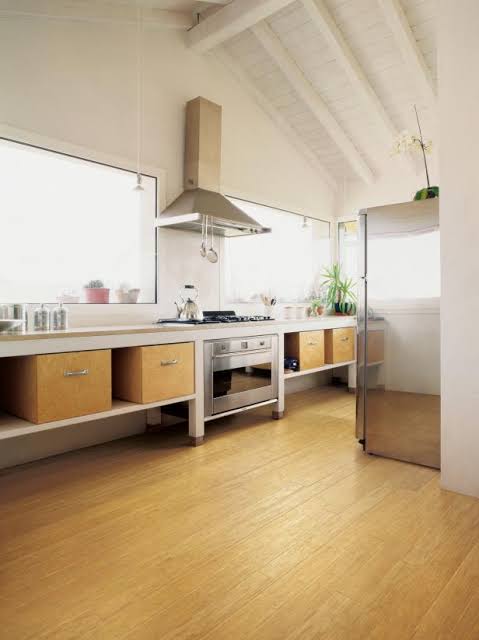 24. Dark bamboo
If you have a small kitchen, you can still go dark. Take this space, for example. It's a tiny home that uses dark countertops and dark floors. The key to pulling this look off is to combine it with plenty of white for balance!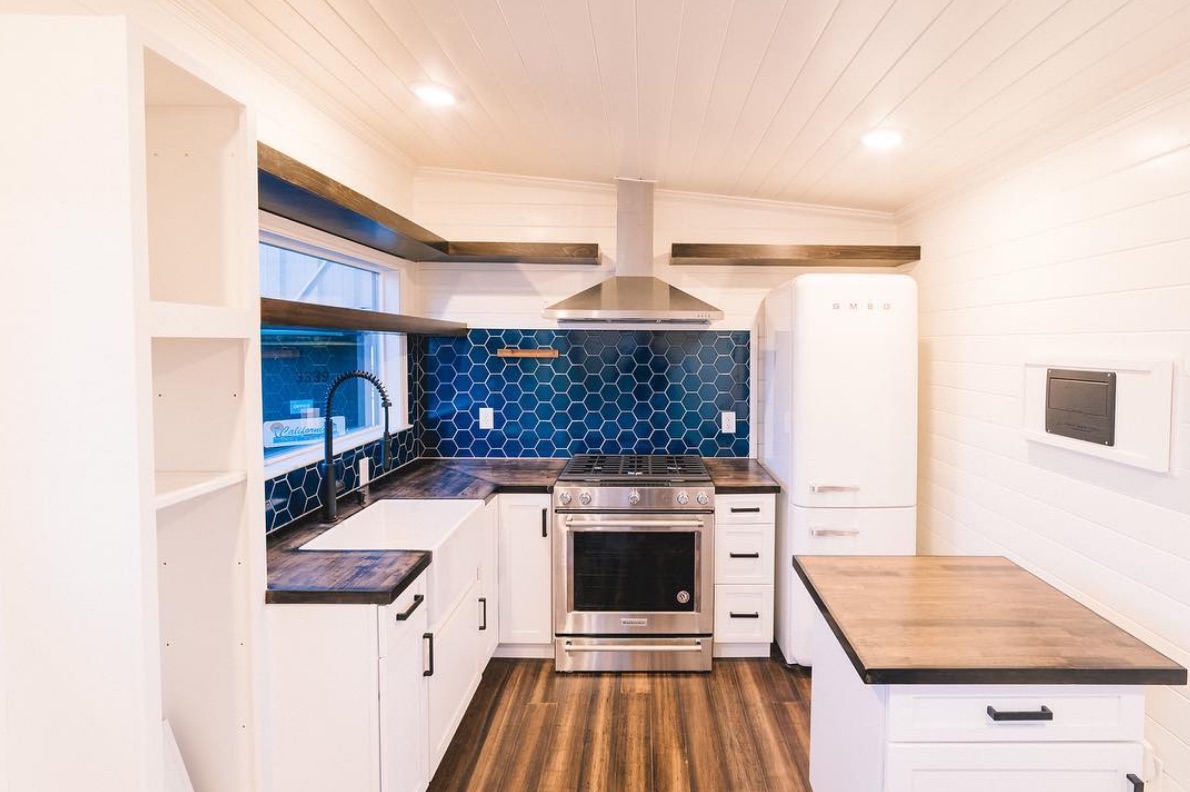 25. Warm tones
If you have cool tones in your kitchen, warm your space up with deep honey-coloured bamboo flooring, like this.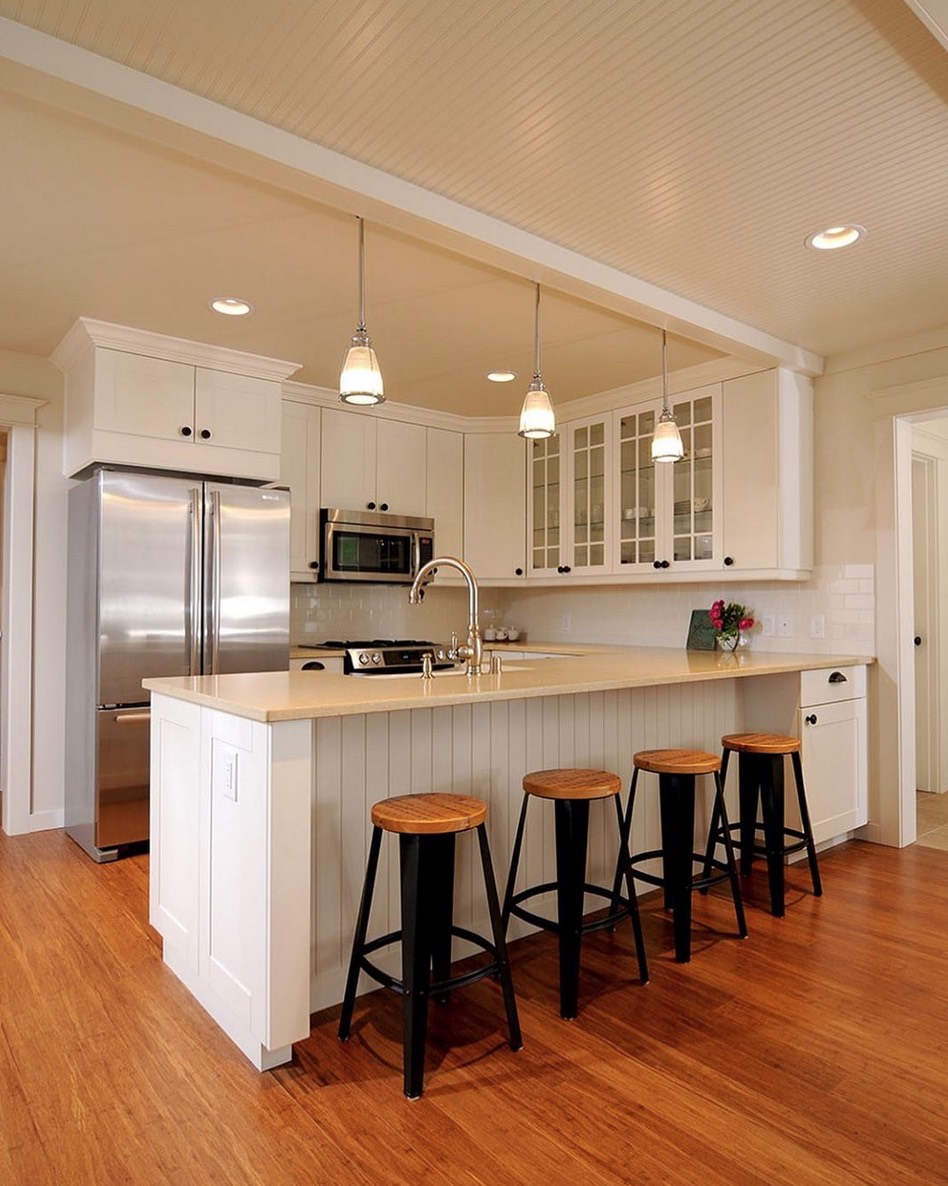 Linoleum kitchen flooring
Linoleum or lino may have had its heyday 50 years ago, but it's making a comeback. The benefit is that it's made from all-natural linseed oil, is environmentally friendly and really easy to look after.
The downside is that lino flooring can be susceptible to water damage. Every-day wear and tear is fine, but a large spill of water or burst pipe could completely ruin your installation. For this reason, it's important to invest in quality linoleum flooring.
26. Dark lino
This flooring proves that linoleum isn't just for older homes. In fact, it can look really modern and fresh if it's paired with the right decor.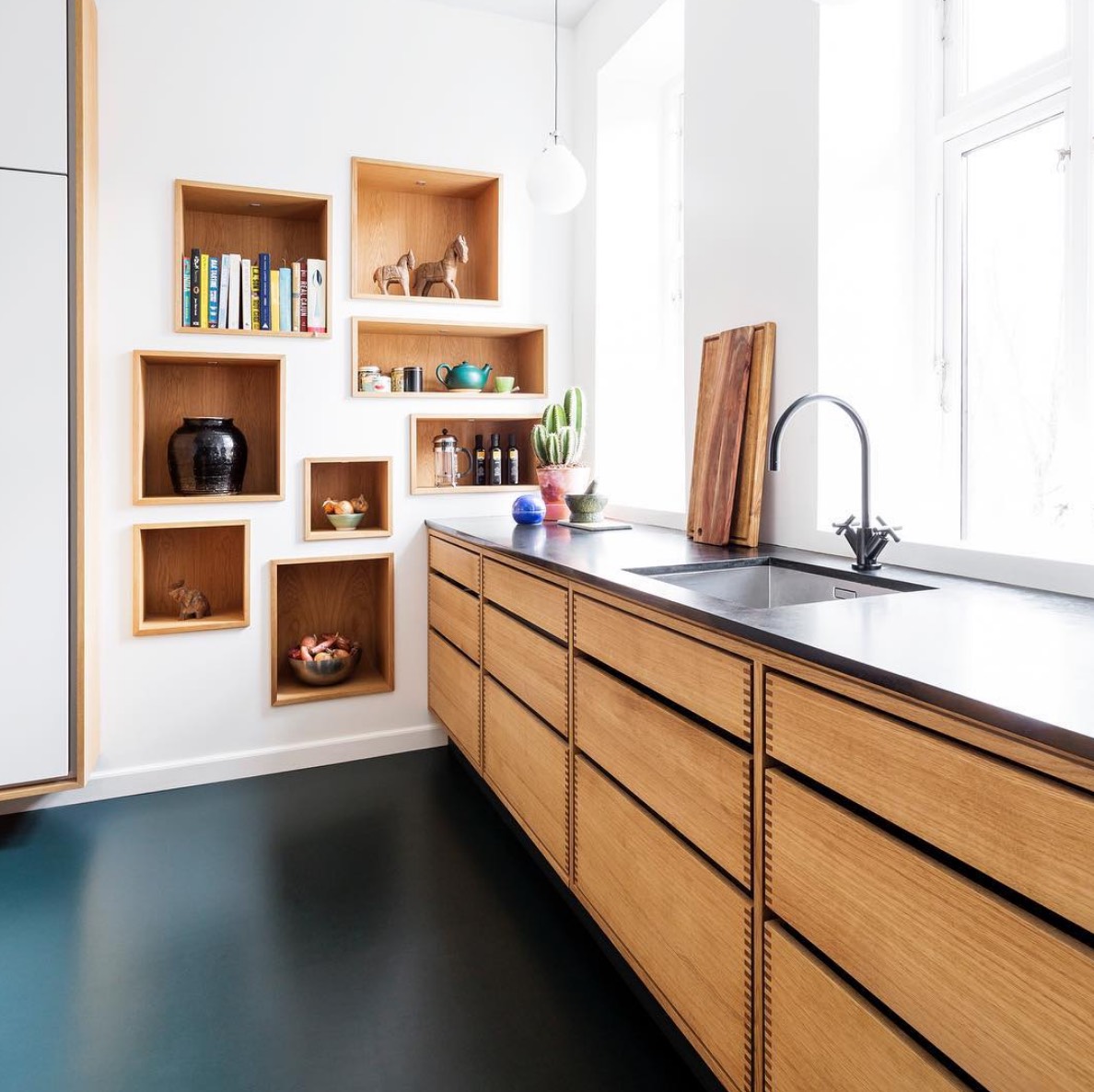 27. Mid-century style
Another way that linoleum can be used is styled with mid-century pieces. This is a great choice if you have existing linoleum floors or if you just want to try something different!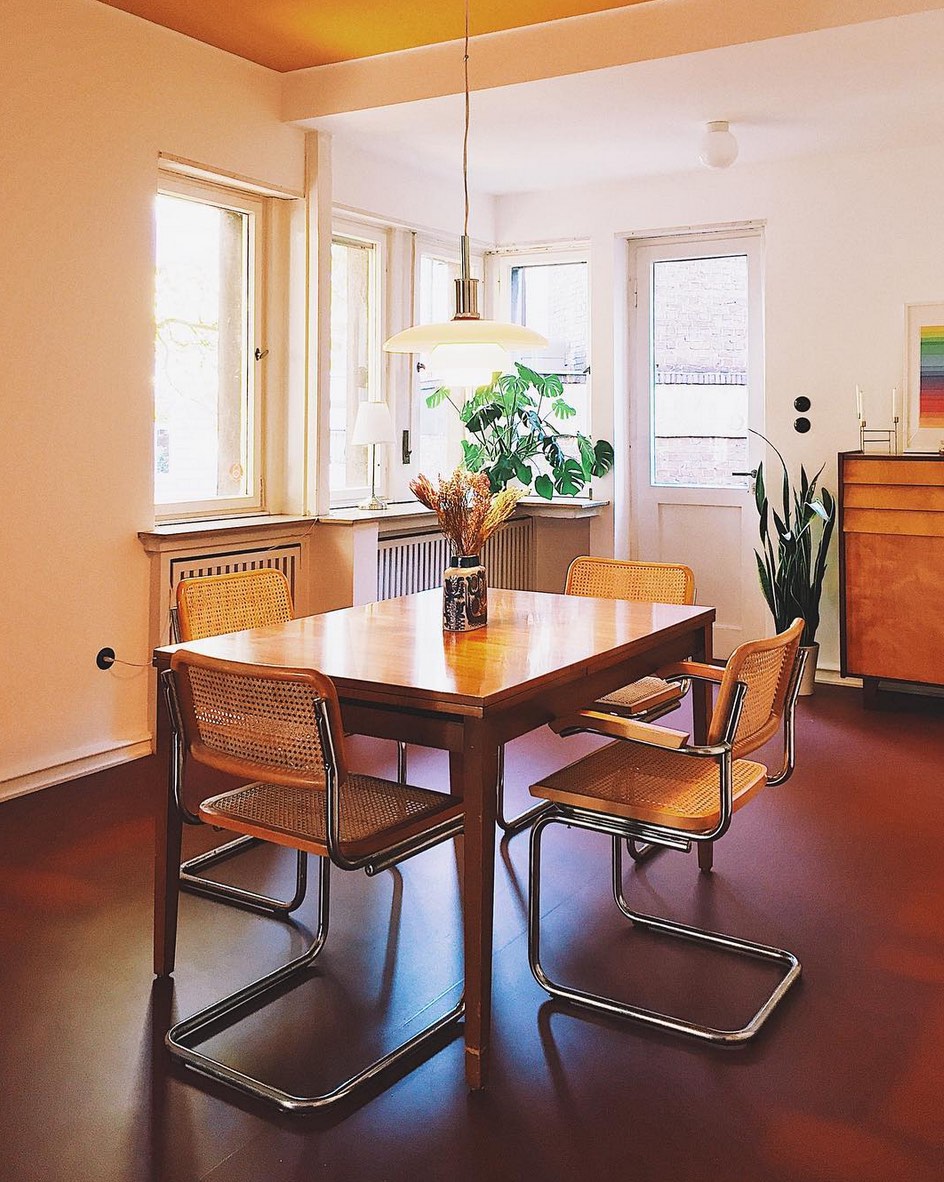 28. Wood-style lino
If hardwood flooring is out of your budget, then why not consider wood-style lino? The benefits are that you can find nearly any style or shade of wood in lino lookalike flooring. And it comes in handy panels that connect together – easy!
29. Paint it black
Did you know that you can paint your lino flooring? This kitchen design is proof that you can. And black is a great look for keeping things clean and simple.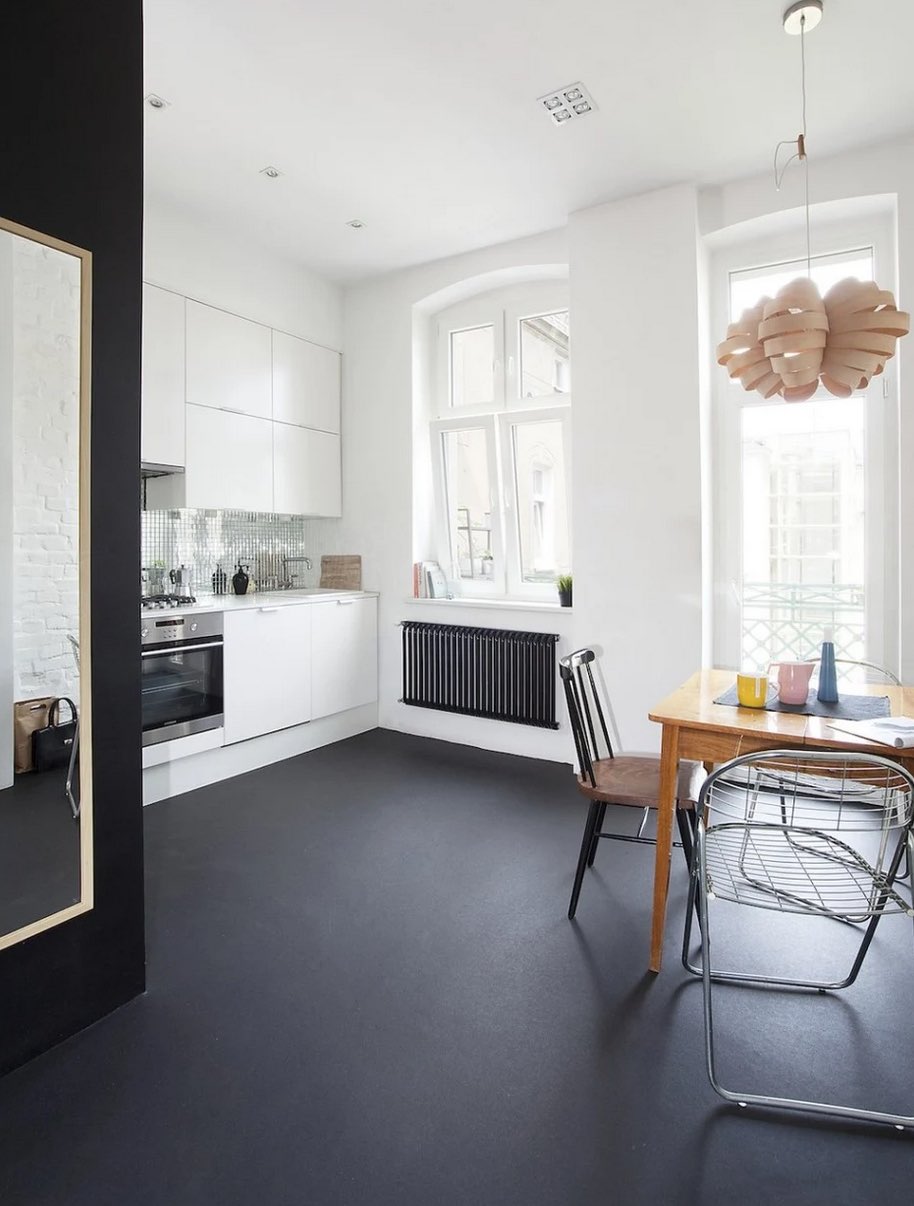 30. Paint it white
Alternatively, you might to keep your kitchen on the brighter side, by painting your lino flooring white. This is a great option paired with light cabinets and brass accents. You'll just need to be sure to give it a good mop every now and then. Thankfully, you can always give it a fresh coat of paint if need be!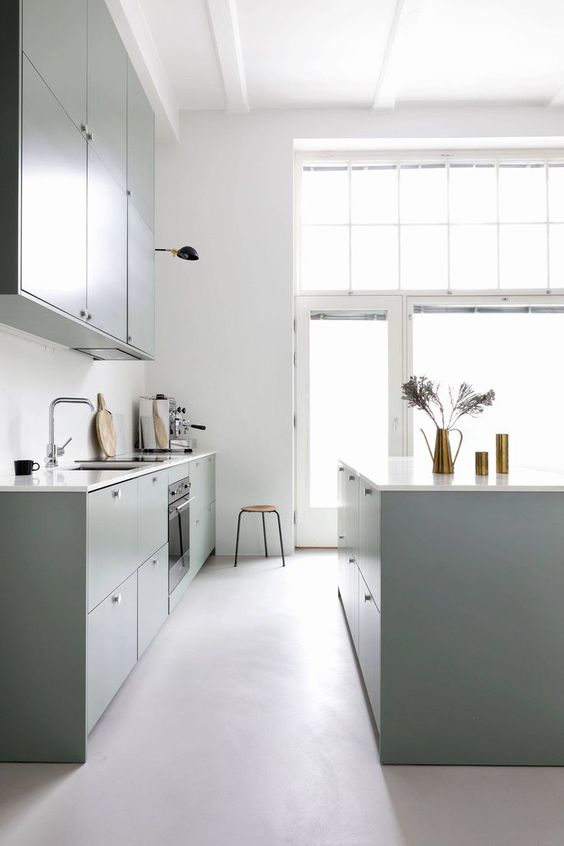 Vinyl kitchen flooring
If you're looking for something that's easy to install and that won't set you back an arm or a leg, then vinyl is the choice for you.
And the best thing about it is that it's one of the most versatile kitchen flooring solutions. The material is water-resistant and is impervious to stains, scratches and any other kind of damage. And when it comes to cleaning time, it's as simple as regularly mopping, sweeping or vacuuming the floor.
Another advantage is that vinyl manufacturers usually provide a pretty lengthy warranty period. So, if you have any problems, you can get your flooring replaced fairly easily.
It is made from toxic plastics though, so if you're looking to have a low-tox home. This isn't the right one for you.
31. Chocolate vinyl tiles
Create a moody kitchen with dark flooring using chocolate vinyl tiles. If you're going for this look, try to create some contrast by using different shades of brown. This kitchen design is a great example – it uses chocolate on the flooring and a darker timber for the cabinets.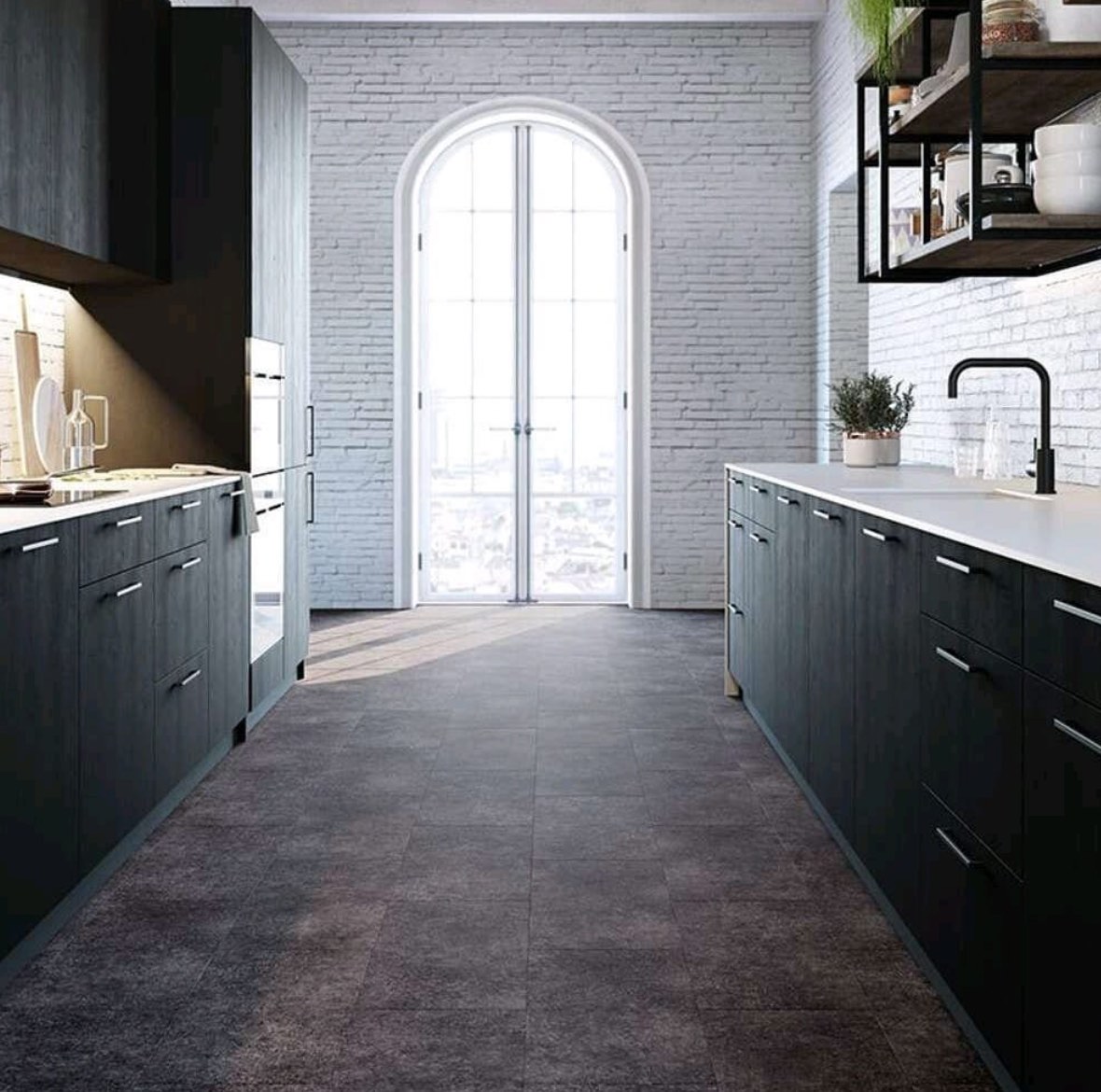 32. Mosaic
Inject life into your kitchen flooring with a fun, mosaic vinyl tile. The great thing about this option is that it's far more affordable than real tiles, and it looks just as good!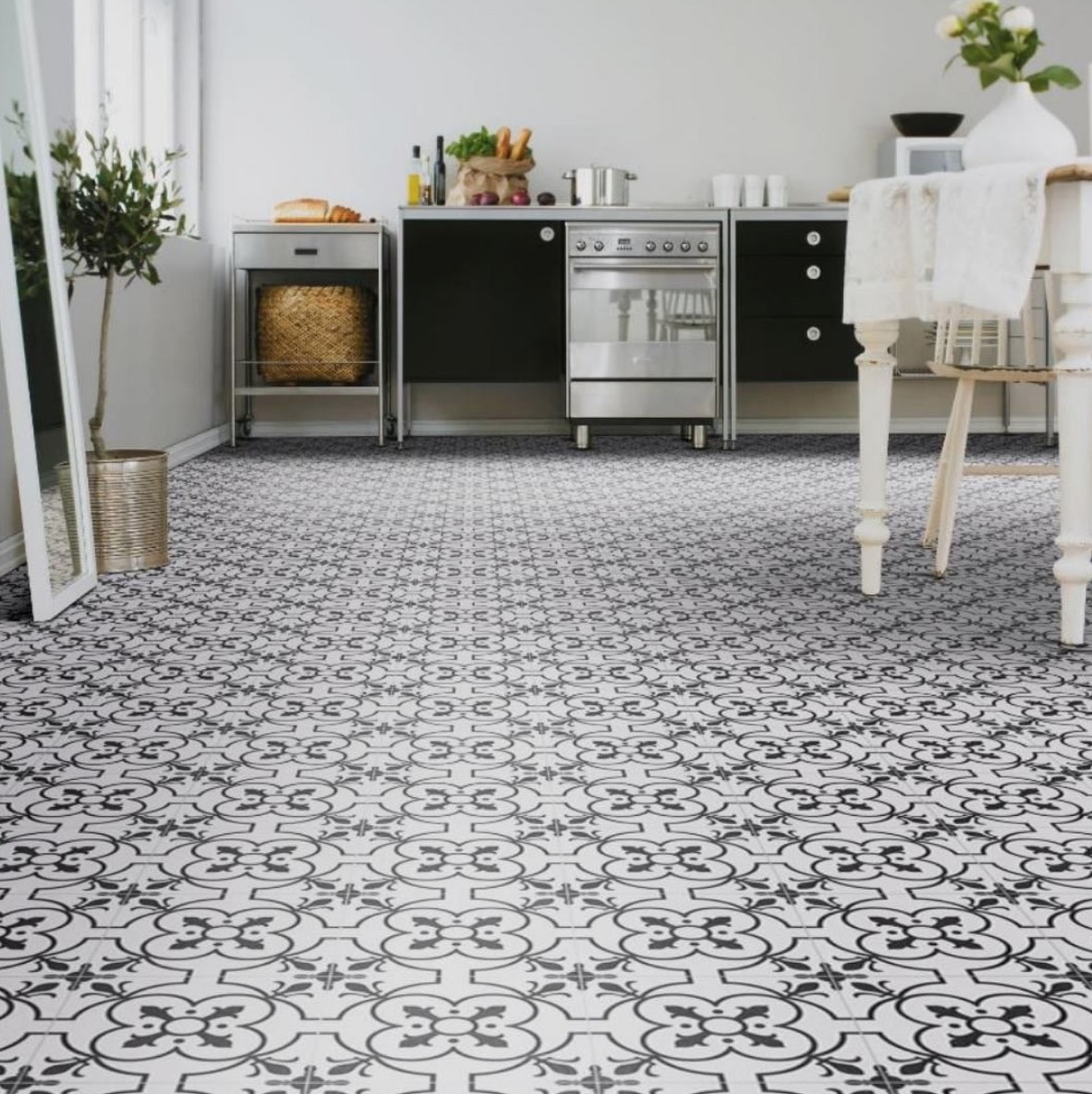 33. Vinyl panels
Choose textured vinyl panels to create the illusion of beautiful hardwood floors. These ones are a great option, because they provide the perfect base for the white brick wall and glossy blue feature tiles.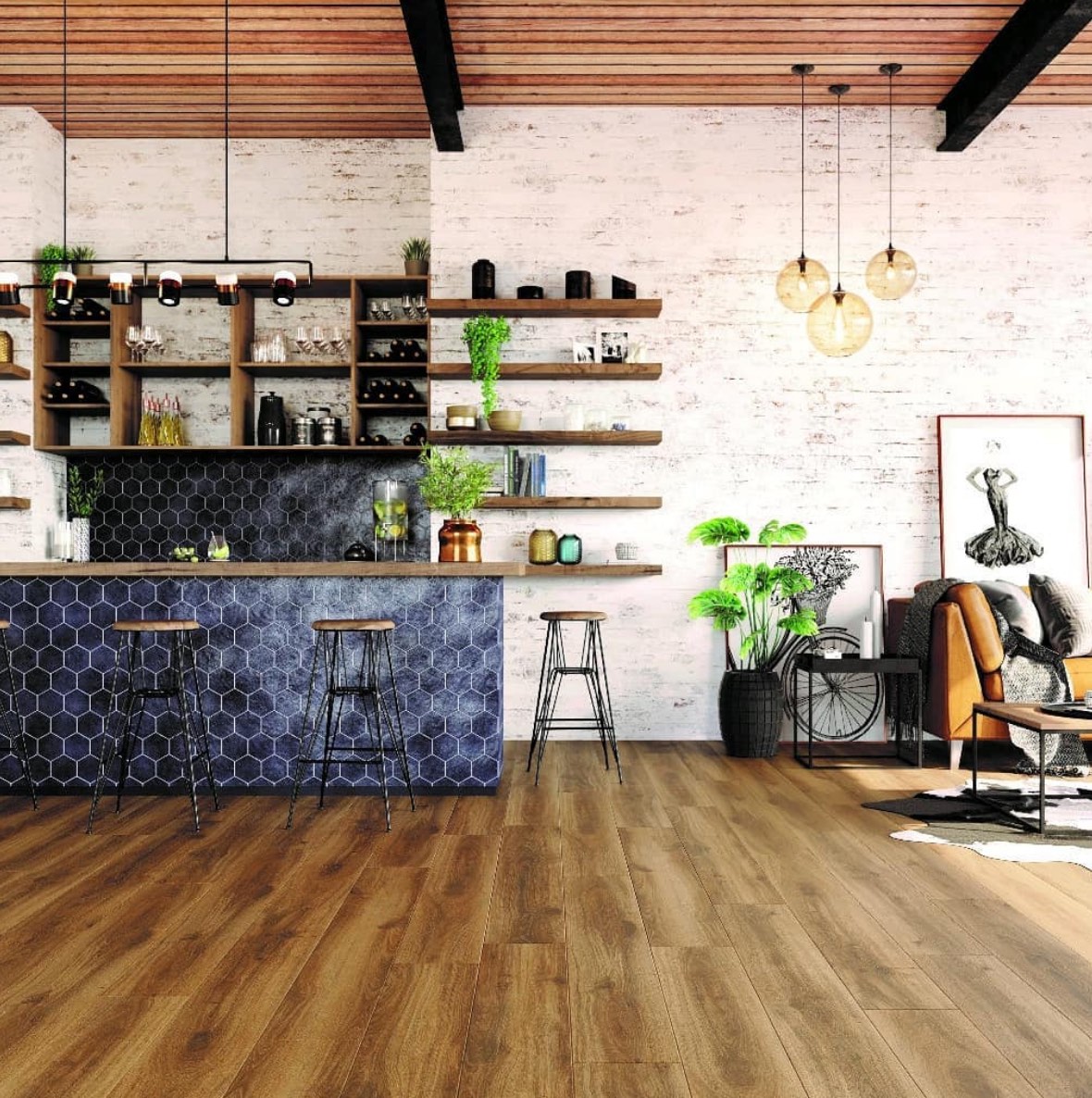 34. Make it retro
Have some fun with your flooring by going with a checkered style. This is a classic kitchen look, and it styles well paired with brass accents and white and black furniture.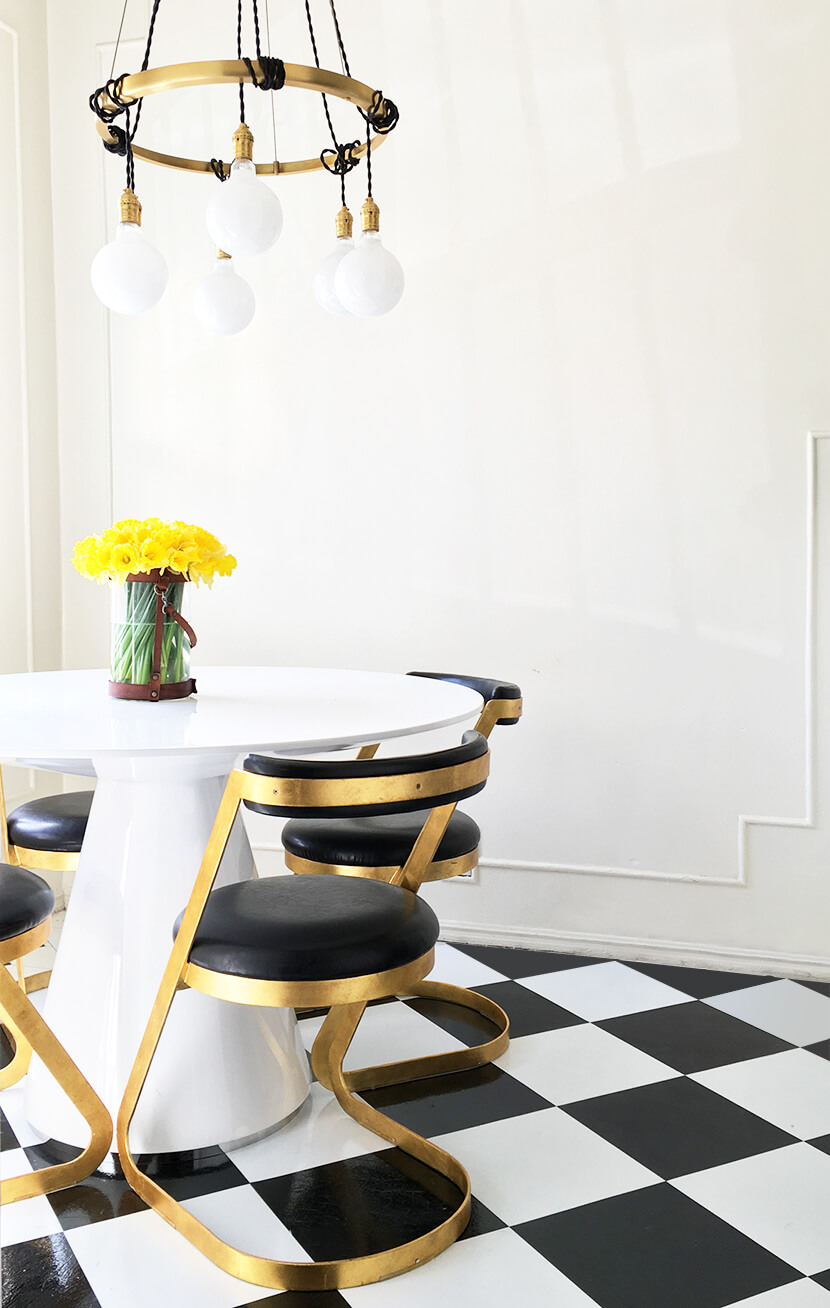 35. Natural
Keep things as close to nature as possible with light, natural-coloured vinyl flooring. It's a great option paired with other neutral colours, like the light grey cabinets.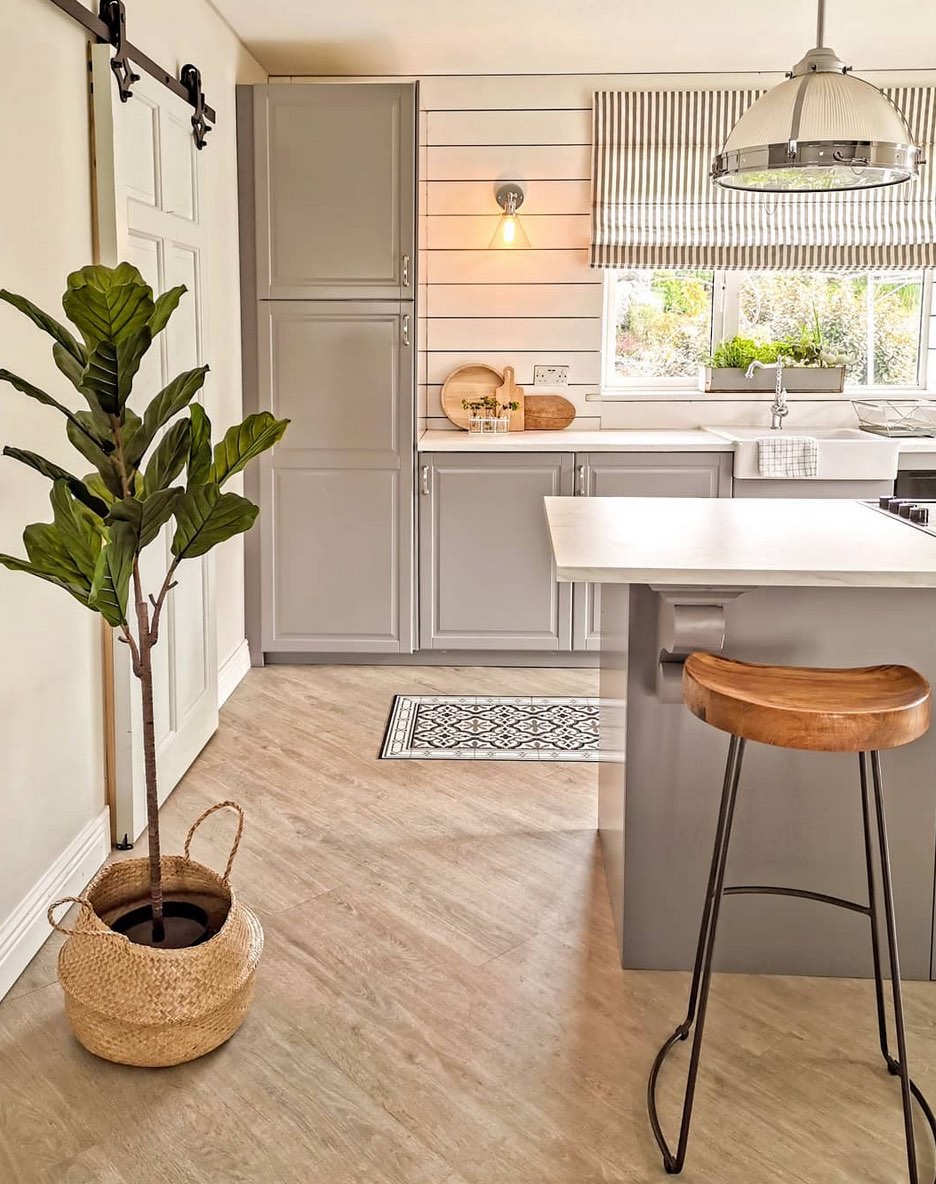 That's the round-up of my 35 favourite kitchen flooring ideas. I hope you've found something that's inspired you. Comment below and tell me which design is your favourite!