This 2020 bathroom trend is one of my personal favourites. Think edgy, yet classy and elegant and best of all versatile. That's why this industrial bathroom design should be an ideal renovation trend for all homeowners as it can be remodelled to suit any style.
So, what defines "industrial bathroom design".  Sometimes these designs are minimalism at it's best, pairing grey concrete with striking tapware, quirky textures and striking shapes with a little pop of colour. Daring and extraordinary, contrasting copper and gold with matte-black and porcelain white is a design aesthetic that is simply genius.
Already itching to open Pinterest and map out your dream bathroom? Well hold your horses, I have some great inspiration and ideas in store for you…
Raw material industrial bathroom
Encompassing the industrial feel means you make use of raw and textured materials. Sometimes it might seem a little strange to embrace concrete as 'on-trend', but trust me, cement and concrete are modern and sleek and will bring your bathroom to life. Here are a few ways you can use natural material and make an impact:
1. Brick
Rough and rugged is usually what comes to mind when you think industrial. If that is the look you are after, then pairing it back with brick walls is the way to go. I love the pairing of brick against the marble that marries together two completely different textures but work seamlessly.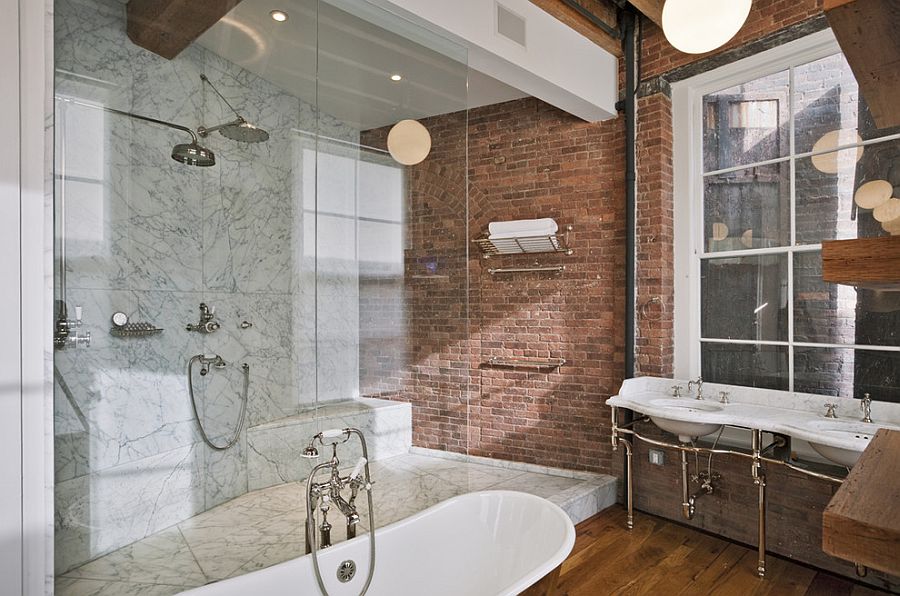 2. Concrete
It's amazing how this seemingly 'cold and uninspiring' material can, in fact, turn heads when applied the right way. The best way to make use of concrete is through sink basins, countertops, walls and floors.
Wall rendering is one of my favourite design elements of this trend. This industrial yet modern stylish twist gives a luxurious feel that some homeowners prefer over the traditional bathroom floor to ceiling tiles.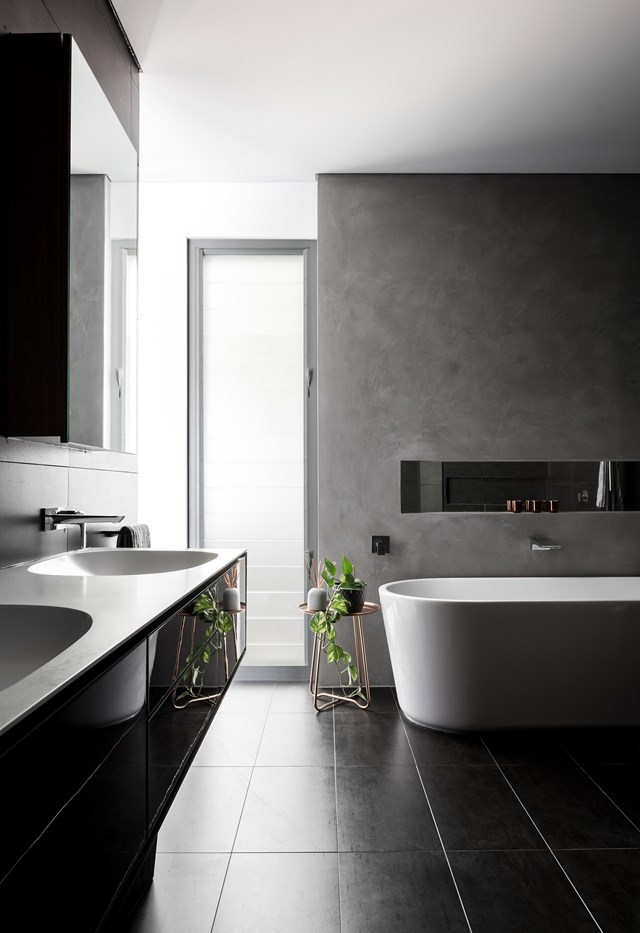 If you love concrete and want to see some other creative ways to use it in your bathroom, check out these concrete bathroom ideas.
3. Copper
This luxe material is a simply stunning addition to your bathroom. These brass tones are very gender neutral and paired with matte-black, oh my – super sleek.
Gold fixtures and exposed pipes create a quirky swirl of imagination and décor, adding character and style. Ask a plumber for advice on how best to pull this off.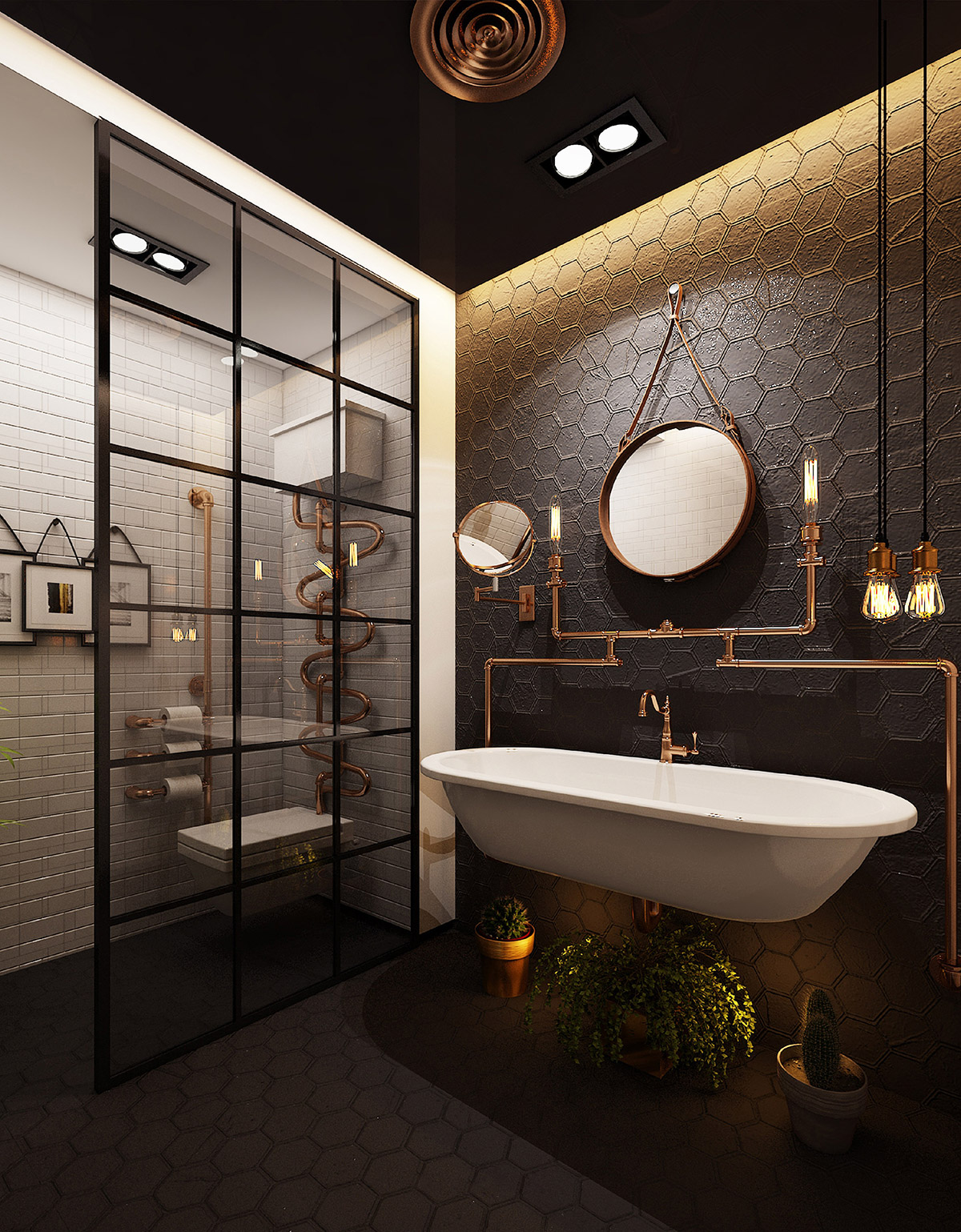 4. Marble bathroom
A more elegant industrial material, marble tiling is a classic option. If you think concrete is too cold, then marble tiling is a great way to create a soft and soothing ambience.
This bathroom is simply stunning with contrasting grey hues against the crisp white of the freestanding bath. Its stylish industrial minimalism on point.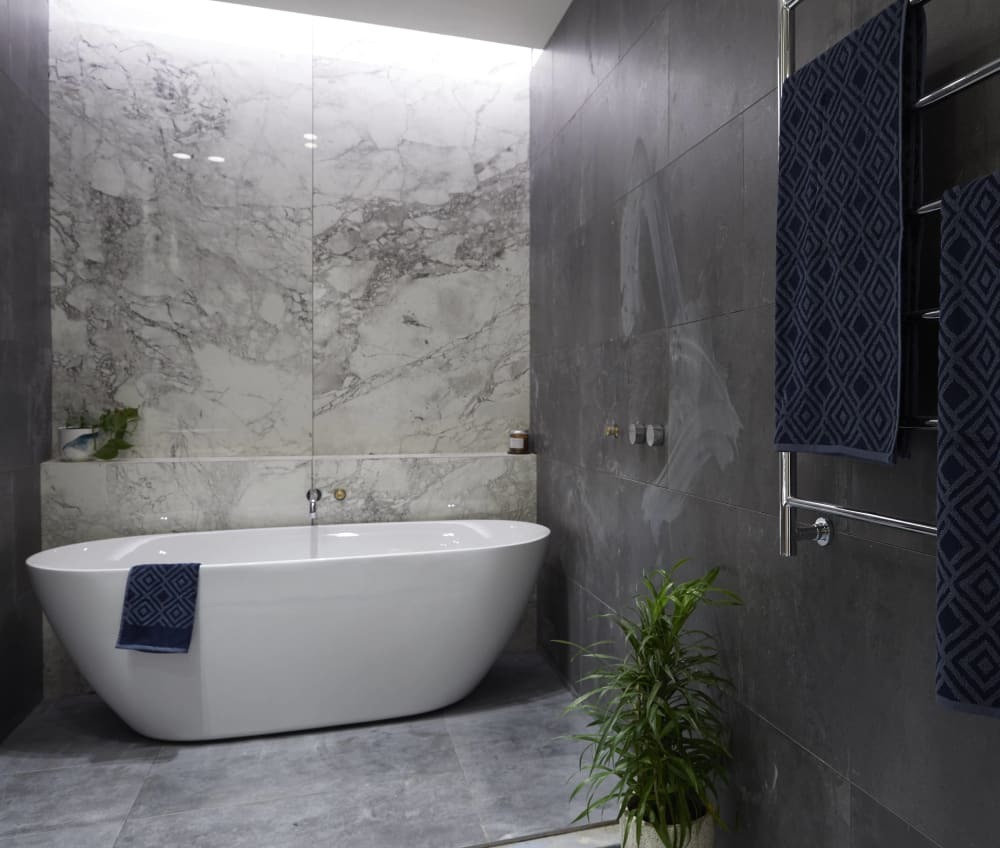 5. Steel
Trending in 2020, especially in industrial themed bathrooms, is adding steel frames to showers. Forget boring glass or shower curtains, it's all about creating a clear visual and focal point with this sleek new design.
Make your shower the star of the room, contrasting the black steel frame with white tiles, floor and vanity and add a brush of chrome throughout. Voila; the perfect industrial vibe.
6. Stone
Rustic stone adds warmer tones to your bathroom without compromising on the industrial touch.  This basin is super quirky and ticks all the right boxes to compliment the look.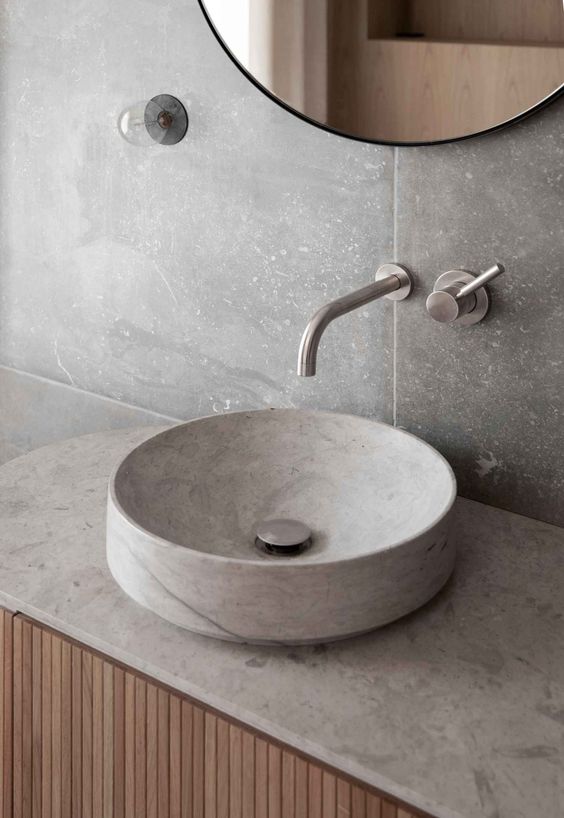 This is such a stunning vanity and there are plenty of other mouth-dropping bathroom vanity ideas that you should see too.
7. Timber bathroom
Add charm, character and a bit of a "chunkier" element with timber. Warming up any of the colder materials with wooden features will bring out the rustic meets industrial meld.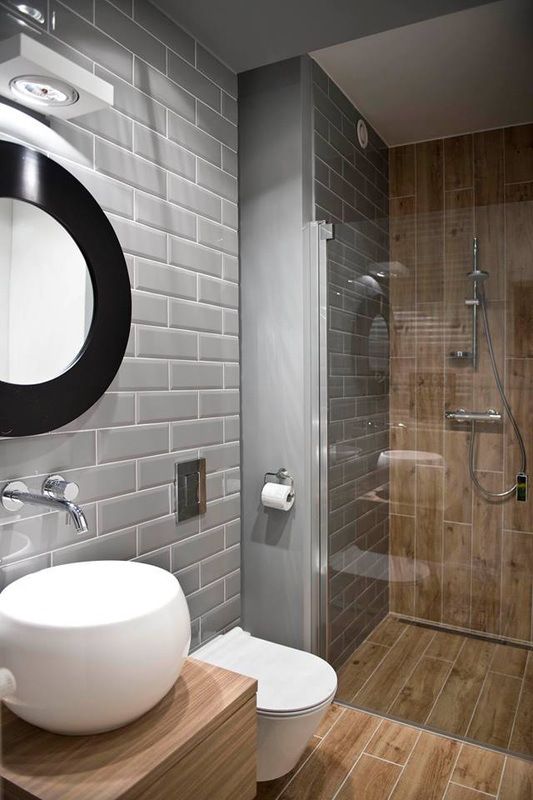 Textured industrial bathrooms
Whether you want your bathroom to be cool and calm or dark and mysterious, adding texture is the perfect way to ramp up the ambience instantaneously. But which one tickles your fancy…
8. Grey concrete tiles
Tiling options for bathrooms are endless and charcoal grey is a popular choice when perfecting the industrial-inspired look. Large concrete dark tiles covering the floors and walls create a sense of relaxation and space with clean, sleek lines.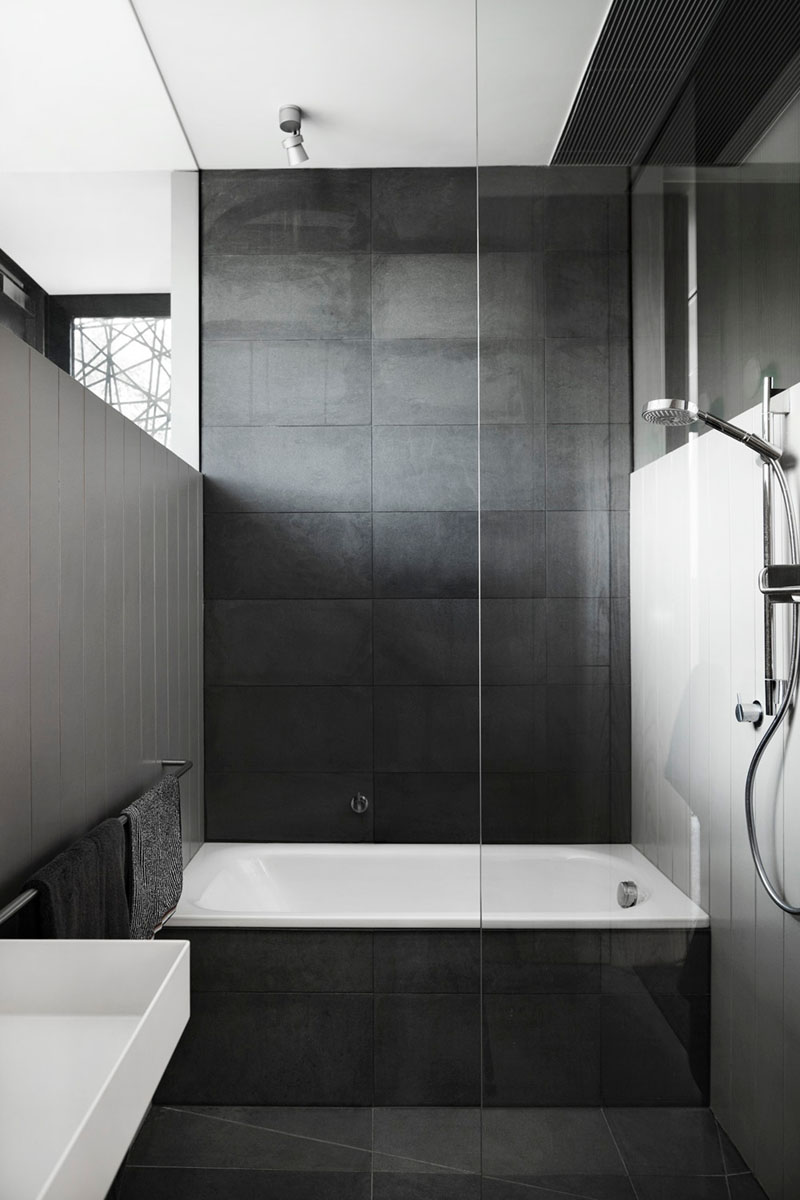 9. Vintage porcelain tiles
Porcelain tiles are made from a much finer clay than ceramic making the tile a compact and hard-wearing surface – perfect for main bathrooms.
If you love vintage industrial, then opt for patterned porcelain with some matte black tapware. Intricate designs with contrasting hues add charm and luxury to any bathroom.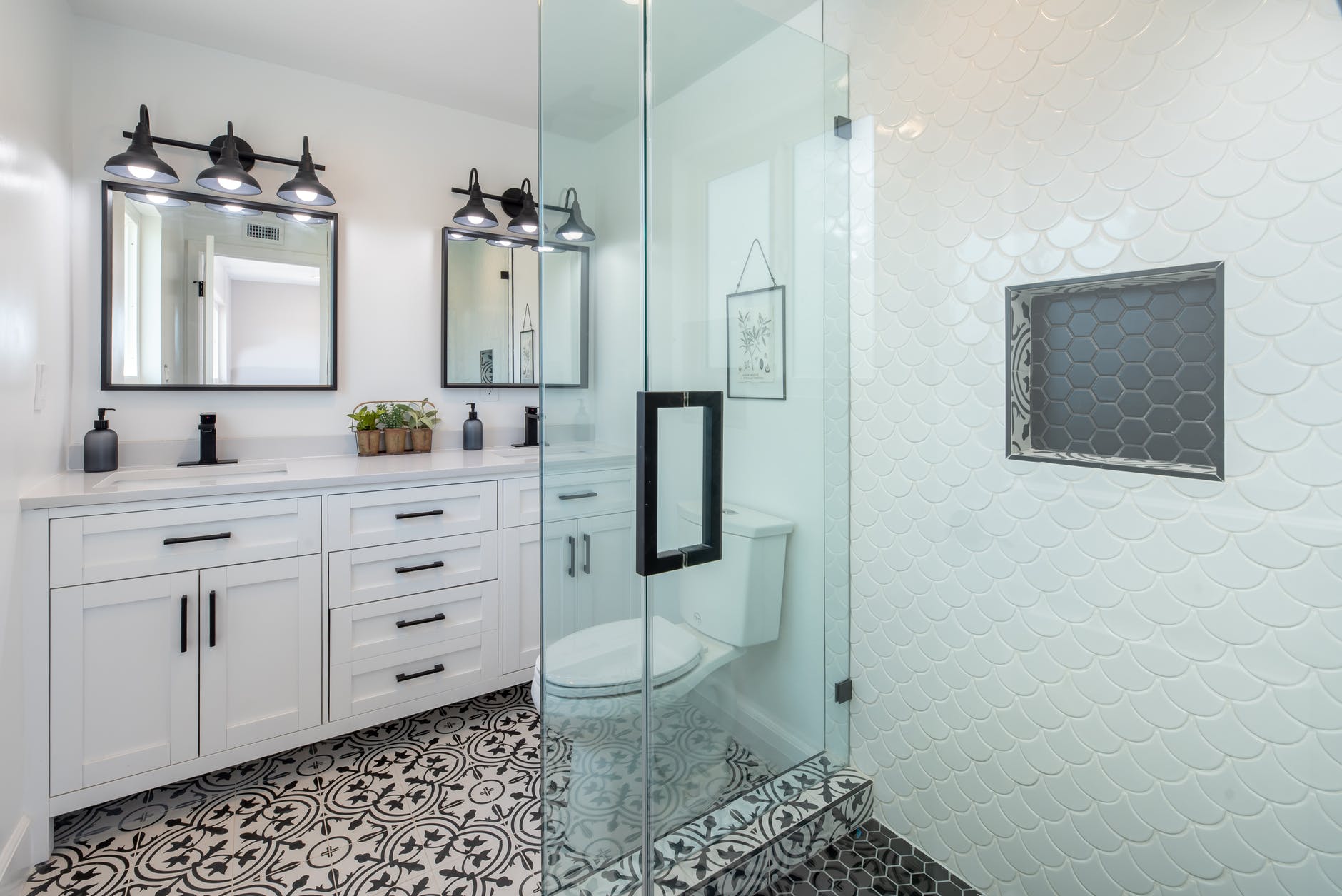 10. Timber-look tiles
The keyword here is "look". These ceramic tiles create an illusion and even feel like real wood. Unlike the real deal, this flooring option won't warp or shrink with temperature changes and are resistant to spills and dents.
Embrace the timber tones for the rustic industrial vibe; a simply stunning effect.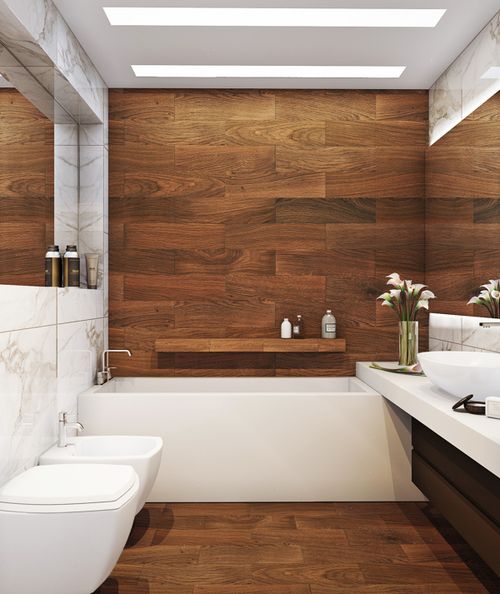 11. White subway tiles
Classic white subway tiles remain a popular choice for industrial design. I love the pairing with the hexagonal floor tiles to mix-match patterns and inject personality. Ultra-sleek and modern.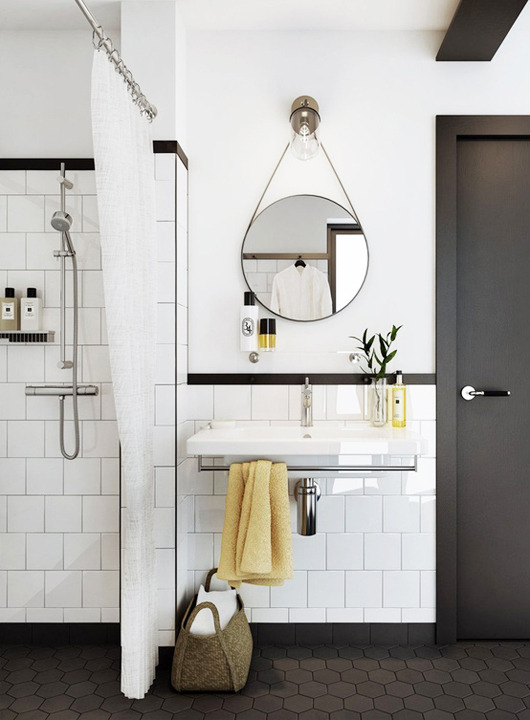 If these tiles have lit a little spark in you, you'll love these bathroom tile ideas.
12. Stone walls
Go all-natural with a stone wall. With ample options, you can use slate, fieldstone, granite, travertine, sandstone, and marble. It's a clean and minimalist approach that creates texture and instant relaxation.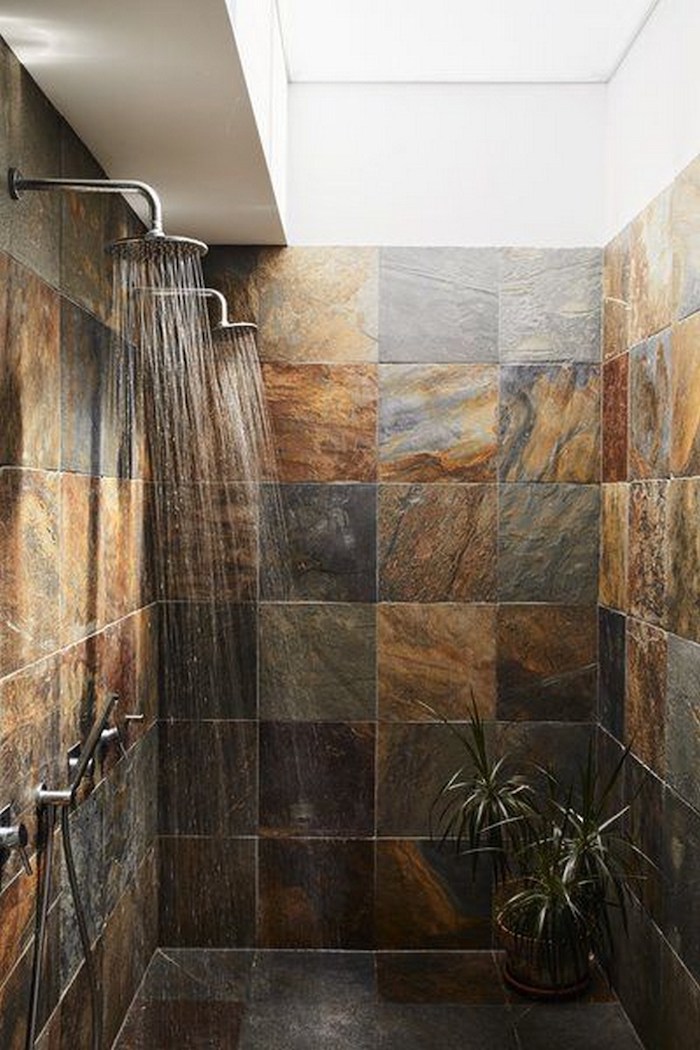 Unique industrial bathroom features
Convert your bathroom into an industrial slice of heaven by adding touches of detail to bring your dream sanctuary to life.
13. Dark cabinets
You don't need a dark concrete bathroom to give an industrial edge. If you want to pair it back a little, simply give the bathroom vanity a facelift with a new lick of paint. Then make sure you pair it with some other new additions, such as tapware.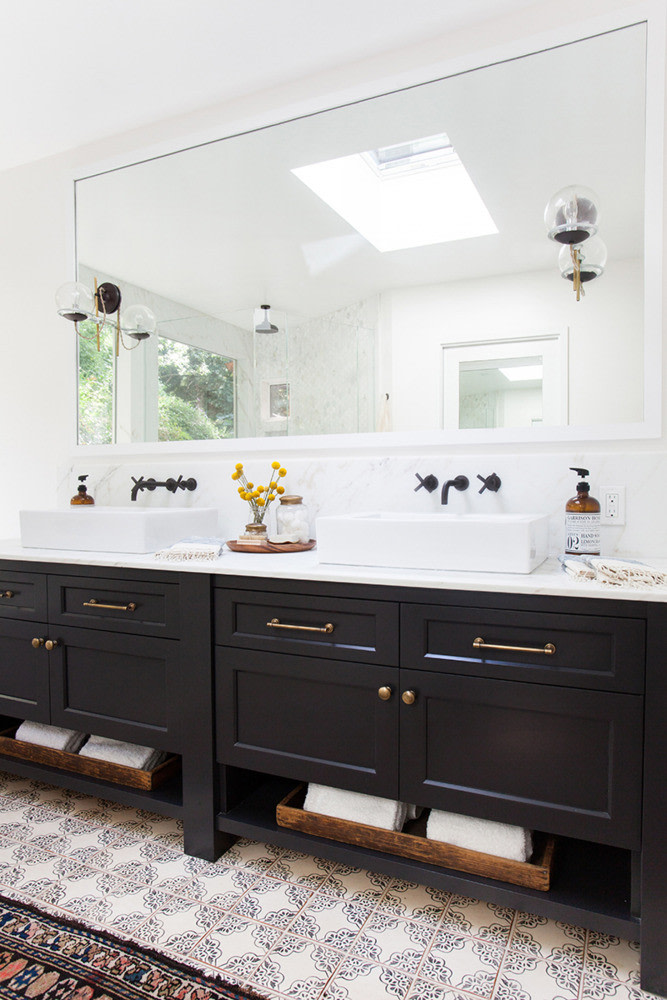 Find a local bathroom cabinet maker to discuss your vanity ideas.
14. Old world charm
Using unique antique items you can create a charming industrial bathroom full of character. It's also great because you can often swap out items when you find something new and it doesn't mean that you need to renovate the whole room.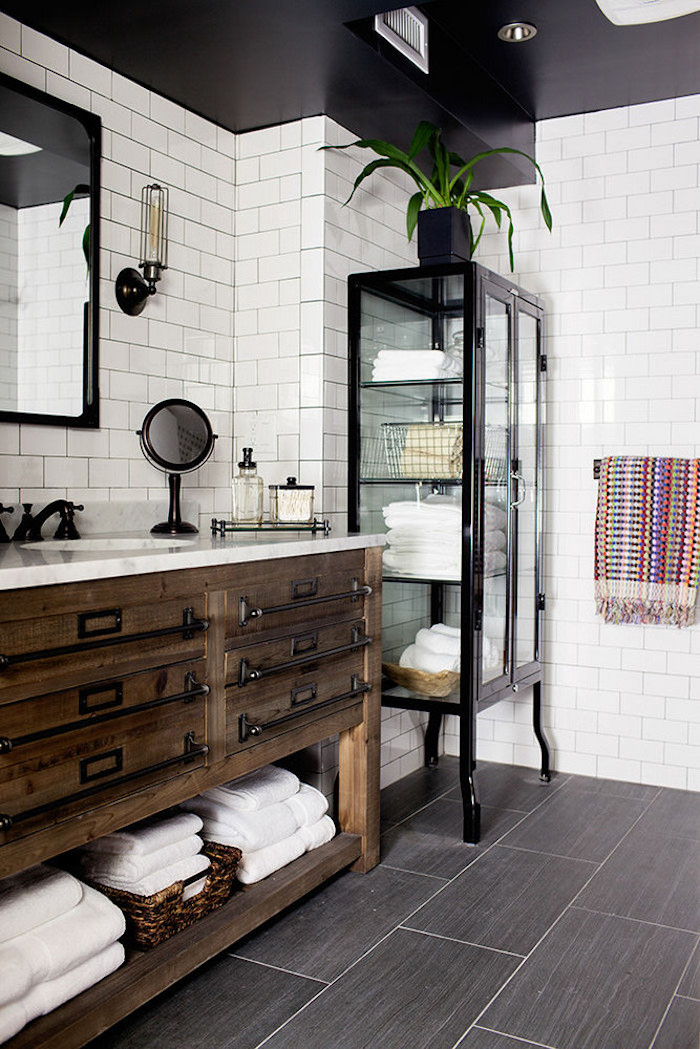 15. Statement pipework
When you're renovating you're often thinking of clever configurations to hide all the pipes and plumbing work. But when you're designing an industrial bathroom, you can leave all this on full display. And better yet, make it pretty as you see here with the gold/ brass detailing.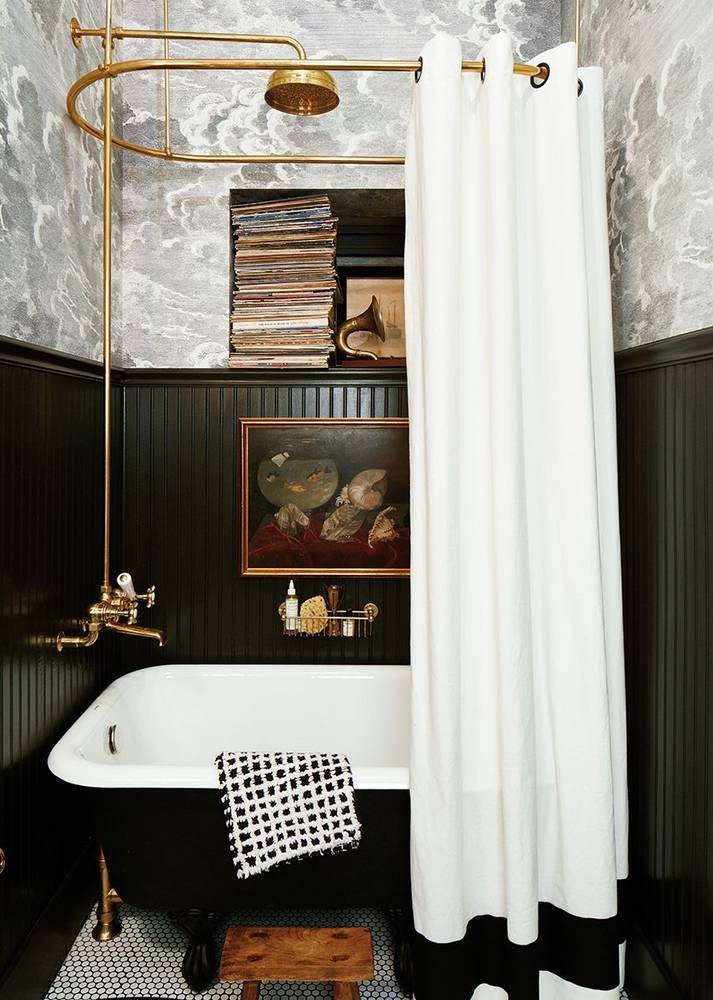 16. Rain showerhead
Let's shift gears into modern industrial design by dreaming of stepping into this rainfall shower after a long day. These offer a lighter water pressure to create a calming impact and replicate the downpour effect. I can see why this is becoming the norm of modern industrial bathroom design; its simply stunning.
Remember, it's best to speak to a plumber before your showerhead installation takes place to make sure you get the right type for your house design.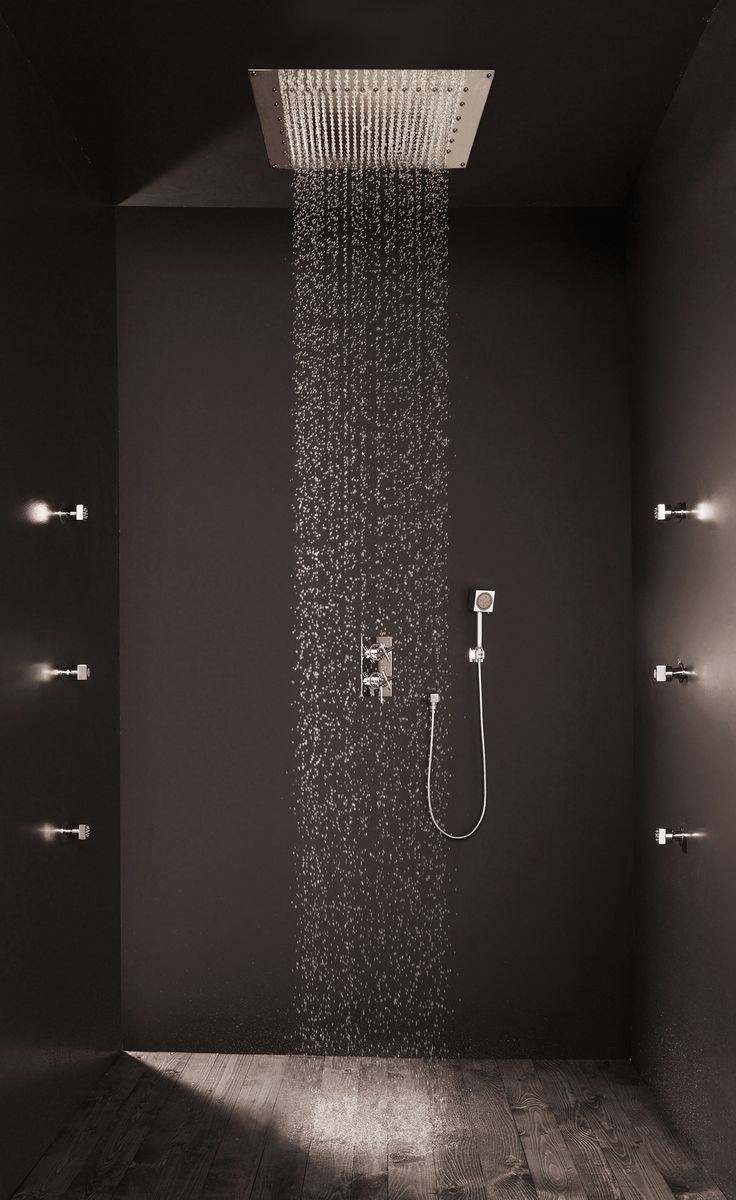 17. Chome bathtub
Chrome and industrial go hand in hand with each other and here's a great example of pulling together subway tiles with a contrasting grout (very industrial) and a gorgeous statement bathtub with a chrome outer finish.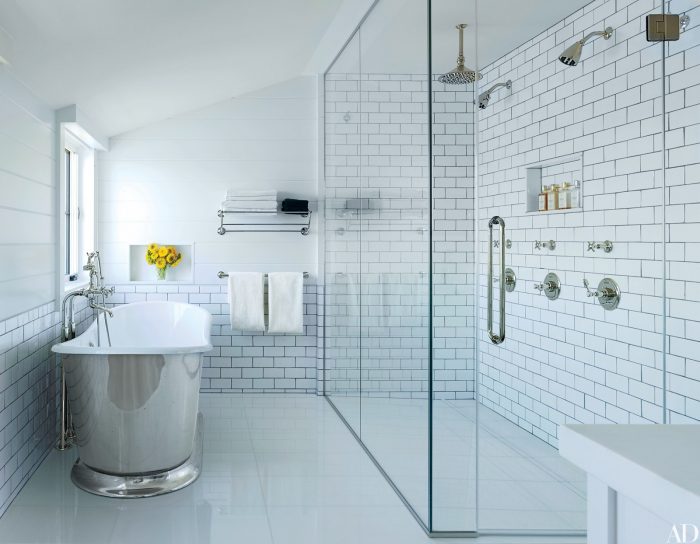 18. Industrial taps
Industrial meets fireman's hose with these quirky exposed taps. These rough and ready fittings feel like a step back in time with the cog handles. It ticks all the boxes for traditional industrial design.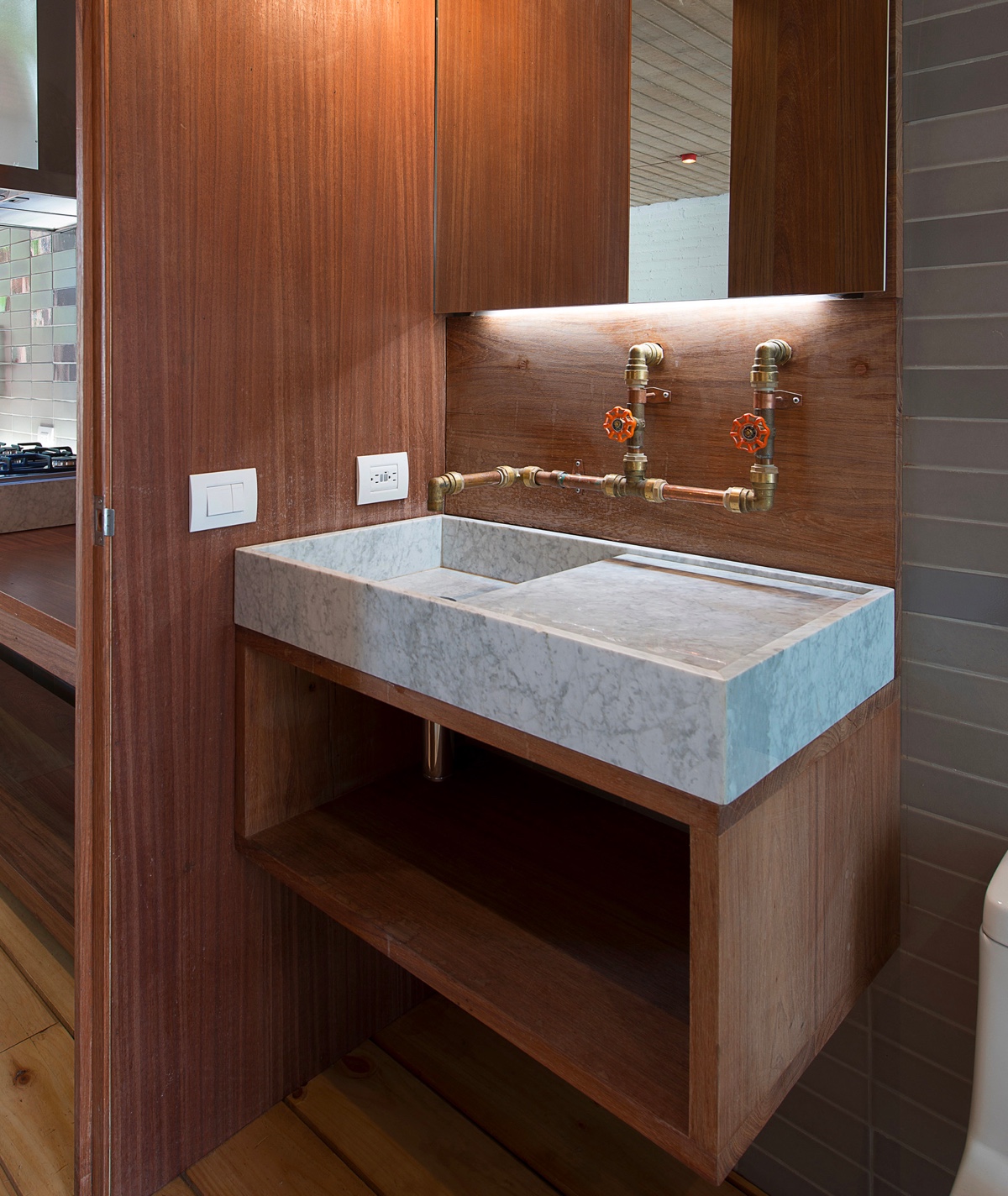 19. Pop of colour
Jazz up the industrial theme of grey and earthy tones by accentuating elements with a dash of contrast through colour. I love the way this design incorporates a modern twist with mermaid-like scale tiles in turquoise, gift-wrapped with luxe brass tones. Gorgeous pairings.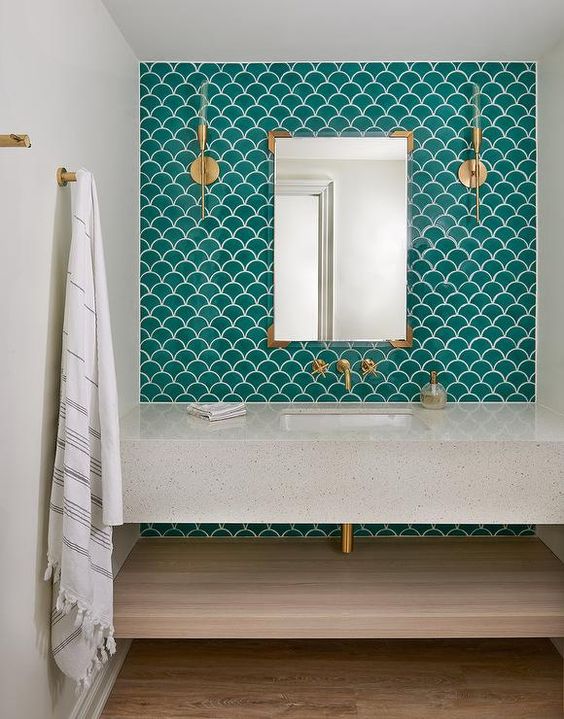 20. Be bold
If the colourful wall above is too much, how about the dark industrial bathroom below which has eye-catching pops of red to cut through the black.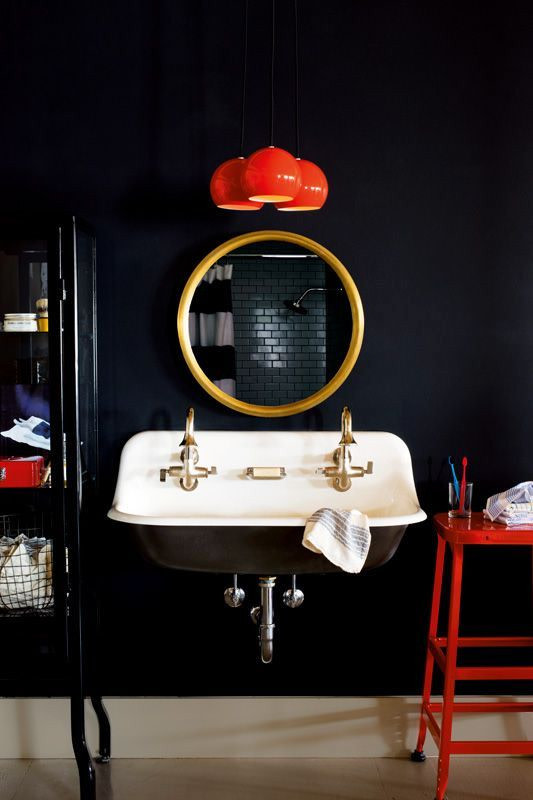 If dark and moody is what you like, here are some black and white bathrooms which you could pair with your black kitchen.
21. Maximising small bathrooms
Opt for wall-hung toilets and vanities which are great space savers and make the space feel light and airy. Maintaining a streamlined and aesthetically appealing sanctuary.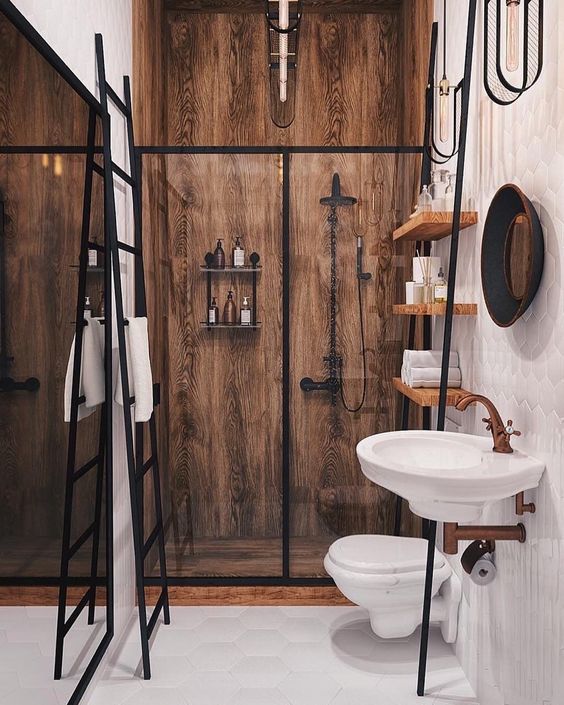 22. Geometrical industrial design
Go bold and add geometrical elements. This doesn't have to overpower the space, create a subtle statement piece through a feature wall or back-splash. This kaleidoscopic trend has been around for a while but is a trending phenomenon. I love contrasting cool and neutral tones with defining hues of bright yellow.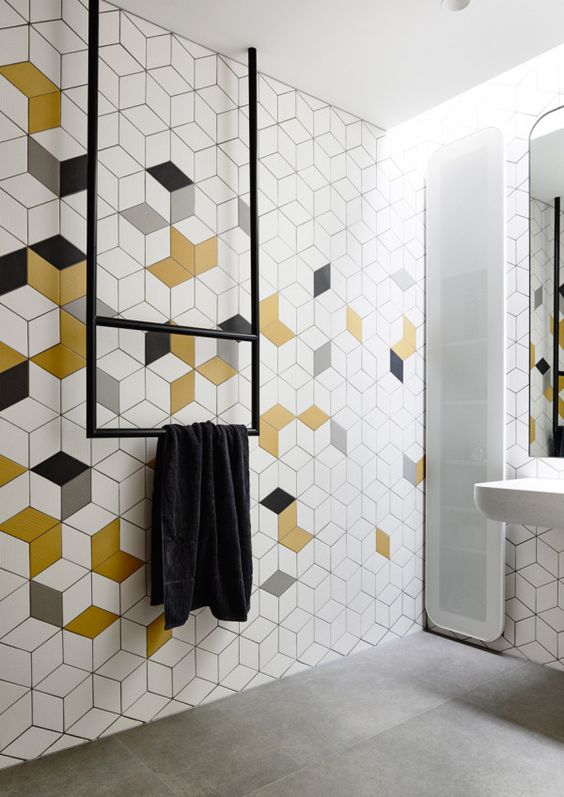 23. Monochrome industrial bathroom
If you are more of a black and white seeker of design, then you will love dabbling with monochrome elements for a sleek and chic vintage vibe. Creating a monochrome canvas through tiles, décor and tapware whilst balancing the industrial vibe through contrast flooring is a striking compromise.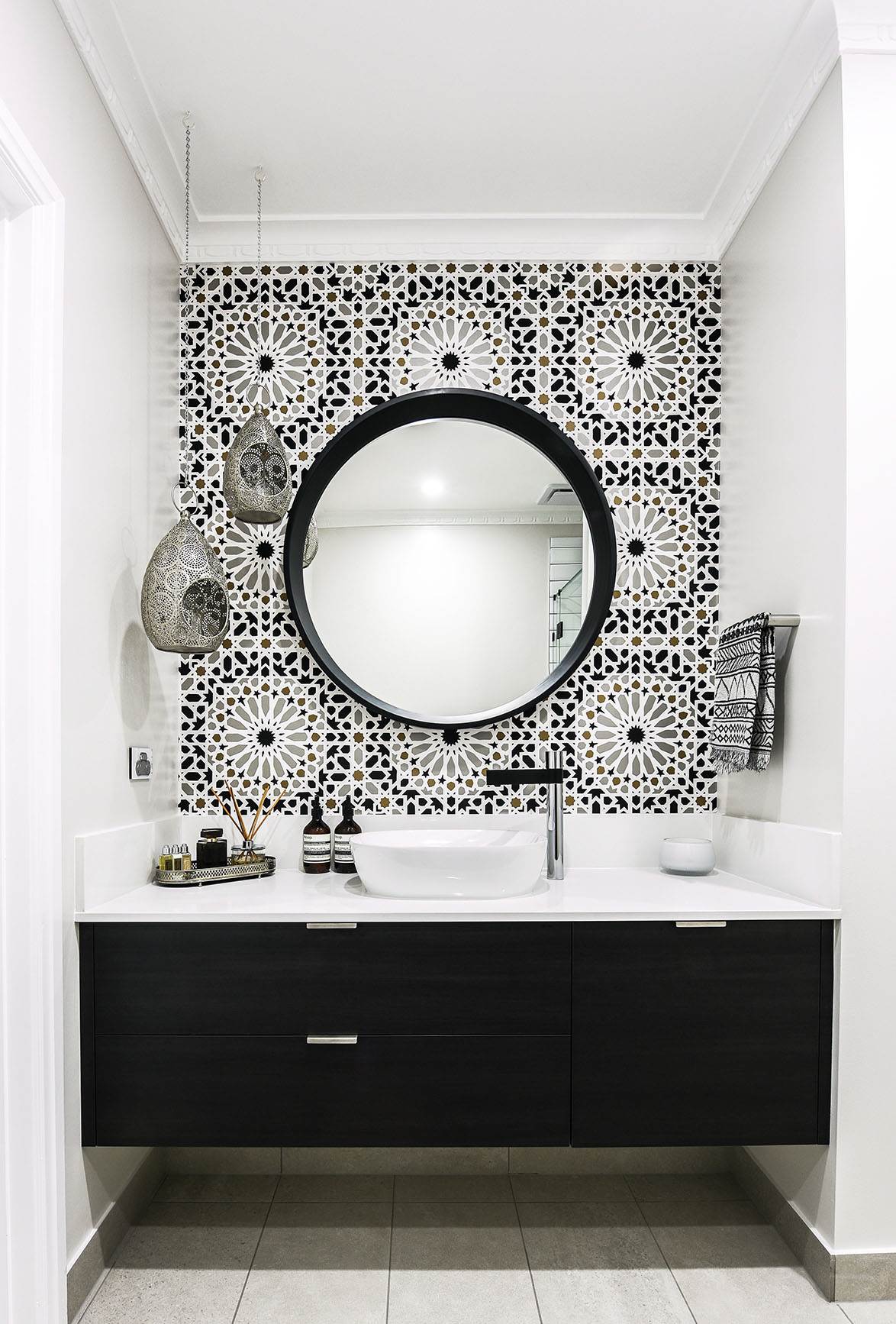 24. Barn doors
Don't forget about the bathroom door. Sometimes this gets missed when planning a renovation and it can be the make or break pulling off an awe-inspiring revamp.
Depending on the overall industrial vibe you are opting for, piecing together recycled wood planks to create a barn style door is a perfect pairing for modern meets rustic industrial design.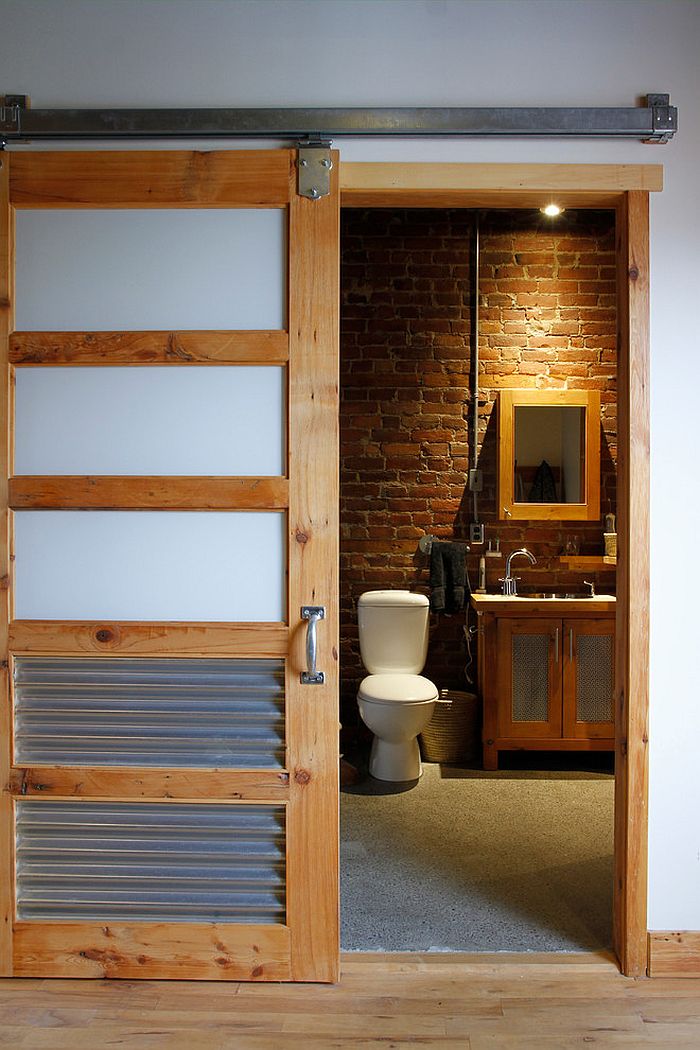 Piece it all together with dazzling décor
I am obsessed with all things bathroom décor simply because this is where you can express your own sense of style and turn your house into a home. Inspire your sense of design with these finishing touches:
25. Industrial lights
Lights, camera, action. Lighting creates the ambience for a space and for industrial design, we need to match the paired back appearance with the lighting choices.
So take a look at this example with loose wiring draping across the room where there's a sloping roof with no access to wiring.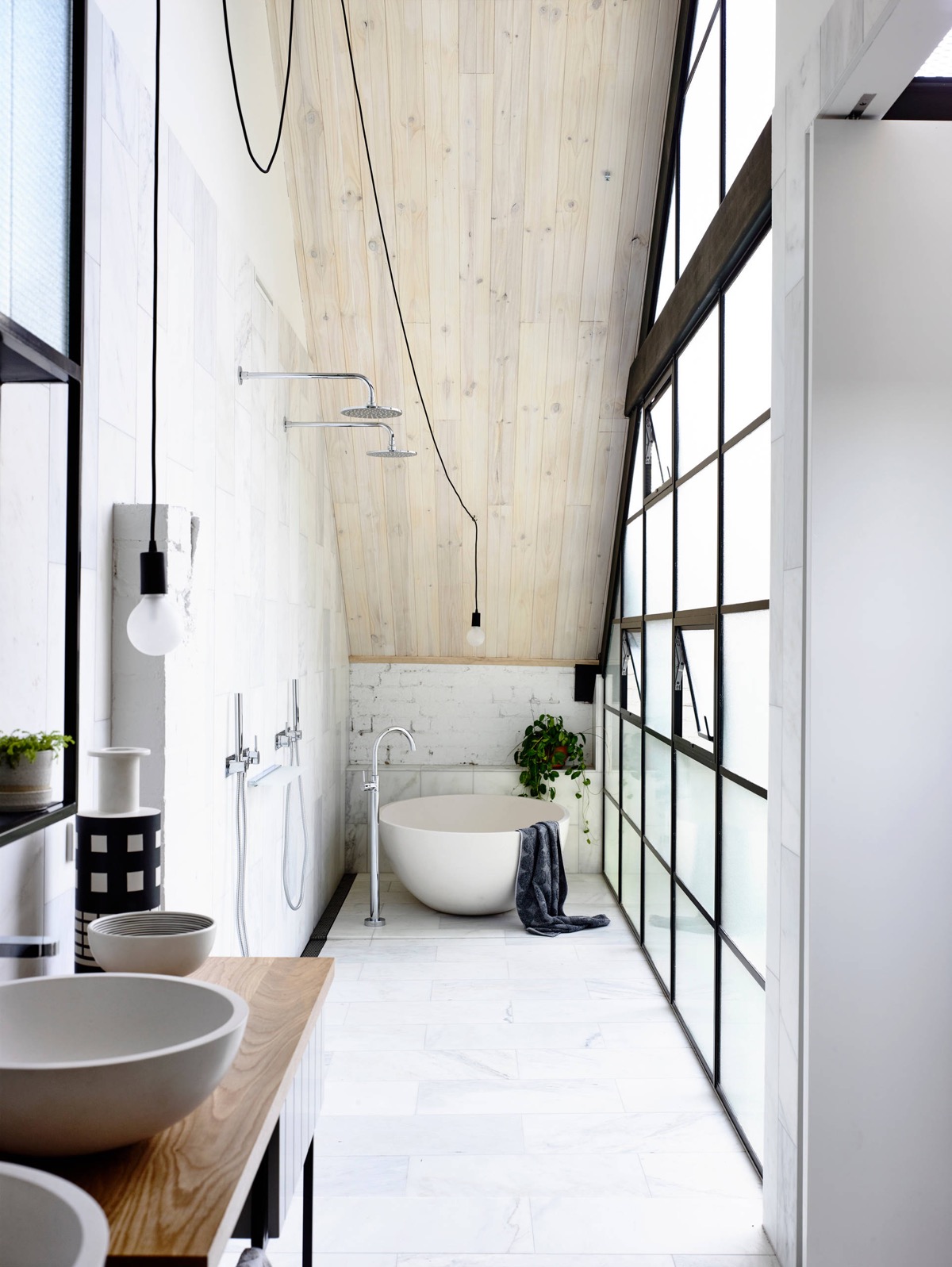 26. Use bathroom plants
Indoor plants are the lease of life to any space. Bring nature and greenery to your bathroom to continue to thrive in the calm and serene ambience. Especially if your industrial design is dark and mysterious, plants will help to brighten the space.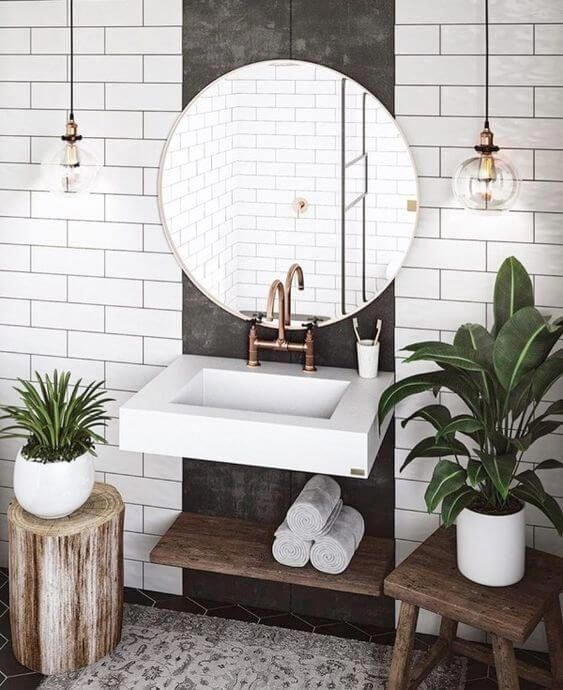 Interested to know which plants work best in a bathroom setting? Here are a bunch of other bathroom plant ideas.
27. Mirrors
Experimenting with quirky mirrors add a funky fresh touch. There are always so many designs to choose from but this one nails the industrial vibe.
Metal frame hanging mirrors with leather or rope straps are the latest mirror trend that is stylish yet minimalist.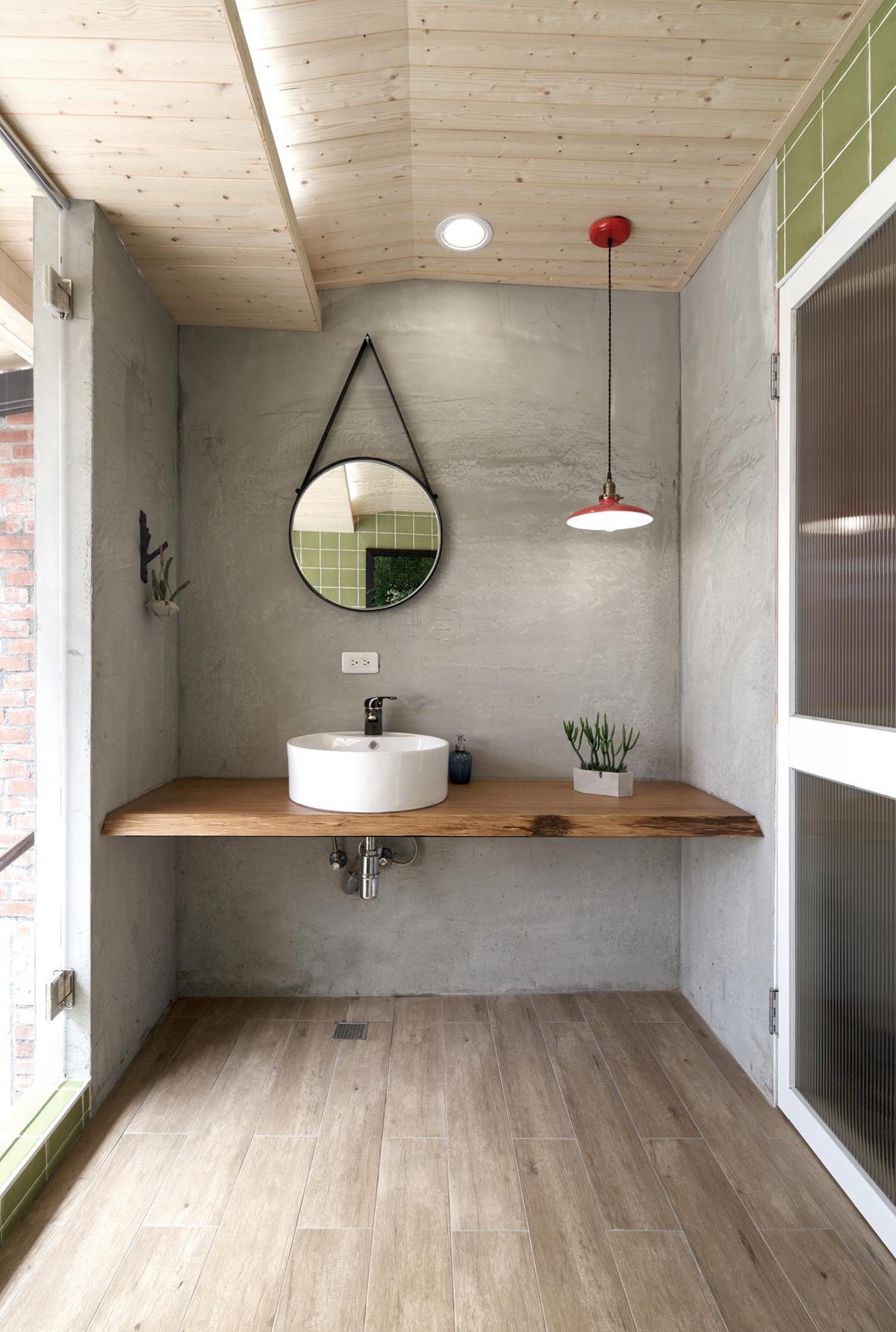 28. Wall Art
Some might think adding art to your bathroom is a strange concept. But hear me out, it's an eye-catching way to inject personality and print to your space.
Look at this artistic piece. It really brings the space to life and ties in with all the contrasting elements without getting lost in the unique design.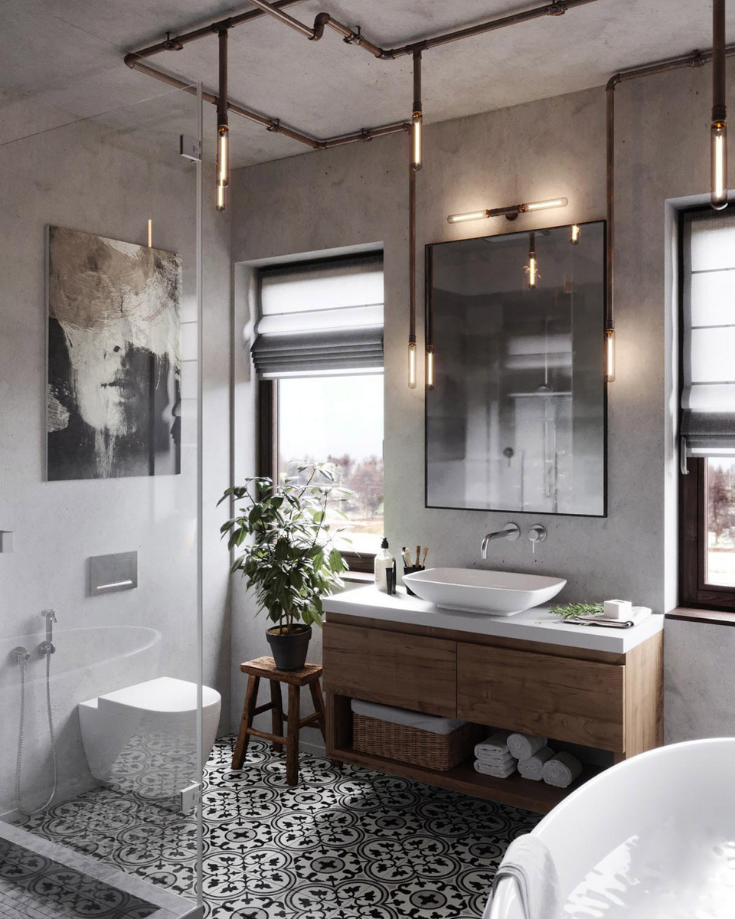 29. Neon signs
Similarly, adding personality through the form of word art and signs is a fun yet creative way to make your space feel a little less dull.  Neon signs are on-trend and vibrant additions to the décor world.
This one might not be everyone's cup of tea, but it's certainly light-hearted and a little cheeky.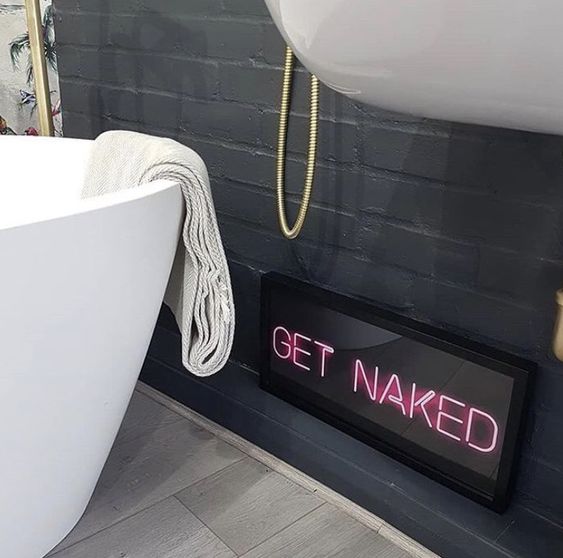 30. Ladders
When you think of industrial as a theme, I am pretty sure ladders would be an iconic item on everyone's thought train. And lucky that ladders as a décor item is an up and coming craze.
Propping up ladders against a wall can be used purely as decoration or make it a purpose item to hang towels.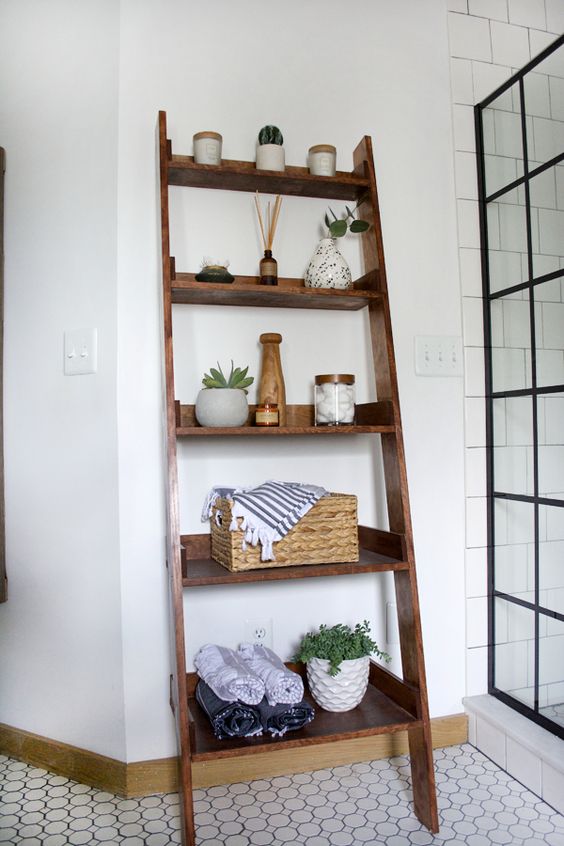 31. Patterned rug
When you go with an industrial design, you have to make your decor work a little harder to bring the points of interest and intrigue. Adding a Persian inspired rug or perhaps a Moroccan rug will do just that.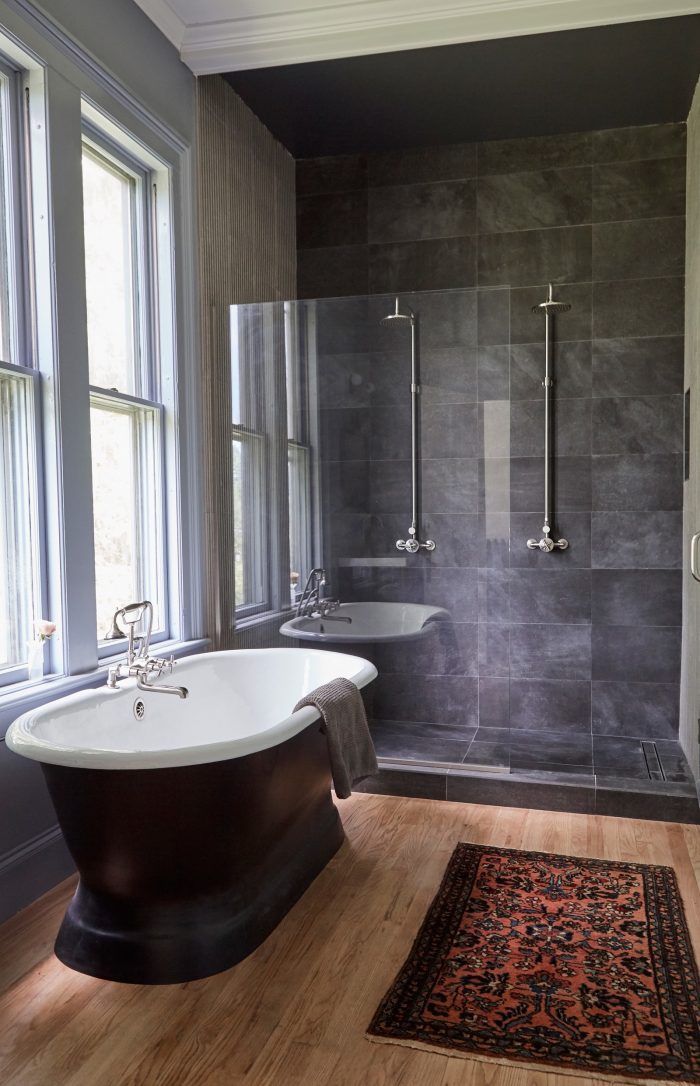 32. Boho
A top trend for 2020 is boho chic. This can be transported to your industrial bathroom design through the addition of pattern rugs, macramé wall hangings and baskets.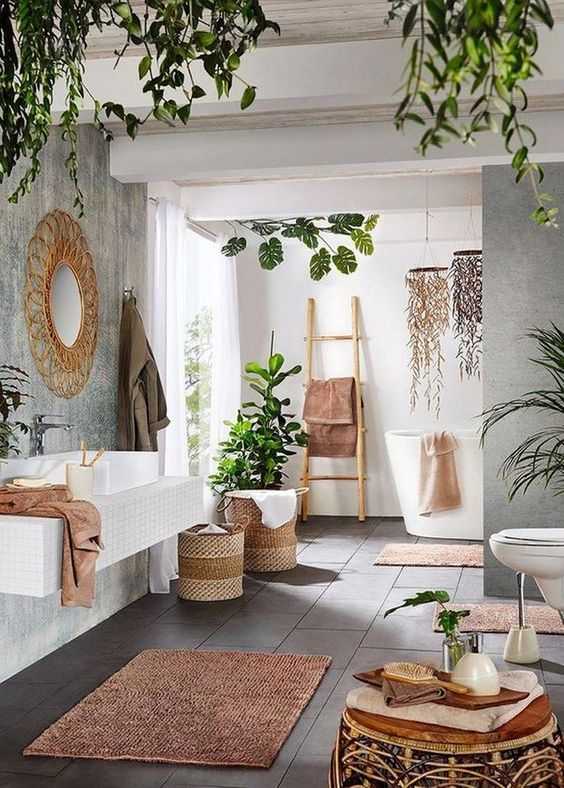 33. Colourful accessories
Instead of opting for grey, white or black towels and accessories, choose a contrasting colour to keep the space lively and warm. A bottle-green accent will always look amazing in an industrial bathroom.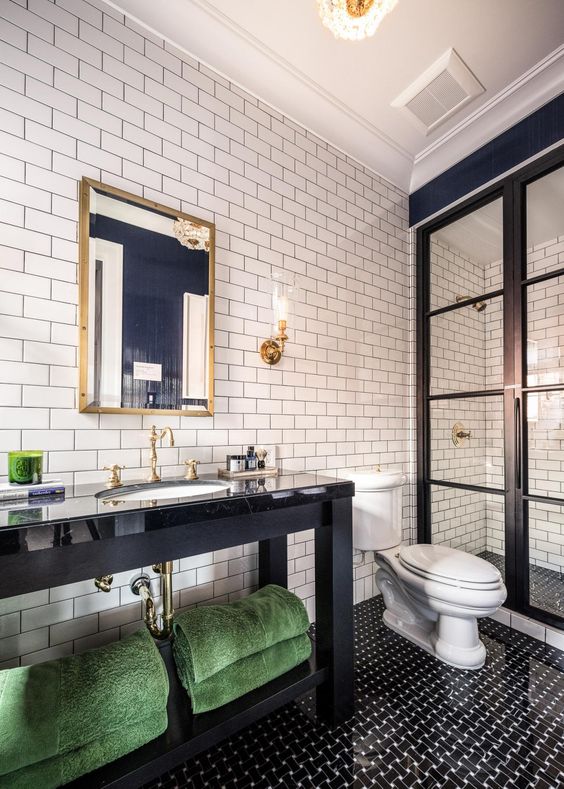 34. Stools
Similarly to ladders, stools are a rustic way to personalise and accentuate the industrial look and feel. Most images I have looked at feature a round stool either used as a décor table or a simple visual interest. These are super easy to move around the home as needed.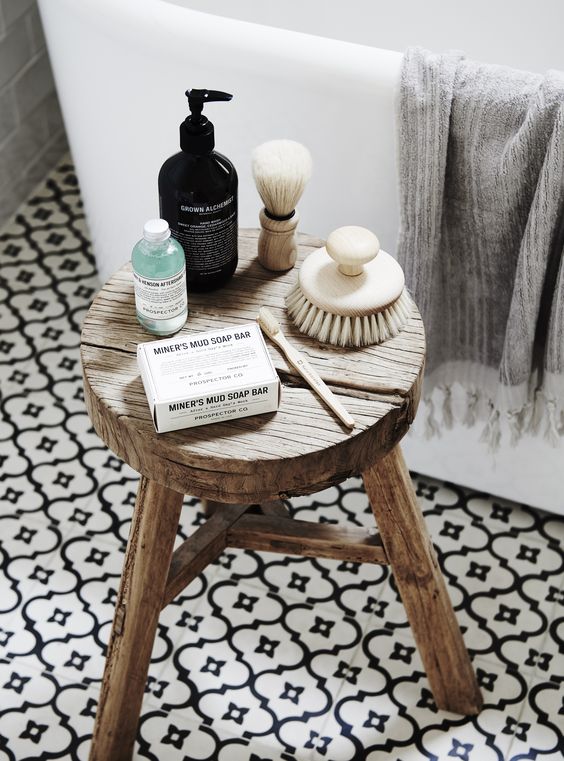 35. Minimal
Avoid over decorating as less is more. You don't want to overpower your industrial elements by cluttering the space with too much "stuff".  Keep décor items to a minimum, choosing only a few of the recommended components and sticking with a strong theme to allow the industrial vibe to shine through.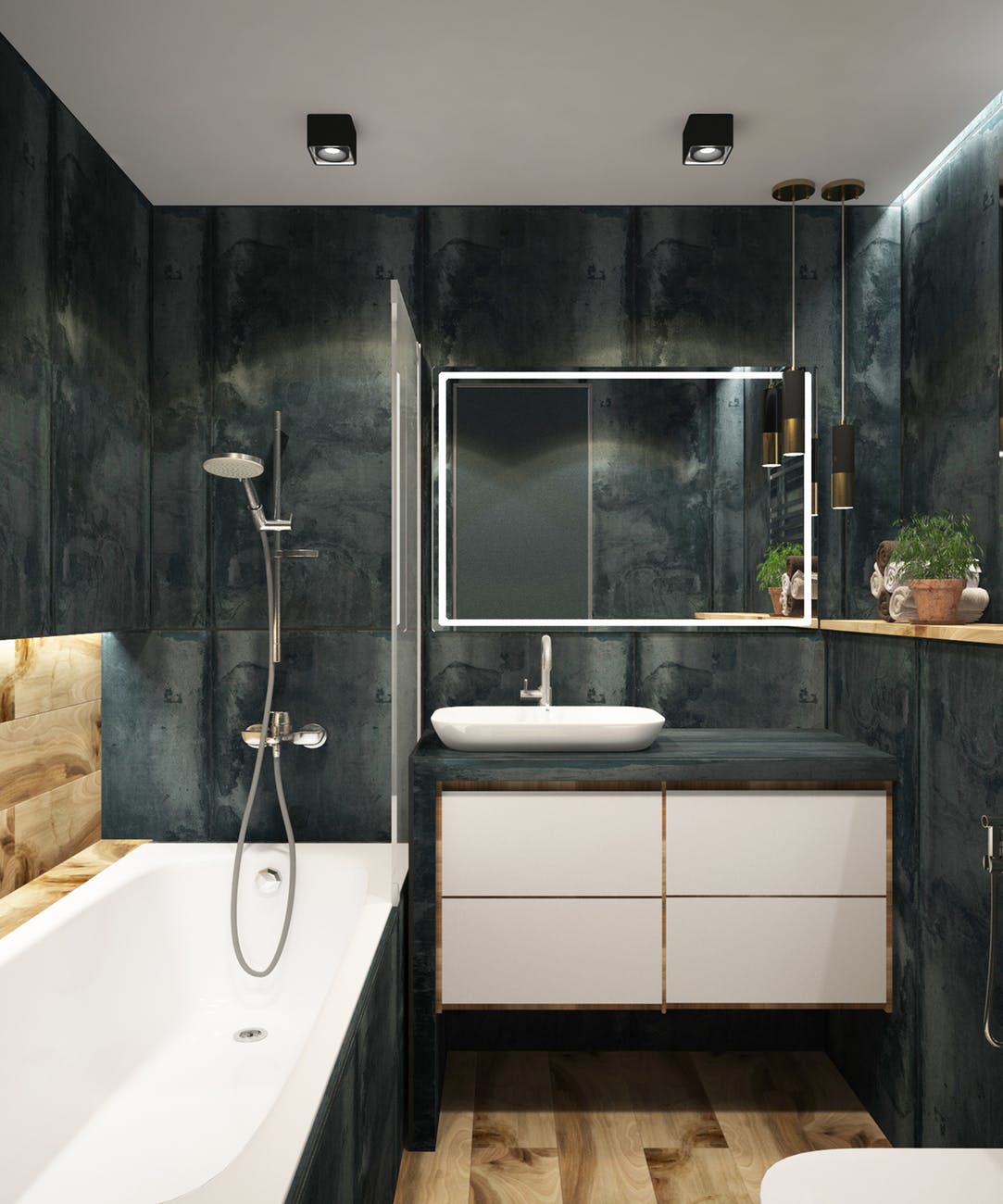 And that's a wrap on these incredible industrial bathroom ideas and my take on a dream mood board to fulfil your industrial bathroom design revamp.  Let me know your thoughts in the comments below and if you have any intrinsic ideas that I might have missed.
If you feel inspired to get a head start on your bathroom renovation designs, I recommend you hop over to our bathroom ideas article to continue to draw out some makeover plans.