The relatively new concept of online outsourcing is being discovered by more and more small businesses everyday, pioneering an exciting new segment of the human resources industry which is experiencing phenomenal growth.
For years now, we've been using communication channels like noticeboards, newspapers and even online classifieds. Well, the new wave of online outsourcing being led by startup companies like Airtasker, Freelancer and 99Designs has simply taken the existing model and put everything in a one-stop-shop solution to get the right person for the job making it faster, easier and more efficient.
So why should your business use online outsourcing?
Here are a couple of reasons why online outsourcing will be a must for most small businesses
1. Money
The cost of hiring and firing has become too expensive, especially through temp hiring agencies. Online outsourcing is low cost as the freelancer receives most of the money that you pay.
2. Time
Your business doesn't have time to post an ad, wait for responses and interview candidates to find a temp resource. Online outsourcing allows you to post an ad, choose someone and have the job done within hours.
3. Skills
Need an expert in a special type of logo design, cleaning or gardening? Online outsourcing allows you to tap a much wider pool of talent and sort through the candidates quickly by looking at actual feedback data like reviews on previous jobs.
So you're probably thinking "this sounds great in theory, but how can I use online outsourcing in my everyday business?" Well, here are a few examples:
International outsourcing (eg. 99 Designs, Freelancer, Fiverr)
Probably the oldest form of online outsourcing is the international marketplace for 'virtual' tasks like designing logos etc. that can be completed remotely who may be located in India, China or anywhere else in the world.
Hyper-local outsourcing (eg. Airtasker, Zaarly and TaskRabbit)
As the internet is now the norm in our everyday lives, the location of services is becoming more and more important. Using location technology available in most devices, sites like Airtasker (in Australia) and TaskRabbit or Zaarly (in the US) can help small businesses connect with "Task Runners" or freelancers in their local area.
This type of "hyperlocal" outsourcing is perfect for tasks that require a physical presence like house cleaning, a car wash (in your own driveway) or a quick delivery.
Local online outsourcing (eg. Airtasker, Zaarly and TaskRabbit)
While global outsourcing marketplaces like Freelancer have provided many small businesses with really useful assistance on virtual tasks, outsourcing a task to someone in another country can present it's own challenges due to the language, culture and the time differences. Therefore we're seeing more and more tasks posted on Airtasker that can be completed online or by phone, by someone in their city or in Australia to complete their task.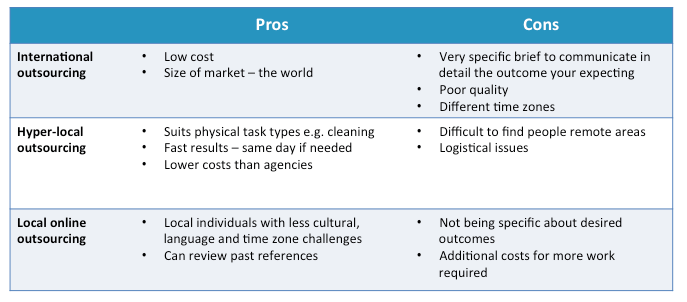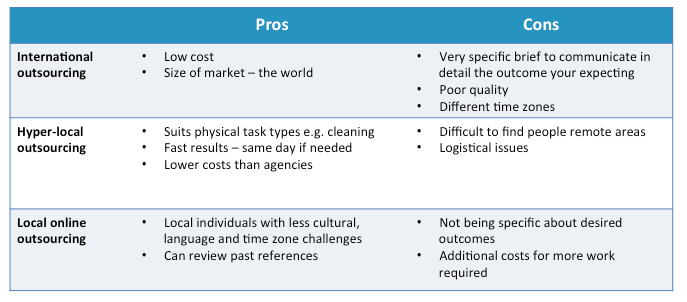 As with any new business technology, it will take some time to get the most out of online outsourcing – be patient – online outsourcing technology will continue to improve to make your life even easier.
But wait! Check out this How To: Use Online Outsourcing article, to make sure you don't fall into the same trap.