You can tell a lot by first impressions and when it comes to your property the front yard, and more so, the front fence is that very first look at a home. So it's really important that your front fence looks great, is neat and well designed. But what look do you go for? Well, that's why I've put together 50 of my favourite front fence ideas for all different types of homes.
Also, let's not forget that front fences provide security for your home, give you a little privacy and mark the boundaries of your property. So, on one hand, you have design and the other hand you have functionality and there are many different finishes that can be used when choosing materials for your front fence.
Timber
Timber is a great finish as it is a great natural finish that will stay in fashion for years to come. Due to the natural finish of timber, you will find that it will most likely match all the other finishes on your property nicely.
Aluminium/Steel
Aluminium or steel is a great finish for a front fence as it is sturdy and requires little to no maintenance once it's installed.
Stone
Stone is one of my favourite finishes for a front fence as it really has so much character especially when you use different shapes and colours of stone.
…and more! Check out these 50 front fence ideas to consider for your next build.
1. Modern front fence
First up we have this very modern and on-trend front fence! If I was looking at building a front fence, this is definitely a design that would be on the top of my wish list. I love the simplicity of the white render which is complemented with the wooden vertical slats. The letterbox is also very minimalist and streamlined which sits flush with the wall.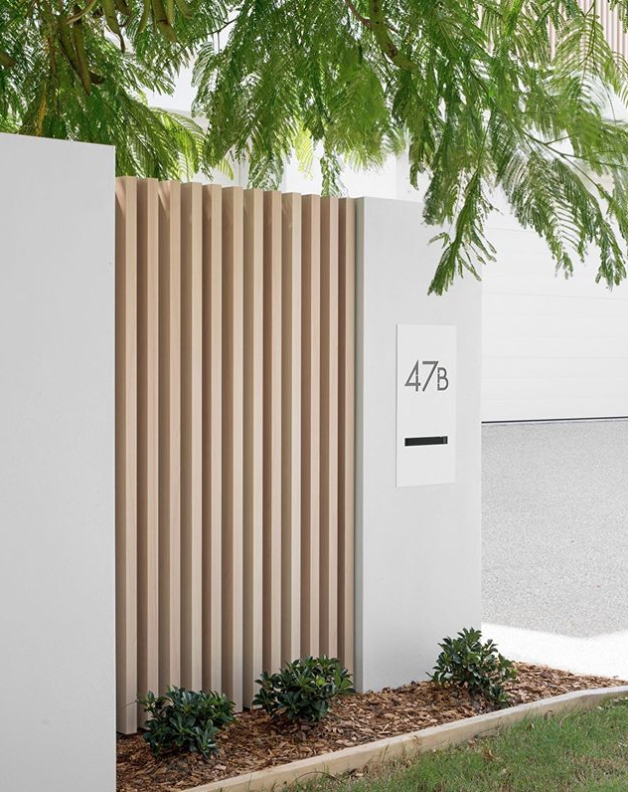 2. Horizontal and vertical
Here is another clever use of wooden fencing. The vertical slats show the area that is the 'fence' and the horizontal arrangement shows where the gate is so there is no confusion when you are driving up to this house. Timber will always be in fashion and will go with all your other design choices.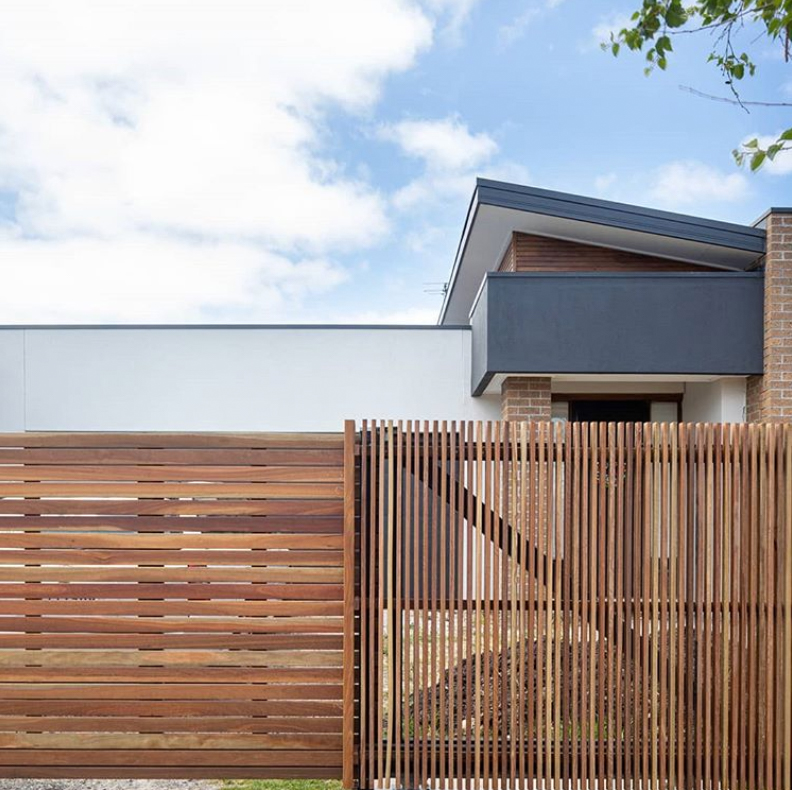 3. Fencing variations
This classic fencing style is a great design for when you want the security of a fence but also want to be able to see out of your yard! The grey concrete pillars match perfectly with the exterior of the house and the black steel fencing brings in a little creativity with the design, however, still keeps the fence nice and simple with its approach.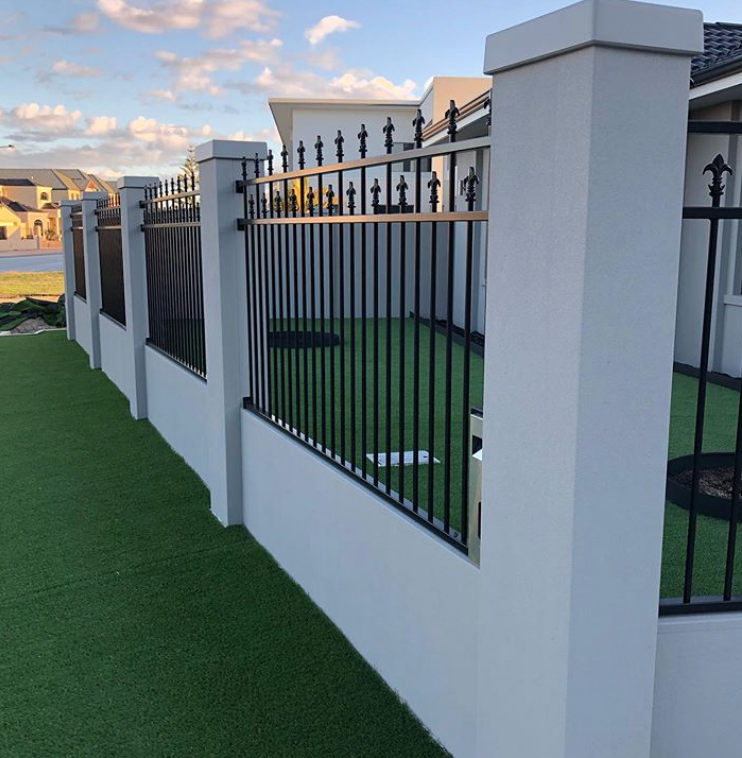 4. Welcoming white
I love this white timber fence mixed with the decorative concrete blocks. This suite a coastal home to a tee!
The white wood is simple and classic whilst the design of the blocks create interest and add something a little different. I love that the gate has been finished off in the same white wood design as the fence which creates a very seamless design.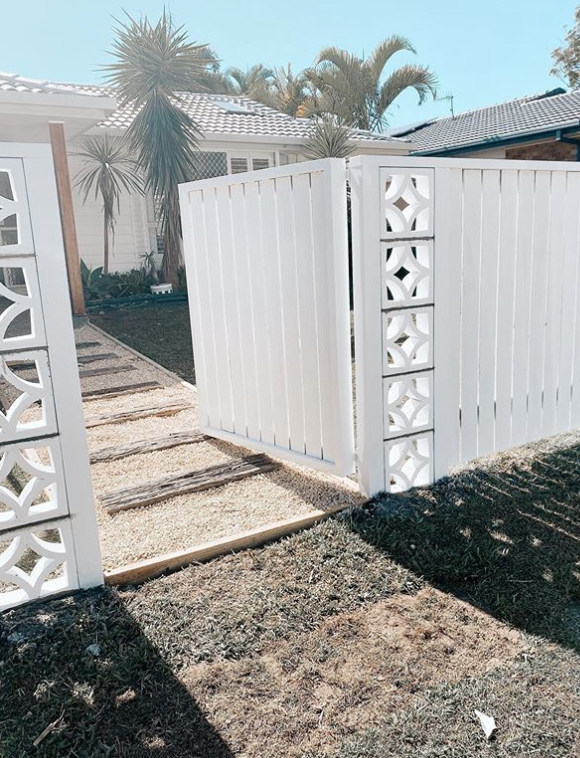 5. Privacy aluminium
This privacy fence is such a good idea if you're still wanting to have glimpses of the outside through your fence! The aluminium has been placed in a diagonal angle, all going the same way which looks nice and modern as well as not only allowing for privacy but also a cheeky glimpse of people passing by.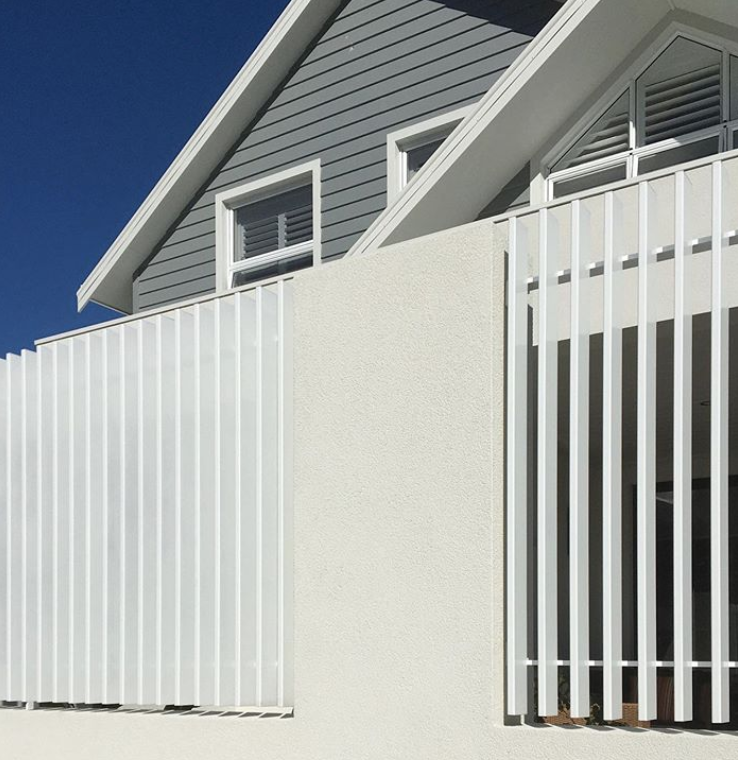 If you're looking for similar fencing, find a professional who can help guide you in the right direction when it comes to aluminium fencing.
6. Quaint country
This front fence is giving me all the quaint country vibes. The white picket fence looks oh so sweet paired with the grey accents as well as the cute red fence toppers. I especially love that beautiful flower tree which provides shade and a warm welcome to all your guests.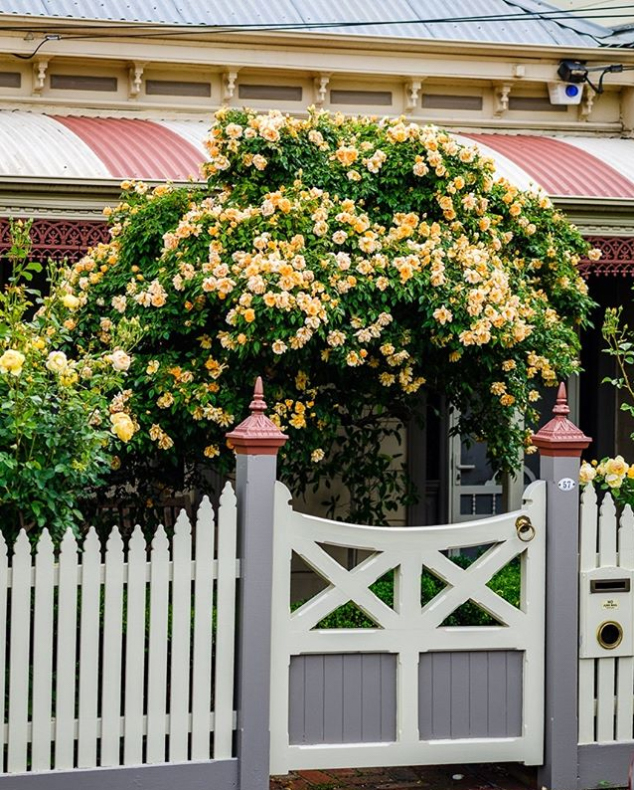 7. Minimal modern
How minimal and modern is this scene! The front fence is an extension of the bold boxed shapes of the house. I love the side block that looks as if it wraps around the edge due to the innovative black mailbox design. I also love that the colour black has been carried across to the aluminium slatted part of the fence which brings the whole design together cohesively.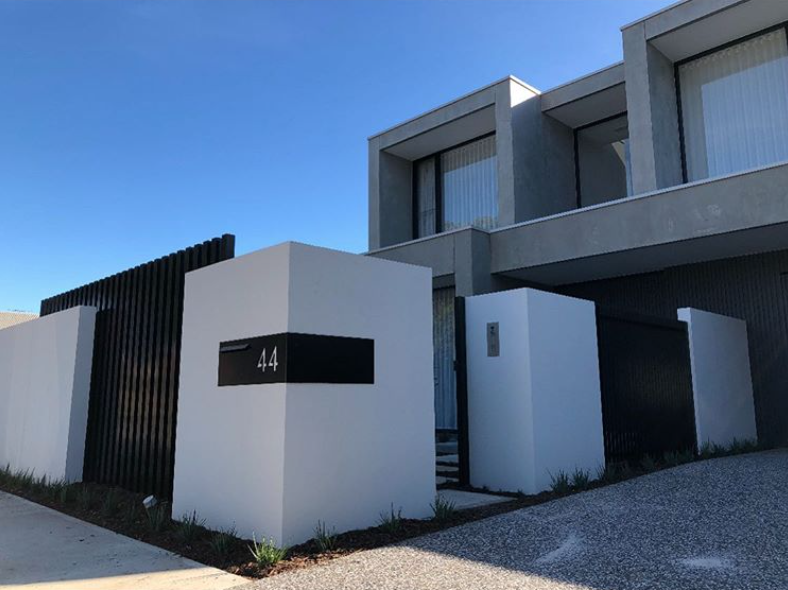 8. Classic white picket fence
This is the quintessential white picket fence to match this turn-of-the-century American cottage. The monochrome external paint carrying through to the fence has resulted in a very well put together home that has instant curb appeal.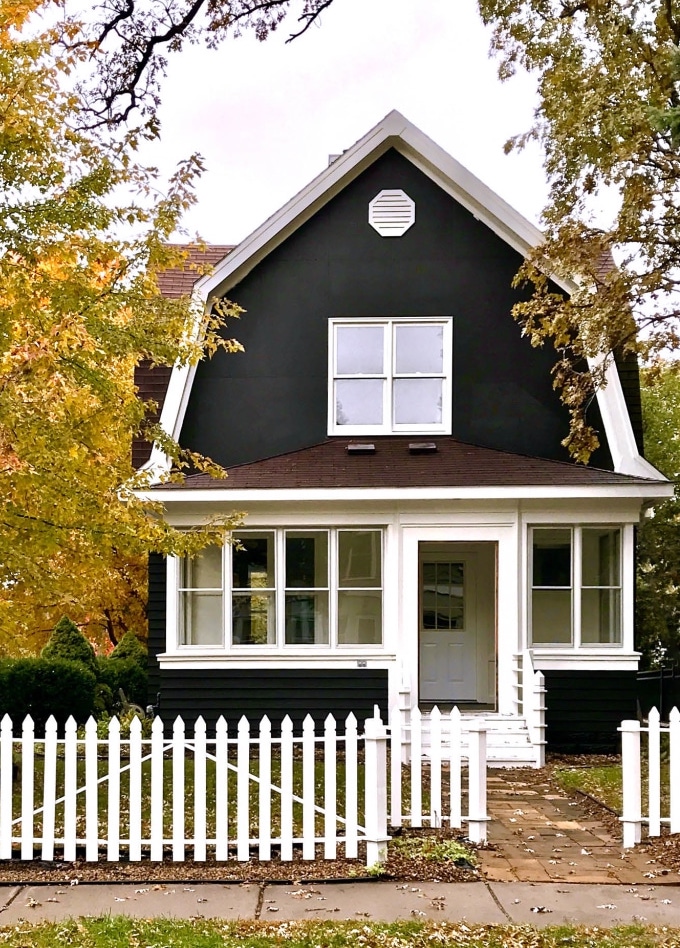 If you want to revamp your curb appeal, you should definitely take a look at these front garden ideas as well.
9. Fancy street appeal
This fence provides a fantastic street appeal to everyone walking by. This fence design is very clever as you can look through it at some angles, whereas from other angles it looks as if it's blocked out. Perfect for privacy!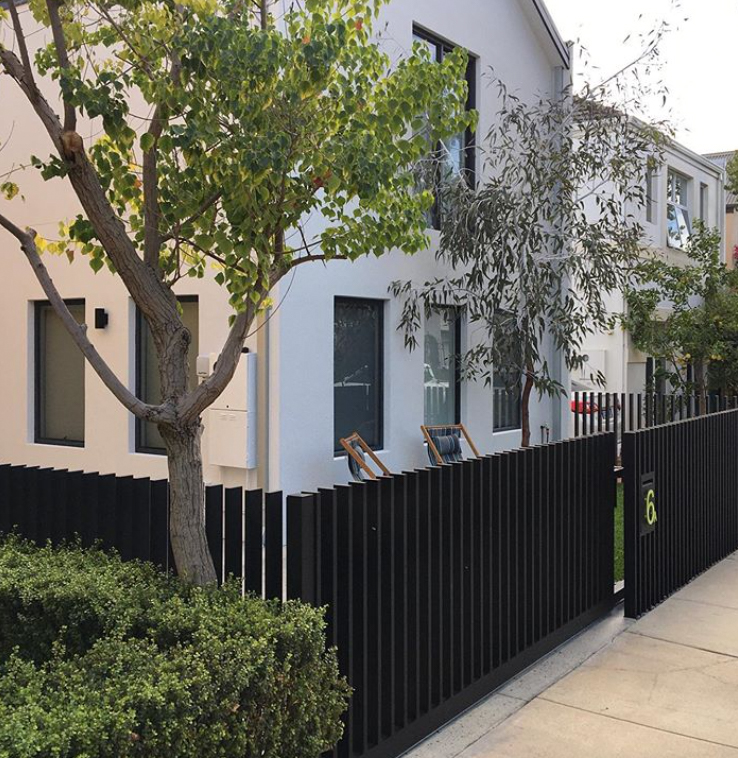 10. Custom sandstone front fence
When you live on a hill, custom features are a must as items, like this sandstone, will need to be custom cut to suit the exact measurements of your property. I love the character of the design running through the sandstone which is a lovely feature of this entrance!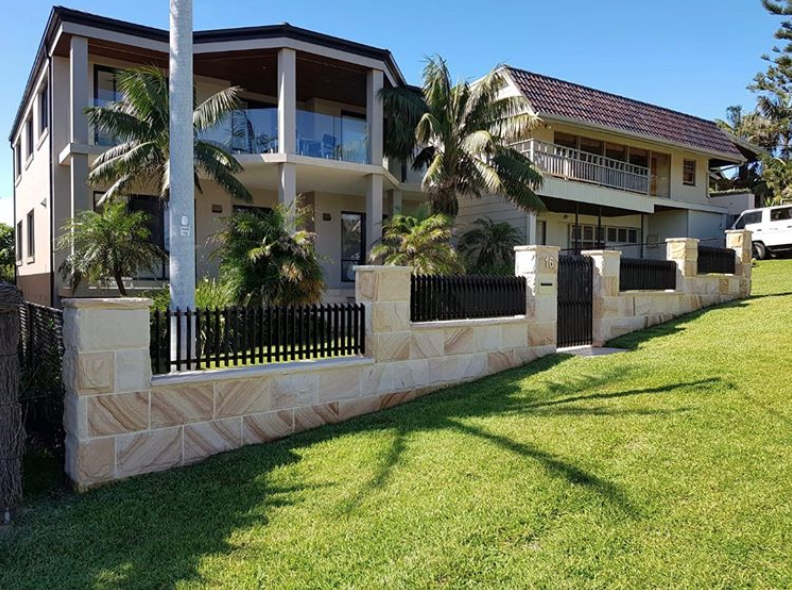 11. Subtle design
Subtle, yet effective. This front fence design has so many notable and thoughtful features. The side fences have been kept very simple to allow for a breeze to flow through. And I love the subtle design of the gate that has a step-like design running across it. The house number is bold against the white background.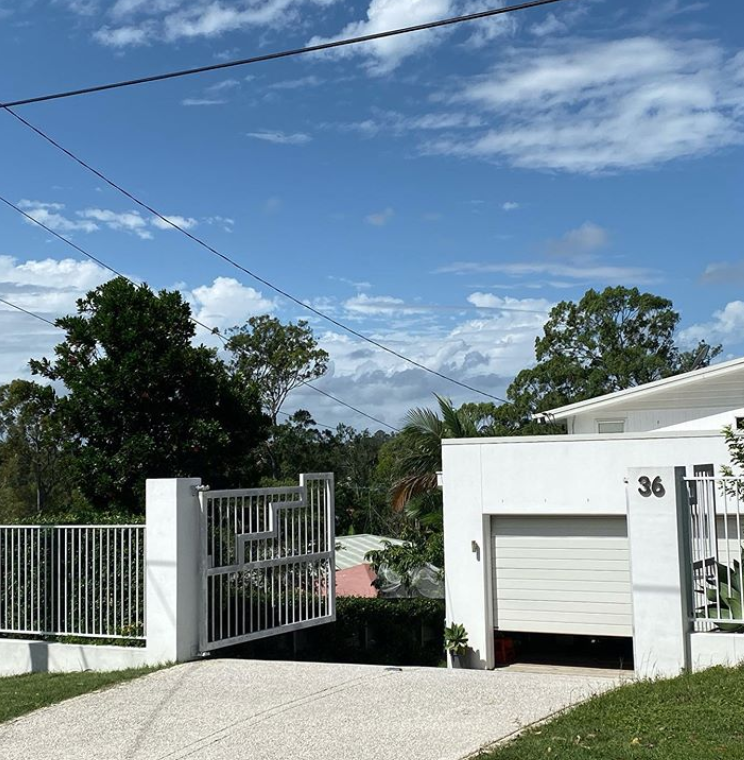 12. Stone wall front fence
How amazing is this stone wall! I love all the character and personality! Due to the natural qualities of the finish, this wall would really age well as time goes on. I love the white wooden gate that is the perfect contrast against the rough stone. And the letterbox and house number area go very well with the gate.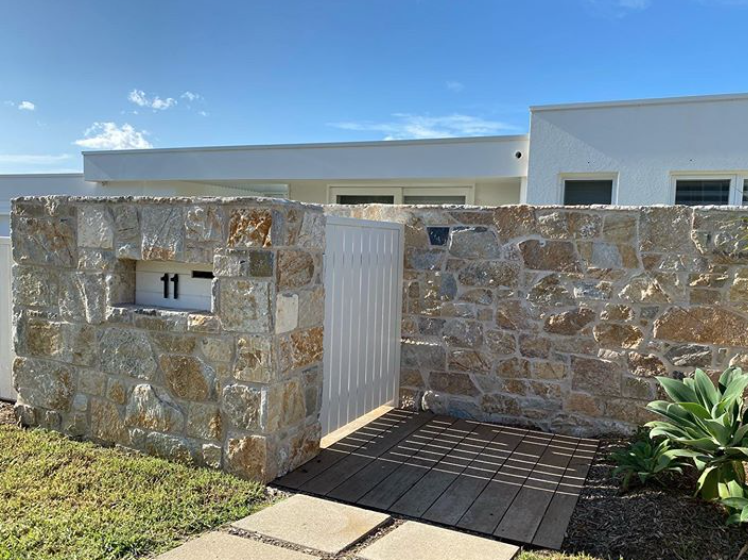 13. Hardwood country style
Here is a typical hardwood country front fence which is another purposeful design that sets the boundaries of the property. I can just imagine this fence would be perfect for a house on acreage where you would like your property seen from the road, but also with the added security.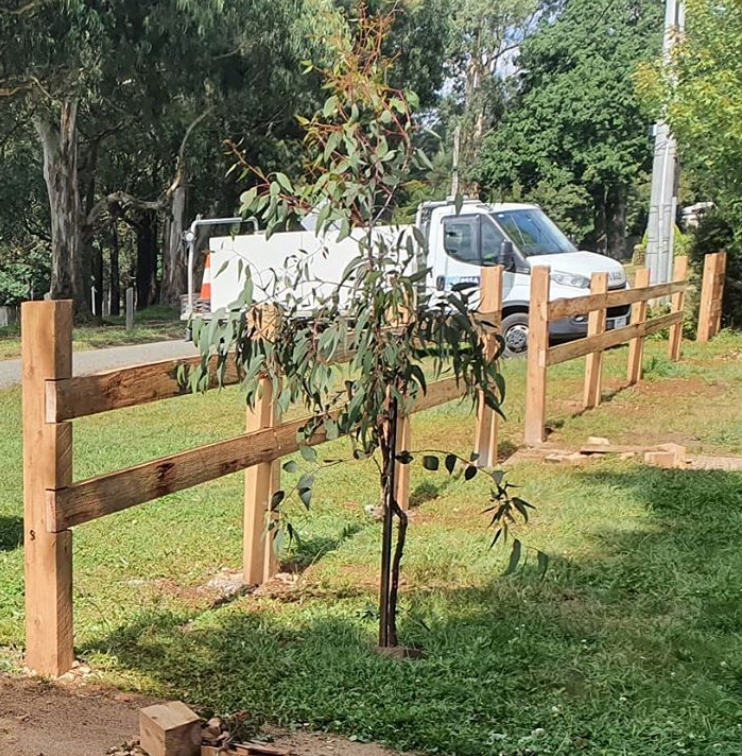 14. Vintage vibes
I'm getting all the vintage vibes from this property. This sort of design would've been popular in the '60s but creative fences are surely making a comeback! I love the vintage style letter box that is so sweet and feminine. The front area is complemented by large bold greenery that goes well against the white.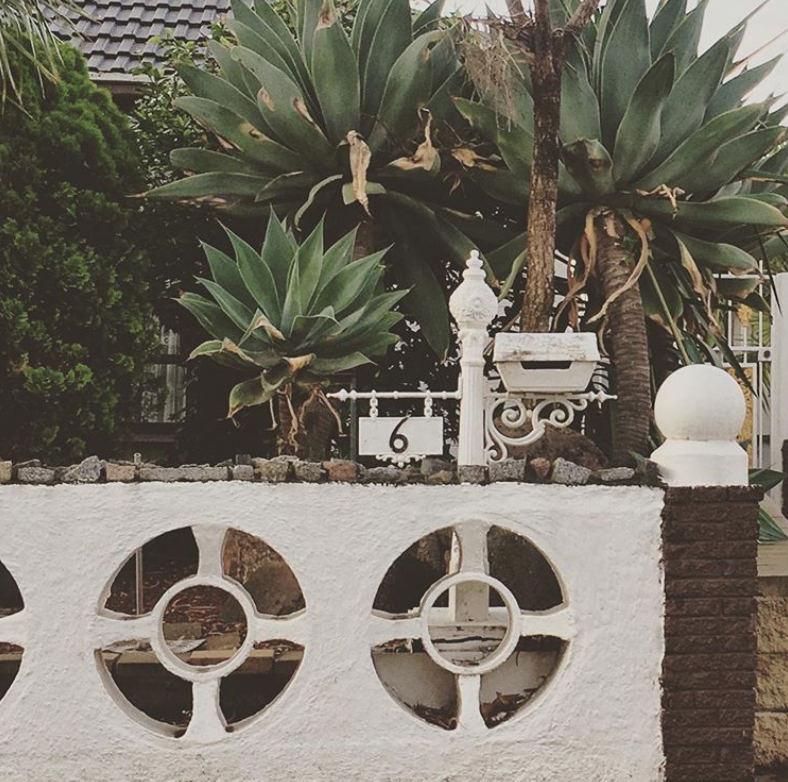 15. Garden beds
Another way to spruce up your front fence is to add raised garden beds. The garden beds on this property consist of ground cover plants that work well with the statement trees. Well maintained greenery will always give any place a welcoming feel. The grey concrete along with the black steel slats are a match made in heaven with the garden beds!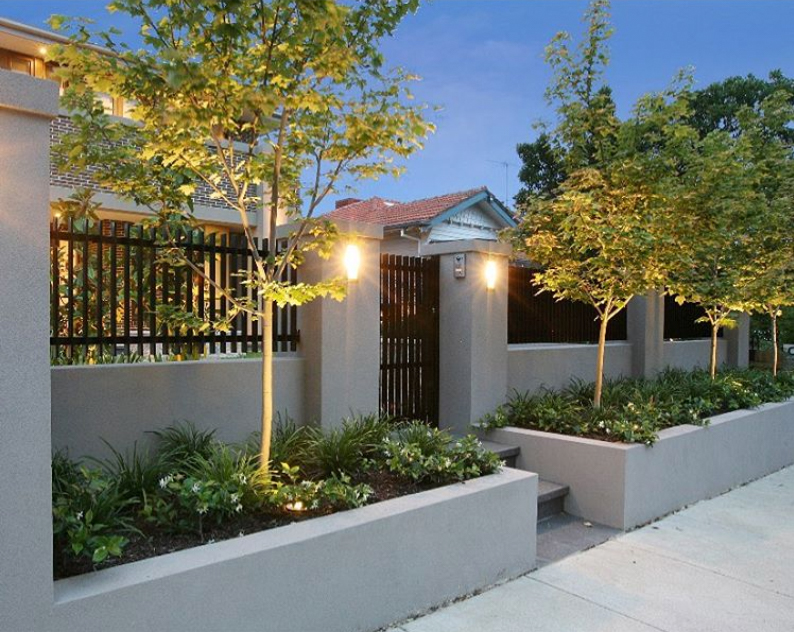 16. Black aluminium
This black aluminium fence is simple, yet provides an added security that the property needs. The other elements of the entrance are quite scarce and minimal which makes the fence look neat. The electronic gate is a great idea to be able to easily drive your cars in and out of. There is really no fuss with this place!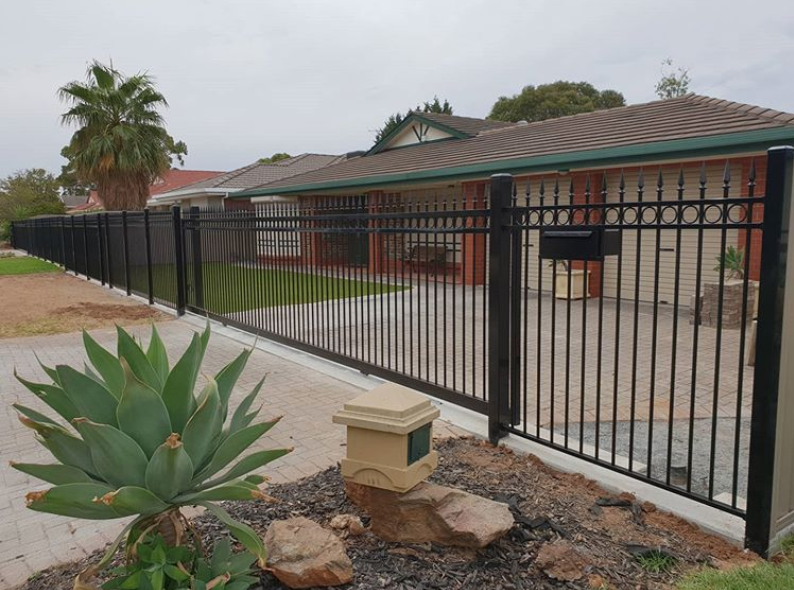 17. Fresh cottage vibes
Oh, I just love this place. This is a modern take on a white picket fence. I love the fresh cottage vibes of this place with the low ground covering plants, white fence and white rose bushes behind the fence. This fence is super simple but really stands out and packs a punch!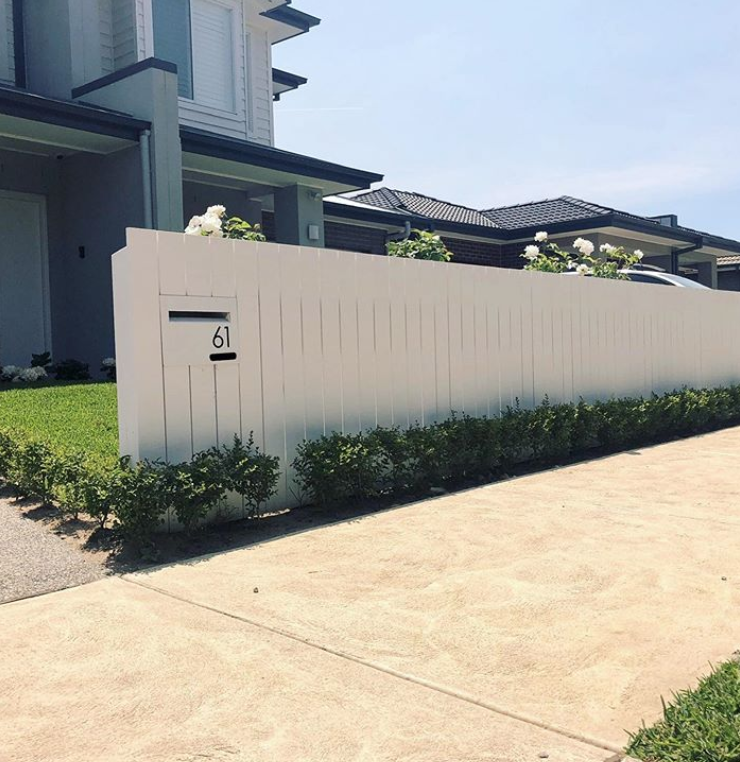 18. Vertical hardwood
Here is another great example of hardwood as a fence. This design really provides a lot of privacy and security as you can't really see what's beyond the hardwood. I love the letterbox that has a large round hole ready for a newspaper and a smaller hole ready for your letters!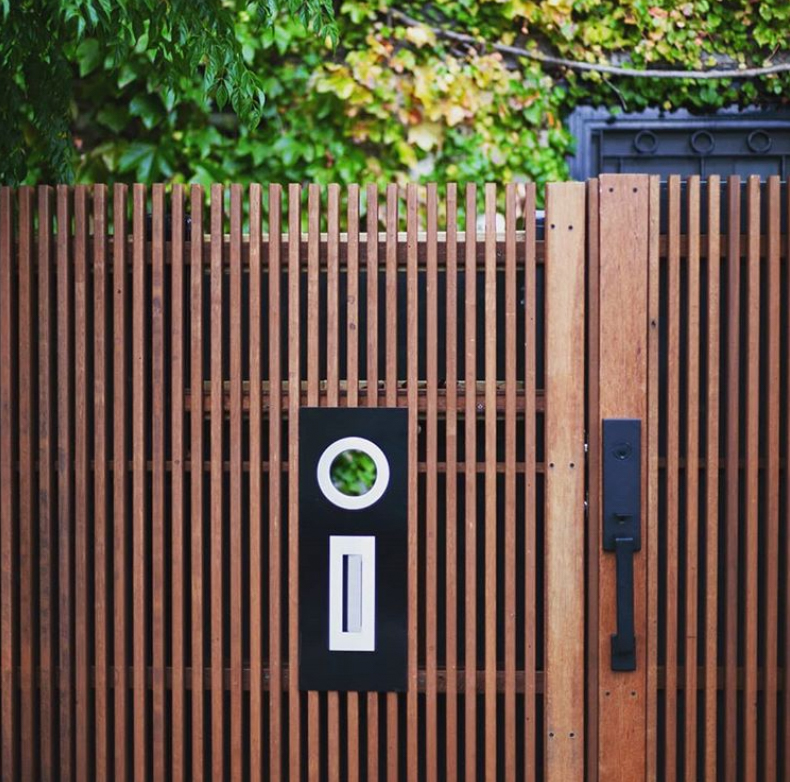 If having privacy is something that is important to you, we actually have an entire article just on privacy fence ideas that you should look at as well.
19. White picket fence
How sweet is a white picket fence! I love this place that is giving me all the dreamy country cottage feelings. The white picket fence is the perfect choice to compliment the grey house and white accents. I also love the neat garden that also serves as a fence.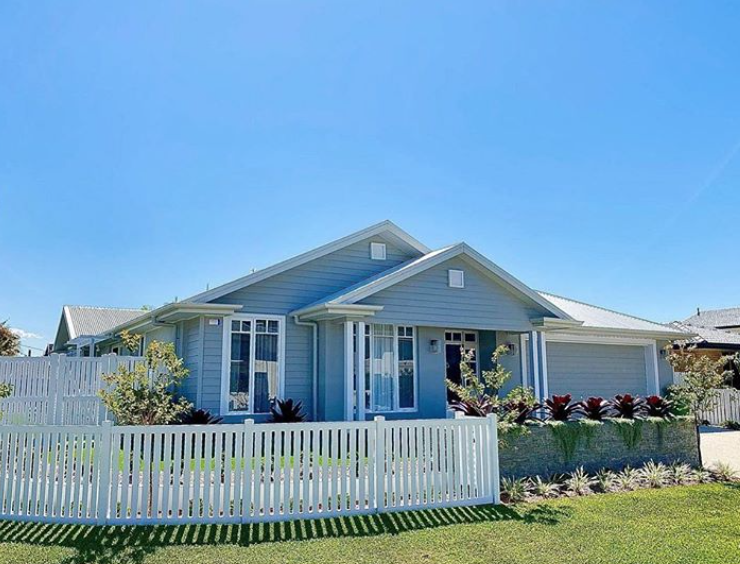 20. Custom carved stainless steel
Wow, this is a design you don't see every day! If you're after something a little different and something that nobody else has, perhaps you need to get a custom carved stainless steel fence! The gated area is a more straight across style however it still has a creative design across it. And the side fence has an interesting curve in it as well as also featuring a similar design to the gate to create cohesiveness.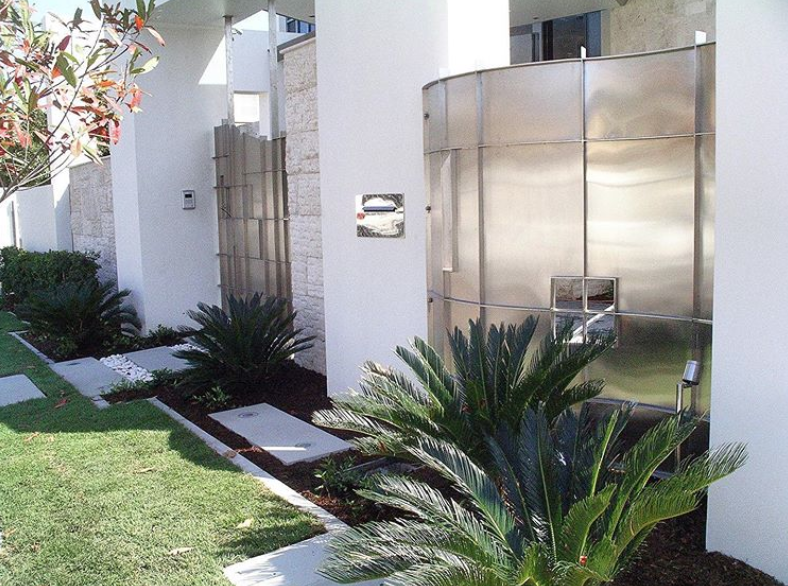 21. Matchy matchy
Oh, this property is just so sweet. If I was walking up to this house I would certainly be 'Oooohing' and 'Aaaaahing' with excitement at all the beauty! I love that the white picket fence perfectly matches the porch fence of the house which really brings the two areas together, even though they are so far away!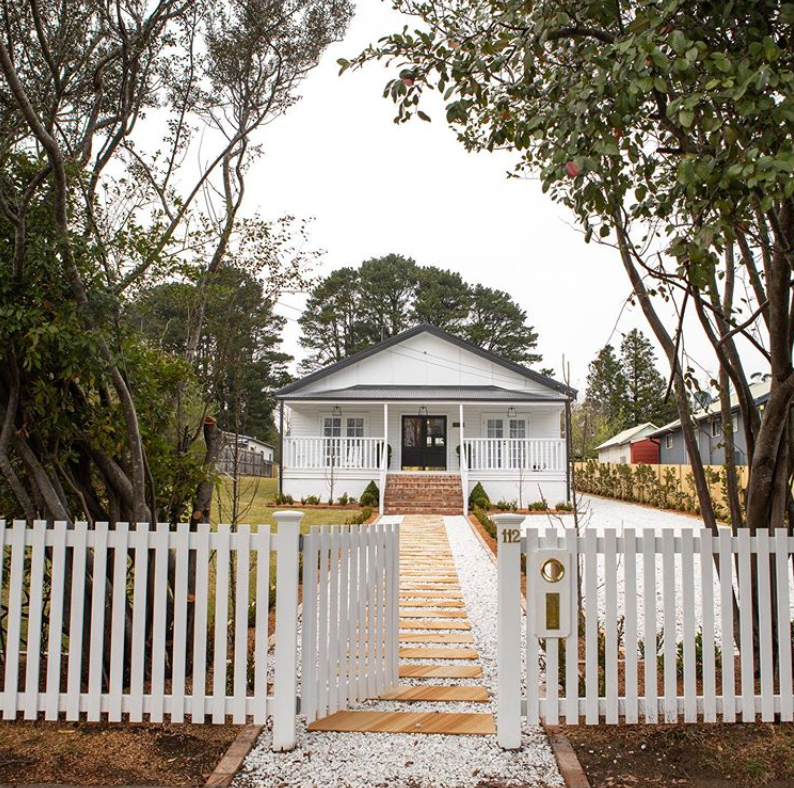 22. Modern render
I just love a modern render. This half front fence is just enough to contain the boundary of the house whilst still complimenting the rest of the building work. I love how the black roof slats have been incorporated into the front fence which looks great next to the white render. This is overall a very cohesive look!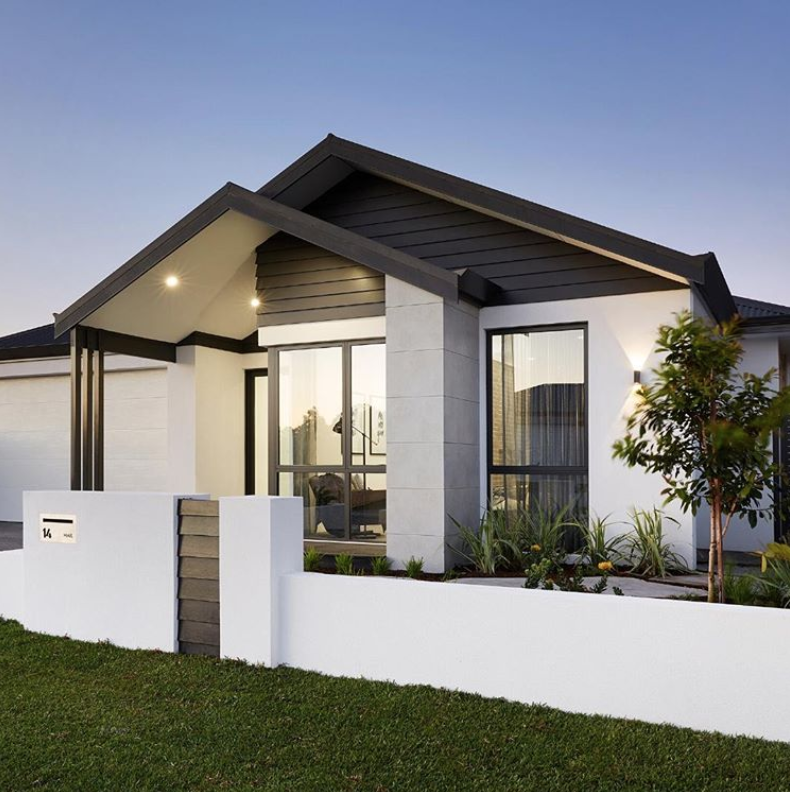 23. Pretty pastels
If you're after something a little more colourful, then this is for you! On one side we have pretty pinks, oranges and blues which give a delicious pastel gelato look and then on the other side we have a white and grey look! Which one would you pick?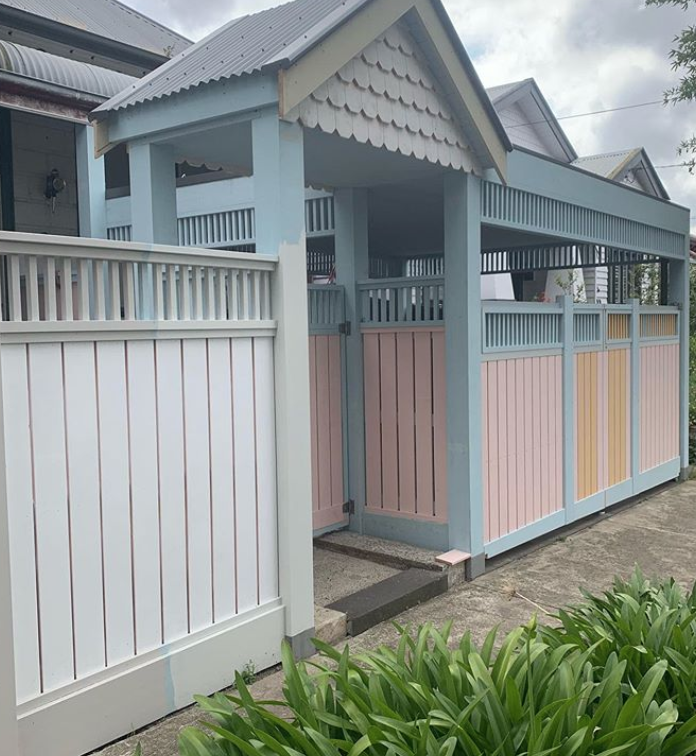 24. Wooden character
This little wooden front fence has so much character! I love how the natural texture and pattern through the wooden slats has been preserved and is definitely a feature of this fence. There are darker pieces placed next to lighter pieces which work so well! If your property is on a hill, then varying the heights of your fence sides will also bring balance to the overall instalment.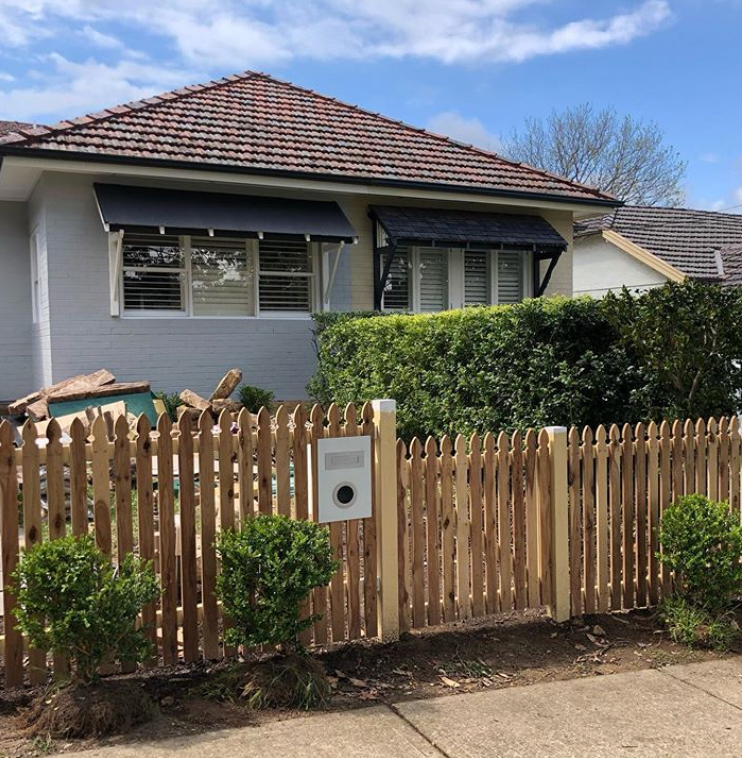 25. Grey stone fence
Here is another lovely stone fence! I love the fact even though the actual house build doesn't incorporate any stone throughout the design, the stone has still been used as the fence portion. And it really works so well. Especially as the tones of the stone are in the same colour palette as the house. How very clever!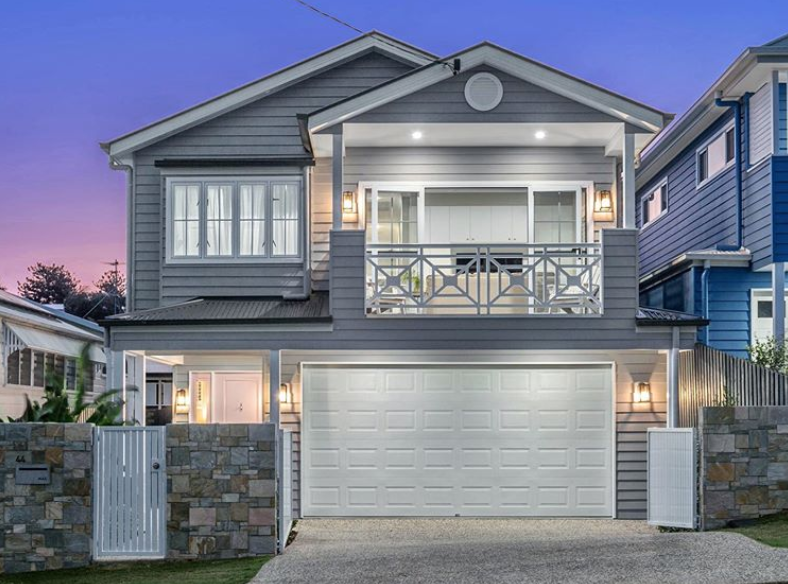 26. Hedge wall
If you don't really want a traditional looking fence at the front of your property, how about trying a hedge wall? Hedges look so effective when done and maintained right. If your hedge is full enough, it will also provide security and privacy, just as a normal fence would.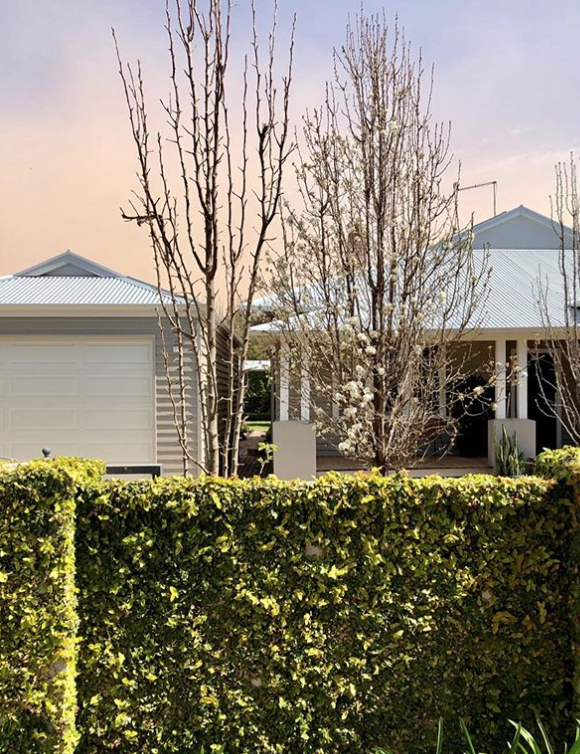 27. Concrete and timber front fence
Rustic and purposely unfinished. This concrete and timber fence would work so well with a contemporary or urban style property. The unfinished look of the concrete has been purposely placed by the designer to give a very trendy look whilst the timber slats are uniform and finished nicely. What a clever and creative design!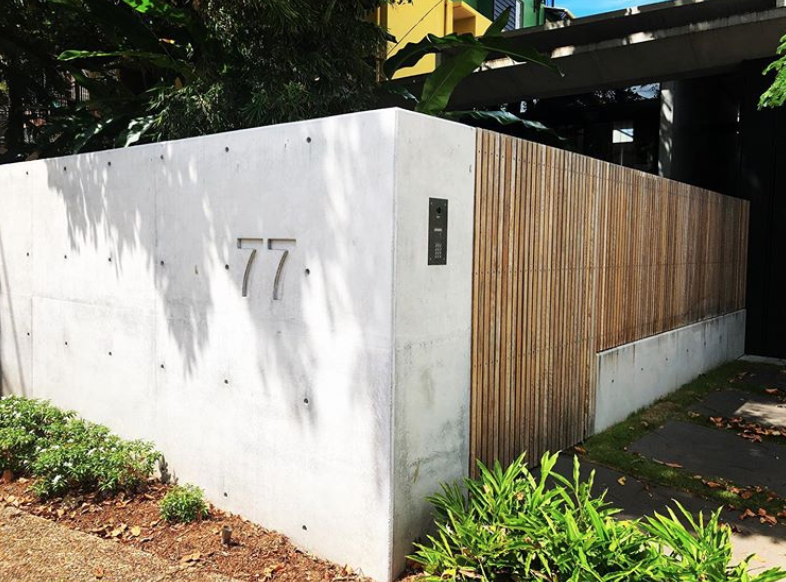 28. Custom laser cut fence
Here's another way to really customise your front entrance; a custom laser cut fence. When speaking to a laser cutter about your design, the options are really endless! I particularly love this yucca inspired design as when its shadow falls on the ground, it really looks like it could've been caused by a garden full of yuccas –how cool!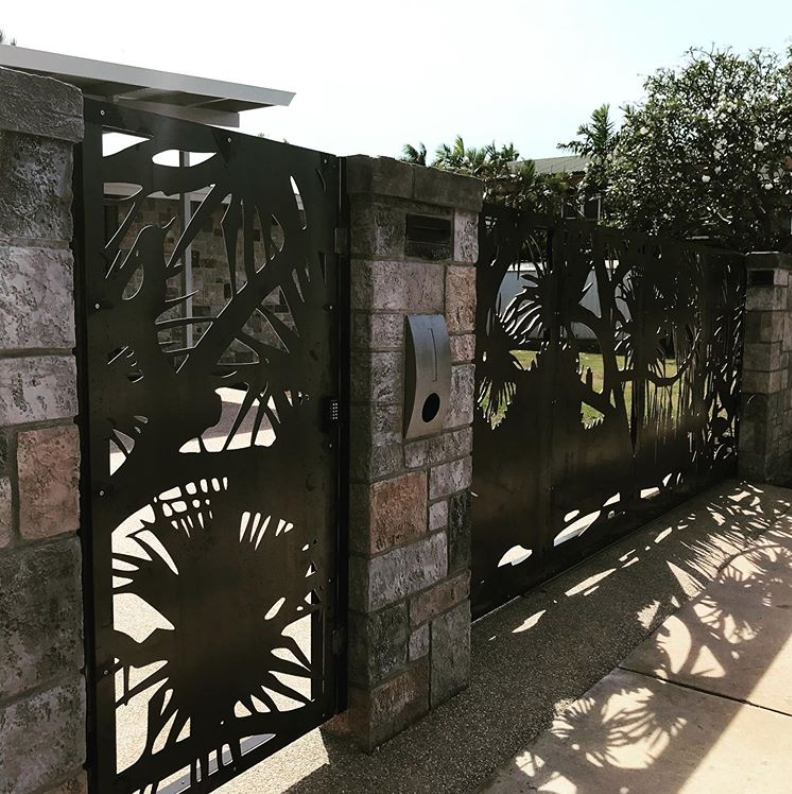 29. Breeze walls
Breezy, easy and trendy. These breeze walls are so in fashion right now! I love how the intricate design really brings in an interesting juxtaposition against the very plain and simple building works of the house. These walls provide security and privacy whilst also making a bold statement. Love!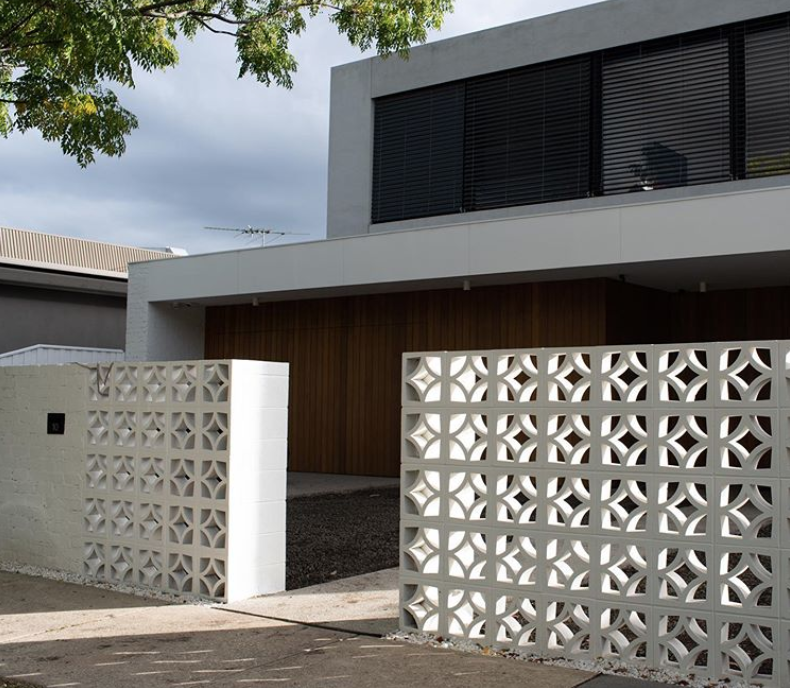 30. Two tone
How great is this two tone front fence! I love that the muted navy from the fence is paired perfectly with the details of the houses columns, window borders and front door whilst the natural wood finish nicely compliments the exposed brick on the side of the house and stairway. A clever design that has been executed beautifully.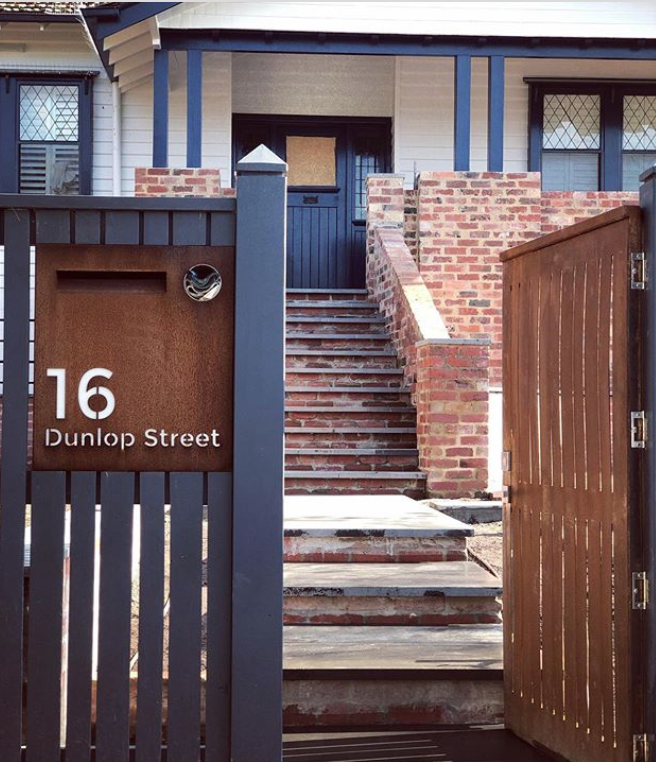 31. Minimal bold fence
Oh, this place just makes my heart happy. Clean lines, white on white, minimalism and simplicity. This place is just so aesthetically pleasing to the eye! I love the front fence that is the same white render as the house as well as the black side fence that matches perfectly with the house number. Also what a cool idea to turn your house number sideways!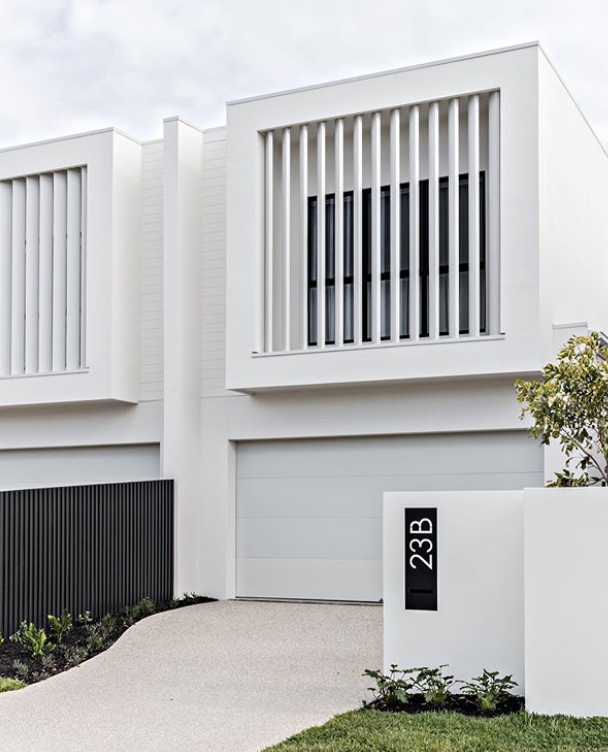 32. Landscape design
This one is for the plant lovers! If you want to incorporate plants into your front area, then look no further – this place is for you! Even though the house is on a slight hill, the front concrete planter has allowed for a seamless meeting of the flat surface and the slanted pathway. The garden bed looks great in front of the main fence area which is spaced out just enough to be able to see through.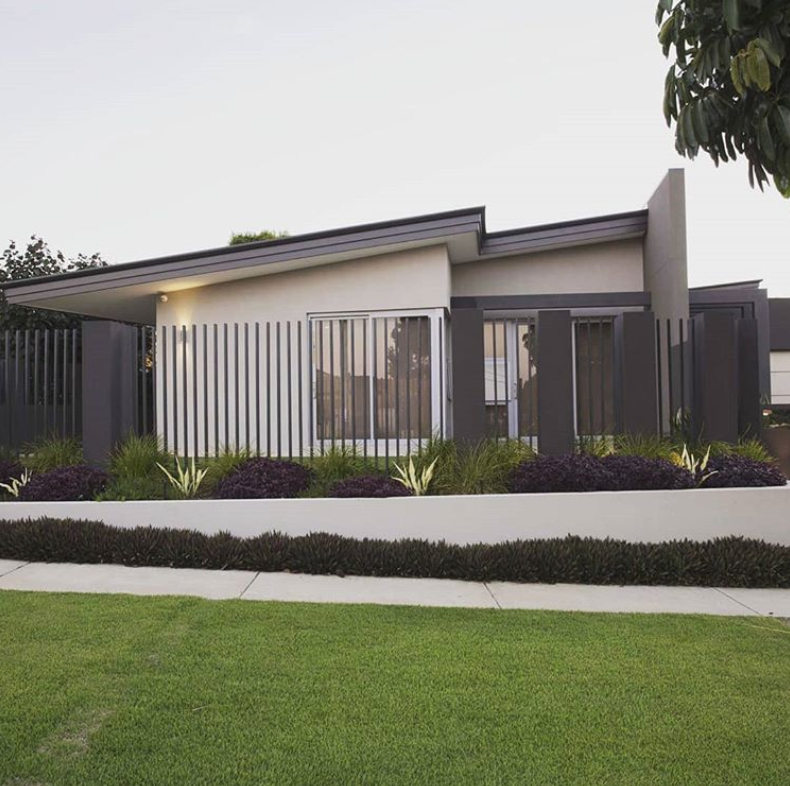 33. Classic brick
Classic and traditional. I know that rendering is all the rage right now but exposed brick fencing is just a classive that we can't really ignore for it's affordability. This brick fence installation is ever so neat and streamlined. And the black steel railings are a great touch that allows for more visibility.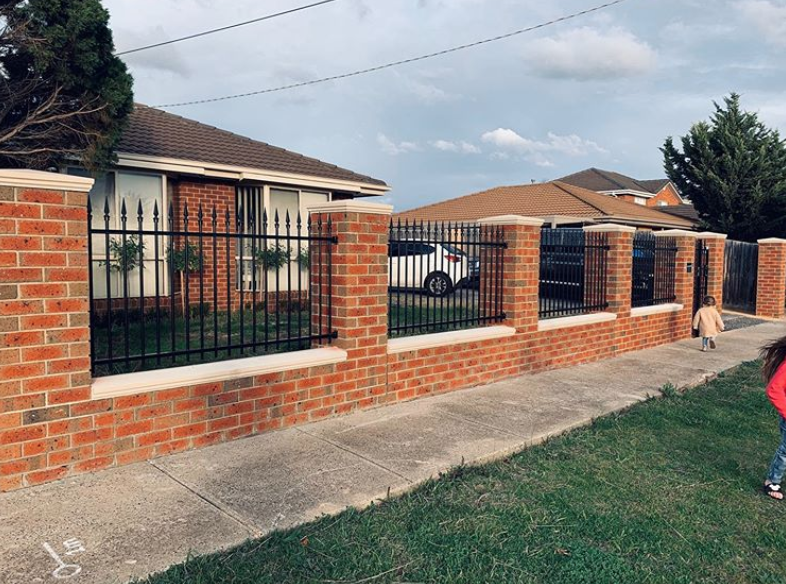 34. Sophisticated black steel
Even with a narrow entrance, you can still create a very sophisticated look with your front fence! I love this black steel that is spaced out just the right amount and doesn't intrude any views looking in or peering out. The black steel against the white and surrounding greenery also gives off a very chic look.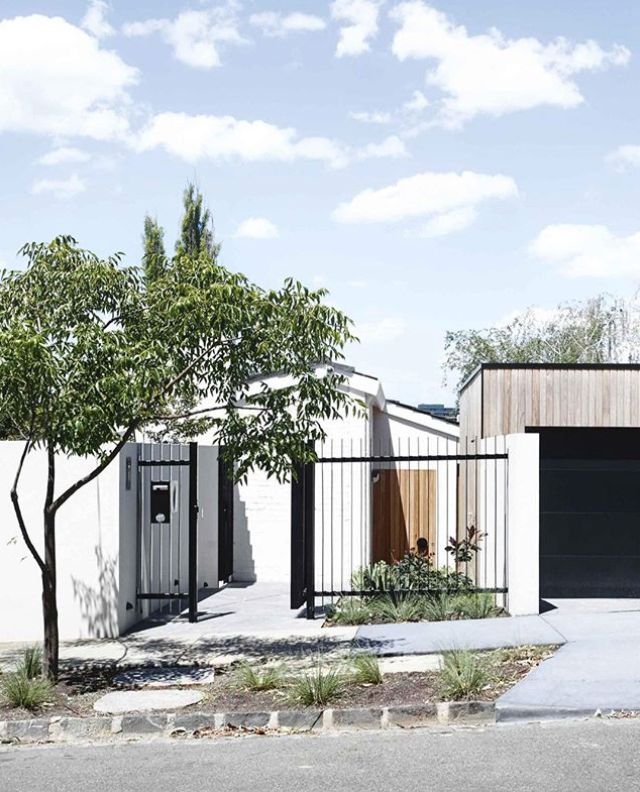 35. Creative and feminine
How cute is this creative and feminine front fence and gate! The gate features little white flowers, circles and geometric patterns whilst the fence has more of a Moroccan feel, however still keeping with the theme of the gate. I could just imagine this little gate being the topic of conversation for guests visiting your place!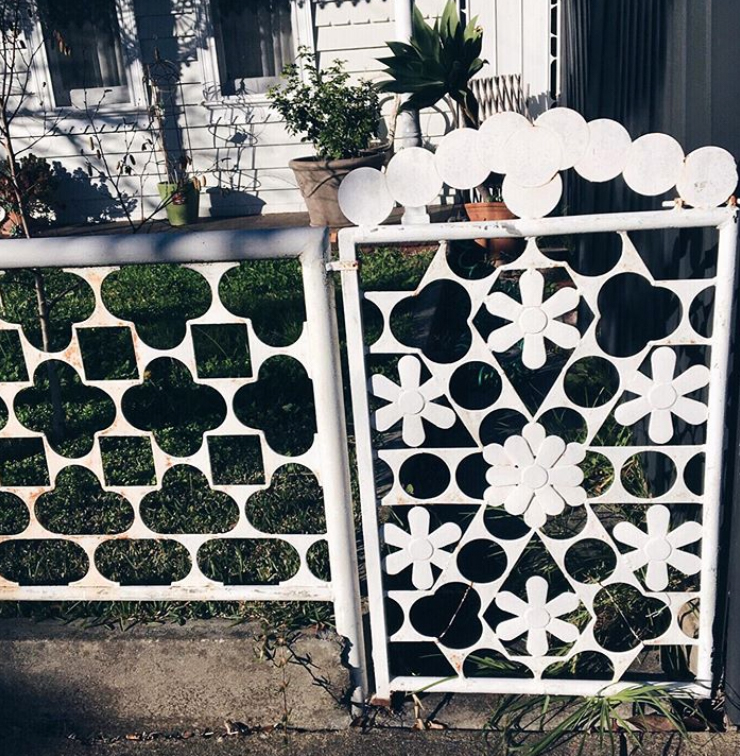 36. Something fancy
If you're after something with a little more pizzazz than a plain wooden fence, then this design idea is for you! I love the black and white leaf design on either side of the gate which really frames the entrance nicely. The timber is also finished off with a lacquer that makes all the slats look very uniform.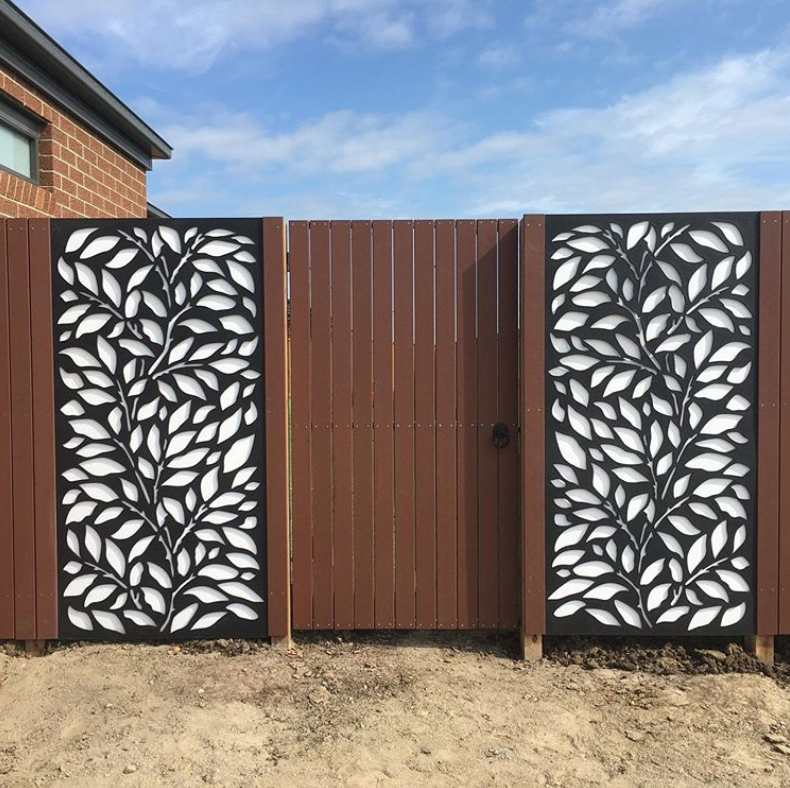 37. Half and half
This is for you if you're wanting to still look out your fence and still have some privacy! By having a half concrete and half railing fence, you can enjoy privacy as well as still being able to see through to the outside world. I also love the pillars on either side of the gate that is a contemporary brick style and have been matched perfectly to the colour scheme.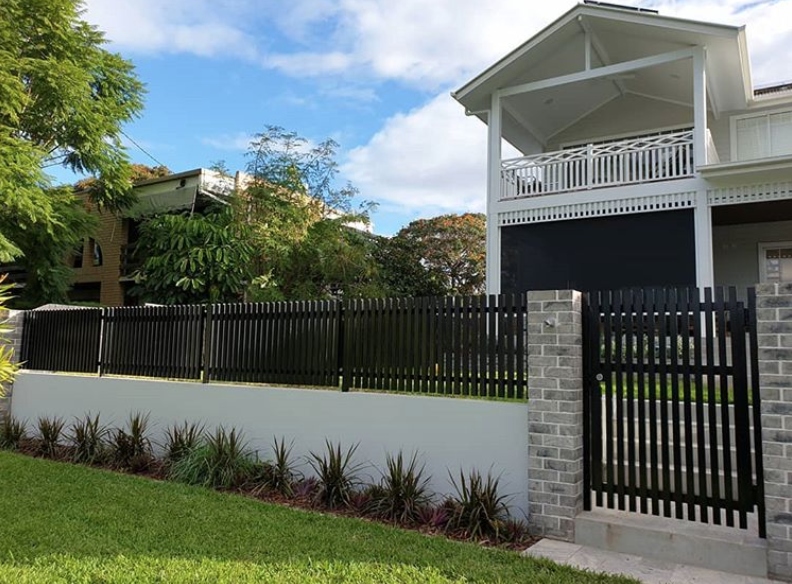 38. Earthy and timeless
But what if I don't want a fence all the way around my property? Well, I'm so glad you asked! A stand alone stone instalment will do just the trick. This earthy and timeless piece not only defines the boundaries of your property (just as a fence would) but it also doubles as a mailbox. How convenient!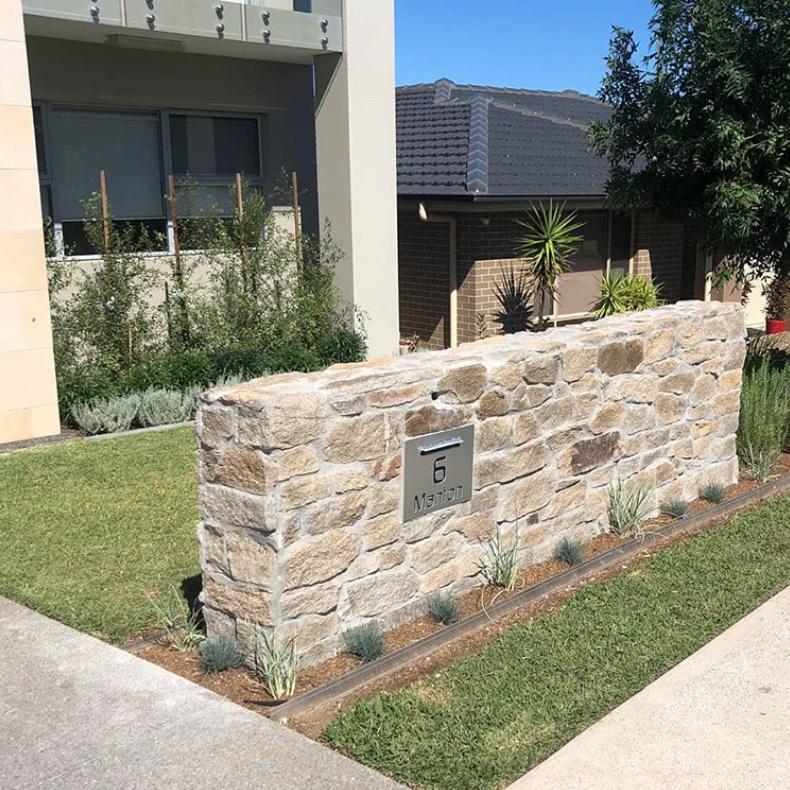 39. Stone feature fall
Here is another great way to incorporate stone in your build! I love the way this stone wall has been used as a feature between the two timber fence installations. It is also a great backdrop for a garden bed! The timber slats match perfectly with the soil. And I just love the large timber handle on the gated entrance.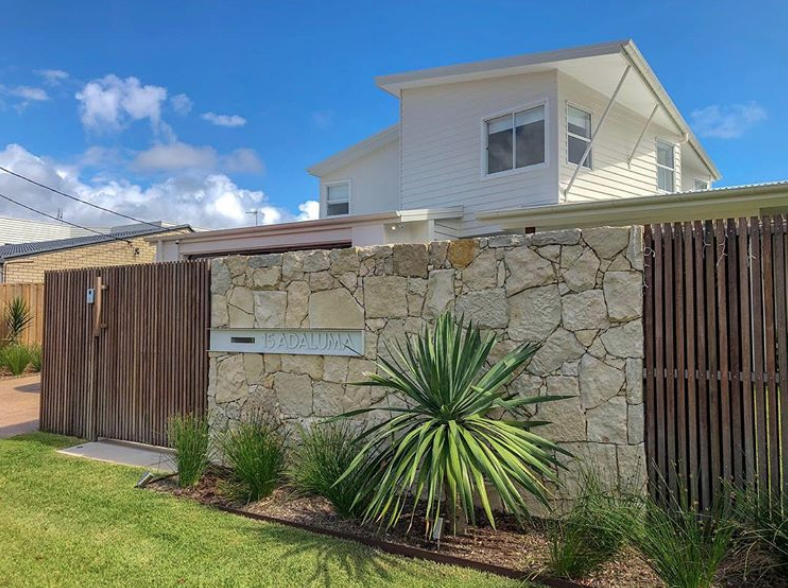 40. Vertical vibes
Wow, this place is definitely one of a kind! This is a great example of perfectly matching your front fence to your house! Varying widths have been used to create a visual difference. The lower level of the house features timber that is the thinnest and most spread out, the upper level is the thickest timber that is completely touching and the front fence is in between the two with shorter and longer pieces across the boundary.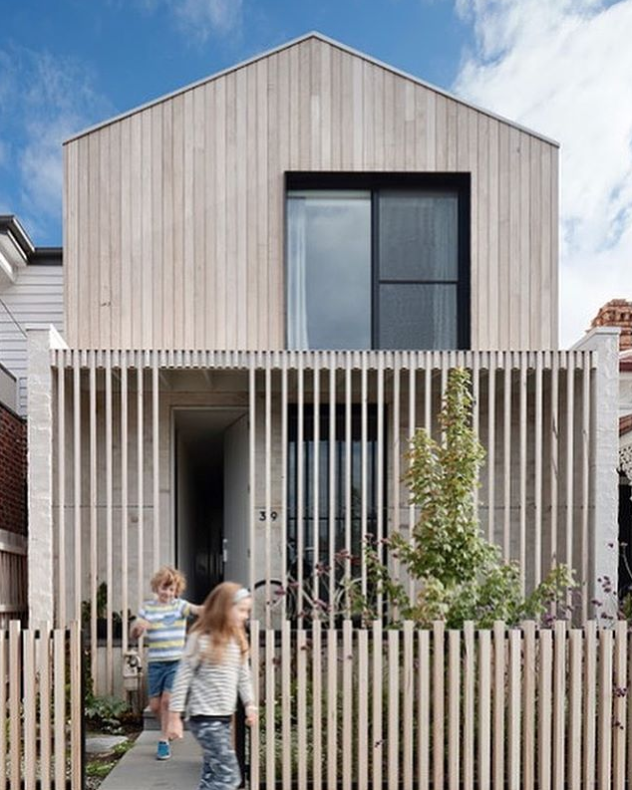 41. Laser cut character
How much character does this front fence have?! The laser cut design really adds a lot of personality. The other features are very simple from the white concrete sections to the horizontal timber slats. I love that you get glimpses of the warm and welcoming house through the laser cut design!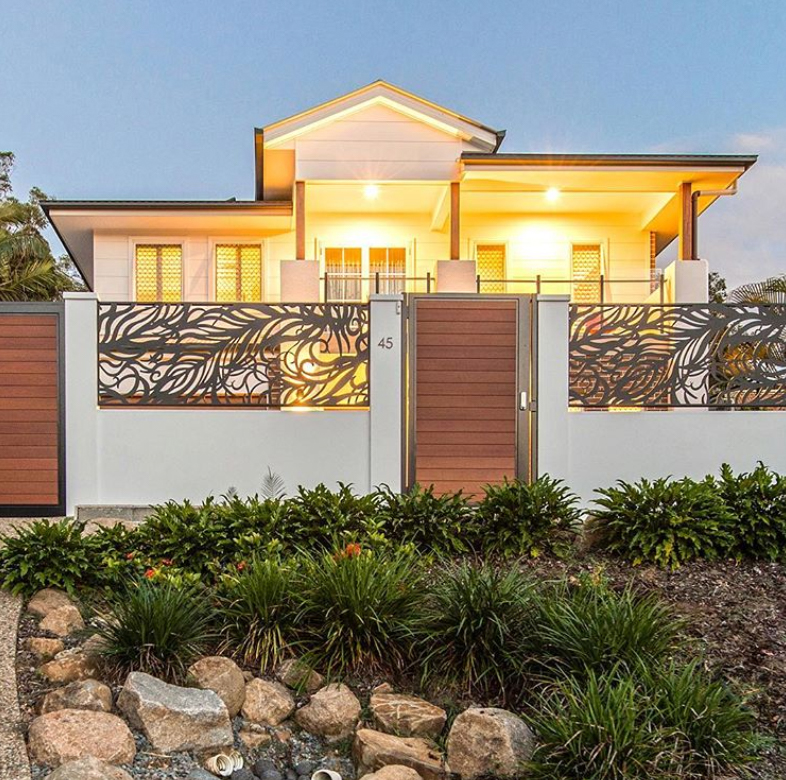 42. Timber slats
Here's another way you can use timber slats for your front fence! I love the deep red tones in the timber that match perfectly with the light blue house paint behind. And the streamlined mailbox is minimalistic and simple whilst not taking any attention away from the timber slats.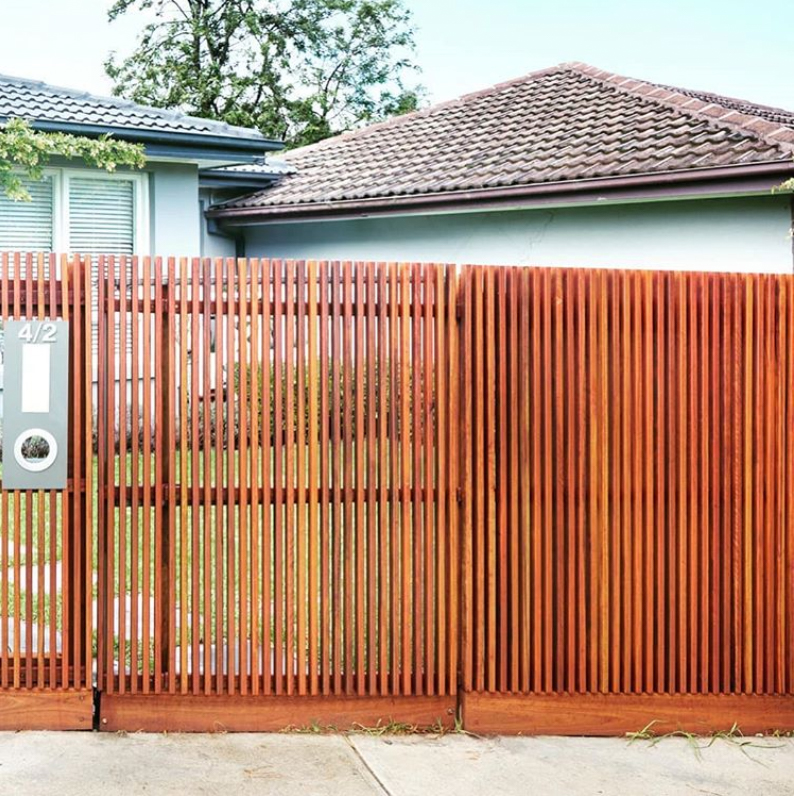 43. Bold block work
If the building work on your house is already bold, why not go for something similar at your front fence? This place has a large stone wall that also works as a backdrop for the front garden bed. And I love the large pillar that features an oversized house number!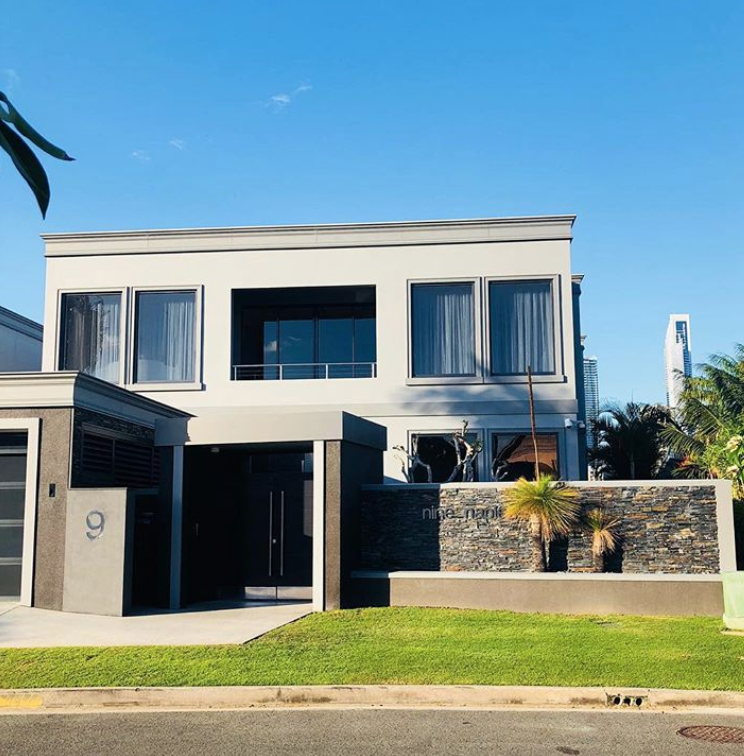 44. Painted brick with steel infills
This front fence perfectly matches the monochrome colour palette of the house. I love the bricks that have been painted white to match the exterior walls of the house as well as the black steel infills which match the paint work of the carport roof.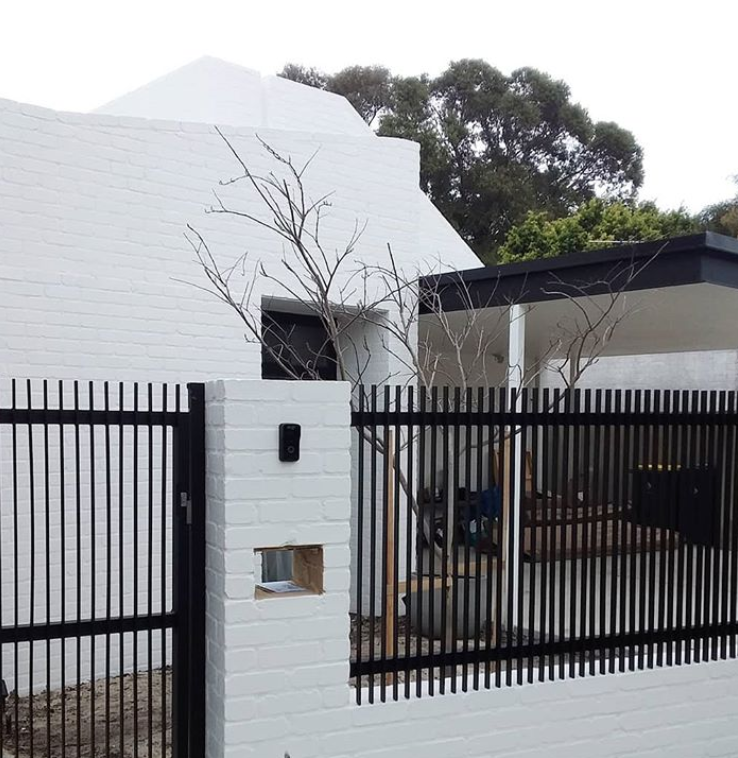 45. Greys and greenery
How sweet is this place! The front fence is made up of a gate that has the same colour as the house and a little hedge that sets the boundary of the place. I also love the symmetrical gardens that are featured at the front of the property as well as either side of the entrance of the house.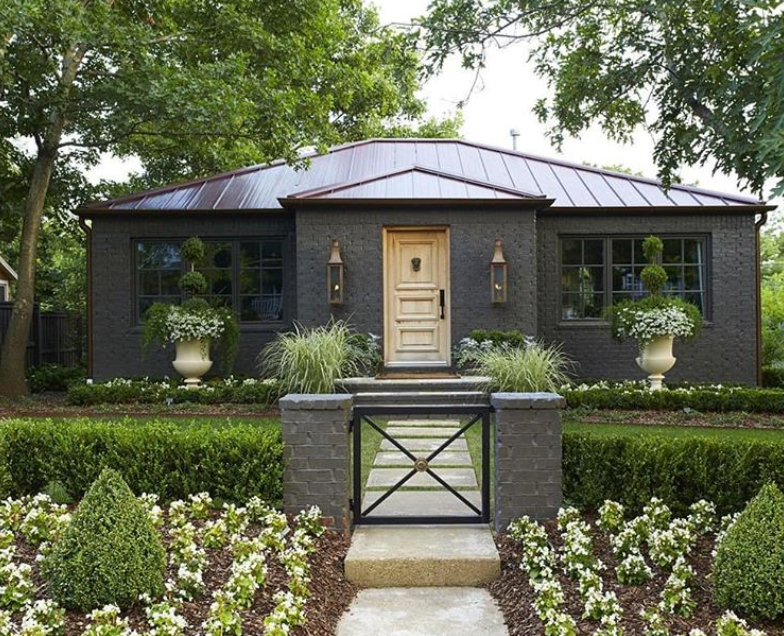 46. Cottage meets modern
This setup makes my heart sing! I love the monochromatic colour palette where there is the white cottage style house with the black modernised addition. And how cool is that black picket fence! So often we see white picket fences, but why not switch it up by painting it black. So cool!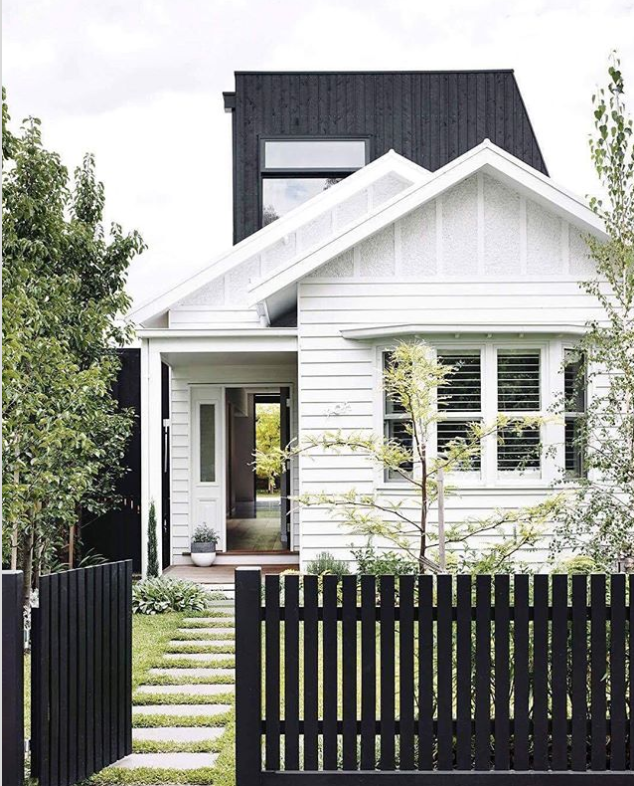 Even if you don't like painting, why not look into fence staining as an alternative. It will still highlight the natural timber just not as bold.
47. Grand entrance
This entrance is just so grand and inviting. The front fence and gate area provides security as well as a welcoming entrance for guests. The render on the concrete instalments has been finished off the same way the house has. And I love the addition of the black steel fencing that has a subtle yet elegant design.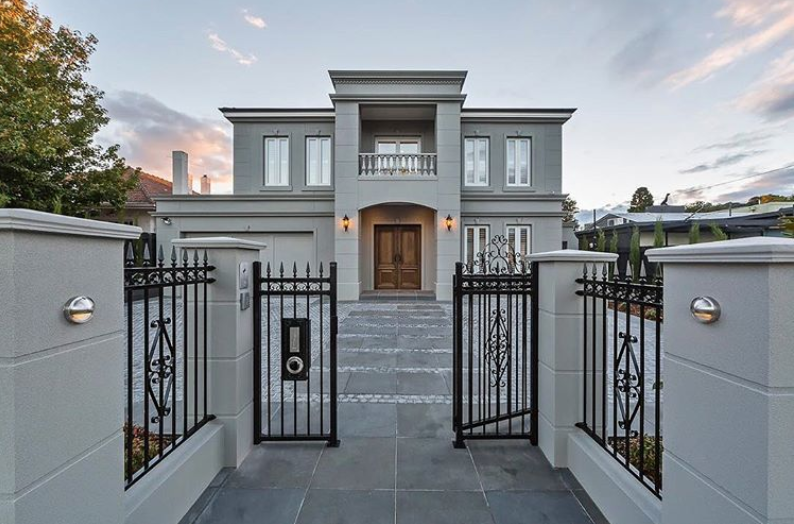 48. Wrought iron
How cool is this wrought iron front fence! I can just imagine this place being somewhere in England with its vintage detail. I love the three little hedges that line the sides of the driveway and welcome you into the area. The wrought iron parts of the fence also have hedges placed behind to provide another level of privacy.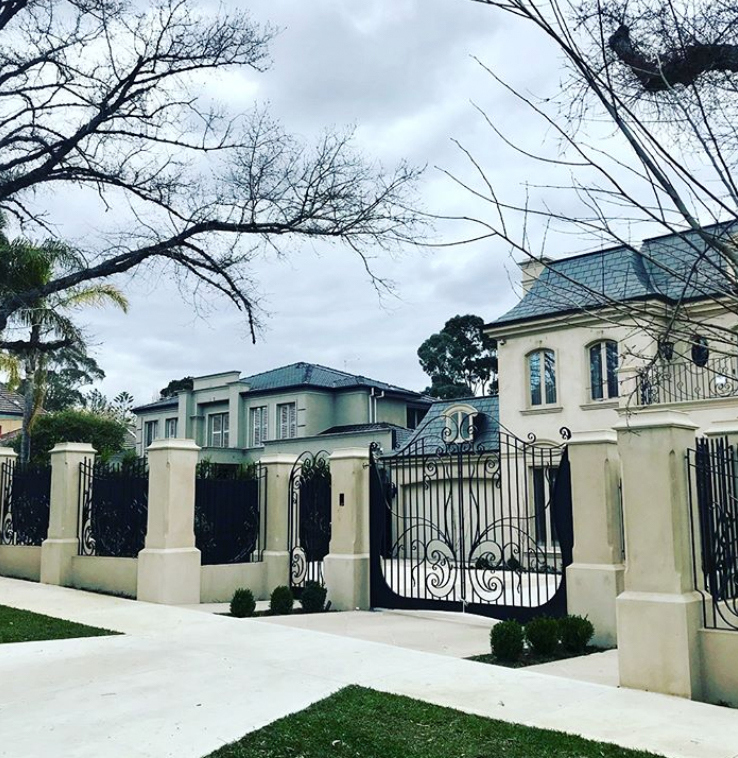 Would you like a fence like this? Well I can see why and you can easily get this as well by finding an iron fencing professional near you.
49. Curved aluminium arch
Wow, this is a little different, isn't it! This place would definitely fit right in somewhere in Tokyo! The curved aluminium arched entrance would make you feel like you are entering somewhat of a portal. And I love the way the border details of the gate match with the arch perfectly.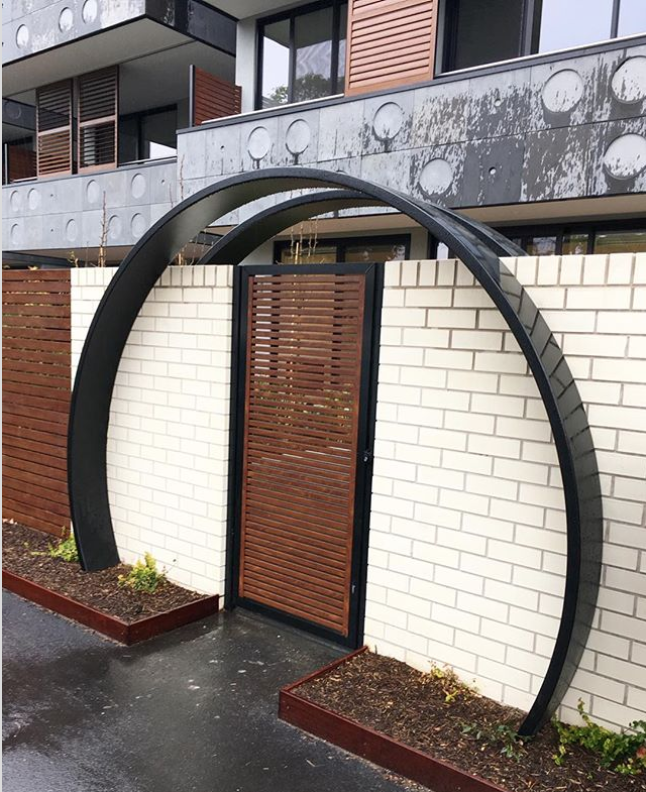 50. White and stone
And last but not least is this lovely white and stone front fence. I love this take on a white picket fence! And absolutely love the front pergola area that acts as a gatehouse. The stone is also a very nice touch that seamlessly joins the natural elements of the greenery to the more man-made elements like the fence.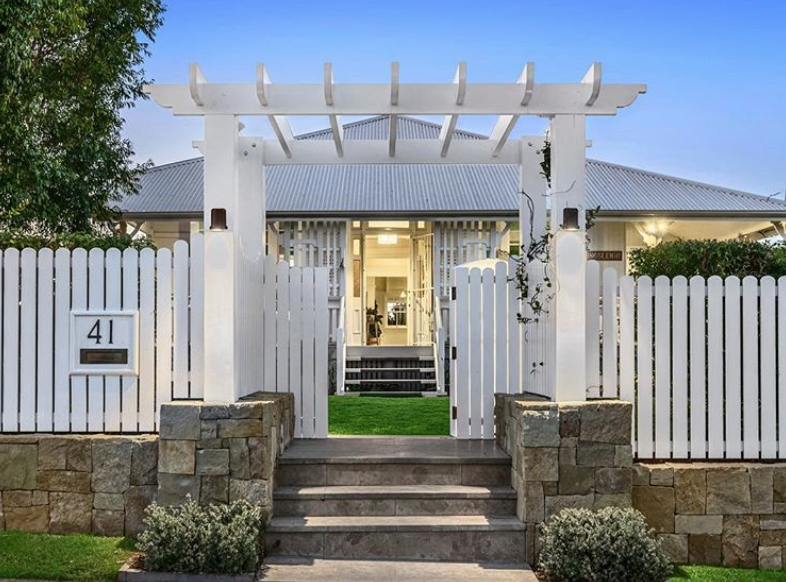 So there we have it – 50 front fence ideas! Knowt hat you have some fencing ideas, next step is to look at fence installation. I especially love the white picket fences as they are just so idyllic and something I'd love to have at the front of my house. And I absolutely love the idea of bringing in natural elements like stone to create an organic feel. Which ones were your favourites? Leave a comment below and let me know!