If you're wanting to create a classic, beautiful and maybe even a little edgy bathroom design, then a French provincial bathroom is the choice for you because it's warm, cosy and oh-so chic. French provincial style came on the scene in the South of France in the 17th and 18th centuries. Think farmhouses surrounded by rolling hills, sinks full of fresh flowers and tables set to overflowing with cheese, baguettes and wine.
The best thing about it is that it's an enduring style that'll never go out of fashion. There's just something so timeless about the furnishings, colour and decor that comes with French style. Now, you're probably wondering "What is it?!" so let's take a look at a few key elements that make up French provincial design before looking at 35 exquisite bathroom ideas.
French provincial colour and design
Every French provincial bathroom should set the foundations with a neutral colour palette. It is a farmhouse style, after all. So think soft whites, creams, greys and timber.
This is where you can get a little creative! Think curved lines, smooth edges, carved wood and stone and lots of little details.
Finishes
Plain timber, painted timber or shabby chic style are all popular choices for a French provincial bathroom. Even a lick of white paint will do. The key here is to avoid the design looking overly perfect and polished. So keep things looking natural by adding decor items like candles, prints, lamps and fresh flowers.
Flooring
Ah, the bathroom flooring… This is my favourite part of any space! And when it comes to your bathroom, you should choose stone or timber. Yes, it's totally possible to lay timber slats on your bathroom floor (just as long as you make sure they're waterproof!).
Furniture and fabric
Timber, timber, timber and more timber! A French provincial home simply isn't French provincial in design if it doesn't have some timber.
When it comes to towels, throws and everything in between, think linen. Yes, even in the bathroom! Linen is a gorgeous fabric that screams effortless luxury. And if you love the look but hate the annoying creases, choose a linen lookalike instead.
Shades
The biggest trick when it comes to mastering French provincial style is to go white but not too white. What do I mean by that? Well, you want to choose a white that's an off-white with subtle warms tones rather than stark cool shades.
1. Ornate mirror
Mirrors are not only gorgeous (and oh so practical) but they're a great way to add French provincial style into your existing design. And they also bounce light around the room, which makes for a bright, fresh space. Recreate this style for yourself by choosing a carved wooden mirror or one that's cream or gold.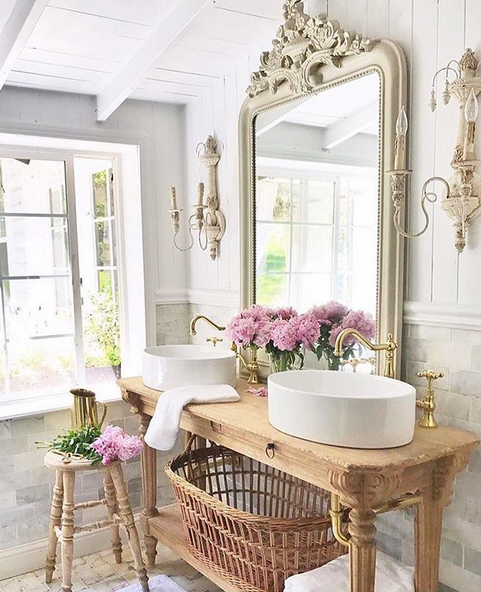 2. Dark and moody
Give your bathroom a masculine touch by incorporating dark touches. My favourite way to do this is by using detailed tiles and dark timber. But you can also take your bathroom to the darker side by choosing brass or black hardware, painting the walls with a dark grey or brown, or hanging moody prints.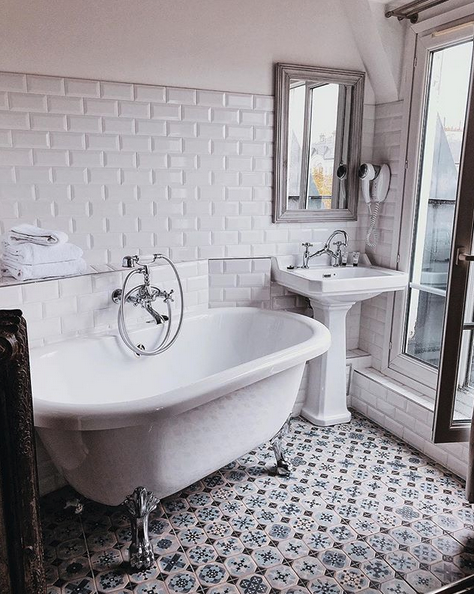 3. Pale yellow
Brighten up your space by going all out with sunshine yellow. This makes for a very chic looking bathroom that's sophisticated and classic. And don't forget the flowers – a vase full of yellow roses will dramatically lift the atmosphere!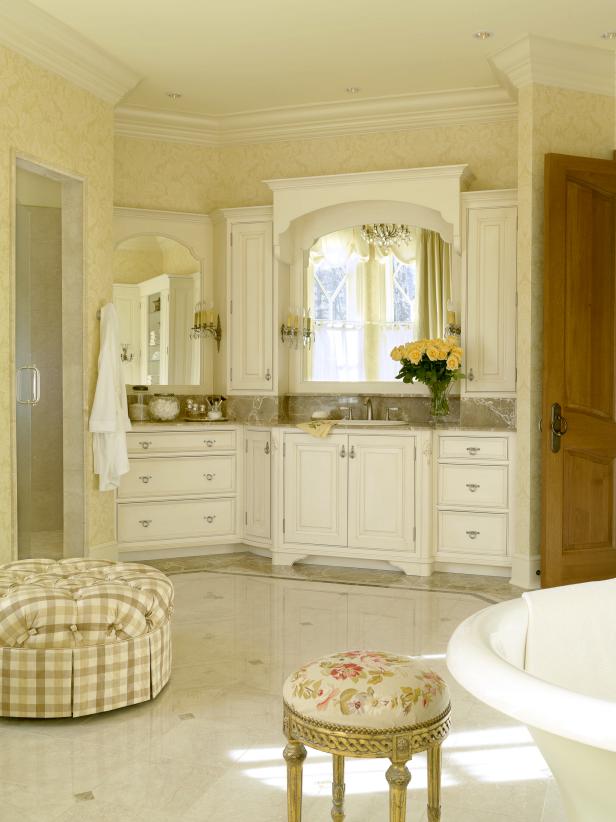 4. Dark brown
Back to the masculine elements… go all out with brown, brown and browner. Choose a deep painted brown timber vanity, grey-brown tiles and brown shelving to match! Just be sure to incorporate some lighter shades (think white, beige or cream) to strike the right balance.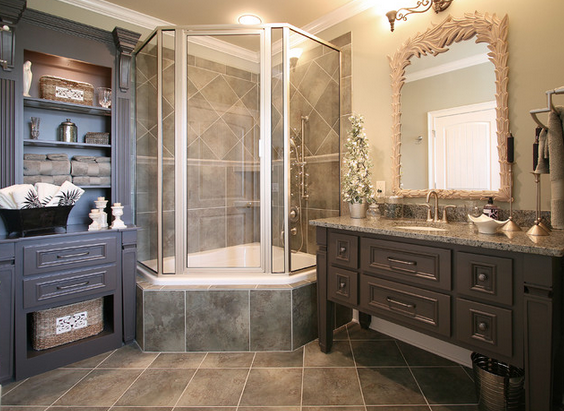 5. Light and bright
In the vein of classic French provincial style, paint it white! Now, I'm not talking about cool white, because blue whites are rarely used in a French bathroom. But I'm talking chalky whites, warm whites and even neutral greens. These colours make for a clean, traditional finish.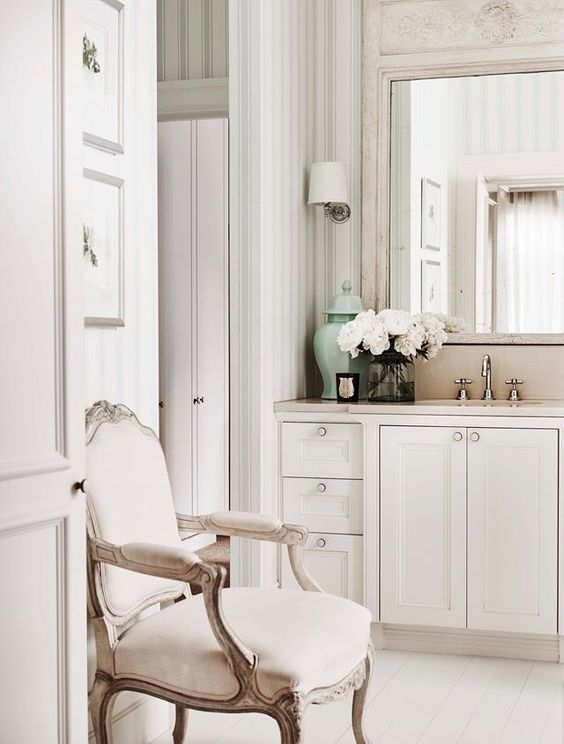 6. Gold touches
While gold can so easily look dated, it can also look really fabulous and new – if combined with the right elements. Think pops of pink, textured tiles and even little plants to make it oh so natural.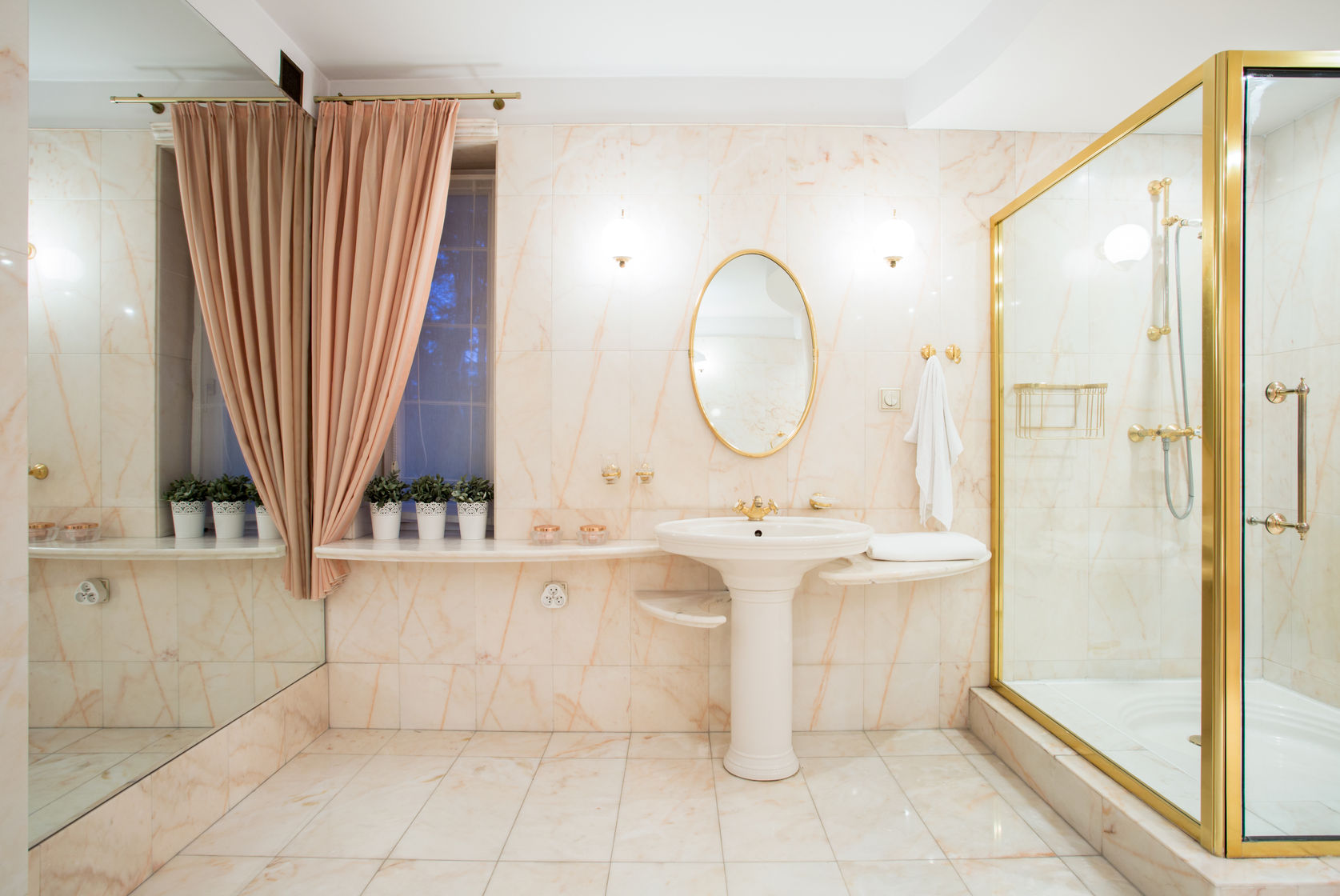 7. Wooden cabinets
If you're going for a traditional farmhouse look, which is very Southern France style, then go all out with timber. Think honey-coloured tones finished with brass knobs and hardware.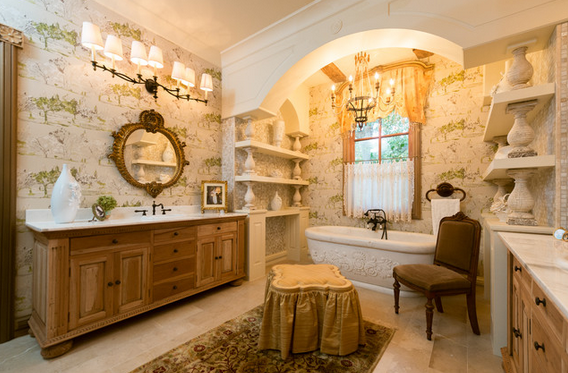 8. Double basin
Make a statement with an ornate piece of furniture like this fancy basin. I love how this looks. And while it's traditional, it's been made fresh and new with the addition of a blue vase full of greenery!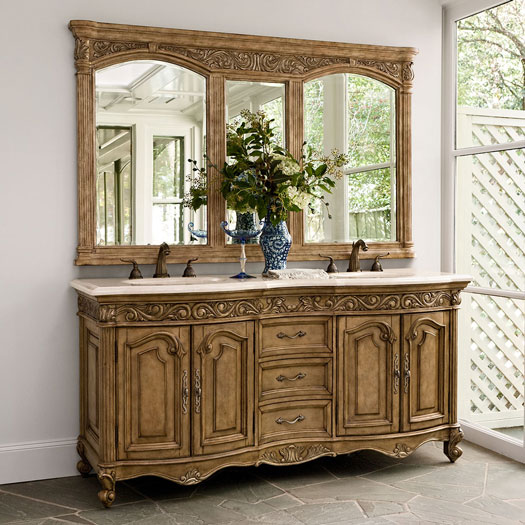 9. Large vanity
If you've got the space, why not install an extra-large vanity… And I mean extra-large. A vanity like this gives you space to not only wash your hands but to also sit down and do your makeup. And it has plenty of mirrors, so everyone in the family can use it too!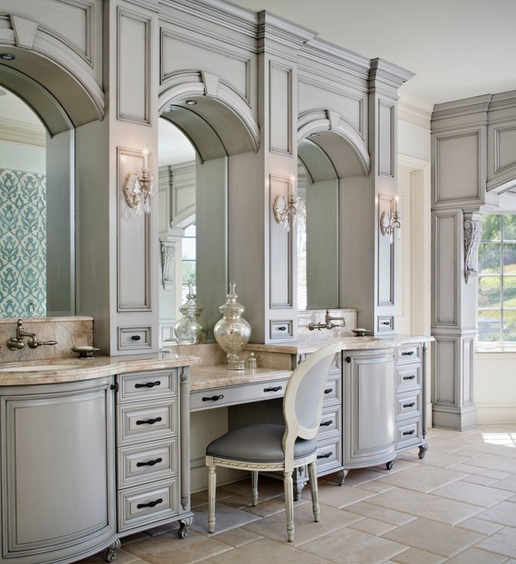 10. Rustic mirror
Sometimes it's the most simple additions that can make the biggest difference to our spaces. And this is certainly the case for this bathroom. Check out this dark timber edged mirror! It's so much fun. And it adds contrast to the grey-white walls and light grey rustic cabinetry.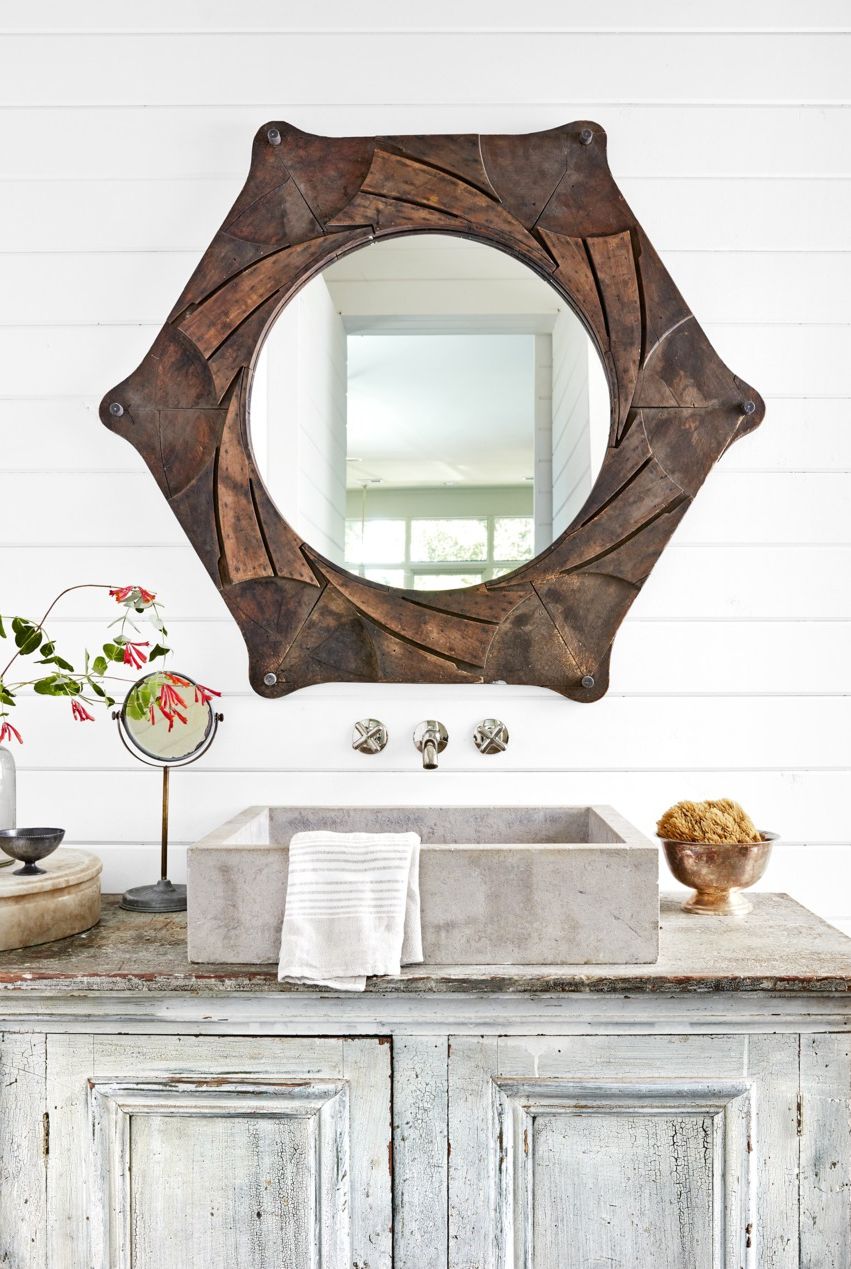 11. Floral wallpaper
Who says French Provincial has to be all white and grey? You can make it whatever you like. And this pretty pink wallpaper is the perfect example of a fancy space. Combined with the nature prints, it makes this bathroom a funky, fun space!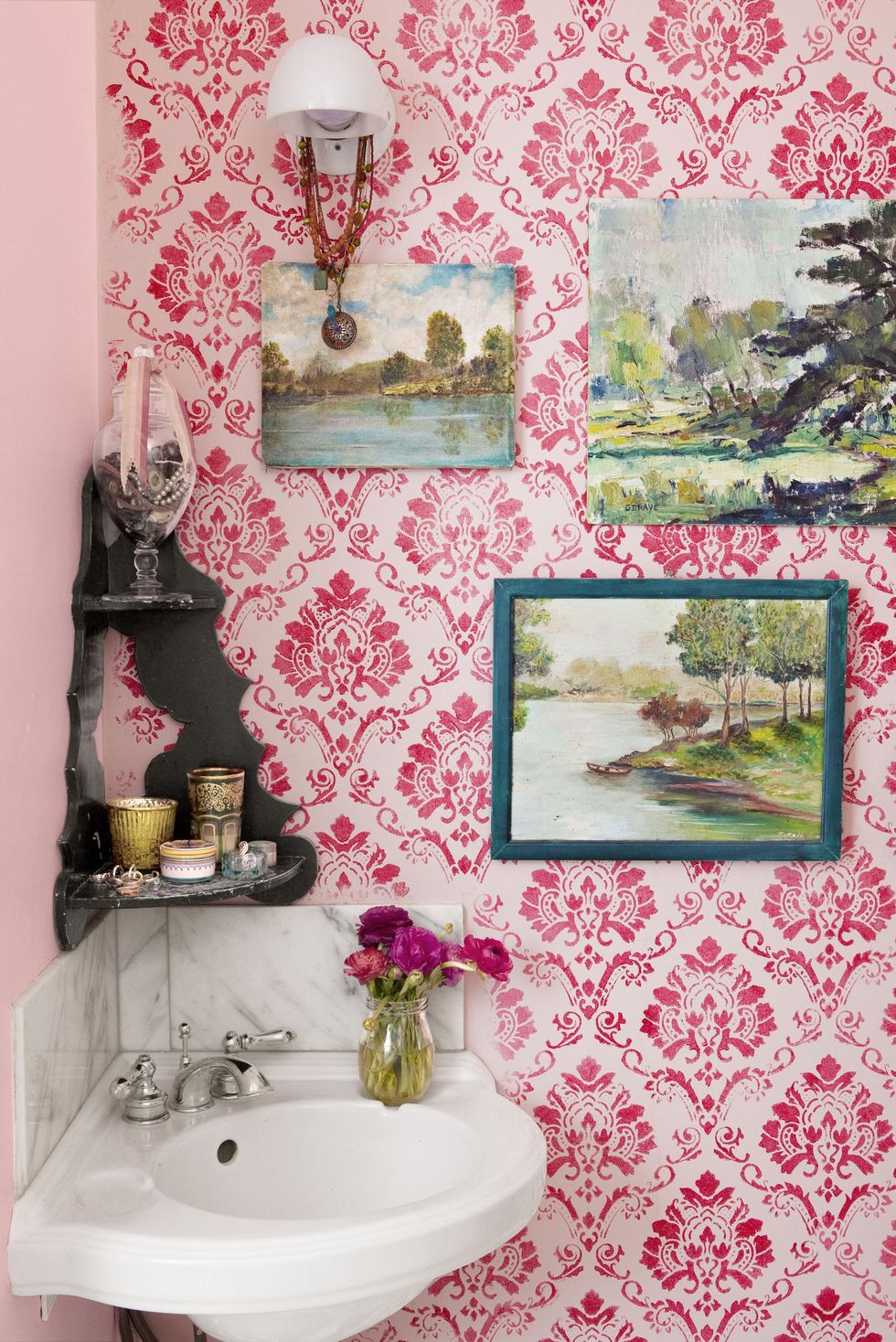 If you love the wallpaper, here are plenty of other bathroom wallpaper ideas for your home.
12. Rusted corrugated ceiling
It can be easy to dismiss older elements as simply outdated or in need of replacing. But this corrugated ceiling is proof that they can be incorporated into your existing design. And I love the warmth the rust brings to the bathroom – it works perfectly with the stone walls and warm timber flooring.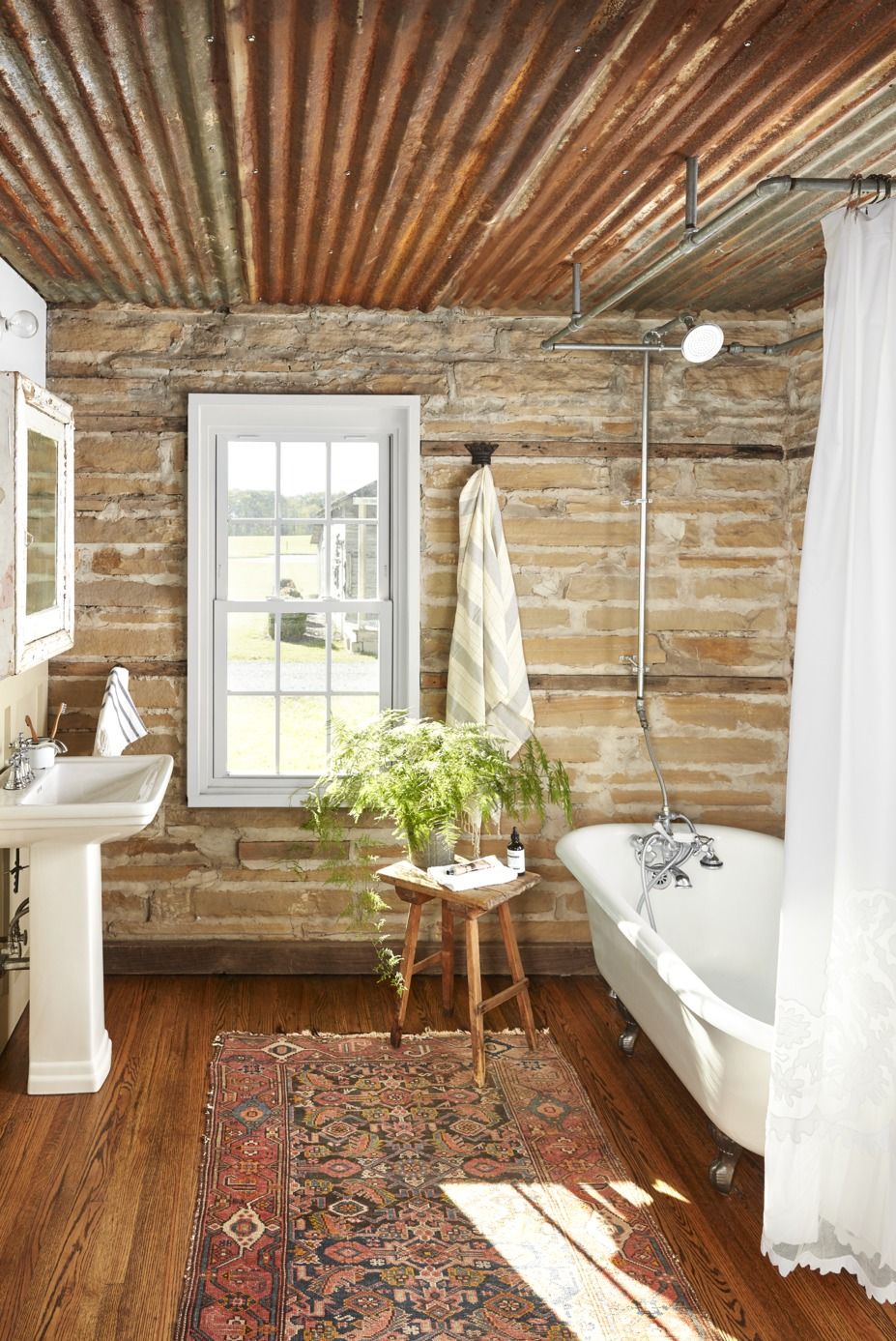 13. Pretty display
Got a simple floating shelf in your bathroom? It doesn't just have to be used to store the essentials like soap or toothpaste. Instead, you can make the most of it by displaying a beautiful print. And when it comes to French provincial, anything with flowers goes!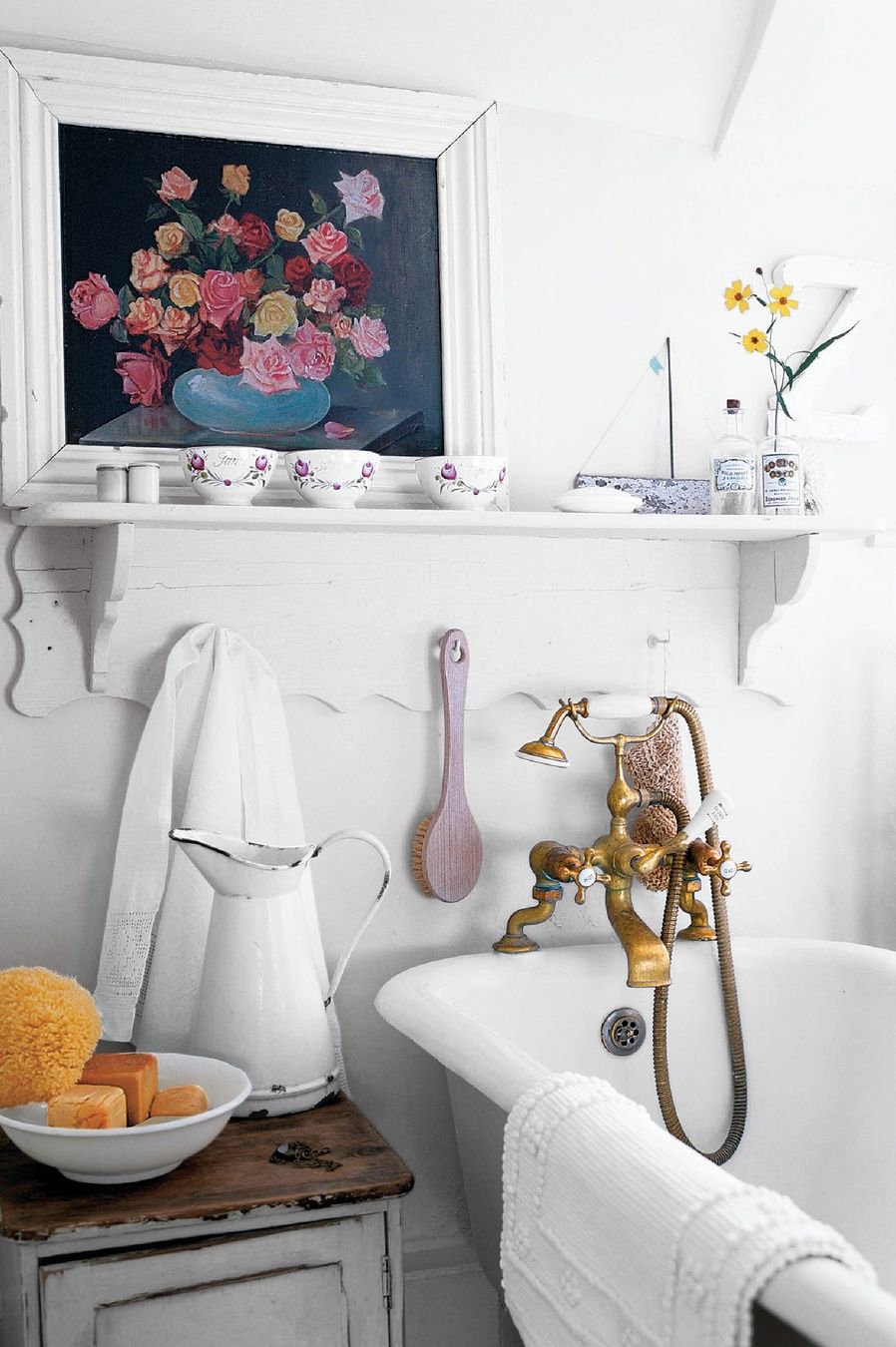 14. Light tones
If colour is your thing but you don't want to go with anything too bold – then you simply must consider mint green. It adds a fresh, natural vibe to any space. And it looks beautiful teamed with white or shades of natural blue.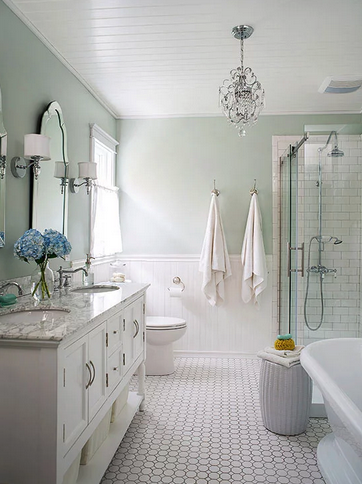 15. Soft and sweet
Or, if you want to go with something warmer, you can choose tones of yellow, peach and blush. These colours go beautifully together and can be incorporated with towels, decor, and flowers.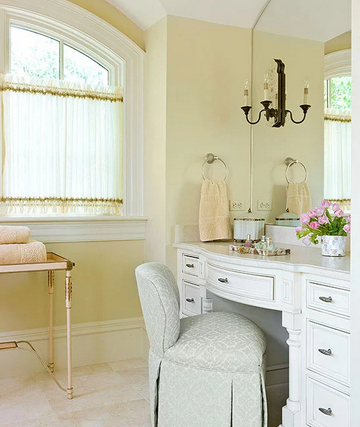 16. Scallop shell sink
Get creative with your French provincial designs by playing a design wild card by installing a scallop-shaped shell sink. This unique piece adds so much extra detail to this bathroom, making it really special. And the stone looks great with the rectangular brass mirror!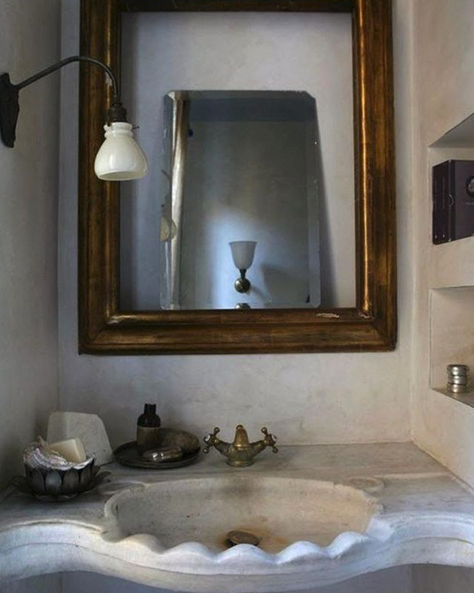 17. Clawfoot tub
Picture this: You've just finished work for the day and now you're running the tub, using a bath bomb and sipping a glass of red while you read a good book. If this sounds like your idea of relaxation, then you simply must include a traditional soaking tub in your design!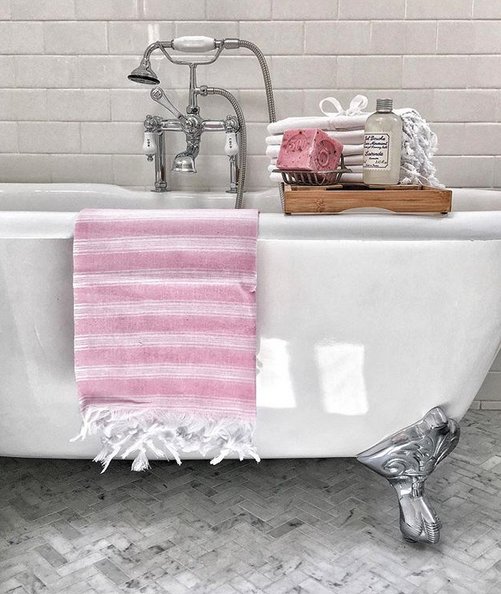 18. Slick black
Does Modern meet French provincial? I think so. This bathroom is proof that you don't have to do everything by the book. You can take inspiration from everywhere. Install a French-style tub and make it black!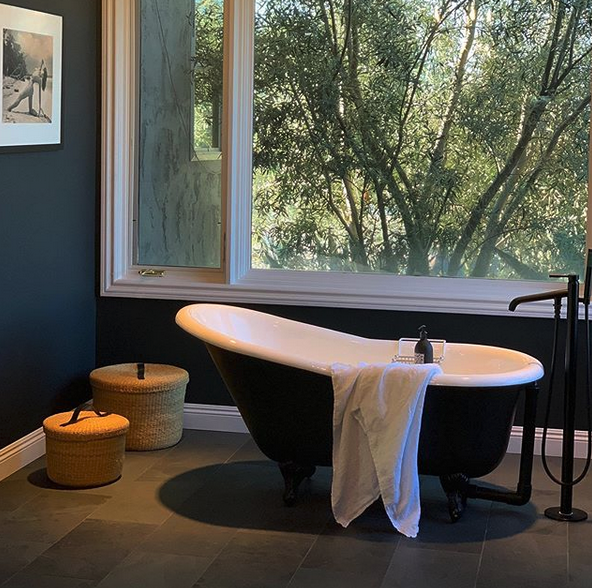 19. Mix of textures
Just like you don't have to stick to one era, you don't have to stick to one type of texture either. In fact, you can combine elements like carved wood, tiles and stone for a gorgeous French provincial finish.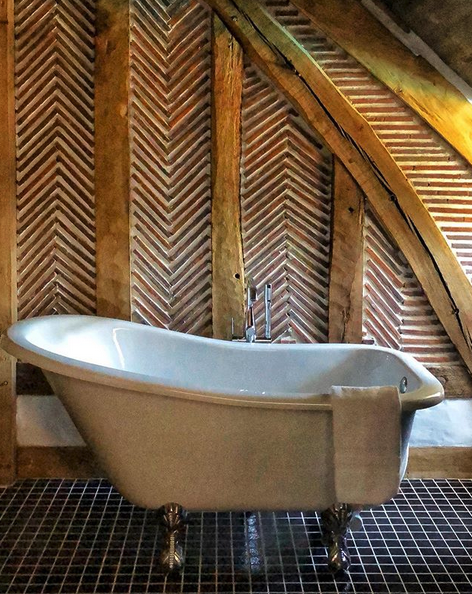 20. Pretty curtains
Want to give your bathroom a makeover for a fraction of the cost? Hang some new curtains! This is a great option if you have a beautiful large window. And it's even better if you can tie in the colour to an existing colour in the room, like this bright yellow!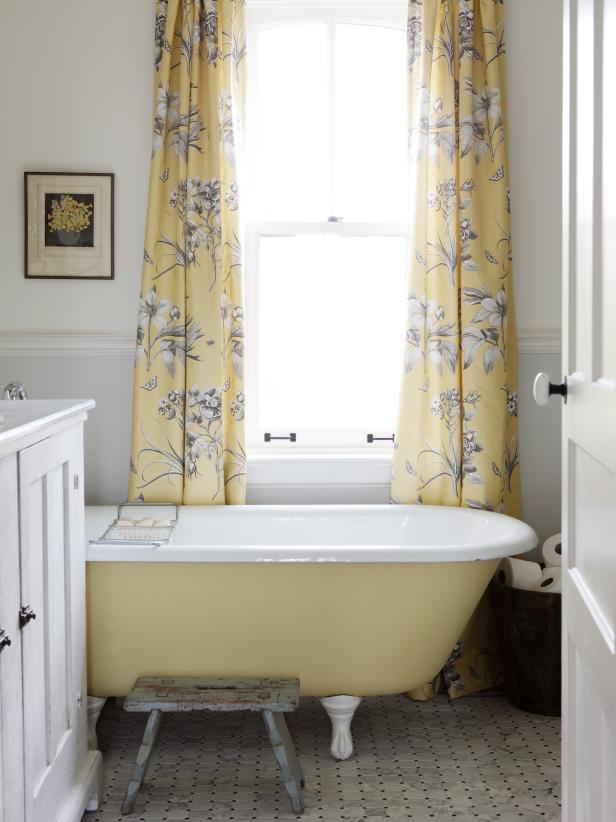 21. Lace details
Oh la la, lace is so very French and ultra-feminine. And while it's a popular choice for clothing, it can also be used to fancy up your bathroom. Incorporate lace with your curtain choices or even by draping it around the bath.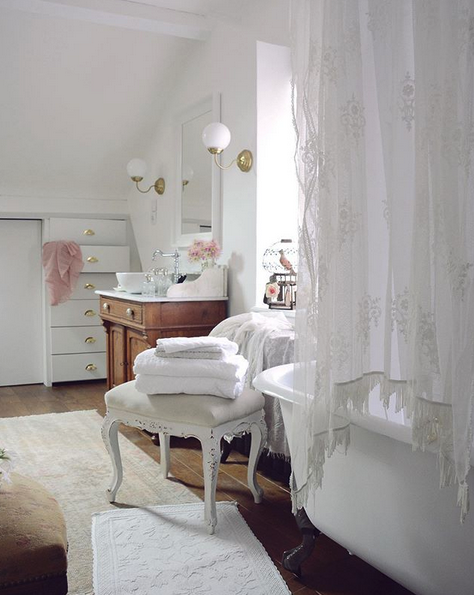 22. Chandelier
One way to take your bathroom from so-so to so very luxe is to install fancy lighting. And the most fanciest lighting of all is a chandelier! Take inspiration from this ornate chandelier – it stands out beautifully in this bathroom and ties in perfectly with the gold mirror and edging on the side table.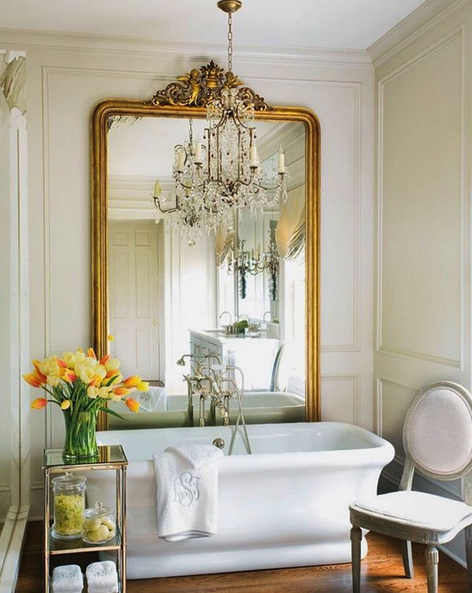 23. Brass details
Brass is having a renaissance, and I'm here for it! Honestly, it's never really gone out of fashion. And no matter how you use it, it will always make your bathroom look just a little bit worn in, which makes it feel even more homely!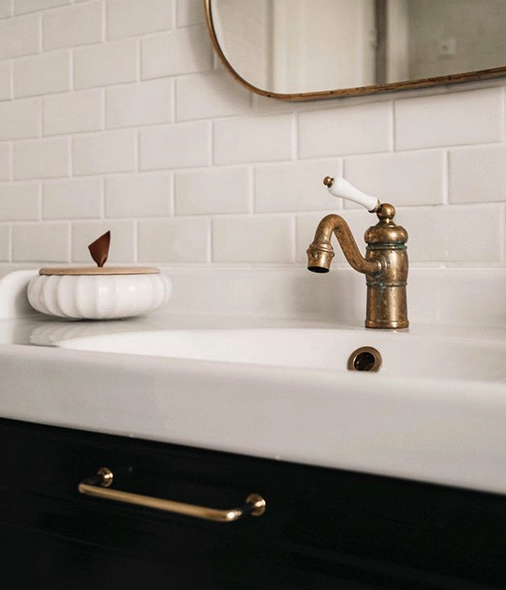 24. It's all in the details
While the big pieces can transform a bathroom, the tiny details can add character. Take your cues from this space, which has a traditional brass mirror, fancy black light fixtures, and carefully thought out decor items on the timber vanity.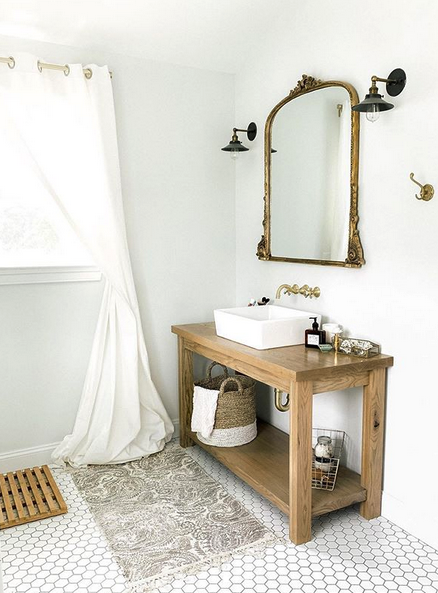 25. Timber vanity
Speaking of timber vanities, they're effortlessly chic and fit into the French provincial style so well. You can buy them brand new or you can even repurpose an old desk into a vanity – there are so many options! Plus, you can have some fun by seamlessly incorporating your vanity into your bathroom with mosaic tiles on the countertop and walls. And I love the addition of the little vase of purple flowers – how quaint!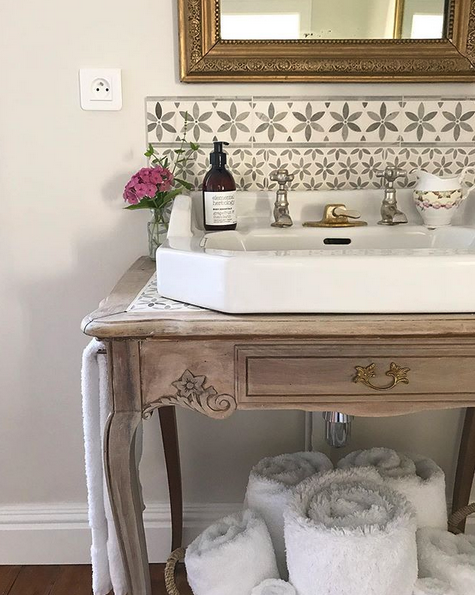 26. Patterned tiles
Have fun with fancy floor and wall tiles. I love how this bathroom has a very simple colour palette – black and white – but also has plenty of detail and intrigue!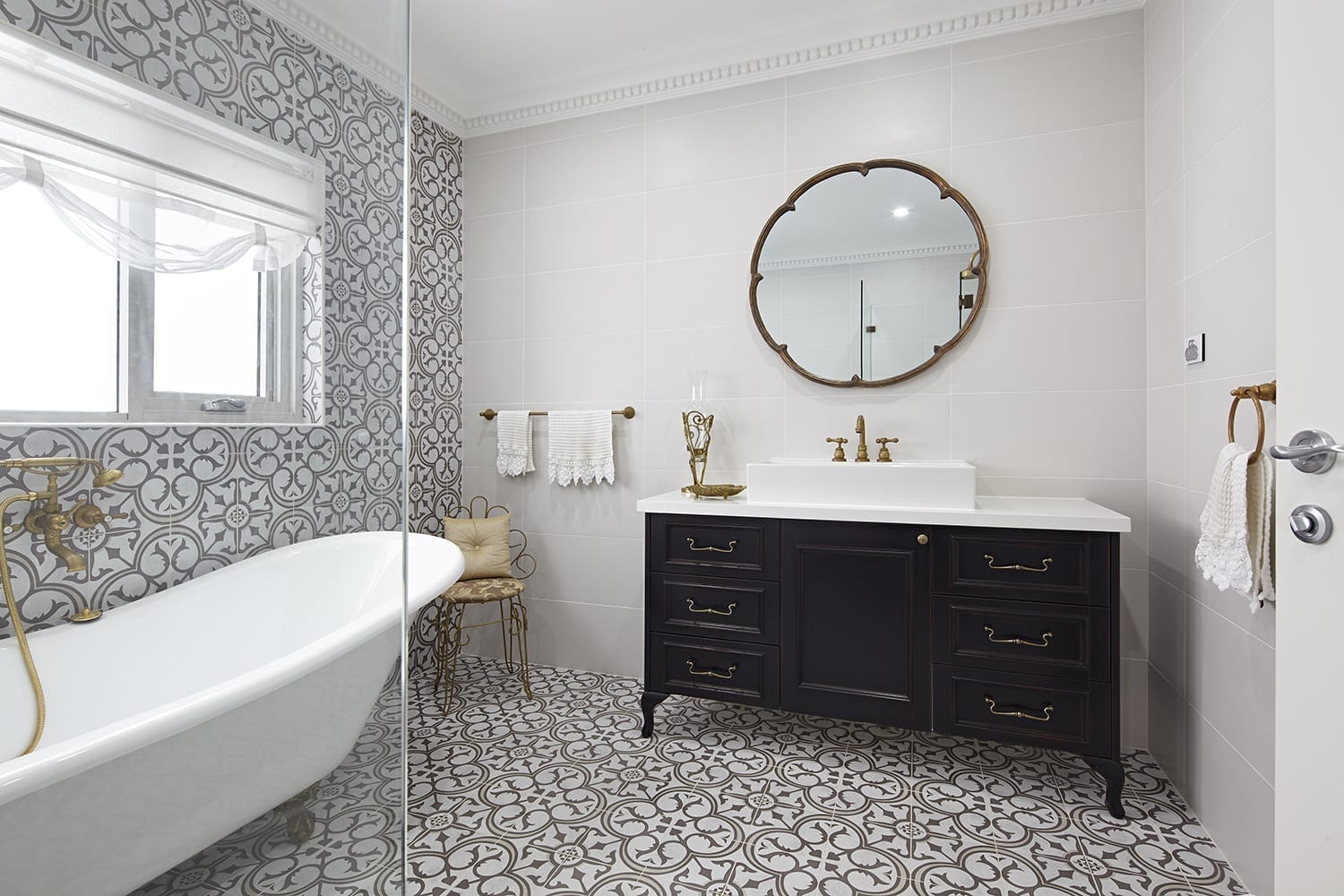 27. Timber beams
Exposed timber beams? It's a yes from me. There's just something about having natural elements in a bathroom – whether it's timber, brick or stone. I think it's just that these pieces make a bathroom look and feel so much more like home.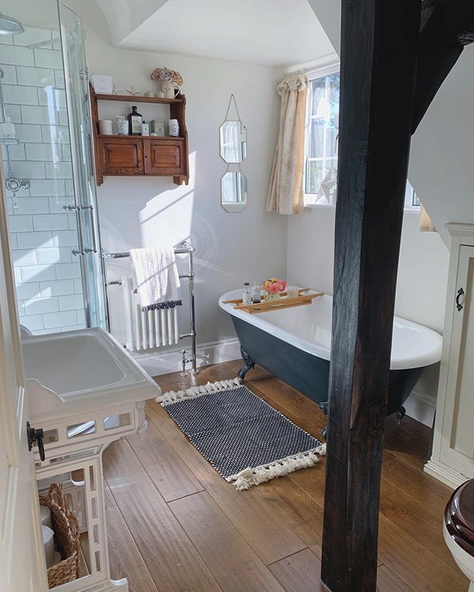 28. Fancy farmhouse
I'm in awe of this marble vanity… I've never seen anything like it before! And I love that it has been incorporated in this design. To me, it's simply proof that you can mix materials to create an entirely new look. Who would've ever thought that stone, dark timber, marble and silver would look so good together?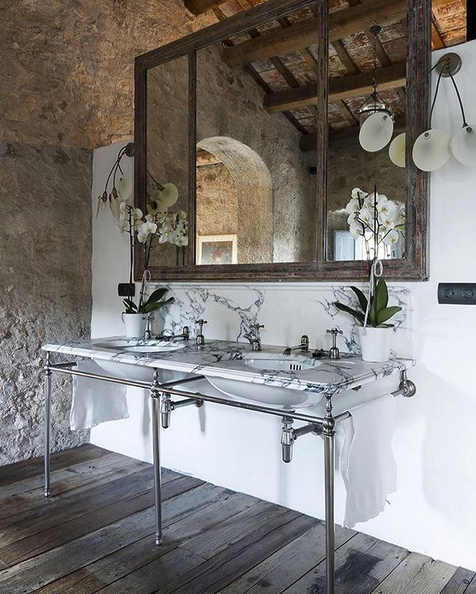 29. Rustic ladder
Now here's a handy decor hack. If you want to spruce up your existing bathroom design with a little bit of French provincial style, then adding a rustic ladder is the way to go. You can find these at homeware stores, on Facebook marketplace or even at your local secondhand store.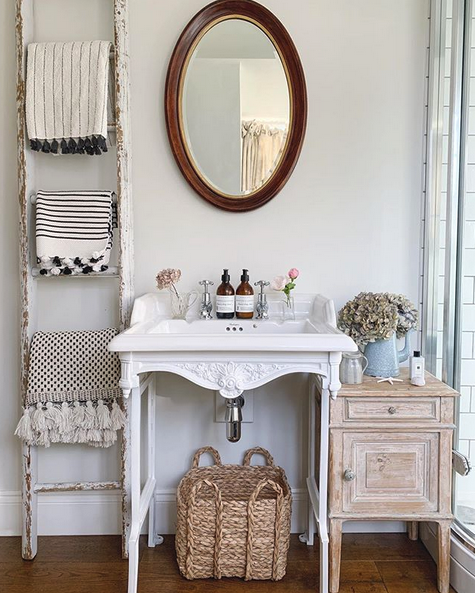 30. Floating shelves
These are the best additions to a bathroom… ever. It can be so frustrating when you run out of storage space in your bathroom, but with floating shelves, you've never got that problem! I like how these two have been decorated with prints, lamps, candles and plants – how quaint!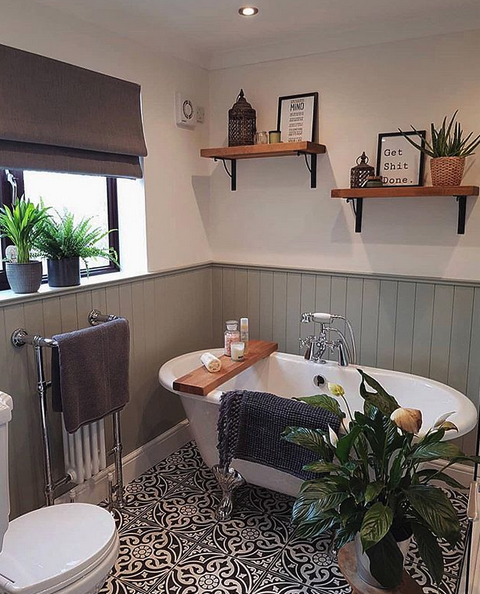 31. Oak vanity
Looking for a sophisticated feature piece? Then you should really consider a vanity that you love. It'll be something that you have for a long time, so it's worth thinking quality! And this oak timber is a great choice that not only looks beautiful (especially with blues, greens and greys) but will make your bathroom feel special for years to come.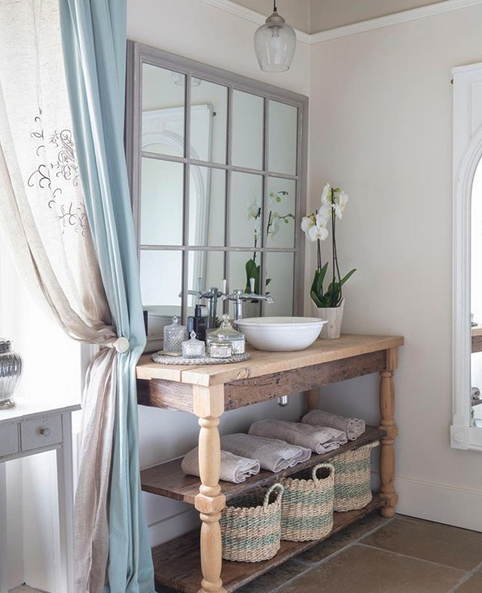 32. Warm tones
I'm obsessed with this look! I mean, how could you not be? It's warm, it's cosy and it screams home. If you want to recreate this look for yourself, start with a good quality timber vanity. After that, choose the right kind of tapware (I love anything brass).
Select some fancy lighting fixtures for your wall. And finally, top off your design with a statement mirror (round is so very French) and decorate your bathroom with flowers and other items.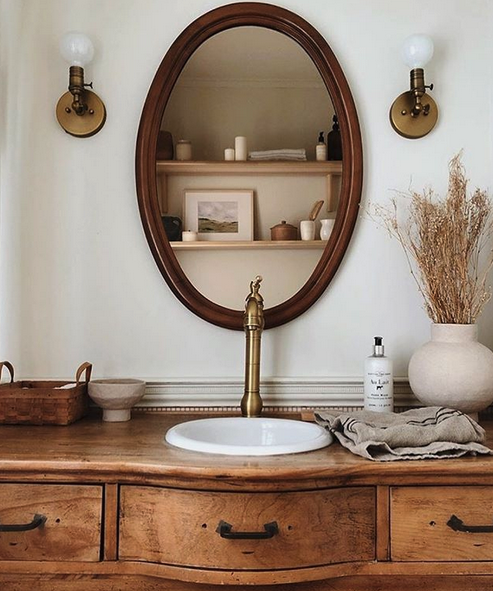 33. Farmhouse sink
Look at how large and lovely this sink is? I love it! It's unstructured and homey and altogether French. Plus, it works perfectly with the timber vanity and round timber mirror. As for the rest of the bathroom, I love the soaking tub and the tiny little patterned floor tiles.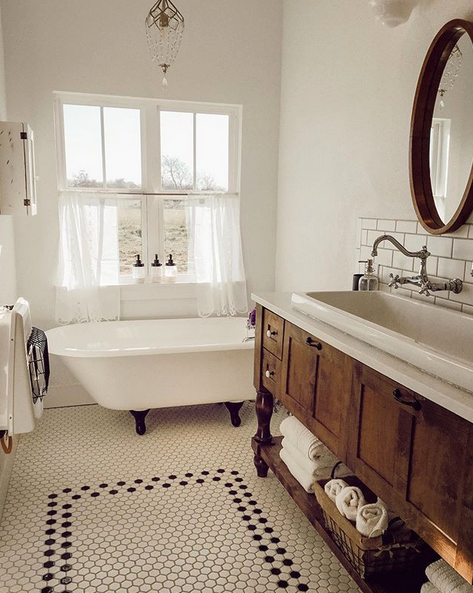 34. Statement bath
OK, this is proof that bathrooms don't just have to be plain white. In fact, stainless steel bathrooms are so in right now… and they look very country like! Combine a bath like this with pretty wallpaper and frame up your windows with gentle flowing curtains and you've got a lovely oasis!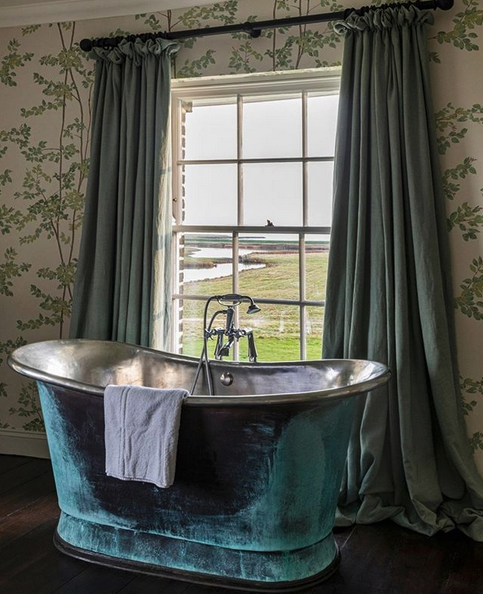 35. Exposed timber
Here they are – more timber beams! I love the character and warmth that these dark brown beams add to this little bathroom attic space. When you incorporate design elements like these, you don't have to add a whole lot else. Although, of course, it's always nice to place a timber tray over your bath to hold a cup of tea, coffee or a glass of wine!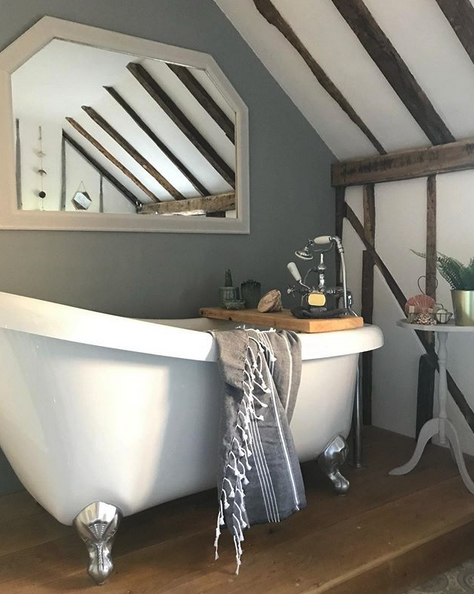 And there you have it, 35+ French provincial bathroom ideas. Which one was your favourite? Maybe you were inspired by the exposed timber beams or the repurposed timber vanity or the mixture of textures or large soaking tubs. I'd love to hear from you! Comment and tell me which idea was your favourite and how you're going to implement it in your bathroom renovation.