The colour of your kitchen is really down to personal preference. And when it comes to inner-city living and industrial design trends we see a lot more black and dark colours included as statement pieces in a home. A black kitchen is certainly not for the faint-hearted but there are actually a lot of beautiful ways that you can embrace the darker colour palette.
From sleek cabinets to fancy handles to crisp black sinks to monochrome splashbacks, there are so many ways that you can style inky-dark shades in your kitchen.
1. Simple and minimalist
This Scandinavian-style black and white kitchen keeps things to a minimum, with a white tiled wall, black cabinetry and lots of blonde wood. This kind of design is very simple to dress up, too. All it takes is a few wooden chopping boards, some bowls and plates, and a bit of glassware.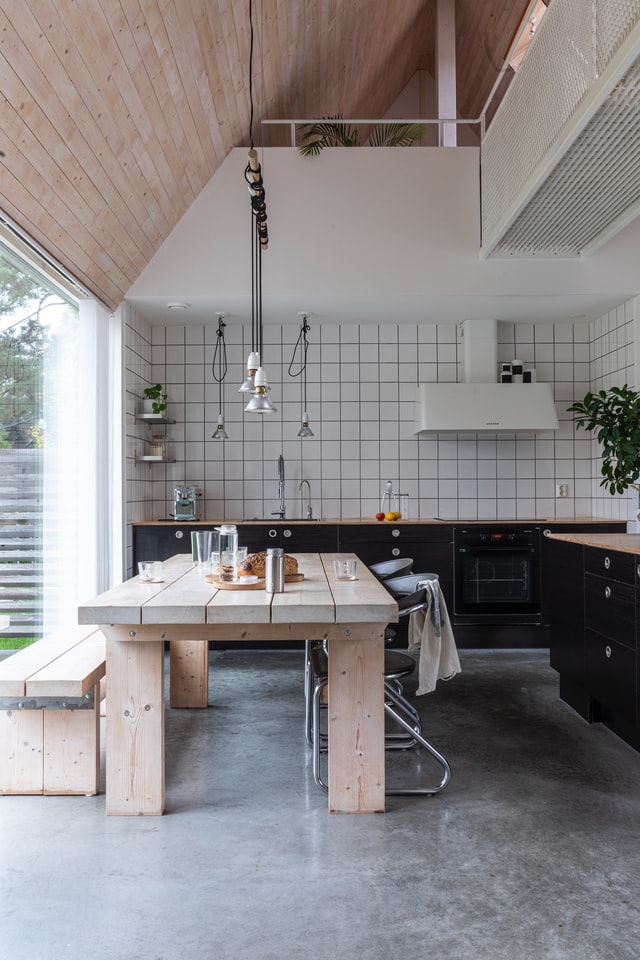 2. Statement light
Add something a little bit different to your space with a fancy hanging light. If you're redesigning your kitchen, don't be afraid to draw outside the lines a little and add in a unique statement light. You can really infuse a lot of character into a black kitchen with a gorgeous ceiling light.
3. Black butler's pantry
A butler's pantry is THE room that we all dream we have in our home. But it's actually a lot easier to add in then you think. If you're lucky enough to have space for a butler's pantry, go all out with a galley style layout like this one. High gloss or matte black cabinets pair beautifully with pale timber floorboards and counters and sparkling glassware.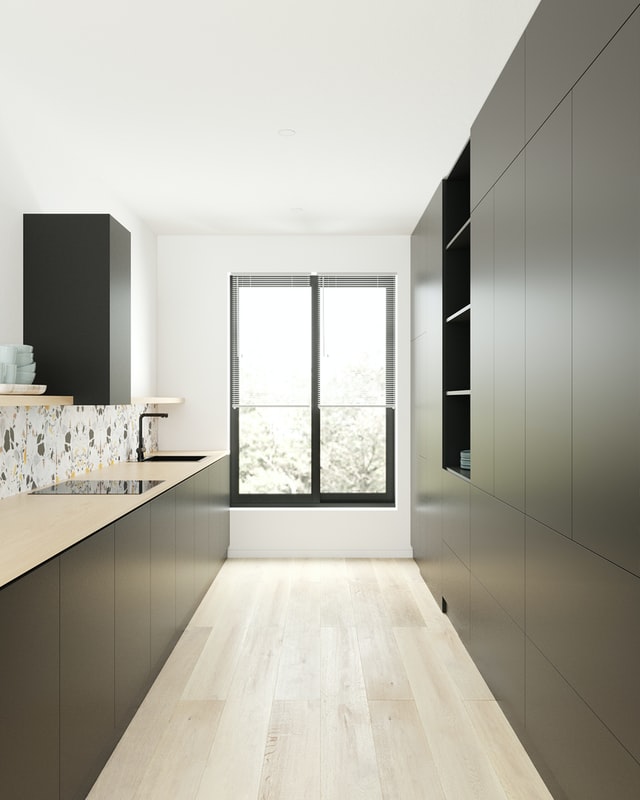 4. High-end finishes
Your fittings can make or break your overall design. If you're wanting to style a very elegant black kitchen, then you need to take your fittings into careful consideration.  Opt for classy pieces like gorgeous marble benchtops, solid timber cabinetry and lovely brass hardware, tapware and lighting fixtures.
5. Huge kitchen island
Kitchen islands are a smart option for storing extra appliances, plates and bowls, and cutlery. And if you've got a large kitchen, then you may as well go all out with a huge kitchen island to match. Make a statement with black cupboards and a sleek white countertop!
6. Chocolate timber
Take your kitchen to the dark side with timber cabinetry and flooring in shades of chocolate. This is one of the most popular colours right now, and it always looks good paired with white for contrast. The chocolate-coloured floorboards provide a stark contrast to the whiter-than-white cabinets and glossy kitchen bench.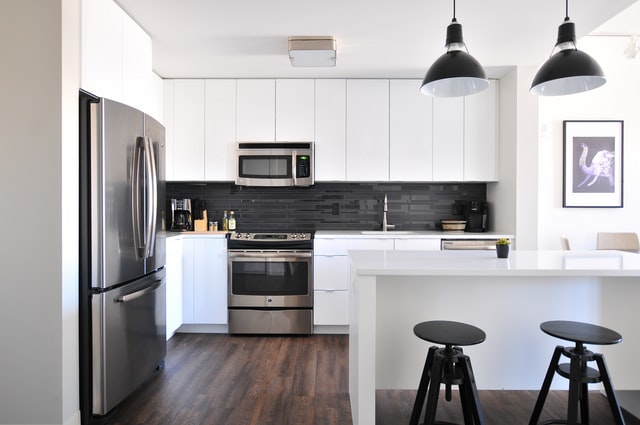 7. Clever storage
When designing your kitchen, it's important that you make it work for you. One way to do this is to incorporate plenty of storage. A strip of open timber shelving provides the perfect place to put pretty little items on display. For other smart solutions when it comes to hiding things in your kitchen, here are plenty more kitchen storage ideas.
8. Fancy tiles
Brighten up your black kitchen with patterned tiles! You can keep things monochrome with black and white tiles or you can shake things up with something colourful like Moroccan tiles. Whatever you do, I know it will look fabulous!
Get a hand with your kitchen floor tiling with a tiler near you.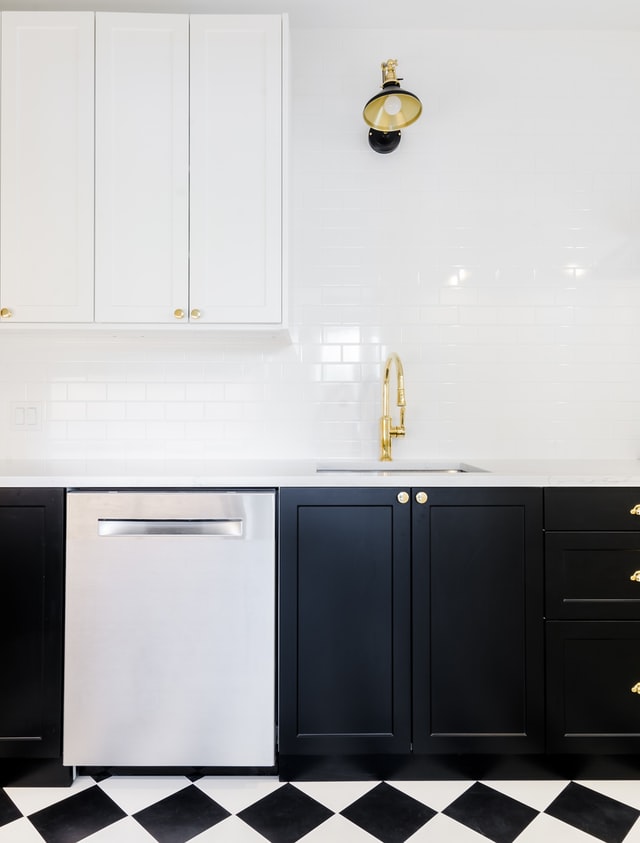 9. Marble kitchen accents
If you want to create a sophisticated black kitchen, then why not go all out with marble? Create a space that's modern and sleek by sticking to two key colours and materials – marble and black timber. Marble can be incorporated with the rangehood and the splashback, as well for the top of the kitchen island.
10. Black marble splashback
Speaking of marble splashbacks, when you see them they're often white marble with touches of black. But this one flips traditional on its head! It's an all-black marble splashback with a touch of white grain throughout. This makes the perfect feature piece for a black-and-timber kitchen.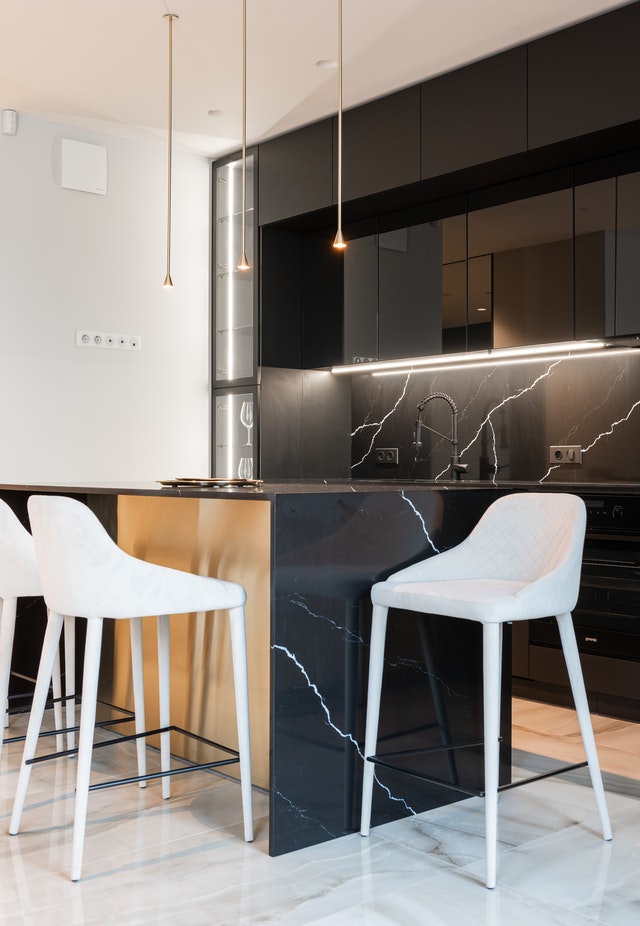 If you love the modern look, you'll love these other modern kitchen designs too.
11. Strip lighting
One way to make your black kitchen a little more bright is by adding strip lighting underneath your cabinets. This adds a warm glow that not only provides light as you wash the dishes or prepare food, but also adds a warm ambience to your space.
12. Black tiled splashback
Get creative with your black kitchen by lining a feature wall with tiles. I like this sparkling black zellige tile! And the light timber cabinetry provides great contrast against the black tiles.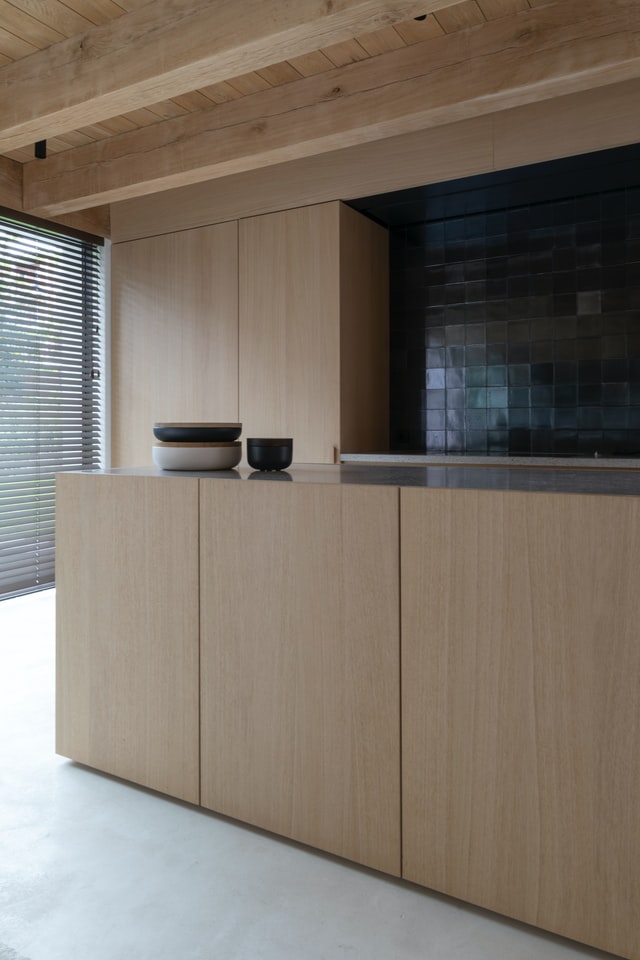 13. Timber island
Add a rustic touch to your modern black kitchen by incorporating a vintage-inspired island. It will really stand out against stark black cabinetry and a marble-style splashback. Have a hunt around your local thrift stores for a preloved timber piece. You can simply sand it down and then add a clear coat of finish or a fresh coat of paint to change the colour and style.
14. Monochrome splashback
Get fancy with a funky black patterned splashback. A bold pattern really makes it stand out from the rest of the kitchen. When it comes to installing a splashback, you can keep it contained to one small area of the kitchen. Or you can go all out and stretch it across the bench, like this one.
15. Black rangehood
If you're going for a black-and-white kitchen, then it's important to think about how much of each colour you want, and where you want to make the biggest statement. I love that this rangehood is black because it really stands out in this kitchen. And the stools are a practical addition, providing plenty of space for guests to sit.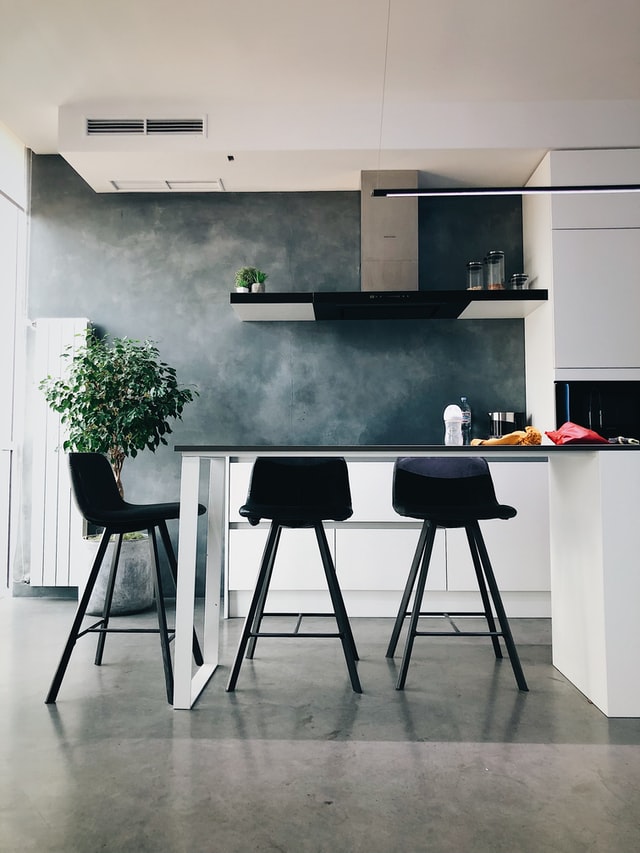 16. Matte finishes
If high gloss isn't your thing, opt for a simple finish with matte black. This will look great in any kind of kitchen, but it works especially well if you're wanting to go for a minimal style design.
17. Add greenery
When it comes to plants, more is more! I love the plant in this kitchen corner. It adds the perfect amount of colour to this space, while also creating detail and texture as it spans across the kitchen.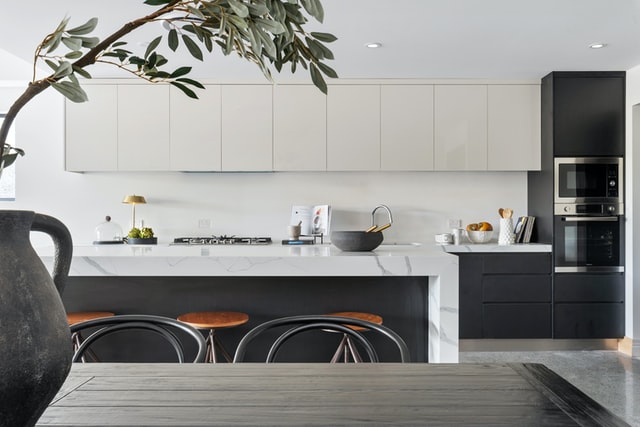 18. Open kitchen shelving
Open shelving can help you style up your dream kitchen by providing the space to fill with your choice kitchenware and décor. Stick to a few key colours for your displayed décor and kitchenware to create a consistent look across your shelves.
19. Floor-to-ceiling cabinets
If you're wanting to make a bold statement, then you can't go past black kitchen cabinets like these ones. The floor-to-ceiling design adds a dramatic effect. This sleek design would look great in a large home kitchen or even in a city apartment with a killer view.
And when you get cabinets like this which become a feature, this is when you want to invest in quality materials and perhaps a professional kitchen cabinet maker to take care of it all for you.
See also: Cost of kitchen cabinet installation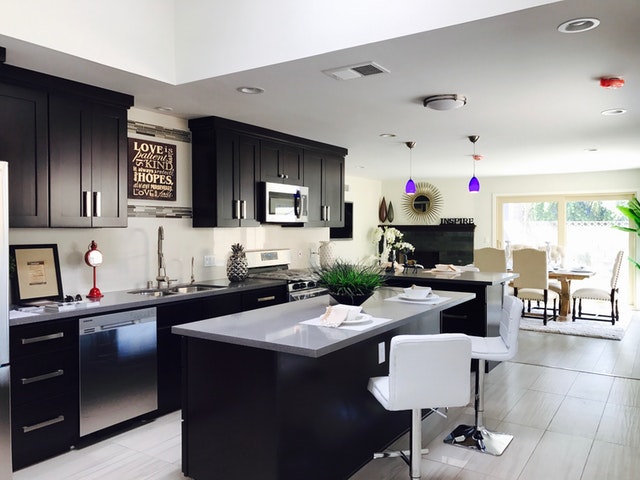 20. Mirror splashback
If you want to incorporate more light into your kitchen, a mirrored splashback will do the trick. A mirror will help bounce light around your room while creating the impression that the space is much bigger than it really is. Add built-in stainless-steel appliances to provide a sharp contrast to the black cabinetry.
21. Dark walls
You may never have considered painting your kitchen walls black, but after looking at this kitchen-dining design, it might just have to go on your ideas list. A coat of almost-black paint adds a classic touch to your space. And it looks great with black cabinets, drawers and floating shelves, or parquetry timber flooring like this.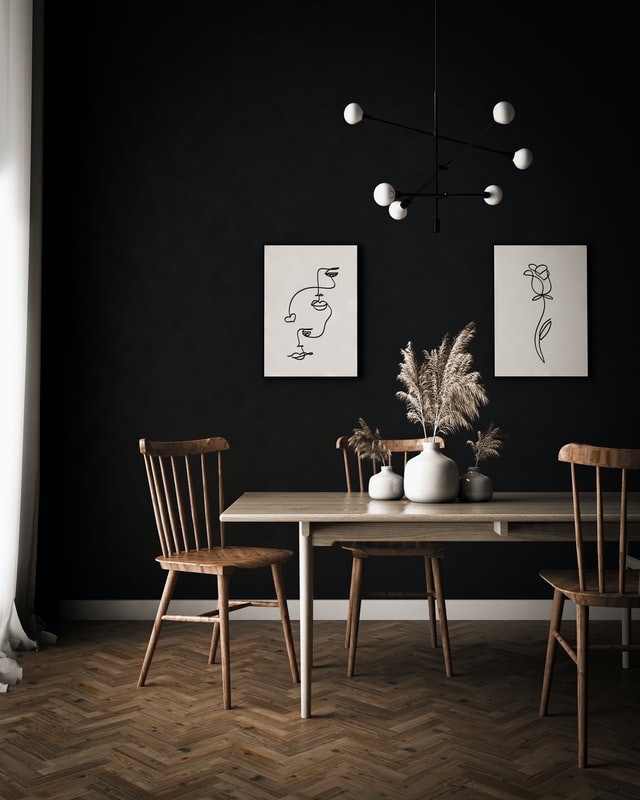 22. Huge black kitchen cabinet
Go all out with a huge kitchen cabinet that fills up an entire wall in your kitchen. A cabinet like this will have all the storage space you could ever need. You'll have open shelves for displaying your favourite pieces, closed doors for keeping any mess hidden away, and plenty of drawers for storing cutlery and cooking utensils.
23. Elongated kitchen bench
If you love hosting people around at your place or if you have a large family, then you should consider incorporating stools into your black kitchen. Achieve this look with ease by adding an elongated benchtop to your kitchen island. This creates just the right amount of space to slide your stools underneath!
24. Timber and black
These two shades look stunning together. The black is a great foundation, as it sets the mood for the room, making it cosy and warm. And the timber of the little island and countertops adds warmth and character. The stainless steel fittings are also a nice touch.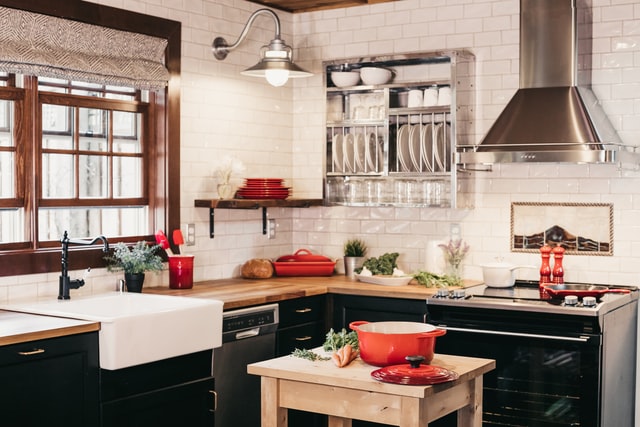 25. Black and white kitchen
I love the simplicity of a black and white kitchen. It provides the perfect base for adding decor like pots and pans and serving boards. A black tiled wall is a great touch that adds texture and pattern to the room without having to incorporate bright colours. It's the perfect option for the minimalist at heart.
26. Timber panelling
Add texture to your black kitchen by adding panelling to one of your walls. This will take your kitchen from basic to ultra-chic. Your design incorporate a mix of materials – from black timber panelling to light timber shelving to a stainless steel countertop and sink.
27. All black
Turn heads with a dramatic all-black kitchen like this one. I love the matte black of the benches and cabinetry. And it pairs beautifully with foliage in glass vases.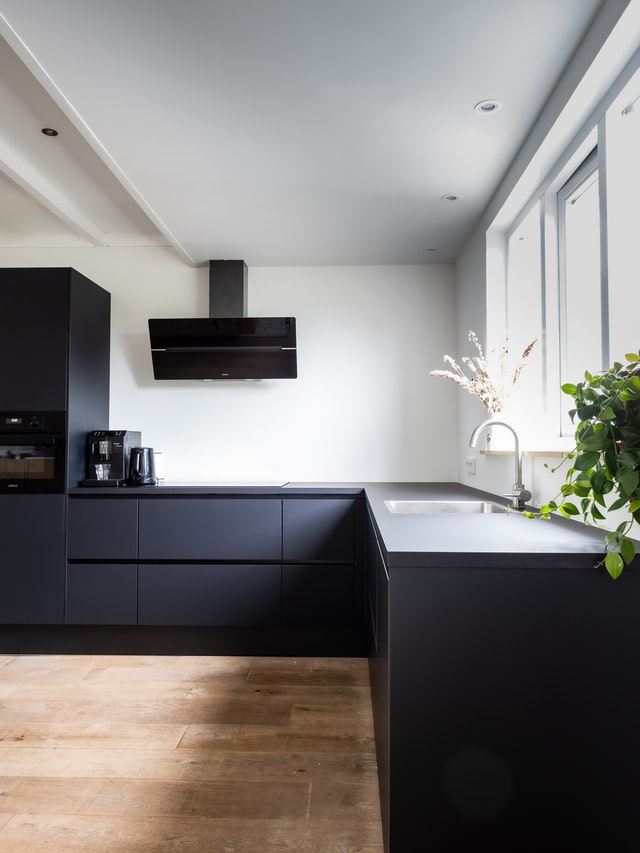 28. Black and glass
Create a sophisticated space by using a lot of glass. This will help to bounce light around your room, making it appear bright and airy. You can achieve this look by using glass cabinets, glass doors and even glass light shades.
29. Stone splashback and black tapware
Skip the popular white subway tiles for a more sophisticated look with a stone splashback like this one. While this may set you back in cash at first, it's a timeless choice that will look good for years to come! And it looks gorgeous offset by the stark white cabinets and black accents.
Looking for more splashback inspo? Here are more kitchen splashback ideas for your home.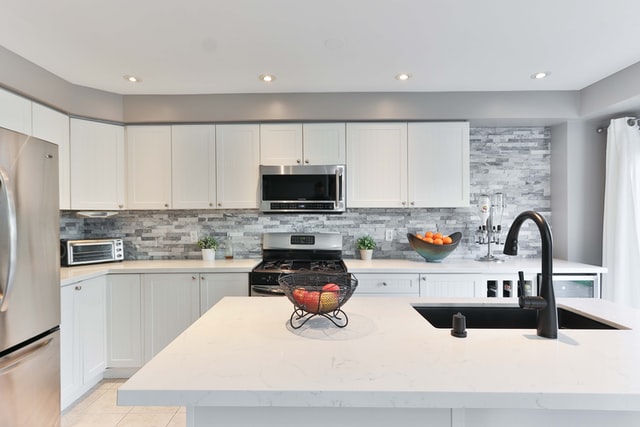 30. Fresh flowers
Finally, there's nothing like a bunch of fresh flowers on the kitchen bench to make your home feel more lived-in and cosy. A modern black kitchen can tend to feel a bit cooler. So the addition of fresh flowers or plants will make it feel warmer and inviting.
Designing a kitchen with black: Key takeaways
Opposites attract
As you explore the many different types of black kitchens, you'll begin to see that you don't have to go all or nothing. In fact, the reason why black kitchens are so popular is that black looks striking against other contrasting colours, like a white splashback or light-timber flooring. So remember, opposites really do attract!
Choose your shade
Not every shade of black is the same, and this plays a huge part in the look of your finished kitchen. The shade you choose to go with will depend entirely on the kind of space you're wanting to fill. If you have a small kitchen, you might want to stick with a bluer shade, or if you have a large kitchen with plenty of lighting, you might opt for a starker true black. Before you decide on your shade, pick up a few swatches from your local paint store and see how they look against existing pieces of furniture and appliances in your kitchen.
Mix and match
When it comes to black, you're not limited by materials, patterns or textures. In fact, a multi-patterned or textured kitchen can look really great! Consider mixing elements like tiles, wood and marble for a striking finish. Remember, just like you'd put together a black outfit with all sorts of layers, you're going to want to layer your kitchen.
Add natural touches
Black can be a very cool colour, especially if there's a lot of it in one room. One way to warm up your black kitchen is to integrate plenty of honey-coloured timber. I recommend adding wooden accessories like chopping boards, utensils and bowls. Alternatively, opt for a wooden kitchen island or timber flooring to provide this much-needed contrast.
Choose a statement piece
One way to make your black kitchen really pop is to create a standout feature piece. This could be a splashback in a contrasting colour, a fancy lighting fixture, a painting, or a rug. If you're looking for some inspo here, why not take a look at these splashback ideas or other kitchen ideas.
Consider your hardware
Another way to make your kitchen stand out is to choose tapware that makes a statement. I personally love brass hardware because it looks clean and modern against a black foundation. But don't limit yourself to brass hardware for your tapware alone – you can integrate it with your lighting and handles as well!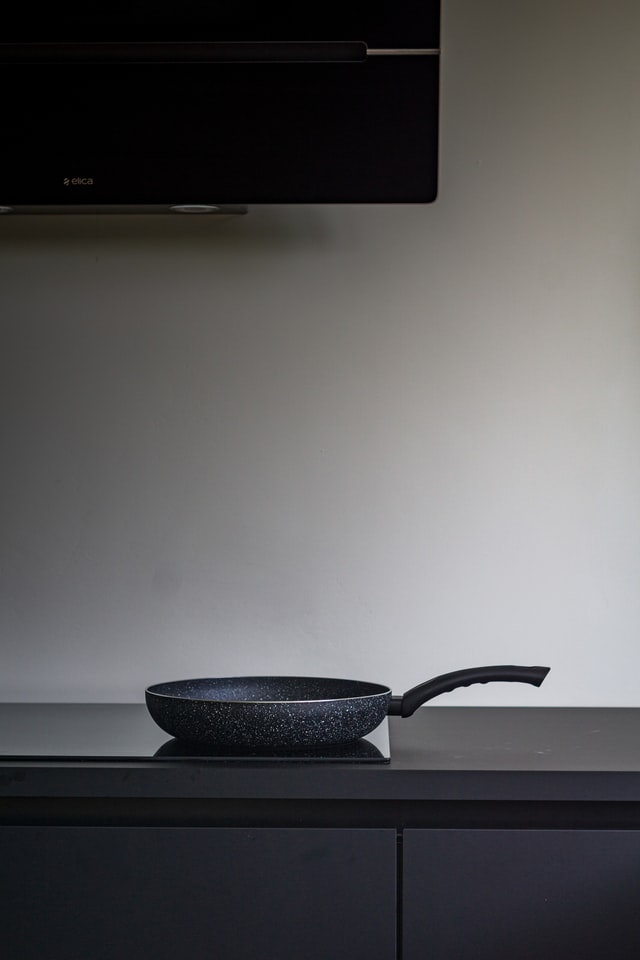 I hope you enjoyed these beautiful black kitchen ideas, and that you're leaving with plenty of inspiration for your very own design.
Before you go, I'd love to hear from you. Which design stood out to you the most? Maybe it was the open shelving or the all-black kitchen or the monochrome splashback. Comment and tell me about your favourite design!