Who says your wardrobe doors have to be standard? When it comes to wardrobe door ideas, go beyond basic and show off your personal style with chic closet doors that make a real style statement. You don't even need to pull out your whole cupboards—just swap your doors to give your space a major revamp.
Your wardrobe doors have specific functions to fulfil. They are intended to conceal things you don't want out on display and reduce visual clutter, but also to protect your belongings from dust and sunlight.  Ideally, they will be lightweight, easy to open and close and enable ventilation to prevent mustiness. Since they will be significantly visible when you enter the room, you will want them to suit your chosen décor style and complement your existing decorative elements.
Ticking all the above boxes are these 35 on-trend wardrobe door ideas for you to consider, featuring beautiful textures, colours and details. Let's dive in!
1. Coastal Boho
How beautiful are these wardrobe doors? They're lacquered timber with raffia panel inserts. The owners wanted to emulate the trademark look of Spanish holiday island Ibiza, which typically involves the use of lots of pale timber and vegetal fibres.
Although raffia might seem like a very soft fibre and therefore unsuitable for closet doors, it actually contains a natural resin that makes it very durable. This is such a fresh organic style that would very much suit a coastal Boho or Hamptons style décor.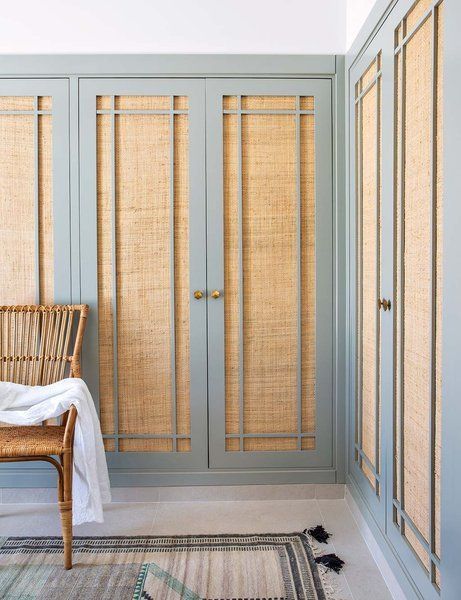 2. White and minimal
The designers of this space describe it as "modern Australian"–clean and minimalist, it's a bright and breezy look that could fall into the Scandi category too, with a neutral palette, clean lines and lots of lovely timber.
I like how the tiny black knobs break up the expanse of the white built-in robes while complementing the other black accent in the curtain rod. Speaking of curtains, I'm loving these unique two-tone ones, too.
If you need more ideas for bedroom curtains, you might also like to view our blog on bedroom curtain ideas.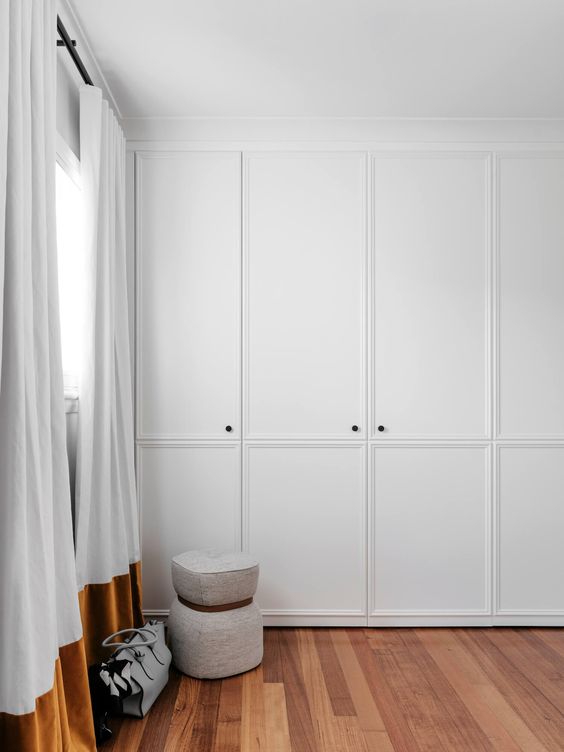 3. Vertical boards
If you love the modern farmhouse look, this one's for you. These wardrobe doors look clean and fresh with their white vertical boards reminiscent of farmhouse staple shiplap. (Love farmhouse bedrooms? We've got plenty more here.)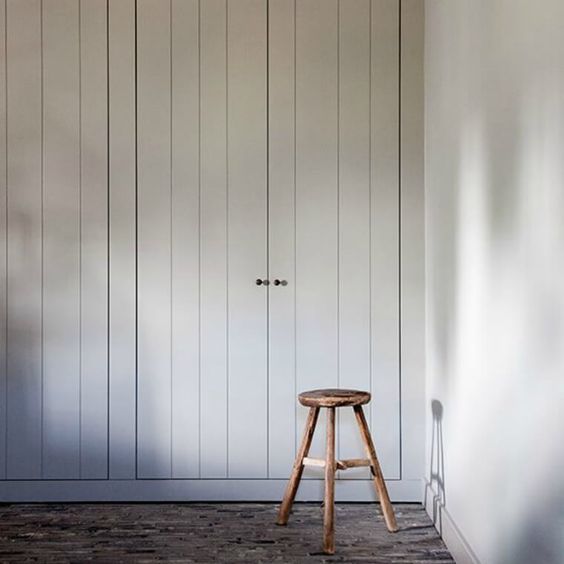 4. Pink Art Deco
This stunning bedroom is one of the 'colour caves' of this home, where each room boasts its own colour palette (apart from this fairy-floss pink, there are also yellow and blue rooms). The home is designed to showcase a melting pot of different cultural influences and eras–to me, this particular space has strong Art Deco overtones, not only through the colour palette but also the generous curves and brass accents. See more Art Deco bedrooms for more inspo.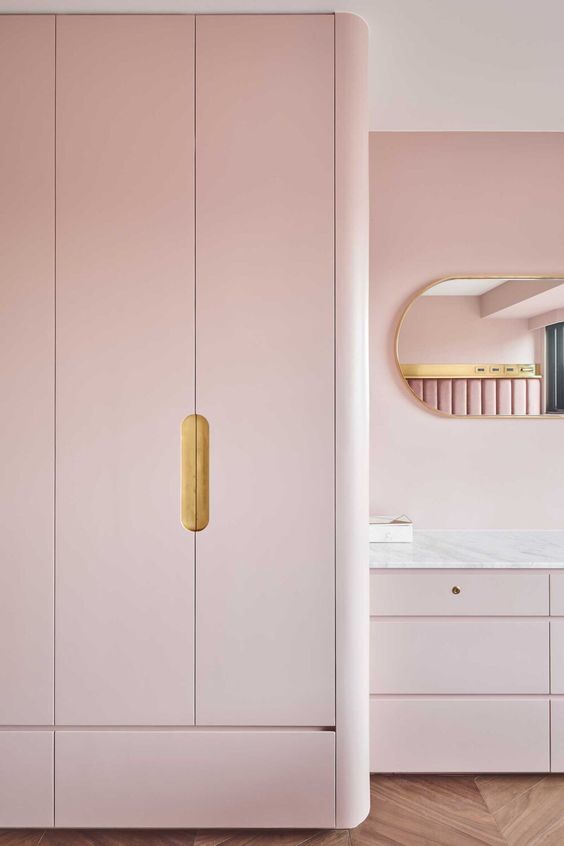 5. Quirky handles
Do you have a generic flat-pack wardrobe that, while functional, lacks any design flair? Give it an easy update by changing up the knobs. Here, a range of different sized button style door handles livens up the plain Ikea cupboard, especially with their random placement. I like that they also function as hooks.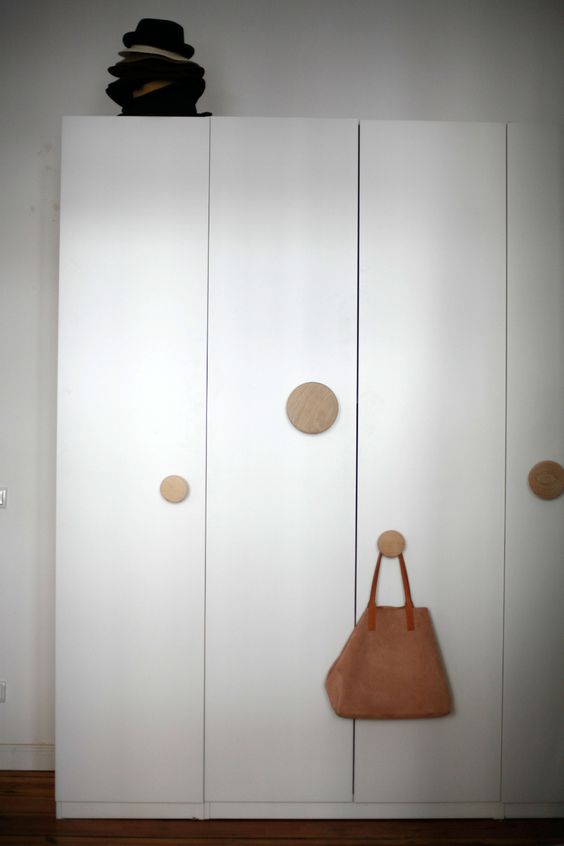 6. Black and frosted glass
For a contemporary look, give your wardrobe a makeover with new sliding doors like these frosted ones. Rather than stare at a flat, plain wall of white, the use of frosted glass creates visual intrigue and adds dynamism to the space. In a monochromatic setting like this, the use of frosted glass also adds blurry grey tones to the mix.
7. Latticed wardrobe door ideas
Here's another example of a coastal or Boho style bedroom, this time featuring latticed wooden doors on the wardrobe. These are brilliant for allowing ventilation so your belongings won't get musty or mouldy, while also adding texture and charm to a space. If you have timber wardrobe doors, especially if they are vintage, you might need to carry out wood repairs to have them looking their best.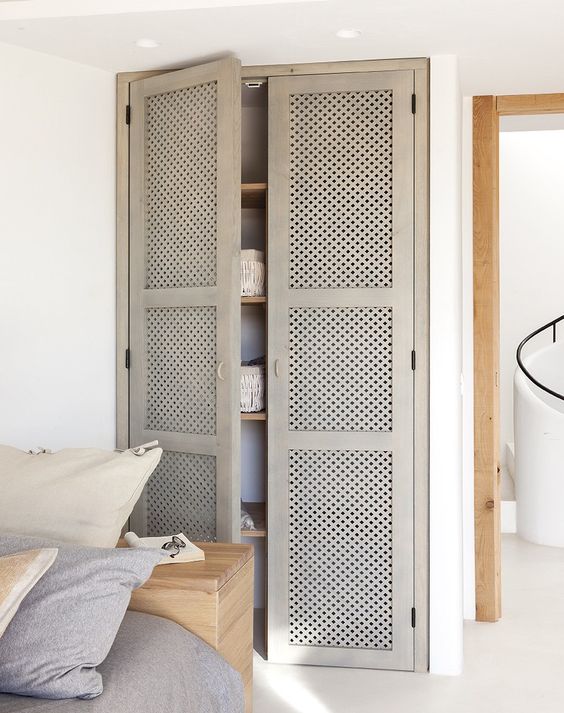 8. Timber ridges
A more contemporary take on timber wardrobe door ideas here, with a cupboard made from plywood and laminated wood and with milled handles. Again, the ventilation of the door on the left is very practical, while also adding pattern and texture to enhance the simple white + wood décor.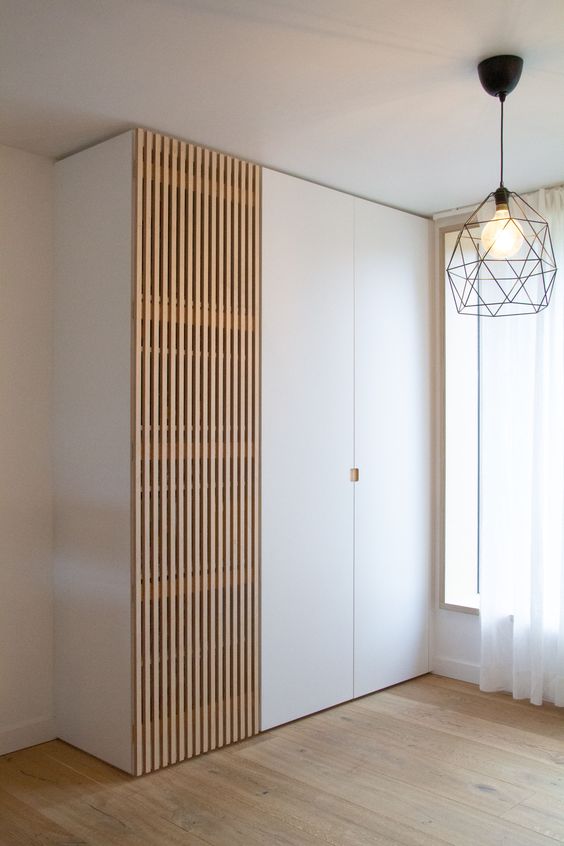 9. White louvre wardrobe door ideas
As mentioned, wardrobe doors that have holes or gaps of some kind that enable airflow and circulation are always a great choice. Louvre doors are ideal in that the timber slats enable ventilation while looking chic and providing a nice dose of linear pattern. These look gorgeous beside the charcoal door and the oversize brass pulls underscore the coastal luxe vibe.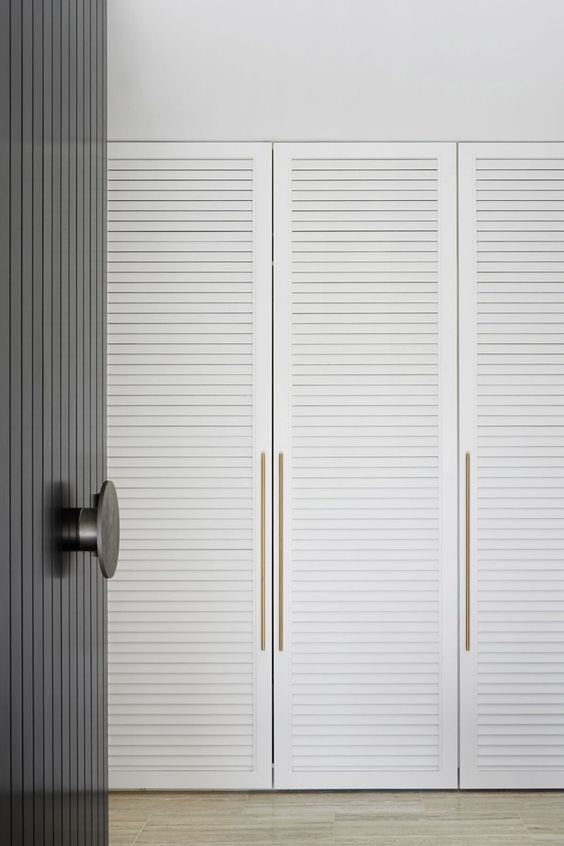 10. Two-tone wardrobe doors
Here's another set of hallway closets in a bit of a yin/yang two-tone monochromatic formation.  This might be a nice his and hers combo? Painting the closets on one side dark makes the passage more interesting too. Find a tradesman who can sort out all your built-in wardrobe needs.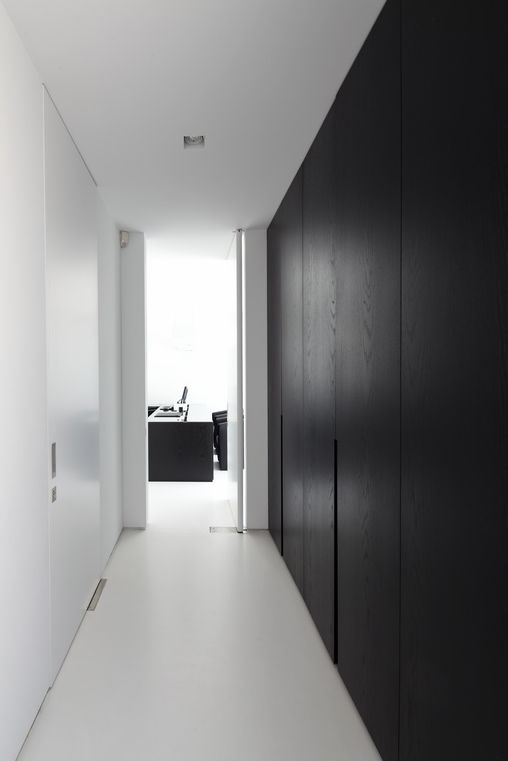 11. White timber rectangular handles
Something as simple as changing your wardrobe door knobs can be an inexpensive refresh when it comes to styling up your bedroom. The wardrobe in this Scandi bedroom is completely modernised with these lovely timber pulls.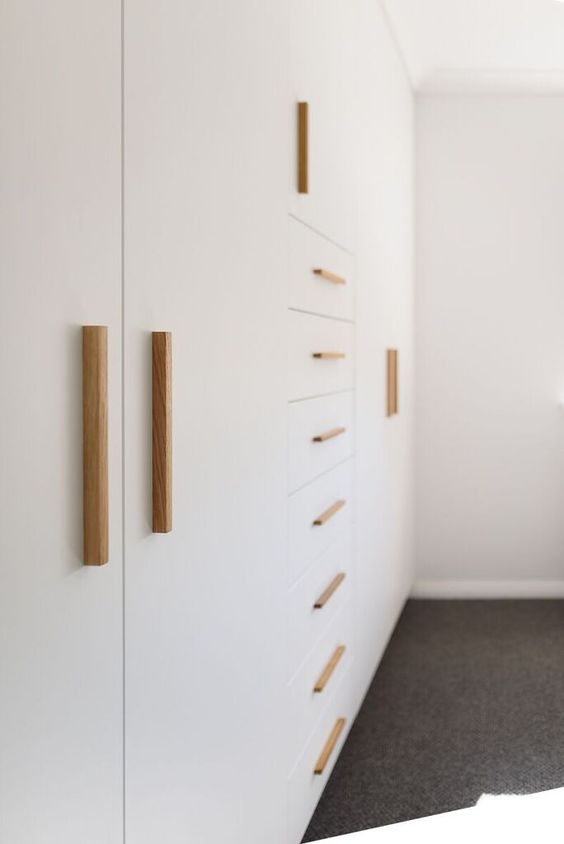 12. Geometric features
Similarly, this wardrobe contains lots of pleasing shapes and forms thanks to the unusual handle detail. For wardrobe door ideas that aren't run-of-the-mill, you can always canvas your design ideas with an expert cabinetmaker who can bring something completely unique to life.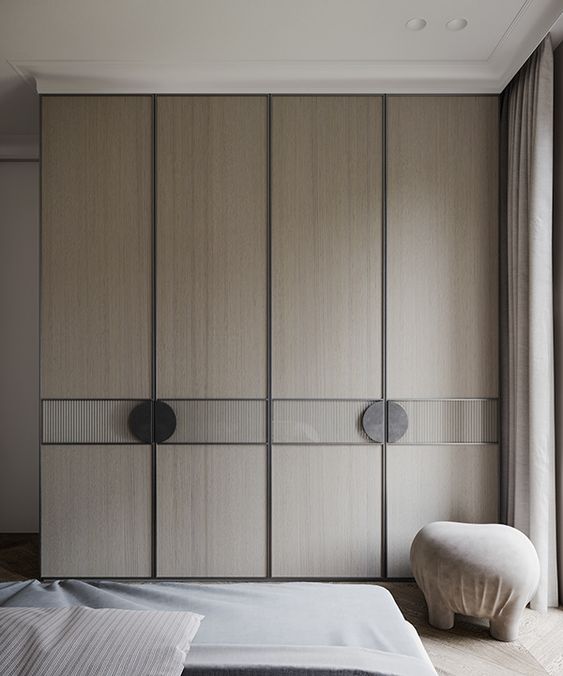 13. Timber grain
For those who love timber, this bedroom should appeal! The chevron effect of the pattern of the wardrobe doors against the chevron timber flooring is stunning. And the door handles are original too.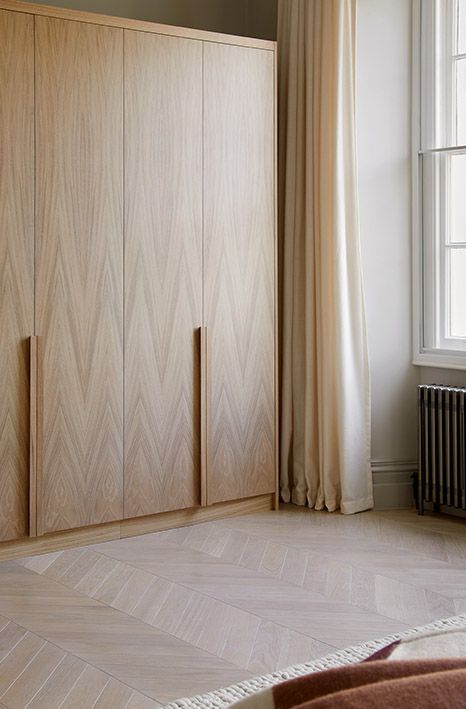 14. Green louvre doors
There's something resort-like about timber louvre doors so they really suit a coastal aesthetic. This bedroom is so simple and yet so stylish. The matte mossy green of the closet doors, the soft linen, the raw timber boards—how tranquil is it? I can almost hear the ocean.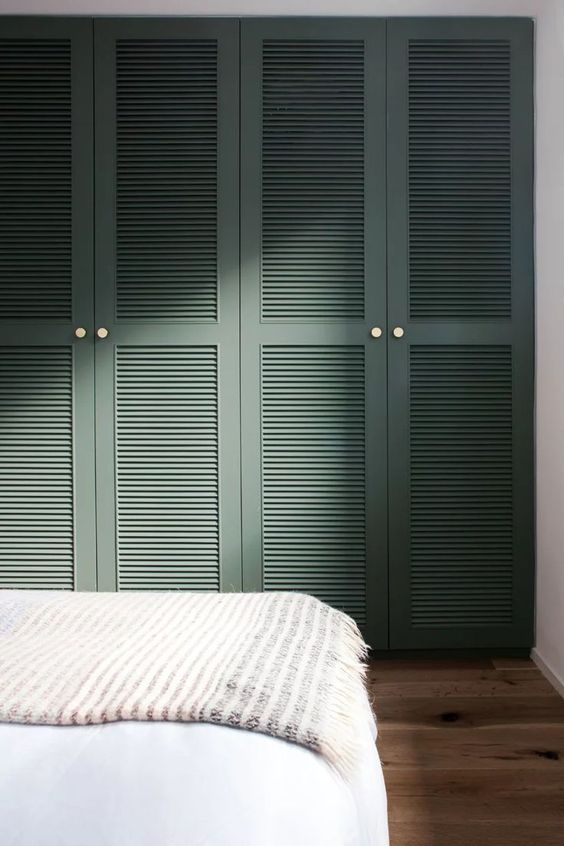 15. White drawers timber wardrobe
The copious use of timber within this Melbourne home signals the owners' love of nature and their Japanese cultural background, with plenty of 'visually poetic spaces' made from beautiful raw materials. Textured timber furniture like this wardrobe brings warmth and maintains a connection with the outdoors. And it is most definitely a custom built-in wardrobe.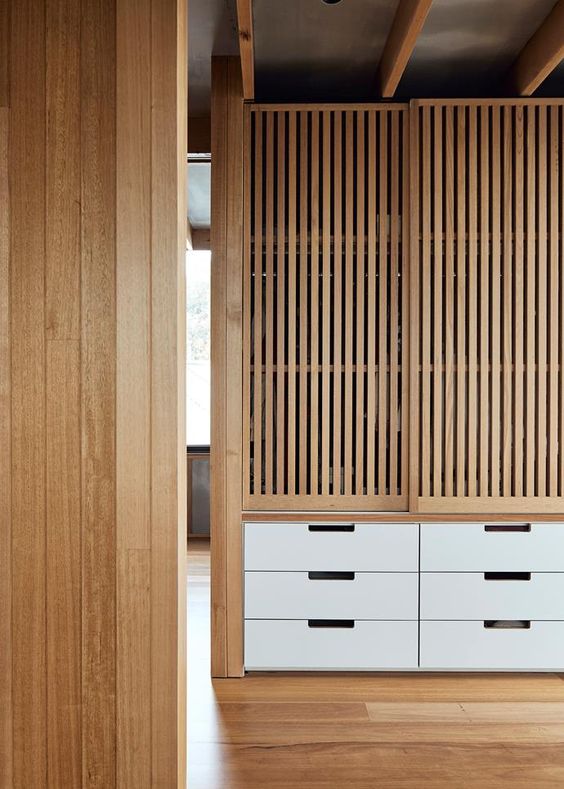 16. Neat squares
If you like your existing wardrobe doors but they're looking boring, don't underestimate the power of a quick paint job and maybe some brand new, hand-picked knobs or pulls. This homeowner chose a soft dove grey for her closet doors, which is a nice neutral to give the space definition.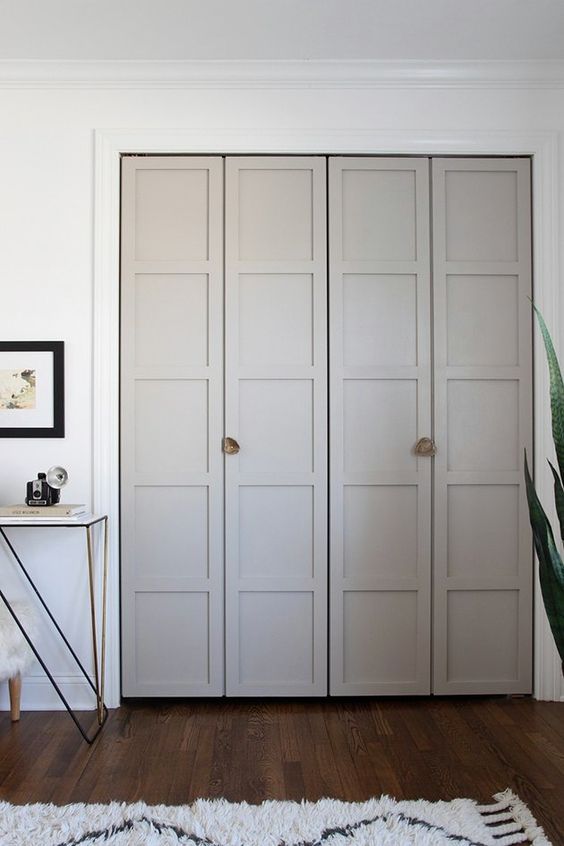 17. Flash of yellow
Add interest to a neutral or all-white colour scheme by painting your wardrobe interiors. That way you can indulge a love of vivid colour without overpowering your space or committing to a bold colour scheme. For more ways to bring a pop of yellow into your bedroom, see also our yellow bedroom ideas.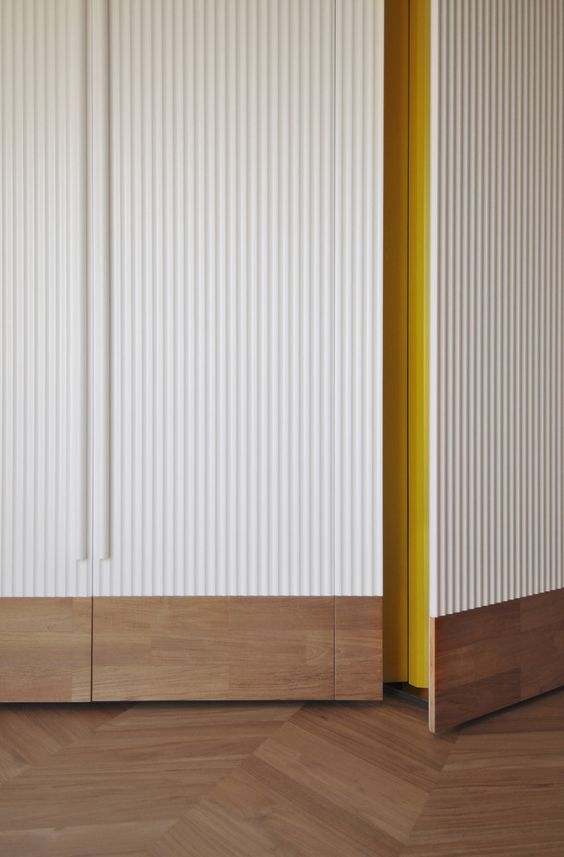 18. Moss green cupboard doors
How beautiful is the muted green stain on the joinery of this closet? The owners of this coastal Belgian apartment wanted their décor to reflect their natural surrounds, with a calming colour scheme and plentiful natural materials like marble and wood. I'm in love with this colour.  When painting or staining, always seek out a professional near you.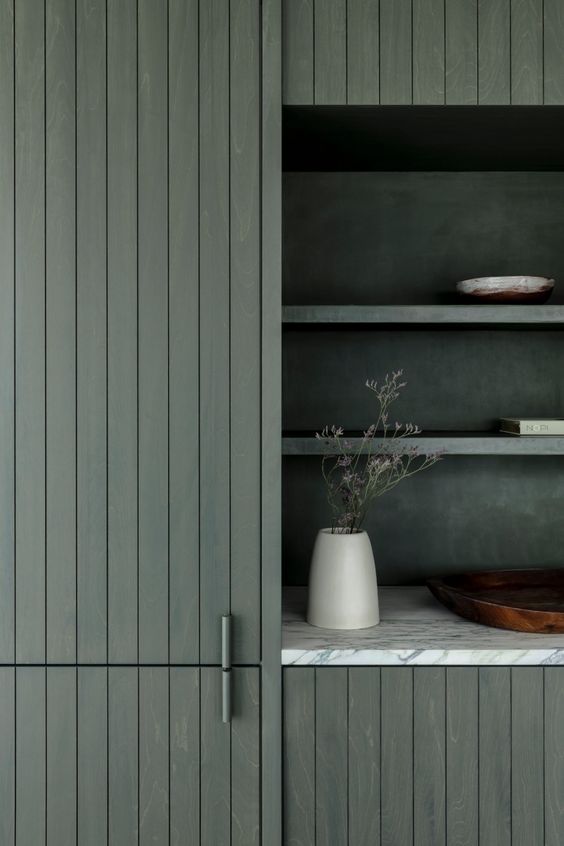 19. See through whites
A his and hers en-suite walk-in robe is given a little privacy, but with a level of intrigue, with these white sliding screen doors. You could also go for a similar look on a regular closet, for a clean contemporary vibe.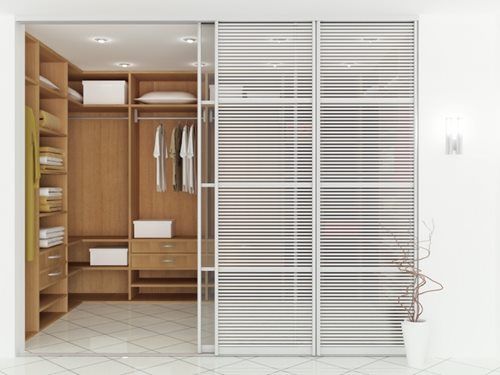 20. Pink wardrobe doors
Go for an ultra-feminine bedroom with pink-painted wardrobe doors like these. I like the farmhouse style detailing with the X effect here. If you love a subtler glam and feminine aesthetic, you might also like to look at our collection of rose gold bedrooms.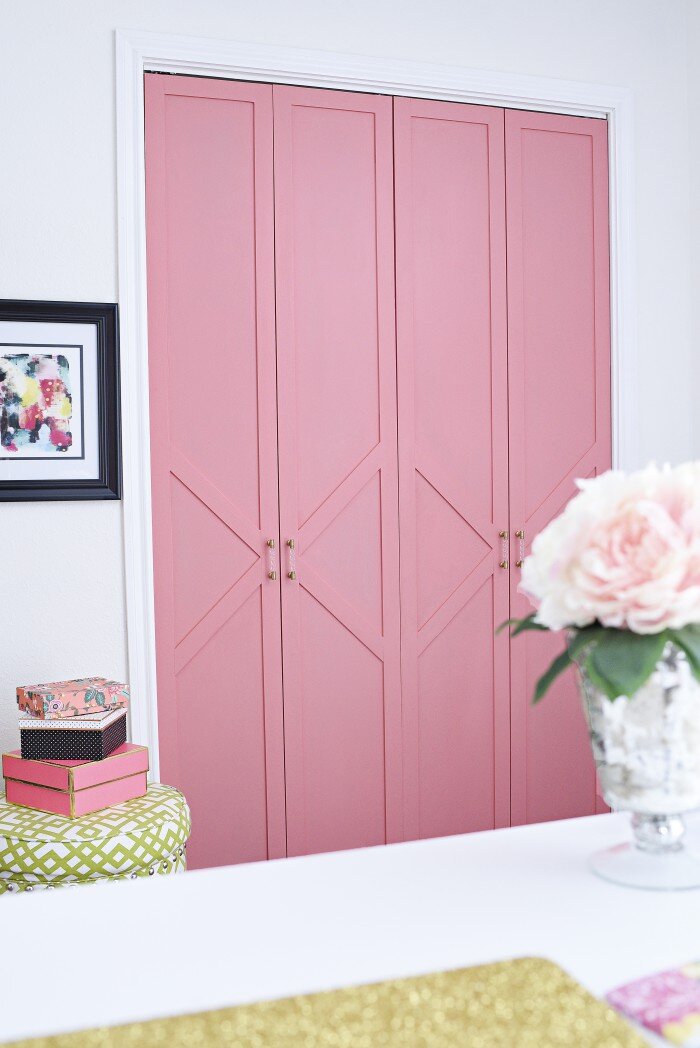 21. Sleek grey wardrobe doors
A bedroom decked out in matte mid-grey is a more androgynous look. Here, a minimalist contemporary bedroom with neat, streamlined grey panels and with the wardrobe painted in a deeper smoke grey on the inside.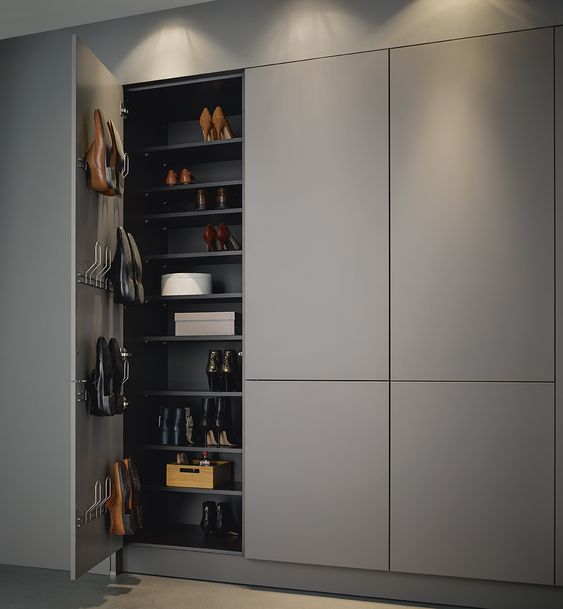 22. Wood turned handles
When it comes to wardrobe door ideas, new handles are such an easy way to get a quick update. Rather than swap out your closet doors, give them a refresh with which paint and find some gorgeous knobs that you won't mind putting your hands on multiple times a day. I love the oversized, sculptural timber handles that are out there these days.
23. Multidirectional handles
Wall to wall timber in this cute renovated Victorian cottage in Melbourne, with timber cladding on the walls and ceiling as well as a white wooden closet. Quirky placement of handles again livens up an otherwise fairly plain wardrobe, with the pendant light bulb also adding a contemporary touch. I like how the black handles add a little random pattern, to add to the pattern in the cushions and throw and the cladding itself.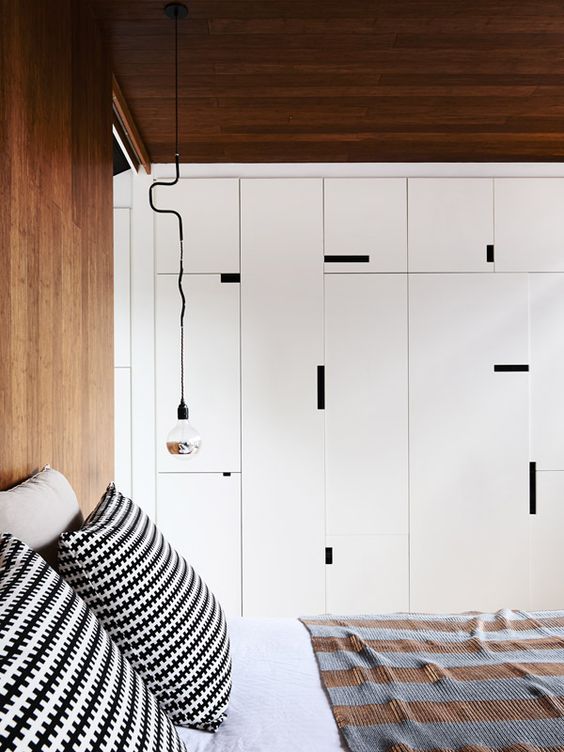 24. Bronze branch handles
Speaking of oversized handles, how about these one-of-a-kind freeform branch handles cast in bronze? You probably either love them or you don't! Antleresque, they have a kind of raw stylised beauty and a strong connection to nature (obviously…).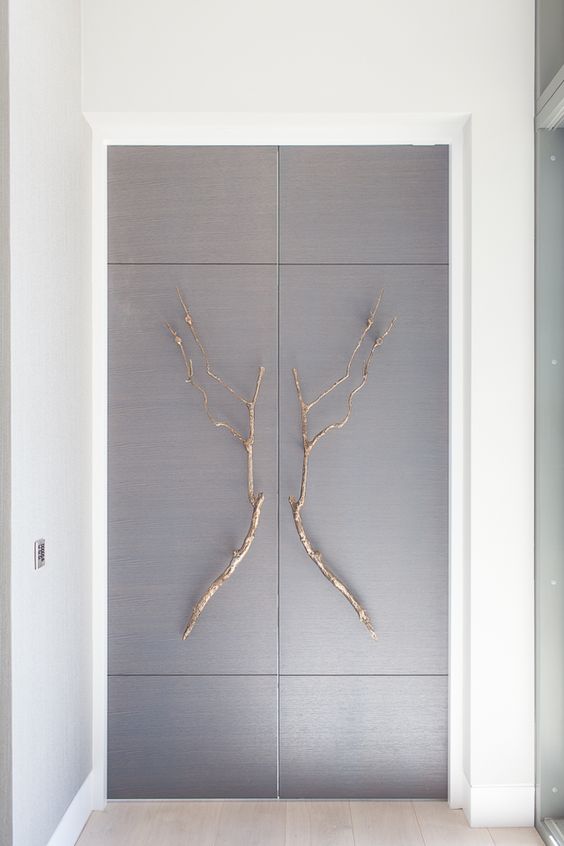 25. Sculptural details
What a whimsical and simple door opening this closet has, with its curved painted cut-out segment for a handle. I like the clever placement of the bird sculpture to echo the curves in the cut-out. Likewise, for harmony, the interior paint colour is carried over in the adjacent door. This design might be a DIY hack of a standard wardrobe door if you're handy!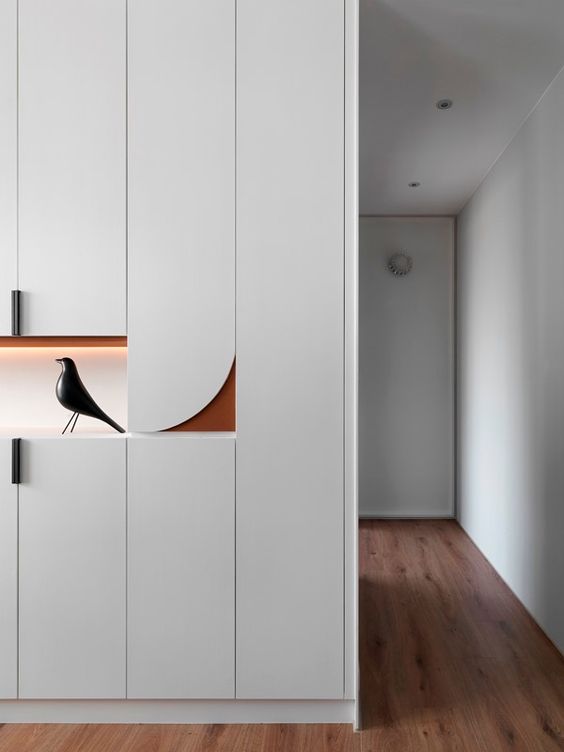 26. Wallpapered
Why not apply silk-screen look wallpaper to a dated wardrobe to add colour and pattern? This is a great one for renters on their own furniture. Here, injecting a big dose of hot pink into a bedroom. Love an eclectic and vibrant décor? You might also like Moroccan style bedrooms.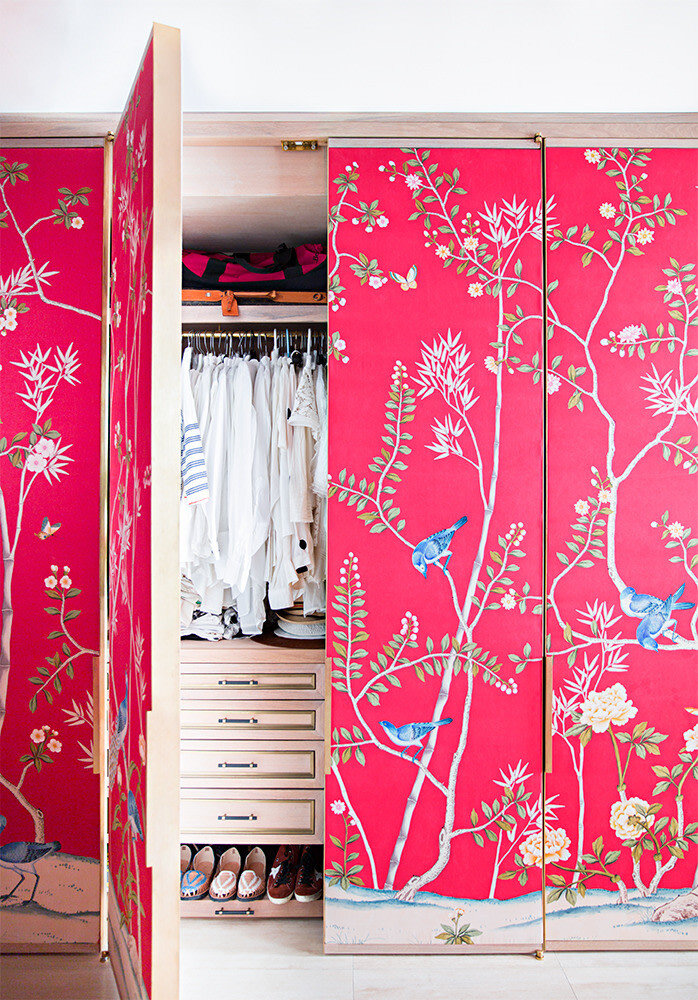 27. White mirrored
French doors are another great choice for your closet, and you can add functionality with mirrors. Mirrors also do their trick of increasing light and creating the illusion of a larger space. Mirrored wardrobe doors can look a little clichéd but it's easy to personalise a boring door with a mirror in a way that's chic and contemporary.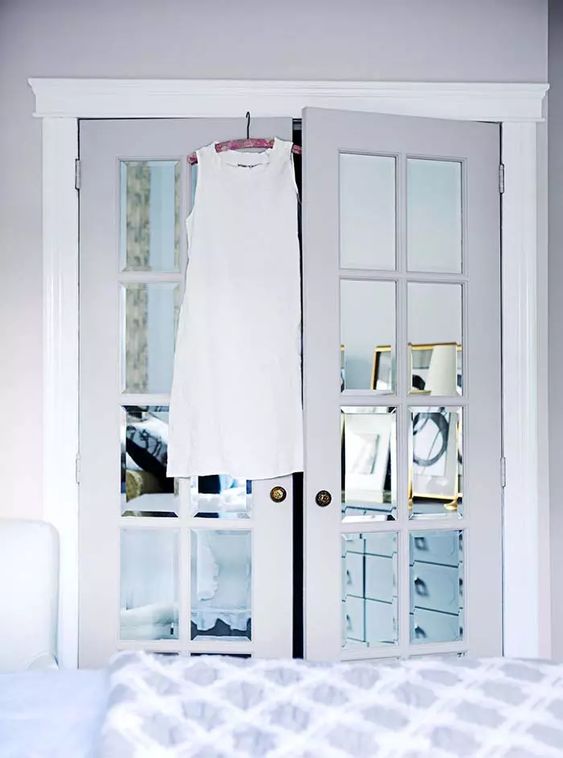 28. Glossy panels
Once again we have a beautiful custom-made built-in which maximises the functional storage of the homeowners yet manages to remain unobtrusive and lightweight looking. Such gorgeous joinery in this neutral dove grey.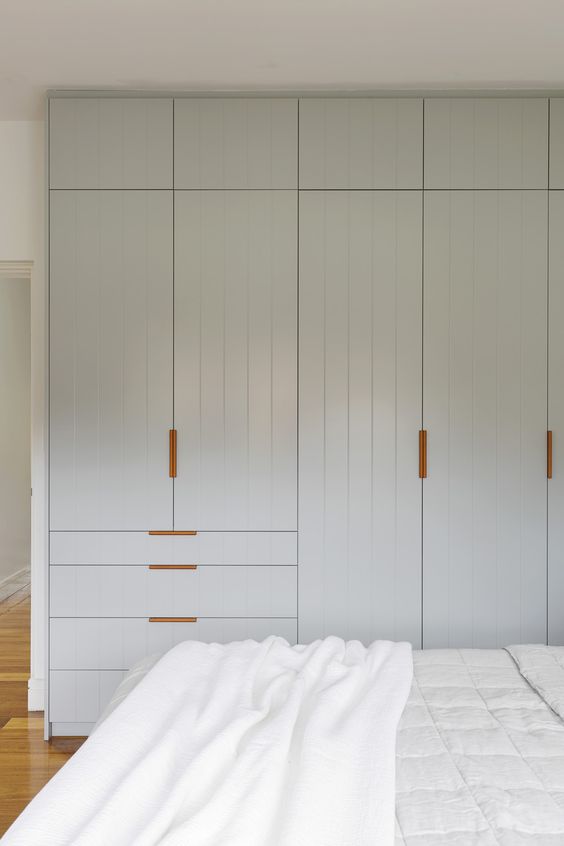 29. Dark green wardrobe
Here's another sleek and stylish wall unit with lattice door inserts to help increase its air ventilation. The lattice goes perfectly with the mid-century wishbone chair. And oh, I love this soothing deep shade of green that's repeated even deeper in the drapes.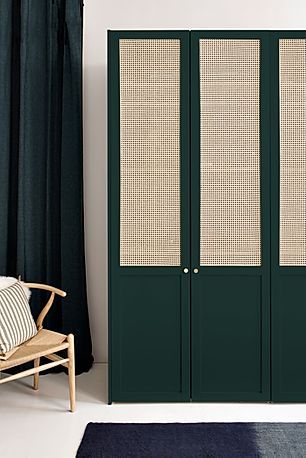 30. Closet cutouts
The pale cornflower blue built-ins lining the hallway of this Parisian apartment provide ample extra storage. But the buffet cut-out adds another functionality still, as a sort of hallstand. This subtle and pared-back style of the wardrobe door, with its mini cut-outs for streamlined handles, would really suit a modern coastal Australian home.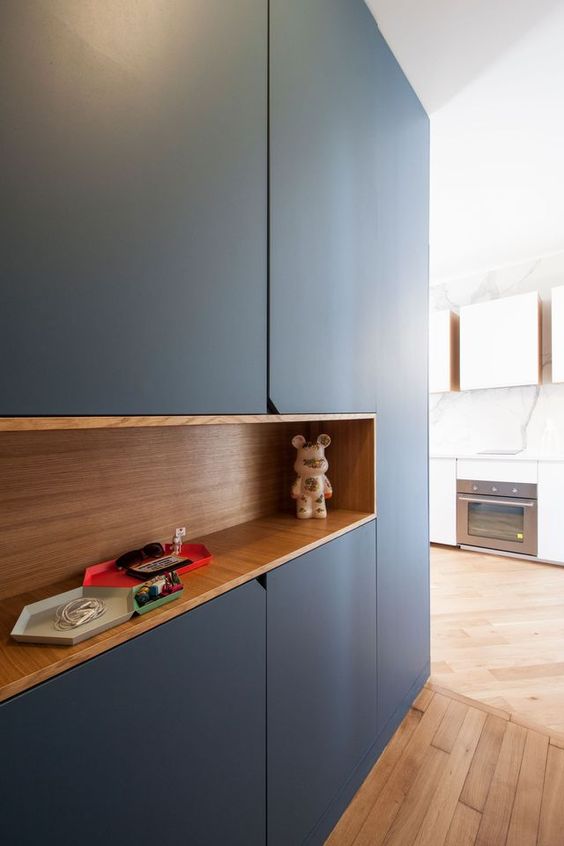 31. Blue and white
How inviting does this dressing room space look? Clean, fresh and simple, with all the holiday home feel about it. The perforated wardrobe front doors are practical and the pattern is pleasing to the eye, and I like the peek of Hampton's sky blue in the interior, to complement the upholstered bench.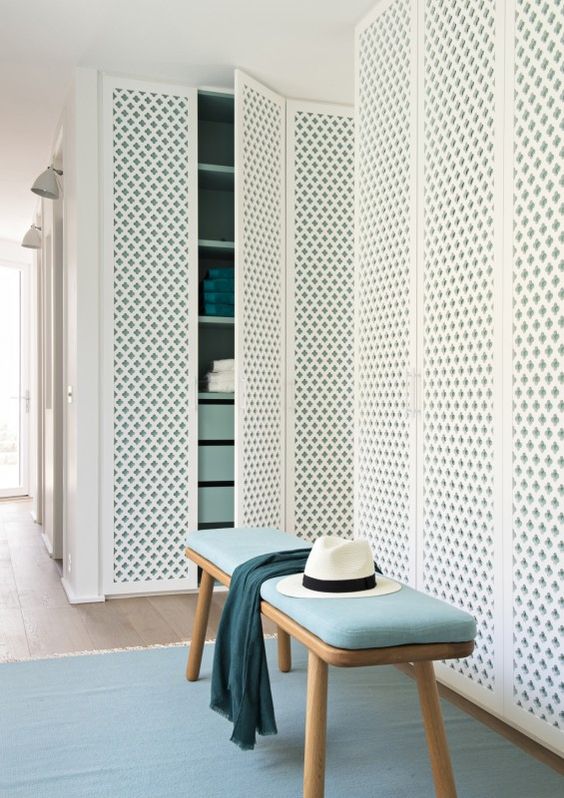 32. Masculine look
For a modern masculine look, a greyscale aesthetic is a classic option. This apartment's entranceway wall of built-ins is a harmonious mid-grey to fit with the edgy black steel French doors, pale grey carpet and white ceiling.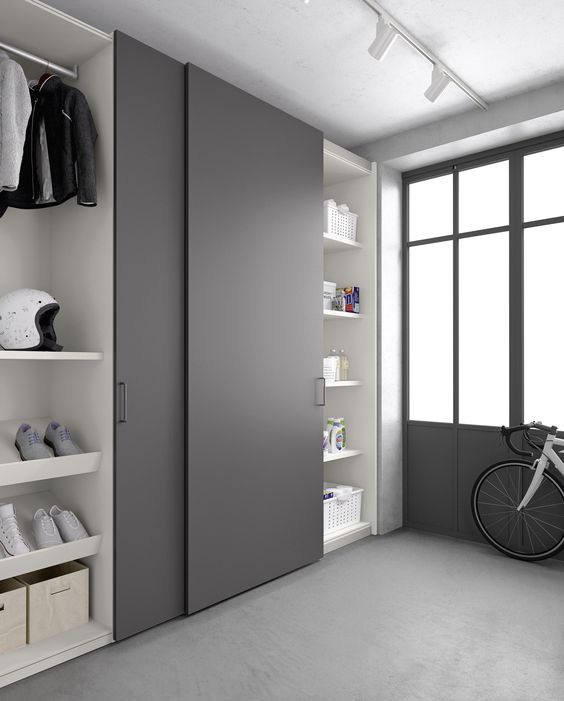 33. Tropical feels
Mediterranean resort-style living with this stunning bedroom full of white + wood + natural fibres. Rustic ceiling beams paired up with the organic fibre wardrobe door panels, together with cool white linen and walls, makes for a blissfully serene bedroom aesthetic.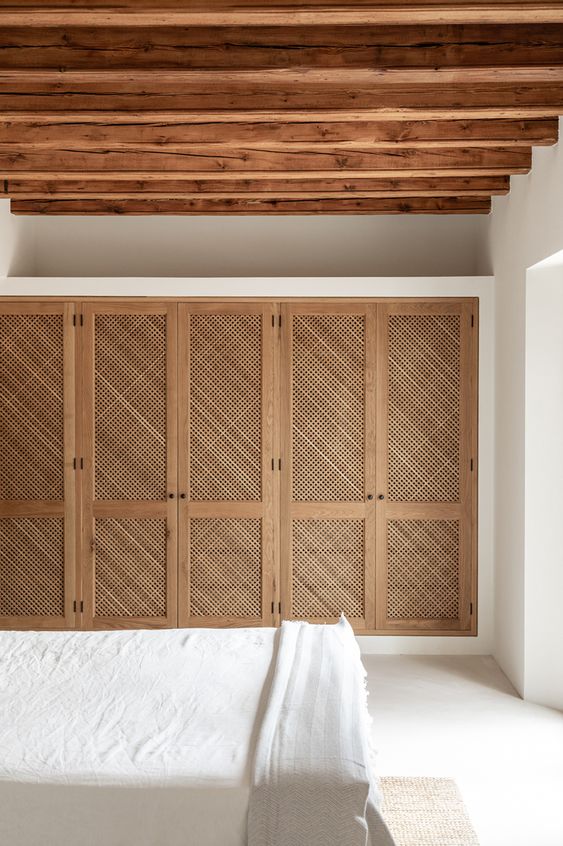 34. Walk-in closet
Ooh, I'd love the space for a walk-in closet, especially one as glam as this renovated 1930s one. Sophisticated and refined with its Art Deco-inspired interior, I love the mix of white walls, black floorboards and window frames, and graphic rug and ottoman.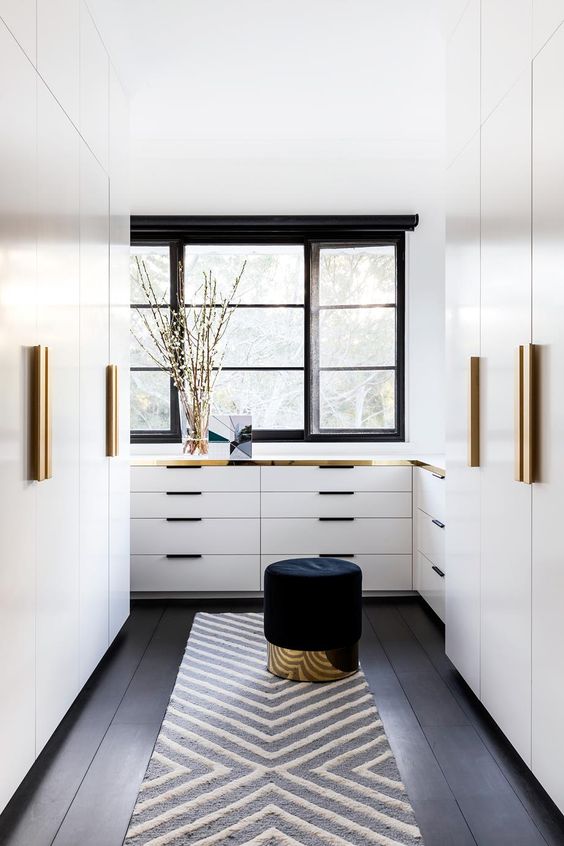 35. Wardrobe with cube storage
I love the clean, classic lines and simplicity of these bedroom built-ins. What a pretty shade of sky blue, and it goes so well with the natural timber. Giving the mirror a complimentary timber frame is a nice touch too. For bespoke joinery like this, you can find an expert in your area who specialises in custom-made furniture.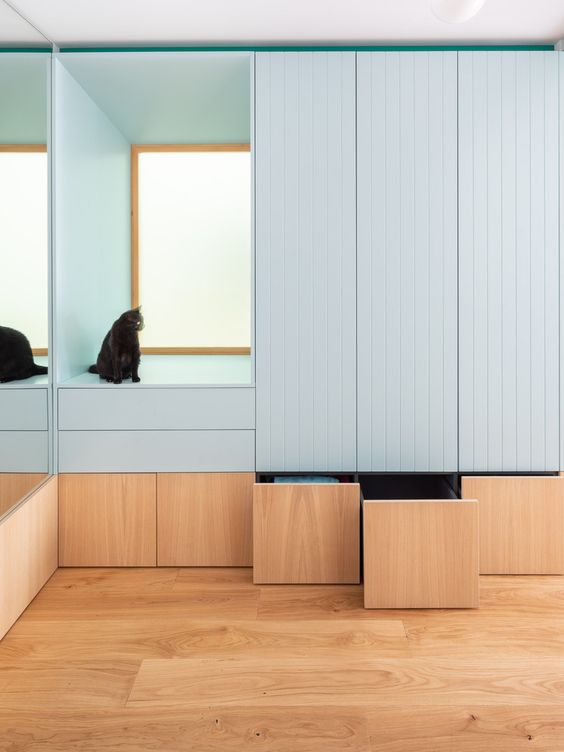 And that's a wrap on 35 wardrobe door ideas that are streamlined and elegant and will give your space a one-of-a-kind look that's sure to please. Need more than simply an update of your closet doors? If your existing wardrobe is looking worse for wear, you can easily find someone to handle any repairs needed. Or, if you're shopping for a brand new wardrobe, find someone to look after the delivery for you.