With the 4th of July just around the corner, ensuring your home is ready for the festivities as early as possible is a good call. However, if you're considering an outdoor party, you may need to cover a few extra things for good measure.
From prepping your lawn and cleaning your BBQ grill to getting some last-minute essentials delivered, here are some tips on maximizing your time pre and during the holiday so you can throw an epic 4th of July party!
Mow your lawn
A clean yard starts with organizing the most important part of it, your lawn. Cutting your grass provides better sun exposure for each blade, making sure your plants and soil receive more nutrients.
Freshly cut grass also makes setting up tables and chairs and assembling outdoor furniture easier. Plus, it won't bother or irritate guests wearing shorts or dresses for the party.
Weed your garden
If you want your bushes and flowers to look extra vibrant during your 4th of July party, remove weeds, stat! They compete with plants for nutrients, water, sunshine, and space and could also make your garden look brown and dull if you let them be.
It's simple to do but can get pretty tricky for beginner gardeners, especially if the weeds have grown too big. If that's the case, hire a garden cleaner instead. They can bring your garden back to life and even clean other yard areas like walkways.
Clean out your pool and grill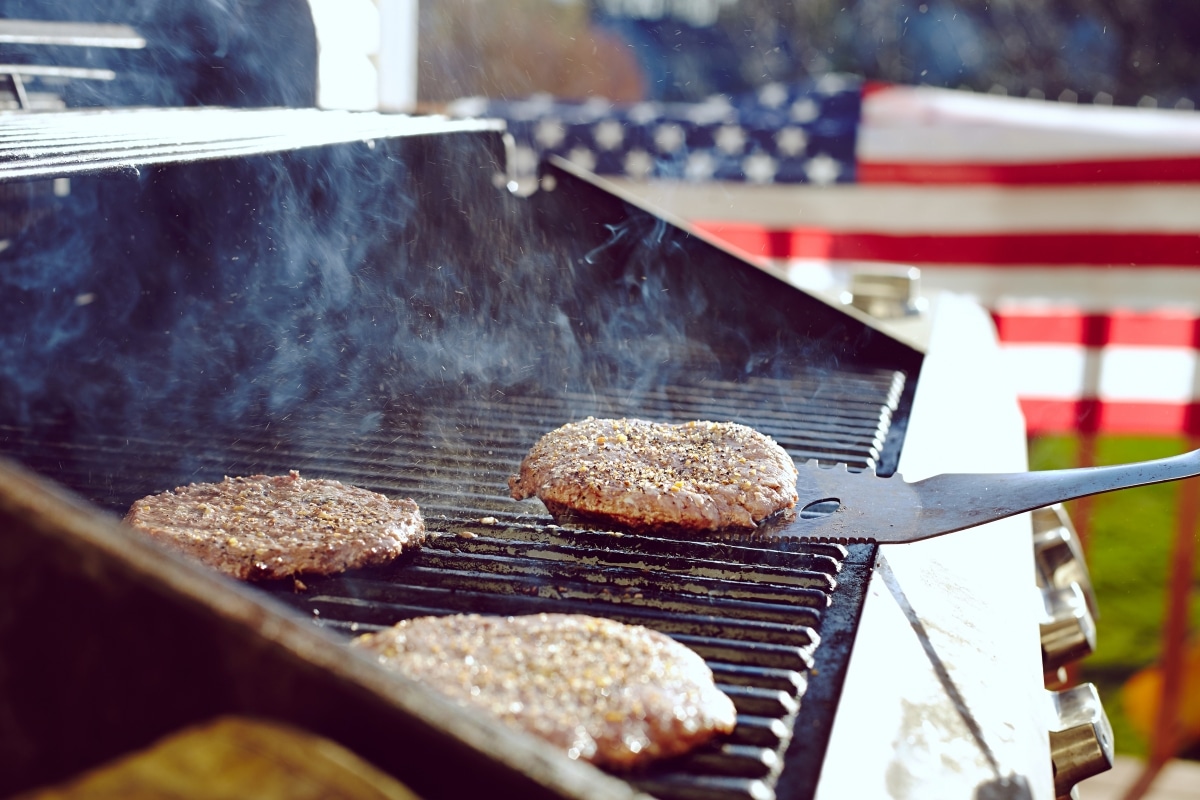 Preparing for a wave of guests seeking relief from the summer heat in your swimming pool? Ensure their swimming experience is flawless by banishing leaves and critters and achieving crystal-clear water. Trust a professional pool cleaner to expertly vacuum and treat it ahead of your party.
And let's not forget about your grill because a 4th of July cookout isn't complete without those mouthwatering burgers and sizzling hotdogs! Don't fret if you're unsure about grill cleaning—call an expert BBQ cleaner to bid farewell to burnt food remnants and stubborn grease so that your barbecue is nothing short of perfect.
Get rid of bugs
Notice a few mosquitoes hanging around in your backyard? Don't let them dampen your guests' mood at the party! A pest controller can effectively drive them away and remove other rodents that may be hiding.
Tip: To avoid mosquitos returning, make sure there isn't any standing water, like puddles, as they tend to hang out in these areas the most.
Order cakes and pastries in advance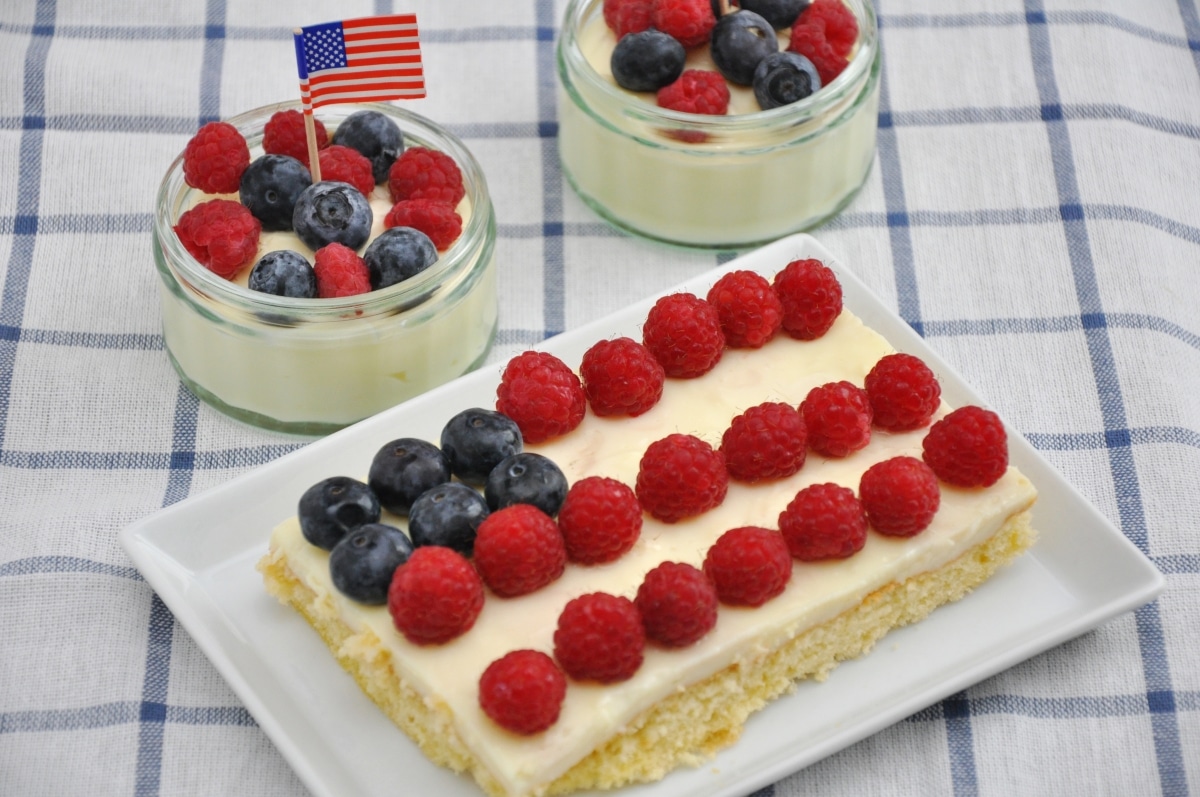 Whether going for a red, white, and blue theme with your cakes and cookies or keeping it classic with an all-American apple pie, it's always best to order ahead from your local bakery during this time of year. This way, you're not scrambling to make something from scratch or dealing with the holiday rush.
Tip: If you have a specific look or design in mind for your pastries, a custom baker can bring your vision to life and deliver them just in time for your gathering.
Do your shopping a week early
Still need paper plates, disposable utensils, cups, or napkins? Shop early for your 4th of July party so you can focus on setting up your backyard on the day itself.
If you're short on time, hire a trusted grocery delivery service to handle your party shopping needs, from cooking essentials to 4th of July-themed party favors. Just prep your list and budget, and let the shoppers do their thing!
Set up 4th of July decorations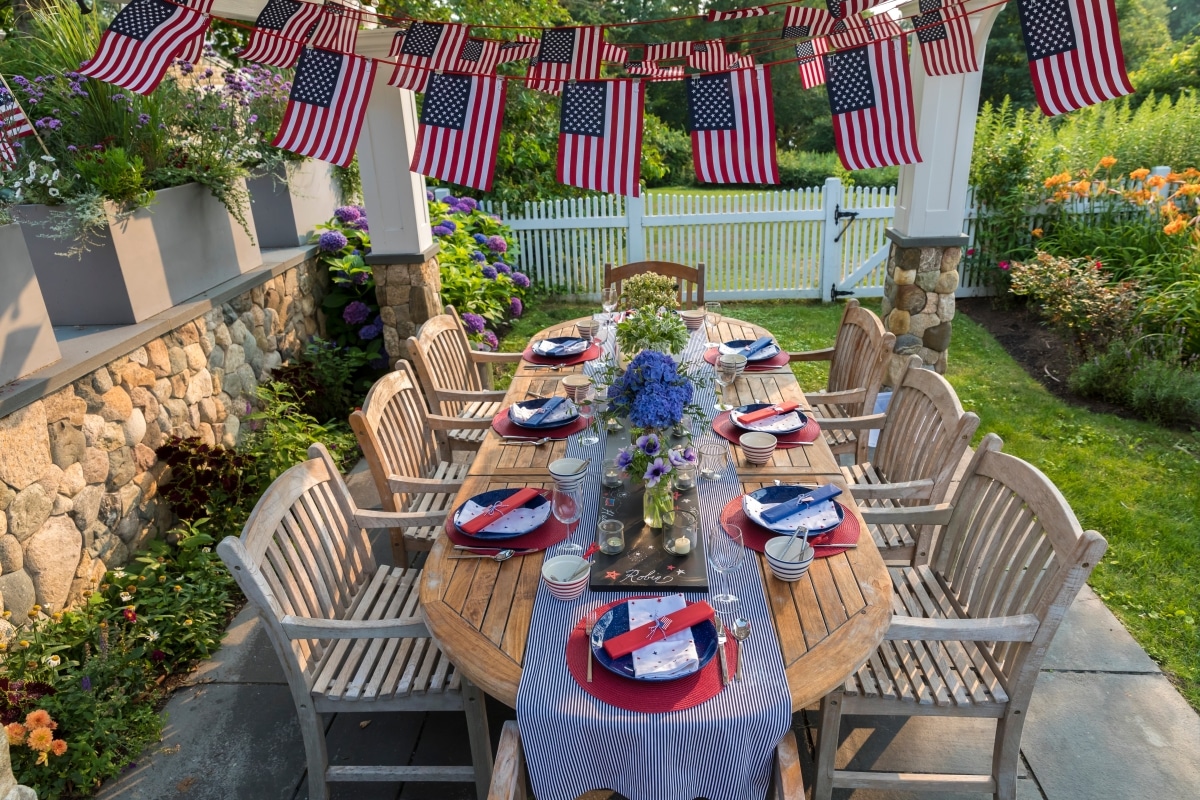 No 4th of July celebration is truly complete without some patriotic decor! In addition to proudly displaying the American flag on your lawn or porch, let your creativity soar by incorporating red, white, and blue napkins or plates. Amp up the patriotic spirit with streamers and add a touch of flair by pinning small flags to every snack. Remember to serve themed juices and cocktails for extra fun, too!
Yearning for picture-perfect decorations that will leave your guests in awe? Event decorators possess the magic touch to turn your ideas into reality. Let them work their wonders, freeing you and your guests to revel in the best time imaginable.
Hire an entertainer for the kids
Are some of your friends bringing their kids to the party? The more, the merrier!
If you're fresh out of activities to amuse them, get a professional entertainer to help you! Whether dancers, singers, magicians, puppeteers, or clowns, they can hold the kids' attention with games, magic shows, and balloon animals for a day they won't forget.
Set up an inflatable house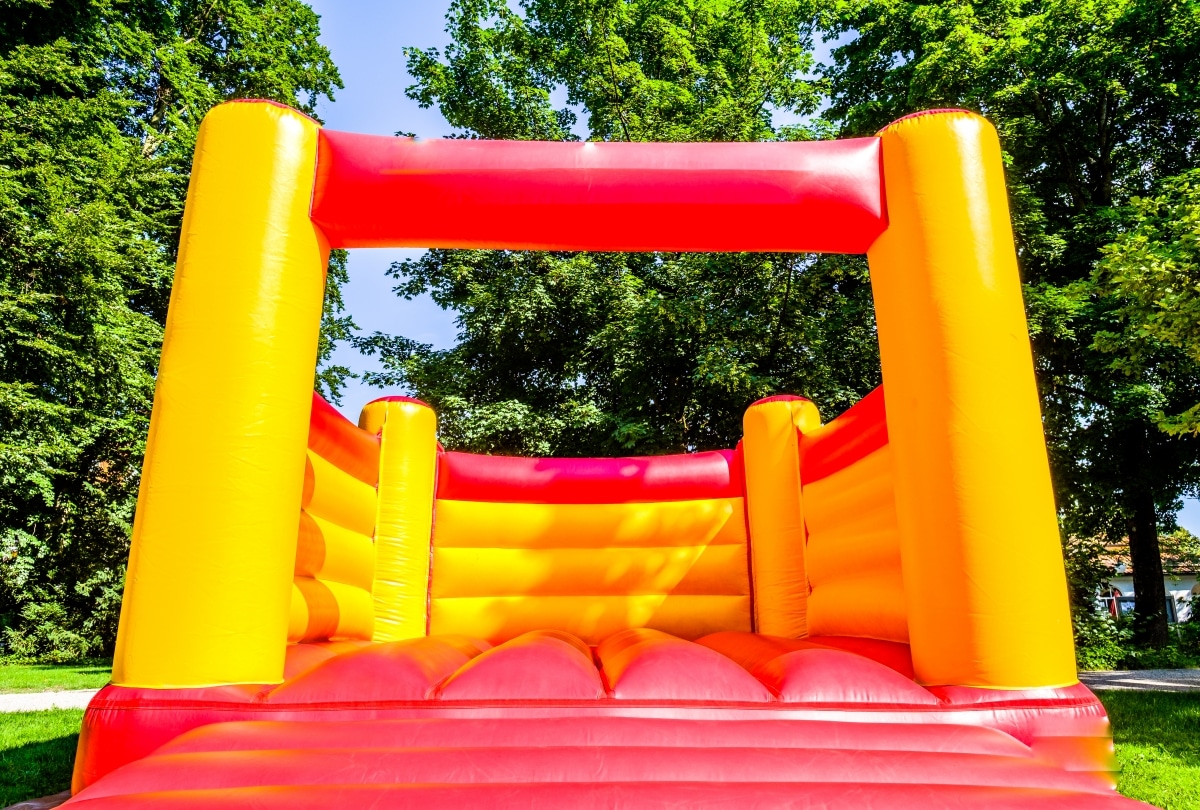 Aside from games and magic shows, an inflatable house is also a good idea to make your 4th of July party kid and summer-friendly. It encourages kids to be active and can be a great way to interact and make new friends!
You can even add a water slide if your yard has enough space. Soon enough, adults will be joining the fun, too!
Prep food before guests arrive
Get a head start on the cooking by prepping your food before the guests arrive. Set up an assembly line by mixing your burger meat and shaping them into mouthwatering patties, ready to grill any time. Toast the hot dog buns and bring out all the condiments, and for a sweet touch, place candies in adorable mini jars for hassle-free munching.
With the food prepped and ready, you can effortlessly whip up the feast while mingling with your guests. It's a win-win situation that guarantees everyone gets their scrumptious bites in record time!
Seek party help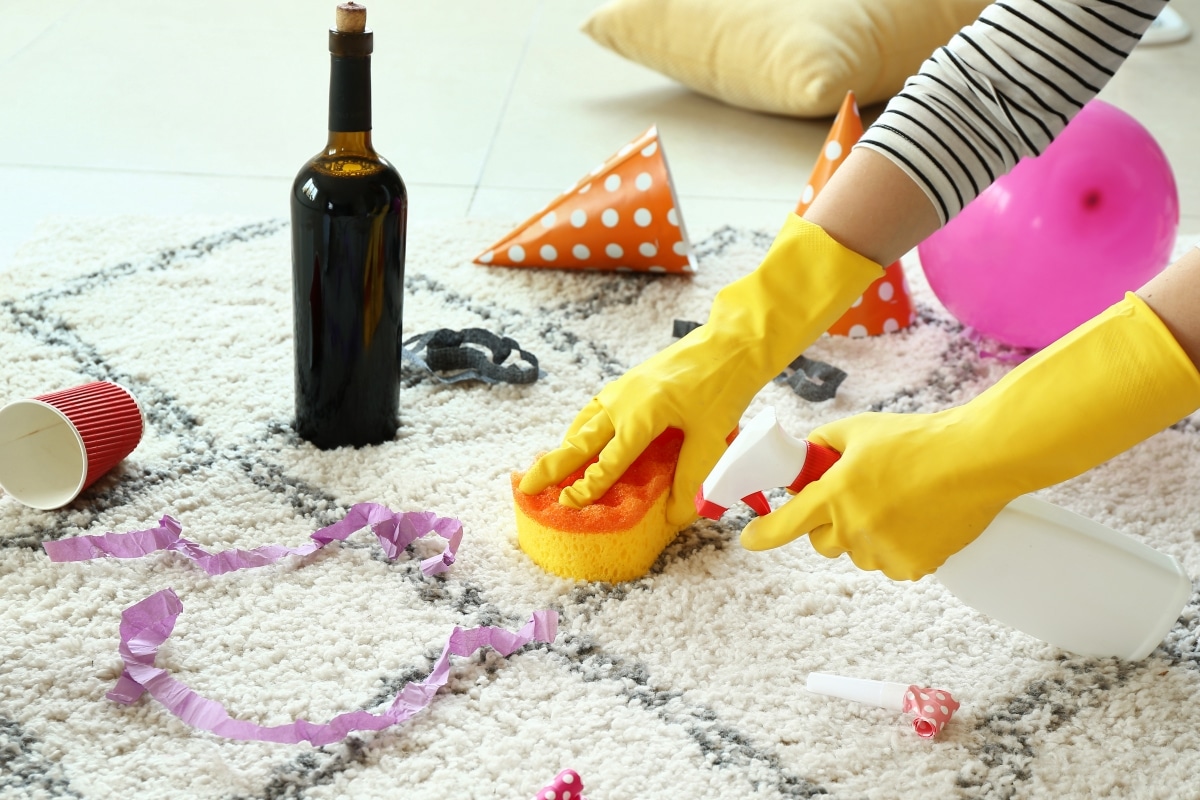 Planning and hosting a 4th of July party is a unique experience, filled with patriotic spirit and celebratory vibes. As the night comes to a close, with mesmerizing firework displays or the safe delight of sparklers, it's easy to forget about the not-so-fun part—cleaning up.
Make your life easier this 4th of July by hiring an event cleaner who can handle both pre- and post-party tasks. They can even bartend and serve food, ensuring all your guests have an incredible time while you relax.
As the festivities begin, we hope you have the best time with the people you hold dear. Whether you will be enjoying the sizzle of the grill, the vibrant decorations, or the laughter of friends and family, may the memories of this patriotic holiday stay with you for years to come.
Wishing you a joyful and memorable 4th of July!