If you love spending the day outdoors with your dog, the bright and sunny terrain of Los Angeles is perfect for just that!
Whether you're new to the city or looking to switch up your morning or afternoon walks, here are some of the best dog walking paths, parks, and areas for your adventures together.
1. Silver Lake Reservoir Trail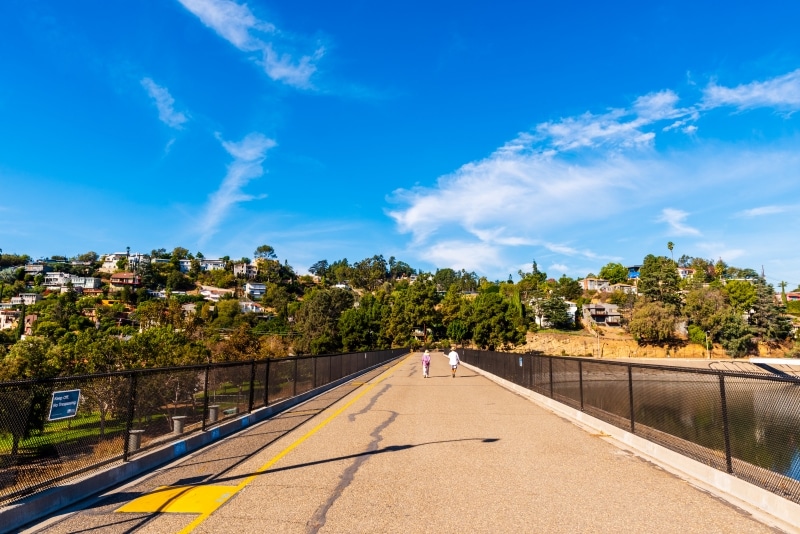 As a 2-mile looped walking path, Silver Lake Reservoir Trail is a piece of cake. Since it's a running trail, use the designated sidewalk. And if you reach the top of the hill, there's a resting area with dog water bowls—in case you forget to bring one!
Is Buddy still full of energy after that walk? Take them to Silver Lake Dog Park! It's beside the trail and has an off-leash zone where you can play fetch and meet other pooches.
Address: 1854 To 2246 Silver Lake Blvd, Los Angeles, CA
2. South Hills Park and Wilderness Area
South Hills Park and Wilderness Area feature a 3.5-mile loop packed with lots of sights to see! You and your mutt will be greeted by an off-leash dog park where they can roam around and meet fellow canines. 
If you're looking for other spots within the area, take them to a trail along Centennial Heritage Park. It has a small citrus grove and the 1800s home of Glendora's founder, George D. Whitcomb. 
Pups super hungry after a long walk? No need to go to a supermarket on the way home to buy some treats. You can hire a service to deliver the dog food straight to your home!
Address: 701 E Mauna Loa Ave, Glendora, CA
3. Runyon Canyon Park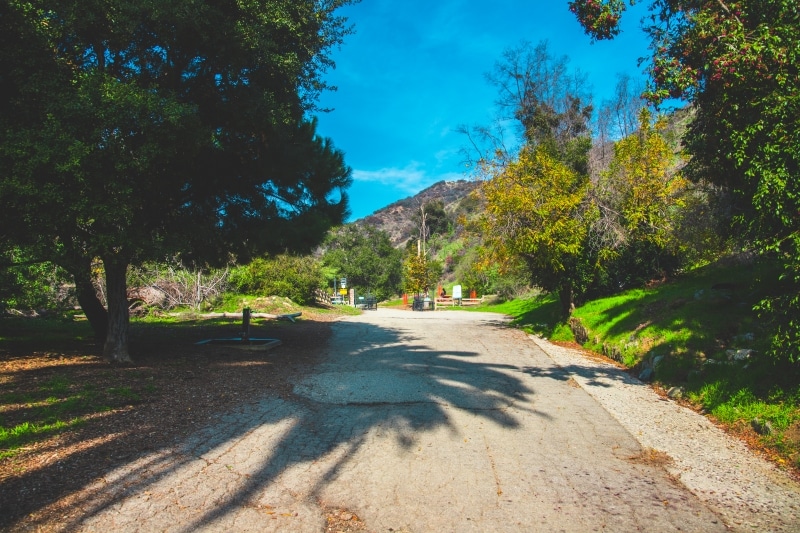 Runyon Canyon is the spot for active Angelenos and their dogs. This 160-acre dog-friendly park has hiking trails for all levels, water fountains, and benches!
It features plenty of off-leash areas, though we recommend you keep them leashed for the most part to avoid running into foxtail plants and rattlesnakes. 
Tip: Parking can be difficult. To find a prime spot, come around 7:00 to 8:30 am.
Address: 2000 N Fuller Ave, Los Angeles, CA
4. Westridge-Canyonback Wilderness Park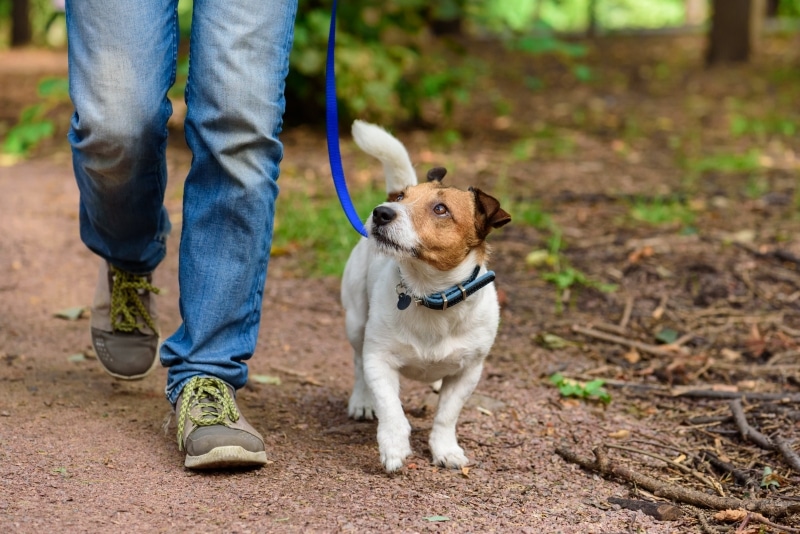 Many families with dogs hike at Westridge-Canyonback Wilderness Park, so you and your dog are sure to make some new friends!
It's the perfect park for your pet to socialize while you enjoy some solitude. You can also spot downtown LA and the Pacific Ocean at different points.
If your dog prefers to be off-leash but tends to be extra playful, maybe it's time to hire a dog trainer. This way, you can enjoy your time together without frustrations or accidents.
Address: 17024 Mulholland Dr, Los Angeles, CA
5. Mildred E. Mathias Botanical Garden
The Mildred E. Mathias Botanical Garden is a public garden on the University of California, Los Angeles (UCLA) campus. 
It's full of easy, short trails you can stroll in, plus ponds and streams where you and your pups can enjoy watching turtles, fishes, and other plants and flowers! 
Don't forget to keep them leashed as it's a public place.
Address: 707 Tiverton Dr, Los Angeles, CA
6. Corral Canyon Park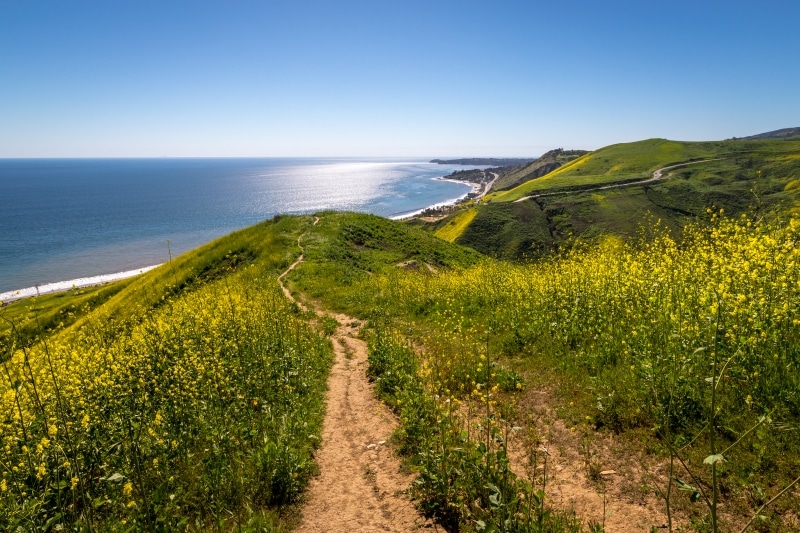 Love going on nature walks? Check out Corral Canyon Park in the Santa Monica mountains. Your dog can enjoy the breeze in their fur and smell the Pacific Ocean!
After your walk, check your dog for ticks, as the trail is full of wild plants. Hire a dog groomer to remove any tick eggs and dirt to be extra safe.
Address: 25623 Pacific Coast Hwy, Malibu, CA
7. Griffith Park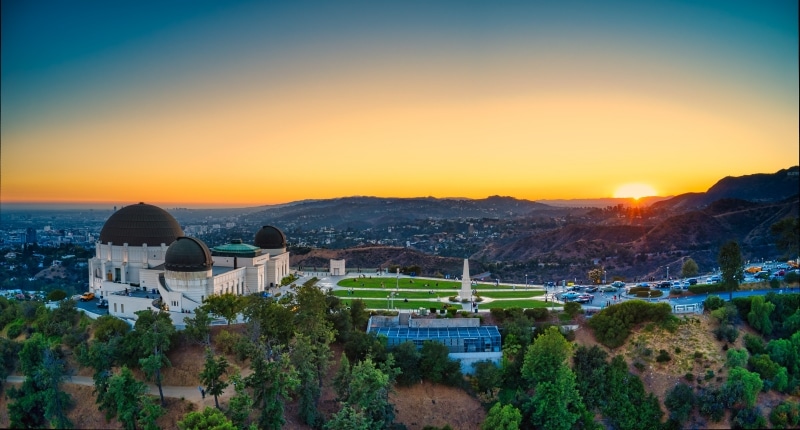 With over 4,000 acres of land, Griffith Park contains a variety of walking paths and landmarks—such as Mount Hollywood, Amir's Garden (which has a doggie water bowl!), the Old Griffith Park Zoo and Picnic Area, and Wisdom Tree—you and your pup will adore exploring.
Address: 4730 Crystal Springs Dr, Los Angeles, CA
8. Lake Hollywood Park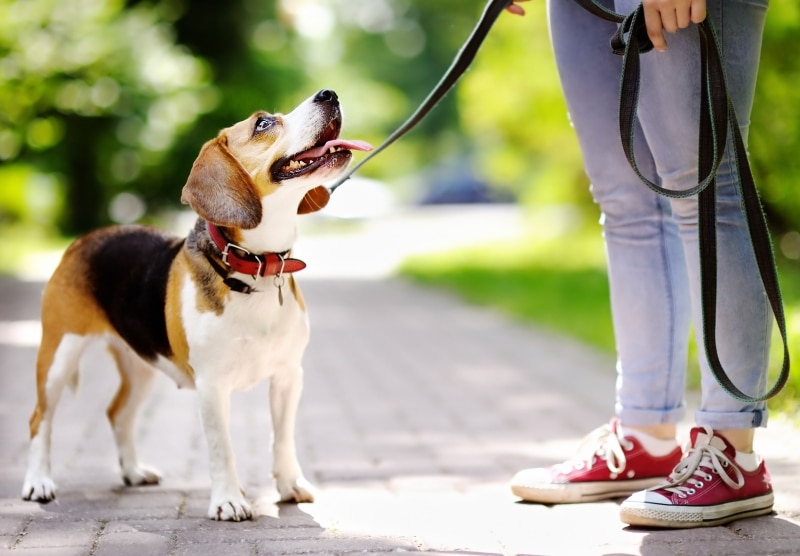 Want to take photos of your dog with the Hollywood sign in the background? Take them to Lake Hollywood Park! 
It has plenty of space for dogs of different sizes; just keep them leashed and pick up after them! Rangers regularly patrol the area, so you might get a ticket if you don't clean up after your pooch.
Address: 3160 Canyon Lake Dr, Los Angeles, CA
9. Fryman Canyon Loop
Fryman Canyon Loop is an easy 3-mile walking path in the Hollywood Hills. It may be a simple trail, but it'll offer you and your pup gorgeous views and respite from the city's hustle!
Address: 3453 Fryman Rd, Los Angeles, CA
10. Echo Park Lake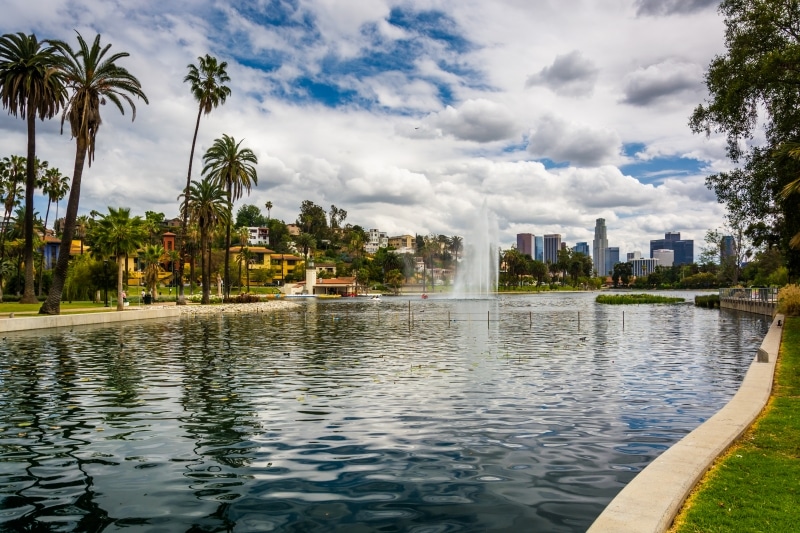 Let your dogs enjoy the birds, geese, and grass at Echo Park Lake! While they may have to always be on a leash, it's full of fun walking trails and has plenty of stations that provide "poop bags" in case they have to go. 
Address: 751 Echo Park Ave., Los Angeles, CA 
11. Millard Canyon Falls
Who doesn't love seeing waterfalls up close and personal? Bring a pair of waterproof shoes and towels for you and your pup because Millard Canyon Falls is bound to get both of you wet!
During your 1.5-mile trek, you'll find campsites, huge oak trees, and a flowing stream. Once you reach the falls, take a dip in the rock pool to cool off!
Address: Altadena, CA
Busy these days? Hire a dog walker. 
Dog walks are the best! Not only do you get to bond with your pet, but you can also get those daily steps for yourself.
Of course, dogs need exercise, too! But if you need to be away for a few hours or your schedule is holding you back from your usual outdoor stroll, you can always hire an experienced dog walker from Airtasker. They'll make sure to get your pups moving while keeping them safe, happy, and comfy!
Have fun!