Looking for loft conversion ideas? A loft conversion is a popular, flexible and cost-effective alternative to adding an extension when you want to create more habitable space (and add value!) to your home. You can transform your existing attic into any kind of room you want. Maybe that's an extra bedroom, bathroom, home office or new living room space—or, if your loft is big enough, you can even create multiple rooms in it.
There are so many different options when it comes to loft conversion ideas. How much structural work is required varies, from simple rooflight or Velux loft conversions involving the installation of windows to the fairly basic construction of a box-like dormer loft extension. Then you move up to more complex structural conversions like hip to gable, gable to gable, or Mansard loft conversions. Probably the most common of these loft conversion ideas is the dormer loft conversion, a box-like structure built out of the slope of your roof.
The type of loft conversion you choose will depend on factors such as the size of your attic, your type of house (terraced, semi-detached, detached), your existing roof shape, your budget, and your intended use. But below, I've gathered 46 lovely loft conversion ideas for you with some general design and planning hints. This will give you an idea of the style of conversion that appeals to you the most. Then, it's a matter of discussing your loft conversion ideas further with experts like drafters, architects and builders. They will help you bring your dream loft to life!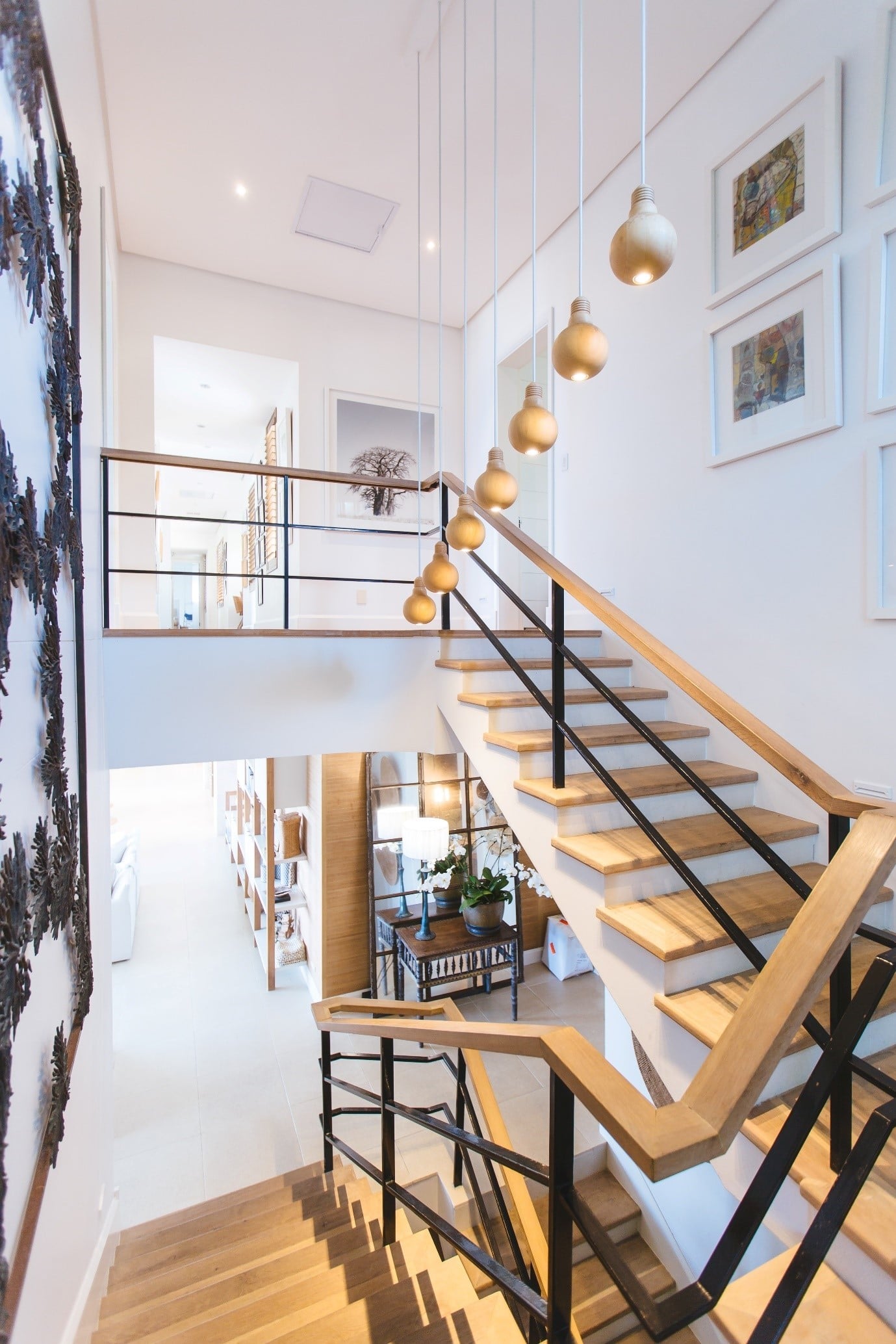 Loft conversion ideas for living spaces
I'll start with loft conversion design ideas for when you wish to create a brand new, comfy living area in your attic. One of the biggest things to contend with is the temperature of a loft, as you don't want it to be very hot in summer and very cold in winter. As such, insulation of both the floors and the roof is an important consideration. You can find an expert in insulation and roof ventilation (whirlybird vents and the like) to deal with this issue.
1. Keep it light
To ensure your loft feels airy and light rather than dim and poky, it's a good idea to choose a light colour scheme, all-white being a neverfail aesthetic. But to stop it feeling too clinical, balance it out with lots of warm timber and organic décor, and darker colour pops in your accents.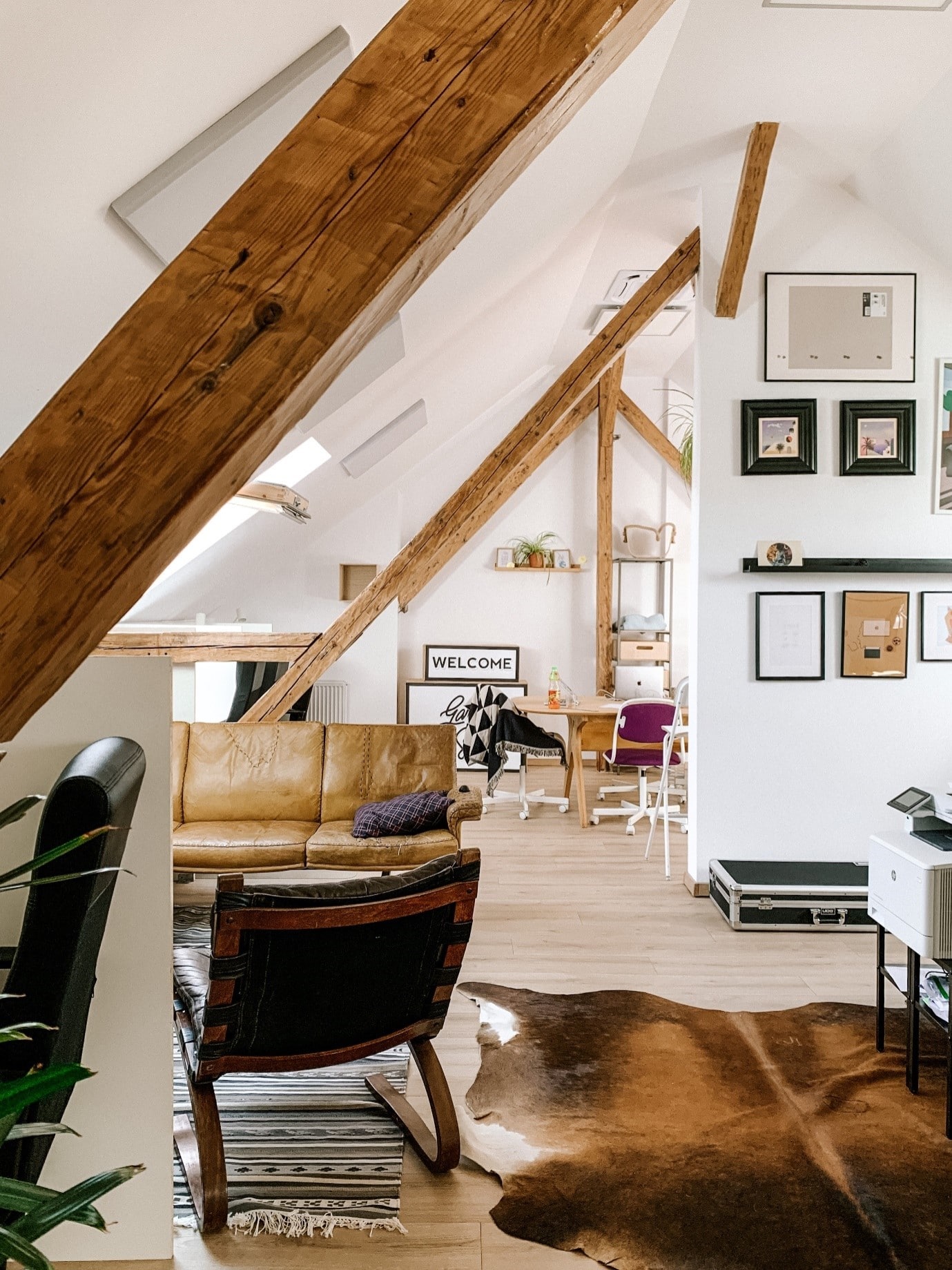 2. Make it feel like a staycation
During the pandemic, many travel dreams have been unattainable. But why not bring those alpine ski lodge vibes home? Take inspo from Bavarian hotel, Quartier, and its stunning purist aesthetic full of timber and glazing. Maybe you only have room for a little nook? Or if you have the space, you can kit out an entire little mountain-hut apartment with kitchenette and sitting area.
3. Balance darks and lights
A loft can still boast a darker colour palette. The trick is to keep the ceiling lighter to prevent it feeling gloomy. A monochromatic colour scheme puts the focus on the materials. For instance, herringbone floors under a fuzzy, powder grey rug, or a variety of timbers mixed with metal decor. (Enhance a minimalist look by having your loft professionally cleaned.)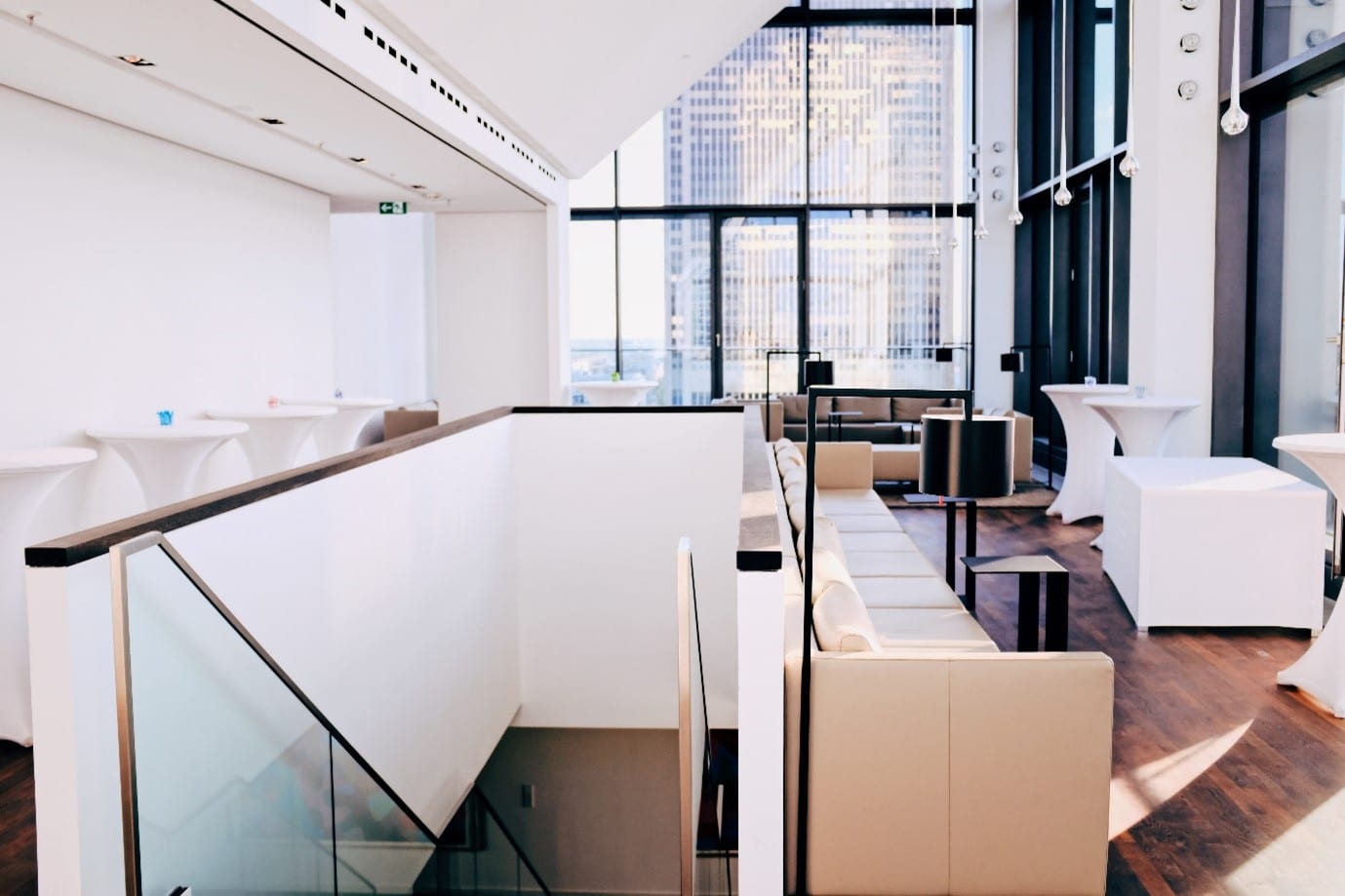 4. Infuse it with organic decor
A calming and chilled-out vibe is easy to create for your loft living space. Start with a neutral colour base and layer up the organic elements. Think woven storage baskets and side tables, a bamboo lantern-style light fitting, and dried flowers or grasses in vases. Add tactile, textural soft furnishings like a cosy rug and comfy oversize floor cushion.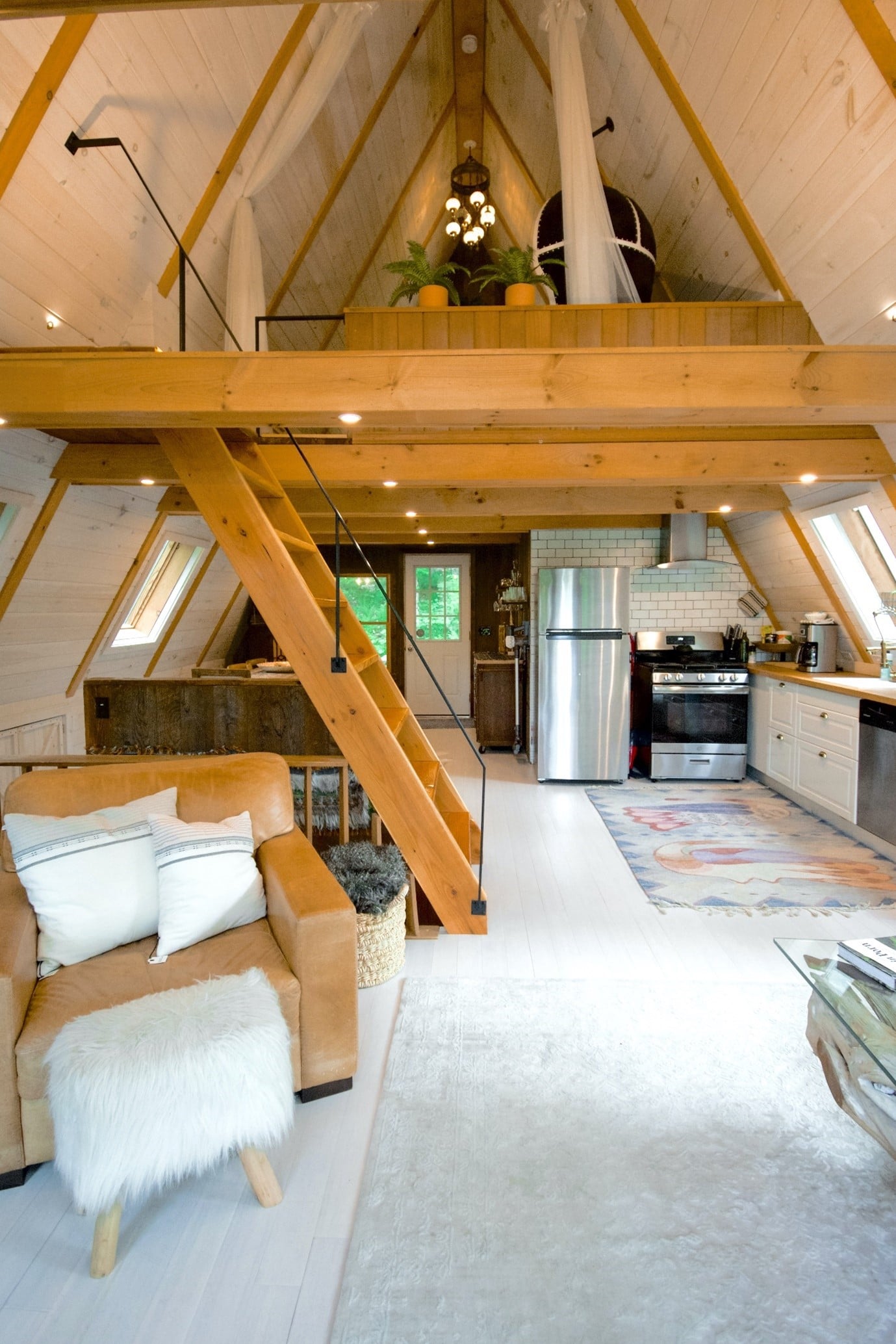 5. Build outwards with a dormer
Dormer windows are a popular option as they maximise your headroom and usable floor space. And also because you end up with more conventional-looking windows. Create a calming sanctuary by including a window seat to take advantage of the new view.
Note that dormer loft conversions will also need exterior cladding. Consider options like timbers, metals like zinc or copper cladding, glass-reinforced plastic, rendering and slate-style tiles that match roof tiles.
6. Go for Velux windows
You can also gain beautiful new views, as well as natural light and ventilation, with a Velux loft conversion. This is when windows are built directly into the sloped wall. It's perfect if converting your loft to a kitchen and dining space, so you can dine with a view! If you are lucky enough to have space for multiple rooms in your conversion, you will also need to fit an emergency exit through the roof.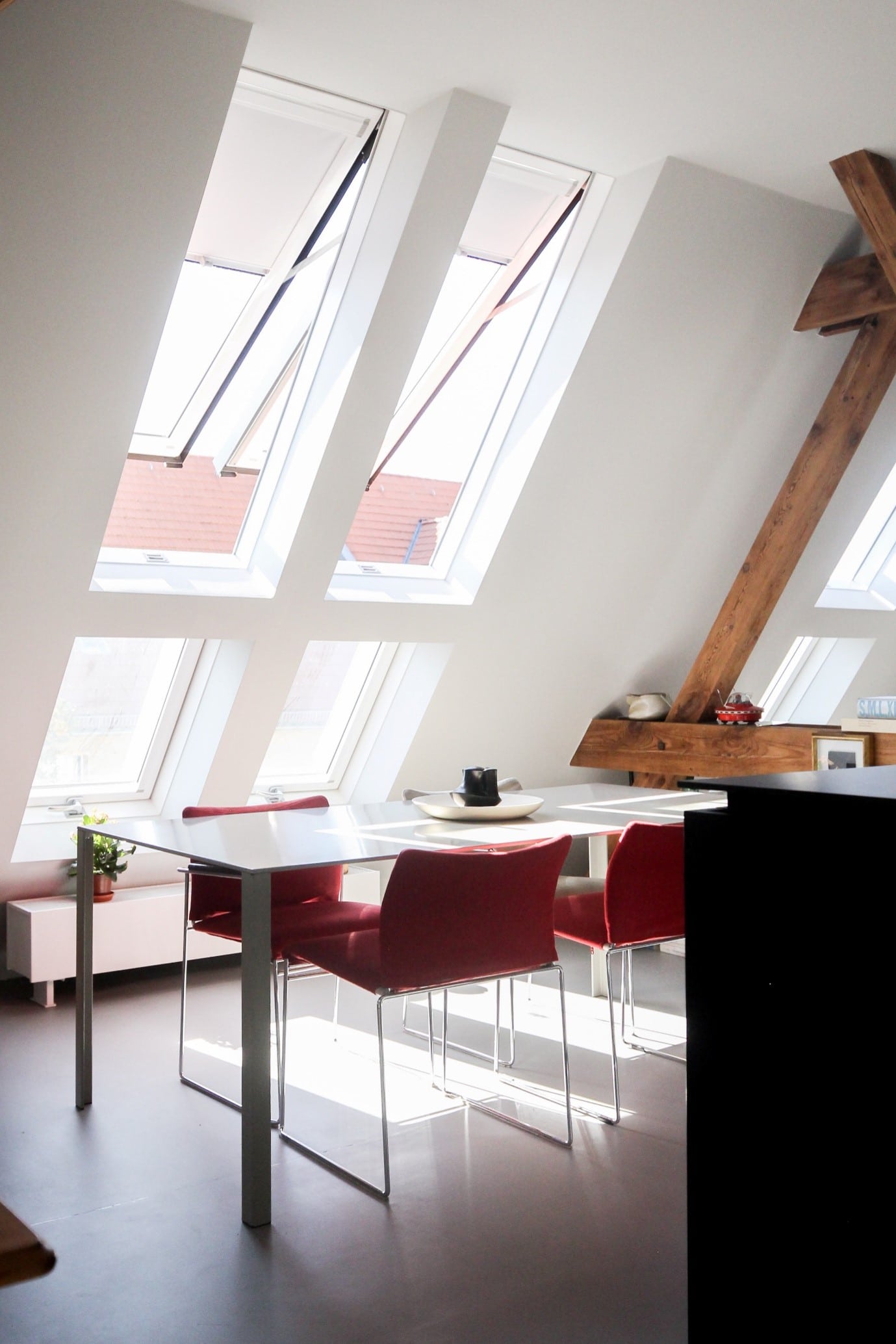 7. Make it minimal
Lofts suit a really minimal, contemporary interior décor. Opt for a monochromatic colour palette, textured soft furnishings and simple, streamlined light fittings. Note that for loft conversions that will be a certain height above your property's base floor, all your materials will need to comply with fire resistance standards. You'll need a smoke detector and potentially a sprinkler system. But your builder will advise you more on this.
8. Partition off zones
You may not wish to construct stud walls to close off rooms in your loft so that instead you can keep the light and air flowing through the whole space. A good alternative is to simply use some kind of room divider. Or for a more permanent option you might like to install a partition.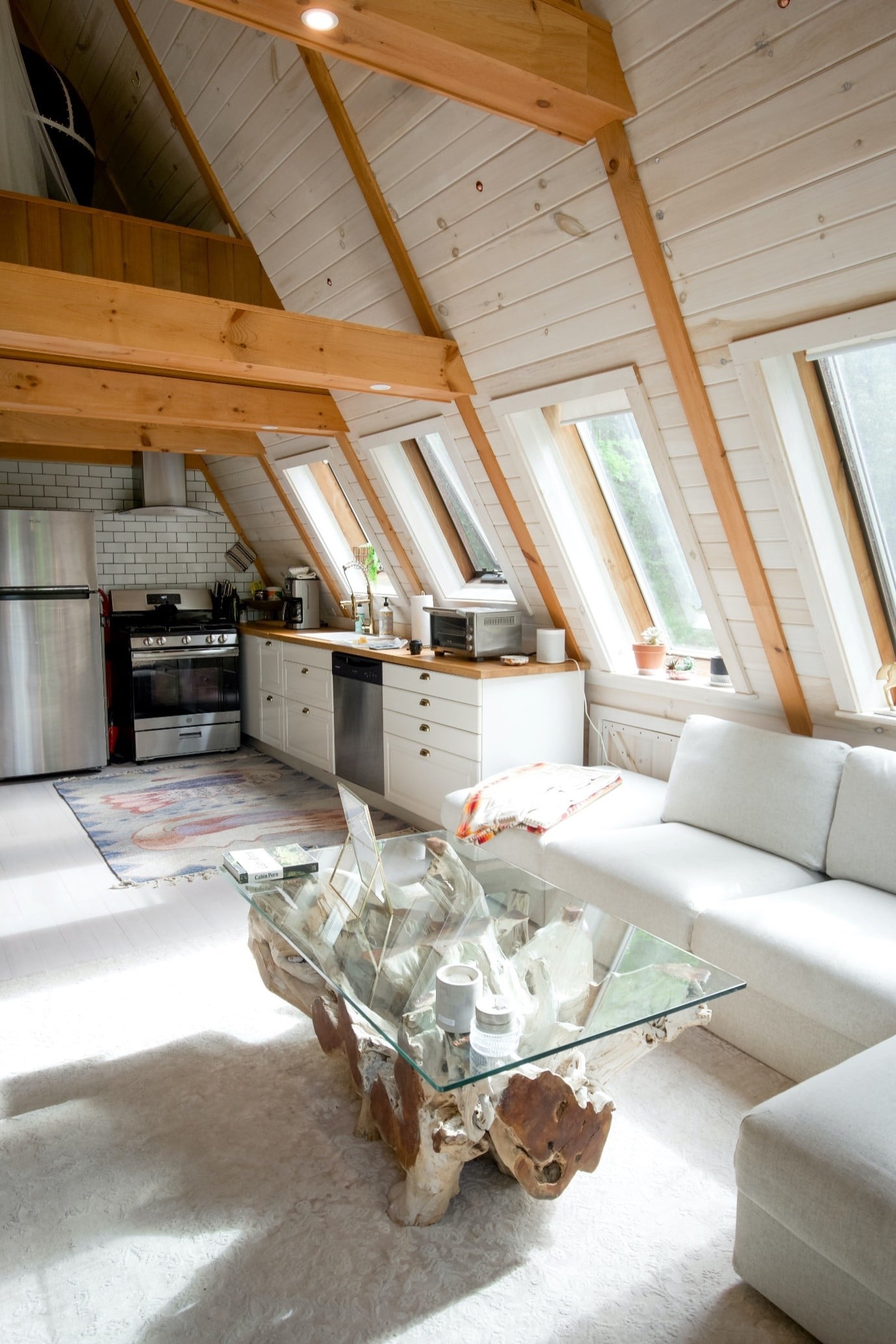 Loft conversion ideas for bedrooms
Lofts are ideal for converting into a bedroom, because the low height of a bed makes it perfect for fitting under a sloping roof. The look can also be especially charming for a bedroom space, with a high roof soaring up to the heavens. Here are some dreamy sleep space ideas.
9. Sleep under the slope
If you only have a small loft space to work with, snugly tucking your bed underneath the slope can be a great way to save floorspace. A dormer window can offer headroom for taller furniture or for standing comfortably.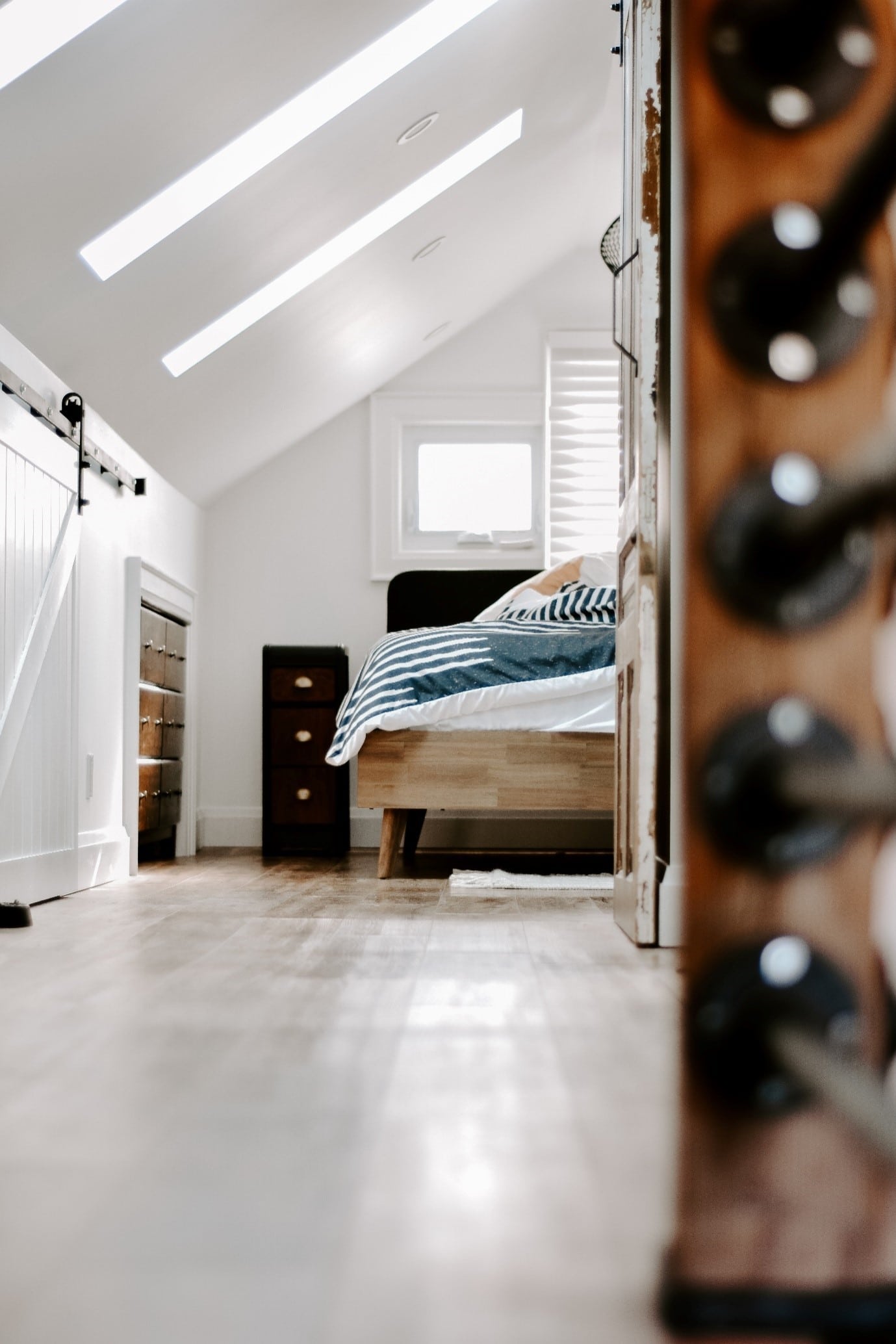 10. Show off dream beams
When your loft has visible beams, embrace them by having them in a contrasting colour to the walls. This is perfect if you love a modern farmhouse look. In that case you might go for a bright white bedroom with a pair of doubled-up Velux windows for abundant light. A handy wall niche above the bed is always a great idea for a small bedroom space, too.
11. Paint it peaceful
An alternative to white-white-white is a contemporary pastel, like neo mint or a natural pale lemon or sage. Pastels are soothing and still contain enough white to keep things feeling airy.
12. Have farmhouse feels
Soft pastel colours work beautifully with the pale timber floorboards and a whitewashed ceiling too. For a cute farmhouse attic bedroom with vintage vibes, add pastel patterned wallpaper. You can add a central row of downlights for a modern touch.
13. Go for bespoke
A loft conversion is sometimes not the easiest thing to furnish, with all its awkward angles and cramped corners. However, creative design will ensure you can make the most of the space. For example, a loft bedroom with a clever set of custom built-ins can utilise even the tiniest angles for storage.
14. Give it Boho flavours
Loft bedrooms really suit being styled as a little Boho retreat. Go for artistic, rustic farmhouse vibes, with plenty of organic décor and make sure you expose any dramatic timber beams. Fit lowboys and bedside tables into slope spaces. Leave the highest part for comfortable standing room and for taller decorative elements like, leaning artworks.
15. Go with white and wood
You really can't go wrong with wood + white, it's always such a warm, cosy and fresh look. Mix floorboards, beams and rustic timber bedroom furniture, and dress your bed up in crisp white linen.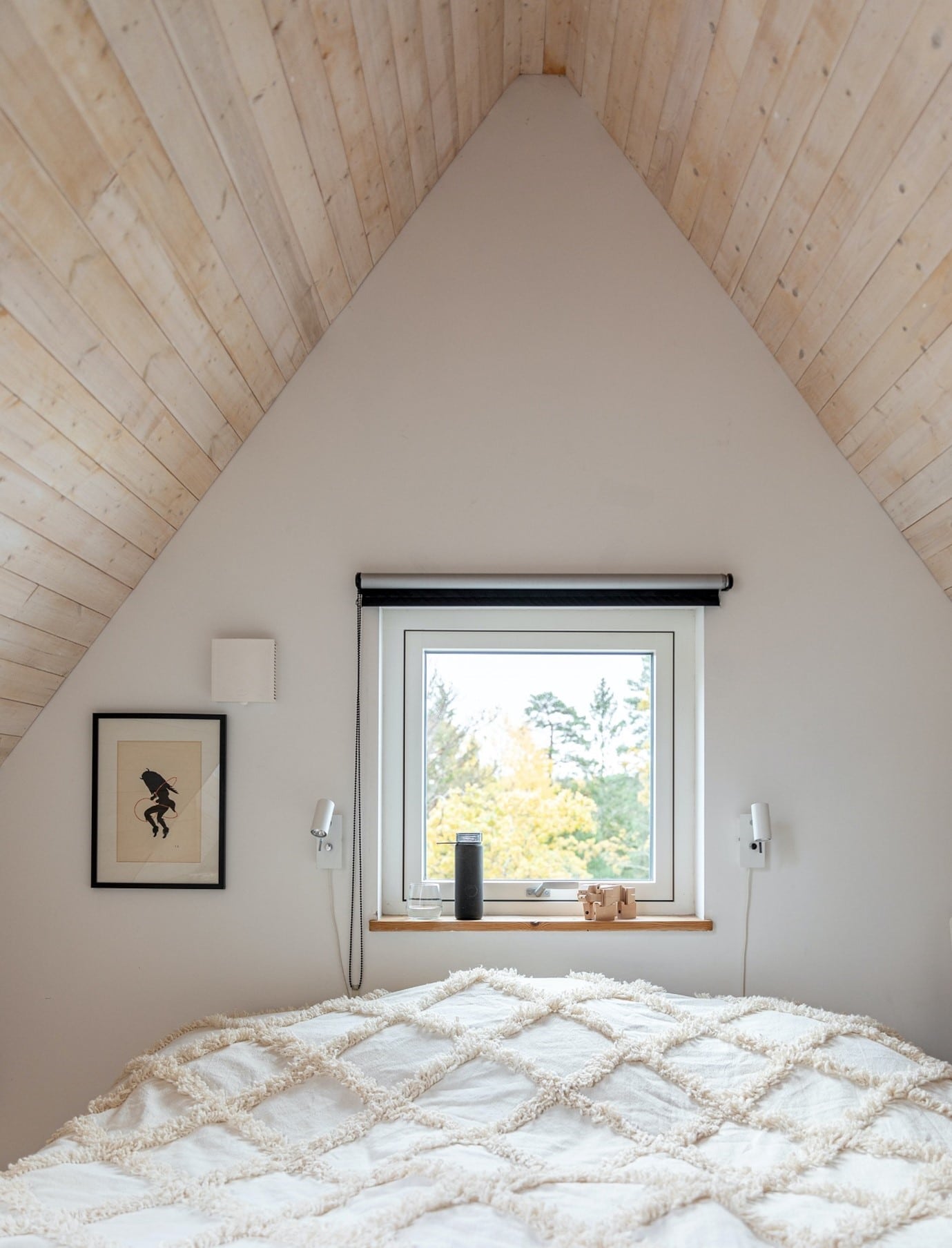 16. Freshen up with flowers
Quaint, cosy farmhouse loft bedrooms look gorgeous with faded whitewashed paintwork and floorboards. Add pastel bed linen and a simple sprig of flowers in a vase on a rustic nightstand to convey fresh country vibes.
17. Glaze a whole wall
It's more unusual to glaze a full wall of a loft, rather than simply install Velux windows on the slopes. But if you have an amazing aspect, of course you'd want to take advantage of it. For a loft with a glazed wall, keep all other décor minimal to let the view do all the talking.
18. Turn up the tranquillity
If your loft has a high pitched roof, make the most of it by positioning your bed in the centre for visual impact. Paint it white to bounce around all the heavenly light shining in from the windows. Then simple add décor in natural fibres and plenty of white linen. Ah, the serenity!
19. Zone a large space
Finally, if you have a huge loft, you might style it up as a whole separate apartment like a little world of its own. Even with an open-plan design rather than individual rooms, you can divide it into a number of different zones.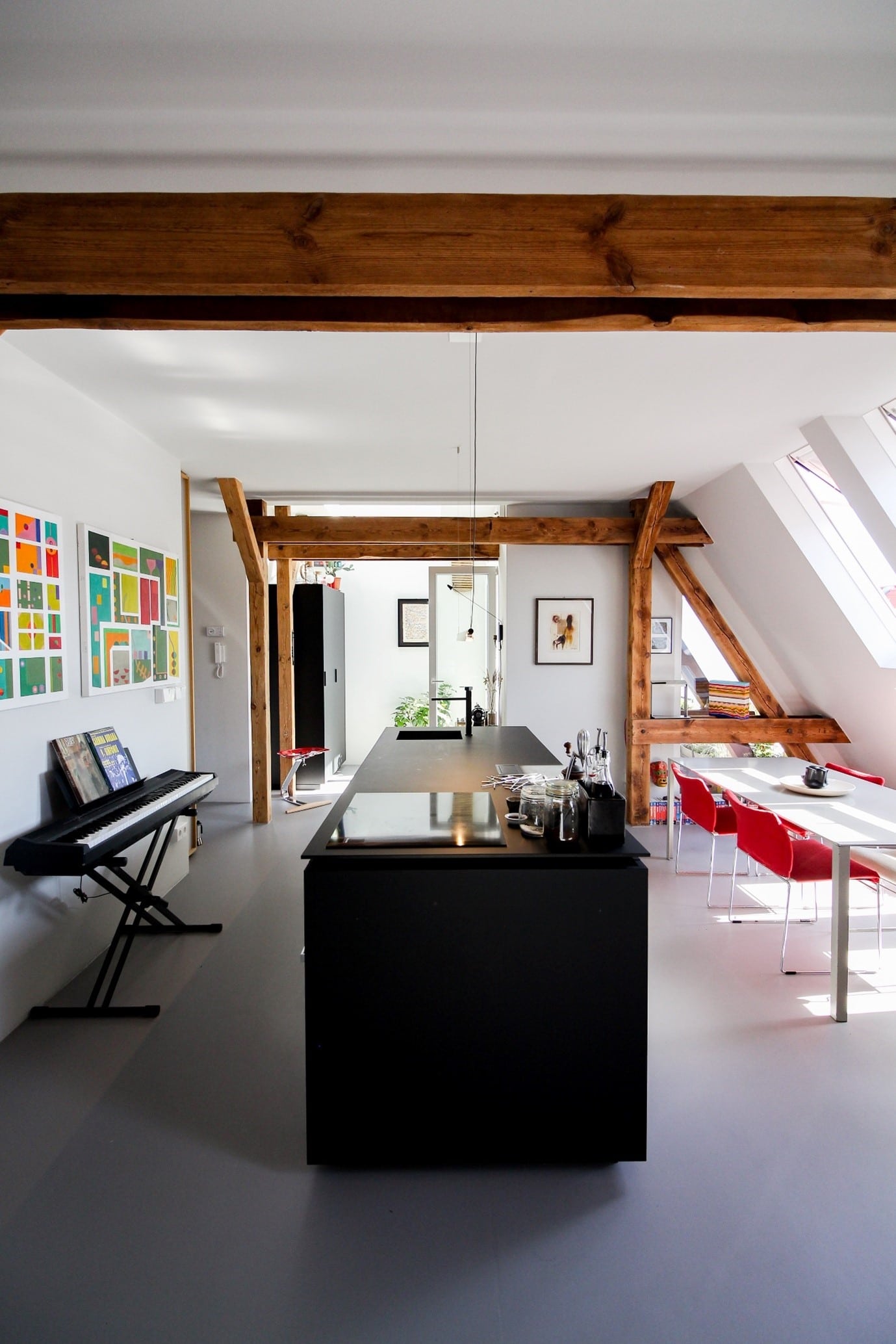 Loft conversion ideas for the kids
Young kids often love the sense of adventure of going up to an attic, so a loft conversion that creates a children's bedroom or playroom is a great idea. Of course you won't want it to have any dark and spooky vibes so painting it in light and bright colours is the go. Another good idea is to have easy-to-clean flooring up there, like laminate. Here are some more ideas for loft conversions for children's rooms.
20. Take advantage of the loft's natural shape
A pitched roof loft is often very symmetrical which makes it easy if you intend to accommodate two siblings here. A central section can be shared while each child can have its own desk section on their slope side. Meanwhile, bed sections can feature plenty of custom storage.
21. Have a clean white base
Eliminate any fears of the dark or of there being monsters in the shadows with white or pale walls. Painting your kids' loft in a cheerful light neutral will also ensure you can easily change up the décor to refresh it or as they grow older and want a new look.
22. Play up the cosiness
Show me a kid wouldn't love a snug little loft bunk, where they can imagine they are an astronaut in a shuttle or a sailor in a berth. You can fit a bunk into the tiniest of loft corners.
23. Create a teen's hangout
Teenagers are guaranteed to love to claim a converted loft as their own hideaway space. Here they can have plenty of privacy and a little taste of independent living away from the rest of the family. Thinking of setting up your teenager in your loft conversion? A mostly white colour palette will ensure it feels clean and can serve as a good backdrop for all their colourful belongings. A feature wall painted a bright, happy colour is nice idea too.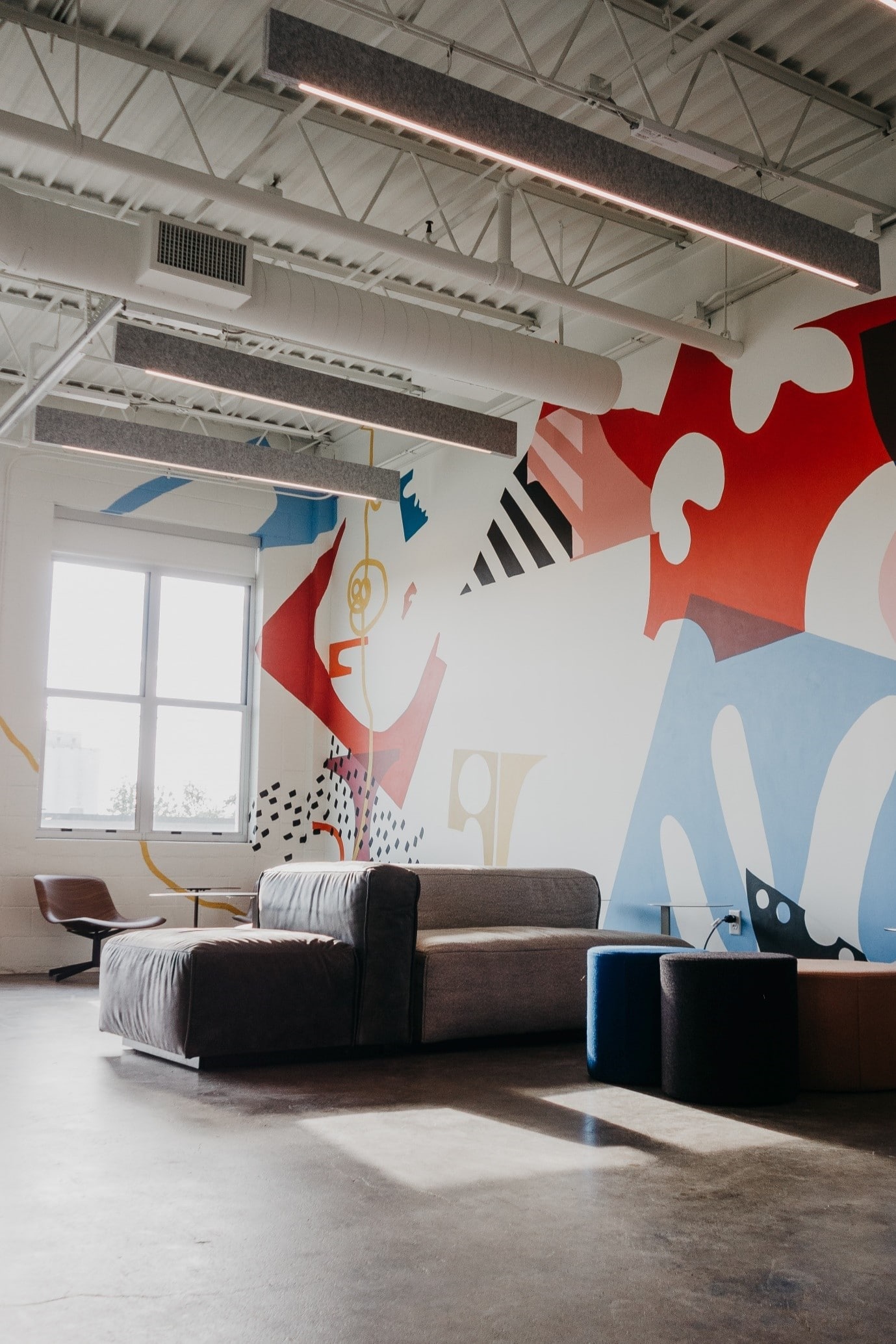 Loft conversion ideas for dressing rooms
Who doesn't love the idea of a walk-in dressing room? It's a great way to keep your bedroom clutter-free and your clothes and shoes beautifully organised. And a smaller sized loft is the perfect spot for creating a bespoke dressing room. What's more, large loft windows or skylights are perfect for letting you check your look in natural daylight before you leave the house. Here are just a few examples of loft dressing room ideas.
24. Use optical illusions
A small loft dressing room, despite not having a lot of square footage, can still feel spacious and incorporate a decent amount of wardrobe space. Visual tricks help such as painting it all white. And, laying floorboards in the direction of their longest run creates the optical illusion of more space.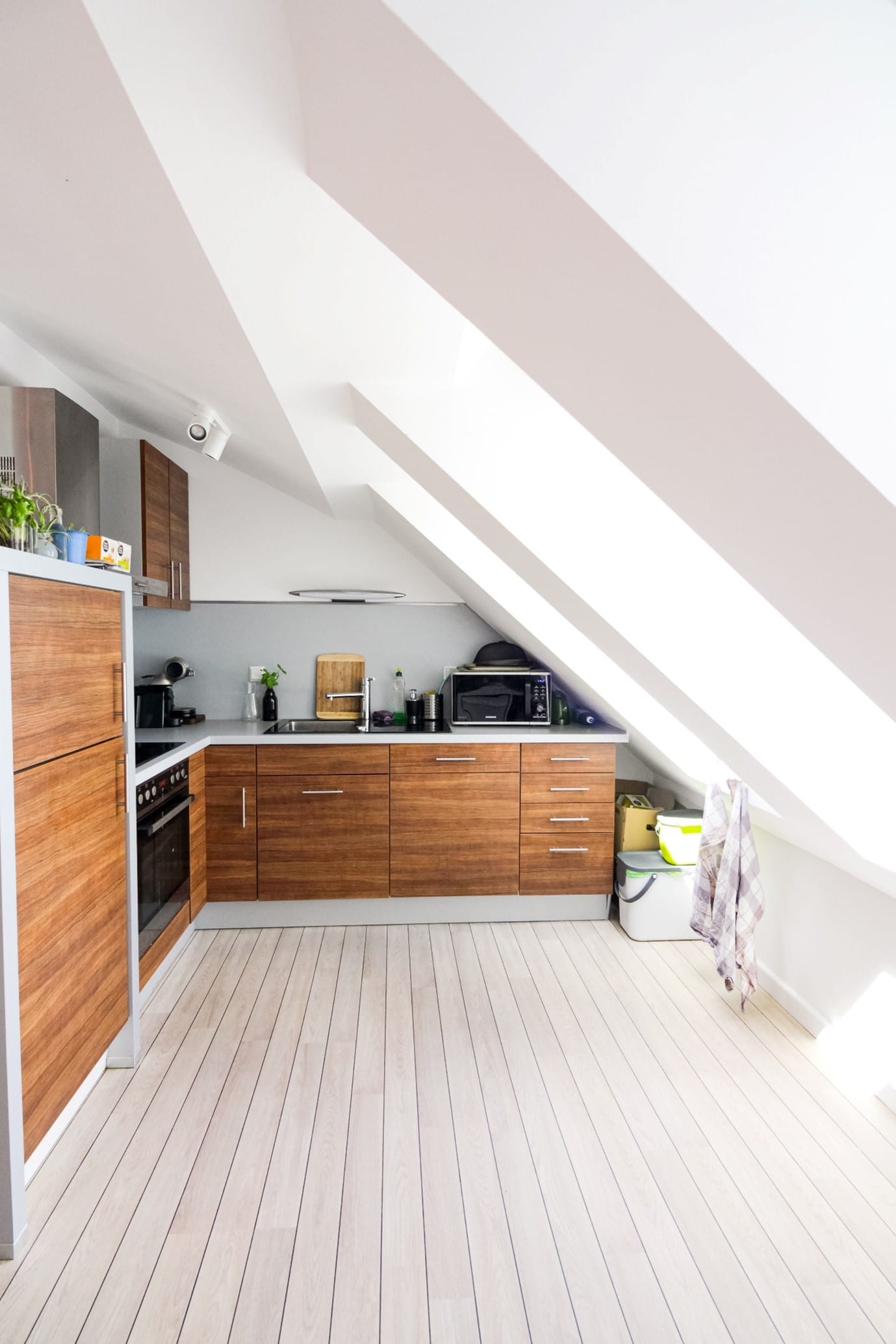 25. Love your angles
Custom-built wardrobes fitted into eaves and drawers under Velux windows in dark timber looks striking contrasted against a white loft ceiling. It creates a graphic look that boldly embraces the sharp angles of a loft space rather than attempting to disguise them.
26. Opt for custom shelving
An open closet can be cleverly built into the sloping side of the loft wall in a way that creates the look of a regular, rectangular-framed wardrobe. Even when you have a pretty small space, say containing just a clothes rack and dresser, it can be sufficient for a capsule wardrobe.
For loft dressing rooms, you will probably want to find a skilled carpenter to create custom shelving for the walk-in closet of your dreams.
Loft conversion ideas for offices and studios
With so many of us working from home these days, a home office has become a necessity. But not everyone has an existing room to put to use as a dedicated home office or study. As such, you might be considering a loft conversion for this very purpose. Here are some ideas for how to style a dedicated loft workspace that's set away from the hustle and bustle of the rest of your home.
27. Let in all the light
A home office with lots of natural light is known to maximise productivity. So it's usually a good idea to keep the colour palette light and bright and keep windows free of heavy blinds. Convert a poky loft to an airy studio home office by installing windows and whitewashing the whole space. If you are lucky enough to have a large loft space, it's perfect for creating a home office that can serve more than one user at once without it feeling cramped.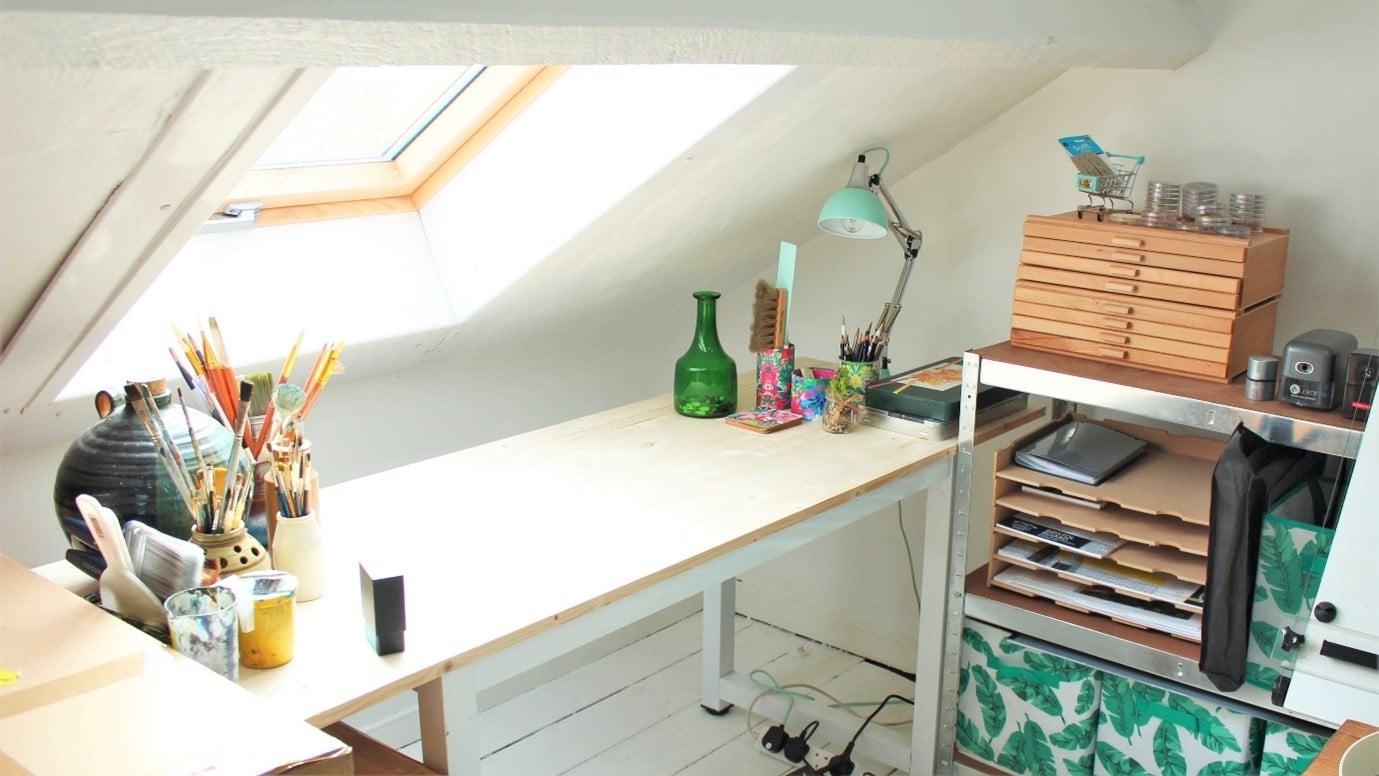 28. Or control the light with blinds
Loft designers often recommend avoiding heavy blinds or blockout curtains to maximise the available natural light. But you might opt for dark blinds on one side to allow you to manipulate the level of light to your desired level at any given time. If glare is going to affect your ability to use the loft to work comfortably, this is probably a good idea.
29. Arrange furniture cleverly
A loft home office needs to pack a lot into a small space. A low shelving unit takes good advantage of the awkward under-slope area without using up a lot of floor space. You could also look into combined desk/shelving units that take up little space.
30. Position your desk for a view
A series of picturesque windows enables you to gaze out into the distance. This is particularly good for vision health when you are working at an office desk for long periods. You might also set up a picture gallery for visual stimulation. Doing it on a slope is a lot more tricky than on a regular straight wall, so you might like to get some expert help with picture hanging. Keep the rest of the décor minimal to avoid cluttering up the space.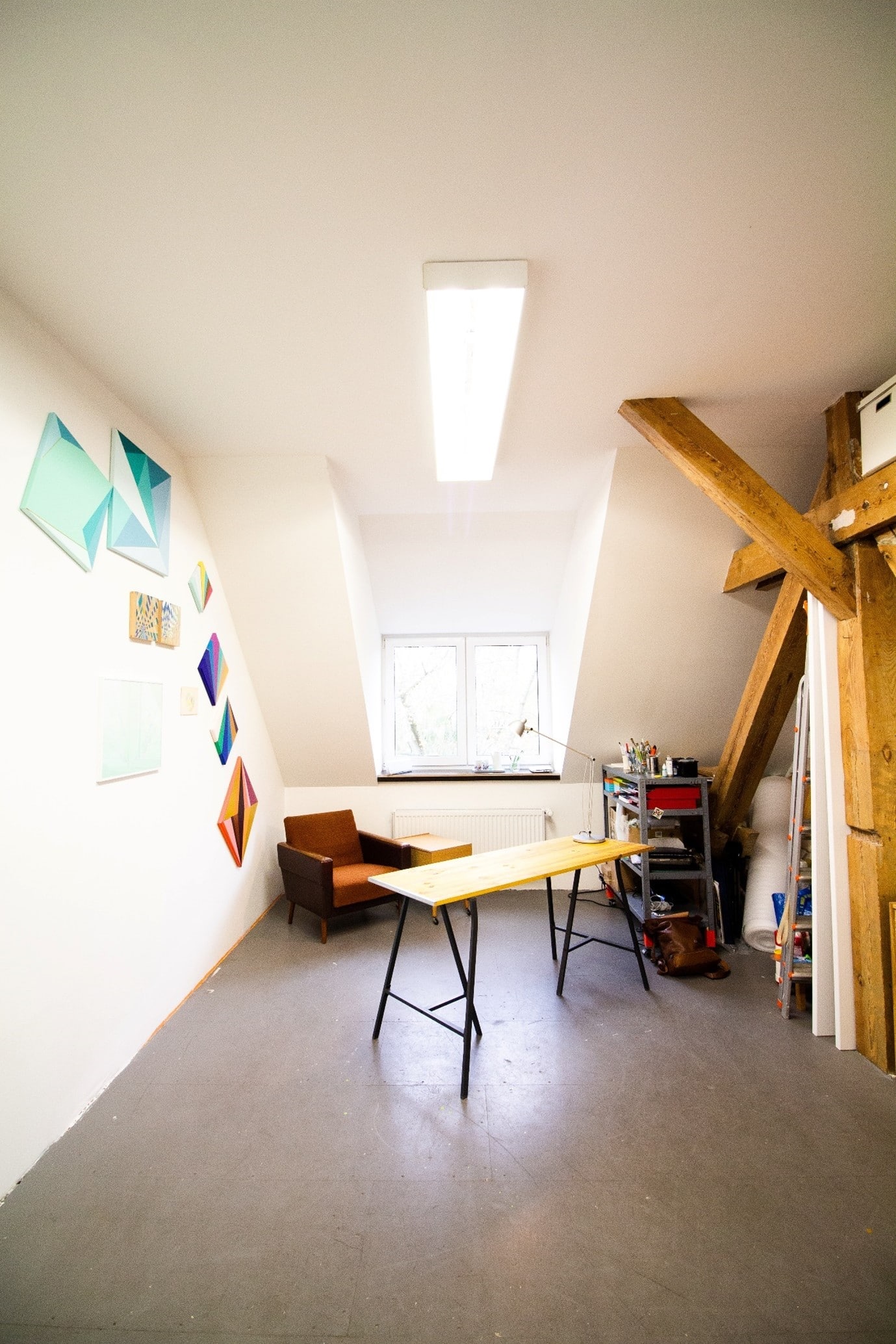 Loft conversion ideas for bathrooms
Thinking of adding an extra bathroom, perhaps an exclusive ensuite away from the kids? Or maybe you'd just love to create the ideal 'spathroom', a resort-style, ambient space to relax and unwind? Converting your loft into a bathroom is actually brilliant because thanks to loft windows, you can lie back in a bathtub and look at the stars. Also, because of the dimensions of a tub, they typically have no problem fitting into a low-ceilinged space like a loft. Showers of course need more headroom, but with clever design, you can often fit one into the taller part of your loft.
Having dormer windows or skylights ensures there's lots of light and ventilation. But if your window isn't a decent size, you'll probably also need to fit an extractor fan. The main factor to have to deal with is the construction of your water pipes and drainage. Other than that, it's a great idea to keep it simple and uncluttered. Have a light, pastel colour palette and lots of natural elements (timber, organic materials). Here are some more inviting ideas for loft bathrooms.
31. Give it character
A vintage styled loft bathroom would suit a loft conversion in a period home. Think claw-foot, roll top bathtub and pretty tiling—mosaic underfoot and subway on the walls. Vintage décor elements can amplify the Grandmillennial charm.
32. Transform it with tile
Glossy subway tiles are classically popular for bathrooms and the loft bathroom is no different. If you go for tiles, you'll find you have a lot of texture and saturated colour in a small space. So it's a good idea to opt for a streamlined, frameless glass shower screen and keep décor uncluttered.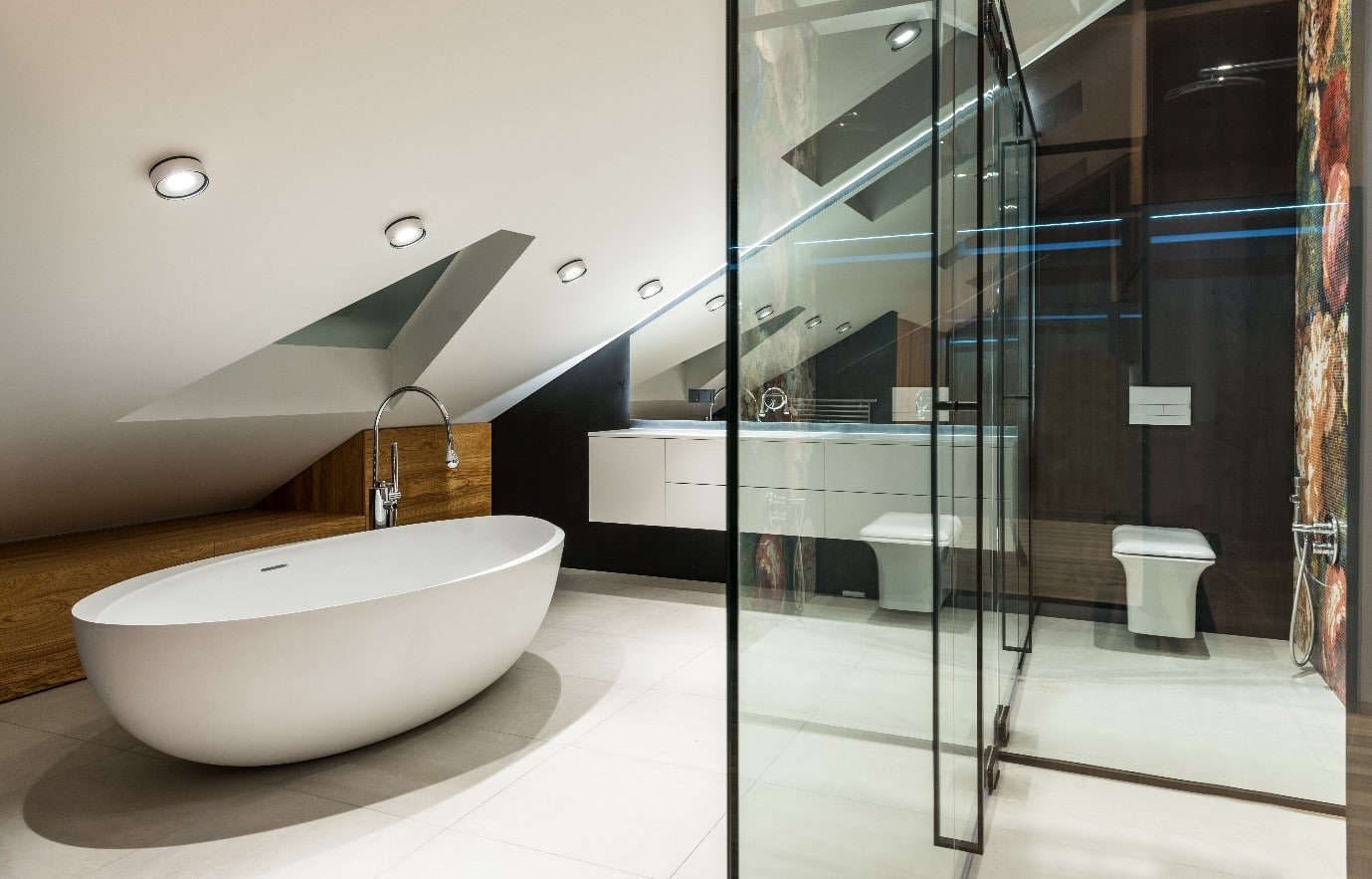 33. Go Nordic
For a loft bathroom with all the feels of a Swedish wilderness hideaway, go for an abundance of timbers, both raw and whitewashed, and sparse but luxe décor. And keep those timber beams exposed!
34. Add fabulous flooring
Something like parquetry flooring throughout creates lovely texture. And it contrasts nicely with the typically plentiful white of a bathroom. It will need to be well water-proofed, obviously. Or go for timber-look composites.
35. Unwind in a sauna
When it comes to loft conversion ideas, a little less common is the concept of constructing your very own sauna in your loft bathroom. But for a self-care space that truly fits the "spathroom" bill, consider a fully wood-clad sauna room. Large windows will ensure plenty of light and ventilation.
36. Keep it simple
Most lofts are fairly small spaces. So keep things feeling spacious with a light colour palette and minimal décor. Organic textures and a lush plant will also help keep things feeling like a tranquil resort spa.
Loft conversion ideas for landings
Sometimes your loft will have a landing rather than being an immediate open space. For example if you plan on having several rooms in the loft or if it's to house a bathroom which obviously requires privacy. In this case you'll want to give some consideration to how to design this transitional area too. It's all about flow and connection. Ideally, the loft landing will continue the style of the décor down below, as well as harmoniously blend in with the loft rooms themselves.
37. Define the entry
Make use of the railings and interior balcony area to unambiguously define where the loft space begins. Black steel railings are a cool contemporary look. The material contrasts beautifully with white wooden floorboards and paintwork.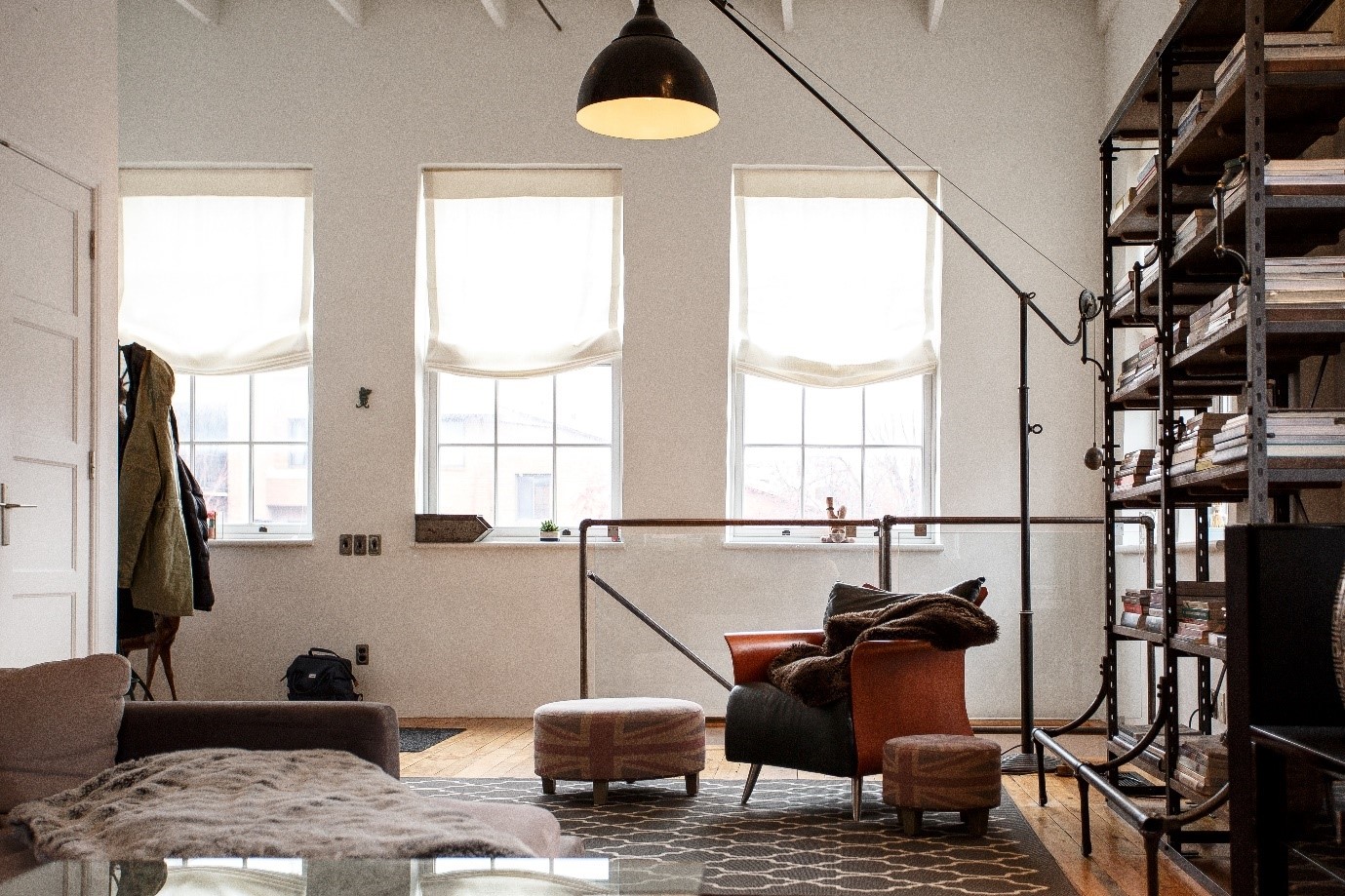 38. Make it useful
The landing space can also be functional rather than simply being a thoroughfare. It can act as a welcoming little hallway to a loft guest bedroom. Guests can hang their coats and bags on hooks, and while it's a narrow space, there's usually enough room for a useful sideboard.
Loft conversion ideas for stairs and ladders
How you enter your loft is also an important consideration. For loft conversions into bedrooms, bathrooms, playrooms and studies, regulations require that you have a permanent staircase. If you opt for a ladder style of stair, it will therefore need to be permanently affixed, not moveable. When it comes to loft conversion stairs ideas, spiral staircases are often chosen. Their space-saving nature minimises the intrusion into the lower floor space. Once you have decided on a style, you can hire someone to handle your loft ladder installation.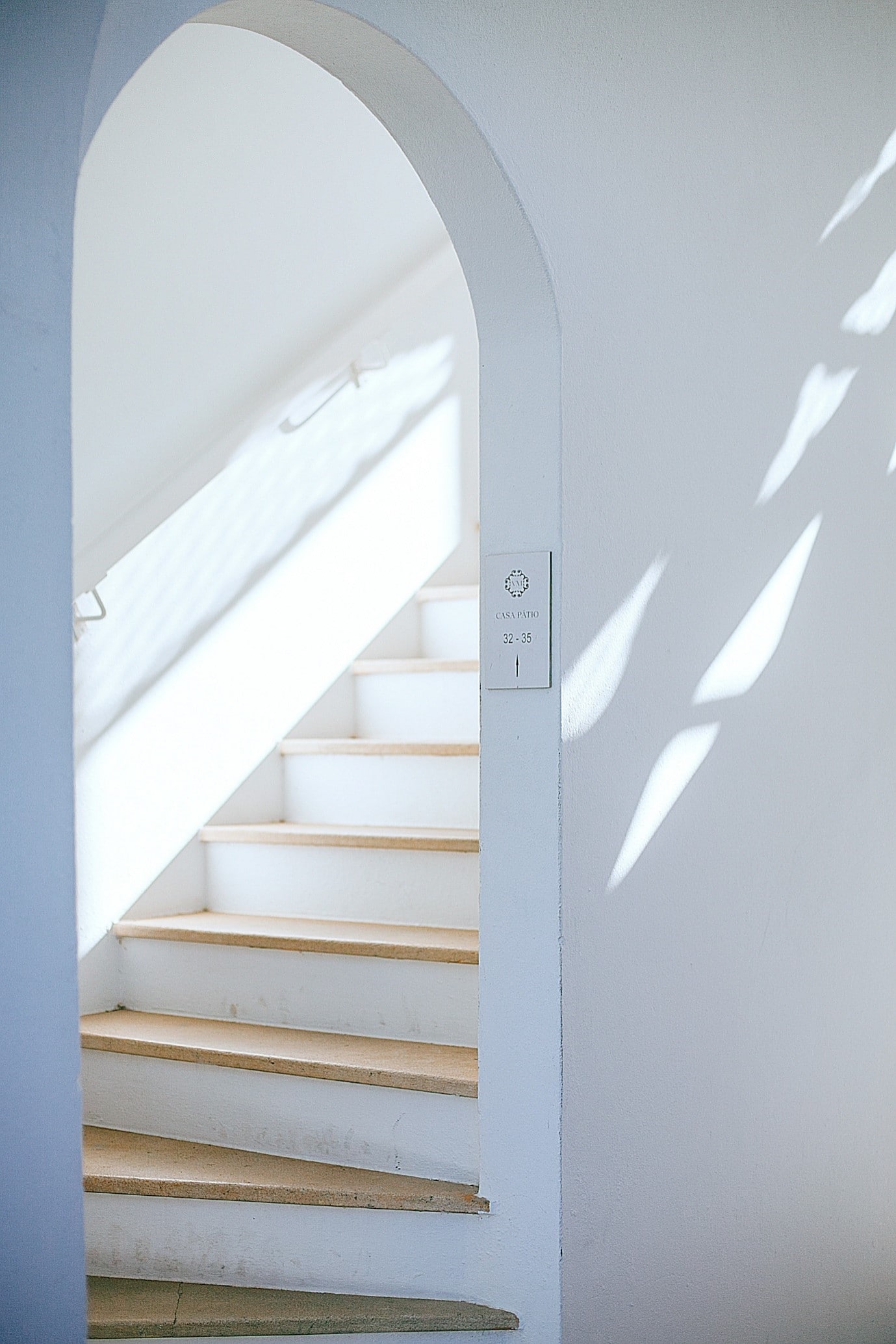 39. Step it up with something different
Does your loft space only need a simple ladder, but you'd like something with a little more visual interest than a straight up-and-down style? Consider a striking timber helical-shaped miller's ladder. Ladders have the benefit of being easy to install and reposition if necessary.
40. Highlight gorgeous timber
Spiral staircases are ideal for smaller spaces as they don't have a large footprint. And they usually have a nice solid construction making them safe and durable. They also have lots of aesthetic appeal, showcasing lovely timber that can complements the floorboards on a landing.
41. Go for sophisticated black
You could also go for a beautiful spiral staircase with iron railings in an edgy black. I love the staircase in the famed Parisian restaurant Septime. The bannisters have little spherical brass knob at the base which add a touch of glam. Or opt for a spacesaver staircase like this: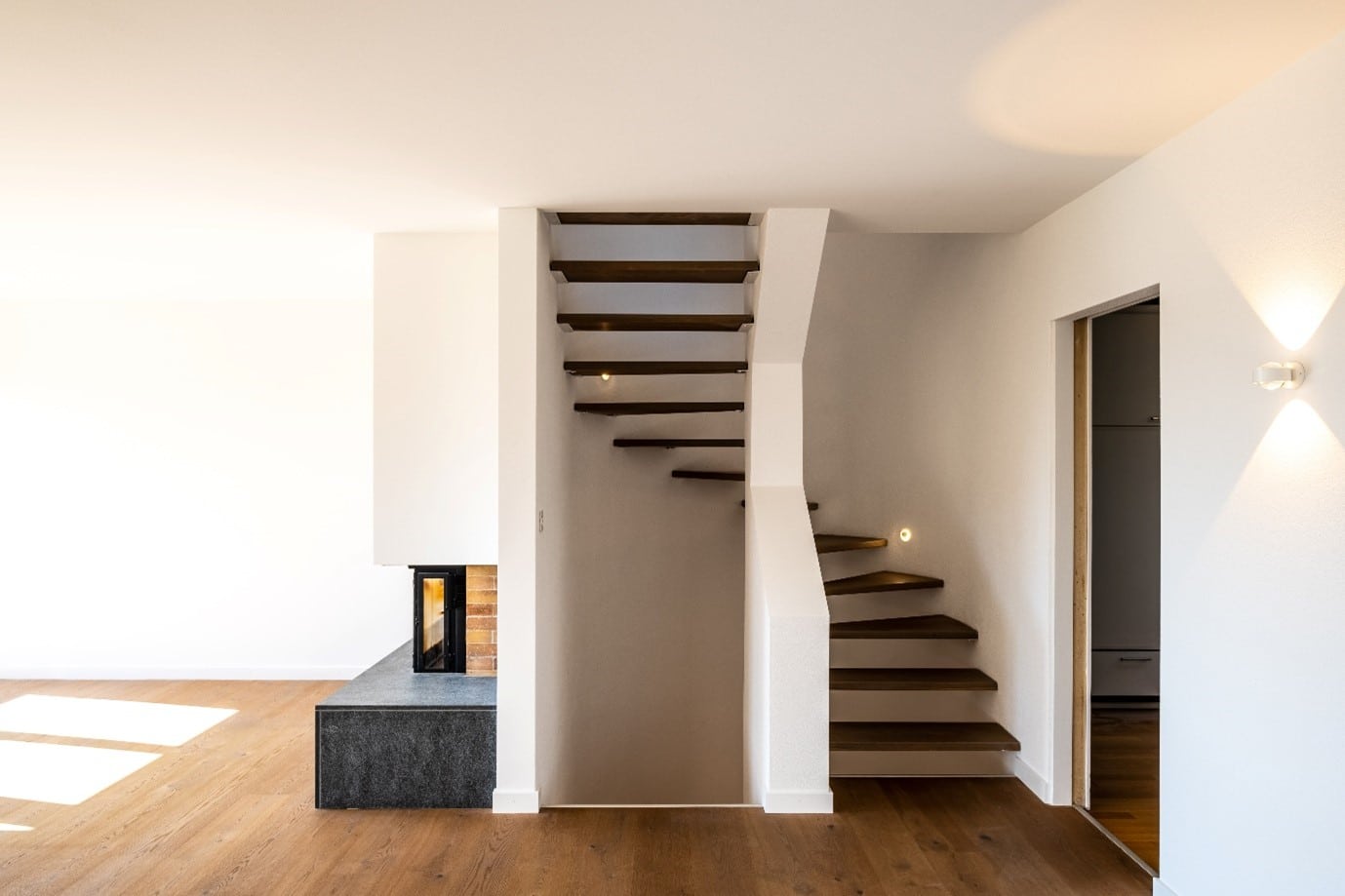 42. Float your steps
If you love a minimalist but striking look, how about floating stairs. The rungs appear to just magically float in the air, cantilevered from one side. If your steps lead to a kids' bedroom, even if they are sturdy, you'll want a handrail for safety though.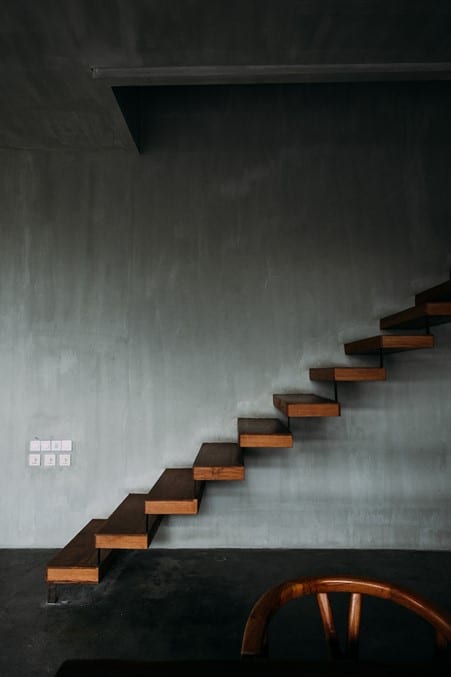 43. Take advantage of understair space
No need to waste the space under your loft ladder or stairs: put it to use housing your wood pile or set it up as a tiny office space.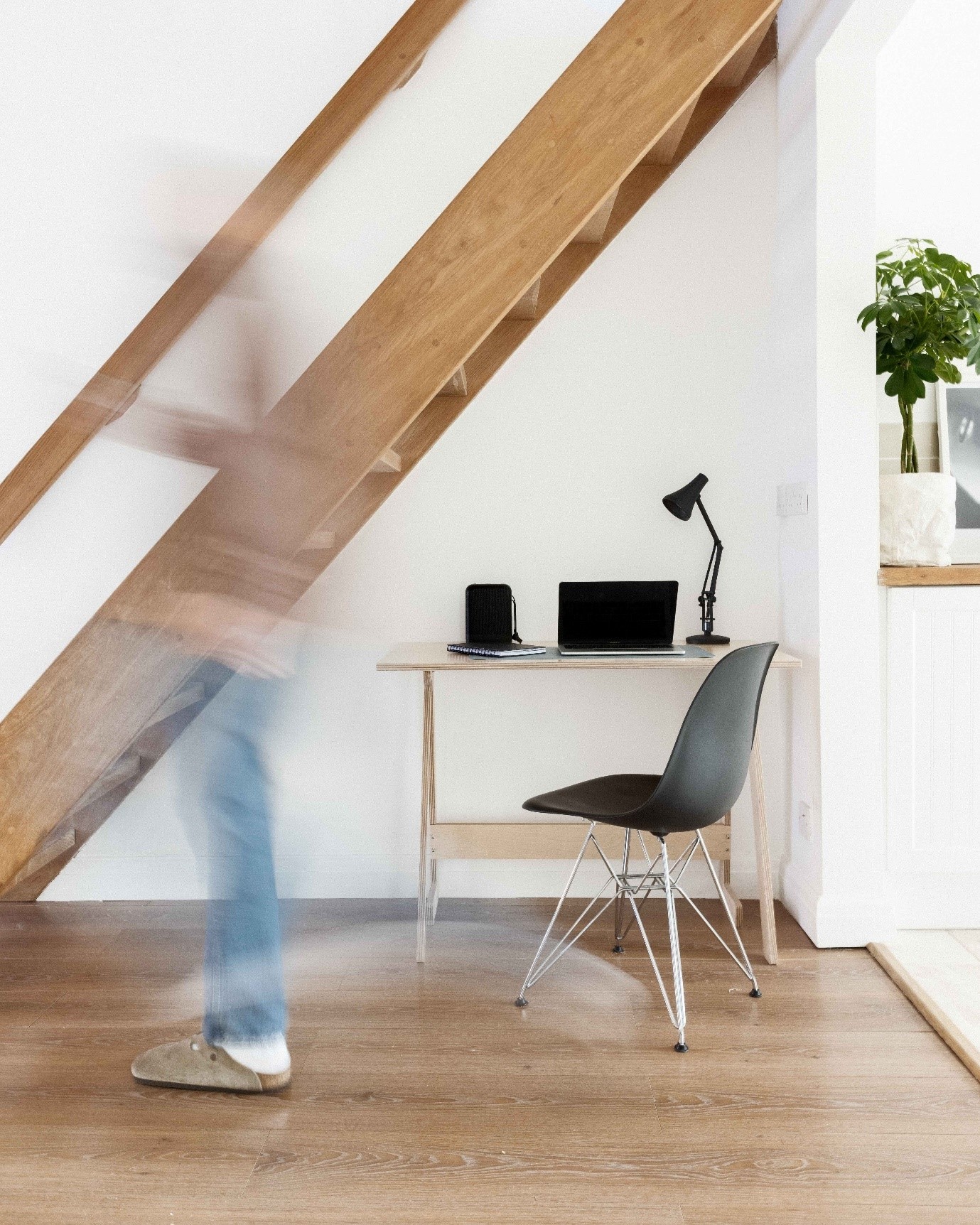 44. Give it an edgy spin
There's just something chic about black staircases in an all-white aesthetic, isn't there? I love black metal spiral staircases which remind me of the external fire escapes of New York brownstones. Get that Breakfast at Tiffany's vibe right inside your home!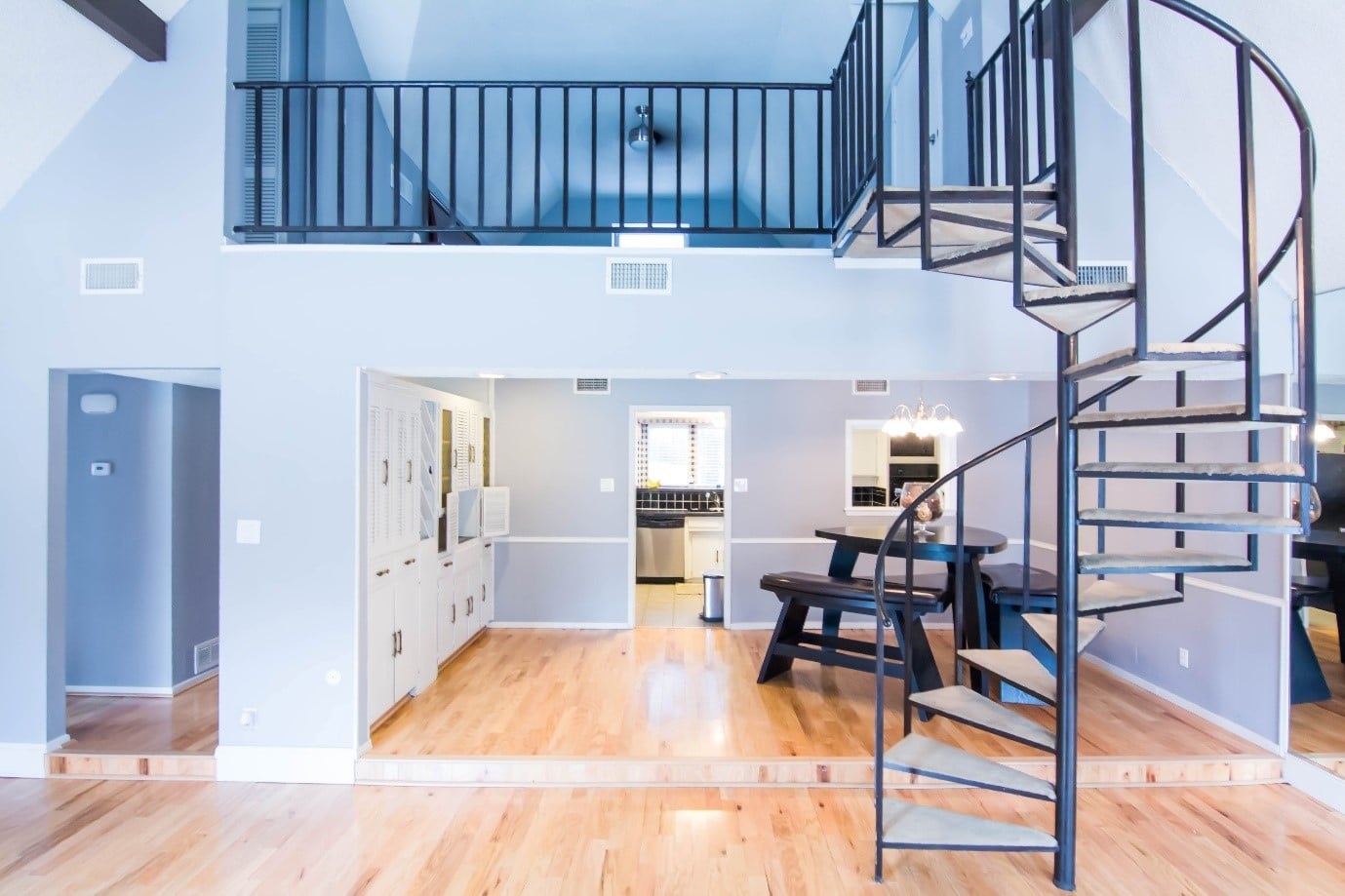 45. Play up the look of rails
People sometimes assume that handrails will detract from the appearance of their loft stairs. But they're often a necessity, such as if children or elderly family members will use them. But railings don't always have to be visually intrusive, they can be very minimal and have a striking graphic appeal of their own.
46. Steal from tiny house architecture
Lastly, tiny house design is a brilliant field to trawl for inspo on how to make the utmost of a small space. You'll find plenty of ladder and staircase design ideas to borrow for your loft conversion. Look for cute ladders and staircases that takes up minimal space and have a unique look.
I hope these loft conversion ideas have given you some inspo for how to create a gorgeous, light-filled and comfy new living space in your home. Which of these loft conversion ideas are your favourites? Let me know in the comments!
Ready to start your loft conversion project? No matter which loft conversion ideas appeal the most, before any structural or fitout work takes place, you'll obviously first need to clear out your entire attic space. The easiest way to do this is to hire someone to do the clearance work. From disassembling furniture to doing the heavy lifting, they can even arrange any necessary disposal or recycling for you.
No idea how much it costs to hire a handyman for a loft conversion? Check out our updated handyman cost guide.